Fishing Report June 30, 2013, Jeff Sundin - Cold Front Aftermath Fishing, Episode #1 - As nearly as I can remember, Saturday's cool North wind blew in the first post storm, cold front slow down of the season. After turbulent conditions on Friday, the low grade cold front gave Walleyes an excuse to lay low.
I and Mr. C fished on Bowstring Lake where the Walleye action has generally been steady. I expected good results, but have to admit that I was suprised that the passage of Friday's turbulent weather affected the lake as much as it did.
Surface temperatures were holding at 72 degrees and during the early part of the morning, the North breeze was easily manageable. But after checking three or four mid lake bars, we could see that it was gonna be a "work day". It wasn't just us, the body language was the same from every boat. Fishermen were checking out their hotspots, patiently waiting for some evidence of an active school of fish, but it really wasn't happening.
A trip to the shoreline to check out the weed bite turned out to be a good idea. But I wish that I'd thought of it sooner and zeroed in on the spot faster. Soon after we found we some fish in the Cabbage, the wind started howling. We held our own against the waves long enough to pick up 4 decent keepers, soon though it blew us out of control and forced me to move into to new territory.
Fast forward; I headed for calmer water, found little to be excited about and decided to switch lakes. At lake #2, another episode of head scratching ensued and soon, it was the end of the day. We wound up with enough to send Mr. C home with his limit, but it was hardly an action filled day.
The closest thing to a pattern that I found, was to fish the weed edges. There were fish holding tight to the weedline and some of them were bitiers. Using a 1/16 ounce jig tipped with a Night Crawler was the best way to work the weeds without getting snagged too much.


(6/30) At Lake Winnibigoshish, Joe Thmpson says; "The fishing on the west side of Lake Winnie continues to be very good. Slot size walleyes dominate the catch for walleye fishermen. Haven't heard any complaints about catching a dozen or so 20" walleyes everytime they go out. The majority of the keeper size fish are still on the weedlines. When the wind blows, fish are shallow on the first breakline in 6-10 feet of water. The birdhouses, Sugar Bay, Sugar Point, Raven's Point, and Stony Point are the prime spots for this program. Jigs and shiners are the preferred bait, but leeches and crawlers can be effective. The mid-lake bars, Sugar, River, Moses, and Snag Hole all are holding the slot size walleyes. You need to be flexible when fishing these spots because what is best on Sugar bar, may not be on Moses.
Perch fishing has been very good. The "jumbos" have been along the top side of the main breaklines. Jigs and fathead minnows are the best for the bigger perch.
Not much on the northerns yet. Mostly being caught fishing for walleyes. The nicer northerns are on the bars along with the walleyes.
The fishing has been good, the weather has been really good, everyone is happy. We have a few openings for July. With no mayfly hatch in sight, fishing should remain very good. Give us a call and come see us!" >> The Four Seasons Resort on Lake Winnie .


(6/29) At Frontier Sports in Marcell, Paul Larson says; "The fishing has really picked up this week. Jessie, Sand and Bowstring have been giving up some nice walleyes. The larger lakes like North Star and Turtle have heated up for Bass and Walleye, with a 29 inch Walleye that was attacked by a Musky, being taken on the 26th from North Star. Reports from Spider, Caribou and Jack the Horse indicate the Bass and Crappie fishing has picked up too. The Musky's in North Star have responded to the warmer weather with numerous follows being reported and some nice fish being caught and released. All in all, this should be a great weekend to get out and catch some fish. The bait shop is fully stocked with everything from Crappie minnows to extra-large sucker minnows and everything in between. The tackle department has a great selection of lures proven to work in this area. We also have a Gift Shop, Gas, Grocery and we are a Voyager dock dealer. Vist us on the web at www.frontiersports.net. Frontier Sports is an authorized LIVE TARGET dealer."


(6/27) From the Deer River Area - Brian Castellano checked in with "A buddy and I hit Pokegama last night from 6pm to 3am, in search of one of those XXL walleyes that roam the waters out there. While we didn't find a XXL walleye, we ended up boating 10 fish. They ranged in size from 18 to 26 inches and we caught them on ... >> Read Grand Rapids Area Fishing Report .

Fishing Report June 29, 2013, Jeff Sundin - Warm Water Walleye Patterns, Solid and Reliable.
Friday's excursion proved to me that the Walleye patterns are catching up with the times. Summer patterns that emerged during mid-June last summer (2012) are firmly locked in today and whether or not the fish were late getting there, they are indeed there now.
Fishing with a novice crew, starting from scratch to learn the basics of Lindy Rigging, we were still able to leave the lake with their limit of Walleye. Given the distractions of wind, rainy weather and electromagnetic interference, that was quite an accomplishment.
At one point during the trip, Nancy asked if I would be happier on a day when I was fishing with "experts", anglers who rarely miss a fish or get snagged in the rocks. Naturally, almost anyone would love to spend a day that goes perfectly, it's just human nature.
For me though, watching the progress, clearing out the glitches as they occur one-by-one, tends to be pretty darn rewarding too. For most of us, thinking back far enough will lead to a memory of telling our parents that we'd never get the hang of doing something really simple. Tying our shoes, riding a bike, becoming an aerospace engi... Well that might be pushing it. But You Know what I mean! Ya can't get there, unless you get started and keep trying. Most anyone who's ever fished with me knows how important it is to keep trying. Many a day has ended happily, even after some hellishly slow starts.
Once we got the hang of it, the fish were scattered, but cooperative. If I kept locating new groups of them, they would almmost always bite. I think we had to fish about a half dozen spots, mainly mid-lake bars and reefs. The fish were holding near the top edges of the structures, the key depth was about 10 feet, but we did catch a few as deep as 18 feet in a saddle between two reefs.
Lindy rigs tipped with Night Crawlers worked perfectly. We used light, 1/4 ounce sinkers to help avoid too many snags, but the next time I visit this lake, I'm going to rig everything with Lindy's No-Snagg Sinkers. In fact, if I hadn't been so careless, I'd have done that on this day. Unfortunately, I left them in a box, in the truck and didn't want to take the delay of game penalty to go back for them.
At one point, we'd been snagged so often often that all of the rods needed to be re-rigged at once. So during the process, I set up a couple of light rods with 1/16 ounce jigs, tipped with Night Crawlers. The jury is still out, I still think the Lindy Rigs were working better, but we did catch some fish on the jig/crawler combination as well.
Even with two days of strong wind and a day of rainy weather, the surface temperatures hung in strong at 72 degrees. That tells me that the summer pattern is gonna be the real deal for a while.

Fishing Report June 28, 2013, Jeff Sundin - Turning The Corner Into Warm Water Walleye Patterns. Has been the therme for the past few days, but for me, the most pronounced example came on Thursday.
Walleyes, that were recently willing to strike a jig and minnow, now avoided them like the plague. When you're steering the boat, fishing the same water and landing fish caught be the crew, but not getting bit, well it's pretty hard to deny it. Walleyes wanted meat, Leeches were okay, but they had a sweet tooth for Night Crawlers in particular.
We were fishing one of the Itasca Areas "big little lakes", a 3500 acre lake, well known as a reliable multi-species producer and one that you're likely to see me visit a dozen times every summer. The lake is diversified, usually having more than one pattern going at the same time. Recently, fish were almost exclisively located on the weed edges. Now, some of them still are in the weeds, but others have moved onto mid lake reefs and bars.
Don't expect the action to be wild and wooly, the numbers were good, but not fantastic. But when we found them, they struck, even when I only spotted a fish or two on the Humminbird, someone would get bit. and By days end, we had 15 fish, 3 short of a three man limit. But we were kept busy by a cast of characters including Rock Bass, Northern Pike. Even a couple of Redhorse Suckers barged in to help keep the crew on their toes.
Key depths are 10, 14 and 18 feet. Shallower fish are staying on the weed edges, while others are relating to the breaklines, moving up and down as the spirit moves them.
Lindy Rigs, 1/4 ounce sinkers and Night Crawlers were the absolute favorite. Lindy Rigs are easy to fish with, and even easier when the fish were this aggressive.


(6/28) From the Deer River Area - Brian Castellano checked in with "My brother Steve and I made it out this evening for some bassin' action. I gave him 3 lakes to pick from and to my delight, he chose one of the local clear water lakes in the area that also contains lake trout.
We got on the water around 5:30pm after driving through a heavy downpour and hoping the scattered thunderstorms wouldn't keep us off the water.
Surface temps were 72 degrees and we made 1 trolling pass over a mid lake hump hoping for a lake trout. No luck, but we did see some suspended fish in the 10-30' range over 40+ feet of water. Lake trout or smallmouth, we put them on the back burner and chased some bass around.
We found all of our bass shallower than 10' of water, probably just getting done w/ the spawn I'd guess.
My "go to" for the night was a wacky rigged Senko in pearl white w/ a #1 hook. A little trick I saw somewhere showed the fisherman threading a small rubber "O" ring on to the middle of his Senko. Just run your hook under the "O" ring, but don't hook it into the Senko at all. He said it increased the life of his Senko's at least 10 to 1, and boy does it! Between the largemouth, smallmouth, and those pesky rockbass, I only used 1 Senko this evening AND it's still got a lot of life left in it.
My brother chose to go with the ol' reliable split shot rig and leech. I'd say the catch rate was 50/50 between the two of us. We ended up putting 20 or so bass in the boat and it was pretty even between largies and smallies. The big fish for the night for me was a 19.75" largemouth. My brother Steve had a 18.75" largemouth and a 17" smallmouth for his big fish of the evening.
When 9:30pm rolled around we decided to re-visit the suspended fish and WHAM! I had a lake trout on! While it was only a 17", it planted the seed in my brain to give some of the other lake trout lakes in the area a try in the near future. I caught this little guy on a Rebel Spoonbill minnow. After that one, we made another pass through with no more luck and headed to the landing. Then we had to play "dodge the deer" all the way home!" - Brian

Fishing Report June 27, 2013, Jeff Sundin - Fishing the Mid-Summer, Mixed Bag Patterns on Lake Winnie.
For the past couple of weeks, finding and catching Walleye on Lake Winnibigoshish hasn't been too hard. In fact, at times it's been downright easy. For some though, capturing "eaters" has been a little tricky and frustrations about coming up short for the family fish fry have caused a few to moan and groan.
There's more than one way to correct that situation, but since we're heading into the mid-summer, warm water period, we might as well start with this.
With water temperatures now firmly locked above 70 degrees, summer patterns for Walleyes are widely varied and anglers with a taste for action, can find Walleye, Perch and Pike all inhabiting the same territory. Choosing the best presentation for the day, is what will determine the species you are most likely to catch. What we discovered on Tuesday was that you can relax a ltittle, fish a little and still wind up at the dock with plenty of fish, especially if the mix and match fish fry suits your taste buds.
On Tusday, there were three patterns all going at the same time, all producing fish and all fairly easy to accomplish. 1) For us, fishing deep points with jig and minnow combinations was a good way to get Perch, Pike and some Walleyes. When you look at the Lakemaster Chart of Winnie, you'll see underwater points that connect to the shoreline, but are located a mile or more away from the shoreline. These "fingers" are natural gathering spots for fish that may be headed toward open water to feed on insect hatches. Many of them have schools of fish living on them right now and many of the Walleyes on these spots are smaller, eaters. There are a lot of Perch on these points too, not the largest ones I've ever seen, but enough of them are good enough for a fish fry.
We used 1/4 ounce Lindy Jigs tipped with minnows and drifted the points when there was a breeze, backtrolled them when it was calm.
2) Using a Lindy Rig tipped with a Leech or Night Crawler tended to produce a few more Walleyes on main lake humps and bars. But if you're looking for eaters, you have to be disciplined about your approach. Almost everyone knows about scanning the edges of these structures, looking for fish to show up on the screen. But remember this key point; "Just because you see a few fish doesn't mean that you have to stop and fish for them.!" That's how you fall into the big fish trap.
When I scan these structures, I don't stop until the Humminbird reveals a LARGE SCHOOL of fish. When you think about it, the reason that you only see a few fish on some spots is that these are older fish, larger fish. The giant gang of fish they used to hang around with are mostly gone. Eaten by predators, gathered by fishermen, died of natural causes, whatever, you get the idea.
When you spot a larger, more robust school of fish, it's a lot more likely that you've stumbled into one of these big gangs of younger fish and gathering eaters will be easier. It might seem dumb to spend an hour driving around with your nosed pressed to the screen of your sonar, but it will pay off. If you do it.
3) Fishing the weeds with spinners was how my friend Jeff Skelly beat the system on Tuesday. Trolling over the weed tops, using small spinners tipped with medium size fatheads, his crew gathered a dozen Walleyes, with some Perch and Pike too.
Weed flats in the 10 to 13 foot range are holding a variety of loosely schooled fish. What makes this sytem work is that you can cover a lot of territory.
Trolling at speeds of 1.2 to 1.5 MPH and zig-zagging around in the weeds will eventually lead you to something, sometimes a little, sometimes a lot. You just never know until you get there. But Winnie has a lot of this kind of water. It can be found in all four corners of the lake, and this pattern is simple enough so that almost anyone can figure it out.


(6/27) From Wired2Fish - "If you've hung around your local marinas long enough, chances are you've heard the debate between monofilament and braided line for bass fishing with topwaters. While many anglers utilize a more new-school approach by solely using braided line for all topwater applications, some of the more old-school anglers stick with monofilament for their topwater presentations.
Fishing pro Marty Stone has a tried and true "hybrid" system that utilizes both schools of thought. Whenever he's on a hot topwater bite, you'll find him ... >> Click to Read Mono vs. Braided Line .

Fishing Report June 25, 2013, Jeff Sundin - A Bassy Day For A Change . - I couldn't have been more thrilled about a work assignment than I was when I learned that my charter for Monday was gonna be a Bass fishing trip. It's one of those things that I love to do, but rarely get the chance to spend a day doing.
At our first stop, Smallmouth Bass were to be the focus and even though we did find some, it was clear that our best case scenario would be to hunt a scratch for them. Some of the fish appeared to finished spawning, some were still on beds and none of them appeared overly eager to work with us. Luckily, we did catch a few, just enough to prove that they were in the lake, just enough to wet our appetite for better action.
Thinking that there were still at least some Largemouth Bass "on the beds" , I was mulling over the next move, even as we tried one last spot. At noon, I remembered a particular place that I'd fished with a group almost 20 years ago. Seriously, that's the last time that I can remember fishing for Bass that were still on the beds. But if it worked, if it was like the last time, it would defihnitely be good for a few giggles.
The spot was a long stretch of lakeshore where Bulrushes grow from the shoreline, all the way out to an adjacent patch of Cabbage weeds. Between the Cabbage and the Bulrush, there is a narrow band of clear, sand bottom. It's an ideal spot for Largemouth to spawn. They have cover on both sides and plenty of space between for fanning the beds. If I was lucky, we'd be able to poke around these beds and find some fish. Well, they were and I Know that I AM!
There weren't a million fish, in fact we probably only boated a dozen or so in this area, but they were all quality fish. The only problem was that once we finished fishing this stretch, my mind was made up that the "The Bass" were still on "The Beds". Luckily, I was smart enough to call my great friend and Bass Fishing Guru, Don Conroy. I knew that he had a good handle on the layout of this lake and if there was another good bedding area, he'd know where it was.
Don was amazed that we found fish on the beds at all. During his past week of fishing, He'd formed the opinion that most of the Bass had wrapped up spawing and were moving toward deeper, transitional structures. That opened up a whole new game plan for me, especially in light of the fact that most of the Bass fishing I do occurs on these deeper spots. By now, I had more ideas than I knew what to do with and Luckily, Don mentioned one of them specifically. After doing some more poking around and little fine tuning, the magic spot revealed itself.
The inside edge of another small patch of Cabbage weeds was home to a school of nice size Bass. By now, my charter, Rich Prykop had gotten his head completely around the system and was putting on a regular fishing clinic. He caught Bass after Bass as I held the boat in place and giggled.
Using a six inch "Wacky Rigged Worm", Rich would twitch the rod tip as the bait fell into the inside edges of those Cabbage Weeds. He caught at least a dozen fish before I couldn't take it any more and threw a Texas rigged worm into his territory. I caught three or four and he kept catching them too and by the time the dust settled, we realized that it was the bottom of the 9th inning and Rich was ahead! Perfect timing!
There were other presentations that caught fish too. A Money Minnow tricked a few for us, but seemed to be favored by Northern Pike in the shallow Cabbage. Texas rigged worms worked, but the action was slower. The 6 inch Yum Dingers, rigged Wacky Style, were the winners, hands down.


(6/26) From Wired2Fish - "David Dudley talks about how effective the Wacky Rig is on the professional bass fishing trail and how easy it is to use and some tips on fishing it better ... >> Click to Read The Power of the Wacky Rig .

Fishing Report June 24, 2013, Jeff Sundin - Sunday gave us more than a few chances to scratch our heads. I'm not sure that I'll ever know exactly which event caused which reaction to what occurance. But I Know that a day that began with a turbulent start, wound up being beautiful in the end and that's all that really matters.
On our way to Bowstring Lake, an odd storm was passing through. The heavy wind was whirling and the rain was coming down. If we wanted to make it to the landing, we'd have to move a couple of trees that had blown down and blocked the road. We did that and we eventually made it to the ramp, just in time to wait a little bit longer.
The tail end of the storm was still kicking up whitecaps on the lake and friends at the dock, reported sighting several water spouts. We believed that, because we could see the circular clouds twirling in the sky on our way in.
Luckily, once the storm passed, the surface of the lake calmed and we were able to get on the water where we found surface temperatures holding at 68 degrees.
The lake was fishable, but it was obvious that the storm had an impact on the Walleyes. The fish were active enough to stike, but they were tricky to catch. Still, some of them did grace us with their presence. We did so much bouncing around the lake, that I can hardly claim to have found any kind of pattern. I can only claim that sheer determination lead us to enough Walleyes for us to claim victory. Especially Jenna, who captured her biggest ever Walleye, a 22-1/2 incher.
Hoping to pick up the pace, I headed for the weeds to try for Perch. I expected them to be fickle too, but I got a lucky break when we found them to be ready willing and able to bite. They were in the weeds and if we drifted away, our action would stop. But as long as we stayed in the heavy cover, we continued to get fish. In fact, if our hook setting skills were a match for their aggression, we'd have gathered a glorius looking limit. As it was, we still captured about 30 of them, some better than others, but all good solid fish that ranged from 9 to 11 inches.
By the time we got on the Perch, the wind had become strong, so we were forced to use 1/4 ounce jigs, even though the water was only 6 feet deep. The fish were active enough to strike the jigs if we tipped them with minnows, but artificial baits were far less effective, even my all time favorites.
Walleyes will find their way back on to my agenda tomorrow, but they'll be safe from me today as I focus on a work assignment that includes Bass, Musky and Pike. It will be a nice chance to let the Walleye waters settle down and a good opportuinity to try a couple of new spots.


(6/24) From the Lake Winnie Region, Nik Dimich says; "Since fish can't feed all the time, if you happen to mark fish on the sonar and they won't bite, keep that spot in mind. As the day progresses and other spots fizzle out, go back and finish where you've started. And don't be a "boat chaser." Even if there are no other boats there, trust your electronics.
As walleyes transition, remember not all of them move to mid-lake structures, some stay and will always be in and around the weeds and on shorelines connected sand flats. They could range from 10-12' or slide deeper to 15-17' off the" ... Read >> Lake Winnie Region Fishing Report .


(6/24) On The Iron Range, From Greg Clusiau; "I stopped for a bucket of minnows, planning on giving the walleyes a try but had hard and soft tackle rigged and ready for most any occasion.
The lake, stained and oft described as a "fickle hellcat" because of it's "good one day and not the next" status, has dealt me a healthy portion of each and I was due to see what it would be this time, as it was the first" ... >> Read Greg's Full Report .


(6/24) On Lake of the Woods, Border View Lodge, Mike Kinsella wrote; "It's Lake of the Woods, what more is there to say! The fun continues and the incredible bite is going all day long. This week brought a whopping 33 ½ inch Walleye caught by Chris Wischmann from Temecula Ca, so far the biggest of the season on our charters. If you have not been out yet this season, your Walleye is here and ready to rip the rod right out of your hand!
This past week the action has switched from Jigs to Spinners. We have been doing a lot of drifting or strategic trolling with spinners and having nice aggressive feeding bites all day long. Crawlers and leeches are doing well, some are still using live minnows or frozen shiners.
We have been fishing areas from Knight Island to Garden Island where there have been large schools of Walleye and Sauger present. These schools have been providing steady action throughout the day.
We are seeing another great forecast this week with lows in the 60's and high's in the 80's! Of course we are forecasted for rain like the rest of the state, so far we have not had any in a couple weeks.
The MTT will be having their tournaments this coming weekend, we are excited to see the action their anglers produce.
Our First Class Professional USCG Charter Captains are ready to go this summer! We have a fantastic crew on the books this year! Captains, Lanny Vollmer, Michael J Fox, Dennis Anderson, Jake Beckel, Darrell Hoag, Jon Geurkink, Steve Slick, Josh Beckel and Tom Geurkink are ready for your requests." 1-800-776-3474 Border View Lodge .


(6/23) Meanwhile at Lake Winnibigoshish, The action is still reliable too, Joe Thompson said; "The walleye fishing has been nothing short of fantastic on the West side of Lake Winnie. When the wind blows, the fish are easily caught on the shallow breaklines both north and south of the Mississippi River. This has been the best bet to catch fish under the 17-26" slot limit. The larger fish have been piling up on the midlake structures and are eager to bite on a lindy type rig and leeches. We had some reports of over 50 walleyes per boat caught on Thursday morning. Most of them were in the protected slot, but man, what great action!
Perch fishing continues to be very good. Fish in the 10-12" range are plentiful and biting jigs and minnow combinations. Hard bottom areas are the best bet for Jumbo Perch. Also look for the new emerging cabbage weeds. Sugar Lake, Raven's Point, and Stony Point seem to be some key areas.
Northern fishing is the same. Catch them on jigs and minnows while fishing for walleyes. If you want to target the northerns, Sugar Lake has been the most productive spot using flashy spoons.
All in all, it has been a great week to be at a resort. The fishermen were very happy, and the weather made it great for the pool, as well." ... >> The Four Seasons Resort on Lake Winnie .


(6/21) This week, host Jon Thelen travels to Lake of the Woods in northern Minnesota where the spinner rig bite is just taking hold. Trolling Lindy Spinners beefed up with a crawler and a minnow at the same time produces trophy walleyes and a few dinner fish. Jon details both the technique and the location in this episode to show you where and how to catch 'em. Click to view >> Road Hunting For Walleyes .

Fishing Report June 23, 2013, Jeff Sundin - Lucky Day On the Water! - What started as a cancelled fishing date, lead to an adventure worthy of a spot in my "Top Ten" list of favorite stories. In fact, if I ever live long enough to write a book, you can bet that this episode will get a chapter all it's own.
When I learned that my original charter for Saturday wasn't gonna be able to make the trip, I did my best to make the date available to someone who would really appreciate it. After all, it's Mid-June and prime time for fishing, these dates aren't easy to come by. The problem was that the plan wasn't really coming together; Plans were conflicting with schedules and dates were conflicting with people and .... well, you know.
I had already farmed out another fishing trip with one of my long-time, dear friends and customers. I guess I could have called my guide buddy and tried to explain, ask if he could let me have that trip back? No, that would have been a low blow to a friend. Instead, I slipped a little note into my facebook page that the date was gonna be available and that was a Good Decision! It turns out that Fritz and Penny Becker were in the middle of trying to decide on something special to do when the note popped up.
It only took about 15 minutes to hear from Fritz and the introduction would have made a great sit-com episode. On my end, the call came while I was smack dab in the middle of trying to fix a busted faucet on the kitchen sink. On Fritz' end, his phone wouldn't work unless he stood outside of his cabin, surrounded by Mosquitoes. So there we were, setting up our fishing trip while Fritz' hosted Minnesota's State Birds, gnawing on everything that wasn't covered up and I had water shooting out of the pipes, forming puddles on the floor.
That's really just the beginning, but I'll save the rest for my book. Let's fast forward to Saturday morning, at the landing, Bowstring Lake.
Surface temperatures were ideal, 67 to 68 degrees and there was a light Southeast wind. Overcast skies and cool, air temperatures combined to make it feel like the whole plan was lined up perfectly. At first glance, it looked like one of those fishing days that was destined for success. Luckily, it was.
I could tell that Fritz was a little nervous when I told him that I hadn't buzzed Bowstring for a few weeks. The tip-off came when he asked; "But you do fish here a lot, right?". Yes, I assured him that I knew a couple of spots and that after I poked around a little, we'd find some fish. Penny chimed in; "Don't worry, we'll be leaving the lake with our limit". She was right.
The fish were holding in about 20 feet of water on a variety of structures. Shoreline breaks and mid-lake bars were loaded with bait and small, scattered groups of fish showed up on the Humminbird. I never saw a large school of fish anywhere, but when I did see fish, they were definitely on the bite. The typical scenario was to catch three or four fish almost instantly whenever we started the first drift a new spot. Subsequent drifts would yield a fish or two more and then it would be time to move along.
I'm sure that we could have caught fish by Lindy Rigging with live bait. In fact, I saw several fish caught by other anglers who were using Lindy rigs. But the three of us agreed that when they'll take a jig and minnow, it's more fun to catch 'em that way. Besides, jigging leaves the door open for Perch, Pike and maybe even a wandering Crappie. Fishing with 1/4 ounce Lindy Jigs, tipped with Shiners and jigged more gently than usual was just what the doctor ordered for us.
Boat speed appeared to be an important factor in triggering strikes. There were several bursts of wind throughout the day, each of them forcing the boat to drift faster and each of them reducing our productivity. The Walleyes seemed to like it best when we were drifting (or trolling) at about .6 to .7 MPH. Anything faster than that caused problems.
At one point, conditions appeared to be favorable for a test run to the Crappie hole and when we got there, it looked like we might get some. But after catching just one Crappie, the small Northerns found us and refused to leave an opening for any more Crappies. After getting snipped off a half dozen times, we bailed out on that plan. Instead, I made a new project out of picking up a few more Walleyes for myself and then we headed for the Perch hole.
We already knew that the Perch were in the weeds, because they'd eaten about half of our night crawler supply at our first stop of the day. If they were still there, they'd be easy pickin's. They were still there and we did!
It took a little bit of poking around to find a school, but once I did, holding stationary with the MinnKota kept us on them. Using the same 1/4 ounce jigs, tipped this time with medium fatheads, we plucked them out of the weeds in about 6 feet of water. Some were better than others, but all were good eating size Perch.
Fishing is fishing and on this day, fishing was good. But it's not always about the fishing! And as Fritz' said; "The fish were nice, but they were just the bonus". What could have turned out to be a "down day", was filled with smiles and I know how lucky I am that our paths crossed. I have a feeling that it won't be the last time and I sure hope that I'm right!

Fishing Report June 22, 2013, Jeff Sundin - Upper Red Lake Reliable, Aggressive Patterns A Must! -
The gigantic lake's reputation for being a great early season Walleye lake is well known. Also well known is that it's walleye action tends to taper off during mid summer. The lake appears to be on it's typical, tapering down track, but there are still plenty of fish to be had for folks who figure out the best patterns.
I didn't actually expect to be heading that way, but during the wee hours of Friday morning, a line of strong thunderstorms churned up the "home waters". Not wanting to fish too close to the epicenter of the storms, driving to an area that was less affrected made sense.
When I called my buddy Jonny Petrowske, "Outdoors With Jonny P" , he told me that the storms had tickled the Washkish area, but just barely. He was already on the water, already catching fish and the lake seemed to be on track for a good fishing day. That sounded like a solid report, so I just kept on driving until we got there. Instead of driving to Washkish though, I stopped short and launched on the South end of the lake. Closer to home and where I know my way around the best.
When we launched the boat, we found surface temperatures in the 73 to 75 degree range. The South shore of the lake had an un-settled look, maybe churned up by strong winds? Maybe an Algae bloom due to the warm temperatures? I'm not sure, but I do know that it's past the early season peak and into the summer, warm water mode.
We poked around in a few spots before finding a school of fish. They were located along a shallow rock spine that topped off at 3 feet, dropping into 7 feet. At first, the fish were holding along the edges of the rocks and were easily catchable by trolling and pitching jigs toward the edges. Later in the day, a light West wind encouraged the fish to move up on top of the rocks. That was fine for catching fish, but made getting snagged on the rocks a bit more tricky.
For us, the best way to avoid getting snagged, while still enticing strikes was to go into fast and furious rip jigging mode. Using 1/8 ounce Lindy Jigs tipped with 3 inch Shad tails and moving the boat at 1.2 to 1.4 MPH. Yes, that's really clipping along, but in the warm, shallow water, the fish were all over that presentation. The more aggressively we jigged the baits, the easier it became to capture Walleyes.
The size of fish was all over the map, some as small as 7 inches, others ranging toward 18 inches. At the moment, there doesn't appear to be very many 18 to 20 inch fish in the shallows. But a limit of 16 to 17 inch fish is perfect for the table and well worth the effort.
Meanwhile, on the Noth side of the lake, Jonny P was clipping along too. Except he and his crew were trolling #3 Lindy Spinners tipped with minnows. Jonny was fishing the rock pattern too, but he'd found a stretch where the better size fish were on the sand/rock edges in about 8 feet of water. Before they headed in for the day, Jonny let me know that the Tulibee pattern spinners were the best color for them.
There comes a time in the summer when agressive patterns are far better than subtle, finesse patterns and I think we are there right now. Both I and Jonny P were using aggressive patterns that on the surface, would appear to be dis-similar; Still though, they both have something in common, a high "Thump Factor". Lots of speed, lots of thump and lots of flash. The idea is to get the fish to notice you and strike, not nibble, STRIKE.
So, when you see water temperatures rising into the 70's, don't be afraid to turn up the "Thump-O-Meter".

Fishing Report June 21, 2013, Jeff Sundin - Third Time's A Charm - For fishing Crappies that is. Kicking off a two day stint with Kenny Shipler, my work assignment for Thursday was to start the the trip by finding some Crappies. Not, the worlds hardest job, but lately, I've been doing every other thing except for Crappie fishing. After doing a little head scratching, I decided to take a chance and follow up on a clue that I got a few days ago.
Recently, I had already tried finding Crappies in a couple of known, "Post -Spawn" locations. Places where we'd caught them before. Twice I'd tried, twice they had not been there. But while we were Walleye fishing last Tuesday, I picked up a couple of stragglers in one of these areas. On that particular day, we released the Crappies and kept chasing after the Walleyes. But just in case I'd need it. later, I kept track of the spot.
Well, I did need it and we stopped there on Thursday and Luckily, this time they were there. Third time is a charm!
Crappies have begun to show up in classic "Post-Spawn" territories. Still showing their dark spawning colors, Male fish made up the bulk of our catch. The fish were located around the edges and pockets of the lakes numerous Cabbage weed patches. The presence of rocks or gravel patches adjacent to the weeds turns an ordinary spot into a "Super Spot". Learning how to detect these rock patches will be one of the best investments of your fishing time that you'll ever make.
If you're a frequent reader, then you already know; Most of the time, I stumble into Lucky breaks more than intentionally discovering them. The only real trick is that I have trained myself to recognize a Lucky break when I see one.
Let's just say that we've found a Cabbage patch and we're creeping along the edges, scanning the territory for Crappies. We could be fishing for them any number of ways, but in our scenario, we're casting 1/16 ounce jigs, rigged with small plastic action tails. Now all we need to do is catch one Crappie. Once we do, we'll fine tune the system to suit the conditions.
We beginning casting the small jigs into the weeds, slowly retrieving them as we cover the territory. The moment that anyone catches the first Crappie, I mark the spot by dropping in one of my Lindy Markers. Knowing that the fish was there for a reason, step two is to try and figure out why. Using the marker as the base, I go ahead and wander around a little bit longer, keeping a sharp eye on the Humminbird. Typically, I'll discover an open spot, like a clear stretch of gravel, a rocky point or sometimes even some sunken branches. More often than not, it's the convergence of the weeds and the clear spots that really hold the most fish.
Once we have that figured out, then it's a simple matter of matching your presentation to the conditions. If it's calm, then creeping along with the MinnKota and fan casting might be perfect. If it's breezy, anchoring the boat might be better. Heavy cover? Maybe you're better off rigging slip floats to suspend your bait above the weed tops. Be creative and try different approaches until you perfect the presentation for that spot.
Once you understand the layout, then watch for other areas on the lake that provide similar opportunities. It's called patterning the fish and the concept has been around a lot longer than I have. But it still works and it's a great way to steer yourself in the direction of a higher percentage of "Lucky Breaks".
Walleye fishing on the lake was good too, at least in terms of action. There were a lot of fish tickling the 13 inch mark, with a smattering of 15 inchers and a couple of larger fish thrown in along the way.
The small Pike were terrorizing us by snipping off jig after jig. But, in spite of my best effort to produce Walleyes by using Night Crawlers and Leeches, the best presentation was still an 1/8 ounce jig tipped with minnows. The only way to control the loss of jigs is to rig up a Fluorocarbon leader. A foot long length of 17 pound test, will go a long way toward stopping the mayhem.

Fishing Report June 20, 2013, Jeff Sundin - Clear Water Warming Fast, Shallow Water Bass and Panfish On The Beds - During mid June, we try to make the rounds to as wide a variety of "Clear Water" lakes as pobbible. That's because this is the one time of year, that any lake with a significant Walleye population is likely to be on the up-swing in terms of reliability. So when my work assignment on Tuesday was to stay nearby and fish "The Home Lake", I wasn't disappointed at all.
For some reason, most of my experiences on the clear water lakes this spring have occurred under Blue skies and calm conditions. Wednesday was another day like that and while it would likely have been better under a cloudy sky, it was still pretty good, it was at least good enough for us guys.
The lake is about two thousand acres and has water clarity of 16 feet. Surface temperatures ranged from 68 to 72 degrees depending on the location. In shallow water, we could easily see a variety of fish.
Rock Bass, Sunfish and small Bass were about as active as they can get. Larger size Bass, both Smallmouth and Largemouth were on beds, guarding them and were un-interested is striking baits unless the the bait was near enough to pose a threat. Then they'd strike at it once or twice, not to eat it though, only to remove it from the bed.
Wednesday was the first time this season that we HAD TO USE Night Crawlers. Jig and minnow fishing was fine for producing some Pike and Bass, but we did not boat a single Walleye using minnows. A 1/16 ounce Fuzz-E-Grub, with a Crawler produced some nice Walleyes though and that was the key presentation.
Scanning open water areas along the breakline, mid-lake bars and humps and rocky spots revealed no sign of Walleyes. The screen of my Humminbird lit up though when we scanned areas where there was a grassline on the bottom. Low lying weeds like Sand Grass, newly emerging Coontail and Eelgrass held enough fish to keep us occupied.
Based on reports from other clear water lakes in the area and the sharp increase in boat traffic at about 6:00 PM, I'd say that the chances of a good evening bite are high right now. In fact, the next week is likely to be the peak for Walleye fishing on these clear lakes.


(6/20) Gus Sheker, Gus' Place Resort on Ball Club Lake; "Our lake level is again on the rise with a swift current coming into the lake via the ball club river.
If you spend any time at the mouth of the river you will see thousands of Shiner minnows following the current into the lake producing giant bait balls suspended in open water.
Lake temp is now in the mid 60s and the fishing action has really picked up with all species on the bite. Spawning Crappies are being caught on the sunny warmest days near the river on live bait rigs. Fat Perch and Northerns are roaming the large flat east of the blue water tower and the Walleye are scattered from 10 to 17 feet deep taking leeches, shiners and crawlers early and late in the day.
The best is yet to come on Ball Club Lake as the water warms up.!" - Gus Sheker. Gus' Place Resort .


(6/20) From Lake of the Woods, Mike Mayer at Wheelers Point Resort; "Fishing remains excellent on Lake of the Woods. The locations have started to change though. We are now fishing Knight, Bridges, Garden and Little Oak islands. Jig fishing with frozen shiners or drifting spinners have been the most productive lately. Orange, yellow, gold, or any combination jig and gold or chartreuse spinners are good starting colors. Most charters were full before noon yesterday with lots of big fish as well. Now is the perfect time to book a cabin and charter to experience the Canadian fishing trip without the Canadian hassle. Let our Wheelers Point Resort licensed experienced guides take you on a gorgeous boat ride to the islands and experience world class walleye fishing on Lake of the Woods! Mike & Sheila Mayer, Wheelers Point Resort.

Fishing Report June 19, 2013, Jeff Sundin - New Crew, Familiar Territory - On Tuesday, I was in comfortable territory at Northland Lodge on Lake Winnie's Southeast corner.
Heading out from the dock, we found surface temperatures in the 65 degree range, bright Blue skies and a very light East breeze.
Heading straight for the area where Walleyes had been aggressive on Monday, we found a big crowd of boats, the occupants eyes fixed on each another, all waiting for someone to catch a fish. Having been there and done that, we bolted in hopes of finding some fish nearby, but on deeper structure.
The first stop was in 14 feet of water, at the outside edge of the large flat in Musky Bay. Using 1/8 ounce Lindy Jigs tipped with shiners, this spot easily produced several Walleyes, all of them in the "protected slot". Knowing that shore lunch was on the agenda, I didn't really feel like I could hang around, but maybe I should have.
Because after we left, a series of moves into deeper water failed to produce any better results. There were some interesting spots in the middle of the lake, but with calm seas and sunny skies, most of the fish acted like a six year olds, sitting in front of plates filled with Asparagus. We weren't appealing to their sweet tooth.
From here on, Pat O'reilly knows the stroy even better than I do, so there's no point in telling it twice. Just scroll down a little bit.


(6/19) Northland Lodge, Pat O'Reilly checked in with; "Big Lake, Big Fish - Lake Winnibigosh was the hot spot for big Walleyes on Tuesday. Our guests Jeff and Cindy Kuehl were on the lake with Deer River fishing guide, Jeff Sundin and found that big Walleye and lots of Northern Pike would provide action.
Sundin said that the most active fish were scattered out on the lakes expansive mid-depth flats in water depths of 12 to 16 feet. Adding that the fish were aggressive, sundin added that trolling at 1.1 to 1.3 MPH and "rip-jigging" provided a lot of strikes. Artificial baits produced as much or more action as live minnows and one bait in particular, a White, YUM 4 inch Mud Minnow produced strike after strike. A word of caution though, when using the Mud Minnow, be sure to rig it with a jig head that has a long shank, wide gap hook. You'll get plenty of strikes using this bait, but making sure that you have a large enough hook will increase your percentage of solid hook sets.
After losing a half dozen lures to the aggressive Pike, they re-rigged their baits, using a foot of 17 pound test Fluorocarbon as a leader. That solved the problem and gave the anglers a chance to boat numerous Walleye in the 19 to 22 inch range. Pike were plentiful, not giants, but good eating size. Thanks to the Pike, properly cleaned and Y-Bones removed, the couple ended the day with plenty of fish to eat and some good CPR pictures of the larger Walleyes.
Ironically, the group had abandonded their fishing spot on the East side of the lake because they were catching large Walleyes. Looking for something smaller to eat, they followed a hot tip from Grand Rapids fishing guide Tom Neustrom who was fishing a similar pattern on the lakes West side. Where the pattern and size range was similar.
We've seen this pattern before during the early summer peak. Calm, sunny conditions tend to disrupt the shallow water pattern, forcing anglers to prowl in deeper water. The deeper water and plentiful food supply attracts the larger female fish onto the flats, while the smaller fish linger on the weedline, feeding on Shiners and young, baitfish size Perch minnows.
The action bite for "eaters" will pick back up as soon as the breeze and/or overcast skies return. " . Northland Lodge - Lake Winnibigoshish .

Fishing Report June 18, 2013, Jeff Sundin - Water Temps Rise, Multi-Species Gathering Mode Hits Full Stride - If you're a follower of these reports, then you already know that I have a ball fishing for just about anything that swims. You've probably noticed too that what really makes me giggly, are the times that we can catch a bunch of different kinds of fish in the same place at the same time.
On Monday, we enjoyed our first full scale episode of a Multi-Species, action bite.
Most of the time, fishing with Gandy Family involves a hard core search for Walleye. But the introduction of a new face at the annual Gandy Family fishing party, 11 year old Nathan Gandy, gave me the idea that we might need to keep the action rolling at a faster pace than usual. That, along with a hint from Jim. who mentioned that he'd like to catch some Perch, made choosing the right lake an easy decision.
In the Northern Itasca area, it's not hard to find good, multi-species lakes. There are a bunch of them that are known for having good populations of Walleye along with healthy populations of Pike, Bass and Panfish. I chose the one with the island.
On the water, surface temperatures have reached the "IDEAL RANGE", tickling the 69 degree mark. The water was calm, making it easy to spot healthy stands of Green Cabbage Weeds. The breeze was light at first, but increased steadily throughout the day, encouraging the fish to remain active.
Location was easy; Any shoreline related point with an adjacent weed beed produced at least some fish. Some were better than others, but we never fished a single point that didn't have a few fish on it.
On this lake, staying on the weedline required holding the boat in about 10 feet of water. But depending on the lake you fish, the depth can be adjusted to fit the conditions. Another factor in selecting the best spots is to find points that combine rocks with the weed patches. These little rocky spots provide an opening in the weedline where predators can ambush baitfish.
Boat control is important because you'll want to keep your bait near the weeds, but not too far into them. Selecting the points where the wind is blowing onto the structure helps you stay in control and makes presenting your bait the easiset.
Presentation was easy too. The jig and minnow bite is still reliable, so the majority of our effort was spent using 1/8 ounce Lindy Jigs tipped with minnows. The colors didn't seem to matter in terms of catching fish, A word to the wise though; When you're fishing lakes like this one, that have a lot of small Pike, sticking with subdued colors and avoiding the use of Shiner minnows will help you bag more Walleye. I'm serious!
Brightly colored jigs and the extra flash of the Shiner minnows makes your bait more visible to the legions of small Pike, who are only too happy to oblige you by accepting your offer. They'll take it "Hook, Line And Sinker", so to speak. In other words, if you like tying on jigs all day long, then stick with the flashy stuff. If you'd rather catrch more Walleye and Perch, go with colors like deep Red, Blue, Brown and Dark Green. Select Rainbows, Dace or nice size Fathead minnows and I promise that you'll notice a difference.
Action was steady throughout the day, provided by a steady supply of Walleye, Perch, Pike and Rock Bass. There were even a couple of random Crappies that made cameo appearances. By days end, we left the lake with their 3 man, limit of Walleyes and about 40 Perch. On this day, keeping a boatload of Pike wasn't on the agenda, but could have easily been accomplished.
I am up against the clock this morning, but there are two key things that I'll pick up on tomorrow morning. 1) Why was my Drift Sock so important and 2) Why did my Lakemaster Chart make this system so easy. It will be worth your time to check back for that.


(6/18) Bemidji Lakes Area, Paul A. Nelson, Bemidji Area Lakes Guide Service says; "Surface water temperatures are nearing the 70 degree mark in most of the lakes in the Bemidji area. Both large and smallmouth bass have finished spawning in most lakes along with most of the crappies and sunfish.
The weed beds are still behind for this point in the season, with most of the reed beds and bull rushes just starting to poke their heads above water. The cabbage and coontail weed beds are also way behind in development this year.
The deep snow and long winter killed-off virtually all of the weeds under the ice. The combination of high water levels and no carry-over weed growth has the weed beds in most lakes slow in developing this spring.
Walleye fishing has been very good in most lakes, with the fish continuing to spread out into the lakes. The spotail shiners are almost done spawning along the shorelines and the mayflies are beginning to emerge from the mud basin in deep water, so many of the walleyes and big perch are moving into deeper water along the sides of mid-lake structure.
The walleye bite has remained good on most of the larger lakes. Lake Winnibigoshish has been the hot lake on the cloudy days with moderate winds. Most anglers are using jigs and minnows on shoreline cabbage for the smaller "keeper" walleyes, while many of the larger "slot" walleyes have started to show up on the bars and humps closest to shore.
Upper Red Lake continues to be excellent for walleyes on days with light winds. Anglers have been fishing the shoreline break in 3 to 6 feet of water along most of the eastern shore. Anglers have been using several different presentations with good success.
The slot limit on Upper Red Lake changed on June 15, 2013. Anglers in Upper Red Lake are now able to keep 4 walleyes with a protected slot limit of 20 to 26 inches, with 1 walleye longer than 26 inches allowed in a limit." - Paul A. Nelson, Bemidji Area Lakes Guide Service, panelson@paulbunyan.net - 218.759.2235 .

Fishing Report June 17, 2013, Jeff Sundin - Go Clear, Go Deep and Tease 'Em In, One by One - Fathers day was getting close to being as easy and relaxing as a fishing trip can be for me. I told Austin Jones last night, that he was pretty darn lucky. That's because whenever I go fishing on an unexpected day off, I'm not exactly in the mood to go for the jugular. But after offering the cancellation to Austin and him driving all the way over from Crookston just to fish for a few hours, I figured that the least I could do was to try and send him back home with some fish.
Wanting to take another swing at fishing some deeper, clearer water, we left the house prepared to give it a shot for a few hours, then switch lakes if we were forced into it. Luckily for us, we never needed to move.
On the water, we found surface temperatures had reached a solid 65 degrees. It was obviously warmer than that in the shallows because there were a couple of swimmers in the water. The sunshine lit up the lake and seeing the bottom through the clear water was easy.
Patches of Cabbage weeds were healthy, Green and on this day, holding Northern Pike. They were active, striking our baits aggressively enough to snip off several of our jigs., Still, we landed enough of them to fill the livewell with 6 Pike in the 3 to 5 pound range. Not giants, but solid "eaters" for a family who appreciates Pike.
Fishing the shoreline points where there was mixed weeds and rock and was semi-productive productive for Walleye and Smallmouth Bass. Take this report with a grain of salt, because I'm not sure whether or not I was really working all that hard at catrching Walleyes. We were happy when they came along, but we were not persuing them with a vengeance.
Using 1/8 ounce jigs tipped with Shiners caught most of the fish. But using a 1/16 ounce jig, tipped with a night crawler produced a few fish for me as well. I'd guess that if we'd started the day using only night crawlers, our catch of Walleye would have increased, while the number of Pike would have decreased.
Key depth for the Pike was about 10 feet and the presence of Green weeds was mandatory. The Walleyes were holding in 12 to 15 feet, and the tips of points were the most productive. Smallmouth Bass were shallow, on the rocks.


(6/17) On The Iron Range, From Greg Clusiau; "Thank God for small lakes, especially when they're tucked away, back in the bush, and getting a boat into them isn't easy one bit. These little gems receive little pressure because of that and can often produce trophy fish from time-to-time.
That was my journey last weekend, coming fast on the heels of yet another productive walleye outing on Upper Red Lake. How odd, I thought. Fishing one of the largest lakes in Minnesota one day and then one of it's smaller bodies of water on the next. But hey, whatever works. As long as I'm fishing. Right?" ... >> Read Greg's Full Report .


(6/17) On Lake of the Woods, Border View Lodge, Mike Kinsella wrote; "Fishing continues to be fantastic. Lots of action on jigs and shiners near the reef areas of Knight, Bridges and Garden Islands. Anglers are also having success drifting with leeches and crawlers in the same areas.
Lots of action on the south end as well. Lots of eaters with quite a few slot fish and a few trophies mixed in. Mornings and evenings have been better for the big fish, but good action is seen throughout the day.
Forecast is for sunshine and 70s all week with the ever present chance of showers. Sounds like another great week of fishing ahead!
Our First Class Professional USCG Charter Captains are ready to go this summer! We have a fantastic crew on the books this year! Captains, Lanny Vollmer, Michael J Fox, Dennis Anderson, Jake Beckel, Darrell Hoag, Jon Geurkink, Steve Slick, Josh Beckel and Tom Geurkink are ready for your requests." 1-800-776-3474 Border View Lodge .

Fishing Report June 16, 2013, Jeff Sundin - And now, Crappie and Cabbage - In terms of Walleye fishing, Saturday was sort of a carbon copy of Friday. I could write the same Walleye report again, or I could just ask you to scroll down the page and look at the report from June 15.
Crappies have begun the transition from spawning areas to patches of cabbage and coontail weeds. For me, this is a wonderful time to fish for Crappie and if I had free time to do it, I'd drop everything and fish this pattern every day for the next week or so.
For Crappie fishermen, the only challenge is to figure out which weed beds are currently inhabited and which ones aren't. On the surface, it would seem logical to look for Crappies in the weed patches directly adjacent to their shallow water spawning beds. Sometimes, that does work, but one of the mysteries about these fish is trying to figure out just how far they actually move in any give day. Occasionally they show up in locations that don't appear to be connected to the spawning run in any way. Still, the pattern is reliable and there is a really fun way to search for these fish.
The system is simple; First, you need to locate the weeds. The most reliable and easiest to fish, are patches of healthy Cabbage weeds. Crappies love to hide in the lush, shady cover, so do most other fish. These are usually the easiest weeds to fish too, because of the gaps between plants. When you fish on a lake that has both Cabbage and Crappies, then start there.
If Cabbage patches are in short supply, then Coontail, Eel Grass and even Nothern Milfoil with hold fish. Most anglers don't pay attention to Eelgrass, but when you spot a patch, keep track of it. Right now, I can recall some really good Crappie fishing that's occurred near this type of weed.
Presentaions vary, but one really fun way to search for Crappies is to creep along using your MinnKota. Slowly follow the breakline, staying within easy casting distance of the weeds. Using light spinning gear, 4 lb test line and 1/16 or 1/32 ounce jigs; Cast into the weeds and work them back toward the boat using a gentle fall--lift--swim action. Sometimes you'll see the weeds visually and if you can, be sure to work each pocket or gap.
Dressings for the jigs varies too, but I have a real soft spot in my heart for small "hair or feather jigs". A 1/32 ounce Little Nipper has accounted for a ton of Crappies in my boat. A 1/16 ounce Whatsit, small shad tails, twirl tails and other action tails will produce too. Do not forget the old reliable 1-1/2 inch tube jigs either, these sneaky little baits catch everything from Sunfish to Muskies and have also accounted for a million giggles in my boat. Use your imagination, mix and match until you develop a few favorites of your own.
Under the right conditions, this system will produce fish at almost any time of the day. But for maximum effectiveness, try it out during the low lights periods of early morning and late evening. Many times, during these low-light peak periods, active Crappies can be spotted as they cruise above the weed tops. That makes locating them a lot easier, especially if you're in un-familiar territory.
Finally, don't be surprised when you start catching every kind of fish that swims in your lake. Using this system, we've caught Walleye, Pike, Bass and Panfish and Perch all at the same time, all in the same place.
If you wind up having a hyper-overload of "Muliple-Smilisms", go ahead, you can blame it on me!


(6/16) From the Lake Winnie Region, Nik Dimich has been on Lake Winnibigoshish and fishing Walleye as the transition into summer patterns begins. In Nik's tips, he says; "There are basically two ways to catch walleyes on a rig after the initial pick-up bite. One is to hold and drag until there is sufficient weight on your rod tip. The other is to feed line and count to five or so and then reel down, tightening up and then setting the hook.
Either way, wait for the telltale sign, a short tug on the line. If you " ... Read >> Lake Winnie Region Fishing Report .

Fishing Report June 15, 2013, Jeff Sundin - Walleye and Cabbage, A Winning Combination - Once a person gets into the bsusiness of fishing with people who have hired you to guide them to a good day's catch, you learn to expect that working under a certain amount of pressure is part of the gig. After all, they're shelling out a tidy some of their hard earned cash and would really like to have a productive day on the water. If it was my fishing trip, I'd want the same thing.
Once you get used to working under a little bit of pressure, you expect to hear that your customers have some ideas about what they want to do and where they want go. You Know; "Take me to the hot Walleye bite", or something like that. Then as soon as you start getting fairly good at figuring things out, a guy like Pete Raquet comes along and throws the whole system out of whack.
They sometimes say that nice guys finish last, but I Know for a fact that's not true, because I know Pete Raquet and he's a winner! If there was such a thing as "Anti-Pressure", it is Pete's photo that would appear beside it in the encyclopedia. When I ask him what he wants to do, he just smiles and says that it's up to me. No pressure, no worries.
Okay, so what happens then is that I begin stumbling and bumbling around try to think up stuff that would be really cool to do. That's what happened on Friday, I was smack dab in the middle of a momentary session of head scratching when another great friend came along and saved me. Just to protect his territory, I'll leave his name out, okay?
But at the bait shop, while we were chatting about what I was planning to do this time, he said; "Why don't you guys just come along with me?". He was heading for a long lake with a short name and had heard good reports from there over past day or two. The lake is typical of at least a dozen or more Itasca Area Lakes that share similar characteristics. A couple of Thousand acres in size, contains a handful of deep water spots, some shallow flats and a dozen or more shoreline points. Any of the are lakes that fall into this category would be good candidates right now, while the conditions are ideal.
At the landing, the surface temperature was on the high side of 65 degrees, there was a drifting breeze on the lake and maybe a dozen boats. Our first stiop would be a shallow water weedbed, a Cabbage patch surrounded by a flat that contains lots of Clams. It didn't take long to find out the Cabbage weeds were already nice and Green and that they were home to a reasonably good school of Walleye. This, along with other weedy places turned out to be the formula for producing fish.
Many of the fish we caught were on the small side, 11 to 13 inches was a common size. Occasionally though, there were larger examples and we did manage to gather a dozen fish that ranged between 15 in 18 inches. There were also a half dozen fish in the 13 inch neighborhood that provided part of the shore lunch and another meal for me, at home.
Using 1/8 ounce jigs and snap-jigging along the weeds in 8 feet of water worked well for us. But while we did that, we also saw fish cught by anglers fishing with Lindy Rigs tipped with Night Crawlers. They used a worm blower to inject a bit of air to help float the worms above the bottom.
With the water temperature in ideal range and more warm weather predicted, many of these "smaller lakes" are going to be on their best behaviour for the next couple of weeks. It would be a good idea to take advantage of the time, especially if you have a lake or two on your wish list.


(6/15) While I'm on the subject, there are a lot of reports where I mention using jig and minnow combinations. Sometimes I forget to explain how and why we use 'em. Recently, Nathan Shore shore pinned me down on the subject of Snap Jigging For Walleyes and reading his article will help you put some extra fish in the boat this summer. Click To Read >> Snap Jigging For Early Season Walleye .


(6/14) Finding Active Shallow Water Walleyes, was Jon Thelen's mission for this week. He's been on Upper Red Lake trolling the shallow water with crankbaits and this new episode of Fish Ed will show you how to put some Walleyes in your livewell over the next few days. Click to view >> How To Crank Up Shallow Water Walleyes .


(6/14) Hi Jeff, I saw a video last summer on your site showing a \"run and gun\" method for finding walleyes and dropping a slip bobber with jig and minnow on top of them when they show on your screen. Can you point me to the link for a refresher on this technique? I tried it on Winnie and it worked well! Thank you! Tom Feyder
A) Tom, Here's a link to the specific video you asked about. Road Hunting For Walleyes .

Fishing Report June 14, 2013, Jeff Sundin - Walleye Fishing Ramping Up - I told my fishing customers yesterday that if Leech Lake produces good Walleye action during a calm, bluebird day, that means that Walleyes are really biting. Well, guess what?
With surface temperatures now hovering on either side of 65 degrees, the metabolism of these Walleye is heating up and they know that it's feeding time. With Shiner minnows jam packed onto the outer edges of shallow sand flats, the Walleyes are cashing in on the easy pickin's. They are definitely on the move, definitely feeding on minnows and they'll be there until the Shiners disappear.
If there's any drawback to fishing on Leech Lake right now, it would be the gap between fish that are running small and the ones in the protected slot. On Thursday, we caught a bunch of fish that were in the 20 to 26 inch range. We also caught a bunch of fish in the 11 to 14 inch range. We noticed however, that fish between 15 and 18 inches are rare.
Another observation was that working the fish "slow and subtle" was a waste of time. In fact, it seemed like the faster and more aggressively we jigged, the more reponse we got from the fish. For most of the day, wind speed was too low for drifting, so I backtrolled at 1.1 to 1.4 MPH and kept coaching the crew to keep their jigs moving.
We fished in about 9 feet of water, so 1/8 ounce Lindy Jigs tipped with Shiners worked perfectly. The Sand Grass on the bottom can be a problem for folks who move to slowly. Bear in mind that your jig does not need to be dragging on the bottom to catch a Walleye. As far as the fish are concerned, the top edge of the weeds IS THE BOTTOM. So if you drag your jig in the sand, you'll be fishing below the fish, they won't see your bait and it will frustrate you when all of your friends catch fish and you don't.
If you discover that agressive jigging isn't turning the fish on, then switch to lighter jig weights to compensate. The idea is to keep your jig at eye level or slighty higher. That way the fish have maximum opportunity to see and strike at your bait.

Fishing Report June 13, 2013, Jeff Sundin - Food Chain Kicking In To High Gear - Calm seas on Wednesday morning revealed the evidence. Surface temperatures had risen into the low 60 degree range and the Western shore of Lake Winnibigoshish was alive with all sorts of bug hatches. Not Mayfiles, but lots of other little critters, some I recognize, some I don't. Because of their tendency to land all over everything in the boat, the Midge hatch stood out among them.
The presence of all of those bugs attracted every conceivable kind of fish onto the flats. In water depths of 12 to 16 feet, my Humminbird was alive with paintings of all of it. Small groups of larger fish, large groups of smaller fish and huge pods of bait. Like kids in a candy store, Walleye, Perch and Pike enjoyed the smorgasboard.
They'd probably have eaten more than we would have liked, because trying to catch them wasn't as easy as finding them was. They were finicky, picky eaters and with so many small fish in the area, it was hard to keep our baits working for big fish in the midst of all the little ones nibbling and nudging.
Northern Pike were the one exception; Pike in the 20 to 24 inch range were everywhere, especially on small patches of rock. In fact, I'm positive that we never fished a single spot all day long, where Pike were not caught in multiples. At one time, we even had a tripple. The presence of so many Pike was making it hard for me to concentrate on Perch and Walleye, but they were also a blessing because I used a few of them to make a nice shore lunch.
After lunch, our fishing perked up a little. The wind started churning some whitecaps and Walleye activity intensified. Perch action was strong too, but the size of of the ones we located was mainy small. After sifting through a stretch of shallow water for a couple of hours, we managed to sort out around 30 perch and a handful of Walleyes.
As usual, every fishing trip has a highlight reel and this one featured Cameron Bopp who was rerwarded for his patience with a "hot streak" that included 3 of Lake Winnie's slot-sized Walleyes. All were released, but none were boring to catch.


(6/13) On Leech Lake, Walleye action was good on Wednesday according to Roy Girtz who's brief message to me said; "Fishing on Leech was a good decision". Without elaborating on specific locations, we do know that most of the flats in Portage Bay, especially when exposed to the breeze, have been reliable producers for the past couple of weeks.
Best presentation on Leech Lake is still jig and minnow combinations, but another friend reported good results by fishing the breakline 10 to 12 feet of water using Lindy's Crawler harnesses.


(6/13) On Cutfoot Sioux, Crappie action has shifted to the morning/evening pattern. Instead of focusing on shallow water spawning areas, sucessful Crappie fishermen are working on the weedlines durning low light periods. Most of them have been anchoring and fishing with slip floats, but a few of them are catching fish by casting small jigs tipped with action tails. Key locations are the Cabbage patches, which are beginning to Green up
June12, 2013 - On Lake Winnie, the transistion from springtime feeding areas toward the lakes main basin has begun. Insect hatches are attracting both Walleye and Perch to the outer edges of the lakes sprawling sand flats. The migrations are in their early stages, so the fish we located on Monday tended to be in areas near the shoreline, but on the main breaklines in water depths of 14 to 18 feet.
I'm sure that there will still be fish on the shallow breaks too, but on calm days like this one, those fish will be tough to catch, especially until the weeds get thick and healthy.
We were able to catch Walleyes using 1/4 ounce Lindy Jigs tipped with minnows. But there are already fishermen on the breaklines fishing with Lindy Rigs and Leeches too.
If you're a Perch fan, then stick with the jigging as long as you can, because we found a nice size school of good size fish on the edges of ... >> Read Full Lake Winnie Fishing Report .

(6/12) On Bowstring Lake, Erin at Geiger's Trails End Resort; "Word on the lake…Crappies! They are biting and lovin' it! Large Mouth Bass are in abundance as well. However, these next few days will prove to be difficult with the high skies and Hot sun!" - Erin and Bill Charlton, Trails End Resort .


(6/12) At Lake Winnibigoshish, "Fishing on the west side of Lake Winnie continues to be very strong. The stable water temperatures this past week kept the shiners in the shallow water thus the walleyes stayed shallow. Jigs and shiners are still the bait of choice. The shoreline drop 6-8' is the place to focus on. If you can find any deviation in the drop such as a spot where the contour juts out into the lake seem to be the best spots. The fish are being caught both north and south of the River Mouth right now. Perch fishing is very good right now. Hard bottom areas are the best. Small jigs and fathead minnows will get the job done.
They are forecasting warmer temperatures this week, so the walleyes will start to move off of the shorelines and out to the midlake structures as the shiners move out and the insect larvae start to emerge from the bottom of the lake. We have openings, so check out our availability on the website and give us a call. This is a great place to bring the family and catch some fish." Visit >> The Four Seasons Resort on Lake Winnie .

Fishing Report June 12, 2013, Jeff Sundin - The Warm Up - On Tuesday afternoon, I looked at the outside temperature and for the first time, in a long time ... 76 degrees. Whoa, I was roasting and the sun fried the top of my ears too.
That sunshine, combined with the calm seas really did a number on the surface temperatures as well. We started the morning with 60 degree readings and ended with 65 degrees. That was only 3:00 PM and I know that it warmed up even more after we left. In fact, later on I had some time to kill and headed to the lake for an evening photo of the sunset. When I walked into the water, it was warm, really warm and now I can say that I've had my first swim of the summer!
One notable observation from Tuesday was that Smallmouth Bass have moved into their spawning territory. Some of them were roaming sand flats, some were already sitting on beds. According to the forecast, there doesn't appear to be any reason for them to leave.
Expect Blugills and Rock Bass to appear in the shallows too as the warm water season moves into high gear.


(6/12) Bemidji Lakes Area, Paul A. Nelson, Bemidji Area Lakes Guide Service says; "The weed beds are finally starting to grow and surface water temperature is approaching 60 degrees in most of the lakes in the Bemidji area.
Anglers can expect one of the best bites in the season for the next week or so as the female walleyes have recovered from the spawn and are showing up on structure ready to feed.
The shoreline bite for walleyes will begin to taper off, as more walleyes leave the shoreline and head for mid-lake structure. Anglers may notice the insects beginning to emerge from the basin on the lakes as they drive over the deeper parts of the lakes,
The insects look like clutter coming off the bottom on anglers' electronics. In deep water, the insects may cloud the water for ten or more feet off of the bottom and will eventually make their way to the surface of the lakes, usually at night.
Many anglers are still using jigs and minnows when they fish shallow weeds. Most anglers will switch to live bait rigs with leeches, night crawlers or larger minnows when they fish walleyes on deep structure.
Spinner rigs with bottom bouncers, jigs and plastics and most artificial minnow baits will work better when surface water temperatures rise above 70 degrees and will be the dominant pattern for walleyes much of the summer.
Bass, crappies and sunfish will be on their beds soon, getting ready to spawn. Once members of the sunfish family finish spawning, the spring spawning species will be done with the spawn and will move out of the spawning areas and disperse back into the lakes.
Muskie anglers should also be seeing more active fish, as they have had more time to recover from the spawn. Bucktail spinners are one of muskie anglers favorite baits early in the season, because they work well over the top of the weeds and are easier to fish than most jerk baits." - Paul A. Nelson, Bemidji Area Lakes Guide Service, panelson@paulbunyan.net - 218.759.2235 .

Fishing Report June 11, 2013, Jeff Sundin - Peek-A-Boo, I See You! - On Monday, we took advantage of the calm seas and warm temperatures to explore Lake Winnibigoshish. It was a perfect day for it, easy to cover a lot of territory and easy to explore a variety of habitats.
Somewhere along the line, Tim asked me a question, he wanted to know something about how my electronics had changed over the past ten years. I gave him a fair answer, talking about the features and reliability of my particular unit, a Humminbird. It wasn't a long answer, at least not at the time, but now that I've thought about it, I could have done better.
I don't know why I didn't think of it sooner, but it occured to me just now, how important that question really was. You see we had just finished covering about 15 miles of water, scanning the flats and breaklines in search of fish and never stopping unless I spotted them on the 'Bird.
Every single time we stopped, we already knew that there were gonna be fish under the boat. There wasn't hardly a minute of wasted time.
Better than the old days, is the reliability of spotting fish while you're moving fast. I was seeing those fish, reliably at speeds of 15 - 20 MPH.
When you think of it, I rarely need to worry about finding fish any more. In the "old days" finding the fish was one of the scariest parts of being a fishing guide. But today, it's a foregone conclusion that we'll find 'em, it's become the easiest part of my job.
So using one single word would have given Tim the truest answer to his question. Efficiency! The ability to cover a lot of water in a hurry, ruling out areas that don't look good and stopping only when there's adequate evidence that there will be fish to catch. It paid off more than once on Monday.


(6/11) From the Lake Winnie Region, Nik Dimich says; "By locating underwater points, flats in areas with new weeds, rock or gravel you will find the habitat/forage walleyes, perch and pike like. Bass also frequent these areas.
When fishing walleyes with shiners, keep in mind sometimes the fish will bite lightly. A medium/light action rod helps in these situations. These medium/light action rods are also good for" ... Read >> Lake Winnie Region Fishing Report .


(6-11) From Lake MilleLacs, Wayne Crandall dropped me a quick email; "I want to share a couple of pictures with you of my Father-in-law Pete LoLand we fished Mille Lacs on Friday and the fish are really biting! The picture of the Smallmouth is of a 20" brute. Pete lives in Grand Rapids and always likes to come to mille Lacs to catch big fish. On our fishing trip, we boated over 50 walleye most of them over 22" with our biggest, 27 1/2 inches" - Wayne Crandall

Fishing Report June 10, 2013, Jeff Sundin - Rainy Day Dampened Our Clothes, But The Fishing? No. Our Spirits? Not Ever! - Day One of my 3 day stint with Lash and Fish started of with a healthy dosage of fantastic hospitality at the Winnie Cafe in Bena, MN.
You might happen to know someone who likes starting their day with a good breakfast and loves getting great service. You may know someone who habitually drives past the Big Winnie Cafe on their way to fish Leech Lake or Big Winnie. If you do, then do them a huge favor and let them know that it's time to stop in before heading out on the lake. The 3 of us have made this a regular stop on our fishing trips and we've always had good food and good service, but on Sunday, it was even better than usual. It was a nice way to start the day.
Before we headed out, we talked over our game plan; Crappies had been mentioned several times, but if we were gonna have our fish fry, we'd need some Walleyes too. I mentioned a couple of tidbits that have been coming across the wire lately about lakes where we might pull off the "daily double".
Leech Lake got the Thumbs Up; We've had great experiences there in the past and it was just a few miles down the road. We might even get a little fishing done before the rain set in. Not. At the landing, rain drops had already begun to dampen the windshield, forcing us to suit up, even before the boat was off of the trailer.
On Leech Lake, the surface temperature was a uniform 61.7 degrees, there was a perfect breeze for Leech, and there was a healthy Walleye Chop spanking the rocks at Battle Point.
Going for the food first, we fished right there at the point, on a shallow rock spine exposed to the wind. After I figured out how deep to hold the boat, the action became steady, but not fast. A strike or two on each pass, yielding Walleye of varying sizes. Some too big, some too small and eight of them, just right.
All we needed was 1/8 ounce Jigs tipped with minnows. There's no doubt that on Leech, Shiners tend to out-produce other bait, so I played it safe and made sure we had an ample supply and we used them. Besides, I still see the most smiles when I cater to the boys' mild case of "Shiner Mania".
Crappies got moved to the top of the agenda around 1:00 PM. By then our fish fry was secure and we were all tired of bobbing in the waves with rain soaking us. So as soon as I prepared myself mentally for a long, wet boat ride, we headed for the Crappie Hole.
I didn't exactly play the role of Amerigo Vespucci. I just made a bee-line for a stretch of shoreline that had produced fish for us in the past. A spot where we find Crappies when they're in-between the spawning beds and the gigantic patch of Cabbage Weeds that cover most of Boy Bay.
After some considerable searching, discarding some Bass, Pike and small Perch that had been teasing us, one of the bobbers went down, this time coming back up with a nice Crappie in tow. Soon after that, the rain stopped and there were smiles coming in from every direction. In fact I could describe them as "Multiple Smileisms" and I think I'll take credit for coining that as a new phrase!
The Crappies didn't come much faster than the Walleyes had before. It was steady, but not fast and finding them was a simple matter of poking around, testing new territory.
We were rigged up with slip floats, set to about two feet deep and 1/8 ounce jig heads tied below. Lindy's two tone Bright Green/Black combo. We used Crappie minnows this time, but next time, I'd bring something a little larger, medium to small Fatheads would have worked a little better I think.
By days end, we had a respectable basket of fish, soaked clothing and I think we were a little bit thirsty too. We high-tailed by to Nodaks, where the fish fry and a sip of some 18 year old Scotch turned out to be just what the doctor ordered.

Fishing Report June 9, 2013, Jeff Sundin - Walleyes On The Move, Crappie Spawn Tapering Off -
Don't let the cool water temps fool you, baitfish and minnow spawing runs are behind schedule, but not as far as we think. Walleyes are already moving away from certain spring feeding areas, insect hatches are beginning to emerge and I think that we're on the verge of a major move.
Following spring and early summer fish migrations can be frustrating, especially when you're not on the water every day. Among the trickiest to follow in early summer, is the Walleye movement accross the flats and out to deeper water as they migrate away from shallow water feeding areas.
On Lake Winnibigoshish, there are miles of mid-depth, sand flats. When fish spread out accross them, finding them seems like looking for for a needle in a haystack. But there are certain key areas where fish will first begin to appear and checking them daily will help you zero in on the early arrivals.
Submerged points and pockets that are connected to these shoreline flats, but lead into the lake's main, deep water basin will be the first places where Walleyes congregate. In fact, there are already a couple of these areas beginning to fill with fish.
On Friday and Saturday, fishermen using Lindy Rigs and Leeches were catching Walleye along these main lake drop off areas in water depths of 16 to 22 feet. There are still fish in the shallows too, but anglers need to be more aggressive about searching for smaller, more scattered schools of fish. On Saturday, I was almost ready to scram from the shallow water flat in Tamarack Bay. I just happened to pick up a school of fish on my Humminbird and decided to make a quick pass. I'm glad that I did, because they were active and this single school of fish made our morning.
When you locate a school of Walleye, your jigging action needs to be aggressive as well. Using 1/8 ounce Gold Lindy Jigs tipped with Shiners and snapped sharply is what triggered the bites. We watched other boats attempting to catch fish in the same area, but using more subtle presentations, but the results were far less dramatic.
For Today; A three day stint with Lash and Fish. 66-2/3 % of a trio who have covered lots and lots of miles with me along the path. Jesse's with us in spirit too as we head out onto the big lake to see where they're bitin'.

Fishing Report June 8, 2013, Jeff Sundin - Changeover Day or Vacation Day? - On the heels of a period of Grey, wet weather, Friday's sunshine and calm seas gave fish an excuse to go easy. They didn't go to sleep completely, just a bit of a cat nap.
On Friday, the boys had me looking for a place where we could do something a little different, not drive too far and still have a chance at a good fishing day. It seemed like a perfect time to follow up on some advice from a friend and try a smaller lake, close to home that's known for have good Walleye fishing, when it's ready.
When we arrived at the landing, the surface temperature was holding steady at 57 degrees and the lake was flat calm. Apparently, the perfect conditions for fishing in the Cabbage weeds that typically hold Walleyes during the early season.
By the time we'd fished 3 or 4 weed beds with good reputations for being productive, we'd only boated a handful of small Northern Pike. Hmm ... That's odd, but it was time to try a different approach. Next stop, a sunken island located near the shoreline. The structure tops off at about 15 feet and has a mixture of Clams, sand, plus a few rcoks. We dropped in our jigs and almost immediately got some strikes. Jason caught a nice 21 inch Walleye, I missed one and Eldon had hooked the smart one, his Walleye swam to the side of the boat and then un-tied the jig so he could be available for us at another time.
It looked like things were gonna go smooth, but after one pass, the fish had already become spooky, thumbing their noses at our offerings. We tried a couple more sunken islands that produced the same result, a brief spurt of action followed by a period of wondering why they wouldn't strike. Maybe the calm seas? I'm not sure, but after we visited one more weed bed, this one yielding only a few more small Pike, it was apparent that our time to "make a move" had arrived.
Still scratching my head about what to do next, the boys were quizzing me about panfish. Maybe it was a good time to try the Crappie hole?
When we arrived there, the parking area looked like Grand Central Staion. Plenty of trucks and the landing ramp was rutted and muddy from all of the activity. Not exactly the kind of thing that bolsters my confidence, but we were here now and we'd have to try and make the most of it.
The surface temperature hadn't changed since my previous visit, but the water had become much more clear. We could see the bottom easily in 6 feet of water and there was little sign of any bloom in the water at all.
Looking for ways to work around other boats, we explored as much territory as we could and found a couple of small areas where Crappies were semi-cooperative. They were spooky here too though and In order to get a bite, we had to push our baits into the heavy cover. There were times that we could see the fish, but coaxing a bite wasn't easy. Maybe if we killed a little time and waited for an early evening bite, it would be easier?
The small lake is not known as a great Walleye Lake, but it does contain some and while we poked around, a few of them allowed capture. Those, along with a few more Pike helped keep my mind on the job until the evening.
Aound 6:00 PM, we re-strung the Crappie rods and headed back into shallow water. This time, the action was better, in fact it was pretty good, but now the fish were running much smaller. Still, we squeezed out a few more keepers before finally heading back to shore.
Long story short, we found fish, gathered a fairly nice pail full, but it was sheer determination that produced the results. The fish might have just needed to take a breather, or maybe they're in transition, preparing to move into summer territory. The lack of enthusiasm on the fishes part could have been weather related, but i don't think that the conditions were all that bad. It might just be a hunch, but for my money, I'd be expecting to see a major move into new territory during the next week.

Fishing Report June 7, 2013, Jeff Sundin - The 'Eyes Have It! - On Lake Winnibigoshish, the shallow water Walleye action continues to be good. Look below and you'll see that Bowen's aleady has a good, current report from both Winnie and Cutfoot, so there's no reason to make you read the same stuff twice.
For Today; Fishing the annual "Fathers Day Trip" with the "Norwegian Hammer" and his two sons. We are definitely going somewhere, that's for sure!


(6/7) From the Lake Winnie Region, Nik Dimich says; "Over this past week locating wind blown structure on Winnie has produced active fish. Finding pods of bait on your sonar is important and when you do, stick around because the fish aren't far away and will eventually bite. If you can, take a look at your map and find these locations before heading out on the water. On the south side of Winnie, Little Stony to the" ... Read >> Lake Winnie Region Fishing Report .


(6/7) At Frontier Sports in Marcell, Paul Larson says; "The water temperatures are slowly climbing into the 60's and that's bringing the Crappies into the shallows. There have been reports of limits taken in many of the lakes in this area. The Smallmouth Bass have been very aggressive with crank baits and soft plastics producing the most action. Largemouth are the cruising the shallow back bays and hitting spinner baits and soft plastics. Some bass are on their nests but most are waiting for it to warm up a bit. Water temps were in the high 50's to low 60's as of Tuesday. Northerns are being taken on sucker minnows, spoons and spinners in the shallow bays as well. This weekend's improving weather should see better fishing with more cooperative fish. The bait shop has a full complement of minnows, leeches and crawlers as well as a fully stocked tackle department and gift shop." Frontier Sports is an authorized LIVE TARGET dealer. Click to contact >> Frontier Sports .

Fishing Report June 6, 2013, Jeff Sundin - Fishing Summer, Spring and Fall; All During The Same Week! - How lucky can ya' get? Because of the wildly fluctuating surface temperatures, fishing patterns this week have been all over the map this week. Luckily, I was able to cover a lot of ground and there is one key thing that I learned. If you want to swing from "Spring Patterns" into "Summer Patterns", or from Summer to Fall, all you need to do is switch lakes.
One thing that I can tell you with certainty is that they are hungry and if you can find them, you will definitely be able to catch them.
The past two days have provided perfect examples. On Tuesday, "Lake A" had surface temps in the low 60's and the Crappies were engaged in a full scale spawing run. On the same day, the much deeper and clearer, "Lake B's" water was holding in the mid-50's and produced pre-spawn patterns for both Largemouth and Smallmouth Bass.
On Wednesday, "Lake C", another deep, clear lake provided proof that Smallmouth and Largemouth Bass will also take up residence on sharp, fast breaking shoreline structures with direct access into 30 feet of water, a classic fall pattern.
Meanwhile, Walleyes on the "big lakes" continue to inhabit the shallow flats, capitalizing on spawning minnows and baitfish. But Walleyes have already begun to move onto summer structures in smaller lakes that don't have these large minnow migrations.
What I'm trying to tell you is that as you're preparing for the up-coming weekend of fishing; The first item on your list ought to be "CREATIVITY". If you're a regular visitor to Northern Minnesota during this time of the season, be ready for some departures from the "Normal" patterns. If you're not finding fish where you think they should be, then don't wait around, start searching elsewhere.
Location was a huge factor for us on Wednsday and it appeared to be almost entirely temperature related. There was one particular bay of the lake where surface water was almost 59 degrees. In this area, Bass were holding tight to the base of Bulrushes along a steep drop off. Using 1/8 ounce jigs tipped with 3 inch artificial tails cast to the base of the reeds, they were easy to catch.
Trying to duplicate the pattern wasn't easy though, even though I found several areas that were structurally equal to our "hot-spot", I couldn't find one where the water temperatures were as warm. Locations that appeared to be prime, contained few, if any fish.
So if your lake is still on the cool side, keep water temperature in mind this weekend and it just might save your fishing trip.

Fishing Report June 5, 2013, Jeff Sundin - Crappies On The Shoreline; Bass and Sunfish Soon To Arrive! - A day set aside for trying to find Crappies turned out to be easier than I thought it would be.
With Walleye limits already packed and frozen, day 3 of the fun with Dick and Paul trip was supposed to be devoted to the search for Crappies. As I've said before, it's better to be Lucky than to be good. This day had "Good Luck" written all over it and finding the Crappie hole was as simple as following one Lucky Hunch.
The buzz about Crappie fishing had been building over the past few days. We'd seen a family at the fish cleaning shack with a limit of them that they caught on Lake Wishweknewit. There were a couple of stories floating around the bait shop and I'd gotten the heads up from a some friends too. All I had to do was go out and stake out some territory.
Still, I didn't really want to wind up sitting in a crowd, arguing over who gets to cast to which spot. I decided to go try a lake that I knew had a good supply of Crappies and where we could probably find some solitude at the same time. The first spot would be a protected shoreline, full of branches, bullrushes and plenty of nooks and crannys.
When we got there, the surface temperature was 63 degrees and the water was like a mirror. At first we tried fishing with small jigs, fan casting the area to search for fish. After a few casts though, we realized that the cover was too thick for that, so took a break to re-rig with small slip bobbers instead. That way we could work the heavy cover more eas ... well, a little bit more easily.
It didn't take many casts before the first bobber went down. Or the second, or the third ... and over the next few hours, we got to know every stick, every blade of grass and even that little birdy who rested on the Cedar branch on shore.
The presentation was as simple as it gets, 1/16 ounce jigs, tipped with small fatheads, suspended a foot below Thill's standard 1/16 ounce slip floats. All we had to do was get the bait close enough to the cover to attract fish, without getting hung up. Cane poles would have actually worked better than spinning gear, but once we settled in, slip-bobbering worked out fine. The lesson? If you know, then follow your instinct.
By the time we had our Crappies, there was still plenty of time to try something different. It didn't take much arguing to talk the crew into trying for some Bass. So we split the scene and headed to our Sunday, Smallmouth hole. A deep, clear water lake that provided a great mixed bag for us a couple of days ago.
There was a 10 degree temperature drop between the two lakes. Now we were looking at a 53 degree surface temperature, a fairly strong East wind and slate Grey skies. The Smallmouth Bass that were on top of the rocks during the sunshine had dropped off the structure into deeper water.
We poked around the calm side of the lake, picking away a scattered packs of fish. A Smallmouth here, a Walleye there, then a Largemouth, some Perch, just a hodge podge. Then another tap on the shoulder, another hunch.
Heading back toward the windy side, I stopped at a small grassy bar where we've had good luck in the past. As we made our first casts, I said "sooner or later, this hump will be infested with Largemouth Bass". Uhm ... like this one, or like that one, like Pauls, no like Dick's, no like mine .... for the next hour the Largemouth Bass were on fire. We caught them as fast as we could get a lure into the water. A Pike or two and another bonus Walleye strolled in at the wrong time too, giving us a well rounded highlight reel for the afternoon.
Everyone had something different tied on, all producing fish, but the presentation I used was an 1/8 ounce Lindy Jig dressed with a small, 3 inch shad tail. I'm sure that there would have been several plastic baits that worked, but under the circumstances, just holding the boat in place was plenty of work, so I didn't do much experimenting.
One thing to consider though; When you're fishing mixed bag lakes, choose a bait that will catch all of the species that you could encounter. Smaller baits with a swimming tail like Yum's 3-1/2 Money Minnow will catch a variety of fish species. I'll cover this subject more thoroughly because;
For Today; The Grand Finale' of Fun with Dick and Paul includes more mixed bag fishing and more clear water. There's even gonna be another island! Ha! I Love Islands!


(6/5) Gus Sheker, Gus' Place Resort on Ball Club Lake; "This year its been a long road from winter to spring, but the temperature to finally starting to warm on the lake into the low to mid 50s.
Warmer water means a better bite this time of year and the anglers who are fishing the warmest parts of the lake are starting to show some good results.
Live bait rigs at the mouth of the Ball Club river and the flats along the shorelines are producing fish. The large flat in front of the blue water tower has also been a favorite area this spring.
We are finally starting to see a few crappie being caught, but it is not warm enough yet for spawning. Perch and Northern fishing has been good and the Walleye fishing improving each week.
Large mouth bass are being caught in or near the water exchange areas using shiners during the sunny warmest days. Look for the best fishing yet to come as the lake warms to into the 60s." - Gus Sheker. Gus' Place Resort .


(6/5) On Bowstring Lake, Erin at Geiger's Trails End Resort; "Bowstring lake is hitting Hot and Heavy for crappies…jig and a minnow works best! We are finding that low skies and cooler weather has been the key for the Walleye. The ones caught have had a belly full of minnows, so think outside the box and maybe try crawlers or leeches! Drifting in front of the resort has proven to be abundantly beneficial!" - Erin and Bill Charlton, Trails End Resort .


(6-5) Bemidji Lakes Area, Paul A. Nelson, Bemidji Area Lakes Guide Service says; "Surface water temperatures in the Bemidji area are now in the mid to upper 50s, but the new weed growth in the lakes is way behind most years for this point in the season.
The heavy snow and long winter killed virtually all of the weeds in the lakes. This has stunted the new weed growth this spring. Most winters are mild enough to allow some carryover of weeds, with new growth usually present on the opener.
The reeds and other emergent weed beds are also way behind this spring. Anglers need to watch where they are driving their boats near shore or they may be plowing through the reeds without knowing it.
Walleye action has been picking up in most lakes, with most of the walleyes still using shoreline connected structure. Most lakes have had the best walleye action in 7 to 14 feet of water, depending on the lake, the wind and the weather conditions each day.
Jigs and spotail shiners are the bait of choice for most anglers early in the season. Shortages of shiners have caused many anglers to fish jigs and fathead minnows or make the switch to live bait rigs with leeches or night crawlers.
The insect hatches have begun on the lakes, with the smallest varieties generally hatching first. The midge hatches are among the first fish flies to hatch each spring. Midges are the adult phase of blood worms, which hatch by the millions out of many lakes in the Bemidji area.
Midges look like mosquitoes without the stingers and can hatch in such large numbers that anglers on calm days can be swarmed by them while they are in their boats.
The best spring walleye fishing should be happening soon. The peak spring walleye bite usually occurs about the same time the lilac bushes are blooming on shore.
Crappies and sunfish are also moving into the shallows to feed, so anglers have plenty of choices to make when they hit the lakes for a day of fishing." - Paul A. Nelson, Bemidji Area Lakes Guide Service, panelson@paulbunyan.net - 218.759.2235 .

Fishing Report June 4, 2013, Jeff Sundin - Upper Red Lake Action Remains Strong! - Another strong performance by the giant lake on Monday for I and my crew. It's not unusual to hear about fishermen catching a ton of fish on this super-reliable spring Walleye fishery and from what I could see, most anglers had a darn good experience on this day.
When we arrived, the surface temperature was 62 degrees and there was a lot of debris in the water. Now calm, but still recovering from the strong winds that rolled in over the weekend, the lake still wasn't quite settled down.
The Walleyes, normally late sleepers on Red Lake, lived up to their reputation and at first, the fish weren't ready to start snapping. I kind of like it that way because it gives me some time to poke around, looking like I'm doing something to find 'em. By the the time they wake up, someone always pats me on the back for figuring out where they are. Really though, it's just a matter of letting the fish start moving and after that, all I (or anyone) need to do is steer the boat along the breakline. What I do get to figure out though, is what kind of baits the fish are in the mood for and this time, they had some definite preferences.
As usual, using snap jigging aggressively with 1/8 ounce Lindy Jigs tipped with minnows was reliable. But in the interest of conserving the precious supply of minnows, I've been doing a ton of experimenting with artificial baits too. On Monday, I uncovered another good one that easily kept pace with the live bait fishermen. Using the 3/16 ounce Whatsit Spin Jigs, right out of the package worked like a charm. The Whatsits have a concave tail and when you "snap jig" with them, they dart around and fall back in a semi-circle. The small spinner blade gives the bait that extra bit of flash that helps get the Walleye's attention.
Fishing on the shallow breakline, I straddled the drop between 3 and 6 feet of water. Boat speed was quick; I used the MinnKota to hold our trolling speed at 1.1 to 1.3 MPH and the Walleyes really liked it that way.
Essox Lucious entered the picture on Monday in a big way too. Apparently feeding on Walleye, Freshwater Drum and anything else that gets in the way, large Pike struck our baits several times during the fishing trip.
The concentration of Pike seemed higher than average to me because typically 2 or 3 Pike are the most I see on an average trip. On this trip we had 8 or 10 encounters, mostly ending with snipped lines caused by their razor sharp teeth. But they didn't all get away, Paul Kautza bagged a couple of fish in the low 30 inch range and Dick Williams landed a whopper. A 40 inch Pike is a great fish no matter where you catch it and Red Lake produced one just for for Dick on Monday.


(6/4) On The Iron Range, From Greg Clusiau; "He had just come off one of my favorite lakes, where a banner afternoon of crappie fishing was enjoyed. "Finally", I thought, "they're in". The next day, I headed there in the morning, only to find they had moved out into deeper water.
Many of the lakes that I fish are like this. Cool water seems to push them back out away from shore, making them tough to find and catch. I always find it better to go later in the day, after it's warmed up. When this happens, I " ... >> Read Greg's Full Report .

Fishing Report June 3, 2013, Jeff Sundin - Sunshine On My Shoulder, Makes Me Happy! - Especially when it comes to wetting a line in the Grand Rapids area. Clear water lakes, slow to warm up are now on the verge of busting wide open.
They say that a picture is worth 1000 words, so guess what? Today's report is gonna be really easy to read!
In spite of what your hear about fishing clear water lakes, High Noon Sunshine is good, especially when it's the first warm up of the season. Surface temperatures ranged from 52 to 57 degrees, warming steadily during mid day. Fishing started off slow in the morning. But as the sun warmed up the clear water, the action kept getting better and better.
A mixed bag of Walleyes, Smallmouth, Largemouth, Northern Pike and even 2 Muskies were all caught on Jigs, tipped with a bunch of different stuff. Jig and Minnow combinations, Jig and Money Minnows, Jig and Houdini Shad, Jig and Plastic ..... They all worked.
The fish weren't everywhere, but wherever they were, they were active and biting. In other words, fishing was spotty, but good, especially in terms of quality.
Mixed bag Walleye, Pike, Smallmouth, Largemouth even 2 Muskies! Caught on Jigs, tipped with a variety of stuff. Minnow combinations, Jig and Money Minnows, Jig and Houdini Shad, Jig and Plastic ..... They all worked and fishing was spotty, but good, especially in terms of quality.
Not a bad variety for one day, on one lake. Hey! Someone should name a spot, Variety ... !

(6/3) On Lake of the Woods, Border View Lodge, Mike Kinsella wrote; "June, ready, set, here we come! Great action this past week! We have been covering different parts of the lake depending on weather and wind. We have had monster Lake Sturgeon and huge Walleyes this past week. Think about a fresh Walleye shore lunch! Hot out of the pan with fried potatoes and our homemade tartar sauce. I can almost taste it!
Our guides have been keeping with the fish! We have been covering the lake with our Charters fishing off of the West and East sides of Garden Island, around Knight and Bridges Islands from Zippel Bay to Pine Island. Anchoring and jigging with a frozen shiner or live fathead has been still the preference. We have mixed in a little drifting when the wind has been light and wanted some changes in depths. Typically we are fishing from 20 to 24 feet of water.
The forecast for the week ahead looks good, maybe a little cooler than normal with highs in the 60's and lows in the 40's.
Our First Class Professional USCG Charter Captains are ready to go this summer! We have a fantastic crew on the books this year! Captains, Lanny Vollmer, Michael J Fox, Dennis Anderson, Jake Beckel, Darrell Hoag, Jon Geurkink, Steve Slick, Josh Beckel and Tom Geurkink are ready for your requests." 1-800-776-3474 Border View Lodge .


(6/3) At Lake Winnibigoshish, "The walleye fishing is wide open right now. The fish are in the shallow water chasing shiners and ready to feast. Anyone who throws out a jig and a shiner will have one of these fish eating it up! The whole west side of Lake Winnie is holding fish right now. Limits of "keeper" size walleyes along with many in the slot are being caught. There are packs of boats here and there on the traditional spots, but I found that if you forge your own path, you can find a school of hungry walleyes that have been unharrassed by others. This makes for the best and fastest action. Also, if you don't beat up on them too bad, you can come back through and catch more. By doing this, it doesn't attract the attention of the other boats.
The jumbo perch have started to school up on the hard bottom areas. Many fish from 10-12 inches have been caught these past few days.
Some nice northerns are showing up along with the walleyes. A 34" fish was caught and released yesterday. If you are looking for a place to come and try jig fishing, now is the time, and this is the place! Give us a call or check out our website." ... >> The Four Seasons Resort on Lake Winnie .

Fishing Report June 2, 2013, Jeff Sundin - Cold Blast = Time For Re-Boot - Please don't hold it against him, try not to hold a grudge, he's really a nice guy and a fantastic friend. It's not his fault, it's just one of those quirky weather things. In fact, it never used to happen and if he lived in Minnesota like he used to, well then we'd never know for sure if he had anything to do with it or not. None of this would even get blamed on him. I really do apologize though about Saturday's demonstration of the "Mike Carlson Effect".
If it makes you feel any better though, we stayed out there, we tucked in our shirts, pulled the hoods up over our ears and toughed it out for the whole day. Our catch may have been modest, but it was a catch. Our knuckles may have been chilled by dampness and cold, but our spirits? Not A Chance!
Looking in the rear view mirror, it probably wasn't the best day to be experimenting, but I'm a sucker for a challenge and I know how much Mike loves Trout Lake. In fact you could say; "I don't mind losing, I just can't stand not trying". We headed out from the landing and found surface water temperatures hovering at 54 degrees, the coldest that I remember seeing anywhere this week. We were at the calm end of the lake, so wind and waves weren't a factor yet Hoping to get the ball rolling quickly, I stopped at a weedy shoreline point, near the landing.
Holding the boat in about 20 feet of water, we pitched 1/8 ounce jig and minnow combinations toward the shallow water and hopped them down the break and back to the boat. I had a couple of strikes, but failed to get the hooks to sink in. Moving to one spot after another, the results were mostly the same. A few small Pike and a bunch of missed strikes.
The thermometer on the Humminbird reported a colder surface temperature every time we moved. By the time we'd arrived at the South end of the lake, I was looking at surface temps in the 48 to 49 degree range. A far cry from the 60 degree temps that would "get the fish moving". Reluctantly, we gave in to reality around 1:30 PM and decided to switch lakes.
Knowing that it was on our way home and that there have been good reports recently, it made sense to give Wabana Lake a whirl.
Arriving at the dock, we found a surface water temperature of 61 degrees, much more favorable. There were a couple of guys heading in from the lake, cold but smiling, because they'd found some nice size Sunfish to catch. They told me that the fish were found in deep water, not along the shoreline. I'm convinced that one or two days of sunshine will change that though. Panfish are ready to spawn right now and with temps that warm, they'll be in the shallows fast, once the sunshine warms the shallow water again.
Fishing a variety of spots, there were fish of some kind at most every stop. Small Bass, Rock Bass, Northern Pike, a couple of Walleyes and even a Smallmouth Bass for Mike. Fishing on Wabana was generally good, and any lack of Walleye action, well that was my own fault for not figuring out where they were faster.
But we did find some and once we knew where they were, they did bite and once they started biting, well, we decided to go home. All still smiling, all still looking forward to next time. Hey, remember the song See You In September? In only 120 days, we'll know ....
Okay, on Sunday I promised to give you Carl's Morel Mushroom Soup Recipe. I always keep my promises, so without any further adieu click here >> Morel Mushroom Soup Recipe .


(6/3) From Wired2Fish; "With Minnesota's Bass Fishing Season now open, anglers have another shot at a once in a lifetime experience. That's right, just like we experienced for the Walleye opener, cold water temperatures will mean that the Bass are "behind schedule". You've go a shot at catching some whoppers, bigger fish that are still in pre-spawn mode.
One good way to cover territory is to fish with jekbaits and Wired2Fish has a video that will give you a jump start. >> Learn More Click For How To Cover Water With Jerkbaits .

Fishing Report June 1, 2013, Jeff Sundin - Well, that "May" have been oddest spring fishing seasons that we'll ever see! But did "June" know that there's a whole new countdown starting today? Yes, a fresh page on the calendar and renewed optimism about a warm summer ahead.
While we were busy trying to learn how to take advantage of the late spring, the calendar has kept on plugging. Even though it still feels like spring, early summer patterns are emerging and fish are on the move.
Insect hatches are beginning to take place on mid depth flats and it's gonna be really interesting to see how the fish respond this year. I think that there will be some fish that stay shallow, sticking with minnows that are still behind on their spawing cycle. At the same time, other fish are likely to move toward these insect hatches as the activity intensifies. The end result could easily be a shallow water bite for "eater size" fish and deeper water bite for "slot fish".
There were some clues this Friday on Sand Lake. Surface temperatures are still cool, but solid at around 59 degrees. There was one spot where the temp crossed the 60 degree mark and one sunny day is gonna be enough to make that temperature stick for a while.
There were also early signs of some inscet hatches. Not Mayflies, Midge or Fish Flies, there were tiny bugs in the air though, a sign of more bug hatches to come.
The only serious action that we could drum up was in shallow water, the fish we caught were mainly on shoreline breaks in 6 to 10 feet. There were still fish there, but they were mainly small ones.
When I moved around the lake, deeper structures like points and mid-lake humps appeared to be empty except for a few stragglers that showed up in random locations. There wasn't much sign of suspended fish in deep water either. Hmm... If they aren't in the shallows and they don't show up deep, then they must be moving accross the flats. Somewhere between spring spawning - feeding territory and the summer spots like mid-lake bars and humps.
It's only a hunch, but if you want to get ahead of the curve, I'd suggest getting the Lindy Rigs organized, find a spot in your boat for some Leeches and Night Crawlers. It might not be time for a full scale assault on main lake structures, but I'd start start sniffing around out deep, inserting a spot ot two into the daily game plan this week.
After our fishing trip, the whole gang gathered in the woods for another Morel Mushroom hunt. The mushrooms are up and we found another nice batch of 'em. As a reward, Carl treated us to some of his Morel Mushroom Soup, which is by far the best soup that I have ever eaten, yes I said EVER! He shared the recipe and I'm gonna share it with you, but up I'm against the clock right now, so I'm gonna have to slip it into tomorrows report.
So after you get done fishing today, go out to your favorite spot and find some Morels. I promise that tomorrow you'll have the recipe just in time to whip up a batch of your own.


is celebrating Father's Day with FREE SHIPPING on all products purchased between June 1st and June 16th. Whether it's map chart cards for Humminbird fish finders, Contour Elite PC software, paper/laminate maps, or some new apparel.
To sweeten the deal even more for Early Birds, be one of the first 50 orders, and LakeMaster will include a free adhesive fish ruler decal with your purchse. No promo code required. All you need to do is click >> Lakemaster Fathers Day Offer .


(6/1) Finding Active Walleyes In Cold Water - This week on Fish Ed, host Jon Thelen details how to fish a Lindy Rig in colder than normal spring water temperatures on Mille Lacs Lake in central Minnesota. Spring walleyes can be found in many locations at this time of year and in this episode, Jon explains how to locate and catch unpressured fish that are in deeper water than most anglers would think with 48-50 degree water temps. If you are looking to catch spring walleyes, you don't want to miss this episode.. Click to view >> How To Catch Spring Walleye on Mille Lacs Lake .

Remember, "Like" the Facebook Fishing Reports Page and receive bonus updates throughout the day, during the whole fishing season. Hey! You can even post your own fish pictures!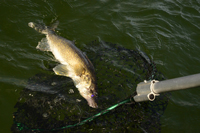 Landing more Walleyes like this one will be easier if you read the feature article >> Snap Jigging For Early Summer Walleyes

Jon Thelen has been on Upper Red Lake, trolling the shallow water with crankbaits and this new episode of Fish Ed will show you how to put some Walleyes in your livewell over the next few days.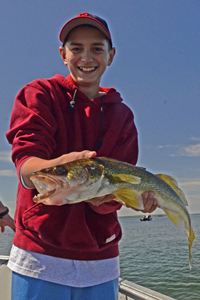 Just ask Will Edmonds, working the fish "slow and subtle" was a waste of time. In fact, it seemed like the faster and more aggressively we jigged, the more reponse we got from the fish.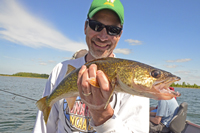 Most of our fish were caught by fishing the breaklines in 9 feet or water. Artificials worked well in the morning, but later, most fish were caught using 1/8 ounce Lindy Jigs tipped with Shiners.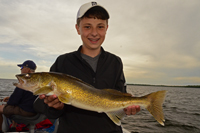 As usual, every fishing trip has a highlight reel and this one featured Cameron Bopp who was rerwarded for his patience with a "hot streak" that included 3 of Lake Winnie's slot-sized Walleyes. All were released, but none were boring to catch.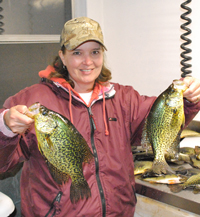 Photos courtesy Trails End Resort: Word on the lake: Crappies! They are biting and lovin' it! (Below) Largemouth Bass are on the prowl at Bowstring these days too.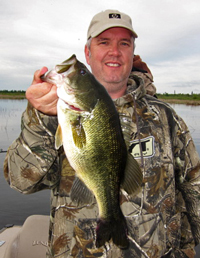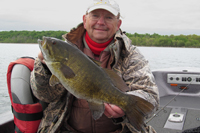 Photo courtesy Wayne Crandall: Wayne Crandall and Pete LoLand fished Mille Lacs on Friday and the fish are really biting! The picture of the Smallmouth is of a 20" brute. The two of them also boated over 50 walleye most of them over 22 icnes, their biggest, 27-1/2 inches.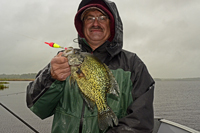 Rigged up with slip floats, set to about two feet deep and 1/8 ounce jig heads tied below. Lindy's two tone Bright Green/Black combo. We used Crappie minnows this time, but next time, I'd bring something a little larger.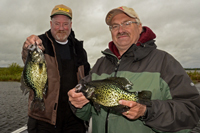 We fished a stretch of shoreline that had produced fish for us in the past. A transitional sarea where we find Crappies when they're in-between the spawning beds and the gigantic patch of Cabbage Weeds that cover most of Boy Bay.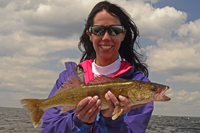 There are still fish in the shallows too, but anglers need to be more aggressive about searching for smaller, more scattered schools of fish. When you find 'em. jig aggressively too!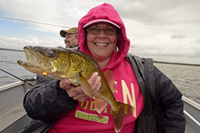 Photo Courtesy Bowen Lodge: Going for the Gold! Using an 1/8 ounce Gold Lindy Jig, tipped with a Shiner, Kristen Pietras landed lots of Lake Winnie's shallow water Walleyes. Fish were lolding in 8 Feet of water on a weedy, slow tapering breakline. (click for report) .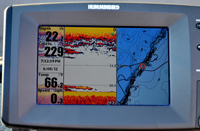 I rarely need to worry about finding fish any more. In the "old days" finding the fish was one of the scariest parts of being a fishing guide. But today, it's a foregone conclusion that we'll find 'em, it's become the easiest part of my job.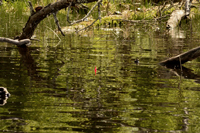 Using slip floats set at about one foot and getting our baits into heavy cover was the only way to produce Crappies. We could see the fish, but spooky from pressure, calm seas and sunny conditions, coaxing them to bite took a lot of determination.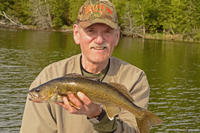 Not known as a great Walleye Lake, the little Crappie hole does contain some and while we poked around, a few of them allowed capture. Those, along with a few more Pike helped keep my mind on the job until the evening Crappie run.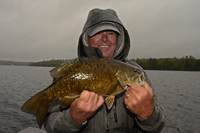 Smallmouth Bass showed up among the highlights of the day on Wednesday. Dick Williams shows off a 4-1/2 pounder caught along a sharp, rocky break into deep water. An 1/8 ounce Lindy Jig tipped with small, srtificial shad tails worked like a charm.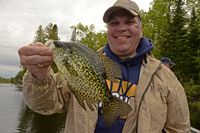 The presentation was as simple as it gets. Using 1/16 ounce jigs, tipped with small fatheads, suspended a foot below Thill's standard 1/16 ounce slip floats. All we had to do was get the bait close enough to the cover to attract fish.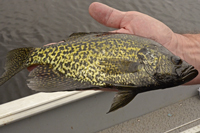 Male Crappies (above) turn Black during spawning season. Females (below) retain their original, more silvery color. Anglers who love eating fish can simply release the females and keep the males. That way you can "have your crappie and eat it too"!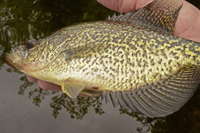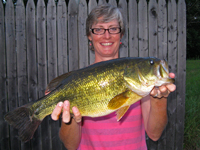 Photo courtesy Gus' Place Resort: Largemouth Bass are being caught in or near the water exchange areas on the warmest, sunny days. Best Crappie and Bass action lies ahead as surface temperatures rise.

Jon Thelen details how to fish a Lindy Rig in colder than normal spring water temperatures on Mille Lacs Lake .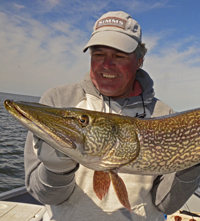 On Upper Red Lake, Norhtern Pike were inhabiting the shallow breakline. We caught several, including this 40 inch whopper that Dick Williams tricked into biting.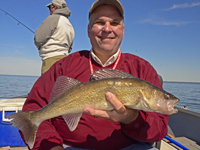 Upper Red Lake's Walleyes haven't vanished from the shoreline either. Afternoon action was fantastic in shallow water. Most fish are under the protected slot, with a smattering of larger fish, striking at random intervals. Good action and lots of eaters should be no problem through the next weekend.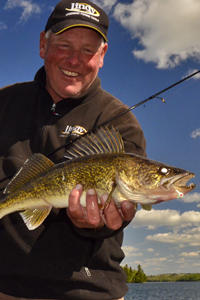 Mid-day sunshine didn't seem to bother the Walleyes on Monday. In fact, it didn't bother anybody and the warmer it got, the better the fishing was. Best depth range was 4 to 12 feet, best presentation was jigs tipped with a variety of both live and artificial baits.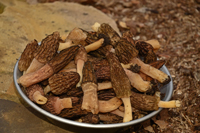 Carl treated us to some of his Morel Mushroom Soup, which is by far the best soup that I have ever eaten. Here's a link to the recipe so you can whip up a batch of your own. >> Morel Mushroom Soup .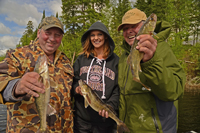 The weekend ahead has "Happy Fishing" written all over it. Just like it was on Thursday when warming temperatures, Grey skies and a perfect Walleye Chop combined to make a day loaded with smiles and bent fishing poles.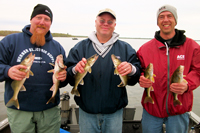 Photo Nik Dimich: For Winnie Walleyes don't forget to try areas with emerging weed beds or sand flats where minnows are holding in cover. Spring minnow spawning runs provide great forage for walleyes.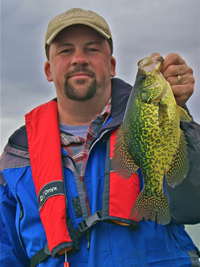 Courtesy Brian Castellano: We searched around for crappies and found a few that were getting ready for the spawn. They were in tight to the bullrushes. This spot produced about a dozen fish including this pair of CPR'd 13 inch plus females.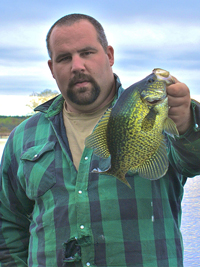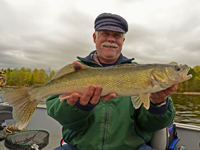 Reb Bowman held back on catching the little ones. He was saving himself for something a little more special. I can relate to that!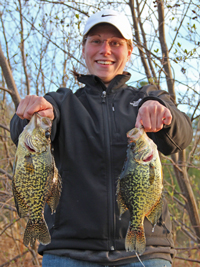 Mary Mattson shows provides eveidence that Crappies are beginning to make a move into shallow water. The next few days will be a pivotal time for Northern Minnesota Crappie anglers.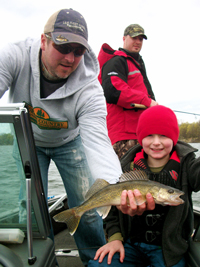 Photo Courtesy Nik Dmich: Niko (age 6) landed his first walleye of the year on Winnie over Memorial Day Weekend.
By locating wind blown structure with some rock and sand flats adjacent to deeper water brought active walleyes.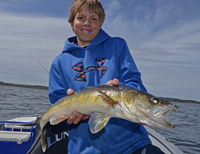 Winnie Walleye Party (5-26). Zach Krug (above) and the Birthday Boy, Jacob Krug (below) had a matching pair of 23 inch Walleyes. Braggin' rights all tied up for now, but there's a lot of fishing ahead this week. Maybe they'll send in some pictures later.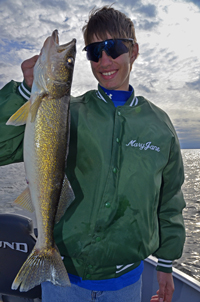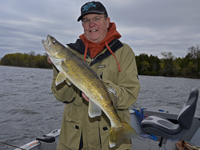 We caught a lot of Walleyes on Leech Lake this Saturday including this, our best effort. Bruce Champion's 24 incher.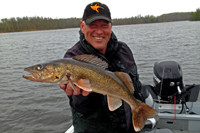 Bulrushes, especially when there's an adjacent point or sharp inside corner are prime small water habitat. Add a weed flat, a pile of rocks or a clam bed and this type of spot just keeps getting better.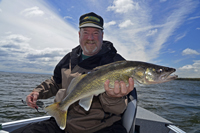 Larry Lashley (top) and Tim Fischbach (bottom) were here just in time to get in on the Leech Lake Walleye action that's been heating up. On Wednesday, we ushered out the clouds, welcomed in the sun and caught a boat load of Leech Lake Walleyes.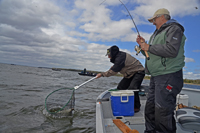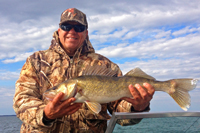 Courtesy Highbanks Resort: Bob Borkovetz, found out that Lake Winnie Walleyes are hitting in shallow water. Fishing in 4 to 10 feet with a jig and minnow produced this and many other 26 inch plus Walleyes this week.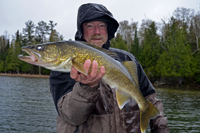 Hold the boat along the drop off and then cast or (pitch) the jig and minnow combinations toward the shallow cover. Allow the jig to fall toward bottom asd you hop, twitch or wiggle the jig back toward the boat.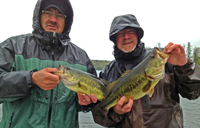 An unexpected run of Largemouth Bass interrupted our Crappie fishing. Two triples, and multiple doubles point to a "Pre-Spawn" feeding run.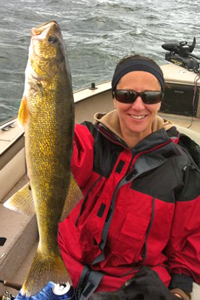 Courtesy Reed Ylitalo: Cutfoot, Winnie and Bowstring have produced reliable action. Best bet for action, jig and Rainbow Chub on the shallow breakline. Wings and Water Guide Service .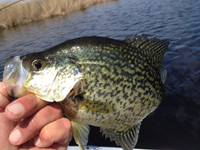 Spring Panfish on the Bite. Crappie and Bluegill alike, are finally frequenting the shorelines and willing to bite. Take advantage of this early spring phenomena. Read Report .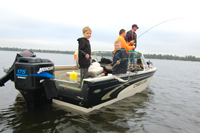 (5-18) A day with the boys on Upper Red Lake turned out to be a great idea. Shallow water Walleye action was as good as it gets.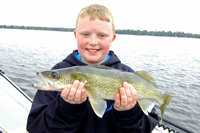 Above: Reese Wisehnack with a 21 Inch Walleye caught just minutes before Maddux Schrupp (Below) bagged the last "keeper Walleye" of the trip.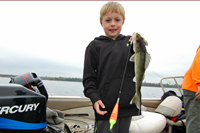 Maddux was fishing in about 6 feet of water using a Glow-Red Lindy Rattlin' Flyer under a Thill slip bobber. Oh by the way, did I remember to mention that Maddux caught the last keeper?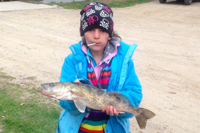 Photo Trails End Resort: A "sucker for fishing", Kiana Hachey age 10, shows off a nice Bowstring Lake Walleye. Just jig a little bit and catch one, it's easy.

Jon travels to Northern MN disclosing where and how to catch giant northern pike as they return from their spring spawning ritual in the backwaters.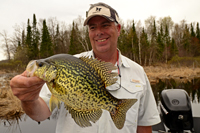 Crappies started moving toward shallow cover as the surface temperatures warmed into the high 50's. Mixed bag fishing with jig and minnow helped Mark Huelse bag 5 species of fish on Thursday.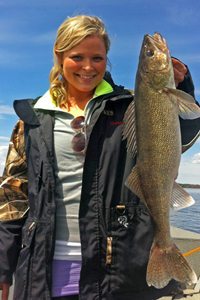 Photo Courtesy Nik Dimich: The gap from Cutfoot to Big Winnie is open and fish are moving through, back to the big pond. Sharae Richards told Nik where to go and he found some .... Read Full Report .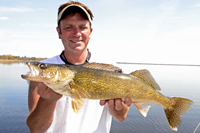 The first signs of Walleye heading back into the main lake. Cliff Hook tricked this one with a 1/16 ounce Lindy Jig tipped with a Rainbow.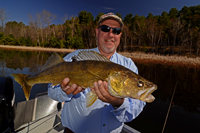 A steady flow of Walleye heading to and from spawing grounds has packed lots of fish into a small territory. Above; David Below; Mark and Matt caught all three of these fish on our first pass, at the first stop. The rest of the day was good, to say the least.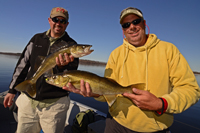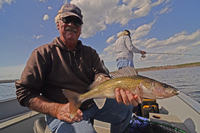 Protected "Slot-Fish" out numbered smaller smaller 'keepers" by a factor of 3 to 1. Most of the spawned out females were in the 19 to 22 inch range with an occasional larger one.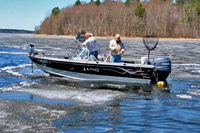 It wasn't an enormous hassle, but we did get pushed out of our best fishing spot when the breeze blew in the last traces of what used to be a sheet of ice. No doubt this ice will be gone when se get to the lake today.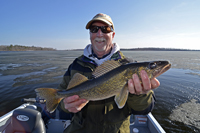 If fresh Walleye in the livewell wasn't enough good news; Then watching the thin, black ice breaking up and disappearing from Cutfoot Sioux was enough icing on the cake to declare the afternoon a complete success.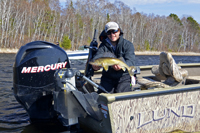 Comparing notes with Grant Prokop (5/13) who'd been fishing Cutfoot on Sunday. He observed that among his catch, there was a noticeable increase in numbers "spent" female fish overnight.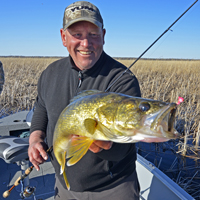 A handful of nice Walleye! Thanks to a late afternoon warm up that got the fish moving along a stretch of the river.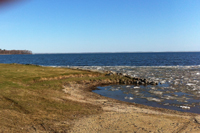 On Lake Winnibigoshish, the scene from Nodak Lodge looking West was all Blue on Sunday. Stong winds have the ice piled on on the East side, but West Winnie is wide open.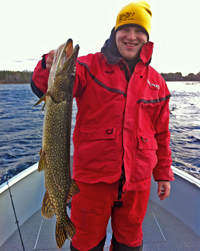 For Cody Sack, it was worth getting a little chill. Northern Pike on the river provided enough action to keep the trip interesting and respectable size fish provided lots of good "eating size fillets" for the trip home.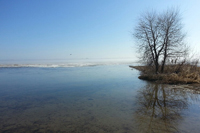 Photo Gus' Place Resort: (5/10) Taking the late ice out in stride, Gus says; "What we can do though, is announce the opening of our swimming beach for the most rugged of you." We expect to see open water late next week on Ball Club Lake.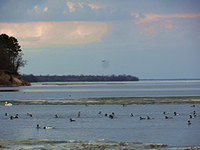 Photo Four Seasons Resort: Lake Winnibigoshish revealed! From the shoreline, the view now includes more water than ice. Joe Thompson says that their guests will definitely have open water to fish on Saturday.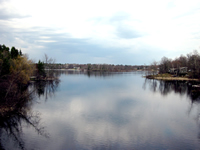 Nik Dimich thinks that the the Mississippi River and it's Chain of Lakes could be a good opening day option. Little Jay is almost clear across from the public access over to the channel between Pokegama and Big Jay. Read Full Report .

Photo Erin Charlton, Trails End Resort: This chunk of Bowstring Lake ice shows that looks are deceiving. Super Honycombed and weakend by weeks of saturation means that ice out could come quicker than we think on Bowstring. By the way, the photo is really cool too!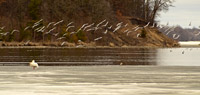 At Four Seasons Resort on the West side of Lake Winnie. The cabins are ready and the crew is heading in for the weekend. Joe Thompson and his fishing guests are ready for action.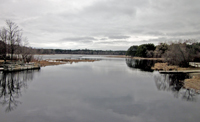 Photo Nik Dimich: The First River (5-5) at the Mosomo Landing opens a little more each day, but progress is slow. The Walleye Egg Harvest at Little Cutfoot will likely not stsart until after the fishing opener.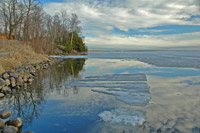 Very pretty, but still very icy. Leech Lake is still clinging stubbornly to winter. Frank Alianello at Birch Ridge Resort expects a quiet weekend. Frank says he's betting on ice out to occur during mid-weekm, the week after opener.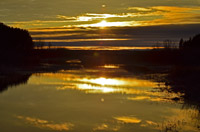 About that sunset, it was and I did. Someone mught want one, a really nice one. So just this once, click the image for a free, hig-res version. Go ahead, take it, it will make you smile!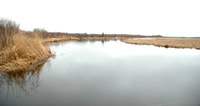 Bowstring River (5/5) Wide open, ice free and high, but not flooding. At the moment, the river dead ends at the lake where ice covers the bay.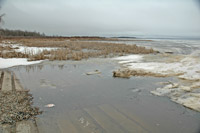 At Bowstring Lake's South landing (5/5), the ice is getting really old, really tired. Some wind could break this up in a hurry.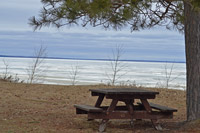 Lake Winnibigoshish along the West shore at Richard's TownsiteThere was a rim of open water close to the shoreline, but beyond that there was little evidence of open water.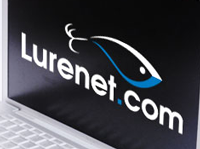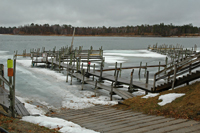 Photo Katie Sundin: At Northland Lodge, the boat landing is just a few feet from open water. In a day or two, anglers will have access to the "Dam Bay". Not a bad place to fish on openeing day.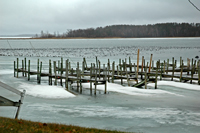 On Lake Winnibigoshish, Ducks continue to gather in large numbers. As the water opens, migrating flocks are making a bee-line for the next stop.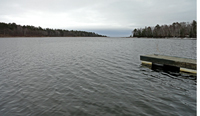 On the West side of lake Winnie (5-2), the docks at Four Seasons Resort overlook a wide open mississippi River. How far does the water extend? We're gonna have to get in a boat and go look!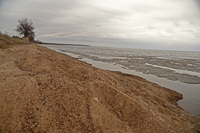 At Garrison (5-3), open water along the shoreline of Lake MilleLacs is a remider that it's spring somewhere!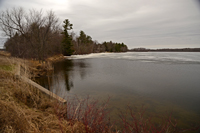 At Aitkin's Little Pine Lake (5-3), panfish will be heading for the shoreline in just a few days.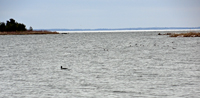 Joe Thompson, Four Seasons Resort says that the Mississippi River is a Mecca for waterfowl right now. He estimated over 100 Loons in this flock.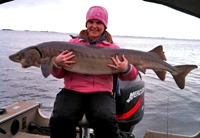 Courtesy Border View Lodge: The sturgeon bite is hot! Anchored in or near deep holes of the river bottom using 5/0 circle or octopus hooks tipped with a gob of crawlers is working best.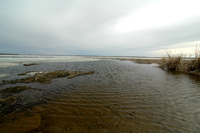 At the ramp on White Oak Lake, open water surrounds the lake and ice on the lakes mid-section is getting dark. Ice out will be soon on this small lake.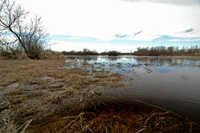 Somewhere under that water is the Deer River. It won't be long before it returns to normal, but for now, the sleepy little river gets to play with the big kids.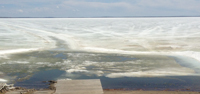 At Trails End Resort on Bowstring Lake, conditions are beginning to turn in the right direction. Slushy ice and small open spots near the ramps remind us that there's water under there somewhere.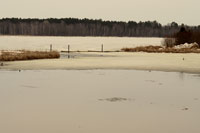 At Little Cutfoot, The DNR's Walleye Egg Harvest operation isn't set up, but with open water advancing toward the gap, it won't be long.