---
Minnesota Fishing Reports Home Page
---


Fishing Reports Minnesota Facebook
---
Advertisers


Fishing Report July 30, 2014 - Expect the UN-Expected ...
That's the secret to understanding the warm water season in Northern Minnesota. In spite of what folks may have heard about the doldrums of fishing the "Dog Days" of summer, this is the time when fish are the most aggressive.
Right now, their metabolism is high and they are hungry. That explains why we can rig up our spinners, pin on a 1/2 night crawler and start catching every kind of fish that swims in a lake. All of them located in the same spot, all at the same time.
On Tuesday, we paid Pokegama Lake another visit. A trip to the lunker hole in search of Mr. Big yielded mixed results. We caught some nice fish and had opportunities to catch others, but from what I could see, I think that we've turned the corner heading out of the "peak Walleye bite" and into a new season.
The typical presentation, Lindy Rigs and large minnows continued producing fish. By now you've heard about it for a few weeks, so I will spare you the details. If you want to read more, scroll down through the archived >> Grand Rapids Fishing Reports .
Smallmouth Bass now inhabit areas that were home to schools of Walleyes a few weeks ago. Northern Pike are beginning to show up on the deep water structures too and soon, they will be holding on these spots in good numbers.
During our trip, Kyle asked me about places where he might take his young son fishing for Sunfish. You know, good places where the two of them could find some good action.
With surface temperatures ranging between 74 and 75 degrees, I didn't think that there would ever be a better time to try finding some "action spots".
I described a few ideas that might work and since we were in the midst of a mid-day slow down anyway, we decided to rig up the spinners and give it a whirl. That was a good decision.
We were looking for Sunfish, but it was windy and I remember mentioning that with all of the whitecaps, it wouldn't surprise me to catch some Walleyes too.
As we pulled into the first spot and started trolling single hook Lindy Spinners tipped with 1/2 night crawlers, the action started immediately. It started with Walleyes first, then the Sunfish and after that Northern Pike and a Largemouth Bass.
These scenarios are very easy to locate on Pokegama, large weed flats adjacent to any deep breakline. A typical spot will have mixed Cabbage and Eelgrass growing in 10 to 14 feet of water. As soon as you find an area like this, your electronics will usually reveal many signs of life. Schools of bait, small fish, big fish; a regular hodge-podge of marine life is the tipoff that you're on the right track.
Using light sinkers, typically a 3/16 ounce will help keep your spinners over the weed tops and moving at speeds of 1.1 to 1.3 MPH will keep them in the strike zone.
Avoid the temptation to find the bottom with your weights because to the fish, the weed tops ARE THE BOTTOM! If you fish below them, then they can't find your bait. You'll know when you have the balance right. Believe me, You'll Know!
Set up more than one trolling path, spend some time over the weed tops in 12 feet, and then make a pass or two along the outside edges in 14 to 18 feet. Mix it up until you begin to get a feel for your best depth on that day.


(8/30) Fenwick Fishing Rod Giveaway from Wired2Fish; "Fenwick is a legendary name in fishing rods and was one of the first companies in the industry to build rods based on blank action. They called it "Power" and continue to build technique specific rods for both casting and spinning.
They just announced several new rod designs at ICAST and we are going to give you a chance to win one of the new spinning rods" Click to learn more and enter >> Fenwick Fishing Rod Giveaway . (8/12)

Grand Rapids Area Fishing Report July 25, 2014 - Medicine for What Ails Ya'! Warm Water + Deep Weed Edges = Prescription for Mixed Bag Action
Surface temperatures on most Grand Rapids area lakes have moved into the 76 to 78 degree range. That's good news because it's these warmer temperatures that kick the multi-species action bite into high gear.
For me, this "action bite" is just what the doctor ordered to help fight off a case of the mid-summer doldrums. On Thursday, I got my first dosage and it was better than getting a sip of Granny's Rheumatis' Medicine!
We arrived at the lake to find 76 degrees on the surface. The skies were overcast and the water was calm. As we idled away from the landing, I worked on rigging up the rods with 3/16 ounce bullet weights and Gold Little Joe Spinners. I told my crew; "If this works, we're gonna have action all day long". It did and we did and even if a lot of the fish were small, working our way toward the eventual cooler full of keepers kept us busy for the whole day!
Sunfish, Rock Bass, Largemouth Bass and Walleye in that order, made up the mix on this day. However, the mix of fish depends entirely on what's available in the lake you choose to fish and it's easier than you think to find a lake where this system works.
If I was your fish doctor, writing a prescription for the ideal lake, it would read like this; "Any lake with deeper, clearer than average water and numerous stands of cabbage weeds." Taken once daily to relieve mid-summer doldrums.
We focused on points and inside corners that were adjacent to large weed flats. Whenever I found scattered cabbage weeds on the deep edges, I trolled right through the weeds. If the weeds were too thick though, like patches of Coontail or other dense weed growth, then I trolled as close as possible to the outside edges.
Trolling speed can be varied, but ideally it should be 1.1 to 1.3 MPH. Our #3 Gold Little Joe Spinners were tipped with half of a night crawler and yes, thanks to the Sunfish and Rock Bass, we were up to our elbows in worm dirt all of the time.
If I had wanted to cut down on the number of worms that were consumed, I could have tipped the single hooks with 3 to 4 inch plastic worms. Last year I had good results using a 4 inch Yum Dinger that I cut in half. They're Green Pumpkin color and have a Chartreuse Yellow tail and they worked wonderfully. The problem on Thursday was that I had forgotten to bring my goody bag of YUM stuff. I won't forget next time.
If you have kids, grand kids or just wanna be a kid for a day yourself, then you need to try this. You are going to catch a lot of "stupid stuff", but every once in a while, you'll be rewarded for weeding through the little fish. For us, the cooler wound up with 11 Walleyes ranging from 14 to 19 inches and 25 Sunfish in the 8-1/2 to 9 inch range.
Follow my advice and take the medicine, you'll wind up with a spectacular fish fry!

Grand Rapids Area Fishing Report July 20, 2014 - The Pursuit of Mr. Big!
Every fisherman dreams about doing it, you know, coming up with the catch of a lifetime; Mr. Big!
I don't think that it's too much of a secret; I'm one of the first in line, I have been bitten by the big fish bug. It's not that I don't like to catch eaters, I do. It's just that during this relatively short period of time when the monsters are accessible, it seems like a great idea to work on getting as many chances for a trophy as possible.
That's why I'm lucky to know guys like Kevin Goebel. Because when I asked him if he'd rather catch some "eaters" or go for a "picture fish", he didn't pause for even a second. He's like me, he wants to try and catch a trophy.
On Saturday we arrived at Lake Pokegama and discovered a busy lake. There was a kid's tournament going on, a lot of fishermen and plenty of pleasure boats too.
The conditions were ideal, surface water temperatures were hovering between 71 and 72 degrees, there was a slight chop on the water and the sky was overcast.
There was a lot of traffic on the lake, but the anglers who fished in the kid's tournament were fishing for anything EXCEPT Walleyes. Many of the other boats on the lake were Bass fishermen and there was plenty room to work around the other Walleye anglers.
The prevailing pattern has been to locate small packs of fish on the mid-lake bars, humps and deeper points. That hadn't changed and whenever I located a fresh pack of fish, we were able to hook up a couple of them during the first pass or two. After they knew that we were in pursuit, they would get spooky, forcing us to move away in search of another fresh spot. Providing that we were disciplined about the search for fresh territory, the fish rewarded us.
Until around 1:00 PM, the key depths were 18 to 24 feet. Later, the sunshine became intense, the breeze calmed and the weekend traffic kicked into high gear.
The fish moved deeper and became much less aggressive. But in spite of the traffic and calm conditions, the fish remained coax able.
By days end, we'd boated 14 Walleyes and as expected, bagged only 2 of them. However, Kevin's goal of catching Mr. Big was met. Ironically, his best one was the first fish of the day, a solid 28-1/2 inch fish.
Lindy Rigs, combined with Redtail Chubs were best in the morning. By mid-day, night crawlers enticed more strikes than minnows and by late afternoon, the crawlers had become the only game in town. For a while, we attempted to catch fish using leeches, but on this day, they were not on the fishes menu.
A small but important tip; I always use a worm blower to add a bubble of air to the night crawlers. That will help keep the worm above the moss and in the fishes view. This allows the fish to find it much more easily and definitely helps you get more strikes.

Grand Rapids Area Fishing Report July 16, 2014 - Summer Walleye Patterns

On Tuesday my crew for day 3 the Daikin Fisharoo included the "Top Brass, The VIP's, the Cream of the Crop"!
Luckily, this was the perfect crew for what I've come to know as the fun day of the Fisharoo. It was what it is supposed to be, a day to visit Grand Rapids' Trout Lake and wrestle with some big fish, get some good pictures and do some smart talking, A Fun Day!
By now, you've read about the presentation fifty times, so here's the reader's digest version; Surface temperature, 68 degrees. Walleye location, shoreline points in 18-24 feet of water. Lures, No Snagg Lindy Rigs, 6 foot leaders and tipped with Night Crawlers, Leeches or Redtail Chubs.
The night Crawlers worked best in the morning, at midday the leeches were golden and during the late afternoon/early evening, the Redtail chubs took over.
If you're looking for photos, it's perfect! But it's not a sport for the meat hunter; almost all of the fish were released. They were all over 20 inches and ranged up to 26-1/2 inches except for one 15 inch "eater".
Luckily, I've been blessed with so many customers who love to do this CPR fishing that it's getting to be my mid-summer routine. In fact, I have another crew on deck for today who wants to try and repreat the same things, Deja Vu all over again, I hope!


(7/12) From the Grand Rapids Area, Reed Ylitalo wrote; "Yesterday was an experience of a lifetime for anyone. Especially a young professional hunting and fishing guide.
I took the opportunity to work with Gander Mountain and participate in the new guide series clothing wear and also some great new Gander Mountain products such as rod and reel combos.
We started out in Walker bay on Leech lake. The fish were there but would not eat. Fished there most of the day and then came back to a Grand Rapids area lake picking up nine Walleyes between 23 and 25 and half inches to finish a great shoot for the new Products.
The best baits were a A quarter of bullet with A six-foot snell with a leech the bottom was a edge of cabbage and rocks. Using electronics properly was huge stand top and hover over the big fish. I was finding most of the walleyes in 24 to 26 feet of water." Reed Ylitalo, Wings and Walleyes Guide Service .

Grand Rapids Area Fishing Report July 6, 2014 - Summer Traditions
Warm weather for the holiday weekend lifted the spirits of most anglers, boaters and jet skiers. Watercraft traffic on the lake was at its peak this Saturday; fish were cooperative in spite of heavy traffic.
Taking the Independence Day holiday off to celebrate my daughter's birthday meant that I had a free day on Saturday. Free to fish with her and the future "in laws". Annalee, her fiancé Austin Jones and his parents Randy and Mavis Jones, we would all hop into the boat together.
Our destination, Trout Lake in Coleraine, MN is well known for its large Walleye and Smallmouth Bass. During recent years, it's steadily improving water clarity has forced the addition of the word "fickle" into the vocabulary of most anglers who fish the lake. On Saturday, we saw both sides of her personality.
It appeared that like us, most folks were off to a slow start on Saturday morning. After the 4th of July festivities, who was in a rush to get anywhere? When we arrived at the landing, it was already 9:30 AM and we were the early ones. There were only two rigs in the parking lot and on the water, local traffic was very light.
The surface temperature held around 68 - 69 degrees for most of the day, later; it would finally top the 70 degree mark at about 4:00 PM.
The sky was mostly sunny, but there was a breeze creating a light chop on the surface.
For me, shoreline points that lay adjacent to weed edges are always reliable, so that's where we started.
All five of us were rigged up with Lindy Rigs and "No Snagg Sinkers", but we used a variety of baits. We dropped in couple of night crawlers, a couple of leeches and one medium size Redtail Chub.
Before we got around the tip of the first point, we'd already boated a few fish, including a really nice one caught by Austin, who was fishing with the Redtail Chub. So far, all of the baits appeared to be more or less equal, with a possible preference toward the Redtail.
At stop 2, the results were about the same. So to help cut down on the confusion caused by having 5 lines in the water, I decided to abandon the night crawlers and switch everyone over to leeches. That way we wouldn't be required to feed out as much line to the fish. That would cut down on tangled lines and with few fish "hooked deep", it would be healthier for the fish too.
By the time we'd wrapped up fishing on spot #2, activity on the lake was ramping up. There were fishermen, pontoons, jet skis and swimmers just about everywhere and for me, figuring out fresh places to fish was getting interesting.
After making a quick pit stop, we proceeded to spot #3, where we caught another half dozen "slot-fish".
By now, everyone had caught something and we had a few nice photos so I decided to try changing our tactics. We put away the Lindy Rigs and switched over to spinners. I'd hoped that we could troll the weeds and maybe pick up some eating size fish. But on this day, the eaters were not cooperative. Oh I know, it sounds so weird, but on this lake, it's actually harder to pick up little fish than it is to get big ones. That's how it turned out this time and hoping to finish our day with a rally, I went back to the drawing board one last time.
For me, Annalee and Austin, the 4th of July just wouldn't be the same if we didn't at least try our favorite presentation. We rigged up 1/16 ounce jigs and tipped them with night crawlers. I located one more shoreline point to try and we set up for a drift along the edge.
It worked, Walleyes and Smallmouth Bass were holding along the break in 18 to 22 feet of water and apparently, they were in the mood for dessert. On the first drift, we picked up a half dozen fish and then repeated the process a time or two. The rally was successful and it was time to go and get some food, so we did.
For me, it's back to work and after listening to storms rumbling all night long, it could be an interesting day. We'll see how it goes and as always, you'll be the first to know!

Grand Rapids Area Fishing Report July 3, 2014 - If you're like me and the idea of catching big fish haunts you a little bit, then you're going to like this news.
If you ask me, it's time to declare a fishing emergency; all scheduled events should be cancelled in order to allow anglers time to get in on some great summer peak, CPR fishing!
Over the past week, I have visited 3 of the Itasca Area Lakes that are known for having big Walleyes and Smallmouth Bass. On all 3 of these lakes the Smallies and Walleye have been cooperative and they've been large. I can only cover so much ground myself, but I'm guessing that if 3 of 3 are good, then so are the other dozen or more lakes that fit this description.
These deep, clear water lakes are known for hitting their stride a couple of weeks later than do the shallower, darker water lakes. This season, because of high water and cooler outside temperatures, it's taken even longer for them to hit full stride. But they have done it and they're peaking just in time for folks to enjoy during the long Independence Day holiday.
Like always, there's a caveat; this is not the way to gather "eaters" for the dinner table. Many of these fish are too large for that, so if you're searching for table fare, this won't be for you. But I have an answer for that too and here's my game plan.
Like many of you, I'm planning on doing some entertaining this weekend because aside from being the 4th of July, it's also the 22nd birthday of my oldest child, the lovely and Gracious Annalee Michele Sundin. My tradition has been to take a couple of days off so that we can go fishing and have a fish fry.
That means that catching some eating size fish will be in our plan too, so for that, I'm going to forget about Walleye fishing and spend a few hours in the weeds searching for Panfish instead. Sunfish, Crappies, Perch and Northern Pike ... it doesn't matter to us, whatever seems to be biting is what we'll fish for and I absolutely guarantee that they will be m...m... m... delicious!
Sorry, I veered off course for a moment; back to the big fish story.
On all 3 of the lakes we fished, the patterns are the same, but that the feeding preferences have been changeable. If you check the archived fishing reports from the past week, you'll see what I mean. Walleyes have had cravings for different baits, sometimes changing their preferences 2 or 3 times a day.
On Wednesday, large Creek Chubs were a complete waste of time for us, but last Sunday they worked like magic. Lindy rigging night crawlers injected with air using a worm blower worked great during the day on Wednesday. But by late afternoon, it was Leeches and Leeches alone that produced fish. So in other words, make sure that you have a variety of fresh, healthy bait and be proactive about changing your presentations occasionally.
Walleye location has been similar on all 3 lakes too. Shoreline points and mid lake bars that feature adjacent weed flats are the best. Water depth varies by lake, but generally there are some fish at the weed edges in 12 to 16 feet. The deep breaks adjacent to these weed flats are also holding fish and here again, exact depth depends on the lake. For me, key depths have been 22 to 26 feet and the largest fish have tended to be on the upper edges of the breaks.

(6/27) On Pokegama Lake, Chad Haatvedt had promisied his young neighbor Gideon an afternoon fioshing trip.
After deciding that the Walleye fishing wasn't leading to enough giggles, Chad and Gideon paid a visit to the weedlines where trhey could cast for Bass and Pike.
Good Decision! Gideon landed the Monster Pike you see to the right.

(6/25) From The Grand Rapids Area, Brian Castellano spent the last 3 days on the water. wrote; "On Saturday we hit Wabana. Mary and I shared the boat with her youngest son Matt and his boys Johnny 5 and Geno 3.
We found the largemouth bass and bluegills holding on the edge of the lily pads. The little guys kept us busy baiting their hooks and taking fish off. No monsters, but they had lots of fun. Bobbers and small jigs w/ a small leech or piece of night crawler kept the kids busy.
On Sunday afternoon, the same crew hit Trout Lake in Coleraine. While we couldn't find the bluegills, we did end up putting a few nice walleyes in the boat. We caught some slot fish, 20-23", and a few eaters in 16-20' of water pulling spinners tipped with crawlers or minnows and jigs and minnows. Towards evening we went and anchored up on a mid lake hump and slip bobbered. Johnny put a 23 1/4" walleye in the boat, his personal best. He caught this one all by himself, so it was pretty exciting for all of us.
On Monday I hit one of our dark water lakes with a couple friends from southern MN. The 3 of us fished from noon to 4pm and even with the flat seas, we were able to boat 25-30 walleyes and we kept 10 for dinner. We went from hump to hump and anchored up and slip bobbered w/ colored hooks and leeches. 17-19' was the magic depth. While it wasn't fast and furious, keeping on the move kept us on the fish. We even hit a couple of the humps 2 times ..." - Brian Castellano

Minnesota Fishing Report June 5, 2014 -
If you read yesterday's report, then you already know that game plan for day 4 of "Fun with Dick and Paul" would lead us to Pokegama Lake in Grand Rapids.
From our point of view, it turned out to be a blast, especially in light of the fact that we weren't out to bag too many fish for the frying pan.
Surface temperatures at the landing were 67 degrees and with glass calm water, that reading was fairly uniform across the lake. As the day progressed, there was barely a breeze and no cloud cover at all. Surface temperatures soared into the high 70's during late afternoon.
We spent a lot of time trying to prove (or dis-prove) the idea that Panfish and Bass were on their spawning beds. In the end, I'd say the answer is that there's a 30/70 split right now.
Some of the fish that we spotted in the shallow water did appear to be near spawning beds. But the majority of the Bass, Sunfish and Crappies were either holding in heavy cover, hiding from the sunshine, or they cruising along the shallow inside edges of the shallow breakline.
We started our morning with some Smallmouth Bass fishing. We only made one stop, but it was a good one. We fished wacky rigged, "Yum Dingers" over a rock bar that topped out at 6 feet of water. That spot produced 6 nice Smallmouth along with one follow from a Pike in the 6 to 8 pound range.
It appeared likely that we could have continued moving around the lake, looking for more rock spots and kept on catching Smallmouth. Instead, I decided to check out a tip from a buddy. He'd told me that there were some Crappies in the shallows and that made me want to see what they were doing.
When we moved into the shallow Bulrushes, a look into the clear water revealed a lot more than just Crappies though and what was supposed to be a quick reconnaissance mission, turned out to be the main fishing event of the day.
Thanks to the warm temperatures and stable conditions, baitfish was packed tightly in the shallow weeds. In turn, they attracted game fish of all colors and sizes. As long as we stayed nearby some heavy cover, we could see fish.
Using the same wacky rigs, we caught tons of Bass and fishing with small jigs tipped with a cut piece of night crawler, a bunch of Sunfish too.
One disappointment was that we spotted a lot of Crappies, but could not get their attention. Their only apparent interest was to be resting in the shade. I'm guessing that a trip back into the shallow water during the early evening would have produced better results.
We were hoping to bag a couple of "eating size" Northern Pike so we spent a couple of hours Lindy Rigging large Creek Cubs. The Humminbird revealed that the deep water breaklines were practically void of fish, but there were some marks closer to the weed edges in 12-15 feet of water.
Whenever I'm trolling the weed edges for Pike, I usually rig the crew up with the big minnows, but rig myself up with a Lindy Rig and night crawler instead. That way I don't compete with my customers for the Pike and at the same time, I can search for Walleyes that may be active. Well this time I did find one, my first ten pounder of the season.
After a couple of hours trolling under the hot sunshine yielded a few smaller than average Pike, another Walleye and a severe case of "ACTIONITUS". We decided to head back into the shallows where we believed that the Bass and Panfish would liven up the party again.
They did and for us, the take away story of the day was that if we planned to fish Pokegama again this weekend, all of our efforts would be focused on shallow water.


(6/4) From The Grand Rapids Area, Brian Castellano wrote; "A buddy and I hit Pokegama today in search of some crappies and small mouth bass. Water temps were in the mid to upper 60's.
I think the cold front that slid in over night had the fish in a funk, but we were still able to boat a few nice fish.
We found some crappies hanging out shallow in the newly emerging lily pads in a bay. Bobbers and demon jigs and minnows put a nice 10 fish limit in the boat for us.
In this same area we also caught a few small largemouth bass and some bluegills. I think the bass and gills are just starting to make their push shallow to spawn and the crappies might be winding their spawning run down.
We also found some nice small mouth bass up on top of rock humps. Unweighted Zoom 5" flukes and willow leaf spinnerbaits put a couple nice 16-17" smallies in the boat for us.
The Zoom fluke also put a nice 17" largemouth bass in the boat as well." - Brian Castellano


(6/4) HI Jeff, I'm coming up to Grand Rapids on Wednesday with my dad for our annual fishing trip.
We have been coming up there to the Grand Rapids area for about 15 years now. This year, I think we are going to spend some time on Pokegama to see if we can catch one of the trophy walleye that are in there.
Curious if you had any recommendation on what water depths we should focus on for Walleyes on Pokegama? Any help would be appreciated.
Love reading the fishing reports/posts on your website. It's the best site around. Sounds like you are having a great spring. - Andy
A) Thanks to your question Andy, I think that I'll drop over there today to have a look for myself.
Typically, Walleyes begin showing up on mid lake structures a little bit later in June, sometimes even early July.
But during the spring, (early-mid June) Walleye fishing on Pokegama is typically a weedline proposition.
Fishing the weeds on Pokegama poses some interesting challenges for anglers who are more accustomed to fishing rocks or sand breaklines. Many of the better weedline areas on the lake also have a fine grass line that lies just outside of heavier Cabbage or Coontail patches. Walleyes tend to suspend just above the tops of this fine grass, making it difficult to use some of the conventional "Bottom Hugging" baits.
One of my favorite ways to deal with this scenario is to use very light weight jigs, 1/16 ounce at most. I tip the light jigs with Night Crawlers or large size Rainbow chubs. The light weight presentation allows you to hold your bait above the grass and in the strike zone.
By the way, Panfish jigs like a Little Nipper that have feathers help provide a little extra buoyance and the added colors are attractive to Walleyes too.
Another good way to approach the weed edges is by using spinners rigged on long leaders. Use just enough weight to get your spinner into the strike zone without plowing through the weeds. Typically a 1/8 or 1/4 ounce sinker will do the job.
Trolling speeds of 1.1 to 1.5 mph are typically good, experiment with your boat speed until you hit the magic one.
One key note about Pokegama Walleyes; these large, suspended fish are very easy to see on your graph. I do not stop to fish until my Humminbird reveals fish. It might seem like you're burning daylight while you search for fish, but don't let that stop you. Keep looking until you spot fish before you wet a line.
Since we'll be out there today, I'll be scratching down some up to date notes that might help you this weekend, so tune in again tomorrow for an update.


(5/31)) - Like the weather, fishing has definitely heated up. Multi-species fishing is in full swing. Bass season is open and both largemouth and smallmouth bass are very active in the Grand Rapids area, especially on Pokegama Lake, which is one of the best bass lakes in Minnesota. Panfish are in the pre-spawn mode and can be found in or near shallow water pencil reeds in most lakes around Grand Rapids. A slip bobber rig with a couple feet of line and a small jig combined with a small minnow or soft plastic will do the trick. Spawning male crappies will be very dark, so don't think you have found a missing link fish. Walleye action is also still very strong and because the surface water temps have jumped into the high 60s many "eater" fish as well as the nice "releaser" are active. Perch and northern pike have also been been on a strong bite. For trophy walleyes and northern pike, Pokegama Lake is probably the best, but the action has also been consistently good to excellent on larger lakes like Bowstring, Sand, Jessie, as well as Big Winnie and Big Cut Foot Sioux. Both a jig and minnow and rig and minnow have been the best presentations. For fast northern pike fishing, Ball Club Lake is probably your best bet. Bait shops have great numbers of spot-tail shiners, chubs and leeches and crawlers and current fishing information. The next couple of weeks look to be a great time for fishing in the Grand Rapids area. Check Visit Grand Rapids for details regarding resort accommodations and updates.


(5/30) From the Grand Rapids Area, Brian Castellano; "A buddy and I snuck out on a Grand Rapids area lake this evening before the thunderstorms and rain moved in.
We fished both shorelines and shallow mid lake humps and ended up boating about 20 walleyes. Most of them were too small to keep, but we did end up with 6 nice eaters in the box.
We did end up with one big one though, this 28" that was CPR'd. What a great last fish of the evening, especially for me! Jigs and shiners or chubs were the ticket." - Brian Castellano, Deer River
July 30, 2014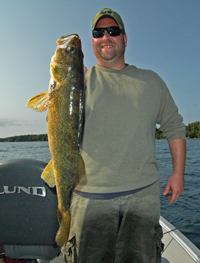 On Pokegama Lake, we used Lindy Rigs and large Creek Chubs and managed to turn up a few good Walleyes like Kyle's solid 24 inch fish (above)...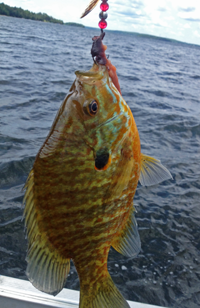 But the action kicked into high gear when we started trolling spinners over the weed tops. Walleye, Sunfish and Pike were all mixed together in the same spot at the same time.

---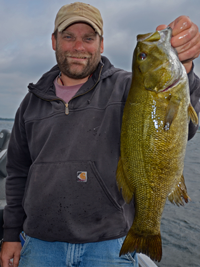 Big Fish, Big Bait; Chris Andresen shows off a hefty 20 inch smallmouth caught on a 7 inch Creek Chub.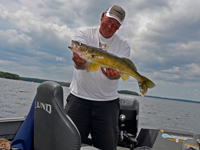 Lindy Rigs, combined with Redtail Chubs were best in the morning. By mid-day, night crawlers enticed more strikes than minnows.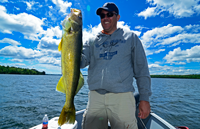 Between phone calls, Glenn managed to find his way into the game too. A Lindy Rig tipped with Night Crawlers was his presentation of choice.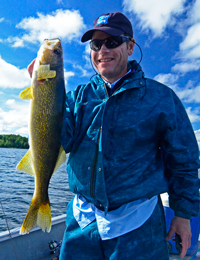 Dave kicked of the morning by catching this hefty Walleye before the rest of us even had lines in the water.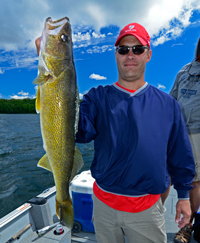 Once Duane finally showed up and got in the game, he put on a little clinic for the boys! Favorite presentaion? Lindy Rigs tipped with "Just Hand Me Something".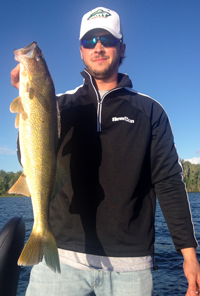 Photo courtesy Reed Ylitalo: Tyler Steinhart poses with nice Walleye caught on a Grand Rapids area lake. Rigging with leeches in 24 to 26 feet of water did the trick.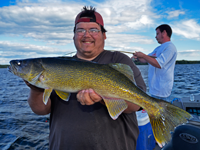 The Gotchie Brothers, Steve (above) and Jesse (below) put on quite a show at Pokegama Lake. Here's Steve posing with a 27 inch Walleye while Jesse reels in one of his own. That's a "technical double"!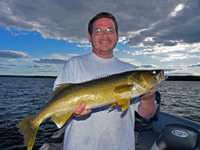 Using No Snagg Lindy rigs and healthy jumbo Leeches was the trick. These Walleyes were located on a shoreline bar in 22 to 26 feet of water.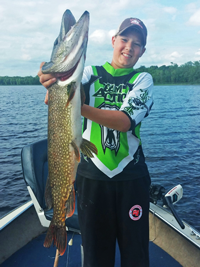 Photo: Courtesy Chad Haatvedt who brought his young neighbor out for an afternoon fishing trip. Casting the weed beds, Gideon turned up this monster Pike.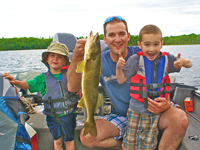 Photo courtesy Brian Castellano: Sharing the boat with son-in-law Matt and his boys Johnny 5 and Geno 3, caught some nice Walleyes slip bobbering with Leeches.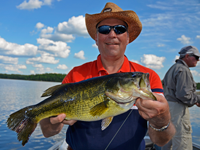 For us, the take away story of the day was that if you plan to fish pokegama this weekend, you should be focused on shallow water. Paul Kautza shows off one of his better efforts, a 5.0 pound Largemouth caught on a wacky rigged "YUM Dinger".

We didn't spend a lot of time Walleye fishing. But fishing the weed edges in 12 feet of water using a Lindy Rig, Night Crawler and Worm Blower did allow me to CPR my first 10 pounder of the season.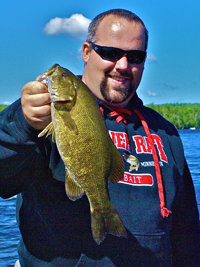 Photo courtesy Brian Castellano: Fishing Pokegama Lake on Tuesday provided some action for nice size Smallnouth Bass on the rocks. Panfish are moving on to the beds in shallow water too.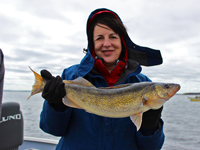 Allison of Chicago proudly displays a "Memorial Day Weekend" walleye caught in the Grand Rapids, MN "Thousand Lakes" area.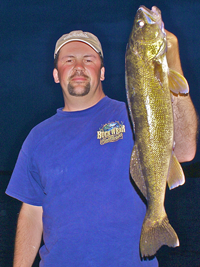 Brian Castellano snuck out for an evening trip in the Grand Rapids area and caught this dandy 28 inch Walleye on a jig and minnow.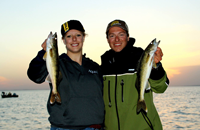 Nik Dimich and Becca Kent with a "double" of Lake Winnie keepers caught while fishing shoreline sand and gravel flats with a jig and minnow.