---
Minnesota Fishing Reports Home Page
---


Fishing Reports Minnesota Facebook
---
Advertisers

Grand Rapids Area Lakes

Fishing Report June 19, 2015

- Grand Rapids Area Lakes Warming Slowly

Clear, deep water lakes like Pokegama, Trout and Deer are warming, showing very early signs of fish migrations toward mid-lake structure. Mixed bag opportunities are emerging, but appear to be somewhat behind schedule, compared to "normal".
I can always feel the change coming, a gear shift between early season, "Walleye or Die" fishing trips and the more casual, "let's just go fishing" trips that occur during mid-summer. On Thursday, the gears shifted even more than usual, we did something that everyone should do more; giggle!
We'd already bagged enough Walleye for the trip back to Missouri on Wednesday. So for Bobby Cox, Larry Horseman and me, capturing a mixed bag of eating fish was more important than catching any one particular Species.
For Larry, catching a nice smallmouth was one goal, for Bobby, it was to catch some Pike, and for me? I just wanted to get through the day without busting a gut from laughing. Oh, and we'd have to fish somewhere that provided a good spot for cooking lunch, Pokegama got the nod.
We started our day in the shallows, fishing with Wacky Rigged Yum Dingers. At first, it didn't seem like we'd gone in the right direction, but on the third move, fish began to cooperate. There were quite a few largemouth Bass inhabiting Bulrush patches and just enough Smallmouths to make the pursuit interesting for Larry. There were other fish in there too, small fish that piqued Bobby's interest, they were Rock Bass.
Once he knew what they were, he remembered them from the past and the name rolled off of his tongue easily; he referred to them as a "GoogleEyeGoggleEyeRedEyeBrownEye". You have to say it fast like Bobby, so it sounds like you're practicing one of those radio announcer sentences.
Oh I know, this is not the scientific name for a Rock Bass, but in this case, we were as far away from being scientific as you can get!! Bobby said; "We're gonna eat one of these for lunch and if it's good, we're coming back in here for more". I've heard those words from other folks before too and I knew what it meant; I'd be cleaning Rock Bass tonight.
For the rest of the day; the fishing was routine, we picked up a fish here and a fish there. It was apparent that we were a little too early to catch Pokegama in its summer peak, hot-bite mode. We were steadily chipping away at our goals though, Larry had a couple of nice Smallmouth, Bobby had some Pike and the trip would be a success if we could just end the day ... GIGGLING!
I know what you're thinking: "He didn't really do that did he; he didn't take those boys back into the he GoogleEyeGoggleEyeRedEyeBrownEye hole"? Yes, I did and it was a blast!! We found a patch of Bulrushes that was full of them and we spent an hour, maybe more, acting like school kids playing hooky at the fishin' hole.
Honestly, the fish were on the small side and I was wishing that I had been fishing with these guys last week, back in Park Rapids where we could have filled a dump truck with Rock Bass. The little scrappers provided us with more fun than a Billy Goat munchin' the seat covers off a pickup truck.
So if you're thinking that Rock Bass are as useless as a blow up dartboard, then you better put in your ear plugs when you see us out there, all of that giggling could be contagious; we wouldn't want you catching it!!

(5/11) From the Grand Rapids Area, Reed Ylitalo wrote; "The honey do list had me strapped to stay and fish local in the Grand Rapids area which was just fine with the poor weather. I did miss going to my favorite open day lake (cut foot, Winnie) but I just stayed local few miles south of Grand Rapids. Being that I was strapped for time as my wife was on call for her job I only had a few hours to wet a line showing up to the Boatlanding around 1230 and going back home by 410 I boated several small walleyes in the 12 to 14 inch range and a few nice ones as well it was all in a days work. The main voyage was to try out some new rods,electronics and the new boat. The guide season is upon us now hope to see you on the water, be safe and good luck fishing." Reed Ylitalo, Wings and Walleyes Guide Service .

Fishing Report April 10, 2015

- Grand Rapids Area Lakes Icing Out

I was giving my Facebook page the usual early morning perusal and caught myself doing double take this today. A friend had posted pictures of an ice fishing trip and as far as I could tell, the image was from within the past couple of days.
Huh, what, they're still fishing on the ice? Hmm, maybe so and I guess that's all well and good, I believe that there are still places to ice fish, but his images were 180° out of phase with the pictures that I took yesterday evening.
Grand Rapids area lakes are losing their ice so fast that I'm thinking I may be able to put my boat in the water next week. Actually, if I wanted to fish on the Mississippi River right now, I already can; the entire stretch of river between Grand Rapids and Deer River is already wide open, so are the public landings.
Pokegama's small bays are already accessible too, but a boater would not be able to navigate the main body of the lake. Portions of Jay Gould and Little Jay Gould are also very close to being ice free as well. Other small lakes in the Grand Rapids area feature dark, slate grey colored ice that appears to be only days from disappearing too.
I'd take a moment to ponder why there's almost no ice left on some lakes, while others continue to support ice fishing, but at this point, I really don't care. We've already had a great ice fishing season, but for me, that's ancient history now and the sooner the ice melts, the warmer the water gets, the happier I'll be.
If you've read the recent reports, then You Already Know what your options are. Me, I've got a special project on tap for the weekend and with some luck, there will be plenty of images revealed soon. Right now, I'm planning on being the world's greatest multi-tasking cheerleader.
Hip-Hip-Hooray for the, ice going out! Ra-Ra-Shish-Kum-Ba for the Rainy River! And OH, by the way, did I remember to mention ... only 29 days until the 2015 Walleye fishing opener … :)!!

I'll be at the IRA Civic Center in Grand Rapids for the Ray's Marine Boat Show, scheduled for today, Saturday March 14 and Sunday March 15, 2015. Show hours are 10:00 to 7:00 PM today and ... Learn More >> Ray's Marine Boat Show, IRA Civic Center, Grand Rapids .


(3/12) Interested in repowering your boat? Mercury's Repower Revolution promotion runs through April 30, and offers consumers a choice between low repower financing rates or great rebates up to $1625! In addition, all Repower Financing options now offer NO PAYMENTS for 90 DAYS! With this great new offer, you can repower now, enjoy your enhanced boating experience and not pay until summer!
If you love the economical fuel efficiency, lightweight design and proven technology of your engine, be sure to check out the exciting, promotion-qualifying products. Learn More >> Mercury's Repower Revolution

Ice Fishing Report February 17, 2015 -

Grand Rapids Area Fishing Report

With less than a week remaining in the 2014 Walleye, Pike and Bass fishing season, ice fishermen are turning toward Pokegama Lake for some "eaters".
It's a reversal of the situation that we heard about during the past couple of winters, there are numerous 12 to 14 inch fish running along the weed edges during the early morning and late evenings. The larger fish are either suspended, too fickle or maybe most ice fishermen just aren't pursuing them right now. No matter the reason, if you're thinking of gathering a few fish for a meal, there's still some time to get after them on Pokegama.
The best fishing areas are points or inside corners that interrupt the shoreline breaks. You do not need to fish deep to target these eating size Walleye because they are very closely related to the weed edges that lay along these breaklines. Key depths are 10 to 16 feet and the presence of green weeds will greatly enhance your chance of success.
Rig one rod with a float and a blade bait like a #2 Frotee Jig, then tip the Frostee with a Golden Shiner, Rainbow or large Fathead minnow. I like to rig the minnow so it will sit horizontally below the lure by running the hook parallel to the dorsal fin, just under the skin of the minnow's back. set the float so that your lure rests well above the bottom, 18 to 24 inches will help hold your bait away from the weeds and allow the fish to spot it more easily.
Once the float rig is set up, you can use your second rod to fish with any of your favorite jigging spoons, tipped with a minnow head.
I believe that the larger profile of a full size minnow is more attractive to larger fish and You Know that I'm always hoping for an encounter with Mr. Big. So for me, I've been skipping the traditional jigging baits for most of this winter and rigging up with either a Foo Flyer or a Slick Jig and tipping them with whole minnows.
There's a video that we produced earlier this winter showing how to use the Foo Flyer and even though we filmed that video on Red Lake, the technique will also work very nicely on the Walleye lakes in the Grand Rapids area too.

Ice Fishing Report February 2, 2015 - Grand Rapids Area Fishing Report
While I was searching for something entirely different, I stumbled into this article about ice fishing on rivers for Panfish. I sure hope that it doesn't give you too many new ideas, especially about that one river that drifts through town. You know; what's it's name again?
(2/2) Ice Fishing For Big River Panfish - "Lakes aren't the only bodies of water that carry safe, fishable ice in the winter. Big rivers like the Mississippi, Niagara, and Rainy also get safe ice, and produce some of the best catches of panfish you'll see anywhere in the country. "There are a lot of places where you can go catch big perch through the ice, big bluegills through the ice, or big crappies through the ice," Weber said. "I've never seen any place other than the Mississippi where you routinely catch all three through the same hole on the same day. I've caught numerous perch measuring more than 13 inches, crappies up to 2 pounds, and bluegills that easily hit ... read >> Ice Fishing For Big River Panfish
Imagine spending New Year's Eve on an overnight fishing trip. Conditions are perfect inside your warm, comfortable wheel house. Ah, this is the life, a little fishing, a little food, maybe even a beverage to help ring in the New Year; what could be more peaceful?
and the next thing You Know ... somebody says;
"Come on,  it's time to rise and shine, gotta head out of here soon if we're gonna be home for the football game this afternoon."
So you roll out, start the truck, winch up the wheel hose and batten down the hatches. With everything secure, you start driving toward the landing where you discover that while you were sleeping, the ice was wide awake and working against you!
That's just what happened on Thursday morning at the Splithand Lake Access near Grand Rapids. A report came in over the wire from Brenda Forster, who along with a friend, were on their way to Splithand Lake hoping to bag a few Crappies. At the landing, they discovered that their access was prohibited by a large pressure ridge that cropped up overnight.
For them, not getting onto the ice would be inconvenient, but for the pair of ice fishermen that were trapped on the other side, it was downright nasty.
Fortunately, the pressure ridge cropped up at the landing where it presented little threat to human safety. But, for the folks trapped across the heave, getting stuck on the wrong side of it was probably a real pain in the … well, you know.
We're guessing that the anglers stranded on the lake had no choice except to find a way to bridge the crack. We're hoping that there was some help on the scene, but we don't know for sure. We could really use a spare pair of eyes on the scene, so if you live near the Splithand landing and are willing to be enlisted as a Cub Reporter for the Fishrapper please shoot us an email >> Fishreport@fishrapper.com We'd be forever grateful for an update.
January 25, 2015 A word to the wise for ice fishermen on Pokegama Lake, Grand Rapids MN
It wasn't a good weekend for driving on Pokegama, especially not between Stony Point and the islands. Luckily, there were no injuries because the the pressure ridge opened up over shallow water. The truck bottomed out on a 4 foot sand bar that bridges the gap between the shoreline and "Battleship Island". Still, the expense of removing and replacing the truck won't be much fun for the owner.
It doesn't matter who the owner is, or how it happened. I post the photo here only in the hope that the rest of us can learn from the experience. It's that time of year, changing conditions can catch anybody by surprise.
Ice Fishing Report 12/31 "The other day I mentioned that I've been seeing vehicle traffic at spots on lakes where I'd never seen them before; that was only the beginning!
In a very short time yesterday afternoon, my tour around Grand Rapids led me to 6 lakes. I was able to drive onto all them easily and on each one, I was following other people's tracks. From what I can see, if there's a public landing on any lake, ice fishermen can get on it, and they are.
Tuesday, I was reminded about how many fans of ice fishing Grand Rapids really has, provided that they have access to a lake.
I was driving across Pokegama on nearly perfect ice, counting ice shelters. There were dozens of them in view and more around every corner.
I remembered what it was like trying to move around last winter. Between the snow, the slush and the weeks of subzero temperatures, spying a single fish house on the lake made an impression; spotting a half dozen was like seeing a city. That's all changed this year and with ice conditions improving even more, the fishes around here are gonna have a lot of friends!
I was more interested in seeing what was going on than I was in fishing. That was lucky for me because it helped me get over the fact that I'd mistakenly left my Humminbird at home. Between the notion that I'd be fishing "blind" and the -5 degree temperature, the decision not to drill any holes was an easy one.
It was late afternoon on a work day, so many of the shacks were unoccupied. But, I did chat with some friends and manage to get an outline sketch of the current fishing report and it wasn't too bad.
On Pokegama, Walleye fishermen are having better luck catching eating size fish this winter. Fish in the 13 to 18 inch range are turning up along the weed edges at evening time.
For one angler, dead sticking with one rod using a #2 Pink/White (glow) Frostee and a tail hooked Golden Shiner produced 3 fish. He picked up 2 more while using a jigging spoon tipped with a minnow head on his 2nd fishing rod.
Another friend reported having mixed results for Walleye and pretty fair success catching Crappies. It depends on the evening he said, one day last week he'd managed a limit of Walleyes before 7 PM. Since then, he averages 2 or 3 Walleyes and a half dozen Crappie. He told me what he was using, but swore me to secrecy, some guys are like that, so I won't spill the beans about his system.
On Trout Lake, Walleye are being caught in the evening, but not many. Most fish that are being caught are within the protected slot and the discourse among ice fishermen on that lake is that you're better off working the weed lines and deep points for Pike instead.
Rigging a tip-up equipped with a quick set rig that's tipped with large suckers or creek chubs will work. If you haven't tried it though, using a heavy action ice rod that's rigged with the quick set rig is a blast.
Panfish action remains consistent in the Grand Rapids region and while reports about "The Hot Bite" have subsided, nobody is reporting going fishless either. Sunfish and Crappies continue to be caught over the deep, mid lake basins on small waters."
Tungsten jigs are getting the lion's share of the publicity and I'm all for using jigs like the Tungsten Toad. In fact, here's a video about using the tungsten that we produced just last week. >> Early Winter Deep Water Panfish

(12/10) In Grand Rapids, Reed Ylitalo; "The crappie fishing here in Northern Mn has been great we have been fishing 24 to 28 fow and seeing fish suspended 4 to 6 off bottom. The best baits have been a 5 mm tungsten jig tipped with a red and yellow finesse plastic, also a great bait has been a 4 mm tungsten jig tipped with one small maggot!" - Wings and Walleyes Guide Service

(12/10) In Grand Rapids, Cub Reporter, Brian Castellano wrote; "A buddy and I hit an oxbow off of the mighty Mississippi River, in the Grand Rapids area.
When we got to our spot, we saw the ice sheet had dropped 2 to 3 feet, since this past Sunday.
We wondered if there would be any gators left in this skinny water.
We got set up and found 3' of water along the middle of this oxbow and it was game on from the get go!
We iced a dozen or so gators, with the big fish of the day being twin 30 inch fish. Action was fast and furious right off the bat and fizzled out by 2:00 pm.
It was funny setting the tip ups with only 1.5' of line hanging down. Live suckers and dead suckers were the bait of choice and both seemed to work equally well. There looked to be about 8-10" of ice".
Grand Rapids Area Lakes

(11/26)

Grand Rapids Crappie Lakes Productive For Ylitalo

Reed Ylitalo reports that the ice conditions on Grand Rapids area Crappie Lakes are good. Playing his location(s) close to the vest, Ylitalo provides these clues for Crappie fishermen; "Had a great day on the ice today finding a large concentration of crappies on two different lakes. 
The second lake was much better than the first when It came to the size category. We found the crappies suspended 4 to 6 feet off bottom in 26 to 28 feet of water The best jigs were chekai custom jigs and spins to put the plastic. Also caught many fish on the clam tungsten tipped with maxi plastics.

Grand Rapids Area Lakes (11/19) If It's White, It's Probably Right!
The rule of thumb for ice fishermen who want to do some exploring this weekend is to watch for the lakes with a solid covering of pure white snow.
Grand Rapids area lakes are divided into 3 categories' right now. The shallow water lakes that froze early last week, are now covered with ice in the 4 to 6 inch range and there are already ice fishermen showing up to test their skills on the early ice.
At the other extreme, there are still lots of lakes that do not have any significant ice cover at all. Deep water lakes, almost all of them are still mostly open.
Deer Lake, Pokegama, Trout Lake ... you get the idea; don't expect to find any ice fishing action on the main basin portions of these lakes for a couple of weeks.
Then there's some middle ground, lakes that are mostly frozen but still have patches of open water over deep holes or in current areas, Moose Lake is a good example.
On Monday, I drove over to Moose Lake to check on the conditions and was surprised by how much open water there was. There was a Northwest wind ripping across the surface and the whitecaps had broken up the ice that had previously covered the center of the lake. The lake is stubborn though and it just plain wants to be frozen; by Tuesday afternoon it was almost completely frozen over again.
That means that if you're anxious to ice fish, you should be extra careful about which ones you decide to explore.
There are a number of small lakes in the Grand Rapids area that are small, but they're deep. So these lakes may look frozen over, but still be unsafe for foot travel.
You can spot which lakes to target first because they are covered from shore to shore with an even blanket of White snow. The snow is not deep; there may be total accumulations of 3 to 4 inches, so that hasn't dramatically hampered the formation of new ice. It's this uniform blanket of snow that's signalling you that these lakes were frozen solid, before we started getting the snow last week. It's also your clue that the strong wind did not break up the thin ice when it was in early its development.
With 1000 lakes in Itasca County, there's no way for me to know which ones are safe and which ones aren't. But there are a handful of small, shallow lakes that I've been watching all week long and I Know that they are ready for some foot travel right now.
You probably have a few secrets of your own and know some likely starting spots too. If you decide to venture out this weekend, do us all a favor; be careful! Bring a friend, travel on foot and pack light, remember your cleats, a spud to check the ice as you walk out and remember ... send pictures!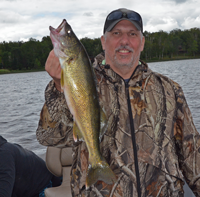 When you're fishing the mixed bag, action bite, Walleye like this one are always a nice treat. Be happy when the come along, but don't expect them to make up the lion's share of your bag.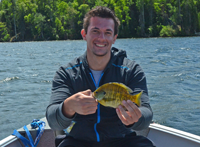 Sunfish are among favorite primary targets for mixed bag fishing on Pokegama. Few are giants, but good eaters come along often.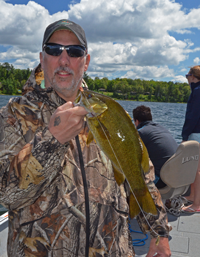 ... and then there's the Smallmouth Bass!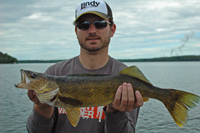 Luckily, almost as if scripted, the work did pay off, particularly for James who had the Midas touch. It's his 26 inch fish that currently tops the list of entries in the "Fisharoo Big Fish Wager".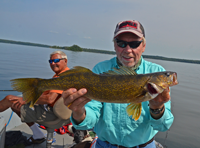 For us, the only presentation that worked on Walleyes inhabiting mid lake structure was Lindy Rigs and large Minnows.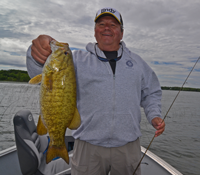 Wacky rigged Yum Dingers helped Larry Horseman acheive catching some nice Smallmouth Bass on Pokegama Lake.

Post-Spawn Crappies might seem trucky to find, but searching along the lakes first breakline into deeper water will lead you to them.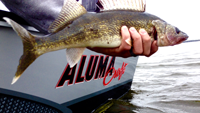 Photo Reed Ylitalo: Grand Rapids area Walleyes, cooperative.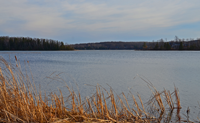 On Pokegama Lake, Grand Rapids small bays are rapidly becoming fishable. Pooles Bay was 70% ice free on Thursday April 9, 2015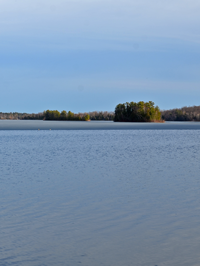 The view from Tioga Beach on Pokegama, Thursday April 9, 2015. I could imagine myself heading for the boat ramp within the next week
February 16, 2015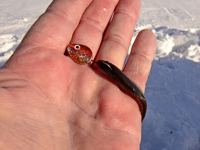 Rigging up with a Foo Flyer or a Slick Jig and tipping them with whole minnows will help encourage larger size fish.

This episode of Fish ED., shows how fishing the Foo Flyer and Slick Jig together provides the perfect one-two punch for late season Walleye
---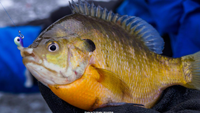 Lakes aren't the only bodies of water that carry safe, fishable ice in the winter. Big rivers like the Mississippi can provide great Panfish action too. Read >> Ice Fishing For Big River Panfish
---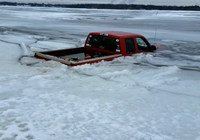 Luckily, there were no injuries because the the pressure ridge opened up over shallow water. The truck bottomed out on a 4 foot sand bar that bridges the gap between the shoreline and "Battleship Island".
---
January 2, 2015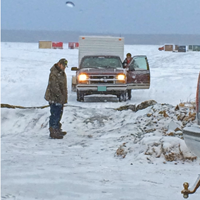 Photo Brenda Forster: Talk about waking up on the wrong side of the bed? These men spent New Years Eve in their wheel house and rose to a New Years surprise.
The pressure ridge developed overnight leaving them stranded on Splithand Lake.
---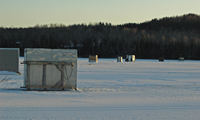 On Grand Rapids' Pokegama Lake, it wouldn't take long to discover dozens of fishing shelters. Anglers are set up on key structure everywhere thanks to the easy access.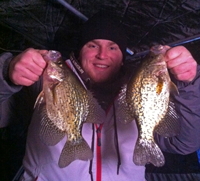 Panfish action remains consistent in the Grand Rapids region and while reports about "The Hot Bite" may have subsided. Anglers like Cody continue to capture their target species.


This week on Fish ED guest host Jeff Sundin takes you on a trip to Northern Minnesota where the ice conditions are ideal and the Panfish are more than cooperative!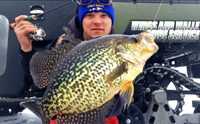 Reed Ylitalo shows off early ice Crappie. Fish are suspended in water depths of 24 to 28 feet.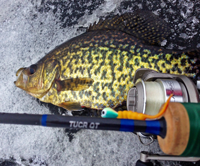 The best baits have been a 5 mm tungsten jig tipped with a red and yellow finesse plastic.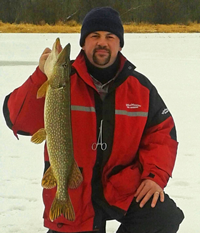 Photo Brian Castellano: Early, the action was fast and furious usning tip-ups along the middle of an oxbow adjacent to the Missiissippi River near Grand Rapids.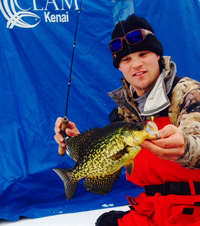 Reed Ylitalo reports finding the crappies suspended 4 to 6 feet off bottom in 26 to 28 feet of water.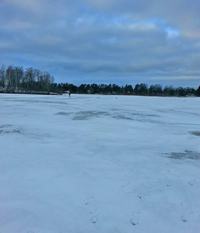 Photo courtesy Brenda Forster: Who heard from a friend on a Grand Rapids area lake this Tuesday. Ice was 4-1/2 inches and walking conditions were good.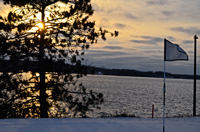 Don't look for ice on Pokegama Lake, it's gonna be a quiet weekend there for ice fishermen and golfers alike.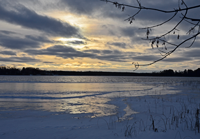 On Bass lake, the North end is freezing around the edges, but there's a large open water hole at mid lake. The South Bay of Bass is fully ice covered.