---
Minnesota Fishing Reports Home Page
---


Fishing Reports Minnesota Facebook
---
Advertisers

Grand Rapids Area Lakes
Ice Fishing Reports

(12/10) In Grand Rapids, Reed Ylitalo; "The crappie fishing here in Northern Mn has been great we have been fishing 24 to 28 fow and seeing fish suspended 4 to 6 off bottom. The best baits have been a 5 mm tungsten jig tipped with a red and yellow finesse plastic, also a great bait has been a 4 mm tungsten jig tipped with one small maggot!" - Wings and Walleyes Guide Service

(12/10) In Grand Rapids, Cub Reporter, Brian Castellano wrote; "A buddy and I hit an oxbow off of the mighty Mississippi River, in the Grand Rapids area.
When we got to our spot, we saw the ice sheet had dropped 2 to 3 feet, since this past Sunday.
We wondered if there would be any gators left in this skinny water.
We got set up and found 3' of water along the middle of this oxbow and it was game on from the get go!
We iced a dozen or so gators, with the big fish of the day being twin 30 inch fish. Action was fast and furious right off the bat and fizzled out by 2:00 pm.
It was funny setting the tip ups with only 1.5' of line hanging down. Live suckers and dead suckers were the bait of choice and both seemed to work equally well. There looked to be about 8-10" of ice".
Grand Rapids Area Lakes

(11/26)

Grand Rapids Crappie Lakes Productive For Ylitalo

Reed Ylitalo reports that the ice conditions on Grand Rapids area Crappie Lakes are good. Playing his location(s) close to the vest, Ylitalo provides these clues for Crappie fishermen; "Had a great day on the ice today finding a large concentration of crappies on two different lakes. 
The second lake was much better than the first when It came to the size category. We found the crappies suspended 4 to 6 feet off bottom in 26 to 28 feet of water The best jigs were chekai custom jigs and spins to put the plastic. Also caught many fish on the clam tungsten tipped with maxi plastics.

Grand Rapids Area Lakes (11/19) If It's White, It's Probably Right!
The rule of thumb for ice fishermen who want to do some exploring this weekend is to watch for the lakes with a solid covering of pure white snow.
Grand Rapids area lakes are divided into 3 categories' right now. The shallow water lakes that froze early last week, are now covered with ice in the 4 to 6 inch range and there are already ice fishermen showing up to test their skills on the early ice.
At the other extreme, there are still lots of lakes that do not have any significant ice cover at all. Deep water lakes, almost all of them are still mostly open.
Deer Lake, Pokegama, Trout Lake ... you get the idea; don't expect to find any ice fishing action on the main basin portions of these lakes for a couple of weeks.
Then there's some middle ground, lakes that are mostly frozen but still have patches of open water over deep holes or in current areas, Moose Lake is a good example.
On Monday, I drove over to Moose Lake to check on the conditions and was surprised by how much open water there was. There was a Northwest wind ripping across the surface and the whitecaps had broken up the ice that had previously covered the center of the lake. The lake is stubborn though and it just plain wants to be frozen; by Tuesday afternoon it was almost completely frozen over again.
That means that if you're anxious to ice fish, you should be extra careful about which ones you decide to explore.
There are a number of small lakes in the Grand Rapids area that are small, but they're deep. So these lakes may look frozen over, but still be unsafe for foot travel.
You can spot which lakes to target first because they are covered from shore to shore with an even blanket of White snow. The snow is not deep; there may be total accumulations of 3 to 4 inches, so that hasn't dramatically hampered the formation of new ice. It's this uniform blanket of snow that's signalling you that these lakes were frozen solid, before we started getting the snow last week. It's also your clue that the strong wind did not break up the thin ice when it was in early its development.
With 1000 lakes in Itasca County, there's no way for me to know which ones are safe and which ones aren't. But there are a handful of small, shallow lakes that I've been watching all week long and I Know that they are ready for some foot travel right now.
You probably have a few secrets of your own and know some likely starting spots too. If you decide to venture out this weekend, do us all a favor; be careful! Bring a friend, travel on foot and pack light, remember your cleats, a spud to check the ice as you walk out and remember ... send pictures!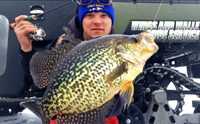 Reed Ylitalo shows off early ice Crappie. Fish are suspended in water depths of 24 to 28 feet.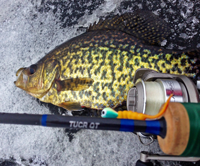 The best baits have been a 5 mm tungsten jig tipped with a red and yellow finesse plastic.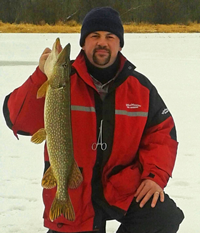 Photo Brian Castellano: Early, the action was fast and furious usning tip-ups along the middle of an oxbow adjacent to the Missiissippi River near Grand Rapids.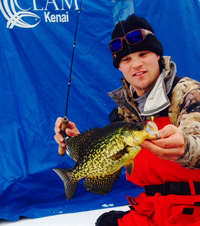 Reed Ylitalo reports finding the crappies suspended 4 to 6 feet off bottom in 26 to 28 feet of water.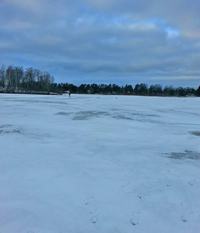 Photo courtesy Brenda Forster: Who heard from a friend on a Grand Rapids area lake this Tuesday. Ice was 4-1/2 inches and walking conditions were good.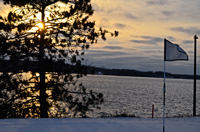 Don't look for ice on Pokegama Lake, it's gonna be a quiet weekend there for ice fishermen and golfers alike.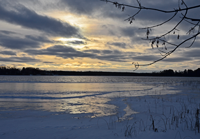 On Bass lake, the North end is freezing around the edges, but there's a large open water hole at mid lake. The South Bay of Bass is fully ice covered.