Find Minnesota Fishing Reports on Facebook
---
Advertisers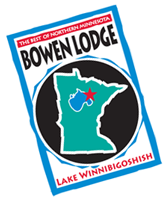 Read The Bowen Lodge
Lake Winnie and Cutfoot Sioux Fishing Report







Fishing Report August 1, 2014 - Warm Water = Hot Fishing!
For anglers of every ilk, there's no sweeter news than a weather forecast that includes extended periods of warm, stable weather. Take away the variables caused by constantly changing weather patterns and you get a lot more time to focus on the fish.
In the Itasca area, we're currently enjoying the first string of warm, stable summer weather that's occurred in well over a month and the fishing reports reflect the good news.
Surface temperatures throughout the area are steadily climbing toward what will likely be their peak for this summer. Depending on the lake you visit, you can expect to find surfaces temps ranging from 77 - 80 degrees, perhaps even warmer during mid-day on darker waters.
For me, the best news of all is that weedline fishing patterns are well established and producing solid results.
Clear water lakes with well-developed weed flats are producing mixed bag fishing for Bass, Sunfish, Crappie, Walleye and Pike. Lakes like Pokegama, Trout, Wabana and others have deep weed edges and on these lakes, key depths range from 10 to 16 feet of water.
Trolling spinners tipped with 1/2 night crawlers will produce consistent action. The mix of fish that you catch will depend on the lake, but it's likely to be an interesting hodge-podge of species.
On shallower, darker waters like Bowstring, Round, Split Hand and others that have shallower weed lines, key depths are 5 to 9 feet of water. The mix of fish is likely to include more Walleyes on these lakes and the Perch, Pike and Crappie will show up in your bag as well.


(8/1) On Lake Winnibigoshish, Joe Thompson, Four Seasons Resort says; "The walleye fishing has definitely picked up this week. Jigs and minnows on the flats, as well as trolling shad raps in the same areas. The percentage of keepers over slot fish has improved considerably.
The perch continue to be the most reliable bite going. The fish have been more spotty on the flat off of the birdhouses. But Sugar Point, Raven's Point, and other areas with the same type of structure have picked up the slack. Minnows on jigs, spinners, and rigs will all work. Just keep moving until you find the larger perch.
Northern fishing is still the same. I thought it would be steadily improving, but it seems to have flattened out. The weeds are still a little stunted for this time of year, probably due to the high water, lack of sun, and lack of calm days. I boated a 33" fish on my trusty storm colored Suick. Most of the fish coming in are still in the under 30" range.
The flats between Center Bar and Raven's Point will continue to attract fish as the young of the year perch start to roam that area, that will bring the walleyes right along with them. The fall bite is looking very promising. Check our availability and give us a call. Our fall discount starts on Labor Day and lasts until we close for the winter." >> Four Seasons Resort .


(8/1) Fish ED; "This week, Fish Ed Host Jon Thelen travels to the Grand Rapids area in search of big walleyes.
In this episode, Thelen shows you exactly how and where to Lindy Rig for walleyes during the summer. His tips and technique work everywhere walleyes swim, and he shows you a few tricks that will increase your catch. Click here for >> Fish Ed "Mid-Lake Lindy Rigging For Big Walleyes" .


(8/1) Fenwick Fishing Rod Giveaway from Wired2Fish; "Fenwick is a legendary name in fishing rods and was one of the first companies in the industry to build rods based on blank action. They called it "Power" and continue to build technique specific rods for both casting and spinning.
They just announced several new rod designs at ICAST and we are going to give you a chance to win one of the new spinning rods" Click to learn more and enter >> Fenwick Fishing Rod Giveaway . (8/12)


(8/1) From Lake of the Woods, Sportsman's Lodge; "Controlled depth fishing in shallow rocks has been the best approach right now using blue and silver or orange and gold Shad Raps. Wally Divers are getting the job done as well. Drifting with spinners is still producing fair. Find your way to the 16'-25' depth, tip your hammered gold spinners with minnows or leeches. Weather forecast looks awesome!" - EMAIL Sportsman's Lodge .


(8/1) On Cass Lake, Cub Reporter, Staff #004 texted; "Reports of good Musky fishing are coming in frequently over here. The Walleye action is fairly reliable too.
There was an image of Kevin Greenburg, Winnebago IL presenting his freshly caught 48-1/2 inch Musky. Sorry, the photo turned out to be too dark to use in today's report. But Congratulations Kevin, that's a fine catch!"


(7/29) From The Iron Range, Greg Clusiau wrote; "Another trip had me once again focusing on walleye but for the first two hours it was nothing but "northern city." Pulling a crankbait, they were jumping on that thing every five minutes or so. It's fun but not what I was looking for.
I eventually found the walleye and went to work using a crawler harness on a bottom bouncer and put together a very nice limit of 16" fish in short order. Sometimes it pays to ..." Learn More >> Read Greg Clusiau's Full Report .


(7/29) From Lake of the Woods, Mike Kinsela, Border View Lodge; "Another great week of fishing! Cover Big and Little Traverse Bays for the past week has been successful. Generally fishing from Garden Island to Little Oak Island or along the Northwest Angle has been doing well. Monday night the rain gauge was over flowing with at least 6 inches of rain in a couple of hours, it was not needed, we are hoping for dryer weather to come soon.There has been a mix of anchor and jigging, drifting with spinners and even some down rigging this past week. The guides have been able to accommodate groups with their preference each day.
The forecast is showing highs in the 80's with lows in the 50's for the week ahead." - 1-800-776-3474 Border View Lodge .
July 28, 2014

-

Cutfoot Sioux Mid-Summer Mixed Bag

Surface temperatures pushed to 78 degrees last week. Warm water fishing patterns are emerging. Panfish are holding on the Weed edges and early risers can get in on good fishing action by casting action baits toward the weeds.
Walleye fishing on Lake Winnie has been one of the best kept secrets in the Northland. Local resident anglers have been fishing main bars like Bena Bar, Moses and Center. They are reporting catches of ... >> Read Lake Winnie Fishing Report
Remember the report about catching Largemouth Bass by "Dead-Sticking" YUM Dingers?
Well I linked up a video that does a really nice job of explaining how to do it. In fact, the video portrays what we were doing almost perfectly. Click here to see the video >> How to Dead Stick the YUM Dingers


(7/25) From Lake of the Woods, Sportsman's Lodge; "Water levels may be up and down, but walleye fishing remains constant. Drifting and using spinners was the method of choice over the last week. Make your way to 22'-28' of water near Long Point or Zippel Bay or 12'-18' of water near Morris Point to Pine Island. Don't forget about trolling in the shallow waters of 10' or less as walleyes have been found there as well. Make sure you have plenty of jigs and spinners. Hammered gold is still the hot color, tip it with crawlers or leeches and you will be ready to go." - EMAIL Sportsman's Lodge .


(7/24) On Lake Winnibigoshish, Joe Thompson, Four Seasons Resort says; "The fishing on the West Side of Lake Winnie has been a lesson in patience. Like the old saying, "take the best player available", you have to do the same while fishing.
Northerns have definitely taken a giant leap forward on the size scale. We have had several fish over 30" caught the past few days. All the methods of fishing are working for these fish. The best has been on the secondary breakline on the outside edge of the deepest weeds. Trolling or casting, the fish seem to cooperate.
Perch fishing is still very good. You can't just go to one spot and catch all the "jumbos" you want like a few weeks ago. You will need to move around, picking up a few at each location.
Walleyes continue to be very elusive. The Humps seem to be the best spot to catch fish, but the winds this past week have made them very difficult to fish. I think the trollers coming in the next few weeks are going to do well. The fish are probably suspended eating perch minnows and shiners. That remains to be seen. With that being said, the fall looks like it will be our best time for the walleye fishermen.
Our Labor Day special is right around the corner, as well as our fall discount. Pick out a date and give us a call." >> Four Seasons Resort .


(7/24) Gus' Place Resort, Ball Club Lake; "Water levels remain high and stable with the surface temp @ 70 degrees.
Frequent rainfall has stained the water this summer to tea color.
Fishing remains good for Northerns, Perch and Walleye. Spoons and crank baits in 12 feet will produce a solid Northern bite throughout the day as well as an all-day Perch bite.
The Perch are still in shallow (6-8 feet) falling for minnows on bobbers and the Walleye have become widely dispersed from 12 to 30 feet.
The best bet for the Walleye is early & late in the day with leeches on jigs or Lindy rigs.
Crawlers are also taking Walleye. Keep your finger on the line and the bail open; a 5 count is about right.
There is still plenty of good fishing left this summer and we have a few cabins opening up in August." - Gus Sheker, Gus' Place Resort .


(7/24) Mustang Survival Life Vest Giveaway from Wired2Fish; "At one time or another we all relax about life vests when we are fun fishing or just taking a boat ride but it is crucial to wear it anytime the big engine is running, at a minimum. They are called "accidents" for a reason. Comfortable, secure, and dependable are prerequisites to good life vests in our book and we count on Mustang Survival here at Wired2fish for our life vest needs. Whether on the water for photo shoots, filming, or fishing tournaments we use a premium quality Mustang life vests.
We want to give Wired2fish readers a chance to win a Mustang inflatable life vest that can be worn anytime they are in a boat or around the water in our latest giveaway." Click to learn more and enter >> Mustang Survival Life Vest Giveaway . (7/24)


(7/24) From The Marcell Area, Frontier Sports, Paul Larson said; "According to the Frontier Sports Fisherman's Guide calendar, fish activity looked like it was going to be minimal to nonexistent for last weekend and the three or four days after. Unfortunately, this proved to be correct for most anglers that I've talked to. Dark, threatening skies of green, purple and even a weird brown purported thunder storms could appear at any time. This coupled with occasional heavy wind gusts shut the Walleye right down and the Crappie as well refused to bite. The only fish that took any notice of my lures were Rock Bass. I've seen this same scenario many times in weather like this. Unfortunately there is rumored to be an age old curse connected with this fish. THE CURSE of the DREADED RED EYE! According to legend, when you catch a Rock Bass, three fish that you want to catch are mysteriously subtracted from your total for the trip. Well, Sunday and Monday night, I caught so many Rock Bass, and that was all I caught, that if the curse is indeed true, I probably shouldn't go fishing for the rest of the year. It'd be a waste of time. They were so anxious to make me miserable; I even hooked several in the back! In the long run it really doesn't matter. Curse or no curse, this weekend you'll find me out dragging crank baits in my favorite spots trying to make up for last week. After all you can't catch fish, no matter what kind, if you don't go! Bass and Pike have been the mainstays of the fish being caught this week with Crappie starting to get on bite again after all the mischievous weather we've just been through. Walleye have been slow for a while. The tackle department and bait shop are fully stocked for the weekend which promises to be much better." Frontier Sports features a complete and fully stocked Sporting Goods department and Bait Shop, Gas, Grocery, Deli and Gift Shop. Frontier Sports is an authorized LIVE TARGET and SAVAGE GEAR dealer. Frontier Sports 219-832-3901 or Email .
"Trolling For Summer Crappie"
This week, Fish Ed host Jon Thelen shows you the easiest, most-efficient way to load the livewell with big crappies. His trolling tactic with Lindy River Rockers works on any lake near you, but is especially effective on lakes that see a lot of fishing pressure. His "high-speed" crankbait trolling method lets the whole family get in on the fun of putting together a summertime fish fry. click >> Trolling Summer Crappie

(7/23) From Bowstring Lake, Geiger's Trails End Resort; "The Northern have been hitting hard and furious. We even had some pull a few crappies out of the North end. The Walleye are sticking on the humps up here, but with the hot weather coming, I think they will be moving into the deep pretty soon. The Dog Days are coming late this year, but I expect them to show up anytime now and that means that solid fishing patterns for Crappie, Walleye and Pike will be emerging.
August can be a very good time for fishing on Bowstring Lake and we still have some cabins available. EMAIL US for current availability." - See you on the water". - Bill & Erin Charlton, Trails End Reosrt .


(7/22) From The Iron Range, Greg Clusiau wrote; "I clipped on a lipless rattle bait and began trolling the weed line for northern pike. Wow. I almost forgot how much fun that was, especially when using a braided line which telegraphs the strike to the tips of your toes! High winds and rollers really had these fish in an eating mood. I remember when I used to do this to liven up a ..." >> Read Greg's Full Report


(7/21) From Lake of the Woods, Mike Kinsela, Border View Lodge; "Multiple Big fish caught this week! What a great week full of sunshine! This week we mixed it up a little more on location instead of heading north all week a few days we stayed south fishing the west side and also drifting spinners just outside the Light House Gap. The days we were able to head north we were on both Little Oak and Sterran with both producing big fish. We are still getting a good jig bite so it has been a mix of jigging and spinners. We are just starting to test the down rigging which we will go to soon.
We are able to use some of our docks again so we hope for less wind and very little rain. This will help the water levels continue to decline. We are still a day by day basis on the docks with a brisk wind docks may be wet.
Temperatures are starting to finally warm up! However along with warm temps we get more chances of thunderstorms. This week will have lots of sunshine however we show chances of thunderstorm activity as well. Tuesday we have a good chance of rain. Friday and Saturday they forecast a chance of thunderstorms. The storms are scattered though so they may miss us all together!" - 1-800-776-3474 Border View Lodge .
---






More ways to connect! Sign up to receive the Free "Insider Newsletter". Don't forget, you can always catch up with Jeff Sundin on the radio program too! Listen every Thursday at 6:20 AM and get additional fishing reports and information. KAXE 91.7 FM Grand Rapids - 105.3 FM Bemidji - 89.9 FM Brainerd . Want even more? Get HANDS ON Fishing Tips. Book your own Guided Fishing Trip !
---
All of our Fishing Reports are saved in the library >> Click here for July 2014 << OR >> View Entire Fish Reports Library Here .
| | |
| --- | --- |
| Did you know that the Thursday Morning Program is available for a week after the air date? Yes, if you miss the live show, just click here and select the 6:00 hour on Thursday. Scroll in to about 6:20 AM and you're back in business! | |
---
And Do You Know that you can even post your own helpful hints to my fishing reports page on facebook? YES! You Can! You don't have to tell us your secrets, just go ahead and brag a little when you get a whopper! >>> Click Here >>> Fishing Reports Minnesota .
Today August 1, 2014

In this episode, Thelen shows you exactly how and where to Lindy Rig for walleyes during the summer. His tips and technique work everywhere walleyes swim, and he shows you a few tricks that will increase your catch.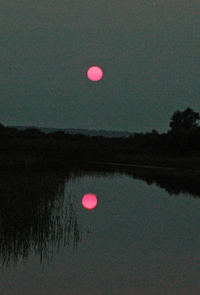 Red Sky At Night ... there's no sweeter news than a weather forecast that includes extended periods of warm, stable weather.
---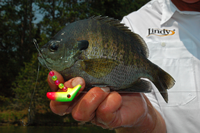 We found some of our panfish by cruising the breaklines, hunting for small schools in open water. Using the Li'l Guy as a search bait helped pick up straglers.
Above: Rigged with a small leech on each hook. Below: Rigged with a whole night crawler pinned onto both hooks.

---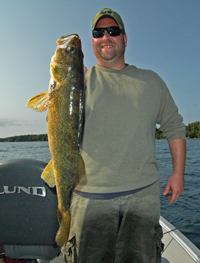 On Pokegama Lake, we used Lindy Rigs and large Creek Chubs and managed to turn up a few good Walleyes like Kyle's solid 24 inch fish (above)...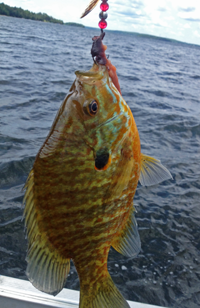 But the action kicked into high gear when we started trolling spinners over the weed tops. Walleye, Sunfish and Pike were all mixed together in the same spot at the same time.

---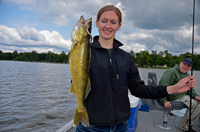 Ashley loves to fish, but she's not interested in killing the fish to have the food. So Ashley's rule was simple; "If Peter wants to eat fish, he's gonna have to catch his own, these two have to go back".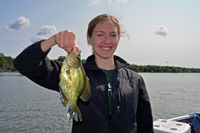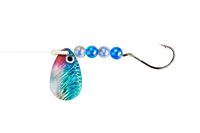 Lindy single hook Spinners with #3 blades worked well. On Monday, the Walleyes seemed to prefer the White beads that come on the Tulibee or Shad pattern blades.

---
July 28, 2014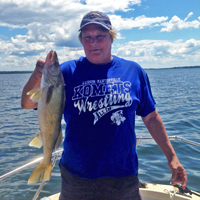 Photo courtesy Bowen Lodge: Walleye fishing on Lake Winnie has been one of the best kept secrets in the Northland. Local resident anglers have been fishing main bars like Bena Bar, Moses and Center and reporting good catches. Read >> Lake Winnie Fishing Report
---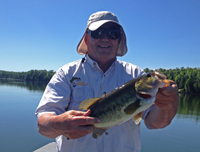 In spite of sunny conditions and calm seas, Largemouth Bass preferred un-weighted YUM Dingers fished over the weed tops. For Rich Prykop, "Dead Sticking" was the best presentaion.

"Dead Sticking" the YUM Dingers is easy and effective. This video portrays Rich's presentation to a tee!
---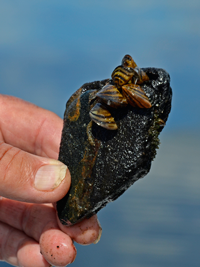 Zebra Mussels will force one of my customers to change some of his habits on Sand Lake. Their sharp edges shave tiny slices off of his line and will eventually cause it to fail; probably just when he has Mr. Big hooked and heading toward the landing net.

Humminbird's Autochart Live allows anglers to create custom countour maps of any body of water.
---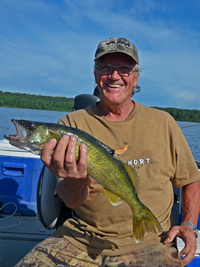 Trolling the weed edges with Little Joe spinners, is an adventure. You will catch a pile of panfish and you'll be rewarded with some really nice surprises like this solid weedline Walleye.
---