---

Link to Facebook Fishing Reports Page
---
Keep Your Bait Alive and be Minnesota Legal
---
Walleye Jigging Video Wait 'em Out
---
---
Book A Guided Fishing Trip With Jeff Sundin
---
Fishing Report - Current, Reliable Northern Minnesota Fishing Reports for Leech Lake, Lake Winnie, Cass Lake, Red Lake, Vermilion, Lake of the Woods, Bowstring and more MN Lakes

Fishing Report May 24, 2013, Jeff Sundin - Savvy Anglers Shrug Off Walleyes "Vacation Day". - I needed it, you needed it, everybody did, even the fish. Thursday's calm, sunny day was a welcome break from the gloomy, rainy weather. It was was more than welcome, even if it did encourage a slow fishing day.
Think of it this way; You just had a hectic, busy week. The phone was ringing off the hook, chores were backing up and all of the sudden ... It's the weekend, a chance to sleep in and recharge the batteries. Ah, doesn't that feel good?
The Walleyes need those days too. So after going through the rigors of the spawning run, then trying to make their way back out toward main lake structure, then battling the current, then dodging the boats while they tried to get a bite to eat, sheesh, it's no wonder they needed a day off.
Luckily, I was fishing with the most understanding human being alive and we were able to look at this "zinger" as a learning experience. That's Carl Bergquist for ya, he's a darn good friend, a good listner and a really smart guy. Handy to have around when the chips are down. He helps me think through my little dilemmas.
What we learned on Thursday was that Sand Lake, beautiful as it was, hadn't had a chance to warm up enough to send fish into their springtime, "hot bite mode". With surface temperatures ranging from 48 to 51 degrees, the only signs of baitfish in large numbers were found in shallow water along the Bulrush and Cattail edges. The problem was that the bright sunshine discouraged game fish from heading into that shallow water to feed.
Moving into deeper water didn't help either, there just wasn't much out there. So after a morning of catching Tiny Pike, we decided it was time to re-group and head for another lake.
Knowing that we still needed fish for the evening fish fry and that I had better come up with at least some WALLEYE, I pointed the truck South and beat a trail over to Bowstring Lake. With any luck, the darker water would be heating up faster. Maybe that would trigger some baitfish to move onto one of the lakes shallow sand flats? Maybe we could find a few fish following them into the shallows? It was worth a try, and it paid off, at least a little bit.
On Bowstring Lake, surface temperatures ranged from 51 to 55 degrees. The Tanin stained water, was clear, but dark. That dark water is what helps protect the sensitive eyes that Walleyes have and allows them to move shallow on sunny days. Especially calm days like this one, a ripple maybe, but nothing close to a Walleye Chop.
After a bit of poking around, I stumbled onto a point near an adjacent sand flat. The water is shallow there, 3 to 4 feet deep, but there's a nice sharp breakline from 4 to 7 feet and the fish like to follow that edge, heading off minnows that intend to move onto the flat.
Using 1/8 ounce jigs tipped with whatever kind of minnow that came next out of the bucket, we trolled slowly, strattling the edge of the drop off. It wasn't that long before we started getting a few bites. First a Perch, then Carl got one Walleye, then Len got another, then some more Perch and then we lost a couple. A slow, but steady bite developed and thanks to our heroic effort, we were saving the fish fry!
It wasn't the best fishing day that I'll ever have, but we did manage to put a few in the box and just when the action seemed to be getting reliable, the discussion started. Can't leave George and Bill home alone waiting for their supper, no we have to leave now, just when the fish start biting, the story of my life, always gotta go! Okay, well at least we got the fish fry together and it was good. Maybe not as good as Lenny would have made, but it was still good.
For today; With this crew, there's just no choice, Hammer Down, even if I have to drive to Alaska!
By the way, have I ever asked you to join us on the fishrapper facebook page? How about it? Would Ya?
The Shiner Trapping Ban on Lake Winnibigoshish went into effect yesterday. The DNR simply refused to provide bait dealers with any leeway, even with the cold water temps we have now. So for the handful of licensed bait dealers who would usually get their supply of Shiners from Winnie, it's time for Plan B.
Bill Powell, Fred's Bait said that he will be to looking for a supply of Spottails somewhere else. Smaller lakes that may at least provide enough bait to get him through this season. Hopefully, their search will be successful and we'll have some good news to share. In the meantime, we'll do the best we can with what we've got.


(5/24) At Frontier Sports in Marcell, Paul Larson says that they have a good supply of bait for the upcoming weekend. Golden Shiners, Some Spottail Shiners and plenty of chubs fill the minnow tanks. Leeches and Night Crawlers are not a problem either.
About the fishing, Paul said; "The reports from the "second opener" were encouraging. Bowstring Lake was the standout with many limits of Walleyes taken. The smaller area lakes have seen Bluegills and Crappies starting to head for shallow water. Bass season opens Saturday the 25th and this weekend should provide an excellent opportunity to catch some nice Bass. Trout season opened May 11th and there are several excellent Trout lakes in the area, so if your chosen lake is too crowded with the holiday weekend traffic, you just might want to give one of these lakes a try.
The bait situation at the store is excellent and we have the last of the "hard to get lures" that were so productive last year. Stop in and see many new items for 2013 that have arrived too.
We are looking forward to a great weekend! Frontier Sports is an authorized LIVE TARGET dealer. Click to contact >> Frontier Sports .


(5/24) From Wired2Fish; "We have all been there. Perfect 80 degree day, no wind, fish are chomping, boat is loaded and our batteries are dead. The engine won't start, trolling motor won't run and a great day just turned into a nightmare."
It's one of the most misunderstood ascpectrs of boating, but it's simple to keep your batteries healthy when you know a few tricks . >> Learn More Click For Tips on Battery Care .


(5/24) Gus Sheker, Gus' Place Resort on Ball Club Lake; "Cool wet weather is keeping water temps on Ball Club Lake stuck in the mid to upper 40s.
Run off from all the recent rain has stained the water a little, but I wouldn't say muddy.
Fishing has been Fair at best for Perch, Northerns and Walleye using live bait rigs in 8-6 feet with slip bobbers and light jigs in white, yellow and chartreuse.
I don't expect the fishing to improve until we see the sun again and the water temp moves out of the 40s.
Most of our docks are in the harbor and the bait tanks are up and running. We will have fat head minnows, crappie minnows, crawlers & leeches, but we will not be selling shiner minnows.
There is still a cabin or two available if you are looking for a last minute reservation." - Gus Sheker. Gus' Place Resort .


(5/24) Northland Lodge, Pat O'Reilly checked in with; "The bite is alright here on the north end of Big Winnie. The gap into Cutfoot has been good. Out in front of the (sattelite) dishes and Tamarack point off the old river channel has been good too. They are not not picky on the color or how deep they are yet,we need some warm weather. - Northland Lodge .


(5/24) From the Lake Winnie Region, Nik Dimich has a tip or two about fishing Lake Winnie; "Downsize your jigs and line and use light action rods that have a better hook set ratio while pulling in "slab" crappies. Place a small minnow under a bobber or light jig and start casting and retrieving your bait into the shallows. I like to use ... " read >> Lake Winnie Region Fishing Report .


(5/24) On The Iron Range, From Greg Clusiau; Has a vested interest in fishing, especially this week. Greg's been going through the closet, making ready for the best part of the open water fishing season. Greg says; "A relatively inexpensive purchase, many years ago, but is oh so valuable now, especially when you're 100 yards down the shoreline, catching fish, and you happen to" ... >> Read Greg's Full Report .


(5/22) Bemidji Lakes Area, Paul A. Nelson, Bemidji Area Lakes Guide Service says; "The second weekend of the walleye season was like the opener part-two for many anglers. The lakes were busy and the walleye fishing was pretty good, despite the intermittent heavy rains.
Most of the walleyes have been close to current early in the season, but they are beginning to spread out as they work their way back to their home lakes.
Anglers have been fishing shoreline connected structures along the migration routes, with concentrations of anglers fishing the outlets and inlets, trying to ambush the migrating walleyes as they go between lakes.
Surface water temperatures have risen into the mid to upper 40s, so the walleye spawn should just about be done. The hottest lakes for walleyes include Bemidji, Upper Red Lake, Leech Lake, Winnibigoshish and the Cass Lake Chain.
Walleyes in Upper Red Lake have been active along the shoreline break in 4 to 7 feet of water. Jigs and minnows or bobber rigs and minnows have both been effective.
Walleyes in Winnibigoshish have been good in Cutfoot Sioux, Third River Flowage, near the mouth of the Mississippi and in Sugar Lake. Most of the walleyes have been biting on jigs and minnows in 5 to 8 feet of water.
Leech Lake has been good in the shallow bays, with good bites in Sucker Bay, Portage Bay and Steamboat Bays. Most of the walleyes have been biting on jigs and shiners in 6 to 10 feet of water.
Lake Bemidji and Lake Irving have been good for walleyes in 7 to 12 feet on jigs and minnows, with some anglers starting to catch walleyes on leeches on live bait rigs.
The Cass Lake Chain has been best in Andrusia and Kitchi, with most of the walleyes in 11 to 14 feet of water. Anglers are having success on both jigs and shiners and live bait rigs and leeches." - Paul A. Nelson, Bemidji Area Lakes Guide Service, panelson@paulbunyan.net - 218.759.2235 .
May 21, 2013 Cutfoot Sioux continues to produce reliable Walleye action. On Monday, we discovered that many fish are now scattered and that many have moved to deeper points and inside corners. Maybe colder surface temps made them move, but expect to find more fish in the 14 to 20 foot range than you will in the 8 to 10 foot range.
Prime Walleye structures are "shoreline related", points adjacent to shallow flats. The presence of rocks seemed more important than weeds on Monday, but never rule out the attractiong power of newly emerging weeds.
As Walleye move back out into the "big lake", shallow water feeding areas will be the focal point for this week. Baitfish movement, especially by the Shiner minnows has ... >> Read Full Lake Winnie Fishing Report .

(5/20) At Lake Winnibigoshish, "We have had to revert back to yesteryear for 2013!
In the old days, the walleyes followed a definite migratory pattern. Come out of Cutfoot and move down the shorelines. We would follow these migrating fish with the weather having very little to do with where they were located.
You would start on Opening Day somewhere down the shore from the Gap, and each day they would move closer to home. The past 10 years or so, that hasn't been the case at all. We had fish close to home from day one.
Since opening day this season, very few walleyes have been caught on the west side. Most of the fishermen are traveling up north toward the Gap. And so far, a majority of the fish they have been catching are in the protected slot.
A sure sign that the fish are on the move came yesterday when our guide Jake Premo caught a limit of nice "keepers" off the west side in 8' of water. The males tend to migrate faster than the females and are showing up now. They will keep piling up on the west shoreline until they make their way out to the mid-lake structure. Memorial Weekend is going to be wide-open on the walleyes. If you haven't finalized your plans yet, we still have openings." ... >> The Four Seasons Resort on Lake Winnie .


(5/21) From the Lake Winnie Region, Nik Dimich has a tip or two about fishing Lake Winnie; "If you're fishing for walleyes start on the wind blown sides of the lake, as the waves will push forage into the shoreline. If it is dead calm ... read >> Lake Winnie Region Fishing Report .


(5/21) A quick note from Karen at Dixon Lake Resort says; "Had a great weekend on the lake. A little rain didn't stop the guys. Did better on Dixon then Winnie. Seemed like a night bite". Hope it stays true for next weekend.

(5/20) On The Iron Range, From Greg Clusiau; "Yes folks, spring is finally here, grab your panfish poles and head to a shallow fish holding area and give it a try. It's some of the best action of the season.
I made a run "up north" on Saturday for just that reason and six lakes were investigated. The first one, a prime little shore-fishing honey hole, found me catching a nice crappie on the very first cast.
Actually, I was a little surprised because the" ... >> Read Greg's Fishing Report .


(5/20) On Lake of the Woods, Border View Lodge, Mike Kinsella wrote; "First week of walleye season was fantastic! Many have reported that it was their best opener ever!
Males in the 16 to 18 inch range are plentiful in the Rainy River. A one oz jig with a shiner will do the trick. Gold and pink have been excellent colors. Look for rubble on the bottom any were from 12 feet up to 5 feet of water. The big girls can still be caught in the river, but the numbers of females are better on the lake and in the Four Mile Bay. Both gaps, Lighthouse and Morris Point, have been on fire. 12 to 14 feet with a jig and a shiner is a good place to start. Many of the females have been in the 27 to 32 inch range, and the vast majority has already spawned.
It looks to be cooler and breezy with chances of showers during the first part of the week. The clouds give way to sunshine and warmer temps as we head towards the weekend.
We have some opportunities for midweek fishing and also have a few openings for your Memorial Day Weekend. Make your plans to spend some time with us. You don't want to miss this!" 1-800-776-3474 Border View Lodge .


(5/18) Chasing Giant Northern Pike, was Jon Thelen's mission for this week. "Jon travels to Northern MN disclosing where and how to catch giant northern pike as they return from their spring spawning ritual in the backwaters.
Returning from an afternoon on the water, Jon heads back to the resort where longtime Lake of the Woods guide Nick Painovich demonstrates how to debone a fish, taking the "Y" bones out of an eater-sized pike." - Click to view >> Zippel Bay Northern Pike


(5/18) On Bowstring Lake, Erin at Geiger's Trails End Resort; "We are officially, fully open, the lake is ice free and Bowstring Walleye are just beginning to prowl".
Early reports about Walleye action are tricklling in. Action on the main lake is just starting to pick up as the first waves of fish return from spawning and begin to feed. So far, the evening has been the preferred feeding time. Fish are located near the rivers and on some of the shallow gravel stretches along the North shore.
During the weekend, we expect to see the traffic picking up as spring patterns emerge. Erin and Bill Charlton, Trails End Resort .
---

(5/24) A case of "Multi-Tasking" in Gigantic Propotions as we hustle along the "...." to get this show on the road!


.
---







More ways to connect! Sign up to receive the Free "Insider Newsletter". Don't forget, you can always catch up with Jeff Sundin on the radio program too! Listen every Thursday at 6:20 AM and get additional fishing reports and information. KAXE 91.7 FM Grand Rapids - 105.3 FM Bemidji - 89.9 FM Brainerd . Want even more? Get HANDS ON Fishing Tips. Book your own Guided Fishing Trip !
---
| | |
| --- | --- |
| Did you know that the Thursday Morning Early Bird Fishing Guide Program is available for a week after the air date? Yes, if you miss the live show, just click the KAXE Logo, then select the 6:00 hour on Thursday. Scroll in to about 6:20 AM and you're in business! | |

Fishing Report May 23, 2013, Jeff Sundin - Walleyes Action Heating Up, Just In Time For the Big Weekend! - More evidence of the "normalization" of our 2013 fishing season, is the shallow water, action bite that's been heating up on Leech Lake.
On Wednesday, day 3 with my long time friends "Lash" and "Fish", we'd already slated Leech Lake as the spot to wrap up the early season trip. At the landing, we were greeted by another friend, Grand Rapids area fishing guide Roy Girtz, Royal Guide Service. Lucky for me that we stumbled into him because Roy had already been fishing on Leech Lake the day before. He gave me a heads up about the better spots, so even though I had some ideas of my own, Roy helped speed up the process by getting me zeroed in. He knew what he was talking about too, because it only took a few minutes for his advice to pay off.
Surface temperatures were hovering just above the 50 degree mark and a stiff breeze had the Walleye Chop rolling perfectly. All I had to do was locate the shallow breakline, the sharp drop from 6 to 8 feet of water, center the boat on the drop off and ask Lash to toss in the Driftmaster. I got bit on my first cast, so did my crew and from then on, the action was steady.
There was a mixed bag of Walleye, Perch and Northern Pike. All apparently feeding on baitfish that were heading for the shallow sand flat that's adjacent to the breakline.
The mixture of sizes ranged wildly, with fish from 9 to 25 inches and everything in between. Before you start heading for the door, one word of caution. Meat hunters could be a little disappointed by an apparent shortage of Walleye in the 15 to 17 inch range. We caught lots of 13 to 14 inch fish and many 20 to 22 inch fish, but very few in what we'd consider the ideal keeper size range.
Perch sizes were mixed too, but we did keep 17 nice size fish ranging from 10 to 12 inches.
We didn't cover a lot of ground yesterday, so I don't know if there are lots of spots where the fish are this aggressive, but judging by the action in this small area, I'd feel confident that other good areas would be discovered too.

Fishing Report May 22, 2013, Jeff Sundin - Walleyes On The Move, Forget The Spawners, Find The Feeders - A trend toward sunny skies and warmer temps could provide Memorial Day anglers with a real treat this weekend. Especially in light of the fact that Walleyes are gonna be shallow, hungry and on the move.
Forget about following reports from last week, or even a just few days ago. The lion's share of Walleye have already wrapped up spawning and passed through transitional areas. The instinct to feed will be all that they care about this week and as water temperatures rise, spawning baitfish are gonna play right into their fins.
On the big lakes like Winnie, Cass and Leech, keep your charts set on the shallow, sandy flats and the adjacent breaklines. As water temps rise, go shallow especially if there's a breeze. Fishing the shallowest shoreline breaks will be a key. Depending on your lake and on the spots you choose to fish, that could mean fishing in water depths of 4 to 8 feet.
No breeze? Then we'll need to move deeper. Baitfish and Walleyes will back out and away from the shallow breaklines and spread out across mid-depth flats. In that situation, key areas on Winnie or Leech will be in water depths of 10 to 16 feet. The presence of weeds will help, especially on Winnie. Leech Lake Walleye have a tendency to hold tight near rocky spots on the flats. But if they can find a patch of weeds, they'll hold on those too.
With surface temps remaining cold, presenting jig and minnow combinations should be good throughout the Memorial Day holiday. It would really surprise me if the fish showed any other preference for the next couple of weeks. But just in case we get a calm spell and need to cover more water to eek out stragglers, packing a few Lindy Spinners would be a really good insurance policy.
Bait shops are managing to keep up with the demand for minnows, but Shiners will be in short supply. The good news is that we've been able to use a variety of minnows and still turn in good reports almost every day, Right now, my bait tank contains a regular smorgasbaord of minnows. I've been using Rainbows, Dace, Spottails, Brassy Shiners and Fatheads (if the Fatheads are large enough). The size seems to be more important than the species and for me, ideal minnows for jigging are in the 3-4 inch range.
Don't be afraid of artificial baits for jigging, especially if you're targeting one of the larger lakes. On Upper Red Lake for example, I was using a Blue-Glow Lindy Jig tipped with a 3 inch ripple shad and easily kept up with anglers who used live bait. In fact, for someone who wants to gain confidence in using artificials, Upper Red is an ideal testing ground. The abundance of fish on the shallow breakline give you a chance to try a bunch of baits, while persuing the best ones.
Walleye anglers who plan to target smaller waters this weekend should focus on shallow cover too, but with a few twists.
When you can find them, shallow sand flats that have sharp breaklines will produce fish. But unlike many large lakes, their little cousins don't usually have much of this type of cover. Rocks and weeds become much more important on small lakes. If your favorite Walleye lake happens to be heavily stocked, then weeds become doubly important.
I like to find Bulrushes, especially when there's an adjacent point or sharp inside corner. Add a weed flat, a pile of rocks or a clam bed and this type of spot just keeps getting better. In fact, just yesterday, we found a spot like this and caught Bass, Pike and Walleye all at the same time, all on the same point. This type of structure is common in our area and can be found on numerous lakes.
I use the MinnKota to hold the boat along the drop off and then cast (pitch) the jig and minnow combinations toward the shallow cover. Allow the jig to fall toward bottom on a tight line as you hop, twitch or wiggle the jig back toward the boat. If you try this method in a handful of spots, I Promise that you will catch some fish.

Fishing Report May 21, 2013, Jeff Sundin - Chilly Surface Temps, Rain Drive Fish Deeper - Maybe the Walleye action on Monday wasn't spectacular, but steady? Yes, steady it was.
Surface temperatures hovered at 45 degrees and for most of the day, rainfall was steady too. Noticeably absent were the high numbers of larger female fish that had inhabited Cutfoot Sioux during the spawning cycle. Now, smaller, male fish are holding up their end of the bargain by providing anglers with some fish for the frying pan.
Even though there was little evidence of a "hot bite", the fish did cooperate and by concentrating our efforts on practicing good hook setting techniques, we managed to bag a limit of fish in the 13 to 16 inch range.
There's a lot of news coming in from Lake Winnie too, so instead of making you read the same stuff twice, just follow the threads below and you'll bag a whole bunch of info about Winnie and Cutfoot.

Fishing Report May 20, 2013, Jeff Sundin - On Bowstring, Walleyes Are Shifting Into Post Spawn Mode. - On Sunday, I showed up at Fred's Bait to meet my fishing customers expecting to get the Green light to head for Upper Red Lake. But when I told them about the experience we had there on Saturday, they said "Yeah, we know, we were there too". AH HAH, so there was no need to repeat and it was time to make an adjustment.
They mentioned a couple of lakes that they'd like to try, among them Bowstring Lake. Closest to home, Bowstring seemed like a good choice, especially in light of the good reports I'd gotten on Saturday, so off we went.
At the South landing, there was a crowd, but the parking ramp wasn't overloaded. There was a Northeast breeze blowing, and a mild chop was tickling the dock. A dose of liquid sunshine and humid air, warmer than the surface water, created a fog on the lakes surface.
I found wildy varrying surface temperatures. They ranged from 44 degrees on the main lake, all the way up to 56 degrees in Muskrat Bay, near the Bowstring River.
It didn't take any imagination to figure out where the fishermen had caught their Walleyes on Saturday. Every boat on the lake seemed to be heading for the same spot. The only problem was that the action that they'd enjoyed the day before, wasn't gonna be repeated today. There were still some stragglers lying along the shallow breakline. We caught 4 o5 Walleyes, a few Pike and a Perch. But, it was apparent that we'd be making a move into new territory.
I wanted to try and take advantage of the breeze, so instead of trying nearby spots, I headed for the West side of the lake to fish on a shallow point that was facing into the wind. It turned out to be the best decision I made all day and if I'd been smart, we would have just stayed put, nursing that spot until we had the fish we wanted.
The shallow breakline held a school of smaller, but acceptable Walleyes, along with a school of decent size Perch. The fish were holding in about 6 feet of water, just along the sharp break from 4 to 7 feet.
The action was steady, we had plenty of strikes; But the fish were very tempermental and the soft strikes caused my crew some serious headaches. An honest estimate would be that all of us probably missed or lost 3 fish for each one that we landed. The finicky fish were holding onto the tail of the minnows, rarely chomping their way up to the hooks. Luckily, we won enough of the battles to leave the lake with a fairly good, mixed catch of Perch and Walleye. But it was definitely accomplished by applying a good old fashioned, American work ethic!
My assesment is that the larger, female Walleyes on Bowstring are already in their post-spawn mode. Plan on catching smaller size fish for now, but after a few days and a little warmer water, the fishing is gonna get good.
For today; The wind is blowing, it's Grey and spittin' some rain. I'm starting a three day stint with a couple of great friends who love an adventure. I think we'll be getting along famously, no matter where we go. But I can see an opportunity to try fishing some clear water.

Fishing Report May 19, 2013, Jeff Sundin - Making Up For Lost Time! - Wasn't much of a problem for anglers in the Itasca area this Saturday. Walleye fishing patterns are fast on their way to being back on track for this time of the season. Panfish are heading toward shallow water and the weather, well it's good enough.
My first clue that Walleye patterns were getting back to "normal" was when I tried to get one more trip on a small river that we fished a few days ago. Temporarily filled with Walleye, the small root beer colored river was now almost vacant, containing just a few, enough to prove that they were once there.
My next clue was a call from Bowstring Lake where a fishing buddy described the Walleye action as "Silly". At noon or just before, they had nearly filled their bag limit with "eaters" and were about to try and find some bigger fish for some photos.
The seed was planted, we were catching some fish, scrounging them out one by one. But it was clear that there were better places to visit and I already knew that there was a move in our future. Still, I had a few ideas of my own, so we decided to linger just a little bit longer where we were. With one last spot to try, we stumbled into a fan. A regular reader of the this report who slipped me another zinger. Earlier in the morning, I was in such a hurry to try my little river , that I had driven right by a group of boats. Boats that were filled with Crappie fishermen who were smack dab in the middle of catching a great run of shallow water Crappies! Oops, I missed the boat on that one too!
The straw that broke the Camels back came when my phone started ringing again. This time it was my buddy Tom Neustrom and his first sentence was; "Jeffrey, Red Lake is hot, it's as good as I've ever seen it!" Well okay then, that was good enough for me and when I got the nod from Mr. C. The boat was on the trailer and we were out of there in no time flat.
At Upper Red Lake, we found perfect conditions. Nearly calm seas, overcast and cool. Surface water temperatures ranged from 52 -54 degrees. There was a crowd that reminded me of how it is on a routine fishing opener. Lots of rigs in the parking lot, lots of boats at the mouth of the Tamarack River and lots of boats strung out along the shallow water breakiline. Many of them were catching fish.
We motored down the shoreline and picked a spot where a gap between packs of boats would provide a little working room. I turned on the MinnKota and backed up to the shallow break in about 4 feet of water and we started jigging. That's the last thing that I did that required any thinking at all. In fact, on this trip, catching fish was the least of my worries. All we had to do was cast out 1/8 ounce Lindy Jigs, Bob's tipped with a minnow and mine tipped with an artificial plastic tail. Agressive jigging triggered lots of strikes, a pause to let the fish eat the bait, followed by firm but gentle hook set sealed the deal.
While we're trolling along, I'm thinking about writing my report for today. How was I gonna describe our trip? How was I gonna say how Lucky I was again this time?
Just then, we crossed paths with a boat that had two fathers and sons. They were anchored along the breakline near a small patch of rocks. They were catching plenty of fish and obviously having a great time. I asked for a favor, could I please snap a couple of pictures? They agreed and in the process of gathering fish for the photo, those boys put on a nice show for Mr. C and me.
The boys were fishing with Rattlin' Flyer Spoons suspended about 5 feet below slip floats. I didn't see and forgot to ask if they were tipping them with whole minnows or with cut pieces, but I'm guessing that either would have worked. They caught plenty of Walleye using that presentation. In fact, they caught their limit during the time we were watching.
As we fished nearby, there was an above average commotion in their boat, Reese Wisehnack was struggling with a bigger fish. This was the one, it was a perfect photo fish, so we snuck over and snapped a few pics.
All wrapped up, I was backing away from their boat when young Maddux Schrupp set the hook on another Walleye. A short battle ensued and then Reese slipped the net under the fish and that was it, they had their limit. It was a good day to be on the water for everybody.
Oh, by the way, did I mention that it was Maddux who caught the last fish? It was, it really was, we saw him do it and it was really lucky that we were there for the show.
I am really backed up against the clock right now, but before I get out of here, a quick list of crib notes. Lake Winnie action is good. Walleyes are stacked up along shallow water breaks in many of the most popular, opening day locations.
Leech Lake is ice free and there's a "big fish" bite going on right now. Water temps are still cold and female fish remain located near spawning ares. Shoreline gravel will produce better action than will the larger rocks. Don't expect limits of keepers, but if you want to CPR something special, Leech might be the place to go.
Bowstring Lake, action is good, mostly "eater" size fish.
Cass Lake action is good too. A note from a friend simply says; "Great Day On Cass Lake Today". So we know that they're bitin', you just need to go find 'em.

Fishing Report May 18, 2013, Jeff Sundin - Post Spawn Walleye Are On The Move! Last week, the entire key to success was finding fish in or near their spawn sites. This week, the focus will shift and anglers should prepare for a trend toward feeding areas.
Depending on the timing of ice out on your favorite lake, there may still be some spawning activity going on. But, there's no reason to linger once the job is finished and Walleye, Northern Pike and Perch are already on their way out of most Itasca area spawning locations.
On Friday, we found surface temps ranging wildly. Depending on where we fished, they were anywhere from 45 degrees all the way up to 55 degrees. As the surface water temperatures continue to rise, panfish will head into shallow water as the previous occupants move out, heading out toward main lake areas.
On Friday, there was already a noticable shift in Walleye location. Current areas and shallow gravel stretches that had been headquarters for the Lion's share of spawning Walleyes are now holding fewer fish. Nearby points and shoreline breaks provided more action and the fish we found were in small, scattered packs instead of large schools. The average size was smaller too, mostly male fish, with an occasional larger female fish mixed in.
The shift will become more noticable each day and feeding areas will become the focus for this week. Walleyes will be seeking out schools of baitfish that are heading toward the shoreline, preparing for spawning runs of their opwn. Shoreline points, weedy areas and shallow sand flats will become "hot spots" sooner rather than later.
May 18, 2013 Just in time for the weekend, Lake Winnibigoshish is ice free and we're excited to have life return to "normal" at Bowen Lodge. While we were hustling to get the docks in place, we've noticed that the traffic is steadily building on Cutfoot Sioux. As it does, anglers who enjoed fantastic Walleye fishing in Cutfoot during mid-week, should begin focusing on a shift toward the big lake.
With warmer water temperatures on their way, spring runs of Shiners, small Perch and a variety of other baitfish will be attracting Walleyes into shallow water sand flats and the adjacent shoreline breaks.
Panfish anglers should be encouraged by warming water temperatures too. Crappies have already been into shallow water for a short feeding binge and soon, they'll be back into the shallows to prepare for spawnig. For the next few days ... >> Read Full Lake Winnie Fishing Report .

Fishing Report May 17, 2013, Jeff Sundin - Excursions Into Unknown Territory Cause Outbreak Of Severe Smiling! If you're a regular reader, then you already know that every single day I say how lucky I am. But on some days, right in the middle of my work day, I look up and realize that I'm even luckier than I thought!
That's what happened yesterday when I and my fantastic crew ventured off into some new territory to see what we could drum up. Sure, the excursion yielded some fish, but even more than that, it was just plain fun.
Knowing that most Walleyes are still smack dab in the middle of spawning mode, we've spent the early part of this season concentrating on river systems and areas where fish were traveling to and from spawning sites. For the most part, it's worked. Perch and Walleye have a lot in common, so we thought it made sense to try the same approach for locating Perch.
That turned out to be a good idea, even better than we thought because we wound up catching not only Perch, but 5 species of fish, all in the same locations, all in water depths of 6 feet or less.
We started our search on the lake, looking in logical spots. Shallow areas containing vegetation like Bulrushes, Cabbage Patches, even Cattails will support Perch spawning. You've seen Perch spawn before, but probably didn't realize what it was. Stringy white threads of eggs clinging to weeds near the surface in shallow water areas.
Our first stop was in 5 feet of water, near the outlet of a small river. A patch of Cabbage weeds growing along the outer edge of an shallow Bulrush patch. There were some fish there and we connected with some of them, but for the crew, fishing in the heavy weeds was a struggle. It was for me too because the weeds aren't visible under the surface and they haven't grown enough to be standing up tall and vertical. Almost every time we dropped in a lure, it would get stuck and if I moved too far away, we stopped getting strikes.
The second spot worked out a lot better. This time the same river, except at the inlet to the lake where the current was a little bit stronger and the water was a little bit deeper. That did the trick, now the weeds were thinner and easier to fish and a steady supply of Perch, Pike, Bass, Crappie and Walleyes kept everyone busy for several hours.
Okay, so what I just told you, is to locate areas to fish that are along a route to and from spawning sites. The presence of moving water has been the key to success all week long. Walleye, Pike and Perch are already at the tail end of their spawning runs. But Bass and Panfish are just entering theirs, so these shallow current areas are going to continue producing mixed bag action for the next week, maybe longer.
Presentation was very simple, 1/16 ounce jigs tipped with a mixture of minnows. We used some Rainbows, Fatheads, Lake Shiners and some small Suckers. Smaller size minnows were the best for Perch, but with such a variety of fish all located nearby, we went ahead and burned up our supply of larger minnows too.
Bait Suppliers (5/17) are doing their best to keep up with the demand for reliable bait. Rainbows, Fatheads and mixed run creek minnows have been available all week long. But there's no doubt that it's a struggle to keep up.
For you Shiner aficionados, there are just enough Spottails showing up to make it worth asking if your bait dealer has them. According to Bill Powell at Fred's Bait, he's finding just enough Spottails to last for a couple of hours in the morning. After that, you're gonna have to be adaptable.
Minnow Supplies should be sufficient for the weekend. It might be a good idea though, to stop at more than one store along the highway as you head toward the lake.
Ben's Bait, Grand Rapids 218-326-8281 has an ample supply of Golden Shiners, Fatheads, Rainbows and Pike Suckers.
At River Rat Bait near Cohasset, 218-328-6171 you'll find Fatheads, Rainbows and pike Suckers. They've got plenty of Leeches and Night Crawlers too.
The Winnie Trading Post 218-246-9630 has a limited supply of Spottail Shiners along with Rainbows, Fatheads and Pike Suckers.


(5/17) Northland Lodge, Pat O'Reilly checked in with; "About 90 percent of the Lake Winnibigoshish is ice free and open. There are still some big chunks floating around, but you can go wherever you want and fishing is good.
Until yesterday, fishermen were sticking close to Cutfoot Sioux where up by the narrows, a 1/6 oz jig and a small fat head was working like a charm. Water depth didn't seem to matter as fish move through the area, heading back for open water. Now that the Gap is open, excpect to see fish heading toward the North shore of Lake Winnie.


(5/17) From the Lake Winnie Region, Nik Dimich says; "The gap from Cutfoot to Big Winnie is open and fish are moving through, back to the big pond.
By locating shoreline structure and under water points adjacent to deep water look for humps and points that come up shallow as 6-8' and troll off these humps into 12-15 FOW. By covering both depths in the same back troll or drift will allow the fish to tell you how the bite is going.
This goes the same for fishing in the Gap between "Big Winnie" and connected Cutfoot Sioux. Try trolling a variety of depths from ... Read >> Lake Winnie Region Fishing Report .

Fishing Report May 16, 2013, Jeff Sundin - Once In A Lifetime? I Hope Not! I'm not exactly sure how to word this without sounding like the worlds greatest liar, but let me try it this way; The handful of fishermen who chose to ignore tales of gloom and doom, instead took a chance that they'd find a spot to fish and spent no time worrying about the ice, have been handsomely rewarded for their effort.
Dedication to the sport of fishing leads folks into some interesting territory, but for me, this journey has been downright spectacular.
What's making it so good is that Walleyes in the Itasca Area are at the tail end of their spawning runs. Some fish are already moving toward open water feeding areas, some of them are finished but still lingering near the spawn sites and still others are in the process of spawning, still moving toward the spawn sites. We seldom get to fish for Walleye this early in their seasonal cycle, some of the recent fishing openers that have arrived well after the fish had moved out of their shallow water spawning grounds. Right now, there are a lot of Walleyes occupying relatively small areas and the concentration of fish is producing action unlike what most of us ever get to see.
I would sure love to this go on forever, but being realistic, I know that the fishing will soon return to "normal". The crowds are arriving at the lakes now and the the fishing action is going to be more like we're used to around the opener. Just plain good, intstead of supercharged good. But good is still good and it looks like anglers should be able to count on a good weekend for a great "do over" of the fishing opener.

Fishing Report May 15, 2013, Jeff Sundin - Bend Over and Kiss Your Ice Good-Bye! At least that's the phrase that came to mind yesterday afternoon when a calm, peaceful day was suddenly disrupted by a 30 MPH West wind.
It was a beautiful sight, sheets of ice blowing across the lake and piling up on the shoreline. Even if it did push us off of our best fishing spot for a while, it was well worth the disruption. It looks like the timing should be good for fishermen who have their sights set on fishing Cutfoot Sioux and Lake Winnie this weekend.
When we left Cutfoot Sioux at about 5:30 PM, at least 50% of the lake was wide open and there were numerous good fishing spots, all easily accessible without encountering ice. We had had planned to venture out from behind Battle Point to observe the conditions in Bowen's Bay, but that big wind took the fun out of the idea and it's gonna have to wait until later today. We know that there was still some ice on the main bay because we could see the fog lingering over the top of it. But with the amount of wind blowing during the early evening, there's no telling how much more disappeared before the calm water arrived, just before dark.
Before the wind arrived, our fishing was good, as it was for almost everyone we saw on the lake. Walleyes are obviously on the move out from the First River and back into Cutfoot. As they slip along the shoreline, points and inside corners are filling up with these transitional fish.
The depth range varied from spot to spot, but the fish could be seen easily on my Humminbird. It was a simple matter of moving in and out along the drop off until we encountered fish.
Presentation was simple too, an 1/8 ounce Lindy Jig tipped with a minnow and fished gently at slow speed did the trick. I made a point of keeping the boat moving at about .6 to .8 MPH. Traveling slower than that caused the jigs to drag bottom too much, cutting down on the number of strikes. Traveling faster resulted in more strikes, but a with side effect of missing too many hook-sets. Keep the speed in that "sweet spot" .6 to .8 and you will definitely notice a positive result.
On our way home, we made a quick swing over to the Winnie Dam. Looking out from the dam, we saw open water almost all the way to Tamarack Point. The last persistent sheet of ice occupies the area from just South of Highbanks, North to somewhere around the rock pile and East back in Haubrichs Bay. I'm sure that the wind diminished this sheet of ice too and we'll make a point of checking up on it again today.


(5/15) Gus Sheker, Gus' Place Resort on Ball Club Lake . Good news from Gus came in by email; "The ice is finally off Ball Club Lake as of Tuesday 5/14/13. There are numerous mats of floating bog out on the lake and the changing wind direction is pushing them back and forth between shore lines.
So far none have parked in our harbor! But boaters should watch for these and keep in mind that they are low profile and not always easy to see until you are nearly on them.
We are in the process of setting our docks this week and refilling the outdoor minnow tanks, both should have been done two weeks ago, but the winter prevented this.
We will have a fishing report in the next issue now that the ice is gone and we can get out. Maybe there will be a Spring this year after all. ". - Gus Sheker. Gus' Place Resort .


(5/15) On Leech Lake, Frank Alianello at Birch Ridge Resort in Sucker bay is giving the ice a couple of more days. His message says: "I think it should be gone by the end of the week. Its been pilling up on the shorelines in a few places . There where some guys up the river a couple of days ago, but with the wind switch it closed up that shore line yesterday. Wont be long now." - Birch Ridge Resort 800·459·3721

Fishing Report May 14, 2013, Jeff Sundin - Every Day Another Opener! Crack the Champaigne it's party time!
For the rest of this week, anglers in the Northland are gonna be treated to a new fishing opener, every day, somewhere. At least half of the Itasca area lakes are now ice free and the rest are going fast.
For my great friend Craig Anderson and me, Monday's fishing opener was on Cutfoot Sioux. We weren't the first ones to get there, in fact I got a call from a friend who tipped me off that there was some open territory and that there were Walleyes on the prowl. Luckily, he did, because there was and they were.
It wasn't automatic, we had to stumble around a little bit before we figured out a pattern that worked for us. But once we did, it was a nice steady run of action. The mix of fish sizes was good too, just enough "eaters" to satisfy the urge for a fish fry and plenty of "slot-fish" to stretch the fishing lines.
If fresh Walleye in the livewell wasn't enough good news; Then watching the thin, black ice breaking up and disappearing from Cutfoot Sioux was enough extra icing on the cake to give an excuse to declare the afternoon a complete success. By the time you lay eyes on Cutfoot Sioux again, you're gonna be looking at gorgeous, Blue water, ice-free and warming up for the weekend.
I ran into my friend Grant Prokop on the lake and comparing notes, he told me that he'd already been on Cutfoot the day before. His observation was that a noticeable increase in the number of "spent" female fish had occurred overnight. That means that a number of Walleyes had already completed their spawning runs and were returning from the First River, back to the lake for some R&R before the big move out into Lake Winnie's open water.
For us, fishing was better in deeper water than it was in the shallows where most of the other boats were concentrated. The break from 12 to 15 feet turned out to be the sweet spot, with fish showing up steadily on the Humminbird.
It's not really fair to talk about colors because we only tried one, they were green/black two tone 1/8 ounce jigs. These worked, so we never experimented with anything else.
We had a variety of minnows including small Suckers, Fatheads, Rainbows and some assorted others. They all worked and we concluded that the size of the minnow was more important than was the species.


(5/14) We think alot about heading North for the Walleye Opener, but for some, maybe heading South, instead of North, to fish for Walleyes on the opener has more appeal this season.
If that sounds like you, then MilleLacs Lake fishing guide, Mike Christensen, has some ideas for you. Mike teamed up with Nathan Shore to spell out some options for early season Walleyes, including ways that you target them after dark, from shore, even without a boat. click to read >> Walleyes At Night .


(5/14) From the Lake Winnie Region, Nik Dimich has a few thoughts of his own about the fishing opener; "We had three boats out early Sunday for a few hours and we did boat some fish with a few other bites too. The fish we marked were spread out across a big flat in 10-12 feet and we found more fish sliding out and holding off the edge into 15-19'. Finding active fish over opening weekend proved to be ... >> Read Lake Winnie Region Fishing Report .


(5/14) Paul A. Nelson, Bemidji Area Lakes Guide Service says; "Fizzle might not be a strong enough word to accurately describe the opening of fishing season in 2013. There were probably more walleyes caught from shore and out of 12 foot boats than anywhere else on the opener.
Most of the high end walleye boats had the day off, with ice covered lakes and winds gusting stronger than 305 mph. The ice went out on a few lakes on the opener, with some spectacular footage of ice damage to houses on Mille Lacs Lake.
High winds and warm temperatures are in the forecast for this week, so most of the ice on the rest of the lakes should be gone in time for the second weekend of the season.
The predicted minnow and leech shortages are also coming true early in the season. Supplies of shiners and leeches have been limited, with most bait shops having fatheads, suckers and night crawlers, but little else.
Most walleyes caught on opening weekend were in rivers or near river mouths on the lakes. Walleyes under the ice on the lakes were still in pre-spawn mode. A few anglers using Wilcraft amphibious vehicles were able to get on the ice to fish.
The most successful anglers fish in current areas with jigs and minnows. Bobber rigs and live bait rigs with a light sinker were also effective in some situations. Jigs and plastics also worked, although the ratio of non-walleyes to walleyes usually increases significantly when switching from minnows to plastics.
Anglers in Minnesota are going to have to adjust to the colder water this year. The surface water temperatures anglers normally see on the opener may not happen until Memorial Day Weekend this year, with the spawning runs at least two weeks later than average." - Paul A. Nelson, Bemidji Area Lakes Guide Service, panelson@paulbunyan.net 218.759.2235 .


(5/14) On Lake of the Woods, Border View Lodge, Mike Kinsella wrote; "Cold and windy was the story of the walleye opener. Those that figured out that the bite was in shallow, were rewarded with a good day of "catch and release" fishing. Reports of walleyes in the 20+ inch range were common. Jigs and shiners, in 5 to 7 feet, produced well in the river. Gold, glow, and chartreuse were the colors of choice.
It should be a great week for fishing as the weather warms up. Highs in the 60s and even the 70s should make for enjoyable days on the water. We still have some midweek openings in May. Take advantage of our May specials and come on up!" 1-800-776-3474 Border View Lodge .

Fishing Report May 13, 2013, Jeff Sundin - Fast Rewind to find fish! Most of the Walleye fishermen who tried their luck over this fishing opener, spent their time looking for fish in the same type of places that "they" would usually look during any "normal" fishing opener. Most anglers who have followed that routine are struggling.
Surface water temperatures were hovering at about 45 degrees, plenty warm enough to trigger a full scale spawning run. A concept supoported by the fact that within one day of the DNR setting their nets at the Little Cutfoot Egg Harvesting Station, the nets were already full of plump, ripe for spawning female Walleye. In other words, if the run is on at this location, it is likely also in full scale at most other spawing locations in our immediate area.
Most Minnesota anglers (including me) have never been on a fishing trip where the entire key to finding Walleyes was to figure out, in real time, the exact spot where the fish are spawning and then get close enough to catch 'em. Knowing that fish location would likely be thrown off by the late ice cover, some anglers (including me), have attempted to figure out these spots where the fish would be smack dab in the process of spawning. On the surface, it sounds simple, but it's turning out to be different game than the typical strategy of finding a spot that lays along their travel route(s) and heading them off as they move through.
If you compared it to hunting for Deer; It's like the difference between having your stand set up on a trail that Deer use when moving toward a feeding area or having your stand set up within range of the exact spot where they'll be feeding.
One problem is that most of the really good, large scale spawning territories where there's enough space for easy access using a boat, are off limits. The DNR knows where the areas of largest concentrations are and have them closed right now. That move is aimed at protecting the vulnerable fish during the peak of their spawing runs and that's okay. It just means that anglers need to take the search for spawning Walleyes further in depth, looking at more off-beat places.
We tried to employ that strategy yesterday morning and found out that sometimes, knowing where the fish are and getting close enough to catch them are two different things. We fished in a river system where the movement of spawning Walleyes is well known. There's no doubt that the fish will "be there", but for now, they're so far up the river that we can't get there. After a few hours of looking for fish in the places that we could get to, we decided to switch rivers and try again.
Helped along in large part by the mid-afternoon warm up, a gentle tap on the shoulder that perked things up and got 'em moving again. We enjoyed a modest, but very welcome run of fish that "saved the day" and made the fish fry for my crew.
When we arrived, surface temperatures ranged from 45 to 48 degrees. Depending on how far out of the main channel we got. Shallow areas filled with vegeatation we warming up fast in the midday sun. The main river channel remained steady, hovering just above 45 degrees.
We were able to locate some fish by concentrating on shallow flats located directly adjacent to deeper holes. Few, if any strikes came in the deeper water. The fish were using current breaks located along the lip areas just upstream from the deeper holes. A couple of our fish came from the very edge of the grass where the bank drops down into deeper water.
Current flow was moderate, ranging from .8 to 1.7 MPH depending on the areas we tried. River water on shallow flats with long straight runs are moving faster than deeper areas with well defined current breaks.
For me, a 1/8 ounce Pink/White Lindy Jig tipped with a Rainbow was the perfect combination. The small size jig found bottom easily and the Walleye were happy with that color, on this day.


(5/13) From The Iron Range, From Greg Clusiau; "Stopping in at the Brasel's, headquarters for "Bear Paw Guide Service" on Upper Red Lake, I was welcomed to join them for the trial run of Tyler Brasel's new fishing boat, a new 20' YarCraft. How lucky I was to still have my ice fishing clothes in the truck, as I needed to " ... >> Read Greg's Full Report .

Fishing Report May 12, 2013, Jeff Sundin - First order of business, HAPPY MOTHERS DAY MOM!
The Minnesota Fishing Opener That Almost Wasn't, WAS ! At least it was for most of the anglers who made their way to someplace where they could put up with the cold temperatures and high winds.
Admittedly, Saturday wasn't the ideal day to open up the fishing season in Northern Minnesota, but the high winds did do one wonderful thing for us. They blew away a lot of ice and now most area lakes have at least enough open water to allow anglers access. The ice was stacking up fast and there are now many "ice-free" lakes in the Grand Rapids, Lake Winnie region. Yes, that's right, soon we can forget about the ice and concentrate on fishing again.
Saturday's theme of the day was river fishing. At the Governors Opener in Park Rapids, Jason Durham led Governor Dayton to his first official "Governor's Opener Walleye" on the Fishhook River.
Closer to home, the Mississippi River, Bowstring River and Prairie Rivers all produced fish. Some of the smaller rivers produced fish for anglers who hoofed it into the woods and fished from the banks.
On the larger rivers, anglers did their best work by trolling crankbaits on the edges of shallow flats that meet with deeper water runs. These areas where gravel provided cover for sawing Walleyes, but slower water is located nearby are perfect early season river locations. Experiment with sizes and shapes of crankbaits; Lindy's #4 River Rocker is perfect on shallow runs. Cordells Walleye Diver, Jointed Rebels and Shadlings are all good choices too.
For me, The ice won the early battle in the morning. I wound up sitting out the first half of the day, but by mid afternoon, I wound up with a fishing crew and we headed for the Mississippi too.
For us, Northern Pike were the target species and after a little testing and experimenting, we did find enough of them to produce a respectable showing. I think that many of the Pike are still located further into the small creeks and grassy inlets, places where we can't go by boat. But there were enough fish located on the grassy shoreline breaks to keep us interested. We caught most of the fish by casting large, 5-1/2 inch plastic swim baits onto the shallow flats in water depths of 2 to 3 feet and then working them back toward the breakline. Triggering the fish fish was best accomplished by using a slow swimming, pulsing motion. Too much action wasn't good, but too little action wasn't good either. To make the swim baits "pulse", retrieve slowly for several feet, then speed up the lure by lifting your rod tip, then let it free fall back toward the bottom. The large, knobby tail of the swim bait pulses as it falls and this is what triggers most of the strikes.


(5/12) Gus Sheker, Gus' Place Resort on Ball Club Lake . The high winds really did a number on the ice at Gus' Place. For the moment, slushy piles of ice are stacked up on the shoreline, but that means that there's a lot of open water out there now and after a little warm weather this week, Ball Club Lake will be ready to produce another season of fun. "On Ball Club Lake and we are certain the fish will be hungry". - Gus Sheker. Gus' Place Resort .

Fishing Report May 11, 2013, Jeff Sundin - Ready or not, here we come! This is it, The Minnesota Fishing Opener has arrived and wherever you are, we wish that you were here instead.
It's been a long couple of weeks, sitting on the edge of my boat seat, keeping tabs on ice conditions and doing my best to encourage folks that there would be a place to fish this weekend. Judging by the traffic at bait shops and gas stations, the gloom and doomers won this round and the majority of folks decided to sit this opener out.
That's okay, just a lucky break for the folks that have decided to head for the lakes today, there will be more room to move around. For me, the best news of all is that starting today, I get to talk about something new, FISHING!


(5/11) Gus Sheker, Gus' Place Resort on Ball Club Lake . Taking it all in stride, Gus says; "Warmer weather has helped get all of our lakes on the other side of winter, but it's been to little too late to get Ball Club Lake open for the "Opener".
What we can do though, is announce the opening of our swimming beach for the most rugged of you.
We expect to see open water late next week on Ball Club Lake and we are certain the fish will be hungry. - Gus Sheker. Gus' Place Resort .


(5/11) From the Lake Winnie Region, Nik Dimich has a few thoughts of his own about the fishing opener; "If you asked a hundred fishing people how opener was…you would get, well you guessed it, a hundred answers. How was ours? In a word…unforgettable, and I don't mean .... >> Read Lake Winnie Region Fishing Report .
For the opener; Bait is gonna be tough to come by, but not impossible. I wish that I had better advice, but the truth is that we're all just gonna have to check with every bait shop and do our best to find some decent size minnows. Some tidbits of advice can be found by reading this article >> Walleyes Without Shiners .

Fishing Report May 10, 2013, Jeff Sundin - Ready or not, here we come! Here we go, it's 3:30 AM, just 21 hoursbefore the official start of the Minnesota Fishing Opener. By now, most of you already know if you're going fishing this weekend and which lake. But for those who are still on the fence, here are a few last minute updates that might influence your final decesion.
From my own point of view, lakes are opening up faster than I can keep track of. At the scene of Lund Boats annual photo shoot, we're watching ice conditions change almost hourly. Some of the locks that were locked solid on Wednesday, already look like they could open up at any minute.
On Thursday we spent the day on Lake Placid at Pillager Minnesota where surface tempuratures are 55 degrees and there isn't any trace of ice. At Augers Resort on Lake Shamineau, we're watching the ice turn black and wagering on the exact time of ice out. Maybe Saturday? Sunday? No doubt about it, by Moday at the latest, this lake will be open.
Even with colder temperatures heading our way, the scales are already tipped and high winds predicted for Saturday will open up lots of new territiory.
For me, opening day is gonna be an experiment. This could be a once in a lifetime chance to fish for pre-spawn Northern Pike in my neck of the woods. So I'm gonna try to discover a few areas that have just opened up, then try to locate some Pike as they move in to spawn.


(5/10) At Lake Winnibigoshish, West side anglers are already in luck for the opener. By Wednesday evening, open water advanced far enough into the lake that Joe Thompson felt confident that his guests will have a fishing spot for the opener. In fact he
In an early message on Thursday Joe said; "It is amazing how fast the ice has gone (out) in the mouth of the river. With the windy forecast, the ice will go fast. Our guests will definitely be able to fish out on fishable waters on the big lake on Saturday."
The accompanying photo shows for the first time, more water than ice in the area from the Mississippi River mouth out to the brealine and up the Weat shore beyond the campground.
In an update late Thursday evening, Joe said that in spite of a Southeast wind that sailed some of the ice back toward the shoreline, open water still extended to the shoreline break and beyond.
One of their weekend guests had already checked in and taken a boat ride out onto the lake. The trip to the edge of the ice pack too him to a depth of 10 feet, well into the fish catching zone.
Surface temperature in the river was 45 degrees and on the lake, at the edge of the ice it was a cool, pre-spawn temp of 40 degrees.
Just in case you get bitten by the fishing bug at the last minute, they do still have some cabins available and you can click here to contact >> The Four Seasons Resort on Lake Winnie .


(5/10) On Bowstring Lake, Hopes are high that the Walleye opener will take place on a nearly ice free lake this weekend. On Thursday, Erin sent me a photo of the rapidly increasing stretch of open water along the North shoreline of Bowstring. At first glance, the ice cover appears to be too heavy to disappear in just a few days. But the ice is in such poor condition that it's melting at a marathon pace. Even if it's not gone completely, there is definitely going to be a lot of open water on Bowstring this weekend.
Trails End Resort will be open for business and they have a nearly full house booked already. As of Tusday evening, Erin reported having 2 cabins still available for the weekend. So if you thought there wasn't gonna be a place for you and suddenly get bitten by the Walleye bug, give them a call or better yet, just click >> Trails End Resort , Erin and Bill Charlton .


(5/10) About the fishing opener in the Grand Rapids area, Nik Dimich has this report; "Where there is a will, however, there is a way as the sun has heated things up over the last couple days and we're seeing more black ice every day. This has mostly occurred near lakes' inlets and outlets where river systems create open water. Smaller and mid-sized lakes with darker water have a better shot of being open.
So, have no fear, open water is not only near, it is here. The Mississippi River flowing through Cohasset into Grand Rapids is wide and holding plenty of water to float boats. Moving south toward ... " Read >> Nik's Grand Rapids Fishing Report .

Fishing Report May 8, 2013, Jeff Sundin - Pictures Tell The Whole Story! Yesterday I mentioned that a picture is worth 1000 words and that's why you're in luck today! Thanks to the helping arms and eyes (and wings) of the duly deputized "Early Bird Cub Reporter Team", we've got so many pictures today, that I don't even need to say another single ...
Photo Jason Alto: Lawrence Lake on the Scenic Highway East of Grand Rapids looks like a sure thing for opening weekend.
Photo Erin Charlton, Trails End Resort: Bowstring lost ice fast on Tuesday. At this rate, Bowstring could be open in a couple of days.
Photo Ineke Boersma Leer: The image looking out over Kabekona Bay at the West side of Leech Lake near Walker. Open by Saturday? Could be a bit optimistic, but ...
The series of photos taken by Eric Hutchins on Monday May 6, 2013. Eric was in the air for about 3 hours and covered the territory from Blackduck to Grand Rapids, then East to Hibbing.
Spotting a variety of ice conditions, ranging from almost open water to full ice cover, in Eric's words; "We still have a way to go before ice out".
We've chosen the most optimistic views, knowing that there's been another 48 hours of improvement since these photos were captured.
Photo Eric Hutchins: The brdige at Little Cutfoot Sioux. Mon 5-6-13
Photo Eric Hutchins: The channel Between Little Sand Lake the Bigfork River 5-6-13
Photo Eric Hutchins: Williams Narrows Channel on Cutfoot Sioux. Mon 5-6-13
Photo Eric Hutchins: Third River, heading under the bridge toward Winnibigoshish.
Photo Eric Hutchins: Bowstring Lake East Side near the Bowstring River. Mon 5-6-13

(5/8)

Bemidji Lakes Area

, Paul A. Nelson, Bemidji Area Lakes Guide Service says; "The fishing season is going to open on May 11, regardless of how many lakes in the Bemidji area still have ice. Anglers that want to go fishing will have to find somewhere with open water they can get into with their boat.
The ice on the lakes has been melting fast this week and ice out should be close to going out on many of the smaller lakes. Most large lakes will still have ice on the opener, at least on parts of the lakes.
Most walleyes will not have spawned when the season opens. There will be many areas closed to fishing early in the season, so anglers will need to check if the areas they are planning to fish are open to angling.
When there are concentrations of walleyes like there will be on the opener, then almost by definition there will be many other areas that will be nearly void of fish.
Walleyes spawn both in rivers and lakes, with the river spawning fish significantly ahead of the walleyes that stay in the lakes to spawn. Most anglers will be looking for river spawning walleyes on the opener, to hopefully find some males that have spawned out and ready to bite.
Key areas will be near river mouths, both inlets and outlets, with the river sections between lakes holding migrating walleyes, at least early in the season.
Water temperatures will give anglers a clue to how advanced the spawn is for walleyes. Most walleyes start to spawn around 42 degrees and will usually be done spawning by the time the water temperatures reach 46 degrees.
Many of the docks at the public accesses may not be in the water on the opener, so anglers may want to bring a pair of knee high rubber boots or waders to help launch their boats. It may also be a good idea to bring something to help older anglers get in the boat without the aid of a dock." - Paul A. Nelson, Bemidji Area Lakes Guide Service, panelson@paulbunyan.net 218.759.2235

Fishing Report May 7, 2013, Jeff Sundin - Planning Your Strategy Will Be The Key! Slowly but surely, ice is inching away from the shoreline. It's gonna be warm enough this week to open up some territory for the fishing opener this weekend. But it's clear that many of the "favored" opening day locations are going to be off limits, even if for only a few days.
I've been giving it a lot of thought and for me, the idea of capitalizing on the circumstances, sounds a lot better than struggling against the odds. In fact, the idea started sounding so good, that yesterday I decided that I'm not even going after Walleyes on opening morning. Instead, I'm gonna find myself one of those backwater areas where the Northern Pike move in for spawning and I'm gonna track down a few, hopefully big Pike.
Your idea of fun might be different than mine. You might want to locate an early run of Crappies in shallow water.


(5/7) On Bowstring Lake, They say that a picture is worth 1000 words and on Monday, Erin Charlton at Geiger's Trails End Resort Proved it. The photo at right shows how weakened the ic on Bowstring Lake has become. Deeply Honeycombed from being saturated in slushy water for several weeks, this ice could easily break up in just a few days. Right now, it just depends on the weather but with another warm one in store for today, it's a good reason to be optimistic. - Erin and Bill Charlton, Trails End Resort .


(5/7) Jeremy Johnson via my Facebook Page asked; Q) I have a question for you in hopes that you'd have time to answer it. The lake that I fish most is North Long in Baxter. It is a great multispecies lake and has quite a few walleyes. The walleyes are stocked and do not have natural reproduction in the lake. I seem to have the best luck catching them by trolling crank baits in the summer off the weed line, and also pick up quite a few by "mistake" while fishing bass and sunfish in the weeds. Since these fish don't spawn, and the weeds are really "up" yet in the spring. What type of structure would you expect these fish to be using?
A) Jeremy, As much as I'd love to pontificate about 50 ways of finding Walleyes on a "stocked lake"; You can just go ahead and move to the head of the class because you have already hit the nail on the head.
One of the realities of Walleye stocking is that most stocked fish spend the lion's share of their life inhabiting the weeds. There was a radio tracking study about this conducted back in the early 1980's. Following the fish by tracking radio signals, they discovered that something like 93% of the stocked fish, headed for and stayed in the weeds.
The fact that they do is a good thing too, because the small percentage of Walleyes that ventured into open, living on deep water structures were easily found and captured by anglers. An affect that would be multiplied immensely by the improvements in todays electronics.
In order to captialize on the "weed fish" in your lake, you need only to explore some additional presentations. Trolling crankbaits is a good idea whenever fish are active and roaming the weed tops of edges. But when they're nuetral or negative, going deeper into the weeds will be a better idea.
Start looking for numerous clues about weedline Walleye fishing by looking through the archived fishing reports from last June and July. Fishing the weeds was a mainstay for us last summer and you will discover many tips for tackling Walleyes in the weeds.
Grand Rapids Area Lakes (5/7) At Bass Lake, just outside of Grand Rapids, stress levels are low. The warm sunshine was working it's magic on the ice along the shoreline. There's still plenty of ... Jump to >> Grand Rapids Fishing Reports .
May 7 , 2013 On Sunday, we got a note from an old friend, Jack Zwicky, former owner at Eagle Nest Lodge. Jack had been reading about the late ice out an looked at the chart from the U of M about historic ice out dates. In spite of what we think about this season's late ice out, Jack had information about one that was even later, way later.
Jack just happened to have some really cool pictures from the old days and along with the photos, a news article from the Chigago Sun Times. The article was followed up by the Grand Rapids Newspaper later that month. The article's main focus was to recap a fishing trip by a group of men who visited Cutfoot Sioux in May of 1950. The article, reported that the date for that year's ice out was May 19th, 1950. Also according to reports in that paper, the fishing was good, maybe you could say >> Read Full Lake Winnie Fishing Report .

Fishing Report May 6, 2013, Jeff Sundin - Minnesota To Receive Warmup! On schedule, the sunshine pushed through the clouds, brightening up the evening sky around the Itasca Area on Sunday afternoon. Perfect timing for me, because I happened to be on a tour, inspecting lake conditions and I took full advantage of every photo opp. Just watching the photos, you'll see a day that transformed itself from dark and gloomy, to bright and sunny. Just what the Doctor ordered!
Covering as much ground as possible, I started with the Bowstring area and then headed West into the Lake Winnie and Leech Lake region. The news at some stops was better than at others, but I have it listed Chronologically.


(5/6) At Bowstring Minnesota, The Bowstring River is ice free and the water is high, but not at flood stage. I happened to meet a couple of young men at the ramp who were loading up their small boat. They told me that in spite of the river flowing freely, the outlet at Bowstring Lake was a dead end. Still ice covered and as far as they could tell, still too hard to break through with a boat.
At Bowstring Lake's South Landing, the ice is darkening and there's a small patch of open water along the shoreline in either direction. There was a spot of ice near the ramp where I thought I might step out to check for thickness, but it was nothing more than slush. Without a wind to break up the shoreline, there's no way to know for sure where the ice starts, but it's possible that this landing could break open in a hurry, given the right circumstances.


(5/6) At Lake Winnibigoshish, I skipped over the Northeast corner and headed straight for the West side, stopping to see Joe Thompson at Four Seasons. Where Joe took a break from getting the cabins ready and took me on a photo tour. Starting at the river, the news is improving fast. There was a strectch of open water spanning from the Mississippi River mouth, along the West shore and out into the lake toward deep water.
This stretch of water was filled with every imagineable kind of migratory bird that passes through our area. Ducks, Swans, Gulls, Pelicans, Loons... You name it, thousands of waterfowl are all there right now.
Looking accross the bay from the "Ice Fishermen's Landing". Joe said that the conditions have changed a lot in just the past two days. In fact where we stood looking at open water, is the same spot where he walked to snap some pics just a few days ago.
After the tour, we had a chat about the opener, comparing notes about our fishing plans. Joe said that the resort will be ready to go and that they have about a dozen cabins filled for the opener. So far, conditions are moving in the right direction and they have every intention of fishing the West side of Winnie on Saturday.
Just in case you get bitten by the fishing bug at the last minute, they do still have some cabins available and you can click here to contact >> The Four Seasons Resort on Lake Winnie .
Another stop at West Winnie's Richards Townsite, public landing wasn't quite as encouraging. Here, the ice still looks fairly strong. There was a rim of open water close to the shoreline, but beyond that there was little evidence of open water. It's gonna take a major breakthrough for this area to open by Saturday.
Leech Lake has been a mystery lately. Since I've had some folks asking for more information about Leech, I decided to make a bee-line to Sucker Bay. At least that way, I'd be about to get a peek at some part of the lake and be able to break the silence about ice conditions over there.
At the Sucker Bay landing, the sunshine was just beginning to break through the clouds. If mothing else, it was a pretty stop, but himestly, I was expecting to find a little more open water than I did.
There was a rim of open water on either side of the boat ramp, maybe 100 yards in eeach direction. Tracks from recent ice fishing traffic still lead across the ice, out toward the main portion of Sucker Bay. Dark looking ice, but not showing much sign of breaking up over the next few days.
The river at the Northwest corner of the bay surprised me by being ice covered. This is the first spot that I've encountered where flowing water has still been frozen. There is obviously not much current in the river to open it up, a condition which also surprised me.
The North End Of Leech Lake's Sucker Bay is where Birch Ridge Resort is located. I swung into the resort an luckily, found owner, Frank Alianello out working in the yard. I commented that wither seemed to have hit this end of the lake particularly hard this year and I asked about their status for opening weekend.
Frank calmly replied; "It's Just Nature, What Can You Do About It?" Of course he's right and that really is the best attitude anyone can have. Unfortunately though, it still means that except for one group of regular customers, Birch Ridge will be pretty quiet for the opener this year. Even the group of regulars might not make it, but they are holding out hope to wee what the warmer weather might do to improve the situation this week. Birch Ridge Resort , Frank and Ann Alianello, (218) 654-3721
By now, it was getting near sunset and I wanted to get myself into position for a good picture, so I high-tailed it for one of my favorite sunset locations on Ball Club Lake. Here I could get two birds with one stone. A great sunset and one more ice report at the same time.
At Ball Club Lake I found a rim of open water around the shoreline that was maybe 60 yards wide. It stretched from the sandy shoreline out to where the Bulrushes begin, about two feet deep. There were some fish, I assume that they were Northern Pike in the shallow water and as I approached the beach, they bolted, leaving a healthy size wake in their path.
By now, the sun was going down and getting an accurate photo of the ice conditions was hard, but about that sunset, how did I Know? Sometimes You Just Plain Know.
I thought ya' never know, someone might want one, you know a really nice one. In case you do, I might as well give you a link to a good, hig res version of this one. Just click here .

Fishing Report May 5, 2013, Jeff Sundin - Minnesota To Receive Warmup! There's a bit of more cheerful news on the horizon for Northern Minnesota anglers hoping to get on the water next weekend. Weather forecasters are predicting a warm, sunny period beginning on Monday; By some accounts, maybe even by later today. NOAA's forecast for Deer River looks so good that I even decided to paste it into the report, just so you can see pictures of a little bit of sunshine. Maybe that'll help shake some of you out of your FUNK!
I know, it's not easy to keep your chin up, especially when you're trying to be cranky and some fishing guide in Deer River keeps telling you to cheer up. Okay then, we'll play the game your way.
So lets just say that the ice on your favorite lake isn't gone by midnight on May 11th. Let's say that there's open water a few miles away, but you've never fished it before. Let's say that the fish might even not be biting. So what? Are you really gonna skip out on the whole adventure just because you have to put your boat in somewhere else? You really would miss out on spending the time with your family and friends? Wow! Too bad.
Well, I figured out a long time ago that I can't make nature do things my way, so I'm just planning to adjust, you know, "go with the flow". You decide to stay home and tough it out on the sofa, but while you're watching re-runs on TV, be sure to keep your computer on so that you can see the pictures we're gonna put up.
Oh I know, there's a chance we might not have a lot of fish in some of 'em. But there is definitely gonna be something interesting going on and I wanna be out there to see it, nope, I won't be missing it.
Admittedly, there's no doubt that it's gonna be right down to the wire before we know enough about which Northern Minnesota lakes have ice out in time or the fishing opener. But my trip back from the Twin Cities on Friday gave me more reason to be optimistic. Compared to a week ago, there are lots of lakes already ice free. In fact, on my trip up Hwy 169, every lake from Minneapolis all of the way to Onamia were open, or at least so close that you might as well count 'em as open.
That means that anglers who fish the Southern half of the state are already in the clear. There will be a place to go, if you're ready to get out there.

(5-5) Lake Winnibigoshish; On Saturday, the scene from the docks at Northland Lodge provided some encouragement. The Dam Bay has opened up almost to the shoreline. Another day or two and the ramp will likely be open, allowing boats access to the bay, even if they can't get onto the main lake.
Pat O'Reilly says that Northland Lodge will be open next weekend. So far, they have had a few cancellations, but most folks who had reservations still plan on coming.
Below the dam, The Mississippi River is wide open all the way down to Little Winnie. That provides at least one option for guests already and Pat anticipates more options developing during the week ahead. Contact Pat O'Reilly, Northland Lodge 218-246-8531
For me, there's nothing more important than helping anglers who want to find a place to fish next weekend. It's kind of a big job for one guy though, so if you're up to the job, consider yourself "Deputized" as a field reporter. If you have a tidbit of news about ice conditions, bait supplies or just want to be a good cheerleader. How about just clicking this link to drop us a line with news for the fishing opener.

Fishing Report May 4, 2013, Jeff Sundin - Minnesota Needs Warren Snyder! When the going gets tough, ya gotta have a good cheerleader. It's just too bad that we can't all spend a day together with Warren Snyder. I promise, you'd feel a lot better by the end of the day. In fact, I think I'll just go ahead right now and declare Warren to be the #1 champion Optimist of the world.
No, I don't expect that you'd know him, unless you read about him occasionally in my fishing reports. But Warren is the only fishing customer that I've ever had, who can take any situation, no matter how gloomy and turn it into a great day. In the past, I may have cautioned that the Walleyes were on a "tough bite". Warren would calmly say, don't worry Jeff, they're gonna bite today and they did. Too much rain? Not today Jeff, it's gonna be sunny and it was.
Too much ice on the lakes? Gonna mess up the fishing opener? Oooh ..., if he was nearby, I know what Warren would say. Well, I'll stand in for Warren today and knowing that the best I can ever achieve will be "runner up", I will still do my best!


(5/5) At Zippel Bay Resort on Lake of the Woods. As of Wednesday, Nick told me that about 1/3 of the main (Zippel) bay was open water already and that areas that still remained ice covered contained slushy, soft ice that could be driven through with a boat. He cautioned that any further improvement in travel conditions will depend on the weather over the next couple of days. But, no matter the weather, the show would go on.
There isn't an official tournament flyer or website available on the internet, but if you're interested in fishing the contest next year, Nick is happy to fax one to you. Best way to contact Zippel Bay Resort is to dial their toll free number, 800-222-2537 or you can click here to check out >> Zippel Bay Resort .


(5-4) Starting at MilleLacs, there was still plenty of ice to look at, but it's changed a lot during the past week. At Garrison, I spotted a significant patch of open water, maybe a half mile long and 100 yards wide. Not enough to declare certain victory, but once that giant lake has enough open water to give the ice some wiggle room, things can happen in a hurry. A couple of windy days can move a lot of ice up onto the shoreline and off of the lake.
By the time I drove past MyrMar Marina, the shoreline was still ice-covered, the harbor at the marina was the only visible open water.
As I approached Aitkin, a stop at the rest area between Hickory and Little Pine Lake was encouraging too. The shoreline of Little Pine, along the outlet of the channel from Hickory had a nice big patch of open water. The ice was was dark and slushy looking. A couple of warm days would probably take this on out in a hurry.
The Ripple River is wide open and the water is high, so was the Rice River and The Mississippi. All ice free, all filled high, with water flooded into the trees in low areas.
Hill City was a really nice stop for me, I love getting happy news and there definitely was some at this stop. Located about 20 miles south of Grand Rapids, it was the first lake I'd seen in "home territory" that looks really close to breaking up. The shoreline water on Hill Lake is opening up around the edges. It looks high, maybe some of the lakes residents would even call it flooded? I'm not sure, but given the right conditions, it wouldn't surprise me to see Hill Lake open up sometime around mid-week.
At Grand Rapids, Pokegama is sporting a fair size patch of open water at the causeway of the Hwy 169 Bridge. No doubt this lake has a long way to go, but it's a step in the right direction.
Looking at the weather forecast, there's another push forward in store as a rainy period, followed by warmer temps and sunny skies on Monday, will take another bite out of the ice pack.


(5-4) DNR announces closure of Little Cutfoot Sioux Walleye Fishing . An area near the egg collection operation on Little Cut Foot Sioux Lake in Itasca County will be closed May 11-17, because of high concentrations of walleye, the Minnesota Department of Natural Resources (DNR) said.
"The closure is necessary to protect adult walleye that have concentrated around the spawning site where the DNR's egg collection operation is located," said Chris Kavanaugh, Grand Rapids area fisheries manager. "It's always a difficult decision to close the area and restrict recreational opportunities, but our first responsibility is to the long-term health of the fishery. We considered the safeguard offered with the protected slot limit, but felt the risk of overharvest was too high." Click for the complete >> DNR News Release .


(5/4) On Lake Winnie, High Banks Resort will be open for Opener. Kim Leonhardt says: "The river and Little Winnie along with Cutfoot will be options for fishing for opener. If we get a couple days of warm rain that would break the ice up pretty quick on the main lake." (800) 365-2560 .

Fishing Report May 3, 2013, Jeff Sundin - Dumbfounded by DNR Decision, Walleye Advisory Council Meeting provides little relief.
Twice every year, officials from The Mninnesota DNR fisheries department meet with the "Walleye Adisory Council", a group formed (officially) about ten years ago. The goal; To advance ideas that would improve, maybe perpetuate ecellent Walleye Fishing in the state of Minnesota.
As a charter member of this (and other) groups that work with the DNR, I have done my best to absorb knowledge and put it to good use. I usually come away from these meetings understanding, if not agreeing with the direction that the fisheries managers are moving. This time though, I'm still just scratching my head.
It seems to me that a regulation, if put in place, ought to at least come with a reasonable expecation that it will have a significant chance of solving a problem. This one? Zip, Zero, NADA! The decision to ban Shiner Harvesting by licensed, trained, bait dealers flys in the face of logic.
This spring, hundreds of fishermen will head to the lake, livewells filled with whatever kind of bait they can get. When they return to shore, all they need to do is remove the minnows from their livewell, place 'em in fresh water that they've brought from home and drive off into the sunset. All nice and legal and all A Good Idea!
Hold on though, while those same hundreds of anglers are free to come and go (if they follow the rules), with their live bait, there are a tiny handful of well trained, licensed bait dealers who can't touch 'em. Not even if they have already been required to follow the same rules for a long time. Not even if they've already been to school, gone through special permitting and live life under the DNR Microsope. For them, even knowing that their livlihood is on the line, even knowing that it's do or die, they can't take a single minnow. Nope, can't touch 'em. Seriously? Yup, Seriously!
Hmm... I'll keep you in the loop.
In case you're not following the story about a recent decision by the Grand Rapids Fisheries Manager to ban Lake Winnibigoshish Shiner Trapping, you can take a look at a few articles that will help get you up to speed. " DNR Bans Lake Winnie Shiner Harvest (4-25-2013) " , Duluth Tribune, Sam Cook "Anglers Concerned About A Shiner Ban" (4-28-2013), "Walleyes Without Shiners" (4-30-2013) .

Fishing Report May 2, 2013, Jeff Sundin - A moderately cold, cold front slowed down the melting on Wednesday, but it didn't shut it down completely. Still, a few more warm, sunny days would have been easier medicine to swallow than another, Grey and cloudy day. That said, the lakes are doing what they can to try and help us out, and a little more open water shows up each day.
Before I say anything esle, LISTEN! No matter how many stories you hear about how much ice we still have on the lakes and no matter how thick folks tell you that the ice is, don't go out there any more. Ice conditions in Northern Minnesota are completely un-reliable and absolutely unsafe. Consider these words from a friend of mine, Brian Castellano, an avid ice fisherman who's been on the lakes a lot just recently;
"After my near death experience on the ice today, my ice fishing gear will be put away till next winter. On the way back in, I broke through what looked like "solid" ice. About 75 yds out from shore and couldn't feel bottom. Caught myself w/ my arms, the ice around me held, and I was able to pull myself out and get back to shore".
The ice that we have out there right now is as tricky as it will ever get. Standing water and deep snow persisted all winter long and left "Time Bombs" everywhere. Take Brian's advice and get the boat ready instead.
Or even a better use of your time would be to get your tackle box stocked up and then make sure that you're boat is ready to roll. Because even amidst the gloom and doom about our late ice out, anglers are out on the water, fishing, in boats, right now. It's just a matter of time before we'll be together out there too and I for one, couldn't be happier about that!


(5/2) On Lake of the Woods, Border View Lodge, Mike Kinsella wrote; "Sturgeon fishing is in full swing on the Rainy River! The sturgeon bite is hitting its peak. We have had quite a few reports of 60+ inch monsters being caught with excellent numbers too. A gob of crawlers on a circle hook does the trick. The current is picking up and should continue to strengthen as the melt continues.
We still have some openings for this week and next weekend. $34 per person, per night, buys you an experience of a lifetime. Take advantage of this great opportunity!" - 1-800-776-3474 Border View Lodge .


(5/2) On Lake of the Woods, Sportman's Lodges, Jacki LaValla said; "The sturgeon bite is hot! Anchored in or near deep holes of the river bottom using 5/0 circle or octopus hooks tipped with a gob of crawlers is working best. Pike bite is heating up and we are looking forward to walleye opener in 10 days! We have 75+ miles of open water in the Rainy River and open water in Four Mile Bay and through the Lighthouse Gap outwards of 200 yards as of today. Lodging only $39 per person per night midweek and $43 weekend through May 23! Sturgeon keep one season lasts until May 7 and catch and release goes through May 15." - Sportman's Lodges, Lake of the Woods .
May 2 , 2013 We can no longer ignore the fact that there is still approximately two feet of ice on Winnie, and with the Fishing Opener only 10 days away, we decided to let our guests know there will most likely be no open water on Winnie. Everyone has either re-upped for 2014, rescheduled for later in May, or will just wait and see.
It's a very bizarre feeling, to have a fishing opener with a frozen lake!!!!!!
We appreciate each and every one of you, we look forward to seeing you, and will keep you posted as the conditions improve. As of today we do not have the water lines turned on, but the cabins are looking great and we are trying our best to make the best of a bad situation. See you soon, Bill and Gail >> Read Full Lake Winnie Fishing Report .

(5/2) Another optimistic report came from my friend Joe Thompson at The Four Seasons Resort on lake Winnie. Joe isn't ready for a trek across the lake to Tamarack Point. But they do have some open water at the mouth of the Mississippi River. He said today that it was hard to judge how far the open water extended past the river mouth, but that there was some distance between the shoreline and the ice pack.
The pictures reveal that the Mississippi River is already wide open and probably already loaded with "pre-spawn" Walleyes too!
Joe said that the river is a mecca for waterfowl right now. Every kind of duck and migratory bird that crosses the state line have taken up residence in the river including a flock of Loons that Joe estimates at over 100 birds.
Four Seasons has every intention of being in full operation for the opener, access may be limited, so contact them now to find out how they plan to control traffic on the opener. Click for more about >> The Four Seasons Resort on Lake Winnie .


(5/2) On Bowstring Lake, Erin at Geiger's Trails End Resort; Dropped me a picture from the landing at the resort. There's just enough open water at the ramp to be encouraging. Before the warmup, ice conditions on the lake were already really wet and slushy. At the moment, we're hoping that all of that water saturated the ice enough to speed up the ice out. Stay tuned in for updates from Bowstring. - Erin and Bill Charlton, Trails End Resort .

Fishing Report May 1, 2013, Jeff Sundin - The chess game between "the Optimists and the Dark Siders" about ice out for the fishing opener continues.
Readers of this report know that I picked my team a long time ago. In spite of Mother Nature's best effort to disourage "Team Optimist", we know that there's gonna be a spot for us on open water this coming May 11th. As a matter of fact, I already know for sure because yesterday I got an update about a spot that could turn out to be a great option for the opener.
In the Deer River area, Tuesday was really an encouraging day. Warm sunshine and lots of wind made snow disappear fast! Except for areas where it was drifted or piled high by snowplows, all of snow cover is virtually gone. It's heading downstream now via small rivers and streams which are flooded, the water spilling over the banks into the woods and farm fields.
The small pond in my field that was ice covered just a few days ago is wide open now, free of even the smallest ice chunk. My back yard actually looks like a lake, there's water standing everywhere, more than I've seen since I've been here.
The Mississippi River between Deer River and Grand Rapids is wide open from bank to bank and it is free of floating ice. Further upstream, from Little Winnie to the bridge on US Hwy 2, the Mississippi is open and currently ice free as well.
At the landing on White Oak Lake, I found encouraging news. There's a rim of open water surrounding the lake, at least as far as the eye can see. The still ice covered mid section, is dark, but not breaking up so far. I could see some open water accross the lake, beyound the old trestle, but from the ground, there's no way to know for sure how much water exists on that side of the river.
Colder weather heading our way is gonna put us back on the teter-totter for a couple of days. We won't have the warm temperatures to work with, but now that the snow cover is gone, ground water will help breakup the ice, even at colder temperatures. By Sunday, there's rain in the forecast, more encouragement? I hope so!


(5/1) From the Lake Winnie Region, Nik Dimich says; "With the sun finally heating things up it finally feels like it's time to get your fishing gear and equipment organized. I know organizing fishing gear/tackle is kind of like the Never Ending Story but it is time to make a list and check it twice. Even though our lists seem to be endless, especially when we factor in the "new must haves," there are a few essentials that will save you from scrambling the day before opening weekend. The first is ... " Read >> Nik's Lake Winnie Region Fishing Report .


(5/1) Bemidji Lakes Area, Paul A. Nelson, Bemidji Area Lakes Guide Service says; "Anglers are ice fishing most of the lakes in the Bemidji area, with good bites for perch, sunfish and crappies in shallow water. Most lakes still have about 30 inches of ice, with several more inches of slush on top of the ice.
In case you haven't noticed, the calendar has turned to May and there is less than ten days remaining before the walleye season opens on May 11.
There will likely be open water somewhere in Northern Minnesota when the season opens, unfortunately most of those locations will be rivers and not lakes. At this point, it seems almost impossible for the lakes to suddenly be free of ice in time for the season to start.
The extended weather forecast does not help the level of optimism. Several nights this week are expected to below freezing, any precipitation will likely include more snow and the daily high temperatures forecast for this week are not expected to get out of the 40's until the weekend.
Many anglers are in disbelief and are trying to be patient and hope for a miracle, but that is hard to do when there are reservations to consider and big plans already made surrounding the fishing opener for most anglers.
Maybe the best advice is to remember the details and commit them to memory, because we will likely be talking about the spring of 2013 for the rest of our lives." - Paul A. Nelson, Bemidji Area Lakes Guide Service, panelson@paulbunyan.net - 218.759.2235 .
Grand Rapids Area Report

-

(5/1)

I wanted to look at as many lakes as I could, so I decided to take a tour starting just West of Grand Rapids, then working my way around the lakes connected to Pokegama. At Little Jay Gould, I saw the early signs of melting along the shoreline, but there was still plenty of ice out there too. There was a group of ice fishermen who had ATV's on the ice and they appeared to be sitting high and dry on the ice.
At the bridge overlooking Big Jay Gould, there was a lot of open water. You can see in the photo that there were still some ice fishermen out there too. They were on the West side of the island where the current has less impact, but I'd bet that I was looking at one of the last crews that will ... Click Link For Complete >> Grand Rapids Area Fishing Report .

Fishing Report April 30, 2013, Jeff Sundin - Monday was another good day in the battle against ice. Sunny, warm and little breezy. To the naked eye, ice conditions didn't appear to change much. But, the pools of standing water are getting bigger and the so are the areas of open ground.
Around my house, the plowed corn fields are now snow free and as if there had been a waiting line at a ball game, Ducks, Geese, Swans and even a couple of Cranes flooded into them. There must be at least 50 Wood Ducks using the flooded pasture on the North side of the house and Mallards inhabit the small puddles adjacent to the fields.
At 4:00 AM today, I woke up to thunderstorms and the rain has been coming down ever since. Sometimes heavy, sometimes light, each drop adding to the prospect of open water for the fishing opener.
Yesterday, I started into an answer for Tom Crosby about the prospect of fishing for Walleyes without using Spottail Shiners. I promised to deliver the next installment of the answers this morning.
Update 11:54 AM and Just in time to say that I got it done in the morning. The Q&A about Walleye fishing without Shiners has been completed. It's become a stand alone article that you can find by clicking here >> Walleyes Without Spottails .


(4/30) I Love This One because I know that we all agree on one thing and that is; "Fishing is Fun"! Yum knows that too and they just launched a new website to tell the whole world. Yum's message is that whether you're a seasoned fishing pro or if you just started fishing yesterday, you're just like us, in it for the fun.
The new site is all about what makes fishing fun and they want to share it with you. Click and check out the new site >> Yum Is Fun!


(4/30) This week on Fish Ed, Host Jon Thelen travels to the Missouri River in Bismarck, North Dakota, chasing huge spring walleyes. Jon shows you how to recognize current seams and where walleyes stage in relation to those seams. This is the key to catching fish on this wild river that runs through North and South Dakota. Lindy Jigs tipped with minnows are the ticket to catching both eaters and trophy walleyes on this trip. Watch the vide >> Missouri River Walleyes .
April 30, 2013 So close, but yet ... Yes, we are still so optimistic! So you think it's nerve wracking to sit at your computer, trying to keep tabs on the ice conditions as we head toward the Lake Winnie Fishing opener. Try waking up every morning, spending your entire day looking out accross the lake, hoping to spot any patch of open water. Believe us, We Feel Your Pain!
But we're not ready to throw in the towel on the fishing opener, the ice conditions on the big lake are moving in our direction. Large patches of dark, old looking ice are encouraging, so is the open water that spans the bay from Winnie Dam out to Plughat Point. Optimistic too because this morning, we're watching the rain come down, whittling away even more on the ice. So until you finally lay your head on the pillow each night, check with us for the latest ice out >> Read Full Lake Winnie Fishing Report .

Fishing Report April 29, 2013, Jeff Sundin - On Sunday, cloud cover slowed the meltdown, but not entirely. Air temperatures still rose into the mid 60 degree range, encouraging the loss of more snow cover.
I know that there are still a few anglers on the ice and I know that they're catching some fish, but with only a dozen days remaining before the 2013 Walleye Fishing opener, I am officially done talking about fishing on top of the ice. Instead, we'll be focusing on getting prepared for the opener.
At the moment, that includes figuring out where we're gonna fish, so I think keeping tabs on the progression of ice out is gonna be a daily topic. On Sunday, I wanted to get a handle on lakes in the Lake Winnie region, so I headed out West from Deer River on Hwy 2.


(4/29) From The Iron Range, From Greg Clusiau; "It's been one long winter and even though dozens of big panfish were still being pulled to the top of the ice last weekend, I refused to go. I've had enough and am in the process of cleaning up the winter stuff and putting it away until the next ice season.
Now t he crappie fishing tackle gets my attention and although I already have more than I could possibly use, I did a quick study of some new crappie baits that I'm sure will end up in a box next to my 1/8 oz " ... >> Read Greg's Full Report .
Ball Club Lake remains ice covered, but the standing water that was present on the surface, has drained off. There was no sign of any activity on the lake and all of the landings looked muddy and sloppy. Water flow from the Ball Club River moving into the Mississippi remains high, but not at the "flood stage" level that I had expected to see. That confused me at first, but it wasn't long before I got the explanation.
Little Ball Club was ice covered too, but at least here I saw some tiny patches of open water. The small creeks that flow in from the West have both been encouraging the ice to melt in areas immediatley adjacent to the outlets. The ice on Little Ball club didn't look particularly good or bad. It was just typical, late ice and I don't have a handle on the presence of slush on the surface.

Fishing Report April 28, 2013, Jeff Sundin - Spring is springing and while there's still lots of ground to cover, piles of snow disappeared fast on Saturday.
Wanting to be sure that my my timing was good for gathering information, I waited until late afternoon to take a tour of some Grand Rapids Area Lakes on Saturday. Most of what I saw was expected, but there were a couple of surprises along the way too.
First surprise; Where is all of this snow going? Judging by what I can see, the farm fields and wide open spaces must have lost two feet of snow cover this week. But there isn't all that much runoff. I guess that same deep snow must have helped keep the frost line from going too deep this winter because except for a few low lying areas, runoff from the melted snow appears to be simply vanishing. Don't get me wrong, I think that's good and it's just more encouragement for us optimists that the Grand Rapids area is gonna thaw sooner rather than later.

Fishing Report April 27, 2013, Jeff Sundin - Remember this from yesterday? "I know it's putting a lot of eggs in one basket, but I'm still optimistic that the warmer weather heading in is gonna work on all of our snow cover, resulting in a fairly fast meltdown."
Many have said that being a true optimist makes me particularly well suited for being a fishing guide. While I believe that to be true, I discovered on Friday that even an optimist can stumble into a better optimist.
Moving along the interstate at a snails pace wasn't suiting me very well on my trip back to Deer River on Friday evening. Knowing that I'd be late getting home either way, I decided, in true Garage Logic style that it was time to "Make a Move!" So, I took the first available exit ramp figuring that even if it took longer to get home, maybe I'd have a chance to snap a few decent pics along the way. I didn't travel 5 miles before a comforting sight jumped up and bit me in the nose.
A lake, open water, 73 degrees, a park full of people enjoying the gorgeous weather and a guy slipping on his chest waders to do some shorline fishing. I am telling ya, it was a beautiful sight! Obviously, I had to stop and after I snapped a few pics, I returned to the truck with a spring in my step. From then on, the whole darn trip was just plain good!
Along the way, I noticed that the warm sunshine took a gigantic bite out of the snow cover. Areas that were still snow covered on Thursday had opened up completely. Everywhere along the stretch from Maple Grove to Garrison, fields of grass were now exposed, most of the snow now long gone.
Northbound from Garrison, signs of winter were more prevelant; Serpent Lake was hosting a die hard ice fisherman that had decided to head out onto the ice in his vehicle. Wet, slushy snow covered the surface of the lake, adding to my optimism that the ice is gonna go out fast, once the meltdown really takes hold.
By somewhere near Emily, I started seeing deep snow again, but areas of deep snow were also accompanied by fast flowing water in the ditches. Lots of water, moving in a hurry toward small streams and rivers. My guess is that we're only looking at a couple of days until we see flood stage water in low lying areas near streams and rivers.


(4/27) From the Lake Winnie Region, Nik Dimich Gave the ice fishing one last shot on Friday and discovered that the meltdown is in full swing. After sizing up the circustances, Nik decided to walk out to one of his favorite spots to try for some panfish. Nik said; "They were active in 8-12 feet of water and showed up quite well about halfway up the water column on my Humminbird. Once again, small "bug" type lures tipped with wax worms were the best way to .... ." Read >> Nik's Lake Winnie Region Fishing Report .


(4/27) Countour Elite software allows me to chart a lake ahead of time, save it to an SD card that can that I can pop into my Humminbird and then head to the lake armed with a full list of coordinates to fish. This could come in really handy for folks who want to venture out on unfamiliar water for the fishing opener.
I put in a link for the Minnesota version, do yourself a favor and take a peek, just click >> Lakemaster Countour Elite Minnesota .


(4/27) - More reaction to the news about the restrictions on Spottail Shiner Trapping for Lake Winnibigoshish . Mostly comments coming from anglers who are rightly concerned about the impact that the bait harvest ban will have.
For readers in and near Duluth, Minnesota, be sure to pick up the Sunday copy of the Duluth News Tribune. Sam Cook takes up the topic and will have interviews with folks from the fishing industry, plus an interview with the man who made the decision.
If you're late to the discussion and want to get up to speed, Read the original article ... >> Lake Winnie Shiner Trapping Ban .
Anglers heading to the Rainy River for the opening day of the Sturgeon fishing season found stable river conditions and cold water. Yesterday's surface temperatures on the river remained below 40 degrees and fish movements continue to be behind schedule.
Sturgeon fishermen are catching larger fish than average, but fewer numbers than they would during a typical opening day trip. Several fish in the over 60 inch range were reported yesterday.
Current on the river is still manageable, but there is some run-off coming in from the tributaries now. The Minnesota DNR's river level map currently rates water levels on both the Bigfork and Littlefork Rivers as "Medium". You can click here for a peek at the DNR River Level Map and see for yourself.
On a quick tour around the area, I started seeing early signs of movement myself. On the Mississippi River, the appearance of new ice chunks floating downtream indicate that water levels are rising and that shoreline ice is breaking up. Almost anywhere along the river, it's easy to see that the water is going to get really high, really fast.
Moving West from Deer River to Ball Club, the Ball Club River is already flowing out of it's banks as it heads toward the Mississippi. Most of the surface snow has melted on Ball Club, there is water on the ice, but no sign of shoreline water so far.
At the Winnibigoshish Dam, current flow was still light. Open water spread from the dam about a half mile into the bay. It's a happy spot for Ducks, Geese and Swans right now, but it's gonna be a while before it tempts any boaters.
Ice fishing news has been really quiet, but it's still feasible to fish this weekend. There are reports of ice thickness ranging from about 22 inches on Bowstring Lake, up to 36 inches at the gap on Lake of the Woods.
Shoreline conditions are going to erode in a hurry now though, so I'd expect this to be the last weekend that presents any serious opportunity. ATV's will be the way to travel and Lake Winnie, Round Lake, Cutfoot Sioux and Bowstring all have acceptable ice conditions. If you see areas of deep snow anywhere, they should be avoided! Likewise, any areas that appear to be wet or slushy should also be completely avoided.

Fishing Report April 26, 2013, Jeff Sundin - Movement in the right direction, even if it's slow, is still good! The warming trend is pushing toward the Northland, creeks and rivers are getting restless and moving water will begin working it's magic on shoreline areas. Soon, I hope.
The trip from Deer River to Minneapolis on Thursday wasn't as revealing as I had hoped. for 2-1/2 hours, virtually every lake I saw was frozen, locked up tight, with ice showing little sign of weakening. If it weren't for the hope I got from the flowing streams and rivers, it could have tempted me to get discouraged.
Luckily, by the time I got South of Princeton on Hwy 169, the evidence was more positive. From here on down, the snow cover is gone, some tiny lakes are open, some backwater areas of larger lakes are too and everywhere else, the ice has got that old, soggy look about it.

Fishing Report April 25, 2013, Jeff Sundin - More weather heading our way, good weather, warm. It's nice to see a few smiling faces around town again and for me, I really liked having a small patch of real estate where I could walk without all of that white stuff moving under my feet. In fact, having a patch of open, dry grass felt so good to my feet, that I stood there doing nuthin' for an hour, maybe more. Well, I took a picture, that's almost nuthin'.


(4/25) - Reaction to the news about the restrictions on Spottail Shiner Trapping for Lake Winnibigoshish has been strong . Mostly comments coming from anglers who are rightly concerned about the impact that the bait harvest ban will have.
Without doubt, it's going to impact all of us who fish for Walleyes, especially those anglers who steadfastly believe that the Spottail Shiner is the only live bait worth buying during the early part of the fishing season.
But what concerns me even more, is the economic viability of the live bait industry. Few, if any realize just how dependent on the supply of Spottails our bait dealers really are.
It's easy for any bystander to say that all we need to do is make an adjustment, switch to a different kind of bait. I'd probably be in that camp myself, if I knew for sure that there would still be an open bait shop where I could go ... >> Read the Full Article Lake Winnie Shiner Trapping Ban .

Fishing Report April 24, 2013, Jeff Sundin - Brace yourself! Go find your golashas and move the livestock to high ground! In a few days, we're gonna have more water than we know what to do with!
Granted, a lot of it is going be lying on top of the ice for a while, but temps in the 60 degree are range predicted for the weekend. That is a serious warm up and there's gonna be a lot of snow looking for somewhere to go.
If you've been grumbling about the long winter, then unpack your smiles again and puh-leeease, start using them! Because the folks who find themselves under water might just need the support.


(4/24) Reader Alert! Be Forewarned, if you haven't eaten yet, then maybe you better go and do that before reading this.
My friend Joe Oliver has been encouraging me for a while to try his recipe for cooking fish. Last evening, I finally had a good excuse to do it and made the time to cook some. It was delightful and I can honestly say that Joe and Carol Oliver's Coconut Fish Recipe turned out to be the best way that I've ever prepared Crappie fillets.
I'm just like you, we all have our favorite ways of cooking and old habits are hard to break. But I can't think of a better way to make an impression on someone than to prepare them this meal.
Knowing Joe and knowing that he wasn't gonna steer me wrong, I decided to document the recipe as I did my cooking and I'm glad that I did, because now YOU are in LUCK! All you have to do is click here for >> Joe and Carol Oliver's Coconut Fish Recipe .
Finally, if it's fishing you want to do, then you're not gonna get my attention by grumbling about the late ice. Because if you really want to catch some fish, you can do it right now and chances are that you'll be the only one on the lake.
The Crappies and Jumbo Perch have been more than willing to cooperate and anglers who have given it a go, are being rewarded for the effort. What they all have in common is that they've been amazed by the lack of traffic out there.
Lake Winnibigoshish, Bowstring and Round Lake are all locations known to be accessible and known to be producing fish in shallow water right now. Over the past few days, reports of good Crappie fishing on other area lakes have emerged as well. Yesterday, Bill Powell from Fred's Bait shop told me that he's had similar reports from the few folks who have been out on the lakes.


(4/24) Bemidji Lakes Area, Paul A. Nelson, Bemidji Area Lakes Guide Service says; "The word on the street is all we need is a good dose of global warming and everything should be fine for the opener…right?
Anglers from the Bemidji area's best option may be to find a river to fish on the walleye opener on May 11. The Rainy River may be one of the best areas in Northern Minnesota to fish on the opener the way things are look at this point.
Many lakes may have ice on the opener and many other areas may be closed to angling on the opener to protect concentrations of spawning or pre-spawn fish.
The DNR is still watching the conditions develop before making their decisions on what areas to close. Anglers will need to watch for last minute postings about what areas are closed.
It all depends on what happens in the next couple of weeks. The extended forecast is predicting significantly warmer temperatures starting this weekend, so there is still a chance for open water.
Unfortunately, the exact conditions needed to get rid of the ice quickly are also the worst case scenario for flooding, which would be a bad thing for many cities along the major river systems.
The countdown to the opener has begun, stay tuned.
Meanwhile, back to the present, there is still at least 30 inches of ice on most lakes, with anglers enjoying some very good ice fishing for perch, sunfish and crappies.
Many of the fish have moved into 5 to 8 feet of water, with anglers catching fish right under the ice. Anglers can often see the fish moving through under the ice if they look down their holes.
The best way to fish may be to use a longer rod and dab and dunk baits down the holes from a distance, to help avoid spooking the fish." - Paul A. Nelson, Bemidji Area Lakes Guide Service, panelson@paulbunyan.net - 218.759.2235 .

Fishing Report April 23, 2013, Jeff Sundin - With only 18 days left before the fishing opener, even the most optimistic of all fishermen, ME, is starting to get just a little bit nervous. It wouldn't hurt my feelings at all to see just one little bitty lake starting to show signs of ice out. While that hasn't happened in Northern Minnesota just yet, it has begun to happen in areas near the Twin Cities and that's encouraging.
If you know me, then you know that I'm gonna find a bright spot in the story and yesterday, I got a couple of them hand delivered. First was a comment by email that said; "At least if we have to ice fish on opening day, we'll be able to fish with 2 lines". Good Point!
My long time friend and customer, Pete Raquet told me on the phone that Lake Minnetonka is finally starting to show signs of giving up for the winter. Still no place to float a boat, but according to Pete, there's a rim of open water around the lake, maybe 3 feet wide, maybe a little more.
With a serious warming trend advancing and a rainy weekend in the forecast, we are difinitely going to see some movement. Now, lets just hope that we don't wind up with more water than the midwest knows what to do with! The mid-section of the country is already flooding and when this stuff starts to melt, we might wish that we had winter back again!


(2/23) On Lake of the Woods, Border View Lodge, Mike Kinsella wrote; "Open water is FINALLY starting to hit the mouth of the Rainy River. Quite a difference from last year!
The late winter appears to have pushed the sturgeon run back some. Reports have been staggered with some groups doing very well and others just boating a few of the monsters. As water temps begin to warm and the current picks up, the bite should pick up.
There were a few northern pike fishermen on the bay last week. Pike fishing should be great once the bays and backwaters open and the fish get ready for spawn.
We will be posting river updates, as well as the public access status, on facebook this week. We have midweek openings this week and next at just $34 per person per night. Give us a call and catch your own river monster!" 1-800-776-3474 Border View Lodge .

Fishing Report April 22, 2013, Jeff Sundin - Happy Monday! There was a sunrise this morning.
I know, it sounds like a little thing, but after watching it rain most of the day on Sunday, a little Blue sky should help the Monday morning drive time attitude around the Northland.
It's ironic that after a winter of talking about deep snow, slush and horrible travel conditions, we finally have improving conditions for ice fishing. Now all we need are some ice fishermen.
On the chance that you can still be persuaded to try one last ice fishing adventure, I'm dropping in some reports from over the weekend. Die hard ice anglers are finding mixed conditions, some reports are about "easy going" on the lakes and they have been receiving full cooperation from the fish! Others haven't been as lucky, still battling slush and deep snow in the more remote locations.


(4/22) Nik's Tips From The Lake Winnie Region; "While fishing yesterday (Saturday) "getting around" the ice sheet with an ATV was good as gold, with travel conditions good to excellent on Cutfoot Sioux and Round Lake. We had no problems moving around while searching for fish. However, on Cutfoot there was a little more snow drifted in at the public access but this was really no big issue to get through. Both lakes were completely frozen solid down to the top layer of snow pack. There were 24+ inches of ice on both lakes with an additional 4-6" of condensed snow pack on top acting as an additional layer of ice along with the main icepack. Having an auger extension will help you from ... >> Read Nik's Fishing Report here .


(4/22) On The Iron Range, From Greg Clusiau; "Last weekend, a small army of us ice fishing enthusiasts gathered together for yet one more trip "back in the bush." Using two snowmobiles, four atvs, and one side-by-side, eight of us made our way some ten miles back in the woods to visit a trophy panfish lake.
Not really knowing what to expect, after the recent snowstorm, I figured we had it covered, using a diversity of travel to reach this little gem.
Going in, Blake and I did the best using snowmobiles, as the snow was" ... >> Read Greg's Full Report .

Fishing Report April 21, 2013, Jeff Sundin - A day of relief from winters grip came in handy on Saturday, but I'm afraid that wintery weather already snuck back in on us.
Luckily, this cold snap is going to be shorter term and with a lot less precipitation. If the forecast is accurate, we'll see the beginning of a warming trend during the next few days and this ought to help loosen up at least a small portion of the snow and ice.
I need to make a confession, I've been holding back on telling you a couple of things, discouraging news that I didn't want to share during the work week. In fact, I purposely held back until this morning, Sunday, just in case those of you who read the report before going to church might want to slip in a little, special prayer this morning.
I just don't like getting into the gloom and doom mode, I never have. But after watching the weather this past week, it's been getting more concerning by the day. The ice is stubborn this year and doesn't show much sign of leaving voluntarily.
April 21, 2013 On Thursday, I was having a talk with Bill Heig, who gave an update about conditions on Lake Winnibigoshish and Cutfoot Sioux. Right now, the lakes look like we should be preaparing for Christmas instead of the fishing opener. Still covered with snow, still plenty of ice and not much sign of any traffic.
As a resorter, there is obvious concern about what condition the lakes will be in for the 2013 Fishing Opener, due to arrive in just 22 days.
Concerns about the late arrival of spring are not un-founded, but with that said; They could still be a little bit over-blown. Assuming that our weather patterns begin to track back in line with some of the historical data provided by the University of Minnesota, the we could >> Read Full Lake Winnie Fishing Report .

Fishing Report April 20, 2013, Jeff Sundin - I stole a couple of hours away from the pressroom on Saturday to go on a tour, checking ice conditions in the area. I have to admit that in some areas, it's gonna take a miracle for us to have open water for this opener.
A real eye-opener was the ice pack that I found at the channel heading into Little Cutfoot Sioux. I never expected that it would be wide open, but in the back of my mind, I did expect to see a few of the boys from the DNR preparing for the Walleye Egg Harvest. I thought that maybe there would be a little activity up there, you know, moving in some equipment, making ready for some movement.
Instead, I found nuthin', no sign of anybody except for a few pairs of confused Geese, sitting on the ice and snow, waiting for something Green to munch on. There is a little open water and there is a good current flow in the area around the bridge, so I know that things will move fast once it begins to open up. Still, I can't imagine that things will move fast enough to forestall an announcement about fishing restrictions for the Walleye opener.
No, there hasn't been any announcement yet. But Cutfoot and Winnibigoshish have both been subjected to special spring restrictions in the past and I see no reason not to expect them this opener. There have already been a couple of announcements including this one that I posted yesterday.
(from 4/20/2013) The Minnesota Department of Natural Resources says; "The (DNR) has announced temporary fishing and spearing closures on a number of designated spawning beds and fish preserves in northern St. Louis and western Lake Counties. The temporary closures are in accordance with Minnesota Statute 6264:0125 to protect fish when they are more susceptible to catch and overharvest as well as limit disruption in spawning areas." Read the complete DNR News Release here .
Wallleye fishermen who love to use Shiner minnows during the early portion of the Walleye season are going to find some significant shortages of bait this year.
On the Rainy River, Sturgeon (4-21) Fishing has been improving. Anglers are fishing in some cold weather, but the snow that's plagued North Central Minnesota has been falling short of the Rainy River. The river current remains low and since only "Catch and Release" fishing for Sturgeon is allowed, the crowds are light. Anglers will be allowed to keep one Sturgeon (per season) beginning on April 24th, 2013. Even then, most of the prehistoric fish will be returned, but if an angler catches one between 55 and 65 inches, they could choose to keep it.
Currently, the bite has been described as "light" but improving. As is the case with most Pre-Spawn movements, the larger fish are caught during the early portion of their runs, before they begin dropping their eggs.


Fishing Report April 20, 2013, Jeff Sundin - Ordinarily used to describe the month of March; The expression "In like a lion, out like a lamb" was better used to describe the day we had on Friday.
The phone rings during the wee hours to announce "schools cancelled", the TV blasts news about a winter storm warning and ... the day ends with a glowing sunset, calm winds and snow melting into puddles. I wish that I could melt anything into puddles!
Now it's 6:00 AM and the sky is clear blue, sunshine is creeping into the yard and it looks like we're gonna see some melting, even if it is only for a single day.
With only 20 days left before the 2013 Minnesota Fishing Opener, I think we should be expecting to hear a lot more news from the Minnesota DNR about the late ice out. It started about 10 days ago when the DNR restrictions on border waters of Cook County.
Now, a release from The Minnesota Department of Natural Resources says; "The (DNR) has announced temporary fishing and spearing closures on a number of designated spawning beds and fish preserves in northern St. Louis and western Lake Counties. The temporary closures are in accordance with Minnesota Statute 6264:0125 to protect fish when they are more susceptible to catch and overharvest as well as limit disruption in spawning areas." Read the complete DNR News Release here .
As a matter of fact, there will be a lot more first hand news from the Grand Rapids Region very soon. Because this cub reporter, staff #003 needs an excuse to get out from behind this computer. I'll have photos and news from the Cutfoot Sioux Egg Harvest Station before the day is over.


(4/20) Humminbird 360 Imaging - Popular Science recognizes the ingenious ideas and technologies that become consumer products, and then cull out the best of them. And in 2012, the prestigious 'Best of What's New' in recreation honor was given to Humminbird. After cleaning up 'Best New Electronics' at fishing's homecoming bash, ICAST, Humminbird's 360 Imaging shared techno limelight with household names like Google, Yahoo, Microsoft and the golf giant TaylorMade.
As the tech-forward organization looks out in the headlights – even the high beams – Popular Science took notice of Humminbird's ability to also see the future. Not only is Humminbird's 360 Imaging virtually ahead of its time when compared to other sonar brands, the technology literally identifies >> Read Humminbird 360 Review here.

Fishing Report April 19, 2013, Jeff Sundin - Good Morning! First the Good News, you have a perfect excuse to stay inside today and catch up on your uhmm... reading. And the bad news? Oh, sorry, I don't have that here, you can get enough of that already.
The winter does seem to struggle with issues about "letting go" and even I have to admit, it would be nice to feel the boat rockin' under me again.
But as a steadfast member of the Loyal Order of the 21st'rs, it's already been spring for a long time, almost 4 months according to our calendars. So except for an excuse to close the schools today, another few inches of snow, that's nuthin'. Shrug it off and Carry On!


(4/19) Anglers Gearing up for the 2013 fishing season would be smart to be sure that their landing net is in good working condition too.
Ted Takasaki says; "Knotless, treated mesh results in fewer problems all around. The quicker you get fish get out of the net, the healthier they are and the faster you get back to fishing."
The species of fish you're going after determines the hoop size you need. Some nets are species specific making it important to ... click learn more about >> Selecting The Correct Landing Net .
By the way, you can share your own fishing stories and post fishing pictures too! Just Click >> Fishing Reports Minnesota Page .

Fishing Report April 18, 2013, Jeff Sundin - Good Morning! Okay, stop looking at the snow and start looking at the calendar. Sooner or later, the date is gonna catch up to the weather and I'd hate to see you get caught flat-footed.
In spite of the temptation to dwell on the gloomy news about more snow and ice than we're used to at this time of the season, this is a fantastic time to get your gear in order, charge up the batteries and be ready to roll.
For me, preaparing for openeing day was accomplished earlier than usual this year. So with lots of extra time on my hands, I'm polishing up the website a little. Dusting off old pictures, re-organizing some old pages and finding room for some new features. You're gonna notice a few changes over the next couple of weeks; But don't worry! I'm not going anywhere, just making time to brighten things up a little.
Click on a few of the links this morning and you'll already see some changes. I hope that you agree with me that they make life just a little more cheerful!
On Tuesday, I talked with Grant Prokop who has been out on the ice and after a slow start, discovered that hard work pays off. In Grant's words; "It took forever to find fish, but once we did, the fishing was fantastic".
Grant was referring to Sunfish that he had caught on Monday while fishing on Bass Lake. Travel conditions were good for his crew and they were able to move around freely using a Ranger.
The crew was headed for Round Lake on Tuesday where they'd been catching some good size Perch. He had a little advice for anyone who's been on the fence about doing some Perch fishing; The fish are really fat, really ripe with spawn and he thinks that the prime time, pre-spawn bite could come screeching to a halt soon. His adice was to get out there right now while the gettin' is good!
Travel conditions are good on Round Lake too and they hadn't found any trouble during the search for Perch.


(4/18) Even if spring hasn't sprung across the Northland, so what? Nik has been contemplating taking a drive to the Rainy River where an "opportunity" to hook a Sturgeon is usually better described as a likelihood! Prehistoric creatures always capture the imagination and here's a great chance to see one up close and personal. If fishing on the ice sounds better, well Nik's got a few tips for that too. Click to read >> Nik's Tips for the Lake Winnie Region .

Fishing Report, April 17, 2013, Jeff Sundin - Good Morning! We're getting there, slowly but surely. On Tuesday, some of the snow disappeard as the temps climbed into the high 30 degree range. Slight as it may be, the warming trend is predicted to continue for the next week and that will certainly help.
It's tempting to be discouraged by the late spring, but don't do it, It won't help! Besides, just think of how long the jig and minnow bite is gonna last this spring! It will still be going strong in June and folks who never get to experience it, might get in on some fantastic shallow water action.
In fact, I can remember the spring that the ice was stacked up on the West side of Lake Winnie so high that it took nearly a month to melt. Larry Lashley, Tim Fishbach and our dearly departed friend Jessie Priem came on two, 3 day fishing trips, spereated by a couple weeks. That season, the boys nicknamed that spot "The Glacier" and we were stationed in front of it for a total of six days, catching fish like crazy every time we went out there.
Okay, so what I'm saying; Nature has an odd way rejuvinating itself. It's not really up to us to figure it out, except to learn how tro live with it. But sooner or later, the day is gonna come where we get to reap the harvest and when we do, it's gonna be good!
Fishing news around the territory was slow yesterday. Like me, most anglers have sort of reserved themselves for the upcoming fishing opener, For the moment, talk of the gizmos and gadgets we need to get ready for the fishing season has become more important.


(4/17) A Facebook question from Elizabeth P. Q) You (on 4-14) said that there would be open water for our fishing trip in May, but maybe not where we usually fish. What if we really only know one lake and it's still frozen?
A) Elizabeth, I know that learning new lakes seems like a lot of hassle. But honestly, it isn't that hard and compared to just a decade ago, technology has made the job downright simple.
Over the winter, I've talked to a lot of people who were kicking tires, thinking about buying something new for their boats. Or maybe they were thinking of a new fishing rod or some other cool toy, you know, they were living the fishing season vicariously through shopping.
The first question I always asked them was; What are you using for electronics?
At times like we're gonna see this spring, working a decent charting system into your budget will pay off for you big time. Even if you don't rush out and buy a new GPS, for a really modest investment, you can still show up at a new lake armed with the latest technology, a detailed map that you work out ahead of time on your own home computer. That's right, you can learn the whole lake, investegate the structure, even in 3D. Then take all of the information right to the lake and fish it like you've been there 100 times.
The software is called Contour Elite and it's produced by Lakemaster. The software is available for areas all over the country. Mine is the Minnesota version and I'm gussing that this is the same one you'd want. It installs on your home computer in a few minutes and lets you call up a full detail map of a huge list of area lakes that you'd be interested in trying.
The Contour Elite software allows you to highlight suggested fishing spots, add GPS coordinates and print out a finished paper map. Or if you already own a Humminbird unit with GPS Charting, then you can simply save the information to an SD Card, load it into your unit and fish the new lake just like you're an old pro. You'll have all of the data you saved at home appearing right on the screen of your Humminbird.


In the meantime, here are links that will take you to Lakemaster and to their Countour Elite Minnesota Page where they have a nice video tutorial about using this software.


By the way; Just for fun, I'm tinkering with a few new fish recipes and I'd like you to share one with our readers. Please click on the Facebook Page to >> Share Your Favorite Walleye Recipe .


(4/17) Bemidji Lakes Area, Paul A. Nelson, Bemidji Area Lakes Guide Service says; "The Bemidji area is locked into winter mode, with more than 30 inches of ice remaining on most of the lakes. Anglers are still ice fishing, with most using snowmobiles to access the lakes.
Many of the fish have been moving into shallow water, waiting for spring to arrive. Anglers may have trouble locating the fish, but they should assume they will be biting if they find the right locations.
Anglers need to keep moving to find the fish. If anglers are on the right spot, the fish should be active. If the fish don't seem to be biting, anglers are missing something and not doing everything right.
If anglers know where the fish are supposed to be on late ice from previous years, it should help them figure out where the fish are located now.
Sunfish and perch in many lakes have moved into very shallow water, with six to eight feet a common depth range to find both species.
The fish may also be suspended over the closest drop-off in deeper water. Many of the fish have been suspending right below the ice, so anglers may be on the right spot and fishing too deep and have their baits below the level of the fish.
Fish that are suspended right below the ice may look like interference on sonar and anglers may not believe or know what they are seeing on their electronics.
Fish suspended right below the ice also tend to be very spooky and will often be moving constantly as they feed.
There are special rods made for super shallow water that are designed to dab and dunk into holes. It often takes some stealth and some finesse to catch the fish when they move shallow, but the results can be fantastic and worth the extra effort." - Paul A. Nelson, Bemidji Area Lakes Guide Service, panelson@paulbunyan.net - 218.759.2235 .

Fishing Report, April 16, 2013, Jeff Sundin - Good Morning! It didn't take too long on Monday to figure out what happens when anglers temporarily run out of some fishing to do. They start thinking about their fishing gear! Except for questions about whether or not we'll have open water for the 2013 Fishing Opener; My inbox contained nothing but questions about gearing up for the season.
First, YES! There will be open water and there will be places to fish. In fact, technically, there already are, even if they aren't exactly the first places that come to mind. I took a ride yesterday evening and found LOTS of open water on the Mississippi and Leech Lake Rivers. The water level is really high right now and that means that the current is going to be a strong influence on all of the lakes in the chain.
Keep that in mind when you're thinking about alternative locations for your opening day fishing trip. Smaller lakes with good size rivers running through, are going to open faster than isolated, inland lakes will. Name some? Lake Andrusia, Big Wolf, Lake Bemidji, Little Winnie, Prairie, Bowstring, Sand ... you get the idea. Just take a look at the map, follow the Mississppi, the Bigfork or Prairie Rivers and you'll get more ideas than you know what to do with.
April 16, 2013 Because Lake Winnie and other nearby lakes are part of the story, we're keeping close tabs on breaking news about the Illegal Walleye Selling and Fish Dumping Case, Minnesota's largest criminal fish selling scheme in two decades.
Authorities are bringing state charges against 21 individuals following a major investigation into the illegal sale and dumping of thousands of protected game fish in north-central and northwestern Minnesota.
The illegal fish were of various sizes, from small to trophy specimens. In one case, a trophy muskie was sold for mounting. Some business owners or employees were involved in the illegal purchase and sale of walleye, though officials were unable to document that fish were sold as >> Read Full Lake Winnie Fishing Report .

(4/16)

A Facebook message from

Lyle Unger

gets right to the point.

Question)

"I am looking at getting a new boat. Why do you always get an Alaskan?


Answer)

Lyle, It's gonna take me more than one reply to answer this question fully, but here's the short reply.
In 1989, I got my first Lund Boat, it was their "New", at the time, 1700 Pro V, with a 60 HP tiller engine. In those days, it was considered a monster fishing boat with lots of space and a wide open floor plan that allowed me to seat 3 passengers right up the middle of the boat. That seating arrangement gave my customers unbelievable flexibility to fish a variety of styles by simply turning their seats. For almost 25 years now, I've never run any other type of boat and never run any models except for Pro V and Alaskan "Tiller Models."


For a fishing guide

, there is nothing more important than the ability to put the customer in prime position to catch fish. If the customers aren't getting in on the action, then every other feature, of any other boat is virtually worthless.
Fast forward, I was steadfastly loyal to the Pro V's all of the way into the early 2000's, when the open floor plan, 1900 Gary Roach, tiller model became extinct. I'd probably still be using that model today if it still existed.
It was the seating arrangement of 3 passengers, up the middle, that drove me intitially to explore the 20 Foot Alaskan. Luckily, I convinced myself to try the first one, because it turned out to be quite a surprise, a real treat!
The 2000 Alaskan gave me the seating arrangement that I wanted, plus provided even more space and an extra bonus was the simplicity of the rig. Very few wires, a fully Vinyl covered floor and deck combined with the Camo paint made my Alaskan virtually maintance free. In fact, once considered a dis-advantage, the Vinyl floor has become so popular that it's now offered as a "Feature" on the higher end boats.
My own customers will be the first ones to tell you how nice it is to fish with someone who isn't barking at them about spilling a soda, burning a hole in the rug or putting their feet up on some "special spot". In the Alaskan, our experience is just a lot more relaxed.
Fast forward again, 10 years later, the Alaskan has come a long way. Today it sports the IPS Hull, just like my old Pro V's, has a handful of added features while still retaining my favorite, open floor, 3 up the middle design.
Combined with a 90 Horsepower OptiMax "Big Tiller" engine, it has plenty of get up and go too, but will virtually creep along the breakline at any effective trolling speed I choose. The OptiMax 2-stroke gives me the added advantage of extra torgue and that allows me to load the boat onto the trailer in much shallower water without damaging the prop. The ability to fish almost any lake, high water or low is a huge advantage! Especially for guys like me who sometimes like to pretend that they're Amerigo Vespucci.
Now, one more advantage and it's a big one. Beause of this boat's lighter weight, combined with the extra torgue of the OptiMax, I can get the rig up on plane at much lower speeds than I could with the heavier boats. Advantage? My customers come home a lot drier these days.
If I could have anything that I wanted, I'd probably have more than one rig. Something like the big, tough fiberglass Pro V for lakes like Leech or Lake of the Woods. Then I could have an Alaskan for the smaller lakes and rivers that I love to fish. I'm like you though and I have to stretch my dollar, so for me, the Alaskan is a great compromise. Big enough to be big, small enough to be small and simple enough to be really effective as a pure fishing boat.
Okay, so there's the short answer. We never even got into why I like the Alaskan for hunting.
Go ahead and pin me down on some more details and later, we'll pick up the discussion from here.

Fishing Report, April 15, 2013, Jeff Sundin - Good Morning! For me, it's always been nice to look at April 15th in the rear view mirror. This year, I think it will be downright wonderful!
In spite of the fact that that it's a little bit hard to see it coming; Summer is just around the corner and for all of you worry warts out there, Yes, there will be open water when the clock stikes midnight on May 11, 2013 . That said, I do have to admit that the late ice out is gonna force a few changes this spring.
The Minnesota DNR has already announced the closure of certain fishing areas in Cook County. The measure is intended to protect populations of spawning female Walleyes by prohibiting fishing in areas where they are likely to be highly concentrated. According to the press release by the DNR; "Closures on Minnesota-Ontario waters are made in cooperation with the Ontario Ministry of Natural Resources and affect both sides of the border."
So far, no announcement about closures in the Itasca Area have been published, but with virtually every lake in the area still ice covered, it won't be a big surprise if an announcement is made in the next week or so.
I'll be attending the Walleye Advisory Council Meetings in just a couple of weeks and I'm sure that we'll get all of the details at or before that meeting.
Rainy River Walleyes are officially out of danger from anglers this morning and if they could think; I'll bet that a lot of them would be happy that they "dodged a bullet" this spring. After anglers flocked to the river for the first day or two of open water, the bumper traffic subsided, slowing to a crawl. Fishing pressure on the river during the colder than average "pre-spawn season" turned out to be much lighter than usual and the Lion's share of late arriving Walleyes moving upstream to spawn, will complete their mission without hardly ever seeing a boat.
Don't get me wrong, for many anglers it was a good spring on the river. In fact, we had a couple of really good days there ourselves and we'll be back again next spring. It's just that the cold weather discouraged lots of folks from showing up, many of them choosing to fish on "hard water" instead.
Which reminds me; Ice Fishing is still going strong for anglers who have stuck with it. Locally, Perch fishermen continue to benefit from the late ice. Not every lake has good ice conditions, but there are enough of them to provide more than ample opportunity for anyone who's willing to do a modest amount of scouting. ATV's remain the best way of moving around, but now that we've more fresh snow, snowmobiles can still be used too.
Crappies have been aggressive lately too, especially for ice fishermen on the border. Rainy Lake has been in the news a lot lately. In fact, there's a report from just yesterday included in Greg Clusiau's Fishing Report (read below).
In the Deer River area, Crappies are aggressive too and all of the "popular lakes" are producing action. Throughout the area, there are tons of small fish being caught on virually every good Crappie lake. So be prepared to do some sorting, but better size fish have become more active too and persistence will pay off.


(4/15) On The Iron Range, From Greg Clusiau; "My good buddies from across the border in Ft. Frances were knocking the daylights out of the BIG crappies on Rainy Lake. I had no fishing partner on this day and didn't want to make the trip alone. However, after looking over their Facebook reports I " ... >> Read Greg's Full Report .

Fishing Report, April 14, 2013, Jeff Sundin - Good Morning! Thank you to everyone who always works so hard to make the Naswauk Home and Sport Show a great place to visit. As usual, Tammie Sumner and all of the folks in Nashwauk were welcoming in every way.
Thanks also to the anglers who dropped in to see my seminar on Cold Water Walleye Fishing. It's rewarding to know that the time organizing and producing the material was well spent. Any time that I can speak to a group of fishermen who are engaged, trying to learn more about the sport, well it makes for a good day.
For me, yesterday's appearance wrapped up the seminar season. That is unless I get a couple of last minute calls to slip in another event or two before the Minnesota Fishing Opener.
The seminar focused on strategies for locating and catching early season Walleye, especially when the season is really early, like it's gonna be this year. I know that your fishing club or organization might be planning an event soon and if you are, give me a call about coming out to do this seminar for you.
ICE Fishing news from around the Itasca area was generally good on Saturday. Without giving away too many secrets, there was one father-son team that went out yesterday morning and returned home by early afternoon with a limit of nice Sunfish. The duo was fishing in the Grand Rapids area, using ice jigs tipped with Wax Worms.
On the Rainy River, Fishing Reports continue to reflect the hit and miss nature of this years season. On the same day, anglers fishing in the same area with same baits will report wildly differing results. My buddy Matt Mattson was up there on Friday and Saturday. He and his group reported that their experience was a struggle. There's always a highlight reel though and this time, their 10 year angler gave the group a few fishing lessons. When I was a kid, catching the most fish was always a really big deal and I'll bet that kid is gonna tell the story a whole bunch.
Meanwhile, further down stream; Anglers who are fishing closest to the ice pack are reporting the best action. There have been several groups turning in reports ot 50+ fishing trips, even as high as 80 fish on some outings.
The anglers fishing the ice pack are literally keeping their boats within the floating ice chunks as they break away. Some are actually taking a pro-active approach and running their boats onto the ice to break off their own chunks.
Lighter than average jigs have been the rule of thumb all season long. When we were there, 1/4 ounce Lindy Jigs were the heaviest we ever needed. Some anglers are using 3/8 ounce, but none are going heavier than that.


(4/14) New York Mills, MN – "Contingency—the term implies a possibility, a chance. But the truth is, from the earliest walleye tournaments over 30 years ago to today's progressive contests, the possibility of a Lund angler taking the top check is better described as a "likelihood," even a near certainty.
That's because throughout the history of competitive walleye wars, famous Lund boats, such as its flagship Pro-V, have been captained by successful tournament anglers. You know that " ... Read Full Story >> Lund Boats Tournament Bonus .


(4/14) From the Lake Winnie Region, Nik Dimich says; "The mid (like Pokegama) and smaller size lakes will be the better option for "getting out," especially if you are willing to walk. To access these lakes without overworking yourself, look for lakes with fishing spots close to the landings. This will be most certainly true for panfish. Crappies, bluegills and perch come closer to shore structure and are shallower this time of year. Just be sure to wear waterproof boots and ..." >> Lake Winnie Region Fishing Report .

Fishing Report, April 13, 2013, Jeff Sundin - Right now, I'm making my way toward the door, heading over to Nashwauk for my Seminar today. Something tells me that we're gonna be talking about Walleye Fishing in Cold Water! Luckily, Cold Water is my specialty!
If you're in the neighborhood, swing by and sit in. Click for details >> Nashwauk Home and Sport Show .


(4/13) From the Rainy River, I just happened to be on hand for the recording of the first Fish Ed show of the new season. If you're wondering how we caught those Walleyes on the river just a few days ago, then you're in luck because Jon Thelen has it all dialed in. View this episode now and use the information on the river this weekend. Click to watch >> Fish Ed, Big Walleyes on the Rainy River .
(4/13) An inbound ice fishing report from Grant Prokop and his fishing buddies said that they started their ice fishing trip on Leech Lake where the battle with slush was enough to force them off of the ice. A move to Bowstring Lake yielded similar results so they moved again, this time to Round Lake. The third time was a charm and Grant said that it didn't take long to find some active Perch. The fish were located in 6 to 12 feet of water along the lakes main breakline.
So you're thinking that all sounds well and good, but I'm waiting for better weather. Okay Then, you can come pay me a visit at the Sport Show tomorrow in Nashwauk, where the heat will be on and the smiles will be flowing freely!

Fishing Report, April 12, 2013, Jeff Sundin - Another wintery day in the Northland and for me ... well let's just say that I'm lucky to have a lot of work to do inside!
In spite of the crummy weather, the world of fishing is far from dormant; Knowing that the season is about to close, Walleye fishermen were still heading for the Rainy River on Thursday, so were the Pike fishermen who planned to fish the ice on Lake of the woods. Closer to home, Deer River area Ice fishermen are still lingering too and the ice conditions remain favorable for the weekend. The weather may not be perfect, but if the spirit moves you, drilling one last set of holes could easily be in your future this weekend.


(4/12) Was on the Rainy River too and found that the fish were active, at least after some tweaking. Nik said; "The best bite we had came in the middle of the afternoon. Our presentation worked great after we gave it a little fine-tuning. Our jigging technique had to be just right. Jigging aggressively wasn't working, so after trying different things we found that the most effective presentation was a "Lift, Drop and Drag" technique. The feeding zone was right on or just slightly above bottom. The walleyes were ... Click and Read >> Nik's Full Fishing Report .

Fishing Report, April 11, 2013, Jeff Sundin - Don't get too far away from the report that I posted yesterday, because that information is still up to date. The best news of this day is that the weather has given us a break, at least so far. Virtually all of the rain and snow that struck the Twin Cities area yesterday, has missed us.
It doesn't look like we're in for too much snow today either, but the windy conditions could give most anglers pause. If you're heading out onto the ice today, dress like it's winter and be careful!


This seems like as good a time as any to remind you that this Saturday, April 13th, I'll be doing a Walleye Fishing Seminar at the Nashwauk Home and Sport Show. Click here for complete show hours and seminar schedule >> Nashwauk Home and Sport Show 2013 .


(4/11) The mid and smaller size lakes will be the better option for "getting out," especially if you are willing to walk because walking is still the best way on and off the lake. To access these lakes without overworking yourself, look for smaller lakes with fishing spots closer to the landings. This is especially true for panfish. Just be sure to wear waterproof boots and ice cleats. By hoofing it into lakes, you'll spend more time fishing and less time getting stuck.
On Pokegama Lake out of the Tioga landing, there were five ... Click and Read >> Nik's Full Fishing Report .


(4/11) Hey Just in case you fish down South, or maybe if you're packing your rig for a spring fishing trip down South. Guess what? It just got a lot easier to find your way around on mid-South and Southeastern US Lakes.
LakeMaster® has released the SouthEast Edition, version 1 digital map chart for FRESHWATER lakes in Florida, Georgia, Alabama, Mississippi, Tennessee, and Kentucky.
All new 2013 LakeMaster- Humminbird® compatible SD map cards are loaded with high definition and enhanced contour data and now feature "Follow the Contour" in compatible i-Pilot® Link™ systems. Set your Minn-Kota® trolling motor to follow on or offset from any Lakemaster contour. Now you can focus more on fishing than ever before. Learn more here >> Lakemaster Southeast Version 1 .


(4/11) An email from Dave Beyer; Q) "You have a picture on the website of fish on your Humminbird. I just bought a new 596 last year and can't get images like that. Could you tell me what you have your settings at to mark fish like that? Thanks for any info. Love reading your reports.
A) Dave, Using your 596, you can count on seeing images just like the ones you see in this report because the screen resolution of your unit is the same as it is on my larger unit.
For me, tuning in so that I can see fish is a fairly simple process because I've become accustomed to the controls, but getting used to your settings does take a bit of experimentation.
Knowing that your boat is likely to be rigged differently than mine, these suggestions will get you started, but be sure to do your own "tweaking" until you get the desired results.
I am assuming that the transducer has been properly installed and that it is positioned reasonably level to the water line. If there's any reason to suspect that it's not, start by re-positioning it.
For me, the first move I make is to press the menu button, enter the "Sonar" menu and take the unit out of "Auto Mode". I prefer to make my own settings, beginning with the sensitivity, followed by the lower depth range. To get the sensitivity dialed in, I find a spot where I know what the bottom content is like. An excellent starting spot if over a sand bottom in a depth that's similar to where I spend most of my time fishing. I know that most of my spring fishing will be in depths of less than 20 feet, so I'll start with my lower depth range set at 20 feet.
Now let's just say that I'm over a sandy bottom in 15 feet of water. I'll turn the sensitivity down until my bottom reading becomes broken or appears to be a weak signal return. Now turn it back up until you get a robust image of the bottom, but without a lot of screen clutter. From now on, you'll know what the sand bottom looks like on your Humminbird and a soft bottom will return a weaker signal that lacks definition or sometimes even refuses to give depth readins at higher speeds. Harder bottom areas like rocks will return a stronger, more robost signal with lots of color.
Once you tweak the sensitivity, good size fish, the kind worth stopping for, will appear on the screen as thicker vertical images, showing some solid color in the center. The taller the image and the more intense the color, the larger the fish.
A longer image (like the ones you see on the sreen to the right) simply means that the fish remained under your transducer for a longer period of time. In my example, we can still see that they are good size fish because of the solid yellow color in the center. In fact, one of the fish pictures that accompany that report is very likely to be one of the marks you see on that screen.
Another trick is to use the SwitchFire mode. When I want to see a lot more detail, like schools of baitfish or even evidence of an insect hatch, I'll swith the unit into "Max Mode". This setting will show me a lot more detail, but may maike spotting individual fish a little more tricky. Whenver I want to see fish and nothing but the fish, I'll switch into the "Clear Mode" and that takes out a lot of the clutter caused by bugs, weeds, air bubbles and baitfish. If I need to, I can turn the sensitivity up a bit to make the fish show up better.
Okay, that's the quick answer, but know that we could go on for a much longer time. Never be afraid to experiment with your settings and keep fine tuning until you feel comfortable with the appearance of your screen images.
Here's another helpful tool, check the Humminbird Website for a video tutorial of the SwitchFire system .


(4/11) From the Minneapolis Star and Tribune; "A major fish poaching scheme involving the buying and selling of hundreds of thousands of dollars' worth of walleyes netted from some of northern Minnesota's most popular lakes has been busted, authorities said Wednesday.
Ten men from northern Minnesota have been indicted for allegedly netting walleyes and other fish from lakes on the Red Lake and Leech Lake Indian reservations and selling them in violation of federal, state and tribal law. >> Link to News About Illegal Walleye Netting .

Fishing Report, April 10, 2013, Jeff Sundin - Whether you're an ice fisherman or a river rat, the news from Baudette, MN should pique your interest. There are nearly an equal number of anglers fishing on the ice for late season Pike and Walleye as there are on the river fishing for Walleye and Sturgeon.
Depending on your style, you could choose to close out the "Big Game" season this weekend in an ice shelter or a boat and catch fish either way.
For ice fishermen, a report from River Bend Resort on Monday was that the plowed roads onto Lake of the Woods continue to be maintained by Adrians Resort and that ice conditions remain good. ATV and snowmobile travel would be good choices too and with all of the permanent shelters long gone from the lake, travel conditions are better than they were when all of the bomber traffic was on the lake.
Walleye and Pike are gathering at the gap, staging before heading into the river and Ice fishing action is "steady".
On the Rainy River frosty conditions during the morning have encouraged Walleyes to act a lot like teenagers. Don't expect them to roll out of bed much earlier than about 11:00 AM. Once they get moving though, their appetites begin to build and by mid-afternoon and even if it's not at it's full potential, fishing action shapes up fairly well. For me, the best game plan is to get a good rest, have a nice breakfast roll on to the river somewhere around 10 AM.
The surface temperatures actually dropped during our stay. On Monday afternoon we saw temps in the 38.6 to 39 degree range, but by Tuesday afternoon, 37.5 to 38 degrees was the warmest we found. There is virtually no runoff from tributaries which remain frozen, the ice sitting two feet or more above the water level of the river. Without a major heatwave to cause sudden melting, current conditions should be favorable through the weekend.
Our fishing on Monday and Tuesday was what I'd call steady. Lacking the current speed and warmer temperatures that generate a mass movement of fish, the Walleye are trickling into the river in small groups. In fact, it looked to me like the fish that we caught were a 50/50 mix of "River Fish" vs. "Lake Fish". Some of them bright and silvery, fresh from the lake, others sporting the pale Yellow color of resident river fish.
Walleyes. In cold, clear water, seemed to be moving away from the boat as we passed over them. The Walleyes that showed up on the Humminbird mounted at the bow, rarely appeared on the unit at the back of the boat. By pitching our lures away from the boat, we were able to trigger more strikes and we think that it was a key point to rememebr. 1/4 ounce Lindy Jigs tipped with good size Rainbows and fished with a steady "Lift-Drop" retrieve triggered fish and after that, it was just a matter of time before we were rewarded for the effort.
Conditions on tributaries to The Rainy River remain stable. Both, the Littlefork and Bigfork Rivers remain 95% ice covered. Grey spots are begining to appear, especially further South on the Bigfork, but it looks like neither of them will break loose before the Walleye season ends after April 14th.
That eases some concerns about flooding, a condition that causes a lot more trouble than just slow fishing days! In other words, cold temperatures and a slow melt down really are a Silver lining in the story.


(4/10) From the Deer River area, I got an email from Jeff Andres who was in the area for some ice fishing last weekend. In his own words; "I appreciated your thoughts on the lake conditions. We made it up to fish on Friday afternoon and Saturday. We did pretty good on Friday with some nice perch and a few sunnies and crappies. Had a little issue with slush and snow off the south access of Bowstring late in the day with the sun that was out. (We) Broke thru the snow/ice crust while walking hole to hole. Nothing we couldn't deal with. Main lake was 20% snow free and easy to get around on sleds. 4 wheelers did ok, too, but they did have a little trouble where there was more snow. Saturday was almost a bust with catching--nobody wanted to cooperate. Fished that afternoon on Winnie and that was slow, too. I'd guess the big bite won't be until this weekend or more likely the one following. Everywhere we drilled we had the water pocket under the crust. One fellow went out of the north access on Bowstring with his pickup and made it about a block before he had to abandon his rig.
By the way, when you do finally make your way up to the Rainy River, you'll want to know more about where to find Walleye under a variety of conditions. Where do they go when the current is slow vs fast? Get some quick tips right now by watching these videos that we made on the Rainy River last spring >> Look over that way! >>>>
Another warm period, due to arrive tomorrow will begin heating up the shoreline again and it's possible that the county could use that as an opportunity to plow out one of the landings. Conditions are changing fast up there and I wouldn't be surprised by an announcement at almost any time. Stay tuned throughout the day.

Fishing Report, April 9, 2013, Jeff Sundin - An early start this morning is gonna delay the update until late tonight, but don't worry, you can count on a full report as soon as I'm back behing the computer.
One thing I can tell you, the sun isn't even up and I can already tell that it is A Beautiful Day!!
At River Bend Resort, Paul said visitors to Lake of the Woods are split 50/50 between ice fishermen and river fishermen. Adrian's Resort continues to maintain their plowed roads and angers are driving trucks to the Walleye and Pike! If your gear is ready, the fish are hungry and waiting.

Fishing Report, April 8, 2013, Jeff Sundin - A fresh window of opportunity brings renewed enthushiasm for river fishermen.
Most of the snow is behind us now and temperatures are just warm enough to melt it away. That's causing slightly rising water levels and an uptick in the current flow. The fish are responding by advancing upstream toward spawning areas.
From the Rainy River, a note of encouragement came from reports at the Frontier Landing where the ramp is now clear enough to allow larger boats access to the river. More good news is that the Vidas landing is being used by anglers with "car-toppers" and boats small enough to push accross the ice. That takes some pressure off the landing at Birchdale and improves the odds of launching a boat within a reasonable time.
Surface temperatures remain cold, hovering around 37 degrees, well below the magic spawning temperatures. That's why anglers on the Rainy continue to catch larger female fish.
On Sunday, Matt Mattson shared a report from the Rainy saying; "They were fishing by the frontier landing and caught about 50 fish. There was one really big walleye that got away. The crew arrived at about 8:00 AM and no trouble getting on river, but they said that it was a little busy getting off. He also said anything with a silver spinner worked great."
With only a week left before the Walleye season closes, it's possible that conditions will remain favorable for fishing right up until the last hour. I'm going to get the story, first hand in just a few hours!


(4/8) In his own words; "On the Brule River this weekend I noticed more flow and water since fishing there last Wednesday. The belated spring run off is causing the water to rise and with the rising water the ice ridges on the edge of the river are thawing and starting to break away progressively from the shoreline. Places that were fishable on Wednesday have fell into the river or broken down partially moving fisherman to standing water. The rising water and spring run off water makes trout ... Click and Read >> Nik's Full Fishing Report .


(4/8) On The Iron Range, From Greg Clusiau; "The ice conditions were excellent, with melted-down snow and slush making for easy travel and there was plenty of ice to play on, at least 24". However, every once in a while, if a hole was drilled a little too close to a "wet-looking area", you'd run into some "layered" ice and water, making for some tough drilling. Keeping your eyes open and " ... >> Read Greg's Full Report .

Fishing Report, April 7, 2013, Jeff Sundin - A snowy day in the Deer River area gave me a perfect excuse to hunker down and take care of business on Saturday. After I caught up on some paperwork, I ran to town and picked up one last bag of gizmos and gadgets for rigging the boat. Back home, back to work at the computer and hardly a thought about fishing slipped into my head.
By this time tomorrow, I'll be heading back up to the Rainy River, hoping for a better position in the waiting line than the last time.


(4/7) Q) Whos rods, brands and models, and reels will you using in your boat for this seasons panfishing, walleye, and northern fishing? Or what do you recommend for panfishing, walleye, and northern fishing? I am courious as to what you use today. - "Your website is wonderful and the daily logs are a joy to read. PLEASE keep up the great effort!" - Eric Koeppen
A) Eric, when it comes to choosing rods and reels today, I am just like most anglers; I shop around for the most useful rods and then try to find the best price. Just lately, I've found several that I really like.
Last year for panfish I used a rod from St. Croix's panfish lineup, the PFS70LXF. It's a seven foot light action rod with an extra fast tip, that worked out great for Crappie fishing and doubled well as a Walleye rod in shallow water situations where 1/16 ounce jigs were required.
Another long, ultra light rod that I really like is the GTS SWS 702-1 by TFO Rods. The Gary Loomis designed rod is tecnically not an ultra light, but with the line rating of 4-8 pound test and a lure weight rating of 1/16 to 1/4 ounce, it is extremely versatile. This one goes into my personal list of top ten favorites, maybe even in the #2 position, behind Gary's original GLX SR 842. At less than half the price though, the TFO is a hard act to follow.
There are some great, affordable rods for combination Walleye and Bass fishing during mid-summer. The Diawa DXW721MXS and the DXWMXLXS feature a well thought out handle design, real cork in just the right spot, Fuji Guides, IM7 Graphite and a 5 year warranty, all for about $90. These rods are a good all around choice for fishing jig and minnow, jig worms and shallow water Lindy Rigging.
TFO's Signature Series Rods have started gathering in the corner of my kitchen. In fact there's quite a collection building up and at $100, I know that you can find one of these that you'll like. They have a lineup of spinning rods that allow you to cover everything from Perch to Muskies. For me, a good all around choice is the TFG SSS 662-1 a 6' 6" rod that handles lures from 1/16 to 1/4 ounce and line weights of 4 to 8 pounds. There are other versatile models in this lineup too, so be sure to tell your retailer that you want to compare a few of them to match your own preferences.
For Bass and Pike in heavier cover, or at times when I need to use heavier weights, I switch to casting rods. I like rods in the 7 foot range that I can also use for trolling crankbaits and spinners in late summer. I know that a lot of guys use longer rods for trolling, but I don't troll as much as they do and I'm looking for a balanced medium action rod that allows me to cheat on the trolling, but still allows me enough power to do some casting with swim baits and fishing texas rigged plastic worms etc... If I need anything heavier than that, I pull out the Musky rods.
A couple of years ago, I stumbled into a deal on some Jason Mitchell rods that I really like. Their JMC70MLF is a medium light rod that allows us to cast the baits that I want to cast, but still has a light enough tip section for trolling crankbaits.
More rods from the TFO lineup that I like are their Signature Series Casting models TFG SSC 764-1 and the TFG SSC 763-1 these are both 7'6" rods that offer enough versatility for a wide range of baits and situations. For trolling, the 763 has a lighter tip section, for casting heavier baits, the 664 is a little heavier and gives you extra power to get out of cover.
Okay, talking about fishing reels is a little trickier for me. I've found that lately, this can turn out to be a real crap shoot, espeically when you find a model that you really like, go back for more and then discover that it's been discontinued or even worse, cheapened in some way. I have a list of "favorite reels" as long as my arm, the only problem is that I can't get any of them any more.
One thing that I've discovered, for me and my situation, buying a really expensive reel doesn't usually solve anything. Reels that get passed out to my customers are always going to get used really hard and they all break, even the really expensive ones.
What I'm saying is that, I've overlooked some really wonderful reels, only because of their price tags. If I was buying something just for myself or someone special like the Admiral, then I'd look at a wider array of offerings.
Just recently, for spinning reels, I've tended to gravitate toward the Diawa and Pfluger lineups. Both of these manufacturers have offerings in the $50 to $80 range that stand up well to the abuse that they get in my boat. I usually pick up a couple of each brand at random intervals throughout the season.
This winter, I stocked up a little heavier on the Pflugers because I found them at an attractive price, but don't let that sway you away from the Diawas, I've had several of them wind up on my top ten list too!
Casting reels are different, especially the heavier weight ones. For me, ABU Garcias are the hands down winners in this category. I have an assortment, all with different model numbers and model names, but they are generally all really good reels. I'd rattle off some numbers, but I've had most of them so long that they may not even be available. Besides we can always revisit this subject later, when other ideas pop into my mind.
By the way, Whenever you're looking at fishing rods or reels, don't rule out Cabelas branded gear either. Many of them are manufactured by the some companies we've talked about here, but have the Cabelas name printed on them. The only reason that I don't have more Cabelas branded gear is that I never know when I'll need one and it isn't really too handy for me to drive down to their stores. I'm too fussy about rods to order them by mail, so I tend to shop more locally instead.


(4/6) It's fun to hear the same story from two points of view and Niks story starts with; "" ... Read >> Lake Full Winnie Region Fishing Report here .
On the ice at Lake Winnibigoshish and Cutfoot Sioux; Brian Castellano managed a couple of ice fishing trips this week and wrote; "I managed to get out twice this week. On Tuesday afternoon, I headed up to Big Cutfoot Sioux in search of crappies. There was 5" of solid crust on top, 5" of slush, and about 24" of ice out there. While I ended up walking out, I could have ATV'd out with no problem what so ever, if I would have brought the ATV.
The crappies were snappin' but the majority of them were too small for the bucket. I also caught a few tulibees and a 21" walleye. I was fishing out deep, 22-27'.
This morning (Thursday), I went up to perch fish on Bowens Flats on Winnie. Ice conditions were similar to Cutfoot. Again, it was a gangbusters bite and once again, most of them were too small. However, I did manage to keep 10 decent ones, in the 9-10" range. We fished in 7-8' of water. Northland Forage Minnow jigging spoons were working so well, I didn't even need bait. I was able to ATV out with no problems, but on the trip back in, around 1:30, the snow had softened up enough where the last 75 yds to shore was a struggle. - Brian
(4-6) On the Rainy River, there are Walleyes to be caught, if you can get at 'em. On Friday, gettin' at 'em was the problem for us. When we first laid eyes on the Rainy River, it was still frozen. Nothing but ice all the way from Baudette to Clementson. But continuing East on Hwy. 11, the river started looking really good a few miles before the Frontier landing. Open water had advanced a few miles downstream of the ramp and there were already a string of boats fishing that popular stretch.
By the time we got to the Frontier Landing, we spotted what we thought was good news. There were fishermen with "big rigs" and they were launching their boats at Frontier. We thought that would mean getting onto the river was gonna be eaiser and faster. That is until we turned into the landing where we were greeted by a Koochiching County employee. He looked at the big Alaskan on the trailer behind us and said; "I know that you boys can get that thing in here, but you're not gonna get it out, not here anyway".
What the others were doing to gain access was to back their trailers accross the ice and carelully stop just at the edge. Rolling their boats off of the trailer and letting them drop into the water. That way they could get on the river and start fishing right away. Knowing that loading their boats back onto the trailers would be impossible, the game plan for guys with heavy boats was to fish all day, then drop a driver off at Frontier who would then meet them upstream at Birchdale. Hmmm.... sounded complicated to us, looked a little tricky too, especially knowing that's Chris' big diesel truck wighed nearly double what most of the other trucks we saw on that bank of ice.
We decided that a better plan for us was to head over to Birchdale and wait out the line of traffic. That idea didn't last long though; We talked to one fisherman who took position in line at 7:30 AM and had just gotten his boat on the water ..... It was 10:17 AM. The three of us decided that we'd rather go explore un-charted territory, even go home instead of spending 2-1/2 hours at each end of thae waiting line. We backed up the rig, got back onto Eastbound 11 and headed upstream to Pelland.
When we got there, the ramp was open and the crowd was light. Even if we never caught a fish, we were ahead of the game, because at least we were on the water instead of waiting in line.
We'd been warned ahead of time that there weren't many fish along that stretch of river and the warnings turned out to be right. But even on the slowest fishing day, there are always some highlights. This time the highlight was a Musky that came out of nowhere and grabbed Nik's jig and minnow. It wasn't a giant, but it was difinitely a nice catch and especially nice for someone who hadn't boated a Musky before.
The day wasn't too productive, a couple of Walleyes in the boat and a couple of near misses was the best we could scrounge up. But even along the drive home, we all agreed that the outcome was worth the effort and like always, we left the river knowing more than we did when we arrived.

Fishing Report, April 5, 2013, Jeff Sundin - Anglers Are Cashing In On The Bonus Round! I happened to be looking for a picture to go with our facebook post this morning when I realized; It was exactly one year ago today that I, Jonny Petrowske and Billy Rosner fished on the Rainy River together. That was one heck of a day for all three of us and I'm not sure that it can be topped, but I think we're all gonna try.
It's completely coincidence, but I'm heading up there again this morning, one year later and this time with a different crew, but with no lower expectations. I am more than hopeful that lightning does sometimes strike twice. If it does, you're less than 24 hours away from finding out!
On The Rainy River; Current flow continues to be manageable and it appears that this weekend will likely be the peak fishing time of this springs, short but sweet Walleye window. That is, at least for fishing.
All of the launch ramps are still covered with ice except for the ramp at Birchdale, which means that it's gonna be crowded. Temperatures just above freezing won't encourage too much melting, so don't expect a lot of changes. Without intervention, the Frontier Landing probably isn't gonna open up today either because cold, Grey skies are in the forecast.
We will definitely be snapping some photos today. So good news or bad, you'll get a healthy dose of the scenery from the river tomorrow mornig.


(4/5) On Thursday, Nik Dimich was out on the ice, checking conditions Ice conditions and they are still good, at least for the upcoming weekend. Saying that the Perch action has been heating up, Niks advice is to; "Check out shallow water from 12'-18' and maybe even a touch shallower. Look for rock structure and/or soft slopes in 20' were bottom bug hatches might be occurring. Try using a tad larger presentation with minnow heads to catch the more aggressive jumbo perch and then downsize you presentation if needed. Crappies and bluegills will also be found on these "buggy" soft slopes in 20', sliding at times into the steeper slopes in 30 feet. Trust your electronics. Look for suspended fish deep and" ... Read >> Lake Full Winnie Region Fishing Report here .

Fishing Report, April 4, 2013, Jeff Sundin - Anglers Are Cashing In On The Bonus Round! I think that I've been a little too tentative about spreading good news lately. Hinting that maybe you should make some plans for one more late season ice fishing rally, or heading toward the river for some open water Walleye Fishing. Working around the edges of the good news about improving conditions doesn't seem to be sinking in. Let's try it this way; "Game On! Get up off of the sofa and Go Fishing!" .
Ice conditions are improving daily, the fish are biting and traffic is light. Chances are good that you'll find a nice spot to cash in on late season Perch and Panfish and you'll have the spot almost all to yourself.
Rainy River Walleye Fishermen have already figured out that right now, conditions on the river are likely the best that they'll ever be this spring. It's crowded at the Birchdale Ramp because it's still the only place where anglers can launch a larger boat. The landing at Frontier is getting closer, but for now the only people who can use it are the ones with small boats that can be pushed accross the ice.
With such a short window of opportunity, putting up with crowded launch ramps is just part of the overall experience. In my view, everyone who visits the Rainy River during the spring, understands that we're in it together and most of the time, they really work smoothly with each other.
The reason they put up with the traffic is that fishing is usually good enough to make the trip worthwhile and so far, the action this spring is no exception. Most everyone has been catching fish, some more than others, but everyone is having fun.
Typical of the early portion of the season, the first wave of "pre-spawn" female Walleyes are on the move now and many anglers are catching fish in the mid 20 inch range. Right now, any minute, of any day, could be the chance to land the catch of a lifetime.


(4/4) I have been following your reports and wondering if you could give me a little more input on travel. We are headed up there on Friday and will be staying at the Hill near Round Lake. We will be fishing Round and Bowstring and would rather bring 4-wheelers as opposed to snowmobiles. Is that possible? Is there any chance of truck travel on either of these lakes? Any input would be greatly appreciated! - Todd Williamson
A) Todd, Some area lakes are already free of snow. Even if there is still some snow cover on these lakes, I think that snowmobiles should be left at home now. There are more ice fishermen using ATV's on a variety of area lakes right now. Round and Bowstring might both be partially snow covered, but the snow is melting fast, so I'd surely bring them along. Depending on how much melting has already occurred on these two lakes, it may still be necessary to walk to your fishing spots, but there's an equally good chance that ATV's will perform great this weekend.
On Wednesday evening, Bill Powell at Fred's Bait in Deer river told me that he's been seeing a healthy flow of ice fishing traffic. The anglers that he's talked to are reporting that travel conditions are improving daily. Most of them are getting around easily on area lakes.
Sandy Leino at Leinos Riverside Resort on Round Lake gave me a second hand report about an ice fisherman travelling by truck on Round lake yesterday. Now truck travel might be possible, I'm not endorsing the idea though and I'd urge you to exercise caution before you head out there. My usual rule of thumb is that I like to be the 12th set of tracks heading onto the lake in my truck.
April 4, 2013 Bill and Gail Heig are smelling spring in the air too and they've begun ramping up for the 2013 Walleye Fishing opener on Lake Winnie and Cutfoot Sioux.
Fishing information about Walleye, Northern Pike, Panfish and Perch will be covered again during the open water fishing season at the Bowen Lodge Fishing Report Page . But, anxious for some early news about the forecast for the 2013 fishing opener, Bill had a chat with the DNR's Lake Winnie specialist on Wednesday and got great news.
Lake Winnie is holding a record number of Walleye right now. Today, they're ranging in size from 13 to 14 inches and we've been told to expect a lot of fish in this size range, especially early in the season. That's great news because there's a slight gap in the size structure of fish between 16 to 17 inches. So those fish are going to >> Read Full Lake Winnie Fishing Report .

Fishing Report, April 3, 2013, Jeff Sundin - Hurry Up And Wait! In case you missed the announcement on the Facebook Fishing Reports Page yesterday, the Koochiching County Road Crew opened up the ramp at Birchdale yesterday.
With a window of only 12 fishing days to work with, I'd be willing to bet that there are already 100 rigs on their way to fish the Rainy River today. I wish that I was one of them and I will be soon, but not just yet.
Tributaries to the Rainy River are still ice-bound and the current flow in the main river channel is slow. The warm weather that's coming our way will get the spring thaw started again, but the except for traffic, the next few days will be an ideal time to fish Walleyes on the river.
Ice Fishing is still an option in the Deer River area too; Colder weather helped re-freeze wet areas on the ice and stabilized conditions should persist throughout the the day today. Travel by ATV is okay, especially on smaller lakes, but for best results, hoofing it to your fishing spot is still the smartest idea.
Numbers of anglers headeding for the ice are low, but the ones who fish, are being rewarded for their efforts. Crappie action has made a strong comeback and the Jumbo perch are going strong as well.
Typical spring presentations are working well. Fish are feeding their way toward shallower water, but insect hatches are a strong attraction. Many of the fish continue holding in areas where deep water meets mid-depth flats containing softer bottoms. Midge (Bloodworm) Larvae is a primary food source, especially for Perch, so pack baits that emulate that presentation.
For me, using tiny baits like Lindy's Toad or Bug, tipped with Red Eurolarvae is a killer presentation during this time of the season. WaxWorms are a great second choice and there are a number of artificial tails that will work on these tiny baits too. Just in case the Crappies are hungry for meat, I'd bring a few minnows, but don't over do it, grubs and small artificials should carry their weight really well right now.
Conditions could get wet again once the next heat wave rolls in, so if you have the time, get out there now while the gettin' is good.

Fishing Report, April 2, 2013, Jeff Sundin - A day of treading water. That was the scene around Deer river on Monday when outside temperatures hovered just at the freezing mark.
Rivers and areas of lakes where there's a current flow are continuing to open up, albeit slowly. Surface water on lakes froze and remained frozen throughout the day. Much of the snow cover on area lakes is either gone or concentrated in areas where it was the deepest. Ice fishermen should expect another chance to travel by ATV providing that they're willing to explore and find a lake where the access is in good condition.
I stopped at the South end of Ball Club Lake on Monday evening and found that the area was almost free of snow, walking conditions on the lake were okay, but very slippery. Find your cleats and have 'em handy.
On the Rainy River; The main channel continues to expand downstream and open water can now be seen from the Froniter Landing. So far, there are still no open accesses for large boats, only for vessels small enough to be pushed accross the 30 yards of shoreline ice.


(4/2) Crappies and Jumbo Perch Found their way into the creel for Nik and his ice fishing crew on Monday. Nik said that it might be short-lived, but for now, traveling conditions on area lakes are good. During the daytime, Jumbo Perch kept the crew busy, but by late afternoon, Crappies ... Read >> Nik's Lake Winnie Region Fishing Report .


(4/2) Had you given up on Ice Fishing For Crappies? Greg Clusiau almost did too! But luckily, Brainerd Area Fishing Guide, Jamie Dietman talked him into hitting the ice over the weekend and they were rewarded with ... >> read full story here .

Fishing Report, April 1, 2013, Jeff Sundin - Welcome to April and to the beginning of the open water season. I know, winter is holding on tight, trying to linger, but even when it looks like it's winning, it's losing.
We needed this cold snap just to slow down the melting. There's already so much water moving under the snow that even when it looks like frozen lakes are all we're ever gonna see, ice out continues working it's way toward the Northland. My prediction? Ice out will be a touch late, but not more than a week or so and we'll be looking at photos of spawning Walleyes somewhere between April 24th and 30th.
Bear in mind, all of that water has to be going somewhere. In my own yard, it's flowing under the deep snow, moving toward low spots and filling them up fast. On area lakes, much of the standing water is seeping into cracks and crevices in the ice. Saturated with water, the ice will turn dark soon after the remaining snow cover melts, bringing ice out back toward a typical date.
Reading ice fishing reports from the Bemidji area yesterday; Anglers who have been on the lakes are fishing smaller waters and are all hoofing it to their fishing spots. There just isn't a good vehicle for moving around in the slush. Die hard fishermen are paying their dues in order to find fish, but they are being rewarded for the effort. Crappies, Sunfish and Perch are moving shallower, toward spawning areas and typical spring patterns are emerging.
Perch are staging on mid-depth flats and on shallower, slow tapering shoreline drop off areas. Females are feeding aggressively in preparation for their spawning runs and can be found anyplace where food is abundant.
The holy grail of feeding locations for Perch are the soft bottom areas where Bloodworms are present.
In fresh water lakes, Bloodworms are the stringy looking, Red Larvae that you sometimes see lying on the ice just after you catch a Perch or Sunfish. They are the larvae of the Midge, a flying insect that looks like a lot like a Mosquito.
Typically found in deeper water where the bottom consists of softer Marl, the Midge Larvae can be found anywhere that has the correct bottom composition. When you discover the presence of Bloodworms, you have discovered a "Good Spot"!
Minnows will still attract plenty of Perch too, but these fish will be on the move and the action is likely to be spotty. Areas with low lying weed cover, rubble or clam beds will help hold minnows in the area and are good choices for early spring Perch.


(4/1) On Lake Winnibigoshish, Zach Dagel and his crew attempted to get onto the this Saturday. Zack reported that the meltdown is real, in fact it's too real! Slush and water hampered their efforts to travel on the lake and even their track-equipped Ranger became bogged down in the slush. Timing for a return visit depends entirely on getting cold temperatures that will re-freeze the saturated snow.


(4/1) On Lake of the Woods is still a viable option for Ice Fishermen too. Bill Powell reported 2 good fishing trips to the big lake this week. He said that conditions at Long Point are good and that he and Billy Maki found good fishing in areas where they could still drive the truck. A mixed bag of Walleye, Sauger and some bonus Tulibees kept them busy on Wednesday. On Friday, larger Walleye showed up in the area and they caught several fish over 20 inches long. Powell says that ice conditions are likely to remain good for vehicle traffic throughout the next week.


(4/1) On Lake of the Woods, Border View Lodge, Mike Kinsella wrote; "The permanent houses are off the lake! Thank you all for another great winter season at Border View Lodge! The staff enjoyed the season and all of the guests that make it such a wonderful place!
The change of season shows our ability to change colors like a chameleon. If it is winter we get, it is winter we stay. Until the spring actually starts we are still thinking ice fishing.
The ice is still in great shape! It appears that we will be able to ice fish until April 14th which at this time we plan to do unless the conditions change. The bite has been good. Without having our permanent houses we will be fishing outside with wind breaks. The close to Pine Island bite has improved and we are expecting a great bite to happen. Now that the snow is melting and we are getting current in the river it should get excellent!
Hot deals you ask! Take 20% off of our winter fishing packages to ice fish for Walleyes in April. Track vehicle transportation while fishing outside, no permanent houses. The guides will be able to take you to where the fish are biting!
Birchdale has open water that anglers have been pushing in small jon boats for the last few days. Open water fish has been doing well! As far as the river being open we may have to wait awhile longer. It is forecasted to stay below freezing most of this week. A betting person would say that we are at least two weeks away from having open water in front of our lodge. Each year is a little different some years it averages a mile a day, when other years it seems to all go at once. Only time will tell." - Starting 1-800-776-3474 Border View Lodge .


Friday's comments about the Rainy River piqued the interest of Dave Pruin who asked;
Q) "Jeff, I've got to try the Rainy! As for the response yesterday; Do you guys use mostly jigs? What size, color? Minnows or plastic? Most important how deep? How fast? You know what info can make a trip. Any info would be appreciated, the email is ... (edited) Thanks, Dave
A) Dave, We do use jigs most of the time and the weight is based on the current flow. Unlike fishing on the lake, river conditions are changing constantly and your abilitity to adapt is a key for producing consistent results. Typically, jig weights I use range from 1/4 ounce to 1/2 ounce, but it pays to have some larger and some smaller too. A strong current or a school of inactive fish could force you to use jigs weighing 3/4, 1 ounce or even heavier. Agressive, feeding fish on the shoreline may dicate using jigs as light as 1/16 ounce.
Last spring, I had a really lucky run using 1/4 ounce Fuzz E Grubs, Glow/Blue tipped with nice size Rainbow Chubs. Other colors produced fish too and so did other weights. My friend Jonny Petrowske had a 3/8 ounce Hot Pink/Chartreuse Lindy Jig that put lots of fish in the boat too! Other colors I like are Glow/Pink, White/Glow and the Orange/Green combo. Don't rule out dark colors, especially when the current flow is fast and the water becomes muddy.
Slipping against the current in the main river channel at .5 to 1.2 MPH is ideal for me, but there are times when fishing tight against the bank can be really productive too. I prefer not to anchor on the river, but there are also lots of folks who love that presentation. Anglers who specialize in anchoring find fingers, bumps or depressions in the bottom, anchor their boats in position to fish the current breaks caused by the structure and fish from a satationary position. While it might be somewhat time consuming, this method is very effective.
Live bait is always on my agenda, but I have a supply of soft plastics on hand too. A variety of minnows will work and my belief is that the size of your bait is more important than the specific species of minnow. This can change from day to day too, so I'll usually try to have a variety of sizes on hand to suit the daily preference of the fish. Rainbow Chubs, Large Fatheads, Golden Shiners, Spottail Shiners and Emerald Shiners are all good choices.
I have witnessed fantastic catches by anglers who were using soft plastics too. Artificials are especially effective when the males get into the shallow water, gravel areas when they begin spawning. Casting jigs tipped with large action tails like Money Minnows, twirl tails or other "swimming type baits" will trigger agressive strikes, sometimes within inches of the bank.
Fish are the hungriest during "pre-spawn", when temperatures are cold, let's say below the 42 - 44 degree range, when fish are actively feeding. After the large females begin to drop their eggs, they become much less agressive and the action will die off for a short time. Eventually, the smaller males will congregate in shallow areas, stretches of gravel, where they will continue to ligner and feed until well after the season closes.
Last year, on a three day trip to the Rainy River, we caught Walleyes using a slightly different presentation each day. Luckily, we happened to be recording and captured some helpful tips for fishing the river that you can watch today. Start with my favorite one where I mess up and lose my fish. After that, watch 'em all and you'll see that that there a lot of twists, but nothing you can learn in a very short time .
Remember, now that the action is heating up, "Like" the Facebook Fishing Reports Page and receive bonus updates throughout the day, during the whole fishing season. Hey! You can even post your own fish pictures!
1/25

Cutfoot Sioux and Little Cutfoot Sioux

mid-winter panfish action is good. According to Bob Mohrman at Cutfoot Sioux Inn, Crappie and Bluegill action has been reliable on both lakes and on Big Cutfoot, Walleyes are cooperting right now too. There are always some Perch mixed in too so anglers looking for a reliable opportunity to do some "mixed bag ice fishing" have a place to stay. You didn't know?

Cutfoot Sioux Inn is open for winter lodging

!
Fishing reports from March 2013 have been archived. >> View All Archived Reports :)!!>>:)!!
| | |
| --- | --- |
| Did you know that the Thursday Morning Program is available for a week after the air date? Yes, if you miss the live show, just click here and select the 6:00 hour on Thursday. Scroll in to about 6:20 AM and you're back in business! | |
---
"Jeff Sundin is a full time, professional fishing guide, outdoor writer and photographer. Jeff is available for for fishing seminars, fishing promotions and media events. Click here to read more fishing articles and fishing reports.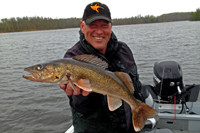 Bulrushes, especially when there's an adjacent point or sharp inside corner are prime small water habitat. Add a weed flat, a pile of rocks or a clam bed and this type of spot just keeps getting better.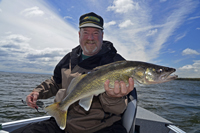 Larry Lashley (top) and Tim Fischbach (bottom) were here just in time to get in on the Leech Lake Walleye action that's been heating up. On Wednesday, we ushered out the clouds, welcomed in the sun and caught a boat load of Leech Lake Walleyes.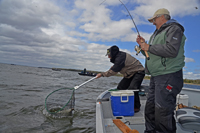 Hey! "Luckily, Rock Solid Footing helped provide the view from along the .... !! :)!! ">> Lucky Number May 24 1524951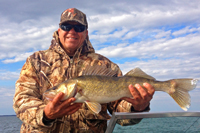 Courtesy Highbanks Resort: Bob Borkovetz, found out that Lake Winnie Walleyes are hitting in shallow water. Fishing in 4 to 10 feet with a jig and minnow produced this and many other 26 inch plus Walleyes this week.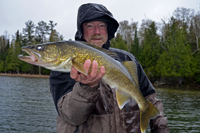 Hold the boat along the drop off and then cast or (pitch) the jig and minnow combinations toward the shallow cover. Allow the jig to fall toward bottom asd you hop, twitch or wiggle the jig back toward the boat.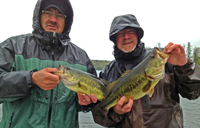 An unexpected run of Largemouth Bass interrupted our Crappie fishing. Two triples, and multiple doubles point to a "Pre-Spawn" feeding run.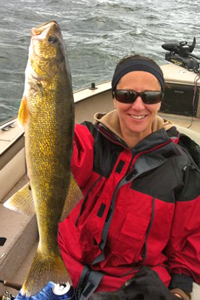 Courtesy Reed Ylitalo: Cutfoot, Winnie and Bowstring have produced reliable action. Best bet for action, jig and Rainbow Chub on the shallow breakline. Wings and Water Guide Service .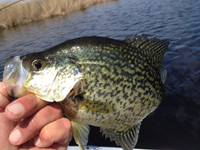 Spring Panfish on the Bite. Crappie and Bluegill alike, are finally frequenting the shorelines and willing to bite. Take advantage of this early spring phenomena. Read Report .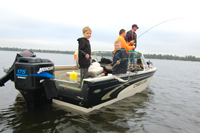 (5-18) A day with the boys on Upper Red Lake turned out to be a great idea. Shallow water Walleye action was as good as it gets.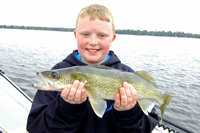 Above: Reese Wisehnack with a 21 Inch Walleye caught just minutes before Maddux Schrupp (Below) bagged the last "keeper Walleye" of the trip.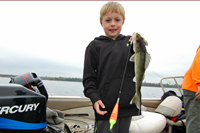 Maddux was fishing in about 6 feet of water using a Glow-Red Lindy Rattlin' Flyer under a Thill slip bobber. Oh by the way, did I remember to mention that Maddux caught the last keeper?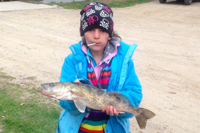 Photo Trails End Resort: A "sucker for fishing", Kiana Hachey age 10, shows off a nice Bowstring Lake Walleye. Just jig a little bit and catch one, it's easy.

Jon travels to Northern MN disclosing where and how to catch giant northern pike as they return from their spring spawning ritual in the backwaters.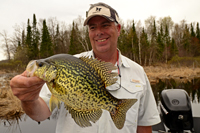 Crappies started moving toward shallow cover as the surface temperatures warmed into the high 50's. Mixed bag fishing with jig and minnow helped Mark Huelse bag 5 species of fish on Thursday.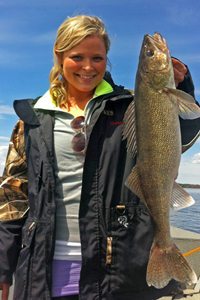 Photo Courtesy Nik Dimich: The gap from Cutfoot to Big Winnie is open and fish are moving through, back to the big pond. Sharae Richards told Nik where to go and he found some .... Read Full Report .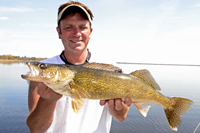 The first signs of Walleye heading back into the main lake. Cliff Hook tricked this one with a 1/16 ounce Lindy Jig tipped with a Rainbow.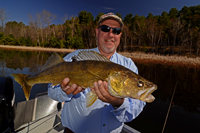 A steady flow of Walleye heading to and from spawing grounds has packed lots of fish into a small territory. Above; David Below; Mark and Matt caught all three of these fish on our first pass, at the first stop. The rest of the day was good, to say the least.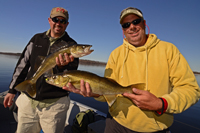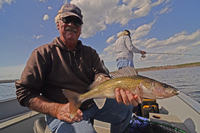 Protected "Slot-Fish" out numbered smaller smaller 'keepers" by a factor of 3 to 1. Most of the spawned out females were in the 19 to 22 inch range with an occasional larger one.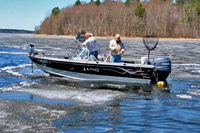 It wasn't an enormous hassle, but we did get pushed out of our best fishing spot when the breeze blew in the last traces of what used to be a sheet of ice. No doubt this ice will be gone when se get to the lake today.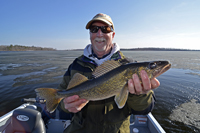 If fresh Walleye in the livewell wasn't enough good news; Then watching the thin, black ice breaking up and disappearing from Cutfoot Sioux was enough icing on the cake to declare the afternoon a complete success.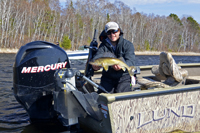 Comparing notes with Grant Prokop (5/13) who'd been fishing Cutfoot on Sunday. He observed that among his catch, there was a noticeable increase in numbers "spent" female fish overnight.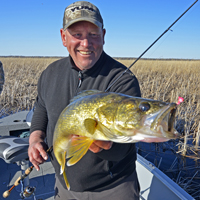 A handful of nice Walleye! Thanks to a late afternoon warm up that got the fish moving along a stretch of the river.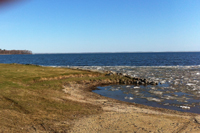 On Lake Winnibigoshish, the scene from Nodak Lodge looking West was all Blue on Sunday. Stong winds have the ice piled on on the East side, but West Winnie is wide open.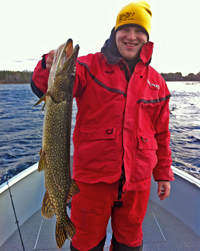 For Cody Sack, it was worth getting a little chill. Northern Pike on the river provided enough action to keep the trip interesting and respectable size fish provided lots of good "eating size fillets" for the trip home.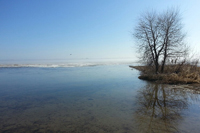 Photo Gus' Place Resort: (5/10) Taking the late ice out in stride, Gus says; "What we can do though, is announce the opening of our swimming beach for the most rugged of you." We expect to see open water late next week on Ball Club Lake.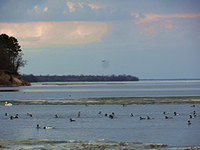 Photo Four Seasons Resort: Lake Winnibigoshish revealed! From the shoreline, the view now includes more water than ice. Joe Thompson says that their guests will definitely have open water to fish on Saturday.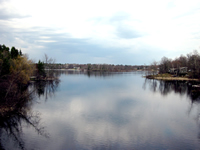 Nik Dimich thinks that the the Mississippi River and it's Chain of Lakes could be a good opening day option. Little Jay is almost clear across from the public access over to the channel between Pokegama and Big Jay. Read Full Report .

Photo Erin Charlton, Trails End Resort: This chunk of Bowstring Lake ice shows that looks are deceiving. Super Honycombed and weakend by weeks of saturation means that ice out could come quicker than we think on Bowstring. By the way, the photo is really cool too!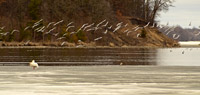 At Four Seasons Resort on the West side of Lake Winnie. The cabins are ready and the crew is heading in for the weekend. Joe Thompson and his fishing guests are ready for action.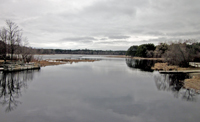 Photo Nik Dimich: The First River (5-5) at the Mosomo Landing opens a little more each day, but progress is slow. The Walleye Egg Harvest at Little Cutfoot will likely not stsart until after the fishing opener.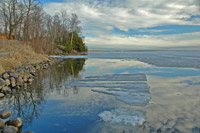 Very pretty, but still very icy. Leech Lake is still clinging stubbornly to winter. Frank Alianello at Birch Ridge Resort expects a quiet weekend. Frank says he's betting on ice out to occur during mid-weekm, the week after opener.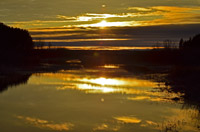 About that sunset, it was and I did. Someone mught want one, a really nice one. So just this once, click the image for a free, hig-res version. Go ahead, take it, it will make you smile!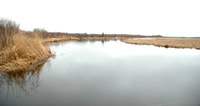 Bowstring River (5/5) Wide open, ice free and high, but not flooding. At the moment, the river dead ends at the lake where ice covers the bay.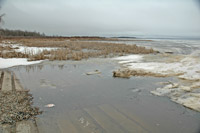 At Bowstring Lake's South landing (5/5), the ice is getting really old, really tired. Some wind could break this up in a hurry.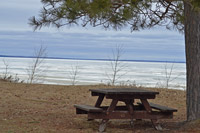 Lake Winnibigoshish along the West shore at Richard's TownsiteThere was a rim of open water close to the shoreline, but beyond that there was little evidence of open water.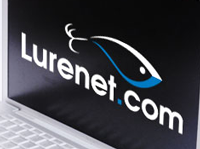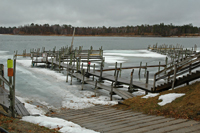 Photo Katie Sundin: At Northland Lodge, the boat landing is just a few feet from open water. In a day or two, anglers will have access to the "Dam Bay". Not a bad place to fish on openeing day.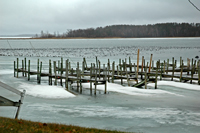 On Lake Winnibigoshish, Ducks continue to gather in large numbers. As the water opens, migrating flocks are making a bee-line for the next stop.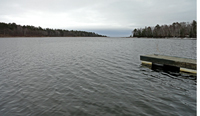 On the West side of lake Winnie (5-2), the docks at Four Seasons Resort overlook a wide open mississippi River. How far does the water extend? We're gonna have to get in a boat and go look!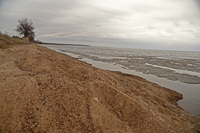 At Garrison (5-3), open water along the shoreline of Lake MilleLacs is a remider that it's spring somewhere!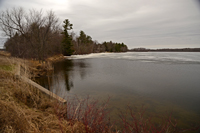 At Aitkin's Little Pine Lake (5-3), panfish will be heading for the shoreline in just a few days.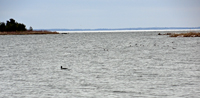 Joe Thompson, Four Seasons Resort says that the Mississippi River is a Mecca for waterfowl right now. He estimated over 100 Loons in this flock.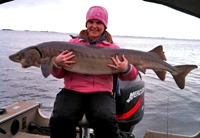 Courtesy Border View Lodge: The sturgeon bite is hot! Anchored in or near deep holes of the river bottom using 5/0 circle or octopus hooks tipped with a gob of crawlers is working best.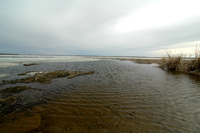 At the ramp on White Oak Lake, open water surrounds the lake and ice on the lakes mid-section is getting dark. Ice out will be soon on this small lake.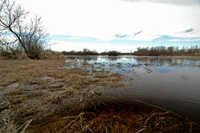 Somewhere under that water is the Deer River. It won't be long before it returns to normal, but for now, the sleepy little river gets to play with the big kids.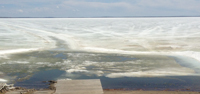 At Trails End Resort on Bowstring Lake, conditions are beginning to turn in the right direction. Slushy ice and small open spots near the ramps remind us that there's water under there somewhere.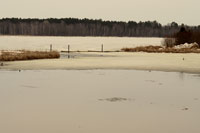 At Little Cutfoot, The DNR's Walleye Egg Harvest operation isn't set up, but with open water advancing toward the gap, it won't be long.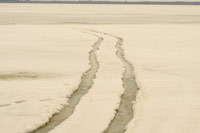 At Bowens Flat on Lake Winnie, ice still covers the bay, but it's getting sloppy looking out there. The countdown is getting serious now!

Jon Thelen travels to the Missouri River in Bismarck, North Dakota, chasing huge spring walleyes.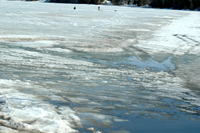 At the Tioga landing on Pokegama, ice fishermen hoofed it to their spot, but soon, it will be out of reach.


Snowbirds returning home! I know, it's not my best picture, but since it was my first sighting of the 3013 season, I just had to try.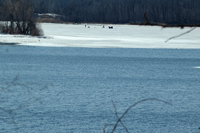 Ice fishermen on Jay Gould Lake haven't got much time left. Open water now nearly connects to the channel at the Mississippi River.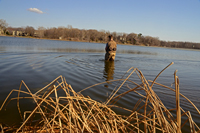 Open water and the beginning of a new fishing season is moving our way. The meltdown is gonna get serious this weekend!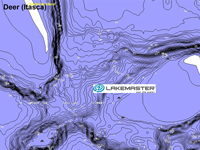 Get ready for the fishing opener by picking up your list of lakes and sitting down in front of the computer for some "Research and Development". Click images to enlarge .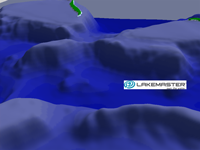 For a really modest investment, you can show up at a new lake, armed with a fully detailed map that you work out ahead of time on your home computer.
Here are two views of the same structure. Top: Chart View Bottom: 3D View >> Learn More .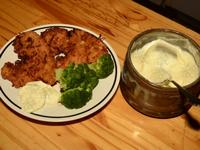 Believe me, I KNOW when something is good to eat and this is gonna turn out to be one of my favorites. Joe and Carol Oliver's Coconut Fish was the best way to preapre Crappies that I've ever tasted. click for Coconut Fish Recipe .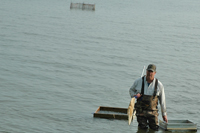 The ban on harvesting Lake Winnie Spottais, is blamed on the discovery of Zebra Mussel Veligers. But what if the unintended consequences turn out to be even worse?

What happens to fishing in Northern Minnesota if we loose the handful of bait trappers who struggle already, eeking out a living in the face of governmental Red tape? Read More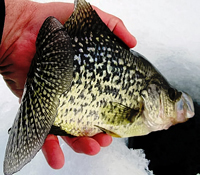 Catch & Release. A nice crappie catch and release. Fish was caught and photo'd by Chad Peterson of "HookSet Media" while fishing with Greg Clusiau over the weekend. Read Greg's Fishing Report here .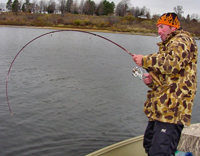 Yesterday I asked; What the heck is this guy battling with?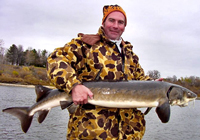 Anglers are on the Rainy River. enjoying good fishing for Sturgeon right now. The season for "Keeping" a Sturgeon begins on April 24th.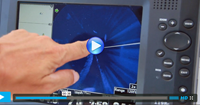 Humminbird's 360 imaging get the nod from Popular Science. When you think of it, it's like Radar, underwater Radar that allows anglers to see everything that's around their boat. Click and read Humminbird 360 imaging article .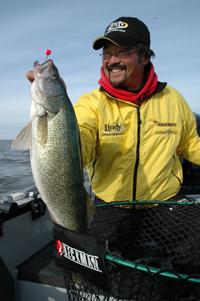 Takasaki said. "Knotless, treated mesh results in fewer problems all around. The quicker you get fish get out of the net, the healthier they are and the faster you get back to fishing."
The species of fish you're going after determines the hoop size you need. Some nets are ... click for full article .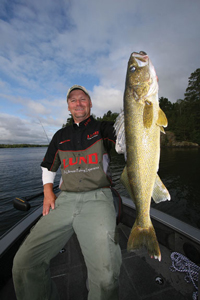 Rosner's go-to tactic for taking early 'eyes is Lindy Rigging live minnows. Jigs and minnows are another option, but he's settled on rigging as a more consistent tactic. The setup is simple, yet deadly. Read Article >> Lake Vermillion Lindy Riggin' Walleye .


If my customers aren't getting in on the action, then every other feature, of any other boat is virtually worthless. The Lund Alaskan helps me put my customers in prime position to catch fish.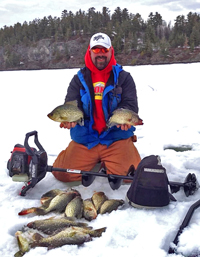 Coutesy Greg Clusiau: North of the Border, Jeremy Taschuk, Ft. Frances, displays a great catch of crappies taken last Sunday on Rainy Lake.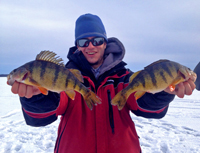 Just when you thought it was safe to put away your ice fishing gear! Grant Prokop found a school of Jumbos and has them all to himself!

Wondering how we caught those Walleyes on the Rainy River just a few days ago? Then you're in luck because Jon Thelen has it all dialed in. View the first episode of the season now and use the information on the river this weekend.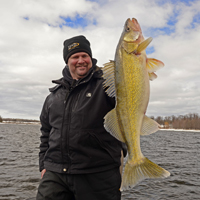 Jon Thelen shows what happens when you keep chipping away at a school of Walleyes. In cold, clear water, pitching our lures away from the boat was a key. 1/4 ounce Lindy Jigs tipped with good size Rainbows and fished with a steady "Lift-Drop" retrieve triggered fish for us.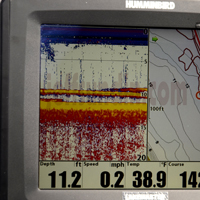 Small, scattered schools of fish, meant that we had to hunt them down. But when we spotted fish on the Humminbird, we were able to trigger them to strike.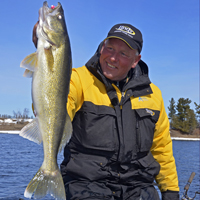 By Tuesday afternoon, the fish had shrugged off a frosty morning and we were back in business. Get a good breakfast, start at mid morning and fish later.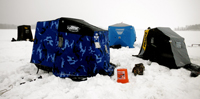 Ice fishing and river fishing are both going strong! All you need to do is get on the bus and head up!!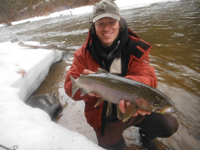 Brule River Steelhead fishing was good for Nik Dimich this weekend. Click image for full report.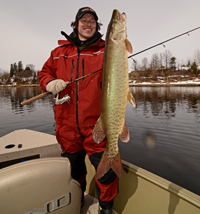 Every day dishes out a surprise! For Nik Dimich, surprises like this Musky are welcome ones. An unsual catch on the Rainy River, this one came out of nowhere and grabbed a jig and minnow during our Walleye trip.

Slipping against the current is a great way to put your bait smack dab in front of Big Walleyes!

Sometimes the secret to catching more Walleyes is staking out your own territory.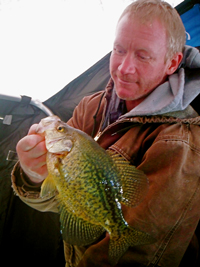 Maybe short-lived, but for now, the traveling conditions on area lakes is good. During the daytime, Jumbo Perch kept Nik's crew busy and by late afternoon Crappies participated too. Read Full Report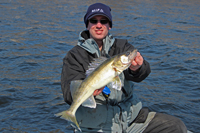 Matt Mattson; Some boats on The Rainy River reported catches of Walleye in the 80 fish range. Numbers for others, including Matt's crew weren't that high, but most of them did catch fish.

On a three day trip to the Rainy River last spring, Walleyes preferred slightly different presentation each day. Luckily, we were recording some helpful tips for fishing the river that you can watch right now.
 
Slipping against the current in the main river channel at .5 to 1.2 MPH is ideal for me, but be prepared to make adjustments.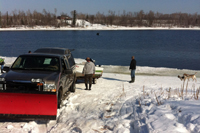 Conditions at the Birchdale ramp will improve, but right now there are still 30 inches of ice, preventing large rigs from getting onto the Rainy River.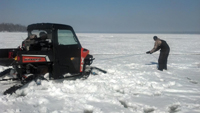 Zack Dagel jumped out onto Lake Winnie just a little too soon. The meltdown is real, there's still plenty of ice under that water, but we need a re-freeze to improve travel conditions on the ice.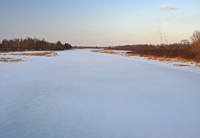 Flowing from Deer River Eastward, the Mississippi River at the bridge on Highway 6, shows no sign of ice out.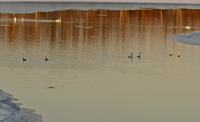 Downstream from Cohasset, MN, Waterfowl are resting everywhere as they follow the Mississippi back home for the summer. The main channel is almost wide open and anglers could fish this stretch now.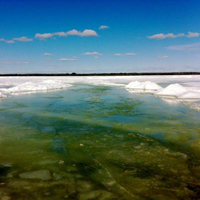 Courtesy Nik Dimich: Evidence of the meltdown getting serious. Don't worry, there's still plenty of ice under that water and with a cold snap heading our way, ice fishermen could close out the season with a bonus round.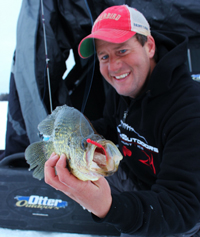 Courtesy Chris Granrud: Spring Crappie and Northern Pike action is heating up on Rainy Lake as the fish move toward shallow spawning areas.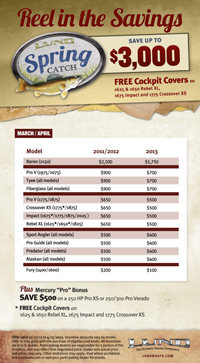 In case it slipped your mind, there are only 48 days until the 2013 MN Fishing Opener. Luckily, Lund's Spring Catch of the Year is still going and there's still time to get your new rig for the opener.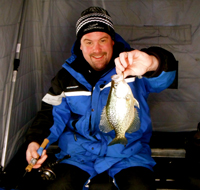 Courtesy Nik Dimich: Some anglers are either more stubborn than the rest, or else they're ahead of the curve, figuring out that there are still palces to go.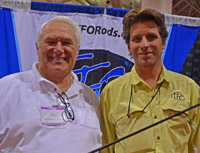 If you fish with a graphite rod, then Gary Loomis has touched your life already. Working together, the boys at TFO are gonna earn a spot in your boat too!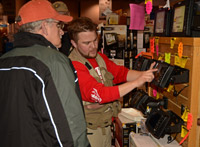 Drew Arnold, Reeds Sporting Goods; "Anglers are paying a lot of attention to the electronics section at the show this season."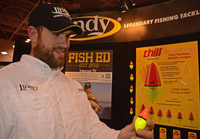 Thill's unique Wobble Bobber, a design that makes the bobber "wobble" on the surface so your bait keeps moving. The floats feature longer casts and more reliable line feeding too.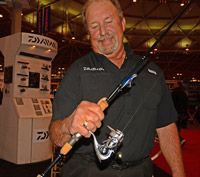 New Walleye rods by Diawa. Their DXW721MXS and the DXWMXLXS feature a well thought out handle design, real cork in just the right spot, Fuji Guides, IM7 Graphite and a 5 year warranty, all for about $90.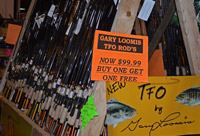 TFO Rods priced at $99.00 with a special offer "Buy One, Get One Free". At the Reeds Sporting Goods Booth.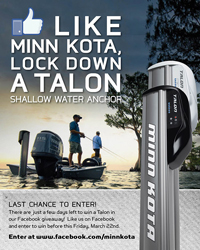 There's still time to lock in your chance at at winning MinnKota's Talon Shallow Water Anchoring System. Just click to >> "Lock Down a MinnKota Talon" or click on the image for MinnKota's Facebook page and click to "LIKE" their page. That's it, you're in and by the way, Good Luck!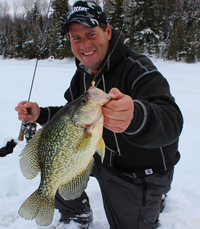 Crappies on Hold? Courtesy: Chris Granrud, "Rainy Daze Guide Service". Chris cautions; "Travel on Rainy Lake is temporarily horrible, actually dangerous".

Even while you sleep, they prowl. Underwater worlds surge and pulse with nervous predatory energy.

Shallow water anchoring is a great way to dial in on sprintime Bass and Panfish. Watch the video to see some of the advantages of using the Talon Shallow Water Anchoring System .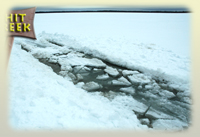 Ummm... I don't know if we should go up there without a paddle.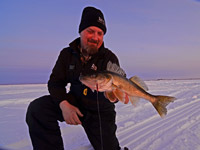 A persistent Jonny Petrowske and his favorite "Go To Bait" made the Walleyes cooperate. The Glow Red Rattln Flyer fished in 15 feet of water turned more than a few fish.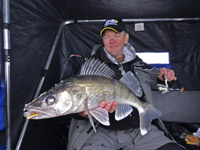 Lake of the Woods isn't on fire. But every day has some highlights. A Slick Jig in 25 feet of water turned a few heads, like this hefty, LOW Walleye.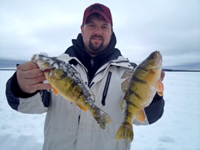 Courtesy Chad Benson: Cass Lake Perch action is picking up. But, a meltdown would help open up more territory for anxious perch fishermen.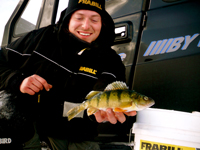 You're gonna being seeing a lot more of Nik Dimich around here. In fact, he's probably gonna be my boss one day so be nice to him!


That's where we got a little surprise; One of the smaller lakes in the area had a full, double-wide plowed road that lead out to a group of about six fishing shelters.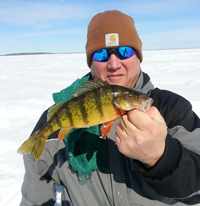 Courtesy Zach Dagel: Zach and his crew were out on Lake Winnie's West side last weekend and found schools of good size Perch. Zach was able to lead them to a 50 fish bag on both Saturday and Sunday.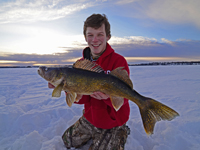 A small but welcome flurry of action came our way during the last couple of hours on Saturday. This gorgeous Walleye roamed the flat and took a large Golden Shiner rigged below a tip-up.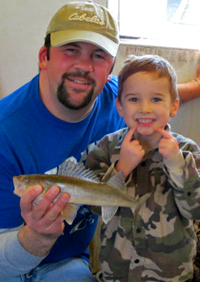 It was a good weekend to be Johnny Stolp! The 4-1/2 year old Grandson of Brian Castellano was all smiles as he bagged his first Sauger (above), his first Walleye and helped capture a pail full of fish (below) for the family fish fry.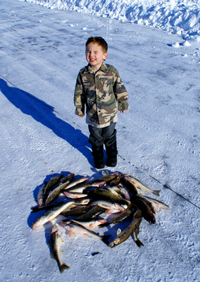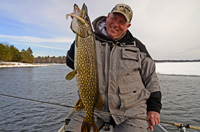 Using Swim baits like YUM's Money Minnow rigged with a 1/4 ounce tube jig head catches Pike all season long.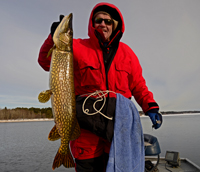 Usually, Bass Fishing Guru Don Conroy regards Pike as "The Enemy". But sometimes, with the right crew, even Don can have a blast catching and releasing Pike. Oh, and giggling too!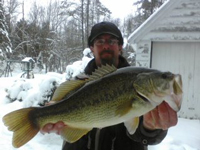 Ice fishing in Door County this weekend, Scott caught this nice largemaouth Bass. His daughter, who happens to be a fan, wanted to be sure that we all get to see it, so here it is!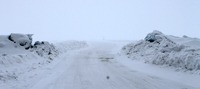 On Lake Winnie, Highbanks Resort has opened a spot on one of the large pressure ridges that formed a few weekes ago. highbanks roads access the Center, North and Northwest sections of Winnibigoshish.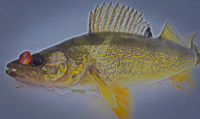 Courtesy Spencer Samplawski: Sunday 2/24 is the last day for Inland Walleye fishing. Spence says that Walleye action is still good in the Bemidji area. This one nailed a Foo Flyer.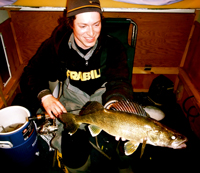 The inland Walleye Season lasts until Sunday 2-24. For ice Fishing Guide, Nik Dimich they're still biting and he's gonna be out there right up until the end. This one couldn't resist a Clown Color Rattln' Flyer Spoon.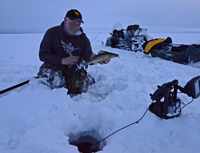 One last spin for anglers fishing Walleyes on Minnesota's Inland Lakes before the season ends on Sunday.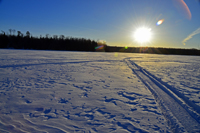 The wind blown surfaces of some lakes shows signs of improving travel conditions. Continued decrease in the snow cover, will eventually lead to improving conditions.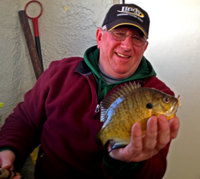 Sunfish were active, fun to catch and decent size. Arne Danielson shows off one of his better efforts, caught on a Frostee Jigging Spoon tipped with several
WaxWorms.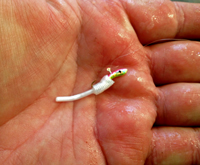 I had a good run using a Micro Slick Jig tipped with an artificial tail. Recently, the his combintaion has been deadly on Bluegills.