Advertisers



---
---


Find Minnesota Fishing Reports on Facebook
---
---
---

Ice Fishing Report December 22, 2014

- Smooth Sailing on Bemidji Area Lakes

I'm not too sure how many folks really enjoy going it alone as they drive around the countryside, exploring new ice fishing spots; but I'm not one of them. I like having someone to pal around with while I'm searching for productive spots to fish.
Friends invited to tag along, exploring fresh territory don't always have as much fun as you'd imagine though. Following up on hot tips, or checking out waters that look good on paper aren't exactly the kind of fishing trips that come with guaranteed results.
Folks, who consider it a waste of time to go out ice fishing without ... read >> Smooth Sailing on Bemidji Area Lakes
| | |
| --- | --- |
| | Tackle Warehouse Gift Card Giveaway (12/18) - Ten lucky readers will receive a $50 gift card to Tackle Warehouse. This card is good for any and everything you can think of. Fishing lures, soft plastic baits, fishing line, rods; anything Santa might forget this year. Click >> Tackle Warehouse Giftcard Giveaway |

Ice Fishing Report December 21, 2014 - Leech Lake Ice Conditions
Prompted by questions from readers about ice conditions on Leech Lake, I headed West for for a look on Saturday.
The shallow waters of Sucker, Portage and Boy Bays froze early providing ice fishermen with good ice ranging in thickness from 14 to 17 inches.
The lack of snow cover means that road access to the lake is good too and until we get more snow, East Side Anglers are free to ... read >> Leech Lake Ice Reports


(12/19) On Lake Winnibigoshish John Seekon, The Pines Resort; "I finally managed to make my way out onto the big lake last friday. At that time, I measured the ice in several areas and found 16 inches everwhere I stopped.
Perch have been providing the best action in 13 to 17 feet, which is much deeper than normal for this time of the season.
After last weekends warmup, several cracks opened up and have since re-frozen. Lake travelers need to be careful crossing over theses areas because the ice shifts with temperature changes daily"
The Pines Resort will be oficially open for business starting december 31, 2014. In addition to more fishing reports, John and Doreen Seekon provide winter lodging, ice shelter rentals and access to Lake Winnibigosish via plowed roads. Contact The Pines Resort on Lake Winnibigoshish .


(12/19) On Cutfoot Sioux, Bryan Harris Eagle Nest Lodge says; " Our son, Gunnar was out on Cutfoot spearing last Sunday, but hasn't been on the big lake since the weekend before.
Prior to the warm up, he fished off of the landing at the end of high banks road and caught a nice bunch of smaller, keeper walleyes along with a couple of nice perch. The ice will likely be moving a lot with the cold. Cutfoot Sioux is in great shape, with only an inch of snow on top of good ice.
A group that checked out this week said that they were fishing in front of the resort and caught a big walleye and several tullibees in 9' of water.
Since most of our guests focus on Cutfoot, bringing portables, 4-wheelers or snowmobiles. I don't plow roads or rent fish houses.
But our big, beautiful log cabins are open and renting through the winter. Fish cleaning house is heated and the water is on. We do not keep open lodge hours during winter". - EMAIL Eagle Nest Lodge for availability.


(12/19) On Lake Winnibigoshish, from Becker's Resort from the west side near the Mississippi River; "We have been out as far as Sugar bar. There are two ice heaves to cross but we has good crossings. Lots of nice perch and Pike coming in also a few walleyes. We have about 8 of our houses out on the lake. We are busy this week and then again right after Christmas. Call for availability after New Years."


(12/19) On Lake Winnibigoshish, Dixon Lake Resort, Karen says; "We have great ice. It did get warm and there was a lot of water out there last weekend, but it's frozen back down and all is good. About 2 inches of nice white fluffy snow fell on the ice, but the breeze has already blown a lot of it off of the surface.
Fishing has been very good this year, not just the spearing, but angling too. The anglers using our rental spear houses have been very happy with the Panfish, Perch and sightings of big Walleye cruising through.
I know that the pressure ridge is high, about 3 feet and some of my fishermen were exploring that area last weekend. They said that there were 4 wheelers on the other side of the ridge and they must have come from somewhere else. Our guests said that they could not see a way around the ridge at this time."


(12/19) On Lake Winnibigoshish, Tyler at Nodak Lodge checked in with; "We have been out on Winnie quite a bit and we have 15 to 17 inches of ice, it runs at least 3 miles out from the resort.
There are a couple of cracks along the south side, but they don't seem to be moving so thats good. The only bad crack/heave that I know of is over on the west side by river bar.
We have had a few spearers out that have done really good on northerns in front of resort in 9 to 11 ft of water. Not many people for perch yet". Nodaks will be open for business after Christmas, on December 27, 2014, Hope this helps you Have a good day, Tyler at Nodak Lodge
| | |
| --- | --- |
| | We asked NetBait Owner and professional angler Justin Sward for some help on a killer selection of baits for our latest giveaway and he did it right. A great selection of NetBait products that cover the water column. Four winners will get an opportunity to win a killer selection! ENTER >> Net Bait Owner's Choice Giveaway (1/1) |

(12/19) New treatment aims to eradicate Christmas Lake zebra mussels - On Friday, Dec. 19, a contractor working with the DNR injected 1,000 pounds of potassium chloride under the ice near the public boat access on the northwest corner of Christmas Lake. The chemical – also referred to as potash – kills zebra mussels by interfering with their ability to breathe, but it does not affect fish.
The potash application is the third treatment at the lake, where a small number of zebra mussels were found in August as part of the Minnehaha Creek Watershed District's early detection monitoring program. Because the mussels were found early and were confined to a small area, DNR staff thought it feasible that treatment might eliminate them. The DNR and the district have subsequently treated .... Read news release >> Christmas Lake Zebra Mussels .


(12/16) From The Iron Range, Greg Clusiau wrote; "There are the times when an about face is needed, switching from a dinky little presentation to something a lot larger. I've seen this strategy pay off time and time again. Just don't get locked into using the larger bait all day long if it's not producing.
After struggling to catch any decent size bluegills with the basic small jig offering, I upsized the lure to see if I could interest any crappie. Using a ..." Learn More >> Read Greg Clusiau's Full Report .


(12/15) On Leech Lake, ice fishermen are enjoying easy access to the ice. The snow cover is virtually gone, roads leading to the access ramps are easily passible and the ramps themselves are open.
The public landing at Sucker Bay is open and on Saturday ... read full story >> Leech Lake Ice Report .


(12/15) From Lake of the Woods, Mike Kinsela, Border View Lodge; "Fish are biting although we have not reached the December peak as normal.
We are a mile out from Pine Island and are working hard on the private road. We are just finishing up a warm front that we've had the last few days and hope to have the road available in the near future for drive outs.
Be sure to check out our new winter menu on your next visit. We have added some great new options as well as nightly dinner specials.
Temperatures in the mid-teens Tuesday and Wednesday the rest of the week will hold in the low 20's. Chance of showers Monday otherwise very little chance of snow Tuesday through the weekend." - 1-800-776-3474 Border View Lodge .


(12/12) On Bowstring Lake, I heard from my friend Jeff Anderes who said; "Thought I'd chime in about the Bowstring pressure ridge. We went out from the West access and hit a few of our favorite spots without much luck on a brutal Monday. Did take a run at the pressure ridge and it looked pretty active, it pushed up 2-3 feet in many places. It appeared to run shore to shore from somewhere around the north landing due south- between the south access and cow bay.


(12/12) from Dave Pruin; Q)1 "I see by the latest crappie picture that your using a spring bobber now, that St Croix guy got to you last year. I still think you should do a piece on when to spring bobber when not to.
A) Dave, I agree and I will. But for now, the short answer is that the spring bobber has helped me catch more Crappies and Sunfish. The spring bobber is especially helpful in ... read full answer >> Ice Fishing Report December 12


(12/12) from David Green; "Why does my Strikemaster auger 6 inch grab just before breaking through ice?"
A) Dave, the blessing about Strikemaster's Lazer style blades is that they cut very fast. They are very sharp and the cutting angle is very aggressive. The curse about Strikemaster's Lazer style blades is that they ... read full story >> Strikemaster Auger Blades


Auger Wars: Update (12/10) For everyone who's been wondering; the Nils auger that I wrote about last week did an impressive job on its first fishing trip this Tuesday.
I ordered mine from Cabela's on line where the item description is a wee bit confusing. So it wasn't until after I had already ordered the unit that I fully understood how the Nils augers are marketed.
When you order one, you are going to receive a hand auger. That's what they make, that's all that they make, hand augers. Yes, there is an engine, a very good one, but that is sold as an accessory. The engine comes separately and includes all of the tools and adapters you'll need to fit it to the auger. Mine was very easy to assemble.
On the ice, it appears that the Tanaka engine is going to be a little bit cold blooded. Starting the motor after a pause lasting more than a few minutes required using the choke to start it. But start it did and when it's running, it sounds great. It has a lower pitch sound than most augers I've used, very business-like and easy on the ears.
Drilling holes with this auger was literally effortless. The 6 inch blades cut with the speed of the Lazer style blades that I used to use, but without the sensation that I'm being dragged into the hole behind it. Granted, the blades are new, smaller and the ice is only 15 inches thick, but I think that this auger is going to be really fun to use.
For years, I'd been intrigued by augers that drill smaller holes. For someone who spends most of the time fishing for Panfish, the 6 inch holes are perfect. They are large enough to pull a fish out even when the transducer is still in the hole. That said; I can see the time coming when I will want the extra size of an 8 inch hole. At some point, I will add the 8 inch size to my arsenal and be ready for any scenario.
Now, let's see how she holds up. Learn More >> Auger Wars


(12/5) "Hello Jeff. I'm looking to buy a handheld GPS unit for Xmas for my dad. Once a year we go to big Winne, and fish open water. Whenever we can, we fish hard water here in Wisconsin.
I'm looking to get a unit that we can use to start marking spots where we find structure, catch fish, etc. I would assume if I wanted detailed lake maps of Minnesota and Wisconsin I would have to buy that after correct?
Don't need the most expensive on the market but I would like a decent unit that will help is ultimately catch more fish.
A) While I'm thinking this one over, I wish that you would weigh in with your ideas too. Do me a favor and check the post (12-5) on the Fishing Reports Minnesota page and then add your ideas to the discussion.
Helping your fellow ice fishermen and women stay abreast of the ice conditions in your area is good for everyone and it's easier than you think!
Fishing Reports Minnesota is the Facebook counterpart to this page and it's open to the public.
Be like me, become a duly deputized "Cub Reporter" and post your own pics and comments. It's good for fishing! Click >>
---
Auger Wars? NO! Just Drilling For Answers

When the going gets tough, some augers quit going.
We found that severe cold temperatures worked against our 4 Stroke models, idling them just when we needed them most.
Sundin says; "Luckily, every manufacturer has some tried and true models, machines that have been around for a while and have a proven track record. I believe that there are plenty of good choices out there. Answering a reader's question forced me into ... >> Drilling Down Answers About Augers
---

(10/29) Kevin Scott asks about Ice Fishing Line; "Hey Jeff, I have a question for you! I am re-spooling my "ice fishing" reels and what do you feel is the best fishing line out there for my panfish reels and also my walleye and perch reels? There are many options so hoping you can give your thoughts.
A) Kevin, I use and love Lindy's Ice Line. I have 2 lb test on my panfish rods and 5 lb test on my Walleye rods. I've suggested it to people before and sometimes they report that it can be tricky to find at local tackle shops. I checked Lindy's website and at the moment, they say that it's out of stock.
A very good alternative is to use a line produced by Silver Thread that they call "Silver Thread Trout". It's a copolymer line that resists being saturated by the water, making it much less likely to freeze up during the cold weather.
The Silver Thread is readily available online through the Lurenet website so here's a link to Silver Thread Trout fishing line.
---






More ways to connect! Sign up to receive the Free "Insider Newsletter". Don't forget, you can always catch up with Jeff Sundin on the radio program too! Listen every Thursday at 6:20 AM and get additional fishing reports and information. KAXE 91.7 FM Grand Rapids - 105.3 FM Bemidji - 89.9 FM Brainerd . Want even more? Get HANDS ON Fishing Tips. Book your own Guided Fishing Trip !
---
All of our Fishing Reports are saved in the library. Click and view >> Archived Fishing Reports Library Here .
---
Today December 22, 2014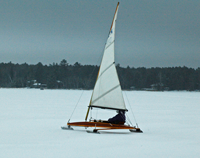 On Sunday, the nearly snow free, clear ice made for smooth sailing on Bemidji area lakes.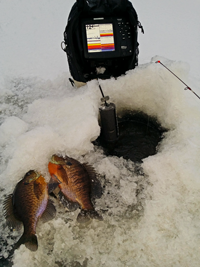 Photo courtesy Zach Dagel: Ironically, the photo was not taken by me, but it could have been! The image on the screen of Dagel's Humminbird was nearly identical to the screen image I was seeing 70 miles away.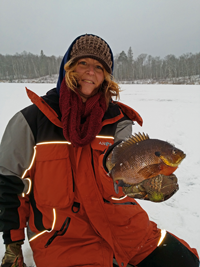 Photo courtesy Zach Dagel: Jill Osse showing off a Bluegill caught as she allowed Dagel to tag along to her favorite Panfish spot.
---
December 21, 2014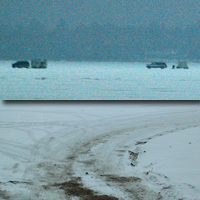 At the Northeast corner of Portage Bay, the road leading out of the North Star Campground has been well used. Some folks are driving on the ice with light trucks, while others with heavier trucks are parking on shore and moving around with ATVs.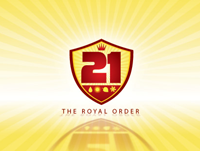 From The Official Royal Order of the 21sters; "In acknowledgement, be it remembered that we have surrendered our membership in the world of the so-called Normal People, and that among our other quirks and foibles is the realization that ... Click to learn about >> The Royal Order Of The 21sters .
---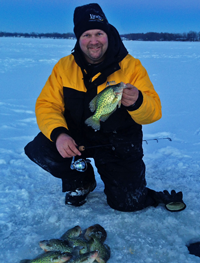 Tune in today at 10:30 AM, Fox Sports North. Fish ED TV host Jon Thelen takes you ice fishing for Crappies in Northern Minnesota.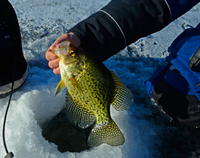 Crappie fishing in the Deer River area has been good. Focus on Shallow water lakes for consistent daytime action.

---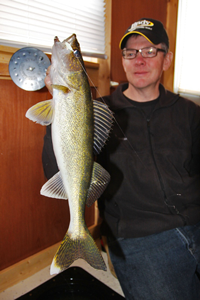 Photo Lindy Blogger Dan Johnson: The idea of catching Walleyes like this while you're Ice fishing in your tennis shoes could grow on you!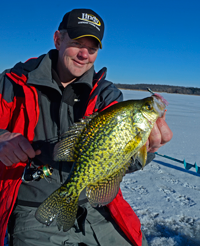 Lindy Blogger Dan Johnson showing off what happens when you up-size your presentation for Crappies. This one fell for a 1/16 ounce slick jig dressed with a Whatsit tail. Read >> Crappies in the Great Depression

---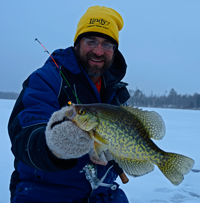 Within minutes after we drilled our first series of holes, my friend Jeff Samsel laid a slab Crappie alongside of his hole. I'll bet that Jeff has a few words about the trip on his blog >> Jeff Samsel Fishing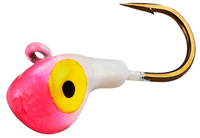 Ice fishing in deep water requires plenty of weight to help maintain contact with your lure. On Tuesday, #10 Tungsten Toads, tipped with 3 or 4 wax worms were the preferred bait.
---

Early ice on Lake of the Woods is the time for fast action and great eating. Join Fish ED host Jon Thelen for this weeks episode >> Lake of the Wood Early Ice Walleye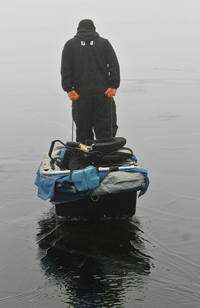 Photo courtesy Greg Clusiau: The scene was a wet one for most ice fishermen this weekend. Water standing on the ice is seldom seen until late spring. Read >> Greg Clusiau's Fishing Column
---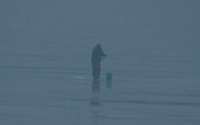 Once I walked away from shore, there was no sign of anything or anyone, all I could see was the ice below me. The Fish Liked It That Way! read >> ice fishing report december 15

---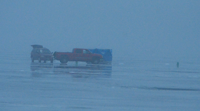 At the Sucker Bay landing on Leech Lake, the concrete ramp is open and there was vehile traffic on Sucker Bay this Saturday.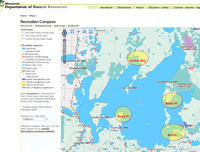 Popular Public Access ramps for Leech Lake are accessible this season. Barring a major snowfall, anglers will enjoy better access to the lake this winter.


Small lakes around the North side of Leech Lake received heavy fishing pressure on Saturday. I counted 13 rigs at Lower Sucker Lake, with more arriving as I drove away.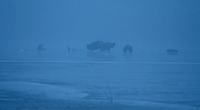 Warm weather and easy access combined to provide anglers with an opportunity to fish even the most remote lakes.

---