Advertisers



---
---


Find Minnesota Fishing Reports on Facebook
---
---

Fishing Report October 24, 2014

- Lucky Leech Lake Fishing Report

How lucky can a guy get? There are lots of ways and Yes, I KNOW the very best. But what do you think about this scenario; maybe this one qualifies for the "Book of Good Luck" too.
It started when I found out that our annual duck and Pheasant hunting trip was going to be delayed this year. So instead of sitting on my backside moaning about having nothing to do, I put out a bulletin announcing some open dates. Among the replies, Clayton Thompson sent a message saying that he was interested in the 23rd and I marked it down and that was that, nothing unusual, all fairly routine; except...
He had given me a heads up that maybe here was maybe there would be an extra guy and maybe I could make an exception and well, there was and I did.
That was okay though, the boat might get a little crowded, but I'd done it before and besides, we didn't have to fish on big water, we could always find a nice small lake like ... Leech Lake, "yes, we want to fish on Leech Lake"; that's what Clayton said.
Well recently, the wind had been so strong that it's nearly blown the paint off of the boat. I could have arrived at the landing and discovered that we'd have to bag the whole idea, but not this time, it was beautiful.
The list of things that could have gone wrong could be a long one, but not this time. There wasn't anything wrong, not a darn thing. In fact, for Clayton, it was a special trip with family and friends.
This trip was special because these guys have all been pitching in, lending a helping hand as Clayton has undergone Cancer treatment. Fundraisers, moral support, you get the idea, they've been working hard on this, it was a good group of guys and there was a special reason for being together.
That meant that this was going to be a good day no matter what, now if the fish and the weather cooperated even a little bit, it could be perfect.
Well, leaving the ramp at Federal Dam, the surface temperature was 50 degrees. The skies were overcast, but the air was even warmer, 52 degrees according to the pickup truck. We didn't need gloves and a few of wore ordinary fishing caps without anything over our ears.
When we got onto the main lake, the surface temperature was still 50 degrees and there was just enough wind to drift the boat. There was a slight chop, overcast skies and virtually no boat traffic.
The conditions were ideal and we had the element of surprise on our side too. Our first stop on the sand flat in 8 feet of water produced fish almost immediately. After our first couple of drifts, we knew that the Walleyes were more than cooperative. In fact, if we'd had caught one fish for each of our strikes, we'd have come close to gathering our limit right there and then.
That would have been expecting too much, even on a perfect day, you're gonna have a few setbacks. But even after we missed a few fish, we were headed in the right direction; we had a good head start.
Boat traffic increased a little bit and as a couple of the crews dialed in to the fish, the added commotion affected the action as as it began to taper off, the skies cleared, the wind calmed and the chop disappeared.
Our next stop was in deeper water, 13 to 14 feet with a weedy bottom. There were lots of fish showing up on the Humminbird, they were Perch and some of them bit. We gathered a dozen or so, but the calm seas had affected the action here too.
Looking for more action, we began covering territory, but for a time, the sunshine and Blue sky had given us a beautiful day, but it had done a lot more for our comfort than it had done for the fishing.
Eventually though, the effects of evening began to kick in and somewhere around 4 PM, a gentle breeze helped stage another flurry at the Perch hole, followed by another flurry at the Walleye hole.
All added up, we had 13 keeper Walleyes, 3 or 4 slot fish and 3 or 4 little ones that were released. We had a couple of dozen perch ranging in size from 10 to 13 inches and if we had focused on them, we could have gathered more.
So here we are; it's the 23rd of October, the weather is gorgeous, the fish are biting, the seas are calm and we all are among friends. How lucky can a guy get? Pretty darn lucky if you ask me! Of course that's just my opinion, you might just think I'm silly ... :)!!


(10/23) - Newly engineered Lund Boat makes a truly positive "Impact". The versatile and affordable 1850 Impact XS expands on the popular boat series.
New York Mills, Minn. (Oct. 22, 2014) – When Lund introduced the Impact boat series at the end of 2010, even the engineers of this fully loaded, yet amazingly affordable, rig couldn't have predicted its popularity, nor the appropriateness of its name. The first of eight new Lund models for 2015, the new 1850 Impact XS is engineered at 18 feet, 7 inches in length with an ultra-broad 94-inch beam, and combines hardcore fishing elements with plenty of features to please the entire family.


(10/22) On Leech Lake; Walleye fishing continues to be slow but steady in the area near Federal Dam, according to Roy Girtz - Royal Guide Service.
In his own words; "We got our fish, but it wasn't fast; one here, one there, until we were done".
Walleyes continue to roam the shallow weeds, feeding primarily on young of the year perch. Jig and minnow presentations in water depths of 7 to 10 feet are productive.
Anglers on the West side are keeping busy Perch fishing and the action is good. The problem is getting away from small fish and keying in on larger fish. Fishing in the weeds in Sucker bay, Agency bay and the Walker Narrows are all producing fish.
Jig and minnow combinations are productive and color patterns that resemble small Perch are working the best.


(10/22) On Grand Rapids Pokegama Lake, Brian Castellano wrote; "A friend and I hit Pokegama today from 10:00am to 3:30pm.
He's been having decent luck on Trout Lake using leadcore and Berkley Flicker shads but all of the walleyes are running in the slot, 21-24",so he wanted to try something different.
We covered the area from the west side of the causeway to the west side of Nesbit and Drumbeater Islands.
Water temps were around the 50 degree mark. We graphed alot of fish in the 18-25' range.
We threw leadcore and Berkley flicker shads, lindy rig and minnows, jig and minnows, bobber and minnow, and even the ultra stealthy split shot rig w/ a shiner at them and we could only muster up 1 northern.
Another fisherman I know was out there and had a little better luck than us. He said he was rigging redtails and creek chubs and using jigging raps in 25-44' of water and he put some smallies, northerns, and a couple small walleyes in the boat.
I'm planning on making a run to the Rainy River one day next week. Hopefully the fall walleye run will be on." - Brian Castellano
| | |
| --- | --- |
| | Wired2fish readers are used to getting "sweet" prizes in our giveaways but this one is particularly delicious as it's a full sampling of great fish catching baits from one of the industry's best lure makers – Rapala. A killer fall bait selection just in time for Halloween Trick or Treat Fishing. Included in this giveaway ... Enter >> Rapala Spooktacular Giveaway (10/31) |

(10/21) On Cutfoot Sioux (10/21) Surface temperatures are hovering just above the 50 degree mark and Walleye fishing remains steady. Typical of late fall, there are a handful of fish at almost every spot. Anglers who know their way around the lake should have little trouble gathering enough fish for a meal.
Key depths vary between spots and anglers should plan on being creative about where to fish. If you look at a spot that features a long tapering point into deep water, follow the entire structure into the depths. Post turnover Walleyes could be holding at any depth on the structure. Look for saddles between two rises; areas that resemble the low spot between Bobs Bar and the Pencil Bar.
If the spot you've chosen features a large, shallow weed flat, the follow the entire outer lip of these weed edges along the breakline.
The fish are where you find them, so if your electronics do not reveal the presences of at least a few fish, then keep covering fresh territory until you see some solid evidence.


(10/21) On Lake Winnibigoshish (10/21) Surface temperatures have fallen below 50 degrees and while Walleyes are hitting well after dark, the daytime Walleye fishing action has dropped off.
Northern Pike and Musky fishing has been good on the big lake and should get even better. That's because even more of these fish are heading toward the shallow water to take advantage of the fall Tulibee (Northern Ciscoe) spawning runs.
Tulibee spawn during the night and hold in the deeper weeds during the daytime. The largest predators in the lake are the ones that follow these Tulibee into the shallows and naturally, the spawning runs attract some very large Pike, Musky and even big Walleyes.
Key areas to fish are expanses of mixed gravel, rock and Bulrush. When there are deep cabbage weeds located nearby, then you have the making of a real trophy spot.
Casting large crankbaits, wood jerk baits and large soft plastic swim baits are all productive.
On The Rainy River (10/21) Reports of good Walleye fishing are trickling in and according to Zach Dagel, Grand Rapids Guide Service, friends have been doing well on the Rainy.
Apparently, the Emerald Shiners are making a move upstream into the river and typically, that means that the Walleyes aren't too far behind.


(10/21) From Lake of the Woods, Mike Kinsela, Border View Lodge; "Fishing has been great just outside the light house gap in 18-24 feet of water! The water temperature is roughly 45 degrees. Anglers are catching nice Walleyes and some really nice sized Saugers.
Monday October 20 there will be a detour on Hwy 172/ Lake Road. The detour will last about 3 weeks.
Temperatures this next week in the mid 50's with sunshine. It's looking like the week is going to be beautiful!" - 1-800-776-3474 Border View Lodge .


(10/21) From The Iron Range, Greg Clusiau - Deer Hunting Feature by Travis Sorokie ; "There is no doubt that the next several years in northern Minnesota, Wisconsin, Illinois, North Dakota and Michigan hunting will be different than in years past. Two bitterly cold winters in the midwest with a lot of snow, an abundance of timberwolves, and liberal harvest rates in years prior have our herds at or near all-time lows. However, I am confident things will rebound given a couple of ... ">> Read Greg Clusiau's Full Report .


(10/18) Pokegama Lake Fall Walleye Fishing - Pat Bradley wrote; "
Jeff, I noticed you don't walleye fish Pokegama in October and was wondering why? I do and it seems like my walleye fishing stops from late September til first ice. Any thoughts about where they go and how to fish them during this time?
A) Pat, you're right, while I do make it over to Pokegama a few times every fall, I do not spend a lot of time over there.
That isn't because I don't like fishing there in the fall, it's because most of my fall fishing customers are looking for some fish to eat. The emphasis on catching "eaters" during daylight hours forces me to follow the patterns on the larger, "Walleye factory" lakes like Leech and Winnibigoshish.
I think you're right too about a shift in their location on Pokegama during the fall too and as soon as I can get some time to think this over, I'll add some more comments. Do me a favor and watch the reports during mid week and I'll expand on it for you.


(10/16) From The Marcell Area, Frontier Sports, Paul Larson said; "It looks as though many of the area lakes have turned over. The water temperatures on the big deep lake I primarily fish ranged between 48 to51 degrees. I was marking fish in 24 to30 feet of water that I assume were Walleyes. A few tentative bites but no solid hook ups left any conclusion a best guess. Pike on the other hand, were more than willing to smash my crankbaits. I wasn't fishing the oversized numbers I usually use when fishing for big fall Pike, but they accommodated me anyway. These fish ranged in size from 26 to28 inches, not whoppers but great for breakfast! Crappies are still biting in the deep holes on the bigger, deeper lakes. Wind was a major factor last weekend and boat control was an issue. This coming weekend looks like it will be a milder version of last weekend only in reverse. The bait shop is fully stocked and a new shipment of SAVAGE GEAR Musky lures has just arrived. We also have received a new shipment of ammo and hunting accessories so we're all stocked and ready to provide whatever you need for what promises to be a great fall weekend."
Frontier Sports features a complete and fully stocked Sporting Goods department and Bait Shop, Gas, Grocery, Deli and Gift Shop. Frontier Sports is an authorized LIVE TARGET and SAVAGE GEAR dealer. Frontier Sports 219-832-3901 or Email .
---






More ways to connect! Sign up to receive the Free "Insider Newsletter". Don't forget, you can always catch up with Jeff Sundin on the radio program too! Listen every Thursday at 6:20 AM and get additional fishing reports and information. KAXE 91.7 FM Grand Rapids - 105.3 FM Bemidji - 89.9 FM Brainerd . Want even more? Get HANDS ON Fishing Tips. Book your own Guided Fishing Trip !
---
All of our Fishing Reports are saved in the library. Click and view >> Archived Fishing Reports Library Here .
---
Today October 24, 2014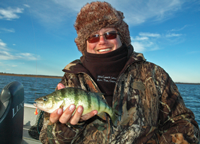 Clayton Thompson shows off one of his better efforts. The Perch were in 12 to 14 feet of water on a weedy flat.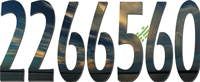 Today's Lucky Number 2,266,560
The question is, what does it mean to you?
---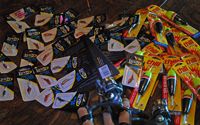 Hey!! Early Birds! Haven't you always wanted to dip into my personal stash? Well even if you missed tuning in for the fishing report this morning, you can still make a pledge and claim some of my fishing stuff for free!! 
For audio streaming, click on the image for the link to KAXE-KBXE Northern Community Radio
---
October 22, 2014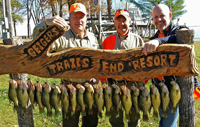 Photo courtesy Trails End Resort; Cast and Blast weekends have grown in popularity at the resort. Crappie fishing like this is one reason why!


Hey! Morning radio show listeners! Do me a favor and tune in tommorrow morning at 6:20 for "The Early Bird Fishing Guide". Make a pledge during the show and receive free gifts.
---
October 21, 2014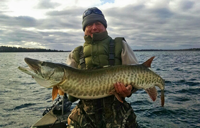 Photo courtesy Grant Prokop who guided Lee Carlson to a special birthday present. Cralson wanted to catch a Musky for his 65th Birthday and according to Prokop; "We were able to pull a rabbit out of the hat". --- Nice Rabbit! ... :)!!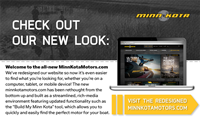 Now whether you're using a desktop, tablet or mobile device, the website gets you where you want to go fast and easy.
Look at the MinnKota website that's been redesigned from the ground up.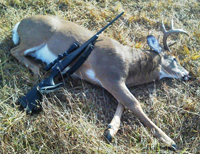 Sorokie; "I am confident things will rebound given a couple mild winters and tightened harvest regulations. After all, the whitetail deer is a fast growing, renewable resource given proper conditions." read >> Whitetail Deer Hunting

---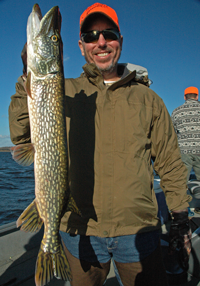 An hour spent searching for Pike paid off, especially for Jeff Deming who Used a 1/4 ounce Lindy Jig rigged up on a 17 lb fluorcarbon leader for protection. Pike were located in 18 to 20 feet of water at the base of the breakline near areas where we'd found Crappies.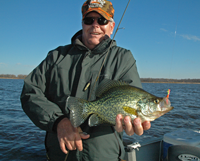 Jim Naylor provides evidence of his undisputable title; "King of the Crappie Hole". Even in the shallower water, breezy conditions called for heavier weights and the Ice Worms were the perfect solution.
---
---