---
April 1, 2019 Upper Red Lake walleye regulation changes announced for open water season
Bag limit remains but anglers can put larger walleye in the frying pan
While anglers fishing Upper Red Lake this spring will again be able to keep four walleye, a change in the size regulation will allow them to take one fish over 20 inches – making potential keepers out of considerably more of the lake's walleye population.
Since May 2017, the regulation allowed anglers to keep four fish with only one over 17 inches. Adjusting the one-over size to 20 inches will put more mature females within the allowed four-fish bag limit during the open water season that begins Saturday, May 11. Under the new regulation, anglers will be able to keep four walleye under 20 inches, or a combination of three walleye under 20 inches and one over 20 inches.
"We're using the new regulation to let anglers remove surplus spawning stock, which hasn't sufficiently happened under the previous regulation," said Gary Barnard, Department of Natural Resources Bemidji area fisheries supervisor. "The DNR will likely adjust the regulation following the 2019 open water season, after anglers remove the surplus of mature female walleye."
The previous regulation resulted in harvest of approximately 234,000 pounds for the 2018 harvest year. While this harvest level was a record high for any year since reopening the lake to walleye fishing in 2006, it was still short of the target harvest range for the lake's surplus spawning stock condition. That level of harvest has not been effective in reducing spawning stock toward the desired optimal condition of 2.5-4.5 pounds per acre.
Red Lake's walleye harvest is managed under a joint harvest plan, revised in 2015 by the Red Lakes Fisheries Technical Committee. An Upper Red Lake Citizen Advisory Committee reviews harvest totals and regulation options and makes recommendations for walleye regulation adjustments for the state waters of Upper Red Lake.
"The revised harvest plan recommends an aggressive approach when walleye spawning stock is in surplus, as it is currently," Barnard said. "Anglers can expect a return to more restrictive size or bag limits in future seasons once spawning stock is managed to more desirable levels."
---
March 12, 2019 Walleye harvest will be allowed in May on Mille Lacs Lake
Mille Lacs regulations for walleye and other species announced
Anglers on Mille Lacs Lake will be able to keep walleye during open water fishing for the first time since 2015. An improving walleye population has been protected by conservative fishing regulations in recent years, according to the Department of Natural Resources.
Mille Lacs anglers will be able to keep one walleye between 21 and 23 inches or one walleye over 28 inches from Saturday, May 11, through Friday, May 31.
"It's good news that anglers get to keep some walleye this May, but we are being cautious," said Brad Parsons, DNR fisheries chief. "These regulations represent a careful balance between expanding fishing opportunities and conserving the fishery for the future."
Similar to recent years, a night closure for the 2019 walleye fishing season will be in effect on Mille Lacs from 10 p.m. to 6 a.m. beginning Monday, May 13. The night walleye closure will remain in effect throughout the entire open-water season, which ends Nov. 30.
Catch-and-release fishing for walleye begins Saturday, June 1, and other than the night closure, there are no planned closures for walleye fishing this season.
The DNR is able to allow this limited harvest opportunity because of an improving walleye population bolstered by a 2013 year class of fish that has been protected by conservative fishing regulations. The 2013 year class is starting to produce young fish that appear to be surviving.
The DNR expects a strong increase in the number of anglers fishing during the period when walleye harvest is allowed. Allowing the harvest during May, when water temperatures are lower, will limit the mortality of released walleye associated with this increase in pressure. Both harvested fish and those that die as a result of being caught and released are counted against the state's walleye harvest allocation.
The Mille Lacs walleye population has undergone many changes over the past two decades that have coincided with significant aquatic system changes including increased water clarity and decreased walleye productivity; the introduction of zebra mussels, Eurasian watermilfoil and spiny water fleas; a changing zooplankton community that may be altering the aquatic food web; and declines in certain forage species, including tullibee.
The DNR encourages Minnesotans and out-of-state visitors to fish the other abundant species that Mille Lacs Lake has to offer in addition to walleye.
---
October 31, 2018 "Lake Mille Lacs Winter Anglers Allowed 1 Walleye Starting December 1, 2018"
Surveys show walleye population increasing, but some year classes remain below normal.
Winter anglers on Lake Mille Lacs will again enjoy a walleye harvest this winter for the third season in a row, according to the Department of Natural Resources. Similar to last season, anglers will be allowed to keep walleye on Mille Lacs starting Saturday, Dec. 1, with no bait restrictions and a limit of one walleye between 21-23 inches, or one fish over 28 inches.
Winter regulations are set after completion of the DNR's annual fall gill net assessment on Mille Lacs. In 2018, this assessment was supplemented by a population estimate, in which the DNR catches fish in the spring, marks them, and later recaptures them. While studies indicate the walleye population on Mille Lacs is increasing, some year classes remain below normal or average.
"It's good news that anglers will be able to harvest walleye again this winter," said Tom Landwehr, DNR commissioner. "We're also encouraged to see evidence that our conservative approach to Mille Lacs is paying off to the point that we're seeing population increases on this renowned fishing lake."
According to the results of the 2018 population estimate, the abundance of walleye 14 inches and longer in the lake was 727,000 fish. This is up significantly from the population estimates in 2013 and 2014, both of which were around 250,000 fish.
The fall gill net assessment also showed that the total pounds of mature walleye sampled increased significantly from 18.9 pounds per net last year to 27.7 pounds per net this year, mostly due to an increase in mature females. Because of this result, the DNR selected a regulation that allows anglers to keep walleye from 21-23 inches, which focuses the harvest on mature female fish.
The DNR believes the population of mature female walleye can sustain harvest because their numbers are at sufficient levels to ensure good production of fry (baby walleye) in the spring.
2013 fish still strong, but stronger year classes needed
While hopeful for a continued increase, the DNR is taking a cautious approach to interpreting the results of the population estimates. The 2013 year class (or fish hatched that year) continues to dominate the population, accounting for about 40 percent of the fish caught, but year classes hatched since 2013 show mixed results.
The 2014 and 2015 year classes remain below normal. The 2016 year class, which is now 13-15 inches in length, appears close to average compared to the last 15 years. This is significant because if it survives it will only be the second average-or-above year class since 2008. The 2017 year class, now between 9 and 12 inches in length, was well represented in the gill nets, but it's too early to tell whether these fish will comprise an above average year class.
"Over time we want to let anglers keep more fish, but it is critical that population assessments continue to show surviving and self-sustaining year classes of walleye," said Brad Parsons, DNR fisheries chief. "We've seen promising year classes in past years fail to survive to older ages. Opening up additional harvest too fast or too soon could jeopardize the population increases we're seeing."
The fall assessment also examines food abundance for walleye and walleye health. Perch and tullibee are the primary food source for Mille Lacs' walleye. Perch from 0 to 2 years old were caught in low numbers, and the number of young-of-year tullibee caught also was low. Walleye condition or "plumpness" reflects these results and remained lower than recent averages.
Low forage levels usually mean the walleye bite is good because there is less food available for fish to eat, making an angler's bait all the more attractive.
"We expect the walleye bite to be quite good on Mille Lacs this winter, which means ice anglers may experience a lot of fishing action out on the lake," Parsons said.
Complete winter regulation information for Mille Lacs is available on the DNR website at mndnr.gov/millelacslake.
---
News Release September 21, 2018 — DNR seeking input on Leech Lake proposed walleye regulation change
"A proposed walleye regulation change on Leech Lake would allow anglers more opportunities to keep walleye beginning when the 2019 open water fishing season opens.
The Minnesota Department of Natural Resources is seeking input on the change at an open house from 6 p.m. to 8 p.m., Monday, Sept. 24, at the Walker Area Community Center.
The proposed regulation change would remove the 20- to 26-inch protected slot and replace it with a regulation similar to the statewide regulation, but with a four-fish walleye limit, only one of which can be over 20 inches.
The current walleye regulation on Leech Lake is four fish, requiring the immediate release of any walleye that are within a 20- to 26-inch protected slot limit. Only one fish over 26 inches allowed in possession. The four-fish walleye possession limit on Leech Lake has been in effect since 2005.
"The regulation was initially put in place to help protect spawning fish," said Doug Schultz, DNR Walker area fisheries supervisor. "Regulation goals have been exceeded, prompting the DNR to propose increased harvest opportunity at this time."
Carl Pedersen, the DNR large lake specialist on Leech Lake, said the walleye population is in excellent condition at this time and can afford some additional harvest.
"We have an abundant population of spawning-age fish with a wide distribution of sizes, and multiple year classes of smaller fish entering the fishery," Pedersen said. "Protective fishing regulations combined with very consistent production of year classes over the past 10 years have put us in a very good position."
If future fisheries assessments indicate harvest should be reduced, the DNR anticipates revisiting the protected slot limit at that time.
At the meeting, there will not be a formal presentation but DNR staff will be on hand to answer questions and discuss the proposed regulation with individuals who attend. Following the meeting, comments will be accepted through Friday, Oct. 5. Those unable to attend the meeting can provide comments by calling the Walker area fisheries office at 218-547-1683 or by emailing walker.fisheries@state.mn.us.
Anglers who can't make the meeting in Walker can attend an open house about that and other regulation proposals from 8 a.m. to 4:30 p.m. Wednesday, Sept. 26, at the DNR headquarters in St. Paul, 500 Lafayette Road. No formal presentations will be made at the open house."
More information on fishing regulations can be found on the DNR website at mndnr.gov/fishing.
---
News Release September 15, 2018 — Angler surveys show walleye overage can be paid back on Lake Mille Lacs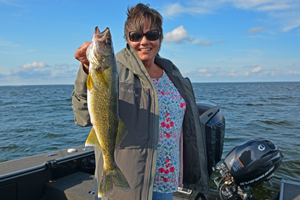 "Lake Mille Lacs angler survey results show that state anglers have taken walleye at levels far enough under the state's safe harvest allocation to pay back a harvest overage accumulated in 2016 and 2017, according to the Department of Natural Resources.
The survey results through the end of August indicate catch rates were still quite good this summer, but were lower than last year.
DNR experts say the lower catch rates are consistent with reports from anglers of seeing more baitfish, as catch rates decline with increases in small-fish forage for bigger fish.
"It's good news that walleye anglers had lots of success on Mille Lacs and that we were able to stay under the state's allocation," said DNR Commissioner Tom Landwehr.
The latest survey estimates include walleye harvested by state anglers in the winter, and in the summer those that died after being caught and released. This is a condition known as hooking mortality. During this time anglers took 42,396 pounds of walleye.
Cooler water temperatures and the normal decline in fishing pressure that occur in the fall indicate that total kill for the year will likely remain under 50,000 pounds of walleye, well below the state's safe harvest level allocation of 87,800 pounds.
In 2016 and 2017, state anglers exceeded the allowable harvest by a combined 16,050 pounds and those overages needed to be accounted for in a future year. Since the 2018 state angler kill is well under the allowable harvest, the overage will be eliminated.
Walleye safe harvest level for Lake Mille Lacs is determined annually, based on population status, and predictions of how harvest will affect the walleye population in the future. The safe harvest level is divided between the 1837 Treaty Bands and state anglers. By agreement, the Bands and the state are required to monitor harvest by their members.
"Although the state and the Bands did not reach agreement on safe harvest level for this year, a kill of 50,000 pounds will be well below allocation regardless of whether safe harvest level is 150,000 or 120,000 pounds," Parsons said.
The DNR is conducting its standard fall fish community assessments through September. The DNR's angler creel survey runs through Oct. 31. The agency will announce its winter walleye regulations in early November."
Angler survey results and more information about Lake Mille Lacs can be found on the DNR website at mndnr.gov/millelacslake.
---
News Release New Minnesota DWI law goes into effect August 1, 2018 - Little Alan's Law provides consistent application of DWI laws.
A new law that goes into effect Aug. 1 means people convicted of driving while intoxicated – regardless of the vehicle they're driving – will lose their driver's license and be prohibited from operating motor vehicles, including all-terrain vehicles, motorboats and snowmobiles. The state Legislature passed the law following the death of 8-year-old Alan Geisenkoetter Jr., who died in January after being struck by a snowmobile driven by a man whose driver's license was revoked after multiple DWI offenses.
Before the law change, people convicted of DWI in a highway-licensed vehicle still could legally operate ATVs, motorboats and snowmobiles. The changes apply to violations that occur on or after Aug. 1.
"We have zero tolerance for people who endanger themselves and other people by operating a motor vehicle or recreational vehicle while they're intoxicated," said Col. Rodmen Smith, director of the Minnesota DNR Enforcement Division. "This new law should send the message that drinking and driving – no matter what the vehicle – isn't acceptable and the consequences are severe."
As an example, a person convicted of DWI in a motorboat, or who refuses testing for a motorboat DWI, would have their driver's license suspended and be prohibited from operating ATVs, motorboats and snowmobiles for one year. Additionally, first-time DWI offenders operating off-road recreational vehicles or motorboats also will be subject to chemical use assessments, conditional release and plate impoundment – the same as a DWI in a highway-licensed vehicle.
The Minnesota DNR and other law enforcement agencies in the state, along with ATV and snowmobile groups, supported the law change, which passed the Legislature with bipartisan support and was signed into law in May by Gov. Mark Dayton."
---
News Release June 20, 2018 DNR Considers changing Lake of the Woods Walleye-Sauger Regulations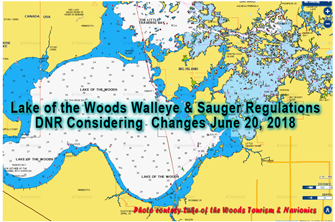 "Angling regulations on Lake of the Woods and the Rainy River in northern Minnesota would change under a proposal being considered by the Minnesota Department of Natural Resources to reduce the number of walleye and sauger allowed to be kept in the winter on the lake, and on the river allowing only catch-and-release fishing for those fish in the spring.
"We recently went through a public process of updating the Lake of the Woods Fisheries Management Plan and identified several potential areas of concern with regard to current levels of harvest," said Phil Talmage, Baudette fisheries supervisor. "That's why we're discussing these potential changes."
The proposed changes would reduce the aggregate limit of walleye and sauger in the winter to align with the summer regulations on Lake of the Woods, and make spring angling on the Rainy River catch-and-release for walleye and sauger. The changes would go into effect starting March 1, 2019.
Anglers will see yellow signs at public water accesses around Lake of the Woods and the Rainy River later this month notifying the public of the proposal. Future news releases will provide the details of a formal public comment period during the fall, and will include ways to provide comment to the DNR on the proposal.
Learn more about Lake of the Woods management go to mndnr.gov/lakeofthewoods."
---
News Release May 30, 2018 "DNR cautions lakeshore property owners about using hydraulic jets"
Using hydraulic jets to get rid of "muck" or to uproot aquatic plants in public waters is illegal, according to the Minnesota Department of Natural Resources.
"We remind lakeshore property owners that just because you can buy a hydraulic jet does not make them legal to use in all situations," said Jon Hansen, aquatic plant management consultant. "You may not use them in any way that disturbs the lake bottom or destroys rooted aquatic plants,"
Aquatic plants help keep water clean and fish populations healthy. Misusing hydraulic jets can destroy fish habitat and muddy the water.
Hydraulic jets, including products like HydroSweep, Aqua Blaster, Aqua Thruster and Aquasweep, can resemble a fan or trolling motor contained in a short tube and create strong currents of moving water. These products are often advertised to control or remove "muck" and "weeds" from a lake bottom; however, using hydraulic jets in this manner is not allowed in Minnesota.
A person may legally operate a hydraulic jet if it is placed high enough off the lake bed so that it does not disturb the bottom or destroy rooted aquatic plants. It should be directed upward toward the water's surface, which can prevent dead vegetation and duckweed from collecting around docks and boat lifts. Any displacement of sediment or removal of aquatic plants as a result of operating a hydraulic jet would be deemed a violation and may result in a fine.
Aquatic plant regulations and a guide to aquatic plants can be found at mndnr.gov/shorelandplants. For information on DNR water permits, visit mndnr.gov/permits.
---
New Northern Pike Fishing Regulations For 2018 Minnesota Fishing Season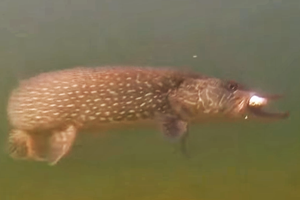 New regulations for catching and keeping northern pike will be the most significant change anglers will see when they open up the 2018 Minnesota Fishing Regulations Booklet being distributed throughout the state.
"Anyone who wants to keep pike in Minnesota's inland waters needs to take a close look at these regulations and be prepared to measure the pike they want to keep starting on the Saturday, May 12, fishing opener," said Al Stevens, fisheries program consultant with the Minnesota Department of Natural Resources.
The new fishing regulations have three distinct zones to address the different characteristics of pike populations in Minnesota. While not designed to manage for trophy pike, the new regulations are meant to restore pike populations for better harvest opportunities across the state for sizes that make good table fare, up to around 28 inches or so.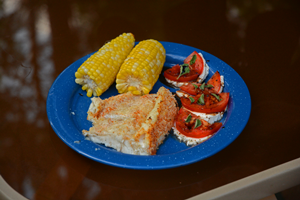 "It's almost go-time and we're happy to be at this point after years of discussion on these issues with pike," Stevens said. "This has been a long-running topic of conversation and is becoming reality in the 2018 fishing season."
The move toward new regulations was a response to anglers' concerns about the over-abundance of hammer-handle pike in much of central to north-central Minnesota; the low numbers of pike present in southern waters; and a desire to protect large pike in the northeastern part of the state. The new pike harvest regulations apply to inland waters of the state.
• North-central: Limit of 10 northern pike, but not more than two pike longer than 26 inches; all from 22 to 26 inches must be released.
• Northeast: Two pike; anglers must release all from 30 to 40 inches, with only one over 40 inches allowed in possession.
• South: Two fish; minimum size 24 inches.
Darkhouse spearing regulations for pike change slightly and those regulations are listed in the spearing section of the regulations booklet.
Meanwhile, the new pike regulations do not affect border waters fishing regulations and special regulations that cover individual lakes, rivers and streams.
For more information on the new zone regulations visit mndnr.gov/pike or contact a local area fisheries office. Contact information can be found in the fishing regulations booklet, available online at >> mndnr.gov/regulations/fishing.
---
April 9, 2018 Upper Red Lake walleye regulations announced for 2018 open water season
Anglers fishing Upper Red Lake this spring will again be able to keep four walleye of which only one may be longer than 17 inches, continuing the same regulation that was in place this past winter and the previous 2017 open water season.
Harvest under the four-fish bag limit, one-over-17 regulation resulted in about 152,000 pounds for the winter season – a record high for winter harvest since reopening walleye fishing in 2006 – and there remains room within the target harvest range to allow this regulation to continue into the open water season.
"Anglers really like the current opportunities to keep lots of walleye on Upper Red Lake," said Gary Barnard, area fisheries supervisor in Bemidji for the Minnesota Department of Natural Resources. "These regulations serve a specific purpose now, but we want to be clear that eventually we may need to pull back."
Red Lake's walleye harvest is managed under a joint harvest plan, revised in 2015 by the Red Lakes Fisheries Technical Committee. An Upper Red Lake Citizen Advisory Committee reviewed previous season harvest totals and regulation options and recommended continuation of the current walleye regulation for the state waters of Upper Red Lake.
The revised harvest plan recommends an aggressive approach when walleye spawning stock is in surplus, as it currently is. The one-over component of this regulation replaced a protected slot limit in December 2015, and has been used ever since in combination with either a three- or four-fish bag limit.
Surplus spawning stock means that there are more adult spawners than needed for good reproduction. Removing some of the excess is good for the population since it will improve growth and survival of young fish.
Adjustments to size or bag limits may be needed in the future if the spawning stock needs more protection. "For now, the regulations meet our objectives by spreading harvest over a wide range of sizes and removing some of the surplus spawning stock," Barnard said.
More information on Red Lake fishing regulations are available at mndnr.gov/regulations/fishing.
---
Northern Pike, The Quest For Quality - Jeff Sundin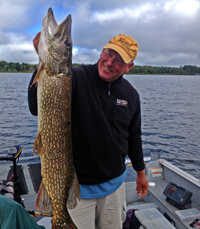 "Travel with almost any group of anglers in Northern Minnesota and you're bound to hear some pretty dicey comments that reflect poorly on the present state of Northern Pike fishing in the northland.
All too often, anglers encounter lakes that have enormous populations of stunted Pike where catching a "quality fish" could earn you a lifetime achievement award. Try to swim a lure through these legions of small Pike and it's easy to see how they would raise the ire of anyone hoping to attract the attention of more worthy combatants.
Snakes, scissors bills, slimes and a host of other even less flattering nicknames get thrown around on nearly every fishing trip.
But in my travels as a full time fishing guide, I have seen strange transformations occur whenever someone catches ..." Read >> The Quest For Quality Pike
---
Kids Can Posess Their Own Fish Limits In Minnesota
Q) When I'm fishing with kids, can they have their own limit of fish in addition to mine?
A) Nonresidents age 16 and older are required to have an appropriate fishing license while angling. Non residents under age 16 do not need a license if the parent or guardian is licensed. Children of an adult who has a Minnesota Nonresident Family License may possess their own limit of fish.
However, if the adult has only an Individual License or if the parents have a Husband and Wife License, then the child's fish are included in the adult's limit. Nonresidents under age 16 may purchase a nonresident youth license and possess their own limit of fish.

Minnesota Residents under age 16 may take fish without a license. The statute does not state explicitly that under age residents my possess their own limit of fish. But the legislators use of the phrase "take fish" implies that the kids are entitled to their own limit.
*See a complete, Printable PDF >> Minnesota Statutes 97A.451 License Requirements and Exemptions Relating To Age
---
Jeff Sundin is a full time, professional fishing guide, outdoor writer and photographer. Book Jeff for guided fishing trips, for fishing seminars, fishing promotions and media events. Click here >> learn more about Jeff Sundin.
"The Early Bird Fishing Guide" Jeff Sundin - Fishing Blue Books, LLC 715 Byington Ave, LaPrairie, MN 55744 218-245-9858
Email copyright©2019 Fishing Blue Books, LLC All Rights Reserved - last revised 3-28-2019