---
---

Greg Clusiau, "Greg's Guide Lines"
January 15, 2019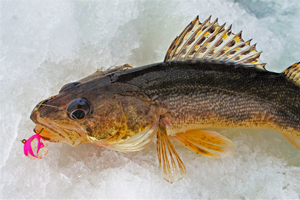 Another outing is in the books for the famed Minnesota walleye. This time, my son-in-law, David Holmbeck, and I did a day-trip to Lake of the Woods. It's kind of a killer trip, seeing how it's about 3 ½ hours one way, but usually well worth it.
Recent reports, from friends that were up there, had anglers doing very well, catching several fish. Limits were easy to achieve, and numbers of bigger fish were being caught as well.
The weather was nice, with roads being clear and dry. This makes for easy traveling. It's so nice not dragging a snowmobile trailer along. Especially that distance. There was no need to, as the ice roads had plenty of solid ice and vehicle traffic was the norm.
The only downside was that the deer are still doing quite a bit of running during the twilight hours and we had to be on our toes, or brakes, some of the time. We encountered quite a few of them.
Our destination was Adrian's Resort. I heard several good reports from anglers fishing "out of Adrian's".
Once to the lake, we traveled about 7 miles out and picked out a spot to fish. This is sort of like a lottery, as the 32' depth remains constant and it's up to the angler to find that hungry pod of fish.
Yes, the plowed roads are all over the place but one can drive "off the road" to reach those isolated areas that may hold walleye. We used my truck, which did the job, but I wished I had better "gripper" tires, as we got stuck a few times. Not bad, but just enough to slow our plans.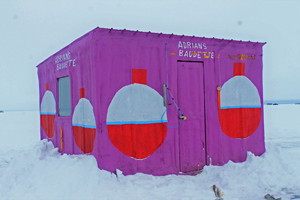 Setting up, using two holes each, I told David "I'm setting the dead-stick half way down and jigging the other rod near the bottom." He set both of his rods just off bottom but quickly adjusted one of them after I caught two fish that were cruising at 15' below the ice.
We caught a few quick fish but then it slowed, for about an hour or so.
Leaving our portable shelter set up, with all gear inside, we grabbed a couple rods, minnows, and Vexilars, and took off in search of a better spot.
Snowbanks were challenging but there are low spots that allow one to bust through the berms, in order to get off the road a way.
Our first attempt worked. Driving 50' off the ice road, holes were drilled, and two quick fish were caught. It was time to resettle, so back to base camp we went. It certainly didn't take too much time for us to toss everything in the truck and move. We wanted to get back to that spot before the fish had decided to leave. One never knows.
Once set up, it took a while before the bites started happening, but it wasn't fast and furious.
When it slowed down, we'd venture outside and drill a few more holes. The weather was favorable for this.
It was a sporadic bite for most of our day, but we still managed to catch about 20 fish. Nothing big. Well, we did lose 3-4 heavy fish. One was right in the hole. Most were of the smaller variety but went in the fish bucket anyway.
For the most part, sauger were caught closer to bottom and walleyes about half way down, but one never knew until pulled through the hole.
Best baits? I'm not sure there was one. I caught my first fish on a big "glassy/glow" jig that was purchased along with the minnows at Adrian's. You know how fishermen are. I can't go in a bait shop without buying a little more tackle, especially if it was something I hadn't tried before.
The trip in review: Nice roads, easy travel, great weather (a little breezy), good lake travel, decent fishing, smaller fish, and a good time. I'd do it again.
On the local ice fishing scene, many lakes are offering challenging travel, as slush is more than abundant. These are the times that you may want to go through a resort so you can use a plowed ice road. Lake of the Woods?
---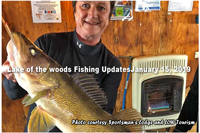 On the south end, anglers continue to catch good numbers of both walleyes and saugers of all sizes.
Most fish are coming from water depths of 28 to 31 feet, with an early morning, late evening bite occuring shallower. Water depths of 15 to 22 feet along many shoreline areas are best for the prime time feeding runs.
Jigging one line, deadsticking with a second using with lively minnows is the best strategy. Gold, glow red, pink and glow colors have been consistent.
Some anglers using noise and flash to attract and catch fish, but don't overlook using a ..." Read More >> Lake of the Woods Ice fishing Reports January 15, 2019
---
Wired2Fish "Hale Lures and Stanley Jigs Giveaway" Open Until January 22, 2019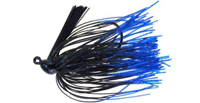 "Some companies stick to their knitting and others dynamically change but the best ones do a little of both. There is still room in fishing for tried and true but the evolution of tried and true keeps companies leading the way. One such company that has been around fishing for decades and today is ramping things up with new ideas and products is Hale Lures and Stanley Jigs.
Know for building high quality products they now have an arsenal or great standbys and new fish catching products and we want to show some of both to our readers in the Hale Lures/Stanley Jig Tackle Giveaway.
1 - Stanley Ribbit Double-Take Frog Hooks 2 pack, 1 - Stanley Poppn' Toad, 1 - Stanley Top Toad, 1 - Stanley Ribbit Frog, 1 - Awesome Twin Spin Jig, 1 - Stanley Original Vibra Shaft, 1 - Stanley Vibra Wedge Extreme" Learn More and Enter >> Hale Lures and Stanley Jigs Giveaway
---

Greg Clusiau, "Greg's Guide Lines"
January 8, 2019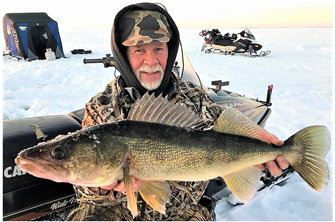 "Most walleye producing waters, in our area, provide the best opportunity to catch a couple during the low-light periods of early-morning and late afternoon/evening. Large walleye waters, like Big Winnibigoshish and Leech Lake, for example, fall into this category, as do local favorites like Swan and Trout Lake.
Sure, you can "luck out" and catch one or two, on occasion, during the mid-day hours, but that is pretty much not the case. It's fishing the small windows, usually about 1 ½ to 2 hours, during the light-changing periods, that will get it done for you.
Thank goodness for lakes that allow you to catch fish all day long. Three walleye factories that immediately come to mind, when speaking of an all-day-bite, are Mille Lacs Lake, Upper Red Lake, and Lake of the Woods. These lakes, however, are much like all walleye waters, offering better action early and late in the day.
If you have to drive a bit and spend some time on the road, in order to reach your walleye destination, you may as well have the opportunity to catch fish all day long.
I've been on Upper Red Lake many times and usually come away with a nice limit of fish and enjoyed fairly-steady action throughout the day. That lake is always fun.
Lake of the Woods usually never fails but I don't get up there as much as I would like to. A one-way 3- hour drive can do that to you. Day-trips are a bugger and one is better off spending the night somewhere.
Mille Lacs? I've only ice fished it one time in my life, before last weekend, and on that occasion, I never caught a walleye, only one monster smallmouth that made the In-Fisherman magazine.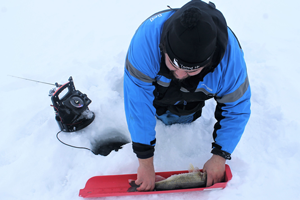 Tournament fishing partner, Andy Walsh, has now settled on the shores of Mille Lacs and spends a good deal of time on the big water, summer and winter. This comes in real handy, when pre-fishing needs to be done for a walleye tournament. It also helps when he pre-fishes it before I make the trip there during the winter months. There's no time wasted, searching around. Just go to the spot(s) and start catching fish. Perfect! And it's only an hour and a half away.
It also helps, when someone who has fished the lake for nearly three decades is a member of your fishing party and that guy is Cal Flander.
Cal tested the waters, the day before my trip, and caught over fifty fish by himself. Now that's enough to talk anybody into going.
Joined by Lake Superior charter captain, Lorin LeMire, and his son, Joe, the five of us gave it a full day last Saturday, fishing from dark-to-dark.
We used snowmobiles and traveled from Andy's place to a few spots, six miles out on the lake. It's a little rough out there, so speed was kept to a minimum but it's an excellent way to reach the little hotspots that Cal had found on the day before.
If there's a problem at all, with ice fishing Mille Lacs Lake for walleye, it's the limit. For those wanting to catch a fish or two for dinner, the limit is only one, and it needs to measure between 21" and 23" (or one over 28"). Out of Cal's fifty fish, the day before, only one was in that "magical" slot limit.
The DNR sure has this one figured out. I wonder what changes for the lake Sarah Strommen, our new DNR commissioner, will have in mind, seeing how her first love is fishing. Now that's a good thing.
Cal might have been a little disappointed in our success, but we weren't complaining. Catching was considerably slower on this day but the five of us still managed to ice over sixty walleyes (and not a one in the keeping slot). That's pretty darn good, if you ask me.
And with the one fish limit, one would think that you'd practically have the entire 128,000 acres to yourself. That is definitely not the case.
Blink your eyes and imagine that you're fishing on Upper Red Lake. Well, it's not quite that busy but not too far from it. Little groupings of anglers were scattered all-across the lake. Thankfully, the lake is big enough that no one was really crowded. There's plenty of productive water out there.
There was also a lot of trucks and wheel houses on the big water. Many resorts have plowed ice roads, enabling anxious anglers to reach their desired locations. It's amazing when you think about it. Most all these anglers are out there just because "they like to catch fish." They're not too concerned about bringing anything home.
One resort reported that a stream of wheel houses, the night before, lasted for a solid three hours, and that's just one report.
It's happening out on Mille Lacs Lake. If you want to get in on the fun, give it a try. You won't be disappointed. There's plenty of fish to be caught (and released).
..." Read >> Greg's Guide Lines January 8, 2019
---
---