Jeff Sundin Fishing Article November 14, 2019 "Re-Spooling For Winter Fishing"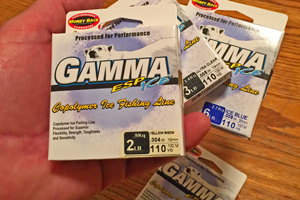 For me, getting the most value out of every piece of fishing gear is important. That's why many of the fishing reels I use during summer, double as ice fishing reels during winter. All I do is remove the reel from my summer rod, put it on one of my shorter ice fishing rods and I'm ready to fish; almost.
In my particular case, the line I love for summer fishing is not really suitable for ice fishing. My summer line is tough, it has an exterior coating that allows me to work lures in weeds or rocks without getting too dinged up. But when it gets cold that tough exterior coating works against me, it tends to feel "stiff" and gets coiled up, making finesse presentations difficult.
Beyond that, the 4 or 6 lb. test lines that I use in summer is heavier than what I like during winter. So even if I did use the same type of line for ice fishing, I'd still need to trade it out for lighter weights. So before I head for the ice, I strip all of the old line off my reels and trade it for my favorite type of ice fishing line, copolymer.
I never heard of copolymer fishing line until 7 or 8 years ago when I began working with the folks at Lindy. At the time, they offered a copolymer ice line and from the first time I used it, I was hooked. Not only was the line softer and suppler, it had the ability to shed water, making it a lot less prone to freezing up in cold weather.
The Lindy version of ice line hasn't been available for a few years now, so I was forced to find an alternative. Gamma fishing line came to my attention when they're owner; Dale Black told me that they too offered copolymer ice fishing line. One of their offerings is called "FC ICE", I tried it in 2017 and I liked it, so I've been using it ever since. Learn More >> Article December 5, 2017 "Ice Fishing Lines; Which One Is Best?" . .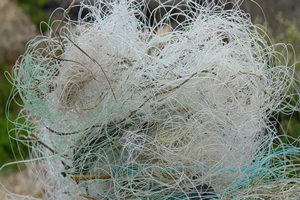 While we were talking about fishing line on the radio show this morning, the subject of recycling came up. The question was whether discarded fishing line is recyclable or not.
Yes, it is and simply put, recycling your old line is a very good idea. Old fishing line does not biodegrade, so a length of line tossed over the side of a boat or even into a trash can stays around for years. Who knows when a bird will get tangled in it or when it will wind up around the prop of your boats engine?
Knowing that fishing line is recyclable is one thing, but knowing where to take it is another. So after the radio show, I looked into the question of finding places to drop off discarded line locally. In some areas, the local part could be tricky, but figuring out where it will eventually wind up was easy.
No matter where it's collected, almost all recycled line winds up going back to the Berkeley plant in Spirit Lake Iowa. At their facility, old line gets turned into tackle boxes, small plastic fishing accessories and even fish habitat.
The Berkeley website has a special section called Berkeley Conservation Institute and within it, a page devoted to recycling. Here you'll find information about their programs and public outreach.  I found this quote interesting; "Since 1990, the Berkley Conservation Institute, with the help of anglers everywhere, has recycled more than 9 million miles worth of fishing line. That's enough line to fill two reels for every angler in America." Holy birds nest! That's a lot of fishing line!
Learn More >> Berkeley Conservation Institute
I feel like I've always known better than to leave my old fishing line laying around. But I can't say that I've been very devoted to getting rid of it "the right way" either. So from here on out, I won't throw my old line in the trash, I'll learn the local spots that offer recycling and drop it off.
If I can't find any established drop off stations locally, then I'll volunteer to help get a few of them set up myself. In just a few minutes time, I found several organizations, like Boat US who offer assistance to associations and clubs who want to make it easier for anglers to recycle old line. Learn More >> Boat US
You may already know about drop off locations and if you do, I hope you'll share. I'll make a special point of adding a list of locations as they become available.

— Jeff Sundin 218-245-9858 or EMAIL
---