March 31, 2015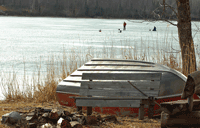 Northern Minnesota's inland waters remain ice covered and die-hard anglers are catching the last wave of good ice before flipping the boat over becomes a necessity.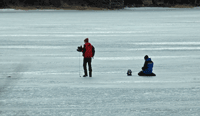 ATV travel may still be feasable on some lakes. But on Monday, all of the ice fishermen that I spotted on Cutfoot, Lake Winnie, Little Cutfoot, Bowstring and others, were travelling on foot.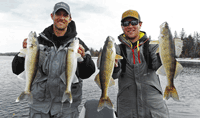 Read Greg Clusiau >> Rainy River Fishing Report March 31
March 24. 2015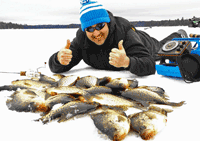 Greg Clusiau wrote; "Crappies were our target and find them we did! Read Report >> Rainy Lake Crappie Fishing
March 23, 2015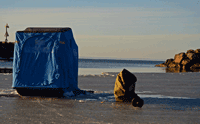 Portable ice shelters on one of the few remaining ice covered harbors at Lake Superior.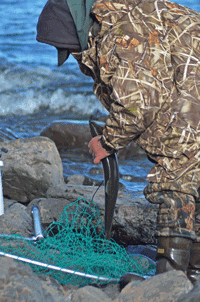 Shoreline fishing action on Lake Superior wasn't fast and furious, but some anglers did occasionally hook into a decent size Coho.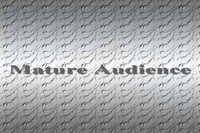 I usually shy away from this sort of thing, but I can't help myself this time. That's because I captured an image of the most gorgeous pair of hooters this weekend! If you really want to see 'em, click the image.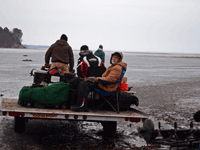 At the trappers landing on Winnie's west side, near the Mississippi River mouth, traffic was already heavy at 7:45 AM and as I drove away from the landing there were even more vehicles approaching.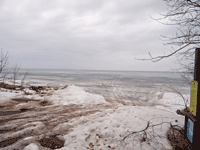 At Richards townsite, there is much less traffic and the landing is also in better condition. At 8:15 there were only two rigs in the parking lot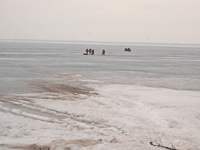 Conditions at the ramp were very good and it's likely that this ramp will hold up very well to traffic throughout the entire weekend.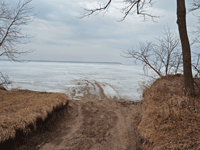 From Bowens Road on the north side of Tamarack Bay, traffic was virtually nonexistent. A group of ice fishermen who wanted to have the bay to themselves could easily manage it.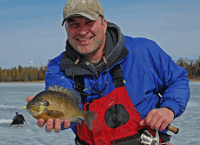 Robby Ott, Otter's Guide Service with a nice late season Sunfish caught using the Pink/Yellow Tungsten Toad.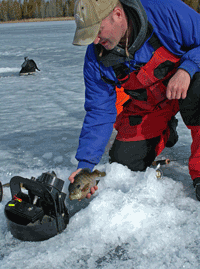 Fishing over 10 feet of water with Panfish riding even higher in the water column made this the ideal scenario for CPR fishing.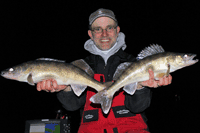 Dr. Jason Halfen shares tactics for using side imaging to produce "Pre-Spawn Walleyes" on rivers. READ Article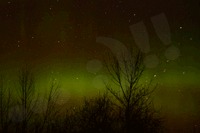 It pays to wake up in the wee hours. A reasonably nice display of Northern Lights lingered over the back of my farm this morning, allowing me to capture this Happy St. Patricks Day image.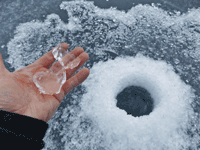 Photo Greg Clusiau: Large chunks of honeycombed ice signals the beginning of the end of another ice fishing season. Read >> Greg's Guidelines for 3/16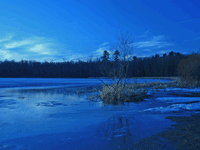 I think that it's also safe to assume that without a major weather change, ATV's and foot travel will be the name of the game for the rest of this ice fishing season.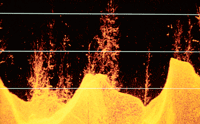 One trick I use for locating Marl is to use my down imaging. As I move from spot to spot, I'll see areas with brighter yellow return that looks sort of like a shiny spot on the bottom, that's the solid stuff.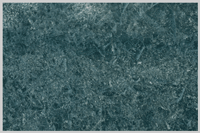 The appearance of honeycombed ice gives anglers the signal that water is draining into the small fissures or fractures in the ice. Soon, predicting the safety will become very difficult.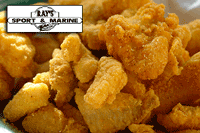 Free Fish Fry, Seminars and Sage advice are yours for the taking at the Grand Rapids Boat Show.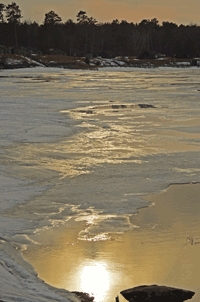 There was standing water in areas that haven't been fished, but whenever I got close to the "popular spots", the ice was dry. That gives me a clue; the ice sheet is still strong and holding high above the water allowing surface water to drain into the open ice fishing holes.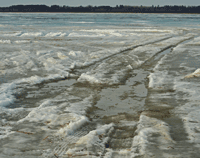 Some Itasca Area landings were only in "okay" condition. I'm afraid that it won't take long for them to deteriorate, especially in heavily traveled areas.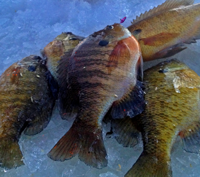 The question is where are all the Sunnies? If I really, really wanted to find the Sunnies, what would I do?

March 11, 2015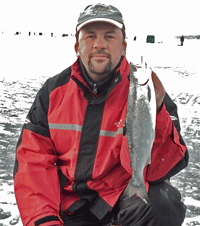 Photo: Brian Castellano with Coho Salmon on Lake Superior. Castellano; "A silver Slender Spoon with a green sticker and a piece of minnow put 2 coho's on the ice for me".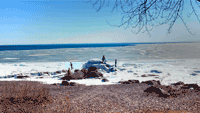 Castellano spent more time watching the open water, ice, and shoreline than his Vexilar and said; "I was VERY happy when we made it back to shore w/o the Coast Guard's help".

March 4, 2015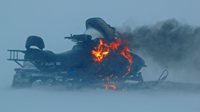 "Handyman Special" Needs minor repairs and a good cleaning. Free to good home. Don't call us, we'll call you.
---
March 3, 2015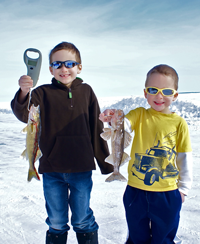 Johnny 6 and Geno 4 were up on Lake of the Woods over the weekend with Grandma and Grampa and had some fun! read >> Lake of the Woods Fishing Report