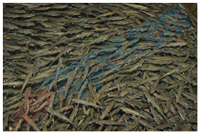 Spottail Shiners will be on hand for the 2015 Walleye opener.


For the 2015 season debut of Fish Ed, Jon Thelen shows us how to catch Missouri River Walleyes.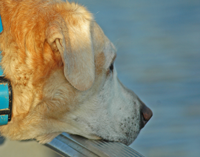 How long are we gonna float around out here pops; you gonna catch something one of these days?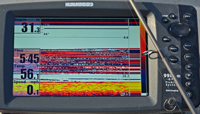 Finding several fairly large groups, suspended from 17 to 25 feet over the lakes deepest water, about 31 feet wasn't that hard. Getting them to bite, was another matter.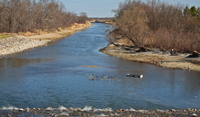 Water levels at the Mississppi River at Lake Winnie ARE LOW.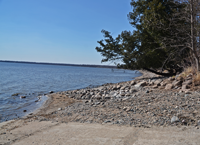 I'm buying into the notion that we better start checking water conditions at our favorite landings in advance. Opening mornings can be, very busy and heightened, jammed up traffic at the ramps is the last thing we need.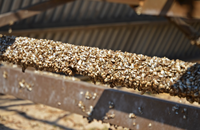 It seems like the news about discovering "Zeebs" in Sand Lake just barely broke, but after only a few seasons, their grip on the lake is very strong.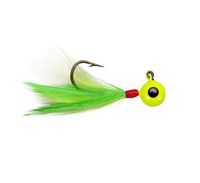 The color of the Little Nipper's feathers adds both buoyancy and extra attracting power. A lively Rainbow Chub, hooked lightly on the outer edges of it's lips provides enormous triggering power too.

On shallow, sandy flats, newly emerging plants like Coontail and Northern Milfoil provide ideal cover for baitfish. Walleyes roam the flats picking off baitfish.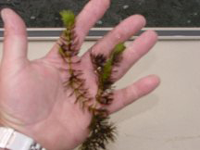 The key to finding a spot like this is to remember places where during mid-summer, these plants choke the flats, making them almost impossible to fish.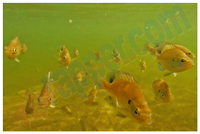 Hungry Sunfish can be devastating to freshly stocked Walleye Fry. Fisheries managers overcome the problem by using fingerlings.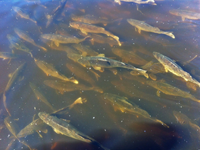 Photo Cub Reporter, Staff #004: Robust Walleye populations at the traps indicate a good season ahead; for the adaptable.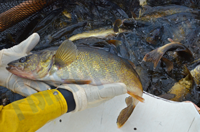 When the water temperatures begin rising into the low 40 degree range Walleye move toward spawning territory. On Little Cutfoot, that's the time for DNR Fisheries Staff to spring into action. Read Article >> Cutfoot Sioux Walleye Egg Harvest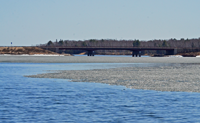 Looking at the Hwy. 169 Bridge on Pokegama, where we came upon last 1/4 mile of ice cover on Tuesday. That ice was soft, easily penetrable and by today, it's probably already gone.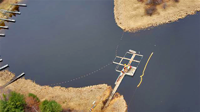 The nets are set at the Walleye Egg Harvest Station. The first wave of spawning Walleyes may even arrive during the wee hours tonight; we could be looking at some fresh photos of the operation by Thursday morning.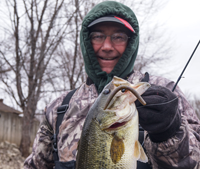 Read fishing artricle >> Ice Out Bass on Northern Rivers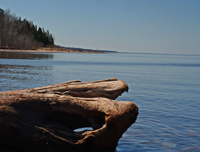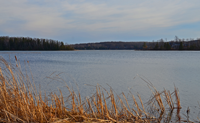 On Pokegama Lake, Grand Rapids small bays are rapidly becoming fishable. Pooles Bay was 70% ice free on Thursday April 9, 2015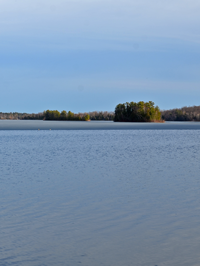 The view from Tioga Beach on Pokegama, Thursday April 9, 2015. I could imagine myself heading for the boat ramp within the next week.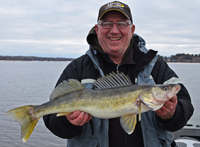 Arne Danielson proving what they say about persitence and a positive attitude. Rainy River Walleye are being caught, but not by the "Runners & Gunners".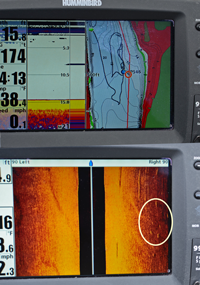 Cold 38 degree water and slow current flow encouraged Walleyes to lay low, disappearing into the bottom. Side images revealed fish that our sonar missed.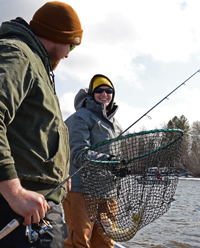 Austin Jones and Annalee Sundin team up to put some "eaters" in the boat this Saturday on the Rainy River.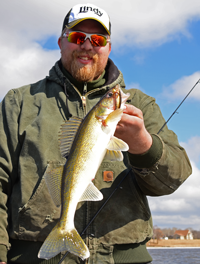 It doesn't take too many 18 inch fish to produce a great fish fry.
April 2, 2015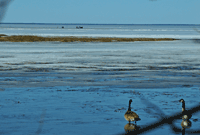 I'll bet you 5 golden goose eggs against your down comforter that they get wet coming back in this afternoon. Whatdaya say, are we on?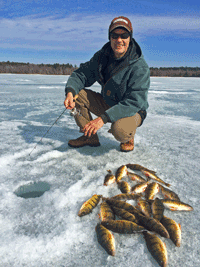 Gathering fish wasn't complicated for Tom Blanck and his fishing crew. Hoofing a short distance from the landing and fishing in shallow water provided plenty of action.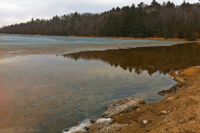 At the Seeleye Landing on Cutfoot Sioux, the ice fishing season is over for this year.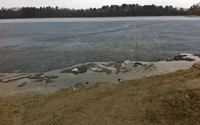 At Little Cutfoot, Cub Reporter, Staff #004 says; "It's even worse than it looks". Ice access is finished here too.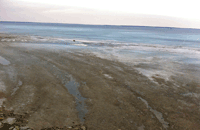 On Bowstring's north end, the landing appeared to be "doable" on Wednesday and will likely hold up throughout the next few days.
---