---
---

Greg Clusiau, "Greg's Guidlines"
February 19, 2018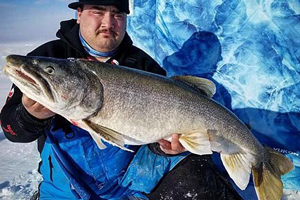 Monster Lake Trout! A huge CONGRATULATIONS goes out to my fishing buddy, Andy Walsh, on his mammoth lake trout, caught last week, while fishing Clearwater Lake in Manitoba. The big fish, caught on a Northland Tackle bucktail jig, measured 42" long and had a girth of 28" and was estimated at 35 pounds. It looks like the 12-hour drive north was worth it, no matter how much equipment broke down.
Crappie Talk - Is it just me, or does anyone else think several of our local lakes are boasting better size and numbers of crappie this winter? No, I'm not talking big slabs but 10"ers (or slightly under), which for me are the smallest size I care to bring home for supper. Any smaller makes it hard to get enough meat to make it worthwhile.
I prefer releasing the larger fish, 12" or more, but that's just me. To each their own and when you get right down to it, I think the perfect size crappie for cleaning/eating is an 11"er.
Thinking this over and doing a little research, if there's an abundance of 9-10" crappie swimming around in our waters, we must have had excellent spawning results about five years ago.
Here's an example chart of the estimated gropwth rates of panfish in Minnesota; Just something to think about.
Editors Note: No it's not just you that's noticed the small fish phenomenon Greg. On January 24, 2018 Jeff Sundin wrote; "Remember how good the Crappie fishing was a few winters ago? The very strong year class of 2010 did not occur only in one lake, not even just a handful of lakes. It was an area wide bubble of beautiful fish and it came on the heels of a couple seasons where there were tons of little ones. This reminds me of what I'm seeing this winter, these small fish seem to be everywhere I go and ..." Read >> "Predicting The Predictible January 24, 2018"
Tullie Time – I made a trip to Leech Lake last Saturday and joined friends for some tullibee action. I've guided for them, out there, before but never fished for them on the south end, going out of Anderson's Horseshoe Bay Resort. A plowed ice road lead us to the fishing grounds, which was an expansive area, covering several acres. People were spread out, all over the place. I was surprised to see so many trying their hand at catching a tullibee.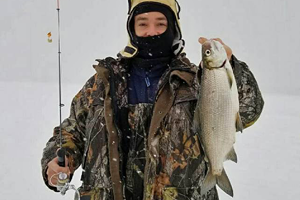 I usually do the best by fishing next to some type of structure (like when fishing Big Winnie) but fish were being caught, randomly, while sitting out in a deep basin area. If you were lucky enough, you'd see a few and maybe catch a couple but it wasn't easy by no means. In typical tullibee fashion, they'd be there one minute and gone the next. Best baits varied but the top producer for our group was a small tungsten jig, tipped with a wax worm. Some were caught on small spoons but the little jigs did far better. "Dropper rigs", featuring a spoon with a 12" leader attached to a small jig did well too. They're always fun to catch and great table fare when smoked.
Bernardo the Brazilian – Joining good friend Lorin LeMire on Leech Lake for the tullibee fishing had me meeting a young man from Brazil. Yeah, of all places?
This all took place because of a chance meeting last summer in Alaska, when Lorin and Kevin Friehl, coming off a fishing trip, had a flight delay and found themselves with an extra day to walk about Anchorage.
They bumped into Bernardo, who was vacationing there, taking a break from schooling at the University of California, Berkeley. Bernardo had never been ice fishing (gee, imagine that) and the rest is history.
He flew in the day before and joined us on the ice and within minutes had his first fish caught through the ice, a nice, chunky tullibee. He went on to catch a 24" walleye, later in the afternoon. I wonder if he'll be coming back?
Blinded by the White – Travel on our local lakes has just become a bit more difficult, with the recent snowfall. Up until last week, I was able to drive around on most of our lakes but that came to a screeching halt last Sunday.
Checking out a local crappie fishery, I had trouble in finding my way out to the fishing hole because of a near white-out. Fishing was poor, so I decided to get off the lake but couldn't even see the trail. Needless-to-say, I got stuck four times in my efforts to leave the lake. This required shoveling down to the bare ice and slowly backing up in four-wheel-drive. 
Once on the highway, it didn't look too bad, so I decided to try another lake on the way home. Again, it was almost impossible to see but I made my way out there and caught a few small crappies before throwing in the towel. It was ridiculous. Luckily, I had my Humminbird graph sitting next to me, with the lake map on. At least I could follow my trail back to the main road. Looks like it's snowmobile time until the next thaw.
Ray's Sport & Marine Grand Opening – Ray's Sport & Marine in Grand Rapids will showcase its flagship store this week February 22-25. Stop in and talk boats, fishing, or anything that comes to mind. I'll be there on Sunday.
---

Greg Clusiau, "Greg's Guidlines"
February 12, 2018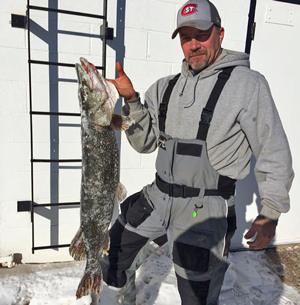 "The local bar contest took place last Saturday on Blue Lake and I was amazed at how few northern pike were caught. I don't have an exact count but the six bars involved must have had well over a hundred entrants. I heard DeNucci's Saloon had forty anglers sign up at their place alone.
I spent a few days on the big reservoir, prior the contest, looking for that little hotspot but came up empty-handed, not catching a northern. How is that even possible? Fishing there in the summer has one catching a fish about every hundred yards or so. It's crawling with them.
One day, I had a couple of fish fly into the Vexilar cone and hammer my jigging bait but both got off. At least they were aggressive, a good sign. However, after checking out the same areas in the days that followed, I couldn't even get a strike?
I do admit that I can get easily sidetracked, especially when seeing a lot of panfish activity below me. Dropping down a rather large jigging spoon attracted quite a crowd. You'd think a large bait like that would scare smaller panfish away. Not on Blue Lake.
The next thing I knew, my pike pole was put away and I was jigging away for sunfish, of which I caught a lot of. Most, however, are of the small variety but fun anyway.
One day, I put out a tip-up and watched that thing for a couple hours, while I played with the sunnies. Not a strike on the big bait. Odd?
Thank goodness there's a nice network of plowed roads out there. One can drive most anywhere you need to. Take caution though. I recall fishing out there many years ago, in the dead of winter, when I spotted a large, open hole, about 25' across. The steaming, black water was an eerie sight.
The day of the event, I started things out with two tip-ups, as did my partner, Andy Walsh. It wasn't long before I couldn't take it anymore. It was like watching paint dry.
Pulling one of my tip-ups, I started jigging, using a large spoon, tipped with a piece of minnow. My thought was 1) it's a great presentation for northern pike and 2) at least it would generate a little interest and if they didn't hit the spoon they'd at least take a hard look at my nearby tip-up, which dangled a frozen cisco. Nope that didn't work either.
I jigged the spoon until I got a little too close to the bottom and that was the end of it. Once snagged, you're usually done out there. I always joke that if I owned a local bait shop, I'd be telling customers about the great success of trolling deep-diving crankbaits out there for northern and walleye. I figure after a couple seasons of selling lures at $17 apiece, one could retire. Luckily, I'm already retired so don't worry. That bait shop won't be starting up anytime soon.
The contest ran from 10 to 2, with me spending the last hour of it, fishing one line for panfish, while keeping an eye on my tip-up, which never budged the entire time. Neither did Andy's. He has more patience than I do and watched his for the entire four hours, with nothing to show for it.
We did have a little excitement and that was when the game warden checked us out (we were bored and welcomed anything to break up the monotony). I could see him checking others, while working his way in our direction, so I was well-prepared upon his arrival.
I greeted his arrival with "you're scaring all of the fish" and handed him my license. Thank goodness he had a sense of humor. We passed the little inspection with flying colors but I'm sure he wrote a few tickets on this day. When dealing with a large crowd, as was on Blue Lake, it's pretty much the law of averages. Somebody's going to mess up somehow.
One thing I noticed, when fishing there for panfish on the next day, was the amount of litter left behind. Pretty sad. These are sportsmen?
Yes, Andy and I, along with most out there, went "flagless" during the event but there's always somebody who ends up catching a nice fish and on this day it was Jeff Nelson. Congratulations to him for his 17 ½ pound northern pike, which weighed slightly over 18 pounds on the lake.
The weigh-in took place at Bernie's Main Dry in Keewatin, which is only two blocks from my house, so after returning home I walked over to check things out. Fish were being weighed and registered outside and a nice buffet was set up inside the bar.
Not a whole lot of fish were weighed in, which still surprises me, but it looked like everyone had a pretty good time, as there were plenty of fishing stories to go around.
The Keewatin Legion took home top honors and the traveling trophy, thanks to the big "kicker fish" caught by Nelson. Always fun.
---
Wired2Fish February 12, 2018 - "EGO Kryptek Tournament Kit Giveaway"
"Whether you own a boat or not, fish in tournaments, or just fish for bragging rights, having the right tools to catch, measure and cull your fish is needed and the folks at EGO Fishing Products want you to be prepared and look cool in the process, too. All you need is the fish.
Their new Kryptek line-up not only looks great but functions like a finely oiled machine too. Land em', measure em' and ..." Enter for a chance to win >> EGO Fishing Kryptek Tournament Kit
---

Greg Clusiau, "Greg's Guidlines"

January 30, 2018

"The Ice Ride" (Part VI)
"In an effort, to put together a first-ice safety video with Terry Wickstrom Outdoors, it was my duty to find "something to walk on" and it wasn't going to be easy, seeing how we would be filming on Thanksgiving weekend. The weather had been unseasonably warm and good walking ice was scarce.
Terry grew up in the Grand Rapids/Hibbing area and his faithful videographer (and wife), Karen Kullhem Wickstrom, was from Bemidji. It was an excellent opportunity for them to touch base with family and to get some work done as well.  You know what they say. "The show must go on."
Now, keep in mind, Karen has been in some very dangerous filming locations throughout her illustrious career. She's dealt with everything from grizzly bears, alligators, musk ox, rattlesnake pits, and more but never looked so scared as she did on the day we filmed on the thin ice waters of Wolf Lake. Yes, that's all I could find. It was that bad.
I don't advise anyone to test exceptionally thin ice, but Wolf Lake was the perfect location to do so, as if you did break through, it would only be up to your waist, at worst. We weren't all that far from shore.
We still joke about that day. Karen was inching her way out there and the ice was cracking below her feet. The look on her face was priceless. What a gal!
In the following years, I did a few more ice fishing shows with some of the top guides in the Midwest.
One was on Upper Red Lake with Tyler Brasel of Bear Paw Guide Service. Again, it was during first-ice but Karen didn't have too much to worry about on this day, as we used snowmobiles and wheelers to reach our location. Although, looking back on it, she did look a little nervous.
Walleyes were our quarry, with a couple of tip-ups set out for northern pike. It turned out to be a pretty good show and a chance happening with the legendary Dave Genz worked out well, as he joined in on the fun.
We teamed up with another high-caliber "ice man", the one and only Brian "Bro" Brosdahl, for a shoot on Big Bowstring and Round Lake. Bowstring offered good crappie fishing and Round gave up true jumbo perch. After our shoot with Bro, we made the next day count by filming a big bluegill segment on Bass Lake near Cohasset.
More big bluegill action was captured on ice in the Bemidji area, when a show was filmed with Matt Breuer of North Country Guide Service.
Terry and I co-hosted the "Angling Adventures" television series and did many shows together. However, there were times when I had to go solo because Terry was unable to fit it into his hectic schedule.  Such was the case with Matt, which worked out wonderfully, as he's a class act and been a friend of mine for many years. It was just "another day at the office."
One of my solo trips was on Lake Fork, Texas, where I did three shows with three different guides. One was for big panfish, where I caught crappies up to 15", another was for catfish, where I caught a 35 pound flathead on a trot line (illegal to use in Minnesota so that was fun), and another for largemouth bass, where I boated a 7 pounder.
I know this is summer related but had to bring this up. Always an early riser, I'd be up and about before sunrise, for hours.
That one morning in Texas, it was pitch-black out and I was outside, walking around, when I remembered what our catfish guide said. "Stay away from that tall grass, there might be a rattlesnake in there." It must have looked like a cartoon, with me practically running on air back to my room. I thought the snakes may be warming themselves on the cement sidewalk on this cool morning. Yikes!
Once back inside, I made coffee and waited for Karen, who was in the next room. It seemed like hours but was probably only 30 minutes or so before I went outside and knocked on her door. Now that was a mistake.
My clock was off and she's one that loves to get a good night's rest, unlike me. If looks could kill! I think I rousted her out of bed at 5 am. We still joke about that event. At least, I think she's joking?
These events lead Terry into asking me to host a largemouth bass show in Mexico and although most anyone else would have jumped at the chance, I wanted no part of it.
On a past and very successful trip there, Terry caught several big fish and the resort wanted him to come back. They did, however, need to travel with armed escorts to get there because of local banditos.
Nope! Not me. Send me north for big lake trout or someplace where's there's ice. (to be continued)
---

Greg Clusiau, "Greg's Guidlines"
January 22, 2018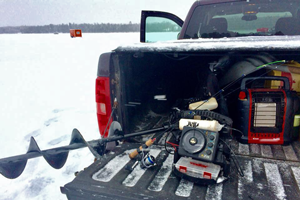 "Holy smokes! We've got some continuing incredible weather heading our way. Be sure to get outdoors and take advantage of it.
This is the type of weather that allows one, especially me, to drive out onto the lake and fish out of the truck. I like this scenario, sitting behind the wheel, with the wind (if any) coming from the opposite side, the heater blowing, and the radio on. It doesn't get much better. Especially if the fish are in a biting mood.
However, there is (or can be) one slight problem and that is lake conditions. I found this out last Sunday, while doing a little fishing before the Vikings game got started (don't remind me).
Now, keep this in mind. Popular lakes, that get a fair amount of vehicle traffic, are your "go to" bodies of water, if you prefer driving out to that special hotspot.
I went to a local favorite, up on the Scenic highway, drove out to one of my past-producing hotspots, and parked so the wind was blowing on the passenger side of my truck. Perfect. I had just started to get into it when a fishing friend of mine stopped by.
Having just picked up some bait, he was told where they were really biting and was heading in that direction. The lake, a good one, was further up north but not all that far away. Count me in.
Arriving at the lake, I noticed a couple of vehicles sitting in the little parking lot (not a good sign). Why didn't they drive out there, like I did on the first lake?
We walked down and inspected the access. Yes, it had a little drifted snow but once one was through it, smooth sailing should be had (at least we thought so).
Discussing the situation, my partners decided to go for it. After all, if they got stuck, I had a tow strap.
Blasting through the deep snow, they made it onto the lake with ease. Snow was not a problem, but large areas of deep slush was. One didn't dare stop.
I waited on shore and listened, as they were now out of sight. I could hear the motor revved up and then noticed the headlights. They were coming back at a pretty good clip and I barely had enough time to back my truck out of the way, as they made their way up the hill. They were laughing (one can laugh when you don't get stuck). We could hear laughing from the lake as well. The walkers thought it quite comical.
Now we knew why the other anglers had decided to walk out like normal people. Us, on the other hand, sometimes get a little lazy and didn't care to go that route. So, the end-result was: walking anglers were catching fish and we were stuck on shore.
Not to worry. There was another good lake down the road, which just so happened to be on our way back home.
Stopping there, it was the same situation. You could see where someone had driven out, leaving deep, frozen, slushy tracks. Nope. That wasn't going to happen. It was back to the first lake, where we at least knew we could drive out without any problems. That's the price you pay for being lazy.
Back on lake number one, we parked a short distance away from one another and began catching fish. They weren't big, like the other lakes had to offer, but at least they were fish and the catching was good. My, how many times does the grass look greener on the other side? Or in our case "the fish look larger."
A snowmobile would have made it out there and back, but we weren't in that serious a mood, as we wanted to take it easy and get home in time for the playoff games (I'm sorry I had to mention).
Looking back on it, a snowmobile very well could have gotten stuck out there, as the slush was quite deep. And then what? I've been there a time or two and it's definitely not any fun, standing in deep slush, shoveling and lifting. Nope.
What are your options? I'd go to larger "resort lakes" that offer plowed roads or stick to the little, local, bodies of water that receive a lot of truck traffic. At least you'll be able to drive out. Those back-in-the-bush little sleepers are better off left alone...." Read >> Greg's Guidelines
---
Wired2Fish January 2018 "Megabass Vision Oneten Silent Jerkbait Giveaway"
"There is all kinds of debate out there to whether rattles are more or less effective for catching fish. There is a growing group that believes that silent has its places and subtle can be better. Most of us will use rattles in our hard baits and plastics but there is no question there are places where silence is deadly.
Megabass is introducing a new silent jerkbait called the Vision Oneten Silent that is something new to add to the arsenal in cold clear water. The Megabass pros have just started to test this new bait and we want to give you the opportunity to win two each of the new Vision Oneten Silent's for you to test as well. They fish just like the ..." Learn More and Enter >> Megabass Vision Oneten Silent Jerkbait Giveaway
---

Greg Clusiau, "Greg's Guidlines"

January 16, 2018

"The Ice Ride (Part V)"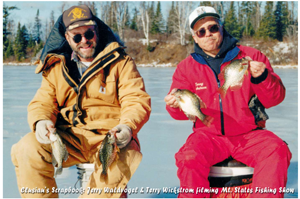 My very first guided ice trip took place thirty years ago and I really wasn't quite sure what to expect. So, with that in mind, I asked my son-in-law if he wanted to come along to help, if needed.
Things went well and the only real concern to me was the fact that we would be leaving a "footprint", meaning that evidence of exactly where we were would now be there for all to see. Would my clients come back to the same spot on their own?
Back in the working days, Monday through Friday, most of my fishing took place on weekends and on my return trip to the same lake, the following Saturday, I found the same group, fishing the same spot. You couldn't blame them. I didn't own the lake but it was definitely of some concern to me.
Exchanging pleasantries, we drilled a few holes next to them and checked it out with our one and only Vexilar, looking for fish. Wouldn't you know it? There wasn't a fish to be found in this area.
We explored other areas of the lake and found a good bite, unlike our hapless friends, who remained in the same spot, trying to catch a few crappies in pretty much fish-less waters. I think they learned a valuable lesson on that day, being "go with a guide or buy a Vexilar."
I don't know if it's my imagination, or not, but it sure seems like we had a lot more snow and cold weather back then. Trying to reach some of my favorite fishing holes wasn't easy, as I didn't have a snowmobile. Countless hours were logged, pulling my one-man Fish Trap all over the North Country. Sometimes it meant wading a mile or two through snow too deep for a four-wheel drive pickup truck. Hey, a man's gotta do what a man's gotta do.
GPS units weren't available yet so anytime we found a good bunch of fish, landmarks were pinpointed in hopes of returning to the same exact spot. Sometimes, discreetly positioned "snow mounds" or a small tree branch was left to show us the way.
Minnows were used most of the time, although waxworms and maggots eventually made their way into my arsenal of baits. When guiding fairly steady, a regular shipment of bait came to my doorstep, ordered from Vados Express Bait. I still have an account there and use it from time-to-time.
It took several years before I had "all the right gear". Having a snowmobile and hand-held gps unit opened up several options. Now I could fish those little hard-to-reach honey holes that only a select few were visiting.
The "Ice Team" was founded and I was honored to be a charter member, along with a handful of others. Terry Wickstrom, formerly of Hibbing, now living in Colorado, was one of them. We now had access to the best information and products in the business.
Guide popularity opened several doors that lead to television shows and some of the first were with "Outdoors Minnesota", based out of St. Cloud.
I recall we had a good bite going on Big Bowstring (yes, I fished this lake many years ago and it's still a favorite today). OM came up for a shoot and things weren't going well at all, as fish were really tight-lipped and hard to come by.
I could tell the hosts, Tom Brandt and Jerry Carlson, were getting a little frustrated, as they had a bunch of money tied up in this thing, hiring a cameraman, etc. I suggested packing up and going to another lake. They were all for it but a little reluctant when I told them it was an hour away, just north of Nashwauk. Yes, we were going to Crooked Lake. I don't think there's ever been another show filmed on that body of water. LOL.
It was late-ice and easy traveling with vehicles. We drove out of the "piling landing" to a spot that I had only recently discovered. I sure hoped the fish would still be there.
Imagine my surprise, when the fish were biting even better than on my most recent visit. Many of the fish, crappie and sunfish, were even larger than I was catching beforehand.
It turned out to be a good show but the funny thing (well, maybe not funny) is that I haven't done well in this spot since. Incredible (incredibly lucky).
Teaming up with Terry Wickstrom, who had now started the Mt. States Fishing television show, based out of Colorado, I did another show on another little lake north of Nashwauk, Little Buck Lake.
It was first-ice this time and Terry had arrived in Minnesota to attend the new and up-coming St. Paul Ice Fishing Show as part of the Ice Team. He wanted to do a show and the ice was sketchy, at best, but I knew we could get it done.
With the help of Jerry Waldvogel as cameraman, we made it happen and it turned out to be a pretty good show.
Now here's the funny thing. We attended the St. Paul show and people were amazed that we had already been on ice, as the weather was really warm. So much, in fact, that when we filmed the show, we had to get off the lake, as the ice was getting very soft and almost disappearing below our feet.
After the St. Paul Ice Fishing Show, I returned home to find Little Buck Lake had opened back up. Waiting for it to freeze up again, I made it back out there and can proudly claim to be one of the very few to fish "first ice" twice on the same lake in two weeks. That doesn't happen very often, if ever.
(to be continued)
---

Greg Clusiau, "Greg's Guidlines"
January 9, 2017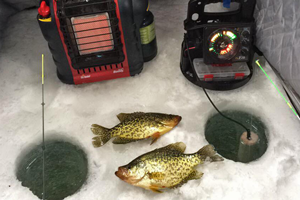 Yay! Finally, a reprieve from Mother Nature. The recent super-frigid temps kept me off the lakes for a few days and I didn't even mind it. Imagine that. Back in the day, when working fulltime, I'd pretty much force myself to go, no matter what the weather, just to "get my licks in." However, now every day is "Saturday" for me. How sweet it is!
The recent warm spell has fish cooperating very nicely. I think they're happy with the warm-up as well. At least they're biting a lot better than before.
I'm finally driving out onto a few of the lakes but still taking a good deal of safety precautions. My most recent adventures have been on Big Bowstring Lake, where ice was measured at 21-22".
When it comes to checking ice thickness (and safety), I drill a hole, shovel it down to the ice, and use a tape measure, to get an accurate reading. It's a secure feeling, knowing exactly what's beneath me but, then again, ice is never 100% safe so I always keep that in mind, especially when nearing pressure ridges, etc.
I've been going out of Geiger's Trail's End Resort on the north end, as Bill has a nice network of plowed roads to travel on and he always tries to go within a short distance of prime fishing areas. A lack of snow cover allows one to travel "off the beaten path" but I did come to a stand-still a few times, when encountering crusted drifts that gave way to the heavy frontend of my truck (bring a shovel, just in case).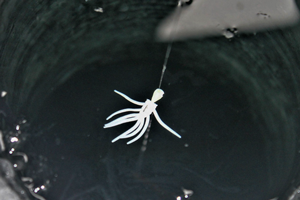 Some anglers have struggled in their catching and I believe most of the problem lies with their ability to stay mobile. If I'm not seeing many fish, I don't stick around. Often, fishermen will see a lot of fish and try to catch them, as they slowly come up off the bottom but many times these are small perch and a move is required. Don't waste your time, especially if the moving is easy.
"Fishing memories" often limits anglers in doing well and I've been just as guilty as anyone of this. I always check out past hotspots, just to see if anything is happening there and most of the time it's not.
Many of my memory spots are waypoints on my graph and have names of fishing partners. How can one not fish areas like "Joel 1" (brother Joel), "Jack 2" (uncle Jack), and "Bills" (Bill Olson).
On most lakes, there are hundreds of places to fish. If the fish aren't cooperating (or can't be found), don't hesitate to drive another ¼ mile, ½ mile, or even 2 miles or more.
Fish aren't always relating tightly to structure. You may want to stop out in the "middle of nowhere" to try your luck. I've done this several times and every-once-in-a-while you just happen to find the Mother Lode.
Usually, these random spots have fish there and then gone, as there's nothing to hold them, other than forage and that's why they're there in the first place.
Now you run into the decision of "do I sit tight and wait for them to come back or run around and try to find them?" I usually let the fish tell me the answer. If they're in a real aggressive mood, chasing around, here and there, it may be best to sit and wait for the next flurry. Sometimes you only need to wait for 15 minutes or so.
However, if the weather is nice and you have several drilled holes at your disposal, you may want to go with the "run and gun" approach. That's all up to you. I recall many a guide trip when the customer was older and preferred to sit and wait them out. They did well. Go with your gut feeling.
When it comes to live bait, I usually have a very nice selection of most everything. My usual offerings are waxworms, colored maggots, and small crappie minnows but the best presentation last week has been a small jig and plastic.
It was a little bit of a stubborn bite, when I noticed some white plastics that were left behind from a recent guide trip, where Wisconsinites Marques and Scott really did a number on the fish. They were both using a Freedom Baitz "Hellcat".
I stuck one on the end of a small tungsten jig and the result was overwhelming. What a difference that made. Fish were rising up in a hurry to engulf this long-legged presentation. Needless-to-say, I finished the day with it and realize I just may need to make a small order.
Have fun, be versatile, and stay safe!
---

Greg Clusiau, "Greg's Guidlines" January 2, 2018

- "The Ice Ride" (Part IV) Read Parts 1 thru 3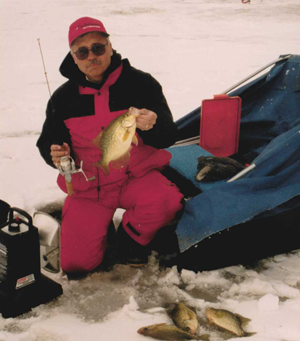 Another memorable event, from "The Masters", was with the hired help.
After a couple of very successful years hosting the Masters, I decided to hire someone to keep an eye on the cabin while we were out fishing all day and had the perfect guy in mind. We'll just call him Rip.
Rip was one heck of a cook. As a regular member of our Little Bear Lake deer hunting crew, I got to witness this firsthand. The man was incredible. All he had to do was keep the cabin warm (we had a barrel stove for heat), serve up a piping hot breakfast, and have dinner waiting for us upon returning to "base camp" each evening.
The first year went smoothly, with delectable appetizers being served before each meal, which was always something special and often a complete surprise. One time, we ran out of propane, so Rip prepared everything on top of the barrel stove and managed to have peach cobbler, pies, and a five- course meal waiting for our cold and hungry bodies. I couldn't believe it.
Now, lets talk about the following year, shall we? I had a number of guests that I wanted to impress (that was a part of the fun) and everything was going smoothly, which started out with a fantastic breakfast.
It was cold out and we fished right until dark. I could hardly wait to get back to a warm shack and have a hot meal.
Surprise, surprise. Now, I should mention that Rip liked to have a little "nip" once in a while but I didn't expect him to do it on this day (we talked about this beforehand). I noticed something wrong as soon as I opened the door. The cabin was cold and there was Rip, sleeping, with his head on the kitchen table.
While guests were standing around, wondering just what they got themselves into, Terry and I took control and quickly got the cabin warmed up and started cooking. Thankfully, Rip had the food prepared so all we had to do was heat it up (I'm a terrible cook).
Rip had a big beard and could have filled in at anytime for a ZZ Top band member. As a matter-of-fact, he said he hadn't shaved since he graduated from Hibbing High School, many years ago. I remember looking at him, passed out, and contemplating cutting that big beard off his face. Yes, I was a little hot. But I didn't, thank God.
The next morning, we had the "breakfast of champions", as Rip, licking his wounds, had really done it up right.
That memory is so etched into my brain that I can even recall the lake we went to, Gunnysack.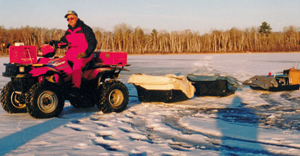 We fished a lot of local Itasca county lakes back then, many of which were the first to freeze, so you can only imagine where we went. The majority of the time, all fish were released but we did take thousands of photos.
Many say that it was the popularity of the Minnesota Masters of Ice Fishing gathering that lead to the big St. Paul Ice Fishing Show, along with others across the Midwest.
My ice guiding had taking off very well, with clients contacting me from all over. I believe I was the first to offer guided trips on a personal level, where everyone had their own heated shelter, Vexilar, etc. I had so much equipment that it was hard to take it all along, if I had a large group.
I recall one trip, in which I tried to talk my clients out of, was taken on the coldest recorded day in Minnesota.
Looking at the forecast, about a week before the trip was scheduled, I called my client and told him it was in their best interest if they canceled and tried for another date. Frigid weather was moving in and it wasn't going to be pretty.
His response was "nope, we've been planning this for weeks and we're coming". Oh boy. Doesn't anyone ever listen to their guide? Of course, this was back then, when I'd let the customer tell me what to do (my how I've changed).
They showed up and were staying at The Pines on Big Winnie. That morning (February 2, 1996), which has been recorded as the coldest day in Minnesota, I headed over, only to have the antifreeze blow out of the truck.
Luckily, I flagged someone down and brought most of my gear to the resort for them to use. There was no way I could guide them. They'd be renting a permanent shack on the big lake, which was really the only way to go under these circumstances.
I left them (total strangers) a four Vexilars and $20 worth of minnows. I returned a couple days later to pick up my equipment and never even got a tip out of the deal.
The coldest recorded temperature on that day was a hearty -60º below zero, Cook, Minnesota. (to be continued) ..." Read >> More Greg's Guidelines
---
---