---
---

Greg Clusiau, "Greg's Guidlines"
Walleye Report June 20, 2017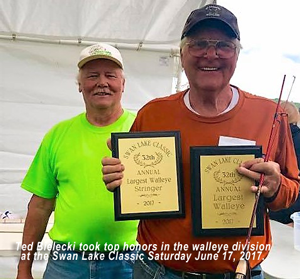 Fishermen are inquisitive creatures, to say the least. I think that's why the general majority of them have so darn much fishing tackle. We just can't help it!
It doesn't matter where I'm at. Somewhat a magical happening, there's always something luring me toward the fishing tackle aisle, whether I need anything or not and I usually don't. But what if? What if there's a hot, new bait on the market and I'm missing out? Good Lord, I can't let that happen.
Stopping at the local bait shop, you're expected to look things over and make a purchase or two but WalMart? Come on. I can't begin to think how many times I ran over there to buy bananas and bread and came home without them. I did, however, have some plastic worms, to use for bass fishing, along with a few other much needed necessities.
Much of the tackle, I believe, is designed to catch the angler, as well as the fish, as it comes in flashy, well-balanced colors and looks pretty darn cool. I've a lot of this stuff. However, some of it isn't fancy at all but is proven and has been around forever, like the famed "Plow Jockey" plastic worm. I can't remember where I first purchased one but it looked goofy enough to entice me into trying it. 
While most all plastic worms are fairly straight, the "Plow Jockey" lies there curled up, in sort of a crooked, fetal position, almost looking like it has given up. Odd, I thought. I had to try one just for fun. Needless-to-say, I was more than surprised when I started catching quite a few fish with the contraption.
The pre-rigged "Plow Jockey", along with a few of the copycats, measures 5 ½" long and features three hooks, embedded into the worm. On one end, there is a short leader with a loop for tying on. It also emits the sweet smell of anise oil.
It's a great little, obscure bait that can put a lot of fish in the boat. Bass eat it up, as well as sunfish, as the small Mustad hook at the at the rear of the bait nabs them most every time. The three hooks, by the way, are tied together with 17 pound test Trilene XL line so it's made to take a beating and hold up.
When using one, I use a light sinker, just heavy enough to aid in casting but light enough to offer a slow fall. It gets them every time. Shortly before writing this article, I drove around Hibbing and failed to find any so it looks like I'll have to order a few more from their web site at www.kellybassworms.com.
Coming in all sorts of colors and different lengths, you can get them weedless, if preferred, and some even feature a small propeller in the front.
I have the mind-set that slow trolling them wouldn't be very productive but when thinking about it, they would almost imitate a "Slow Death" rig for walleye, where a crooked action is preferred. So, who knows?
The Swan Lake Classic was held last weekend, based out of Mr. Roberts. Anglers competed for top spots in walleye and northern pike divisions and the competition was fairly stiff. Many of these local anglers are very good at what they do. Make no mistake about it.
Coming out on top, in the walleye division, was Ted Bielecki, weighing in the largest walleye of the tournament at 1.45 pounds. He also took top honors in the stringer weight with three fish going 3.49 pounds.
Tom Galley and Casey Fisher brought home the big northern pike trophy with an 8.31 pounder, while the stringer of three award went to Gary and Chad Rutherford, weighing in 17.03 pounds.
Andy Walsh and I fished the event but had trouble in catching anything to weigh in, as all of our walleyes were either too small, under 14", or too big, falling in the 17" to 26" slot limit and we did have a big one get off, while casting for northern pike. That fish, which I saw at boat side, looked like it might have been in the 26" range. Regardless, it sure put a bend in my musky rod.
Trying lead core mid-way through the contest, we immediately caught two nice fish, a 24" walleye and 28" northern pike. The walleye had to be released but the northern went into the live well and do you think we could get another qualifying fish over the 24" mark? No, but the lake certainly has a ton of smaller fish in the 20" range. Wow.
It makes one wonder just where all the walleye in the 14" to 17" range are. Gone? We either caught 11" fish or 23"ers. Hmmm. 
"There is something "reel" special about putting your hands on a piece of cutting edge equipment and feeling the advantages of smooth casting, solid gearing, and a drag system that is second to none. That is the exact feeling you get with the Lew's Mach II baitcasting reel.
We call it good looks with substance and that means solid dependability with power and durability. You can feel the difference from the first cast.
In this giveaway we have teamed with Lew's to give you the chance to feel the Lew's difference for themselves with the Mach II. We wish we could enter this giveaway!" Enter >> Lew's Mach II Reel Giveaway
---

Greg Clusiau, "Greg's Guidlines"
Lake Vermillon Walleye Report June 13, 2017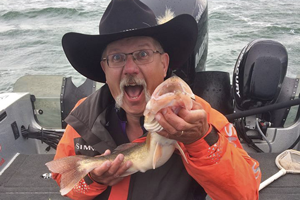 Wow. Fished out I am. I'm sure it will take a day or two to recover to the point where I want to hit the water again. I just spent eight days on Leech Lake, non-consecutive, pre-fishing the big lake for six of them and tournament fishing the other two, during last weekend's AIM Walleye Series. As expected, "highs and lows" were had throughout the entire stretch.
I started things off by joining Al and Bev Standly. Covering a lot of water, in typical pre-fish mode, they were scouting things out for the Leech Lake Walleye Tournament to be held in days to follow. It was an excellent day and I even learned a thing or two from this dynamic walleye fishing team. Who said you can't teach an old dog a few tricks now and then?
After a day off, I headed back solo and tried a few interesting spots. More-or-less riding around and exploring, I didn't do much of anything until later in the day, when I finally found some very nice fish, measuring 26" and 28". Checking out another area had me catching smaller fish in the 17"-18" range, along with losing another bigger one.
I waited another two days before going back, as the big Leech Lake Walleye Tournament was taking place and I didn't want to get in the way or deal with all the boat traffic. However, the following Monday, fishing partner Andy Walsh and I were back at it.
It turned out to be a real stinker of a day. Fishing was horrendous. At least the catching was.
The next day had Brian Griffith, my tournament partner from many years ago, joining us. He knows the lake well and has run many a guide trip on Leech Lake. Although not fantastic fishing, we pin-pointed a couple more, little, obscure spots and went on to catch and release a few fish. Overall, it was a good day and a great opportunity to catch up on things with Brian. Oh, the stories.
Another day off, Wednesday, was taken due to Andy's grandfather's funeral. We had two more days to pre-fish before the two tournament AIM Walleye Series got underway on the weekend.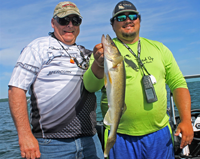 Thursday had good friend Jim Carpenter joining us for the day. Jim's been in many walleye tournaments and has done very well. He also knows the big waters of Leech Lake like the back of his hand. We went on to learn a few more good spots, catching a bunch of fish in the low-to-mid 20" range, with the largest going just under 25".
The final day of pre-fishing was held on Friday, where Andy and I were honored to have Bill Thurman, owner of Mesaba Heating A/C Plumbing, join us for the day. Bill, one of our tournament sponsors, is an avid angler and was right at home in chasing Leech Lake walleyes. This was somewhat of a slow day but we didn't want to beat up the spots that we had going.
As luck would have it, Mother Nature, right on schedule, knew Saturday morning was tournament time and presented us with typical angry Leech Lake weather. It was blowing pretty good and really threw a wrench into some of our favorite walleye spots, as the lake was too rough to fish them properly.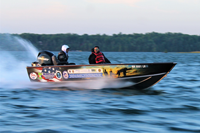 How hard was it blowing? Well, Justin Bailey was just taking off, right out of the shoot, on the way to his "first pick", when he hit a "hard wave", causing a drawer to slide open in his boat. Now that's not so bad but when stored items fly up into the air and settle on the bottom of the lake it is. Some of them were about $200 worth of Jig Raps, handheld radio, truck keys, and billfold.
We went on to struggle throughout the day and had a poor showing. Such is the life of a tournament angler. Thank goodness I don't do this for a living, as I'd starve to death or at least be eating one heck of a lot of fish.
The next day was almost a repeat, with Mother Nature acting up again, only tossing in a little rain and lightning this time, and with Andy and I struggling. We did better on this day but it was still tough going for us, along with a few others.
It's always fun going head-to-head with some of the best walleye teams and "Team Picht" emerged as one of them. Stephen and Brenda Picht placed 23rd on Saturday and wrapped up the weekend with an impressive 4th place finish on Sunday. Full results can be viewed by going to "AIM Weekend Walleye Series" on Facebook.
Next up? The GRAHA Walleye Shootout on Pokegama Lake, July 15. And the competition doesn't get any easier.

Greg Clusiau, "Greg's Guidlines"
Lake Vermillon Walleye Report June 5, 2017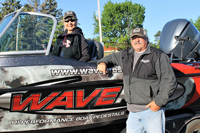 Their love for each other, along with the sport of fishing, is quite evident. After all, they stayed in a tent on their honeymoon, spent at Judd's Resort on Big Winnibigoshish, in 1979, and are still going strong today, maybe stronger.
Al and Bev Standley, Lakeville, have been a fixture on the walleye tournament scene since 1996, starting out with a "couples event" held on Mille Lacs Lake. From there, things sort of snowballed, as they have competed in at least 200 events so far and still counting.
I had the opportunity to hop in the boat with them last week and observe how this well-oiled walleye catching machine gets things done. We were on Leech Lake and it was their first day of pre-fishing for the 9th annual Leech Lake Walleye Tournament.
Leech Lake offers 111,000 acres of water with angling opportunities for all, no matter the species. While Al and Bev Standley were in hot pursuit of trophy walleye, many others were enjoying Leech Lake for its bass and northern pike fishing and let's not forget about the bragging size panfish that swim these waters. Famous for its musky fishing, the musky season opened June 3, the same day as the first day of the Leech Lake Walleye Tournament.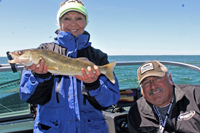 Although one of Minnesota's larger lakes, it doesn't take the Standleys' long to go from one end to the other, if need be. Forever a "tiller man", Al now runs a wheel boat, a 20' Warrior, powered by a 300 horsepower Yamaha. Needless-to-say, we covered water in a hurry.
It was a little breezy on this day, making the big lake rough from time-to-time, but it didn't matter when sitting in a boat seat on top of a WavePro hi-performance pedestal. These units make all the difference in the world, especially when it comes to running hard in rough conditions, which is what tournament anglers do. Your back will say "thank you."
We checked out several areas and found a stingy bite. A few fish were caught and released and some were just what Team Standley was looking for, like the 27"er caught by Al. No stranger to big walleyes herself, Bev has caught them up to 29 ½", on Mille Lacs Lake, while Al's largest came from the Rainy River and taped out at 31 ½".
Trying to put together a pattern was difficult, as fish came on all live-bait presentations, using shiners, crawlers, and leeches. Depths varied as well, depending on which area of the lake we were fishing. Hopefully, by the end of the week, Al and Bev would have a concrete plan to put to work. They usually do.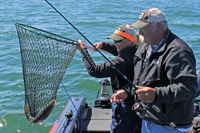 Back in the early years, Bev said she was more than a little intimidated when it came to backing up a boat trailer. Watching her now, you'd think she's done that for decades. Oh wait, she has! She's also pretty darn good at catching fish too.
Although the Standleys' are always a force to be reckoned with on the tournament trail, Al said "we've had our highs and lows". There isn't a tournament pro that hasn't. It comes with the territory.
He told of the time when they had a nice basket of fish to weigh in but their boat broke down. Tournament rules allow an angler to be picked up by another boat, during a situation like this, so Bev and the fish bummed a ride back to the weigh-in, while Al stayed with the boat.
They ended up cashing a check that day. Ironically, the same team that brought Bev back to shore was bumped out of the money for their good deed. Classy anglers all around.
I've competed against Al and Bev quite a few times and no matter the outcome, they always hold their heads high and display a professional demeanor. They usually beat me too!
---
How Fishing Cures The Soul
"What is it about the pursuit of fish that has such a deep effect on our lives?
Very few avenues in life provide the opportunity for fellowship, enlightenment and enchantment they way that fishing does.
Those of us that have spent a life of pursuit in the outdoors know an enrichment that few may ever experience. Sunrises and sunsets and everything in between to which few will ever bear witness in the ... " Read >> How Fishing Cures The Soul

Greg Clusiau, "Greg's Guidlines"
Lake Vermillon Walleye Report May 23, 2017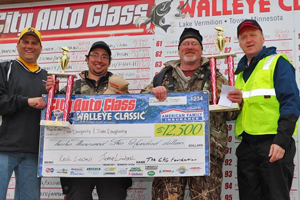 My first walleye tournament is now in the books and after two days of rest, I'm still tired out. They're a lot of fun but a good deal of work as well, especially when Mother Nature starts throwing curveballs, making it miserable out on the water.
My pre-fishing started out with my brother, Bruce, on opening day. I really wanted to go to Upper Red Lake on this day but seeing how Andy Walsh and I were entered in the City Auto Glass Walleye Classic on Lake Vermilion a week later, I thought it best to spend as much time out there as possible.
Bruce and I experienced decent fishing (except for the banana episode) on that Saturday. I took Sunday off but headed right back to Lake Vermilion, by myself, on the following Monday. More-or-less just exploring and looking at areas I have never fished before, I found a couple more good spots and brought home a nice limit of walleye. I also lost two big fish but one I'm betting was a musky, which is always fun but not what I was looking for.
Going solo, back at it again on Wednesday, I found the fishing, or at least the catching, to have slowed considerably. Never-the-less, several other spots were checked off "the list" and pre-fishing continued. Even if fish weren't found or caught in some of these areas, I consider it positive pre-fishing, as at least I know not to worry about missing something and there's a lot to miss on this body of water, with its 40,000 acres, 100 miles of shoreline, and 365 islands. It's indeed quite a fishery.
Andy had Thursday and Friday off to help pre-fish but the weather had really turned sour so the first order of the day was to stop and have a hearty breakfast, on our way to the lake, at Sportmen's Café in Hibbing. To say we weren't in any hurry is an understatement.
Once on the water, we re-visited several of my proven spots and came up empty-handed. Not one walleye was caught on this day but a couple of very nice smallmouth bass made their way to the boat. That had me thinking of the bass tournament that was scheduled for Sunday. Hmmm?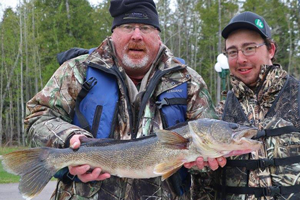 By Friday, the weather had straightened out to the point where it was actually nice out. The fish bit well too. Determining where to go in the morning of the tournament was a difficult choice. We had fish going in so many different spots and none of them were anything special but both of us favored going back to the last area we fished on Friday. It looked promising, in there was a good number of fish to be found and it wasn't over-fished by other anglers. We're usually on the same wave-length, when it comes to making fishing decisions, and that, I believe, is what makes us such a compatible tournament team.
Although only a little more than an hour away from home, we stayed Friday night at Fortune Bay Casino, where the tournament was based out of. This made things a lot easier, as we had the rules meeting dinner from 6:00 p.m. to 7:30 p.m. and had to get after it right away in the morning. Precious hours were saved.
The marina opened at 4:00 a.m. on Saturday morning. If you needed bait or boat gas, it was readily available. Andy's boat was securely left in a slip overnight and was charged up and ready to go.
Coffee and muffins, courtesy of Perkins, were offered to any anglers needing a little something in the morning. We didn't worry about not eating a breakfast, as Subway box lunches were given to all contestants. That would work just fine.
Being boat number 91, out of 110, we watched almost everyone else heading out onto the big lake, wondering if anyone would be in "our spot."
It was windy and rough out but that didn't stop Captain Andy from pushing the limit with his 200 horsepower Mercury. I think we only went airborne once, maybe twice. Halfway there, I noticed Andy's lucky hat had blown off his head. It did the "deep six" somewhere back in Big Bay.
Only one other tournament boat was there to greet us. Each working a small area, fishing etiquette was observed, as we each kept a safe and respectable distance from one another. That's sure nice when you are fishing near "class" anglers. I've seen it the other way around too many times.
Andy started things off with a 13 ½" walleye, caught on a jig and minnow, which is certainly nothing to brag about but when it's the first fish of the morning and you don't know what is in store for you, it goes into the livewell. Each team could keep their limit of eight fish, four each, and weigh in six of them. The walleye had to be at least 12" in length and only two could be over 26". Everything in the slot limit, 20" to 26", had to be released.
He followed up with another of the same size. I told Andy "I'm going for the gusto" and dropped down a large minnow on the end of a live bait rig. Minutes later, I had a nice fish on the end of my line. Upon netting the fish, I was a little disappointed, as it looked to be 25" or so, which meant it wouldn't count for anything, other than the fun in catching it.
The fish measured at a "hair" over 26". Using two bump boards, we measured it several times before deciding to keep it. Still fishing, another decision had to be made and that was to leave our spot and head back across rough water to weigh the fish in before it died. It was looking good now but later? Who knew?
We left and tried to take it easy, which is hard to do during windy conditions. Heading back, I pointed off to the side and said "look, a hat", joking around like normal.
One hour into the tournament, we were docking at the headquarters and officials were walking down to meet us. If the fish was too small, we would be disqualified. You can rest assure that we did some accurate measurements out on the lake, using two different boards.
It measured out as over, but barely, and we were on the board with a nice walleye weighing 5.69 pounds, which was successfully released by officials. Now we had to go back and get five more decent fish, which really didn't happen. Although we set our sights on catching a few in the 16" to 18" range, the biggest we could come up with was two measuring 15".
Mixed in with a few 14" walleye, we were able to put together a six fish tournament limit weighing 10.51 pounds, which ended up being good enough for 7th place and $1,400.
Hats off to the team of Dan and Jake Dougherty for their first place finish, weighing in six fish for 15.28 pounds, which included a 10.2 pound trophy walleye. They were awarded $12,500 for their efforts.
We're already looking forward to next year!

Greg Clusiau, "Greg's Guidlines"

May 15, 2017

- How was your opener? Opening Day Fishing Report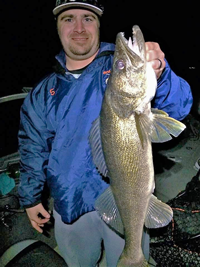 From the sounds of it, most everyone did pretty good and if they didn't, they surely couldn't complain about the weather. That's about the nicest opening day weather I can ever remember.
Fishing friends and family were spread out on different waters, all across the North Country and here's how it all went down.
Andy Walsh did the "start at midnight thing" on Mille Lacs and just about wore out his fish clicker, as by the time the smoke had cleared, over 140 walleyes made their way into the boat. Of course, it was catch and release only, as you can't keep any walleye there but who really cares when you can start the season off like that. Wow.
Andy and friends trolled crankbaits at night and had several "triples" happen. Once the sun peeked over the trees, they switched to jigs and plastics and kept on catching…and releasing. Yes, the fish were hungry, to say the least, and they weren't just the little guys, as a couple of them were in the 30" range. Mike Patras boated his personal best of 30.75". That's a nice fish anywhere. Congrats Mike! 
Justin Bailey started on Leech Lake and found good fishing as well. Bailey found success by slowly working, almost dragging, 1/16 and 1/8 oz. jigs tipped with shiners. Key areas were where the sand met new weed growth in 5' to 12' of water. Justin also commented on the weather, saying "it was the most beautiful weather I can ever remember."
My brother, Joel, and company, fished Upper Red Lake and did as expected, catching several nice walleyes. He stated that after catching a number of fish by using jigs and minnows, they switched gears and trolled Rapalas, and began catching them at an even faster pace. That can be hard to do, when there's a lot of boat traffic, and I'm sure Upper Red Lake had plenty of it. 
My son, Kris, and longtime childhood buddy, Kyle McCollor, are always up for an adventure and this year's opening day was no different, as they set their sights on a bunch of small backwater lakes. You know the type. They're the ones that have you sometimes pulling a small boat through all kinds of obstacles, just to reach the water, not even knowing if it's going to be worth the effort. Well, it was. Some of them anyway.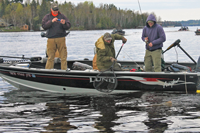 Their next adventure is going to require something more than a jon boat, as they will be making a trip to Lake Nipigon for monster lake trout, as well as other species. I can't wait for the report on that one.
I talked my brother, Bruce, into joining me for a day out on the water and that's always a special occasion, especially when it's on opening day. Lake Vermilion was my selection.
Coming from different directions, we made plans to meet in Sturgeon, a halfway point. There, he would toss in his gear and jump in with me, leaving his vehicle.
There wasn't a lot, just a couple of rods, an unusually heavy, old tacklebox, and a light lunch, which included a BANANA!
I enlightened him of the wide-ranging superstition of bananas being labeled as bad luck, when it came to fishing. Many anglers won't allow them into the boat. Not believing in that bad omen, I just laughed it off but was sure to rag on him a little for trying to ruin our opening day.
Once there, Hoo Doo Point, (now with a name like that, I should have known better. I already had the banana going against me) I quickly backed the boat in and left Bruce on the dock, holding the rope. We were a little late in getting there and the parking lot was full so I had to drive quite a distance, park on the edge of the road, and walk about ¼ mile back to the dock.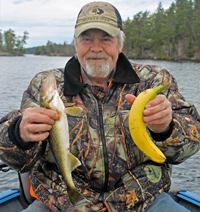 Hopping in the boat and getting things in order, I noticed a lot of water coming in from somewhere. I couldn't believe it! (It was the banana, I'm telling ya) The boat is only one year old and doesn't leak a drop. As a matter-of-fact, I take great pride when it comes to pulling the plug, as it's always as dry as a bone.
It was busy, more boats were putting in and we were kind of stuck, with nowhere to go. I found a small open area and beached it in front of some campers. I hated to intrude but had no option and explained the situation to my new friends. They could have cared less but their dogs were sure barking.
Wave Wackers are great for keeping water out of the boat, when back trolling, but there's no way a person can reach over them to inspect a boat plug. I knew I put it in there and tightened it up good. How in the world could it have come out, if that was even the problem?
There was only one way to find out. Yup. Taking my shoes and socks off, setting them neatly off to the side, I stepped out of the boat and into the nice, cool, spring lake water. Thank goodness we had an early spring, as it wasn't as bad as I was expecting.
Wet up to my knees, and up to my shoulders, I found the plug intact and shoved a spare plug into the "other" hole. Bruce walked up to get the truck (he needed the exercise anyway), while I watched the bilge pump work away. It didn't look like I was making any headway but it didn't matter. I had to drive it back onto the trailer to check things out.
He arrived and I don't think I've ever loaded a boat so fast. I just don't like the feeling of a lot of water inside the boat. It's supposed to be on the outside.
The boat launch people probably thought "wow, that was a quick limit. I just saw those guys go out 30 minutes ago." They did come to check us out though and once again I had to explain.
Parked well out of the way, I looked at the back of the boat and found I had inadvertently put the boat plug in the livewell drain hole! (I don't care, I'm blaming the banana)
Tossing my wet shirt up in front of the boat and putting on any extra clothes I could find, we got back in line and did it right this time. Yes, my pants were wet and stayed that way for most of the day but we did go home with a nice limit of fish. How was your opening day?

Greg Clusiau, "Greg's Guidlines"
May 9, 2017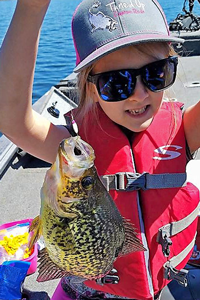 Are you ready for the fishing opener? I think I am. Although at the time of this writing, I have only taken my boat out two times, so far, this new open water season. We'll see. There's always something that I have forgotten and it usually takes me two or three trips before all is "perfect." Here is a brief "first trip checklist".
• First off, be sure to try your boat out beforehand and not at the public launch, where a dozen other anxious fishermen will be waiting for you. I've seen it too many times. Fire that beast up prior to the opening day. Also, have a little patience, especially if you see someone having difficulties. It's a long season and it doesn't hurt to help someone out on this much-awaited day.
• Current fishing license? This is easy to overlook, when there's so many other things on your mind.
• Boat trailer – This too, may need a license. Are the running lights "running"? How are the tires looking? If they've been sitting for a long time, they just may be weather-checked and in need of being replaced. Make sure there is enough air pressure in the tires. Running low will cause them to run warm, if not hot, and may create problems on the highway. If so, do you have a spare and the proper jack and wheel wrench to change it? Also, give the hubs a shot of grease and check (feel them by hand) after traveling a few miles. If they're slightly warm, okay, but be careful, they could be HOT! Cool or cold is always preferred.
• Boat – Do you have a current license? A lot of anglers do but leave it sitting at home or in their wallet. Do the conservation officers a favor and put it on, as they have a lot on their plate and shouldn't have to make "wasted stops".
• How about a boat launching rope? Water levels vary (most are fairly-high right now) and a rope makes things a lot easier. You don't want to be wading in the cold waters of spring. It's not very comfortable. I always carry a pair of knee-boots, along with a pair of hip-waders, for difficult launching situations.
• Batteries are probably the number one cause of opening day problems. Be sure they are charged up and ready to go. Check the connections.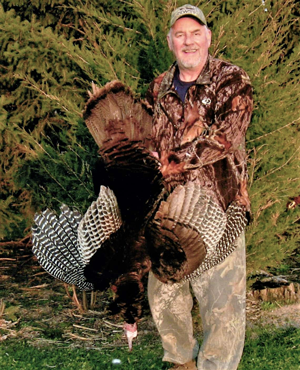 • Boat plug? As simple as it seems, this is highly important. Over the course of many years, who hasn't gone to the lake and found out a boat plug had disappeared? I remember whittling down and jamming a stick in mine one time. Of course, it was a little 14'er that I was able to keep an eye on while nervously fishing away.
• Enough life vests and boat cushions? Not only a regulation but also something that just may save someone's life.
• Drift sock? Larger lakes they often require slowly drifting the bait in front of a walleye's nose call for some sort of device to slow you down a bit. This can make or break your day. I remember, back in the day, using a 5-gallon bucket on the end of a rope. This was before the drift-sock was even on the market. We do what we need to do.
• Check your fishing line, as it's probably the least expensive cost of the whole trip. If you've got a little idle time on your hands, change the line to be sure you don't break off on that big fish. Not sure how to do it? Bring the reel in. Most bait shops will gladly "spool you up."
• Landing net. I can't recall how many times I've forgotten mine at home. This is mainly because I don't use one when fishing for spring panfish, as it gets in the way. So, there I am, out walleye fishing and am looking for the net when that first fish is hooked, only to remember that it's hanging in the garage. With a half-dozen others.
• Most boats have livewells but many don't. Don't forget a method to keep your catch. When I'm fishing in a small boat, I either use a floating fish basket for panfish or cooler with a little ice in it. Sometimes a stringer is used but they take up time and always offer a good chance at losing a fish, if not the whole stringer.
• Last, but not least, on this somewhat short list is to be sure to protect yourself from the sun. Bring along sun-block (better yet, put it on at home and then wash your hands) and a hat and sunglasses.
Enjoy your time on the water with family and friends and good luck to all. Be careful and have fun!
Marc Koprevic of Keewatin continues his turkey hunting success with this nice bird taken in SE Minnesota. Bagged April 23, the tom weighed 24 1/2 pounds and sported a 10" beard and 1 1/4" spurs.
Eight year old Aubrey Bailey, Keewatin, shows how to catch big crappies. She was fishing with dad, fishing guide Justin Bailey. Crappie are up shallow NOW. Keep this in mind for Minnesota's "Opening Day".

Greg Clusiau, "Greg's Guidlines"
May 2, 2017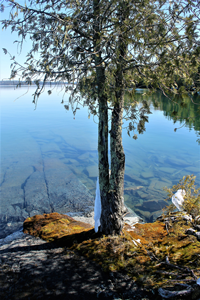 Normally waking up quite early, I was a little disappointed in myself for sleeping until 4:35 am (I never set an alarm). That's when I first cleared my eyes and glanced at the clock. It took a few seconds before I realized that Andy Walsh and I had made plans to leave town at 4:30 am!
Peering outside, there he was, patiently waiting, with his big Lund Impact in tow. Somewhat embarrassed, it only took a few minutes before I was joining him for a trip across the border to Kakagi Lake.
Ice-out lake trout in mind, I knew we'd be pushing our luck a bit, as the ice had just left. I've experienced poor fishing immediately after ice-out but here we were, positioned in a miserable transition stage, with not a lot of choices, when it comes to fishing. Also, Andy only has weekends off so we had to make it happen.
I was excited, as I haven't tried my hand at these early fish for several years. The equipment used has been sitting in the garage, organized and ready to go for the last two weeks. All we needed was open water and it was finally here.
It's not a bad trip, for doing it all in one day. It's very comparable to driving to the Twin Cities and back for a day of fun. There's one big difference though and that is there aren't any Canadian Shield lakes offering great lake trout fishing.
It was cold overnight, so I wasn't surprised to find an early morning ice skim covering most of the lake. We took it easy, making it out to a few open water patches, breaking ice as we went. One other boat was out there, slowly trolling an open water area. The ice looked to be ¼" thick in places but had melted away by day's end.
Picking our way, we found suitable water to troll in and would occasionally feel our lines hitting ice from time to time. The ice looked to be ¼" thick in places but would melt away by day's end. Water temperatures ranged from 37º to 39º throughout the day.
Starting "old school", the way I first began fishing for these critters, 30 years ago, a stick-bait was tied on and let out about 200' behind the boat. A 1 oz. trolling sinker was also used, to make sure that we were down just a bit, in case the fish were lazy and didn't feel like raising up to get it.
The other bait was one of my custom-made rigs, mimicking the famed "Strip-On Minnow." Decorated with catchy, trout-loved colors (silver, white, purple, etc.), a thawed-out cisco was threaded onto it. I've found this to work well, especially very early in the spring. It will catch more than its fair share of fish, when compared to crankbaits and spoons.
Years ago, a 4" floating Rapala was king and best colors varied from day to day. This was before the introduction of "Husky Jerks" and the myriad of other great crankbaits that we have on the market today. There's almost too much to pick from and that can be a problem at times. I think.
Nothing was happening with our trolling approach so we decided to do the shore-fishing thing. This is always fun.
We tried one of my favorite spots for this method. This one involves a long, slow tapered break that has early season trout on the prowl, looking for something to eat. Many spots like this allow the angler to cast out from shore but this one had us bringing the baits out to the desired depth with the boat, dropping them in place, and then returning to shore, giving line as we went.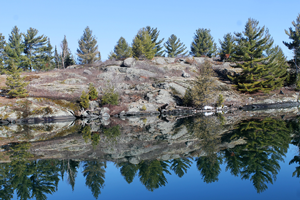 Once on shore, the rod is propped up and the reel bail is open, allowing the fish to pick up the bait and run with it, not feeling any resistance at all.
If it's breezy out, the line will be pulled out of the reel so you need to make sure that it is secured in some creative manner. I have some custom-made line holders, made with rubber-coated alligator clips but there is also the old method of "beer canning", so named by my Canadian trout fishing friends.
This involves wrapping the line around an empty can, shortly after leaving the spool. Sitting upright, the can will tip over and make noise (almost always fishing on a rock ledge) when a fish runs with the bait. Shore fishing usually involves having lunch and not paying a lot of attention so this method works well.
Since we are not allowed to carry beer in the boat, let along be drinking it on shore, we went the American version of "pop canning", or in Andy's case "energy drink canning".
Another tip when shore fishing is to place something on the line, close to the rod tip, so you notice line leaving the rod, signaling a fish. Do you chew gum? Tin foil works well for this practice.
We gave it the old college try and came up empty-handed. Discouraged? Not much. Maybe just a tad. The beautiful scenery made up for much of the lack of action. It's always gorgeous up there, especially during early spring, when ice is still clinging to the shorelines.
It did give us a chance to check out some of our tournament equipment (graphs, new transducer, trolling rods, etc.). All worked great but I think we're going to upgrade the trolling line-counter reels.
We're also making a trip back. This time, the water should be a little bit warmer and trout should be frequenting the shallows. Warmer shallow water equals insect and minnow life and with it hungry trout. Maybe next weekend?