---
---
---
---
---
---
Fishing Report - Archives Section - Fish Reports For July 2012
---








More ways to connect! Sign up to receive the Free "Insider Newsletter". Don't forget, you can always catch up with Jeff Sundin on the radio program too! Listen every Thursday at 6:20 AM and get additional fishing reports and information. KAXE 91.7 FM Grand Rapids - 105.3 FM Bemidji - 89.9 FM Brainerd . Want even more? Get HANDS ON Fishing Tips. Book your own Guided Fishing Trip !
---
"A Fish Story From the Other End of The Boat" - Bill Moore, July 2012

Okay now listen; This is kind of embarassing, but it's not very often that anyone goes to this kind of trouble and since he did, I want to share a story from my friend Bill Moore. If you follow these reports, then you've seen him before, in fact, if you just scroll down the page a bit, you can find him on this page right now.

On our recent fishing trip with Jeff in the Grand Rapids area, we now have, thanks to Jeff, a unique special memory. We had a great day of fishing on our old family bass lake and for our last day headed to Winnie. Our goal: some good northern fishing. However some days are more fishing and less catching, as the big northern weren't exactly cooperating. About noon Jeff suggested we go see if we could roust some bass out of the bullrushes. The plan worked well and we were getting some good action. As we worked along the rushes, my son, grandson and I were very focused. I was standing next to Jeff and I saw him set the hook on a solid looking fish. I said "you got him?" Jeff responded that he did and was trying to keep the fish out of the rushes as the line ripped sideways in the water. The way that bass moved, I knew it was a good one, so I focused on getting my line out of way and out of the water. Then Jeff calmly said, "need a little help". Now what the heck could a great professional guide like Jeff need my help for? Then he said, "Bill, I need some help real quick". By that time my line was in the boat and I looked at Jeff to see what he needed. To my amazement, Jeff was holding his rod in his left hand above his head with the tip about 12 feet in the air and the reel, which had fallen off the rod, was in his right hand and he was shoving it at me. Ok……maybe we can make this work…... I took the reel in my left hand and started cranking with my right. You all know, that Jeff is not exactly a short specimen of a man. His arm length plus rod gave him a pretty good range of motion for keeping that line tight. So he kept it tight with some pretty good acrobatics and I had the dumb end of the job to just shut up and keep crankin'. Jeff got that bass lipped and in the boat. Nice bass about 4 lbs. which we released to fight another day. That's what it's all about when you fish with a great guide that has become a special friend. We look forward to the next trip and more great memories.

Fishing Report July 31, 2012 Jeff Sundin - Dream Pike trip flops, then turns into surprise Bass rally. Afterward, Walleye fishing for food, yields some, but bonus Pike steals the show. Some days are like that, I just gotta steer the boat, move around looking for something to do and let the lake tell me what it's in the mood for.
Luckily, I came prepared or should I say, I hadn't put away a single pole in the past week, and still had 20 rods laying around in the boat, all rigged up with everything from soup to nuts. Yes, I think that's more like it.
On Monday, I could hardly wait to get to the West side of Lake Winnibigoshish. I'd just heard a great report about Northern Pike action and I was chomping at the bit to get over there and try to find 'em.
According to the forecast, conditions weren't perfect, but I thought we'd at least have a chance. Calm winds, warm and a slight chance of some rain or an isolated storm. But when we got there, a cool Northwest wind already had the lake churning. Surface temperatures had dropped a few degrees too, now down to 75 degrees from 78 degrees the day before.
Instead of pounding across the lake, I decided that we'd troll the weedline, searching for any spot that seemed to have a concentration of fish. Then we'd stop and do some casting with the big baits and try for a monster. Except for one thing; Trolling the weedline for 2 hours never yielded a single fish. We saw other boats out there too, almost all of them were pursuing Pike in one fashion or another and as far as we could see, no one was having much action. Maybe the cooler temperatures? Maybe the wind? Who knows? Something encouraged the Pike to lay low in the weeds or maybe they weren't even there, maybe they were out on the flats for a feeding run.
Plan B, as long as we were so close, I thought maybe we'd try to catch a few Bass to pick up the action a little. It The spontaneous idea turned out to be the best one of the day! Casting Yum-Dingers rigged Wacky Style into shallow water Bulrushes, was just what the doctor ordered. The Bass just kept on coming and for almost 2 hours, the action was steady. None of them were exceptionally large, but most of them were nice size fish, chunky 14 to 15 inch fish with an occasional odd ball. Our best might have been 18 inches or so, not a brute, but good enough to cause a few chuckles.
Plan C, let's try to catch a few Walleyes. First we tried a couple of shallow water spots using the jig and worm presentation that's been working well for me this summer. But seriously, the tiny Perch were on the War Path so strong, that the worms never made it anywhere near a Walleye, not even close to a decent size Perch either. In fact our worms never got anywhere except picked off by the legions of super hungry, 4 inch Perch.
We headed out deeper, re-rigged with Lindy Crawler Harnesses and tipped them with fresh crawlers. I started the first pass at about 12 feet, just outside of the deep Cabbage weeds and within a minute, Pat had already boated a small, but keep able Walleye. It wasn't glorious, but moving around on the weed flats, trolling the spinner rigs at about 1.2 MPH was doing us a little good. A handful of Walleyes, a few small Pike and one bonus Pike for Pat, a 30 incher that struck toward the end of the afternoon.
I guess I was disappointed by the lack of cooperation we got from the Pike, but we did stage a fairly nice recovery. I also learned to just pick my days a little better and one of these times, very soon, I'll be there when the Pike are on the prowl and we'll get even. Grudge Match!

Fishing Report July 29 - 30, 2012 Jeff Sundin - When you fish for a living, some days are easier than others, but I have to admit that some days are way too easy! Like Saturday when the hosts of KAXE's Morning Show, Scott Hall and Chad Haatvedt joined me for a day of fishing.
The idea of those other guys getting that nice bunch of Bluegills on Friday was making all of us hungry to do the same thing. Like little kids heading for a candy store, we all wanted to go and get some too!
I'm always a little nervous when I try to repeat a past performance, but in this particular case, I was anxious to show Scott and Chad a great time and since we'd never gone after panfish before, it promised to be a nice treat for all of us. So with my fingers crossed that the fish had stayed somewhere close to where I'd found them the day before, we packed up the ultra lights and headed out.
When we arrived at the lake, not much had changed since Friday. It was still warm, still sunny and the water temperature was still in the high seventies. We motored out to the spot, dropped our 1/16 ounce jigs, tipped with cut night crawler pieces into the lake and started pulling out Sunfish.
So what am I supposed to say next? There wasn't any long search for the fish, or any struggle to discover the right presentation. We didn't even have too much trouble convincing Chad that it was okay to use the same color that we were. Everything just sort of went according to plan and at about noonish, we headed over to a nice spot where we could build a fire and had a relaxing shore lunch.
After lunch, we had a little trouble making up our minds what to do next, but knowing that Scott was interested in having a few Northern Pike to take home, Chad tipped the scale in favor of a trip over to Gus' Place for a quick visit and some fishing on Ball Club Lake.
Water temperature on Ball Club was 77 degrees and at the moment we arrived, there was a good chop on the water. Our first drift made it look like we'd be in action for the whole afternoon, but soon the breeze tapered off and the fishing slowed down a bit. Even then, we continued to pick up a fish every ten minutes or so. Slower action than the Bluegill fishing, but still good enough to sort out 5 decent size keepers for the larder.
I never did settle on an exact depth, but maintained a range from about 15 to 25 feet. We picked up some Pike everywhere in between those depths.
We caught some fish on Jig and Minnow, Some on a Lindy Rig with a larger Creek Chub and some on jigs tipped with plastic tails. I'd be willing to bet that trolling spinners tipped with minnows would have been a good choice too, but we didn't get around to trying that.
So there ya go, a nice, easy day. Not too much stress, not too much heat, just enough fish and plenty of smiles to go around. Oh man ... sometimes I really love this job!


(7/30) In Grand Rapids, Zach Dagel, Grand Rapids Guide Service; Has been out fishing on Round Lake over the weekend and said that in spite of the lake being in "full bloom", the Walleye were cooperative. Surface temperature on the lake was 78 degrees and the group caught Walleyes using .... click here and >> Read Complete Report .


(7/30) On The Iron Range, Greg Clusiau - Hot Water, Yuck? or Maybe Not? Greg says that he's a little bit tired of the hot weather, but on the other hand, he also said; "Never-the-less, the fish are still hungry and I've been doing well by pulling spinners along the weedlines. One lake offers a mixed bag of bluegills, crappies, walleyes, and small northern pike by using a lightweight bottom bouncer, ¼ or ½ ounce, and crawler harness, tipped with a half of crawler. Yes, crappies. They are absolutely jumping on this presentation. There were times when I couldn't get the bait down to them fast enough. Another lake, fished last Saturday, offered a good walleye and bluegill bite by ... >> > Read Greg's Full Report .

Fishing Report July 28, 2012 Jeff Sundin - Friday was one of those days where I'm told to just go out and try to catch some fish. Who cares what kind, lets just try and find some good action. I don't have a lot of days like that and when I do, I sometimes stumble around trying to think of an idea. Not this time though, at this time of the year, I'm a always on the watch for the signs of a hot Bluegill bite and water temperatures in the high 70's were literally perfect to go out and give it a try. Guess what? The Sunfish were ready, willing and able! The only thing we needed to do was figure out where they were hiding.
It was kind of funny, most of the time I have a fairly good idea about where to find the Sunfish because we've stumbled into them somewhere while we're Walleye fishing. This time though, I hadn't really had that experience recently, so we had to start from scratch. I did know that they would be on, or very near the weed edges and I knew a handful of likely starting spots from past fishing seasons. So off we went to start poking around in the weeds.
After an hour or so, we'd tried a variety of locations without hitting pay dirt, we even looked at a couple of deeper spots just in case I was guessing wrong about the weeds. We had caught a bunch of small Perch, but no other interesting thing had happened and it was clearly time to move and try something else.
I told Chris that our best bet was to just go ahead and do some Walleye fishing. We rigged up with the standard 1/16 ounce jig tipped with a night crawler and made our first cast. YES, you guessed it! On Chris' first cast, he comes up with a big fat Sunfish! From there on, we were in business, sticking to the small patch of weeds for the next couple of hours.
The fish were holding off the tip of a small, hard bottom point covered with a mixture of Coontail, Eel grass and other weeds. The water depth was 8 feet and if I went an inch deeper, we'd only catch baby size Perch. Under the bright sky, the Sunfish were holding in the weeds and wouldn't come out. So if you're out on the prowl to find them, it might be a good idea to pick an overcast day for your initial search. They roam around a little more then and the effort to pin them down might be less stressful.
Presentation is very simple, a 1/16 ounce jig head tipped with a cut piece of night crawler would be all you'll need. But if you prefer, small leeches, plastic tails or grubs will work too. On Friday, we only tried two colors so it's not a very scientific study, but of the two we tried, the Sunnies preferred the Glow-Blue combination over the Perch color jig heads.
After we finished up with the Sunfish, our next adventure was Walleye fishing. I'll tell you all about that later, but for right now, it's time to get the rig fired up and out on the water.

Fishing Report July 27, 2012 Jeff Sundin - On Thursday, the promise of a nice relaxing day on the lake turned out to be exactly what I'd hoped for.
I gave myself a temporary pass, and lifted the self-imposed moratorium on fishing the lake that's already been so generous to me this summer because I wanted to share the secret with my good friend and long, long time customer Pete Raquet.
Pete had called a few days earlier and offered to share the ride with someone ... well, if I knew someone special that is. I offered it to someone really special, but he couldn't make the trip, he said something about meetings and work, boring stuff like that. But it left open the door open for someone else who turned out to be really special too.
You might recall the story from a few days ago about Jason Wood and his young sons who I fished with on Cass Lake? Jason was just so patient and good with those boys, even at the expense of his own fishing experience that at the end of that day, I knew that Jason was perfect for the job. And he certainly had earned a special treat! So I checked in with Pete sand allowed me to invite Jason to join us.
It had been over a week since my last visit to the lake and there's been a lot of weather changes during that time. I was a little nervous that this could be the day that it would flop, but luckily, the fish were there, they were on the prowl and both of the boys were at the top of their games!
Once again, the fish responded to the same pattern that's been so reliable for me this summer. A simple 1/16 ounce jig head tipped with a whole night crawler and fished in the same manner that you'd use to fish a Lindy Rig. This pattern has worked for me reliably on at least ten lakes this summer and it's worked in water depths of anywhere from 6 to 25 feet. The only thing that you need to watch out for is getting it close to a fish. If you do, they'll eat it!
Getting close to the fish was easy too. Fishing in water depths of 9 to 12 feet, but keying in on 10 feet was the primary answer. Shallow weeds mixed with gravel or rock were the best, but there were fish on weed edges too. In fact on Thursday, we found a completely separate school of fish located a couple of miles away from where I'd been fishing. Those fish were using a steeper breakline, outside the weed edges in about 12 feet of water.
July 27, 2012 - On Lake Winnie and Cutfoot Sioux - Lake Winnibigosh There are still lots of anglers doing well on Walleyes, especially on Big Winnie. Trolling patterns have been reliable for several weeks already and we're expecting to see the trend continue as long as water temperatrures remain warm. Trolling with spinners has been reliable, but according to some of the guides, crankbaits are providing action too.
There are signs that the summer kill of Tulibees has eased a bit since the cooler, stormy weather appeared on the scene a few days ago. Surface temps have fallen slightly and there are fewer fish seen floating on the surface.
Panfish action has been steady, if you know where to find 'em. Sunfish and Crappie action hasn't been wide spread, but ... Read >> Bowen Lodge Walleye fishing report .

(7/27) On Bowstring Lake, Erin at Geiger's Trails End Resort checked in with; "Well, we have managed to keep Bowstring a secret during these Dog Days! The oxygen levels have diminished in the deep waters so our guests have been pulling the Walleye from 8 and 9 feet of water. Jig and a leech seems to be doing the trick! The beauty of it all is there is still room for more boats in the water and more people in our cabins. We have a few left the remainder of the Summer! Come see our Wall of Fame as the prized fish have been coming through our lodge as our guests line them on our hooks. It seems that the weather is starting to calm down and the high heat is disappearing. Now for a beautiful week of great fishing! Erin, Geiger's Trails End Resort .


(7/27) Active Mid Summer Smallmouth Bass provide lots of exciting action. Jon Thelen has been out on Lake Mille Lacs perfecting some of his favorite presentations and he's got the video to show you how to catch 'em. Check out this video >> Active Mid Summer Smallmouth Bass .


(7/27) In Grand Rapids, Zach Dagel, Grand Rapids Guide Service; Has been out on Pokegama prowling around in the deep water and guess what? He's been finding Northern Pike and Lake Trout out there and he's figured out how to catch 'em too. All you need to do is ...... Read Report Here .


(7/27) Bemidji Lakes Area, Paul A. Nelson, Bemidji Area Lakes Guide Service says; "The hot weather moderated slightly this past week in the Bemidji area, but surface water temperatures in the local lakes are still in the upper 70s to low 80s.
Many lakes have turned a dirty green from an algae bloom caused by hot weather and excess fertility in the water. Visibility is down to only a foot or two in many lakes, so anglers really need to add some flash and vibration to their presentations to help fish locate baits before they can see them.
Walleye anglers can use between 1 to 2 ounce bottom bouncers with spinners and live bait to target active walleyes in moderate depths at speeds up to 1.5 mph.
It is difficult for anglers to fish more than 3 lines at a time when fishing bottom bouncers. It can help to put a lighter sinker on the line in the middle and heavier sinkers on the two outside rigs, to keep more distance between baits and help avoid tangles.
Leeches, night crawlers and minnows will all work on spinner rigs for walleyes, with two small leeches working just as good as one larger leech. Small perch usually prefer night crawlers and minnows over leeches, so anglers wanting to reduce the amount of stolen bait can try fishing spinners with leeches.
Walleyes in most of the deeper lakes are moving into shallower water to search for food where there is more oxygen. Many lakes are out of oxygen below the thermocline, so a "summer-kill" on tulibees and suckers is starting in the lakes.
The hot weather also increases mortality rates on released fish, so anglers should take extra precaution to get fish right back in the water. Delayed mortality rates are also high on injured fish, with little time to recover before they have to be able to eat again". - Paul A. Nelson, Bemidji Area Lakes Guide Service, panelson@paulbunyan.net 218.759.2235 .

Fishing Report July 26, 2012 Jeff Sundin - It had to happen sooner or later. I spent the last week hoping and praying that the Northern Pike would stay right where they were on Lake Winnibigoshish. At least long enough to get there with the Moore's, but the storms that consumed most of our night on Tuesday, put a little damper on my plan.
After listening to thunder all night long, waking up to half of a barn full of wet muddy fishing gear wasn't exactly what I'd hoped for on Wednesday morning. But's that what was there and there was no use crying about it. I did my best, hustling through the morning, but showing up a half hour late to pick up the boys at the bait shop.
This was supposed to be our big day, what we'd hoped would be a great Pike fishing trip, because after listening to all of the stories from the past week, we had heard lots of reason to be optimistic.
When we arrived at the lake, it was still cloudy, breezy and a little on the cool side. Surface temperatures were holding steady at 77 degrees. Everyone knew I was worried about the effect that the storms might have on our fishing, but we were still ready to dig in until we found 'em.
We headed for the Deep weedbeds on Tamarack Point where anglers have been catching nice Pike as a byproduct of their Walleye fishing, for well over a week. We got the gear and boat situated for a drift and started casting. Spoons, Crankbaits, Spinners, we were throwing it all, but they were gone, not a sniff.
Next, we headed South where we could work the stretch of water along the East side. I decided to start by trolling istead of casting. Instead of taking all day long to cast a half dozen spots, we'd use the trolling to find some fish and then stop, fine tune our presentation and cast for larger fish. Part of the plan worked, part of the plan didn't work.
We were able to catch a number of fish trolling with 1 ounce Rattle Baits, Gold was particularly good and so was a red/yellow one. The fish we caught trolling, weren't exactly the size we'd hoped for, but at least they were providing some action. About a dozen fish made their way into the boat, none of them over 2 or 3 pounds. At various times, we'd stop and cast too, but the fish we caught by casting were no larger and no more frequent than the ones we caught trolling.
We'll be watching for the pattern to re-develop as the weather stabilizes, but for now, it looks like the best bet on Lake Winnie will be going back to Walleye fishing.

Fishing Report July 25, 2012 Jeff Sundin - On Tuesday, there were 3 generations of Moore's in the boat and we were fishing the favorite family stomping ground for Bass. The Moore family has been visiting this lake for a long time and it's always a walk down memory lane when we go there. But this time, a special treat, something special for Great Grandpa; One trolling pass down the favorite weedbed, you know, out in front of "The Greek's Place", with a Jointed Pikee Minnow and guess what? One nice Pike on the line, just to show it could still be done!
Now if Bill could have just gotten through on that dumb cell phone, we would have had, just for a moment, a fourth generation of Moore's on the lake with us too.
Bass fishing is always fun for me because it's a break from the mototony of non-stop Walleye fishing. But When Bill Moore joins me, Bass fishing takes on a whole new meaning. Listening to him and his son David remembering experiences from years ago and at the same time, knowing the places where the stories took place, give the fishing experience an extra dimension. It's like becoming part of the family for a while. It's like re-living old times for me, even though I wasn't there. Luckily, I've been with them enough now that some of the good old days are going to included me, especially for Davids son Sean, who at age 17, had just begun to fish the lake a few years ago.
Our fishing experience yesterday was a blend of every kind of fishing you can think of, all rolled into one trip. The surface water on the lake was 76 degrees, the water was clear and fresh looking, there was no sign of a fish kill and the weeds were healthy and green.
As we moved from one spot to another, it seemed like there was a different trick for each spot. It was like all of the fish were doing something a little bit different from each other. By the end of the day, we must have had a dozen rods and a hundred pounds of lures all out at the same time. All of them were used and almost all of them worked, at least a little bit.
The top producers for us though were; 1) 6 inch Yum-Dingers, rigged "Wacky Style" and fished from just outside the base of Bulrushes, out over the weed tops into about 15 feet of water. 2) 6 Inch Yum-Dingers, Texas Rigged backwards using nails in the tail for weight and fished out onto the deep weed edges. 3) Texas Rigged ribbon tail worms fished on the weed edges and 4) Four inch Tube and jigs combintations fished from the Bulrushes back out over the weed tops. Spinnerbaits caught a handful of Rock Bass and even a Crappie, but yielded Zero Bass!
The coolest experience of the day was the special request to make one or two trolling passes where the family always used to fish for Pike. Trolling over the tops of a nice looking weedline in 15 feet of water, we covered a fair stretch of shoreline using a variety of baits. Just when it began to look like it might not work, we hooked into a nice Pike. Acoording to Bill's de-liar, it weighed 6 -1/2 pounds and put the trolling run back on the agenda for fuure trips, I'll bet permanently!

Fishing Report July 24, 2012 Jeff Sundin - Some folks would call these the "Dog Days of Summer "; But guess what? Summer trolling patterns for Walleye, Pike and even Lake Trout are in full swing right now and you can quickly turn the "Dog Days", into a great fishing time.
For anglers who want to get in on the action, all you you really need is a little initiative, and a little time to experiment with a couple trolling approaches.
First, a couple of quick notes; It's really not my style to dwell on the sad things in life. But just in case you didn't already know, one of the Itasca Area's most precious places was changed forever by the storm that blew through here a few weeks ago.
If you've ever driven into the Norway Beach Recreation area at Cass Lake, then you know what I mean. The towering Pine Trees and the calm, shady path were just so welcoming that it was almost impossible to be there and be in a bad mood at the same time. No, I take that back, it was impossible!
The campground is closed, the road is closed and most of those gorgeous Pines are now laying on the ground. As sad as it was yesterday to see it that way, I know that those of us who had visited and seen it before, were blessed to know that place as it was. Now, luckily, we will be equally blessed to see what it becomes, beautiful in a new way.
Right now; I'm gonna jot down a few quick notes about yesterday, then high tail it for the landing. We want to beat the heat and sunshine today, so we're gonna get an early start. I'll pick up wherever I left off later in the day.

Fishing Report July 23, 2012 Jeff Sundin -Heat wave stresses fish, lakes and fishermen.
For Bill, David and Sean Moore, day one of the long awaited return visit to the Grand Rapids Area was a scorcher.
With high expectations of great Bass fishing on the lake they'd chosen for lodging, they met me at the dock, bright eyed and bushy tailed. In spite of knowing that this lake wasn't exactly a top pick for Bass anglers visiting Grand Rapids, I am always up for a challenge. I was prepared to rise to the occasion, learn some new spots and work the lake until we found 'em.
With surface temperatures under the high, sunny skies already approaching 80 degrees, it seemed logical that we'd find the fish in heavier cover. Maybe in the Wild Rice, maybe on the deeper weedlines or perhaps they could even be up under the Lilly Pads.
Okay, so we tried all of that, using a whole bunch of different presentations. Long story short; We know that there are some Bass in that lake, and we know that at noon, we hadn't found 'em. I learned one other thing too; for my crew, catching fish was a lot more important than learning where they were on this lake. So guess what? We put the boat on the trailer and went for a little ride to a place where hopefully, the fish loved me more than they did on lake #1.
Next stop, one of the hundreds of small lakes in the Deer River area known for Bass and Panfish.
At the landing, we noticed something floating across the bay, first one, then another and another ... Tulibees, stressed from the warm water, had died and were being drifted across the bay by the hot breeze. On the lake, surface temperatures ranged from 81 to 83 degrees and before the day ended, we'd see an 84 degree reading.
Bass in this lake weren't exactly jumping in the boat either, but with a huge population to work with, we would find enough action to keep everyone interested. We probably each caught 10 to 12 fish and while they weren't the biggest fish I've ever seen, it sure beat catching nothing!
The fish we found, were using the steep breakline located between the Bulrush edges and the deeper weedline. Casting wacky rigged Yum Dingers toward the Bulrushes and working them back out to about 15 feet of water, we turned plenty of fish and saved the day.
Finally, watch for the signs of a summer kill occurring on your lake. It won't happen everywhere, but if it does, there will certainly be an impact on fish locations and presentations. It looks like bad news on the surface, but there's always a silver lining! Watch for more information as the week unfolds.


Feature Fishing Report July, 23, 2012 Greg Clusiau ... other key gear to leadcore fishing or any fishing for that matter, are your electronics. Including a good GPS with mapping to mark your trolling run, and where you're catching fish. Your electronics will help you locate bait fish, schools of walleyes, provide you with water temperature readings, and speed. Speed is very critical to any form of trolling. You need to be able to duplicate successful trolling runs. This past weekend for example on Mille Lacs>> Read Greg's Full Report


(7/23) Gus Sheker, Gus' Place Resort on Ball Club Lake; "Storm clean up continues at the resort with downed trees being the majority of the mess, cooler weather next week should give us conditions to work longer days in the sun.
FISHING; Surface water temp is in the mid to upper 70s. The bite is very good for Perch & Northerns 8-12 feet on the flats near the drop offs. Anglers have been using crawlers and leeches and few minnows.
The Walleye bite is good casting and trolling Shad Raps. Crank baits always work well in July on Ball Club Lake.
Lindy rigged leeches with plain #6 or #4 hooks, 5-6 foot snells are also producing very nice Walleye.
Last week fishermen found a few Blue Gill and Large Mouth Bass in the deep holes in the Ball Club River, but over all the Blue Gill bite has been slow.
The current trends in fishing Ball Club Lake are expected to remain unchanged until the weather starts to cool". - Gus Sheker. Gus' Place Resort .

Fishing Report July 22, 2012 Jeff Sundin - Bass fishing was good on Friday, but not as hot as the weather!
For the final day of the fisharoo, the game plan for me, was to do some high level Smallmouth Bass Fishing with my pal Jeff Dollar and guests Mike and Joe. I'd fished with Jeff a couple of years ago on Lake Pokegama and like a kid with a new toy, he was more than revved up to get back onto that lake.
We knew that the weather and high water might stack the odds against us, but just knowing the sheer potential of this beautiful place, there was no way to avoid making every effort. There would be no mountain left un-moved to make this work!
When we arrived at the lake, there was a noticeable drop in the water level, but it was still over the tops of docks and into the yards of lake residents. The surface temperature was 76 degrees when we began, rising to almost 79 degrees before we'd wrap at the end of the day.
As it turned out, we would eventually win the game. Doing so by diligently working our way around the lake fishing one spot at a time and taking care not to forget any detail. Luckily for me, the crew was very good at catching fish and there were very few missed opportunities. Smallmouth Bass were scattered and we seldom caught more than 3 or 4 fish in a spot. But, almost every move yielded a few more fish.
I was really pumped up to try some new artificial baits on the Smallies. But while an occasional Largemouth Bass would open up to my array of plastics, the Smallmouth were snubbing them. Acting like they'd been born into a school of Walleyes, Smallmouth Bass were holding deep on points in 16 to 22 feet of water. They don't typically spend this much time in the weeds, but with high, sunny skies and hot weather, they were really tucked into heavier cover. In fact we would almost never get any bites unless we were tugging on the weeds.
About the only way we managed to root them out, was to fish Lindy Rigs and live bait. Leeches, Night Crawlers and extra large size Golden Shiners were almost equally effective, but for convenience, I'd say that Jumbo Leeches would be my top choice, if a re-match was on the horizon.
In the end, we'd catch about 35 Bass, mostly Smallmouth, with a smattering of Largemouths. We thought it was a respectable showing, especially for these conditions. There were no real giants caught, but the average size of the fish was very nice, ranging from 15 to 19 inches.
(7-21) Meanwhile, back on Lake Winnibigoshish - I spent some time talking with Pro Guide, Jeff "Cubby" Skelly about the fishing patterns he's been using on Lake Winnie during the past week. According to Skelly; "It's not complicated at all", a simple, single hook spinner rig; He's using a #2 or #3 Hammered Gold blade, a 1/4 to 3/8 ounce bullet weight and a Night Crawler.
Locating the fish in the deeper weeds isn't tough either, Skelly says that you can see them easily on your electronics and that a lot of the fish are high off of the bottom. Just keep the boat moving anywhere from 1.0 to 1.3 MPH and get the rig in the water, just deep enough to tickle the weeds.
Weather conditions change the mixture of fish that they're catching; During overcast periods, the Pike action picks up and lately, the size of fish has been increasing. On Thursday, one of his passengers hauled in a girthy, 35 incher and they caught others of quality size too.
During sunny times, the Pike action really tapers off, but the Walleyes generally continue to bite. The action comes in spurts, so be prepared to spend some time scouting the weed beds. There will be small groups of fish scattered around the weed flats, so if you don't hit them in the first five minutes, don't get nervous, sooner or later, you'll hit a pod of fish and get in on the action.
While we're on the subject of Walleyes in the weeds, Jon Thelen has been scoping out some weed spots too and put together a nice video, complete with all of the tricks for making the spinners work for you. Just click this link to watch the Weedline Walleyes Video .
On Thursday, I followed the same pattern that's been consistently successful for me during the past several weeks. Fishing the shallow weeds and mixed rocks using small jigs tipped with Night Crawlers. This crossover pattern falls somewhere on the chart between Lindy Rig fishing and jig fishing. We use the small jigs to get in and around cover without getting hung up (too much). But when the fish pick up the bait, we feed line and prepare to set the hook, exactly as you would if you were long lining a Lindy Rig.
As successful as the pattern has been, I'm putting it into semi-retirement as I come to a self imposed limit on the lakes and areas where I've been fishing. I can only visit the same places so many times and today, I'm presented with the perfect excuse to switch gears, switch lakes and switch fishing styles.
For today, preparing to do some big time "smokin and jokin" with my pals and I'll be in search of Bass in new territory.

Fishing Report July 20, 2012 Jeff Sundin - Warm water triggers movement toward shallow water and Itasca Area Lakes show signs of stress from heat. Fishing patterns have continued to shift toward Weedlines and trolling has become a key tool for the area pros on Lake Winnibigoshish.
As we prepared for the Fisharoo on Thursday, I spent some time talking with Pro Guide, Jeff "Cubby" Skelly about the patterns he's been using on Winnie during the past week. According to Skelly; "It's not complicated at all", a simple, single hook spinner rig; He's using a #2 or #3 Hammered Gold blade, a 1/4 to 3/8 ounce bullet weight and a Night Crawler.
Locating the fish in the deeper weeds isn't tough either, Skelly says that you can see them easily on your electronics and that a lot of the fish are high off of the bottom. Just keep the boat moving anywhere from 1.0 to 1.3 MPH and get the rig in the water, just deep enough to tickle the weeds.
Weather conditions change the mixture of fish that they're catching; During overcast periods, the Pike action picks up and lately, the size of fish has been increasing. On Thursday, one of his passengers hauled in a girthy, 35 incher and they caught others of quality size too.
During sunny times, the Pike action really tapers off, but the Walleyes generally continue to bite. The action comes in spurts, so be prepared to spend some time scouting the weed beds. There will be small groups of fish scattered around the weed flats, so if you don't hit them in the first five minutes, don't get nervous, sooner or later, you'll hit a pod of fish and get in on the action.
While we're on the subject of Walleyes in the weeds, Jon Thelen has been scoping out some weed spots too and put together a nice video, complete with all of the tricks for making the spinners work for you. Just click this link to watch the Weedline Walleyes Video .
On Thursday, I followed the same pattern that's been consistently successful for me during the past several weeks. Fishing the shallow weeds and mixed rocks using small jigs tipped with Night Crawlers. This crossover pattern falls somewhere on te chart between Lindy Rig fishing and jig fishing. We use the small jigs to get in and around cover without getting hung up (too much). But when the fish pick up the bait, we feed line and preapare to set the hook, exactly as you would if you were long lining a Lindy Rig.
As successfull as the pattern has been, I'm putting it into semi-retirement as I come to a self imposed limit on the lakes and areas where I've been fishing. I can only visit the same places so many times and today, I'm presented with the perfect excuse to switch gears, switch lakes and switch fishing styles.
For today, Session 2, round 2, of the 2012 Daikin McQuay Fisharoo! And a special request from Mike and Jeff, the long awaited re-match with Pokegama Lake Smallmouth Bass! I am only too happy to oblige.


(7/20) Active Walleye in mid-summer, do a lot of interesting things and another pattern that works well on suspended Walleyes are spinner rigs, fished with planer boards. Jon Thelen illustrates how to use planer boards and line counter reels to place his spinner rig at the correct depth and distance from the boat while targeting suspended walleye. Want to get in the game? Check out this video >> Summer Trolling for Suspended Walleye .


(7/20) From Cutfoot Sioux and Lake Winnie, Bryan Harris from Eagle Nest Lodge wrote; "Hope you all weathered the storm ok. Crazy destruction, but we lucked out and received no damage, but we did have 6 days without power. We rented a couple big generators when we realized how bad it was. They helped us limp through and stay in business without cancellations!
Fishing has been pretty good the last week or so in Cutfoot. Walleyes have been biting pretty aggressively on the bar (mostly Battle Point end) and the Clambeds. Around 10' with leeches and crawlers on a spinner. Some folks were bobber fishing in the evening and doing very well. Big perch have been coming out of the reeds by the summer homes. You have to do some sorting, but several over 11" are showing up. We haven't seen any crappies by the docks this year. I think the "sportsmen" demolished them the last couple years. We have a few very busy weeks coming up, then lots of cabins available starting mid-August through the fall.

Fishing Report July 19, 2012 Jeff Sundin - On Wednesday, Grey skies, cooler temperatures and a strengthening Southeast wind encouraged Walleyes to give us another day of easy fishing.
I'd love to tell you about how we had to search them out, sneak up on them and then at the last minute, finally figure out a way to trick them into biting. But sometimes, it's just nice to have an easy, relaxing day! Luckily for us, that's what we had on Wednesday and it felt really good!
When we arrived at the lake, the surface temperature had fallen from 78 degrees, down to 76 degrees. The sky was dark, but not stormy and there were small, scattered patches of blue sky. There wasn't a lot of breeze at first, but eventually it would build, giving us a genuine Walleye Chop.
At the first stop, a shallow patch of weeds, mixed with light rocks, I stopped the boat, started the first drift and asked everyone to cast out their jig and crawler combinations. It seemed like about 30 seconds later, we had our first Walleye on the line and for a little while, things went so fast that I sort of lost track of the breakline and forgot to pinpoint where the fish came from. The second drift didn't go as well, I missed out somehow and would soon learn that I'd gone out a little too deep. The fish were holding on top of the structure, not down the edges and if I fished in 12 feet instead of 11, there were no bites. Move up to 10 and there were no bites either, on this day the fish wanted me to stay in 11 feet of water and nothing else would do. Once that little detail was drilled into my brain, the rest of the day went like clockwork.
Be sure to follow Bowen's Lake Winnie Report for more information about the big lake, and watch for additional updates as we roll toward the weekend.


(7/19) Bemidji Lakes Area, Paul A. Nelson, Bemidji Area Lakes Guide Service says; "The hot weather continues in the Bemidji area, with surface water temperatures in the high 70s to low 80s in most lakes. Oxygen levels below the thermocline in the deeper lakes are running low, especially in lakes with enough algae to tint the water green.
Many fish are moving back into the shallows, to seek out the shade and higher oxygen levels provided by the weeds. There are also walleyes, perch and northern pike moving on top of mid-lake structures with the right depth and bottom content on top.
Large flats, bars or sunken islands covered with chara give cover to crayfish, insects and minnows and make them attractive feeding areas for walleyes and other predator species. Patches of rocks and cabbage weeds on the flats and bars help make them even more attractive feeding locations for predator and prey species.
Anglers have been catching walleyes on the breakline or in deeper water above the thermocline on bottom bouncers and spinners tipped with either leeches or night crawlers.
Speed and spinner blade color and size are two important variables that can make a big difference in how many bites anglers get. A quick change spinner clevis allows anglers to easily make spinner blade changes, trying to find the right color combinations to trigger more bites.
Anglers can also troll crankbaits, either in shallower water or on lead core, to get the crankbaits into deeper water. Line counter reels are important to help anglers be able to get their baits back into the right zone once the correct amount of line to let out is established.
Anglers are also catching species other than walleyes in many lakes. The perch have been active on the flats, bass in most lakes are feeding in shallow heavy cover and northern pike and muskies have been active on the cabbage weeds edges." - Paul A. Nelson, Bemidji Area Lakes Guide Service, panelson@paulbunyan.net 218.759.2235

Fishing Report July 18, 2012 Jeff Sundin - A cooler atmosphere perked up the action even more on Tuesday, as Phase one of the 2012 Daiken-McQuay Fisharoo wound down.
With nine guides on the scene, it's usually fairly easy to get a pulse on what the action is like around the area. Typically, large groups like this one wind up, sooner or later, focusing on a single lake, maybe two. Sometimes it's even limited to only a spot or two on a single lake, a single area that becomes the focal point of fishing for the whole group.
Not this time though, fishing in the Itasca area has been reliable enough so that almost everyone has gone off in their own direction, developed their own game plan and for the most part, been really successful!
That's good news for Walleye angers, because it means that right now, your favorite lake is probably productive enough to provide a good opportunity for a mid-summer fish fry. Another note of good news is that the same simple patterns have worked reliably on a variety of lakes.
With weedlines filling more each day with fish, faster speed, trolling approaches have become really reliable. Spinners have been really effective; either single hook, tipped with minnows, or something like Lindy's two hook Crawler Harnesses tipped with Night Crawlers. Fishing at a speed of about 1.1 to 1.3 MPH, the spinner presentations have produced plenty of Walleyes, some nice Pike and a ton of Perch.
Trolling crankbaits is on the list for action too and some anglers have been enjoying the same multi-species mix of Walleye, Pike and Perch by trolling the outer edges and over the weeds with shallow running crankbaits like Shadlings or Walleye Divers. Swithing to a Rattlin Spot, will tip the scale in favor of more Pike, which could be a great idea right now, as larger fish are showing up on these weedlines.
Until the last couple of days, wind was really important for a reliable bite, but on Tuesday, the breeze was light, but the fish decided to bite anyway. I don't expect that to be the rule, but for now, if you can get in on it, enjoy it.


(7/18) On Lake of the Woods, Border View Lodge, Mike Kinsella wrote; "Fishing continues to be fantastic across the lake near Garden and Little Oak Islands. Hammered gold spinners with a c rawler, leech, or minnow have been working exceptionally well. Others continue to have success pulling plugs as well. Lots of big walleye are being boated as well, with many in the trophy class.
Highs, once again, are in the 80s for the upcoming week. There is a chance for the occasional thunderstorm, but that is the norm for this time of year."
While water temperatures finally start to rise to the seasonal norm it seems water levels are finally receding after all the recent flooding.


(7/18) Grand Rapids Area Fishing Guide, Jason Green has this from Lake Pokegama; "Fishing continues to get better in the Grand Rapids Area. During the morning hours we have been working shoreline breaks in roughly 9' of water. Our best presentation has been a Northland Baitfish Spinner Harness pulled behind a 1/4oz Bullet Weight at 1.2mph. As the sun gets higher we are moving out in 12'-13' and staying on active fish. For Walleye and Perch they seem to prefer "Sunrise" in color tipped with a crawler. For Pike we have just switched the color to "Yellow Perch" and worked the same areas. For both depths the key ingredient is mature vegetation."

Fishing Report July 17, 2012 Jeff Sundin - On Monday, I got my first taste of "total Bass fishing" for the 2012 season. I know, it's sad, but true! Luckily, we found enough Bass on the prowl to make it a good day, especially if your name was Kyle!
In the morning, we first headed for one of the 1000 small lakes in the Deer River area and got our feet wet, literally, with some Largemouth Bass.
There was a dead Tulibee at the landing that suggested warm water might be taking it's toll on the cool water fish, but this was the only one we saw during the trip. There were other signs of some heat stress on the lake as well; The Humminbird showed a distinct band of baitfish and larger fish along a thermocline at 16 feet. Whenever I looked for evidence of fish deeper than this, I was treated to a blank screen. With surface temperatures tickling the 80 degree mark, panfish and Bass should have been really active on the deep weed edges, if they were there, but they weren't. In fact, there was hardly anything along the outside weed edges, telling me that the panfish are probably up in the heavier cover, dense weeds, Lilly Pads and maybe inside the Bulrush patches.
The Largemouth Bass were holding just outside the edges of Bulrush points and in areas where heavier weeds and Bulrushes grew adjacent to deep water.
We fiddled around with jig worms expecting the action to be good, but fishing the deeper edges of the weeds was not the answer. As we switched over to 6 inch Wacky Rigged Worms, The action got much better and in spite of the fact that I never located a big school of fish, scattered schools of six to ten fish would provide nice bursts of action throughout the morning.
At noon, we needed a good excuse to take a break, so we headed for the Smallmouth hole on Pokegama. Luckily, the first spot I tried had a nice school of fish living there and we were able to catch a dozen or more from this first spot. After that, warm temperatures and slower fishing was pushing us toward the landing.
I'm gonna have more, but with paperwork stacked up to the ceiling and 3 more anglers waiting at the dock, I gotta go! See you tomorrow!

Fishing Report July 16, 2012 Jeff Sundin - The fishing conditions on Sunday turned perfect for the opening of the 2012 McQuay Fisharoo. I'm not sure how they did it, but the large group of Air Conditioning experts seem to have figured out a way to cool down the temperatures and heat up the fishing.
The group is headquartered on Cutfoot Sioux, so most of the guides for the large group fish on Lake Winnibigosh and the surrounding Waters. On day 1, it didn't matter where they went, everyone in the group, yes all of them, were catching lots of fish! It was just one of those good fish catching days. Conditions were overcast and there was just enough ripple on the surface to slap into the back of the boat a little.
There were a variety of approaches employed; But for the Guides who fished on the big lake, fishing the deeper weed patches in 9 to 12 feet of water using spinners tipped with minnows was the clear winner. One of my friends was using Lindy Crawler Spinners and caught plenty of fish too. But, for simplicity, a single hook spinner, tipped with a minnow is about as easy as it gets.
In addition to catching a lot of Walleye, there were some bonus Pike mixed in those deeper weed patches too. Perch were plentiful, but not large and most of the Perch caught, ranged from 6 to 9 inches.
On the lake, surface water temperatures are now ranging from 78 to 79 degrees and when temps get this high, picking up the pace will turn on a lot of fish. For the short term, foreseeable future, Spinners, crankbaits and "rip-jigging" are going to get a lot of attention and as long as the water remains warm, these faster trolling approaches will be reliable.
One thought about the warmer temps; Fish kills could begin to enter the discussion if the warm conditions persist and if you begin seeing evidence of your lake getting stressed over the warm water, I'd appreciate a note.

Fishing Report July 15, 2012 Jeff Sundin - Turbulent, muggy weather persisted on Saturday as the heat wave continues to bear down. In spite of tough conditions, somehow, some of the fish have continued to provide enough action, to keep it interesting.
On Saturday, hoping to avoid getting my butt kicked in the aftermath of Friday's storms, I headed back to the saftey of familiar water. When we arrived, surface temperatures on the lake were 78 degrees and there wasn't a breath of wind. The water was mirror flat water and reflected bright sunshine through the dense, humid air. It was feeling a little sticky out there and it was beginning to look like it could turn out to be a long day! No one came out and said it, but I knew that my crew was wondering if they'd made a bad decision to fish on this particular day.
Luckily, there were some signs of encouragement, not many, but some of Sand Lake's Walleye were doing their best to be supportive. After a couple of stops, we had just enough fish to make us believe that the mission wasn't impossible.
Need a lucky break? Okay, how about a nice chop on the surface from a 10 MPH Northwest wind? Would that help? Oh man, you bet it did, like a charm! Once the wind began to blow, the fish started to turn on and within a half hour, things were looking a lot better!
I don't want to make it sound too good, just good enough. We stuck with the jig and crawler presentaion, fishing the weed edges in about ten feet of water. We kept chipping away, catching a couple of fish at each stop until we made it to number 12 just before a late afternoon thunderstorm rolled in, forcing us to high tail it for the landing.
There were a lot of small fish, in fact 4 of the 12 fish that we kept for the crew, were below average. But there were also some nice ones, and 8 of the 12 fish were good solid keepers in the 15 to 17 inch range.

Fishing Report July 14, 2012 Jeff Sundin - Talk about hitting your basic daily double! Jeepers, 3 fishermen go out in the morning, catch some fish, get a good head of steam going and then get swamped by a heavy duty thunderstorm. Then after lunch, 3 more anglers go out, catch some fish, get a good head of steam rolling and ..... Yes, just like the first crew, the second crew gets nailed too! It was almost as if the trip had been scripted ahead of time and instead of it turning out to be a bummer, thay all thought it was a great time!
Lucky for me, these guys looked at it as part of the adventure, part of the story that they'll tell when they get home. As one of them put it yesterday; "It's a little taste of wilderness survival", you know, for a lot of folks, getting caught in a thunderstorm means having to pull the car over on the expressway. But getting caught out in a good heavy downpour, now that makes you feel like you've really been through something.
So there you go, that's the way it was on Friday. The fishing report is actually secondary to the rest of the story. But since I have to at least mention the fishing; We headed out onto the lake, fished the shallow weedline in 10 feet of water using 1/16 ounce jigs tipped with Night Crawlers. In between the storms, we managed to pull out 8 or 9 keeper Walleyes on each shift. Enough for a nice shore lunch and enough for a meal that they can share later.
Before the storms blew through, the surface temperature was 77.5 degrees. I would guess that it's dropped a little bit overnight, but I expect to see this morning that it hasn't changed very much.
Finally, I don't mean to cut the report short, but honestly, you can find out everything you need to know about fishing this pattern by scrolling through this page and checking my daily reports. Click on these dates to jump to Fishing Report June 27th and Fishing Report July 8th. Either one of these could especially helpfull.


(7/14) Deer River Area Fisherman, Brian Castellano wrote; "Mary and I had a FUN night on the water yesterday evening. We were fishing one of our local clear water muskie lakes for anything that bites and look what decided to bite!
We had been trolling shorelines w/ a heavy duty lindy rig and 6-8" sucker minnow on one rod and a bottom bouncer/spinner/crawler rig on the other rod.
Fish was slow with only a couple of average bass coming to the boat and 1-1/2 lb Northern.
Mary suggested we troll across the deep part of the lake to the far shoreline when this 40" musky decided to pounce on her lindy rig. The graph was showing alot of bait suspended about 10-20 down in 30+ feet of water and there were some BIG arcs close to the bait. So we trolled through the bait clouds and WHAM!!!
After an exciting battle, she brought this nice muskie to boat side and I was able to net it, just before her 25 lb test leader broke.
Try as I might, I couldn't get her to pose with her fish, so I did the posing and she did the picture taking. I think I'll have to get a tripod in the boat for the camera. This is the 2nd musky she's ever caught, I think she's hooked now! LOL - Brian
Product Information: (7/14) Looking to buy a new aluminum boat? Aluminum Boat Guide makes buying easier by providing detailed comparison information including features, options, performance, photos, MSRP pricing and where to buy! Our comprehensive side-by-side boat comparisons provide a clear, no-nonsense preview to help you identify the features and options you want at a price that fits your budget… all from the industry's trusted aluminum boat resource. Learn more here >>> Aluminum Boat Guide .


(7/14) Finding Active Walleyes, was Jon Thelen's mission for this week and he found 'em in the weeds and he's got a great pattern that will work for you this weekend. Click to view >> Weed Fishing For Walleyes .


(7/14) Gus Sheker, Gus' Place Resort on Ball Club Lake; "The recent local storm has left heavy tree damage at Gus' Place Resort and it will be at least another week before clean up is complete. Some of the building also sustained minor roof damage, but most of that has been repaired. The main inconveinence was the three day power outage.
Lake surface temputure is in the mid to upper 70s.Warm weather has steadily been pushing fish to deeper water or locations near deeper water.
There is a good Walleye bite at this time along the breaks in 16-25 feet on Lindy rigged crawlers and leeches. There are Many minnows and bait balls along the shore line. Trolled crank baits have also been working early & late in the day. Northerns and Perch are holding in 8-12 feet.". - Gus Sheker. Gus' Place Resort .


(7/14) In the Deer River Area Otters Guide Service, Robby Ott Says; "During the past week, I've spent time on the water around the Deer River area. Deep, clear lakes have been my primary focus.
The secret has been to hunt and peck around points, humps and bars to find active fish. The fish locations have varied, sometimes they're as deep as 30 to 35 feet of water. But for the most reliable locations, pay attention to wherever you can find vegetation on structure, in the 17 to 20 foot range. Along the edge of the weedline on shoreline structure or on some of the humps and bars that top out at the same general depths. This formula has enabled me to hit pay dirt more than once this week.
To narrow down the fishing patterns even more, I use my underwater camera to help see what is taking up residence in these places. I've stuck with this deeper pattern all week long, but I've been hearing good things about shallow water activity in 8 to 10 feet of water too. Good luck and be Safe. Otters Guide Service .


Feature Fishing Report July 14, 2012 Greg Clusiau "For the past several years, I have been reading and watching TV shows on leadcore fishing for walleyes. I had been assuming that this style of fishing is difficult, expensive, and to mildly put it, quite over-rated.
Now while this technique does require some specialized gear to get started, you can do it rather inexpensive by today's walleye equipment standards. This season, I took the plunge into unlocking the secrets to leadcore walleyes. After several conversations with fishing guides and other tournament walleye anglers such as ... >> Read Greg's Full Report .


(7/14) From the Park Rapids Area, Jason Durham delivered his Fishing Report; "Fishing in the Park Rapids area this past week has been very good for certain species, more difficult due to water temperatures for others.
Bass, northern pike, muskies, bluegill and crappie activity has been very good with fish available in deep water, 16-35 feet for the larger predators, while the panfish have been situated in depths of 8-20 feet.
Walleyes have been tougher to find, thought the deep water trolling bite has solidified and anglers trolling crankbaits 15-25 down in 30-50 feet of water are reporting the greatest success. Leadcore line attached to a Salmo Hornet has been tough to beat.
Largemouth and smallmouth bass have been active, on the deeper weelines in 8-20 feet for the largemouth and 8-30 feet for the smallmouth. Some of the fish are feeding on crayfish on the edge of the rock/weed edge while others are searching for deep schools of minnows. Soft plastic baits like 1/4 ounce Northland Mimic Minnows have been productive while topwater lures are producing in calm water situations. Don't be afraid to cast a topwater in deep water when the bass are busting on the surface.
Crappies and big sunfish have headed toward the deeper weed edges, to the outermost point where the weeds grow. Tiny jigs with soft plastic bodies in the 1/16th ounce range are great options right now. So leave the live bait at home, cast the jig and let it hit the bottom. Watch your line for the tell-tale "tick" of a bite and set the hook.
Muskie activity is very good with the overly warm water temperatures. A 52-inch musky was landed and released last week on Mantrap lake and numerous anglers have reported good activity on a number of the local musky lakes. Even so, gear toward bass-sized baits versus the traditional huge musky lures for the most action.
Mantrap lake has had some phenomenal northern pike activity and with the 24-36" release slot, the size structure of northern pike in that body of water has aided tremendously. It's not uncommon to have several fish in the low 30" range and even larger as you're fishing for muskies. And those fishing specifically for northern pike sometimes tangle with a musky.
Now is a great time to head to Park Rapids to fish since the environmental factors have been very consistent and overall, the fish are biting. Come check it out! Jason Durham, Go Fish! Guide Service, Inc. 218-252-2278.

Fishing Report July 13, 2012 Jeff Sundin - If the water is almost 80 degrees, panfish and Bass are biting like crazy, Muskies are chasing everything they see and you can't hardly drop a live bait into the water without having some little fish steal it, then why are we fishing for Walleyes? Hmmm.... that's one heck of a good question.
Let's just say that I wasn't getting paid to take people fishing. Lets say that I just woke up this morning and had an urge to get out on the lake, spend a day in paradise, catch a few fish and relax. I would pack my ultra light fishing rod, grab a handful of Little Nippers and head for the Sunfish hole! The scrappy panfish are so active right now in these warm water, "mixed bag" lakes, that when we try to catch Walleyes, we can hardly get a bait in the water without having it stolen long before a Walleye ever even sees it.
Over the past couple of days, any time I get near a weedline, we've had an endless stream of small fish nipping at our Night Crawlers. Sometimes we hook 'em accidentally and when you're fishing for Walleyes, they become sort of a nuisance. But what if we just stopped the boat and tried doing a little per-meditated Sunfish angling? Why not turn the nuisance into the target and bring home a basket of Sunnies? Hmmm... Sunfish fillets, rolled in a little flour, cooked in a little butter and served with a nice Dill Sauce, Oh Man!
All you would need to do is make yourself a short list of Sunfsh lakes. They could be some of your old reliable spots. But, if you're like me, the explorer type, this would be a great time to pick a few spots that you've always wanted to try, but wanted to be sure to go when the fish are most likely to be biting.
It's been over a week since any major weather change, the water is super warm and the weed growth is full and lush. What I am saying is GO NOW! They will be biting!
Weed edges, weedy humps and gravel patches on large weed flats are all holding panfish. Small jigs like the Little Nipper can be fished without live bait, add a small plastic tail or grub, mix and match colors until you find one that you like. We've encountered the panfish in 12 to 18 feet of water, over the tops of the deepest weeds we can find. I doubt that the depth matters though, it's just because we've been fishing deeper, looking for Walleyes. There are probably shallow spots that would be great producers right now too!

Fishing Report July 12, 2012 Jeff Sundin - Breezy conditions perk up the Walleye action, shallow water weeds and rocks continue to produce.
On Wednesday, our goal was just to catch some fish. It didn't really matter what kind, just something good to eat. Before I left the house, the forecast of high temps and calm winds made me wonder if there was another curve ball heading my way. But luckily, by the time we arrived at the landing, there was already a steady chop on the surface and the steady flow of wind lasted all day long. In fact, before we were finished, there were whitecaps on the surface.
As the day began, water temperatures were hovering at 76 degrees and they were destined to reach 78 degrees by days end.
The fishing pattern for me was simple, the system that's made most of my summer so far. The old reliable, jig and Night Crawler combination fished wherever shallow water rocks and weedline co-mingle. The Walleye have shown a strong preference for the open patches of rocks found within these shallow weed flats. At times, we've caught fish on the weed edges too, but there are far fewer of them on the solid weed edges.
Like most patterns, there's a trick to using this system when the wind starts blowing. The boat speed has be kept under control, so allowing the wind to move you along too fast will make it tougher for the pattern to live up to it's full potential. I use my Lakemaster chart to find spots that are oriented in a direction that allows me face the transom of my boat into the wind. With the electric motor, or the outboard if necessary, I can pull backward against the waves to hold my position on the breakline as the wind slips me along the edges that I want to fish.
Lets use yesterday as an example; The wind was from the South, so I chose to look at every spot I could find that had it's best breakline features on the South end. A good stretch of rocks, a sharp point or even an inside turn on the South end of a structure were all good places to try.
Just in case the wind gets stronger, I have my Drift Control Sock rigged up and ready to use at all times. At the first sign of the boat speed getting too fast, or if controlling the position gets tricky, I set out the drift sock. It's not only to slow the boat speed, but also to help steady the course. When the the sock and trolling motor are working together, you can actually feel the boat get into the groove.
I'll make it a goal to get some descriptive photos and expand on the idea for tomorrow.


(7/12) Bemidji Lakes Area, Paul A. Nelson, Bemidji Area Lakes Guide Service says; "Surface water temperatures in the Bemidji area have reached the high 70s, with an algae bloom quickly "greening-up" many of the lakes.
The fertility of lakes in the Bemidji area is not as high as many lakes in southern Minnesota or lakes like Devils Lake in North Dakota that can get algae blooms that look like thick green pea soup.
Many lakes in the Bemidji area take on a lime green tint from the algae, which can actually help fishing by filtering out some of the sunlight and allowing light sensitive species like walleyes to feed more comfortably during the day.
Metabolism rates in fish are elevated during the warmest part of the summer, so the fish are forced to feed more regularly to keep up with their increased calorie usage.
Anglers can take advantage of the fishes' need to feed in the warm water by adding flash, speed and vibrations to their presentations to help the fish locate their baits in the tinted water.
Many anglers add spinners to their live bait presentations for walleyes, paying close attention to what speed and what colors are getting the most bites.
Anglers can also use jig heads with spinner blades to add flash to swimming jigs or add a safety pin spinner blade to a jig, either with scented plastics or live bait.
Muskie anglers should find muskies more willing to bite in the tinted water, with the fish having to make faster decisions on whether to strike or risk letting the lures "escape".
Perch and walleyes have been moving on top of mid-lake structure to feed now that the mayfly hatches have finished. Humps with rocks or chara covered sand are particularly attractive to perch and walleyes because they hold crayfish and a mixture of minnow species." - Paul A. Nelson, Bemidji Area Lakes Guide Service, panelson@paulbunyan.net 218.759.2235


(7/12) On Lake of the Woods, Sportman's Lodges, Jacki LaValla said; "Rocks, mud, sand, everything has been working. Shallow rocks 15'-20' drifting or trolling using spinners and minnows. Anchored, in the mud in 29'-30' along Zippel and Long Point. A few are testing the waters trolling with shad raps. If you are looking for the BIG walleyes, July & August are the best months to find them! The weather is great and the fishing has been phenomenal. Get here now!"


(7/12) On Lake of the Woods, Border View Lodge, Mike Kinsella wrote; "The action is heating up along with the weather. We continue to have excellent reports from the Garden Island and nea r Little Oak. The rocks have been producing some big fish and plenty to eat. Spinners have been working really well and we have had some excellent reports from those pulling plugs. The bite on the south end has been a little more inconsistent but has been very good at times. Drifting with spinners, in as little as 5 feet, seems to work well when the shiners move in. Highs are in the 80s for the upcoming week. Consistent weather should keep the fish biting."

Fishing Report July 11, 2012 Jeff Sundin - Well I did it again, missed it by that much ..... You would think by now that I could "Get Smart" myself and take my own advice. But somehow, the reports just sounded a little too good, I just had to try it one more time!
Fishing on Lake Winnibigoshish has been a real roller coaster ride this season and having a great fishing day out there, has had more to do with timing, than it has knowledge. Except for one small thing: Sunny, calm days have spelled trouble for the big lake ever since May. There are plenty of fish, and when your timing is good, they bite really well and there are a ton of them in the perfect eating size range 16 inches plus. That's why I was so tempted by reports of good to great weedline fishing on Winnie over the past few days.
When we arrived, surface temps were hovering between 73 and 75 depending on the areas we stopped. The sun was high in the sky and there wasn't much more than a ripple on the lakes surface. We spent an hour or two working the shoreline weeds in 8 to 12 feet of water, before realizing that the wind wasn't gonna blow, and the action wasn't gonna start without it.
After a long, internal debate about whether to change lakes or tough it out, I decided to head for Cutfoot Sioux to see about finding a mixed bag, but along the way, I stopped on a rock pile, just to see if there were some fish. That was really my luckiest break of the fishing day. There was a school of Perch holding in about 12 feet of water and while they weren't on a rampage, they were active enough to keep us interested for an hour, maybe more. Jig and minnow combinations were fine, but trying artificials was largely a waste of time. Size? Some were better than others, but there were enough good keepers to make it worth the effort.
After the Perch bite fizzled out, we did make our way into Cutfoot and for a brief time, a handful of Grey clouds cast a shadow over the lake. At the same time, a breeze, just enough to get the boat drifting helped fire up a little action. During that time we picked up a couple of keeper Walleyes, an over-size slot fish and a few too small. It actually looked like Cutfoot had some potential, but in the afternoon, the energy died, the sun got higher, the lake got calmer and except for tiny Perch, drumming up some action was really tough.
I know it's easy for me to say; But if you have the flexibilty, wait for the right day and the action on Winnibigosh will be good. Don't be like me, don't head over just because you heard some good reports. The reports are real, but timing is still the key.

Fishing Report July 10, 2012 Jeff Sundin - Sunny warm weather is raising the surface temperatures fast! Warm water sends Northern Pike out into open water, encourages heating of Bass and Panfish action.
On Monday, the last day of a 4 day session with Dick and Paul, we fished Lake Pokegama with hopes of catching some Northern Pike to round out the week.
When we arrived at the lake, the water level was still really high, water coming up onto the road wasn't enough to stop us from launching the boat, but we did need to get our feet wet to get her in. Surface temperatures were just above 76 Degrees and there was a light bloom in the water.
With bright, sunny skies and light winds, I was concerned about our timing for the best Pike action. It turned out that I was right, the Pike are somewhere in between early season and late season prime-time haunts right now and with so many fish suspended out over deep water, relying on casting or trolling the weedlines produced only a few, medium size fish.
One of the things that I know I did wrong was to rely too heavily on casting artificial baits. On Sunday, we had gained a lot of confidence using jigs with plastic tails. While the tactic worked well for Bass, the Pike were snubbing them. In fact, they weren't too thrilled with Spinner baits, Rattle Baits or spoons either.
We were being entertained by some really nice size Smallmouth Bass, a few Largemouth and even a phantom Walleye, but on Pokegama, for Northern Pike, live bait is the way to go right now. If I'd started the crew rigging with large minnows earlier in the day, we certainly would have caught more Pike, but even then, it would have been far from any kind of peak action.
As I moved from spot to spot, I noticed that there are a lot of fish suspending over deep water. Once upon a time, I might have tried working on the deep, suspended Pike, but since I've learned how physically hard that is on these fish, especially the larger ones, I've stayed away from working the deep water when it comes to Pike. They'll be back on the breaklines soon enough, and until they return, we'll keep occupied with all of the other cool fish that are on the weed edges right now.
Smallmouth Bass, nice size ones were definitely on the bite and they were in a variety of territories. Key locations were 12 to 16 feet along the weed edges. A few rocks or hard gravel made the spots better, but we caught Smallmouth along the edges of Coontail weeds frequently.
For the Bass, White 1/8 or 1/4 ounce jig and plastic tails caught several fish. So did a small 1/8 ounce spinnerbait, but when we started rigging the large minnows for Pike, the Smallmouth were all over them!
At the landing, I ran into Derrick and David Deutch who had been out fishing for Walleyes. They reported catching a half dozen, which I thought was fairly good considering the conditions.

Fishing Report July 9, 2012 Jeff Sundin - Mixed bag fishing on clear water lakes peaks as warm summer conditions take hold in Northern Minnesota. As water temperatures warm, Sunfish, Bass and Musky get active!
From my point of view, there are lots of great opportunities that get passed up during the summer because typically, the pursuit of Walleye is the over riding priority. Don't get me wrong, that's okay, I love Walleyes and most of the time we do fairly well catching them. But at times during mid-summer, we could be getting a lot more action if we capitalized on some of the other warm water fish that really get fired up as the water temperatures rise. Deeper, clear water lakes warm up and turn on more slowly during the summer. So when the action on some of your favorite early season Walleye lakes slows down, shifting to these deeper lakes can get you back into the action, especially if you're willing to mix it up.
A day without pressure to get a limit of Walleyes, is like a vacation day for me, and with our Walleyes already packed up and frozen for the trip home, that was my opportunity on Sunday. Our goal was to find some action and have some fun, so we picked a lake just right for multi-species fishing. Deep, clear and filled with Sunfish, Largemouth Bass, Smallmouth, Walleye and Muskies.
When we arrived at the lake, surface temperatures were hovering at 75 degrees, the sunshine was bright and there was only a light breeze. It had been a few days since the most recent storm, so our confidence was high and there was lots of enthusiasm to see some new water and learn some new spots.
Our first stop was a shallow bar that topped out at just a few feet, surrounded by a weedy flat that dropped off into deep water. Wow! This was probably the most action packed spot that I'd been on all week long! Most of the fish were small to medium size Largemouth Bass and they were about as eager as they could get. Within a drift or two, we had had boated nearly 20 of them along with a bonus Smallmouth Bass.
On this spot, we didn't catch any Walleyes, but a look under the surface with the camera revealed a school of Walleyes roaming the same weedline, they just weren't active at that moment.
Second stop, a deeper, weed covered bar that topped off at about 14 feet. I saw a small group of what looked like Walleyes on the Humminbird, we started a drift and within 50 feet had an interesting event. All three of us had fish hooked at once. One had a Walleye, one had a Sunfish and one had a Perch, followed by a Musky! Yup, that's a mixed bag alright. The Musky shifted gears away from the Perch as soon as he spotted the Walleye, but never actually tried to strike the fish. Within the next drift or two, we'd boat two or three more Walleye and a couple of other odds and ends before moving on.
Third stop, another weedy bar that topped off at 16 feet was home to a real Hodge-podge of fish. Sunfish, Rock Bass, Largemouth Bass, Walleyes and another Musky. This time, as Paul reeled in a nice eater size Walleye, the Musky latched on and stayed on for several minutes. As Paul worked on getting the fish close to the surface, it opened wide and spit out the Walleye just before we could get some good pictures.
From here on, we'd make a series of stops, checking the bars one by one. Most of the structure that contained weeds and topped off shallower than 20 feet, contained some fish. Deeper, open water humps in the 20 to 40 foot range looked really empty. The Humminbird would reveal an occasional fish, but very few and far between, never enough to get me interested enough to drop in a bait.
At mid day, there was a lull in the action. At the same time, I began running out of "new spots" to look at and we decided to re-work some of the places we'd fished earlier. Returning to spot 3 was the best decision, there were lots of fish there and active or not, it was worth a try.
Dick's decision to switch from a jig and Crawler to a plastic grub turned out to be a winner. The grub, looked like a cross between a minnow and plastic worm and when he pinned it on to a long shank jig head, the fish had a hard time turning it down. I switched to a worm rigged wacky style and had some action that that too. I'll have more details about the artificial baits we used on Tuesday, after I get some names from Dick and snap a few pictures.
For today, another go around with the same crew. With the same goals as yesterday in mind, we're gonna take a swing at another multi-species, clear water lake, this time hoping to find either Northern Pike, Perch or maybe even a lunker Walleye to CPR.


Feature Fishing Report July 9, 2012 Greg Clusiau - "Normally, high water doesn't seem to bother deep fish but my regular "go to" spots didn't hold anything. Running and gunning, trying spot after spot, we finally connected on a few fish at the other end of the lake. Isn't that the way it goes? Walleyes, however, were tough to come by, for us anyway. A few bass, largemouth and smallmouth, made their presence known from time-to-time. One of them, a nice largemouth, hit so hard that for a split-second I thought I was.... >> Read Greg's Full Report


(7/9) Finding Active Crappies is easier than you think and it was Jon Telen's mission for this week. He's been out on the water, fine tuning the mid-summer pattern and has it on video for you. Click to view >> Mid Summer Crappie Tactics .

Fishing Report July 8, 2012 Jeff Sundin - When it comes to fishing, minute details make all of the difference in the world! Do we really need to know why something works? or is good enough JUST TO KNOW?
It may not be too surprising that after nearly 30 years as a professional guide, I have formed a few opinions about how to catch a fish. Among the top five opinions, are my thoughts on fishing line and which ones I use for which fish.
On Saturday, it was deja vu all over again. It was the same scenario that I wrote about ten days ago. Oh sure, it was a completely different lake, a totally different weather pattern and an obviously different water temperature. But part of the scenario was exactly the same. Remember this from June 27th?
"Our presentation was the same as I've used for the past few trips. Night Crawlers rigged on a small jig head and fished in and around the weed patches and rock piles. When we get a pick up, we feed line to the fish just like we do when using Lindy Rigs. This presentation is really reliable for weedline fish and I can get these baits down to 20 feet or more, with no problems at all.
There's something about the presentation that I need to mention though, it requires light gear and light line. The brand name of the rod isn't all that important, but the action and weight is. I use a 6-1/2 to 7 foot rod, light weight with a fast or moderate action. If the rod is rated for 4 to 8 pound test line, it's perfect! I use 4 pound test on these rigs and I will guarantee you that you'll catch more fish if you scale down to lighter line.
I'm bringing this up because yesterday, three of us were using my rods, equipped with my line. One of the crew was using his own rod, a really nice piece of gear that was certainly up to the task of catching Walleyes. The only difference was that he had 6 or maybe 8 pound test line. All three of us who were using my gear were getting bites and catching fish while he sat fish-less, right next to me using the same jigs, same worms and fishing the same spots. After a couple of hours, I couldn't take it any more and suggested that he tried my rod, he agreed and I handed him the rod that I'd been using."
Okay this time, it was not the rod, the reel or even the line weight. This time it boiled down to only the kind of fishing line we used. Two of us were using boring, old 4 lb test mono. The third angler was using stepped up, hydraulic, double dynamo, super transistorized, braided super line ..... and having a heck of a time trying to match the system.
Sometimes it's not too easy to persuade folks to change their way of doing things. It's sort of common for them to try and teach me a thing or two about how to fish. In fact, you've read past reports, when I've come right out and said that I learned more from customers, than they've learned from me. Except, not about this, not about using braids for the touchy-feely part of Walleye fishing.
I have braided line on all of my Bass Rods, My Musky Poles and even on my Crappie sticks. But not on my Walleye gear! Sorry, I just don't like it for this job, and in spite of the fact that I can't explain why, there are certain times when I just plain know .... Like now!
This time, I couldn't persuade him to make the switch. This time, the outcome was a little more frustrating for him and hopefully, next time I can make a little more headway.
So if you've read the reports from the past few weeks, seen that we've been using 1/16 ounce jig heads, tipped with Night Crawlers in 9 to 12 feet of water. If you've seen the pictures of the fish, realize that the system has been working, but decided to try putting your own spin on the system, you know add your own "special touch" and decided that the system didn't work; Well, better luck next time.
July 8, 2012 - On Lake Winnie and Cutfoot Sioux - Sometimes there's no way to sugar coat the story. It was a tough week for anglers visiting Lake Winnie for the fishing, but found severe thunderstorms instead. In spite of the trouble caused by the storms, the fish are settling into summer patterns and the next few weeks are going be productive.
Walleyes are responding to the warm surface temperatures by setting up shop in the weeds. As the early summer insect hatches begin to clear, the mid lake humps become more spotty and savvy Walleye anglers will begin switching from mid-lake, back toward the shoreline. For now, Walleyes are inhabiting the weeds because they want to, but soon, many fish could be forced to ... Read >> Bowen Lodge Walleye fishing report .

Fishing Report July 7, 2012 Jeff Sundin - What appears to have been a one day long cold front, dragged an all day soak-er into the Itasca area on Friday. So we got a little wet, it was a nice break from the hot sunshine, the bugs and as long as the fish were biting, who could worry?
When Dick Williams and Paul Kautsa showed up at the bait shop on Friday morning, it was raining cats and dogs. I had a lot of ideas in the back of my mind, but with 4 days of fishing ahead of us, I decided to "play it safe" and head for one of the old reliable spots that I've been writing about lately. Hoping to get the trip off to a good start, get some fish for dinner and maybe even catch a lucky break, and find out that the fishing hadn't suffered because of the overnight thunderstorms.
Lucky? Yes, it turned out that many of the fish, especially the smaller ones remained in a semi-active mood. I wouldn't have called it wide open, but considering the weather, it was definitely a better showing than I'd expected. Lucky for me too, because both of these guys are really good fishermen and that helps to turn even an average Walleye day into a really good outing. We didn't bag any whoppers, but that wasn't the point. We ended the day with a bag limit that contained 6 really nice 16 to 18 inch fish, 6 medium 15-16 inch fish and 6 smaller, 14-15 inch fish. A few to pack for the trip home and some to eat. Good action, good fun and I'd call it a good start to the trip.
The surface water had cooled down since my visit to the lake on Tuesday, dropping from 80 degrees down to 75 degrees. The 75 degree water still felt really warm compared to the cool air though and I'd like to see the temperature drop even more!
The presentation hasn't changed for me either. Small, 1/16 ounce jigs tipped with Night Crawlers and fished on the breakline edges in about 10 feet of water, sometimes a little deeper, but not much.
Recently, I'd said that mid-lake bars and humps were a key, and they still are. But, shoreline points held some fish too, as long as there were some rocky spots on the structure.
For today; We're back into the sunshine and relatively calm seas. I don't want to get overly fancy with our goals, but I've been fairly happy with the mixed bag Largemouth, Smallmouth and Walleye combination. Cooler, deeper water lakes are in top form right now and I think I'm going to go where I can get a good clear look at some fish and maybe catch a lingering whiff of good air before the heat closes back in on us.

Fishing Report July 6, 2012 Jeff Sundin - On Thursday, getting a break from the heat sounded like a really nice idea and heading for a, cool clear water lake might be just what the doctor ordered.
Fishing with long time customer and friend Bruce Champion, we knew that Walleye fishing could be a challenge under the sunny, warm conditions. But we knew that the Bass, Largemouth and Smallmouth would help keep us occupied as we searched for the White Tails.
When we arrived at the lake, surface water was cool compared to the area's shallower lakes. At 73 degrees, the water was 7 degrees cooler than the 80 degree temps found on Lake Winnie and a full 10 degrees cooler than shallower lakes like Bowstring or Sand Lake. The skies were sunny and blue, a factor that would make Walleye fishing interesting, but not impossible.
Evidence of the recent storms were visible on the surface too! Cedar branches, Maple Leaves and assorted debris floated across the lake and at one point, we stumbled into a broken half of a a tree that had become jammed on a reef, and turned into home for a Tern. That turned out to be a lucky break, because when we stopped to snap some photos, I happened to notice fish on my Humminbird. We decided to make a drift down the edge of the bar and guess what? Yes, that turned out to be one of the best stops we made all day long.
Maybe it was because of the sunny skies, or maybe weed cover is just the preferred habitat right now; Either way, the pattern that developed was very definite. No weeds = No fish! We tried several deeper, open water rock/gravel humps and bars. Except for the odd straggler lying out and away from the structures, these mid-lake locations were empty.
Shallower reefs, main lake points and sunken islands that contained weed cover were clearly the top producers for everything from Bluegills to Walleyes, and Perch to Smallmouth Bass. On one spot, we might catch a Rock Bass, followed by a Largemouth, followed by a Walleye followed by .... you get the idea.
All of the fish struck the same baits, 1/16 ounce jig heads tipped with night crawlers. If you're gonna try this pattern, whatever you do, don't skimp on the bait! We went through 10 dozen crawlers and if we'd had more, we have used them too! The small fish could drive an angler nuts, if not for the knowledge that the next strike could be a really cool fish!
The key depth was around 20 feet and on Thursday, the inside corners or pockets along the weed edges were much better producers than were the tips of points or high rock structures.
Multi-species anglers would love this style of fishing because there's always something on the verge of happening. By days end, we caught nine Walleyes, CPR'd 3 of them and kept Bruce's limit of 6 "eaters". We had about a half dozen nice size Smallmouth and who knows how many Largemouth, maybe 25? Maybe even more than that, they were clearly the most aggressive fish in the system, keeping us busy as we searched out the Walleyes one by one.

Fishing Report July 5, 2012 Jeff Sundin - Quick Note: Before I get started this morning, we've been without electricity for a couple of days, and the circumstances that led to my computer shut down, caused a sudden loss of a giant batch of emails. If you've been trying to get in touch and wonder why I haven't returned your message(s), please re-send any emails so that I can start getting caught back up. Oh and by the way, thank you for being so patient, things were a little hectic around here over the past few days.
(7/5) It's amazing how easily a perfectly good plan can be changed. On Monday, I left the house after checking the fishing lineup for the week and thought I had a pretty good idea about what the fishing plan would be. But before the day was over, folks in the Itasca area were all going to experience some major scheduling changes.
Really nasty storms are something that most of us see on television or hear about from friends. It's not too often that we get to see them up close and personal, but when they hit your own back yard, the experience, at least for me, was a lot different than you'd expect.
It all started on Monday morning when I picked up an old friend, Randy Hertle, his dad Arnie and three sons, Ryan, Grant and Casey. The game plan was simple, head to the lake and pick up enough fish for a shore lunch, cook 'em up and call it a day. Except for one small problem, the fish would just not bite, I mean not at all! We fished and fished and fished without any of us getting a keeper Walleye for the frying pan. It must be the lake, right? So we packed up the whole crew, headed for a new lake and with renewed enthusiasm, started the project over again. This time, it started out looking better, some Perch and assorted small fish were at least trying to bite, still no Walleyes though. No Sunfish either, hmmm... that was really strange. On this lake, we should have least been able to drum up a meal, but we just couldn't get it done. I remember saying these exact words; "There's no way out of this without getting a big storm".
Well, we got a storm alright, a real doozey! In fact, it's the first time I've ever seen anything this wide spread. Some folks say that there were tornadoes, some say gigantic straight line winds, either way, there are a million trees that aren't standing where they used to be. In my own yard, there are at least 20 trees down and we're still spotting new ones out in the fields and forest surrounding the property.
We've spent the past two days getting ourselves dug out of the mess and at the bottom of all the piles, there are discoveries about how lucky we were! No one was hurt, most of the major stuff didn't get broken and we're gonna be able to have a lot of bonfires! By the way, do you need some firewood? HA! More later ......
Thanks to Randy Hertle's super positive attitude and his insistence that we at least try to do part of the trip on Tuesday, we managed to squeeze in a little fishing on Tuesday afternoon. This time the Walleye were a little more cooperative. We caught enough for the shore lunch and had a bag left over to send home for another meal. A nice bright spot and welcome dosage of relief during a hectic, hot day!

Fishing Report July 2, 2012 Jeff Sundin - Warm weather turns on clear water Walleye lakes. For the Walleye angler, spring and fall, cool water periods are prime time. Lots of folks fish hard during these times, getting the urge to fish out of their system. When the action on some of the most popular Walleye lakes start to slow down, they turn their attention in other directions, letting the mid-summer heat pass. If you want to though, you can keep catching Walleyes during the warm water periods too. Maybe not as many, but almost certainly larger.
In Northern Minnesota, lakes that host some of the area's largest Walleye, are also the deepest, coolest and have clearest water. Typically known as "night fishing lakes", they get a reputation for being tough to fish during the daylight hours. Maybe they are tougher, but catching fish during the day is not impossible and for me, there's something about working harder that makes catching one of these fish more rewarding.
On Sunday, I had a special customer. Someone who understands that bagging a few quality fish can be just as fun as going out to "get our limit". Ready for a new experience, he gave me the Green light to take a run at one the the most gorgeous lakes in our area.
When we arrived, the sky was filled with clouds and there were a few rain drops landing in the boat. We thought the conditions were going to be ideal for a great daytime bite. Little did we know that these would be the only clouds we'd ever see for the rest of the day!
As we started, the surface water was 76 degrees and by mid-afternoon, had already risen to 78 degrees. I'm sure it kept going up from there, but we weren't around late enough to find out.
By the time we had our lines in the water, the sun was already shining and the breeze was gone. I mentioned to Carl that I should have had my head examined for continuing to pursue Walleyes under these circumstances, but somehow, we decided to tough it out, keeping Bass in mind as a nice alternative if the Walleye fishing should happen to fail us.
Moving from hump to hump, we'd mark small schools of fish in 20 to 26 feet of water. Using the Minn Kota, we worked on them ever so slowly, .3 to .5 MPH until we enticed a bite. At times, I'd have to pass through the same school of fish 3 or 4 times to get one bite. Some of the fish would drop the bait before we could get hooks set, but every so often, one of them would play fair and let us get a little taste of action.
For bait, we were using small jigs tipped with night crawlers. From a distance, we would have appeared to be pitching for Bass, as we fished the baits by making short casts, toward the structure. Getting out and away from the boat, then letting the jigs settle into a troll helps give you the element of surprise, especially when you first arrive at a new spot. Using this method for Walleye has put fish in the boat under some really tough circumstances!
As you might expect on a clear, sunny day, finding the bars that had weed growth on them was a real help. Typically, there were were other fish on the bars too. We caught some small to medium size Largemouth Bass, Some Rock Bass and other small fish. As we worked our way from spot to spot, we would eventually pick up 8 Walleyes. Four of the fish were in the good eating range and four of them were CPR's. Maybe not the fastest action we'd ever seen, but it was a really interesting day, kind of "Sweet Torture" and well worth the experience.
Eventually, the sun worked it's magic and by about 3:00 PM the heat and sweat felt an awful lot like a slobbering dog licking me on the face. Enough was enough and we pulled the pin a little early.


(7/2) On Lake Winnie, Reed Ylitalo wrote; With the heat wave we have been having fishing as been put off for me for the most part! I was out guiding Sunday fished 2 different lakes Sunday morning I was on bowstring out of Trails End Resort for a 4 hour adventure. The water temp was like a bath tub showing up on the graph at 76 to 77 degrees we did find a nice meal of walleyes in 15 to 20 FOW pulling lindy rigs, our snell lengths were 5 to 6 feet long tipped with a crawler and a little puff of air or a leach. After getting baked off the lake there and talking a short break from the heat. I took off and met some great guys in Coleraine to look for some picture fish in 4 hours we put some real nice walleyes in the boat and the camera man was busy we found the bigger fish in 25 to 32 FOW pulling big live bait on 6 foot snells. We had a blast pulling big fish out of deep water. Wings and walleyes guide service, Reed ylitalo

Fishing Report July 1, 2012 Jeff Sundin - Welcome to July in Minnesota! In spite of the fact that many of the "die-hard" Walleye fishermen prefer early and late season fishing for the action, mid-summer anglers can be treated to great weather and have an even better shot at bagging a real lunker!
That's what we had in mind for Saturday. The Jones' had their action day on Friday, so with limits of Walleye already packed and ready to head home, the idea of catching some Smallmouth Bass or maybe a lunker Walleye to CPR sounded pretty good. A trip to the "lunker hole" was on the agenda!
When we arrived at the Tioga Beach Landing on Lake Pokegama, our eyes just about popped out of our heads; The water was covering the entire launch ramp, dock and all. I can remember when we thought it was really high, back in 1999, but this is the highest I can recall seeing this lake.
We were able to get the boat into the lake without any real problems and when we did, we discovered a surface temperature of 74.5 degrees. The warm surface temperatures, bright sunny skies and calm winds would come back to haunt us at times, but there were breaks in the sunshine and enough fishing highlights to make the trip interesting and more than worthwhile.
Our first stop was on a shallow bar, known for good Smallmouth Bass action. Throwing 4 inch Yum-Dingers, rigged "wacky style", it looked like we were in for a real treat. Within the first 15 minutes we had already caught 3 Smallmouth, 1 Largemouth and a bonus Walleye. The fish were holding in about 9 feet of water and while the sun was low in the sky, they were aggressive and eager to take the artificial baits.
Soon though, the sun rose higher and the action got slower. Without a breeze, the fish were starting to head for deeper water and the artificial baits were losing their appeal. After checking a few more spots, it was becoming apparent that we'd need to start rigging for deeper water and shift into multi-species mode. I honestly believe that we could have caught some more Smallies by switching to drop-shot rigs, but lacking the gear that I needed to rig them at the moment, live bait was my only good option.
When I arrived at one of my favorite Smallmouth Bars, my buddy Sean Colter was already there and already catching Bass. His crew was really hoping for Walleyes and since they'd already had some fun with the Smallies, they were willing to share the spot. Lucky for me that they did, because this was our best action of the day. Everything came together at once, clouds rolled in, a light breeze stirred up the surface and for an hour, the fish went into high gear. We boated maybe a dozen Smallmouth, a nice Walleye and a handful of Perch. But, just like the first flurry, sunshine and calm water rolled back in, cutting the action short again.
From here on out, it was a series of moves from one spot to another, hoping for a lucky break. A lucky break which came in the form of a 29 inch Walleye for Mavis! Sometimes, some of the fish don't get the memo and in spite of poor fishing conditions, bite anyway. The lunker Walleye was holding on the weedline in about 18 feet of water and struck on a Lindy Rig and Leech combo. Another highlight and another great CPR, plus even more proof that it was just a great day to Mavis Jones!
By mid-afternoon, warm sunshine and calm seas were attracting a healthy weekend crowd to the lake. We watched as the environment transformed from a great fishing lake, into a playtime paradise. That was okay though, we needed to head home anyway and there were more than enough smiles to make it a good day.
Advertise Here! Expanded Itasca Area Fishing Reports. Since mid-summer 2010, I've really made an effort to expand my area fishing reports. My goal has been to give anglers who are surfing the web, one fishing report that's always up to date and well written. Now I want to expand the reports section even more and I'd like you to participate. Lodging, Bait & tackle suppliers, guides or any other fishing and hunting related business can find a way to take advantage of the offer. For more information about contributing, sponsoring or advertising. Email Me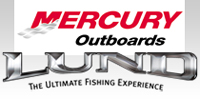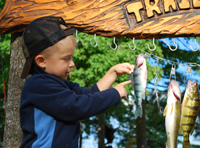 Geiger's Trails End Resort sent a picture today of a BLUE PERCH. Caught by 5 year old Bowen, right there on Bowstring. According to an article Erin found in Field and Stream Magazine, this is a very rare catch (1 in Millions).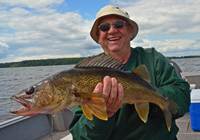 Kenny Shipler shows off what he can do with a jig and minnow! 1/4 ounce Lindy Jig, Golden Shiner in 15 feet of water. Hey, look ma, I got food!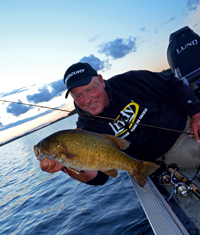 Lindy Rigs, Night Crawlers and Small Creek Chubs provided plenty of action. Concentrate on breaklines adjacent to shallow water flats. This Smallmouth Bass was holding on the edge in 20 feet of water.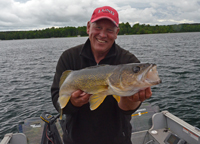 This tiny reef has been a top producer in recent years. For me, putting one foot in front of the other and following the path toward the next stop always pays off!

Jon Thelen has been out on the water, getting a handle on fishing rivers for Smallmouth Bass. Something different this weekend? Tag along and see how to put River Smallmouth in the boat!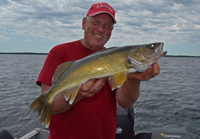 In the aftermath of the storm, Lake Mille Lacs pumped out a handful of "Slot-Fish", but keepers were few and far between.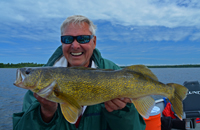 Sand Lake's head cheerleader, Carl Bergquist had a nice Father's Day gift on Sunday. He CPR'd his largest ever Walleye from the lake he loves so much! HA! Thank You!!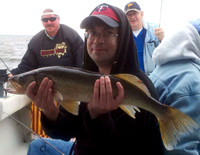 Courtesy Border View Lodge, Lake of the Woods: James Pick with his personal best!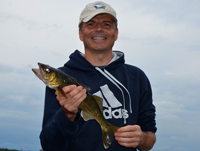 Before the storms blew in, a great drfifting wind perked up the Walleye action. Lindy Jigs tipped with Minnows and fished in 6 to 7 feet of water did the trick!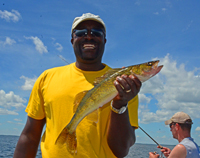 Not exactly fast action, but persistence did pay off. One by one, we picked off the biters, as we bounced from hump to hump.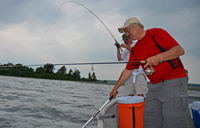 Walleye action was good on Sunday as the storms approached. Electricty in the air gave fish a little tingle that told them it was time to feed up!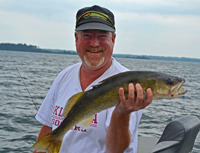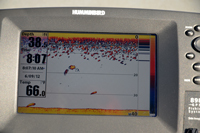 Walleyes that were stacked up on the breakline Friday evening (below), spread out horizontally over deep mud by Saturday morning. Looking for a needle in a haystack? Not really, but if you want to hunt 'em down, ya better pack a lunch!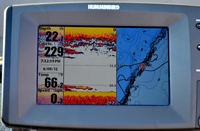 Fishing the bars is very simple to do, the fish are easy to spot on your electronics and the warm, calm days are suited to this type of find 'em and drop style fishing.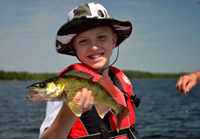 At eleven (AND A HALF!) years old, Logan bagged his first ever Walleye, Five times! Whew! Lucky break for the Ol' Early Bird.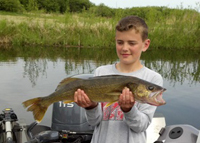 Coutesy Gus' Place Resort: Dawson shows off some of his handy work. A nice 25 inch Walleye hooked on Lindy Rigged Leech in 12 feet of water.