---
---
---
---
---
---
---
---
---
---
Video Preparing Smoked Tulibee January 10, 2011
---
---
---
Fishing Report - Archives Section - Fish Reports For June 2012
---








More ways to connect! Sign up to receive the Free "Insider Newsletter". Don't forget, you can always catch up with Jeff Sundin on the radio program too! Listen every Thursday at 6:20 AM and get additional fishing reports and information. KAXE 91.7 FM Grand Rapids - 105.3 FM Bemidji - 89.9 FM Brainerd . Want even more? Get HANDS ON Fishing Tips. Book your own Guided Fishing Trip !
---

Fishing Report June 30, 2012 Jeff Sundin - Well, as we say good bye to June, I could give you a carbon copy of the same fishing reports you've been reading all week long. Or I could give you the real story, a real life lesson about fishing and some of the tools that you need to be successful consistently.
Since all of the fishing information you need is already written in previous reports, (see the fishing report from June 27th) I think we'll go with a couple of lessons about fishing.
If you're a regular reader of these reports, then you already know that I write about my failures with equal enthusiasm as I do my successes. That's because I've learned that the most humiliating days on the water are the ones that teach me the most. So it's been my hope that you can always glean a few tidbits of helpful information, even on the days that I struggle.
Ironically, on Friday, I didn't struggle at all. Nope, I had no problem keeping up with Jones', and we had a fantastic day of Walleye fishing. But, someone else struggled, somebody who was doing his best, trying to stay close, trying to keep up and trying to "get the pattern to click".
I feel comfortable writing about it because I've been on the receiving end of this lesson and learned it myself, the hard way. Watching someone else catch fish and trying to figure out how they're doing it and then matching their system is really, really hard to do. In fact, I've tried it a bunch of times and more often than not, it stinks!
But let's just say that it's your only choice. You don't really know the lake(s) and you haven't really had the time to study the system. You just gotta try to get in the groove as fast as you can.
Then, the least you can do is have the tools you need, have them ready to go and have them in good working order. The least you can do, for yourself, is to have those worries out of your mind so that you can concentrate on the fishing instead of getting frustrated that you can't make your boat do what you want it to.
Successful Walleye anglers do most of the fishing by positioning the boat. The baits just follow along and if they're in the right place, then you'll catch a lot more fish. You can't expect the fish to swim over and find you. If you can't hold the boat exactly where you want it to be, then you'll be missing out on most of the action. On Friday, there were just a few tools missing and here's what they were.
Among the top five list of things that every Walleye fisherman needs to have is a drift sock. On Friday, a simple, inexpensive, 50 inch Drift Control Sock would have made a world of difference. Until you use one, there's just no way to understand what you've been missing. A drift sock helps you lock the boat in position, yes, they cut down your trolling or drifting speed. But more importantly, they help you maintain a steady course.
For super accurate positioning, a transom mount trolling motor that has enough power to pull the boat backwards against a Walleye chop is another essential tool. On Friday, my young follower had a perfectly good MinnKota trolling motor on the transom, but the power head hasn't been reversed. The prop on any motor, outboard or electric has much more power going forward than it does going in reverse. A simple five minute job, removing one screw, turning the head and replacing the screw turns a transom mount from power forward to power reverse. Once it's done, you'll feel like you have a four wheel drive! Plenty of smooth, quiet power to pull your boat right up onto the breakline where you can get into those Walleye's faces.
You can't run the electric without good, well charged batteries. On my boat, I don't mess around. I install one of MinnKota's on board chargers and use it every single day. They are rugged and reliable, but best of all, you only need to plug in one cord and when you wake up, every battery in the boat is back up to full strength, ready to take you into battle.
A quick parting thought; You wouldn't dream of asking a carpenter to build a house, but refuse him the use of a hammer. Don't ask yourself to try and catch fish without getting the right tools, for the right job and learning how to use them!
There's a lot more that I need to say about this, and I will. But first, I need to take a break and go fishing.
Before we head out today, we're going to hook up the young lad's early birthday present, a new 50 inch Drift Control Sock. Then we're gonna reverse that power head on the MinnKota and then we're gonna go catch a whole bunch of fish. I hope he kicks my butt up a tree today! It would serve me right! HA!

Fishing Report June 29, 2012 Jeff Sundin - On Thursday, I finally got connected with my long time friend and customer Bruce Champion. Usually, we'd have seen each other a few times by now, but somehow, we let the schedules get ahead of us this season. Thanks to a cancellation, I was able to move Bruce ahead and this was the first opportunity we've had to fish.
Since the shallow water Walleye pattern has been producing reliably for me for over a week, we decided to take a risk and fish the lake where we first met, way back when. We arrived to a surface temperature of 70 degrees and there was already a chop on the surface.
Heading for the lake's main bit of structure, a shallow bar that tops out in about 8 feet and drops off into the mid-twenty foot range, I had my fingers crossed that we'd find some fish, the same we did so many years ago.
We stopped on a point where the waves would allow me to control the drift, rigged up with night crawlers, dropped 'em in and within a few minutes, had already boated 3 fish. It was a really nice time of the day, we were thrilled! Lighthearted and all smiles. Our good old spot was still producing some fish, even after all this time. Well before 9:00 AM, I'd already gone into Cub Reporter mode, snapping some pictures of Bruce in action!
From then on, we'd have spurts of action throughout the day. At times we'd be on a school of fish that would keep us busy for 15 minutes, maybe more. But there were also periods of searching for fish. Not every spot produced, but before the day was through, we'd have found 3 good, reliable areas that produced enough fish for us to return home with limits. The pattern was consistent with what I've been doing all week long.
Presentation was simple, but effective; Jig and Night Crawler combinations fished Lindy Rig style, using light line. Learn more, see the fishing report from June 27th.
Our best fishing areas were the upper edges of the shallow breakline. With a heavy chop on the water, our key depth was 8 feet, but in calmer seas, I'd expect that it would be deeper. With strong gusty winds, the only productive areas were places where I could control the boat's drift speed. If we drifted with the wind, our speed would creep up into the 1.3 to 1.7 MPH range, way too fast for the presentation we were using.
I'll expand on this later, but I like to control my drift speed using the drift sock in conjunction with my trolling motor or if needed, the outboard engine. By using this technique, I was able to cut the drift speed down to .4 MPH, perfect for presenting the crawlers on light tackle.
I choose fishing areas where the wind is blowing onto the structure at roughly a 30 to 45 degree angle. With my Drift Control Bag deployed off of the bow, I keep the transom of the boat facing into the waves and use the motor, in reverse, to slow down the drift. On a river, they'd call this slipping, on a lake you can call it whatever you like, but me, I call it EFFECTIVE!


(6/29) Some guys have all the luck! While I've been eating my heart out for a chance to go Bass fishing, Jon Telen made it his mission for this week. He's been out on the water, getting the pattern dialed in and if you're ready for some Bass action, Click to view >> Luring Largemouths Out Of The Jungle .
June 29, 2012 -On Lake Winnie and Cutfoot Sioux - We think that Walleye fishermen on Lake Winnibigoshish might be stuck in a rut. During early to mid-summer, there's always a movement of fish into deeper water where insect hatches attract schools of baitfish and therefore, schools of hungry Walleye. The deep water patterns are still working, but we think that a lot of anglers have forgotten that during mid-summer, weedlines and shallow rocks produce Walleyes too!
Panfish anglers play their cards close to the vest, but we've heard a couple of tidbits about some sunfish starting to get active on the weed edges. Almost every summer, the key locations change a little, but we know that there are always a handful of spots that produce reliable supplies of Sunfish. One of the best ways to locate a good place to catch them is to ... Read >> Bowen Lodge Walleye fishing report .

Fishing Report June 28, 2012 Jeff Sundin - Stable weather offset the the effects of calm seas and provided proof that recent sluggish fishing, has had more to do with weather changes than anything else.
With surface temperatures now topping the 70 degree mark and a warm, muggy day on the horizon, it seemed like the fish ought to be ready for a nap. Especially when the morning breeze gave way to sunny skies and calm seas. But on this day, the fish didn't get that memo and decided that a better plan was to eat instead.
On Wednesday, instead of following my own advice and heading for the deeper water of Lake Winnie's main lake bars and humps. The morning breeze and Grey skies attracted me back into the shallows of familiar water. The pattern I've been working for the past week or so is well described in reports from the past few days, so please scroll down the page and you'll find everything that you need to know. The places, patterns and presentations we used on Wednesday were identical what we've been doing all week long.


(6/28) Gus Sheker, Gus' Place Resort on Ball Club Lake; "Water temp is in the low 70s. Water levels are very good. The May Fly hatch is currently underway on Ball Club Lake, fishing action has slowed during the last few days probably due to the abundance of food..... but the action should pick back up within a week.
Warmer days are pushing the Perch and Northerns into deeper water around 12 feet. There are large balls of minnows and fry suspended throughout the lake.
Walleye are going for crank baits along the drop-offs, including the north side of the main east, west bar.
Walleye action is best early & late in the day anywhere from 12-25 feet deep. Now is a good time to get out the bottom bouncers and crawler harness and go after those deeper Walleye.
Crappie & Blue Gill has been slow.- Gus Sheker. Gus' Place Resort


(6/28) In Grand Rapids, Zach Dagel, Grand Rapids Guide Service has been out playing on Lake Superior. Trolling with planer boards and >>> Read Zach's Fishing Report Here.


(6/28) Ryan Peterson checked in with; "Over the last week spent time fishing on some Grand Rapids Lakes, walleyes and Smallmouth Bass have been biting very well, despite the unstable weather we've had. Dragging leeches and crawlers in 15 to 24 fow along the edges of the bars and steep breaks has worked well. Some days you pick up a few fish per spot then move on other days you can fish a spot for a while with good action.
I Did spend another day on Winnie too and it produced very similar results. Both the bars and humps are holding a lot of Walleye right now and the big trick out there is that you might have to keep moving to find active fish. Ryan Peterson's Guiding .


(6/28) Wired2Fish Share the photo of Mike Iaconelli from the Wired2Fish, Facebook Fan Page to your own Facebook page. Once you do, you're automatically entered, they'll put all the share names in a hat and have Iaconelli draw four names at ICAST on July 11, 2012. Click here to view and enter

. - By the way, did you ever wonder who wins these contests? Click here for a full list of

Contest Winners .

Fishing Report June 27, 2012 Jeff Sundin - Each year, some of the members of the Sand Lake Association volunteer to keep detailed creel reports of their fishing trips on the lake. For their effort, they each become eligible to win a prize at their annual meeting. On Tuesday, I delivered them the prize, me, and it turned out to be a great day for all of us.
When I rolled around the point to pick up Jim Luhr, his son and a neighbor, they were already standing on the dock. After the introductions, we had a little chat about the fishing styles and conditions on the lake, got rigged up and headed for the lakes mid-section.
The Surface temperature on Sand Lake had risen back up to about 69 degrees and there was already a stiff, Southeast breeze forcing the surface water into a heavy chop. Optimistic about the wind, we all hoped that it would be enough to help fire up the Walleyes!
If you've been following recent reports, then you already know that I've been fishing Sand several times this summer and that the weedline/rock pattern has been holding up well for me. Tuesday was no exception, another day of popping into one spot after another, checking for small, but active schools of fish. This time, there was one spot, a small rock hump that produced an above average number of fish. I think that wind really helps perk up the activity on this type of spot and when you see a nice chop on the water, it's always a good idea to check out your favorite rocky locations.
Our presentation was the same as I've used for the past few trips on Sand, Night Crawlers rigged on a small jig head and fished in and around the weed patches and rock piles. When we get a pick up, we feed line to the fish just like we do when using Lindy Rigs. This presentation is really reliable for weedline fish and I can get these baits down to 20 feet or more, with no problems at all.
There's something about the presentation that I need to mention though, it requires light gear and light line. The brand name of the rod isn't all that important, but the action and weight is. I use a 6-1/2 to 7 foot rod, light weight with a fast or moderate action. If the rod is rated for 4 to 8 pound test line, it's perfect! I use 4 pound test on these rigs and I will guarantee you that you'll catch more fish if you scale down to lighter line.
I'm bringing this up because yesterday, three of us were using my rods, equipped with my line. One of the crew was using his own rod, a really nice piece of gear that was certainly up to the task of catching Walleyes. The only difference was that he had 6 or maybe 8 pound test line. All three of us who were using my gear were getting bites and catching fish while he sat fish-less, right next to me using the same jigs, same worms and fishing the same spots. After a couple of hours, I couldn't take it any more and suggested that he tried my rod, he agreed and I handed him the rod that I'd been using.
The results were instant and after the switch, I went from "Zero to Hero" in about 20 minutes, as he boated 3 Walleyes in a row, looking and fishing like an old pro!
So, if you never take any other advice from me, take this one tip and use it. Pay attention to the line you're using and be sure that you match the line weight to the baits you plan to fish with. Your rod, reel and baits are all part of a "system" and each element relies on another, to make the plan come together.


(6/27) Bemidji Lakes Area, Paul A. Nelson, Bemidji Area Lakes Guide Service says; "Surface water temperatures have risen above 70 degrees in most of the lakes in the Bemidji area, which is the point in the season where changes begin to occur in the lakes.
Algae blooms increase as water temperatures rise, which will begin to give the lakes a green tint and reduce visibility in the lakes.
The mayfly hatches were heavy in most lakes in the Bemidji area this week, with the largest variety of mayflies covering many areas surrounding the lakes.
The adult mayflies only live a few days and their main purpose is to reproduce and die. Mayflies don't have mouths, so they don't feed during the adult phase.
Once the mayfly hatches are done, it reduces the amount of food in deep water and will eventually push many of the fish in deep water back towards shallow water.
Anglers can avoid many of the negative effects of the mayfly hatches by concentrating on weed fish feeding in shallow water.
Anglers are starting to use faster presentations for walleyes and other species, with bottom bouncers and spinners and trolling crankbaits two presentations that usually work best for walleyes when surface water temperatures in the lakes are above 70 degrees.
Muskie anglers also will find the muskies getting more active as water temperatures increase. The algae blooms in the lakes will reduce visibility for the muskies and make them more likely to mistake anglers' lures for the real thing.
Bass are another species that is not usually negatively affected by the mayfly hatches, with most bass spending the summer months in shallow water and most of the insect hatches occurring in deep water." - Paul A. Nelson, Bemidji Area Lakes Guide Service, panelson@paulbunyan.net 218.759.2235


(6/27) From Brian "Bro" Brosdahl in the Western Itasca Area; "The Walleye fishing has been good on Sand Lake, on main lake structures. Using Northland Rock Runner Bottom Bouncers w/ a gold or Firetiger Rainbow Spinner tipped with a crawler at about .9 mph. Walleyes avrg. 13-15 in. W/only a few larger,,, Lots of Northerns from 18-22 in Rock Bass that will intercept your bait. Perch are running smaller this yr,, 8-9 in.
Ball Club Lake: Perch are bititing on the edges of the bars & humps 24-29. Best baits Northland Fireball Jig & a Fat Head Parakeet & Sunrise are best colors or Northland Thumper Jigs are working well. For Walleyes, Rock Runner Bottom Bouncer 12-18 ft. In the weeds. Rainbow Spinners w/ Crawlers, Northland Firetiger.
Leech Lake: Main Lake & Portage Bay kicking out slot on the rock piles such as Annex, Sub, Mokey Best baits, Northland Rock Runner & Rainbow Spinner Firetiger, Nickle Gold and a crawler. Not alot of fish in the keeper size, mostly 18-23 in. Mayfly hatch everywhere!
Cass Lake: Sporatic Mayfly hatches Walleyes biting on the humps & bars & in the weeds. 14-18 ft. Northland Rock Runner,,,Bottom Bouncer w/ a Rainbow Spinner w/ a crawler or a Rainbow Float w/ a crawler works well. Blow up the crawler to stay out of the weeds. Perch fishing is slow,,,starting to show up in the weeds. Wishbone areas, rigging Leeches and crawlers producing smaller keeper Walleys and few Perch,,,if you are able to get thru the Rockbass.
Round Lake/near Squaw Lake Slot Walleys biting on the weedline, most fish 18-22 in. Some keepers on Center Bar Perch bite is starting to happen on Center Bar using Mimic Minnows & Spinners,,,Fire Tiger w/ a chunk of crawler or a small Minnow,,,troll or casted,,, Rainbow Spinner & a Bullet weight or Split shot & a Fat Head trolled across Center bar getting action. Good Fishing" Bro - Bros Guide Service& Brian Brosdahl Promotions 218-340-6051 www.brosguideservice.com .


(6/27) Grand Rapids Area Fishing Guide, Jason Green has this; Fishing continues to be up and down in the Grand Rapids Area. With multiple storms moving through it has made the fish difficult to pattern. Walleye are currently scattered in deeper locations and finding schools are minimal. Working these deeper sluggish fish are not impossible to catch but you sure have to put in your time and stick to your plan. We have found pulling Bottom Bouncers and blades have worked pretty well. I myself like to use Northlands new Slick Stick instead of the traditional Bottom Bouncer. Its rotating head eliminates line twist and pulls through rock, gravel and other obstructions easily.
Smallmouth Bass and Pike continue to be easier targets. Both can be found in or near thicker shoreline vegetation. We have found working jigs with Impulse Jiggin' Leeches and Crawlers have produced well.

Fishing Report June 26, 2012 Jeff Sundin - I know you've heard the old expression, be careful what you ask for, because you may just get it. Well on Monday there were a few folks on Lake Winnie who found out the hard way what that means. Oh yes, it was a gorgeous day, sunny, bright and warm. Just the kind of day that you'd love to go for a swim or have a nice picnic. That is, unless it's you along with 50,000 flies.
It all started off so well, Phil Goettl, long time friend and customer wanted to show his fiance' and her daughter a really nice time on the lake. Neither of them had ever caught a Walleye, so the goal was easily set and turned out to be even easier to achieve.
When we arrived at Lake Winnie, there was a nice chop on the 68 degree water. A Southeast breeze promised to make it a perfect day for fishing many of the big lakes main bars and some of the larger sand humps. We motored out of the Birches Landing at trolling speed and by the time I had all of the rods set up with fresh, new Lindy Rigs, we were already at the first stop. A point that drops into 30 feet of water and connects to the gigantic mid-depth flat on Winnibigosh's East side.
After a brief explanation about how to catch a Walleye on a Lindy Rig, we dropped the lines into about 24 feet of water and started a slow drift along the steep break. It might have taken about 5 or 10 minutes to catch the first Walleye, in fact it all happened so fast that I can't remember who caught the first one, Jackie? or 16 year old Annie? Hmm... I really don't remember, but either way it didn't take long for each of them to attain "first Walleye ever" status!
We continued working the breakline for a while, fishing with Lindy Rigs and Leeches. The action was good and the mix of fish was about 50/50, some keepers and some "protected slot-fish". Eventually, the action faded at this spot, so we took a look at a couple of the sand humps on the Northeast side of the lake. On about the third try, I found a school of fish and we dropped in again. Time for round two, the action here was good too and the mix of fish was about the same, maybe a little heavier on the "slot-fish" side. So far, so good.
About 12:30, it was time to cook lunch, so we headed back to the landing. While I did my chores, I could see out of the corner of my eye that the lake was changing. The breeze had turned into a ripple, the sun was getting high and warm, and the flies were starting to get active. Lunch went fine, but the flies made their presence well know and for me, well felt! By the time we were finished, I could hardly wait to escape, back out onto the lake where we'd be a little safer.
Now if we'd gotten in the truck and headed back for the motel, this would have been the perfect end to a perfect fishing trip. But, no, not this time, instead we spent the afternoon trying to re-live the fun we'd had in the morning.
This time it wasn't going as smoothly, we found a new spot, but the fish were sluggish and hard to coax. We weren't going fish-less, but the action had clearly dropped off and as the sun rose higher, the lake became calmer and the flies became more aggressive. Fishing was beginning to turn into a job and by late afternoon, everything in the world was wrong and it was all my fault!
Re-checking the game plan, I know exactly what I'd have done instead and if you really want to know, just ask me sometime and I'll tell you. For me, even the afternoon had it's highlights, so I can't complain. But for everyone who endured those flies, I know how you feel!
I am really happy that we had a great morning and a great lunch! I am really thankful for the new friendships and I can hardly wait for an opportunity to try again! When we all need to have our Parkas on!!

Fishing Report June 25, 2012 Jeff Sundin - While we fished, I was comparing notes with friends on the water this Sunday. So far this summer, the consensus is that we do have one consistent pattern going on. It's that no matter how good the fishing has been on a given day, the first sunny, calm day after a storm is going to be a grind for Walleye fishermen.
On Sunday, I wanted to be sure and "play it safe", heading back to Sand Lake to fish the same areas and use the same presentations that had worked well for us on Saturday. In the end, the lake would give us just enough fish, but only after we worked hard and caught them one by one.
When we arrived at the lake, the last evidence of overnight storms was still lingering in the sky. There were Grey skies, a slight chop on the water and surface temperature was 66.5 degrees.
We headed for the same territory where we found an ample supply of Walleye on Saturday and for about the first half hour, it looked like I was going to dodge the dreaded "aftermath effect". The first few fish came fairly easily and were located on similar structures and at about the same depth range. Soon though, the clouds moved away, the sun rose higher and the breeze gave way to calm, slick water water. Oh Oh, the fishing got slower and s l o w e r and s - l - o - w - e- r.
For much of the afternoon, we poked around from one spot to another, picking up up a variety of fish. Rock Bass, Perch, Northern Pike, small Walleyes and even a Redhorse Sucker. The Hodge podge required us to pay attention to every single bite, catching, sorting and gleaning out the precious limit of Walleyes to send home for the fish fry.
Presentation was a jig and Night Crawler combination fished on the weed edges. Like I reported yesterday, the small open pockets where rocks and weeds meet, were still the best spots. I attempted to find some fish located deeper, but judging by the handful of spots I checked, the weeds were still the best bet.
If the weather forecast turns out to be accurate, it looks like we might be heading for a period of stable, warm weather. It's starting to look a little more like summer and for me, that's just fine. It might be kind of nice to see the mud dry out and the high clear water return to summer levels again.


Feature Fishing Report June 25, 2012 Greg Clusiau "Our three-hour trip was a little on the slow side but we still managed to boat approximately two dozen walleyes, along with a few northern pike.
Think about it, those of you that have seen me on the water, how many times have you seen me creeping along with a live-bait rig or jig. The answer is "seldom" and that's because I can usually catch a lot more fish in a shorter amount of time by using... >> Click and Read Greg's Full Report .


(6/25) Fishing Mid-Lake Structure For Walleyes using spinners is the real deal! Jon Thelen is an expert at "draggin blades" and this week, he's got the video to share his secrets with you! Click to view >> Spinnin' Up Mid-Lake Walleye .
New Product: (6/25) I know that you've caught yourself looking at the electronics in someones boat and asked; "What will they come up with next?" Well, guess what, Next September, you'll see something new from Humminbird at the electronics counter in your favorite fishing store. Click here fof a sneak preview of Humminbird's new 360° Image Scan .


(6/25) On Lake of the Woods, Border View Lodge, Mike Kinsella wrote; "Walleye action is hot just south of Garden Island. Lots of 17 to 19 inch walleyes and a few big ones sprinkled in.&nb sp; Spinners with leeches, crawlers or minnows have been excellent. Bite has also been good trolling with plugs in this area. It has been a little slower on the south end, but anglers are still catching walleyes with jigs and shiners in 30 feet of water north of Pine Island.
It looks like we are in store for a beautiful week of weather. Sunny with highs in the seventies dominate the upcomin g week. What a great time to drop everything and fish Lake of the Woods!


(6/25) Grand Rapids Area Fishing Guide, Reed Ylitalo has this; My wife and I were on local trout lake last night we drove around and looked at the lowrance for about 30 minutes looking for walleyes found them in 16 to 25 fow pulled big live bait minnows for about 2 hours and boated several fish big one was 24 inches and the small fish was just over 18 inches. It was a great night on the water. Reed Ylitalo, Wings and walleyes guide service.


(6/25) On Bowstring Lake, Erin at Geiger's Trails End Resort "It is that time of year when we convert from the hardore fishermen, over to family vacations and weekly stays. So far the 2012 fishing season has been strong and business has been great! We still do have a few cabins available for summer rental, but they are going FAST! Last week fishing was great, but since the storm last night (Saturday) and the appearance of high skies , the bite was tough on Sunday. A period of stable weather is on it's way, and fishing will pick up along with it.
Most fisherman have switched to the Lindy Rigs and Leech combo and are catching Walleye by drifting over the humps. As I look out on the lake, there are a migration of boats out on Finches Bar at the moment. Like Bowstring's numerous other humps and bars, Finch's Bar has produced well this season.
In case you didn't already see it, our highlight of the week was the Blue Perch, caught by 5 year old Bowen!.

Fishing Report June 24, 2012 Jeff Sundin - Situation normal, rainy, then sunny, then windy, then calm, then rainy, then stormy, then calm, then sunny and after that .... it's lunch time. Then we can start over for the afternoon! It's just been one of those times where settling into a nice stable pattern isn't going to work out. The only thing consistent, is inconsistency.
Most of the time, Walleye fishing is working out okay though, especially on the Grey, breezy days. Early summer patterns are firmly established and for the moment, you can fish a variety of methods that will all lead to success. One of the most notable departures from a more "normal" June has been that high, cool water has tended to scatter the fish. With the same number of fish, distributed over a wider area, even a good day seems slower than usual, unless you learn to cover a lot more territory.
On Saturday, Walleye fishing Sand Lake, North of Deer River turned out to be a geography test. The fish were biting, there was no doubt about that, but they were spread far and wide across the lakes numerous shallow water humps and bumps. If we did it once, we did it a dozen times; Stop at a spot, catch one or two fish almost instantly, then go back for a second pass only to find that the action had faded.
It seemed like every nook and cranny on the lake was holding a fish or two, but except for Rock Bass, there was never a "school of fish" located anywhere. The only thing stopping us from catching a nice batch of fish for the Crony's fish fry was the tempatation to get lazy, sitting on a single spot for too long.
A pattern that I mentioned last week held true again on Saturday. Shallow mid-lake humps and bars with mixed weed and rock were all holding some fish. Key depths varied somewhat, but fishing in 10 to 12 feet of water, wherever the weeds gave way to clear, rocky patches. There were some fish in heavier weeds too, but unless you're experienced at slipping a night crawler through the heavier cover, the rock pattern is a lot friendlier way to fish.
We only used Night Crawlers for bait. They were working and we had plenty of them, so we never tried anything else. I'm not sure if any other live bait might have been better, but I know that the Crawler bite was consistent.


(6/24) On Bowstring Lake, Erin at Geiger's Trails End Resort mentioned that one of their guests caught what they believe is a BLUE PERCH. Caught by 5 year old Bowen, on Bowstring Lake, the Perch could be an interesting find. Erin said; "According to an article found in Field and Stream Magazine, this is a very rare catch (1 in Millions)". Maybe we'll learn a little more, soon.

Fishing Report June 23, 2012 Jeff Sundin - On Friday, Flat seas and sunny skies finally delivered the dreaded "aftermath bite". For me, Walleyes were tough to come by. Okay, not impossible, but believe me, we worked for every fish we caught.
When we got to Lake Winnibigosh in the morning, a Northwest breeze had the lake stirred up just enough to make us feel good about our prospects. Texting with friends, it sounded like the morning was off to a decent start and without any fear, we headed for one of Big Winnie's Main Bars.
Surface temperature was 66.5 degrees and there was just enough wind to drift the boat for about the first 100 yards, and then it stopped. Winnie had gone flat as a pancake and so did the morning bite. Whatever the fish did, they did it fast and there wasn't much choice but to start scrounging around the lake. So that's what we did and by days end, we'd had caught some fish, had a few moments of greatness and a gotten a really fantastic Farmer Tan! You can click this link to get the whole story about the >> Walleye action on Lake Winnibigosh .
June 23, 2012 -On Lake Winnie and Cutfoot Sioux, Anglers who keep their boats on top of fish are finding that the Walleye action can be really good. We've noticed that there are a lot of fishermen missing the boat (sorry) by not exploring more of the best Walleye structure on Big Winnie.
At this time of year, lots of our guests are used to finding fish in certain areas. But this season, strange weather, above average weed growth and lots of food in the water, have give the fish and advantage. It's become really importatnt to make the best use out of your electronics, finding the fish, recording their location and then "babysitting" the spots at key times throughout your visit.
We can help point you in the right direction though, on Winnibigosh, there are a ton of Walleyes located ... Read >> Bowen Lodge Walleye fishing report .

Fishing Report June 22, 2012 Jeff Sundin - The storm had passed and the sun was shining. A cool Northwest wind had the water already stirred up into a chop, when we arrived at Lake Pokegama in Grand Rapids. As we launched the boat, the surface temperature reading was 65.5 degrees and the water was clear.
Recently, I was asked if I'd noticed any impact from the high water levels on fishing. At that time, I mentioned that if anything, it would probably scatter the fish. A scenario that would reveal itself in spades during our trip.
Fishing with long time customer and friend, Kenny Shipler, our goal was to catch a mixed bag, but he wanted to put some special emphasis on Northern Pike. A task that would turn out to be trickier than I thought, in fact it won't happen very often, but on this day, it was easier to catch a Walleye than a Pike. I know, go figure!
One thing I've learned about fishing Pokegama that came in really handy today, you don't need to run from one end of the lake to another, chasing a hot bite. There is literally another fishing spot every couple of hundred yards. This time, I followed my own advice and just kept skipping from one spot to the next, each time we stopped, I'd locate a fish or two on the Humminbird, we'd pick off whatever was handy on the first pass and then the screen would be blank again.
We spent the entire day following this routine until about 3:45 PM when I was just about to make a move. This time, there was little tap on my shoulder, it was time to take one spot out of sequence. Something told me to check out Mike's point, so I jumped across the bay and pulled up on a shallow weedy point.
For some reason, Kenny looked at me and said "I wonder where all of the Seagulls are?" Just then, we looked up and I said, there's one right now. Just as I was getting ready to take a picture of it, the screen of my Humminbird lit up like a Christmas Tree! Then for the next 45 minutes, it was pandemonium city! Smallmouth Bass, Walleye, Pike and Perch all mixed up together and all biting. What happened? Was it the time of day? Did I just find the right spot? Or was it that big Gray cloud that carried it's own personal rainbow across the bay. Hmmm..... I wonder if it wasn't that little birdy. You know how much I like it when I see them along the path!
Any way, back to the details; Watching the deeper break-lines, in 20-40 feet, at every stop along the way, I didn't see very much activity at all. In fact, 20-22 feet of water was the deepest that I ever saw any real numbers of fish and typically, 12-16 feet was closer to the magic depth than anything. Weeds were a key too, and most of the fish we caught came from spots with good weed cover.
Our best presentation for Walleye and Pike turned out to be jig and minnow combinations. A 1/4 ounce Lindy Jig, Glow/Blue tipped with Golden Shiners caught the lions share of the toothy fish. A 1/16 ounce jig with a night Crawler bagged a Walleye or two and was responsible for nearly all of the Smallmouth Bass that we caught.

Fishing Report June 21, 2012 Jeff Sundin - In spite of the half-foot of rain we've gotten during the past few days, mixed bag, summer patterns for Walleye and Smallmouth Bass are emerging. When you're in the mood to land something big, Grand Rapids area lakes have just what the doctor ordered!
Fishing the summer, mixed bag patterns on Grand Rapids area lakes is one of my favorite things to do! Deep, clear water lakes with Walleye, Smallmouth and Pike will produce during mid summer, when lots of other lakes go into a funk. Luckily, the pattern worked just well enough on Wednesday to give us what we needed. Plenty of fish for a couple of meals, a few big ones for pictures and a nice, healthy dosage of good air!
When we arrived at the lake, there was just enough time to get the boat in the water and head out onto the main bay. Then, yes, it started to rain again and for the next few hours, it was Deja Vu all over again. Luckily, just when it looked like we'd be in for an all day rain, the sky broke up, we got one nice glimpse of a really great rainbow, and the fresh air started flowing over the lake.
We followed a really simple formula to find fish. Main lake reefs that contained mixed rock and weeds, surrounded by steep breaks into deeper water. A key depth turned out to be 20 feet of water. We did find some fish shallower than that, but the deeper fish were more prone to tolerate the presence of the boat. While they weren't overly active, the deeper fish were at least willing to bite, and often enough to make the fishing interesting.
We stuck with Night Crawlers all day long and didn't experiment with alternatives.
Later in the evening, on my second adventure, we tried Lindy Rigging with small to medium size Creek Chubs. They produced Smallmouth Bass reliably, but no Walleyes, not this time. A friend was on the lake, not far from us and the Walleyes he caught were also tricked into biting by Night Crawlers.


(6/21) Northland Lodge, Pat O'Reilly checked in with; "The walleye bite is a little sluggish right now, the Walleyes are definitely there. When they try to act like they don't want to bite, you can beat them by fishing harder and moving around more. We suggest that you change colors and presentations often, picking off a few active fish from every school you find. If you take the active approach, you will get them. The perch and northerns have been really good so far this summer." - Northland Lodge


(6/21) Gus Sheker, Gus' Place Resort on Ball Club Lake; " Surface water temp is 65-71 with good clarity.
In the past two weeks there has been an explosion of large schools of fry and fingerlings visible along and just off the shoreline, some are bait fish and some are game fish.
Despite the abundance of minnows in the lake, the Northern and Perch fishing remains excellent right now with slip bobbers and live bait at around 10 feet.
The Walleyes have moved both shallow (10-12 feet) and as deep as 30 feet for the bigger fish.
Leeches on slip bobbers are Still working in the shallow water and the deeper fish are being taken on Lindy rigged leeches, some with spinners.
The Walleye bite is not a consistent bite throughout the day and the best luck is early and late. Some Walleye are being caught along the north side of the main east-west bar trolling cranks, but live baits are out fishing artificial for now. Blue Gill & Crappie have been few". - Gus Sheker. Gus' Place Resort .


(6/21) From the Grand Rapids Area, Tim Dorholt checked in and says; "Fishing is good even with all the fronts moving in and out. I (have) been Bass and Northern fishing in the Grand Rapids area. Most of our Northerns we are catching are on weed lines using a jig and minnow. Bass are now up in the reeds and on large weed flats, Reeds runner spinner baits have worked the best so far."


(6/21) On Lake of the Woods, Sportman's Lodges, Jacki LaValla said; " Fishing has been Hot! Hot! Hot! It has been a great week of fishing here on Lake of the Woods. Fishing the sandbars with crawler harnesses and a 1 1/2 ounce jig tipped with a crawler has been working excellent. Shallow and deep depths have both been working well 11'-16' and 26'-32'. Lots of slot fish and plenty of good eating size to fill out a limit have been easy to come by."


(6/21) Bemidji Lakes Area, Paul A. Nelson, Bemidji Area Lakes Guide Service says; "Unstable weather continues to have a major impact on fishing in the Bemidji area. Frequent thunderstorms, strong winds and cooler weather make fishing tough on some days, with better fishing once the weather stabilizes for a couple of days.
Surface water temperatures remain in the mid 60s in most lakes in the Bemidji area, so algae growth is at a minimum and summer fishing patterns have not fully taken effect on the lakes.
Anglers are still catching walleyes in the weeds in many lakes at the same time they are also catching walleyes on the edges of structure in deeper water.
Jigs and shiner minnows are still working for the walleyes in shallow water and live bait rigs with night crawlers, leeches or larger minnows is the presentation of choice for most anglers fishing walleyes in deeper water.
Muskie anglers have been seeing muskies lying near the surface in the shallows, but the fish have not been as active as they could be if the water temperatures were warmer.
Muskies can have a fast learning curve, so fish that have been caught and released or those that have seen a lot of lures are generally tougher to catch than fish that haven't been caught this year or have not seen as many lures.
Most bass, crappies and sunfish are done spawning and are in their post spawn/early summer patterns. Bass will continue to use heavy cover after they spawn, with bass in most lakes spending the summer in eight feet of water or less.
Sunfish like to use the deep edge of cabbage or coontail weed beds, while crappies like isolated open water during the day and will move into structure or weeds to feed in the mornings and evenings." - Paul A. Nelson, Bemidji Area Lakes Guide Service, panelson@paulbunyan.net 218.759.2235


(6/21) From Brian "Bro" Brosdahl in the Western Itasca Area; "Leech Lake Walleyes still biting on the scattered rock piles through out the lake, such as Annex, Mokey, & surrounding rock bumps. Also some Walleye going in Paris Trench, Ottertail, & West Goose. 12-14 ft, best baist Northland Rock Runner, Rainbow Spinners, Firetiger Gold green w/ a crawler or leech Walker Bay is slower, major mayfly hatch on the main lake , we will have
to see what it does to the Walleye bite. Many slot being caught 18-26 in, eaters less common, fish under 18 in.
Cass Lake: Walleye bite is good, 12-18 ft Main lake bars & humps and shoreline vegetation. Walleye are scattered. Use 1/4oz. to 1/2 oz. Rock Runner Slip bouncer w/ a Rainbow Spinner Silver gold, Firetiger w/ a crawler or a Leech . .9 mph Live bait rig w/ a Leech or crawler. I recommend using a Rock Runner w/ a live bait . Due to the large amount of algae that covers the bottom. Gumball Floaters w/ a leech or crawler, very good bet for lofting your presentation.
Bemidji: Walleye bite is hot. Walleye coming out of the shoreline vegetation. Best bet Hot Shot Bullet sinker w/ super glow green or chartreuse hook w/ a leech or crawler or a Hot Shot Bullet w/ a Rainbow spinner Fire tiger gold silver, w/ a leech or crawler 1/8th oz. Thumper Jig ( same colors/ same bait) working well. A Few Walleye starting to show up on structure, most fish relating to weeds.
Bowstring Lake: Walleye action has slowed, but still catching Walleyes on humps & bars, crawlers are king. Rainbow spinner, w/ bright colors and rock runner bottom bouncer producing the most fish 17-22 ft.
Sand Lake: Walleye are scattered, a little slower than in past weeks. 1/2 oz. Rock Runner bottom bouncer. Rainbow Spinner, bright colors or slow death hook & a crawler 6 ft snell, Gumdrop Floaters my favorite for here. Bubblegum chartreuse w/ a crawler or a leech. Good luck Fishing, See you on the water. Bro - Bros Guide Service& Brian Brosdahl Promotions 218-340-6051 www.brosguideservice.com .

Fishing Report June 20, 2012 Jeff Sundin - You would think that someone who's been fishing with me for 25 years, could eventually get into the boat and enjoy a nice, relaxing fishing trip. But somehow, Judy Gandy just has the knack for finding rain! Now Jim, Brian and Doug, they get to see the sunshine sometimes; Judy though, well I'm sorry Judy. I promise, I won't put up the picture, but it would sure be fun!
There was one good thing about floating around on Sand Lake, looking (and feeling) like drown Rats; There wasn't much competition and when we paid attention, the fish did their best to be cooperative.
When we arrived at the lake, surface temperatures held steady at 66 degrees throughout the lake. It looked like we might have escaped the rain, because for about an hour, there was a blue spot in the sky to our Northwest. It kept teasing us, making us think that it was going to clear up at any moment. Meanwhile, the Grey, wet clouds moved up from the South and once they arrived, there was nothing but water in our futures, an all day soaker set in. From then on, no more cameras, no more phones, nothing but hunker down and fish. Luckily, the conditions didn't really get horrible, I mean not dangerous, just wet.
It might have just been something I stumbled into, one of many ways that we could have fished; but for us, there was a distinct pattern that produced fish consistently throughout the day. Finding small patches of Rock and Gravel amidst mixed weed growth was a key to catching Walleyes. By themselves, weeds weren't holding fish and neither were the spots that contained only rocks. In fact, on the rocks, it would have been paradise for anyone who wanted to catch Rock Bass, but for Walleye anglers, there was nobody home. Only where the rocks and weeds were located together, did the Walleye action pick up.
We fished Lindy Rigs, using the No Snag Sinkers to make it easier to avoid snagging the bottom. Our live bait was Night Crawlers and as an added precaution, we injected all of the crawlers with a shot of air from the worm blower. The floating worms did the trick and Walleyes were aggressive about hitting them.
The best depths varied from spot to spot, but overall, it was shallow, anywhere from 9 to 12 feet deep. One final thought, our best action came during the times that I could move the boat slowly. A speed of .5 MPH was perfect and anything above .9 MPH turned our worms into Northern Pike baits.
For today, I'm going to try my hand at some clear water fishing for big Walleyes. My crew had a blast doing that last year and they've already told me that they can hardly wait to try it again. It will be my first visit of the year and I hope I didn't miss out on the party!


(6/20) Pokegama Lake is red hot right now, according to Brock Anderson, he says: "The walleye bite is unbelievable on the cabbage lines and the secondary breaks in 12-20 feet of water. Gold spinners on 6-8ft lindy rigs tipped with crawlers will put marble eyes on your line. Six to eight plus pound walleyes are very common to tangle with when you put in a full day of fishing. All sizes of fish are biting so its easy to put enough in the box for a fish fry as well. If you haven't fished Pokegama before please give us a call. We are willing to teach you the lake or guide you to a great day on the water. June is an excellent month to catch the biggest walleye of your life on this wonderful fishery". Hang Loose Guide Service Brock Anderson 218-259-5447


Feature Fishing Report June 19, 2012 Greg Clusiau Lately, one of the lakes I've been fishing quite a bit has been very good around 5 am and dies off around 7:30 am. I'll usually stick around for another hour before giving in and going home. During this time frame, I'm seeing other boats heading out onto the lake and even see a few more on the highway, making their way toward the public access. Little do they know that the bite has seriously toughened up and they're in for an extremely stingy day of fishing.
One of my outings, last week, had me fishing solo, a normal >> Read Greg's Full Report .


(6-19) Q )"Hello Jeff, I am in the process of getting stuff ready for Minnesota and I am trying to figure out what I need for bait. I was just wondering how the crawler bite is doing on the bars and the leech bite. I am just wondering if I should get a half flat of crawlers with a pound of leeches. Or a whole flat of crawlers and no leeches? Thanks for all your fishing reports. - Phil Dhuse
A) Phil, it's been a little mixed up lately, but on Winnie, I think Lindy Rigs with Leeches have had a slight advantage lately. Since the Snail population in Winnie has expanded, we've had to incorporate methods of floating the baits above the bottom so that we can fish without getting the snails snagged on the hooks. Try adding one of the carrot floats to your rig to keep the leeches swimming a bit higher.
For the same reason, I tend to favor the Crawlers because I can just give them a little shot of air with my worm blower and I'm in business instantly.
Right now, I'd be sure to have about a 50/50 mix of both baits, maybe leaning a little heavier toward the Leeches.


(6/19) On Lake of the Woods, Border View Lodge, Mike Kinsella wrote; "Walleyes are biting in 14 to 17 feet in front of Lighthouse gap. Jigs and spinners are both working at times. Gold has been the hot color. Some are also having luck near Morris Point gap in 9 to 14 feet. Anglers have been pulling plugs and spinners along the island and the washout. Action has been picking up near the reefs and south of Garden Island. Jigs have been producing some trophy walleyes." Highs will be in the upper 60s and lower 70s this week. There is the chance of thunderstorms throughout the week. Now is a great time to book your July or August fishing package. Give us a call! FISH ON! 1-800-776-3474

Fishing Report June 18, 2012 Jeff Sundin - On Sunday, I spent my fishing day with a man who means an awful lot to me and he means a lot to Sand Lake too! Carl Bergquist has been the lake's head cheerleader for about 42 years now, maybe a little more. It's possible that the lake thought that it owed him a Father's Day gift, or maybe we're just plain lucky. Either way, there was a little birdy watching over us and Carl caught the largest Walleye that either of us have seen come from Sand Lake, ever!
I'm gonna have more to say about it, but I'm afraid that I killed a couple of hours trying to track down a boogie man in my computer this morning. I ran myself out of time and with a two hour road trip ahead of me, I'll have to pick up where I left off tomorrow morning. Tuesday and Wednesday will be major update days so please be sure to check back!


(6/18) From the Park Rapids Area, Jason Durham delivered his Fishing Report; "Fishing in the Park Rapids area has been very good over the past several days. Walleye activity is definitely at a peak and anglers are reporting nice number and size of fish. The depth of active walleye varies from lake to lake, but in general, 14-22 feet has been best and minnows, specifically redtails, have been the ticket this week. Though a jig and minnow will work, a redtail delicately hooked on a Roach Rig remains the best option. Keep in mind that the minnow MUST be alive to produce bites. An easy way to check to see if your minnow is alive is to set it in the water. If you see more of its belly than its back, it's time to put a new one on.
Both largemouth and smallmouth bass have finished their spawning rituals. Anglers report catching nice bass while fishing for walleye, though those targeting the more traditional bass areas are getting much better numbers of fish. Largemouth have been most active from 1-10 feet of water, since they've had a good forage supply from insects like dragonflies. Emergent weeds like lilypads and pencil reeds are a good place to start. To effectively fish those areas with thick vegetation, use heavy line (17-20lb test) and toss a Northland Jawbreaker Spoon into the vegetative mess. As long as you keep the spoon moving, you won't get hung up and big bass love to inhale the lure.
Smallmouth bass have moved to primary drop-offs in the 10-20 foot range. Yet expect to see some shallow water cruisers as they scavenge for scuttling crayfish. Jerkbaits, topwater lures and soft plastic tube baits are all great choices for the smallies.
Panfish action has been solid, though some of the sunfish abandoned their nests due to volatile weather systems. Both crappie and bluegill can be found on the weedlines in 4-12 feet. A 1/16th ounce jig like the lifelike Mimic Minnow Fry will get both crappies and bluegills to bite without the need for livebait.
Northern pike and muskie reports have been solid with some nice muskies already boated and released in this early part of the season. Lean toward baits more similar in size to what you'd use for bass to get the big muskies to commit. You'll run into some nice northerns in the process of fishing for muskies, though the walleye and bass anglers have also reported incidentally encountering the toothy species. In other words, the pike are biting just about everywhere."
So come check out the Park Rapids area for some great fishing action, no matter what species you're after!
For more information on fishing in the Park Rapids area, contact Jason Durham of Go Fish! Guide Service, Inc. at 218-252-2278

Fishing Report June 17, 2012 Jeff Sundin - I hope that you didn't forget, but just in case you did; There is a little holiday going on today and we've got your back! Nothing says "I Love You", like the gift of a guided fishing trip! There are gift certificates available right here on the internet; Yes, just click >> Guided Fishing Trips Gift Certificates .
On Saturday, Heading out with a really full boat, a family of four, I was worried that finding something simple to do was going to be a challenge. A lucky break gave me and my crew a perfect spot and just the right time window to squeeze in a great fishing trip.
When we arrived at the lake; Surface temperatures were 68 degrees and there was already a little bit of chop on the surface. To make fishing simpler for the crew, who were eager for some fish for lunch, all I needed was was a spot where we could drift. Preferably, a spot in deeper water, where there wasn't muck to get snagged on.
I decided to buzz out to my favorite soft bottom bar, where I was greeted by a school of hungry fish. It was perfect, the first drift provided us with four Walleyes, a couple of them too small, a couple were just right. The bar topped off in 17 feet of water and was surrounded by water in the 25 foot range. The fish were holding just below the top edge of the breakline in about 18 to 19 feet. 1/4 ounce Jig and minnow combinations worked really well, so we stuck with that pattern.
Within an hour or so, the wind kicked in a little more, and the drifting speed became too fast for fishing the bars. With a more experienced crew, I would have stuck with the pattern and adjusted to the speed by backtrolling. But with five lines in the water, we weren't quite ready for that approach, tangled lines were a little problem and our productivity was slipping.
I hoped for a lucky pick on the weedline and headed toward the shallows. My first weed edge, didn't pan out, in fact, I don't think we caught any fish at all. But luckily, the second spot was the good one. A wind-exposed, shallow sand point, with scattered clusters of weeds. Thanks to the Walleye Chop, there were Walleyes roaming in the open spaces near the weeds. Many of the fish were small, too small, but there were enough keepers to make it worth spending the time here. Beside that, the small fish were perfect practice for learning how to get the hook set on a Walleye.
The only adjustment we needed to make was switching to 1/8 ounce Lindy Jigs instead of the heavier 1/4 ounce one that we'd started with.
We fished here until I started getting the "Lunch-Alarm" body language and headed back to the landing, wrapping up just in time to dodge the storms. Our shore lunch got moved inside because of rain, but still was a really nice meal and I didn't even burn the place down! HA!! All in all, a really enjoyable day with a great family, new friends for a long time to come, I hope.

Fishing Report June 16, 2012 Jeff Sundin - Back home from working on a special project, now I'll be playing catch up for a day or two. I'll start with the most recent news first and work backwards.
On Friday, we spent the afternoon and evening on Lake Winnie, where it was an absolute gorgeous day. Some would say a little too gorgeous for the fish, but as an overall experience, it was still pretty good.
The lake was calm, in fact at times, it was mirror flat and the surface water was warming up by the hour. Before we finished, we were looking at surface temps around 72 degrees.
Our fishing was pretty straight forward, mid-lake humps held small packs of mostly inactive fish. We bounced from hump to hump, watching the Humminbird for a school of fish, then giving each spot a test drive using Lindy Rigs with Leeches and Crawlers to see how they reacted.
By days end, we a had caught somewhere around 20 Walleyes, nine of them were "keepers" the rest were either over-size Slot-fish or small fish that didn't excite us.
For today, I have a full boat and I'm not too sure where we're headed, but I guess that it won't be into any patterns that are too intricate.

Fishing Report June 13, 2012 Jeff Sundin - On Tuesday, we saw Bluer Blues and Greener Greens as the dark clouds rolled out of the area and crisp, clean air settled in.
We already had our Walleyes from the previous day, so for us, almost any other kind of fish would have made a good target. Crappies were a nice idea, so were Jumbo Perch. The plan was to stick with the weed pattern and the target would be whichever fish got us interested first.
When we got to the lake, the surface water had fallen to 65 degrees, a 6 degree drop from the 71 degree reading I saw on the previous day. There was just enough breeze to keep a ripple on the water and on the "windy side" there was about a six inch chop.
A little nervous that we might hit a brick wall, finding ourselves in the aftermath of the cold front, I cautiously checked out a weedy, deep water hole, adjacent to a shallow flat. Luckily for me, there were fish in the hole and just enough of them were biting to keep our momentum going, at least for the morning.
The 17 foot hole, dips in toward the shoreline, and cuts a semi-circle out of a shallower 6 to 8 foot weedy flat. The flat surrounds the hole on 3 sides, but connects to the main lake basin on the 4th. Fish that inhabit the shallow flats during stable weather, move into the hole to rest whenever there's a major weather change.
This is important; On every lake in the Itasca Area, wherever there is a structure like this one, they always hold fish during most of the season. It's just the type of place fish like!
Tuesday was no exception, there were Perch, Pike, Rock Bass and Dogfish milling around in the hole and we caught a few of every kind, but the highlight for us, were the Perch.
We used 1/8 and 1/4 ounce jigs, tipped with minnows and worked slowly through the deep weeds. The action wasn't fast, but it was steady and we picked off one fish at a time until we had a good solid head start. From then on, we bounced around from one weed bed to another, chipping away at the fish in each location. By days end, we'd sifted through enough Perch to have a couple of dozen to send home with the crew, and I had 3 bonus Walleyes for a fish fry at home.

June 13, 2012 - Meanwhile back on Lake Winnie and Cutfoot Sioux, Usually, Crappie action at this time of the year is better during the evening. But some of our guests have been poking around and found out that Crappies are showing up over the tops of weed patches in the 5 to 8 foot range. On Tuesday, there were even enough fish in the weeds to provide action for a couple of boats during the daytime.
Walleye fishing has frustrated some, but the persistent anglers, are being rewarded with good action. Walleyes are on the prowl and moving around three or four key areas on the lake. They are feeding, and they are catchable. So what's the secret? Read >> Bowen Lodge Walleye fishing report .

(6/13) Bemidji Lakes Area, Paul A. Nelson, Bemidji Area Lakes Guide Service says; "Lakes in the Bemidji area are nearing the 70 degree mark, which is the point where summer fishing patterns begin to take over the lakes.
Anglers are able to catch walleyes with most presentations right now and the fish are able to be as deep or as shallow as they want, as long as they are able to find enough food to eat.
Anglers in the Bemidji area this week have caught walleyes as shallow as five feet of water and deeper than 40 feet of water, so anglers need to check a wide range of depths.
Most walleye anglers start in shallow water and work their way into deeper water when they search for walleyes. Shallow walleyes tend to be more active and easier to release, while deep walleyes tend to be less active and much harder to release without a significant amount of delayed mortality.
The early ice-out this spring combined with the lack of snow last winter has really helped the weed growth in the lakes and given them a jump start on the season.
The cabbage weed beds in most lakes are thicker and healthier this year than they are most summers, which is good news for the fish. Cabbage weeds may be the "best" weeds in the lakes as far as the fish are concerned. They are almost like corn fields under the water, providing good cover for both predators and prey species, along with producing oxygen as they absorb the sunlight.
Anglers have been catching walleyes in the weeds with jigs and shiners, jigs and plastics, slip bobber rigs, and on live bait rigs with a light sinker and an inflated night crawler." - Paul A. Nelson, Bemidji Area Lakes Guide Service, panelson@paulbunyan.net 218.759.2235

Fishing Report June 12, 2012 Jeff Sundin - For me, there wasn't a lot of time on Monday for lounging in the boat. It was a two handed operation all day long. But, guess what? I listened to my own advice and it worked! Of course, I'm sure that I had a little help, a little luck and a little good timing too.
Yesterday, the cold air mass that caused all of the storms on Sunday, rushed into the Deer River area with a vengeance. Cold, West winds at around 20 MPH, gusting higher at times, reminded me about the wisdom of having some extra clothes packed. Every year, I need to spend one day in my shorts and sandals as the cold rain pelts me, I don't why, I just need to do this at least once every season. I'm over it now.
It took me a little while to make a decision about where to go, I thought about trying a deeper water lake, or maybe The Mississippi River, or maybe we'd go scrounge around in the weeds? In the end, scrounging in the weeds sounded like the best bet. A lake with lots of weeds, a good population of Walleyes and a variety of other fish that could serve as a backup plan in case of a slow Walleye bite.
When we arrived, there was already a stiff breeze and a mixed sky. At that point there wasn't any rain, but that would change later in the morning. Surface water temperature was holding at a warm 71 degrees, and to the touch, it was noticeably warmer than the outside air temperature.
To get the ball rolling, we headed for a giant weed flat that tops off at about 8 feet deep. There was a mixture of Cabbage Weeds, Northern Milfoil and assorted other grasses, all growing on a sandy flat with some rocky patches. Fishing with jig and minnow combinations, we tried to keep in constant touch with the weeds. Sometimes fishing deep into the cabbage patches, sometimes just along the outer edges.
There wasn't any huge school of fish, no one spot where we could sit it out and wait for them to come to us. But there were fish in the weeds and in spite of their irksome habit of picking up the bait, then dropping it before we could set hooks, we did manage to catch a nice batch.
I'd guess that the fish were just spooky enough that too much action overhead would force them to move away from the boat. Pitching the 1/8 ounce jigs out and way from the boat worked much better than dragging or trolling the baits. Vertical jigging which worked really well a few days ago, was okay, but not really the best recipe for high action.
For the rest of the day, we bounced around from one weed patch to another. Some of them held more fish than others, but all of them held fish. By days end, we had managed to capture 15 Walleyes and 15 Perch. Along the way, we'd released a bunch of smaller fish too. All in all, not bad considering the conditions.


Feature Fishing Report June 12, 2012 Greg Clusiau By back-trolling, my speed was slower, and that allowed me to keep my bait just up off bottom in 12'. When going forward, the increased speed had my jig riding higher in the water so I was able to check out the 9-10' depths, which held hungry walleyes, as well. I was using 8 pound test monofilament line, which ... >> Read Greg's Full Report


(6/12) On Lake Bemidji, Reed Ylitalo wrote; "First walleye tournament of the year on lake Bemidji went ok boated 10 and weighed in our 5 fish with to overs 23 1/2 and a small 21 1/2 all are under fish needed to be bigger but that's the way it goes we fished a jig and a Minnow up shallow in the cabbage for all the small fish. Water temp was warm showing on the graph at 71.9 We caught are 2 overs on 5 inch red tails in 8 fow". - Reed Ylitalo, Wings and walleyes guide service


(6/12) On Lake of the Woods, Border View Lodge, Mike Kinsella wrote; "The big girls are starting to bite. We've received lots of photos with walleyes ranging from 25 to 30 inches. The secret is finding the right spot at the right time. Fishing was excellent near Garden Island early in the week. As the week moved on, more success was reported in the Long Point area near Twin Islands. Anchoring up and jigging in 31 feet was good, as well as pulling spinners in the shallower water. Fishing on the south shore has been hit and miss. Some days have been excellent while other days have been slower. Plugs and spinners have been working in as little as 7 feet of water. Jigs and shiners in 29 to 32 feet near Graceton beach have been producing some nice walleyes.
There's a chance of thunderstorms throughout the upcoming week. Temperatures will cool down as the week progresses. - Now is a great time to book your July fishing package. Give us a call!

Fishing Report June 11, 2012 Jeff Sundin - Well, Sunday was a great day of fishing, but it was also a great day for fishing. Fish reacted to a line of thunderstorms heading our way, becoming active as the weather worked it's way closer. So telling you all about what happened yesterday, is kind of like telling you about the time I found a $50 Bill. It was fun, but I'm not counting on it happening again today.
Now that the front has past and the cooler, clearer air is arriving, we might be faced with a whole new set of circumstances. This front is what what I'll call the first major interruption of the summer. Previously, storms that blown through, had all done so before we ever had any period of stable weather, and certainly before water temperatures rose above the low 60's.
So, use the clues from information that's been put up for the past several days and let's watch to see how the lakes and fish react to the change today. After that, we might have a handle on whether there were some major moves, of if the fish just held tight in the general areas that they were already located.
If you're heading toward the lake today, here are a few ideas that I plan to take into consideration;

Fishing Report June 10, 2012 Jeff Sundin - Have you ever been driving along on the expressway and realized that you just missed your exit? You know that feeling you get when you look at the overhead sign that says "Next Exit 25 Miles"? That's what happened to me on Saturday!
Fishing with long, long time friends Bob and Mike Carlson, we were in a hurry to complete our fishing trip in time to get home for Katie's grad party. I wasn't too worried about catching fish, because just the evening before, I'd found a gigantic school of fish on Lake Winnie. All they had to do was stay in the same area until we could get there to work our magic.
We met up early in the morning, high-tailed it for the landing, got the boat on the lake and headed for the spot. When we got there, I looked at the Humminbird expecting to see at least some of the fish and .... What? You've got to be kidding! The whole darn school of fish was gone, not just thinned out a little, just plain gone. I covered some water, watching the graph and soon discovered that the fish had spread out horizontally over the mud in about 35 feet of water. Just like taking a handful of marbles and flinging them out across the lawn. One second they're all together in one place, the next moment you have to hunt 'em down one by one.
Well, for the next couple of hours, there wasn't a single thing going my way. I was having one of those mornings where everything in the world was wrong, and it was all my fault. Falling into one trap after another, I just couldn't work my way back to the correct exit ramp. I hate when that happens!
I searched as fast as I could, hoping to figure out one spot where the fish were up on a structure and feeding, but after a few hours, it wasn't looking good.
Meanwhile, I'd gotten some texts and a couple of calls from friends who were catching fish up on Bowstring Lake. They were making it sound pretty darn good, so in spite of Mike's advice to stay on Winnie and tough it out. I took the bait and we packed up to head North.
Yes, that's right, you guessed it. We arrived at Bowstring just early enough to catch the last three or four fish that would bite. Jumping from spot to spot, looking at fish on the graph and trying to make them eat one of our baits. I'd done it again, fallen into the trap of chasing someone's "hot bite". It wasn't that they were wrong, it's just that nothing lasts forever and the "hot bite" didn't hold up long enough for us to get there.
We didn't go fishless, we picked away at small packs of fish and managed to pick up some fish, but clearly, it wasn't one of my better days of fishing.
Don't worry though, lessons learned the hard way, are lessons learned the best! I picked up a few tidbits of information that will help all of us the next time around, and I'll be sharing that with you as time allows.


(6/10) On Bowstring Lake, Erin at Geiger's Trails End Resort had a quick note; "Full Steam ahead!!! We are officially running the resort. Our guests have been leaving with their limits of fish on a daily basis. However, the storms are coming, the bite is good today...but hunker down and don't forget the rain gear. Wether trackers say it's going to be a wet one for the first part of the week."

Fishing Report June 9, 2012 Jeff Sundin - Mirror Mirror on the Lake, who can fish without mistakes? I'm guessing that the answer is, not too darn many! I know I can't and that's why I'm so lucky, just to be lucky! The trick is to put yourself in the right place, so that the good luck can find you.
On Friday, the prediction of calm seas gave me the idea to entertain my crew by day poking around on Lake Winnibigosh. The idea was to fish our way from from hump to hump and bar to bar, searching out small, but active schools of Walleye. The idea was that fish located deeper on structure, would be less likely to get the lockjaw when calm, sunny conditions forced shallow fish into dormancy.
My master game plan began to fall apart when the weather conditions forced a re-boot of the system. The predicted 5 to 10 MPH breeze, turned into a 20 MPH wind, churning the lake into a rolling, Grey and White sea of Whitecaps.
Well, that's okay, I figured we'd make some adjustments and start thinking more about shallower spots. We moved to some Shallower rocks and found a handful of active fish. Some nice Walleyes, a few good size Perch and Northern Pike kept us busy for a while, but started to fizzle out.
With a full crew, the wind was making it hard to move around the lake and after checking a couple of spots with limited results, I was thinking about moving to a smaller, more manageable lake.
Okay, it all depends on how you tell the story, but here's what I think. A little bit of luck, combined with a little bit of skill, combined with a little bit of faith adds up to getting Really Lucky!
Obviously someone was smiling at me, because as I headed for the landing to put the boat on the trailer, we had to cross a giant flat that divides up several of Winnie's mid lake bars. I had an eye on the Humminbird and noticed that as we crossed the flat, I was marking fish. When I slowed down and took a closer look, it was clear that there were lots of fish scattered along the steep breakline. I decided that we better give this spot a whirl before we left the lake. LUCKY I did!
At first, we had some problems adjusting to the angle of the waves, there were a few tangles and a couple of broken lines, but no worse than usual. In spite of the fact that there were tons of fish on the screen, their attitude seemed a bit sluggish, but whenever one would bite, the bite was good.
Fishing with Lindy Rigs tipped with Leeches and Night Crawlers, we picked up the fish one by one. It wasn't glamorous, not high speed, fast action either, Just a steady, get 'em as they come along pace. By the end of the day, we would have 15 solid keeper size Walleyes and CPR's a couple of dozen over sized "slot-fish", including a couple of 27 inchers and a bunch of 20 to 25 inchers.
The key depths were 16 to 26 feet and while we were able to catch some of the deeper fish, it was clear that the shallower fish, (when I could find them), were the most aggressive biters.
I'll be expanding on this report tomorrow, but since I'm up against the clock, I'll wrap up by saying; If you're fishing Winnie, and you keep your eyes on the electronics, it's just a matter of time before you, "Get Lucky"!
June 9, 2012 - Meanwhile back on Lake Winnie and Cutfoot Sioux, Reliable Walleye patterns emerge as warming water, insect hatches and green weed beds provide focus for roaming rish. There are some key areas developing for Walleye anglers to concentrate on. A recharge of shallow water Walleye fishing on Lake Winnibigosh on Wednesday. Bill Heig, Your host, finally managed to get caught up enough on chores to find his way to the new boat!
There was a good lesson learned on that outing too! Just because recent Walleye fishing trends have been toward deeper, mid lake structure, doesn't mean that there can't be (or isn't always) a shallow water bite going on at the same time.
Read >> Bowen Lodge Walleye fishing report .

(6/9) Finding Active Walleyes, was Jon Telen's mission for this week. He's been out on the water, getting you all lined up for fishing this weekend. Tag along and find out how you can put some Walleyes in your livewell in the next few days. Click to view >>Road Hunting For Walleyes


(6/9) Zach Dagel, Grand Rapids Guide Service. Mid June is the perfect time for some mixed bag action in the Grand Rapids Area. The Smallmouth Bass are ... >> Read Zach Dagel's Fishing Reoprt


(6/9) Ryan Peterson checked in; "Had a great crew out on Winnie this Thursday. By noon, we had most of our keepers by rigging leeches on the bars. Once the lake went flat, we headed for some deeper water humps and finished the day out.
After the flat water set in over the lake, I thought it would get tough, but it only slowed a little. All in all, it was a great day. We caught and released a bunch of "slot-fish" and at the end, we cleaned 18 keeper Walleyes for the three of them. Ryan Peterson's Guiding .


(6/9) Grand Rapids Area Fishing Guide, Jason Green has this; Storms rolled through the area Thursday night making Fridays guide trip a little interesting on Winnie. To top off eyes having an attitude, we were also faced with a good stiff Walleye Chop that made mobility on the big lake difficult. Plenty of fish have transitioned out to the mid lake humps and bars but the wind made it pretty difficult to work them with an consistency.
Most of our day was spent working shoreline structure. Locating rock and vegetation in 7'-13' of water seemed to hold the most fish. Our best presentation was a 1/16oz Fireball tipped with a shiner snapped pretty hard. Vegetation is growing up nicely so the lighter jig was perfect to hop on top of the weeds so not to get hung up. By the end of the day we ended up with a nice mixed bag of Walleye, Pike and Perch. - See You On The Water!

Fishing Report June 8, 2012 Jeff Sundin - Oh, By The Way, Don't Forget!, There's a little holiday coming up soon. Don't worry though, we've got you covered, nothing says "I Love You", like the gift of a fishing trip! Did you know that there are gift certificates available? Yes, just click >> Guided Fishing Trips Gift Certificates .
On Thursday, I got to meet up with some old friends and some new ones too. I'd fished with Mike and Missy before, but never met their kids, 11 (AND A HALF) year old Logan and 9 year old Allie. The goal was to get the kids in on some consistent action, but also to help Logan try to bag his first Walleye.
Naturally, it's a foregone conclusion that these kind of fishing trips are always going to occur (for me) on the day after a thunderstorm. They are also pre-destined to be sunny, calm, hot and somewhat buggy. Don't ask me to explain it, it just has to work this way.
Hoping for the best, I headed for the same weedbed that we had terrorized on Wednesday hoping that at least some of the fish would still be active. I really did get lucky, it wasn't as fast as I'd have liked, but there were enough fish to hold everyone's attention. Numerous small Pike and Rock Bass kept us busy as we waited for the better keepers, Jumbo Perch and Walleyes.
The theme for the day was to travel around the lake, poking around in the shallow cabbage patches. We used 1/8 ounce jig and minnow combinations in 7 to 9 feet of water. Trolling slowly enough to spend most of the time jigging vertically. It seemed clear that just about every weed bed, now greened by recent sunshine and warmth, was holding at least a few fish.
By days end, Logan had bagged five of our keeper walleyes himself and who knows how many Pike and Perch. Another lucky break!


(6/8) In Grand Rapids, Zach Dagel, Grand Rapids Guide Service; "Zach snuck out last night for a couple of hours to check out the action on a Grand Rapids area Lake. Here's what he had to say; "I like to do things a little differently than many other anglers might do, so tonight, I located a school of fish suspended over 30 to 40 feet of water. Once I had them marked, we started trolling number 7 Lindy Shandling's. We ran the crankbaits in about 10 to 12 feet down and it turned out to be ... click and read Zach's Grand Rapids Fishing Report.


(6/8) Gus Sheker, Gus' Place Resort on Ball Club Lake; "Warm weather is changing the patterns and fish locations we have have had for the past 2 or 3 weeks. With the lakes surface temp around 65-67 degrees the fish are less concentrated and moving to deeper water. Larger perch have moved into 10-14 feet as well as the Northerns. Walleye are holding on the drop-offs adjacent to weed lines 12-16 feet. The Crappie bite has slowed down with only occasional fish coming from shallow water. Fishermen are moving from slip bobbers to Lindy rigs, from hooks to hooks with spinners and fishing the wider areas along shorelines. - Gus Sheker. Gus' Place Resort


(6/8) On Bowstring Lake Otters Guide Service, Robby Ott Says; " Had the wonderful oppurtunity to fish with Mike and John, two wonderful people that are staying at Bowstring Shores Resort. Owners Darvin and Marjean Oelke have a Top Shelf Resort along with Top Shelf Hospitality there on Bowstring. I can remember when I was a dock boy there back in the early 80's. WOW!!!!! What they have done with the place is Amazing. Not only was the fishing trip a success, but the whole vacationing at resort experiernce was outstanding. Anyone coming up north should give them a call, you will not be disapointed. FYI ask Marjean for a TURTLE you will love it MMMMMMM!!!!!!! Fish were found in 20 - 21 FOW. Rainbow Chubs with a rainbow glow northland fireball jig were the ticket. Bring lots of them, those da_ northerns must have snipped a good 15 of them. Hearing some good things on winnie, will be giving that a try. Good Luck and be safe." Otters Guide Service


(6/8) From the Park Rapids Area, Jason Durham delivered his Fishing Report; "Fishing in the Park Rapids area was unstable for a few days after severe weather changes coupled with massive mayfly hatches on several bodies of water. However, the action is improving and after a few days of continued stable weather, the bite should be hot.
Walleye activity is improving and anglers are reporting fish in 16-22 feet of water. Both redtail minnows and nightcrawlers fished on a Roach Rig have been the most consistent.
Northern pike have been very active and the key is weeds. New cabbage weed growth is very attractive to pike and even a small patch can contain one or more nice fish. Flashy spinnerbaits or a jig and shiner minnow are good choices. Depending on the lake your fishing, cabbage weeds in 6-14 feet have been best.
Crappies have pretty much finished up spawning and are beginning to gravitate toward weeds in slightly deeper water than where they previously established spawning nests. Look for weeds in 6-10 feet and don't worry about bringing along minnows. Small jigs will work just as well. Try a 1/16th ounce Mimic Minnow and let the bait fall periodically as you retrieve it VERY slowly. - Jason Durham, Go Fish Guide Service
Bluegills are in the midst of spawning and can be easily located in super shallow water. Be sure to release a few of the big females to reproduce and ensure a strong future population of nice sized fish.
Smallmouth bass are just finishing the spawning process. Look for post-spawn fish along gravel and rock flats and bars, right where they begin to descend into deeper water. Crayfish imitating baits are a good bet since the crustacean has been present in those areas too.
Largemouth bass have recovered from spawning and can be found from a foot of water out to about 10 feet. Big females are being caught on slow moving baits like plastic worms and Jungle Jigs.

Fishing Report June 7, 2012 Jeff Sundin - Changing weather rolled into the Deer river area on Wednesday and triggered a rebound of shallow water Walleye and Perch action. After the storm? Well, we'll find out about that today.
Remember how I finished the report yesterday? Need a reminder? Okay here; "For today, OH OH! They're back, the nurses from the V.A. are here, terrorizing Lake Winnie! I'll be fishing Cutfoot and Winnie for the next couple of days, hopefully finding enough action to keep them all smiling!"
Well, I remembered to mention that they were gonna terrorize the lake, But I forgot to mention that they were gonna keep me busier than a cat at the Canary store! Luckily, we did find the fish, and we managed to have a fun day, in spite of dodging (well almost) a couple of Thunderstorms that blew through the area.
When I arrived at Lake Winnie to pick up the crew, they let me know right off the bat, that they were interested in staying off the big lake and out of the Whitecaps. That actually turned out to be a good idea, because later there would be a lot of weather moving though and we were a lot happier on a Smaller, more manageable lake.
When we arrived, the breeze was gentle, just enough for a drift and the sky was still sunny. Surface temperatures were in the 67 degree neighborhood and all systems were green for go!
Following recent trends, we tried of series of deep, main lake structures located nearest the shoreline. There were some Perch, some Pike and a few tiny Walleyes in the 22 to 25 foot range, but mostly, it looked like the fish had disappeared from the deeper haunts. A move up the lake and onto a shallow point was all it took.
We started off slow, missing a lot of fish, losing a lot of fish and going through minnows faster than a speeding bullet. But eventually, we did settle in, a little and started to show signs of productivity. Walleye and Perch were roaming along a bed of Cabbage Weeds in about 8 feet of water. As the wind grew stronger and once the waves were rolling, the action got even better. Eventually, tying on jigs, pinning minnow and taking off fish took it's toll on boat control and sticking with the spot got to be a problem. So out went the anchor and from then on, our fishing action was steady right up until we ran out of minnows, 2 hours early!
I tried to turn this into a Leech or Crawler bite, for some reason, only the tiniest Walleyes would take these baits. We're talking 7 and 8 inch fish, way too small. After weathering one Thunderstorm already, and sitting with an empty minnow bucket, we did the only thing we could. We put the boat on the trailer and headed for the bait, re-stocked the minnow bucket and high tailed it toward another, handier lake.
By then, the first wave of storms had blown through and somehow, the system had shut down the Walleyes. I mean they were downright turned off! In spite of knowing right where they were, seeing them on the Humminbird and fishing steadily through the schools of fish, all but one of them refused to hold onto a bait. Small Northern Pike remained somewhat active, but even they were picky.
It will be interesting to see how the action is today, after-math? or after-burners? It could go either way, so check in tomorrow to find out.

Fishing Report June 6, 2012 Jeff Sundin - In the Itasca Area, it was another warm, calm day on Tuesday. One Walleye, a self appointed director of recreation, woke up in the morning and said, "let's play hide-and-seek". Not realizing that we had brought our A-GAME, and were up to the challenge, the rest of them said, okay, that sounds good. So the game was on, and one by one, we found enough of them to proclaim victory for the team from Tennessee!
When we arrived at the lake, surface temperatures were already 66 degrees and with continuous sunshine and calm seas, would eventually reach into the 75 degree range in shallow areas. With little or no breeze, fishing the shallow breaklines was ruled out and we set out in search of fish holding deeper, on or near mid-lake bars.
I poked around in the middle, scanning small humps until I marked pods of fish, stopping to wet a line only after we knew there were fish under the boat. It wasn't glamorous, but by slowly working each school of fish, we managed to turn some of them into biters.
Best depths were 22 to 29 feet of water and on this day, it didn't seem to matter if the fish were high or low on the structure. They all had the same attitude. I spent a lot of time using Lindy Rigs with Leeches and did bag a few fish this way, but the crew stuck with 1/4 ounce jigs tipped with minnows and caught the Lion's share of the fish with that presentation.
By the end of the day, we captured a total of 15 keepers and a dozen nice Perch. Like I said, not glamorous, but still effective. By keeping the boat moving at about .5 MPH and repeatedly circling back through the fish, we would tease the biters out of their hiding spots, say "tag" and then move on, in search of the next contestant.


(6/6) Bemidji Lakes Area, Paul A. Nelson, Bemidji Area Lakes Guide Service says; " Summer finally arrived in the Bemidji area with a warm and mild first week of June. Surface water temperatures are in the mid to upper 60s in most lakes, so summer fishing patterns are just around the corner.
The fish fly hatches are intensifying in the mud basin on most lakes, with midges, mayflies and dragon flies all hatching this week in large numbers, especially out of the larger lakes in the Bemidji area.
The fish fly hatches combined with the shiners finishing spawning along the shoreline of many lakes will begin to move walleyes off of shoreline structure and onto mid-lake structure.
Walleye anglers are still catching walleyes on jigs and minnows, but more anglers have been switching to live bait rigs with larger minnows, leeches or night crawlers. Some anglers have also started to use plastics, crankbaits and spinner rigs for walleyes with some success.
Bass, crappies and sunfish are finishing spawning in the shallows of many lakes, with anglers hopefully leaving the fish alone while they spawn.
Male sunfish and bass guard their nests from predators after their fry hatch. When anglers take fish off the beds, it leaves the fry unprotected from predators that are often lurking just off the sides of the nests.
Muskie anglers are finding muskies close to the areas where there are feeding perch and walleyes. Anglers can use baits like bucktail spinners and surface baits to fish over the tops of the weed beds before they are fully developed and reach all the way to the surface of the lakes.
The Bemidji area also has some lakes stocked with rainbow trout, which are very active most of the season and relatively easy to catch if anglers use the right presentations. Anglers are reminded they need to purchase a trout stamp along with their regular fishing license to legally fish for trout. " - Paul A. Nelson, Bemidji Area Lakes Guide Service, panelson@paulbunyan.net 218.759.2235


(6/6) In the Deer River area, Brian Castellano got his birthday wish this year. Brian and some friends were fishing for Walleye somewhere in the Deer river area. Here's what he wrote; With the full moon falling on my birthday this year 3 of us headed out to a favorite, clear water lake around. We got there around 7:30 PM to see what the night would bring.
We started out jigging and graphed alot of fish in the 18-24' depths adjacent to a shallow water flat. While they weren't ready to go at that point in the evening, we made plans on coming back to them.
Around 8:30pm we headed to a sharp, rocky shoreline break and anchored up in 10' of water. We casted our 1/8 oz jig/shiner combos out deep and jigged them up the drop. A black Northland jig w/ the yellow eyes was the hot jig. We ended up catching somewhere around 25 walleyes by 11:00pm. These fish were all in the 14-17" range, and I landed a 23.50" for big fish of the night.
We then headed back to our 1st spot and the walleyes had moved shallow and were ready and waiting when we returned around 11:00pm with our Salmo Hornets. We trolled in about 11-13 feet of water and put 6-8 nice walleyes (15-19")in the boat on the 1st trolling pass. We then called it a night. Pretty tough to find a better way to spend a birthday evening than that!"


(6/6) On Lake Winnie - Cutfoot Sioux, Eagle Nest Lodge, Bryan Harris wrote; "The beautiful, stable weather has turned the fish on. We're hearing many varying reports on locations and depths and methods...some shallow with jigs, some 10-12' with either jigs or lindy rigs, and a few folks catching fish out on the humps with lindys. Both Cutfoot Sioux and Winnie have been productive. Our perch fishermen are catching lots of fish, but are finding lots of little ones to each keeper. The Bongo bouncers are in the water and the beach is raked, ready for mom and the kids while dad is out fishing". - Bryan


(6/6) On Bowstring Lake, Bowstring Shores Resort, Darv Oelke says; " Well as you know bowstring has been doing Good. Down by the tower, Finch Bar, Down by the rock pile. Most of the fish are at 20 to 24 feet. Last week was crawlers. This week fathead minnows on a Jig. The crappies have just started last night. Some 14 incher have came in from Cow bay. Fish are biting. Weather's Good". - Darv


(6/6) Grand Rapids Area Fishing Guide, Jason Green has this; "Fishing continues to to get better in the Grand Rapids Area. Many of our lakes are deeper colder bodies of water such as Pokegama and Sugar, generally don't begin to warm up till the second week of June. However, Pokegama Lake's surface water temperature is in the low 60s and fish are starting to feed. Walleye can be found on shallower shoreline structure pulling blades and bouncers but a much better bite is taking place in 22' using a 7' Roach Rig tipped with a leech.
While searching the other day for a good walleye bite we were able to find a descent smallmouth and jumbo perch bite also. Both were found in 8' of water where vegetation is starting to grow up in sandy areas. Our best presentation for both was a light jig tipped with an Impulse Jigging Leech.
Its early in the season so there is a lot more to look forward to. Hope to see you on the water.


(6/6) Itasca Area Fishing Guide, Brian "Bro" Brosdahl says; "Bowstring Walleyes continue to bite on main lake bars and humps: Crawler Haulers and Rainbow Spinners are the best baits w/ a crawler or Leech working well. Fireball & a shiner,,,still producing alot of the catch. 1/4 oz. Parakeet or Sunrise best colors the best depths have 17-22,,,doesn't matter if it is windy or sunny and flat Walleye still bite.
Sand Lake: Walleyes are still biting in the weeds & rocks Jig & a Shiner or Leech consistently producing Parakeet & sunrise Thumper jigs w/ a fathead also works. There are also fish on the main lake 17-20 ft. Rainbow Spinner & a Leech behind a Rock Runner Bottom Bouncer is a safe bet"
Leech Lake: Main lake rock piles kicking out tons of slot fish some keepers and some overs Mister Walleye Crawler & Rock Runner Bottom Bouncer in 12-14 ft of water Greens, golds and fire tiger patterns the best colors Leeches on rigs getting better everyday. The weed bite is slower but improving.
Lake Bemidji: Deeper shoreline breaks & humps near weed beds 18-28 ft. Fireball w/ Leech,,,Shiner or Rainbow Spinner & crawler,,,if your line is in the water your will get bite.
Good luck to the Krause Anderson Anglers this weekend,,,we will see you on the water. Be safe, have fun and Good Luck. Brian "Bro" Brosdahl www.brosguideservice.com


(6/6) On Lake of the Woods, Wigwam Resort, wrote; "Here at Wigwam Resort on Lake of the Woods the fishing is hot and heavy. Try the rocks near Knight and Bridges or head to Zippel Bay, the Gap at Morris or Lighthouse Gap. Anchor up and jiggin' minnows seems to be doing the trick in 26-31'. In 8-20', worm harnesses and spinners are producing a good harvest. The calendar says it is still Spring but it sure feels like Summer here at the lake. Temps are in the 80's with sunny skies up to the weekend when it just might bring on a bit of rain. But then anytime is a good time on the water! Give us a call if you would like to head our way 1-800-448-9260.


(6/6) On Lake of the Woods, Sportman's Lodges, Jacki LaValla said; Good fishing going on. Lots of nice good eaters and slot walleyes (19.5-28 inch). Weather is perfect! 75 degrees and light wind. The hot jig color yesterday was white. Anchored and jigging with a 3/8 oz jig tipped with a shiner or chub minnow worked well in 26'-30' of water just outside of Pine Island and Zippel Bay. We still have lodging, camping, guided trips and dock and boat rentals available for the summer. Give us a call! 800-862-8602
Smallmouth Bass are pumped up and ready for prime time! On Monday, Smallmouth Bass were up and biting. Areas with plenty of rock in the 4 to 7 foot range were holding lots of fish, many of them were sitting beds, some were roaming the rocky flats. Fishing these areas with a 1/8 ounce Lindy Jig, tipped with a minnow, was the perfect presentaion.
Musky anglers should be in fat city right now! There are fish holding on the sand breaks adjacent to shallow flats. On lakes with Smallmouth Bass populations, the lunkers are being spotted constantly by anglers as they creep along the breaklines, fishing for Bass.
The sunny days encourage fish to hold in the warm water, but there to rest, Muskies will be reluctant to strike during mid day. Making long casts with smaller than average baits will help, but for best results, anglers should plan on fishing in the early morning or late evening.
Crappies and Sunfish have moved back up into shallow cover. Panfish reports are coming in strong from all over the area and while the weather remains stable, your favorite spots are likely to be productive, right now! At the edges of Bulrush beds will be holding sunfish as they prepare to move into spawing cover. Crappies will soon begin inhabiting the Cabbage Weeds located near spawning areas, if they're not there already.

Fishing Report June 5, 2012 Jeff Sundin - Now we're getting back on track! Three stable days with sunshine and warm, summer air have started kicking the fish into high gear. Without a doubt, fishing activity has picked up all over the Itasca Area and recent reports reflect angler optimism.
There were reports of good fishing coming in from lakes all over the Itasca Area. Lake Winnibigosh, while still not at it's peak, has begun to kick out some more consistent fishing, Leech Lake has been producing reliably and so have a lot of the areas smaller waters.
On Monday, we spent our day fishing on one of Itasca County's 10 lakes that have protected Walleye "Slot-Limits" and at once, we saw the ups and the downs of the effects. For anglers who love to catch a lot of fish, even if it means going home with fewer fish in the bag, there is no doubt in my mind that the protected slots have helped.
Some times were faster than others, but all things considered, we had steady action for most of the day. We didn't catch many "eaters" but a steady supply of Walleye in the 17 to 20 inch range kept the lines stretching and by days end, there were enough fish for a nice meal for the crew.
Walleye Patterns are changing, and so will the best presentations, but for jig and minnow fans, there were still plenty of fish willing to snap up that presentation. Our best depths were anywhere from 12 to 18 feet, there were a few fish caught deeper, some shallower, but the primary shoreline breaks were the "sweet spot".
With water tempertures in the 65 to 66 degree range, shallow water feeding areas will soon be losing their lustre and mid-lake humps and bars will take over as the center of attention. If you've been following the reports lately, then you already know that there are a hundful of lakes in the area that are already solidly on these summer patterns. Many others are moving rapidly in that direction.
On Lake Winnie, fish holding on deeper mud flats and main lake bars have encouraged anglers who until now, have suffered through some periods of spotty fishing. As these mid lake structures fill with fish, Walleye anglers will enjoy a couple weeks of much more reliable fishing.
Smallmouth Bass are pumped up and ready for prime time! On Monday, Smallmouth Bass were up and biting. Areas with plenty of rock in the 4 to 7 foot range were holding lots of fish, many of them were sitting beds, some were roaming the rocky flats. Fishing these areas with a 1/8 ounce Lindy Jig, tipped with a minnow, was the perfect presentaion.
Musky anglers should be in fat city right now! There are fish holding on the sand breaks adjacent to shallow flats. On lakes with Smallmouth Bass populations, the lunkers are being spotted constantly by anglers as they creep along the breaklines, fishing for Bass.
The sunny days encourage fish to hold in the warm water, but there to rest, Muskies will be reluctant to strike during mid day. Making long casts with smaller than average baits will help, but for best results, anglers should plan on fishing in the early morning or late evening.
Crappies and Sunfish have moved back up into shallow cover. Panfish reports are coming in strong from all over the area and while the weather remains stable, your favorite spots are likely to be productive, right now! At the edges of Bulrush beds will be holding sunfish as they prepare to move into spawing cover. Crappies will soon begin inhabiting the Cabbage Weeds located near spawning areas, if they're not there already.


(6/5) Ryan Peterson wrote; "Well things are changing every day out on Winnie and Leech Lake with the water temp getting up in the upper 60's the walleyes are moving out to deeper water. On Leech fishing has been good in the 13 to 20 fow on the steep breaks, on calm days rigging leeches are working good on windy days I have been using jigs and shiners. Winnie has been a little tougher the edges of the bars are giving up some nice fish right now but nothing in big numbers to have a successful day you must keep moving. I have heard good reports coming from people fishing the humps also. Ryan Peterson Guiding


(6/5) Northland Lodge, Pat O'Reilly checked in with; "Walleyes are moving out onto the humps and bars. Not all of them have fish on them, but the East humps out from High Banks are getting better and so are some of the North humps. Our customers are still catching fish on Jigs and minnows, but it's not too early to get started with Lindy Rigs and Leeches. Look for Walleyes in the 16 to 24 foot range. Northland Lodge
By the way, did you ever wonder who wins the Wired2Fish contests? Click here for a full list of

Contest Winners .

Fishing Report June 4, 2012 Jeff Sundin - Sunday was a day in dry dock for me. My Daughter, Katie has officially been un-leashed from High School, free to take over and rule the world!
In addition to the graduation, I had a chance to check up on my gardens, work on some chores and take a few pictures. I checked in with some friends too and it sounded like there were plenty of really good fish stories to go around, so we'll leave it in their hands this morning.

Fishing Report June 3, 2012 Jeff Sundin - Well, Saturday was a great day in Minnesota! Sunshine, blue skies and warm weather. In fact, I'll bet some lucky folks were even in ecstacy! For me, it added up to a tough day at the office, as a series of mis-cues and external challenges added to the already complicated fishing scenario.
Before you get the impression that it was all bad, don't. There is always a silver lining; First, I now have a great excuse to go out and buy some new fishing rods. Second, we did get some really nice fish and finally, I did manage to find my way out and back to town from the top secret lake :)!!
With special customers in the boat and knowing that we'd have a few days of fishing together coming up on the schedule, I'd hoped to make our first day unique. You know, something special. So the day started out on Pokegama Lake, where I'd hoped that the lunkers would be ready for prime time.
My first warning sign was that when we arrived, high water was covering the boat ramp, along with most of the public dock. In fact, everywhere in the bay, docks and boat lifts were under water. I already knew that the high water would probably have a scattering affect on the fish, it usually does. But prepared for the challenge, I loaded the boys into the boat ahead of time, backed in and then waded out to get into the boat.
Checking the breaklines, some of the main lake humps and a few shoreline points. It looked like the best bet was going to be fishing the weed edges. There were no fish on the mid-lake humps I checked and very few on the deep breaklines. The bast game in town was the 12 to 18 foot range, just outside of the grass line. Scattered spods of fish were showing up on the Humminbird, many of them turned out to be Pike and Perch.
We fished jig and minnow combinations in and around the weed patches. In fact, Dick got to try a lot of new jigs thanks to the Pike that were happily snipping his jigs off on a regular basis. Last count I remember was 13, but there were probably a few more after that.
If we'd wanted to, we could have caught a pile of Perch, they were on the weedlines in large numbers, they were hungry and some of them were nice size. But, they were consuming our bait at a rate that made me nervous, so I moved away from them in search of bigger and better fish. We also managed to catch a nice Smallmouth and a great Walleye too, but it didn't take long to figure out what was going to happen. At each stop, we'd pick off a fish or two, maybe three and then the action would fizzle out.
The lucky part was that most of the fish we caught, were nice size. The problem was that I had a crew with me that was used to having lots of action and except for the Perch, the action on Poegama didn't seem to be going as fast as I needed it to, not this time.
The "Lunker Hole" wasn't exactly on fire, but it wasn't void of fish either. Maybe it's because of the high water, or maybe, the lake just needs to warm up a little bit more before the fish are going to gather up tighter. Maybe it was just too bright out, maybe it's the full moon? Who knows for sure, but when it was time to cook lunch, we decided to pull the pin and try another lake.
Well, that decision was a little expensive. In our hurry to get out of the landing and over to the new lake, we lost some really nice fishing rods/reels. They blew out of the boat on Hwy 169, somewhere between Grand Rapids and Swan Lake. In fact, if you happen to have found them and you're the honest type, there's a reward for their safe return. If you're not the honest type and you found them, well then, enjoy them, take good care of them and catch a lot of fish with 'em. They'll be missed by us, but we'll understand.
Luckily for us, we had already prepared and eaten a really nice shore lunch before discovering the mishap. I think the news was a little bit easier to take after we'd had a good meal.
The afternoon was filled with action, but only by catching Northern Pike, mostly on the smaller side, but there was one good keeper and several that at least put up a good fight. It was another case of high water, sunny skies and fickle fish.
By days end, we'd wish that we would have stuck it out on Pokegama and ground out a few more nice ones. Who knows, we might have eventually found a hot bite. But we didn't decide to do that and water is now under the bridge, so to speak.
Finally, lessons learned the hard way, are lessons learned the best. Luckily, I had a chance to learn some good ones yesterday and even better, I had steady flow of folks helping to remind me! So this time, the lessons learned, oughta sink in real good!


Q) "Jeff, My two sons and I would like to come up walleye fishing. Our plan is for August or September. Is that a good time? - Mike Stellbauer
A) Mike, August and September are good months to fish, especially if you're interested in a mixed bag. Walleye purists are primarily interested in the cooler water periods of early spring and late fall. But there are Walleyes to catch all summer long and as a bonus, there are Smallmouth, Largemouth, Northern Pike, Musky, Crappies, Perch and Bluegills to pursue as well. Here's a link that might be helpful when it comes to >> Planning a Walleye Fishing Trip.


(6/4) On Bowstring Lake, Erin at Geiger's Trails End Resort mentioned that they think the fishing on Bowstring has been the best ever! Trails End Resort guests are having great success. Most of our crews are bringing in dandy size Walleyes, Jumbo Perch and while most of the groups are not targeting the Northern Pike, they have been finding them HUNGRY!
Erin said; "Beware that anything you drop in the water will get gobbled up by the Northern. I can safely say that if you're heading up to fish with us on Bowstring, we can gurantee you fish. if fish (well, weather permitting)".
"We are starting our Summer season and it's been busy, but tthere are still cabins available and opportunities to grab a cabin for a weeks stay on Bowstring! See you soon!" - Erin, Trails End Resort


Feature Fishing Report June 4, 2012 Greg Clusiau made a solo trip to Birch Lake, near Babbitt, last Saturday and says; "even though gas prices are high (145 miles roundtrip) and I struggled to catch fish, this time, it was considered to be yet another good trip. I ended up keeping three nice walleyes and one crappie. A few smaller walleyes were caught and released.
I don't know what it is about Birch Lake but ever since I fished it for the first time, about 35 years ago, I've been hooked on this lake and wished I lived a lot closer. Maybe it's the crappies, which >> Read Greg's Full Report


(6/4) Some guys have all the fun! Now that the waters are warming up, Bass and panfish are heading for the shoreline. On a lot of lakes, docks are the best cover there is, but not all docks are created equal. Jon Thelen has been on the water this week, he's scoped out some nice Bluegills and he's got a bunch of of tips that you can use this weekend, all on video. Click to view >>This Week, Finding The Perfect Dock.


(6/4) On Lake of the Woods, Border View Lodge, Mike Kinsella wrote; "Fishing has been excellent in 31 to 32 feet northwest of Lighthouse gap. Jigs and shiners have been working well.&nbs p; We have also had some good reports from anglers fishing in shallower along Pine Island. Spinners, crawler harnesses and plugs have been working here. Best times have been mornings and evenings in 7 to 16 feet. The bite is also turning on up near the reefs and south of Garden Island. Success has been reported using jigs, as well as pulling spinners and plugs.
The current in the river has picked up some due to the recent rains south and east of here. Our current water tempera ture is 63 degrees. Highs will be in the upper 70s this week with lots of sunshine and an occasional shower.
We still have a few midweek openings. Give us a call and make some last minute fishing plans.



(6/4) On A Deer River Area Lake, Reed Ylitalo wrote; On Sunday, I had the honor to be involved in shooting a TV show for Outdoor Bound TV. Boating many walleyes, on the edge of steep brakes and deep side of the rocks 18 to 24 feet of water, water temp was high 60s we used a few different techniques to put hungry walleyes in the boat today. We fished with a jig and a minnow, jig and a leech, lindy rig with a leech and also pulled a spinner. All techniques seemed to work today!

Fishing Report June 2, 2012 Jeff Sundin - We came to a turning point in the season on Friday as calm seas and sunny skies helped nudge me in the direction of the Lindy Rigging season.
With lots of fish moving into deeper water, and signs of insect hatches starting to show up, I had a feeling that it was time to prepare for the transistion from jig and minnow fishing to using Lindy Rigs with Leeches and Crawlers. Was I right? Well, I brought a half pound of Leeches to the lake and came home with a nearly empty bait cooler. If we'd started the morning using them, they would have all been gone before we wrapped up the trip.
Our day started with a surface temperature of 62 degrees and there were lines of bug casings scattered around the lakes surface. Not Mayflies, not Midge either, it's bug that I don't know the name of for sure, but a lot of folks call them Fish-Flies. Just more evidence of the change of season.
We started checking spots in the 18 to 24 foot range and found small, scattered pods of fish. Old habits die hard, so we started the morning using jig and minnow combinations. We were still catching fish, mostly under-size Walleye in the 10 to 13 inch range, but there were larger fish showing on the screen of my Humminbird and these larger fish were clearly snubbing us.
Okay, here's where I dropped in the first Lindy Rig tipped with a fresh Leech. In a matter of a few minutes, there were a couple of strikes resulting in the capture of more small fish. But on the third or fourth try, a much nicer specimen took the bait, a solid strike, a solid fish. Slowly, but steadily, the Leeches were proving to out-perform the jig/minnow for keeper size fish and soon, we were all rigging.
I don't want to make it sound like we started hammering big fish, because it wasn't quite that easy. We were still fighting the effects of sunny skies and clear water. By moving around on mid-lake bars and humps, making sure that there were fish under the boat, we eventually came out okay. It wasn't too glamorous, but, by the end of the day, we had assembled a respectable limit of fish for the crew.
Now this doesn't mean that from here on out, that the only way to catch Walleyes will be rigging Leeches and Crawlers. On some lakes, the Walleye will stick with the minnows longer than others and in some locations you can jig all summer long. But, if you're into following trends, and you like the idea of increasing the odds of catching larger fish, then you should keep this in mind.

Fishing Report June 1, 2012 Jeff Sundin - On Thursday, the weather was about as pretty as it can get. Full sunshine, light breeze and just enough fish to make a nice day out of it.
Acting on a hot tip from a fishing buddy, we decided to head out accross country on a little adventure. We were planning to fish a small, dark water lake in the far reaches of Itasca County. Off the grid so to speak, not much in the way of cell towers or C-Stores out there, but there were some awful pretty Walleyes!
The dark water soaked up the sunshine in a hurry and water temperatures that started in the 61 degree range, were back up in the 66 to 67 degree neighborhood by days end.
There wasn't much choice about how to fish 'em. Every fish I spotted on the Humminbird was in the 6 to 9 foot range. Some were on the bottom and some suspended two feet or more off the bottom. With limited time to fish, we used only jig and minnow combinations while we were there. But if I was headed back, I'd be sure to rig up some slip bobbers and give them a whirl on the suspended fish.
Even though the water was stained, Walleye were still spooky and the fish we found displayed the irksoime habit of biting on the first pass and then scattering. The slightest ripple on the surface would spark a burst of action and if we'd had even a steady 5 or 6 MPH breeze, I think it could have been really easy fishing.
For today, we're back on the prowl for Walleyes and with another calm day in store, I think it's going to be my Lindy Rigging Debut. There's been an awful lot of pressure on the lakes that I've been fishing lately, and I have that feeling that we're gonna hit a brick wall on a couple of them fairly soon. Fresh territory is what I have in mind and maybe scouting for some deeper fish on the big lakes will be just what the doctor ordered.
Maybe we'll head out on Lake Winnibigosh, maybe Leech Lake. At this point, each of those lakes are poised for the summer-peak and neither have received an abundance of fishing pressure.


Q) "I have a question about Leech lake which I can see from reading your reports isn't a lake you fish often but I am hoping you can help. I'm heading there June 10-16 with the family. Believe it or not I feel very comfortable finding the walleyes, but I am curious about panfish for my younger kids. I would absolutely love to put my kids on either big gills, crappies or some easy perch fishing. Absolutely any advice you can give would be very appreciated." - Brad Peterfaso
A) Actually Brad, I fish Leech Lake a lot. Just haven't been there a lot recently. Panfish on Leech are located in the lakes outer-extremeties. Almost every bay of the lake has good Perch fishing and there are several locations where Sunfish and Crappie potential is good. The secret to fishing Leech for panfish is to break it down into smaller sections and concentrate on fishing them the same way you'd fish a smaller lake.
Panfish will be in the smaller, weedier sections of bays. Boy Bay, Waboose Bay, Sucker Bay, Shingobee and Steamboat all have onclaves of panfish, Bass too. Take the kids back into the weeds and start poking around with small jigs. If you haven't tried them yet, take a couple of Lindy's Whatsit Spins along. Or you can use small jigs, tipped with twirl tails, tubes or even live bait.
The folks who put in some time searching in the off-beat spots are always the ones who have the most action.


Q) "My dad and I are currently spending our vacation at Tamarack Lodge on Lake Winnie. We are eager fisherman and have much experience fishing. However we are having quite a bit of trouble finding walleyes. I was wondering if you could offer us some insight as to the location of these fish. We have spent most of the time searching by the dam and in the bay adjacent to Tamarack Point. We have been using Lindy Rigs and shiners. We have caught our fair share of perch but were having trouble finding walleye and northern". - Adam
A) Adam, I think that you're going to need to venture a little further out into the lake. Walleyes have been active on the River Channel that runs between Tamarack Bay and Bowen's Flats. The fish are generally heading toward deeper water where they'll spend some time on the mid-lake bars and humps.
Lindy Rigs tipped with Crawlers and Leeches, fished in 16 to 24 feet of water will help get you into some Walleyes. But before you drop in a biaty, I suggest spending some time searching for them. Don't fish until you're marking them on your graph. By doing this, your odds of success are going to sky rocket!


Q) "Jeff, been reading your excellent reports over the last few weeks as I prepare for s first time trip to Sand lake. I was wondering what you recommend to catch some walleye there. We are heading up on Sat and staying through Wed. I thought I'd see what your thoughts were. I consider myself an experienced walleye angler and your reports are about the best I have seen. Really informative. Thanks for any tips you could provide. Tight lines...." - Paul Sivanich
A) Paul, Some of the recent reports have actually been from Sand Lake. At the moment, there are some fish on the mid lake bars and on the shorline points that extend the furthest out into the main lake basin. On Sand Lake, there are alway some fish on the weedlines as well. Usually a mixed bag, Walleye, Perch and Pike. Lately, there have been a ton of Rock Bass in areas where weeds and rocks meet.
Jig and minnow combinations are still working well, but we're at the point in the season where Lindy Rigs tipped with Crawlers and Leeches are going to start performing really well too.
On Sand Lake, using Shiners will tend to increase the number of small Pike that hit your baits, for me, Rainbows or large Fatheads are a better choice and I like to use them on a more subdued color of jig. Try colors like Purple, Brown/Orange and even black. You'll catch more Walleye and Perch, less small Pike.
By the way, if you would like to catch a pile of Pike, you can. Sand Lake has a liberalized bag limit for Pike under 22 inches. You can keep 9 fish each of these smaller fish, so if you're like me, you can take part of a day to "fill the Pickle jar".
During the evening, panfish should be moving along the weed edges. Finding patches of Cabbage Weeds will increase the odds of catching Crappies and more often than not, there will be Walleyes in the same territory.
Advertise Here! Expanded Itasca Area Fishing Reports. Since mid-summer 2010, I've really made an effort to expand my area fishing reports. My goal has been to give anglers who are surfing the web, one fishing report that's always up to date and well written. Now I want to expand the reports section even more and I'd like you to participate. Lodging, Bait & tackle suppliers, guides or any other fishing and hunting related business can find a way to take advantage of the offer. For more information about contributing, sponsoring or advertising. Email Me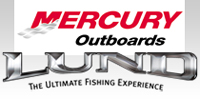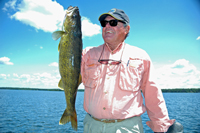 Dick Williams with a pair of Cabbage Patch catches. Walleye and Pike under sunny skies and clear water are forced to head for cover. Dick used a jig and minnow to root both of these out of the weeds.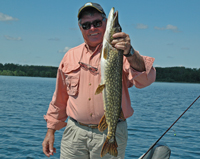 Jon Thelen has been out on the water, getting you all lined up for fishing this weekend. Tag along and put some Walleye in your livewell.

Some guys have all the fun! Poking around the docks, catching nice size Bluegills sounds like a hoot to me! Watch, Jon Thelen, he has tips that you can use this weekend to locate and fish the perfect docks.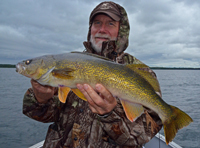 Cool, wet weather is just what the doctor ordered for fishing clear water lakes. here's a good rule of thumb for fishing these lakes; "A day without sunshine, is like night!"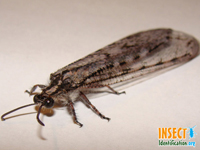 Courtesy InsectIdentification.org: Fish Flies, hatching in area lakes signal the beginning of the serious Lindy Rigging Season.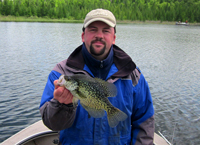 courtesy Brian Castellano; panfish were holding on the edge of the newly emerging lilypads. There were a bunch more, in-active fish on the graph out in deeper water suspended.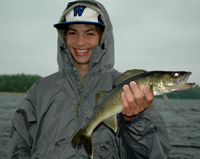 Jacob Krug (top) shows off a nice, jig and minnow Walleye. Fish were scattered, but still catchable after the storms. Zach (below) perfected his own system too! Plenty of action = :)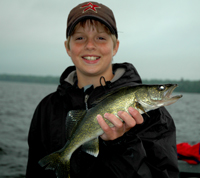 This Week On The Water, Lake of the Woods Walleye Fishing with Jon Thelen.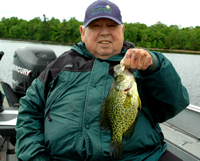 Crappies were illusive on Saturday, but Skip Finch had just enough talent to catch enough for a meal. Crappies were holding in about 12 feet of water, outside of a common spawning area.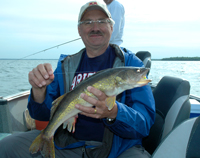 Once the wind kicked back in, Walleyes roamed onto the shallow rocks. 1/8 ounce jig and minnow combinations in 8 to 9 feet of water, produced both slot fish and eaters.

This Week On The Water, Lake Mille Lacs Walleye Fishing with Jon Thelen.

Cross Current River Strategy. Jeff Sundin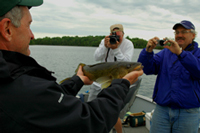 If you've fished with me, then you have certainly heard at least one "JESSE-ISM", probably more. Gone, but never forgotten, his words will be with all of us for many years to come.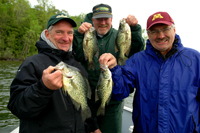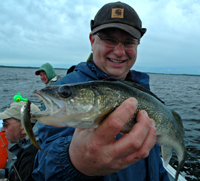 Eating size Walleye were hungry this weekend. What a coincidence, so was John Frederick and his crew. Jig and minnow combos in 20 feet of water made them all happy.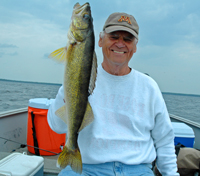 Walleye sizes varies from 8 inches to 20 inches, with an occaisional CPR fish thrown in for good measure.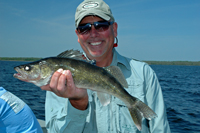 July fishing in May? Walleye in Bowstring Lake thought so on Friday. Don Hook shows off one of his deep mud-line Walleye. Fish were in 25 to 30 feet of water.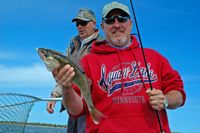 David and Mark Huelse will confirm, Red Lake Walleyes are "On The Bite!"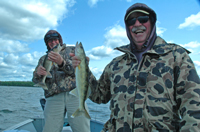 Wind encouraged Walleyes to make a move onto the shallow rocks. Jig and minnow combinations in 5 to 7 feet of water did the trick, at least for a while.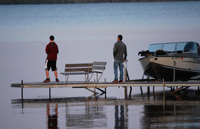 Courtesy Trails End Resort: Just more proof that fishing is never a waste of time! Waiting for the boat, these two took matters into their own hands and caught some right off the dock.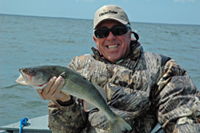 By noon, Lake Winnibigosh was rockin' and rollin' and the bigger the waves became, the better the action got!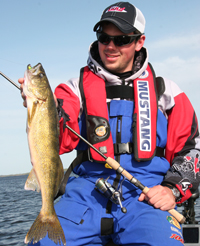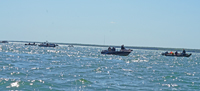 Gorgeous weather brought out plenty of anglers, manners on the water were rated A1 on Leech Lake.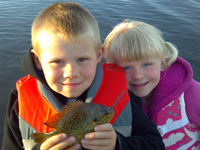 Entertaining? Absolutely, kids love action and it Zach Dagel found some fast and furious Sunfish action on Pokegama.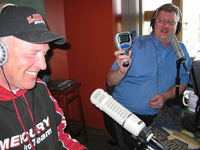 Join us every Thursday at 6:20 AM KAXE 91.7 FM Grand Rapids, MN for the "Early Bird Fishing Guide Report" You can get audio streaming here >> KAXE on the internet .

I promise that you'll put more Walleyes in your boat, if you take 59 seconds to learn what I did wrong! Really, I promise!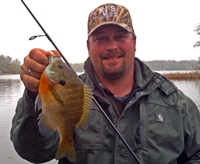 Courtesy Zach Dagel: Shallow water panfish action is on schedule to pick up, Read Report .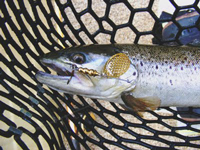 Courtesy Greg Clusiau: From the Iron Range Fishing Report, "Early season Trout Fishing is often overlooked, but opening weekend on a Trout Lake, Hmm... has a nice ring to it too!"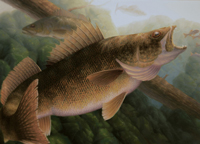 You need a new license anyway, so while you're getting that, you might as well go ahead and add the stamp.

Keeping your boat on the fish makes catching them a whole lot easier! Getting good with a drift sock is a perfect way to improve your boat control. Play this video to learn more and catch more!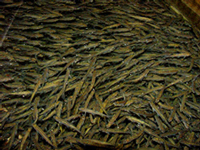 Worth their weight in Gold on the Walleye Opener. No one wants to throw 'em away, so take the time to learn How To Keep 'Em Alive, Legally!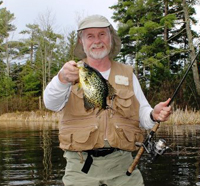 Courtesy Greg Clusiau: The shallow water Crappie action has been hit and miss, but roaming the shallows in waders has worked well at times.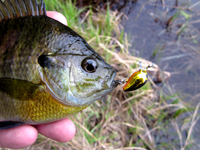 Courtesy Brian Castellano: Hoofing into a small lake wearing chest waders paid off! The Bluegills weren't giants, but the action was good.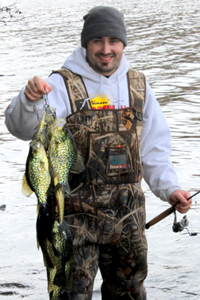 Greg Clusiau's Fishing Report features a hot Crappie bite that he and Blake Liend (above) found this weekend. Learn more about Spring Crappie Action.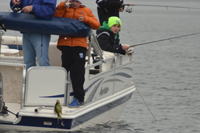 On the way home, driving past Bay Lake, from the highway, I spotted kids reelin' 'em in. Come on guys, isn't that kind of like torturing folks? Ha! Congratuilations boys, now you know how to make me envious!