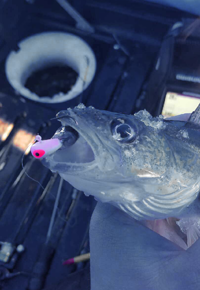 Lake of the Woods, January 21, 2017 Austin Jones Wrote;
"We were in 31ft of water in the Arnesons area and had consistent action. Fish would sometimes hit a slow jig, but at times they hit jigs fished aggressively as well. I even had one follow the jig up 10 ft off of bottom and hit it as we were leaving.
Quiver spoons and Live Bait Jigs both worked well, the best colors were pink/glow, chartreuse, and pink/chartreuse. Best bite was between 12:30 and 2:00pm. Mostly sauger and had a few walleye. Snowmobile and Bombardier was the only access. We fished on the deep edge of a mid lake reef."