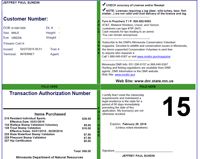 The 2015 fishing licesnes will be required beginning this Sunday March 1, 2015. By the way, if you love Walleyes, go ahead and add the Walleye Stamp. Look, I got mine this morning.
---
---
February 25, 2015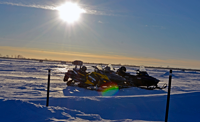 On Lake of the Woods, Walleye action is spotty. Ice fishermen who venture away from the crowds are more likely to fill their pails with fish.
February 22, 2015

Map USGS: Shows the current distributions of Zebra and Quaga Mussels. The problem is that we are trying to stop evolution in its track. Read >> Trucker Cited For Transporting Zebra Mussels

Friday March 27th, 2015 at 1:00 and 6:00 PM. I'll be on the show program with seminars at the Northwest Sportshow.
---
February 21, 2015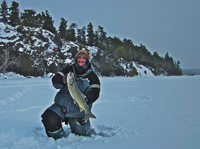 Photo courtesy Brian Castellano: Kyle Curtis Kyle Curtiss shows off a nice 6 lb lake trout that smashed a red and white tube. The Trout struck the lure 10' under the ice, over 60' of water.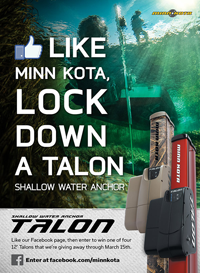 Visit MinnKota's facebook page and like it to enter the 2015 Talon Shallow Water Anchor Giveaway.
---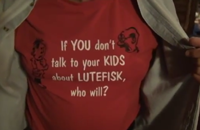 Sand Lake Lutefisk Club watch >> I LOVE LUTEFISK
---
February 17, 2015
---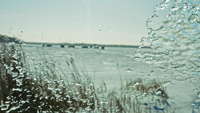 Expecting to find an image of the Dead Sea, I was surprised to discover a half dozen fishermen set up at one of the more popular "secret spots".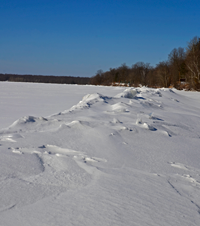 The pressure ridge at Bowstring Lake's north access is still fairly large, but it's tame for the moment.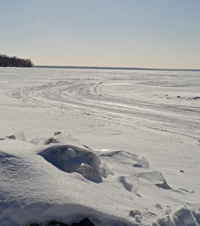 Ice fishermen have figured out a way around the pressure ridge, allowing vehicle access to the Crappies at the north side of Bowstring.
---
---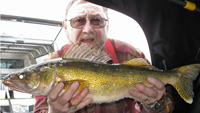 Photo Tom Glinski, who along with his wife, has enjoyed good fishing for both Walleye and Perch on the east side of Lake Winnie this week.
---
February 12, 2015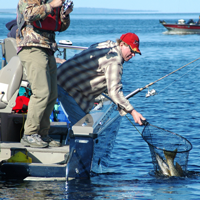 Pike are their own worst enemy, they are aggressive, hard fishting and delicious. When a good Pike lake is discovered, people do show up and the pressure can become intense.
---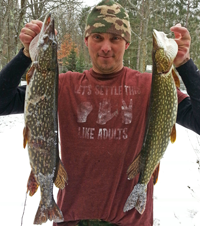 Photo Courtesy Gus' Place Resort, Ball Club Lake . Gabe shows of a nice pair of Ball Club Lake Pike.
---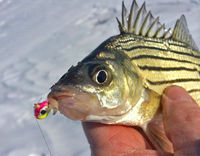 Clusiau calls the Yellow Bass "A feisty, aggressive little fish that just looks so darned cool." Read >> Clusiau Report
---

Using large, noisy lures like Lindy's 360 Jig will help call fish toward your hole and hold their attention.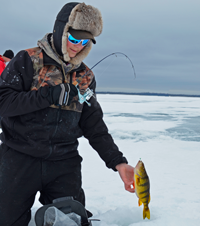 If necessary, use more subtle lures in a second hole to help trigger strikes from less aggressive fish.
---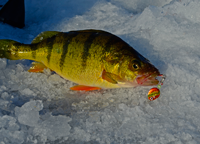 I was able to call in and catch some fish of my own by using 1/4 ounce 360 jigs. The thumping vibration of the rotating body helped me get the fishes attention.
---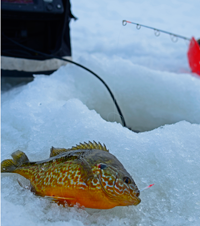 At first glance, the Walleye size, #2 Frostee Jig may seem a little big for Panfish. But the large bait helps ward off tiny fish, allowing me to focus on more desirable ones. see report >> February 4, 2015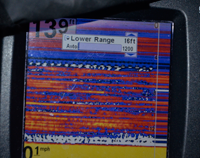 For lack of a better term, I call it "the Death Cloud". When these clouds of bait-food are present on my Humminbird, it is very rare for me to be enjoying good fishing action.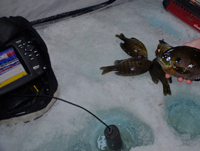 Look close at the screen of my Humminbird; occasionally it clears, of the "Death Cloud" and when it does, we get a spurt of action.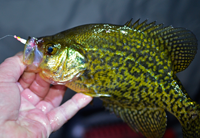 At first glance, a Walleye size, #2 Frostee Jig may seem a little big for Panfish. At times, I catch fewer fish than my partners, but many of them are the right ones.
---
February 2, 2015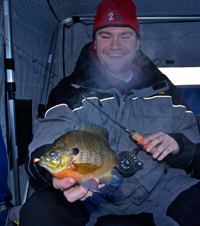 Jace Swanson Knows; it's worth getting out of the house in the morning. In fact on Sunday, we had to wait for daylight so we could take this picture. By 9 AM the action was all behind us.

Photo courtesy Greg Clusiau: Lee Lane showing off a great Burntside Lake Lake Trout. read >> Greg Clusiau Fishing Report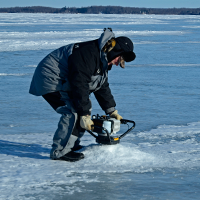 Once you're on Leech Lake, there is very little snow cover and the ice is getting thick. It's easy to see an extension in this auger's future.
---