Fishing Report, February 28, 2013, Jeff Sundin - Making Ready For Monsters! I have to admit, it was hard to stay away from the lakes yesterday. Especially when the sun was melting away the snow, even in the "hard to reach places", areas where snow has been piled high for over a month. But with a big weekend of fishing on the border scheduled for the weekend, it was important to keep my focus on getting all of the gear ready for that.
Fishing reports from up North are generally positive and with a great weather forecast, this just might be a great time to land Mr. Big! I just hope that someone has a camera!
According to one of the pros that we'll be fishing with this weekend, we're gonna have our work cut out for us. The snow is still deep and slush problems are persistent. We're not all that anxious to set up headquarters along the plowed road(s), but faced with a choice between getting our sleds stuck in slush, or settling for a higher traffic location, convenience might be kind of nice.
The heaviest run of Pike depends on intercepting them as they travel toward their spawning areas. Breakline areas adjacent to the mouths of shallow bays or at the mouths of rivers and creeks are prime locations. Last year, we were a little late and missed out on the peak of the Pike action, this time we may bit a bit early. While we talked on the phone last evening, our head guide said; "If they're there, we'll really nail 'em", if they're still out over open water, we haven't got a chance". It's only gonna be a few more days before we know for sure.
To borrow a line from my good friend, Mike Nolan; "The best way to get ahold of a fish, is to drop them a line!"
As anxious as I am to get up there and try for one of those monster Pike, I've still got some business to look after before I can head up there. Most notably, getting all of the pieces ordered for rigging up the new boat.
Yes, you heard me, even while we're standing on the ice, the days are flying off the calendar faster than a jet plane and with only 38 days until my first open water fishing trip, I'm kicking the process into high gear.
While I'm on the subject of rigging boats, here's an interesting question. It actually came in earlier this winter, but it's topical now that the boat buying season is upon us.


(1/1) Mercury OptiMax for Trolling? Jeff, I Have been reading your web site primarily due to my interest in purchasing a 20ft Alaskan tiller. I have a few questions.
1) I love speed trolling for pike, if I get either a 90HP Merc Optimax or a Yamaha 90FS 4 stroke, will I be able to do that effectively with the main motor on that boat?
2) Would you go with the 90HP optimax per your posts or should I listen to all my fishing buddies who claim the Yamaha's Tiller's ability to dial down RPMs for trolling and reliability is the way to go?
3) Do you need to remove your splash guides when trailering? Are they wave wackers or did you get them from Lund or something else?
A) Yes, I would highly recommend the OptiMax 90 HP. Many folks don't realize it, but using the OptiMax, you will also have the ability to dial down your RPM's in order to fine tune your trolling speed.
In order to accommodate the EPA requirements that went into effect in 2006, major advances in both 2-stroke and 4-stroke techonology led these engines into a new world of reliability. There is very little that goes wrong with any of today's engines and either way, you're going to wind up satisfied.
That said, I tend to run heavy loads in my Alaskan and for me, the extra torgue of the two stroke helps me and my passengers enjoy a better lift out of the hole. That's important because this gives me the ability to stay on plane at lower speeds. That's what keeps the Admiral and crew dry during windy conditions.
That two stroke provides another huge benefit to me; I trailer my boat every day, sometimes visiting two, even three lakes. Almost all of the prop damage (cupping) I've ever had, occurs at the boat ramps during loading on to the trailer. The extra torque of the OptiMax allows me to slip the boat up onto the trailer without breaking the trim and this has saved my countless prop repairs over the years.
Finally for me, the icing on my cake is that I get better fuel economy from the OptiMax than I did with my 4 strokes. Since I put a lot of hours on my engines, using the 4-stroke, I'd have to perform several oil changes every summer. In other words, buying 2-stroke oil versus the cost of an oil and filter change is virtually a push for me, advantage, two-stroke.
You're in the drivers seat! Just compare the price and the features to make the decision that best suits your personal needs. Either way, Mercury has wonderful 2 or 4 stroke engines that will give you all of the performance you're looking for. If you're in the area, a test ride is yours for the asking.
Finally, about the splash guards, there is no need to remove them when trailering. They are very rugged and one of the items on my rig that I worry about the least. I do use Wave Wackers and mine are absolutely essential to my style of fishing. I've been using nothing but the Wave Wackers since 1989 and have never broken one yet. That's a pretty darn good track record! And by the way, you can learn everything there is to know about Mercury Outboards just by clicking on the image >>

.


(2/28) In Grand Rapids, Zach Dagel, Grand Rapids Guide Service; Was out and about on Wednesday looking for some fresh fishing spots for a group he has coming in. Last evening, Zach confirmed what a lot of anglers already know. Travel conditions on the ice are still tough. Zach and his fishing buddy Grant Prokop visited several area lakes.


(2/27) Recapping their annual trip to Lake of the Woods, Brian Castellano says; "We made our annual family trip up to Lake of the Woods this past weekend, Feb. 23 and 24. There were 5 adults in our group and our 4.5 year old grandson, Johnny Stolp.
As usual, we stayed at Bayview Resort and rented houses from them as well. They do a great job of keeping their houses on the fish.
Saturday was one of those days to remember. We ended up with 30 saugers (13-15") and 5 walleyes (17-18.50") in the bucket. We threw back another 20-25 small ones. The tulibees got in on the action to and we iced 15 of those.
The fish were aggressive and the top producers were glow demon jigs w/ a red spot or the bloodline, bright green or orange Northland Forage Minnow spoons, and the red Lindy Rattl'n Flyer.
Johnny put the 1st fish in the pail on Saturday and that was a 18.50" walleye. What a way to start the day!! He proceeded to put a few more nice ones in the pail and caught 10-13 fish.
We had a nice fish fry Saturday night and were excited to get back out on the ice on Sunday.
Sunday was a total 180 from Saturday. We had to grind it out and ended up with 10 saugers in the bucket and 1 12.25" perch. We probably threw back 15 or so. My step son Matt had 3 nice slot fish from 19.60 to 21". We also added 6 more tulibees to the bucket. The fish were few and far between but the bloodline demon and an 1/8oz chartruse jig were the top producers. " - Brian


(2/27)On Bowstring Lake, Bowstring Shores Resort, Darv Oelke says; "Right now today, snowmobiles only to get around on the lake. The guys that are on snowmobile are doing okay. Crappies are still in the 20 to 24 feet. Perch 14 to 18 feet. Again today is snowmobiles. It was 38 degrees today. I hope a couple days like this and we can get back ATV's and 4x4 pickups" - Darv, Bowstring Shores Resort .
On Lake Winnie, plowed roads continue to be in great condition. Trying to travel off road is still pretty dicey though and a report from my friend Bill Heig yesterday was that the slush problems have gotten worse toward the shoreline, but somewhat better in the middle of the lake. Areas that had been fished heavily since the last snowfall have improved. The traffic has helped force water higher, toward the surface of the snow where cold temperatures can freeze the saturated snow.
With above freezing temperatures predicted for the next two days, we could see a significant improvement in ice conditions in some of these areas. Conversely, high temperatures and heavy traffic often combine to speed up the errosion of ice at the landings, so we're depending on cold nights to extend the life of the accesses.
Unless something major changes, it appears that the planets are aligned for a good fishing weekend in the Northland and to help make decisions about what to bring next weekend, we'll have a solid update on the conditions tomorrow and Thursday.


(2/27) From the Lake Winnie Region; "As the temps start warming and the days get longer Minnesota ice fishing enthusiasts welcome the opportunity to fish mid-day perch and evening crappies on big and mid-sized lakes in the Grand Rapids, MN area. Most anglers have now started to focus on perch and panfish since inland lakes seasons closed for walleye, pike and large mouth bass. Longer days and longer sunshine help melt the snow; loosening it up and making it better for travel. These warm temps and thawing snow, however, will create more slush under the snowcap so when traveling off plowed roads, especially on a snow-machine or atv/utv "chained up," look out for low or dark spots in the snow. Avoid old plowed roads and heavily fished areas, as they tend to be slushier.
For easy access on the ice and safety of getting of the ice sheet on big lakes like Winnie and Bowstring using resort accesses is still the best way to go. The resorts will not only offer plowed roads leading to good fishing structure they will help you out with fishing tips and places. Wherever you go make sure you have a good shovel in your vehicle.
Walleye season seemed to move through quickly this year, but it did leave many good memories of nice keepers and releasers. Remember, open water season is less than three months away. Before then, however, as the spring thaw kicks in so do Rainy River walleyes, massive pre-spawn northern pike on Lake of the Woods and spring run steel head on the Brule River.
In between, there is still plenty of fishing to be done on the solid ice sheets around Lakes Winnibigoshish, Ball Club, Bowstring, Pokegama and other Grand Rapids area lakes. There will be plenty of time for perch and panfish as daylight savings is around the corner. This added hour and the warming temps are good reasons to be out on the ice fishing with family and friends. During this time start looking for perch to make the transition back into shallow water and on top of structure or under water points as they will be chasing schools of minnows and young of the year minnows. When fishing shallower keep in mind to wait for the school to transition chasing forage. But don't wait too long. Be mobile. Search for new structure and less fished areas as the bite slows. When fishing shallow water look for structure and under water points leading to deeper water for active perch and try using a Lindy Rattl'n Flyer tipped with a minnow head to attract active and curious perch.
On Lake Winnie, most of the resorts roads on the south end of the lake are in pretty good shape, Denny's and Becker's resort's have roads over to the west side of Winnie. As you travel west, however, don't forget to consider the shoreline and main lake structure on the south side Winnie. In Tarmack Bay the Pines Resort, Northland and Tamrack Lodges all have access to road systems that have had plenty of traffic on the ice. You can see them from the Winnie Dam, in fact.
Last weekend we had MDHA (Minnesota Deer Hunters Association) friends fishing with us accessing out of Denny's on Winnie. They were in Grand Rapids for the MDHA State Habitat Banquet (over 300 attended) held at the Timberlake Lodge and the State Directors' Meeting at the Sawmill. They did well on perch fishing and even iced a couple walleyes on the last day of season fishing the break line structure in the south corner in 15 FOW. Other MDHA friends and members fished out of Gus' Place on Ball Club Lake and also did quite well on perch, pike and whitefish, hauling in many and keeping enough to take home and have a great fish fry at the Gosh Dam Place. The MDHA guys in the spear house saw over ten pike on the closing day.
Over the past week and weekend I guided and fished Winnie, Ball Club, Moose, Pokegama, Wabana lakes in the Grand Rapids and Deer River area. While some days and lakes were better than others, there was still something nice about being out on the ice sheet fishing in majestic scenery, surrounded the silvery white hoar frost which coated most of the conifers until the sun peaked at mid-day. Even though we had tough conditions on Friday, our group still made the best of the day mixing in a shore lunch at noon. There is nothing quite like a shore lunch of fried fish and potatoes and beans in the middle of a blustery Minnesota day.
Perch fishing on Winnie and Ball Club has been pretty consistent, but being mobile is the key. Look for active fish and then hunker down and sort through the "action" bite to fill a pail. Head to the deep holes for crappies and look for them to be suspended in these deep holes or the slopes and sharp break-lines that lead to them. Since every lake differs, it's still best to check in with your local bait shops, sporting goods dealers and resorts for up to date ice conditions and fishing. Good luck and we hope to see you on the ice!".


(2/27) Gus Sheker, Gus' Place Resort on Ball Club Lake; "Conditions on Ball club lake remain pretty good with over 2 feet of ice and only a few areas of slush. Snow accumulations will confine you to the resort plowed roads unless you have a snowmobile.
Now that Walleye & Northern fishing season is closed we can concentrate on Crappie and Perch fishing. The last 2-3 weeks we have been fishing Perch in 25-30 feet along the drop off, but this trend is starting to change with the larger Perch moving back into the 8-12 feet range. Use live rigged minnows. White fish are also being caught in 25 feet. They hit and pick up on the drop and pause as the bait falls to the bottom, some of these whitefish are up to 22-23 inches and put up a great fight. There are still several weeks of great ice fishing left this winter." - Gus Sheker. Gus' Place Resort .

Fishing Report, February 26, 2013, Jeff Sundin - Making Ready For Monsters! We've been waiting a long time for another chance to head up North to take a crack at some Monster Pike and now it's just a few days away.
Lakes that lie along Minnesota's boundry with Canada remain open for Northern Pike and Walleye fishing even after the inland fishing season closes. As Pike begin their migration toward spawing areas, they'll be feeding heavily along the way and with a little luck, we'll find a couple of spots where we can head 'em off at the pass.
Judging by how tricky it's been to find lodging, I'd guess that the crowds will be huge this weekend, even so, a few fish oughtta find their way into our territory. If the Pike have trouble finding us, Walleyes remain fair game too and may give us an easier target. Either way, we'll find plenty to do!
The primary presentaion among most of the pike anglers is to use a large Sucker Minnow attached to an attractive hook and fished below a tip-up. Last year though, friends of mine had a blast fishing with "quick strike rigs" on rods and reels, instead of using tip-ups. The rigs consist of a twin pair of treble hooks spaced about 4 inches apart and dressed up with a series of beads and spinner baldes. Using larger Suckers, they pin one hook toward the head of the minnow, another toward the tail. unlike fishing with tip ups, where the fish is allowed to swim freely with the bait, allowing time to finish off (swallow) the minnow. Using the quick strike setup allows anglers to set the hook almost immediately. That can be a lot healthier for the fish and much more exciting for the anglers too.
The quick strike rigs can be purchased "pre-rigged", but you can easily do what I'm doing and pick up some components to assemble your own rigs. A variety of beads, a handful of spinner blades and a spool of stranded wire will get you all set up. After I get rigging up a few, I'll add some pics and expand on the assembly.
Meanwhile, while we're up North doing that, the Itasca area lakes will be filling up with anglers targeting Perch and Panfish and hoping to take advantage of the late season movements.
According to Bill Powell at Freds Bait in Deer River, traffic has already picked up, most of it accounted for by Perch fishermen heading toward Winnie, Bowstring and Leech Lakes. Most of the Crappie and Sunfish anglers are local, taking advantage of their free time.

Fishing Report, February 25, 2013, Jeff Sundin - That's a wrap, at least for a little while. Holy Cow, where did this winter go? Sunday was the last day of the 2012 inland fishing season for pike, Walleye and Largemouth Bass.
I was content to let the inland season for Walleye, Pike and Bass just slip on by. The warm sunshine was giving me a perfect excuse to get outside and catch up on some chores. Plus, I had already done a ton of ice fishing this winter and I still have plenty of border-water Pike fishing on the agenda anyway.
So I'm scurrying around the yard, getting all of my gear back in order and ready for our next fishing trip; Thaw out the Otter, clean up the snowmobile, shovel the snow out of the trailer, you know ... make it nice for the next crew. Meanwhile, in the back of my mind, I'm thinking about somewhere to spend a couple of hours in the afternoon, fishing for Crappies.
Hold Everything! We interrupt this report for breaking news! An incoming text from my buddy Don Conroy say's; "Got about 20 Northerns on a jig so far ... 2 monsters. Don't dare throw the swim baits cause I'm trying to catch Bass and don't want any more Northerns."
My Reply? "What do I need to bring?"
It wasn't long before I had a couple of fishing rods and a plastic bag full of assorted lures loaded up. A short trip over to the Mississippi River ended with Don sitting at the bank, at the bow of his "winter boat" ready to pick me up.
A few quick words of advice, find a spot to fish and we were back on the water. Like magic, the action picked up right where Don had left off. It took about three casts to hook the first Pike and from then on, it was a three hour session of steady Pike action, great weather and gorgeous scenery.
For Don, a hard core Bass fisherman, winter doesn't mean anything. December, January, February ... It doesn't matter he fishes all winter long. Usually, he catches a lot of Bass, but the Pike which are always present, pester him during his pursuit. This time, Bass were absent and Pike were more plentiful than he'd ever seen them. In other words,the afternoon could have been better for Don if the Largemouth Bass had been cooperating. But I think that knowing how much I love to catch Pike, made fishing for them a lot more fun for him. So on this day, what are usually his arch enemies, were transformed into a 55 gallon barrel full of giggles!
The fish were located in shallow water, on the break and in the weeds. If there was a key location, it was probably down the edge of the breaks that had weed cover near by. But there were fish everywhere and it wouldn't have taken too long for almost anyone to find some fish.
Unusual for me, was that the Pike ranged in size from really small, all the way up to "Monsters". It seemed like every Pike in the system was crammed into the areas of open water. In fact, we speculated that maybe it's the the deep snow cover that's triggered the chain of events. Darkness may have choked out the sunlight, forcing the weeds to die, triggering an Oxygen depletion problem in adjacent lakes and weed flats. No matter how they got there, they were there.
Don has already done more experimenting with presentations than I will in the next five years. He had already tried jigs and plenty of other lures and had settled on swim baits as the best presentation. Baits like the 6 inch YUM Money Minnow, rigged with a 1/4 ounce jig head are perfect for fishing both Bass and Pike.
Still, I had to do a little experimenting just to say that I did it. For me, a good run of action came when I tied on a Booyah Double Willow Spinnerbait. In fact at one point, I had four fish on four consecutive casts. The spinnerbait was perfect for the shallow flats and over the weed tops, but when it came to the breakline, the swim baits were better. Just swim them over the weed tops until you find the edge, then let them flutter down the break and hold on.
I wish I could take some of the credit, say something clever that makes it sound like I knew what I was doing. But, all I really did was receive a text and answer it. Don did all of the thinking and luckily for me, he decided that it was a good afternoon to recruit a helper.
I can tell you this, it was one heck of a great way to wrap up the the inland fishing season and if I wasn't already to get into the boat before, I Am now!


(2/25) On The Iron Range, From Greg Clusiau; "I first thought of Upper Red Lake, which still had a hot walleye bite going on, which would come to season's end on Sunday. No. Been there, done that. I don't care how good the bite was, I was going to do something "different." My brother, Joel, and his entourage would be leaving Kee-town at 6 am for" ... >> Read Greg's Full Report .


(2/25) On a local "Grand Rapids" area lake Reed Ylitalo, Wings And Walleyes Guide Service wrote; "I got to sneak out for a little bit yesterday and hunt down some pan fish we found a good numbers of crappies in the basin In between two deep holes. 17 FOW The real nice blue gills were in shallower in 8 to 10 FOW best presentation was a forge minnow tipped with a small minnow head for crappies for the bull gills was a custom jig made by fisher beck jigs Tipped with 2 or 3 waxes. This great time to of year to get your kids out on the ice with a great bite and warm whether cant beat it! - Reed Ylitalo


(2/25) Leech Lake Area Lakes, Gary Roerick Says; "It's time for Perch, Crappies and Sunfish.
Now that the walleye, northern pike, and bass season is officially closed, it is time to take on some new challenges. They include the scouting and harvesting of jumbo perch, slab crappies and some hefty 'gills. For this time of the year, I like to use a small portable fish shelter that you can pull around by hand. This will allow you to be mobile and you can continue moving to different areas until you find your favorite location.
Walker Bay of Leech Lake and other smaller area lakes have great ice conditions in the 20" to 30" range. If you are scouting a new lake, ensure that you know the locations of streams and rivers, and any unique areas that may include underwater springs, so you can avoid any potentially thin ice locations.
Here are a few of the statistics from our 34th International Eelpout Festival: The largest eelpout was 14 pounds. The individual tonnage award was 22.66 pounds. The team tonnage award was at 261.39 pounds. There was a total of 274 eelpout caught this year for a total weight of 961.06 pounds. For those keeping track, these total numbers for fish caught and the weight category is less than half of the numbers compared to last year.
We are nearing the final days that you can have your ice fishing shelters on area lakes. The line that separates the state in our area is State Highways 200 and 34. All shelters south of this line must be off the lake before midnight on March 4th. Shelters north of this line must be removed by midnight March 18th. Please refer the 2012 MN Fishing Regulations booklet for complete details.
Weather permitting, I will continue to have rental houses available for perch and panfish opportunities. Check out our website at http://roericks.webs.com or give me a call at 218-760-8266 to secure your late season perch and/or panfish party.
Panfishing, remember, be mobile, travel light, and you will have some great fishing stories to share with family and friends soon!" - Gary Roerick Roerick Fish House Rentals 218-224-2836 .


(2/25) On Lake of the Woods, Border View Lodge, Mike Kinsella wrote; "We are still covering miles of ice on Big Travers Bay. We are spread from a couple miles off of Pine Island up to 21 miles out. 5 miles out has provided better fishing most of the days this past week. The reef areas are still producing some numbers, many of those catches are last year's hatch of 6 inchers and Saugers.
Anglers have to work hard for their catch. We are in a trend of seeing fish on the sonar's most all day, getting th em to bite is the issue. This seems typical for heavy snow cover years. The lake is deprived of sunlight and oxygen which seems to make the fish slow down their feeding habits. Small presentations have been best, using drop shots or even plain hooks seem to produce the best for now.
The sunshine during the last few days has been nice. Yesterdays warmer temps put a lot of moisture in the air and the frost is exceptionally thick this morning. The forecast looks nice and stable for the week ahead. Highs are expected to be in the 30's and lows get into the single digits. The sun is expected to be out all week.
Don't forget we are able to have our houses out until March 31st and Walleye is open until April 14th." - 1-800-776-3474 Border View Lodge .

Fishing Report, February 24, 2013, Jeff Sundin - Holy Cow, where did this winter go? Today is the last day of Walleye and Pike fishing for anglers on Minnesota's inland water. The weather forecast is playing right into the hands of anglers who'd like to give Mr. Walleye one last chance before it's too late. That is to say, too late for the inland anglers.
Border waters like Lake of the Woods, Rainy lake and others, are still gonna provide anglers with several weeks of Ice Fishing for both Walleye and Pike. But even there, our days are numbered. In fact, there's a good chance that some anglers will be fishing for Walleyes on open water in just a few weeks! For me, April 1st is the target date for the Rainy River. For others, the Mississippi River in Southeastern Minnesota could be providing action almost any day now.
Luckily, all of the Walleyes in Itasca County are 100% safe from me for the rest of the ice fishing season. I'm gonna spend the next few days getting my gear polished up for a trip North. That's where we plan to take a good run at catching some of the Big, Pre-Spawn Northern Pike as they begin heading for shallow water. In case you didn't already know, Northern Pike begin their spawning runs before ice out and most of them find places to spawn within just a few days after ice-out. It's a bit like Deer hunting, the trick is tho get between them and their spawing territory as they travel.
You've probably heard a lot about Lake of the Woods and their spring Pike movements. We snoozed a little too long this season and couldn't find lodging on Lake of the Woods for this weeks trip. Luckily though, we did find a suitable alternative and we're gonna have a great time! In one way, it will be even better because we'll get to discover some new territory.
The fishing that I do around home will likely be focused on Crappies and sometimes Perch. As the fish enter their Pre-Spawn feeding mode, a movement toward shallower water makes finding and catching them easier.

Fishing Report, February 23, 2013, Jeff Sundin - Sunday is the last of Walleye and Pike fishing for anglers on Minnesota's inland water. Warmer weather should make it a good weekend to give it one last whirl and warmer temps may just make putting up with the deep snow a little easier too.
Although there are lot's of folks fishing deep water structure for winter Walleyes, my favorite way to catch them is on shallow points. Areas where weeds, rocks and points merge are all time classic Walleye holding structures and some of my favorites are located in water depths of 10 feet or less. Setting up on top of a shallow point that runs into deep water allows me to ambush fish as they head toward the shallow water to feed.
Jigging presentations are a lot of fun, but Your jigging rod is best used for catching the active fish once the feeding run starts up. I suggest drilling two holes at each location. In one, use a set line that can be watched while you jig in the other. A great set line rig is a #2 Frostee tipped with a tail hooked minnow. Combining the vertical orientation of that jig with a minnow hooked at the tail forces the minnow to keep stuggling, trying to get upright. You can prove it to yourself by watching this rig on your Aqua View. Fish will always come and take a look at the struggling minnow first.
Judging by recent reports in the Deer River area, many of the would be Walleye fisherman have already turned their attention to Panfish and Perch.
The Mecca for die hard Walleye and Pike anglers will be Lake of the Woods for the next couple of weeks. In fact, there are so many anglers heading that way, that every cabin, every room and even most of the sleeper houses are already booked solid for next week. That's good news for area resorts and lodges, but it's gonna force a change of plan on some of us that didn't have our reservations nailed down. Luckily, there are other border waters where we can do some fishing and with luck, will produce similar results.
Closer to home, I had a quick phone call with Nik Dimich on Friday. He told me that he'd been on a bit of a marathon fishing adventure of his own and covered a half dozen lakes since we last spoke. Nik reported improving travel conditions on the lakes he'd been visiting. Warmer temperatures have softened the surface of deep snow and made using hi Ranger somewhat easier. Maybe snowmobiles will have a little more trouble staying on top of the snow, but with teps hovering at or barely above the freezing mark, we could be looking at the start of a meltdown anyway.


(2/23) According to Paul Larson at Frontier Sports in Marcell, MN; Crappie fishing in Itasca's Edge of the Wilderness area has been improving. Paul said that some of their customers have reported catching Crappies over the past few days, including a few who have mentioned catching limits of fish.
Some Walleye and Jumbo Perch action as well, with anglers focusing on larger waters laike Bowstring, Sand and Round Lake for them.
Paul put in a plug for the "Cabin Fever Reliever Outdoor Sports Extravaganza that will be held at the Marcell Family Center on Saturday March 2nd. It's a fundraising event that will benefit the Marcell Family Center. There will be Free Seminars, Dinner, Raffles, Silent Auction and the Frontier Sports Outdoor Gear Clearance Sale.
Tickets are available at the Marcell Family Center, The Edge of the Wilderness Discovery Center, Frontier Sports in Marcell, Clafton Skate in Grand Rapids and the First State Bank in Bigfork . Call 218-832-3444 or 218-832-3161 for more information.


(2/23) Recently, on the Facebook Fishing Report Page I asked a question about tricks for staying warm on the ice during sub-zero temperatures. Some of the responses were thoughtful and I thank you for those. Many of the better ideas were in line with my own thoughts, but there were a couple of new twists.
The consensus among the most thoughtful responders was to focus on the feet, the head and layering. The guys who suggested growing beards probably have a good point, but not everyone likes that idea. Ladies, maybe you can just talk someone special into growing a beard and then sharing it with you.
For me, fishing in cold weather is no problem. Through trial and error, I've whittled away at the system and now, I can head outside any time without worrying about as much as a chill. I might as well start at the ground and work my way up.
Wool socks are the best investment youo can make and of those, Smart Wool is the top of the line. I don't know how they do it, but the Smart Wool really helps keep your feet dry and that's a fantastic head start.
Boots for ice fishing have always been a major issue. Everyone knows that warm feet will help you feel warm all over. Until this season, I used to think that the heavily padded Sorrel type boots were the best. The problem with most of the old style ice fishing boots is that they're heavy and clumsy. For guys like me, tripping over everything in sight gets to be a problem.
Just this season, I've had a pair of Therma Cell's heated insoles and since I started using those, I'm completely sold on wearing these inside of a lighter, more nimble boot. The rechargeable insoles fit nicely inside a pair of Arctic weight Muck Boots. Now I have the luxury of warm feet AND 100% waterproof boots. There are only two ways to get these boots wet; Either you're "Goin' In" or your feet are sweaty. ThermaCell's claim to fame is that they keep your feet warm, but not hot. I know they work because I have sweaty feet, but between the ThermaCells and the Smart Wool, I come home with dry feet every time.
Layering your clothes is at the top of everyone's list. Some suggested Under Armor, others talked about long johns or sweat pants. All of them are probably good ideas; But for me, nothing in the world is better than micro fleece. It really doesn't matter which brand and it really doesn't matter how expensive they are. In fact, some of my best ones come from the surplus store and fall into the $9.99 price range. The fleece pants and shirts hold in a lot of heat, but they let your sweat work to the outside surface. When I wear the fleece, I don't need any other layers as long as I'm wearing a good snow suit over the top.
There are a bunch of snow suits on the market. But thanks to some friendly persuasion from a friend, last year I decided to go with the Arctic Armor suit. I'm really glad that I did because it keeps me warm no matter how cold it is outside and it's just about bullet proof. Besides keeping me warm, the Arctic Armor gives me something extra and one day, it could be much more important than warmth; On the off chance that I'd ever break through the ice and wind up in the drink, the Arctic Armor is a floatation suit that will keep me on top of the water. That's right, if I ever need it, this suit will keep me alive! I know, I don't plan on breaking through either, but who ever plans on having an accident?
Besides keeping me safe and warm, the suit is comfortable to wear and has enough zippered pockets to store half the inventory of a sporting goods store. You can see a bunch of videos demonstrating the suit in action just click >> Arctic Armor Suit Videos .
Anglers who catch a lot of fish, get wet hands, so good warm gloves that fit properly and remain flexible are a must. Luckily, there are lots of them out there. But you might as well stick with Arctic Armor Gloves for these too. Their lineup includes a really nice glove that's water resistant, warm and they fit right! I've seen 'em in action and they can be frozen solid on the outside and still keep your paws toasty on the inside.
Okay, moving on to the head; Stocking caps, hoods ... they all work, but I really think it's hard to beat a Bomber Hat. I got one that's extra large so that I can wear it over the top of a ball cap. That way my eyes are shaded a little better and when I need extra warmth, I can still Velcro the side flaps around my face.
One last thing, for really windy, really cold days, I agree with Charlie Moore who's entire response was; "Neck Gator!" I have a couple of them hidden away for special occasions and it will definitely be a cold day in *#@& before anyone manages to pry those out of my hands!

Fishing Report, February 22, 2013, Jeff Sundin - Travel conditions on area lakes showing early signs of improvement. Don't get ahead of yourself, it's a little early to be really excited. But, during the past couple of days, I've noticed that slush problems in certain areas are becoming less obvious.
The strong winds that ripped across the area earlier this week have effectively removed the top portion of the insulating snow cover. It's the snow that prevents underlying water from freezing and adds weight that forces water to flow up onto the ice. So, any decrease in the snow cover, will eventually lead to improving conditions.
Ironically, the worst areas, the places where the snow was already heavily saturated with water, will be the places that recover first. When the saturation reaches the surface, water laden snow can begin to freeze and become manageable for light travel again. Barring another heavy snowfall, each day will be a little bit better. Of course, a fell scale melt down would be ideal; But any improvement will be welcome, no matter how small.
I wrapped up a week long session of marathon fishing on Thursday. Luckily, most goals were met, most folks were pleasant and most of the gear still works.
When I sat down at my desk this morning, I opened my emails and discovered 445 unread messages, most of them questions about one aspect of fishing or another. Some of them are equal to a fishing report anyway, so if you don't mind terribly, I'll cover a few of these questions now and then spend some time getting back up to speed before I do too much Pontificating.


(2/22) A question that came from the Facebook Fishing Reports Page on Thursday;
Q) Leaving right now to fish big Winnie this weekend. Staying at tamarack. How are the roads and slush? Could you travel off road with an ATV? And with the warm up expected this weekend could that potentially turn the fish on? I've been reading your reports everyday for the last month and it has been helpful but any more tips, do's and dont's for this weekend will be helpful. Thank you. - Andy S.
A) Andy, the plowed roads are in great shape right now. You won't have any problems getting to a fishing spot if it's close to the road system that they have. Off road is another story, ATV's aren't gonna work!. If you want to go off road, you'll need a snowmobile or something with tracks. There is slush any place that folks have drilled fishing holes and also near current areas and/or ice ridges.
My trick for fishing the road systems is to use my Lakemaster Chart as i travel along the road. Following the contours on the chart allows me to pick out a handful of structures that have potential before stopping and fishing. As you travel on the road, watch for corners, points and deeper depression on the lakes larger flats. Soone or later, you'll pick out a half dozen places that are within reasonable walking distance from the road. Every time I go out, I learn a new spot or two and sometimes, I pick up some real gems using this approach. - Be careful out there, but have a great weekend.


(2/22) Q) heading to leech on friday, fishing out of trappers landing. Anything hot and heavy that is going on there? How is the snow? Taking my dad and brother up for their first time ever and my first time in the winter.just looking to catch fish---walleye,pike,crappie and perch (any will do) and the closest access for us is trappers landing.Coming from Remer direction. Any other suggestions Jeff? - Mark B.
A) Except for the very reliable reports from the West side, Walker area that Gary Roerick provides, getting up to date information from elsewhere on Leech Lake is sometimes tricky. The landing at Pine Point is probably going to be your best bet. Typically, that road system leads to some productive fishing spots but at the moment, no one has been reporting "Hot and Heavy" action.
There are second hand reports about heavy slush problems on Leech Lake, so I'm concerned about suggesting off road travel. If I was on my way to Leech Lake, I'd be sure to make two stops; One at Reed's Sporting Goods in Walker and another at Shriver's Bait in Walker. The folks in these stores are going to be experts in the Leech Lake fishing department and will have some more information. By the way, take my advice and take the time to stop in person. These folks get plenty of phone calls already and if you want a little extra info ... You get the idea.


(2/22) Q) I want to target (Tulibees), wich lake would you go to? Terry N.
A) Terry there are lots of lakes in the Itasca Area that provide good opportunities for (Northern Ciscoes) Tulibees. Most of the time, I don't really target them as the primary species. Instead, we discover them while we're fishing for Panfish or Perch and then take advantage of the opportunity. I believe that this is common among anglers all over the northland and it would likely work for you as well.
Some of the most productive fishing occurs on the larger lakes Like Winnie, Leech and Cass. But, smaller waters have some great populations too. For me, access to Winnie and Leech is easy, so that's where I'd probably go, but Bowstring, Sand, Round, Portage and Cutfoot Sioux could all be destinations for good Tulibee action.
If you contact the DNR, Area Fisheries office and ask in general terms about a list of lakes with good Tulibee populations, you'd probably come up with a couple of dozen solid selections.


(2/22) Q) Howdy, I'm going fishing on ball club the second weekend in march. any word on ice conditions or hot spots for nice perch? - Bryan M.
A) Bryan, I'm assuming that you'll be staying at Gus' Place Resort and if you are, then you'll be in good hands. I could try and guess where the fish will be in three weeks, but Gus will already know where they are when you show up. He's gonna have a great handle on the action and he'll be really helpful about getting you to a good spot.
Another resource on Ball Club is Nik Dimich who provides ice guiding and has some rental shelters out there too. In fact, it would probably be worth your time to schedule some time with Nik while you're up here.
By the way, you can add your two cents worth about questions on the Facebook Fishing Report Page. I'll always do what I can to get you an answer, but there's always someone out there who knows more than I do. So don't be shy!


(2/22) In The Lake Winnie Region, Fishing Guide Nik Dimich says; "Over the past week mobility on the ice has become one of the top ingredients for a good day of fishing. When I say mobility I mean being able to stay out of pockets of slush and heavy drifted snow and avoiding the backbreaking work of shoveling your gear out. On the big lakes like Winnie or Bowstring go to the resorts and use their plowed roads. This is still the best way access the lake and get off safely. Lake Winnie and its surrounding area has more snow than Pokegema Lake near Grand Rapids, its neighbor 40 miles southeast. Keep in mind this coming weekend is closing time for those interested in fishing Minnesota inland lakes for walleye and pike. The end day is Sunday, February 24th. I know I'll be out on the ice for the last walleye/northern pike hurrah right up to the closing bell. Then my attention will be focused solely on mid-day perch and early morning/evening fishing for crappies and bluegill, which will be starting heat up over the next few weeks.
Winnie is carrying significant slush under the snowcap and especially where hard houses have been stacked up over the last few weeks. Using the resorts' access roads on the south and southwest sides (resorts like Denny's and Becker's) will bring you to deep-water structure. Each resort has great road systems that will also take you all the way to the west side's shallower water for perch. Over in the east corner The Pines Resort has nicely plowed roads leading to good perch fishing structure. The fees are nominal compared to the misery of getting stuck. Actually, I should rephrase that as getting stuck is not that miserable, it's the getting out that is a problem.
As the days get longer, I have found that the nicer perch are on the move as they transition between deep water bug bites and pods of moving minnows. You might even find these perch moving into shallow water if the forage minnows head there. And remember, during these last days of walleye/pike fishing walleyes/pike are opportunists when it comes to feeding on live forage; they won't be far behind these perch. Look for rock structure and underwater shoreline points leading to deep water for walleyes and perch. And don't forget about the pike. Tip-ups in shallow water can be lights-out for trophy pike during the late ice season.
Lately I have had the opportunity to fish Ball Club Lake out of Gus' Resort during the day and Winnie in the evenings, guiding clients on Ball Club in angling houses for perch and in the dark house looking for pike with spinning reels and big bait. Each house has had good days fishing for perch, pike and some whitefish, but the action was also affected by the weather, especially snow and cold fronts. Perch numbers have been consistently good with some sorting to keep "nicer" ones for the fish fry. For kids and adults alike, however, this action bite has kept everyone highly entertained. One father and young son, for example, chose to angle in the spear hole and saw upwards of 15 pike beneath them, with several fierce strikes. Last weekend on Winnie as my dad and our two guests fished out of our 7'x17' wheelhouse, we were greeted by big winds and much cooler temps. Still, we were more than pleased to be out of the elements and Denny's Resort had excellent wide plowed roads leading to nice fishing structure, with many spots available to back in our wheelhouse. Accommodations like this made setting up and getting off the lake a breeze. It was so easy, in fact, we went early to the Gosh Dam Place where they deep-fried our fish with all the trimmings for our Friday night dinner. To find fish, we set up in 20 FOW on the crest of a steep break line that dropped sharply into 30' deep water. The catching wasn't red hot, but with good company and hilarious stories the fishing was excellent. Smaller perch nipping at our lures provided some mini action and a few big pike which made our drags sing kept us entertained until the short-windowed evening flurry of walleyes showed up for about an hour and kept our Humminbirds lit up through sundown.
On Sunday after our friends left I headed to Big Cutfoot where I stumbled across my fishing buddy Jeff Sundin and Matt Mattson. Besides the dynamic duo, there were about a dozen other fishermen on snowmobiles and even more just cruising on this blustery day. Seeing the sleds was a good sight. It told me that our northern Minnesota winter was going to be here for a few weeks longer than the woodchuck opined. On this day we looked for some mid-morning crappies by checking out a few different locations and drilling several holes trying to locate them. The locating was actually quite good, but, again, the catching was on the slow side. We did manage enough fish, however, to be able to keep a modest mixed pail. As weather fronts moved through the area and the big winds gusted, we had to pack up and get out of Dodge. Once we were somewhat sheltered in the lee, we targeted perch, but were mildly surprised to find some walleyes mixed in. The perch bite was fairly consistent and our Humminbirds pretty much kept flickering fish. We were on a shallow under water point in 12-14 FOW. Most of the perch were on the smaller end and, for me anyhow, getting the walleyes to bite was a bit tough. I did notice, however, that as it had been for most of this last week, the walleyes seemed to be preferring smaller bait and tackle and almost slowing the jigging action down to more of a "dead stick" technique induced more strikes. One of my favorite ways to fish a second rod, if the elements allow this, is to use this dead stick technique and fish with a spoon and three-inch drop-line beneath it with a small lively minnow. At times, this can be a deadly technique to entice the more finicky walleyes into biting.
On Pokegama and other Grand Rapids area lakes travel is still possible, but the most efficient way is by trucks and ATVs/UTVs that are "chained up." Snowmobiles with a good grip system are almost a sure bet to get to your fishing spot. On Pokegama, walleye fishing has been a hit and miss proposition, with some evenings more productive than the others. The last hour of the sunlight, as the sun sinks into the tree line will produce a few keepers, along with the first hour in the morning, but the opportunity for trophy walleye or northern pike is ever-present. This is why fisherman don't mind being on the short end of the bite. We who fish know that one solid mark on the Humminbird could be followed by a steady line tension that could turn a slow day of fishing into a lifelong fishing memory.
So get out and about and explore different lakes and lake structures. Look for walleyes, perch and pike in and around under water shoreline points, sunken islands and fish the humps and bumps and bars. Once you either find fish or fishy structure, use shiner/chub heads on jigging spoons or full minnows with the dead stick technique.
Look for panfish on mid-sized lakes to be in and out of the weed lines with patches of soft bottom in them. On smaller lakes look for fish to be sliding into deeper water basins to feed on bugs and other forage that attracts hungry fish. Use this "deep hole" strategy as a good starting point to drill a line of holes to look for suspended fish on the sonar.
For you traveling fishermen, if it is an option, trailer up the snow machines and hitch on portables rather than a wheelhouse. It is good to be mobile. Stay at a resort or motel and live it up.
I am booking guided fishing trips 'till ice out. This is the prime time of the year to fish mid-day perch on the big pond, Lake Winnie, and ice primo slab crappies in the evening on area mid-sized lakes. I hope to see you on the ice! "- Nik Dimich fulltime fishing guide can be contacted at fishall4.com .

Fishing Report, February 21, 2013, Jeff Sundin - For the past week or so, fishing for me has sort of blended into one gigantic, marathon trip. Except for Sunday, when I rode out the storm inside, I've been on the ice every day and some have been long days at that.
It hasn't been the best fishing of the season, but to say that the fish aren't biting would be wrong. They are, they're just hard to access now because of the deep snow and slush. It's true, a lot of my time lately has been spent just figuring out how to get to a decent spot, but when we do find our way to a spot, we are catching fish.
On Wednesday, the search for Crappies was a good news, bad news scenario. We really didn't need to find numbers of fish, just a few nice ones who wanted to become famous. Naturally, what we found was numbers instead of size. Except for one fish in the 13 inch range, almost everything we caught was too small to meet anyones standards. The good news was that we had action for almost the whole afternoon, small size aside, the fish that we found, were active. If I'd been clever enough to choose the right lake and the correct spot, we'd probably have gotten what we were looking for.
Lately, choosing the right lake has been tricky because of the slush, but some lakes are a lot better than others. Our first lake on Wednesday was horrible, standing water and slick ice hidden below a foot of snow. All I could think about was getting the heck out of there before we got stuck. Lake number two wasn't bad at all, just a little bit of slush under a harder packed, wind blown surface.
When we were pondering the slush problem yesterday, I think my buddy Arne hit the nail on the head. There were some lakes that froze early this winter and these lakes were treated to one relatively heavy snowfall before the ice had a chance to get thick. Deeper lakes that froze later missed out on that early snow and actually wound up with better quality ice than did the ones that froze early.
Giving yourself a history lesson about which lakes in your neighborhood froze early and late might help you find a place to fish this weekend. Take a look at the ones that froze after that first snowfall and maybe you'll find better travel conditions. Yes, you will still need a snowmobile, but at least if you have one, you may have less trouble with slush.

Fishing Report, February 20, 2013, Jeff Sundin - The temperature right now is on the brisk side at about -8 degrees. But the wind laid down overnignt and a warming trend is set to begin today. That means that this morning, I'm up and at it extra early so I can take advantage of the improvement. I'm hustling my way out the door, so if you catch a few spelling errsro, well that's the best I can do and still get outta here before 6:00.
For me, Crappies have been a little elusive lately, so to get a head start on where the Crappies are bitin', I'm gonna hit lake number one as close to daybreak as I can. There are three Crappie lakes are on the schedule for today, so if we have to, I and my fishing buddy Arne Danielson will make a marathon out of it.
Yesterday, I spent most of the morning gathering my gear that had been strewn all over the house, warming and drying. By noon, I and Arne had the sled loaded, paid a quick visit to a friend and then hit the road in search of a place where we'd be out of the wind.
A quick trip down the road where I always miss my turn, turned into an hour long tour of the back woods. It would have been really simple to just turn around, if there was any plowed road, but there wasn't. So instead, we took the long way around and looked at a few lakes that weren't on the original agenda.
The upshot of the backwoods tour was that traffic on most of the lakes has been extremely light. In fact there were only a handful of old tracks, from before the most recent snow. At every stop, that snowfall remained undisturbed, except for a handful of Deer tracks. We kicked around a few interesting ideas and almost unloaded and headed out at one of the small lakes. But the howling wind encouraged us to stay in the truck.
By about 2:30 PM, we decided to take a chance on emergency backup plan "D". A warmer, more permanent shelter that was available to use. I had hoped that the wind might lay down in late afternoon and allow me to use the shelter as a base camp, while I explored surrounding spots. But that never happened, the wind kept on blowing until dark. Luckily for us, we had a little action inside that shelter.
Sunfish were active, fun to catch and decent size. The problem is that I'm on a mission to find Crappies and except for one small Crappie that Arne caught, they were absent. Later, this might be a good spot, but for now, the ice fishing shelter just isn't in the right spot for what I need.
Sunfish location was still deep, 29 feet and they were not schooled up. Instead, small packs, sometimes even singles would move into the area. When they did it was about a 50/50 mix of lookers vs. biters. There was just enough action to make the stop worthwhile.
They liked our Frostee Jiggin Spoons loaded up with Waxies. But since it was warm in the shelter and I could easily tie knots, I had a lot of fun experimenting with lures.
I had a good run using a Micro Slick Jig tipped with an artificial tail. The fish seemed semi-aggressive though and I was able to select a bait that falls and fishes faster. I had more good results using a heavier Ice Worm, tipped with the same artificial tail. The Ice Worm and artificial was a good choice because whenever there were a few fish under us and I got one to strike. This combination allowed me to get the fish up and then get my bait back in the water before the remaining fish lost interest and swam away.


(2/20) Bemidji Lakes Area, Paul A. Nelson, Bemidji Area Lakes Guide Service says; "Blowing and drifting snow in the Bemidji area has snowed in most of the fish houses left on the lakes and drifted in most of the roads and trails on the ice. The ice conditions continue to deteriorate as the heavy snow causes more areas on the lakes to flood, which is creating bad slush problems on most lakes.
The gamefish season on inland waters of Minnesota closes at midnight on February 24, 2013. Anglers will still be able to fish for panfish and rough fish after the gamefish season closes. Species still open to licensed anglers include crappies, sunfish, perch, eelpout, tulibees and whitefish.
The 2012 Minnesota Fishing License is good until April 30, 2013. There is an extended season for walleyes, sauger and northern pike on most of the border lakes and rivers between Minnesota and Canada.
Anglers north of the line in Minnesota are required to have their fish houses off the lakes by March 18, 2013. Common sense says anglers who do not have access to a plow should get their houses off the lakes as soon as possible.
Snowmobile continues to be the best way to access the lakes, unless anglers are traveling on maintained roads on the ice. Off road travel on the lakes is difficult, even for snowmobiles. Anglers wanting to fish more remote parts of the lakes should not travel alone and be prepared to get stuck.
Fishing has been slow for walleyes in most areas, with the best lakes Upper Red Lake and Lake of the Woods. Stained water gives anglers the best chance for a day bite, while most clear lakes have had the best action at dusk.
Anglers fishing for crappies, sunfish and perch have been having better success than the walleye anglers, but most of the best areas for panfish are only accessible to anglers with a plow, a snowmobile or another tracked vehicle." - Paul A. Nelson, Bemidji Area Lakes Guide Service, panelson@paulbunyan.net - 218.759.2235 .

Fishing Report, February 19, 2013, Jeff Sundin - Winter's Days are Numbered! - I know, when you watch the weather report, apparently we're smack dab in the middle of another "Alberta Clipper"; A wind driven cold front that sends everyone running for cover. Well cold front or not, look closer and compare it to the last one. Overnight temperatures dipped to -8 degrees (as of 6:20AM) in Deer River. Last time, they dipped to -20 degrees and the time before that, the lows were in the -30 range. Each dip is a little less dramatic than the last one and each recover comes a little faster than the previous ones too. From here on out, any cold front that blows us into the deep freeze, just might be the last one of the season. In fact, just about any day now, we could wake up to some really nice conditions.
The Clipper that hit hard in North Dakota and Northwestern Minnesota on Monday, lost a little oomph on it's way toward Grand Rapids. Out on the lakes, conditions were tough, blowing snow caused "White Out Conditions", especially on the larger lakes. Folks in town were spared the worst of it though and in some protected locations, the storm's arrival was barely noticable.
I'm sure that you're already aware of our current preference for travel by snowmobile. If you want to cover some ground, that's the absolute best way to do it. For anglers who don't have sleds, or want to travel by truck during the next few days, plowed roads provided by resorts and rental operators are the only game in town: Here's a quick list and I know that you can find links to all of them by just scrolling down this page.
On Leech Lake; Walker Bay, Gary Roerick has roads serving the West side of the big lake, plus additional rental shelters on some smaller lakes too. There is a plowed access road at the pines on Pine Point as well, Th at road system covers most of the better fishing areas in Sucker Bay. Reports from the East side are a lot more sketchy, but we're working on that.
On Lake Winnibigosh; The Pines Resort, Highbanks, Dennys, Beckers and Dixon Lake Resort all have plowed roads serviceing different slightly areas of the lake. All of the resorts on Winnie also provide rental shelters.
On Cass Lake; Froggi's Bait, Break on the Lake and Wishbone Resort have plowed access roads and there is a plowed road leading out from the public access on the Lakes Southwest side, at the rest area in Cass Lake. Not all of the he roads on Cass Lake are open to the public, so call before you head over there.
On Bowstring Lake, Geigers Trails End Resort has a plowed road serving the lakes North side.
On Upper Red Lake, Plowed roads are everywhere and a drive to the area you prefer to fish, will take you in the direction of an access point on the lake. By the way, my buddy Chad Benson reported that there's been a resurgeance in the Walleye action on Red Lake. His rental guests are report good Walleye action and the fish have been showing up closer to the shoreline again.
On Lake of the Woods, roads are in great condition too and like Red Lake, located everywhere. You'll have no problem finding your way onto the lake. Lodging? Now that's a different story; Resorts have been swamped up there and finding a place to stay could be tricky for the next couple of weekends.
Back at home, wind speeds are ranging from 15 to 20 MPH at the moment and temperatures are predicted to reach about 1 degree. It's the kind of a day that having a nice, warm permanent shelter could come in handy as a base camp, but fishing should be doable. Luckily, by tomorrow, we're already looking at a rebound into the low teens combined with calm winds. That should play into the hands of anglers who have big plans for the weekend, like me!
Oh and by the way; Since we're only 3 days away from the annual Sand Lake Lutefisk Party, how would you like to do me a little favor, just for fun. It'll only take a few more views to put my friends video over 2000 views and it would make him feel so good to see that happen before the party this weekend. Plus, it's a great excuse to start your day with a couple of giggles too! >> Watch Lutefisk Video .


(2/19) On The Iron Range, Greg Clusiau Says; "Lake travel wasn't bad but I did feel the machine sink down a few times when slush was encountered.
Traveling in tandem is huge, especially when snow depths offer challenging lake conditions. Don't go it alone or, for goodness sakes, using one lone overloaded sled for a chance at a few fish like I did one time in Ontario. That trip had me leaving everything on the lake, going home without any equipment at all.
I recall driving back to Canada a couple days later, early on Christmas Eve morning, to ..." >> Read Greg's Full Report .


(2/19) On Lake of the Woods, Brian Castellano wrote; "On Sunday, 14 of us head north up to Lake of the Woods for the day. We rented houses from Bayview Lodge and fished about 14 miles out from Pine Island.
While our graphs were marking fish non-stop for a majority of the day, the bite was slow. Each of our 3 houses ended up with 10-12 nice sized saugers and walleyes in the buckets. Each house also let go about the same number of little ones too. It was surprising to be catching more walleyes than saugers, out in the deep water, 33-36'.
I think alot of the fish that we were seeing on the "radar" were tulibees as each house caught probably 10-15 of them. No one lure/color out produced another. Lots of lure changes helped us scrape together our buckets of fish.
My best presentation, was a drop shot rig using a gold light wire panfish hook and either a waxworm or small fathead minnow. I kept the hook/bait combo w/in 6-8 " of the bottom. If someone out there is looking for a good tulibee bite, I'd head up that way". - Brian

Fishing Report, February 18, 2013, Jeff Sundin - For anglers who'd like to bag a Walleye or Northern Pike on any of Minnesota's inland lakes, the countown begins today as we enter the final week of the inland Walleye fishing season. Walleye, Pike and Largemouth Bass are 7 days away from getting a breather during the spring spawning runs.
For me, the Walleye season really ended yesterday, beacuse I'm starting the new week, with an old goal; Focusing on finding Crappies and Sunfish.
Actually, I tried to enter into the week of panfishing yesterday. The goal was to spend the day on Cutfoot Sioux, searching for a school of Crappies or Sunfish, but that wasn't gonna happen. After a morning of getting the "cold shoulder" from the Crappies, Sunfish and a persistent, 20 MPH Southeast wind. I, along with my fishing buddies Matt Mattson and Nik Dimich sort of accidentally slipped around the corner, into a calm spot and found ourselves back in the Walleye and Perch mode. Not that we'd set the world on fire fishing for them either, but at least now we were able to trick some fish into striking and we were protected from the wind.
For me, days like this never actually lead to a decision about doing anything. We just sort of went with the flow, followed our noses and wound up chatting our way through the day. After a few hours of really digging in, fighting the wind and deep snow, finding a spot where we could camp out until dark, even if the action was marginal became more fun than running around the lake, drilling holes.
Ice conditions on Sunday were better in Cutfoot Sioux, than they had been on Lake Winnie over the past couple of days. There are slushy spots, but working around them wasn't too hard. Still, the only successful movement we saw were folks on snowmobiles. In fact, there were a lot of snowmobiles out and about. It reminded me of the old days, when we'd see sleds buzzing all over the place. Many of them weren't fishing, they were just out for a nice ride and it was kind of fun watching.
There was virtually no travel by any other vehicles. We saw one pickup truck on the ice. The driver apparently on a mission to retrieve his fish house from the lake. I gotta give the guy credit, he was persistent, but it was painful to watch. He'd make a little bit of progress, get stuck, shovel himself out, make a little progress, get stuck ... over and over and over. Eventually, he made it about halfway out to the shelter, but finally gave up and drove off the lake.
Even though our fishing wasn't spectacular, we did wind up with 3 Walleyes and a dozen decent size Perch. Most of the fish we caught were located on the deeper side of the shoreline break in 10 to 14 feet of water. Rattlin' Flyers tipped with a minnow head produced the best size fish. A Fat Boy, tipped with Wax Worms produced the most action.
When we fished the deep water in the morning, seeing fish on our flashers was not a problem. In fact, there were times when we'd see multiple fish on the screen at once. They just didn't have good attitudes, they'd look but not eat. One of these days they will.


(2/18) A question that came from the Facebook Fishing Reports Page on Saturday from Katy School; Q) "Do you happen to have a report on the ice thickness on Bowstring Lake?"
A) Katy, There's at least two feet of ice out there. At the moment, deep snow has caused some problems with slush and travel by truck is just not possible, except by using the plowed road out of Trails End Resort on the north side of the lake. Snowmobiles will get you around the rest of the lake, but be careful, slush will be a problem for those as well. By the way, I just got an update from Trails End this morning.


(2/18) On Lake Winnibigoshish - Reports from the Southeast side of the lake were gloomy. Lots of slush, lots of trouble maintaining roads and not too many great fishing stories. Resorts and rental operators have solved the problem by pushing their roads toward the West side of the lake. Perch action is heating up on Western shoreline, both in terms of numbers and size. There are roads to the West shore provided by both Denny's Resort and Beckers Resort.
In Tamarack Bay, The Pines Resort has a well maintained road leading onto the weed flats and Perch action has been reliable. Size of the Perch has been up and down though and anglers are reporting a lot of sorting.


(2/18) On Leech Lake - There are conflicting reports. Anglers on the West side of the lake are apparently finding good travel conditions. In fact, reports from Walker are that the Eelpout Festival was a smashing success this past weekend. The weather for the event was good on Friday and Saturday, the fish were cooperative and they had plenty of ice to work with.
Anglers attempting to access the East side of the lake haven't been so lucky. Limited access, deep snow and lots of slush are causing major trouble. One unconfirmed report was that travel, even by snowmobile is not possible at this time. Getting good information about the East side of Leech Lake has been like pulling teeth lately, but we'll see what we can drum up.
By the way, adding your two cents worth is easy. Post a picture, add a comment or just say hi. Click here and use the Fishing Reports page on Facebook .


(2/18) LakeMaster® continues its quest to bring anglers more coverage of their favorite fishing water throughout the U.S. The MidSouth Edition, version 1 digital map chart for FRESHWATER lakes in Texas, Oklahoma, Arkansas, and Louisiana.
All of the new 2013 LakeMaster- Humminbird® compatible SD map cards are loaded with high definition and enhanced contour data and feature "Follow the Contour" in compatible i-Pilot® Link™ systems. Set your Minn-Kota® trolling motor to follow on or offset from any Lakemaster contour. Now you can focus more on fishing than ever before.


(2/18) Leech Lake Area Lakes, Gary Roerick Says; "Wow, what a grand time in Walker MN this past weekend! The weather was spectacular and the fishing was phenomenal! Congratulations to all who caught the elusive eelpout and to those who took home prizes and trophies for some of the biggest and best 'pout of the weekend! When I was down in City Park on Saturday afternoon the largest 'Pout recorded was just over 13 pounds! Check out the Walker Pilot Independent this week to see all of the official results and to check on the tonnage that was harvested during the Passing of the 'Pout.
The ice thickness continues to grow by inches each and every week. I moved several of my sleeper houses this past weekend and drilled a variety of ice holes, we are now finding the ice to be in the 23" to 28" range on most of our area lakes, including Walker Bay of Leech Lake.
This is our last week to catch some walleye, bass, or northern pike as the season is ending Sunday February 24th. The spearing season for northern pike and rough fish also closes this coming Sunday. Consult the Minnesota Fishing Regulations booklet for all of the official closing dates and times.
If you would like to join us for some late season ice fishing action or to see some of the latest photos taken during the 2013 Eelpout weekend, then check out our website at http://roericks.webs.com or give us a call at the numbers listed below.
Take a look at our report next week as we will be sharing information about the best of the winter panfish season and the latest updated information about the dates for ice house removal from our area lakes." - Gary Roerick Roerick Fish House Rentals 218-224-2836 .


(2/18) On Bowstring Lake, Erin at Geiger's Trails End Resort Says; "Yes, Geiger's Trails End IS DEFINITELY plowing roads to several choice spots on Bowstring Lake."
Erin added that it's possible that they may even be willing to plow roads into additional areas if the interest and demand warrants. She said that the best approach is to call and talk to them and find out if they can help. Echoing the story that I just told, in Erin's words; "The word on the lake, for this weekend is SLUSH!"
Some Anglers coming through the resort have said that the Crappies have been biting again in deep water, but they are still real picky and only biting hard right at dark."
Any questions, give us a call. Don't forget about our Pizza's on the ice. For delivery, call 218.832.3231 Giovanni's Pizzas are flying out of the kitchen! Erin and Bill Charlton, Trails End Resort .


(2/18)On Bowstring Lake, Bowstring Shores Resort, Darv Oelke says; "A good foot or more of snow. So the only thing that is working is a snowmobile. Fishing has slowed. Perch where being caught in that 16 to 20 feet. Walleyes where caught in 14 to 18 feet. Crappies have slowed some. But still in20 to 26 feet on a wax worm." - Darv, Bowstring Shores Resort .

Fishing Report, February 17, 2013, Jeff Sundin - Location, location, location! It's the phrase that real estate people always throw around when they're assesing the value of a property. Guess what? It's gotten to be pretty darn important in terms of where and when you can get onto a lake.
There just isn't any way around it. For however long it takes the sunshine to catch up with Northern Minnesota, ice fishermen are gonna have to cope with problems caused by deep snow on the lakes. Resorts and Rental operators who have plowed access roads onto their lakes are "Prime Locations" right now. In fact, they're gonna be your best friends for a while, so be sure to treat them really nice.
Anglers who want to ice fish on the other 1000 Itasca area lakes, are gonna need to show up with snowmobiles or track vehicles. But even then, you'll need to be careful because slush is an increasing problem. In fact, even the wise old sage of Lake Winnie, the guy who's been preaching to me all week long about keeping my sled away from the slush ... Yes, you guessed it, he got his sled burried up to the seat on our afternoon Walleye adventure yesterday.
I know ... you wish that I'd name names, tell you all about the guy so you can give him a jab the next time you see him. Dream on! It's way too valuable a learning experience to waste on that and besides, I'm gonna do something dumb one of these days and I need to be sure that there's someone left to hear my side of the story.
The plan was to keep the group entertained by Perch fishing in a rental shelter for most of the day. Then, later in the afternoon, a few of us would venture out to "The Walleye Hole" to cash in on the twilight feeding run. Which, by the way, was working out splendidly right up until it was time to head back to shore.
From the second we arrived at the spot, we knew that there was a lot of water under the ice. One of us, listening and learning from the advice that the "Guru" had been preaching all week long, moved his sled to "high ground" and walked back to the fishing hole. The other; Well he was caught up in the excitment of getting to the spot and his enthusiasm for sharing some good Walleye fishing with his friends. Drilling holes like a wild man, getting lines in the water and teaching his pals how to catch 'em. It was all just distracting enough to make him forget about the advice he'd already given me.
Okay, so we were stuck, you know how it goes from here. We worked at it, found a way to get all of the gear off the lake and now we all have a really great story to share. Looking back, it's gonna be funny and for me, I'm the lucky one because I wound up with some new friends and these are the experiences that have a way of making friends get closer, faster.
In spite of the fact that I'm inexperienced, maybe even dumb as a rock when it comes to snowmobiling. I did learn something and now I get to play the role of "the old sage" just this once.
Until we lose some of the snow, slush problems are going to get worse every day. Wherever anglers have already drilled holes are definitely going to be problem spots, so if you're approaching an area that's been fished, treat it like you would a shallow rock pile when you're boating and steer clear of it.
Part of our trouble on Saturday was towing a load heavier than necessary. If you're heading out on the lake, travel light. If you think you need 4 of something, bring two. If you want a chair to sit on, bring a pail, leave the 20 pound propane tank on shore and use a 1 pounder instead. you get the idea, trim back to the bare essentials. That way, if you do get stuck, it will be easier to move all of your frozen stuff by hand.
I learned something really imporatant about the gear people use too, it's all different. So before you head out onto the lake, compare the trailering hitches on all of the sleds. Be sure that everyone has every kind of hitch pin along with all of the gizmos and gadgets that it takes to adapt each other rigs to their machines. That way a buddy who isn't stuck just might be able to haul part of your load in a jam.
Okay that's it, all pontificating aside; Please Be Careful! I may have made a cute little story out of our experience, but honestly, there were a few moments that I really don't want to re-live and I'm planning to learn from that. I'm hoping that you'll take some clues too and be just a little bit more careful on your next trip as well.
For today, we're heading back out this morning, but I don't expect to see the same territory I saw yesterday. :)!!
By the way, if you want to be sure that your reports are included in these reports, all you need to do is drop me a line! >> Email Jeff Sundin .

Fishing Report, February 16, 2013, Jeff Sundin - When the going gets tough, the tough keep on chipping! In spite of challenging conditions, fickle fish and sluggish equipment, I couldn't have gotten much luckier than I did on Friday.
The last thing any fishing guide wants to do, is meet new customers for the first time, especially young kids and have to explain something like I said yesterday; "Well boys, it's 10 degrees below zero, there's a couple of feet of snow on the ice and the fish have been a little finicky lately". I added; "We're gonna have to work for our fish today, but one way or another, we'll either find 'em, or it will get dark and we'll have to go home". There are a lot of anglers who have heard me say something like that, but these two, Jim Boyer and his ten year old son Kevin, are among the select few who actually understood what I said! They never paused, never skipped a beat, we just piled in the truck and headed for the lake.
At the landing, snow was piled high and any evidence of plowed roads were barely visible. Drifted snow covered up almost everything except the outlines of old roads were the plowed snow had been piled the highest. Most folks had already taken their ice shelters off the lake and now there were only a handful left. No more truck tracks, only a few snowmobile tracks heading toward popular fishing areas. So that's what we'd do to, hook up the portable and pile everyone on the sled and head out.
The morning didn't start out smoothly, no major problems, just little stuff. First the snowmobile battery was dead, correctable by a half dozen pulls of the starter cord. Then the auger was a little cold, correctable by about 500 pulls of the starter cord and thousands of gentle, encouraging words from the operator.
Eventually, we had carved out some territory and drilled some holes. Fishing at about 10 feet of water, along a drop off from 8 feet to 12 feet, we were getting encouraging signals from the flasher screens. It started with a brief run of nice size Perch. Which at first, gave us the idea that fishing was gonna turn out great. But the action fizzled out and the fish started getting moody. I could tell that It wasn't gonna be an easy day. It was one of those times where we'd just have to keep grinding away.
Luckily, there was just enough action to keep everyone interested in fishing, instead of the weather conditions. If you had been watching the flasher screens, you'd have been on the edge of your chair for most of the day. Perch and Pike moved across the flat steadily and every ten minutes or so, one of them would stop to look at the baits. The trick was triggering a strike. A little too much action and you'd scare 'em away; Not enough action and they'd lose interest and wander off.
Unusual for me, I spent most of the day coaching instead of fishing. Watching the flasher screens and doing my best to explain the next twitch of the jig that might fool one of those fish into taking the bait. Sometimes it worked and sometimes it didn't.
The best game plan was to jig aggressively and watch for a fish to appear on the screen. Then for triggering a strike, the trick was to slowly raise the bait and barely wiggle the rod tip. If the boys could avoid scaring the fish away, then they could usually get a strike.
If it had been warmer, I'd have tied on a wider variety of lures. But for simplicity, I stuck with larger, heavier jigs that made seeing and feeling the baits easier. With lines icing up and sticking to the freezing slush, tiny finesse baits just weren't a good idea, even though they may have have helped.
The #4 Firetiger Frostee was doing a nice job, but eventually, my entire supply had disappeared. Some had broken off while reeling in fish, others were snipped off by small Pike and others just fell in in battle. As an alternative, Frostee Spoons tipped with a pinched off minnow head were the next best baits we used. The Blue/Glow color enticed a few fish and so did the Pink/Glow.
As far as fishing trips go, it won't be our most productive. But we did wind up the day with a handful of decent Pike and some nice Perch too. In terms of experiences though, the day was a whopping success. Kevin and his dad are both real troopers and all of us spent the day with smiles on our faces. Oh, by the way, the next time I hear someone talking about whatever went wrong with today's kids, I'm gonna say; "I don't know ... There's this 10 year old kid that I know from Iowa and if you ask me, he's one pretty darn tough guy."


(2/16) On Bowstring Lake, Erin at Geiger's Trails End Resort Says; "Plowed roads is what we have! Please be careful out there. The weight of the snow is creating slush when drilling. There is at least 2 feet of snow on the ice. So, travel by snowmobile is best, if going off of our roads. We are plowing from our resort to the drop-off crappie spot,to Rock Cluster's Hump, and to the shallows in front of the old Windmill. Any questions, give us a call. Don't forget about our Pizza's on the ice. For delivery, call 218.832.3231 Giovanni's Pizzas are flying out of the kitchen! Erin and Bill Charlton, Trails End Resort .

Fishing Report, February 15, 2013, Jeff Sundin - I've just got time for a quick update before I hit the road to get an early start on our fishing trip today.
We fished Lake Winnibigoshish again on Thursday and managed to get out there smack dab in the middle of a significant cold front. The deep snow and changing temperatures is making the ice shift and steering around a couple of pressure ridges is complicating travel a little bit. Don't worry, the walls of ice are big and you won't have any trouble seeing them at all.
We noticed that Highbanks Resort has a very good road system that still covers a lot of territory though and we'd gotten a couple of really good fishing reports from Ice Fishermen who headed onto the lake from Highbanks on Wednesday.
For us, Perch fishing was strange. It was easy to find Perch and the first time I drilled a hole and dropped bait in the water, they were all over it. The problem was that finding keepers in the mix didn't happen very often. Couple that with deep snow that makes you feel a lazy about hoofing over to a new spot and you get this kind of weird attitude. There's a temptation to just stay put and hope for the best. My game plan now is to use the access road, cover as much ground as I can by truck and then branch out with the snow machine if I need to. Maximizing the number of spots we fish is going to be a key to finding a better school of fish out there.

Fishing Report, February 14, 2013, Jeff Sundin - Mobile Again! Sooner or later, it had to happen; For the past 5 or 6 years, I've started out each winter toying with the idea of picking up a snowmobile. Somehow, I've always managed to eek my way through, finding interesting places to fish without one. It looked like the exact thing was gonna happen this year too. But With a bunch of special fishing adventures still on the agenda and snow continuing to pile up, this time, there were just too many good reasons to go out and find one.
A quick word about travel conditions; One reason that I chose this moment to rig myself up with a snow machine is that the snow has become deep enough to prevent travel by truck. On every lake where there are not plowed roads, we'll need something that has tracks or else none of us are going anywhere. At least not until the snow melts down and we get the late winter re-freeze. So if you're planning on heading up this weekend, bring your machines. If you don't have one, then plan on using one of the paid accesses on Lake Winnie, Cass Lake, Leech Lake or Bowstring.
Wednesday was a perfect day for scrambling outside, warm and dry. So I spent most of it getting the rig ready to go out and fish. I did manage to finally get it together and by about 2:45 PM, I arrived at Bowen Lodge, where my buddy Bill Heig was ready and waiting to head onto the lake. Shortly after that, we were on our way.
The trip out was extra exciting for me because ours were the only tracks anywhere. The deep snow halted truck traffic about a week ago. Shortly after that, a pressure ridge developed across the Northeastern section of the lake and cut off access for the snow plows. So for a little while, the extreme Northern portion of the lake is sort of "cut off" and will only be accesible by a snow machine. For the moment, what we could see of the lake, was all ours.
At the spot we'd chosen, the snow depth measured was 14 inches on the nose. There's 22 inches of good ice under that snow, but that's still not enough to carry the snow load. So HEADS UP, wherever there are holes drilled, there's going to be slush until we have the spring meltdown.
The spot we picked to fish was a rock reef that tops off at about 10 feet, surrounded by water depths of 12 to 18 feet. It's just the right size for a couple of anglers. Small enough to allow us time to check a variety of angles, large enough to have a chance of holding a number of fish. With the deep snow, walking around to drill holes was doable, but not a lot of fun. The Lakemaster Chart on my GPS was worth it's weight in Gold, "Walleye Gold", when I used it to select the tip of a point that led fromt the rocks into deeper water. This slope down the point was where we had our only action of the evening.
We saw more fish than we caught, they'd move onto the flasher screen, look at the bait and then disappear. At 5:15 PM, they finally got active and for about 45 minutes, they turned into biters and the spurt was a nice reward for our efforts.
The only baits we used were Rattln' Flyer Spoons. At first, I tail hooked small Golden Shiners and they worked, but I was missing the fish. When I switched to a pinched off minnow head instead, all of the fish that struck got hooked. Bill had the 1/8 ounce Clown Color and I was using the 1/8 ounce Silver Shiner Color. We both had action, so I'm not sure that there was a strong preference.


(2/14) Q) Hey Jeff, I was watching your video on how to smoke tullibee. I caught a few of these last weekend on Lake of the Woods, and have always wanted to try smoking them myself. But my smoker is buried in my storage shed and snowed in after this blizzard. Is it possible to freeze these tullibee until I can get it dug out, and possible catch more then the two I have in the next few trips. I've froze my pink salmon I caught in Alaska and smoked them when I had more time, and they turned out very good? Gerald Nelson
A) Gerald, Yes if you really need to, you can freeze them for smoking later. But I'd suggest getting to the project as soon as you can though because like many of the Salmonids, Tulibees are "oilier" than many of our freshwater fish. It is the Amino Acids in the that breaks down, even when it's frozen. In some cases, anglers have gotten the impression that they didn't like a particular kind of fish, simply because they'd never experienced eating them while they are fresh.
Some other examples of fish that are delicious to eat when fresh, but lose their pizazz after freezing are; Lake Trout, Northern Pike and Largemouth Bass.


(2/14) Marcell Area Lakes - Paul Larson, Frontier Sports; "Over a foot of snow fell Sunday and with more on the way, the conditions are more conducive for snowmobiling than fishing. Travel is very difficult by any means other than snowmobiles. I heard of a guy plowing the road to his fish house breaking his plow off. Those that do get out are getting into some Crappies in about 30 ft. of water. Small jigs and waxies are doing the trick. Northerns are being taken on tip-ups and sucker minnows. As I mentioned last week, I went to the Marcell Ice Fishing Contest last weekend. It was hard going and you only had 3 hours to fish. Few fish were caught, but all in attendance had a great time, myself included! Reports of slush are starting to come in so be careful out there. The "Cabin Fever Reliever" Outdoor Sports Extravaganza is coming up March 2nd at the Marcell Family Center. For more information, check out our Facebook Page. Frontier Sports has everything you need for a successful day on the ice, including live bait, tackle, fish houses, augers and electronics. All Cameras and fish houses are now on sale. We are an authorized LIVE TARGET dealer. Drop in or call to find out what's new on the ice." - Paul Larson, Frontier Sports, Marcell, MN. 218-832-3901 .


(2/14) Lake Winnibigoshish - Brian Castellano checked in with a quick report from Winnie; "4 of us fished yesterday afternoon for a couple of hours. Lots of perch too small to keep and 2 gators in the 4-6lb range. 2 of us went back out this morning and more small perch.
We are accessing the lake through Denny's Resort. Their roads are going up the SE shore of the lake towards Moxies Hole and a road straight out towards Little Musky Hump. It looked like Nodak's has a road running up towards Moses/Horseshoe Bars.
Snow cover on the lake is 10 to 16+ inches depending where you're at, with some flooding on the plowed roads.
I did talk to some guys who were in a wheel house along the SE breakline and had been there for a couple of days. They said northern fishing has been good and walleyes were biting in the morning till about 10 am and starting up again around 5:30. Tons of small perch to deal with as well. They were set up in 20 feet." - Brian

Fishing Report, February 13, 2013, Jeff Sundin - Another sign of spring! Just one full day after our big snow event, a short, but welcome visit by the Sun, turned nearby highways dry as a bone. Oh don't worry, there's still plenty of snow out there, but each passing day will make it a little harder for the white stuff to maintain it's grip.
I made a quick road trip over to Duluth on Tuesday and there sure were a lot of happy snowmobilers taking advantage of the fresh snow. I'll bet that it's been five years since I've that much snowmobile traffic and if you're in an area where the snow didn't cooperate, I'd say that this would be a perfect time to high-tail up here. Everywhere from Grand Rapids to Bemidji and Lake of the Woods to International Falls; There are hundreds of miles of great trails and the snow is fresh.
Another sign of spring is the sudden absence of commentary by some of the resorters, rental operators and fishing guides. Toward the end of winter, some folks develop a case of lock jaw resulting from too many hours on the ice, too many miles of plowing roads and an over-abundance of contact with people who have had "one too many".
In spite of invitations to share information about the condition of plowed roads, access to lodging and rental shelters; I got some reliable reports, but the mail traffic was dramatically lower than usual on Tuesday.
All of this, just as I'm getting my second wind and feeling a sense of renewed enthusiasm for ice fishing and winter in general. Luckily, I'm on the verge of another long series of really special fishing trips, so I'll be able to get plenty of information flowing again, really soon.
By the way, if you want to be sure that your reports are included in these reports, all you need to do is drop me a line! >> Email Jeff Sundin .


(2/13) Gus Sheker, Gus' Place Resort on Ball Club Lake; "The weekend snow storm has changed mobility on the lake. 4 wheel drive or snowmobile travel is essential now that we have drifts 12-14 inches and around 10 on the flat. Ice thickness is 24 inches and there have been no reports of slush or any heaves.
Fishing trends have begun to change over the last week with the bigger fish moving into deeper water 25-28 feet, but the bite remains good during daylight for Northerns & Perch.
When you pack for your ice fishing trip always remember to throw in a couple of long handled shovels and a tow strap, not only will this help you out of trouble, but you will be able to lend a hand to someone else if needed.
The ice fishing has been great come on out!" - Gus Sheker. Gus' Place Resort .


(2/13) LakeMaster® has released new Contour Elite versions for the Minnesota, Dakotas-Nebraska, and Great Plains Editions. Special upgrade pricing is available for previous version owners. If you haven't yet experienced all that this powerful PC software can do to enhance your fishing success, now is the time to add Contour Elite to your fishing strategies.


(2/13) Wouldn't you love to have a family boat that you could transform from the ultimate fishing machine to a versatile ski boat in an instant? Well there is one and Lund has it. It's a great fishing boat but also features a perfectly positioned integrated boarding ladder, a center ski/wakeboard or additional rod storage area and a removable ski pylon. When you add in the hidden rear storage area that neatly holds the ski pylon and sun top, you have one of the most cutting edge designs the fishing boat industry has not seen before. Learn More about >> Lund 1775 Crossover .


(2/13) Lake Winnie Lakes Area - Nik Dimich; "The recent heavy snowfall, mixed with warming air temps, has condensed the overall snow pack quite a bit. Warmer temps make heavy moisture snow, which is great for building a snowman but tough on equipment (plow trucks) and shoveling not only has a negative affect on the lower back it cuts into quality fishing time. There is a silver lining, however in this heavy white snow quilt. As it mixes with warmer temps, it features not only a nice time to be outside, it allows us to explore some different lakes.
I took full advantage of this. This past week I spent time angling on lakes in the Winnibigoshish and Pokegama lakes area. I also speared and angled in our hard houses on Ball Club Lake, where pike and perch and occasional whitefish have been active. I like to catch pike on light action rods/spinning reels while using large bait to attract predators in the spear hole. Watching how these "toothy" wolves slide in, usually in packs of two and react to live bait is a blast. Watching and then feeling the bite, while having the option to release, is a lot of fun. Don't get me wrong, blackened pike are quite the delicacy in the hard water season, but catching and releasing these fish brings its own joy. After sitting in a dark house for a while, it's nice to get outside and move around and find some perch. Perch have been active between depths of 20 FOW and have been sliding out closer to 30 FOW and holding over soft spots that feature bottom bug hatches that attract forage and the fish that feed on them.
The rest of the week was a buffet of perch, crappie, walleye, pike and panfish. Fishing Lake Winnibigoshish, Pokegama and other area lakes, offers many options for the traveling fisherman looking for active fish. This is where the silver lining comes into effect as sometimes the run and gun fisherman will hit two lakes or even three lakes in a day, looking for daytime panfish and evening walleyes. While deep hole fishing one day with my dad we found a nice early day crappie bite on the Lindy Toad jigs and small "bug" type lures tipped with wax worms and spikes. Later that same day I joined the master himself, Jeff Sundin, to drill holes and fish as the sun slowly sank into the tree line. It was a great scenario, but not a great catch. Even though our Humminbirds showed signs of life on bottom the bite was not to be. We each missed our only two bites of the evening.
Because every true fisherman knows that lakes can't turn up fish every day (if they did there would be no fish left), hence we trek to multiple lakes. Last week, for instance, we chased crappies on a midsized lake and each spot, which had held crappies the day before, turned up the fighting but much maligned rock bass. Rockies make the decision easy to move to another lake during mid-day, before looking for evening walleyes. The crappies we found next were in 25-30 FOW and with not much daylight left for an evening run at walleyes, we let a couple smaller crappies go and we were on to another lake.
The walleye run was short lived with a few smaller eaters and a possible "teener" (one in the teens) that could have been a nice lake trout or a stout eelpout. Either way, it made me anxious for the next bite. Walleyes have been situated off main lake humps and bumps and bars in 23-27 FOW. I have noticed these fish paying more attention to a dead stick technique with a full minnow, as they seem to drop the bait soon as any tension is felt.
As mobility is being more and more of a concern due to deep snow and hard drifts until things melt down to some manageable depths, its time to trailer your snowmobiles, ATVs/UTVs with chains, which are reasonably priced for all tire sizes and are easy to put on and take off. Now is a great time to get outdoors. We hope to see you on the ice! " - Nik Dimich, fishall4.com


(2/13) On Lake Winnie Highbanks Resort; "(We are) Working hard to re-open plowed road system after dumping of 10+ inches of snow and high winds. We will have spur roads available for wheel houses to access and park on. Perch bite remains consistent. Stop by the lodge and get all the latest information! Enjoy the upcoming long holiday weekend on Winnie." - High Banks Resort, 218 246-2560


(2/13) On Lake of the Woods, Sportman's Lodges, Jacki LaValla said; "We are moving north. South end bite continues to be hit or miss so it is time to head to the reefs. Scouting reports are showing a more aggressive bite with a mix of walleyes and saugers. Jigging with a charmer, buck shot or gold jig tipped with a minnow has been working well. Vexilars/Fish Finders always help! March is just around the corner and we can have our houses out until March 31, Mother Nature willing. Right now we have 3 feet of ice in the areas we travel and fish. Increased sunlight and warmer temperatures generally bring on a better bite. Come try your luck before hard water fishing is gone for another year." For reservations call 800-862-8602" - Sportman's Lodges, Lake of the Woods .


(2/13) Bemidji Lakes Area Fishing Guide, Matthew Breuer Says; "Well, we got roughly 13" of snow, on top of the already existing 13" plus... Travel off of plowed roads is not advised. If you are using plowed roads, be sure to respect them, and not drill on the roads, or block them. Tossing a $5 at the plow guys doesn't hurt either!
On a good note, the fish didn't seem to care one bit that we had a giant front coming through! Walleye and perch fishing on Lake Bemidji continues to be quite good. Renters came in on Friday and caught fish on the first 4 drops when they entered the house, and had steady action all weekend. Pretty even mix of walleyes and perch, even mid-day. Deeper water is still putting out, but we've stuck to the mid-depths around mid-lake structure. Set lines are producing well. Family went out in the blizzard and found that the set lines are producing, as are bigger spoons tipped with a head or Lindy Darters in gold or dace.
Panfishing is also going strong. We hit some untouched water on Sat. pre-storm with sleds and struggled to find pods, but once located they were hot. Last spot of the day we found fish 4-6' under the ice over 14-21' of water on a steep break. Literally fished right under the 'ducer on the FL-22HD... very fun and surprising this early in the season! We managed a pile of crappies, biggest going 14", and 3 'gills over 10"! - Be SAFE! Bring your shovel, tow straps, and your common sense! Good luck out there. - Northcountry Guide Service, Bemidji Lakes Area, 218-444-6479


(2/13) Bemidji Lakes Area, Paul A. Nelson, Bemidji Area Lakes Guide Service says; "Two significant snowstorms in the last couple of weeks in the Bemidji area dumped more than two feet of new snow on the lakes. The ice on the lakes was in great shape before the heavy snow, but now there are areas of slush developing on the lakes, especially near the groups of fish houses on the ice.
The weight of the snow puts downward pressure in the ice, which forces water out of cracks and holes in the ice. The water on top of the ice pools on the surface and mixes with the snow, which creates slush on the ice.
As the slush begins to freeze on the lakes, it creates a double layer of ice, which sets a trap for any vehicle that breaks through the top layer of the ice.
Vehicle traffic was still possible on most lakes until the most recent snowstorm, which dropped around 18 inches of new snow on the lakes. Anglers are now limited to fishing areas close to plowed roads on the lakes unless they have a snowmobile or other tracked vehicle.
This puts additional fishing pressure on any structures close to the roads on the lakes and reduces fishing pressure on areas further from the roads or on lakes with no roads on the ice.
The 2012 gamefish season closes in Minnesota at midnight on February 24, 2013. Anglers with fish houses on the lakes are probably scrambling to figure out how to get their house off of the lakes, especially if they are in isolated parts of the lake.
Anyone with a snowmobile rigged for ice fishing will still be able to fish most areas on the lakes. The rest of the anglers have to hope the snow melts slowly, with no additional snowstorms, otherwise ice fishing just got significantly tougher in most of the lakes in Northern Minnesota." - Paul A. Nelson, Bemidji Area Lakes Guide Service, panelson@paulbunyan.net - 218.759.2235 .

Fishing Report, February 12, 2013, Jeff Sundin - After spending most of my day inside the truck, plowing snow on Monday, I think a break is in order. Luckily, we're all gonna get one, because there's a short, but sweet, patch of Blue sky heading toward the Northland for today.
In spite of being in the truck all day, I did have a chance to cover enough territory to get a glimpse of the aftermath of Sunday's storm. On a scale of 1 to 10, I'd give it a 6. In most areas, it was heavy, but manageable. Plowing snow up at my farm, there were a few drifts that almost got me stuck, but I managed to work my way out of them.
That means that for some anglers, I'm afraid that the most recent snowfall is gonna dish out a short term disappointment. I don't see much chance of covering any ground with vehicles on most of our smaller lakes. Travel on lakes without plowed roads or on a snowmobile or ATV with a track system will be the only game in town.
I'd be willing to bet that my Buddy Nik Dimich is smiling ear to ear right now. Because with his stepped up, hydraulic, double dynamo, super customized Ranger, he's going wherever he wants and when he gets there, he's the only one fishing at the spot.
For the rest of us, ice fishing during the next few days will be influenced most by where we can drive on to a lake.
Lake Winnibigoshish, Leech Lake, Cass Lake, Bowstring Lake, Upper Red Lake and Lake of the Woods will get the Lion's share of late winter attention. But there are other lakes that have at least some limited access. The focus of tomorrow's update will be to provide a list of as many options as I can.

Fishing Report, February 11, 2013, Jeff Sundin - Fishing around the Grand Rapids and Deer River area was disrupted by Sunday's snowstorm. It didn't begin snowing very early, so there were a handful of die-hard fishermen out on the ice. But for the most part, anglers had been warned days ahead of time about the incoming storm and chose to sit this weekend out.
For the Itasca Area, Sunday's snowfall isn't going to make any history, except for maybe at my house and judging by the snow that I plowed in our neighborhood, 6 to 8 inches is likely to be the total for this storm. A far cry from what the folks out East are dealing with this morning. But when it came it came down fast and there was more than enough to give me a fantastic "space management" practice session during the early evening.
According to the forecast, we'll have plenty of time to clean up after this one as we wait for a little cold snap to settle in toward the end of this week. A cold snap usually means that we'll seeing some dry air and Blue skies. At least I hope that we do because my fishing schedule is on the verge of ramping up again later this week and it's gonna remain busy for a few weeks after that too.
Transportation on the smaller lakes is going to become a little dicey until we get the typical late winter meltdown. But that may be okay, because with only 11days of the inland Walleye and pike season remaining, many anglers will set their sights on the upcoming Perch season. Early spring Perch action takes place mainly on larger lakes, where plowed roads to popular fishing spots are common.
Most anglers with Walleye and Large Pike on their minds are probably going to head North for boundry water lakes, where the season for 'toothy critters" remains open longer than it does on our inland waters. In fact, there are so many folks heading that way later this month, that you're probably already too late to make a lodging reservation. At least for the first weekend of March. Later, when ice conditions become less reliable, you'll be able to find a spot.
For those of us who'd be happier working a Crappie spot on a 100 acre lake, we'll either have to hoof it, wait for the meltdown or start using snowmobiles. Which reminds me, I'm still keeping my eyes peeled for a good utility sled that I can use for towing the Otter onto these little lakes. Some of you sent me information last week and I really appreciate that. In fact, I have my eye on a couple of sleds right now, but if you know about one that I really need to see, please Email Me and let me know.


(2/11) On Lake of the Woods, Sportman's Lodges, Jacki LaValla said; "Fishing has picked up the last few days. Getting some nice walleyes and saugers along with a few pike. 28-31 feet of water using glow red buckshots tipped with a minnow head is working best. Guide Tip: Dead stick one rod and jig the other to see what works best for you. March madness is just around the corner. For reservations call 800-862-8602" - Sportman's Lodges, Lake of the Woods .


(2/11) On The Iron Range, From Greg Clusiau; "Greg says that over the last two weekends, he's done his best ice fishing by practically "dead-sticking" his lures. Clusiau says; "Move it around a little too much and the fish seem to lose interest in a hurry. However, work it extremely slow and, at times, just lay the rod down, not touching it. This method was how I was catching the majority of" ... >> Read Greg's Full Report .


(2/11) Leech Lake Area Lakes, Gary Roerick Says; "It's a "Pout" Time! - This is the week that the 34th Annual International Eelpout Festival takes place right here in Walker MN. The event officially starts Thursday and will end on Sunday. Please check on-line for all the official information or contact our local Leech Lake Area Chamber of Commerce in beautiful downtown Walker. There is a myriad of other events that will be happening pre and post weekend, view all of this information on line soon.
The ice conditions are great with most ice measurements in the 20" to 24" range. They are currently predicting lots of snow for the next 24 hours so by the time that you read this report our snow depth may have doubled in the Leech Lake area. Currently we are still driving cross country on all area lakes with 4 wheel drive vehicles. There are plowed roads crisscrossing most area lakes that are being fished, including lots of plowed access trails on Walker Bay of Leech Lake.
Last week I talked about how I like to prepare the pout delicacy for the dinner table. The only appropriate thing this week would be to talk about how to catch one of those elusive, carnivorous, bottom feeding beauties! I like to use any type of jigging lure that glows in the dark, such as, Techni-Glo Frostee spoons, Buckshot Rattle jigs, Jig-a-whoppers, etc.. If you are unsure what to buy and you want help, then stop by my favorite store, Reeds Sport Shop in downtown Walker and the friendly staff will assist you with the correct equipment. Now tip the hook with the head from a live minnow, hit the lure with your Glo-buster, tazer light, camera flash or any other type of bright light to make your lure glow. Drop it down near the bottom and do your thing! Oh yes, while jigging your favorite lure, monitor your favorite beverage, and life can only get better!" - Gary Roerick Roerick Fish House Rentals 218-224-2836 .


(2/11) On Lake of the Woods, Border View Lodge, Mike Kinsella wrote; "The big walleyes are starting to bite. Our houses are currently spread out over a large area ranging from 11 miles no rth of Pine Island up to Knight Island. A combination of aggressive jigging and "dead sticking" has been doing the trick. Glow red and gold continue to dominate, along with glass jigs and gem-n-eyes. Live fatheads and frozen shiners seem to be working well.
We are bracing for a winter storm calling for snow and wind. Things should settle down by Tuesday and as we head towards the weekend.
We still have some scattered openings through the end of February and the first part of March. Give us a call and let us book your late ice trip!" - 1-800-776-3474 Border View Lodge .

Fishing Report, February 10, 2013, Jeff Sundin - Bracing for the storm? Well we could be, but it hasn't arrived just yet. Luckily, that gave us enough of a window on Saturday to high-tail it accross Highway 2, West to Crookston, MN. That's where my daughter, Annalee competed in one of the very few, collegiate horse shows held on home turf during the season.
That was lucky because not only did I get to collect my semi-annual hug, I got to watch her pick up a Blue Ribbon too! I know, it doesn't have a darn thing to do with fishing, but You Know how I am about those girls of mine! So just for this moment, brag, brag, brag .....:)!!
Now it's Sunday morning and I'm seeing the first few snowflakes falling onto the driveway. Depending on how the weather breaks, fishing could either take a dramatic turn toward big water and access via plowed roads or the Lion's share of snowfall could miss us and we'll have a few more episodes of "small waters" still ahead.
No matter which way the weather shakes out, I doubt that many anglers who aren't here already, will be heading this way today. So I'll play hooky just a while longer. For the next few hours, I'm gonna hang here at the computer and catch up on some web work. Later on, I'll either be plowing snow or fishing, preferably not in that order, but .... You Know ... !!

Fishing Report, February 9, 2013, Jeff Sundin - The first really nice taste of spring arrived in my back yard on Friday. It was one of the clear, Blue days where the sun's warmth overpowers winter and starts melting anything in it's path. Oh I know, it's still winter, at least for a while, but just in case it slipped your mind; There are only 91 days until the Minnesota Walleye Fishing Opener. Which leads me to another sure sign of spring, the boat show season.
While I've been nailing down all of the details about my own new rig, my phone has been ringing with questions from friends who are doing some spring shopping of their own. Just in case you're in the "same boat", I'll be adding more info for boat and outboard shoppers as we head into the buying season.
Don't worry, you'll still get all of the ice fishing news too. But it won't be long before we don't have any ice to talk about. So I'm gonna start gently moving the reports in the direction.
On Friday, I a couple of hours to kill in the afternoon and since I'd been doing so much Bluegill fishing lately, I thought I'd take a chance on a small Crappie Lake, not too far way from home.
When I got to the road heading into the lake, it was obvious that driving in would require a plowed road, so I plowed one. That turned out to be a about the most interesting thing that happened on this short visit. I can't say that there was a lot of work involved, but it was sure a good excuse to get out of the house.
My buddy Nik Dimich came over for a while too and between the two of us, we may have drilled a dozen holes, maybe fifteen at the most. There was a lot of "chatter" on the screens of our humminbirds. About two to 4 feet above the bottom, there was constant flickering that might have been showing an insect hatch, or maybe it was just the typical evening lift of the lakes microscopic organisms.
There were a few random sightings of "real fish", singles that would move onto the screen, high above the chatter. They would look, but were really reluctant to strike. In fact, I and Nik each had exactly one bite and each missed our fish.
Luckily for Nik, he'd already teamed up with his dad earlier in the day. They'd been fishing for Crappies and had found fish of a variety of sizes. Without giving away any trade secrets, the pattern they found was typical for this area and this time of the season.
Fish were located out over open water, but near the breakline into the main basin. These areas become increasingly important as fish move toward steeper breaklines in late winter. Nik said that the fish were caught on the tiny "bug" type lures tipped with Wax worms.
For today, a trip to Crookston to watch my daughter in a horse show. With a little luck, we'll beat the snow storm that's heading our way and be back home in time to plow snow when it arrives on Sunday. After that, it's back to the drawing board for Crappies.


(2/9) On Bowstring Lake, Erin at Geiger's Trails End Resort; Said that they are continuing to keep a plowed road open. Trails End is located on the Northwest Side of Bowstring and their roads take anglers into the mid-lake basin humps, toward the rocks and out into the "Willards Bar" area. With snow piling up on the lake, the low $5.00 access fee is gonna save you a ton of trouble!
Crappie and Perch fishing has been reliable, but anglers should expect to move around the lake. Searching for active fish has been much better than waiting them out, hoping that they'll comt to you.
Fishing in depths of 22 to 26 feet of water using blade type jigs tipped with minnows will produce both Perch and Crappies.
Erin wrapped up the note with; "FUN? Yes! We are loving it here!" Now is a good time to stop into the resort and chat about openings for a trip back up sometime this summer. Don't forget, if you are hungry out on the ice, just call Trails End, 218.832.3231 Giovanni's Pizzas are flying out of the kitchen! Erin and Bill Charlton, Trails End Resort .

Fishing Report, February 8, 2013, Jeff Sundin - I like to listen to the radio while I'm chopping away at the computer and on Thursday, the weather guy gave me something to chuckle about. He was talking about how after a warm up this week, we'd see a return to the "deep-freeze" by mid week, next week. He made a prediction of low temps around 10 above. Dude! That's 40 degrees warmer than the low temps from last week! See what I mean? Spring is almost here and with just a bit of luck, maybe we'll see March come in like a lamb with one of those bright, sunny, late ice season, t-shirt wearin' days! Wouldn't that be nice? It never hurts to throw out a little positive vibe!
On Thursday, I just couldn't crawl out from under my pile of work in time to go fishing. But luckily, I did manage time enough to get outside for a tour of the loop running from just East of Deer River, North to Bowstring, West to Cutfoot and then home on Hwy 46. The upshot of the tour is that traffic patterns on the ice have definitely shifted.


(2/8) On Friday, I a couple of hours to kill in the afternoon and since I'd been doing so much Bluegill fishing lately, I thought I'd take a chance on a small Crappie Lake, not too far way from home.
When I got to the road heading into the lake, it was obvious that driving in would require a plowed road, so I plowed one. That turned out to be a about the most interesting thing that happened on this short visit. I can't say that there was a lot of work involved, but it was sure a good excuse to get out of the house.
My buddy Nik Dimich came over for a while too and between the two of us, we may have drilled a dozen holes, maybe fifteen at the most. There was a lot of "chatter" on the screens of our humminbirds. About two to 4 feet above the bottom, there was constant flickering that might have been showing an insect hatch, or maybe it was just the typical evening lift of the lakes microscopic organisms.
There were a few random sightings of "real fish", singles that would move onto the screen, high above the chatter. They would look, but were really reluctant to strike. In fact, I and Nik each had exactly one bite and each missed our fish.
Luckily for Nik, he'd already teamed up with his dad earlier in the day. They'd been fishing for Crappies and had found fish of a variety of sizes. Without giving away any trade secrets, the pattern they found was typical for this area and this time of the season.
Fish were located out over open water, but near the breakline into the main basin. These areas become increasingly important as fish move toward steeper breaklines in late winter. Nik said that the fish were caught on the tiny "bug" type lures tipped with Wax worms.


(2/8) Moose Lake still has a little traffic on it, mainly because of an impromptu road going out from the landing on County Rd 19, most likely plowed by on of the anglers who has an ice shelter on the lake. The East landing still has a path leading out toward a group of shacks, but the snow is getting deep enough to cause problems for some vehicles and I'd exercise caution heading out there.
Just across the road, at Deer Lake, I spied one lonesome looking fish shelter located near the Walleye hole. Except for that, the only evidence of human activity are the snowmobile tracks spread out hither and dither across the the lake.
Jessie Lake still has some traffic too, but it's limited to mainly the area adjacent to the boat ramp. Anglers heading to and from a small group of houses have been active enough to keep the path beaten down.
Bowstring Lake showed a real drop in traffic from my last visit, ice heaves at the North Landing and at the Northwest ramp are still manageable for larger 4WD trucks and snow machines, but I can see that anglers with small pickups might second guess the idea of driving out over the top of them.
On Bowstring, there were only a few anglers on the lake, a noticeable decline from the robust groups that I saw before our last major snowfall.
At Sand Lake, a good friend told me that they had given up traveling on the lake with an ATV and were now using the snowmobile instead. The portion of the lake that I could see, looked really quiet and except for anglers using their own permanent shelters, I don't think that there's been much traffic out there recently.
I found the same scenario at both Cutfoot and Little Cutfoot. Not much evidence of any big crowds and not much sign of folks driving vehicles on the ice. Snow machines, at least for now, are the king of the road on most of the smaller lakes.
For anglers with an eye cast toward the upcoming spring Perch fishing run, plowed roads on Lake Winnie, Leech Lake and Cass Lake are currently your best bet. During late winter, a week or two can produce some dramatic changes, so keep an eye on the reports.
During the drive, I kept thinking about how much the ice fishing patterns have changed. Gigantic wheel houses have forced their owners into looking for spots on big water. That's where there's plenty of space and lots of plowed road access. It's not too easy to roll into the local bait shop and ask "where they're bitin'" because they can't get out there anyway.
On many of the smaller lakes, traffic is limited to lake cabin owners and locals who have the right snow machines. In fact now that I think about it, I can count on both hands the number of anglers that I've seen walking to their fishing spots this winter.
It's beginning to look like the days of walking out to the fishin' hole and sitting next to grandpa on the five gallon pail are winding down. Don't worry though, as long as I can still walk, there will always be at least one guy hoofing it to the Crappie hole.
For today, partly sunny, 26 degrees and light South winds. I would have to get my head examined if I don't squeeze in some fishing this time! If you spot me out there, come on over! I'll save you a spot just to my right.
Here's where you can weigh in with your own suggestions and tricks for beating the cold during winter. Why don't you click here and >> Visit The Fishing Reports Page at Facebook . When you get there, you'll see the question.


(2/8) On Upper Red Lake. Walleyes are where you find 'em. Reports are mixed, but anglers seeking creative solutions are finding fish to catch. Chris Renne teamed up with Matt Mattson and found some nice Walleyes in a spot that few anglers had discovered. Staying away from traffic is apparently one way to beat the odds. The team stayed close to the lakes South end, but fished far away from the crowd. The fishing actrion might not have been fast, but it was good enough to get them some fish. The #2 Frostee Jigging Spoon tricked some eaters and "slot-fish" into their fish house on Saturday.
On Monday, I talked with Chad Benson who told me that fishing action near the shoreline has been slow. For Walleye fishermen who want to get in on above average action, Benson said that heading far out into the lake has been better. Reports of good fishing don't happen until anglers find themselves about 9 miles out into the lake.
With only a couple of weeks left of the Walleye season, Benson has his sights set on moving some of his rental shelters down to Cass lake for some late ice Perch fishing. - Chad Benson, Chad's Red Lake Rentals


(2/8) Gus Sheker, Gus' Place Resort on Ball Club Lake; "Conditions on Ball Club Lake remain Good with over 20 inches of ice and a snow cap of 8-10 inches. There are no reports of ice heaves or open cracks on the lake this winter. Travel by 4 wheel drive of snow machine is recommended.
Fishing trends haven't changed much in the last two weeks with a strong bite going for Perch and Northerns in 18-22 feet on live minnows along the rim of the lake.
Despite the cold weather the barometer has been stable and it has really helped the fishing.
Perch & Northerns are biting throughout the daylight hours, but the Walleye have been off and on early and late in the day.
There are only a few weeks till the close of Walleye & Northern season, don't let the winter slip by without fishing. The coldest part of the winter is behind us." Call us to get in on the action 1-888-246-8520 We have Cabins, Dark Houses, Day Houses and Sleepers." - Gus Sheker. Gus' Place Resort .

Fishing Report, February 7, 2013, Jeff Sundin - It's kind of funny how winter works. There's always a little something to grumble about. When it's cold, I mean like sub-zero cold, everyone grumbles about the temperature. But that's when winter is the most beautiful. That's when we see crisp Blue skies, gorgeous sunrise and sunsets and don't forget good, safe ice conditions.
Then when it gets warmer, the snow starts falling and we begin grumbling about that. Travelling on the ice gets more tricky, the skies turn Gray and winter seems to start dragging on.
I'm thinking about last week and how we put up with some really nasty, super cold temperatures. But we survived that and as a reward, the fishing was great. The scenery was fantastic and the stories will last a lifetime. Hmm... I think I like the cold better. But I have to admit, the warmer you are, the more fun you'll have. So ...
I want to throw out a question for everyone. When it gets really cold outside, and you want to go out and play; What are your top tricks for staying warm? Is it the boots? That special coat? What?
Here's where you can weigh in with your own suggestions and tricks for beating the cold during winter. Why don't you click here and >> Visit The Fishing Reports Page at Facebook . When you get there, you'll see the question. Just throw your two cents worth into the comments section. Oh and Thank You !!


(2/7) Job Opportunity? The recent announcement about Lake Winnibigoshish and the DNR's discovery of Zebra Mussel Veligers in the lake, made think about something. What if I was a bright youngster looking for an interesting, challenging job? I'll bet that whomever comes up with a way of controlling these nasty little critters is really gonna do alright. Just a thought.
The Zebra Mussel announcement is not good news, but sooner or later, we're gonna find ways to deal with Zebra Mussels. Right now, our best plan of action will be to figure out ways to minimize the impact that we have on the rest of our lakes. Listen; We are definitely going to have to work smarter on ways to prevent spreading invasive species. But we're going to have to work equally hard at protecting tourism, which is a major force in the economy everywhere around the Itasca Area.
Here a couple of links to videos that you should check out. One of them, a video that demonstrates why we don't want Zebra Mussels and the second, an optimistic news story about some folks that are doing their best to discover a way to control them.


(2/7) Jeremy Johnson asked; "Jeff, I fished with you this past summer out of Bowen Lodge on Winnie and Cutfoot. I was using your St. Croix Panfish series rod. I believe it was a 7' XF. I liked it so much that I thought I should buy one. I was reading a bit about them online and a couple people were questioning the quality of that particular series. I'm primarily going to use it for panfish, but will probably use it as a light jigging rod for walleyes as well. I know that your rods get used and abused everyday, so I was wondering how that rod held up for you during the season?"
A) That Fishing Rod is still going strong just like the first day that I got it. In fact, along with a couple of TFO Rods that I like, that rod ranks high in my list of favorites. It hasn't replaced my all time favorite, but at 1/3 of the price, it is a tremendous value for the money.
Here are a couple of model numbers for you; The St.Croix Rod you mentioned is PFS70LXF. It's a little on the light side for deep water Walleye fishing, where heavier jig/rig weights are required. But for my shallow water Walleye fishing, this light rod is a real sweetie! By the way, it worked out really well last fall for suspended Crappies and Sunfish too!
The TFO Rod to look at is the the GTS SWS 702-1. It's on the same wavelength; A seven foot, lighter than average rod that can be used for panfish, but doubles as a perfect shallow water Walleye rod. When I'm fishing in 6 or seven feet of water, using 4 pound test line and a 1/16 ounce jig, I want to control every little motion that the jig makes. These lighter weight rods are perfect for that and they also really shine when you get one of those soft pickups and have to play that little cat and mouse game to get the fish committed to taking the bait.
Here's the real deal, I still have a seven foot ultra light rod that I'd consider my all time favorite. The difference is that my all time favorite rod costs about $385.00. The TFO comes in at about half of that and the St. Croix even less. The performance of either is really good and for the money, you could have one of each, plus enough left over to get your sweetie a nice dinner on Valentines Day.


(2/7) Bemidji Lakes Area, Spencer Samplawski Spent a majority of the weekend searching new water for crappies and bluegills.
Spencer said; "(The) First couple lakes didn't pan out very well after drilling a lot of holes and trying areas that looked promising. We did manage to stumble upon a few schools of crappies that were somewhat active. The water we targeted was deeper water with shallower shorelines or mid lake structure adjacent. These areas have been holding fish for the last few weeks. This just goes to show this type of mid-winter pattern holds true on almost any body of water and can be translated very easily. We started in the 25-30 FOW range for the crappies and found the schools were moving very fast and roaming a lot. Drilling a lot of holes was crucial to staying on these scattered schools. Lindy bugs laced with a white/clear plastic was again deadly and I have yet to take this combo off my rod all year! Here is my buddy Trapper with a few decent fish from the mix.
No true giants were located this weekend but we both had the need to keep a few for dinner.
The walleyes have been a tight lipped lately but we are getting a few a night, its just not what we were used to a few weeks ago. One thing that has been working to entice these finicky biters is down sizing. What I mean by this is instead of using an aggressive bait like a Lindy Rattl'N Flyer that makes a lot of noise below the ice, we have been switching to smaller Frostee spoons in more natural colors like silvers and gold's. This really stood out for us a couple nights ago when my buddy was using a small gold Frostee and I using a Chartreuse Flyer and he out fished me hands down. Something to think about as we approach the dog days of winter and it might just put more fish on your line.
Pout have been showing signs to while walleye fishing. My buddy Trevor got in on the action tonight and pulled this nice one off of mid lake structure in 15 FOW. This one was FULL of spawn when he cleaned it tonight. It wont be long till they are really feeding heavy!" - Spencer Samplawski .

Fishing Report, February 6, 2013, Jeff Sundin - The Makings Of A Meltdown - Are just around the corner. In fact just on Tuesday, the sunshine coaxed a giant patch of my roof to come out from hiding under the snow. With the warming trend predicted to linger for a while, we'll probably see travel conditions on the ice begin to improve as the snow settles and packs down.
There was so much email coming in yesterday that I barely have room to fit all of it in this morning. So today, let's just go with the flow and jump right into reports and questions.
For today, I've still got a mountain of office work and I'm in a race against time to get it cleaned up before my next round of ice fishing. Still, I can't promise that I won't play hookie, just a little bit later on.


(2/6) Rick Johnson asked; "A while back you wrote about your heated insoles, I was wondering how they are working for you, I am having a hard time keeping my feet warm this season.
Also, you are right on with the stiffer rods, we have been preaching this for years but people continue to want to see the bite rather than feel it. The hard core summer jig guys get it others do not. Last weeks outdoor news had a article by Mark Strand on bite detection, very well written."
A) The ThermaCell heated insoles are working very well for me. If you were following reports last week. then you know that I fished almost every day that week and that temperatures dropped well into the frostbite range.
I never even thought about cold feet; Just charge them up overnight, turn 'em on in the morning and forget 'em. I wear mine inside of my Artcic Weight Muck Boots, which are chosen for being water proff, not for being warm. If you wear the ThermaCells inside of an even "warmer boot", your results will be even better.
The only open question is how long they will last. Only time will tell, but so far they have held up really well and they continue to get put through their paces. I plan to run an update at the end of the ice season to let everyone know how they've held up.
About my cooments on the ice fishing rods; I really wasn't trying to imply that one method was necessarily better than the other. (Click to >> read the original comments here) It was simply an observation from my fishing trip. But, since you mentioned it; I am a little bit on the scatterbrained side and there are a lot of times that I'm doing one thing, while thinking about another. For me, I'd prefer to "feel the stikes" rather than have to keep an eagle eye on the rod tip, so the TFO Medium Action rods are actually turning out better for me than the the Ultra Lights. They both work really well and I'm gonna catch fish either way, I'm just showing a little favoritism toward the Mediums.


(2/6) Lake Winnie Lakes Area - Nik Dimich; "February is the time to start thinking spring and I'm not talking about spring run walleyes up on the Rainy River or chasing steelhead over in Wisconsin on the Brule River. Even though this is the type of fishing most fishermen think about when the temperatures rise from below zero into the double digits I'm not there yet. No indeed, I start thinking about crappies and late season perch. I visualize icing suspended slabs in 25' of water on unmarked snow while I hear the faint sound of the wind blowing snow across the ice.
This week was like that. The temps rose enough to send me after late morning crappies. Arriving at the lake access, I was surprised to see only one set of truck tracks and footprints that indicated they were shoveling their truck out of a drift on the windblown side of the lake where most dared not to tread. A little snow can turn into a lot when a strong northwest wind piles the snow on eastern shores. I accessed with my Polaris 800 crew/chains. I went straight to the deep water off a point drop off and began to search with my Strikemaster Solo. Because no one had gotten out there the crappies had been untouched and I was able to, like my Grandpa always says with a wink and a smile, "Take home enough fish for me and the missus to have a nice meal." These fish were easy to locate on the Humminbird as they were suspended in 25-30 FOW and bit on wax worms and spikes while using a variety of Bro's Bug Collection from Northland Tackle.
Over the last week I've been spending time on Winnibigoshish, Ball Club, Pokegama and other area lakes and have found panfish, crappies, perch, northerns and walleyes to be active, but the bite changes day to day from spot to spot. Walleyes will bite on a hump one evening and then move to another piece of structure the next because they're chasing minnows and small perch. Working shorelines and mid-lake break-line structures from 22-26 FOW during the first hour in the morning and last light/early dark in the evening are still your best times for walleyes.
Perch fishing has been a good "action" bite, but some sorting has been in order to fill a bucket. A "run and gun" approach has helped when the perch move into the deeper water saddles with soft spots in the bottom and feed on larvae and bug hatches, although some perch are still biting in the shallows. Each lake varies in depth and structure which holds fish differently, so look for inside turns and contour differences adjacent to deep water for shoreline structure and work mid-lake structure the same, as perch will drop off into deeper water.
Panfish are still being found in and around the weeds in 9-14 FOW but some are starting to head for the deeper holes off sharp drops. Snow cover on lakes varies, but with the wind blown drifts and hard packed snow it's best to access through resorts using their plowed roads. On big lakes like Winnie and Bowstring this is not only the easiest way to get to your fishing locations it is the best way to get off. Because of the deeper snow cover and drifts we are also now starting to see more snowmobiles, ATVs and side by sides accessing lakes to get off the beaten path. Be sure to check in with area bait shops, sporting goods dealers and resorts for ice and road conditions. Good luck fishing and remember it's a great time of the year to be outdoors. See you on the ice!" - Nik Dimich, fishall4.com .


(2/6) Deer River Area Lakes, Brian Castellano checked in; "With the snow last night, my buddy didn't feel like making the drive over from Duluth, can't say I blame him. So instead of hitting Winnie today, I went back to my panfish/northern spot from last week.
I was set up by 11'ish and it was slow going on the panfish till about 3pm when someone must have flipped the switch and they started biting.
While the size wasn't to my liking the #'s were there with both the crappies and bluegills. The Frostee spoon/eurolarve received top honors again. This time there was a bit of a twist though. Active jigging would bring them in and then I'd have to hold the rod as still as possible and then there was just a "tick" at the end of the noodle rod.
The tip ups once again produced and made up for the slow panfish action right off the start. I drilled about 10 holes, and set a tip up in one of them and didn't even get a chance to walk away from it when a 30" northern tripped the flag. I also caught a skinny 33" gator that had a 6-7" crappie in it's gut, 28" and a 25".
Sure wish I could train Maggie to bark when the tip up flag pops. Maybe I'll work on that with the next yellow dog we get".. - Brian


(2/6) Marcell Area Lakes - "It appears the cold snap is about over. The weather this weekend will be much warmer and snow and ice conditions are good. Be careful as there are areas of slush on some of the area lakes. Trout fishermen did fairly well last week. Tip-ups and sucker minnows are producing some nice Northerns in the area. Some nice Perch and a few Crappies were taken in spite of the cold. There are many small ice fishing contests throughout the area. Some are limited as to the number of participants while others are more open. These contests are great fun! If there is a contest near you, consider giving it a try. It's a great way to meet new people and hang out with your friends and neighbors.
Frontier Sports has everything you need for a successful day on the ice, including live bait, tackle, fish houses, augers and electronics. All Cameras and Shappell fish houses are now on sale. We are an authorized LIVE TARGET dealer. Drop in or call to find out what's new on the ice." - Paul Larson, Frontier Sports, Marcell, MN. 01/30/2013 (1-218-832-3901) .

Fishing Report, February 5, 2013, Jeff Sundin - Travel Conditions Dicey, But Do-able. Don't be overly concerned about travel conditions on Northern Minnesota Lakes unless you don't have access to a 4WD Truck or a good snow machine.
The snow depth varies from lake to lake, but generally, a band that extendeds from about 10 miles north of Deer River to Upper Red Lake where the recent snowfall was the heaviest at about 9 inches of new snow. Lakes in the Grand Rapids area received around 4 inches, while lakes in the extreme North, Lake of the Woods area were missed completely.
High winds and sub zero temperatures worked together to give anglers a couple of obstacles to work around. Drifting snow has created some high spots that conceal patches of slush, especially where angling traffic had been heavy before the snow. Thicker ice, combined with colder temperatures have encouraged pressure ridges to begin forming. Some are worse than others, but anglers headed toward any lake, would be well advised to contact a resort or baitshop located nearby for an up to date report on travel conditions.
If you need to travel by truck and want to play it safe, you'll find reliable networks of plowed roads on Lake Winnibigoshish, Leech Lake, Cass Lake, Bowstring Lake and of course Lake of the Woods. For many, paying a modest fee to gain access to the lake is well worth the security of knowing that you're in "safe territory".
For snowmobilers, welcome to Northern Minnesota! There are plenty of places to ride right now and I've seen a sharp increase in snow machine traffic during the past week. For me, a snowmobile, paired with a properly rigged Otter is as close to having a boat as you can get. Now, if I just had a snowmobile, I'd be all set! :)!!


(2/5) Finding Active Walleyes, under the ice was Jon Thelen's mission on Lake Mille Lacs last week. Contrary to popular opinion, Lake Mille Lacs still has keeper size Walleye and Jon Thelen can show you how to catch 'em. Click to view >> Ice Fishing Lake Mille Lacs Walleye and Perch .


(2/5) "When I had the opportunity to re-align with Aqua-Vu this year," says Balog, "I became really excited. Back in the 1990s, I was one of the first anglers to use an underwater camera on the Great Lakes. It really opened my eyes to the intricacies of deep structure fishing for smallmouth.
"In today's era, Aqua Vu is producing the most technologically advanced cameras ever. Products like the AV Micro Plus with DVR are so compact and easy to use ... Read full article Aqua View Assembles Perfect Pro Staff .
OH By the way, I promised some more chat about Humminbird's new 597ci ICE HD Combo and the AquaVu Micro Plus, DVR . I promise, you'll be seeing a lot more, really soon! Just as soon as I can get a couple of more irons pulled out of the fire and hammer out some more details.


(2/5)On Bowstring Lake, Bowstring Shores Resort, Darv Oelke says; "Still able to drive on the lake. Crappies are still biting in the 22-24 ft of water.. Perch are biting along with the crappies. Walleyes in a little shallower on hook and minnow head. We've seen very few northern caught on Bowstring." - Darv, Bowstring Shores Resort .


(2/5) Bemidji Lakes Area, Paul A. Nelson, Bemidji Area Lakes Guide Service says; "Most lakes in the Bemidji area have at least 18 inches of good ice, with a few lakes like Upper Red Lake and Lake of the Woods nearing the point where anglers will need an auger extension to get through the ice.
Northern Minnesota was hit by a wide spread snow storm this past week that dropped about eight inches of new snow on the lakes. There was already a base of about six inches of snow on the lakes and a couple more inches of snow fell this week, so most lakes have at least 15 inches of snow on the ice, with deeper drifts.
The deep snow will give a big boost to the rental fish house business, with many anglers hesitant to go off road with their vehicles. It will also increase fishing pressure on the community spots, with anglers using portable houses also staying close to the roads.
The heavy snow gives anglers with snowmobiles a huge advantage because they can tow a flip-up style fish houses packed with all their gear behind their sled and still have full access to the lakes
Anglers have been catching walleyes on most of the larger lakes. Anglers on Upper Red Lake have either been fishing on the flats in 12 feet of water or on the shoreline break in about 9 to 10 feet of water.
Walleye anglers in Winnibigoshish have been catching fish in 20 to 26 feet of water on the humps, with perch biting slightly deeper on many of the same structures.
Leech Lake has been best for walleyes in 14 to 18 feet of water in the shallow bays and 24 to 35 feet of water in Walker Bay. Perch have been best in 10 to 14 feet in most areas.
Cass Lake and Bemidji have been best for walleyes in 18 to 26 feet of water, with most of the perch feeding on insects in slightly deeper water." - Paul A. Nelson, Bemidji Area Lakes Guide Service .


(2/5) On Lake Winnibigosh; Snow depth on the lake is about 10 inches and ice thickness is roughly 20 inches . All of the plowed roads are open and in good shape. There are some pressure ridges cropping up around the lake so travel with caution and avoid deep drifts and high spots on the ice.
There are reports of improved Perch fishing. Maybe the deeper snow forced a move, or maybe there are some insect hatches brewing. Either way, Perch are showing up in greater numbers anywhere from 28 to 35 feet of water. Most reports target the shorline breaks that lead into the lakes main basin. But there are still a number of Perch located out on the mid lake bars and humps. Typically, Perch set up shop over the deeper, soft bottom areas near, but not on structure.
Pike remain active with the tip-up and large Sucker Minnow presentation. The lion's share of Pike are located on the sharp breaks and inside corners on shoreline drops. Pike can also be found on sharp breaklines on any of the lakes expansive main bars and at times, some of the submerged humps. A key to finding large Pike is is target areas where Tulibee populations are best. Any good ambush spot located near a school of Tulibee is likely to produce your best Pike action.
Walleye have been active for about an hour before dark and at sunrise too. Far from a hot bite, but enough to provide an extra couple of bonus fish either before or after your perch or Pike outing.

Fishing Report, February 4, 2013, Jeff Sundin - Super Bowl Pre-Game Show Features Bluegill Fishing! Oh, you didn't notice? That's okay, I did my best to hold down the fort while most of the rest of the country got an ear full of pre-game hype and previews of commercials. Besides, aren't those really just commercials, advertising commercials?
Well anyway, even after spending the afternoon on ice, I was still home in plenty of time to catch the real football game. And in tow, a nice batch of Bluegills for the frying pan.
I wasn't the only one with the idea; In fact when I arrived at the lake, I discovered that another fisherman had discovered the exact holes that I drilled a couple of days ago and it looked like he was ready to make good use of them. We had a nice chat and after I asked if I could set up near by, he agreed and within a few minutes, I had a couple of new holes and the otter was set up, slightly re-located but ready for action.
On Friday, we released all of the fish we caught, but today, I did have five particular fish in mind; I wanted one nine incher and four eight inchers. That would be just perfect for a meal and the way I looked at it, those five bites were all I really needed. It turned out better than that, but the action was slower than what we'd had just a couple of days earlier. Still, I couldn't help myself, even on an afternoon set aside just for relaxing, I wound up learning something in spite of myself.
As usual, I stumbled into the knowledge; But I'll take it however it comes. When I was in the heat of the best part of the action, I hooked something big, probably another one of those large Bass that we saw on Friday. In a hurry to get something back into the water, I skipped tying on a new ice jig and just grabbed the closest rod in the sled. It wasn't supposed to be a panfish rod, it was supposedly too heavy for that. It was one of the four TFO Rods that I talked about earlier this winter, only this one was one of the pair of Walleye rods. Compared to the "ultra lights", this medium action rod felt much stiffer. The tip section was barely flexible enough to load under the weight of a #4 Frostee, but I was in a hurry and figured I could use this one while I rigged the ultra light.
When I got my first bite, my eyes opened wide! The intensity of the strike felt so much greater that I thought it was a small Pike or some other agressive kind of predator. But it wasn't, it was a Bluegill and as I coninued to get strikes with the heavier rod, it felt so good to me, that I just kept on using it, I never put it down until it was time to leave the lake.


(2/4) Leech Lake Area Lakes, Gary Roerick Says; "We're on the final stretch, less than 3 weeks remaining for each of us to take home some game fish prior to the end of the hard water season! February 24th marks the last day you can catch and keep your favorite walleye, northern, or bass for a fresh meal. Of course, May 11th is the spring opener, and then we can start chasing them once again!
The ice conditions are great as long as you stay away from traditional open water areas such as rivers, channels, bad ice heaves, or those other unusual areas some of us encounter when we are out scouting. This past week I removed the 24" bar from my chainsaw and installed the 36" bar so I could cut new holes for our spear fishing customers. The ice thickness I saw this past week ranged from 18" to approximately 28" of ice on a variety of lakes, including Walker Bay of Leech Lake.
The fishing action is still going great! This past week I had the opportunity to spend the night out on Walker Bay with my brother and his wife who came to visit and do a little fishing. We were able to catch a fresh meal of walleye, released a nice slot sized 'eye, and yes, we caught and kept one of those elusive eelpout that we took home and prepared a location for him at our dinner table. We like to poach the 'pout in boiling salt water for several minutes, then take it to the dinner table and dip the delicacy in melted butter. Now you have what many call "poor man's lobster". Yes it truly was an awesome dinner!
Another day we fished one of my favorite lakes and caught a nice meal of bluegills, then moved to a new location on the same lake and caught our limit of crappies in several hours time. Check out our website to see some of the fish that were caught this past week. The final stretch is on! See you on the Pond!" - Gary Roerick Roerick Fish House Rentals 218-224-2836
In recent years, we've talked so much about ultra light, finesse rods, strike indicators, fishing with cameras and the like. All of them are great tools, but what if you couldn't see? What if the only way you'd know that there was a fish taking your bait, was to use your sense of feel? Maybe we've over played our hands just a little bit when it comes to the teeny weenie ultra small baits.
If you've followed my reports this winter. Then you already know that I've had a great run of luck using larger size baits. In fact last year, I spent all afternoon debating with a "so called" expert who was insisting that the only way to get a strike was by selecting smaller and smaller baits. He complained all afternoon about the slow bite while he watched some of us catch nice Crappies using a #2 Frostee. Way too big for the typical ice fisherman, but not too big at all for those slabs we were puliing out.
I'm not telling you to throw your super ultra light rigs into the Goodwill box, I'm just saying that there are two sides to the debate and that on Super Bowl Sunday, I got a healthy lesson in versatility! It might not be a bad time to sort back through your fishing rods and your fishing lures. Next time your in the middle of a debate, try going bigger and see if you can't make the fish take "de bait" too.


(2/4) On The Iron Range, Greg Clusiau Says; "Put your plan into action. Go after those tight-lipped panfish and show them who's boss." That's what he did this weekend and Greg said that the key was to "To lure the fish "into the strike zone" . First lower the jig down to about 2-3' above the fish and then give it the old "tremble", making it quiver ever so gently. This was generally enough to get their attention, where they'd ... >> Read Greg's Full Report


(2/4) On Lake of the Woods, Border View Lodge, Mike Kinsella wrote; "Fishing right now is all about being at the right place at the right time, with the right presentation. Some groups h ave had excellent fishing, and it has been slower for others. The groups that have had success all say the same thing. Stay with it and be ready for a bite at anytime. Walleyes have also started to suspend. Electronics are a good idea. Don't give up on suspended fish, because you never know when the big one will decide to bite. Gold and glow red jigs have been good.
Numbers have been a little better up near the reefs, but the bigger walleyes have been caught on the south end.
It looks like there will be a gradual warm up this week with highs in the 20s near week's end. There is a chance of snow in the middle of the week." 1-800-776-3474 Border View Lodge .

Fishing Report, February 3, 2013, Jeff Sundin - Warmer Weather Inches Toward the Northland! Good Morning and welcome to February, my favorite month of the winter! For me, I feel a lot like I do in August, during the summer. In much the same way that fishing ramps up, into high gear in the fall; Late winter also offers a boost in the fishing action as almost every species of fish succumb to the influences of spring feeding and spawning movements. By now, you can already feel the effects of spring; Longer days and more sunshine add to up to a feeling that we've come full circle, tried all 31 flavors and the new, fresh start is just around the corner.
Couple that with the upcoming show season, where personal appearances, seminars, media events and rigging a new boat will help make the pages fly right off of my calendar!
Just ahead? Take a quick look at some of the highlights that lay ahead along the path; March arrives in 25 days and that means that just about three weeks from right now, those MONSTER PIKE (view video) on Lake of the Woods will be cruising toward their late winter haunts in preparation for spawning. Wanna get a 20 pounder through the ice? Well then, let's go!
Jumbo Perch action hits full stride in March too and Bowstring Lake, Lake Winnibigoshish, Leech Lake, Cass Lake and a host of others will be producing their best Perch action of the year. Couple great fishing weather with tons of action and a nice bag limit of great tasting fish, Mmm that would be hard to resist!
Late season Panfish action is already firing up and if you've been reading reports from the past week, you can see for yourself, you wouldn't have to wait for anything. Just pack up your bags, jump on the bus and get up here right now! Crappies, Sunfish and Perch are already hitting, and many of them are on small lakes, where you can still get a good look at the breathtaking warmth of our winter scenery.
What? You're a Walleye Purist? That's okay too, April arrives after a very short, 56 day wait from right now and with it, open water fishing for Giant Walleye on the Rainy River. I'll be up there for that, just like I always am and I can't see any reason why you shouldn't be too!
Okay, enough with the teasing, you get the idea, there are plenty of great reasons to come visit Northern Minnesota during late winter and when you get here, you can be assured of a warm welcome, arms wide open!


(2/3) On Saturday, I took it a little bit easy. After a solid week of full scale persuit if fish through the ice, my bones were asking for a day to wiggle back into their proper places. In other words, you don't have to listen to a story about what i did on the ice yesterday.
I did one of my afternoon tours though, because after the way that high winds drifted our most recent snowfall, I thought it would be a good idea to see how the lake access look. The good news is that anglers are still making their way out onto most lakes. The bad news is that typical late winter road blocks are starting to pop up and we're at the point where travel conditions could go either way, depending on what the weather dishes out next.
Bowstring Lake access is still okay on the South end, but ridges have appeared on the North and Northwest ramps. Geiger's Trails End Resort and Bowstring Shores Resort both offer road access for a modest fee. On Bowstring, drifted snow will stop you unless you have a 4 WD truck or a snow machine. Slush hasn't been reported yet, but I'd keep an eye wide open for \isolated slush pockets near area where there's been fishing traffic and deep snow.
On Lake Winnie, there are paid access sites on all four sides of the lake, don't mess around trying to get on anywhere else. Just use the plowed roads and the network will take you to plenty of good fishing areas.
I've been hearing some good reports about Walleye fishing on Moose Lake, just North of Deer River, so I drove up that hill on Saturday too. There are deep ruts in the snow, but I saw trucks moving around out there, apparently without too much trouble. There are lots of fish houses out there, in a variety of locations, so it might be worth checking out.
This week, I'll be focusing on lake accesses and snow conditions so keep an eye open for an updfate on travel conditions toward mid-week. With a predicted warm up on the horizon, this could be a great time to polish up your auger blades and get out a couple of more times before spring intrudes on the fun.

Fishing Report, February 2, 2013, Jeff Sundin - Wonders Never Cease! A tumble into the deep freeze and the action heats up? I know, that's not supposed to happen, a cold front is supposed to kill the action and lots of times it does. But on Friday, the fish never got the memo.
So far this winter, my hands had never been any colder than they were in my truck, on my drive from Deer River to The Cutfoot Sioux Inn, where I'd pick up my special VIP Fishing Guest, Melinda Hays.
Melinda is an accomplished Bass Fishing Pro and in her role as the Pro Staff Manager for Pradco, also happens to be my boss. Born and raised in Arkansas, where 30 degrees below zero just plain doesn't happen, she's the last person you'd expect to get out onto the ice in that weather AND enjoy it, but SHE DID! In fact, Melinda turns out to be about the toughest fishing partner I can think of. She took everything that winter could dish out, turned it around and had a blast catching fish, even fish that she'd been forewarned not to expect seeing on an ice fishing trip.
According to most of the fishing world's "Rules of Thumb", all of the times we've fished together so far, should have been disastrous. Everything from high winds to giant waves, sub-zero temperatures, blowing snow, all kinds of problems. But somehow, the two of us have kept beating the odds on these tough fishing days.
To be completely accurate, the fishing on Friday didn't exactly start out great; But the wind had stopped blowing, the Otter was plenty warm inside and we had a little spurt of Bluegill action early into the trip. All of that gave us some extra optimism about the outcome and from that, some extra staying power. Luckily, we did because the afternoon was going to turn out to be a real treat for both of us.
During the high Blue skies at midday, most of the fish were unresponsive, but every so often, we'd be rewarded for waiting. The flashers showed fish almost always, so most of the time we had that "sitting on the edge of your chair" feeling that something was about to happen. But for quite a while, it wasn't. Things started changing around 1:30 PM, the calm, sunny weather encouraged us to get out of the shelter and start roaming around. I drilled a half dozen holes and we went in separate directions, at about 2:00 Pm, things changed more. Fish that showed up on Melinda's flasher screen started to strike, not often, but every time I walked away to do anything, she'd catch another fish. First some small Perch, then some nice size Bluegills, a small Northern and then WHAM, back to back Largemouth Bass, nice ones!
Okay, by now we figured that we'd had our fun, the fish had cooperated just enough for us to claim victory. Acting on a hot tip about a spot to try and bag a Walleye, I was breaking camp, preparing to make a move to another lake. We were just about out of there, but the problem was that every time I turned around, she was catching another fish. It was getting harder and harder to load the gear into the truck. After a little head scratching, we finally decided to stay put, set the house back up in the new spot in the hope that the action would continue.
Lucky us! For about 2 hours, the Bluegill action was nearly non-stop. In fact, we had at least a half dozen doubles and it was rare to look at both rods and not see one of them bending. It was one of those afternoons, you know, a reward for all of the time that you put in without catching many. Every winter there's a day or two like this one and I was just lucky that we stumbled into it today.
The fish were roaming over a soft bottom flat in about 13 feet of water. The action came in spurts until about 3:30 PM, when a combination of cloudy skies and the natural afternoon bite started kicking in.
Part of our mission was to use a lot of different baits, so we caught fish on a variety of them. The Toads and the Bugs both turned in solid performances. But the two standouts were the Glow/Blue Ice Whatsit and the #6 Frostee in the Fire tiger Color. We tipped the frostee with a couple of Wax worms, but never added live bait to the Whatsits. I did experiment with soft plastic tails and found others that worked. Picking up a pack of Lindy's Ice Jigs would give you an assortment of small tails. Then add a pack of the Ice Whatsits and you'd have a variety of combinations to experiment with.
The fish didn't like to see a lot of jigging, but if we held the baits in position and softly wiggled the rod tips, they responded with smashing strikes.
As we roll into the late winter period, episodes like this one are going to be more common and with at least six weeks of really good ice still ahead, everyone should have plenty of time to roll out and get in on the action.

Fishing Report, February 1, 2013, Jeff Sundin - Yesterday I wrote; "Temperatures are low, but expectations are high! And if I know whats good for me, there had better be a darn good story at the end of this trip! Whoa, that's putting it bluntly, but that's what I was told on Wednesday."
Here's why; After a 20 hour drive that took her through high winds, freezing rain and snowstorms, my fishing partner finally rolled into town sometime after midnight Thursday morning. Knowing her, she probably caught up on e-mails or sent out some kind of top secret, high level, executive memos after that. In other words, there was just a little bit of pressure on me to come up with a good adventure that would help make the trip worth all of the trouble.
After a short rest and a moment to enjoy one of Minnesota's crisp, Blue, sub-zero sunrises, reality set in. There was some beat up, old plow truck rumbling in front of her. It wasn't pretty, but that was gonna be her ride on to, but more importantly, off of, whichever lake it decided to take her to.
I'm not too sure if Melinda Hays was actually looking forward to spending the day on the ice in the middle of an "Alberta Clipper"; But facing sub-zero temperatures and strong Northwest winds didn't stop her from getting into the truck. We knew that the adventure was gonna be a cold one, but we figured that the least we could do would be to drive out and look at some options.
It didn't take long to make a short run up the highway and out onto Round Lake, where I'd hoped that we'd might stumble into some Perch, Walleye, Northern Pike, Crappie, anything that would bite during the cold snap. At this point it didn't matter what, where or how. It was her first trip onto the ice, so whatever the lake was willing to give up was gonna make a good story. For me, It turned out to be a lucky break; For her, well, she can tell her story however she likes.
At the ramp, the only evidence of vehicle traffic were some crusted, old tire tracks lying under a foot of wind driven snow. The snow drifts were the kind that make the ice look more like a desert, moody looking ridges and rises with snow still blowing over them. If we were gonna catch a fish, we'd have to make our own road, so I dropped the blade of my plow and we started chipping a road out to a reliable spot.
It took a while to make our way out there, stopping several times to pound out stubborn drifts with the plow, but eventually we did get there and after a bit of hemming and hawing, I managed to get a few holes drilled along the edge of what most folks call the "Center Bar". It's a mile long breakline that drops from a shallow flat into the lakes deeper, main basin. Okay ice fishermen, remember, I used the words stumbled and lucky.
I drilled a grand total of three holes, but because of another two that my plow discovered lying UN-frozen, under the drifted snow, we actually had five to choose from. The first two were in 6 feet of water, high on top of the flat and when we tried them, they were uninhabited. The others were deeper, ten feet of water, on the breakline. There were some nice perch under hole number three, so I set up the Otter for Melinda, expecting that I'd head out on a mission to drill a lot more. But when I dropped my Rattln' Flyer into hole four, I caught three nice Perch as fast as I could get the bait into the water. Meanwhile, the action inside the portable shelter was fading and soon, that one fizzled out. I drilled one more hole along side of number four, we moved the Otter about fifteen feet and set it up over that pair and this was as far as we ever went. That single spot kept us busy all day long and except during a quick run into Squaw Lake, Perch and Northern Pike kept us busy all day long.
The fish action ran is spurts, but the fish were obviously on the move. At one point we dropped in the AquaVu and saw that we were over a large Clam bed and there was no evidence of an insect hatch to hold fish in the area. The fish were probably chasing small schools of minnows along the breakline, disappearing and then suddenly showing back up again.
The conditions inside the Otter were weird; Now that the snow is heavy enough to force water out of the holes we drilled, we had to put up with a persistent puddle of slushy water that never went away. There was just enough warmth inside the shelter to keep it from freezing. That means that we'll probably see some more slushy areas cropping up in areas where the deeper snow drifts are covering UN-frozen holes where anglers fished before we dipped into the deep freeze.
We caught fish on a variety of baits; Rattln' Flyers tipped with minnow heads got the action started, but the #4 Frostee, tipped with a small Golden Shiner worked like magic. Both Pike and Perch were equally impressed with a little jigging to get their attention, followed by almost dead-sticking the bait about a foot over their heads.
By days end, we had caught and released at least a dozen Pike, some of them were really nice. Our dinner pail had nearly 20 Perch, all nice size and more than enough to treat ourselves to a fish fry and still have plenty to take home for another meal too. We missed a lot of fish and lost some too, but under the circumstances, I was really proud of our day. Like I said, a lot of it was luck, but if you know me, then you know that I'm all about acknowledging Good Luck! Oh and by the way, it helps when your fishing partner is tough as nails too!


(2/1) Lake Winnie Area Fishing Guide, Nik Dimich, In his own words; "For the past couple of weeks our northern Minnesota weather has been great. The last few days have been especially beautiful to be outdoors with a fresh blanket of snow covering most of our conifers and even the tracks which once lead to your favorite fishing hole. The snow, however, hasn't slowed down fisherman from getting to our fishing spots. For me over the weekend and first half of this week have been memorable as I was privileged to be able to guide and participate in Visit Grand Rapids' Outdoor Writers Event, which co-sponsored by Frabill, Aqua-Vu and Humminbird. Writers from all across the Midwest joined company reps and a few local guides in a catch and release fishing/photography event that provided Grand Rapids area storylines and photos featuring industry new products. Photography was done by 2013 "Fresh Water Fishing Hall of Fame" inductee Bill Linder. Grand Rapids companies' advances in ice fishing were also featured. One such feature was being "mobile" on the ice and having the ability to stay warm while ice fishing. Because mobility on the ice is so important, it is imperative that fishermen be efficient in moving from one spot to the next. For us using portables has been a breeze this ice season because of our Polaris Ranger 'Limited Edition' Crew 800. This "dream" ride has room for up to five fishermen while pulling two Frabill portable fish houses, hitched behind us. Wide Open Company (WOC), based in Grand Rapids, MN has kept our clients out of "mother nature's elements" while "running and gunning" on the ice from spot to spot. Most of the comments we hear are, "This is awesome!" Being able to move to mid-lake bars and exploring new structure with this equipment makes fishing a breeze. This week we found fish from 17-24 FOW on big and small lakes with more active fish caught in 19-20 FOW and it seemed most fish were chasing minnows on these sharp breaklines. Big lake structure held walleyes, perch and pike, which have been hitting Lindy Flyers and spoons that glow. Panfish have been in and out of the weeds from 9-14 FOW and suspended around the deeper holes and drops. Good luck fishing and it's a great time of the year to be outdoors." - Nik Dimich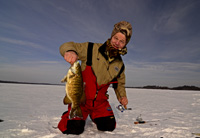 Not exactly an every day occurance. Bill Heigh never caught a Smallmouth Bass before and today, getting one through the ice, that was a thrill.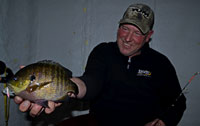 They weren't stcking up fast, but they were stcking up. There was no doubt that the larger size Frostee Jigging Spoons tipped with a few Wax Worms were triggering more fish than tiny baits.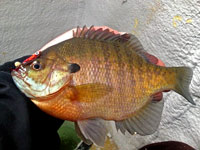 Don't overlook large baits when it comes to catching panfish. Most anglers would use a spoon this size for Walleyes. But when it's feeding time, larger panfish want a full size meal, like this #4 size Frostee Spoon.

And ... click on this video see that Frostee Jiggin Spoon in action.

Catching Tulibees isn't hard, in fact, it's really easy. You'll have a blast once you know where to look and how to trigger them.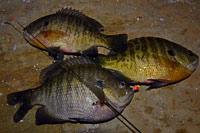 Now I was getting somewhere! Call 'em in in with the Flyer Spoon and then trigger 'em to bite using a Wax Worm pinned on to a Fat Boy. That did the trick!

One benefit of fishing Lindy's Fat Boy Jig is that you can get it down fast, before the fish lose interest and leave the area. Check it out here.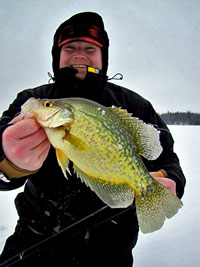 Courtesy Matthew Breuer: Crappie and Bluegill action in the Bemidji area remains reliable. Breuers advice; "Get out there an hour before sunset and stay until at least an hour after".

Jan 19, 2013 Even under the ice, weather fronts play a big part in finding and catching fish. Jon Thelen has some tricks for catching Cold Front Walleyes through the ice.

You're always reading about how much I love the Frostee Jig. Well, guess what? Here's a little video that might help explain why.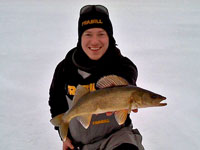 Courtesy Gus' Place Resort: Early morning and late afternoon angling on Ball Club Lake produces Walleye. Best depth range is 15 to 20 feet. Concentrate on inside turns and use live minnows with glow jigs.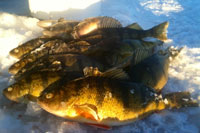 Courtesy Gus' Place Resort: Last week, one of our groups caught a very nice mixed bag of Walleye, Perch, Whitefish and Northerns all in 15 feet of water.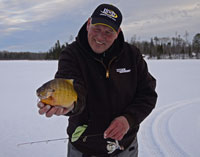 Sunfish were located deep, 40 feet of water was home to this whopper. If you have to fish 'em this deep, take 5 for a meal and head out. It's the right thing to do.

Jan 10, 2013 Jon Thelen has been out on the ice, following the fish as they work their way into deeper water too. Knowing where they are means drilling fewer holes and catching more fish.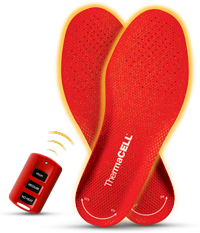 My feet have never been more comfortable in cold weather, than they have during the past three days. ThermaCell's heated insoles work like magic!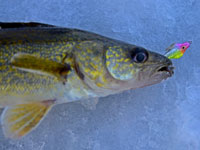 A Clown color Rattln Flyer Spoon was the the only Walleye lure I had in the bag. It was helping me catch my first few Walleyes of the 2013 season, until it got snipped off of my line. Next time, I'll bring two!

Lindy put together some videos about how to fish the Frostee Jig. Just hit the play button and watch it right now.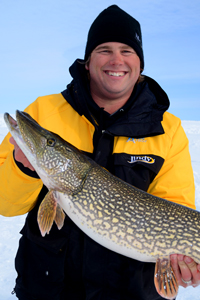 Lake of the Woods Pike Run toward the rivers in late winter and the time is approaching fast! Mike Christianson caught this monster on our trip in March 2012. You don't have to catch very many of these to have a good time!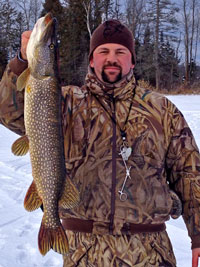 Courtesy Brian Castellano: This healthy 33" northern turned a Sucker Minnow, into an afternoon snack. Brian likes to set a tip up while panfishing. He says; Usually there's a decent Northern Pike hanging around a good panfish spot.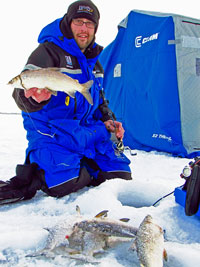 Courtesy Matt Breuer: Tulibee action is going to make it's way onto the agenda for a lot of anglers over the next few weeks. Matthew has already started picking them up over deep water using flashy spoons with a drop line attached a Lindy Bug. Tip the Bug with Wax Worms and you're set!

Lake of the Woods Walleye and Sauger fishing is in a league all its own. Jon Thelen has proven tactics that will hep you ice a bunch of Walleyes on your next trip to LOW.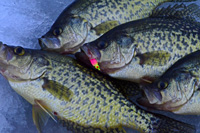 A Frostee tipped with a couple of Wax Worms was too much for these Crappies to resist. The small school of fish cooperated just long enough.

Lindy put together some videos about how to fish the Frostee Jig. Just hit the play button and watch it right now.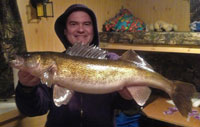 Courtesy Ryan Peterson: Trophy Walleye slip into the fishing shelters on Lake Winnibigosh too! Just like this one, caught in one of Ryan's Rental Shelters on Lake Winnie.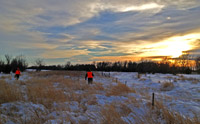 Our last walk in the fields of South Dakota for the season.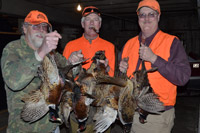 A good day in the Pheasant fields for us on Friday, 11 birds for 4 hunters and plenty of chances to bag that last one, if we'd been on our toes.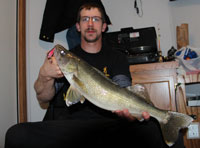 Doug Mattson had a good day on Upper Red Lake. He and his Brother Matt caught lots of fish on a variety of baits, but the Lindy Darter produced this hefty "slot-fish".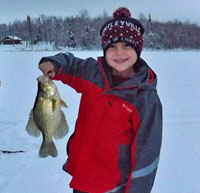 Courtesy Dave Donnelly: Young Caiden showing off a really great New Years Day, 13-1/2 inch Crappie.

Finding Jumbo Perch can be challenging, especially on big water. But, there are ways to tip the odds in your favor and Jon Thelen has proven tips to share on this new episode of Fish Ed.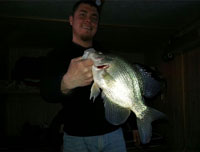 Courtesy Chad Benson, Chad's Red Lake Rentals. Walleye action on Red Lake has been reliable and the crowds rival the one's from the boom of the Crappie days. There are still a few Crappies up there, like this one that came into one of Chad's rental shelters this week.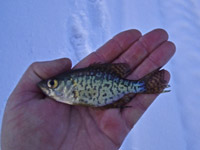 Now that's a small Crappie. I don't know if they'll grow up or not, but there sure were a lot of 'em! Crappies ranged in size from this 5 inch baby all the way up to some 8 inch babies. Not a keeper in the bunch.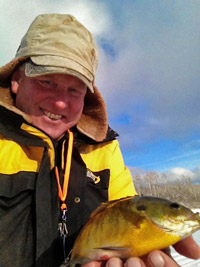 A gorgeous, peaceful day on the lake and a handful of Bluegill. Could it get any better?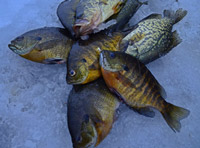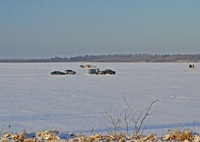 The Christmas Day scene at Cass Lake. A glimpse into the future. Ice shelters, now accompanied by vehicles are showing up now and soon, the lake will be bustling with action.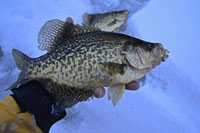 After experimenting with a few baits, Lindy's Fat Boy turned out to be the champion. Crappies were eager to grab the #8 size, "Coach Dog" color tipped with a couple of Wax Worms.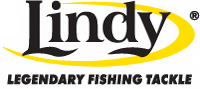 Visit the Lindy Fishing Tackle website and see what's new for the 2013 Ice Fishing Season.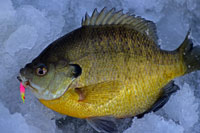 One for encouragement is sometimes all you need to keep your confidence. In spite of fighting the effects of a cold front and having limited time, this nice 'Gill swung in to let us know that we're on the right track!

FISH ED - Jon Thelen details how and where to catch early ice bluegill and crappie. While the weather conditions change throughout the day and a cold front moves in, these northern Minnesota panfish cooperate just enough to put together a great early winter fish fry.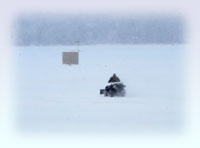 Moose Lake is one of the larger, more popular Walleye Lakes in the Deer River area. Ice shelters are numerous out there and ATV traffic is picking up.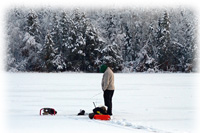 It's hard to describe just how beautiful it's been on the lakes this week. But I'll keep trying!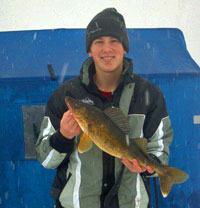 Courtesy Trails End Resort: Dane Charlton is getting his ice fishing season off to a good start with a solid 20 inch Bowstring Special.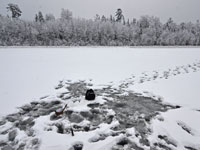 Thin ice, water and wet snow cover combined to produce slushy conditions. After a slight adjustment period, we were able to regain our confidence. But on these small lakes, ply it safe and stick with walking,

Sunfish were caught on a varity of baits. This one inhaled the Pink/Green Lindy Bug and was then CPR'd.

The winter season of Fish Ed debuts right now! Yes this very minute and Jon Thelen is on Red Lake fishing with Lindy Darters for early ice Walleyes.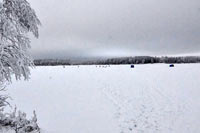 A little snow didn't stop these guys from chasing the "Hot Bite" on Sunday. Crappies are hitting and so are the crowds.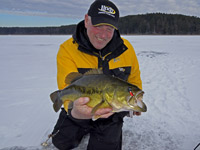 We got a little bit more than we were expecting when we visited a tiny, offbeat lake! Hoping for panfish, we caught more Bass than anything and the Frotee Spoon got a solid workout!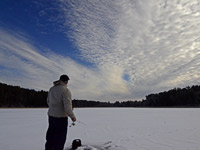 Arne Danielson admires the sky overlooking the lost lake. It's sitting right under everyones nose, but still completely off of the radar. That's cool enough, even if we had never had a bite!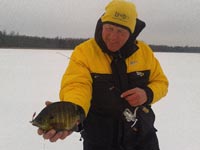 For me, the 1/8 ounce Frostee Spoon, tipped with 3 or 4 Wax Worms did the trick. Bluegills were holding in 12 to 16 feet of water, adjacent to the lake's main basin.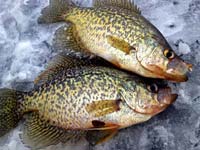 Even prettier when they're the first pair of the new season. Crappies were slugglish, holding in 26 feet of water. But, these two couldn't resist a Glow Red Toad, tipped with Wax Worms.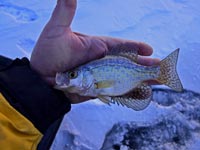 When you make the first set of tracks to the Crappie hole, you tend to have a little higher expectation than this. But these little guys are the only ones who wanted to play on Monday.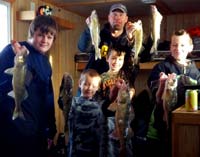 Courtesy Chad Benson: The walleye action on Upper Red has been very good for the past few days. Chad has been targeting fish the 7 ½ to 8ft range.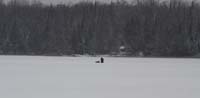 There's Chad, sitting all by himself in the wind and snow, while I walk back to the truck to fetch MORE DEAD STUFF!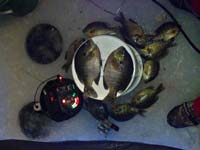 Courtesy Robby Ott, Otter's Guide Service: Bluegills were cooperative for Robby on his early ice adventure. Small jigs tipped with Wax Worms did the trick.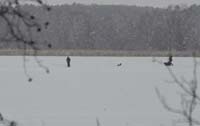 Deer River area ice fishermen tested their favorite lakes for the first time. I spotted anglers hoofing it to more than one of the regions more popular panfish spots.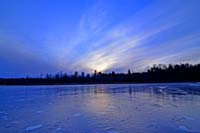 Not a sound, except for the symphony of new ice forming. If you've never heard it, you owe it to yourself to find a quiet spot like this one.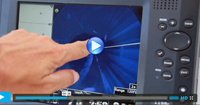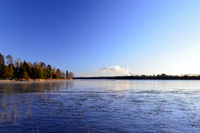 Bass Lake, near Cohasset is freezing up, but the ice is thin and there's open water in the main basin. That's not stopping anglers from getting their shelters ready though, another week and these houses will be occupied.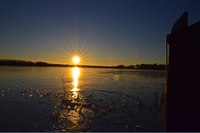 Oh, by the way, there are only 155 days until the 2013 open water, Walleye Fishing season.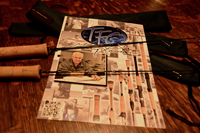 Ice rods designed by Gary Loomis. That's right, Mr. Graphite himself! Now he's designing more great rods for TFO. A rod company known for flyrods, but now branching out into great quality, but affordable rods. >> Learn More .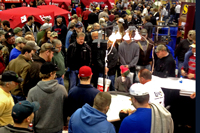 Lindy's new Foo Flyer made a big splash, right from the moment that Jon Thelen set one into the demo tank and immediately used it to mesmerize the crowd!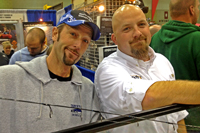 Upper Red Lake's two best rental operators; Chad Benson (left) and Jonny Petrowske (right) happen to work opposite sides of the lake. They look innocent enough at the show; But by Monday afternoon, they'll both be terroizing Red Lake Walleyes!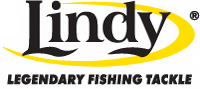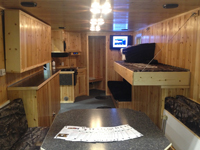 This could be your very own, "home away from home" complete with kitchen, bathroom and bunk beds. Oh yea, I think there's a place to fish somewhere in there too.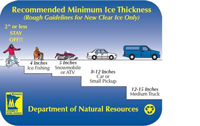 Courtesy: Minnesota DNR - Minimum ice thickness for hoofing it to your favorite spot is 4 inches. If you're gonna be the first one out there, bring a friend, take precautions and be careful.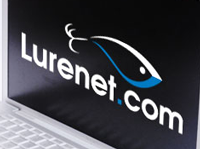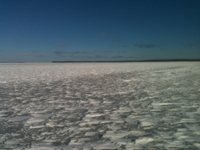 South end of Lake Winnibigoshish on Tuesday. Ice as far as the eye could see, courtesy of Ryan Peterson Guiding.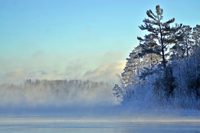 Who knew? The forming ice can really put on a good show! Steam rises from the surface of one of our deeper lakes as winter gets a grip. (11-27)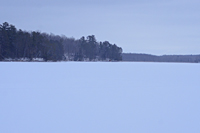 Sunday (11/25) Sugar lake near Remer, judging by the snow cover, it's been frozen for a few days already.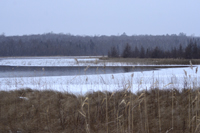 Sunday (11/25) Deep water lakes are resisting the urge to freeze up, but shoreline areas are locking up on these too. Near Remer, Graves Lake was still mostly open, but losing ground.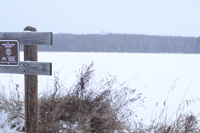 Sunday (11/25) Little Sand Lake near Remer was loced up too. Also snow covered, it looks like it's been frozen since before Fridays snowfall.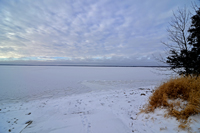 Saturday, (11/24) Bowstring Lake was ice covered. Too thin for foot travel. but heading in the right direction and fast!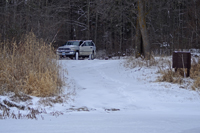 Saturday, (11/24) Smaller lakes like this one have been frozen for a while already. It suprised me that I was able to walk out on this one, it wasn't ready for drilling yet, but I'll be able to fish here within another 2 or 3 days.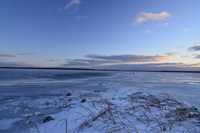 On Friday, I found the lake was about 85 percent covered by a thin sheet of ice. Within a day or two, I'll be able to easily walk out on the spot.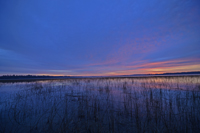 Even after overnight lows in the 20 degree range, even at first light, even in the shallowest areas of Deer Lake, there's no sign of ice along the shoreline. Some of the smallest lakes have only a thin layer of skim ice.


While we were on the way out, Snow Geese were on the way in. A steady stream of Snows were flowing into the area over the past weekend. Yes, it did drive me crazy!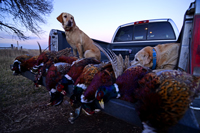 If you run the numbers, that's not a lot of Pheasants divided between nine hunters. But for two dogs, working all day long, for three days in a row, in these conditions, l that was a heroic effort!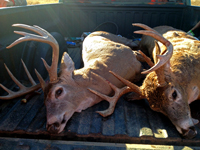 Holy Smokes! Those boys were getting some of these gorgeous bucks that we've been stumbling into while we walk the sloughs. Three ten pointers in the same family during the same morning, that's pretty darn good!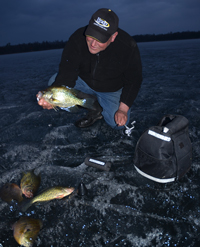 It's time to start talking ice fishing! With the St. Paul Ice Show only two weeks away, it's time to start re-thinking your ice electronics. Wanna see what I'm gonna do? Click >> Ice Fishing Electrronics Article .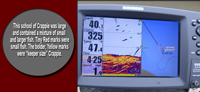 Knowing that the largest schools of Crappie contained the largest number of small fish (above), it made sense to search for older, larger fish. The theory was that they would be found in smaller packs, away from the main populations of younger fish (below).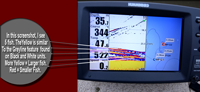 And By The Way, While we're on the subject, here's a link to another video that Lindy put up last week. I have a few quick tips about using the Lindy Fat Boy.