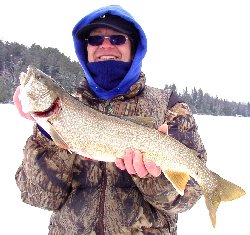 Ironically, now that weíve spent most of the winter trying to reassure folks that the ice conditions have survived the warm weather, winter has decided to dish out a sample of a good old-fashioned Alberta Clipper. As I write this report, itís 20 degrees below zero with a wind from the Northwest at about 20 MPH. I did head out on the lake today and lasted about an hour before returning home to plan a re-match for later in the week. It crossed my mind that weíre only 12 weeks away from the open-water fishing season, so itís going to feel like a short winter no matter what happens for the next few weeks.
Somehow, snow that has hit other areas of the state has continually missed our area and ice conditions continue to improve. When this cold front passes, we should be looking at excellent travel conditions for folks who want to travel up for some late season panfishing. The DNR announced yesterday (2-17) that the Northern Pike and Walleye Season has been extended until February 26, 2006. So if you read your regulations and thought it ended this weekend, you have a bonus week that you might want to take advantage of.
Iíve been trying to get a great fishing report together all week long. Frankly itís been tough to get really fired up because the fish are in what Iíd call a three-day cycle right now. They feed fairly well one day, not at all on the second and maybe thereís a decent run of action for an hour or so on the third day. If you are able to fish a three-day stint, youíll certainly have good fishing on one of the three.
The consensus among everyone Iíve talked to has been that the fish are enjoying the huge supply of baitfish from the fantastic 2004 year class. If you can be where theyíre feeding on the right day, youíll do well. If you find them after the binge is over, you will see lots of fish on your electronics, but youíll have to really tease them to get a bite. There are always exceptions and the folks, who explore new water and locate lakes that havenít been fished hard, continue to have better than average fishing. This has been particularly true for Crappie and Bluegill anglers.
Walleyes are already in the early stages of moving toward spring locations and Walleye fishing on mid-lake structures is showing signs of winding down. If you want to take advantage of the last week of fishing, Iíd suggest fishing shallower points that extend out from the main shoreline. The presence of baitfish is the key. If your screen is blank during the day, move on until you find a location where you see minnows on your Vexilar. The fish will run again late in the afternoon and early evening.
If you can locate any green weeds at all, youíll be able to locate Bluegills working just on the outside edges of the cover. They have been sticking tight to the weeds during the day, but run fairly steadily for an hour or so every afternoon just before dark. A 1/16-ounce glow-bug or similar jig tipped with a wax worm will do great.
We done a little more Trout fishing and the action appears to be holding up. Reports around the area are better than average in both size and numbers. They have moved significantly deeper than we found them earlier this winter and we wasted several hours looking for fish in the 40 to 50 foot range without even a sighting. Moving out to about 65 feet in a small hole produced many more sightings and another nice Trout. In my opinion, if weíd found that spot a couple of hours earlier, weíd have picked up another fish or two. I know that doesnít sound like a lot of action, but the surroundings are terrific and the time goes by fast when your chewing the fat with friends. Having a few fish close to home is kind of a nice option to have in your bag of tricks. The best Trout bait weíve seen so far this winter has been the Perch Pattern Airplane Jig by Northland Tackle. A shiner added to the hook (where itís legal) has caught at least one fish each time out.
Perch fishing reports are coming in spotty with some folks finding good schools of fish and others missing the boat. The early morning bite still produces more reliably than later in the day, so a good strategy would be to fish Perch until Lunchtime, take a break and get set up for panfish or Walleyes in the late afternoon.
As soon as the weather settles back down, weíll get back out there and take a look at some of the spring spots and see if the move is on.
Good Luck! Check Back For Updates!