---
---
Reader Q&A Fishing The Fall Turnover 9-21-2010
Q) Hi Jeff, I just read your latest update. You're expecting Winnie to turn over soon? And after that no fish? I always thought they kept their feed bag on until ice hits. Erling Hommedahl
A) Erl, I don't recall saying no fish, I said "slow-down". The peak of activity is occurring right now as is always the case. Pre-turnover is the most active feeding period of the fall, but post-turnover doesn't stop the fish from feeding, it just signals a change in how you approach catching them i.e. more success at evening than during midday, selection of baits, depth of water etc..
We will find a productive places to fish, but after the surface temperatures dip into the lower 50 degree range, surface water sinks to the bottom and warmer watrer rises to the top. This reminds me of the old coffee pot on the stove as it just starts to perk.
The affect of this turnover is that now all of the water in the lake is equally Oxygenated and becomes similar in temperature. Fish that were forced to inhabit the shallows when deep water became un-inhabitable during late summer are now free to roam until they locate preferred structure and or bait supplies.
When turnover occurs and the large schools of fish seem to disappear, we look for lakes that either haven't turned yet or in some cases, lakes that never turnover i.e. deep, spring fed lakes or lakes fed by rivers with heavy current flow.
Watch for additional information soon. - Thanks, Jeff
---
Tackle Tip: Cleaning Up Rusty Jigs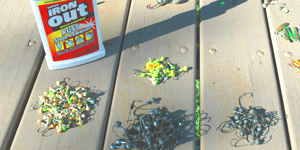 Water in the boat from rain or waves is hard on your fishing tackle. I opened one of my tackle boxes and discovered a pile of wet, rusty jigs. In the past, I would have thrown 'em out and started from scratch.
Yesterday, I decided to try getting rid of the rust using Iron Out and it worked like a charm. It was so simple I couldn't believe it. Just drop the whole pile of jigs into a plastic container that can be covered. Liberally sprinkle on the powdered Iron Out, add a small amount of water, cover and shake for a few seconds.
After the chemical has had a few minutes to work, remove the cover, rinse with clean water and dry out the hooks. As a measure of extra protection, I sprayed mine with WD40 after drying.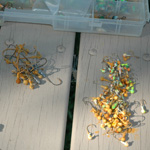 I put my jigs into an empty plastic container, sprinkled on the Iron Out, added some water and shook them up. It's amazing how fast the rust comes off. I sprayed on some WD40 and they're almost good as new.
So whenever you open up a box and find a gob of rusty hooks, don't throw 'em out too fast. It's true that if they're left untreated, rust will eventually ruin the hooks, but if you act quickly, you can save them before it's too late.
---
Bob Hannes; Reader Question about Mercury OptiMax Tiller on Lund Alaskan Tiller Model Boat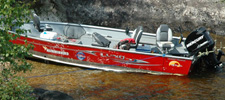 Q) I'm writing because you are one of the few people that have much experience with the 20' Alaskan tiller.
I have been looking around here in Wisconsin and had limited success with dealers, I guess I just don't want to buy on unseen. I am even considering booking a trip with you just to ride in one and see the power tiller handle. Living within 45 minutes of Green Bay and Lake Winnebago I am looking for boat to do it all including duck hunting.
I have been told the power handle is the way to go with a tiller that large, what is your opinion after running it both ways? The cost I was give was $3,000 for the power tiller handle, for that I could possibly get a SS and save money, but I really would like an open floor tiller.
I would like to run a 4 stroke just for noise reduction and with my choices being the 115 or 90 what do you see as performance differences? One dealer was only going to charge $300 more for the 115, unless there is a reason to choose the 90 that seems like an easy decision to me for $300.

Not sure what you have had for trailers, I would like a roller to launch at smaller lakes but could I expect to see hull damage in the form of dents?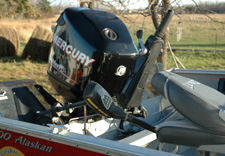 What is the length of the boat motor and trailer? Currently I would rent a storage unit to keep it indoors. That my require me to downsize to a 18. I am assuming they all have the swing away tongue.
Thanks for any insight you may be able to give. Bob
A) Bob, Thanks for taking the time to get in touch. You're right, I have been running the Lund Alaskan for several years now and consider myself very fortunate. The Alaskans have worked out perfect for me because the job I have to do requires utility, reliability and comfort; the Alaskan delivers great performance.
As luck would have it, I've had the opportunity to compare a variety of outboards on the Alaskans too. Let's see, I've run one with the 90 HP Johnson 4-stroke (made by Suzuki), two of them with 90 HP Evinrude E-Tech engines, one with the Mercury 115 HP 4-stroke and most recently, my current boat is equipped with the 90 HP Mercury OptiMax Big Tiller.
For this boat, you need an engine that trolls down, and of all the combinations I've owned, the Mercury Opti Max 90 HP has been the best performing engine from a pure fishing point of view.
You are correct that the 115 4 stroke would be somewhat quieter, but the Opti is very pleasant to run and your trolling performance will be much better. In terms of top end performance, I lost only 1 MPH when I switched from the 4-stroke 115 to the Opti 90.
The "Big Tiller" with power steering is really nice. I really didn't have any complaints before either and I think you could go either way with this and be happy. If this is a rig you're going to hold on to for a while, the extra money may be worth it to you.
I've had all five of my Alaskan's on Shorelander roller trailers. I can launch these boats in shallower water than any rig I've ever owned in the past 30 years. You have nothing to worry about, it will easily go where most other boats won't. In fact I was so impressed with my first one that for fun I had some stickers printed for the side that said "4X4". These boats can just go anywhere.

I know you're concerned about the cost. These are big decisions for me just like they are for you. When it comes to dealing with someone for a competitive price, it's going to be hard to beat Ray's Marine in Grand Rapids, MN. I know it's a little outside your home territory, but I think they will be happy to work with you. Why don't you try making a call to Dave Hernesman, 218-326-0353.
If you happen to get over this way occaisionally, I would be more than happy to let you take a test drive. Just give me some advance notice so I can work it into my schedule.
If you have any more questions let me know, I'm happy to help out. - Jeff Sundin
---
Mercury Opti Max Performance Questions 7/13/08
Q) Jeff - I see you're running a Mercury Opti Max on your boat this year. In your opinion how does it compare—both trolling and running hard to the Merc 4-stroke you ran last year and the Etec you ran prior to that. Thanks, Matt, Kearney, Nebraska
A) Matt, This is by far the best engine I've had for "pure fishing". With the 90 HP Opti Max, my top speed is about 35 MPH which compares to a top speed of 37 MPH with the Mercury 115 4 stroke. I can troll significantly slower with the Opti Max and it is easy to keep my trolling speed at or near .5 (1/2) MPH. In flat water, I do still use a drift sock.
The Opti Max is not as quiet as either the 4 stroke Mercury or the E Tech, but it is very tolerable. The Opti Max uses more oil than the E Tech but compares very favorably in Gasoline consumption. So far my daily trip average is about 5 gallons of gas per day. Spark plug life with the Opti Max is hands down better than my E Tecs were.
As an added bonus, I have the new Mercury "Big Tiller" and power steering on this engine and so far this is also working very well for me. They've thought out the handle design so it's easy to use and the power steering makes operating in heavy water much easier.
We're in a time historically when most of the engines on the market are good. Now we enjoy the luxury of being able to "fine tune" our choices to match the job we want to do. So far, this engine has been my favorite and I'll probably continue to run this model each year for the foreseeable future. Good luck with your fishing, Jeff Sundin
---
16 Foot Lund Alaskan vs. 16 Foot Lund Classic 2-19-08
Q) By way of introduction, my name is Chuck of southeastern Pennsylvania. I'm currently exploring the purchase of a Lund aluminum boat, specifically the Classic 1625 SS (665 lbs) or the Alaskan 1600 SS (915 lbs). The boat will be mainly used in local freshwater lakes of approximately 1500 acres.
My main concern, and question to you and your Website readers, is regarding the weight of the boat, horsepower and performance. The majority of lakes in Pennsylvania are horsepower restricted, maximum of 20hp. While I'm not necessarily concerned with maximum performance, given the relatively small size of the lakes I'll be fishing, the weight of the Lund with the IPS hull is making my choice somewhat difficult.
I like the Alaskan size, layout and features compared to the Classic but the extra 200+ lbs is something to consider. Do you or your readers have any experience in this area? Can you comment on the performance I can expect given the hp restriction and weights of the two boats?
A friend of mine owns a 1990's model Alaskan SSV18 (~600lbs), standard V-hull without the IPS, equipped with a 15hp 2-stroke engine. The performance of this rig, while not optimal, would be good for my purposes. Are their any comparisons I can make here? I've looked at some Performance Bulletins from Mercury, Honda and Yamaha; however, none seem to match the configurations I am considering.
As a Lund owner I would appreciate your thoughts. Thanks, Chuck.
A) Chuck, It's been quite some time since I've run a rig with less than 90 HP, so I'm definitely not the final authority on this subject.
I'm all for protecting our resources, but it sounds like the State of Pennsylvania has put you in a difficult position. In my opinion, you could do better to minimize the negative impact of boating on a lake by allowing boats to be "correctly powered" for better performance.
In other words, if I lived on a lake, I'd rather see boats operating efficiently, than to see underpowered rigs plowing water, causing large wakes and burning extra gas. With today's improved engines, a 40 HP limit would likely serve the same purpose environmentally and still give boaters a few more realistic options. I can think of a bunch of really nice fishing rigs that could be paired up with engines in the 25 to 40 HP range.
That said, If I had to choose between the two boats, I think the Classic 1625 gets the nod this time. Honestly, a 1500 acre lake is going to be manageable with either rig and even if I had to cover the whole lake at trolling speed, I could still cover a lot of ground in a typical fishing day. But that classic is a nice rig and you can't ignore that weight difference. I think you'll do great with the Classic.
Here's a little trick I learned a few years ago; Check into pontoon boat props for your outboard engine. These are "anti-cavitation" props built for applications where the prop needs to get "good traction" and while you will lose some top end speed, they really do help you get up on plane better and improve the responsiveness of your rig. For me, a boat that handles properly is a lot more fun to use than one that only goes fast.
Now that you know my personal preference, maybe some of the folks reading this will add their two cents worth by clicking here. Good Luck, Jeff
---
G. Loomis SR842-2 Spinning Rods, Matching Reels 2-5-08
Q) Hello. I have a Loomis Sr842-2 GL3 spinning rod and I was wondering what spinning reel do you recommend for this rod? All I keep seeing when I search is the GLX (version). I just thought I would let you know. Thanks, John
A) I have several of the SR842-2 GLX rods. In my opinion, this is the best light rod I've ever touched. I use them primarily for Walleye and Crappie fishing with light jigs in the 1/32 ounce to 1/18 ounce range.
I've used the SR 842-2 IMX version as well, but really prefer the faster recovery time of the GLX. I've not used the GL3, but I guess that it's probably somewhat "whipier" than either the IMX or GLX versions and just a touch heavier.
Because I seldom use line heavier than 4 pound test with these rods, I generally match these rods with a 1500 series or sometimes even a 1000 series reel. With the GL3, the 1500 series might feel better, but you'll have to take the rod into the store and try out a couple. Hands on testing is the best way.
Shimano, Daiwa and Garcia all have some nice lightweight reels in this size range. I went through a phase where I bought quite a few "high end" reels and eventually came to the realization that my money was better spent on getting the best rod, then matching that with a reel of decent quality, but not necessarily "top of the line". Last year I bought some moderately priced Shimano Cienna 1000 series reels and I had good luck with those. I prefer a front drag on mine, you may choose a rear drag. As long as they have a good drag and feel smooth, you'll be okay. If you want to go into a higher end reel, look at the Stradic FI.
I hope this helps, good luck, Jeff
Note: If you check the G. Loomis website under trout rods, they do list the GL3 version right along with the others. Dealers may choose not to stock that model, but they can certainly order it for you.
---
Alaskan and MinnKota Question 1-29-08
Q) Jeff, Was the Minnkota transom mount 74lb. 24v a Maxxum or Vector series? How much running time could you normally get before discharge and which series do you prefer? Also, do you know any Lund dealers that currently have 20ft.tillers in stock, Alaskans of course. Thank you for your time, Nick.
A) Actually, It is an 80 pound thrust and it is the Vector 3X Tiller model. When you have good batteries, you can run it hard all day long without a problem. When the batteries start getting tired, lets say 190 to 250 trips on them, then I can use them up in a day. For me, I try to run the trolling motor instead of the outboard, so I have it on a lot. For a typical angler, you may even go three or four days on a charge, but if at all possible, I'd recommend re-charging every time you use the rig and you'll get longer battery life.
The dealers seldom keep the 20 foot Alaskans "on-hand", but your first call should be to Dave Hernesman at Ray's Sport & Marine in Grand Rapids 218-326-0353 or email him at rays@raysmarine.com
---
Lund Alaskan Follow Up Questions 1-29-08
Q) Jeff, Since your so good about answering questions, I guess I have to ask a couple more. Thanks in advance for you willingness to answer them. Are you running a 24volt system? If so were do you put the batteries? Would it be possible to run a 36 volt system? Do you have an on-board charger?
A) Yes I run the 24 volt and I've been using the MinnKota 80 pound Vector 3X models and they are a perfect match for this rig. Beginning with the 2007 models, there is a built in battery compartment just below the front deck under the cockpit floor. There's room in there for two group 27 batteries so the 24 volt is no problem.
If you want to go 36 volt, (you really don't need to) you could add another battery in one of the storage compartments in the front deck. This isn't that heavy a boat though and typically the 24 volts system will do a great job.
I always install MinnKota's three bank on board charger and I've never had a failure. I will never be without one.
---
Mercury Outboard Question 1-27-08
Q) Hello Jeff, I was looking at your boat, and setup. The Alaskan looks like a very nice setup, but with a 115hp tiller??? I guess that sounds like a lot, how does it handle? Have you had any troubles with the mercury motor? Looking for your insight since you probably run the boat every day in the summer. Thanks and good fishing, Matthew
A) Matthew, This was my first year with a Mercury Outboard since the late seventies. Most folks know by now that Mercury Marine's parent company, Brunswick Corporation acquired Lund Boats a couple of seasons ago. To make a long story short, this opened up an opportunity for me to switch over to the Merc.
From the beginning, I've had a great experience with the outboard and with the company itself. They are very well organized and the products are delivered really fast.
Another change resulting from Brunswick's acquisition was the re-rating of the Alaskan 2000 Tiller Boats. Previously rated for a 90 HP Tiller Engine, the Alaskan has been upgraded to a bit larger boat with a few bells and whistles and a new rating up to 115 HP.
Not knowing what to expect, I decided to spend my first season with the 115 HP four stroke and this turned out to be an excellent engine for me. It starts great, sounds great and looks great to boot. A lot of folks that fished with me last summer complemented the engine on it's quietness. On this boat, this engine has all the get up and go I could ever ask for and it was zipping me along at just shy of 40 MPH. I switched to a lower pitch prop, 16 pitch aluminum "Black Max" to get a little slower trolling speed and that dropped my top end down to around 37 MPH.
At the time I ordered it, Mercury's new "power steering" tiller handle wasn't yet available, so I went with the conventional tiller steering control. That's the tensioning system with a swing arm that slides through an adjustable plastic sleeve.
I really didn't have much problem controlling the engine because it had plenty of power to get me up on plane even at low speeds. Tiller engines are easy to control when you're boat is on plane and you have the engine trimmed up to it's "sweet spot". They're only tough to control when you're plowing water, in other words you're a lot more likely to have trouble with an underpowered boat or when you don't have the correct prop installed.
This year the new power steering tiller is available and I will certainly have it installed on this year's rig. From what I've seen so far, these power units take virtually all of the work out of steering a tiller engine. As soon as I hit the water this spring I'll be sure to post an updated review.
Trolling speed with the big four stroke is acceptable, especially when you use a good drift sock. For me, if the water is calm, I do all of my best work with the electric motor and tend not to run the engine until there's a "Walleye Chop". With a few waves slapping into my Wave Wackers, it trolls down just great. I hope that helps, Good Luck - Jeff
---
Lund Alaskan Questions 1-27-08
Q) Jeff, I am looking at purchasing a new 20 ft Alaskan. I cannot find pictures of this boat anywhere and dealers don't keep them in stock for me to see. I understand your boat is sold. Can you send me more pictures of it so I can get a better feel for the boat?
A couple other questions: Is the livewell big enough? How does it handle rough water? How fast with a 115hp? Thanks a bunch, Matt.
A) Matt, this was my 4th Alaskan and they have all been good boats for me. I fish large lakes like Leech, Rainy, Red and Lake of the Woods. These boats have taken everything that any of them can dish out.
Top speed with the 4 stroke 115 is really dependent on the prop you choose. If all you want to do is go fast, you can put on a higher pitch prop and your speed will be well over 40 MPH. In my case, I want to troll down, so I run the lowest pitch prop they offer which is a 17 pitch, 3 blade aluminum prop. My top speed with a light/dry load is about 38, heavy/wet loads I get about 36 MPH.
The livewell (for me) is where I keep the bait. I use an ice chest for the fish because that keeps them delightfully fresh in warm weather. If I were to choose to use the livewell for fish instead of bait, I believe it's plenty big enough for your average fisherman. It is not a "tournament" size livewell, but on one occasion where we need to keep fish alive for a photo session, I had a 15 pound Pike and a 10 pound Walleye both in there at the same time and we kept them alive easily. So if you don't over-do it, it will be more than adequate.
Here are a few pictures I have on hand. Click to enlarge them.
---
G. Loomis WRR 8400 GLX - Good All Around Rod?
Q) Hello from fargo, I recently won a G. Loomis WRR 8400 GlX fishing rod. It's seven foot long and I've never fished with a rod longer than 6ft.,I fish primarily for walleye and I can exchange it for a different one if I want to, but since I haven't fish with a seven footer before I'm not sure if I'd be doing the right thing by exchanging it for a shorter one. Would really appreciate your opinion.. thanks, a.c.
A) The 8400 is a great rod. I use that rod for live bait rigging in deeper water where heavier sinker weights are needed and for trolling crankbaits. If this is the type of fishing you like, keep it.
If you prefer to fish Walleyes in shallow water using lighter sinkers and jigs, then that rod might be a bit heavy for day to day fishing. In that case, I think the ULTIMATE light line/light lure rod in the entire G.Loomis lineup is the SR 842-2 GLX.
Another thought with regard to versatility; The SJR 720 IMX is probably about as good a choice as you'll find for an all around rod that you can use for multiple applications.
I hope this helps. If you want more specific selections, let me know more about your fishing style and the baits you most often use. - Good luck, Jeff
---
Line Selection For Musky Rods? 5/20/07
Q) I'm an avid walleye fisherman, who for many years fished Lake Winnie. I've now built a cabin on Leech Lake, Portage Bay and seen some of the pictures of the Musky that people catch by me and want to start fishing them again.
I fished Musky about 20 years ago, but I don't even remember the basics. I pulled out my old Musky reels and want to replace the line, when to the store - didn't even remember what pound line to get, asked, got about 5 different answers, so I thought I'd email you.
My reel is a Abu Garcia 5500-C3 I also have a 4600 - C3 and a Zebco Quantum IR4C that I could use. No clue what I have for rods, as they are stuffed in the corner up north. I remember the fun catching - but not the basics - I have one 43" under my belt again many from years ago. I'm sure one I get started again this will come back to me - any help? -David
A) David, You're going to see a lot of choices out there for line. I've been using the Berkley Fireline on my musky gear. The line weight you need is going to depend a lot on the rods you're using, but generally, the 50 pound test should be okay for most applications. Here's a link to an article I wrote that might be of interest to you.
http://www.jeffsundin.com/article_musky_mystery_part-one.htm - Good luck! Jeff
---
Outboards and Fishing Rods 5-14-07
Q) Hey Jeff, What will you be asking for the boat. Is the Merc a 90? What is your choice rod for Shad Rapping and your rod for drifting a worm or jig. Thanks much Mike J.
A) Mike, The Merc is a 115 HP 4 Stroke. I am anticipating the price of the boat to be around $17,900.00 but I don't have that locked in just yet.
For trolling shad raps and other crank baits I like a casting rod with a line counting reel. I use all Loomis Rods and the models that work well with crankbaits are CR 842 IMX, PR 8400 IMX, CR 843 IMX (for larger baits).
There are a lot of good models for jigging and live bait rigging. When I can't decide on a specific rod for a specific job, I go with the spinning rod SJR 720 IMX. This is a six foot rod that will perform most of the work an average fisherman can throw at it.
The 1500 Series Reel should match up well with that rod. Good luck! Jeff
---
Matching Reel to Fishing Rod 4-20-07
Q) I had emailed you earlier about the sjr720 rod. I'm looking at a Shimano Symetre reel to put on the rod. Would you recommend the 750 model or the 1500 model reel for that rod. I mainly due walleye and crappie fishing. - Brad
A) Brad, I'm not super familiar with those reels but if their numbering system is uniform throughout all of the models, the 1500 should be good. In the store, you can tell easily which one will be best by installing it on the rod and then using only your index finger, balance the rod just ahead of the reel seat on the handle.
If the rod falls backward your reel is too heavy, if the tip falls toward the ground the reel is too light. An ideal combination should balance on your fingertip and feel comfortable to hold.
When it's balanced correctly, you can fish all day long without getting a sore or tired arm. Good luck! Jeff
---
Guiding Insurance 4-15-07
Q) Hey JEFF, My name is Tim, I live in Ames Iowa about 35 miles north of Des Moines I've been a compulsive fisherman for over 25+ years and have did a few guide trips by word of mouth and was thinking about doing it as a part time income.
I have a question for you in Iowa you don't need a license any more the DNR tells me but I was wondering about what kind of insurance you recommend? I'm a a 1 to 2 times a year visitor to Lake Winnie I absolutely love the north country!!! you are blessed to live there if I was single I would pack up and move but a wife and 3 kids might have a different opinion!
Anyway I'm a regular visitor to your site and love the reports and especially like your articles you post intelligent information so please keep it up. Thanks, Tim
A) Thanks Tim, Chances are that it won't be more than a couple of hundred bucks to get the guiding coverage under your homeowners policy if you're not guiding full time. Most insurance companies will let you add the coverage under your homeowners and they usually have a rule that equates the percentage of your income from guiding to determine whether or not you are eligible.
If you earn more than 50% of your income from guiding/fishing, you'll probably need to cover yourself with a commercial inland marine policy. I have mine through Charter Lakes Insurance at the Dwight Swanstrom Agency in Duluth, Minnesota. If you want that contact information, let me know.
Be sure that your insurance agent knows that you're guiding and let them tell you what you need. Now days if you don't disclose it, don't be surprised if they deny a claim based on the fact that you don't have the correct rider on your policy. Chances are that it won't be a big deal to get coverage under your homeowners.
---
G Loomis Models, Combined Walleye & Crappie Fishing in Minnesota 2/5/07
Q) I was reading your website and have a question regarding rods. I am looking at the G Loomis SJR721-IMX and SJR722-IMX for general walleye fishing and also crappie fishing with my boys. Is there one that would be best suited for Minnesota fishing?
A) As soon as you mentioned combining Crappies with Walleyes in Minnesota, the answer was clear as day, SJR-720. If you've been looking at the 721 and 722's you've probably already seen the 720.
I have at least eight of these right now and they have become the standard issue, multi purpose rod for all of my guests. These are light enough to make a sport out of the crappie fishing, but plenty powerful enough to take care of any Walleye you're going to hook in the Midwest. There isn't any doubt in my mind.
The 722 is not well suited for light line and light jigs like you'd use for Crappies (we use the 722 for Bass and Pike), the 721 wouldn't be bad, but even this great all around rod is heavier than you need. Bottom line: Go with the SJR-720 IMX and you'll love them.
I hope this helps, good luck. Jeff
---
MinnKota Transom Trolling Motor Models 2/3/07
Q) Because I will likely not be switching boats for a least a couple more years, I will need to be investing in a new transom mount trolling motor. I would guess that you have probably used several models over the past few years and would like to hear your recommendations.
I had the MinnKota Vantage 24 volt at 74 lbs thrust and didn't have much trouble with it till last year. The auto up and down was nice at times but the shaft was barely long enough (36") and the prop would lose force when faced toward the body of the big gas motor.
There were also some minor problems that you would not get with the manual up and down. I am looking at replacing my 24 volt to a 36 volt to increase power and also battery life. The pro v is still a heavy boat and on windy days the extra power would be nice. The 2 options I am looking at are the Vantage with 101 lbs of thrust and the Vector X3 with 101 lbs thrust. The vector is about $450 less than the vantage. Haven't herd much about the Vector. Have you ever used one? - Vern
A) With my 20 foot Alaskan, the two battery system is a lot more practical and I can honestly say that I've never worried about not having enough power using the 80 pound, two battery version. So I haven't used the 3X 100 lb version, but I have had a several of the earlier (74 lb) and 80 lb versions. I've been extremely happy with them, in fact this is the only trolling motor I've ever had that went a full season without a hiccup.
In my experience, the simpler the system, the better. That's why I chose these over the vantage and I've never regretted it.- Good Luck, Jeff
---
Lund Alaskan for Texas Reservoirs? 11-20-06
Q) Hi Jeff. Greetings from Texas! I fish Lake Amistad, near Del Rio, Texas. The lake is 56,000 acres (3rd largest man-made lake in the world, 214 feet at the dam.). Additionally, the lake is laid out in such a way that it is like 3 separate oceans. Very dangerous in rough water.
I've heard of people using the Alaskan on Lake Erie, and would appreciate your guidance on selecting a boat for such waters. I spend most of my time trolling & spoon plugging. Sincerely - Joe M. Bass
A) Joe, We have our share of windy, rough days up here like you do in Texas. The lake I fish most often in our area is Lake Winnie (Winnibigoshish) which is 59,000 acres that's all one big round body of water. I also fish Leech Lake 111,000 acres, Red Lake 109,000 acres and others in this same size range. I have had three Alaskans so far and have found that they were all very dependable in heavy weather on these lakes.
These are exceptionally nice boats for people who like the no frills, straight forward style. The all work, basic design makes it a great boat for what I do. You're not going to find anything that's more dependable.
Lund has many other models that offer large, sturdy hulls with a greater variety of features as well. If you'd like some additional suggestions, let me know and I'll expand on these comments. - Good Luck, Jeff
---
G. Loomis Fishing Rod for Bluegills 11-7-06
Q) Jeff, I did a search on the web for the G Loomis SJR720(GL2) and your site came up. I have a quick question for you. I do not own any Loomis rods at this point and was thinking about purchasing 2 of these rods for my wife/I to panfish(bluegills) and wondered what your thoughts were?? Thanks, Max
A) The SJR-720 IMX is the rod I use as my standard "workhorse fishing rod". We use these for everything from Bass to Walleye and even for panfish. These will do a decent job for you, but if you fish only for panfish and don't need the extra backbone, there are several fantastic rods listed in their Trout and Panfish section that will be even better.
For the ultimate (I really mean ultimate) fishing experience in spinning rods, you can not find a better rod than the SR842-2 GLX. I know they're expensive, but you can tell when the fish touches the bait in even the slightest way. My next favorite for Bluegills and Crappies is the SR-781 IMX, this is a very light weight rod with a super soft tip that is especially good for teasing those finicky biters. We use these and the SR-782 IMX on Walleyes from time to time when light baits (1/16 ounce) is required.
Since this is your first experience shopping for a Loomis Rod I hope you will take some sincere advice from someone who has been fishing them for nearly 20 years now. Get the best ones your budget will allow. This is a lifetime investment and you will never regret getting the best and you'll be back for more.- Good luck! Jeff
---
Lund Alaskan Seat Locations 9-7-06
Q) Hi Jeff, well I'm back again to ask you a couple more questions re my 20' Lund Alaskan single side console:
From previous correspondence it's my impression you backtroll using an electric trolling motor (I'm also under the impression your Alaskan is a "tiller" model). On which side of the transom is your trolling motor mounted, port or starboard?
My Alaskan came with two pedestal bases installed behind the drivers seat, each located very close to the side of the boat and not in a good position to backtroll; sitting in either of these two seats puts you either too far away, or too close to the side of the boat to backtroll, depending on which side you're attempting to fish from. I prefer to fish over the port side of the boat and operate the trolling motor with my left hand.
I intend to install another pedestal base somewhere back near the transom, more in the center of the boat, kind of in-between the two rear pedestal bases that came with the Alaskan (I hope I'm not making this too confusing), either on top of the lid of the floor compartment in front of the motor that opens open for storage, on perhaps directly in front of that storage lid, on the panel that is positioned over the built in gas tank. So, my second question is: In your boat, where is the seat positioned that you sit in when you backtroll?
You've always been very prompt in replying to my E-mails re my Alaskan, and I very much appreciate it. Sometimes I think I'm pushing my luck a bit in continuing to ask questions of you, but I know you've had several Alaskans, so who better to ask, huh?
I'll look forward to your reply when it's convenient for you. Thanks again, Dennis Gregory
A) Dennis, I have my MinnKota Vector 3X mounted on the starboard side. It's very handy for me there. The seat pedestal is mounted just to the starboard side of that gas tank/storage door panel you mentioned and it is centered at the hinge of that storage door.
If you want to go closer to the center, I'd suggest using one of the "Half Pedestal Bases" (has one flat side) installed on the center panel just ahead of that hinge. You have to remove that center panel first to be sure that you have the correct clearances between the floor and gas tank. I would suggest mounting the base with stainless screws and lock nuts instead of using wood screws. Wood screws will eventually loosen and force you to relocate the base.
That sounds like a job, but you can remove that panel in just a few minutes. A good hole saw to cut out a spot for your new bases(s) is the only special tool you'll need.
Have fun getting it dialed in. Stay in touch, Jeff
---
G Loomis Rigging Rod Suggestions 6-6-06
Q) Hi Jeff, I was wondering if you would have a recommendation for a good fishing pole for rigging. I have been using one that you recommended to me for jigging--a G Loomis #842-2 GLX. I have been very happy with this. Thank you! - Doug
A) Doug, There are two ways you can go. When we fish deeper water where heavier sinkers (1/2 ounce to 1ounce) are needed I like the WRR8400S this is a 7 footer with a butt section that's heavy enough to keep my arm from getting tired of moving the heavy sinkers, but the tip is light enough to feel the pick up without spooking fish.
For rigging with lighter weights and in weeds, you still can't beat the SJR720 IMX this is the standard of all rods for me. It's your basic 6 foot rod that can be used for almost anything that Walleye fishing might require. It's a good all around workhorse with great touch and sensitivity. Take a look and those two models.
If your needs are more specific, give me a little more detail about where and how you like to fish and I'll fine tune some suggestions for you. - Jeff
---
G Loomis SR842-2 GLX vs. G Loomis DRS820S 6-1-06
Q) Hi, I'm looking at getting either the SR842-2 GLX or the DSR820S GLX. I already have the IMX version of the SR842-2 as well as the non GLX version of the DSR820S which I was told is closer to an IMX blank. I use the rod primarily with either 4 pound Fireline or 6 pound Fireline for casting either small crankbaits like Ecogear SX40Fs or small jigheads (1/32 – 1/6 oz ). Which would be better suited to my preferred use? - Regards, Chung
A) Chung, I have many of the SR842 GLX rods and I personally love this model. The Drop Shot rods are really designed for "vertical" presentations where a flexible tip section and fairly powerful butt section are combined to make hook setting (really, simply lifting the rod without jerking) easier.
You'll notice that the GLX version of the SR842-2 feels significantly less "whippy" in your hand than it's IMX counter part and these are simply the most sensitive rods I've ever fished with.
Now we get into a debate about line, these rods are highly protective of light line and I swear by using 4 pound mono instead of the braided lines. In my case I use Triple Fish Line which is extraordinarily cast-able and as tough as most of the six pound lines I've used. With the GLX, I'd be careful about using the braids. In my opinion, this is a "High Performance" rod, delicate, sensitive and probably the rod least likely to gain or benefit from the use of braided super lines. - I hope this helps, Jeff
---
20 Foot Alaskan with Mercury Opti-Max
2-17-6Q) Just would kinda' like to get your opinion on a couple of things. I've corresponded with you in the past: I'm buying a new, '06, Lund 20' Alaskan, single console.
You've written about this boat several times, so I know you're a fan of this model. After exchanging a couple E-mails with you, it was my intention to put a 115 hp Evinrude E-tech on this boat, however (and you probably know this), I've found it is about impossible to buy a Lund boat and Evinrude motor from the same dealership.
The couple of Lund dealers in my area that did carry the Evinrude line, now tell me they're not going to carry the Evinrudes any more. So now, I've opted for a 115 hp Mercury OptiMax; looks like my only choice! So, I'd like to get your thoughts on this outfit - 20' Alaskan with 115 Optimax.
Also, the dealer has recommended a 24 volt MinnKota 80# Power Drive troll motor. Before talking with the dealer, I had kinda' thought I'd go with the MinnKota Maxuum troll motor, because that seems to be the one I see on most bigger boats.
Have you had any experience with the MinnKota Power drives and/or the Maxuum.
Thanks, I'll look forward to hearing your opinion. - Dennis, Peoria, Illinois
A) Dennis, That's going to be a peppy rig. I get enough speed and lift out my 90 to satisfy every desire. The Opti Max is going to be fine, but if you really want the E-Tech, Ray's Marine in Grand Rapids, Minnesota can get you set up and they sell out of state all the time.
I have used the 74 pound Maxxum on the last five boats and always had plenty of power. This year I have to get a new one but the 74 lb is gone and there is either a 70 or an 80 lb version. This is a coin toss because either of them will be plenty of power. In my world, I'll probably go with the 80 lb. because if I can leave my outboard shut off a couple of extra days, the gas savings will be worth the extra few bucks for the larger electric. Good Luck, - Jeff
---
Lund Alaskan - How about Big Water? 5-27-05
Q) HI, I saw your ad selling your Alaskan and wondered how you liked it. I am thinking of buying a 1996 20' and don't know much about it. It has a 75 hp Merc and a 9.9 kicker. It looks pretty shallow on the sides and I don't want to get into any trouble on the great lakes.
For the most part, I'll be fishing with my 4 year old son on local lakes, but I do take the occasional trips to Lake Erie to go walleye or perch fishing. I pay close attention to the weather forecasts, but it's not uncommon to get caught out there in 4-5' waves.
I would never take my son out there, but I also don't want to leave him without a father either. I also do a fair amount of trolling on Lake Cumberland in the spring, but I'm pretty sure the Alaskan will handle that with ease. I've just never heard of the Alaskan, but I do like the Lunds, and I don't want to buy a boat I'll be sorry about later. I really appreciate the advice. - Gary
A) Under those circumstances I think you'll like this boat. The new ones have a livewell and are rated for a 90 Horsepower engine. I like that a lot better than the 75 HP you mentioned, but the one you're looking at is still a solidly built boat and it will handle waves if you ask it to.
I fish Leech Lake, Winnie, Red Lake and Rainy Lake. All of these are large lakes that can easily produce 4 foot waves. I've never had to worry about getting back to shore yet and I would compare this to any fishing boat on the market as far as dry ride is concerned. It does not have high sides like a Tyee or Fisherman, it's depth is more comparable to a Pro V, Mr. Pike etc.
If you're after a basic, no frills working boat, you'll be happy with it. - Good Luck! Jeff
---
Lund's Alaskan Boat Line, 20 Footer vs. 18 Footer? 4-25-05
Q) Hello there Jeff. I came across your site after searching for info on the 20 Lund Alaskan. Great site by the way. I currently own an 18 Alaskan SS w/3 cylinder Evinrude 60 hp 2-stroke. Had it since new in 99. Absolutely love it. Fish mostly inland in Maine. The question I have is this . I'm seriously considering upgrading to the 20 Alaskan. What hp would you recommend for this boat to get up and go with 3-4 people in it. (My 18 Alaskan flies out of the hole with 3 or 4 people) Also , I would like to continue trolling (trout and salmon) without a kicker motor. I'd love a 4 stroke or new E-tech but my budget probably won't allow it. My brother is a marine mechanic and has a line on many reasonably priced used 2 strokes. The 20 Alaskan would be brand new. Thank you Jeff. I appreciate you taking the time to answer this email. - Jason O'Connor
A) Jason, Thanks for the comments and kind words about the site. If you're happy with the 18 footer, you'll love the 20. Better stability for casting and plenty of extra room to move around. Only a few years ago, this boat (tiller model) was rated for an 80 Horsepower maximum and I started with one of the first few 90 HP rated boats.
I have had the 90 Johnson four stroke on my first Alaskan and the 90 Evinrude E-Tech on the second. Neither of These engines ever had to be been pushed hard, even with the heaviest loads. This year I'm going with the E-Tech again. It has all the power anyone could ask for. I have a friend who operates his 20 footer with a 70 Horsepower and he generally has no problem with his rig either.
If you rig it up with the 70, you'll save some money and it will do a nice job for you on this boat. Even giving all consideration to the benefits of a four stroke, I still prefer the E-Tech for slow trolling speed and it's nice to have the extra push when I put the boat on the trailer. I think it saves my prop from a lot of damage at the shallower landings. Obviously this extra torque also gives me a fast lift when I need it and helps me keep my crew dry in rough water.
If you go with the smaller engine, you might want to try a trick that Charlie Johnson (formerly of OMC, now with Bomardier) passed on to me several years ago. Test your rig using a lower pitch prop that's used for pontoon boat applications. You'll lose a bit on the high end speed, but the responsiveness and quick lift will feel great! This also slows your trolling speed so you can creep along when you want to.

Good luck with your new rig, drop me a line and let me know how it works out for you. - Jeff
---
G.Loomis Rods for Jigging and Crankbaits 4-17-05
Q) Hi Jeff, I am in the process of buying some new G.Loomis rods. I was wondering what rod you would recommend for snap jigging a 1/8 oz. jig and minnow? I am also looking for a rod to cast shad raps and fat raps for Smallies. Have you tried any of the G.Loomis Crankbait rods or do think one of the spinning rods would work better for this?
Thanks for the help - Dale
A) If money is no object, the best rod there is for jigging with light jigs (1/16 - 1/4) and light line is the SR842-2 GLX It's a super light weight rod with fantastic sensitivity and a comfortable handle. It will be your favorite of all rods. The tip is light and has enough give not to spook the Walleyes when they pick up the bait and it's got enough butt section to handle most of the fish we would hook in Minnesota.
Second choice (for me) would be the SR782 IMX this is really a little light in the butt section, but has a great tip for when you have to drag the fish before setting the hook and it also has a great small handle that's easy to hold all day long.
Casting small crankbaits for Smallmouth can be done with any of about 20 Loomis rods. I don't use casting rods very often for these light baits because the distance is better with spinning gear.
I have a nice rod from their Bronzeback Series SMR750S-SP This is one of the few rods that still comes with a Tennessee style handle. It can also be used for several jigging applications. If I was using a crankbait rod for this, the CBR841C would be the one I'd use. These longer rods are nice for casting. Remember to pay close attention to the reel and line you use for this job too. Those lighter crankbaits are a lot easier to cast when you have a smooth free spool and good fresh line. Good Luck - Jeff
---
Lund Alaskan For Big Water? 3-25-05
Jeff, I was looking for Lund Alaskan's on the internet and came across your old boat. I run a Barron now, and as soon as it sells, I will be looking at Alaskans for my new charter boat. I want the walk through windshield model, and I was wondering if you have any opinions on them? Can 3 clients and the captain be comfortable, or is that to crowded? How does it ride in 3 footers? Is it a wet ride, or does it throw the spray out pretty descent? Any thing else you have for me would be appreciative. - Thanks again, Captain Jay
Moving from a Barron to an Alaskan is quite a leap. There will be plenty of room for 4 people, but you'll notice a difference in the width. But, people each have a good bit of territory if they don't run around too much. For me space with four people hasn't been a problem.
I run water like Leech Lake, Rainy Lake and Big Winnie. All of these are capable of producing large waves. My Alaskans have been nice and dry on all of them.
I used to run Pro V's all of the time and with the Alaskan I believe I am actually dryer than before because the 90 horsepower tiller is a better match for a boat in this weight range. In big waves I have to go a bit slower to get a smooth ride, but the boat is very responsive and easy to plane, making it pretty easy to stay on the top or in between swells.
I haven't had any complaints from customers about the ride. In fact most of them have been quite surprised by the ride. It's a very workable rig and it has the potential to do more than most folks realize. I haven't been in the full windshield version, but I see quite a few of these up on Rainy Lake and lake of the Woods. I bet you can find a couple of testimonials up there too. - Good Luck!, Jeff
---
Lund Alaskan For Big Water? 3-10-05
Q) I just finished reading your experiences with the 20 ' Lund Alaskan. I am about to purchase my first boat (I'm only 54 years old). My son and I think an Alaskan (side steering) would be an all round choice.
I'm wondering if an occasional trip to Lake of the Woods (15 miles offshore) with an Alaskan wouuld be safe, whether or not an 18' or 20'? We're leaning toward the 18 footer, only because there is usually only the two of us fishing and isn't an 18 foot boot easier to handle? I'd appreciate your advice.- Thank you! Steve
A) Good morning Steve,
If you like, you are welcome to take a test run with me to get a feel for the boat. There are a lot of folks getting by very nicely with the 18 foot Alaskan, but I have to tell you that I really love the 20 footer and you plan to fish some big water. This will be my third 20 foot Alaskan and they have exceeded my expectations.
Currently, I travel to Lake of the Woods about a half dozen trips each summer, in addition to that I spend a couple of weeks on Rainy Lake and I do many, many trips on Leech Lake and Winnibigoshish. The 20 footer handles all of these lakes and providing that you are a reasonably safe operator, you will enjoy this rig. In my opinion the 20 foot model will be very easy to control and it's responsiveness and handling will surprise you. When you look around up there, you'll see quite a few of these on the water.
Now, if big water was my only requirement, I'd be looking at the Fisherman models. Since versatility is my main consideration, the Alaskan shines for me.
---
Guided Fishing Trips — Gift Certificates
Wouldn't you just love to get a gift like this yourself? A full service guided fishing trip in Northern Minnesota on some of the best fishing lakes that the midwest has to offer. Some of your favorite people would love the gift of a guided fishing trip too! Gift Certificates are a great way to treat your friends and family to the fishing experience they've always wanted.
Gift certificates are valid for three years, so there's plenty of time to get a date that you really want. Just select your trip and payment options and we'll mail the certificate.
Fishing Seminars, In-Store Presentations and Guest Appearances
With 35 years as a full-time fishing professional, veteran fishing guide Jeff Sundin has picked up a few tricks about fishing. Use the knowledge he's gained to help reach more customers with hands-on product demonstrations, in-store appearances, fishing seminars and ..." Learn More >> Fishing Seminars, Presentations and Guest Appearances
---
Jeff Sundin is a full time, professional fishing guide, outdoor writer and photographer. Book Jeff for guided fishing trips, for fishing seminars, fishing promotions and media events. Click here >> learn more about Jeff Sundin.
"The Early Bird Fishing Guide" Jeff Sundin - Fishing Blue Books, LLC 715 Byington Ave, LaPrairie, MN 55744 218-245-9858
Email copyright©2019 Fishing Blue Books, LLC All Rights Reserved - last revised 3-1-2019