Fishing Report 9/26/05 Early Fall Big Fish Bite Is On! - Jeff Sundin
Amidst the turbulent weather and cooling water temperatures, the big fish in the Itasca Area are on the prowl. Thanks to some rainy days and cool nights water temperatures are dipping in to the lower sixty-degree range. Some weeds are beginning to die off and there are noticeable movements of bait and fish out to the deeper shoreline breaks and points.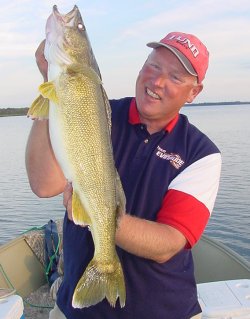 Large Walleyes like these don't come along every five minutes. But if you're up for the search and have a bit of patience, you can catch one. Smaller Walleyes and Pike keep you busy during the search.
Thanks to a special project we've been working on, I've had a chance to fish several area lakes in search of larger fish and it has been a ball. Walleyes and Pike have been using the deeper portions of the best shoreline structures. These are structures like points or deep inside turns that have all of the cover a big fish would need. Before you start fishing, locate areas that combine shallow weedy flats, immediate access to deeper water (thirty to seventy feet or deeper), rocks & clam beds. Once I have a few spots in mind, I watch my graph for fish on the edges of the deeper breakline. Key depths for me have been 24 to 36 feet of water. You will discover fish deeper too, but for us the largest fish are hugging that initial deep breakline.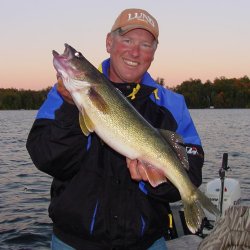 Another nice example of rigging up a Large Walleye. This one was laying on the edge of some deep rocks in about thirty feet of water and fell for a rigged Creek Chubb. Photography by Twin Cities legend, Peter Raquet.
Walleyes have responded well to large size Creek Chubb and Redtails (when I could get them) fished on a Lindy rig with a ¾ ounce sinker and five-foot leader. To give us an extra measure of safety in landing the large pike, I tied the leaders with 1/0 hooks and 20 pound fluorocarbon line that has a durable, clear finish. Thanks to these leaders, we've only lost one pike due to a bite off in the past week. I'd really recommend looking in to this stuff.
Some of the better Walleyes have also responded well to night crawlers fished on a more conventional rig and as a back plan, the crawlers would be an excellent second choice. We used a size 4 hook and tied the leader using six-pound Berkley Iron Silk line. This is also a good, durable line for tying the lighter leaders. If you want to get into this subject in more depth, click here to read an article on the subject.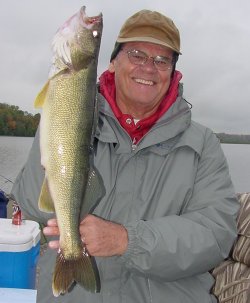 Meanwhile, the Walleyes of eating and action size are gathering in larger schools in the shallow water weed beds making the fishing really fun for lots of folks. Weeds found in water depths of 6 to 12 feet are holding lots of baitfish and the Walleyes are in there feeding heavily for the winter. This low sixty-degree water is perfect for this action bite and we should have fairly reliable fishing for the next week to ten days and if the weather holds, maybe even longer.
Folks using every kind of bait from soup to nuts are capturing walleyes. Leeches, Crawlers and jig & minnow combos are all producing fish and for the time being it's "anglers choice" fishing. However, the jig and minnow bite is getting more reliable by the day and this will continue to improve as the waters cool down. My personal advice would be jig & minnow on breezy days and night crawlers on calm days. Even though the action has been best around the weeds, I'd check the rocks too especially on windy days.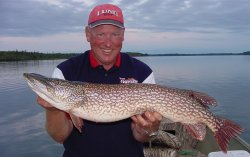 Crappies are moving out into some of the more open terrain and can be found in small packs. It's been a little unpredictable and sometimes the bite has been sluggish requiring lots of attention to trigger a bite from the fish. More and more now I've been waiting for the last couple of hours of daylight before going after them and it seems to help. The method for catching them is largely the same as it's been during past reports except that we are now searching a little further out from the breaklines and open water, soft bottom areas are becoming more important to us. Look for any sign of a roaming pack of fish, hover over the school and fish vertically with a jig & minnow. These fish have been particularly interested in a slow presentation and at times we've had to stop moving the bait completely before they would bite.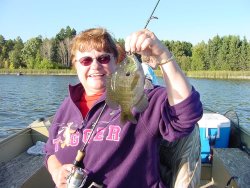 Nice size bluegills are starting to roam the deep water just like the Crappies. A good way to fish these areas are to set up one angler with a worm and another with a minnow. Once you see what kind of fish comes up you can switch baits accordingly.
Bluegills are also locating further out into open water and finding them is a lot like finding the Crappies. In fact, we've found some of the schools mixed with Crappies. A smaller jig tipped with a piece of cut night crawler or a tiny leech has worked fairly well for the 'gills.
Largemouth Bass are still scattered, but mainly located on the deep edges of healthy green weedbeds. The better fishing is still found by using soft plastics and casting to the deep weed edges. But, the spinnerbait bite is coming on as well and it won't be too long before the fish concentrate on deep bulrush edges adjacent to good stands of Cabbage or Coontail weeds.
Smallmouth Bass are still located on deep structure like sunken islands or deep underwater points with rocky cover. Fishing the edges with rigs and minnows has been working well. A four to six inch minnow like a golden shiner, large rainbow or even a smaller creek chubb will work well.
Musky and Pike anglers are back in business again this week with good fish movement in the shallows where good schools of Perch and Walleyes are beginning to gather. Top water baits, crankbaits and wood are turning them on right now and there's been a pretty nice sampling of larger Pike mixed in with them. As Tulibees and or whitefish begin staging in their fall spawning areas, look for the Musky/Pike action to build over the next few weeks.

www.jeffsundin.com jsundin@paulbunyan.net Copyright © Jeff Sundin 2005