Fishing Report October 30, 2014

- "Birds Of A Feather, Flock ..."

At least I hope they do!! That's because I'm gonna be taking a few days off to go and try to bag myself a few Ducks and Pheasants.


I KNOW that you'll miss me! but don't worry, the trip is later than usual this year and it's gonna be shorter too. Cub reporter, staff # 003-IHBFBB will be on duty the whole time, camera in hand, gathering images and stories for next week. - I'll Be Seeing You ... :)!!

Fishing Report October 29, 2014

- "Catching Up With Fishing News"

I'd be surprised if there was much boat traffic on the Itasca area lakes this Tuesday. It was rainy, breezy and many of the day's high temperatures began with the number 3. That helped take the sting out missing my boat on my first O-Fish-All day off.
Just because I wasn't in the boat doesn't mean that I wasn't working though. Yesterday was the fall meeting of the Minnesota DNR Walleye Workshop and that's where I spent my day.
I learned a lot yesterday, but more importantly, I learned that I'm gonna be learning a lot more in the near future.
For me, the term bioenergetics hadn't even shown up on the radar screen. But that's not true about Tyler Ahrenstorff, DNR fisheries research biologist. Ahrenstorff and his team have been working on Lake Mille Lacs, learning more about "who's eating who" in that system and for me, some of the results weren't exactly what I expected to hear.
You see the big mystery about Lake Mille Lacs Lake and its declining Walleye population isn't that the fish are not spawning, they are and they're spawning in good numbers. The young fish survive well for the first year, showing up in good numbers during test netting. The real problem is that after that, somewhere between their 1st and 2nd year, they disappear. That's the reason for the study, to discover why the fish disappear and what to do about fixing it.
With only a couple of years of data to work with, they already taught me one important lesson. When it comes to which predator fish are eating the largest number of young Walleyes, it's not at all what you think, and at least it's not what I thought.
Nope, it's not the Smallmouth Bass; in fact they really aren't too interested in young Walleye and hardly eat any at all.
Northern Pike eat some of them, but they are not the culprit either, they prefer other forage like Tulibee and the number of Walleyes that the Pike eat are really low when compared to the Walleyes number one public enemy. Ready? Walleyes eating other Walleyes accounts for the Lion's share of predation.
I know, Walleyes have been doing that forever and so that has been happening on Mille Lacs since the 2nd Walleye egg ever hatched. So it still doesn't explain why the problem is worse now than it would have been before. But it does tell me something and if you're like me, if you're hungry for knowledge and want to KNOW the facts; then we're going to have to be more open minded.
There's already plenty of space on the DNR website that's devoted to the subject and the presentation we saw yesterday will soon be available there too. Instead of me trying to tell you exactly what they've said, you will learn more by following these links to watch the work as it progresses.
Start by looking at this Lake Mille Lacs Project Home Page and then watch for links to this bioenergentics study along with other video and news releases.
Wired2fish Joins Scout Media - Oct. 29, 2014 — As you may have already noticed, wired2fish.com has made some BIG changes. We are excited to announce that Wired2fish has joined Scout Media, the leading sports and men's lifestyle destination.
The goals of Wired2fish have always been simple: Help anglers enjoy fishing more by providing the best freshwater fishing ... Visit us at our new home >> Wired2Fish

Fishing Report October 28, 2014 - "A Leech Lake Bed Time Story"
In its own way, Monday was just the right sort of day for wrapping up my open water fishing season on Leech Lake.
As if she'd become sleepy after a long, hectic fall; her waters calmed, her children grew quiet and she settled in for a restful nap.
Oh she still had her moments, You Know; times when she'd lift her head to remind us that there were still fish down there. There was an occasional Walleye, the odd Perch and infrequent Pike.
After each episode, I'd stand at attention like a bird dog on point, only to realize that the old girl was resting, her eyelids had grown heavy and she'd dozed back off again.
That's just how the day went, it never seemed like anything was really happening and nothing ever happened on purpose. All of the fish, yes all of them, struck at the moment we least expected a fish to bite. Each episode would lead to an optimistic moment, but whenever we reeled one fish in and prepared ourselves to catch more, the action would fade.
Still, if someone had recorded all of the fish for a video, we would have produced a very nice highlight reel. The official "Team Meat" 5 gallon pail was half full of Leech Lake's plump Perch and Walleyes. Certainly, the fillets will add up to a bunch of nice fish dinners for the Hastings clan this winter.
I suppose that the combination of calm seas, cold water (48 degrees Surface Temperature) and a slow moving low pressure system all added up to produce a scattering effect. When we encountered fish, they did strike; it just took a while to produce an encounter.
The fish that we did catch were all in the weeds at water depths of 10 to 13 feet. Jig and minnow combinations we still productive and fishing them slowly was a key. For Walleyes, we could get away with a little extra speed, boat speeds of .7 to .8 MPH were okay. But we'd done well on Walleye this Sunday and didn't need many of them. We really wanted to target Perch and in order to produce Perch strikes, I had to keep my boat speed slower, at least below .5 MPH and somewhere between .3 and .4 was the best.
Hoping that slowing our presentaion even more would produce better action, I tried anchoring. But without a large school of fish nearby, it just didn't produce the desired result.
NOTE: A common thread has been running through all of the fishing reports around Leech Lake lately. It's the weedy spots that are producing the most fish. Rocky points or submerged rock piles have produced stragglers, but as far as I can learn, there is not a good rock bite going right now.
We all know that Leech Lake will wake up again soon. But for me, she's tucked in safe and sound for the winter. After I take a few days to get caught up on chores and do a bit of hunting, any fishing that I do is going to focus on the river or dare I say it? ...
On the ICE! Yes, I KNOW! Winter is just around the corner and I have some big plans. So I better get off of this computer and get my gear in order, we're burning daylight.
HEY! Don't you be tryin' to get out of the habit of reading these reports either! There are a lot of loose ends to catch up on and lots of new news coming too. So I will be seeing you soon, OH and by the way, ... :)!!

Fishing Report October 27, 2014

- Winding Down, But Not Out

It's hard for me to think about wrapping up for the season, especially when the weather is gorgeous and the fish are still biting; so, maybe I won't. If Mother Nature is bound and determined to keep dishing out these beautiful days, then who Am I to try and talk her out of it?
But first, my calendar tells me that today marks the last scheduled trip of the season. So I'm going to take a few days to fix the fixable, heal the healable and hunt the huntable. After that, we'll see what the weather looks like and then, you just never know, I could turn up almost anywhere.
On Sunday, the frosty morning took a notch out of surface temperatures, bringing them down to 49 degrees.
On our way to the lake, I received news about a special proclamation. The one issued by the chief officer at command central that said; "All hands on deck are advised that our mission is to maximize production of meat. Until further notice, size, shape, color and texture are of little consequence; fish are fish! Further orders will be issued as inventories are assessed and reserves are replenished".
Well okay then; looking at the mirror smooth water and high blues skies, those words were the equivalent of giving me a direct order to start our day at the Crappie hole.
At this point, it would be silly to try for Walleyes, especially knowing that I had two days to work them into the schedule. That settled it, Crappie fishing was the first stop on the agenda.
No matter how chilly it looked on shore, the frost was no match for the sunshine and calm seas. Within a half hour, the air temperature began climbing and soon we were stripping off our jackets and stowing the bomber hats.
The Crappies apparently felt the chill a little bit, they had settled onto the bottom and for the first hour, played hard to get. By mid-morning though, I had found one school of fish that was fairly active. After we found this school of fish, the gathering of 20 keepers was easy work.
Watching the development of the commander's fishing style and his rapid progression to success, I have convinced myself that the Ice Worm that I wrote about last Friday is fast becoming my "go to bait" for deep, late fall Panfish. Read >> Fishing Report 10/25
Phase 1 of the mission now complete, we tied up some loose ends, loaded the boat on the trailer. We began our drive back over to Leech Lake, hoping that the forecast of a South breeze would turn out to be accurate.
When we arrived at Federal Dam, there were 6 rigs in the parking lot. A far cry from what we saw on Saturday, but still, for October 26th, a fairly robust turnout.
The surfaced temperature was 49 degrees here too and remained uniform throughout the afternoon.
When we got on to the lake, we spotted a couple of fishermen waving their arms; they needed help. A slight shortage of fuel ended their fishing trip too soon, so we took a short, but necessary delay of game penalty for towing them back up to the dock.
By the time we were back on the lake, the breeze was already beginning to pick up. In fact, within an hour, we had whitecaps rolling in from the Southeast and the sky was turning Grey. The temperature outside was still warm, but the atmosphere was beginning to undergo a complete transformation.
To an extent, we picked up where I and my crew Chad and Matt left off on Saturday. The fish were still located in the same areas we'd fished the day before. They were holding in 12 to 13 feet of water in the weeds, what's left of the weeds. This time though, the fish weren't quite so hot to trot. We were picking away at them, gathering meat for the larder, but not fast. Today, we missed more fish too, their strikes were more tentative and they were apt to drop the jigs before we could get the hooks set.
Still, I doubted that I could find a larger school of fish, especially not without running all over the lake to search. And seeing so many fish on the Humminbird was making me believe that there would be a run at sundown. So that was the plan, we keep picking away at the fish until the magic of a sunset feeding run would kick in.
At 4:30 PM the Small Pike began to lose interest in our jigs and then the Perch began to strike. At 5:30 PM the Perch lost interest and the Walleyes began to strike. By shortly after 6:00 PM, we were grinning and decided that getting back up the river before dark was a good idea.
With the whitecaps blowing into the shore and the boat pitching and yawing, our fishing technique was less than perfect. Assuming that we'd been just a little more precise with our hook sets, we should have easily left the lake with our limit of Walleyes.
The conditions will be calm today, but the skies should be overcast. I'm guessing that the stage is probably set for a better run at the Pike and Perch under these circumstances. That could be perfect because we're close to the Walleye limit and adding another handful of Perch and Pike to the larder may just earn me a gold star for accomplishing my mission.
More news from command central as details become available ... :)!!

Fishing Report October 26, 2014

- Knowing Is Glowing on Leech Lake ...

... at least that's the way it turned out for us on Leech Lake this Saturday.
I'm getting to tell you the happy story because we listened to our instincts instead of listening to the "Weather Man". Man, if you think about it, we could have missed out on this whole great day just because we almost talked ourselves out of the idea. Luckily, we followed through, toughed out the wind and caught some really pretty fish.
On the lake, the air was crisp and the surface temperature had slipped back down to 49 degrees. The predicted West breeze had begun to blow and there were already whitecaps on the surface. The surface has that odd cross-chop that Leech Lake gets whenever the wind is switching directions. You know the waves that make it tricky to stand up because they seem to be coming from 3 directions all at once.
Drifting was not an option because the West wind was blowing perpendicularly across the flat instead of parallel to the breakline. There were several boats attempting to drift anyway, but between the wind speed and the ripping waves caused by their own boat wakes, it did not look like any fun to me.
Instead, we were able to work the Walleye hole with fair precision by using the Drift Control sock to steady the bow while I backed into the waves with the outboard. I was able to hold the speed down to about .6 MPH and maintain our depth at 10 feet along the breakline.
For a time, this was productive and we did pick up a few fish before the wind became too strong. Even if we could have caught more fish, it might not have been too much fun. So I did what I hardly ever do, I made a run for the calm side of the lake. Maybe there we could at least work the weeds and bag some Perch to take home.
When we arrived on the West shoreline, the wind was so strong that waves were literally coming off of the shoreline with miniature whitecaps already whipped up on them. Here too, there wasn't going to be any drifting because we'd head straight out sea. We were able to manage tolling across the current though and most of the time; I could manage it using the MinnKota instead of the outboard.
Fishing the same area where we had caught Perch on Thursday, deep weeds in the 12 to 13 foot range, we stumbled into a "Pike Fest". I do not know how many Pike struck our lures, but it was a lot. Most of them were small, but there was an odd fish in the 26 inch range.
For Chad and I, the Pike were snipping off jigs, interrupting our plans and generally causing mayhem. But for Matt, there was an occasional Walleye, not little ones, nice ones and for some reason, he was the only one getting them.
Now listen, people ask me all of the time what I think about jig colors. You may have asked me yourself and if you did, you will remember that I said it doesn't make that much difference MOST OF THE TIME. But you'll also recall me saying that every once in a while it does and when it does, it really does. Well on Saturday it did and when it did it really did and I'm just glad that Matt was there to discover it for us.
There's something about fishing in colder, clearer water during the late fall that makes this color good. I wrote about it last fall too and I've the story 100 times about Red Lake and the Crappies that would only bite if we had this color.
Fast forward >> I asked Matt to show me his jig, he did and we switched and it worked. So even though we still had to put up with a million Pike, all 3 of us were picking up an occasional, nice Walleye. By days end, we had 12 Walleye in the live well, 18 Jumbo Perch and 3 Northern Pike that were just perfect for Katie's broiler. There were another half dozen "slot-fish" that we released along the way, so it all added up to be a pretty darn good day. I AM glad that we didn't talk ourselves out of it!
So know that I've given Matt his chance to "GLOW" about turning us on to right color, I'm guessing that you're ready to see it for yourself. So without further ado ... Click to view the >> Magic Jig Color for Leech Lake on October 26, 2014 .

Fishing Report October 25, 2014

- Cutfoot Sioux Fishing Report

Somewhere along the line on Friday, Tom Cashman said; "for October, it sure is a beautiful day". It really was too, in fact I added; "this is a beautiful day no matter which month it is.
Arriving and meeting my new fishing partners Jeff and Tom at William's Narrows Resort, I could see that there wasn't much to explain; they'd fished Cutfoot before and we'd likely be fishing familiar territory. In fact, before we even left the dock, Jeff gave me some sage advice, he said; "You just find 'em, we'll catch 'em". I guess it's fair to say that the day worked out that way, mostly at least.
The surface Water temperature at the landing was 50.6 degrees when we left and it was fairly uniform throughout the lake. Sun shining on the calm surface warmed it up to almost 52 degrees later in the day. It didn't seem like late fall, except for seeing the last traces of color along the shoreline, the weather reminded me more of an early spring day.
The weather was almost too nice for the fish, but when I found them, they did strike. They were flighty though and many of them dropped our baits before we could set the hooks. It was a lucky break that there were enough fish to go around on the most popular bar. That school of fish allowed us to stake our claim for a slice of productive territory.
I said "school of fish", but really I think that there were several smaller schools of fish filtering on and off of the bar. That's because there were wild fluctuations in size and we caught them in spurts. We may pick up four 10 inch fish followed by three 19 fish and then boat a couple of 16 inch keepers.
The fish were holding in 10 feet of water and they were susceptible to 1/8 ounce jigs tipped with Rainbows, which was mostly what I had on hand. Jeff, a true believer in shiner minnows, scoured the minnow tank, gleaning the last few Goldies that were in it. He was also a believer in a heavier jig and replaced the 1/8 ounce size with a Green/Orange 1/4 ounce jig instead.
He fished vertically using the heavier offering and as I recall, either caught or had a chance to catch a fish on nearly every one of those minnows. So in other words, that heightened the banter about what to use (or what not to use). But it also told me that the bite is good enough that it's not dependent on one little trick, or a special bait. It means that there is latitude to apply your own jigging style and still be in the game to catch fish.
Neither Jeff nor Tom was insistent on getting large numbers of fish for the freezer, which by the way was really refreshing. So since we also had a goal of Crappie fishing on Jeff's secret spot, we left the "Walleye Hole" as soon as there were enough Walleyes for a meal.
Before we ever arrived at the Crappie hole, we'd already had the conversation about Fishing for suspended Crappies in super deep water. The one about how it's more like hunting than fishing. About the importance of finding the fish, catching what you want to take home and then leaving the rest alone. Without getting all of the way on top of my soap box, it honestly is the only way to approach these deep, late fall fish.
The boys were very agreeable about that; the fish were agreeable too and the game of hide and seek lasted just long enough to provide a good, entertaining episode of fall Crappie fishing.
We fished for the deep fish using Lindy Ice Worms tipped with 1 inch gulp tails and for my money, this combination has turned out to be the perfect balance between size and weight. These heavy jigs aren't much smaller than a standard 1/8 ounce jig head and they make getting down to the fish fairly easy. But it's the small, #8 hook that makes the bait stand out. Tipped with the small, 1 inch tails, the fish can engulf the offering easily and that improves your hook setting.
One key advantage about not using live bait is that if you miss a fish, you don't need to reel up your lure to check for a minnow. All you have to do is drop the jig back a few feet and get that fish on your second chance, or your third chance. It really doesn't matter how long it takes, keep trying and sooner or later you'll catch Mr. Big!
So there ya' go then, another pair of new friends, another fishing trip in the archive and another beautiful day to savor.
From here on out, old friends will be helping me wind down the final weekend of the 2014 fishing season.
The weather man says that we're gonna have to put up with some wind again, maybe some rain too, but it looks like we should be able to slide into next week before the fairy tale fall scrambles back to real life.

Fishing Report October 24, 2014

- Lucky Leech Lake Fishing Report

How lucky can a guy get? There are lots of ways and Yes, I KNOW the very best. But what do you think about this scenario; maybe this one qualifies for the "Book of Good Luck" too.
It started when I found out that our annual duck and Pheasant hunting trip was going to be delayed this year. So instead of sitting on my backside moaning about having nothing to do, I put out a bulletin announcing some open dates. Among the replies, Clayton Thompson sent a message saying that he was interested in the 23rd and I marked it down and that was that, nothing unusual, all fairly routine; except...
He had given me a heads up that maybe here was maybe there would be an extra guy and maybe I could make an exception and well, there was and I did.
That was okay though, the boat might get a little crowded, but I'd done it before and besides, we didn't have to fish on big water, we could always find a nice small lake like ... Leech Lake, "yes, we want to fish on Leech Lake"; that's what Clayton said.
Well recently, the wind had been so strong that it's nearly blown the paint off of the boat. I could have arrived at the landing and discovered that we'd have to bag the whole idea, but not this time, it was beautiful.
The list of things that could have gone wrong could be a long one, but not this time. There wasn't anything wrong, not a darn thing. In fact, for Clayton, it was a special trip with family and friends.
This trip was special because these guys have all been pitching in, lending a helping hand as Clayton has undergone Cancer treatment. Fundraisers, moral support, you get the idea, they've been working hard on this, it was a good group of guys and there was a special reason for being together.
That meant that this was going to be a good day no matter what, now if the fish and the weather cooperated even a little bit, it could be perfect.
Well, leaving the ramp at Federal Dam, the surface temperature was 50 degrees. The skies were overcast, the air was even warmer, 52 degrees according to the pickup truck. We didn't need gloves and a few of wore ordinary fishing caps without anything over our ears.
When we got onto the main lake, the surface temperature was still 50 degrees and there was just enough wind to drift the boat. There was a slight chop, overcast skies and virtually no boat traffic.
The conditions were ideal and we had the element of surprise on our side too. Our first stop on the sand flat in 8 feet of water produced fish almost immediately. After our first couple of drifts, we knew that the Walleyes were more than cooperative. In fact, if we'd had caught one fish for each of our strikes, we'd have come close to gathering our limit right there and then.
That would have been expecting too much, even on a perfect day, you're gonna have a few setbacks. But even after we missed a few fish, we were headed in the right direction; we had a good head start.
Boat traffic increased a little bit and as a couple of the crews dialed in to the fish, the added commotion affected the action as as it began to taper off, the skies cleared, the wind calmed and the chop disappeared.
Our next stop was in deeper water, 13 to 14 feet with a weedy bottom. There were lots of fish showing up on the Humminbird, they were Perch and some of them bit. We gathered a dozen or so, but the calm seas had affected the action here too.
Looking for more action, we began covering territory, but for a time, the sunshine and Blue sky had given us a beautiful day that had done more for our comfort than it had done for the fishing.
Eventually though, the effects of evening began to kick in and somewhere around 4 PM, a gentle breeze helped stage another flurry at the Perch hole, followed by another flurry at the Walleye hole.
All added up, we had 13 keeper Walleyes, 3 or 4 slot fish and 3 or 4 little ones that were released. We had a couple of dozen perch ranging in size from 10 to 13 inches and if we had focused on them, we could have gathered more.
So here we are; it's the 23rd of October, the weather is gorgeous, the fish are biting, the seas are calm and we all are among friends. How lucky can a guy get? Pretty darn lucky if you ask me! Of course that's just my opinion, you might just think I'm silly ... :)!!

Fishing Report October 23, 2014

- Grand Rapids Area Late Fall Fishing Reports

Hey!! Early Birds! Haven't you always wanted to dip into my personal stash?
Well even if you missed tuning in for the fishing report this morning, you can still claim some of my fishing stuff for free!! Fishing tackle from Lindy, floats from Thill and fishing rods from my own personal stack of stuff. Tune in, make a pledge in any amount and get your gear.
For audio streaming, click on the image or on the link to KAXE-KBXE Northern Community Radio >> http://www.kaxe.org/streaming.aspx
| | |
| --- | --- |
| OH and by the way, did you know that the Thursday Morning Program is available for 2 weeks after the air date? Yes, if you miss the live show, just click here and select the 6:00 hour on Thursday. Scroll in to about 6:20 AM and you're back in business! | |

Fishing Report October 22, 2014

- Grand Rapids Area Late Fall Fishing Reports

Can you believe it? On Tuesday, your host selfishly, shamelessly, with Malice aforethought; took a day off from fishing.
Actually, I did attempt to book it, but I couldn't find anybody who wanted to go fishing yesterday. Instead, I spent my day cleaning the cleanable, editing the editable, fixing the fixable and living my fishing through reports from my friends.


(10/22) On Leech Lake; Walleye fishing continues to be slow but steady in the area near Federal Dam, according to Roy Girtz - Royal Guide Service.
In his own words; "We got our fish, but it wasn't fast; one here, one there, until we were done".
Walleyes continue to roam the shallow weeds, feeding primarily on young of the year perch. Jig and minnow presentations in water depths of 7 to 10 feet are productive.
Anglers on the West side are keeping busy Perch fishing and the action is good. The problem is getting away from small fish and keying in on larger fish. Fishing in the weeds in Sucker bay, Agency bay and the Walker Narrows are all producing fish.
Jig and minnow combinations are productive and color patterns that resemble small Perch are working the best.


(10/22) On Grand Rapids Pokegama Lake, Brian Castellano wrote; "A friend and I hit Pokegama today from 10:00am to 3:30pm.
He's been having decent luck on Trout Lake using leadcore and Berkley Flicker shads but all of the walleyes are running in the slot, 21-24",so he wanted to try something different.
We covered the area from the west side of the causeway to the west side of Nesbit and Drumbeater Islands.
Water temps were around the 50 degree mark. We graphed alot of fish in the 18-25' range.
We threw leadcore and Berkley flicker shads, lindy rig and minnows, jig and minnows, bobber and minnow, and even the ultra stealthy split shot rig w/ a shiner at them and we could only muster up 1 northern.
Another fisherman I know was out there and had a little better luck than us. He said he was rigging redtails and creek chubs and using jigging raps in 25-44' of water and he put some smallies, northerns, and a couple small walleyes in the boat.
I'm planning on making a run to the Rainy River one day next week. Hopefully the fall walleye run will be on." - Brian Castellano
New York Mills, Minn. (Oct. 22, 2014) – When Lund introduced the Impact boat series at the end of 2010, even the engineers of this fully loaded, yet amazingly affordable, rig couldn't have predicted its popularity, nor the appropriateness of its name. The first of eight new Lund models for 2015, the new 1850 Impact XS is engineered at 18 feet, 7 inches in length with an ultra-broad 94-inch beam, and combines hardcore fishing elements with plenty of features to please the entire family.


(10/21) On Cutfoot Sioux (10/21) Surface temperatures are hovering just above the 50 degree mark and Walleye fishing remains steady. Typical of late fall, there are a handful of fish at almost every spot. Anglers who know their way around the lake should have little trouble gathering enough fish for a meal.
Key depths vary between spots and anglers should plan on being creative about where to fish. If you look at a spot that features a long tapering point into deep water, follow the entire structure into the depths. Post turnover Walleyes could be holding at any depth on the structure. Look for saddles between two rises; areas that resemble the low spot between Bobs Bar and the Pencil Bar.
If the spot you've chosen features a large, shallow weed flat, the follow the entire outer lip of these weed edges along the breakline.
The fish are where you find them, so if your electronics do not reveal the presences of at least a few fish, then keep covering fresh territory until you see some solid evidence.


(10/21) On Lake Winnibigoshish (10/21) Surface temperatures have fallen below 50 degrees and while Walleyes are hitting well after dark, the daytime Walleye fishing action has dropped off.
Northern Pike and Musky fishing has been good on the big lake and should get even better. That's because even more of these fish are heading toward the shallow water to take advantage of the fall Tulibee (Northern Ciscoe) spawning runs.
Tulibee spawn during the night and hold in the deeper weeds during the daytime. The largest predators in the lake are the ones that follow these Tulibee into the shallows and naturally, the spawning runs attract some very large Pike, Musky and even big Walleyes.
Key areas to fish are expanses of mixed gravel, rock and Bulrush. When there are deep cabbage weeds located nearby, then you have the making of a real trophy spot.
Casting large crankbaits, wood jerk baits and large soft plastic swim baits are all productive.
On The Rainy River (10/21) Reports of good Walleye fishing are trickling in and according to Zach Dagel, Grand Rapids Guide Service, friends have been doing well on the Rainy.
Apparently, the Emerald Shiners are making a move upstream into the river and typically, that means that the Walleyes aren't too far behind.


(10/21) From Lake of the Woods, Mike Kinsela, Border View Lodge; "Fishing has been great just outside the light house gap in 18-24 feet of water! The water temperature is roughly 45 degrees. Anglers are catching nice Walleyes and some really nice sized Saugers.
Monday October 20 there will be a detour on Hwy 172/ Lake Road. The detour will last about 3 weeks.
Temperatures this next week in the mid 50's with sunshine. It's looking like the week is going to be beautiful!" - 1-800-776-3474 Border View Lodge .


(10/21) From The Iron Range, Greg Clusiau - Deer Hunting Feature by Travis Sorokie ; "There is no doubt that the next several years in northern Minnesota, Wisconsin, Illinois, North Dakota and Michigan hunting will be different than in years past. Two bitterly cold winters in the midwest with a lot of snow, an abundance of timberwolves, and liberal harvest rates in years prior have our herds at or near all-time lows. However, I am confident things will rebound given a couple of ... ">> Read Greg Clusiau's Full Report .

Fishing Report October 20, 2014

- Pulling Out All The Stops At The Cast and Blast Weekend

It's the wee hours of morning and the boys from North Carolina are already on their way home from their 1st Annual "Cast 'N' Blast" weekend.
Thanks to the efforts of Zach Dagel, Grand Rapids Guide Service and Erin Charlton of Trails End Resort, the crew was comfortable and well cared for.
Zach guided the crew through the Chippewa National Forest in search of Ruffed Grouse and Woodcock. Even though bird populations are nowhere near their peak, good dogs and Zach's expert guidance did pay off. In fact, the number of birds that these boys found was surprising to me. Especially in light of recent reports, indicating poor hunting that I'd heard from friends.
Zach's decision to include me as the 2nd guide on the trip worked out fairly well too. While Zach took half of the crew hunting, I did my best to entertain the other half of them in the fishing boat.
Except for that very rare case of the EGO iustus non facere virus that infected I and my crew this Saturday, the fishing was good and weather was fabulous. OH! That's right, I promised an update about that virus yesterday (fishing report October 19). Well okee dokee, here ya' go then ... :)!!
Many of you will be happy to know that the prescription for breezier conditions arrived right on schedule. As a precaution, the breeze was administered in a heavier dosage than required, ensuring that the effects of the virus were long gone by the time we dropped our first lures in the water".
The Crappie fishing on Sunday morning started a little bit slowly, but it quickly ramped up as the morning chill wore off. By the time we made the proper adjustments, you could have even called it a good action bite.
The only one problem that I needed to solve was that the fish wanted small profile baits, but we needed one that was heavy enough to get into the strike zone and stay there.
I mentioned last week that I'd begun using my ice fishing tackle to catch Crappies and that I'd been fishing the Tungsten Toads. The Toads had been doing a fine job of catching Crappies and I'd still be using them but thanks to frequent visits by Northern Pike my complete supply had been temporarily exhausted and I began experimenting with alternatives.
The solution on Sunday turned out to be Ice Worms; they are plenty heavy, but the profile is still small enough to be suitable for finesse presentations. We used the ... size tipped with small artificial tails. The Ice Worms performed perfectly and these were the only lures required to produce Crappies for both crews, all day long.
Northern Pike have keyed in on the schools of Crappie and are holding on the breaklines in almost every area that's inhabited by Crappies. For my crew, catching some Pike was a great idea because they hadn't done it before. For me, catching pike meant that I could get even with some of the ones that have been snipping off my ice tackle.
Using 17 pound Fluorocarbon to make leaders, I rigged everyone up with 1/4 ounce Lindy Jigs and tipped them with Rainbows. Using this setup, we would could key in on those Pike, but still be in the game for Walleye and Perch.
The Pike were easy to catch and they were aggressive. Scattered along the deep base of the breaklines in 18 to 20 feet of water, all we needed to do was drift along the break and jig aggressively. We caught numerous small to medium size fish, but there were some very nice specimens too, including one in particular for Jeff Deming that turned out to be the highlight of the trip.

Fishing Report October 19, 2014

- Murphy's Virus Infects Walleye Anglers On Cast "n' Blast Weekend

In the midst of enjoying a beautiful day at the Walleye hole this Saturday, anglers in my boat were overtaken with a persistent case of the very rare "EGO iustus non facere" Virus.
The virus is a mutation of the famous "Murphy's Law Virus" and while not life threatening, can cause frequent periods of general discomfort, frustration and mild panic attacks.
Most vulnerable to the virus are individual anglers on a fishing trip who express the strongest desire to bag a Walleye for dinner. The virus is CONTAGEOUS and frequently affects other anglers of the fishing party.
When infected, an angler may succumb to the false believe that they can never catch another Walleye again.
Symptoms include missing hook-sets, frequently snagging on rocks, weak fishing knots and frequently losing fish. In severe cases, a patient may even implement every single element of Walleye presentation correctly, but still lose the fish at the side of the boat.
There is no known cure for the virus, but outbreaks can be controlled by avoiding contact with sunny days, shallow water rocks and calm seas. Treating patients with large dosages of wind, cloudy skies and deeper water can occasionally help them "snap out of it".
We have called in the prescription and plan to pick up the meds later this morning. Watch for updates as events unfold.
We knew that the Walleye fishing could have been better; those of us who were less severely affected did manage to produce enough Walleyes to provide a shore dinner for the 5 man crew, along with the 2 humble guides. Providing that we'd all been at the top of our games, another dozen fish would likely have entered the livewell.
At the lake, surface temperatures ranged from 49 degrees in the morning, to a high reading of 51 degrees at 5:00 PM. The sky was blue, the sun was bright and the cold water was clear. Rocks, weeds and other submerged structures were visible in depths of 8 to 10 feet. The weeds, especially patches of Cabbage weeds were still green, providing cover for at least some of the fish.
The areas that produced the best fishing for us were small rock piles in 12 to 14 feet of water. Walleyes were on the top and Perch were found along the base of the structures at 14 to 16 feet of water.
I had hoped to find some fish in deeper water, but looking at deeper bars and deeper shoreline breaks, my Humminbird did not reveal any fishable schools of Walleye.
After reading my fishing report October 16 about Crappies hugging tightly to the bottom, there was a report from Andy Sylvester, a Walleye fisherman on Lake Vermillion.
In his own words; "Same goes for Lake Vermilion for 'eyes. Even with the bottom view zoomed in, you could barely tell there was something there, hugging tight to the bottom!"
So if I had it to do over again, maybe I'd have been more persistent about finding some fish in deeper water. The problem was that we were getting enough action in the shallower water to make it seem like the right approach. It may have been a good solid game plan, but the presentation did require a level of finesse that tested us all.
By days end we had bagged 9 Walleye and released a half dozen "protected slot fish". The fish that we had either missed or lost at the surface accounted for what could easily have turned out to fill the 3 man limit. In other words, applying the "coulda-woulda-shoulda" factor, it really wasn't a bad day.
We were all in good spirits; all happy that our problems were slight and the EGO iustus non facere virus notwithstanding, it was still a good day ... :)!!

Fishing Report October 18, 2014

- Crappie - Walleye

On Cutfoot Sioux, the surface temperature was a stable 51.4 degrees and the sky was Grey. The Northwest wind was strong enough to produce 1-2 foot whitecaps on about half of the lake and the Walleye remain scattered, but active.
As long as I avoided the calm side of the lake and stuck with the breezy spots, we found a handful of fish almost everywhere we stopped. I attempted to catch fish on the calm side of the lake and for me that was a waste of time.
I think that's because the lion's share of the Walleye in the calm areas are holding over deeper water and not on the bottom. You can see for yourself, moving away from the shallow structures and heading toward deep water, your electronics will reveal some of these fish.
It is more important than ever to remember the old saying about being in the right spot at the right time and the more often you change locations, the more often you hit the right one. Even in the breezy areas, even when you do find a school of fish, I still wouldn't suggest lingering for too long on any one spot. That's because many of these Walleye are apparently moving up onto the shallow structures to make brief, but intense feeding runs. When they're finished, they move back out, suspending above the deep breaklines nearby.
These feeding runs don't have to take a long time because there is so much food on these structures that the fish are literally stuffed with small Perch minnows. On Friday, I was filleting our keepers and found that their stomachs were packed tightly with Perch in the 1 to 2 inch size range. A few of them were so full that I don't have any idea where they were planning to put our baits after striking them.
On this day, many of the fish that we did catch were in the ideal size range. There were several 16.5 inch fish in mix, a handful of larger "slot-fish" and a couple of small ones that we released too. I was not a full scale hot bite, but it was steady and overall, we were not disappointed with the action or the size of the fish.
Because of their Propensity for moving on and off of these spots, the Walleye are forcing anglers to cover a lot of structure. So I would describe this as an excellent opportunity for accomplished fishermen, familiar with the lake. But the terms and conditions of the bite could be a little bit tricky for some newcomers to the lake.
If I could make one suggestion that would help new anglers the most, I'd say that the addition of a GPS unit that's compatible with the Lakemaster charts would make a big difference. It's the chart that's important, so it doesn't really matter which model or price range you choose, if it will run the chart, it will definitely help.
Jig and minnow combinations continue to be productive and we were able to use 1/8 ounce jigs to reach fish in the 12 to 14 foot range. The crispness of the snap apparently made a difference to the fish on Friday. A sharp, but short vertical hop of the jig was much better than a long sweeping, horizontal one. That's because if the jig moved more than a few inches, the fish were reluctant to chase it down. But without the crisp snap, it was difficult to get their attention. So give your jig a hop by snapping your rod tip upward, and then let it fall back down on a tight line. If you keep your boat speed under control, your jig will fall back much closer to its original position than it would if you moved you rod tip sideways.
For me, this jigging style works better when we're drifting than it does when we back troll. That's because while we drift, we can hold the rods in front of us to help make that short snap upward.
The result is that the jig moves up and down instead of sideways and it allows you to jig aggressively, but without pulling the bait away from the fish. This is a key presentation to have in your arsenal and one that gives a fish multiple opportunities to strike your bait. That means that the percentage of success goes up too and if you pay attention to this one little lesson, you'll be the one racking up the numbers while your buddy is asking you how you're doing it.
Sometimes it's easier to watch than it is to read about and this might be one of those times. The next time you're on the water, pay closer attention to the other fishermen out there and you will notice that there are differences in their jigging styles. It's important to know more than one or two of them because these cold water fish are fickle. You'll get a lot more strikes by knowing more variations and by being more creative with your jig and minnow.


(10/18) Pokegama Lake Fall Walleye Fishing - Pat Bradley wrote; "
Jeff, I noticed you don't walleye fish Pokegama in October and was wondering why? I do and it seems like my walleye fishing stops from late September til first ice. Any thoughts about where they go and how to fish them during this time?
A) Pat, you're right, while I do make it over to Pokegama a few times every fall, I do not spend a lot of time over there.
That isn't because I don't like fishing there in the fall, it's because most of my fall fishing customers are looking for some fish to eat. The emphasis on catching "eaters" during daylight hours forces me to follow the patterns on the larger, "Walleye factory" lakes like Leech and Winnibigoshish.
I think you're right too about a shift in their location on Pokegama during the fall too and as soon as I can get some time to think this over, I'll add some more comments. Do me a favor and watch the reports during mid week and I'll expand on it for you.

Fishing Report October 17, 2014

- Shallow Water = Crappie DejaVu All Over Again

Yesterday I wrote; "The Crappies weren't showing up where I hoped that they would and the Walleyes were scarce too. Perch and Pike kept us a little bit busy, but not enough. Just when I was almost ready to throw in the towel, I made one more stop and ... You Know the rest ..." :)!!
Well, I guess that testing my resolve must be part of the pattern these days because on Thursday, we were treated to another version of the same story. This time, it was the strong wind that tested us; this time an "11th Inning Rally" saved the game.
On Thursday, I learned one of the disadvantages about fishing Late Fall, Cold Water Crappies in shallow water. If there's too much wind and it's blowing from the wrong direction, you'll have your work cut out for you.
It was not because the fish wouldn't strike, they did. It was because staying on top of them long enough for the crew to catch some fish required lots of resolve; all of us needed to pay attention to the smallest details. Sometimes that's fine, but if you happen to not be fishing with a highly detail oriented crew, this could add a little to the dilemma.
Trolling for Crappies at speeds of 1.2 to 1.5 MPH works really well during the warm months of summer. But with a surface temperature reading of 48 degrees and water depths of less than 20 feet, anything that forces too much extra boat speed produces a disadvantage.
Another observation I made on Thursday was that the Crappies living in shallower water are apparently much more vulnerable to turbulence caused by the whitecaps and strong current than are their cousins living in deeper waters.
Just a couple of weeks ago I was able to catch Crappies over deep water, even in heavy whitecaps. That's because the fish remained tightly schooled and since I didn't need to keep re-locating them, I could focus all of my attention on being a good motor operator.
But in these heavy seas, the fish were widely scattered, broken up into small, randomly scattered packs of fish. The problem was now the search for these for small packs of fish was equally important to holding the boat in place to catch them. The catch 22 about fishing in heavy seas is that you have to move to find 'em, but you have to sit still to catch 'em. Hurry up and stop; that was the thought that kept running through my brain, hurry up and stop.
Luckily, our efforts were rewarded in the afternoon with a gift of calmer seas. One particular school of fish re-grouped and gathered in a depression. The water was 19 feet deep and was surrounded by shallow water flats.
This small, lake within a lake gave us an opportunity for an 11th inning rally and even though most of our action came during the last 2 hours of the trip, it did and we did and it was good.
The best news of all was that Jack broke what he called his no fish jinx. He claimed that he never catches fish, but this time he did and there are witnesses! So there ya' go then.
Forced to use heavier weights, our presentation was simple; 1/8 ounce Lindy jigs tipped with medium size fatheads and Crappie minnows.
For today, another breezy one along with some interesting requirements could produce a test of another sort. However it plays out, you'll be the first to know.

Fishing Report October 16, 2014

- Shallow Water Crappie Patterns Pan Out, Eventually

Friends, if you know anything about me at all, then You Know that for the past several years, I've done my level best to provide these reports as a tool for you. They provide solid information that helps lead you in the right direction. Provided that you're willing to meet me half way and do a little bit of your own thinking, you will be able to put yourself in the right spot at the right time.
The stories are real, the patterns authentic and the crass, commercial message are kept to an absolute minimum. Thankfully, I hear just enough feedback to Know that they help.
Well guess what? On Wednesday, I got the chance to use my own report to help coach a VIP and his veteran fishing guide into a successful fishing trip. The VIP, Dale Schroeder, a good friend and the fishing guide? ME!
It began when I called Dale on Tuesday evening and asked; "If you could do anything you want on Wednesday, what would it be?" After I admitted that I might have trouble catching a Tuna Fish in Minnesota, he came up with an idea for Plan B. He said; "I read your report this morning and I want to do that". (See Fishing Report 10/14 Slow Trolling For Shallow Water Crappies) . Oh, and by the way, he also wanted to do it on a new lake, somewhere he hadn't fished before.
In case you don't know what pressure feels like, try this for yourself. Start by telling your good friend that You Know for sure how something will work and then wait for the reply; okay, let's do it then. If you try it, I promise that it will make you take your job more seriously.
The whole story started recently when I drove away from the landing of a lake where along with a half million dollar (literally) fleet of boats, I'd participated in conducting a "search and destroy" mission on a school of deep water Crappies. I was feeling a little down; so much pressure on one lake, one school of fish ... The least I could do is to stop throwing gas on the fire.
Realizing that I'd been driving by some great shallow water Crappies lakes, I decided to give one of them a try and it worked. So for the final two weeks of my fishing season, I pledged an oath to myself to stay away from the deep fish and stick with shallow water Crappie holes instead. The caveat was that this was a lake that I'd already fished with Dale. In fact, he had just fished there himself on Tuesday.
Knowing that I needed a fresh lake, but that it would be un-tested, I took a gamble on another shallow water lake where I'd caught some Crappies last fall. If the Crappies failed me, we could fish Walleye and if that didn't work, maybe the Perch would cheer us up.
Fast forward ... >> for several hours, I was getting more and more nervous. The process of elimination was leading me in the direction of eliminating the whole darn idea. The Crappies weren't showing up where I hoped that they would and the Walleyes were scarce too. Perch and Pike kept us a little bit busy, but not enough.
Just when I was almost ready to throw in the towel, I made one more stop near a submerged point and that's where we saw them. There was a school of fish that was holding so tight to the bottom that the Humminbird revealed them only as a series of smudges. It would have been easy to ignore them and move on, but it was worth at least dropping our jigs in to see if we could get them to move.
It didn't take too long to figure out that they were Crappies. We had several strikes, caught a couple and knew that we were on the right track. But at this point, the Crappies were too finicky for the larger jigs that we'd been using.
I grabbed one rod that was stilled rigged with a Tungsten Toad, dropped it in and caught a fish immediately. I handed that rod to Dale and it became his secret weapon for the rest of the trip. It didn't matter that there was no bait on the hook. It didn't seem to matter at all to the fish, they were striking the un-baited Toad and in spite of my offer to provide a dressing for the jig, Dale continued to use and produce fish using the un-dressed version.
For me, a 1/16 ounce Foo Flyer tipped with a small Whatsit Tail produced a lot of action too and for the next hour or so, we caught and released lots of Crappies.
For now, we were winning the battle but fighting on the Crappie's terms. They were holding tight in the area and fishing vertically was what we needed to do.
Later in the afternoon, the fish did start spreading out horizontally along the breakline. They moved shallower too and by about 4 PM we were trolling slowly in 18 to 20 feet using 1/8 ounce Lindy Jigs tipped with 2 inch Shad Tails. The best speed was either side of .5 MPH.
I will tell you more, but for the moment I am up against the clock and need to run.
Making promises that you intend to keep will tend to make a guy take his job really seriously. Luckily, I trusted my instinct and didn't give up; it worked and we won!
So for today, whew, the pressure is off. Now I can take a break and settle for just doing my best ... :)!!


(10/16) From The Marcell Area, Frontier Sports, Paul Larson said; "It looks as though many of the area lakes have turned over. The water temperatures on the big deep lake I primarily fish ranged between 48 to51 degrees. I was marking fish in 24 to30 feet of water that I assume were Walleyes. A few tentative bites but no solid hook ups left any conclusion a best guess. Pike on the other hand, were more than willing to smash my crankbaits. I wasn't fishing the oversized numbers I usually use when fishing for big fall Pike, but they accommodated me anyway. These fish ranged in size from 26 to28 inches, not whoppers but great for breakfast! Crappies are still biting in the deep holes on the bigger, deeper lakes. Wind was a major factor last weekend and boat control was an issue. This coming weekend looks like it will be a milder version of last weekend only in reverse. The bait shop is fully stocked and a new shipment of SAVAGE GEAR Musky lures has just arrived. We also have received a new shipment of ammo and hunting accessories so we're all stocked and ready to provide whatever you need for what promises to be a great fall weekend."
Frontier Sports features a complete and fully stocked Sporting Goods department and Bait Shop, Gas, Grocery, Deli and Gift Shop. Frontier Sports is an authorized LIVE TARGET and SAVAGE GEAR dealer. Frontier Sports 219-832-3901 or Email .

Fishing Report October 15, 2014

- Cutfoot Sioux Walleye Report

Friends, old and new; swapping stories and pondering the perplexities of the "NEW" Cutfoot Sioux.
It's been about 5 years since I've fished with my old friend Tom Macken and even though I'd never actually fished with Bob and Jim before, they made it seem like it was old home week too.
The seasoned Walleye fishermen really didn't need me as a guide; they could have caught fish without me. But for them, the trip was more like a treat, a day off from running their own boats. That made it a great day for me too, all I had to do was figure out where to stop the boat, and they knew the rest.
On Cutfoot, the surface temperatures were holding steady at 51.5 degrees, there was barely enough of a breeze to drift the boat and the sky was bright blue. The classic "Bluebird Day".
According to the evidence, I believe that the lake had definitely turned over; I'll come back to that later.
Ever since the wind storms that hit us last week, I'd lost track of the fish we'd been following on Winnibigoshish. So now, the crew actually knew more about current conditions on the big lake than I did. They'd been fishing in a variety of locations along the North side and reported good fishing, providing that the conditions were favorable.
I wish that I could have been in two places at the same time, because I wanted to check that out. But since I can't, on Tuesday I decided to put all of my eggs into the Cutfoot basket. I just didn't believe that there was going to be enough wind on the big lake to generate a "hot bite" and under those circumstances; I feel better fishing the smaller water.
Frequent readers of this report already KNOW about many of my philosophies. But in case you missed the episode about Walleyes biting on a Beautiful Day, here's a refresher. If the sun is out, the seas are calm and the fish shouldn't be biting, but they are anyway, then you have the makings of a great future.
That's because whenever the conditions swing in your favor; a little more breeze, a little bit of good cloud cover ... you get the idea. That's when the going will really get good.
That was my sense about the fishing on Cutfoot yesterday, it was steady, the fish were located in a variety of areas and most anglers we saw on the lake were catching some fish.
Okay, so maybe they weren't going wild, but they were biting and we were never more than a few minutes away from somebody in the boat, getting some kind of a strike. We missed some of the fish, especially during late afternoon, but for the most part if they struck, we caught them.
For us, there were 3 spots that produced above average (for the day) action and all 3 of them were similar structures. They were all points that were located adjacent to large, shallow weedy flats. The key depths varied from one spot to another, ranging between 10 and 15 feet deep.
There some fish along the straight breaklines near the weed flats too. But these were scattered randomly and were difficult to pin down. Which reminds me, finding these randomly scattered fish was one of the signs that the lake has turned over. I'll get back to that later.
The standard presentation, 1/8 ounce jigs tipped with Rainbows was working fine. Just in case it would make a difference, I had picked up a supply of Golden Shiners too. Yes, using them produced strikes just as well. I just wish that the "Goldies" stayed on the hooks better. They work, but they're too soft headed for me. Sorry even if they are called "Shiners", they still will never be my favorite.
We spent some time looking for Crappies and while I didn't make a life project out of it, we did cover some good territory. The schools of fish that were recently stacked and packed, suspended in deep water have now disappeared. Instead, the fish we found were scattered randomly across the bottom in water depths of 32 to 38 feet.
For me, this was a sure sign that the lake has turned over. The fish that were once forced to hold near the thermocline are now free to roam anywhere, so they are.
I'll come back to this again soon, but thanks to the constraints of time, I Gotta Run. Don't worry though, I'll be seeing you soon to pick up where we ... :)!!

Fishing Report October 14, 2014 - A Calm Day For "Slow Trolling" Fall Panfish
Rain notwithstanding, I believe that you could call Monday a beautiful day!
It was the first time in recent memory that it was warm, calm and quiet all at the same time. In fact for Panfish, you could have called it perfect!
Fishing for suspended Panfish is a lot easier on days like that because you have total control of your presentation. It's easier to use finesse baits and much simpler to control the boat. The problem is that the fish are still deep and remain vulnerable to damage from being reeled in from the depths.
The calm seas are good for another version of fall Crappie fishing too and if you're into catching Crappies, but wish that they were more releasable, pay attention. There's another pattern that doesn't get much press and is equally effective for late fall Crappie fishing; slow trolling on shallow water lakes.
Not all good Crappie lakes are deep, and not all Crappies have to be suspended during fall. The lakes that tend to fly under the radar are many of those shallow water lakes that we drive by on our way to the popular deep water lakes that get so much attention. There are a half dozen of them right here in my own neighborhood; look on the map, you'll start getting ideas.
What reminded me was the morning that I drove away from a lake that was so crowded that we almost couldn't find a spot to fish. On our drive, we passed another lake that offers equally good Crappie fishing, but there wasn't a soul out there. Nobody cared about the marshy looking, shallow water lake, even if it is a Crappie powerhouse.
Frequently, lakes with maximum depths of 25 feet or less still support fantastic Crappie populations. On these lakes, the Crappies may suspend, but it's likely that they'll spread out across the bottom horizontally instead. It's common to find the fish in small schools, strung out along a soft breakline.
One of the fun things about fishing these shallower waters is that you can troll while you're searching for fish. Earlier this fall, I wrote about trolling with spinners to locate Panfish. But now that water temperatures are cold, I like using small jigs ranging in weight from 1/16 to 1/8 ounce, tipped with 2 inch action tails.
Many anglers think of these lakes as having no structure, but take a closer look and you'll see that they do. A soft, tapering breakline from 16 to 17 feet of water might not look too sexy, but the fish love them anyway. Follow the breaklines and watch for small packs of fish, pairs, and maybe even single fish.
Occasionally, you'll troll into a school of suspended fish too, that's great, go ahead, drop in a marker and fish vertically for them too.
The best part of finding and fishing these shallow waters is that now, catch and release fishing is feasible again. Now, instead of being forced to take the first 10 fish that bite, you can be somewhat more selective.


(10/14) From The Iron Range, Greg Clusiau - Great Fall Fishing "I'm making it happen out there and have been rewarded with some very nice crappie catches.
The overall best bait for me this season has been a heavier "FireBall" jig tipped with a minnow. When fishing, I'll have a variety of rods ready to go, sporting "FireBalls" of different weights and colors. This makes things a lot easier when determining just what the fish want, especially when it's windy like it has been. A favorite color often changes with the lake. Last weekend, for example, it was... ">> Read Greg Clusiau's Full Report .

Fishing Report October 13, 2014 - "Walleye Hunting" Season Open On Leech Lake
I think our stats were somewhere in the neighborhood of 13 Walleyes boated, with 7 of those in the live well when "Ole" asked; "So why do you think they're not biting?"
Hmm … that was the PERFECT time for a fair question, it was 3:30 PM, maybe later than that and while we had been picking up fish here and there, we were hardly setting any records for speed.
My answer to Ole was that I believed the Walleyes were biting, but that they were scattered. That was forcing us to hunt them down one by one. It was obvious, we caught a fish or two at nearly every stop and whenever we did find some fish, we got bit. The problem was that we never landed on a big school of feeding fish; at least not so far.
Kevin, a particularly good reader, expanded on my answer saying; "You Know, sometimes during late fall, Walleyes make a feeding run in the evening". After a bit of banter, the final comment from the Coxswain; "... and in a couple of hours, we'll know if my game plan comes together or not".
As the sun fell lower and the clouds rolled in, the Walleye did make their evening feeding run and the spot that had been my best guess, became the scene for a classic Leech Lake evening bite.
Fast forward to 6:15 PM and the final stats were 33 Walleye boated, 12 of them placed into the live well, the rest, well You Know The Rest; in other words, I got lucky!
This time my best guess about where to spend our evening turned out to be a good one. Sometimes they don't, but I Know that if you're persistent, if you spend your time wisely and keep searching for where the fish are, your guesses will keep getting better all of the time.
Figuring out why Walleyes do what they do can be tricky; some folks have even made a career out of it. But one of the "easy patterns", something that usually works like clockwork, is that when surface temperatures drop into the 40's, like the 47 degrees water that we were fishing, Walleye move into sort of a winter feeding mode. It reminds me a lot of how we go about fishing for them through the ice.
During the daytime, I cover as much territory as time allows. When I see an area that looks "fishy", we stop and make a pass. Maybe we catch a couple or maybe we have a few strikes that result in missed fish or maybe I see some interesting paintings on the Humminbird. Whatever happens on the trial run goes into the memory bank.
As we move from spot to spot, I'm doing my best work on the abacus. While my crew is fishing, I'm trying to calculate what I think will be the spot with highest percentage for a late inning rally. When I guess right, we all get smiley and giggly.
On Leech Lake this Sunday, the "good guess" was located further South than where we had fished on Saturday. It was a submerged sand point in 8 feet of water where we had boated a few "slot-fish" on our way down the shoreline to check out the rocks at Sugar Point.
We fished with 1/8 ounce jigs in a variety of colors tipped with 3 to 4 inch Rainbows. My Lindy Jig was green/orange 2 tone, Ole settled on a glow/blue jig head and Kevin used a Perch pattern yellow/lime/orange. All of them worked, but I think that Ole's Glow/Blue produced a few more fish than the others. Of course, that could just be superior fishing skill too.
The fish moved along the soft tapering point between 4:30 and 6:00 PM. We proved that the run was finished by making one of those famous "one more passes" that winds up producing nothing. Wherever those fish were going, they were gone and on their way before it got dark.
Now listen, I'm not saying that this will be the only pattern for the rest of our open water season. It's just a good idea to keep this one in your shirt pocket for the next day that Ole says the fish aren't biting.
There are still going to be some really good bites occurring during the daytime too. That's because there are other factors beside the water temperatures at play during the fall. When the baitfish, climate or other variables add up to produce a feeding advantage, these fish can still stage a darn good daytime feeding run.
OH, by the way, did you see the headline? "Fishermen spotted giggling on eastern shore of Leech Lake" ... :)!!


(10/13) Leech Lake Angler Experience Survey - Rich Davis wrote; "Thank you for the input. I edited my survey introduction as you suggested, I did not revise any of the survey questions, as I didn't think the questions themselves were necessarily leading the reader into answer." - Thank You again, Rich Davis.
A) Rich, Yes, I agree and here's the link to the revised ... >> Leech Lake Walleye Angler Survey .


(10/13) From Lake of the Woods, Mike Kinsela, Border View Lodge; "The 5th annual chili bowl tournament was a success with fun had by all. We were lucky enough to see sunshine Saturday which made a great day on the river. Congratulations to the top 5 placing teams! We also had a repeat winner for the first time in the tournament. Congratulations to Scott Thompson and Ryan Christiansen for winning two years in a row. Mark your calendars for the 6th annual chili bowl tournament October 10th 2015.
Fishing has been great up north by Garden Island. The river fishing seems to be a morning bite. The wind hasn't died down enough leaving muddy waters in the gap. Once you get past the mud line fishing is decent in 25ft of water outside the Light house Gap.
Just a heads up if you are planning on coming up soon, starting October 20th there will be a short detour on highway 172 coming out to border view lodge.
The weather forecasted for this next week is looking great! Lots of sunshine no rain with winds dropping below 10mph. Bring warm clothes for the mornings as the lows will be in the low 40's however highs will be in the 60's which we will take this time of year!" - 1-800-776-3474 Border View Lodge .

Fishing Report October 12, 2014 - The Leech Lake Walleye Report Is Good
After a week of allowing strong winds and cold temperatures to force me away from Leech Lake, I finally had the right guy on the right day with the right weather and we weren't disappointed.
"Mr.C" (Bob Carlson) and I have been friends for a long, long time; he's part of the family and we've covered a lot of ground together. So you'll understand my soft spot for Leech Lake when I explain that many of my fondest images of my fishing trips with "Mr.C" include Leech Lake. She's always been good to us and it's rare that we leave her shores without smiles on our faces.
On Saturday, the parking lot at Federal Dam was already about 1/3 full when we arrived and I took that as a good sign.
The Surface temperature at the dock was 44.5 degrees and by the time we made our way to the main lake, my Humminbird showed a reading of 47 degrees. The wind was stronger than expected, it had already stirred the surface into an ideal "Walleye Chop" and initially at least, conditions could not have been better.
Conditions were so good that within 5 minutes into our first drift, we already had our first strike, twice. That's right; our first contact with the Walleyes was a double header. So with one hand on the net, one hand on the fishing rod and one hand ... oops, I was out of hands for taking a picture.
You get the idea though, we were excited and wanted to show off a little bit so I asked the fish to help and they snapped a "Selfie" using my phone, that's where the lame, sideways picture of the 2 fish in the net came from. ... :)!!
Our presentation won't surprise you; 1/8 ounce Glow/Lime Lindy Jigs tipped with large Rainbow Chubs was all we needed for bait.
We were fishing the sand flats and while the water depth varied slightly, I used 8 feet as a target and that kept us in range of the fish for most of the day.
With all of the low lying grasses on the bottom, I allowed a faster pace for drifting than usual. That helped keep our jigs moving and they were less prone to tangles in the gress. At times we were drifting as fast as 1.2 MPH and I waited until the afternoon wind blew stronger before I deployed the Drift Control Sock.
You're right, there's no way that we could have kept having double headers all day and we didn't. In fact, the fishing action wasn't all that fast, but it was steady and by days end, we'd boated maybe 18 fish, releasing a few small ones, some really nice slot fish and bagging our 8 fish limit with fish that ranged from 17 to 18 inches.
So for "Mr.C", Leech Lake helped close out the 2014 fishing season with a smile. For me, there are still some more smiles to come. But none will be brighter than the quintessential image of "Mr.C" wearing his famous "Little Kid Going To Kindergarten Jacket" and holding one more nice Walleye for the camera.
Yes, I know, he always gets the biggest ones. That's good though, don't you think?


(10/12) Metro Area Bass Fishing Lakes - Eric (from Utah) wrote; "I will be headed out to Chanhassen, MN this coming week for work but thought I might look into some bass fishing or any kind of fishing that is close to where I'll be staying. Lake Minnewashta and Lake Ann are both close, but they look like they have a lot of private docs. Can a non resident get a fishing license and fish these lakes? Any info would help, thanks!"
A) Eric, Yes, obtaining a Non-Resident license is easy and so is finding public access to many lakes in the metro area. In fact, both of the lakes that you mentioned have public accesses. Here are links to more information about >> Lake Ann and Lake Minnewashta.
I also added a link that will take you to the fishing page on the Minnesota DNR website where you will find the >> MN fishing license information.
Fishing guides in the metro area are also readily available and booking a trip with one of them would really help save you a lot of time and research. Please, if that's something you're interested in, let us know and we'll help you find a good one.


Fishing Report October 11, 2014 - Still Waters Run Deep ... or is it, "waters still run deep" for Crappie?
Fishing for Crappies in new territory on Friday proved the expression; "The more things change, the more they stay the same".
Fishing roughly 50 miles away from the lake where we caught our most recent batch of Crappies, the geography was different, but only difference in the fishing was the average size of the fish.
Typical of late fall, the Crappies on this small, deep water lake had already made their final push into open water. They were holding in water depths of 35 to 40 feet, randomly scattered around the lake and thanks to low fishing pressure, very willing to bite.
It's not that the lake isn't pressured because hasn't been discovered; it has been. It's been very popular among both summertime Crappie anglers and ice fishermen alike. Somehow though, it's flown under the radar as a fall Crappie destination and out of respect for my crew who requested to fish the lake, I'll try to keep it that way.
Surface temperatures over the deep water ranged between 53.5 and 54.5 degrees. We took a look at a smaller, shallower bay and found a much colder Surface reading of 50 degrees in there.
What I can tell you about the pattern, the presentations, everything we did, is that it fell into the same basic outline as everything you've been reading for nearly the past month.
One notable exception was that for me, the experience on this lake was like rewinding the calendar back to a year ago. It reminded me of the "hot bite" of 2013 where there were tons of small Crappies to weed through.
It was as if this lake missed the memo about 2013 being the year of gigantic schools of 10 inch fish. Instead this lake chose to produce a plentiful, easy to catch batch of fish for 2014. Even if they weren't "eye poppers", they were good eating size fish and we weren't disappointed with the final bag.
One of the nice things about finding large schools of UN-pressured fish is that we did not need to use any live bait. In fact, we never even opened the bag of Crappie minnows that I had brought along.
The rods I handed the crew were already rigged up with the Tungsten Toads from a trip the other day. They were tipped with 1 inch artificial tails and since they were working, the crew stuck with those.
For me, a larger 1/8 ounce White Whatsit was intended to discourage the smaller fish, allowing more time for larger specimens to attack. To a certain degree it worked, but the small fish were very aggressive and even these larger profile baits were eaten willingly.
I KNOW, you've already heard this testimony before; but it bears repeating. Once you hook anything this deep, it is not releasable!
There is no such thing as catch and release fishing in water depths over 30 feet; these fish are simply not releasable. Even trying to be careful, we put a big enough dent in 'em and on this occasion, some of the fish that we kept were smaller than our goal of 10 inches; that's just how it's gotta be sometimes.
So even if their images do not appear on the cover of any famous fishing magazines, they will still taste just the same as their larger cousins and that will be their claim to fame.


(10/11) Gus' Place Resort, Ball Club Lake; "My most recent customers have been either hunting ducks or Grouse and having success with both.
The fishing report is incomplete in the sense that I have more hunters than fishermen in camp.
The latest reports have the lake temperature down into the 50s.
Walleye have gone into deep water to 30 feet and are biting on jigs and Lindy rigged crawlers & spinners, watch your Lake Master map and look for subtle inside turns along the shoreline.
Fishing in 30 feet it's easy to see fish on your electronics when they are present.
The Northerns are very aggressive and my customers have been "speed trolling" up to 3 MPH with weighted Suicks and baits like XCalibur One-Knocker X100. Both of these baits have been around for a long time, but are not baits I personally have been familiar with until a few customers showed me how successful they were this time of year using these baits. These baits are essentially lipless and lend themselves to trolling fast. Troll for Northerns in 8-18 feet of water." - Gus Sheker, Gus' Place Resort .

Fishing Report October 10, 2014 - Bracing For An Extended Home Stretch! Hey! Would Ya' Look At That? We have turned the corner out of the cold and the weather forecast predicts a warming trend.
Thanks to both a peek at the calendar and the recent Chill, I've been bracing myself for a long, quiet week.
Add to that, a series of DNR meetings that are going force I and my hunting partner into delaying our annual duck hunting trip for an extra week and you've got the makings for what could be a long, lonesome month.
At this time of year, the last thing I need is to get stuck at home, especially when I could be out earning my keep; so maybe we can help each other out?
I'm going to open up a few extra fishing dates this year and maybe, working together, we can get you out on the lake for one more fishing trip before the snow flies.
Lund Scores Fourth Consecutive CSI Award for Aluminum and Fiberglass Boats - NMMA honors legendary brand for customer satisfaction.
New York Mills, Minn. (Oct. 9, 2014) – Fortifying its longstanding tradition of superior customer service, Lund Boats recently received the marine industry's highest honor in customer satisfaction.
For the fourth year in a row, the National Marine Manufacturers Association (NMMA) awarded Lund with the 2014 Marine Industry ... read >> Lund Boat NMMA Award


For the fourth year in a row, the National Marine Manufacturers Association (NMMA) awarded Lund with the 2014 Marine Industry CSI Award in both the Aluminum and Fiberglass Boat categories. The CSI (Customer Satisfaction Index) Award recognizes marine manufacturers who attain the highest levels of customer contentment, as decided by the customers themselves.
Designed to enable marine industry manufacturers to measure and improve customer satisfaction, the NMMA's CSI program requires manufacturers to survey all known retail consumers of their brands within the first 12 months of boat ownership. In addition to authenticating customer contentment with their boat and engine, the survey also gauges satisfaction with their local boat dealer.
"To achieve such high marks from our customers and then to be awarded the Marine Industry Customer Service Award for the fourth year in a row is a fantastic honor, "says Lund Customer Service Manager Matt Geiser. "We take tremendous pride in both the quality and craftsmanship of our boats and in the customer service we provide at both the manufacturer and dealer levels."
To qualify for the CSI award, manufacturers must achieve and maintain an independently-measured standard of excellence in customer satisfaction of 90-percent or higher over the past year.
"Customer contentment and supreme confidence on the water — that's what we strive for in every boat we build," adds Geiser. "This award truly validates the commitment of everyone at Lund Boats, and that includes everyone from our engineers to our customer service and our dealers."

(10/10) Leech Lake Angler Experience Survey; Rich Davis wrote via the Fishing Reports Minnesota page on facebook; "I am conducting an angling experience and perceived benefits survey looking at the newly imposed, beginning 2014, walleye slot limit on Leech Lake. The slot limit requires that all walleye between 20 and 26 inches caught on Leech Lake be immediately released."
A) Rich, Yes, we'd be happy to post the survey, in fact I completed the survey myself last night.
One caveat, when I read your introduction, I was concerned about the words "recently imposed restriction". That gives readers the impression that this is a new regulation that somehow represents a fresh restriction.
Leech Lake has already had a "protected slot size restriction" for Walleyes over the past several years. The former regulation was 4 fish under 18 inches, 1 fish over 26. The new protected slot of 20 to 26 inches actually represents a relaxing of the regulation and does not present anglers with any new restrictions.
My concern is that the words: "recently imposed restriction" will have a tendency to negatively skew the results of your survey.
If you'd be willing to address my concerns and help clarify that in your survey's introduction, we will be happy to share your link with the public. *Readers, watch for a link to the Leech Lake Walleye survey soon.


(10/10) Leech Lake Angler Experience Survey; Rich Davis wrote via the Fishing Reports Minnesota page on facebook; "I am conducting an angling experience and perceived benefits survey looking at the newly imposed, beginning 2014, walleye slot limit on Leech Lake. The slot limit requires that all walleye between 20 and 26 inches caught on Leech Lake be immediately released."
A) Rich, Yes, we'd be happy to post the survey, in fact I completed the survey myself last night.
One caveat, when I read your introduction, I was concerned about the words "recently imposed restriction". That gives readers the impression that this is a new regulation that somehow represents a fresh restriction.
Leech Lake has already had a "protected slot size restriction" for Walleyes over the past several years. The former regulation was 4 fish under 18 inches, 1 fish over 26. The new protected slot of 20 to 26 inches actually represents a relaxing of the regulation and does not present anglers with any new restrictions.
My concern is that the words: "recently imposed restriction" will have a tendency to negatively skew the results of your survey.
If you'd be willing to address my concerns and help clarify that in your survey's introduction, we will be happy to share your link with the public. *Readers, watch for a link to the Leech Lake Walleye survey soon.

Fishing Report October 9, 2014 - Windy Weather Waning?
According to NOAA, we're in for a break from the wind for a couple of days. While we're at it, we're getting a break from the Grey skies too and I'm not too sure how much I like that idea.
On one hand, I spent Tuesday watching my friend Craig Anderson prove that you can stand up in 3 foot waves and catch super deep water Crappies. Then he showed me that no matter whether it's the turnover or not, Walleyes will still feed when the whitecaps are rolling along the weedline. In other words, if the weather stays crummy, the fishing is likely to stay good. Score one point for suffering for the sport.
On the other hand, 2/3 of the bones in my body would really love a nice calm day. Every muscle is twisted and basking in the sun on a clam day would sure feel nice. Score one point for enjoying the day.
The dilemma is that along with the sunshine and calm seas, we're liable to have an episode of slower fishing action. But I guess the point is moot because whether I like it or not, conditions are gonna fluctuate and it's up to me to make the adjustment.
So today, let's stick with the facts; surface water temperatures throughout the Grand Rapids area are hovering on either side of 50 degrees. Shallow water lakes are the coldest; many of them have dipped into the 49 degree range. Deep water lakes are somewhat more temperate, but even the super deep lakes are dropping into the 53 degree neighborhood.
With overnight air temperatures falling below freezing, the lakes have probably dropped another degree or two this morning. That means that the Itasca area lakes that do turn over, have probably done it already. 
Good! That means that it's behind us now and we can quit worrying about it. After the turnover and the subsequent slowdown, the fun part is enjoying the action as it picks back up again. It will, it always does and now we can start figuring out where and when.
Beating the fall turnover isn't hard when you follow the panfish into their deep water, winter haunts. Ice fishing tactics really pay off, especially on lakes where Bluegill and Crappies become mixed. So for me, a day or two of fishing some off-beat water, searching for Crappies and Sunfish will make for an interesting challenge.
I'll be studying hard as I visit two lakes that have never seen my boat during the fall. Don't worry, whenever I figure them out, you'll be the first to Know...:)!!


(10/9) About Leech Lake via the Fishing Reports Minnesota page on facebook, Colt Anderson; "Jeff, Hi, I am wondering if you have heard anything on the Leech bite?
A) Colt, it was very good before the recent front blew in. Ever since the weather change, I've been eating my heart out because I've wanted to get back over there again. Unfortunately, the conditions have been just too darn rough for me over there.
I'm gonna be tied up on a couple of lakes near Grand Rapids today and tomorrow, but I'll be aiming to get out there on Saturday if the weather allows.
By the way, This is a great opportunity for somebody on Leech Lake to help out by becoming a duly deputized "Cub Reporter" for the fishrapper on facebook.
You don't have to share your secret spots, just give us a heads up about conditions and trends. It is so easy, even I can do it! Click >> Fishing Reports Minnesota

Fishing Report October 8, 2014

- A Day Late ...

... but after you wait a year, what's one more day?
For anyone who knows me, running behind schedule isn't anything new; a few minutes, a day, I'll get caught up eventually ... :)!!
Somebody recently asked me about how to break into the guiding business. Included in the advice I offered, was the suggestion that if the young man wanted to follow in my footsteps, he could consider offering to take his co-workers, friends & business associates fishing. Make them some promises and then go out there and try to live up to them.
You Know what I mean, not for money, but to learn whether or not there's an "authentic guide" inside, or just a guy who likes to fish and wants some attention.
Enter my pal Tim Higgins, one of my earliest fishing partners and a man who helped me discover if there was an "authentic guide" inside or not.
Working together in the hectic world of time sensitive, courier transportation, I and Tim spent more than a few minutes sharing the office "hot seat". Phones ringing, bosses barking, couriers crying and traffic jamming made us the perfect candidates for heading out to the lakes to try and get some peace and quiet. We had some great times discovering new fishing holes and it really is how I got started in the business.
Fast forward … >> 30+ years later, my old pal still comes around to fish with me, now introducing new friends along the way.
On Monday, Tim, Brian Shields and a new friend Neng Shao ("Mo" for short) joined me for what turned out to be "fishing clinic" day.
At the Crappie hole, it didn't take too long to find a school of suspended fish and it didn't take too long to figure out that "Mo" was gonna put on a little show for his friends.
He had taken the Tungsten Toad that I'd rigged the day before and added his own #4 split shot about a foot above the hook. Tipping the Toad with a wax worm for bait, he dropped the weight to the bottom, then reeled up about 8 feet and then .... dropped about a half dozen Crappies into the cooler before anybody else even had a bite. The Crappie clinic was on and it was a good morning to be Mo!
The Crappies were suspended well above the bottom in the 40 foot deep water. Some of the fish were 20 feet above the bottom, others were deeper. Placing the bait at the right height was one of the keys, but so was the bait. On this day, the smaller profile baits tipped with Wax Worms really turned the Crappies on.
Using larger jigs tipped with minnows produced very few strikes. Switching to the smaller baits helped, but using the minnows was still problematic because they were too large for the tiny #10 hooks. The Waxies were the answer for sure.
Winding up our business at the Crappie hole, we hoped that a move to the Walleye hole would be equally productive.
When we arrived, the surface temperature was 50.5 degrees and the wind was still blasting away from the Northwest.
Our first couple of stops produced a few fish, but it was far from being a hot bite and the wind was causing problems. Our drift speed was too fast and trolling was too wet so I needed to get us into calmer water.
After a series of moves, I did settle into a productive area. A weedline exposed to some wind, but protected by an island. The area offered a good Walleye Chop, but also a drift that could be controlled.
Holding along the edge of the heavy weed bed, our water depth ranged between 10 and 12 feet. There were fish in the area and we were picking them up throughout the afternoon. But there was a noticeable uptick in the activity during the late afternoon/early evening and this time it was Tim who put on the show.
Using a collector's item jig, tipped with a Rainbow minnow, Tim presented his bait vertically, practically underneath the boat. The combination of current and darker skies encouraged the fish to move on their own and he was letting the fish come in and find his bait. The rest of the crew caught fish, but Tim was the one really giggling.
I think that this uptick in the action toward evening provided a huge clue about what is going to happen soon. I think that the trend toward evening feeding runs has already begun. It's being masked by the turbulent conditions, the wind and Grey skies are helping to offset what would have already become a slowdown in daytime fishing action.
Of course, that's only my theory, I could be wrong. According to the weather forecast, it appears that Thursday will be our chance to learn whether or not it proves out.

Fishing Report October 7, 2014

- Riding Out The Weather At The Walleye Hole

Surface temperatures on the area lakes that I've fished have all slipped into the low 50 degree range. The highest temperature was at the "Crappie Hole" yesterday morning where the deep water was holding at 54 degrees. The coldest that I've seen was 51 degrees over the shallow water Walleye hole yesterday afternoon.
A report of a high 40 degree reading appeared on the Facebook Page this weekend and the author suggested that he believed Winnibigoshish had already turned over.
The wind has been blowing hard out of the West Northwest for 4 days now, generating a current that's produced good Walleye fishing. In fact, our experience on Monday seemed out of sync with the water temperature. The Grey skies, whitecaps and strong current may have created conditions that were so ideal that the Walleye had to bite in spite of the 51 degree water.
In my opinion, Monday was a pivotal day and on Itasca area lakes that do turn over, I think that the other shoe will drop whenever we get the next calm, sunny day. On that day, I will plan to be fishing deep, fishing the river or fishing on a lake that has plenty of healthy Cabbage weeds.
The Walleye patterns, depths and locations were not significantly different from recent reports. So instead of going through all of it again, I'll ask you to scroll through the Recent Fishing Reports.
After today, the Full Moon will begin to wane, the winds are forecast to begin tapering off and temperatures will certainly be cold. That means that fishing patterns will be changing for the upcoming weekend. On Wednesday and Thursday, the reports will be geared toward what to plan on for the next couple of weeks.
HEY! There is a still lot of really good fishing coming up this fall and the weather will definitely take a turn for the better. If you want to make it out one more time, there are still a few dates available. If you show up, I promise that you'll have a great time!! Oh, by the way, did I mention that there are tons of beautiful days in October? YES, I Know, there are ... :)!!


(10/7) From The Iron Range, Greg Clusiau wrote; "Another "cast & blast" weekend was spent across the border, hunting and fishing the waters of Rainy Lake. It was, however, more casting than blasting, as my partner Jeremy Taschuk and I didn't do too well in the waterfowl category but really put a hurt on the big crappie along with a few nice walleye.
Arriving at the cabin around mid-day, we tried to bag a ... ">> Read Greg Clusiau's Full Report .


(10/7) From Lake of the Woods, Mike Kinsela, Border View Lodge; "The beginning of the week started out well. We were able to go north and the fishing was great! Not the case the last few days. Friday we had 30mph winds with rain sleet and snow and fished the river. Saturday we also had high winds and fished the river. Saturday seemed to be the best out of the 2 days as some boats did pick up some great keeper fish.
We are seeing signs that the fish are moving into the river so river fishing should start to take off!
Don't delay call and booked your winter trip!
Temperatures look to be in the mid 40's for this upcoming week with rain Monday and Tuesday. Next weekend looks to be nice with Sun and less wind." - 1-800-776-3474 Border View Lodge .

Fishing Report October 6, 2014

- A "Do Over" For Deserving Friends

Some folks say that there aren't enough good people in this world. But there some and I am lucky to Know more than my fair share.
Take the Hommedahl's for instance; Erling and Karen treat me like gold, they're always happy, willing to go anywhere and somehow seem to get stuck with crummy weather too often. Like the cold, wet weather that they endured on Friday.
Well a last minute cancellation that came in on Saturday, turned out to be just what the doctor ordered. It gave me a chance to go and do something I love and it gave them a chance to see what it's like to go fishing on a Beautiful Day, when the fish are biting!
We didn't meet at the landing until 9:00 AM so I was afraid of being "aced out" on a dfew schools of fish. Most folks must have decided to sleep in even later than us, because there wasn't much traffic at the Crappie hole on this Sunday morning.
The Surface Temperature over the deep water was holding steady at 56.5 degrees. There were still whitecaps churning on the big lake, but the high bank along shore provided just enough protection to allow us to fish in comfort. In fact, I'd say that it was downright pleasant.
Most of the Crappies had moved away from the shoreline and set up over the deepest water of the main basin. Every school of fish we found were in water depths of 35 feet plus, so it was easy to locate schools of fish. In fact, finding them was the easiest part of the trip. Watching the Humminbird for paintings of the fish and then dropping a marker to pinpoint their location.
Catching the Crappies wasn't that hard either, but getting them to sit still was and straying on top of them was more work than I planned on. "What the heck, didn't they know it was my day off?"
In spite of their sudden development of A.D.D, we were able to locate plenty of small schools of fish and catch them by vertical jigging with 1/8 ounce Lindy Jigs tipped mostly with live minnows. We had gotten some of our fish using artficals, but they flighty fish forced me to play it safer by using live bait. That system worked fine and by around 1:00 PM, we had gathered enough fish for everybody.
OH by the way, we rigged up slip floats to use as an indicator of the proper depth. The idea was to help make it easier to keep the baits in the strike zone by giving a visual reference. I think it worked fairly well and I'm going to try this some more during the next several trips.
Watching my Humminbird, I kept seeing some odd behavior, some of the fish didn't look like Crappies; thats what led to one notable departure from my usual routine.
I got out my ice fishing tackle and tied on one of my Tungsten Toads. I tipped that with a very small artifical tail that had a short body with needle pointed tail. The weight of the Tungsten allowed me to get the bait to the fish, but the smaller profile of the bait helped me prove something; those odd looking marks were Bluegills. I only caught a couple, but that was enough to convince me that today, I'll rig up everyone with the small ice fishing lures.
This would be a great idea for you too, but make sure that you have the right gear. I was using a 7 foot, ultra-light rod. I robbed the reel from one of my ice rods and it is spooled with 2 pound test ice line.
Using heavier line or a rod that's too heavy isn't very practical when fishing with these tiny lures. That means that getting the fish into the boat will likely require a landing net, but I KNOW that my crew is gonna enjoy the mixed bag of Bluegill and Crappie and I'm sure that you would love it too.


So there ya' go then! By around 1:00 PM, we had gathered enough fish for everybody, stopped for a few pictures and then headed back for the resort. It's a nice story; a busman's holdiday complete with a little learning, plenty of fish and a happy ending. Oh and YES and extra large dosage of ... :)!!

Fishing Report October 5, 2014

- Surface Temps Hold Back Against Turnover For Weekend Fishermen

The fall turnover is going to strike earlier this year than it did last. But that doesn't mean that it's early this year, it only means that this season, the turnover is on track to occur much closer to "normal" than it did in 2013.
Reading my own fishing reports from last October, I see that we were looking for the turnover somewhere around October 15th. On Saturday though, my Humminbird already revealed surface temperatures holding steady at 54.5 degrees. That means that we have already moved into "any day now" territory.
In the past, I would typically be looking forward to one last hurrah, a really good weekend of fishing on or around the duck opener. That used to be the first weekend in October, before the DNR moved to an earlier Duck season. In other words, this is putting the schedule right on track for 2014.
Luckily, the final plunge still hasn't hit most Itasca area lakes and that's at least one problem that was not piled on top of visiting fishermen this weekend.
Walleyes were still holding tight to the weedline in 10 to 12 feet of water and they were feeding on very small "young of the year" Perch minnows. On an aggression scale of 1 to 10, I'd say that they were at a 7.5. Most of the fish were holding our jigs long enough to be hooked, but some of them were finicky enough to elude capture.
I KNOW, my presentation may not seem very glamorous, but the trusty and reliable Jig and minnow continues to outshine all of the others. The 1/8 ounce Lindy Jig, Pink/Yellow two tones tipped with fairly large Rainbows did the trick.
The cold Northwest winds did not subside, so it was still cold out there. But at least it was mostly dry this time. So unlike the previous day, there were opportunities to get more comfortable in the boat. That made concentrating on the fish an easier job and made the gathering of our fish easier too.
By 3:00 PM, "Mr. C" instructed me to raise the "Homeward Bound Pennant" and we were on our way back to shore.
For today, a last minute cancellation has left me with an opportunity for a busman's holiday. So I'm going to go fishing. I'll be seeing you ... :)!!

Fishing Report October 4, 2014

- Fishing On The Calm Side ...

... of somewhere was the best idea on Friday. The test came from a Northwest wind gusting to 30 MPH, 35 degree air temperatures and a combination of light rain/snow flakes. The conditions dampened our hands, but not our spirits.
When I arrived to pick up my friends Erling and Karen Hommedahl, one look at Lakewood Bay made the decision about where to fish easier; we all knew that we weren't gonna go out there. Whitecaps blowing into the dock and boat landing were intimidating. So if we were gonna pull this trip off, I'd need to find calmer water.
The problem was that every good idea in my bag of tricks was a bad idea for this day. Leech Lake, Winnie, Cass, Bowstring...? No way, all of the larger lakes were out of the question! In fact, even the smallest "Good Walleye" lakes were going to be cold enough to test our resolve. We picked one though, it was the only one where I thought that I had a chance to bag some fish and still stay on the calm side of the lake.
At the lake, the surface temperature started at 58 degrees. Throughout the day, surface temperatures inched downward, reaching 57 degrees by the end of our trip. The relatively warm water was good news for us, because in spite of our numb knuckles, the Walleyes were still fairly comfortable. They were not aggressive, but they weren't turned off either.
A series of stops on shoreline points and weed edges helped produce just enough fish to keep our hopes alive. We never caught a lot of fish anywhere, but at every stop, we'd get a fish or two.
The fish were in "one of their moods" though, even if I marked several fish on the Humminbird, the action was only good for one pass. The element of surprise allowed us to catch the first couple of fish off guard, but after that, the rest of the pack would split up and disappear.
We did get some additional fish by leaving these spots and re-visiting them later. Cherry picking, the stop and pop approach is how we spent the whole day.
Our fish came from the outer weed edges in water depths of 10 to 14 feet. I looked for signs of fish that might be schooled up in deeper water, but this discovery was never accomplished in the areas we checked.
The wind was too fast for drifting in most areas. Back trolling into the wind kept the boat speeds very slow, so using 1/8 ounce Jig and Minnow combinations worked fine. In fact, there were times that we should have switched to 1/16 ounce jigs to reduce getting snagged in the weeds, but none of us were in the mood for tying knots.
A warm shore lunch got us over the morning chill and boosted our resolve to get through the afternoon. The mix of fish was about 50/50 "protected slot fish" vs "coveted keepers". By days end we had bagged 8 keeper Walleye, and released about the same number of larger ones. It was a respectable showing considering the circumstance and most folks that we ran into were impressed simply by the fact that we were out there at all.
I'm afraid that's one of the pitfalls of planning a trip so far in advance, the weather can throw a few curve balls. I am just lucky to know folks like the Hommedahls who aren't afraid to throw a few curve balls of their own in return.
So dampened hands and drippy noses aside, our spirits were never dented. Oh, yes, I do see that there was a little dent in some spirits, but not ours. Thanks Fritz and Penny!! That came in kind of handy at lunch time.
Conditions today are slated to improve somewhat, but with cold overnight temperatures, surface temperatures are liable to be moving toward turnover time. The only way to know is to go, so I'll keep you posted about that tomorrow.

Fishing Report October 3, 2014

- Lake Winnie Pike Lead Mixed Bag Rally

On Thursday, a trip onto Cutfoot Sioux and Lake Winnie produced a mixed bag, a heavy mixed bag.
Northern Pike are on the prowl, so are Walleyes and if you're sneaky, the Crappies are still catchable and now the Perch are beginning to creep into the picture too.
We're gonna need to go for a ride if we want to beat the wind today though. So because I am up against the clock this morning and because this cold front is going to change everything, let's let the past few reports speak for themselves. Meanwhile, we'll have a look at the new developments throughout the day and try to catch up again in the morning.

Fishing Report October 2, 2014

- On Leech Lake; "Whitecaps Are A Real Turn ON!"

When the phone rings and somebody asks to book a fishing trip, choosing the date isn't usually up to me. Typically, I find out when folks plan to visit, take the reservation if I can and then wait for the date to arrive. I don't know what the weather and lake conditions will bring us; I just have to take it as it comes, adjust to the circumstances and do my best to show them a fun day.
But sometimes it is I who makes the call asking someone if they'll help me out by filling an un-expected open date. For me, that feels different because whenever ever you invite somebody to help fill an opening, there's a heightened sense of wanting to show them that it was worth their effort and expense. On days like that, failing is not an option.
That's why seeing the Crummy Looking Weather made me SO HAPPY on Wednesday, because I KNOW ...
Leech Lake fish are the most active, most aggressive, dare I say the happiest? When the skies are the Grayest and the Whitecaps are the Whitest. Photos from many of the most memorable fishing trips on this lake feature rain suits, parkas and winter boots.
In the fall, Leech Lake fish are usually on the move and catchable, so there's always a fairly good chance for success. But you've read enough of these reports to realize that when the weather is too nice, the fish can sometimes take a nap. I've had more than my fair share of disappointments by going to the right place at the wrong time. So after twisting the arms of my friends Fritz and Penney Becker to help me out by filling Mr. C's vacated date, the last thing I wanted to see was a calm, sunny day.
Just to be sure that I'd be sitting on pins and needles, Fritz spoke the words that remind me of fingernails on a chalk board when he said; "Oh, by the way, there's no pressure". That's the same thing as starting the ticker on a time bomb, now I had to catch fish or die trying!
The Becker's had never been on Leech Lake, so as we idled through the channel markers at Federal Dam, I gave them a little bit of my "tour guide" routine. Among the tidbits and facts I shared was the mention that Leech is one of a very small handful of lakes where I ever get to hear the words; "That's the biggest one I ever caught".
On this this lake, I've been fishing with and seen people get their biggest ever Walleye, Crappie, Perch ... you get the idea.
On Wednesday, it all came together; surface temperatures at 60 degrees, whitecaps rolling across the flats and good fishing skills all combined to make it a great day.
In the heavy seas, Walleye and Perch were roaming the weed flats and targeting a pinpoint depth was not a primary concern. We found fish scattered in water depths of 7 to 12 feet. The fish appeared randomly, in small packs so when I saw fish on the Humminbird, it was important to stay with them as long as possible.
Speed control and the ability to hold the boat over a school of fish was the most important factor. The extra-large 60 inch Drift Control Sock helped slow down the boat as we drifted in search of fish. The Wave Wackers came in handy whenever I found a pack, dropped in a marker and backed into the waves.
Since we were targeting specific schools of fish instead of specific structure, vertical jigging worked better than fan casting or snap jigging. Heavier weights worked better too, we used 1/4 and 3/8 ounce Lindy Jigs tipped with good size Rainbows. Dropping the jig to the bottom, pulling it up above the weeds tops and holding steady, barely moving it at all produced the most strikes.
We had to do some sorting, but we managed to capture 30 Perch that were all over 10 inches and 1/3 of them were "Eye Poppers", You Know what I mean, those Leech Lake Magnums that people talk about.
We weren't targeting the Walleyes; they just tagged along to entertain us, especially Penny. We did save enough Walleyes for what I discovered to be another first for the Becker's. They had never enjoyed a Gosh Dam Place Fish Fry. Now that was a mystery; how could anybody hang around this area as long as they have without ever having the fish fry at GDP? Well we solved that little problem too and as usual, it was well worth the drive over.
So there ya' go then; we did it! And like I always say, there's just something about Gray skies and whitecaps that help make it a Beautiful Day ... :)!!


(10/3) About Leech Lake from Jason Woodruff; "Hi Jeff. Awesome timely report on leech this (Thursday) am!
We are heading up for the weekend and the excitement is increasing because of your report.
Given the weather Friday and that we have a 16' 40hp boat, I'm trying to think ahead of where to fish given limited mobility and maximizing safety.
I think I have 2 options and I'm wondering your thoughts. I see WNW winds. I can either put in on brevik or battle point and fish immediately adjacent locations maximizing "fish the wind blown shore". Or I can put in on Kabekona, deal with rough water getting to the narrows then fish the somewhat protected hardwoods and goose island areas. Any thoughts? With heavy winds does the "fish the wind blown shore" become less important because even protected areas will have some good waves?"
A) Jason, I see that NOAA is predicting West wind, 15-20 with gusts of up to 30 MPH for today.
None of your ideas are bad ones, but all 3 of them leave you sort of stranded in the event that the fish don't happen to be located at or near your 1st choice of fishing spots.
If I was planning my own trip onto Leech Lake, I would launch at the North end of Sucker Bay. That way I could follow the West shoreline to some very good fishing spots. I would still be protected from the brunt of the wind, but have access to somewhat breezier fishing spots if I chose to fish them.
If by chance, the winds don't come in as hard as the predictions, then you have another half dozen great fishing spots on the East (windy) side of Sucker Bay too.
I already know that Walleyes are active in both the meadows and Goose Island areas. But I'm not sure about finding fish on the rocks at the moment. But with a good wind, there should be active fish in several of the rocky shoreline areas too.
Historically, Perch are active at this time of year in the shallow weed flats along the West side of Sucker Bay too. That would be a nice backup plan in the event of slow Walleye action.
It seems logical that there should be some good action in Sucker Bay because fish have been active in other areas of the lake. The rule of thumb this week has been; "If I can find them, we can catch many of them". With surface temps ranging between 58 to 59 degrees, this should be the perfect weekend to explore. Good Luck out there!

Fishing Report October 1, 2014

- Lucky Last Minute Change = Good Leech Lake Walleye Action

We had our plans all set; Roy Zbinden, Marty Glackin and I were going to head back out onto the North end of Winnibigoshish on Tuesday.
The idea was to work on getting Roy some food to bring home and we had our sights set on the Winnie Walleye and Pike combo that's been good recently. The problem was a strong Southeast wind; it was already blowing when I picked the boys up at the White Oak Inn. A special meeting of the executive fishing committee weighed the facts and the decision was made. Postpone the trip to Winnie and head for Leech Lake where the Southeast wind would be an advantage instead of a problem; that turned out to be a good idea.
On Leech Lake, Surface temperatures were still holding above 60 degrees, varying between 60.5 and 62 degrees depending on where we fished.
The wind didn't seem as strong, not at first, but it developed quickly and within a half hour we were drifting in waves of 1 to 1-1/2 feet. The "Walleye Chop" was ideal, drifting the boat at .7 to .8 MPH, perfect for jiggin' in shallow water.
Our first pass in 12 feet of water yielded a couple of Pike, a giant Perch and one Walleye. It wasn't fast action, but we were on the scoreboard. The 2nd pass didn't work as well and looking for a new idea, I headed shallower, up into 7 feet of water.
At first, the shallow water didn't look quite right either, but as I allowed the boat to drift deeper, I stumbled into the sweet spot. The shallow breakline between 8 and 10 feet was holding fish and they were aggressive.
Lindy Jigs, 1/8 ounce Yellow/Pink, tipped with an assortment of 3 to 4 inch long Rainbows, Fatheads and Golden Shiners all worked equally well.
I wish that I could tell you that it was my special talent, a propensity for holding the boat in perfect position that helped us gather Roy's fish. But honestly, the churning water had encouraged the fish to go on the prowl. They were feeding and for me, boat control became the least of my troubles. We simply moved up to the shallow side of the break and allowed the wind to drift us across the flats until we were back out into 10 feet.
Before noon, we had captured our limit of Walleyes and ran back to shore to fry up a shore lunch.
While we were there, we talked with another fisherman who had seen us out on the lake and wanted to swap fishing stories. His crew caught Walleyes too, but instead of jigging, they were trolling shallow running crankbaits. So if that suits your style, it is also an option.
Perch and Pike were on the agenda for our afternoon. Perch fishing in the strong wind wasn't quite as simple, but it was doable and by sorting through a bunch of little ones, we did manage to gather about 20 of them that ranged between 10 to 12 inches.
This time, the Perch of desirable size were holding deeper than the Walleyes. The magic depth was 12 feet and the presence of weeds was a must. The fish were easy to spot on my Humminbird, appearing in small packs that were roaming through the weed tops.
The fish struck, but they were more particular about the presentation than the Walleye and preferred "dead sticking" the jig and minnow. Too much jigging action scared them away, but when we allowed the jigs to sit still, the Perch struck aggressively.
On Tuesday, the smaller minnows worked better than larger ones. In fact, I was trying to clean out the minnow tank, using up the small stuff and even when I pinned on the smallest Crappie size minnows, the Perch were still happy.
Today, the wind is supposed to switch to the South and become even stronger. Our goal is to catch Perch and Pike, so I'm going to try it again. But, I'll be thinking of a backup plan on the South end of Winnibigoshish just in case the whitecaps grow too large.


(10/1) From The Grand Rapids Area - We had our plans all set; Roy Zbinden, Marty Glackin and I were going to head back out onto the North end of Winnibigoshish on Tuesday.
The idea was to work on getting Roy some food to bring home and we had our sights set on the Winnie Walleye and Pike combo that's been good recently. The problem was a strong Southeast wind; it was already blowing when I picked the boys up at the White Oak Inn. A special meeting of the executive fishing committee weighed the facts and the decision was made. Postpone the trip to Winnie and head for Leech Lake where the Southeast wind would be an advantage instead of a problem; that turned out to be a good idea.
On Leech Lake, Surface temperatures were still holding above 60 degrees, varying between 60.5 and 62 degrees depending on where we fished.
The wind didn't seem as strong, not at first, but it developed quickly and within a half hour we were drifting in waves of 1 to 1-1/2 feet. The "Walleye Chop" was ideal, drifting the boat at .7 to .8 MPH, perfect for jiggin' in shallow water.
Our first pass in 12 feet of water yielded a ... read >> Leech Lake Fishing Report


(10/1) A question about trolling motors from Steve Sykes; "I just purchased a Vantage Transom Mount Electric motor for my boat.
I haven't had a transom mount for a long time but added it to compliment the bow mount I already have. The reason I added the transom mount is to back troll into the wind and try and stay stationary for vertical jigging, something I have a hard time doing with the bow mount electric. I kind of remember this from fishing with friends over the years, they would turn the head around on their transom electric trolling motors to gain more power when back trolling. Is this something that is necessary anymore with the new electric motors?"
A) Steve, All electric trolling motors deliver more power in the "forward" direction than they do in reverse.
I use MinnKota's Traxxis and yes, I do reverse the control head on my trolling motors. This effectively changes the higher power, smoother operating "forward" gear into my reverse gear instead. For backtrolling, this simple change makes a lot of sense.
I do believe that your MinnKota Vantage already has this feature already built in. It's been a while since I've had a Vantage on my boat. But I think that you have the ability to change the direction of your power head by using an adjustment lever that's built in to the control head.
By the way, I did check this out and yes, you do have an adjustment on the control head that allows reversing the position. It is very simple, lift, rotate and lock lever that you have probably already discovered. If not, a quick look at the owners manual will show you where it's located.

Read Report >> October 29, 2014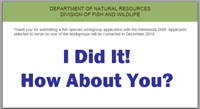 Volunteers sought to join DNR work groups tha will discuss how the Minnesota Department of Natural Resources manages fish.
I already submitted my application for one, Are YOU Gonna Join Me?.

---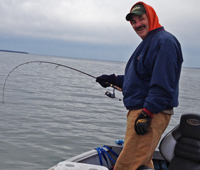 Taking a quick breather between runs; Rick Hastings helps wind down the 2014 open water fishing season with an unexpected catch. I guess You should have been there to get a look at the outcome of this one!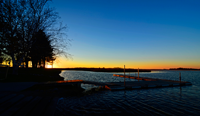 We all know that Leech Lake will wake up again soon. But for me, she's tucked in safe and sound for the winter.

---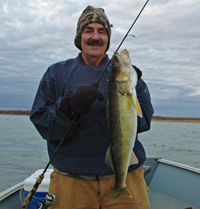 Rick Hastings shows one of his personal best Walleyes; helping to prove that the "evening Walleye run" on Leech Lake is not theory, it's the real deal. Fishing just before sundown, using 1/8 ounce jigs tipped with Rainbows, we took advantage of the short but sweet, twighlight bite.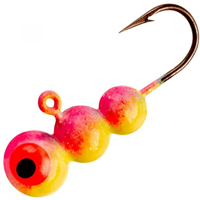 The size #8 Ice Worm matches perfectly with small artificial tails and it's heavy enough to reach Crappies quickly in deep water. Paired with a 7 foot ultra-light rod and 4 lb test line, it is absolutely in my top 5 picks for late fall Panfish.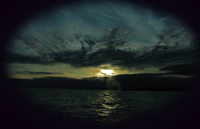 ---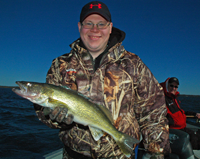 Matt Nistler grins after receiving high praise and accalaids for discovering the "magic color" on Leech Lake this Saturday.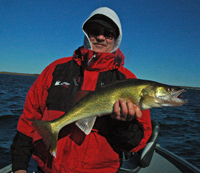 Chad Haatvedt grins after switching his jig to the "magic color" shortly after Matt Nistler's revealtion.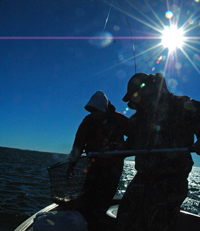 Jeff Sundin grins (from behind the camera) as Matt and Chad take turns peformance testing his landing net.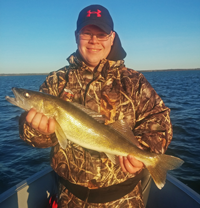 Matt Nistler glowing upon producing the Grand Finale' Walleye of the day and knowing that you want to know what he knows about the magic color.
I think that maybe you already KNOW, but just in case you're curious...


---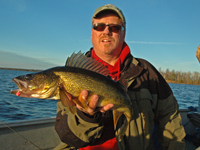 Tom Cashman showed us how to catch 'em. Fishing deeper than usual, he CPR'd this nice Walleye at 22 feet, using a 1/4 ounce Oink/Yellow Lindy Jig tipped with a 3 inch Rainbow.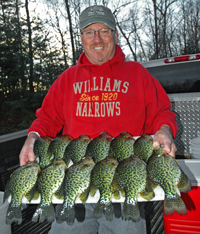 Take Tom Cashman's advice; "Fishing for Suspended Crappies in super deep water is more like hunting than fishing. Find the fish, catch what you want to take home for eating and then leave the rest alone."
---
October 24, 2014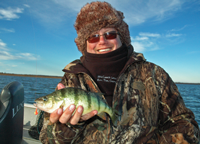 Clayton Thompson shows off one of his better efforts. The Perch were in 12 to 14 feet of water on a weedy flat.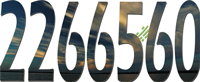 Lucky Number for October 25th 2,266,560
The question is, what does it mean to you?
---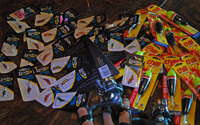 Hey!! Early Birds! Haven't you always wanted to dip into my personal stash? Well even if you missed tuning in for the fishing report this morning, you can still make a pledge and claim some of my fishing stuff for free!! 
For audio streaming, click on the image for the link to KAXE-KBXE Northern Community Radio
---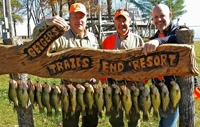 Photo courtesy Trails End Resort; Cast and Blast weekends have grown in popularity at the resort. Crappie fishing like this is one reason why!


Hey! Morning radio show listeners! Do me a favor and tune in tommorrow morning at 6:20 for "The Early Bird Fishing Guide". Make a pledge during the show and receive free gifts.
---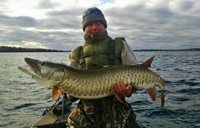 Photo courtesy Grant Prokop who guided Lee Carlson to a special birthday present. Cralson wanted to catch a Musky for his 65th Birthday and according to Prokop; "We were able to pull a rabbit out of the hat". --- Nice Rabbit! ... :)!!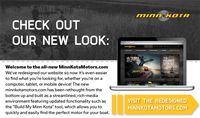 Now whether you're using a desktop, tablet or mobile device, the website gets you where you want to go fast and easy.
Look at the MinnKota website that's been redesigned from the ground up.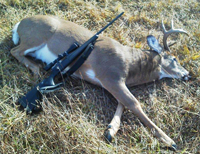 Sorokie; "I am confident things will rebound given a couple mild winters and tightened harvest regulations. After all, the whitetail deer is a fast growing, renewable resource given proper conditions." read >> Whitetail Deer Hunting

---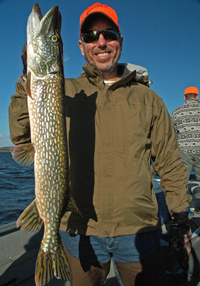 An hour spent searching for Pike paid off, especially for Jeff Deming who Used a 1/4 ounce Lindy Jig rigged up on a 17 lb fluorcarbon leader for protection. Pike were located in 18 to 20 feet of water at the base of the breakline near areas where we'd found Crappies.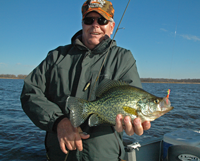 Jim Naylor provides evidence of his undisputable title; "King of the Crappie Hole". Even in the shallower water, breezy conditions called for heavier weights and the Ice Worms were the perfect solution.
---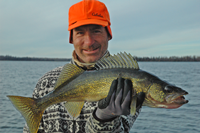 Luckily, John's resistance to the EGO iustus non facere virus was higher, allowing him to fight off the effects and produce several Walleye.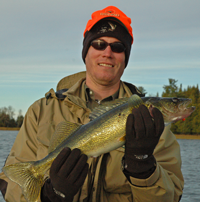 Zach, who started out strong in the morning, eventually succumb to a mild case of the virus. But not before producing some fish for our larder.

---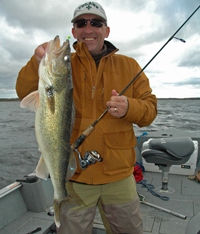 Tim Vaughn shows off the result of an expertly placed jig and minnow. Not bad work for someone who'd never caught a Walleye, wouldn't you say? ... :)!!
---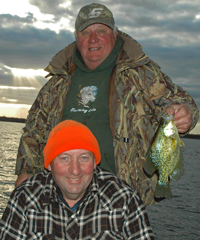 Jack was Nimble, Jack was quick, Jack broke the jinx, that's pretty slick!
---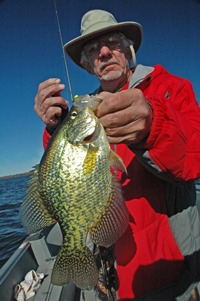 Slab Crappies in shallow water lakes provide great action, good eating and opportunities for CPR. Dale Schroeder with a slab caught in 20 feet of water using a plain, un-baited Tungsten Toad.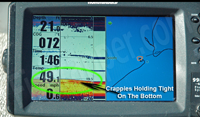 Crappies were holding so tight to the bottom that I almost ignored the "smudges" on the Humminbird. Luckily I decided to check it out!
---
---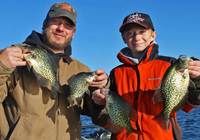 Photo courtesy Greg Clusiau: Great Fall Fishing for John Kukkonen and his son Dylan. They enjoyed a great day on the water catching suspended crappies. read >> Greg Clusiau's Report
---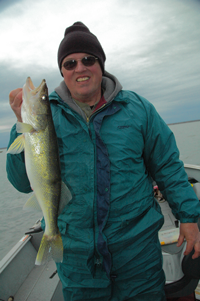 Leech Lake Walleyes like this one staged a late inning rally just minutes after Ole asked; "So why do you think they're not biting?"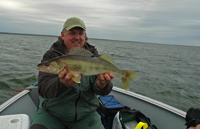 We fished with 1/8 ounce jigs in a variety of colors tipped with 3 to 4 inch Rainbows. Water depth was 8 feet and the surface temperature was 47 degrees.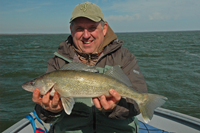 Maybe the evening run produced more fish, faster. But Kevin Scott proves that persistence pays off. Don't rule out some more good daytime fishing, especially when conditions give Walleyes a feeding advantage.

---
October 12, 2014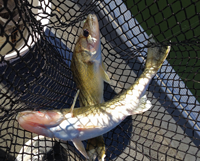 Conditions were so good that within 5 minutes into our first drift, we already had our first strike, twice. That's right; our first contact with the Walleyes was a double header.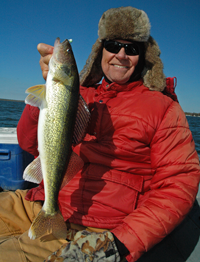 The quintessential image of "Mr.C" wearing his famous "Little Kid Going To Kindergarten Jacket" and holding a nice Leech Lake Walleye for the camera.
---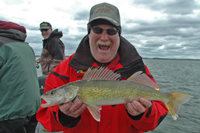 On Leech Lake Walleyes like this one are keepers. A survey asks; "What was your angling experience on Leech Lake?" Click to take survey >> Leech Lake Walleye Angling Experience .
---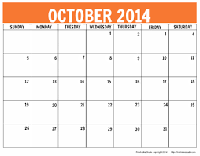 Hey! Remember those extra fishing dates that I posted on Friday? Well I booked 3 of 9 last night. There's still time, but now there are only 6 remaining dates for the rest of 2014. You don't want to let another whole year slip away, do you? >> October Fishing Dates Available

---
Read Report >> October 9, 2014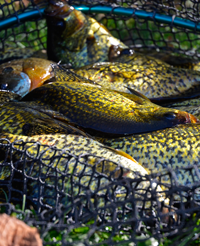 Beating the fall turnover isn't hard when you follow the panfish into their deep water, winter haunts. Ice fishing tactics really pay off, especially on lakes where Bluegill and Crappies become mixed.

---

Read Report >> October 8, 2014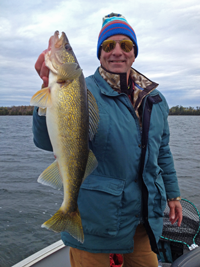 The Walleye fishing clinic put on by Tim Higgins, was briefly interrupted as he allowed us a moment to snap a pic of a healty specimen. Tim was vertical jigging using an 1/8 ounce collectors jig tipped with a Rainbow.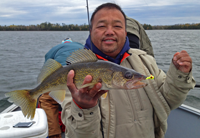 Using "modern day" tactics; 1/8 ounce Lindy Jigs tipped with Rainbows, Neng "Mo" Shao (above) and Brian Shields (below) got in the action too.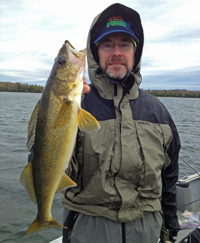 ---
Read Report >> October 7, 2014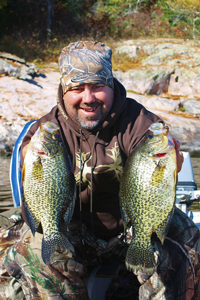 Photo courtesy Greg Clusiau who joined host Jeremy Taschuk for another "Cast n Blast" weekend on Rainy Lake. Crappie and Walleye were cooperative. Read >> Greg's Fishing Report
---
Read Report >> October 6, 2014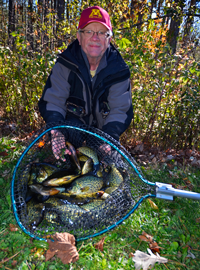 Crappies suspended over deep water were flighty, but catchable. All of the fish we found were in water depths of 35 feet or more.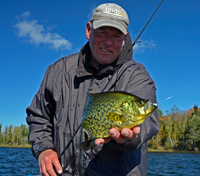 I got out my ice fishing tackle and tied on one of my Tungsten Toads. The weight of the Tungsten still allowed me to get the bait to the fish and the smaller profile triggered some extra strikes.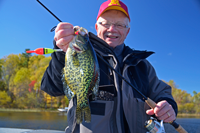 We rigged up slip floats to use as an indicator of the proper depth. The idea was to help make it easier to keep the baits in the strike zone by giving a visual reference.

---

Read Report >> October 5, 2014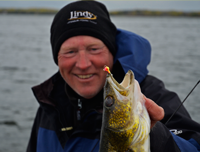 On Saturday, 54.5 degree surface waters were still holding up against the turnover. Walleyes were holding along the weedline at 10 to 12 feet feeding on very small "young of the year" Perch.
---
---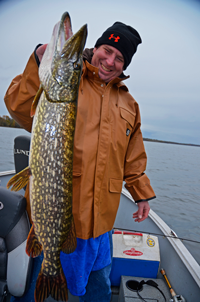 Justin shows off his best effort. A Northern Pike like this doesn't come along every day. But this one, CPR'd could pay you a visit on your next trip.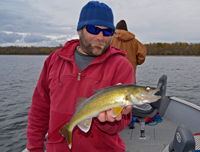 The mystery of the missing Lake Winnie "Eater" Walleyes has been solved. Apparently they were in Las Vegas gambling and just returned home for the fall feeding run. Of course, that's just a theory, I could be wrong ... :)!!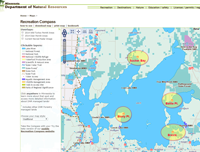 Where is the best place to launch a small boat on Leech Lake with a gusty West Wind?
---
October 2, 2014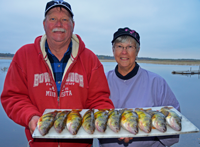 The whitecaps on Leech Lake stirred up the Jumbo Perch for Fritz and Penny Becker. In the heavy seas, the best jigs were heavier than usual 1/4 to 3/8 ounce weights. Crawfish colors like Green/Orange tipped with Rainbow Chubs worked well.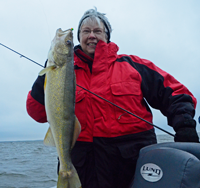 Penny "The Stick" Becker tries not to let a day go by without doing at least a little showing off. On Wednesday, this pair of Leech Lake specials voulunteered to help her out.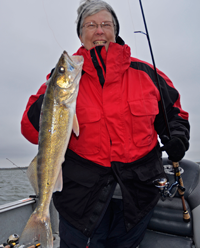 Walleyes were roaming the flats anywhere between 7 and 12 feet of water. In the large whitecaps, vertical jigging worked best and pinpointing the depth was less important than using Drift Control to hold the speed below .7 MPH.

---