Fishing Report August 22, 2015

- Winnie's Winning Weather

Weather is unpredictable, we all know that. But recognizing seasonal patterns that occur on or about the same general time every year isn't too tricky.
You may have already noticed, there's a pattern in play right now and it benefits Walleye fishermen on Winnibigoshish, in fact most of Minnesota's "Walleye Factories", surface temperatures are dropping.
A recent series of cool, rainy days kicked off another downward trend in surface temperatures and by Friday morning they were holding at 69 degrees. Only a few days earlier, they had been heading up, reaching 76 to 78 degrees on several area lakes, and somewhere around 75 degrees on Winne.
After the nose dive, a strong South wind tossed us up a couple of classic late August days; Grey, but warm. The warmer air temperatures helped stabilize surface water and once that happened, Walleyes began getting active again. I'd say that the bite has been dependable, providing that you can navigate to a place where you are able to fish.
On Friday, I got lucky-(er), when we were able to find manageable seas and active fish, both located in the same area at the same time.
The entire stretch of water along the east side of the lake contains scattered schools of fish. The weedline, now much deeper than it used to be, runs 12 to 13 feet deep and covers a span of at least a mile, maybe more.
There are gaps between the weed patches, making these fish very easy to spot on my Humminbird. Most of the time, a sighting of fish would result in somebody getting a strike, but not always. I would say that the fish were in a neutral mood, for us, plodding along with determination was the secret to catching fish.
Here we go, broken record time; our presentation was a Gold Little Joe Spinner tipped with a fathead minnow. Its still doing the job, so I've stuck with it, but when surface temps fall a few degrees more, I'll be ready for a switch.
In fact, there were times that I almost tempted myself into jigging instead, and as soon as it's practical, that presentation is going to make the agenda.
Fish in the "keeper range" are not big, but they are tasty. I'd say that most of them were 13 to 14 inches with an odd fish in the slightly larger range. On Friday, we did not catch a single fish that was within the protected slot size.
There were some Pike located here too, in fact some of them were nice, like the 35 incher that Esa Goettl CPR'd, aided in no small way by the perfect placement of the spinner, cast into the water for her by Erik, her dad.
With even stronger winds predicted today, I'm not sure how, if at all, we'll manage out there. But if it works out, you know that you will know as soon as I know.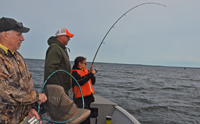 Water temperatures remain warm, summer spinner fishing patterns continue to produce a mixed bag on Winnie.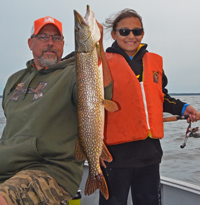 Isa Goettl stirred up quite a ruckus with a Little Joe Spinner and Fathead minnow along Winnie's deep weedline. The key depth was 12 feet.
Surface Temperatures:
Between 69 and 70 degrees, holding steady.