---
Planning your Walleye Fishing Trip to Northern Minnesota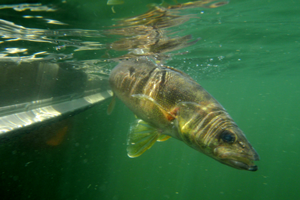 Walleyes, Minnesota's state fish are the attraction that lures many folks into the Itasca Region. That's right, in Minnesota, Walleyes are a real crowd pleaser and because the passion for walleye fishing is so intense, they have become my top specialty.
But, experiencing a Northern Minnesota Walleye trip means different things to different people and it's important to plan your trip during a time that's likely to be the most satisfying; for you!
Some like the fast action of early season fishing, when eater size fish are plentiful. Others like it hot, and prefer to fish during mid-summer when the opportunity for trophy size fish increases. Still others like fishing the fall season when walleyes migrate toward feeding areas to fatten up before winter.
Learn More About >> Planning Your Walleye Fishing Trip
---
Planning Your Crappie Fishing Trip To Northern Minnesota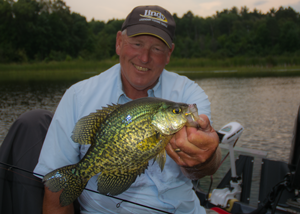 Crappies, America's 2nd most popular game fish have tickled the fancy of anglers from every walk of life. It's no surprise that for many, the pursuit of the "Paper Mouth" overshadows all other forms of fishing.
Often eager biters, Crappies not only offer great action, but provide excellent table fare for those who bag them.
Nomadic by nature, Crappie location varies dramatically by season. Depending on the period, Crappies could inhabit shallow water, deep water and everything in-between. They'll move from weed beds, to rocks, to open water; occasionally even leaving a lake entirely and moving into another one.
Learning how to predict where they will be throughout the seasons is the secret to planning your trip  for just the right time and right place. >> Planning Your Crappie Fishing Trip Coming Soon
---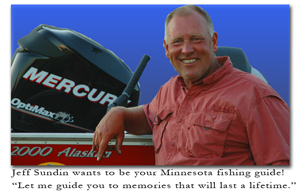 Northern Minnesota is the perfect destination for your next fishing vacation. It's a multi-tasker's dream come true!
We can fish for Walleye, go after Crappies, or catch Perch, Northern Pike, Bass and Panfish. They are all available within easy reach of the Grand Rapids area!
Nobody has more experience, no one works harder and nobody has more fun fishing than Jeff Sundin. "Book your next guided fishing trip with me and see what great customer service is all about.
"Book your next guided fishing trip with me and see what great customer service is all about.OH, by the way, we have gift certificates too." Use the contact page to >> Book Your Guided Fishing Trip Now!
---
Jeff Sundin is a full time, professional fishing guide, outdoor writer and photographer. Book Jeff for guided fishing trips, for fishing seminars, fishing promotions and media events. Click here >> learn more about Jeff Sundin.
"The Early Bird Fishing Guide" Jeff Sundin - Fishing Blue Books, LLC 715 Byington Ave, LaPrairie, MN 55744 218-245-9858
Email copyright©2021 Fishing Blue Books, LLC All Rights Reserved - last revised 08-20-2021