Planning Your Minnesota Walleye Fishing Trip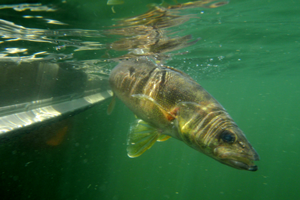 Walleyes, Minnesota's state fish are the attraction that lures many folks into the Itasca Region. That's right, in Minnesota, Walleyes are a real crowd pleaser and because the passion for walleye fishing is so intense, they have become my top specialty.
But, experiencing a Northern Minnesota Walleye trip means different things to different people and it's important to plan your trip during a time that's likely to be the most satisfying; for you!
Some like the fast action of early season fishing, when eater size fish are plentiful. Others like it hot, and prefer to fish during mid-summer when the opportunity for trophy size fish increases. Still others like fishing the fall season when walleyes migrate toward feeding areas to fatten up before winter.
Although it's never easy to predict ahead of time how exact weather patterns, water levels and other factors will affect fish movements during your particular visit, it is possible to generalize about some prominent patterns that occur each season. Knowing the factors that will influence Walleye locations and feeding behavior throughout the seasons will help you make educated decisions about when to visit Minnesota.
During periods of seasonal fish transitions, patterns and presentations may overlap. There are key times throughout each season when you may find individual groups of fish that are vulnerable to varied fishing presentations. If you like variety, try to key in on these transitional periods.
Early Season Period - Mid May Walleye Opener until early June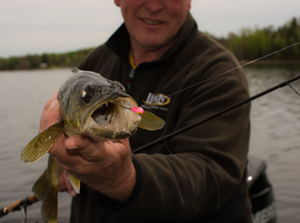 Typically, the Minnesota Walleye opener coincides with the Mother's Day weekend. It is alaways set for two weeks before Memorial Day, most often the second Saturday in May. The exact dates are regulated by Minnesota law that requires two weekends between the Walleye opener and Memorial Day weekend so you can always predict the season opener by working backwards from memorial Day.
Early season is the best time for all around action, shallow water flats contain most of the bait fish and post spawn Walleyes remain in these shallow locations until water warms and bait supplies become more available in deeper water. The majority of the fishing action, especially at opener is likely to be the smaller, male fish that recover more easily from the spawning process than the larger females do. Drift fishing, trolling or anchoring are all good methods of fishing. Jig and minnow combinations account for the majority of Walleyes caught during this period. Live bait rigs tipped with leeches, minnows and night crawlers can be used as well.
Equipment selection at this time of the season is simple. Select light or even ultra-light spinning rods. I like a light to ultra-light 6 to 6-1/2 foot rod spooled with 4 to 6 pound test line. An assortment of small 1/16, 1/8 and a few ¼ ounce jig heads. Live minnows like Spot Tail Shiners, Fatheads and medium Rainbow Chubs will all work.
*Positives = Lots of fish in shallow water, more action likely, easy equipment and bait selection.
*Negatives = Colder weather and water, more small fish, heavy traffic on certain lakes.
Summer Peak Walleye Fishing – Memorial Day until about Independence Day
Summer peak occurs when water warms into about the mid sixty degree range. Young of the year baitfish, Mayfly, Caddis Fly and other insects all provide a virtual smorgasbord of feeding opportunities in deeper water. Main lake structures come alive with activity and Walleyes of all sizes show up in good numbers. This period can occur as early as Memorial Day, as late as mid-June and will last into early July, even later the further North you fish.
Fishing style and presentations shift heavily in favor of live bait rigging but this is a transitional time and there are periods, especially early summer when jig and minnow fishing on these deeper main lake strictures will consistently put Walleyes in your boat. Controlling your boat speed is the key to success at this time, so back trolling; controlled drifting and anchoring are usually better than fast wind drifting. Live bait rigs in 18 to 28 feet of water require heavier sinkers in the 3/8 to ¾ ounce weight range, leader lengths of 4 to 6 feet are most common, sometimes longer leaders are needed when Walleyes suspend higher above the bottom.
A seven-foot medium or medium light rod will help you control the heavier sinkers and help keep your lines out and away from the boat. For jigging you'll need to move up to ¼ to ½ ounce jig weights. A six-foot spinning rod with 6-pound test will work fine, but you could also go to a 6-1/2 to 7 foot jigging rod if you like the way that feels.
Lively leeches are the best choice for rigging and shiners will perform best for jigging. At times, rigging with larger minnows like Red Tails, Creek Chubs or big Rainbow Chubs will work well on your live bait rigs.

*Positives = Larger fish, warmer weather, less crowded than early season.
*Negatives = Risk of storms, more difficult to catch smaller fish (eaters) especially on "slot limit lakes".
Mid to Late Summer Warm Water Period – Mid July until Late August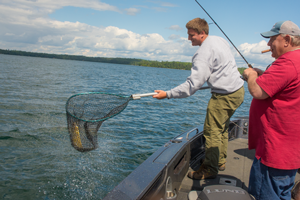 Once the heavy insect hatches have run their course, Walleye will begin to key in on the abundance of minnows and small forage fish. Warming waters, long hours of daylight, heavy weed growth and abundance of food on sprawling flats cause fish to "scatter" or spread to a wide variety of areas.
Although my personal preference would be to take advantage of this time period to pursue other fish like Bass, Panfish and Muskies, it is quite possible to experience some great Walleye fishing during this warm water period. Every year there are a handful of lakes that emerge with above average of even great Walleye opportunities during this warm water period. Walleye location tends to vary, but a couple of key trends to watch for are Deep-water suspended fish, mid depth flats suspended fish and deep weedline or deep rocks.

There are almost too many presentations and fishing styles to consider listing them all here, so lets talk only about a couple of key patterns that "usually work best" during this time. You could however, find opportunities to fish Walleyes using any of the approaches we've already outlined and this should be considered a time to experiment with a wide variety of presentations until you find the one that seems to be key on your lake.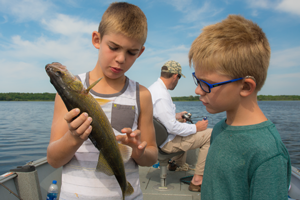 Warm water raises fish metabolism and when they feed, they feed aggressively. This period is the time to take advantage of trolling systems that allow you to cover lots of ground. Trolling crankbaits, live bait spinners and rip jigging are all good ways to cover water in search of active fish.
Fishing suspended fish over deep water requires deep diving crankbaits, trolling on mid depth flats require smaller shallow running baits. Lindy's popular lineup of crankbaits like the Wally Demon and Rally Fish are lures that work well. Lindy spinners can purchased "pre-tied" or you can make them yourself using Lindy components sold separately. The spinners are trolled with conventional rigging sinkers, bottom bouncers or the "no-snag" weights. Boat speed and depth control is the key no matter which presentation you choose.

Longer rods of 7 to 8 feet with fast action tips and relatively stiff butt sections will allow you a lot of flexibility. Line counting reels are really helpful when you want to be precise in placing your crankbaits or spinners at the correct depth. Rods for live bait spinners or rip jigging can be more conventional, but a bit heavier than the light rods we'd use in the early season. 6 to 7 foot, medium light with 8 pound test line works out well for a variety of presentations including the spinners and the heavier ¼ to ½ ounce jigs you'd use for the aggressive fish.

*Positives = Aggressive feeding fish, trolling approaches work well, experimentation pays off.
*Negatives = More complex, fish more likely to move, hot weather (more bugs).
Early fall, cool water – Late August until late September
Walleye anglers who like the early season, shallow water Walleye patterns will enjoy a trip during this early fall period, although it can be a bit tricky to predict when it actually begins. This is a great time to fish and the positives clearly outweigh the negatives.
Generally we'll get a "false start" that coincides with the full moon of August. Fish seem to make a quick run into the shallows and feeding seems to be getting heavier during the full moon. Soon after, the fishing slows back down a bit until water temperatures cool into the mid to low 60 degree range. Generally, the cooler the water, the better the action gets as the fish get their wake up call to chow down before the cold weather arrives. For a time, live bait rigging with night crawlers and leeches will continue to produce, but we're clearly waiting for the return of the jig and minnow bite.
We're coming full circle again and the equipment selection at this time of the season is much like that of the early season. Light or even ultra-light spinning rods, 4 to 6 pound test line and a small assortment of 1/16, 1/8 and a few ¼ ounce jig heads. Live minnows like Spot Tail Shiners, larger size Fatheads and Rainbow Chubs are better now as the Walleyes key in on bigger baits. At times, calm weather may tip the scale back in favor of fishing Lindy Rigs tipped with Crawlers, Leeches or Larger minnows like Redtails or Creek Chubs.
*Positives = Great weather, improving action, return of simple jigging presentations
*Negatives = Tricky to predict start up.
Late Fall Cold Water – Late September until freeze up
Whenever the water temperatures fall below 60 degrees, Walleye fishing will become very consistent until the fall turnover, which occurs as temperatures dip below 55 degrees or so. Even then, you can have great Walleye fishing by adjusting your approach to match the conditions.
There will continue to be good shallow water activity for most of this cold water period, but there are also isolated deep water fishing opportunities for large fish if you choose to pursue them. Wind drifting, back trolling and anchoring is once again your best game plan. For most anglers, fishing the same patterns and baits as they used during the early spring will produce consistently.
For anglers who want to pursue deeper water, larger fish try rigging with live bait. Larger minnows like Creek Chubs, Redtails and giant Rainbow Chubs will produce fish in the 6 to 10 pound class making this a great time for trophy Walleye fishing. Use the same equipment that I described in the early summer peak section and you'll be in good shape.
*Positives = Consistent action, chance for trophies, no bugs, less crowded.
*Negatives = Consider potentially cold weather.
Without a doubt, there are other factors that enter in to your decision about when to plan a Walleye trip in Northern Minnesota, but as a guide, these are good trends to keep in mind.