---
---
Jeff Sundin Fishing Report Archives December 29, 2004 "Winter Patterns settling In; Ice Conditions Stabilize"
Finally! Ice conditions got a boost from last weeks sub zero blast of winter air. There are several area lakes with enough ice for vehicle traffic and almost all lakes have enough ice for relatively safe travel by ATV or snowmobile.
Checking the scene in the area yesterday, I found a wide range of Icehouses out on the lakes. Everything from portables to some of the giant "super houses" have shown up. Traffic is picking up too now that the scheduling challenges of Christmas have eased and angler's attention has turned back to recreation.
Fishing reports are less than stellar because of light traffic. Most folks that had been out were engaged in spear fishing for Northern Pike. Many or these anglers are talking about seeing lots of smaller Pike and some medium size fish as well.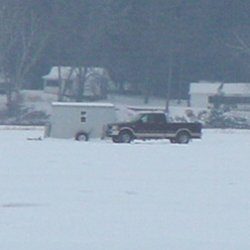 The fish have been kind of spooky with lots of hits on the decoys coming so fast that the angler doesn't get time to throw at it before it's gone. Thin ice and bright conditions weren't helping this situation and now with a little more ice, better snow cover and more overcast days, the fish should settle down a bit.
Perch, Walleye and pan fish anglers are just now beginning to show up. Getting to the main lake structures safely has been the main concern of these folks and there will no doubt be a good crowd this weekend.
Deeper water structures like points and sunken islands will be the destination and it should be a fairly good bite because few, if any anglers have made it out there yet.
If you're one who's been itching to get out there, you'll find a spot now and if you were waiting to hear more about the conditions first, I would guess a more detailed report should be available by Friday or Saturday. Either way, it looks like we're on green for go! - Jeff Sundin 218-245-9858 or EMAIL
---
Jeff Sundin Fishing Report Archive December 10, 2004 "Ice Fishing Season Sneaks Up On Grand Rapids Area Anglers"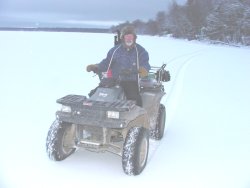 Well folks, with area lakes beginning to "firm up" and another cold snap predicted for later this weekend, it looks like we can declare the ice fishing season open in the 1000 Grand Lakes Area.
While not all of the lakes are safe for traffic, there are plenty of places to go that will support foot traffic and we're starting to see more ATV's out there every day. It's fair to say that if you want to find a place to fish, you'll be able to do it.
Some of the smaller lakes that froze ahead of the recent snowfall have anywhere from 4 to 7 inches of fairly good ice. On some of the medium to larger lakes there's a little slush in those areas where folks have drilled holes because ice thickness isn't sufficient to hold up this heavy/wet snow. But away from these moderately slushy spots, the snow doesn't seem to have created much trouble and the underlying ice is mostly clear ranging from about 3 to 5 inches.
The largest and deepest lakes continue to have open water stretches toward their centers and travel shouldn't be attempted on these waters yet.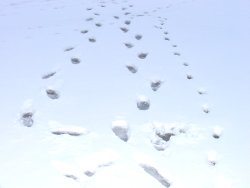 You can see the hole in the lower right corner. Areas that have been fished are a bit slushy but the underlying ice is in fairly good shape.
The largest and most popular Northern Pike spearing areas are the places with all of the serious traffic right now because these folks know that you have to get to the shallows early in the season to cash in on the best Pike movements. The Pike action has been average to good depending on the day and some folks are reporting sighting some large fish.
Playing it safe by hugging the shoreline in the shallows, this local resident is on his way to virgin territory. He walked out and drilled several holes and found ice thickness of nearly five inches. His are the first tracks out there, but it won't be long before he has plenty of company.
Walleye and Perch fishing is starting to get some attention and these fish are being located in 6 to 8 feet of water. Weed edges and points breaking into deeper water are good starting spots. One of the better approaches right now is to set one tip up per angler and fish another hole jigging. The tip ups offer dual action for Pike and Walleye while the jigging allows you to pick up anything in the area.

- Jeff Sundin 218-245-9858 or EMAIL
---
Jeff Sundin Fishing Report Archive November 30, 2004 ""
Slow to come, Ice is starting to cooperate! Fishing opportunities are only days away.
December 1st, 2004. That's tomorrow folks and thanks to the extended run of gorgeous fall weather, Ice is in short supply. Without a doubt, there will be some folks who find their way onto a thin sheet of ice to try and outwit the early season Northern Pike or least exercise their throwing arms. But the crowds will be forced to gather in a small number of spots until the real ice gets here.
Medium size lakes are getting a good build up of edge ice, but their centers are still wide open.
I ran the countryside yesterday looking for ice and it's forming faster than we thought it might. Even though most of the larger-deeper lakes are open in their centers. There are solid stretches of shore line ice and the inlets, bays and accesses are freezing nicely. Several of the smaller lakes are frozen over completely and I even found footprints and Ice holes from someone's weekend fishing trip on Big White Oak Lake in Deer River.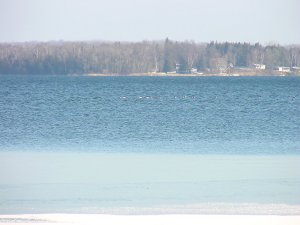 Look close! Those are ducks sitting on this lake. Almost all of the deeper lakes like this one are sitting wide open right now. It's going to be a while before anyone gets out here to ice fish.
There's no doubt that we're a solid ten days behind schedule, but we haven't had much snow and the nights are falling into the 10-15 degree range. With a little lucky break in the weather, we're probably only a week or so away from some good solid opportunities. IT'S GOING TO DEPEND ON SCOUTING. Folks who want to get out are going to need to make some stops at a lot of lakes until they find the few good ones.
I walked out on good ice to get this photo. This small lake has fairly shallow water and has been frozen for a week or so already. Careful anglers will be able to find some opportunities soon.
Here you go. When I checked this lake, I found tracks leading to the ice holes from someone's fishing trip from the past weekend. It's just a matter of a few days before there will be lot's of these smaller lake opportunities.

- Jeff Sundin 218-245-9858 or EMAIL
---
Jeff Sundin Fishing Report Archive November 4, 2004 "River Waters Run High and Fast – Good News For Walleye Anglers"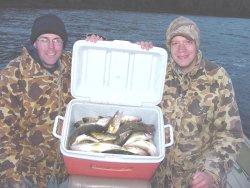 Here's another nice catch from one of our last cold water trips. Travis and Paul bundled up and hung in there for a day that yielded a great mixed bag of Crappies and Walleyes. It's never too late and if you've got the desire, there are still fish out there to catch.
Thanks to everyone who waited patiently for a fishing update while I was out of town on our annual Duck and Pheasant trip this fall. We had better than average weather and even though the main flight of Ducks was either not down yet or maybe gone already, we still had enough action to make it a fun trip. I am especially thankful that our new Yellow Lab, Maisie had an opportunity to get a good head start on both Pheasants and Ducks. I'm proud to say that it looks like she's going to be pretty darn good.
Tomorrow 11-5-04 is the official delivery date of my Lund Alaskan to its new owner. I have really enjoyed this rig and it served me very well, but it's the time of year to get on with a new program. I am now traveling by foot, so I guess the fishing reports are going to become more dependent on friends and coffee shop here say for a while. There are still a few opportunities out there for all of you die hard anglers who want to cash in on some of this great fall weather before it's too late.
Since we've been back, I've already seen one great opportunity for anglers who want to fish Walleyes from shore. This fall the river waters are running high and there are Walleyes moving up stream to the dams and delta areas. I ran across a couple of anglers who had a nice bucket of Walleyes they caught from shore fishing with Jig and Twister Tail Combinations. They were simply working the current breaks, casting upstream and working the jig back down current. Crankbaits worked slowly upstream are also a good choice for fall, especially after dark.
I suspect that most folks will be Deer hunting this weekend, but I'll try to keep the fishing report at least moderately up to date for the next couple of weeks. In another month, we've got the start of another ice fishing season to talk about and I'm planning on a busy winter on the ice and writing fishing articles for this site and some others. Stay in touch and ask questions!

- Jeff Sundin 218-245-9858 or EMAIL
---
Jeff Sundin Fishing Report October 14, 2004 "Mixed Bags, Fishing In The Dark and Road Trips Signal The End Drawing Near"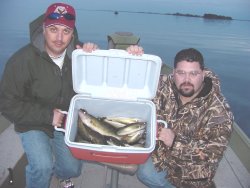 We've been unbelievably blessed with great fall fishing weather this year, we've had a few zingers, but it's been easy to find somewhere to go and something to do almost every day. As the Mercury drops, so do the water temperatures and we're seeing a range of temperatures from 50 to 55 degrees depending on the make-up of the lakes we're visiting. For the most part, conditions and patterns are the same as I described last week, but here's a brief update.
Walleyes continue to feed best at morning and evening twilight hours even in the rivers. We are still picking up some fish during the day, but it's been better to concentrate the effort toward evening and use the daytime for fishing panfish.
There has been a shift away from the Crawlers and live bait rigs that we had been using for most of the fall. Although I still carry crawlers with me just in case we may need them, I believe anglers could probably do okay without them now. Jig & minnow or live bait rigs tipped with minnows are both working. We've noticed that some of the "oversized" 5-6 inch rainbow chubs have worked better on the rigs and the smaller 3-4 inch ones are better on the jigs. Shiners are great if you can get them, but they have been in short supply.
Walleye location is still somewhat varied in terms of depths, but the shoreline related drop offs are the best place to center your efforts. Pay particular attention to areas where you find green weeds adjacent to deeper water and main lake flats leading toward current areas like narrows, river mouths and channels between lakes. River fishing is also becoming a stronger possibility each day, but we've noticed that there's still quite a bit of floating weed debris moving downstream. The river fishing will become more enjoyable as this water "clears up" a bit more.
Cormorants; coming to a lake near you! Keep an eye open for some reports about the spread and seriousness of the challenge these birds will be presenting. I'll be posting lot's of information in the coming weeks.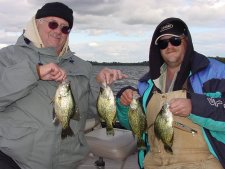 Crappies continue to hold our attention during the day and we've been using a rotation of reliable lakes as regular daytime stopping spots. The one day this week that I tried to fish panfish early in the morning, we found a sluggish bite and it was several hours before the Crappies began to act like they were hungry. This was just more evidence pointing me in the direction of fishing these fish during mid-day and saving the Walleye fishing for morning/evening.
The approach has not changed for most of the fall, find the small groups of fish on your electronics and concentrate your efforts fishing vertically with 1-16 to 1-8 ounce jigs tipped with small minnows. The fishing report archives from the past month is packed with more details on the Crappie methods we've been using.
Perch fishing has been spotty for lots of folks this fall, but one key that may help is to locate stretches of shallow green weeds and concentrate your efforts in these locations. Many of the areas where we typically find the perch this time of year, simply aren't holding large numbers of fish. But some of these 3 to 6 foot deep weed beds are holding pockets of nice fish. We've had some success by checking these spots as we search for Walleyes and as we pick up a Perch or two, we'll stop the boat and fish much ore slowly. Cast the jig & minnow into the weeds and fish it back in a hopping motion. This seems to draw the fish toward the boat, then we fish vertically until the group begins to break up. Repeat the process as needed.
Day by day the leaves are falling, ducks are flying and folks are putting up their boats for the winter. It won't be long until our open water season ends for another year. I'll be keeping the reports going for the "Die Hard Anglers" out there, but in the next couple of weeks we'll begin to switch the focus to some of the "off the water issues" that will be facing us in the next couple of years. If you've been following some fishing issue or have questions regarding the future of our sport, let me know so I can begin doing some research.

- Jeff Sundin 218-245-9858 or EMAIL
---
Jeff Sundin Fishing Report October 8, 2004 "Fall Turnover Looms over Some Lakes, Arrives on Others"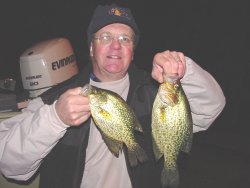 No matter how well the weather held during September, the arrival of colder temperatures and the "Fall Turnover" is upon us. With temperatures falling into the low 20-degree range this past Tuesday night and combining with high winds on Wednesday, many of the shallower, wind swept lakes have surface temperatures falling into the low 50-degree range. The good news is that most of the larger, deeper lakes are still showing temps around 56 to 58 degrees which is just above what I consider to be still in the "good fishing" range.
The past week has been one of experimenting and traveling from lake to lake in search of the "hot ones" and although we did find some bright spots, scattered fish and sluggish fishing was what we found on many of the lakes we visited. You could say that this was the definition of the term "spotty" fishing. When we were in the right spot, we did well. But the search was often tedious and required lots of persistence.
Walleyes remain on the sluggish, but catchable list. Lakes to avoid are the ones with shallow, darker water. These are the ones that seemed to nose dive on the cold snap this week and the ones we visited were not producing well at all. The threshold or "magic number" for me seems to be about 55 degrees. Whether this is technically correct or not, it is the temperature that seems to trigger the big change on my favorite lakes.
Stick to lakes with deeper water and if possible, less direct exposure to high winds. On these lakes we found some Walleyes still relating to the deep weedlines and some fish relating to the steeper drop off areas in 20 to 35 feet of water.
The night crawlers that we've been using for the past few weeks are starting to be less advantageous and even though they are still producing, we've been slowly shifting toward jig & minnow fishing during the week. Check the weedlines first because this is where we've located the most active fish. Then move to the deeper breaklines and work on the deeper fish. The river waters are running high and fast.
A test run down the Mississippi revealed cloudy water with lot's of weedy debris flowing in the current. There were some folks picking up scattered fish, but the best quality fishing is probably a couple of weeks away.
Largemouth Bass that had been the highlight of fishing last week were scattered and in very small groups this week. We still caught a few fish on spinnerbaits over the weed flats and a few in the bulrushes. It's time now to watch for the deeper weeds that stay green. These fish will begin to group up in these good green weeds and there will be yet another "hot bite" before the fall is over. With luck, I'll have a report on that next week.
Bluegills have been slow to move out of their weed locations and as long as the weed flats continue to be green, the majority of these fish will remain in these areas. There are some fish out in open water with the schools of Crappies, but not enough to make it the top pattern just yet. Most of the folks catching these fish right now are "still fishing" with bobbers, small jigs and pieces of worm or small bluegill size leeches. Locate the better areas by slowly creeping through the weed flats with light jigs tipped with worms. Stop as soon as you locate a school of fish and either anchor the boat or hover with an electric trolling motor.
Crappies are still saving the day on a lot of trips. They have been willing biters for the past month or more and they've been relatively easy to locate.
Crappies like these are probably the best news we've had for most of the fall season. They've been willing to bite and relatively easy to locate. Well worth the effort!
We've found good schools of fish in a variety of lakes. They are still relating loosely to the deep breaklines, but there are now also some small schools of fish roaming open water, well away from the structure. Best bet for success is to keep on the move and stop only when you locate better groups of fish. This will really swing the odds in you favor.
The standard approach of using jig & minnow and fishing vertically is still working fine, but there are times when we've used a live bait rig tipped with a lively minnow as "search baits". We troll around slowly until we make contact with a better school of fish. Once we find a good school, we'll switch back to the jigs for more precise control.
Northern Pike of small size have been up in the shallow water and somewhat vulnerable to spinnerbaits. There are a couple of area lakes that are reported have decent action, but for the most part, the absence of quality Pike on lots of lakes is notable. Until we see the fall spawning runs of Tulibee and Whitefish, we're not very optimistic about the Northern Pike fishing. This is one time I'd like to be wrong, but it doesn't look like we're going to get that hot fall pike bite that we always look forward to. If you really want to make a day of it, I'd suggest trolling the deeper flats and steep drop of areas with crankbaits. Covering lots of water will probably trick a few fish as a reward for the stealthy angler.
Perch action has kicked up a notch and some folks are enjoying pretty fair fishing in terms of both numbers and size. Schools of fish are randomly scattered and most folks are finding them while in the search for Walleyes. Shallow weeds and mixed rock have been better areas and "simple, but effective", jig & minnow fishing is doing the trick.
Cormorants; coming to a lake near you! Keep an eye open for some reports about the spread and seriousness of the challenge these birds will be presenting. I'll be posting lot's of information in the coming weeks.

- Jeff Sundin 218-245-9858 or EMAIL
---