Jeff Sundin's "Favorite Lakes Section: Bowstring Lake Itasca County"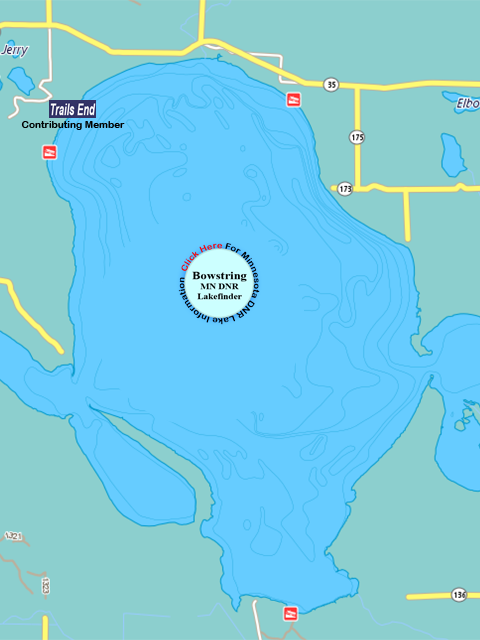 Bowstring Lake is a super fishing lake that ranks high among my favorites for Walleye, Crappie and Perch fishing.
At just over 9000 acres, it's large, but easily fishable for folks with modest size boats and there are access ramps on 3 sides of the lake making it easy to get on the lake even when the wind is blowing. Structure is easy to locate whether you like to fish deep or shallow, plenty of weed beds, rock areas and deep water bars and humps. As part of the
Bowstring and Bigfork River systems, there is lots of connecting water that can make for some fun exploring. There is an abundance of wildlife in the largely undeveloped Bowstring area and you will see Eagles, Deer, Waterfowl and more.
Walleye Fishing: Du. ring cool water, especially in the spring, Walleyes work the shallow drop off areas where minnows run during their spawning season. Weed edges, Clam beds and rocks are all good locations.
When fishing the shallows, moving water is one of the keys to success, so fishing the wind blown areas is generally better than fishing calm water. Jig & minnow combinations are good, but try to avoid combinations that offer too much flash.
Northern Pike are both super-abundant and super aggressive in this lake, so flashy presentations will frequently attract Pike faster than Walleye and you can literally "fish through" the Walleye with realizing that they are in the area. A more subdued, natural looking jig color, darker minnows like Rainbows and Dace and fishing your jig with a light pumping or slow swimming action will give Walleye more time to respond to your offering.
As the water warms in early summer, some Walleyes will remain in the ever thickening weed beds, but many Walleyes move out across the flats and locate on mid lake bars, points and humps.
The move toward mid-lake structure is usually associated with the insect hatches that occur over the flats in areas containing marl composition. These soft bottom areas typically surround mid-lake structures like rock reefs and mud flats.
Fish will remain in these areas throughout the early to mid summer until insect hatches run their course. During this warmer water period, live bait rigs with medium length snells of 4-6 feet in length tipped with lively leeches or night crawlers will produce good catches of Walleye. As the water warms, begin adding trolling presentations like Little Joe Spinners or Lindy's Li'l Guy to your arsenal, they will definitely help trigger strikes from the more active "summer fish".
Fishing the weeds in mid summer will produce nice catches of Walleye too and fishing the pockets and open areas near heavier weed cover with live bait rigs is a good starting point. Another good all-around summer Walleye option is the use of slip bobbers.
Frequently, you'll find Walleyes using only a tiny portion of a bar or weedbed. Anchoring the boat and concentrating on these "mini spots" using slip bobbers, small jigs or plain hooks and tipped with lively leeches will work great.
Crappies are present in all areas of Bowstring Lake. Crappie size quality is good and numbers are generally excellent. We've found Crappies in shallow water, deep water and on the rocky portions of main lake structures. In the spring spawning season, there are miles of Bulrush flats that support spawning. Fishing the edges of the Bulrushes with a small jig, minnow and bobber combination will produce nice catches, especially during early evening hours.
During summer, some Crappies will use heavier cover while others move to deep-water structure. Depending on your favorite approach or personal fishing style, you could choose to concentrate on the deeper edges of weed beds, humps with rocky terrain or by moving slowly along the deepest main lake drop off areas looking for schools of suspended fish. Most often a combination of these approaches will help you get zeroed in on some Crappie action.
Yellow Perch are generally of excellent size, but somewhat scattered around the lake. You can find some larger schools of Perch, but frequently will locate small schools of above average size fish. In spring, Perch will often be mixed with Walleye and you'll catch them as a bonus during your Walleye trip. As summer progresses, Perch tend to seek out areas richer in Crayfish population. Weed edges and pockets of hard bottom among weeds are good locations as are hard bottom portions of main lake bars and points. It's not necessary to find heavy rocks, but gravel or mixed sand, rock and weeds are ideal locations.
Northern Pike are actually too plentiful! Although the average size is small, they are clean and the quality of their flesh is excellent. At peak times, an angler could expect to catch as many as 100 Pike per day and these feisty fish are perfect for youngsters in their early development. Anglers who like to eat fish would be doing the lake a favor by frequently utilizing the supply of these abundant fish. I'd recommend clicking here to see some great tips for care and preparation of the Pike.
Ice Fishing On Bowstring Lake is generally excellent. Walleye, Perch and Crappies tend to move deeper in winter, but there are still fish located in shallow areas too. Weed growth in 5 to 8 feet of water will produce Perch and Walleye throughout the winter. Mid-Depth bars and Reefs are also godd producers dring winter. Fishing in water depths of 12 to 18 feet on the edges of these structures will produce during most of the winter.
Deeper water on Bowstring tends to produce more Crappies during the ice fishing season. It's not unusual to find them in the deepest water that Bowstring has to offer, 28 to 30 feet. The Crappies still like to stick close to structure, at least near by. But they will move out into open water at times as well.
To sum it up, Bowstring is the classic Northern Minnesota fishing lake. Not a lot of water sports, few, if any sandy beaches. There's a heavy emphasis on fishing, with an abundance of structure and lots of opportunity for action.
---