Following Out Fall Crappies - Jeff Sundin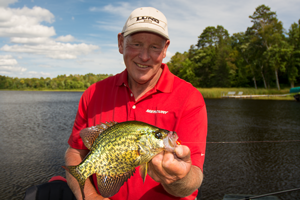 After a long summer of searching for Crappies in the weeds, waiting for the evening bite and slapping mosquitoes, fishing the fall bite is like finding the pot of gold at the end of the rainbow. Crappies that were elusive during the summer, are now gathering in larger schools in open water where finding (and catching) them is easier than first grade math.
All you need is a good graph, a handful of jigs and a bucket of minnows and you're on your way. Here's a simple step by step approach that will help you consistently produce Crappies throughout the fall season.
It is important to remember that water depth is a relative term and on one lake, the term "deep weeds" might mean 8 to 10 feet of water while on another lake of a different type "deep weeds" could refer to 18 to 22 feet of water. Wherever you stop seeing weeds on your graph is what we would refer to as the deep weedline.
In the same light, fish on one lake may suspend in 35 feet of water. But if your lake's deepest hole is 18 feet deep, then that would be the area for you to center your search for suspended fish. Your lake has its own personality, depth structure and cover, so you need to adjust your game plan to the type of water you're fishing.
The earliest fall movement centers around deep weeds and can occur as soon as mid August depending on the arrival of cool weather.
Cooler weather gets fish off to an early start while warm weather can delay the bite for several weeks. Throughout mid summer, most of the Crappies live in and around the heavy weed cover on shallow to mid depth flats. Coontail, Cabbage and Northern Milfoil are heavy weeds that offer lots of protection.
In early fall as the water begins to cool, the days get shorter and weeds begin to die. As they do, the once Oxygen rich environment becomes gradually less inhabitable and fish start moving toward the deeper edges and into the patches of remaining green growth. These deeper green weeds are the first (and earliest) locations for the early movement.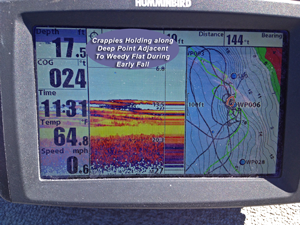 Look for schools of Crappie to be loosely grouped near these deeper weed edges and be prepared to fish during prime times like early morning and late evening. Slip bobbers, small jigs and minnows will get you into some action.
During the day, Crappies are likely to hold tight to the cover and the best approach is to roam slowly just inside the deepest portion of the weed flats and "dabble" with a 1/16th-ounce jig tipped with a small minnow. Try to avoid trolling or dragging your jig. Instead gently lift it up and down vertically. This slow vertical motion will help keep you from getting snagged in weeds too often. As you locate groups of fish, switch to the slip bobbers and set them at a variety of depths to help you zero in on the best overall depth to fish.
As the water continues to cool, more weeds will die and fish will be gradually forced out into the open edges. Every day that you fish during these early days of fall should include a little time to scan for signs of the next phase of the fall movements.
Watch your Humminbird as you slowly cruise along the drop off area just outside the weedline. Each day you'll see more signs of life in this deeper water. First baitfish begin to appear, then small groups of Crappies and finally larger schools of fish. The arrival of larger groups of fish out on this deeper open water drop off marks the beginning of the peak fall bite, now is the time to get ready for some hot action!
The peak of the fall movement in Northern Minnesota could occur in early to mid September and will last into mid October. Later if the water stays warm, earlier if it gets cold sooner. During this peak phase of the fall movement, Crappies will most often locate on inside corners or on the edges of deep holes located closest to the shoreline. Many times you'll find areas like these located just a stones throw from shore. You might find some of the fish on points or at times, even on straight stretches along the drop off. But these inside corners located closest to shore are always my first choice.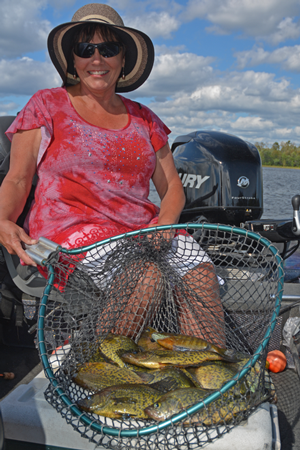 There's something "magic" about these deeper corners and whenever I find an area like this, it will be a reliable fishing hole year after year. Occasionally you will hit the "big payoff" and find branches, treetops or debris from Beaver Lodges in these shoreline areas and this adds to the attracting power for Crappies.
Crappies love to hang close to branches or brush and these spots will out produce all others. On select lakes, Crappie cribs placed to provide structure are even more powerful attractions and should never be overlooked.
The best fishing approach during this peak movement is to slowly cruise along the drop off while watching for schools of fish. As soon as I spot a school, I drop a marker, turn off the outboard and hold the boat in place with the MinnKota. At times you may be able to anchor and fish a stationary school of fish, but if they move even just a few feet, you can lose track of them. For me it is better to hover with the electric and follow the fish as they shift from one area to another.
Presentation is the easiest part, 1/16 ounce to 1/8-ounce jigs tipped with small minnows are usually all you need. I always try a jig tipped with a small worm or cut piece of night crawler because it seems like there's always one or two "bonus fish" that would rather eat a worm than a minnow.
Sometimes, you'll find nice sunfish mixed in with the Crappies and fishing the worm will help you locate these bonus fish too. When you jig for Crappies it's important to bring the jig up above the school and then walk it slowly back down again. They're watching for minnows and other small bits of food that drift down slowly and seldom find your bait if you keep it located too close to the bottom or if you hold it too stationary.
Another neat trick is to slowly reel your jig up from the bottom, pausing every foot or so. Fish that move up and away from the main school are a lot more likely to strike the bait and many times you will be able to watch these fish on your graph as they move toward your bait. This slow move up and pause will really help trigger these fish.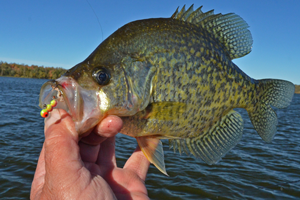 Late fall and on into the early ice period finds Crappies that have moved completely out into open water. The shoreline breaks that held fish during the peak are now empty and schools of roaming fish can be found anywhere suspended over deeper water.
On most lakes, holes of 25 to 35 feet deep are the best locations, but sunken islands, especially those with rocks on them are also good choices for locating Crappie during the fall and tend to get better, later as the water gets colder.
Long points that lead out into the deepest water are also good late fall locations and you'll notice that fish use these structures, but gather further away than they do during the peak. It can appear that fish are suspended in the middle of nowhere, but if you take a closer look, you'll see that they are still relating to structure, just not as closely as they did earlier in the season.
The approach to presentation while fishing these suspended fish is the same except you will notice that as water temperatures reach their coldest (below 50 degrees), fishing action during the daytime will taper off. Eventually Crappies will start to show their preference to feed during low light periods, early morning, dusk and cloudy days. This phase marks the passing of the fall peak and for most of us in the Northland, the passing of another open water fishing season.
If you've missed out on this great fall Crappie period in the past, now is the time to give it a whirl. Once you find your first school of suspended fish and set the hook on a Gold sided slab, you'll be hooked for life!