For Sale — Available Immediately — 2016 Lund 208 ProV GL Tiller, Mercury Verado 200 HP "Big Tiller"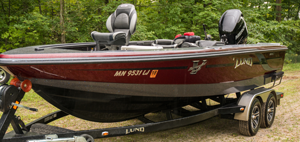 2016 Lund 208 Pro V GL Tiller, 2016 Mercury Verado 200 HP "Big Tiller", Lund 2016 Dual Axle Bunk Trailer.
This boat provides the ultimate ride in an open tiller fishing boat. You've wanted one for a long time, but you thought it would be way too expensive for you; not anymore!
It's time for me to make room for a new rig and that means that you can cash in on big savings by picking up this rigged, ready and fully trained in luxurious fishing boat.
If you're reading this page, then you already know that I like to keep things simple and it was true when I set up this boat, my setup is for maxium efficiency as a tiller rig.
It is simple but effective, leaving you a platform with plenty of space to add your own "Custom Touches".
---
This Package Includes:
LUND 208 Pro V GL Fiberglass Boat
Mercury Verado 200 Horssepower Big Tiller Engine
Custom Tandem Axle Trailer
MinnKota's Vantage 101 Pound 36 Volt Tiller Trolling Motor
MinnKota's Ulterra 101 Pound 36 Volt Bow Mount Trolling Motor
Wave Wackers Splash Guards
MinnKota MK 440 PC 4 bank, 10 AMP battery charger
1 Captain's Seat New Un-Used (driver cockpit)
1 Stand Up Casting Seat New Un-Used (Front Deck)
2 Lund Pro Ride Seats (Passengers)
2 Optima "Blue Top" Marine Batteries (Outboard Starting and Accessories)
3 Everstart group 27 Marine Deep Cycle Batteries (Trolling Motor 36 volt)
Mooring Cover
At the reduced price of $44,599.00 this rig is priced thousands of dollars below retail and is available for immediate pickup.
If you're in the neighborhood, a test ride is free for the asking and additional photos, item descriptions and links to online resources are available free for the asking too. Don't be bashful, ask any question, any time.
Check back soon for availability of this season's 2021 Lund Alaskan Package.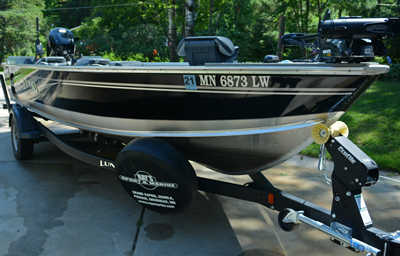 I've been running Lund Alaskans for a long time now; in fact I picked up my first one about 20 years ago.
Right from the beginning, I've loved the balance of utility and comfort that the Alaskan provides.
As far as I'm concerned, these boats are the fisherman's equivalent of having a 4X4 pickup truck for the water. They have allowed me to go anywhere and do anything without sacrificing the comfort of my fishing customers.
Throughout the years, I've watched the folks at Lund steadily improve the Alaskan. Every year they've updated this or relocated that until now, in 2020 I can honestly say that every single thing about this boat represents the perfect setup for me and the fishing situations I frequently encounter.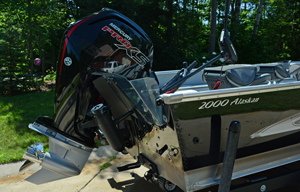 The Mercury ProXS 115 Big Tiller with Integrated ZTF Tiller Valve is a perfect match for this rig too. The engine purrs like a kitten and using the RPM adjustments allow me to troll down as slow or as fast as I want. And at speeds approaching 40 MPH, I can get to my fishing spots fast too.
The Integrated ZTF Tiller Valve isn't a full scale "power steering system", but it works great. In fact, when I'm running this engine, I can't feel any difference in feel at the tiller between this and my 200 Verado which does have the full power steering system; they are really that close.
I've had every one of my Alaskan's on Shoreland'r roller trailers and this one is no exception. I can launch these boats in shallower water than any other rig out there. If there's enough water to float a canoe, then there's enough water to float my Alaskan too.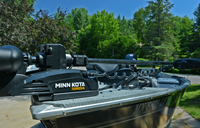 It will easily go where most other boats won't. In fact I was so impressed with my first one that for fun I had some stickers printed for the side that said "4X4". These boats can just go anywhere.
The Humminbird Helix 10 CHIRP Mega SI + GPS G3N, combined with the Terrova Bow mount trolling motor allows me to control any forward presentation. The Traxxis transom mount gives me the flexibility to back troll anywhere I want.
The rig is for sale now, and will be available for pickup this fall. The price is $34,449.00 and here's what's included.
2020 Lund Alaskan 2000 Tiller, Black >> Photo
3 Upgraded "Pro" Seats and Air Ride Pedestals >> Photo
2020 Mercury® ProXS 115 HP with Mercury® Big Tiller with Integrated ZTF Tiller Valve Stainless Steel Prop Included >> Photo

2020 Shoreland'r Roller Trailer with Professional Grade Guide Ons

Humminbird Helix 10 CHIRP Mega SI + GPS G3N >> Photo

MinnKota Terrova Bow Mount Trolling Motor 80 Pound Thrust >> Photo

MinnKota Traxxis Transom Mount Trolling Motor 80 Pound Thrust >> Photo

MinnKota Precision 3 Bank Battery Charger

Wave Wackers Splash Guards >> Photo

Full Mooring Cover for Alaskan

All Batteries, Rigged, Wired and Ready to Fish
Please click here to inquire by Email >>

photo photo
---