Warm spring days

have a way of getting folks thinking about fishing. But with Walleye opener still weeks away, some of us are just too anxious to get out and bend a pole. So for now, fishing for Crappie and Sunfish just feels like the right thing to do.
For me, growing up in the metro area and shoreline fishing went hand in hand. I used to love it whenever my Grandpa would say, lets go fishing at "The Channel", one of our prized, secret spots on Lake Minnetonka.
Fishing early spring Panfish in the North Country is a great way to sharpen your skills and set the stage for the season to come. Tackling spring Panfish has its ups and downs, but with a good game plan and a little persistence, you can turn a spring afternoon into a real treat for your whole family. Before you start packing all of you gear in the boat, consider that early spring fishing might just be one of the few times each year when folks fishing from shore have an advantage over those of us out in the boat. In fact, I can think of a half dozen great shore fishing opportunities just within the city limits of Grand Rapids and there are probably hundreds of places throughout the Itasca area where Crappies and Sunfish can be captured from the shoreline.
The shore angler has two main advantages; first there is the ability to be relatively silent and second, fish that are hooked and reeled toward the shore have the effect of drawing other fish in with them. This helps to keep fish in the area for longer periods of time and allows the angler to spend his fishing time a lot more efficiently. Often, the fishing will actually get better as the warter warms during mid-day.
During ice out, panfish go on a brief feeding binge and will move into extreme shallow water areas. The best areas will have a soft bottom and semi-dark water. Boat harbors, inlets, tiny bays, creeks between lakes, oxbows and even some boggy shoreline areas are all good choices. These are all locations where the sun warms things up quickly and encourages early insect hatches and bait movement. The spots don't necessarily need to have additional cover, but treetops, branches or Beaver runs are all elements that could make a good spot even better.
The water depth can be anywhere from a few inches, to a couple of feet as long as it is near the main lake and is warmer than the surrounding areas. I've learned to avoid shallow main lake areas with sand, rock and clear water. The fish will find these areas later, but for now they seek out food and the best food is in these warmer pockets. The beauty of this approach is that you can find a lot of these areas by driving around the lakes and stopping to check at bridges, creeks, and landings or at public fishing docks. Many times, you will see the fish or other evidence like lots of bait that will help tip you off to their presence before you even wet a line. As a kid, I learned everything I knew about fishing by using this simple sight fishing approach. I can remember coming in from one hard day on the lake and spotting a youngster heading home with a heavy load of panfish that he'd caught from shore in a small inlet on our lake. He pointed me to that spot and saved our trip. That experience taught me never to under estimate the effectiveness of good old-fashioned fishing. Fishing these areas by boat can be effective as long as you are willing to fish in full "stealth mode". But you'll need to be really careful not to make any unnecessary movement or noises that will "spook" the fish and move them back out into the lake. In the past we've seen schools of fish move out ahead of the boat and eventually escape around us and return to the safety of the main lake. Once they leave, they don't come back for a while, so this is to be avoided like the plague. Occasionally, it's necessary to use a boat to find the spot, but once located, you can beach it and fish from the shoreline or a least a stationary position.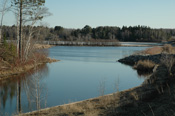 Click to enlarge. Crappies and Sunfish move into channels and boat harbors like this one as soon as there's open water. Notice that there's still ice out on the main lake.

Don't worry if there's still snow out on the main lake. Sunny weather will attract fish to shallow, weedy areas.
Cattails absorb heat and warm the water even faster.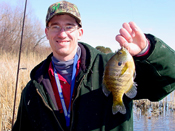 Here's Matt Mattson with an April Blugill caught in about 10 inches of weedy water.
Tackling the Crappies once you find them is a simpler matter. A handful of small jigs, a few bobbers and a nice long rod rigged with 4 pound test line is enough to get you started. A scoop of Crappie minnows and a few wax worms takes care of the bait selection and you're ready to go.
Because you're fishing in such shallow water, small jigs and small floats should be used. I like the small Thill slip bobbers from Lindy, it's a nice balsa wood float with decent weight for casting, they're brightly colored and my line always feeds out smoothly. Jigs that I like best are a 1/32oz. Minnow head with a 1-1/2 inch plastic tube. These small tubes are still among the best panfish lures ever produced, they're inexpensive, effective and available in a multitude of colors. Other effective jigs are small hair or marabou style jigs like the flu flu. I like colors like black, brown and purple. These darker, more subdued colors seem to do a good job of imitating the small insects that these fish are looking for in the shallows. A typical approach is to locate one of these shallow areas that looks "fishy" and begin by fishing the areas nearest the main lake. Make long casts toward the center of the channel and give the jig a series of sharp twitches then let it settle for a few seconds. Retrieve a couple of feet of line and repeat the twitching/settling. This seems to be a good compromise between attracting the fish and giving them an opportunity to strike. We gradually move further in to the bay or inlet until we either contact fish or decide to move to a new location. We will change baits and colors often enough to be sure that we've presented a good mixture.
In an age when fishing seems to be getting more sophisticated and complex all the time, sometimes it's nice to get out and relive the days when we rode our bikes down to the fishin' hole and just plain caught what we caught. Sounds like the perfect cure for restless anglers and those affected by cabin fever syndrome. Why don't you try it? Pack a lunch, load the family in the car and go take a look, you just might be really surprised by what you find out there.