Field Report December 28, 2012 Greg Clusiau; My Lake of the Woods Walleye Trip
I started off my mini Christmas vacation with an ice fishing trip to Lake of the Woods. Friends, in three separate vehicles, converged on Sportsmans Lodge, just in time for supper, which took place in their new dining room. What a way to start things off.
Gathering together for one night at the lodge was former Northland Tackle pro staff director Steve Ladany, Jason Green of "UpNorthInc", his two sons Austin and Ryan, and Blake Liend and I.
At this point, Friday, December 21st, ice conditions didn't warrant large vehicle traffic on the big lake. Atvs and snowmobiles were the preferred mode of thin ice transportation, along with the little lightweight Trackers, etc. used by resorts to commute customers out to their rental shacks.
Lining up our trip with the lodge beforehand had us bringing snowmobiles to get to the walleye and sauger hotspots, about two miles past Pine Island.
Our plan was to get up there in the evening, have supper, and spend the night. Doing this allowed us the luxury of feeling well-rested the next morning and having a big breakfast before heading out across the lake at first-light.
Oh, I've done plenty of "day trips" before from the Iron Range and although it does work, it really takes it's toll on me for the next day's fishing. Actually, many times I won't even leave the house the next day. Maybe that old age is catching up with me but it is a 360 mile roundtrip.
We pulled portable shelters out onto the lake but had reserved one of Sportsmans rental shacks as well. Everyone but Blake and I fished inside the rental unit. Using our Otters, we were able to move around and look for more fish when the bite slowed. We did, however, join everyone for a hot lunch that was provided by Sportsmans. That really hit the spot.
The fishing on this day started out strong in the morning and slowly waned throughout the day, with a fish here and a fish there. One never knows just what is going to happen regarding fishing success. All you can do is go and realize that you are angling on one of the best walleye waters on the planet. Think about it.
Not only are you trying your luck on the "walleye capital of the world", you are fishing a body of water that can provide good walleye fishing all day long. That's probably worth the drive right there, as most walleye waters back home only offer the low-light bites of dusk and dawn and it's a small window at that.
Plenty of walleyes and saugers were caught throughout the day with some of the saugers being of a respectable keeping size.
The best baits were once again small #29 (Super-Glo Goldfish) colored "Macho Minnows" and "Buck-Shot Rattle Spoons." I can't recall too many bodies of water where walleyes don't eat up this presentation tipped with a minnow head. They've been my go to baits and colors for the last couple of years.
As I write this column (Dec. 27), Lake of the Woods ice conditions have thickened up to the point where you just may be able to drive out with your trucks. For more information and current up-to-date ice conditions and fishing reports, go to www.sportsmanslodges.com.
A recent fishing report from Sportsmans has this to say: (Dec 26) Fishing has picked up the past few days again and anglers have been enjoying some good action. A mix of walleyes and saugers has been found. Sauger sizes have been a mix of 12-14 inches and less than 12 inches. The morning and evening bite has been best in 21'-23' and 25'-28'. Stop signs, macho minnows especially the gold/pink ones and chartreuse jigs have done well. Anglers using Vexilars/Fish Finders seem to do best. Check out some of the pics of the recent catches. - Enjoy the GREAT OUTDOORS everyone and HAPPY NEW YEAR!

Field Report December 20, 2012 Greg Clusiau; Artificial Confidence - Back in the day, when I was a kid but am not saying just how long ago that was, the only artificial baits that I used were spoons for northern pike and a red and white Bass Oreno for largemouth bass. Other than that, there was always a minnow of some sort stuck on the business end of things.
As a matter-of-fact, my wife put the first true trophy fish in our boat by using a "Fuzzy Grub" tipped with a sucker minnow. Slowly trolling around Buck Lake's sunken island, she pulled in a 6 ¼ pound bass. Needless-to-say, we had it mounted and it still looks pretty good to this day on the wall of my office. That mount must be close to thirty years old.
Many times, for northerns, we'd use wire spinners, tipped with minnows, trolled along the weedlines. This was before flashers or depth-finders of any sort were available to us. I'd just stand up, every once in a while, and make sure we were right on course, cruising along the weedline with my 14' Smokercraft and 7 ½ hp Volvo Penta outboard. Hey, don't laugh, it's all I could afford. Besides, it worked and we were catching fish. I should mention that I always had a sore back after the normal 12 hours on the water. My next boat was a 16' Crestliner "Fish Hawk", which was more roomy and had pedestal seats. I've never had a sore back since. It's amazing what a proper boat seat can do.
When the first Lowrence " Green Box" hit the market, I saw one at the local bait shop for $139. I had just got paid and had a bonus check for in my pocket for $138.50, which was a lot of money back then.
Reaching in my pocket, I pulled out the check and said "how 'bout this?" and a deal was made. I think I was one of the first in the area to have any sort of electronics. It worked great and really opened my eyes to the underwater world of fishing but those 6 volt batteries every week almost broke me.
For walleyes, which we didn't do a whole lot of, it was almost always a spinner and minnow pulled along the weeds. Crooked and Lawrence Lake were always good to me and still are.
When it came time for crappies, a small minnow was always used. Bluegills were always caught by using a piece of night crawler, although my largest, back then, inhaled a "Crappie Queen" under a bobber. The fish was caught while casting off shore and weighed 1 pound 5 ounces. It was a real dandy which won the local fishing contest, like the "Fuzzy Grub" largemouth did.
Moving ahead a decade or two, I found myself fishing for walleyes and crappies in Ontario's Lake of the Woods. Fishing was so good that we ran out of minnows. Oh no! Now what? This was the infancy of Berkley's "Power Bait" and being the fisherman that I am, I always made sure to buy whatever new product that made it to the bait shop shelves.
Sticking the plastic on, out of sheer desperation, I was surprised that we were able to "keep on catching" and very well at that. After that day, I had confidence that fish could be caught on this presentation. Once home and ready to fish again, I ran out to Swan Lake and remember catching three walleyes in the first five minutes with this artificial presentation. Confidence was born, again.
Another trip into Canada had me struggling to catch walleyes, using my standard jig and minnow approach. Frustrated, I opted to catch a few smallmouth that I figured to be in the weeds, on top of the reef.. Using a "Rattling Rap", again, new to the market, I was surprised when a nice three pound walleye clamped down on it. A couple more casts and another one made it's appearance. Again, confidence born. We really hammered them on this day.
Back home, I went out on, yeah, you guess it, Swan Lake and proceeded to catch a bunch of nice walleyes in the cabbage. Still curious, I drove down the road a piece and tried my hand on Snowball Lake. Again, nice walleyes on crankbaits over the weeds. Oh that confidence thing.
Another decade or so and the introduction of Northland Tackle's "Slurpies" had me catching fish all winter long without using any live bait at all. Then their new "Puppet Minnow" hit the scene and it was the same thing all over again, even on stubborn, reluctant biters.
Finally, the emergence of Northland's reactionary Impulse baits made their appearance and how they can catch fish is sometimes hard to put into words. Let's just say "they work!" Try these this winter and you'll be surprised. You'll probably wonder why you brought along that bucket of minnows or waxworms.
In wrapping this up, I absolutely cannot leave out Northland's "Rippin' Shad". This lipless crankbait had the Lake Winnipeg walleyes going crazy last March. Although I use the larger size all summer long for bass and northern pike, it's the smaller, medium sized one the tricks those winter walleyes into biting. Give 'em a try and gain a little confidence in catching fish on artificial baits. They work!

Field Report December 18, 2012 Greg Clusiau; Larger lakes slow to freeze…The larger lakes are trying to freeze over but they're sure taking their sweet old time in doing so. Blake and I fished for walleyes on one of them and thank goodness there's a fast breakline on this lake, as we didn't have to go out very far to reach the fishing spot. If we had to go any further, I'm afraid the ice would've been too thin to fish on. As it was, we were fishing on a fast fading 5".
The recent rainfall, last Saturday, didn't helps matters. There is now a lot of wet slushy areas to contend with and I hope we don't receive any significant snowfall or we'll be in trouble.
The walleye fishing was slow but we did manage to ice a couple nice fish, being 18" and 20". However, due to the slot limit on this particular body of water, they both had to go back but that's okay. It's always nice just to reel 'em in.
Macho Minnow Rules…The best bait was the same walleye killer that we used on Upper Red Lake, a "super-glo redfish" colored Northland Tackle "Macho Minnow" tipped with a minnow head. We've a trip planned for Lake of the Woods this weekend and I'm sure I'll have this same bait on the end of my line. It's certainly been a deadly lure for us over the past two years. We've also done very well with the "Macho Minnow" in the "super-glo goldfish" color.
However, this doesn't mean that these particular colors are going to "knock 'em dead" on any lake you decide to fish. You have to do a little experimenting, switching colors, lures, jigging action, etc. until you come up with that winning combination.
If you do go out and aren't having the best of luck, by all means drop down in size and slow down your jigging. If you see a fish coming up to the bait, don't stop jigging and wait for it to hit. Think about it. It was your jigging action that lured it into the zone in the first place. Keep on doing what you were doing.
Bad Roads…Speaking of Saturday's rainfall, Blake and I, both Northland Tackle Pro Staffers, were scheduled to do an "in store" for Reed's Sporting Goods in Walker on this very day and let me tell you, it was indeed a "white-knuckle" ride right from the get go. Actually, when I walked out of the house and found the sidewalk to be glare ice, I should of made up my mind right there to stay home but no, there we were, driving in a freezing rain to Walker, some 90 miles away. Oh the dedication. J The ride home was a tad better because of the snowfall but not really too much better.
Ice Rods Ready…Sitting in my office, if I'm not writing an article, I'm usually organizing my tackle and/or fishing rods. In this case, it was panfish rods. As I readied them for some serious panfish action, I started out with what I thought to be the best of the lot.
#1 is a 28" UL made by Brickers Custom Rods (check it out on Facebook). Created the way I ordered, it sports a custom "Fish Mafia" logo and colors, red and black, and has my name on it. A fiberglass rod, not only does it look good but it's sensitive enough to feel the lightest of biters. Blake and I both started out the season with this rod and it wasn't a disappointment. The reel is a small Pflueger "President" spooled with 3 pound "Fluorosilk". (Try this line, it's the best!)
#2 is a 26" UL made by Temple Fork Outfitters. With input from legendary rod builder Gary Loomis, this high-performance graphite blank is designed to catch fish. I just love mine. Blake has the 28". We used these all last year and they are great rods, summer and winter. Again with the Pflueger reel and Northland "Fluorosilk" line. Actually, this reel and line combo is on most all of my panfish rods. This rod was introduced to me by Bill Sherck of "Due North Outdoors" while doing a television shoot last year.
#3 is a 22" UL "Mr. Walleye Norsemen" "Peek-A-Boo" rod. Created by friend and legendary angler, summer and winter, Gary Roach. This guy knows a thing or two about fishing. Basically, if Gary designed it, it's good. I like the flat "thumb rest", very comfortable, and there's a flattened area for the reel-seat, making it impossible to get the reel on even a little crooked.
#4 is another "Peek-A-Boo" rod by Gary Roach. This one, super-sensitive, is used with 2 pound "Fluorosilk" and has the new 1/57 ounce #16 Northland Tackle Fire Ball "tungsten jig" on the business end. This one is perfect for tough bites, when small baits are needed.
#5 is a 20" Jason Mitchell "Meat Stick". I was introduced to this one while fishing with popular Lake Vermilion fishing guide Cliff Wagenbach. I just love the sensitive orange colored rod tip that signals any light biters. Cliff put on a clinic.
There are plenty of others and I will mention them as we ease into the winter fishing season. Have fun out there, be careful, and good luck.

Field Report November 26, 2012 Greg Clusiau; First Trip No Brainer!
My very first ice fishing trip, of the new hardwater season, turned out to be a good one and there wasn't too much thinking required in figuring out just where to go.
Wanting to get out on the ice last weekend, I reviewed our options. Hmm, let's see… we've got Upper Red Lake, we've got….ah…let me think…Upper Red Lake! The choice was easy. It was our only option, as far as I knew.
Most all of the smaller lakes, that I normally fish at this time of the season, remained on the dicey side. Although I never made it out to them, to personally check on ice conditions, my gut feeling told me it wasn't quite cold enough to go poking around on thin ice. Upper Red, because of it's expansive, shallow waters, is always one of the first to freeze. Also, the "fishing circle" revealed that walleyes were biting on Upper Red Lake and the ice was good. At least as far as we had to walk out to catch them.
Blake and I headed out early Saturday morning, with Rogers' Resort & Campground being our destination.
Tossing two Otter "Cottage" shelters and a couple Strikemaster augers into the back of Blake's truck, we pulled no trailer. It's always nice, not pulling a trailer, but it certainly can limit your mobility on the lake.
The last we heard, it was only about 400 yards, or so, out in front of the resort. Nursing a sore and swollen foot, I thought I'd be able to make it but really hoped someone would give us a ride out to the fishing grounds.
Once there, all it took was a phone call and our ride was on the way. Avid ice angler, Brett Massingill, of Keewatin, was coming to the rescue. As a matter-of-fact, it was Brett who clued us in on the hot bite in the first place and we knew he was going to be back out there.
Once out on the lake, it didn't take long to get set up and fishing. The spot was nothing special, just a slow tapering flat but if you just happened to set up in the right place, and at the right time, you caught fish. If not, you had to move a short distance.
That's the deal with the expansive waters of Upper Red Lake. Kill the fish one day and go back the next, to the very same spot, and there's a pretty good chance that they just might not be there. These fish are generally on the move, feeding up a storm. To make it simple, if the bait moves, the walleyes move. However, they're never too far from their food source. Always keep that in mind.
The ice looked thin, like it usually does at first ice, but a quick measure revealed a solid 8", which was more than enough for all of the activity being had out there. Reminiscent of the old "crappie days", the droning sound of augers seemed to go on nonstop.
The first fish, caught by Blake, one of many that he pulled through a hole, was a 14" walleye that totally engulfed a small Northland Tackle "Rippin' Shad." This is a great walleye bait and one that we have complete confidence in, especially after icing several big walleyes with it on our last trip to Lake Winnipeg. They eat it up.
However, the top producing bait of the day turned out to be another Northland product, a small glow-red ("Redfish") "Macho Minnow", tipped with a minnow head or tail, whatever your preference.
The slot limit on Upper Red Lake is 20-26", meaning that all fish that size must be released immediately back into the water. However, what that does is allow us to keep four walleyes each, under that 20" size restriction and that's not bad at all. We went home with a nice limit of fish, ranging from 14-18 ½".
Of course, to get off the lake, we had to once again round up a ride. This time, it was Chris Lysaker, another Keewatinite. Words out, at least in Keewatin! J
I'd like to wrap this up by mentioning Rogers' new building. It's very, very, nice, having restrooms, food, bait, and tackle. As a matter-of-fact, we purchased our minnows here, getting half shiners and half chubs.
Well, where to this weekend? Will there be ice enough on Lake of the Woods? Will it be back to Red Lake? Or perhaps a small crappie lake will be calling my name. Who knows? Whatever the selection, we'll be out having fun, hopefully catching a few fish, and positively enjoying the Great Outdoors. Be safe!

Field Report November 26, 2012 Greg Clusiau; Almost Ready for Ice
I've been slowly getting ready for this year's new hardwater season and hope to put some of my preparation to use this coming weekend.
ICE FORCE…It all started, last month, with a trip to Rapala headquarters in Minnetonka, where the inaugural get-together of the newly-formed "Ice Force" took place.
"Ice Force" states "ice fishing, perhaps more than any other outdoor pursuit, is founded on a system of unique components - in this case electronics, augers, shelters, and accessories -coming together synergistically to make the whole. "Ice Force" is the whole."
Earlier in the fall, my fishing partner, Blake, and I both agreed that we would only be using the best ice fishing products to be had, whether they are sponsors or not and oddly enough, three of the products that we had planned on using are an integral part of the "Ice Force" lineup, being Otter shelters, Strikemaster augers, and Marcum electronics.
The rest of the supporting cast consists of Rapala, VMC hooks, Sufix fishing line, Mora, and Polaris. Now that's quite a lineup.
Equally impressive are the ice anglers recruited to use these products and be pro staff members of the "Ice Force." Just to name a few of the group, there's Gary Roach, Tony Roach, Bill Sherck (Due North Outdoors Television), James Holst (In-Depth Outdoors Television), Jonny Petrowske (Upper Red Lake), Brad Hawthorne (Mille Lacs), Joel Nelson, Tom Neustrom, and the list goes on. Invited to be a part of the team, I humbly accepted.
If you have any questions, whatsoever, regarding any of these products, feel free to stop and talk to me when crossing paths, whether out on the lake, in the sporting goods store, or wherever. I'll do my best to help you out. If on the lake, you'll get a "demo."
Safety First…Let me give you a few reminders when heading out on the ice for the first couple times, or more. Play it safe and a good way to do this is to:
*First off, bring a buddy, don't go it alone.
*Wear ice cleats to protect yourself from slipping and injuring yourself.
*Use a spud bar, thrusting it down full force, with each and every step. If you see water seeping into the hole, stop and rethink your approach. Is it worth it?
*Measure the ice frequently. I use my gaff, which is marked in 1" increments. The point of the gaff is stuck on the bottom of the ice and all you have to do is read the measurement. No bending over is required, making it easy.
*Wear your ice picks or make some using large nails. They're better off worn around the neck.
*Bring a rope, with some weight on one end, for easy throwing.
*Bring a throw cushion.
If you happen to fall in, remember to kick your feet, swimming your way out of the water and onto the ice. Once out, roll away from the hole, in an effort to find more stable ice.
First Rod Ready…I ordered a new ice rod, a couple months ago, from Adam Bricker of Brickers Custom Rods, Ft. Wayne, Indiana. After seeing them on display, several times, on Facebook, I just couldn't take it any more and had to get one. Well actually, I got two. One was for Blake.
Made of fiberglass, it's a 28" ultra-light, that has some of the fanciest work ever. It also has my name and the famed "Fish Mafia" logo on it. Oh, so nice, I almost hate to use it.
Although they do cost a bit, $100 each, it would make a terrific Christmas present for the ice angler in your life. There's still time. You can contact Adam at (260) 615-6078.
I plan on using this rod for the first panfish of the season, which, hopefully, will be next weekend. For a reel, again, I went, again, with the best, a nice little Pflueger 6920 "President" spooled with Northland Tackle's 3 pound test Bionic Ice "Fluorosilk."
Blake and I used this line exclusively last winter and had the best of luck with it. There were no problems whatsoever. It's strong, sinks faster, and is basically invisible, as it is a fluorocarbon line.
On the business end of things, I went with the old tried and proven presentation of a "Mud Bug" tipped with a 1" Impulse "Smelt Minnow", glow white in color. This was killer last year and I can't see it not working right from the get go. - Good luck out there, be careful and have fun.

Field Report November 12, 2012 Greg Clusiau; Deer Season Winding Down
I'm getting plumb wore out from this year's deer season. Actually, that's pretty much the norm for me but this year has been a real bugger. Maybe it's because I haven't seen many deer or perhaps it's the miserable weather we've had to deal with. Whatever the case, I'll be darn glad when it's all over. That's normal too.
To date (last Sunday), I've only seen six deer, while in the actual act of hunting. Driving to and from the hunting grounds accounts for another twenty or so. One of which was a big buck that I almost hit, last Saturday night, upon returning home in a rainstorm and that, I believe, is part of the problem. There are a lot of nice bucks running at night and bedding down during the day.
The rut, however, can throw a wrench into that type of thinking, as bucks will be running all day long and you just never know when that chance of a lifetime may occur. The local general consensus has 11 am to 1 pm as a prime time for taking your buck. I think of that every time I had back to the shack for lunch.
It's funny, sort of. Spend a good morning in the woods, in what I would call the "perfect spot", not making a peep, and then go in for lunch and come across three deer standing in the front yard, feeding. This is a frequent happening. Fearing nothing, the deer merely look my way and get back to eating up the lawn. Normally, these are young animals that we don't bother with so they are safe…for the moment.
Another situation arose opening weekend for some hunters "up north." An avid deer hunter likes to feed deer year 'round but ceases to do so prior to the season getting underway. The small hunting party went to their respective deer stands on opening day and struggled in seeing anything at all. I should mention that they hunt quite a ways off the deer feeding property.
Upon returning to camp, numerous tracks were found in front of the garage door, which was left open. The deer knew there was feed in the garage but were too cautious to enter. It must have drove them crazy, both deer and hunters.
I really think that "fed deer" can be some of the hardest to hunt, unless you're sitting on top of a pile of corn or whatever you're feeding them, which by the way is illegal.
Talking over the situation, one of the hunters said "think about it, the deer are so used to people that walking in the woods doesn't spook them. They aren't afraid of you so they don't feel a need to move." Well, maybe that thought has some merit but? I just don't know.
I do know that folks getting busted for hunting over bait deserve it. I won't call them hunters or sportsmen, just folks with firearms.
The wolf hunt continues on with great results. At the time of this writing, at least 60 of them have been taken and registered. I wonder how many other haven't been.
I talked to one local hunter that saw three of them and each one posed for a killing shot. The wolves, however, were lucky on this day, as the hunter didn't have a permit to shoot any and wouldn't have done so anyway. Oh well, to each their own.
This colder weather has me thinking more about ice fishing than deer hunting and actually, I can hardly wait. There are some very nice, new products out there and I will be using a few of them, like Northland Tackle, Otter shelters, Strikemasters new Honda powered auger, and Marcum flashers and "flat-screen" electronics. If you see me on the ice and want a quick demo on any of these products, please feel free to ask. I'd love to show you.
Also, if you've already got your deer, or don't hunt anyway, and are looking for something to do this weekend, head down to Blaine's Hardwater Ice Fishing Expo, which runs from November 16-18. All the hard-water gurus will be there, like Dave Genz, Tony Roach, Brad Hawthorne, and more. This is also the official unveiling of the "Ice Force". There will be more on this exciting new organization coming up! - Good luck hunting, be safe, and hope to see you in Blaine!

Field Report November 7, 2012 Greg Clusiau; Hunting: As the Story Goes - A Story written by Travis Sorokie of Sauk Rapids. Sorokie hunts with friends and family on their old homestead in Togo, MN.
Why do you hunt? I have found myself asking that question a lot lately, as I near my 40th birthday. Like many, I can assume, my Dad and Grandpa were the ones who got me involved in hunting. I can still recall my Dad taking me to Hunter's Safety classes when I was in 7th Grade. However, a lot of this ALMOST didn't happen.
My Dad served in the USN from 1962-66, aboard the aircraft carriers USS Hornet & USS Constellation. During that time he did two tours in Viet Nam. When he was discharged in July of 1966, it took an 'Act of God' to get him in the field again.
In late October of 1972, my Grandpa was involved in a freak hunting accident. Someone trespassed onto private property and shot into the duck blind my Grandpa and cousin were in. Thinking they were shooting ducks on the water that were their decoys! My cousin Mike came out without a scratch. Grandpa, on the other hand, was critically shot.
Thankfully, his eyes were spared as a couple of the BB's hit his work safety glasses. He did lose a couple teeth and had a collapsed lung. After several weeks of recovery, my Grandpa was out of the hospital. More so, he wanted to get in the last couple remaining days of duck hunting!!! My Grandma was beside herself, as you can imagine. Sewing some extra padding into his hunting jacket, he declared himself ready to hunt.
He somehow convinced my Dad to buy a license so he could tag along, set up the decoys, and help him. As the story goes---it was one of those 'glory days.' The skies were full of mallard's and blue bills and limits were had. My Grandpa got my Dad back into hunting that very day in a slew near Onamia, Mn.
Two months later, I was born into a hunting family and to this day my Dad say's I get my stubbornness and drive from "his mother's side.' Haha Thank You Grandpa! My Grandpa passed away in November of 1998, with 7 BB's still floating in one of his lungs at the age of 86. He still had the desire to hunt, and harvested his last spike buck when he was 80. I now have his 'trusty' 30-30 (his favorite deer rifle), and his 30-06…along with a few more shotguns. And A LOT of STORIES!
I remember my Dad walking me to my stand, in the dark of the morning, for several years, before going to his stand nearby. Then coming to check on me or take me back to the cabin to warm up. I didn't bag my 1st deer until I was a sophomore in HS. Finally, on the Saturday of the 3rd weekend in Zone 1 I was able to harvest a nice doe using my Dad's 30-30.
When I was in my teens, it was ALL about harvesting an animal. It didn't matter to me whether it was a buck or a doe. How foolish I was, as I had yet to get the idea of a successful hunt.
Somewhere in my early thirty's, after harvesting more than a couple Trophy Buck's with a rifle, I began to bow hunt for the challenge. Now day's, I seem to be out every free moment I can, bow hunting. I'm a firm believer that bow hunting has made me a much better gun hunter. Every little detail has to be taken into consideration when bow hunting. I practice those little details all the way through gun season. I start using Scent Killer body wash in September exclusively. I wash all of my hunting clothes in Scent Killer detergent. After the clothes are dried, I pack them in a Rubber Maid container lined with Cedar bows. On my way to my stand, I use Conquest Scents Deer Herd in a Stick.
My Dad on the other hand…well, lets just say he is 'old school' and doesn't do ANY of the above mentioned.
Both of us have harvested countless deer over the past 25 years on our family's original homestead in Northern Minnesota. EVERY deer harvested has a STORY to go with it. I hunt for the STORIES…it's just that simple.
Some of our camp's more famous stories have names. Names like 'Dark Woods'…a 12pt buck I shot on a drive out of a tamarack swamp. The 'Highway 65 buck'…a big 11pt that was shot on a drive by my cousin's and fell dead near a snow fence by Hwy 65. There is "Big Otis'…to this date, our camps heaviest deer that dressed out at #287! And 'High Noon'…a big 10pt my Dad shot in 2005, after recovering from a heart bypass that summer…at, you guessed it---noon. He had only been in his stand 20 minutes!
As my Dad is nearing 70, he is slowing down with age and some health issues. In 2010, he was diagnosed with the onset of Parkinson's…and now this year, Neuropathy. Yet he is determined as ever to deer hunt. This fall, I built two make-shift brush ground blinds on our property he can get in/out of pretty easy. So now, it's time for me to return the favor and get my Dad into his ground blind before I go to a nearby stand. Rest assured, I'm not certain whether we'll get a deer or not but we will at least have a STORY!
Everyone, please ENJOY your HUNT this fall. Hunt SAFELY---know what's BEYOND your target, and please share with everyone. It's all about STORIES!!! Every deer is a trophy…remember that! It doesn't have to be a 130+ Class buck to have a STORY. Bucks, does, yearlings…whatever the case, it has a STORY!

Field Report October 29, 2012 Greg Clusiau; Deer Season to Get Underway
The Minnesota firearms whitetail season is perfectly positioned, in between late, if not last, open water boat fishing and first ice. It also coincides with "the rut" and deer are on the move.
I fished right up until two weekends ago but last weekend would have been a little cool, especially with all of the snow. Therefore, most of my time was spent "up north", tending to deer hunting related chores like sighting in my rifle and making sure that all stands are in good shape, being well-positioned and safe.
The rifle sighting went off without a hitch. A quick and effective session, I slowly squeezed off the first shot and found it to be within the center of the target. The next three, just because I had that many shells left in the clip, were fired about as quick as I could shoot and they too, remarkably, found the bulls-eye. I'm ready.
How many are in pursuit of a wolf this season? I never applied for a permit and don't believe any of our hunting party did either. I've nothing against it but found it to be stupid of me to try and bag a timber wolf when I haven't seen one during the deer season in the 50 years I've been hunting. I've seen plenty of them throughout the years but never during the whitetail season.
It reminds me of the "deer or bear" option that was in place when I first started hunting. I never saw a bear during the deer seasons either, as it was usually quite cold and all of them were more-than-likely comfortably denned up for the winter. I did, however, almost step on a bear one time.
Hunting a dense spruce swamp, I hopped up onto a large uprooted tree stump for a better look. Standing there, thinking over my next move, I glanced down to see a small hole in the moss, right between my feet. Something didn't quite look right.
Bending over to get a better look revealed black fur, moving slowly up and down with each breath. Needless-to-say, I gingerly left that spot as fast as I could, wondering what would've happened if my foot broke through the moss and I stepped on the poor critter trying to catch a little shut-eye.
Yes, fall is officially here and animals of all sorts are on the move. I've been seeing plenty of them. One was a rain-soaked coyote, which was running down highway 65. I couldn't tell exactly what it was, from a distance, but as my old pickup neared, I recognized the long-legged, kind of sideways gait. Glancing over it's shoulder, it gave me a quick look and vanished into the woods. A half-mile further down the highway had me almost hitting three deer that were anxious to leave that same side of the road.
Getting back to the wolves, I know hunters that often see them, each and every deer season. There's surely plenty of them around. There's no doubt about that.
I have had poor deer seasons where all we would see was wolf tracks. Deer tracks were so scarce, it made one wonder why the wolves were even there in the first place. You'd think they'd move on to better hunting, like we did.
Then again, find a place that is seemingly almost overrun with deer and for some odd reason, there's no wolves. I don't get it. Maybe it takes them a while to re-establish themselves.
Another animal-on-the-move sighting happened to me just recently, while comfortably sitting in my recliner. It was 10 pm and my faithful watchdog, Lily, was looking out the living room window, barking her head off, which is nothing new. Getting up to see just who was walking their dog this time, I was totally surprised to see a black bear running down the sidewalk. That was a first, although I did see a coyote coming out of the alley, behind my garage, one time. One just never knows in these little towns.
I hope everyone has a safe and productive deer season. Make sure of your target, hunt safe, and don't take any chances. Good luck.

Field Report October 15, 2012 Greg Clusiau; Late Fall Coming to an End
Great fall weather doesn't always mean great fall fishing, as I found out last weekend.
Saturday may have been good but we, Blake and I, never had a chance to find out. Backing my boat into a public access, way north of Grand Rapids, I was unable to lower the motor into the water and even though we could have done so, if desperate enough, I loaded it back up and headed all the way to Aronson's Boat Works, near Tower, as there were a few other issues that needed tending to. So Saturday was a wash. Hopefully all is "good to go" for this weekend.
Sunday found me heading "up north" to fish with my oldest brother, Bruce, and his grandson, Preston, in Bruce's boat. Thank Goodness all of my close fishing friends and relatives have boats!
My other option, if I couldn't find anyone to fish with on Sunday, was to load up my lightweight, 14' aluminum and head to one of my favorite, little, back-in-the-bush crappie lakes. I still just may do that this coming weekend, as the fish are nice and it receives very little pressure due to no public access.
Blake and I did a "first-ice" television show here last year, with Bill Sherck's "Due North Outdoors". It is scheduled to air sometime this fall/early winter and when I find out the exact date, I'll let all know. It should be a good show.
The fish, by the way, "should" be in the exact spot, or somewhere close to, where we found them during the filming of the show. The only difference is I will be fishing for them in open water, instead of walking on 4" of ice.
My plan of attack will be to first locate a school of fish and then employ the ice fishing method of using sonar, like my Humminbird Ice-55 flasher, dropping the transducer over the side of the boat, and fishing with a regular 28" ice fishing rod.
The short rod may look sort of silly but it allows you to sit next to your electronics and fish directly below the transducer, much like fishing on ice. You should try this, as it works pretty slick and really gets one in the mood for the upcoming ice fishing season.
Back to last Sunday. We fished a little lake that is known to have nice panfish. I did "okay" on this water last fall and wanted to give it another try, especially with three lines in the boat. You increase your odds a bit this way.
Finding fish wasn't hard but getting them to bite was another thing. Preston, using a "Fire Ball" jig and minnow, started things off with a very nice fish in the 13" range and from then on it was "struggle time." Bruce caught the only other crappie, a nice fish, and I chipped in with a small northern pike before we finally gave up and headed to another lake.
The next lake, less than 20 minutes away, was one that I had been on three times in the past couple of weeks. Knowing just where the fish were and the best approach to catching them gave me a confident feeling.
However, once there, we once again struggled to get a bite. This lake had crappies that absolutely love a white "Stone Fly" but I couldn't catch a fish. Oh I did catch another small northern pike and the bad-luck-omen rock bass but that was it. Bruce and Preston used small crappie minnows and had even worse results.
I'll chalk it up to "just one of those days" and it wasn't the first time, nor will it be the last. In any event, it was still nice, along with a lot of fun, to get out with one of my brothers and a part of his family. We'll do it again with, hopefully, better results next time.
It's hard to believe that the firearms deer season is right around the corner, November 3. If you're reading this, you've got two weeks to get ready. I plan on running out to the hunting grounds after work a couple of times and I should be good to go.
All I have to do is set up my portable stand, maybe two of them, and sight in my rifle, which usually only takes 2-3-4 shots at most. When asking Bruce if he sighted his rifle in yet he answered "I never do. If it shoots good at the end of the season, I just put it away in a safe place so it won't get bumped." Hmm, I wonder about that. I like to "know" it's "dead on" when beginning the hunt.
There's plenty of good open water fishing left so get out there and give it a whack. After that, it's two weeks of whitetail hunting and then ice fishing! Good luck and be safe.

Field Report October 9, 2012 Greg Clusiau; Lake Osakis Day Trip.
It was mid-week when it became clear to me that it was going to be a little on the cool side last weekend. As a matter-of-fact, it was going to be more than cool. It was going to be downright cold.
I called Blake and asked him "what do you want to do? Hunt ducks around here or fish somewhere?" His typical answer is "I don't care. You make the call." Knowing he'd much rather fish, as would I, a phone call was made and a plan was formulated.
When Blake and I pulled out of Keewatin, early last Saturday morning, the temperature hovered around 21º and there was snow on the ground. Not wanting to "waste" a perfectly good weekend fishing day, we made plans to head south, where the weather would be a tad warmer and a good crappie bite was already taking place. Perfect.
Now, when I say south, it's not like we were covering a couple of states, looking for balmy weather. We'd be traveling to Alexandria, some 200 miles away, where crappie guide Chad Peterson would be waiting for us. All we had to do was gather a few panfish rods and tackle and take off into a dark, deer-infested morning.
That was really the only downside of making this trip. We'd be leaving early, in the dark, and coming home late, in the dark, and as we all well know, the whitetail season is just around the corner and the deer are moving. It can be dangerous, especially if you're doing a fair amount of driving.
We saw plenty of deer and only had to swerve a couple of times but arrived in Alexandria right on schedule. Meeting at a local bait shop, Peterson, also known as the "crappie sniffer", was waiting with his boat in tow. Formalities, handshakes and bait, were quickly taken care of, before following him to the "lake of the day." We had no idea where we were going but Chad did.
There's plenty of water to pick from in the Alex area and Peterson usually has the panfish lakes "wired". A milk-run, of sorts, consists of some of his best fall crappie lakes and he tests them frequently, especially when he has guests coming for a visit.
We'd be going to a lake that he had just done well on. If it was a little on the subborn side, we'd be loading up and going to the next best selection.
Arriving at the public access, I was kind of wishing we would have driven even further south, as it was still quite cold. However, the fish were biting and we'd be dressed in our warmest ice fishing gear.
I figured it to be a good sign, watching a couple local anglers catching fish, and nice ones at that, right off the pier next to the landing. We joined them for a bit, catching a few of our own, before heading out across the lake.
I'm always amazed at the "regional" locations and tactics used to catch fish, no matter what the species. While I normally concentrate on mid-lake basin areas for my late-fall crappies, Peterson finds his by working steep breaklines, located next to shore. Most all of his crappies, on this lake anyway, came off breaklines.
Chad caught the first crappie, a nice slab, by using a "Gumball" jig tipped with a minnow. I was next, using an Impulse "Stone Fly", white on white. Then Blake, using a minnow, and so it went.
It wasn't fast and furious but we all pitched in and by day's end, we had caught a nice bunch of crappies, along with the occasional walleye.
The crappies showed a definite preference for live bait, jig and minnow, on this day but that happens. I've caught so many fish using the artificial Impulse plastics that I found it hard to make the change. However, the old saying "when in Rome" had me eventually switching over.
It was, once again, another great outing with the Chad Peterson. Shaking hands, we cut our farewell short and headed back home, trying to cover as much distance as possible before darkness fell.
Plenty more deer, many of them being bucks, were spotted and avoided and when we finally rolled up to my back door, we had racked up 456 miles, not bad for a Saturday drive to good fishing. It was worth it. For more information on a fishing trip with Chad Peterson, he guides in winter too, call (320) 223-0630.

Field Report September 24, 2012 Greg Clusiau; Big Fish Tales!
Last weekend, I found myself boating to one of my favorite fall crappie fishing spots, when thoughts of big northern pike came to mind. I remember talking to an old-timer, who used to live on the somewhat remote and hard-to-get-into lake.
I asked him "what's the biggest northern you've caught out of here?" Slow and deliberate with his answer, he said "32 pounds" and went on to say "but I never got any of the big ones." I wish I could have seen the look on my face, when I heard his response. Priceless.
Well, I thought about that for several years and although it does sound like a lot of nonsense, there is still a part of me that wants to believe it and knowing the lake as I do, it very well could be possible. I know, it's a long-shot but…..
The old guy was a dark-house spearer and had taken more than his fair share of big fish, in the 50 years that he had lived there. He had also seen a few that dwarfed some of his largest. That, along with a few "can't stop it" broken line episodes had me thinking big fish, when I stopped half-way to the crappie hole and tossed out a crank bait. I figured "what the heck", I might as well cover a little water. Maybe I'll get lucky.
Not five minutes into my troll, I had a strike. It didn't hit like a big fish but certainly pulled heavy. Actually, it felt really weird, when reeling it in, as it wasn't fighting hard. It was just "feeling big" but no headshakes were happening.
More curious than anything, I never even bothered to grab the landing net, which laid at my feet. I was too busy, looking into the water, trying to figure out what this odd-fighting fish could be. Finally, when I had this curiosity near the boat, I looked down and saw a two pound northern. A "hammer-handle" had taken the crankbait. "What?" I wondered.
Unexpected movement below my little fish revealed a very much larger northern pike. During this split-second sighting, I knew exactly what had happened. The big fish had grabbed onto my little northern, as soon as I had caught it, and not wanting to give up it's lunch, hung on to it all the way to the boat.
I got another look, before it gave up and turned away. It wasn't a monster but a respectable fish in the "mid-teens", at least. Maybe more.
Upon removing the hooks, I noticed good-sized teeth marks on both sides of the fish. The big one had "T-Boned" it and held on until it reached the boat. I've had this happen quite a few times and it's usually a pretty good fish that's trying to eat.
Moving on, I headed to the crappie hole and caught a few fish but made darn sure to troll it again on my way back, only with a bigger bait this time. No dice.
The next day, I was on another crappie hotspot and was thinking of the big pike that roam these waters. I've heard of a 26 pounder being caught here but the one, or ones, that I saw many years ago were easily much more than that.
Having caught and guided folks to 20 pound northern pike, I have a very good idea what one looks like and the one, or ones, that I have seen in this particular lake approached 30 pounds, or more.
One sighting was with my brother Joel, while we were fishing walleyes. All I could do was point and say something like "ah, ah, oh." Turning around to see what his babbling brother was trying to talk about, Joel saw the fish, sitting there with it's huge head sticking out of the water. Then it slowly sank down backwards and out of sight.
I had two other "sightings" on a different part of the lake, once alone and another while fishing with my wife.
Again, we were fishing walleyes, when I told her "it was right here where I saw that big fish." No sooner had I said that and the fish's head popped up and looked directly at the boat, about 35' away.
It actually gave me goose bumps and I could feel the hair standing up on my neck. Why would it show up like that and look right at us? I'll never forget that feeling.
Then it dove, going headfirst and slow, which seemed to take forever. It was body, body, body and a sight I'll never forget. When that fish dove, it seemed like there was no end to the body and I can't even make an honest guesstimate to it's size. Let's just say it was BIG.
Some of my recent fishing outings have been fantastic and others have been slow, supporting fall fishing's description of "feast or famine". However, big fish memories are alive and well each and every time out.

Field Report September 24, 2012 Greg Clusiau; Fall Fishing Here - Well, I guess it should be. It was 30º last Sunday morning and not much warmer when I headed out across the lake, wearing all of my warmest winter fishing clothing. I don't know what it is but it always seems a lot colder on open water than it does standing on the ice. Maybe we become more acclimated to the conditions, as it gets colder yet. In any event, I managed to squeeze in four consecutive days on the water, fishing Thursday through Sunday. Here's how it all went done…..
Thursday - I teamed up with Chip Leer to help out with a Northland Tackle promo video, featuring the new Impulse plastics and I'll tell you what…they work! I've been using them since last year but new models have since been introduced and it is our happy duty to try them out.
Chip and I caught some very nice crappies and bluegills on practically every new version of the Impulse, but the "Stone Fly" and "Tadpole" took center stage. I've been using these two baits all fall and they've certainly proven their worth.
A couple hours into the day, our cameraman asked me if I ever watched WDIO television, to which I answered "all the time, it's my favorite local station." He went on to say he worked for WDIO for a four years as a sportscaster and said "I'm Erik Osberg." I thought he looked familiar.
Erik, by the way, is a great guy to spend some time in the boat with and is an accomplished angler as well. It must have been killing him to watch Chip and I reel in all of those nice fish.
Friday - I had some minor work done on my outboard, two weeks ago, and never had a chance to see how it turned out, so a quick trip to Crooked Lake, north of Nashwauk, was made. I found the crappies, laying low, in 22' of water and caught three of them, all on Impulse, before a storm rolled in.
The skies looked awful but like normal, I pushed it to the limit, staying too long, and barely made it back to the access in time. As a matter-of-fact, heading back to the landing, at full throttle, I could feel the front of the boat lifting up from a gale-force wind. Once loaded up, I headed home in a heavy downpour and had to dodge a tree that had fallen across the road. The outboard, however, was just fine.
Saturday - Blake Liend and I headed "up north" to a small lake that has been known to hold big crappies. The only problem is, it's a long way to go and a fickle lake that only produces once in a while. It was one of those times last Saturday, as we only caught one nice crappie, a small largemouth bass, and a little northern pike. Throwing in the towel, we decided to stop at Long Lake, north of Nashwauk, on the way home.
Once on Long, we discovered it to be "muddy", possibly from all of the recent high winds, and fished it for two hours without getting a bite. All-in-all, Saturday was a real stinker, as far as good fishing goes.
Sunday - Wanting to make up for Saturday's fail, we did a bit of traveling and went to a lake that often produces some nice panfish. We had a score to settle with Ma Nature.
Using nothing but the new Impulse baits, we were able to catch a beautiful bunch of fish and more than made up for the prior outing.
Once again, it was the "Tadpole" and "Stone Fly" accounting for most of the fish but other Impulse baits like the "Mini Smelt", "Tapeworm", "Waxie", and "May Fly" caught a few as well. Actually, the "May Fly" tricked our biggest bluegill of the day, a nice, husky 10"er. The largest crappie came on a "Tadpole."
The forecast has this coming week looking to be a bit warmer so a previously planned "cast and blast" trip to Ontario might be postponed. I'd much rather have inclement weather for a waterfowl shoot. I think we'll stick local or possibly make a trip to the Alexandria area, where we heard the panfish were biting.
Take care, have fun, be safe, and enjoy the Great Outdoors. For more information and photos, go to my fishing blog at "Life & Times in the Great Outdoors."

Field Report September 11, 2012 Greg Clusiau; Yes, the mornings may feel like fall but in my book it's not officially here yet because the lakes are behaving like it's still summer, which means traditional fall fishing patterns just haven't gotten underway.
Blake and I put the miles on again last weekend, fishing from Lake Vermilion to Cut Foot Sioux, along with parts in between. Here's how it all went down.
Lake Vermilion - Arriving at the lake early Saturday morning, we realized that we were both underdressed. It was quite cool out and a hard-blowing wind didn't help matters. We went in search of crappies, totally disregarding a perfectly good walleye bite that was happening.
The first spot didn't pan out, even though it was my favorite fall Lake Vermilion crappie hole. They just weren't there. The next spot was one that I had only just recently learned of and that one was just as bad, with no fish being present.
We fished until it started to rain and it was at this point that Blake discovered his raingear was safely tucked away in his garage, where it was left out, after a much-needed boat cleaning. We bunched it and made the hour drive back home without catching a fish.
Swan Lake - After regrouping and resting up for a couple of hours, we headed to Swan Lake to see if the walleyes were in position for lead core trolling. No.
It didn't matter, we'd go "piking." Trolling didn't produce so we did a shortened casting stint and banged a real nice fish before getting bored and going elsewhere. Also, not sure if this is official or not but we both noticed what looked to be the invasive "spiny water flea" hanging on our lines.
Lawrence Lake - This selection was made because of the lake's "closeness" and also because it does have a few nice fish in it. Another factor was the shoreline we planned on fishing was protected and mostly out of the wind. Yes, it was still blowing.
A few fish were caught but nothing of any size. The biggest excitement took place when I snagged a dead-head, while trolling a large musky-style crankbait. I thought I had the big one on for a second or two. The lure, by-the-way, couldn't be freed and is stuck tight to the deadhead, down deep and out of reach. I takes quite a bit to break 60 pound braided line!
Also, that landing is just miserable, with the lake being down and the trailer wanting to tip at an angle when loading.
Trout Lake - Famous for it's walleye fishing, Blake and I, once again, looked the other way and went in search of deep-water bluegills. We did catch one small one and left after a couple of hours because the smallmouth bass wouldn't leave us alone. We would've stayed if they weren't so small. They were fun, however.
Little Ball Club Lake - Trying one of my old, favorite fall crappie lakes, we were really in for a surprise here, when we got out onto the water. The entire lake looked like a "mud puddle." We only fished for a couple minutes before packing up and moving down the road, knowing it would be too much of a struggle.
Little Cut Foot Sioux - The predictable fall panfish pattern of Little Cut Foot was taking place and boats were scattered across the lake. Fish were being caught but the size wasn't much, although a few nice ones were boated every once in a while. On the far end of the lake, we noticed a lack of weed growth in one of our favorite ice fishing areas. Bored with Little Cut Foot, we left and boated into Big Cut Foot.
Big Cut Foot Sioux - Again, we could care less about any walleye fishing and went in search of fall, deep-water crappies, which we didn't find. They just weren't in their fall fishing spots yet. If they were, we didn't find them. Also, again, we both noticed what looked to be "spiny water fleas."
All-in-all it was a great weekend to play around on the water but we really did struggle and that happens from time-to-time. That's why they call it fishing!

Field Report August 28, 2012 Greg Clusiau -Fall Fast Approaching!
Thank goodness we're approaching somewhat normal fall-like weather. The cool nights are great, we can sleep with the windows open, and it's nice and cool in the mornings, making for comfortable fishing. Even the leaves are beginning to turn, which is always a nice sight. Honestly, I wish it would stay in fall-mode all year long.
As far as fishing, I've been in hot pursuit of walleyes, over the past couple of weeks, catching them anywhere from shallow weedbeds to deep, mid-lake basin areas. It all depends on the body of water that was selected for the day and what it has to offer.
For example, a recent day on Big Winnie, with David Holmbeck, my son-in-law, had us catching a nice limit of walleyes by trolling spinners in and around the cabbage beds. It wasn't fast fishing by any means, and it took a while to find an active school of fish, but once we did locate them, it was slow but fairly steady action.
I showed up to fish with David, armed with only one spinning rod that had my favorite spinner tied on. No tackle box, extra spinners, nothing. I was that confident in the spinner that nothing else was brought along. I did realize, however, that if I got bit off or needed anything else that Holmbeck would have it, as he spends most of the open-water season on Big Winnie and has plenty of tackle on hand.
As I said, it took a while to find fish but when "we" did, it was the "Greg show" with my "Baitfish Image" crawler harness, tipped with a half-crawler, in the "alewive white" color. I caught the first half-dozen fish with this rig and was doing good until I lost the rear hook. It was at this point that I borrowed a spinner from David and immediately removed all of the components on it so I could put mine on, beads and all. All I was looking for was a new double-hook crawler harness. With that done, I was back in the game.
Half-way through the day, I noticed how the spinner blade colors perfectly matched the brightest colors of the perch we were catching from time to time, the whites, greens, and bright orange. I thought "no wonder the walleyes are jumping all over this thing."
Eventually, Holmbeck switched to "something" that strongly resembled what I was using and began to catch up. Actually, he began to steal the show and with only a couple more fish to go for our limit, I stuck with my old standby and finished out the day by catching a few more.
Meanwhile, back at the cleaning shack, several small perch were found in the bellies of the hungry walleyes. You talk about matching the hatch.
These fish were all up shallow and fishing, in general, on Big Winnie wasn't all that good. A lack of boating traffic told me this. It was as if we were the only ones out there, which isn't really a bad thing.
My most recent walleye trip was last weekend on Lake Vermilion. Here too, I pretty much knew how we were going to catch them so the leadcore rods were prepped at home.
One thing I should mention is that my home is situated almost perfectly between Big Winnie and Lake Vermilion, being 60 miles to either of them. Hence the reason for my frequent visits to both waters. I guess I just can't make up my mind!
We, Blake Liend and I, would be fishing deep on this trip, 28-30', and leadcore line would be used to get our crankbaits down to the proper depth. We started out with Blake using the ever popular #5 perch-colored Shad Rap and me using a Northland Tackle "Rippin' Shad", just for experimental purposes.
The "Rippin' Shad" is a "lipless" crankbait that most use for casting or shallow weedline trolling but deep trolling behind leadcore line? I'd find out if it would work and it didn't take too long, as the first walleye, and a nice at that, jumped all over the lure. It shook loose, close to the boat, but we both got a good look at it and it was a "good fish", being in the Lake Vermilion slot of 18-26".
Back in the water and trolling, it wasn't long before another fish wanted it and so it went for most of the morning. Throughout our half-day trip, we boated close to twenty fish, with at least half of them coming via the "Rippin' Shad." Again, it was in the always-producing "perch" color. You really can't go wrong on any lake by "going with perch."
I just love to experiment, especially with new lures, and I'm not done yet with the "Rippin' Shad." I WILL be using it for speed-trolling weedlines for northern pike, as well as casting for pike and bass. The "little guy", the 1 ½" "Rippin' Shad" will be tried for mammoth crappies this fall and the 2", the next step up, is already a proven wintertime walleye killer and ice fishing, by the way, isn't all that far off. Get out there while you can and enjoy the rest of our open-water season.

Field Report August 28, 2012 Greg Clusiau - On the Road Again .
This week's column title reminds me of a Willie Nelson joke, old but still funny, to me anyway. Tell someone "did you hear Willie Nelson got killed?" They'll generally answer back with something like "no" or "really." You answer "yeah, he was playing on the road again." Yuk yuk.
Well, Blake and I weren't playing on the road again but we were on the road so we could play with Ontario lake trout. We did one of our famous "day trips", fairly deep into Canada, and fished Lower Manitou Lake.
Although the trip totaled nearly 400 miles roundtrip, counting the 20 miles we were out on the lake, it wasn't as bad as it seems. Leaving Keewatin at 3:20 am, we made it to the border and were at our friend's house, in Ft. Frances, just before 6:00 am.
All we had to do was hop in with him, Tom Batiuk, and ride down the Cedar Narrows Road to the access, Esox Landing, over an hour away. Once there, we more-or-less fished our way about 20 miles from the access and out onto the main lake. If we had continued on, and had enough boat gas, we could have worked our way to the far end of Upper Manitou, a distance of approximately 65 miles. There's certainly no shortage of water up there.
The Cedar Narrows Road can be adventurous in it's own right, as logging trucks have the right of way and wildlife abounds. Driving it during the dark can be dangerous, with moose making generous appearances. Although we were traveling the route after sunup, we still had to be on our toes.
Tom mentioned that lynx are commonly spotted and a booming rabbit population has a lot to do with it. Lynx. Hmmm, I've lived "up north" my entire life and have never seen one in the wild. How cool would that be? We did see oodles of rabbits on the way in so I had my hopes up but no luck.
Batiuk has spent plenty of time on these waters, Upper and Lower Manitou, and made 26 trips there last summer, in which a grand total of 177 lake trout made their way into his boat. This was only the second trout trip for Batiuk this summer, as he only lives five minutes from Rainy Lake and has practically spent each and every waking moment out there, when not at work as manager of the local airport. So far Batiuk has made 54 trips to the big lake, chasing walleyes, bass, and pike.
Our first stop was "the trench", which can be very good when the fish are active but it was not to be on this day. Next visit, "clay bank", and so it went, stopping at all of Batiuk's proven trout catching grounds.
We started out slow but eventually Blake saw one of the down-rigger rods pop free and grabbed it, reeling in a four pounder. At least we got the "skunk outta the boat". Things slowly picked up and we started to catch trout at a decent pace.
Tom stated that there's been times when he's encountered a tough bite but then again there's been times when you could do no wrong, like some of the 30 fish outings that can happen on the Manitou.
The only problem with a lot of action is if you are using manual, hand-cranking down-riggers, which Batiuk has, it can be a lot of work, especially when fishing the 100' depths.
We had one set at 90', another at 60', and a 10-color leadcore rod set in the 40-45' range. Most fish ended up being caught in the 50-60' depths and once you have determined where all the action will be taking place, it becomes a lot easier.
Our best bait was a spoon but not your traditional, slender trout spoon. It was Northland Tackle's ¾ oz "Forage Spoon", which most of us Minnesotan's would use for northern pike. However, the trout were really liking it as well and it was one of Batiuk's favorites.
We went on to boat 7 trout and lost another 5 on the way to the boat, or right next to it. It was a typical day on the water. Nothing big, maybe 7 pounds, but it's always fun catching lakers.
Fishing until 5 pm, we had to head back because of the long drive facing us. There were the rabbits again, all over the place, and then it happened. A large lynx crossed the road in front of us. Wow. I had finally seen one.
Passing through I-Falls, we noticed the "Eggo" boat, owned by professional tournament angler Brian "Bro" Brosdahl, sitting at the Falls Motel. Naturally, a quick stop to visit had to take place before continuing on.
Bro and his wife, Heather, were in town, fishing the I-Falls Bass Championship, placing 5th. First place was captured by Northland Tackle's two most famous fishermen, brothers John and Duane Peterson. Congrats to all!

Field Report August 20, 2012 Greg Clusiau - Vacation Wrap
Whew! I really packed it in, probably fishing more in nine days than the average person fishes all summer. Also, probably putting on more miles than the average Joe does in a month or two. In any event, it's all over now and it's back to work for me, getting the N-K high school all sparkling clean and ready for that first day of school, which is coming up soon. Here's a brief re-cap:
8-11 - Big Winnie (Bena): Fishing with Jason Green, we encountered strong winds and slow fishing, while pulling spinner blades next to the weeds. The highlight of the day was a nice northern pike and watching a young man clean fish at Nodak Lodge. (I made note of this)
8-12 - Rainy Lake, Ontario (Ft. Frances): This trip was made the same day I fished Big Winnie, as I wanted to get there in time for the early morning bite. Fishing with Tom Batiuk, it was worth it. We did pretty good on the walleyes using Northland Tackle's 4" Impulse "smelt minnow".
8-13 - Big Winnie (Bena): Fishing alone, I headed back here and found tough fishing, once again. I did manage to catch some fish on a variety of presentations ( spinners, cranks, and jigs) and brought a nice northern pike and four walleyes for cleaning at Nodak's. Man, am I getting lazy. Also, the wind was kicking up, when I decided to load up at "the birches" landing and being alone I tried to drive the boat on and ended up grinding up my prop a bit. Darn. That's why I carry a spare.
8-14 - Swan Lake (Pengilly): Fishing only in the morning hours, I pulled lead core in 25-30' of water and caught some northern pike. I was going for the big one but it didn't happen. I might have come close a time or two, when I was bit off. One felt real nice. The walleyes were biting, although slow, up close to the weeds, but I never even bothered with them. I was on a mission for those big northerns.
I noticed the Minnesota DNR has placed a receptacle at the access for weeds and bait, in an effort to curb unwanted invasive species across the North Country. There's one at the Trout Lake access too by Coleraine.
8-15 - Burntside Lake (Ely): Ahh, back to fishing. I really don't know why I ended up here. Maybe I just wanted a crack at some lake trout. Whatever the reason, I wasn't real happy to see that I was the only one at the public access, when I got there early last Thursday morning. That generally means that the fish aren't biting.
I started out trout fishing, trolling the deep water but never got a bite or saw any fish so I relocated to a shallower, weedy bay (School Section Bay) and tried bottom bouncers and spinners for walleyes and/or smallmouth bass. It worked.
It was here that I was inspected by the local conservation officer, John Velsvaag. After checking my license and fish (all good), we had a nice conversation. He said the lake had offered poor fishing for the last two weeks. Wouldn't you know it, after I traveled 90 miles to give it a try.
8-16 - Crooked Lake (Nashwauk): After waiting all day for the wind to let up, which it didn't, I headed locally and gave Crooked a try, catch a couple very nice walleyes and some decent bluegills, using spinners along the weedline in 6-7' of water. Go any deeper and nothing.
8-17 - Big Winnie (Bena): Once again, it was Jason Green and I playing around on the big lake. Fishing was slow but some were dropped off at Nodak's again before heading home. *note - the mid-lake bars have been pretty quiet all year and most of the walleye action is taking place near the shallow weedlines.
8-18 - Lake Superior (Silver Bay): Tim Ranta, Blake Liend, and I headed to the north shore for a little trout and salmon action and it didn't disappoint. We ended up bring eight home, tossing a few others back. It's good fishing down there now so it's an excellent time to give it a try.
8-19 - Lake Vermilion (Tower): Blake Liend and his youngest son, Brecken, and I did a late-morning trip there and beat up on the walleyes pretty good. Darn, I wish I had another week of vacation lined up because the fishing is picking up real good. Get out there and give it a try. Be safe, have fun, and good luck!

Field Report August 14, 2012 Greg Clusiau -Out and About
Coming home from work, Friday afternoon, I came across a broke-down motorhome, sitting alongside the west entrance to Keewatin, just a few blocks from my house. Slowing, I asked if they needed any help. Hearing their dilemma, I told them "I'll be right back", and headed home to regroup.
The Sandusky family had been vacationing on Crane Lake and were on their way home to the McGregor area, when the rear driver's side dual wheels almost came off. Studs were broken off and there they were, broke down an hour or so from making it home.
Mark Sandusky hopped in with me and we went on a whirlwind shopping spree for parts. First was Nashwauk, because of it being so close, nope. Then to Hibbing, where we stopped at four places before finding the mother lode of lugs and studs at GTC.
Back at the scene, I had to make a couple trips home before all was fixed and they were back on the road. Although total strangers, it's always nice to help someone out, even if it did take away the first three hours of a nine-day mini-vacation.
The next morning, bright and early at 3:30 am, Blake and I headed toward Rainy Lake for a little walleye action and that's just what we got, a "little." Fishing the Ontario side, we struggled and only boated two walleyes and two northern pike before going to plan B and that was to head even deeper into Canada to Off Lake.
It would be another hour north but it was only 9:30 am when that decision was made. We had made "day trips" there before and this would be no different, especially since Blake was doing all of the driving.
Once there, we realized that another tough fishing outing was in the making, as the water looked like "pea soup." A major algae bloom had taken effect and the water looked awful. That and the frontal condition that had shut Rainy Lake down a tad would be our challenge and it was one that we wouldn't win.
Fishing our regular mid-summer hotspots only resulted in two small walleyes. No nice, fat eater fish, along with a few larger ones that we were so accustomed to. No fat and sassy smallmouth that had stretched our strings on previous outings. No monster northern pike to play with and as far as slab crappies, well, they're in there someplace.
For a second or two I thought about venturing even further to Lake Despair but knew better. In my younger days, I would have been there. Now, I've finally come to realize that when other area lakes are pretty much shut down, most others are two. So, with that in mind, we started our 150 mile trip home.
The next morning, I found myself traveling to Big Winnie, just to see what was happening. Blake was supposed to go along but he had issues with an alarm clock. There's two settings on those things, am and pm. J
I put in at "The Birches" and wow, did it ever stink. Dead fish, tullibees, had washed up all over. They were all over the lake, along with some eelpout. These deep dwellers take a beating when it gets super-hot out, as the oxygen levels thin out and the water gets too warm for them.
Fishing was slow here too but I did manage to catch a few, along with everybody else fishing the High Banks area in 9-10' of water.
When it came time to go home, I got to thinking of the fish cleaning service that Nodak Lodge offers. A short boat ride later found young Truman Croaker cleaning my catch of four walleyes and a northern pike that normally would have been tossed back but I figured if someone else is cleaning it, why not?
This made it so nice, when I got home, over an hour later. All I had to do was back the boat in the garage and relax. No fish cleaning for me.
I should have launched my boat at Nodak's too, as when attempting to do so at "The Birches", I ground up my prop pretty good. Nodak's access is deep enough to prevent that and the best thing is that fact that it is located in a protected harbor. No matter what direction the wind is from or how hard it's blowing, the harbor makes it all to easy.
The first two vacation days have encompassed nearly 500 miles and that's a bit much. I'm going to have to find good fishing a little closer to home. Good luck, be safe, and have fun.

Field Report August 9, 2012 Jason Green - Grand Rapids Area Fishing Report . "Fishing continues to be excellent in the Grand Rapids Area. Pan Fish are at a peak right now and are extremely aggressive. Currently they can be found in shoreline vegetation.
Walleye Fishing continues to be above average for this time of year. After the recent storm fronts eyes seemed to be a little more tight lipped and moved away from the shallow shorelines out to 17'-21' of water. Roach Rigging with a crawler seemed to work best. As weather patterns stable fish are moving towards the shallow weeds. Rainbow and Baitfish Image Spinners are doing well with a crawler. Our best colors have been Pounded Gold, Pounded Green and Sunrise pulled around 1.1-1.2mph. At times we are seeing success trolling #4 Holographic Perch Hornets at 2mph in the same areas.
If you are one who enjoys mixed bag fishing I would say right now is the time to hit the water. As we get into late summer the evenings will get cooler and so will the water temps. Jason Green, www.upnorthinc.com (218) 259-8592

Field Report August 6, 2012 Greg Clusiau -The Traveling Angler
Last Saturday was spent on Big Winnie with Jason Green, Grand Rapids fishing guide. Jason and I have teamed up on several occasions, with filming and promotion usually taking top priority and this trip was no different. Oh there's always a good deal of fun that takes place too, even though it is a scheduled "working session."
The walleyes were biting well on Friday so with a little luck, we'd be able to capture some good footage. All we needed was good filming weather, which means no rain and fairly calm seas.
Well, we took a hit in both departments, as the fishing was super-slow and we had to deal with high winds. No filming was done but we did get a good chance to put Jason's new Lund boat "to the test." We were really rocking and rolling out there. Needless-to-say, the big Lund passed the test with flying colors.
Even though huge rollers kept us bouncing around, we were able to get a few walleyes by pulling "straight-line" spinners, which means a "Baitfish Image" crawler harness, weighted down with a ¼ oz. "bullet sinker" in 14' of water.
Moving to the leeward side of the lake for better boat control, along with better camera control, wasn't the answer, as fishing was even slower.
We finished the morning out with a few good still photos but the video cameras never came out of the bag.
That evening, I spoke with Tom Batiuk of Ft. Frances, Ontario. He was wondering if I was still "coming up." Plans were put in place, earlier in the week, for a "day trip" to Rainy Lake on Sunday. Tired out from an early morning on Winnie, I now wondered if it was even possible.
Going solo, I would have to leave Keewatin at 3:30 a.m., which didn't allow me hardly any sleeping time. It was a disaster in the making. I didn't think I would be able to make it home without nodding off at the wheel.
Tom suggested driving up on Saturday night and spending the night at his house. This would give me a little more sleep time and we'd be on the water, once again, at first light. Fifteen minutes later, I was on the road.
Arriving in Fort Frances at 11:15 p.m., I was in bed at Tom's place by 11:30 p.m. and let me tell you, it certainly didn't take long to "hit the hay." The next thing I knew, it was 4:30 a.m. and we were getting ready to hit Rainy Lake.
Tom, who has fished Rainy Lake 48 times so far this season, had been out the day before and fishing was superior, with walleye after walleye making their way into the boat, along with a few big ones. This day, however, was another Big Winnie in the making, as the fish had shut down a tad and strong winds hampered boat control.
With a little scouting around, we found them 5' deeper than they were on Saturday. It turned out to be a good "eater" fish bite with several walleyes in the 14-17" range being caught. Tom used jigs and minnows, while I put on a clinic using a jig and a 4" Impulse "smelt minnow."
White in color, the new Impulse bait matched the size of a Rainy Lake smelt. I thought of trying this bait, after one of the little walleyes came to the boat with a fresh smelt in it's mouth. After that, it was "game on." They were really eating it up. Even smaller walleyes and the occasional jumbo perch were loving it.
The game plan worked to perfection. I was able to get out on Rainy Lake for most of the day and still had enough "in the tank" for an uneventful 125 mile trip back home. It usually pays to do a little traveling to the "hot bites" and it certainly did this weekend.

Field Report July 30, 2012 Greg Clusiau - Hot Water! - Yuk!
Is it just me or is anyone else absolutely sick and tired of this hot weather? I'll tell you one thing. It's certainly cutting in on my fishing time.
Weekend's find me heading out at the crack of dawn and fishing until it gets too uncomfortable, which only allows me about 4-5 hours each morning. Sometimes, depending on travel time to the lake, I find myself back home by 9 a.m. That leaves another 12 hours of daylight that isn't taken advantage of, by me anyway.
Mid-week outings are few and far between, as I work until 2 p.m. and it usually doesn't cool off enough until 8 or 9 p.m. and if it's that late, why bother? It's weather like this that makes me glad I'm not guiding any more. I don't think I could take it.
The hot weather is having an effect on the fish too. I'm beginning to notice a few dead ciscoes and suckers floating on various lakes, Trout Lake (Coleraine) and Deer Lake (Effie) just to name a few.
I hope there won't be any huge "die-offs" from this weather but it looks like it's going to happen. I remember, not too many years ago, when Swan Lake had a lot of big walleyes laying on the surface. Several 6-8 pound fish were lost.
Fishing patterns have changed as well. Two of my regular deep-water leadcore lakes don't have any fish deep at all. Normally, I'd find walleyes cruising the basin areas in 25-30' but now it's almost barren out there, except for northern pike. The majority of these walleyes have moved up shallow, right next to the weeds, in 6-10' of water.
I'm sure there's a lack of oxygen or some other warm weather phenomena taking place. I should mention that many of the lakes have surface temperatures in the high 70's. Some are even in the low-80's. Now that's getting warm.
Never-the-less, the fish are still hungry and I've been doing pretty good, by pulling spinners along the weedlines. One lake offers a mixed bag of bluegills, crappies, walleyes, and small northern pike by using a lightweight bottom bouncer, ¼ or ½ ounce, and crawler harness, tipped with a half of crawler. Yes, crappies. They are absolutely jumping on this presentation. There were times when I couldn't get the bait down to them fast enough.
Another lake, fished last Saturday, offered a good walleye and bluegill bite by casting out a spinner, again, tipped with a half-crawler, and trolled along the weedline. This lake had a bit too much vegetation on the bottom so spinners were pulled up off bottom. This is a fun way to fish and one of my favorite methods. Actually, this is how I use to fish 40 years ago, when I never had any electronics.
Last Sunday's lake offered walleyes via crankbaits, trolled in 10' of water. After finding fish, I changed tactics and gave them a slower presentation in the lightweight bottom-bouncer/spinner version. This allowed me to catch even more walleyes and once again, another big crappie.
The bottom line is to get out there and give the weedlines a try with spinners. If it's a clean bottom, try bottom-bouncers and crawler harnesses. If it's weedy, add a split-shot to your spinner and troll it up off the bottom. It's working for me!

Field Report July 23, 2012 Greg Clusiau - Expanding Your Comfort Zone: Part 2, Unlocking the Secrets to Leadcore Walleyes (Part 2)
Third, are various brands of leadcore line, and various weights. However, each brand lists the sink rate similar…5'-7' per/color. The two most common I found were #18 lb and #27. The #18 was my choice because the line diameter was smaller, so I could spool on more colors to my reel. The leadcore is then tied with a surgeon knot (I added a dab of super glue for a little extra hold) to a 30' piece of #10 Trilene mono in my case. I chose mono because it has some stretch to it, which helps it act as a bit of a shock absorber (leadcore has ZERO stretch). Why 30' of mono? Well, it's simply keeping everything precise. Each color of leadcore is 30' so I know exactly where I'm at, at all times. Not to mention, if I get snagged and can't get out, mono is much easier to break.
Finally, the other key gear to leadcore fishing or any fishing for that matter, are your electronics. Including a good GPS with mapping to mark your trolling run, and where you're catching fish. Your electronics will help you locate bait fish, schools of walleyes, provide you with water temperature readings, and speed.
Speed is very critical to any form of trolling. You need to be able to duplicate successful trolling runs. This past weekend for example on Mille Lacs was my 1st attempt to catch walleye's on my own using leadcore. It didn't take long to locate a school of walleyes on my Vexilar Edge 2, on a break off of a large flat.
This particular edge was between 26ft to 34ft in the basin. I tried to stay near the break in 27ft to 32ft of water, where most of these walleye's were located. With 210' of line out, and going between 1.6 mph to 2.2 mph, I seemed to stay in the 'zone' I needed.
Sometimes I would hit bottom, and need to reel in my lure to clean the muck off it but the majority of the time it came into the boat with a feisty walleye attached to it! Another thing about this past weekend's leadcore trolling effort was color! It didn't take long for me to recognize that a #5 chrome/purple Shad Rap was king! I would safely say, 90% of the walleye's that came into the boat this weekend from leadcore trolling were caught on a chrome/purple #5 Shad Rap.
I'm still learning and it will take a lot more trips to really fine-tune this presentation but nothing makes you gain confidence in a NEW tactic like catching fish!!! Out of approximately 50 plus walleyes that came into my boat this past weekend, over half were caught on lead core, including Bruce Christensen's 28" walleye.
Tips: 1). With all trolling I do, weather it be fall crank baits, spinners on 3-way rigs or leadcore now, I always keep a very loose drag. The fish hit like a ton of bricks, typically, and I don't want to run the risk of pulling the hooks out when I'm fighting them. There is no need to 'set the hook' with any of these tactics, as the fish almost always hooks itself on the strike.
2). I got this one from Greg Clusiau with regards to a 'starting spot' for leadcore fishing. Block out the last digit on your line counter reel and that will be how deep your leadcore will take your lure. Then all you have to do is add in the 'dive to' depth of your favorite crank bait to get a starting spot. Example: 210' of line (30' mono leader included)…21' + a #5 Shad Rap 6' = 27ft EST. (written by Travis Sorokie)

Field Report July 14, 2012 Greg Clusiau - Expanding Your Comfort Zone: Unlocking the Secrets to Leadcore Walleyes (Part 1 of 2 written by Travis Sorokie)
For the past several years, I have been reading and watching TV shows on leadcore fishing for walleyes. I had been assuming that this style of fishing is difficult, expensive, and to mildly put it, quite over-rated.
Now while this technique does require some specialized gear to get started, you can do it rather inexpensive by today's walleye equipment standards. This season, I took the plunge into unlocking the secrets to leadcore walleyes.
After several conversations with fishing guides and other tournament walleye anglers such as Mille Lacs Lake guide Brad Hawthorne, northern Minnesota guide Greg Clusiau, lake Oahe guide Curt Rees III, and MTT Tournament angler Chad Carlson, I began to understand what they already knew with regards to leadcore fishing.
They were able to answer most of my questions and get me started with some confidence. In addition, while pre-fishing for the City Auto Glass Walleye Classic my partner Greg Clusiau and I did try leadcore fishing for a few hours. That's really all it took for me to know this is something I needed to add to my walleye fishing bag of tricks.
Like anything else, having options you have confidence in makes you a better angler. For walleyes, especially on large lakes such as Minnesota's Mille Lacs Lake, having options and knowing when to use them is what makes good anglers great anglers…or great anglers pros, in a lot of cases.
If you hit on the 'pattern' for the day you can be in for a heck of an action packed day on the water. Some days it will be the typical live bait rig that will be king. I've seen adding color beads to your rig, a colored hook, even the length of leader make all the difference between a few fish and 40 plus fish days.
The same can be said for spinner rigs. The color/size of blade you use, even the color and size of the beads can make a difference. Likewise for slip-bobber fishing. A colored hook, a small jig, how far off the bottom you set your rig can make all the difference between an okay day on the water, and a "lights out" day! Trust me. In any of this, being able to recognize and duplicate a specific tactic is where it all starts. I am finding out leadcore fishing is no different.
Now on to my leadcore set up and what I have found to be true in a few hours of trying this new tactic. First of all, I was amazed how really simple this gear was to find and relatively inexpensive it was to get started.
My gear consists of a couple 7'10" leadcore trolling rods paired with Okuma line counter reels. These combo's I picked up for under $80 each a few weeks ago. A large spool of #18lb leadcore line was an additional $16. So, I am set up complete with two rod/reel combos for under $200! That is cheap by today's walleye fishing gear standards.
Secondly, the assortment of today's crank baits in shape, color, and action can be mind boggling, when you really think about it. You have the Lindy Shadling & River Rocker, Rapala Shad Rap & Tail Dancer, Berkley Flicker Shad and Salmo Hornet, just to name a few.
On the package of your favorite crank bait it will show the 'dive to' depth, which is one "key" to leadcore fishing. In addition, there are several books on trolling crank baits that can take some of the guess work out of this type of fishing. Even 'apps' for you tech savvy people, I have been told.
With everything though, it does take some trial and error. Some baits dive a little deeper than what the package states, or go a tad deeper with a slower trolling speed. I suggest keeping notes of what works for you on a particular day and duplicate that.

Field Report July 2, 2012 Greg Clusiau - Struggling! Hokey Pokey…I had been hearing all of those good fishing reports from Pokegama Lake for too darn long and figured I'd better go and give it a try myself. I knew it had been kicking out a lot of very nice walleyes, with several of them being trophies. I also knew that the water was high but was in for a real surprise when I pulled up to the Tioga landing. I didn't realize it was that bad.
The cement ramp was there somewhere but we didn't even bother to try to find and use it. Blake just backed me in, off to the side, and I floated off. Although, after parking my truck, he did have to wade out to the boat and climb in.
Oh well, he's used to getting wet, like the time he swam out 50 yards or more to retrieve one of his bobbers. It was a good one and one that I lost while we were shore fishing. It was early spring and the water was fairly cold and I'm still chuckling over that one.
That's another thing. We were only the second vehicle parked at the access. Normally, that's a sign that the fishing isn't all that good but I was kind of hoping that perhaps there was a better access somewhere and everyone else was parked there. Well, that didn't turn out the way I hoped it would, as once we were on the lake, we found very little boat traffic. This was last Saturday morning, by the way.
Normally, high water doesn't seem to bother deep fish but my regular "go to" spots didn't hold anything. Running and gunning, trying spot after spot, we finally connected on a few fish at the other end of the lake. Isn't that the way it goes? Walleyes, however, were tough to come by, for us anyway.
A few bass, largemouth and smallmouth, made their presence known from time-to-time. One of them, a nice largemouth, hit so hard that for a split-second I thought I was snagged. We were back-trolling, pulling bottom bouncers and spinners, when it hit hard enough to take drag. This fish fought as hard as any I've had on all season. What fun. I wish they were all like that.
Bites became less frequent, as the sun got higher and hotter, which was more than enough to force us off the lake. Oh, we'll be back Mr. Pokey. You can count on that.
Another Misadventure…Last Sunday had me thinking about Big Jessie Lake. I hadn't fished it in years and decided to, while traveling west, from Keewatin. Selecting a lake to fish, while randomly driving down the road, is an often occurrence for me. Sometimes this works out real well, sometimes not.
Taking a "shortcut" of county highways, I forgot all about a bridge being out, until I reached the detour sign. Two minutes down the rough, boat-bouncing gravel road had me quickly turning around and heading to another lake instead. Wabana Lake it would be, even though my last trip, only days prior, had me struggling here as well.
A victim of recent storms, the Wabana Lake area had trees down all over the place, including the public access road that I used.
It didn't really matter, as I could still weasel my rig up and down the hills to the lake. Trees were cut out of the way, allowing just enough room for the wheelbases of trucks and boat trailers to slither by.
Fishing was as it had been on my first trip. Tough. Walleyes were? Well, I don't know where they were. I did, however, know where the bass and panfish were holding out.
As I approached this area, I cast out the smallest, 1 ½", "Rippin' Shad" and had a fish on in an instant. It was a sunfish and a small one at that. The next several casts had the same results.
Every once in a while, a larger sunfish would grab ahold of it, along with the occasional largemouth bass and rockbass. It was action and it was fun. I'd catch up to those walleyes when everything had settled down some.
I should note that I am on vacation this week, so a GOOD walleye bite IS going to happen somewhere. Where? I don't know. That spur-of-the-moment decision will be made as I am driving across the North Country.

Field Report July 2, 2012 Greg Clusiau - Wrestling with Walleyes; - The New "Bird" - I hope everyone enjoyed a fun-filled Fourth of July. At the time of this writing, last Sunday evening, I hope I did as well, as it has yet to come.
The recent hot weather has me playing "mole", once again, like I normally do, when the temperatures get a little too uncomfortable for my liking. It's been pretty much "on the water at first light and back home again before it's gets too hot."
Many times, I'm back, in the comfort of the air conditioner around 9:30 a.m. but this still allows me a solid 3-4 hours on the water. I know it sounds crazy but this seems to work out just fine for me and some of the best fishing of the day can take place before the sun peeks over the trees.
On one of those short-lived trips, I was able to try out my new graph, a Humminbird 998c SI Combo, which is, in essence, a high quality, large-screened color graph with side-imaging capabilities. I can view what's happening on each side of me, as well as directly below the boat.
Shortly after installation, in typical Greg Clusiau fashion, I headed out on the lake and gave it a whirl, without even looking through the manual and that's just me. Or maybe it's a "guy thing". You know the type. Don't look at the directions until you have trouble.
The lake of choice, Swan Lake, was currently undergoing a large bug hatch but that didn't stop me from going there. I just wanted to check out the new unit and, actually, catching fish was not all that important to me. I knew it would be a struggle and it was.
All I managed was one small northern pike and two nice walleyes. One walleye measured 25" and the other, looking much the same, shook off near the boat. I was okay with that but not with my graph's performance, which was all of my own doing.
First off, I had never looked the instructions over and secondly, I had inserted a "chip" from my old graph, in hoping that it would work in the new one. It didn't. Couple these two inept acts with the fact that I was a master at operating my old graph and had caught hundreds, if not thousands, of fish when using it. It was frustrating but I knew it was my own fault.
The next day, a trip to the Grand Rapids L&M store was made to buy the proper LakeMaster chip, one that was supposed to go in the new Humminbirds in the first place. Once home, it was inserted and I had a good feeling about things immediately. All the detail was there and more.
The next morning, a trip to Trout Lake was in order, with a young man and his son. I wasn't too sure what to expect out there either but figured it couldn't be any worse than Swan Lake. I was right.
Firing up the graph, it locked on immediately and was showing me details as good as anything I had ever used. Now, at this point, I was trying to put these people on fish so I didn't experiment with the side imaging features. I planned on doing that on my own time, at my own leisure.
Fishing here, was a little on the slow side too but fish, walleyes and smallmouth bass, were making their way into the boat. My guests were happy, as was I, and they were as impressed with the new graph as much as I was. It was working, doing it's thing.
The next day, glutton for punishment that I am, another solo outing was made to Swan Lake and this time was even worse than the last. After three hours of fishing, I had not boated a fish. As a matter-of-fact, I never even got a bite! Man, that doesn't happen very often.
Still, I was content with being out there, enjoying the morning and loving the challenge. I was also playing around with my new machine, getting to know it up close and personal, like my old one, realizing that it wouldn't be long before it would all become "second nature."
Heading back to the public access, I was using the side imaging feature, as I neared the bridge. With camera in hand, I took a photo of the graph's screen, which showed the bridge pilings on each side of me, as I made my way underneath the highway. Yes, this unit was going to work real good.

Field Report June 25, 2012 Greg Clusiau - Wrestling with Walleyes; - I had a chance to spend an evening, walleye fishing with a couple of wrestlers last week. One was none other than GNK's (Greenway/Nashwauk/Keewatin) own wrestling coach, Russ Smith. The other was Tim Hartung, who was in town, putting on a clinic and helping out our wrestling program, which is coming along just fine, thank you.
Hartung has just about done it all, when it comes to wrestling, as he is a two-time national champion, wrestling as a Minnesota Gopher, and a three-time Big Ten Champion. He also was an alternate for the 2004 U.S.A. Olympic Team and has been an assistant coach for Minnesota, Iowa, and Iowa State.
Currently, he is coaching at the high school level for Wayzata, as Smith is for GNK. Russ, by-the-way, is no slouch either, as he was a section champion for Nashwauk-Keewatin, an All American for Jamestown College in North Dakota, and a three-time national qualifier. They did pretty good too, out on the water, but hey, I was guiding them. J
Our plan of attack was to use bottom-bouncers and "Baitfish Image" crawler-harnesses, tipped with a half-crawler. This presentation has been "lights out" for me, over the past several years and it continues to put an abnormal amount of fish into the boat. Our three-hour trip was a little on the slow side but we still managed to boat approximately two dozen walleyes, along with a few northern pike.
Think about it, those of you that have seen me on the water, how many times have you seen me creeping along with a live-bait rig or jig. The answer is "seldom" and that's because I can usually catch a lot more fish in a shorter amount of time by using "bouncers and blades." If you haven't tried this method, you truly are missing out.
Father's Day Fiasco…Blake Liend and I were on our way to Reed's Sporting Goods in Walker, two weeks ago, to help out Northland Tackle with a little "customer service", when about five miles from Remer, we had a flat tire.
We left a little early but after the tire change, we were right on schedule but had precious little time left. Another thing, I use the word "tire" quite loosely, as the spare had wires sticking out of it and was low on air. Never-the-less, we growled our way into Remer for some help and I was more than a little surprised that we made it at all.
Pulling into the Remer Trading Post, an older gentleman (and I'll jokingly use this word loosely too), who turned out to be the owner, said to us "boy, it must be tough, riding around on a Saturday morning in a BMW." We had borrowed Blake's wife's sports car for the ride and were styling until the flat tire deal.
Explaining our situation of having to be in Walker as soon as possible, the guy, Don (he wouldn't tell me his last name) said "take my car", so we did. There we were, total strangers, driving away in Don's old Jeep. He did, however, have the BMW.
Arrangements were made for new tires to be brought to Don's place, for installation, while we were gone. Talk about friendly small town America. Here's a classic case. Thank you Don, whatever your name is!
Rippin' Bass…Blake and I abandoned a couple of terrific local walleye bites, last Saturday, and headed into St. Louis County for a little bass fishing. We had caught enough walleyes, for the time being, and wanted to try Northland Tackle's new "Rippin' Shad" lipless crankbait.
It's the same lure that we used for monster walleyes, through the ice, on Lake Winnipeg. How would it fare when applied to cabbage patch bass? Just fine thank you, as we caught a couple dozen bass, largemouth and smallmouth, in a matter of a couple hours, at which point we were rained out and forced to head back home.
We did lose a few of them, however, when northern pike decided it was lunch time. This made us start using short, light leaders, just strong enough to keep northern teeth from biting through. We even had a number of sunfish latch onto this bait. Here's another great product that works. Give them a try. Don't forget the leader.

Field Report June 18, 2012 Greg Clusiau - Hitting it Early Pays Off!
"The early bird gets the worm", so they say, but during sunny, hot weather periods, it also applies to fishing, as in "the early bird gets the walleye." That has been the case for me, over the past several days.
I always pick a week in mid-June to take a little vacation. This period is quite predictable, especially when it comes to a good walleye bite, which begins to take place all across our North Country. Most of the smaller lakes peak before the larger bodies of water get going and you can rest assure that you won't have to travel far to find good walleye action. The fish are biting very well somewhere. It's just up to you to find that hot lake.\
Getting up early comes easy to me, as my regular day-shift job has me starting work at 6:00 am so I'm used to getting up early. Therefore, when fishing alone, I never bother to set the alarm, as I'm usually up and milling about around 4:30 am. However, a planned early morning fishing trip, with a partner, has me setting the clock and sometimes it goes off in time (sorry Blake J ).
Arriving at the lake before 5 am has been working out real well lately, especially when it's forecasted to be a hot, sunny day. There are several reasons why this early morning fishing works so well for me.
To start with, I am usually the first one at the access and parking is easy. You have your choice of a parking space and there's no waiting. Secondly, the weather is cool so it's rather comfortable out on the water, if not chilly at times. I often find myself wearing a pair of sweat pants over my jeans and if it's not enough to keep me warm the rain suit comes out. Thirdly, the fish are usually on the bite during the early going.
Another positive of first-light fishing is the sun factor. Normally, it isn't super hot, like it will be later on in the day. How nice it is to get home around 9 am and still have the entire day left to work with. Sometimes, I'll lay low, especially during the hotter weather, and go back out in the evening, when, once again, it's cooler and more comfortable out.
Lately, one of the lakes I've been fishing quite a bit has been very good around 5 am and dies off around 7:30 am. I'll usually stick around for another hour before giving in and going home. During this time frame, I'm seeing other boats heading out onto the lake and even see a few more on the highway, making their way toward the public access. Little do they know that the bite has seriously toughened up and they're in for an extremely stingy day of fishing.
One of my outings, last week, had me fishing solo, a normal occurrence, and in a matter of two hours, over twenty walleyes made their way into the boat. As the sun started to rise above the tree line, the fish had just about shut off entirely.
This lake, by the way, can provide good walleye action all day long, at times, but for right now one better be on the water shortly after darkness begins to wane. The evening bite is happening too but for now, early morning fishing rules.
I've had guide trips during conditions like this and after the walleyes get a little too tight-lipped, we put the light gear away and go after northern pike, which seem to be just waking up. These fish are the deadbeats of the fishing world, as they are late-risers, take advantage of most anything that moves during the day, and then go to bed early. Ahh, what a life.
On one occasion, a guided trip had the fish starting to shut off (I could just feel it happening) and my clients wanted walleyes and walleyes only. No other species would suffice so we packed up and headed to another lake, sixty miles away, where it was walleyes all day long, until some very nice limits were reached.
A man's got to do what a mans go to do, even if it means getting up at 3:30 so you can be on the water in an hour. Try it, it just might make fishing a whole lot easier for you.

Field Report June 12, 2012 Greg Clusiau - The Impulsive Angler
Okay, this is how it all went down. Plumb tuckered out, from a long, hot day of fishing, I couldn't keep my eyes open any longer and went to bed at 8:30 pm. As luck would have it, and I knew this was going to happen, I awoke, feeling fresh as a daisy, at 4:00 am. Hmm, what to do? I had the day off and wanted to fish.
I wanted to go walleye fishing but knew that the local bait shops, located on the way to the lake, would never be open this early. I anticipated a minnow bite but didn't want to wait until they opened at 6:00 am because it was going to be another scorcher. I wanted to get out there, catch some fish, and be back home before it got too uncomfortable.
It was at this point, when I had one of those impulsive ideas that I get from time-to-time. I'd go fishing but instead of real minnows for bait, I'd try using artificial minnows, ala Northland Tackle's new Impulse "Swim'n Grubs".
The new Impulse baits had worked incredibly well for me, during early season crappie and bluegill fishing, so why not walleyes? I had faith in these artificial baits and couldn't see why they wouldn't work equally well on walleyes, along with every other game fish swimming in Minnesota.
My plan was to stick the "Swim'n Grub" on the business end of yet another Northland product, the "Thumper Jig."
This jig gives you the best of both worlds, as it is a jig but also has an attached spinner, which flashes and sends out vibrations, attracting game fish far and wide.
I arrived at the lake, shortly after 5:00 am, and headed to one of the regular, predictable, early season walleye hot spots. Even though it was my first trip of the year to this lake, I felt comfortable in fish being there and thought I had a good chance of catching a few.
Once on the spot, I threaded on a white "Swim'n Grub" to a ¼ oz "firetiger" colored "Thumper Jig" and begin my troll. Yes, troll. Most anglers use these jigs for casting and retrieving, which works pretty darn good, but I wanted to do a little experimenting so trolling it was.
The way I looked at it was I knew fish would be frequenting the weedline early in the morning and they're there for one reason and that's to eat. They're hungry and in the attack mode and by trolling I would be able to cover several hundred yards, instead of only working over a small area by casting and retrieving.
My first troll was into the wind, back-trolling in 12' of water, at 1 ½ mph, and it only took a few minutes before a 17" walleye was fighting it's way to the boat. Happy with my immediate success, I released the fish and continued on, only to be interrupted by another walleye, measuring 20".
My first "backward pass" resulted in three nice fish and when I reached the end of the good weedline, I shifted the motor into forward and tried trolling at a higher speed, which measured 2 ¼ mph.
By back-trolling, my speed was slower, and that allowed me to keep my bait just up off bottom in 12'. When going forward, the increased speed had my jig riding higher in the water so I was able to check out the 9-10' depths, which held hungry walleyes, as well.
I was using 8 pound test monofilament line, which worked out well. Using a lighter monofilament line, fluorocarbon, or thin braided line would allow the jig to sink too much. If you try this and you're having trouble snagging up with weeds, go to a heavier monofilament line. The line switch should keep you up and out of the weeds.
When you think about it, this presentation isn't much different than a small crankbait, in size anyway. It does, however, allow you to go a lot slower than most crankbait trolling applications.
It's a great way to catch some active fish, as long as they're there. Yes, my active bite was short-lived, as the fish disappeared when the sun started to pop out but that's okay, it was getting to warm for my liking anyway. I was happy with my results, which was several very nice walleyes and one stray northern pike. Get out there and give it a whirl.

Field Report June 4, 2012 Greg Clusiau - Weekend Wrap Up. I made a solo trip to Birch Lake, near Babbitt, last Saturday and even though gas prices are high (145 miles roundtrip) and I struggled to catch fish, this time, it was considered to be yet another good trip. I ended up keeping three nice walleyes and one crappie. A few smaller walleyes were caught and released.
I don't know what it is about Birch Lake but ever since I fished it for the first time, about 35 years ago, I've been hooked on this lake and wished I lived a lot closer.
Maybe it's the crappies, which run a very nice size, or perhaps is the chunky, black and gold walleyes that cruise this stretched out, rock infested fishery. It can be scary, at times, as you'll be in 15' one second and 2' the next. It takes a bit of learning and as many a trip as I've made there, I've still got a long way to go.
I only "hit" one time, when flirting with rock piles, near the dam. I saw it coming and tilted the motor up but not enough. I was going slow at the time so no damage was done, even though it sounded terrible.
Another attraction, to me, is the rootbeer colored water. This phenomena allows an angler the luxury of catching walleyes all day long, even though the lowlight periods of early morning and evening might be preferred by some.
For the record, my walleyes were caught anywhere from 10-20' of water, depending on the structure. Also, the 13th Annual "Walleye Whamma" fishing contest will take place this Saturday, June 9, 2012. The biggest walleye is worth a cool $1200, with 10th, 20th, 30th, and 40th place each worth $1000. There are plenty of other cash/gift prizes being given away, as well.
The contest gets underway at 11:00 a.m. and runs until 4:00 p.m. Good luck to you! Not sure if I'll be there or not.
Sunday morning had me thinking of bass, as it was dead-calm and sunny, which is highly conducive to sight-fishing. How fun it is to slowly move about with the bow-mount trolling motor, standing up, looking for bass bedding areas.
I had the perfect lake picked out. One that I had stumbled across last year, while actually going for walleyes. I couldn't keep the bass, smallmouth and largemouth, off my line and most all were of very nice size. It was a sleeper, in my book.
Anxious to get "up there", I noticed a lot of wildlife moving about. Then I saw what I honestly think was a mountain lion crossing the road up ahead of me. Slouched low to the ground but long in length, the tan-colored animal made it's way in a fast walk manner and was gone.
I've only seen one other before and that was several years ago in the Buck Lake area. I even saw the long tail and haunches of the Buck Lake cat but this one was too far to away to really get a good description but never-the-less, it looked like a big cat to me. It wasn't a wolf. I can tell you that much.
Once at the lake, it was as I had hoped it would be. No one was there. I was giddy.\
I even spooked a couple smaller bass, as I was unloading the boat. Is that a good sign or what?
However, as I slowly made my way along the bassy looking shoreline, I was disappointed to find all bass beds being guarded by super-small males or rock bass that had taken up occupancy. I had missed the big females fish! As Homer Simpson would say, "DOH!"
That really surprised me but I'll be back and I'll do it up right with my mid-summer technique. I'll keep you posted. Until then, let's go walleye fishing. It's happening big time all across the Northland. Most all the local lakes in my area are kicking out fish, as well as the larger, more famed fisheries. Good luck, be safe, and have fun! - Greg Clusiau

Field Report May 28, 2012 Greg Clusiau - Going With The Flow.
It was a last minute decision, to go in pursuit of opening day bass, which happened last Saturday. Digging through a mountain of tackle boxes, I came across what I thought to be the basics of opening day bassin' and tossed them into the boat.
This would be the first trip of the year for my Lund, which had been patiently waiting in the garage. Up until now, I had been fishing open water for over a month and didn't need the bigger rig. It had all been from shore, wade fishing, or puddle jumping with my little 14'er.
The boxes included a generous supply of smaller plasics, jig hooks, and spinner baits. That's usually all I ever needed to catch a bunch of bass during the early going. This season, however, I was in for a little surprise.
I had already caught plenty of bass, by accident, while crappie fishing this spring and the water was warming up just fine. However, the lake I had in mind, was quite larger and deeper and I don't think the cool weather helped matters either.
It was cool enough that, while waiting for Blake to drive down to my house, I ran back inside and put on heavier socks and quickly slipped on a pair of sweat pants over my jeans. That turned out to be a good call. Unlike my opening day bass lake selection.
We got to the landing shortly after first light and it wasn't cool. It was downright cold. Now I wished I had brought along some gloves, as well.
The plan was to give this lake a short try for walleyes, which I had never done before. It's a clear lake and has nice walleyes but they're famous for biting during the low-light periods.
After a half-hour of nothing, I couldn't take it anymore and asked Blake if he wanted to give the bass a go. He was all for it, as we weren't graphing anything and hadn't had a bite yet. Actually, I wasn't even sure if we were in the right spot for walleyes but I did know where the smallmouth bass hung out, as I had caught them many times on this water. Especially in the spring.
I was in for quite a surprise, when we found the shallow spawning grounds totally void of life. Barren. There wasn't a fish to be seen.
Checking over other areas produced the same results and me, with no patience whatsoever, convinced Blake to go to another lake. I think we could've found the fish, hanging off the first drop, close to the spawning area but that would take a lot of searching and I didn't want to work at it all day long. I wanted action now. There's that patience thing again. J
The next lake was a little walleye lake and an excellent producer if you "hit it right." Well, we didn't. After a couple more hours of nothing but small northern pike, it was time, once again, to make the move.
We were both tired, feeling the effects of getting up at 4:00 am, and thought it through, agreeing it would have to be a lake that's on the way home, as it would be our last of the day. This time, it was a good call. What do they say? "Three strikes and you're out?" Well, we may have had two strikes on us but hit a homerun with our third and final lake selection.
As a matter of fact, rigged with a FireBall jig and shiner, Blake reeled in a nice 20" walleye one minute into the trip. I'm not sure I was even in the water then.
I followed it up with a 23". Again, it was a jig and shiner. When things slowed down, too much to our liking, we used our bottom bouncing rods and pulled "Baitfish Image" crawler harnesses, allowing us to catch a bunch more.
It turned out to be a good day and we never even caught a bass. We were, however, totally prepared, in that we had brought along all of the walleye gear, which really saved the day.
I'll give the bass a try, sometime here in the near future, but with weather being as cool as it has been lately, why not keep on fishing walleyes. They've already spawned.

Field Report May 22, 2012 Greg Clusiau - City Auto Glass Walleye Classic, Lake Vermillion.
The team of Casey Sunsdahl and David Schaeffer took home top honors Saturday on Lake Vermilion, winning $10,000 at the 7th annual City Auto Glass Walleye Classic, presented by American Family Insurance.
Sundsdahl, of Soudan, and Schaeffer, from Tower, finished with a total catch of 14.56 pounds with their 6-fish limit, including a 7.62 pound fish, which was the largest caught during the tournament. The pair also took home big fish money.
Finishing in 2nd place were Steve Amundson from Cook and Brandon Mihm from Buyck with a catch of 10.63 pounds. 3rd place went to Tom Schlotec of Tower and Len Petroskey of Mt. Iron, who finished with 9.72 pounds. Coming in 4th were Tony Oehrlein from Pine City and Brian Zak from Tower, while Buck Lescarbeau of Chisholm and Todd Lescarbeau from Bloomington rounded out the Top 5.
A record 90 boats fished this year's event, which also featured UMD Bulldogs men's hockey coach Scott Sandelin, and Nebraska-Omaha head coach Dean Blais.
All proceeds from this non-profit event go towards scholarships that benefit area kids. Volunteer help was provided by the Kiwanis Club.
City Auto Glass is the largest independently-owned auto glass company in Minnesota, serving customers with mobile glass service throughout the state.
Next year's tournament will be held in mid-May on Lake Vermilion.
For more information, go to www.cityautoglass.com/walleyeclassic or contact tournament chair Red Lowen at 218-966-3866.


Based out of Fortune Bay Casino, I teamed up and fished this event with Travis Sorokie of Sauk Rapids. Travis went a couple days early and did the pre-fishing on his own last Thursday, rocking and rolling in gusting winds, looking for active fish, which he did find.
I joined him, early last Friday, and was treated to much better weather. Although a little breezy from time-to-time, it was good weather for catching fish. Running and gunning, we checked out a number of spots, finding fish in several of them.
We added a few more little hotspots to the list and at day's end had easily narrowed it down to where we should start fishing on Saturday morning. We both agreed it would be a deep-water mud bite that had a lot of active fish on it. Sure, it was a community hole and no secret spot by any means but at least we could almost count on putting some fish in the livewell. And that's just what we did.
The only problem we were having was trying to keep our fish alive. No dead fish could be weighed in and we started to get a little nervous when two of our larger fish had died.
All of a sudden, in stead of having a full limit of six fish to weigh in, we now had five. We were allowed our limit of eight fish in the boat but only six could be weighed in. We had seven in the boat when we lost the two.
Normally, it wouldn't be such a big deal but catching fish had become difficult. No fish were being caught and other boats were leaving. Battling high winds, we decided to bunch it and go in two hours early. It didn't matter if we only had five fish. If we kept on fishing, we might not have had anything at all to weigh.
We finished "somewhere" in the middle of the pack, with our total weight of 4.55 pounds. Earlier in the day, Travis had caught an 18" fish that we must have measured a dozen times or more to see if it would "fit." All fish had to be under 18" or over 26".
Our fish were caught in 30-40' of water and on a variety of presentations, which includes a FireBall jig/minnow, jig/crawler, Roach Rig/minnow, rig/leech, and a rig/crawler.
All in all, it was yet another great, well run event and I'm planning on being there again next year. Join me.

Field Report May 15, 2012 Greg Clusiau - Fishing Blues Brothers!
Well, I'll tell you this much. I've had some slow fishing openers but this one had to go in the books as the worst, as far as catching walleyes. However, as far as having fun, it would rank right up there with some of the best. It was basically three brothers, three lakes, no walleyes, a few small northern pike, a lot of miles, and a lot more fun.
Three of the oldest Clusiau brothers, in my family, according to age (me, Bruce, and Joel), teamed up on a Friday evening and made plans to fish the general opener together. I just love these last-minute decisions but that's how I roll and I'm sure it won't be the last time.
My 1650 Lund wasn't even ready to go anywhere, as I didn't really plan on using it. My original plan was to use my 14 footer and go to some small lake, just like the days of old. I kind of like that.
Bruce had only recently sold his 17' Lund, to my son, so he didn't have a large boat to use either. He did have, like me, a little 14' aluminum that worked just fine for him, up in the back country of Little Bear Lake, where he lives.
Joel, on the other hand, had a 16' Lund but it wasn't ready to go either. However, with a little hustle, he managed to prepare it for the next mornings opener. This included airing up the tires, pumping some grease in the trailer bearings, charging the battery, and putting new registration stickers on it.
Our plan, was to stick somewhat close to home, so Big Bear Lake was our lake of choice. Now Big Bear isn't a little, forgotten gem of a walleye lake but we grew up on that water, having two different cabins on the lake and we could usually scratch out enough fish to make it interesting.
The weatherman was dead on, as it was in the mid-30ºs, when we headed north. Meeting Bruce at the public access, we took our time in getting things ready. It was cool and we had all day to fish.
Each rigged with something different, we hit our favorite spots and after four hours of steady fishing, only had a couple small northern pike to show for our efforts. This wasn't the Big Bear Lake that we were accustomed to, although I often describe the fishery as being a "fickle hellcat." We agreed it was time to pack it in and head to another lake.
This time, we would be traveling east, a good deal, to Elbow Lake and I should have known better but am so easily lead astray.
I was the only one to have ever fished it before and it was so long ago that I couldn't remember a thing about it, other than I struggled there, too, on opening day one time, about 35 years ago. I hadn't been back since.
Finding the lake, it dawned on us that we had no clue where to go. The lake is fairly large and we never had a map of any sort with us, gps or paper. So needless-to-say, we did worse there than we did on Big Bear. Although there was quite a bit of traffic on the lake, we only saw one fish caught and that was a northern pike in the four pound range. Two hours here and we were ready, once again, to move on.
This time, we headed even a little further down the road, ending up at the Echo Lake public access. A lot of people must have had the same idea because the parking area was over-flowing. Maybe this was a good thing!
That thought was quickly tossed aside after a short visit with an angler, who was going home with his young son. When asked how the fishing was, he said "one walleye and one crappie. It's real windy." That made me think a little. He was in an 18' Lund and was having trouble. Not good.
He was right. It was miserable out there and most all boats were fishing the leeward side. It didn't matter if it was a good spot or not, as long as it was calm.
Here too, small northerns were the only fish that would bite, for us anyway. We fought it for a few hours and finally tossed in the towel. We had enough. Mother Nature would win on this opener. That's okay. It was still a good time. It didn't matter that we traveled 200 miles for the day. It was a good time. Isn't that what it's all about?

Field Report May 7, 2012 Greg Clusiau - Happy Opener! - Well it's finally here. What are your plans? As I write this report on a Sunday night, I have absolutely no clue where I'll be fishing this coming Saturday morning. Heck, I may not even be out in the morning, if the weather isn't to my liking. I've done that before and more than once.
I remember, not all too many years ago, sitting in my living room on opening day. I was enjoying a steaming hot cup of coffee, while looking out the window, watching the falling snow. Yes, snow. It was enough to make me stay home for the morning bite. I can't recall if I even went at all on that day. I play it a bit more wiser now. Not like in my earlier years.
One of those early openers found my family and I fishing in a snowstorm on Crooked Lake. The bite was horrendous and after an hours fishing we bunched it and went back to the car to warm up. After sitting for a good while, we gathered our courage together for another run at it.
Heading back toward the walleye grounds, I noticed some suspended fish on my flasher. Yes, flasher. It was that long ago. Digital graphs weren't even around back then.
Casting out with a small jig and minnow, I did the "countdown" thing, letting the jig drop about 10 seconds, which was supposed to get me in the range of 10' below the surface or 1' per second. Almost immediately, and I admit it surprised me, a nice crappie had grabbed my bait. Needless-to-say, the rest is history.
We went on to have one memorable opener. Meanwhile, a bevy of boats circled us, desperately trying to get a bite but all in vain. If you didn't have your bait correctly positioned in the water column, you were going home empty-handed.
But this year? I just don't know. I thought about doing the small boat thing again, like I did last year, with my little 14'er. It would be back in some smaller, hard-to-get-into lake for panfish and pike.
My 1650 Lund has been sitting in the garage for a month now and I've done nothing to it. Actually, it wouldn't take me all that long to get it ready. The biggest thing would be to install my new big-screen Humminbird side-imaging graph, which has been sitting in my bedroom all winter long. I'm excited to use it. So it's not like I'm without a boat. It's just that I don't know where to go. J
I have offers too. One of them is to join a friend of mine, at his cabin, back in the bush of Itasca County, for whatever bites. That's always fun and I might be up for that. The evening fish fry might be the tipping point.
Another buddy has invited me to cross the border and fish some of the waters of Ontario. That's always a fun game too but it would have to be mainly lake trout because their walleye opener gets underway a week after ours. We could go in search of slab crappies but the key word here is "search." I don't like to travel that far and then go looking for fish, if you know what I mean. I'd rather he had them "wired."
So, what's it going to be? I just don't know at this point. I do know that it will be "something."
How about you? Keep in mind that you have many, many options and I've done them all.
One, obviously, is to go walleye fishing like most anglers. Another fun trip, especially early in the season, which it is, is to go trout fishing in either our natural lakes or mine pits. The trout are "riding high" at this time of the season and fishing can be pretty darn good. I've opened a couple times, fishing for rainbows and browns, and one particular trip has two of us boating over two dozen fish, which isn't too bad at all.
Don't forget about the panfish. Crappies and bluegills are frequenting the shallows right now and are willing to bite. This is always a great option, especially when there's kids involved. My son caught the biggest crappie of the day, 13", on opening day, many years ago. He also caught the largest walleye, a three pounder, which was one of the few but the crappies were on the bite and it was "lights out" if you were fishing the reeds with minnows and bobbers.
My recent bluegill fishing has taken place right in the reeds, in about 2' of water. Use a plain hook or small jig, tipped with a worm, and set the bobber at 16" and your in business.
Then again, there's always northern pike. These things have saved many a fishing trip and are usually willing to bite on the opener. Try soaking sucker minnows or, what I like to do, tie on a spoon and go trolling next to the weeds. What fun when they slam that bait! - Good luck out there, be careful, and have a great opener!

Field Report April 30, 2012 Greg Clusiau - April "May Fly" I finally got into them. It was a last minute thought from Blake, last Friday, when he messaged me from work, asking "fishing tonight?" That's all it took. I'm easy, especially when it comes to fishing.
Although both of us work different jobs, we do have the same 6-2 day shift and only live two blocks from one another. This makes those last-minute decisions happen a lot easier so it was no surprise when I got home and found Blake pulling up next to the house, only minutes behind me.
We headed to one of my early-spring "go to" spots, hoping the water had warmed up enough to get fish moving in shallow. I had been there a few days prior and it just wasn't happening. Maybe it was finally ready.
I keep a close eye on the water temperatures of a handful of local lakes. Doing this allows me the luxury of not missing out on one of the better early-spring crappie bites that takes place each and every year.
No boat, just waders. This is my early season approach. Hop in the truck and drive, not worrying about how the trailer is doing because there is none. This makes getting around a little easier, especially when some of those lakes are back in the bush.
Before fishing, a quick water temperature check was made and when it showed 54º, I was thrilled, as according to my past records, the fish should be biting in this spot. The only thing that could ruin it was a strong wind and we had that but it was coming from behind us, over our heads. We were good to go.
Blake and I are both on Northland Tackle's pro staff so it was our plan to start fishing with one of their newer products, the Impulse "May Fly."
Blake stuck a black one on the end of a white "Bro Bug Head" jig. The jig sports bulging bug eyes, a small bug-shaped profile, and a fine wire hook, which is perfect for threading on mini soft plastics, like the "May Fly". The smallish combination of both the hook and plastic makes it easier to fool early-season panfish.
The Impulse "May Fly" is designed with a miniature "true-to-life" mayfly body and features ultra-sensitive legs and an undulating "tri-tail" that quivers and pulsates at the slightest movement. Described as 1" long, it actually looks smaller than that because of the wispy, little tentacles. This is one of those baits that when I first laid eyes on it thought "oh yeah, this is going to work good."
Let's face it, when it's early in the year, there isn't a lot of larger prey available for crappies. That's why they start up shallow, where bugs are hatching and minnows are micro-small. They're in the hunt and pretty much conditioned for small baits. Now, as summer gets underway and the water's a lot warmer, well that's a different matter.
I went with the black "May Fly", as Blake did, but a used a black jig-head. It's a good idea to compare presentations with your partner, especially when you're first starting out. You like to give the fish a little selection to see what works the best and in this case, it was the "black-on-black" combination that I was fortunate enough to try.
Casting near the old feeder-bed of an abandoned beaver lodge, my bobber didn't have to sit very long before it slowly popped up, signaling a bite. Reeling in, keeping the rod high to avoid the "beaver brush", I maneuvered a nice crappie to my feet. The rest was easy.
Almost every cast had the desired result, as long as you were extremely close to the brush. Cast too far out, away from the entanglements, and nothing. Keep it close, flirt with danger, and success was had.
We went home with a nice limit of crappies. It's happening NOW. Get out there and give it a whirl. Good luck, have fun, and be safe.

Field Report April 23, 2012 Greg Clusiau - Waiting for Opening Day!
Are you ready for this year's open water fishing season? I'm not but that's not unusual for me. I kind of like to drag my feet, knowing that I can always get the boat ready to sail in a matter of a few hours.
However, there are a few issues that need to be taken care of before heading out on the water and I'd like to give you these gentle reminders. In writing this, I'm reminding myself, as well.
*Fishing license - If you don't have one yet, like me, you will need one beginning May 1st. There are several options but the basic "short list" of residential license costs goes something like this:
Military - $0, Individual - $17, Combination (husband & wife) - $25, Conservation (½ limit) Individual - $11, and Conservation Combination - $17. Also, you will need a $10 trout stamp to fish trout.
*Aquatic Invasive Species Sticker - (The following info is from the Minnesota DNR web site (Released April 5, 2012).
A new required decal is now available for Minnesota boaters to help remind them of the state's aquatic invasive species laws, the Minnesota Department of Natural Resources (DNR) announced today.
The free decals are available at: DNR offices. Deputy registrar offices where licenses are sold. Large sporting goods shops. DNR watercraft inspectors and conservation officers.
The decals will also be included in envelopes with new and renewal watercraft licenses mailed from the DNR.
The decal should be attached to all types of watercraft including canoes, kayaks and duckboats before launching on, entering into, or operating on any Minnesota waters.
The two-piece, gray-and-black decals detail new state laws that watercraft users must follow in order to avoid spreading aquatic invasive species such as zebra mussels, Eurasian watermilfoil and spiny waterfleas.
The decal must be attached to the watercraft, but state law does not specify where that must occur. DNR officials recommend displaying it where it can be read and can be shown to an officer upon request. However, the decal does not need to be in view of the operator (as is the case with the state's personal watercraft decal), and it does not need to be placed near the watercraft registration decals.
If a watercraft owner does not want to stick the decal on the boat because it is an antique wooden boat or other unique boat, the decal can be attached or laminated to an object like a luggage tag and kept in the boat.
There are two parts to the decal. Watercraft owners and operators must display the top portion of the decal on all watercraft prior to launching on, entering into, or operating on any waters of Minnesota.
The second portion of the decal is intended to be placed on the winch post of watercraft trailers or in another area to remind boaters to remove the boat's drain plug when leaving a water access area as required by state law. It also reminds boaters to replace the plug before launching. This decal is not required by law.
There is no penalty in effect, but conservation officers can issue a warning for not displaying the decal. After Aug. 1, 2014, it will be a petty misdemeanor for boaters who fail to display the decal on their watercraft.
* Speaking of drain plugs, I'll be looking at installing an automatic unit that can stay in place at all times. There's a few of them out there. I'll keep you posted as to which one I buy and why.
Spring's coming (I think). Get ready to have a safe and fun summer!

Field Report April 16, 2012 Greg Clusiau - Refusing to Warm? I'm finding it fascinating that the weather has been playing tricks on us. I think all of us were expecting to coast right on into an early spring but that has changed big time. Mother Nature has put on the brakes, with cool-to-cold weather, and we are getting as close to a normal spring as possible. Meanwhile, I'm standing pat, waiting for the waters to warm, so I can begin my annual ritual of spring shore fishing for panfish.
Oh we were so close a couple of weeks ago, when the water teased me with 51.8º but then the bottom fell out and warm temps headed south.
Last weekend was spent checking lakes and streams and most water temps were found to be in the 48º range and if the forecast is correct (isn't it always? J ) it's not going to get much better throughout the week. But, as I said, I'm waiting out the storm and find this goofy weather quite entertaining.
Granted the extra time to explore, I've found some new waters that are only a little over 30 minutes from my house. How is this even possible? Well, what happens is we are so blessed with such an abundance of waters that most of us, me included, stick to our old honey-holes and pretty much don't even give these other lakes a second thought. You know the old adage "out of sight, out of mind."
We've seen them on maps before but when Itasca County offers over 1,000 lakes (and I've fished about 300 of them), it doesn't give a person enough time to explore them all, especially when one works fulltime and basically fishes on weekends, sticking to personal favorites.
Lately, I've been driving on roads that I have never been on before and have found some pretty interesting lakes. Are they any good? I'm not sure but we will find out.
One of my weekend trips was back up to the Littlefork River. I didn't plan on going back there again this spring but my buddy's 5 year old son has been saying, for two weeks, "I want to catch a sucker."
This little guy already has several nice walleyes to his credit but has never caught a sucker and it was really bugging him. Hence the trip up north. I went along, mainly as a tour guide, as they had never been up there before.
All went as planned and even though we encountered a slow bite, we got the "job" done. It was fun and a short video can be viewed on my fishing blog at "Life & Times in the Great Outdoors." This site documents all of my travels and water temperature checkings.
Fishing was cut short on the Littlefork trip so I could attend the reception and appreciation event for Northland Tackle's John and Duane Peterson, who are recent inductees to the Freshwater Fishing Hall of Fame as "Legendary Anglers" and legendary they are.
Held at the Sanford Center in Bemidji, about 250 people (invitation only) showed up to congratulate them. It was quite a night.
Words from John Peterson, "I have been truly blessed to pursue one of my passions in life…making a livin' fishin'. My advice to today's anglers is to make fishing an integral part of your families heritage. Fishing is not only about catching fish, but it is a vehicle to have fun and share quality time with family and friends in the great outdoors. I give thanks to the contributions that fishing has provided me and I encourage everyone to do your part in helping us continue to "hook" kids and the next generation on fishing. And finally, fishing has taught me to be grateful, yet humble, because…you're only as good as your last catch!"
Duane added "I have received far more from fishing than I have contributed. My life-time affair with fishing has enhanced the quality of my life many times over. My love affair with water, fish, nature, and the people who fish have been influential in a healthy and happy lifestyle. For that I am thankful. I have shared a lifetime of fishing with Family and Friends, from which our relationships have grown stronger. For that I am forever grateful." - Congratulations boys, you deserve it. I'm proud f you both.

Field Report April 9, 2012 Greg Clusiau - Getting Back to Normal? Ol' Ma Nature certainly keeps on teasing us, with hopes of an early spring, but it isn't quite happening. Sure, we had a great winter and an exceptional early ice out, for most all waters, but the recent cool air temperatures have put lake warming on hold and if it keeps up, we'll be right back on track for a somewhat normal spring.
Doggedly, I keep on checking the water temps on various small lakes and streams in the area, waiting for "it" to happen. However, the water was warmer two weeks ago then it is now and by the looks of the forecast, I better not hold my breath in waiting for better conditions.
There are crappies being caught but the majority are coming by way of a boat and in deeper water, like 16' or so. These fish are hanging out within close proximity to their favored spring shallow-water haunts but it's too cold for them to make the move. They're just in a holding pattern for the time being, much like I am.
I prefer to wait until they make the migration in shallow and then go from there, following their movement out to deeper water. That's when I use a boat. Until then, I will be waiting for the shore-fishing bite to take place, then wading, and then the boat, when I can no longer reach them from the shorelines.
Actually, I removed my boat from storage a few weeks ago and haven't done a thing to it. There was no need to get antsy, in making it "water ready", and it sits just as it did when I pulled it home. I'm more concerned with getting all of my wading equipment lined up and ready to use.
In checking my shore spots, a "milk run" of sorts has been established but there are too many to check in just one day so half of them are looked over on a Saturday, for example, and the others on Sunday.
I know, it's crazy, running all over the country, looking for a good sucker bite but that's what I've done lately and so far I've covered streams from Crooked Lake's "twin bridges", all the way to the Littlefork River. As of last Sunday, some fish are being caught at "the bridges" but fishing room is always at a premium and if you go early to beat the crowd, the water's too cold. Wait until it warms up, like in the afternoon, and you'll have plenty of company.
The Littlefork River was too cold, measuring 47º, but the water level was down, making it much easier to fish. What a difference a year makes. Last spring, when I went to check it out at this time, I found it roiling with high, muddy water and getting to close to it was putting yourself in a very dangerous situation.
Upon checking out a new shore panfish spot, I was standing in a foot of water, in a densely vegetated area, making long casts to open water, with hopes that it would be warm enough to hold hungry fish. It was at this point, that I felt something was looking at me. You know the feeling.
Glancing down, I studied the weeds and found something that didn't quite look right. Further investigation revealed that it was the head of a snapping turtle that was basically just too cold to move. The water needed to warm up for the turtles too. I quickly reeled in and ran back to the truck to get the camera and had a mini photo session with the prehistoric-looking creature.
I should mention some of my early spring "scouting tools." One, and probably the most important, is a small, electric thermometer. It has a light cable, about 10' long, with a temperature sensor on the end of it. I've added a clip-on weight, the kind used for ice fishing, to the business end, to aid in tossing it into the water. Keep checking water temps and over the years you'll have established some very dependable information.
Others are maps, like "Sportsman's Connections" all-outdoors atlas, covering northeastern Minnesota, my main stomping grounds. Another is the latest edition of Itasca County's "Land Atlas & Plat Book." Throw in "Sportsman's Connections" fishing map guide books of Itasca and St. Louis County and your in business.
I've used these maps, in conjunction with one another, to locate some very good fishing holes. Many of them are unknown to the general public but with a little detective work, you can find some of your own. Throw in a handheld gps unit and you're ready to explore.
With no snow on the ground and no leaves on the trees, now is the perfect time to find those little, off the beaten track honey holes. Get out there and find one, or two.

Field Report April 3, 2012 Greg Clusiau - This and That Finders Seekers…Someone clearing brush, for Blandin Paper Co., in the Kennedy Lake area, north of Nashwauk, looked down and found a little, gold-colored Olympus camera. Wondering if it was still in working order, he took it home and placed it in a Zip-Loc bag filled with rice, which is supposed to remove any moisture.
After a day of the "bag treatment" and hardly any visible moisture at all, he installed new batteries and found the camera, which was full of pictures, to be in perfect condition.
Wishing to return it to the proper owner, each photo was studied for the smallest clue and when he notice the registration numbers on the side of a boat, he did a little research and came up with a name. It just so happened to belong to a good friend of mine, who lost it last fall while grouse hunting.
My buddy now has his camera back, along with several photos of his late black lab, Annie. He went on to tell me that he bought that particular camera because he is hard on equipment and always on or near the water. He wanted his new camera to be as waterproof as possible and the little Olympus certainly was that. Something to keep in mind.
Spooky Waterfowl…It's transition time again, meaning there's no ice to fish on and it's still a little early for good panfish action. Therefore, I am in the driving-taking-pictures mode, which has me all over the North Country. It's fun and actually a good break from fishing.
My first "camera trip" was last Saturday and even though it was overcast and windy, I still figured on getting a few good photos. Boy was I wrong.
Every time I spotted ducks or geese that were close enough to allow me a good photo, I would park down the road a ways and quietly walk back, only to find that they had settled about 100 yards or more out on the water. They looked nervous and as soon as I reached the shoreline, off they went.
I've never experienced anything like this before and have actually snuck up closer to waterfowl during the hunting season, when one would think they'd be a lot more skittish. They sure were jumpy. Odd.
Beaver Fever…After Saturday's disappointing display of sneaking talent, I decided to join my son-in-law and grandson in their beaver trapping endeavors. Here too, I came across spooky birds but did manage to get some good photos of a woodcock, which allowed me to walk right up to it, and a few more of some dead beavers. I'm pretty good at getting close to those things. J Stealth.
Strapping on the chest waders, I joined them for a morning's hike, all over the Big Winnie area. They pulled and re-set quite a few traps and ended up with three more beaver, which gives them seventeen for the season, so far. It's all fun. I just love the outdoors but a guy can only do so much and after that little excursion, I was plumb tuckered out for the sixty mile drive home.
Also, driving past Winnie and seeing all of that open water makes me wonder how we ever ended up successfully ice fishing a week prior. You talk about pushing the envelope. My Goodness.
Suckage…My next "challenge" will be to find some running suckers to play with. That's always fun too and almost an annual event, which finds me fishing from the Littlefork River to the "Twin Bridges" of Crooked Lake. Sometimes I may hit the St. Louis River as well. I usually just catch and release these fish, unless somebody is looking to use their smoker. As I said, "it's all fun."
As for other bites, travel north to the Rainy River for sturgeon and walleye action or south to smaller lakes that have warmed up the panfish. It's all happening, get out there and enjoy it. Oh yeah, Happy Easter everyone.

Fishing Report March 27, 2012 Greg Clusiau - Where There's a Wilcraft, There's a Way
I was deep into the planning stages of spring, open water fishing, when the call came in. It was Don Lincoln of Wilcraft, saying "we're going to be in the Deer River area this weekend and we have room for one more", meaning me.
The Wilcraft is an amphibious vehicle that can be used year 'round but really shines during first and late ice, when a danger factor is involved, when fishing without one.
I've seen them at various sport shows, over the years, and have even ridden in a parade in one but this would be my first ever legit ice fishing trip in one and even though all of my ice fishing equipment had been put away for the summer season, it didn't take me very long to dig it back out. Who would've thought?
We met at High Banks Resort on Big Winnie, where we teamed up with lodge owner Rick Leonhardt and local ice guide Dave Doree, aka "Jigglestick." From here, we went to access the big lake at nearby Tamarac Point but didn't like the conditions. A Wilcraft could have made it out but we would have a long distance of tough going before reaching stable ice.
Checking out the Plug Hat Point access, we found much better conditions and that even counted 100' of open water that had to be crossed before attempting to get onto the ice pack. It looked a daunting task but Lincoln and the boys are used to such endeavors and three Wilcrafts were on hand to take part.
Doree and one of the Wilcraft crew went first to "break trail", something they've learned from experience. It's usually in everyone's best interest if someone goes first and crunches through all of the inferior ice, in trying to get on top of somewhat solid ice. This is when the electric trolling motors, mounted to the stern, are used to help propel the unit upward and on top of the ice.
The Wilcraft is basically a 10' "jon boat" with four wheels and a 302cc Briggs & Stratton motor on the back end, which powers the odd-looking creature. It features a light "footprint", weighing in at only 620 pounds and has a 600 pound carrying capacity. Of the three Wilcrafts on hand, there were two people to a machine, except for the one I was in. Owner Don Lincoln piloted this one, while Michael Thompson and I, both of smaller stature, rode along.
Once Doree had a spot "chiseled" out for us, we went next and then the last one, piloted by another of the Wilcraft gang, with Doree's young son, who goes by the name "Scroungie."
Finally on the ice, we headed into a dense fog, about two miles across the lonely, rotting, fast-melting ice floe.
Once in the general planned location, we shut off the engines and gave a holler. The faint voice of Rick Leonhardt answered back and into that direction we went, finding him about 300 yards away. The fog was that thick.
Leonhardt had taken his air-boat, from the resort, out to a spot that was producing good numbers of jumbo perch and by the time we had reached him, he and a guest had their limit of fatties.
Quickly, holes were drilled and we began to set up for a day's fishing. I was surprised that it was only 6' deep and found that I didn't really need my Humminbird flasher, as I could readily see big perch swimming below me. We were fishing on top of a weedy hump and it was carpeted with jumbo perch, all of which were on the bite.
It was good fishing and even though minnows were brought along, I found it just as easy to use a small jig tipped with plastic, like Northland's Impulse "Mini Smelt."
A couple hours into the trip, Michael Thompson, who was looking down the hole, filming with an underwater camera, noticed that the "ground was moving", which actually meant that the ice floe, upon which we were fishing, was slowly moving toward the Winnie Dam, several miles away. We were safe, for the time being, but it was, indeed, an eerie sight. The mighty Mississippi River was taking us for a ride.
Rick had afternoon plans and had to leave early. I had plans to, which were probably fortified by the floating ice pack, so I jumped in with him and the Doree boys and got a ride back to the resort in the air-boat. That was another reason to go. I just had to test that thing out and man was it ever a cool ride. I believe he has one of the few in the state of Minnesota. Meanwhile, the Wilcraft gang, stayed fishing, until they reached a limit of jumbos, which didn't take all that long.
Who would have ever thought I'd be ice fishing again this season, especially after everything had been put into storage? That's one thing about the Wilcraft, it has the uncanny ability to extend the ice fishing season, as well as get an early start. I'm begging Don to come back up, during our next early ice season. For more information on the amphibious Wilcraft, go to www.thewilcraft.com.

Fishing Report March 21, 2012 Greg Clusiau, Lake Winnipeg Trip; "Another great trip to Lake Winnipeg is "in the books" and here's how it all went down".
Gathering at my place, we sat around until we couldn't take it anymore and headed out around 8:30 pm on a Friday night. Our plan was to leave a little early and take our time in getting there. There would be no rush.
By doing this, we found ourselves sitting at the Starfish Bait Shop in Lockport, Manitoba around 3:30 am. They didn't open until 6 am so we tried to catch a few winks. There were a few other places where we could have possibly purchased licenses and bait but this was a sure thing and we didn't want to take a chance on any of the others not being open or out of licenses.
We each bought a license, except for Craig Hanson, who had been up there prior and already had one, a few live minnows, and a half-dozen tubs of "salties", salted and frozen shiners.
I really wonder why we keep on buying these things, as almost all of our fish are taken on vertically jigged crankbaits, like "Rippin' Shads" and "Live Targets." Being packed the way they are, they become soft when thawed out and easily fall off of your hook if it's jigged a little too hard. They're hard on the fingers, as well, when a little of that salt gets into a cut. Yikes!
Our destination on this trip was the little community of Gimli, which measured some 380 miles from Keewatin. Thank God Blake did all of the driving. We traveled in pairs, with each truck pulling two snowmobiles. We like to explore so each year we find ourselves in a different area, even if it's not to far off from the so-called community holes. We're getting to know this area pretty good.
Arriving around first light, we set out to parts unknown and did a fair amount of traveling before we found an area that held a decent number of fish. The next day, we made things easier by trailering our snowmobiles to Chalet Beach. There's always plenty of traffic in this area but the anglers are there for a reason. There's plenty of fish, as well.
Fishing was decent. We all chipped in with quite a few fish but it was Blake Liend and Tim Ranta who stole the show. I'm sure they caught 45-50 walleyes each, over the three day's of fishing. In total, the six of us must have ended up with close to 200 fish.
The average size ran around 21" or so and a fish of that length, up there, can sometimes weigh 4 pounds or more. It's just unreal. Once again, we didn't have anyone end up with one of those huge fish that lured us to these waters in the first place, although I may have had my chance.
On one of my bites, I reared back to set the hook and had the rod fold almost in half. At this point, I had never moved the fish a fraction of an inch, like all the others that I caught. In a split-second, the hook came loose and there I was, wondering to myself. What was it? A northern pike? A huge walleye? Had I blown my chance?
We'll never know but that's what keeps us going back. As a matter-of-fact, we're setting our sights on a summer trip. That should be interesting.
Although I didn't catch as many fish as Tim and Blake, I did, however, manage to catch the biggest fish on each of the three days. Not bragging here, I just want to tell you of the porky proportions of these walleyes.
Saturday's big fish was only a 24" and while a 24" fish isn't really anything to crow about, when they hit the 7 pound mark, they can be. What a beautiful, heavy fish it was and on Sunday I was able to find it's carbon copy. On Monday, I did a little better, catching a 26" that weighed 8 ½ pounds. What magnificent fish! I can hardly wait for one of us to nail that 13-15 pounder.
One of our party, Chris Wilmot, was kind enough to cook breakfast out on the ice, a couple of the days. This worked well, as we ate around 10 am and had enough snacks to get us by for the remainder of the day.
On the last day, I was fishing about 100 yards away, when I heard one of the gang holler at me, telling me to "come and get it." Oh boy. I was hungry and a hot breakfast sounded pretty darn good.
I fired up my snowmobile and headed toward the cook shack, lickety-split. About half-way there, and it happened in a blur, my auger, which I had forgotten to strap into place on the front bumper, jumped out of the so-called auger rack and I ran it over!
In an instant, I was up and over it and continued on to the hot breakfast without even stopping. Why would I? "What's the point" I though to myself. I did glance back to look at the debris but kept on going.
Then the rains came and we were forced to end the day early. It was a good trip, even though it ended with a little mishap. Oh well, we'll be back to give it another try and I've got all summer to fix that auger.

Fishing Report March 6, 2012 Greg Clusiau, Lake Winnipeg Trip Prep (Part 2); Lake Winnipeg Trip Prep
The trailer situation had been remedied and all was looking good until we had a last-minute cancellation. One of the guys, who would be making his first trip to Lake Winnipeg, had to drop out because of work. He owns a business and with business coming first, as it should, he was obligated to be in Fargo at this time. Now what?
Not only would we be scratching to find a last-minute replacement but this guy was going to be pulling a large, enclosed trailer. Now we had to find a new "crew member" and another trailer, as well.
After talking it over with our group leader, Tim Ranta, we decided to post on a couple of the well-known fishing forums, along with facebook. This may sound a bit risky, as you just never know who'll you get but we have dozens of great contacts in these forums and although we may have never met these people, in person, we have been communicating with them for some time and have a pretty good "feel" as to how they operate and they kind of people they are.
The very first one to show some interest, which happened instantaneously, was an avid angler on facebook. Basic information was messaged back and forth and when done, I got in touch with Tim.
As soon as I said the guy's name, Tim knew who it was, as it just happened to be an angler that he was telling me about a couple weeks prior. Impressed with the guy's most recent fishing adventure, Tim filled me in.
In a nutshell, this angler couldn't find anyone to go to Lake Winnipeg with him so he went alone. Now, if you lived up north in the Baudette area, it wouldn't be such a big deal but when you live in Champlin, it becomes one heck of a drive, especially when you're traveling solo. The trip from my house in Keewatin is roughly 350 miles and from Champlin about 450 miles.
And if that's not impressive enough, once there, he camped out on the ice for three days and caught a good amount of fish. This guy likes to fish. Perfect. As a matter-of-fact, he has fished this wondrous walleye fishery eight times in the last four years. The drive to want to get back there again tells you just how special Lake Winnipeg is.
After his confirmation, saying he was in, a little more info was exchanged. He stated he's basically an iron ranger and that his mother graduated from Nashwauk-Keewatin. His name, by the way, is Craig Hanson and he grew up in Cherry. His mother, Jennette Newbauer, grew up north of Nashwauk and is my wife's cousin! Wow. Talk about a small world.
After replacing two trailers and an angler in less than a week, we were right back on track and looking forward to another good trip.
My favorite walleye rods are cleaned up, re-spooled, and stowed securely away in an Otter rod case. These things are tough as nails and I use it every time I am hauling gear in my fishing shelter, an Otter "Cottage", which will be pulled several miles on the big lake.
The rod case is just long enough for me to bring along my favorite walleye rod, a 38" Norseman Mr. Walleye "Ice Series" rod. Oh, I should mention that I managed to squeeze four other rod and reel combos in there, as well.
Padded, the case protects all and sometimes I'll even throw in a couple cans of soda, which are held securely and won't bump anything and start leaking. The compressed foam even protects my electronic, digital scale, which I hope to use on those big Lake Winnipeg walleyes.
For baits, we've assembled a great collection of "rattle baits", all of which are tried and true. My main tackle box houses close to two dozen of these lures, which cost up to $15 a piece. They too, are packed in foam, to protect their finish.
The plan is leave on a Friday night, after work, and make the 6 hour trip to Selkirk. Here, we'll pick up our bait and licenses and head out to fish all day Saturday. The first day's a killer, because of the lack of sleep. The next two, Sunday and Monday, are great. Tuesday is used as a travel day to get home. Wish us well!

Fishing Report March 6, 2012 Greg Clusiau, Lake Winnipeg Trip Prep (Part 1); They say, at least I do, that preparation for a fishing trip is almost as much fun as the fishing itself. I said "almost."
Like most every trip I take, whether it's for bass, on a local lake, or a more involved trip, like the one coming up, a lot of pre-trip fun is had in the preparation. This trip, an annual one, is to world famous walleye fishery Lake Winnipeg, Manitoba and I'm having a good time in the planning stages.
As the departure date nears, we keep a close eye on the lake, as far as travel conditions. Will we be using snowmobiles, like normal, or is the snow cover down, to the point, where atvs or even truck travel is possible? Recent reports have us deciding on snowmobiles, as figured.
With that said, we have to be sure that our machines are ready for the trip. Mine needed some new carbides and a little grease, that's all. Oh, I should mention that I mounted a graph/gps unit on the dash, along with a lighted compass, just in case. A handheld gps will be brought along, should I have any problems with the graph.
One doesn't want to get lost on this body of water, which stretches some 250 miles, end-to-end. We usually never needed to travel any more than 10 miles in any one direction but we're setting out for new waters this year, like we usually do. Fishing seems to be good all over but we like to explore and get away from the crowd a little. Why? I don't know. Maybe it's just that sense of adventure.
I heard of a recent party that got lost and took four hours to find their way off the lake. This happened toward the end of the day when it was snowing pretty good, with "whiteout" conditions, and their gps wouldn't lock on. That's exactly why I like to have a compass along.
Wanting everything in perfect working order, I had new hubs put on my snowmobile trailer. It's about 8 years old and has a lot of miles on it so I figured it was due. Upon replacing them, it was discovered that one wasn't in very good shape so it turned out to be a good call.
Making sure all the trailer lights were working, Blake Liend was working underneath the trailer, when I heard him say "it's shot." He had discovered a broken frame and I know exactly when it happened, as it was a fresh break, nice and clean.
It was on that windy, twisty, hilly, and bumpy highway 38, north of Grand Rapids. Somewhere near the North Star Lake area, we were coming back from a fishing trip, when we hit a frost heave. It caught us by surprise and we were lucky not to lose the only snowmobile we were hauling.
Once home, I noticed the tie-down bar, holding the snowmobile down, was broke in half. I never really thought about it too much and purchased another, figuring we were "good to go." I thought perhaps all of those years of tightening it up real good weakened it to the point of breaking. No problem.
The following weekend, when we were, once again, going fishing, and in the process of loading up another machine, I noticed the other tie-down was broken as well. Now this really had me puzzled, as it was just tightened into place on the trailer, without holding anything down. I should have realized something was awry but didn't figure it out.
Lacking a tie-down, we strapped another snowmobile in place and headed to the fishing grounds. We weren't going to let a little thing like that stop us. I'd just pick up another tie-down, sometime during the next week.
We didn't know just how lucky we were to make it fishing and back, as we could've had some real problems, traveling with a trailer in that sorry of condition.
Here, the trailer had flexed so much that it broke the frame and the plywood bed bowed upward to the point where it broke both tie-down bars. Now, here I sit with a worthless trailer, with new hubs. It's sort of "all dressed up and no place to go."
In the meanwhile, I have found a loaner trailer for our trip and have had several other kind offers and suggestions, as how or where to get it fixed. The fishing community does it again. It never ceases to amaze me how valuable it is. If you're in need of help, of most any form, these folks come out in droves to your aid. Thank you everyone. You know who you are. J >> *Next week's column will continue on with trip preparation and more.

Fishing Report February 27, 2012 Greg Clusiau, Winter Finally Here!
Okay, the fun's over. No more easy lake travel, driving your 4x4 trucks, along with 2-wheel drive vehicles, out to your favorite ice fishing hotspots. Ma Nature has blown into town and she means business. As a matter-of-fact, I think she's a bit irate.
We pushed it a little, last Saturday, because of the impending snowstorm, which, by the way, was properly forecasted. Driving to Round Lake, north of Big Winnie, we went "in search of perch." Big perch.
Arriving at the lake, we found about 6" of snow but were still able to drive anywhere we wanted to. Glancing over a high-definition Lake Master gps chip, we picked out various, good-looking areas to try and drove all over, looking for the big ones.
Many lakes in this general area feature true "jumbo" perch and Round Lake is certainly one of them. Other premier big perch waters, within fairly close proximity, are Big Winnie, Cass, Leech, and Bowstring, Get off the beaten path and try a somewhat "lesser" lake and you just may surprise yourself, as there are plenty of them around.
Blake and I caught a lot of perch on this day but the big mamas remained elusive. We did keep a half dozen nice ones, in the 10" range, but that wasn't what we had traveled that far for. Wanting to "save the day", we abandoned Round Lake around midday and headed back home to a crappie lake.
However, here too, we were forced with a tough bite, catching only one small crappie, and viewing a few others, on our electronics, that refused to bite even the smallest of offerings. Sometimes that's the way it is and it was for us last Saturday. Was it the predicted snowstorm? We'll never know.
Sunday was spent monkeying around with my snow-blower, which has been giving me fits. I pulled it out of storage in November and haven't had to really use it until last weekend. Playing mechanic, I had it apart more than a couple of times before coming up with a plan and a great one it is. My wife's brother-in-law is going to be receiving a little present. He likes things like that and I'm sure that in a matter of a few minutes he'll have it working like new. He can have it. I quit.
Nashwauk-Keewatin school district's "No Child Left Inside" program was held last Friday and I'm sure glad the snow waited until after this annual, fun event had taken place.
Held on O'Brien Reservoir, located along highway 169, between Nashwauk and Keewatin, all 4th, 5th, and 6th grade students enjoyed a day on the lake. This event offers outdoor activities that some of the kids have never had the chance to try before. That's what makes it so much fun. Oh, it can be a log, trying day on the water but it's always a good feeling when you can help some of them catch their first fish ever through the ice. I think all of those years of guiding has prepared me for this. J
I'm truly thankful for all of the teachers, bus drivers, parents, law enforcement, fire departments, and other volunteers that make this event just what it is. Thank you so much.
Fishing on O'Brien started out to be pretty good, as I was there early, drilling holes and looking for fish, before the buses started arriving. It must have been an early, low-light bite because as soon as the kids showed up, fishing got tough and I don't think all of the activity on top of the ice scared the fish because we were fishing in 36' of water. A couple years ago, the fish were practically jumping out of the holes. It was just "one of those days."
Oh, there were fish caught, several dozen in fact, but most of them were a bit on the small side. That happens, when you're trying to catch fish with the smallest baits available, like a "Mooska" jig tipped with a maggot or waxworm. Go with anything larger and the chances of getting a bite are pretty slim.
If one had to sum it up, I'd say the kids caught a regular smorgasbord of fish, with several northern pike, perch, sunfish, and crappies making their way to the surface, with a few real nice ones, representing each species.
Back to the weather, it looks like we'll be getting good use out of our snowmobiles for the next couple weeks, as getting around out on the lakes with a vehicle is going to be a real task. If you do decide to drive, bring a shovel, and possibly a tow-strap. Good luck, be safe, and have fun.

Fishing Report February 21, 2012 Greg Clusiau, Travel Time Worth It!
Fishing mainly on weekends, each one is well planned out, usually.
I was looking forward to a Saturday of jumbo perch fishing with Jason Green and Jeff Sundin but "something" came up at the last minute. That something was an offer from former Keewatinite Mike Olson, who now lives in Minneapolis, to join him and some friends on Mille Lacs Lake for a little walleye action.
I've been trying to get "down there" for the last couple of years but schedules kept conflicting. Now was my chance and it was going to happen. Jason and Jeff would have to go perchin' without me and from the way it sounded, they did pretty darn good. Never-the-less, I apologize for abandoning them at the last minute.
Saturday…Blake Liend and I left home at 4:30 am and made the 110 mile trip south to Lybacks Resort on Mille Lacs Lake. We wanted to get there around first light and all worked out according to plan.
It was a busy place, as there were fishing contests taking place, along with a vintage snowmobile ride. For a split-second, I was worried that all of that extra traffic would have an affect on the fishing but quickly realized that Mille Lacs is a huge body of water and there would be plenty of room for all.
Shortly after meeting Mike and "the boys", we headed out to the fishing grounds. Lake travel was excellent but one still had to stay on the roads, for safety's sake and signs were posted requiring speeds of no more than 10 mph, or else!
Strategically placing ourselves near and on top of a 10' hump, we waited for the fish to start happening. The spot, one selected by long-time Mille Lacs angler and former Ice Team member Mike Zickermann, had a good "feel" to it. There was plenty of shallow cruising and feeding area on top, with a preferred deeper water access nearby. Perfect.
Fishing turned out to be slow but walleyes were caught, with Zickermann's 25" fish being one of the first. I iced a 19" and a 17" and the rest of the group pitched in with fish measuring 20", 22", and 23". A few jumbo perch were taken, as well. As a matter-of-fact, there was a perch contest taking place and one of the entrants caught a 13 ½" jumbo right next to us.
Later on, when the action slowed, we jumped around, looking for some active fish but it just wasn't going to happen. The walleye bite was basically done, until the late-afternoon hours. During our exploring mission, I yanked out a 20" smallmouth. Wow. What a fish!
Blake and I, a little tired out from the early morning departure, figured we'd head home and regroup for the next day. Staying into the evening would have us "tapped out" for any travel on Sunday so off we went and we weren't on the road for more than 20 minutes when Mike Olson sent us a photo of another 25" walleye, caught by him.
Sunday…Blake drove down to my house around 7 am and like normal, had no idea where we were going on this day. The look on his face was priceless when I said "the truck's gassed up, I've got snacks and drinks, we're going to Canada." Two hours later, we were at the border, another 110 miles, only to the north this time. Hey, sometimes you need to travel to the good bites. At least I do.
Here, we met up with Rainy Lake fisherman Jeremy Taschuk and friends. Again, lake travel was excellent, with only 3-4" of snow. We drove wherever we wanted, in 2-wheel drive, until halted by one of the many pressure ridges out there.
Here too, fishing was slow, but quality fish, walleyes, made an appearance throughout the day and even picked up the pace as evening neared. Jeremy stated that the early-morning bite wasn't that good, hence the late start to Rainy Lake. That all figures into the planning.
One of the first fish caught was a stocky 28" walleye by Taschuk. He took big fish honors for the day with that one. His hot bait was one of Northland Tackle's new Live Forage "Rippin Shads", which we will be using on our annual trip to Lake Winnipeg for monster walleyes.
We all caught fish, especially Jeremy's wife, Mindy. She was on fire but couldn't best her husbands 28"er.
So there you have it. We fished two major, top-quality, lakes in two days, 220 miles apart. Sometimes you just gotta do it. - Get out there, be safe, good luck, and have fun.

Fishing Report February 13, 2012 Greg Clusiau, Show Time in the North Country - "Angling Adventures" television rolled into the North Country last week, filmed two shows, and vanished like a thief in the night. They probably wanted their stay to last a bit longer, as both Terry and Karen Wickstrom are originally from Minnesota and have several ties here.
Terry, host of the popular television show, grew up in the Grand Rapids and Hibbing areas, while Karen, his faithful sidekick and wife, who does most all of the camera work and is producer of the show, is originally from Bemidji. They now reside in Ft. Collins, Colorado. Oh sure, I'm sure they'd love to stay a while but a hectic schedule keeps them continually on the move.
Staying at Wilderness Lodge on Big Turtle Lake, near Marcell, we laid out the groundwork for two days of filming on the ice, which sometimes isn't such an easy a thing to do. One thing about being based out of Wilderness Lodge is its close proximity to a lot of good fishing and that made our job a whole lot easier. The less travel time involved, the more fishing we'd be able to do and with that, hopefully more fish would pop their heads out of the hole for a cameo appearance.
I should mention that our cabin, beautiful in all detail, was called the "Looney Bin." What a fitting name for it's most recent guests. We fit right in!
Day one was with famed "ice man" Brian Brosdahl, aka "Bro", who lives in the nearby Max area. Following his lead, we met early last Thursday morning and headed to one of his crappie holes.
Bro wanted to get there at first light, as the fish would bite a little better, which they did. Later on, as morning gave way to noon, the fish started slacking off, as Bro predicted. It was at this time that he suggested we pack up and leave for fishier waters, meaning jumbo perch. We were game for that.
A short while later, we were drilling holes on top of a lonely, little hump, which was home to a plethora of perch, and it didn't take long to get bit. There were plenty of smaller perch that got in the way and stole baits but every once in a while a true jumbo would come to the surface. I haven't seen perch of that size for some time. We ended the day early, with more than enough good footage for a show.
Back at the lodge, we settled in and relaxed, as Mark Case did the cooking. We didn't mind. It was the least he could do. After all, he had bragging rights for the day, catching a humongous perch that is destined for the local taxidermist.
The frigid weather forecast was right on so we slept in. We'd hang around and wait for it to warm up a little and while we did, Mark was again positioned at the stove, cooking up one heck of a big breakfast.
There was no Bro today, just me, leading the charge, and my original plan was to use snowmobiles to get back into a little, seldom fished crappie lake. I knew, deep down, it would be good fishing but there was just no way a camera could be operated in weather like this. It was still -10º, with a wind-chill factor of -30º. I had to change plans.
So we sat until 11:00 am and then decided to head in a different direction. We wouldn't be using snowmobiles after all. We'd be driving out onto the lake with our trucks and we'd be filming out the window of one of them. At least we'd try to do that. It was our only hope of doing a show so we gave it a go. Now this isn't the easiest thing to do but with a lot of determination and repositioning of the truck, we got it done.
Actually, the forced change of plans worked out pretty good, as we caught crappie and perch with Bro and bluegills with me. A little variety always seems to work out better.
For more information on Wilderness Lodge, call 877-865-6343 or go to their web site at www.thewildernesslodge.com * All perch and bluegills were caught shallow, in the 7-10' range and crappies in 25'.

Fishing Report February 8, 2012 Jason Green, What an incredible winter we have been having in Northern MN. Vehicle travel couldn't be better and it seems pretty much everywhere we go ice is 20" or thicker. We just might need the extensions for our augers shortly.
The past few days few have been targeting Pan Fish on smaller area lakes. In two days Greg Clusiau and I fished 3 different lakes looking for the ultimate bite. It might seem a bit strange but we have been finding a consistant bite in 5'-8' of water. Targeting areas with thick vegetation with micro jigs tipped with Impulse Plastics has performed quite well. The key has been to fish right in the thick of the weeds. Because of the lack of snow, vegation is still green and standing a couple feet of the bottom. Pretty remarkable sight when you drop the Vexilar Camera down. When presenting our micro jigs, we drop them to the bottom, then lift them up above our flasher marks and hold them as still as possible. Normally we have had enough caffine to make the jigs quiver just the right amount. Check back often, our new video will be posted soon!

Fishing Report January 24, 2012 Greg Clusiau, Winter Finally Here (Fishing Big Bowstring)
Well I guess winter has actually been here for some time now but to me, it has finally arrived and in grand fashion. We had a little cool off and let me tell you, I really wasn't ready for it and can understand why some of the older folks turn into "snow birds" and head to Arizona or some other warmer state down south. Maybe when I retire? No!
No matter. The recent colder temps have made ice even thicker, on all of our area lakes, and we now have ice fishing lake travel like we've never had before, for January that is.
The better part of last weekend was spent on Big Bowstring Lake. How nice it is, to be able to drive almost anywhere you please. I say almost because of that big pressure ridge that runs from the Cow Bay peninsula toward the eastern shore. There might be a way around it but I opted to go back toward where I came from, the NW public access.
The NE access has it's typical ice heave in front of it but atvs and snowmobiles are making it out onto the lake. Trucks? Well, that's another matter. Don't call me if you have problems.
Fishing? Well, that's another matter, as well. On Saturday, my main objective was to find some BIG jumbo perch and I eventually found them but not where I expected them to be, as they were in 5 ½' of water. Oh, I did find fish at almost all levels but my big perch bonanza was way up shallow.
Bunched up tight, right in the weeds, I couldn't get a lure down to them fast enough. Perch in the 10-11" range were really on the bite, along with some larger, and I was fishing so shallow that on many a hook-set a fish would come flying right out of the hole. The first time it happened, something hit my boot and I thought "what's that" and looked down to see a nice, fat jumbo laying at my feet.
I'd say in about two hours time I caught approximately 50 jumbo perch and it was of the best perch bites I've enjoyed in years. Hence, a phone call to Northland Tackle Pro Staffer Jason Green was in order.
Jason, who does a fair amount of video work for "upnorthinc.com", was more than interested but could only join me in the afternoon. "That was fine" I said, "I'll go early and meet you out on the lake."
Well, "idle time is the devils workshop" they say. Waiting for Jason gave me enough time to check out some of my crappie holes and the second one proved to be "spot on."
Looking over my hand-held gps unit, I hit "closest" and traveled straight to a spot that I haven't fished in years. It was a spot that held fish back in my guiding days and what happened flooded me with memories from the past.
On my very first hole, I spotted some fish down below and dropped down a glow-white "Mini Smelt" impaled on a glow-red "Mud Bug". It was greeted half-way down by a fat, hungry crappie. "Wow" I thought. Let's get back down for another.
The next drop was greeted in the same manner but broke off my 2 pound test line near the hole.
Not wanting to waste time in re-tying, I grabbed the closest rod at hand, which had a Northland "Forage Minnow" jig on it, one of my all-time favorites. A full crappie minnow was stuck on the business end of things and down it went, only to be intercepted by another large crappie.
This went on, as fast as I could bait and drop, and in five minutes time I had six large crappies laying on the ice. Then they were gone.
Fishing a large, flat area is sometimes difficult to do and it was on this outing. Two dozen holes later, I could only find perch, and big ones at that. Where the crappies disappeared to is beyond me. When Jason arrived, it didn't matter what was going on, we went to my new "go to" perch spot.
Here too, finding quality, photographic perch was at a premium but we hung in there, in 5-6' of water, and caught enough to satisfy the camera lens. The biggest, one that pushed the 12" mark, made for good photo material. We did it. It was a done deal, all the while I'm thinking of the crappies out deeper.
I never returned to my big crappie spot. Maybe it's best off left alone. I do know that I won't be going back to Bowstring in the immediate future but that spot sure has me thinking of it. - Good fishing to you, have fun, be successful, and be safe.

Fishing Report January 20, 2012 Greg Clusiau, Great Ice Travel! Wow, what a difference a small change in weather can make. Up until just recently, I was pretty darn gun-shy about driving my truck on the lakes but now I feel rather comfortable and have been doing a good deal of ice driving and is it ever nice.
Several of my most recent trips have had me pulling the snowmobile along, just in case. I figured if the ice wasn't quite up to my standards, I'd unload the snow-cat and go from there and I've done just that. However, my very last trips have had me driving my truck practically all over the lakes, sometimes with the snowmobile in tow.
Granted, there are some lakes that have a lot of current and late-forming ice that one still has to be aware of but for the most part it's "good to go." Just be careful, as NO ice is 100% safe. Okay, that's enough preaching. Let's get down to fishing.
I started out the Minnesota inland trout season, last Saturday, on Nashwauk's La Rue Pit and it treated me and my guests much like it did last year, which is terrible.
Last year, we struggled and left the lake with one small rainbow, although Chanda, a trout fishing newcomer, did lose a big brown in the hole. From there, we went across the highway to Blue Lake and saved the day by catching a nice bunch of crappies and bluegills.
This year, it was almost the same scenario only we did a lot worse in the panfish pursuit.
Sticking to our original plan, we fished for stream trout in the La Rue Pit until noon and then headed for different waters. If the fishing had been better, we might have stayed and toughed it out. However, the only trout action to occur, happened to Blake Liend, while reaching for another rod.
Getting a little bored, Blake decided it was time to change rods and reached into the back of his Otter to get one. It was at this point that he heard a "clunk" and looked over to see the rod he was using bounce around a little. Something had hit his bait when he wasn't looking.
Looking down the hole, a four pound brown trout was having a "stare-off" with his bait, an Impulse "Mini Smelt." The fish swam off , turned, and came back but missed the bait. From there, it just disappeared into the abyss of the La Rue Pit, which reaches depths close to 200'.
No one else in our group had seen anything (we were sight-fishing) so a unanimous decision was made to go somewhere else. This time, it would be Bass Lake, near Cohasset. I had been there a couple times prior so I knew the ice was good enough to drive on, where I went anyway.
Members of my little group ranged from Sauk Rapids, all the way to Ft. Frances, Ontario and I wanted to make the somewhat long trip worth their while. Bluegill fishing had been pretty good for me, on my previous two trips, but how would it be on this day?
Well, it was "struggle time" once again. I don't know if it was weather related or what (us fishermen always have an excuse or two, don't we?) but catching fishing was not an easy thing to do.
Drilling holes, along a weedline, eventually had us "on fish" but it was still slow fishing none-the-less.
Giving it our all, we decided to bunch it before the sun hit the trees, so we could see what we were doing. We had caught fish (perch, bluegills, bass, and pike) but in all reality it was flat-out a seriously tough day.
One thing stuck out in my mind, on this futile day of fishing, and that's the fish-catching traits of Northland Tackle's new Impulse "Mini Smelt" minnow. I've noticed that on even the toughest of bites the "Mini Smelt" comes through.
How in the world can a 1" artificial bait outfish a dinky, little waxworm, maggot, or minnow head? I don't know but it does, time and time again, and that's refreshing and exciting at the same time.
I've dropped down small, live bait to hesitant fish and realized they weren't going to "eat." The next move was to follow it up with a "Mini Smelt" and here they come! I don't get it. Is it the shape? Or is it because it's baked in micro-plankton formula? Whatever it is, it's been the highlight of the new ice fishing season and something that will be always close at hand, if not in the water. - Good luck out on the ice, be safe, and have fun. Greg Clusiau
---

Fishing Report January 20, 2012 Greg Clusiau, Ice Fishing A Most Dangerous Game - "Wow. What a winter we're having. Ice fishing travel has been just wonderful BUT there's not a whole lot of ice to drive on, if you do dare drive.
I was the first to drive a truck on Balsam Lake and did so three times (and the fishing wasn't even all that good) but after this warm spell, I'm all done (or else I will be). By the way, I did find 14-½ inches of ice but the recent unseasonably warm weather has ice in a very "iffy" condition, in my opinion anyway.
In a nutshell folks, don't drive on these area lakes until we've had another good freeze. It's just not worth it. At the time of this writing, last Sunday night (Jan 8), the ice isn't all that thick and the best, along with safest, mode of transportation is to stick with using snowmobiles, atvs, or just plain walking.
I sure wish I had a wheeler because I've been abusing the daylights out of my snowmobile by running it all over the North Country with no snow cover. The lakes, for the most part, are bare ice but that doesn't stop Blake Liend and I from fishing. Actually, when you think about it, nothing does, and sometimes that might not be a good thing.
Outings on Pokegama, Trout, Blue, Bass, and a bunch of other local lakes, have found us slipping across the lake with snowmobiles, looking for patches of snow along the way. I haven't looked at my wear rods in some time (from bare gravel at several accesses, it still steers but not well) and don't even want to think about taking a peek at my slides. Oh well, it is what it is. I don't have a wheeler and I'm certainly going to fish. So there!
Speaking of walking, I know no one really wants to take a hike across the lake but when conditions are so perfect for it, why not?
I remember, before I had a snowmobile, pulling my shelter for a mile or two, one way in somewhat deep snow, just to get to "the spot". Yes, crazy, I know (and please don't compare it to the old saying "going to school, up hill, both ways"). Now, with conditions being as close to perfect as they can be, it would be all too easy to do, especially with the Hyfax runners that should be beneath your shelter.
With only a finger, you can tow your fishing shelter for as long as you can walk, without it being a monumental chore. The key here, is to be sure to wear ice cleats, as it's still as slippery out there as first ice.
Speaking of Blue and Trout Lake, open water has recently been spotted on these two popular fisheries. The first time, when I was teamed up with Jason Green and Jeff Sundin, looking for walleyes on Trout Lake by Coleraine, Jeff headed in a different direction with his wheeler and telephoned us with his report of open water, saying "there's open water out in the middle and it runs almost all the way to Coleraine. If I had my boat, I could fish at least a dozen of my spots". Totally oblivious to the conditions, Jason and I were contently fishing on 12-½ inches of ice on the south end of the same lake.
Another open water surprise came to an angler who happened across a hole while driving on Blue Lake, south of Nashwauk. His report went like this: "The old notion that no ice is safe ice rang true for us today while fishing Blue Lake in Nashwauk. Decided to venture to the back side of the lake, to get away from the community holes, and try to find some structure with deep enough water that the panfish would be gathering.
I was driving slowly and looking at shore lines and thinking where to set up when my girlfriend screams "OPEN WATER!". I looked up just in time to see it just ahead of me.
I still have no idea how I reacted so darn fast but somewhere in that short blink of a split second my head processed the fact that there is little to no snow on the lake and hitting the brakes would only slide us into the hole, so I cranked the wheel to the left and punched the gas. We hit the other side rather hard and we both came up out of our seats, mirror knocked off, and everything got thrown around.
Luckily though, only the passenger side front tire went into the hole and I had enough momentum to slam up the other side. My initial thought was that someone has left a spearing hole open and I was flaming mad.
After I got out and inspected the Jeep for damage, I walked back to the hole to check it out and snapped the following picture. Turns out it was an underwater spring that popped a hole in the ice. There were constant air bubbles coming up and in the center of the hole the water almost seemed to be bubbling, it was coming up so fast. All in all we were extremely lucky today! (And even ended up going home with some fish to eat!)"
Wow, you talk about a close call. It doesn't have to be that way. Enjoy the outdoors and have fun but BE SAFE."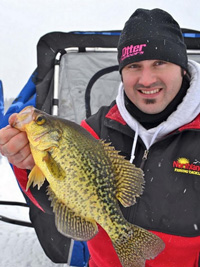 Artificial Results...Yes, artificial baits can catch fish of all sizes and species. In the photo, Blake Liend displays one of several nice crappies he caught on a small jig and Impulse bait, while Greg Clusiau shows a big walleye caught on a Northland Tackle "Rippin' Shad".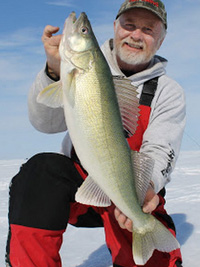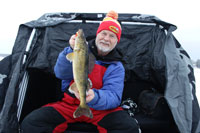 Walleyes are Biting...Greg Clusiau fished on one of the larger area lakes and found hungry walleyes but somewhat thin ice. Be careful and check the ice before planning on heading across any larger bodies of water.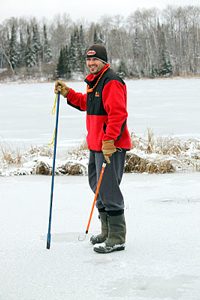 Checking Ice...Blake Liend checks ice to see if we can go fishing. In this case, it was too thin and we had to make a change of plans. Remember, 2" or less - stay off, 4" for walking, 5" for atvs and snowmobiles, 8-12" small trucks and cars, and 12-15" for medium size trucks. These are merely guidelines, suggested by the Minnesota DNR.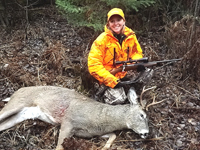 Patty Marsh bagged this nice forkhorn last weekend, while hunting "up north."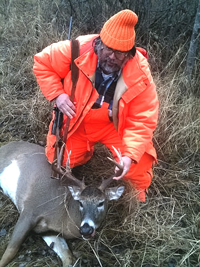 Jay Liend, Keewatin, bagged this nice eight pointer last weekend. The bucks are moving!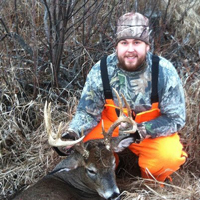 Beautiful Buck! Jeremy Dasovich of Nashwauk, MN bagged this nice 11 point buck on "Opening Day"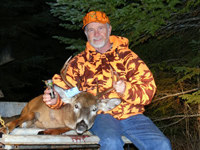 Deer Season to Start This Weekend...Greg Clusiau poses with a nice little 8 point buck, taken three years ago. Good luck hunting, have fun, and be safe!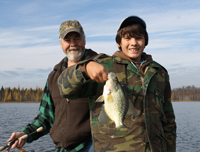 Fall Slab; Bruce Clusiau and his grandson, Preston, enjoyed a day on the water last Sunday. Preston shows off the first fish of the day.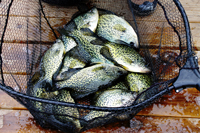 Fall Crappies...Late fall crappies are on the bite. Get out there and take advantage of it NOW!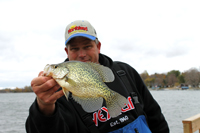 Crappie Sniffer...Fishing guide Chad Peterson, Alexandria, displays a beautiful fall crappie that was caught last weekend in the "Alex" area.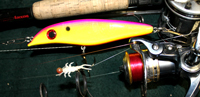 Baits Big and Small for Fall...Fall offers great fishing for all species. A snapshot of Greg Clusiau's rod storage reveals a small crappie bait (Northland Tackle "Stone Fly") and a large northern pike lure (Big Fork Lures) at the ready.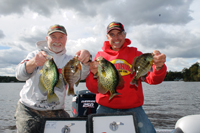 Great Fall Fishing...Greg Clusiau and Chip Leer teamed up recently and tricked some very nice panfish into eating Impulse plastics.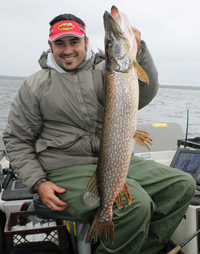 Nice Pike: Blake Liend holds a nice Northern Pike that hit a "Pikie Minnow" on Swan Lake last weekend. Fall patterns aren't quite in place yet but it won't be long.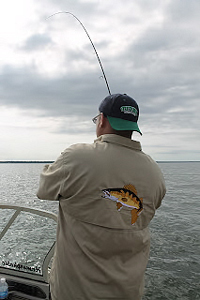 Set the Hook!...David Holmbeck sets the hook on another Big Winnie walleye. Holmbeck and Clusiau were able to catch a nice limit of walleyes by using spinners and crawlers, in and next to the weeds in 9-10' of water.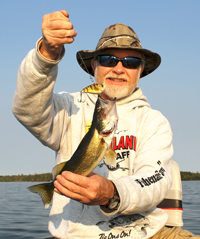 Rippin' Shad Walleye...Greg Clusiau did well on deep-water walleye last weekend by trolling a perch-colored "Rippin' Shad" in 30' of water via leadcore line.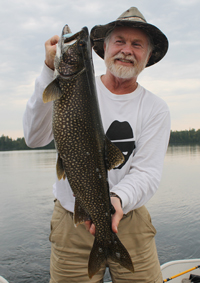 Using Trout Colors...The best producing colors for lake trout usually mimic natural forage available to them, like this "silver shiner" colored "Forage Minnow Spoon."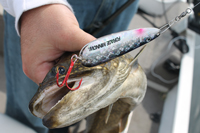 Nice One at Day's End...The largest fish of the day came as we were working our way back to Esox Landing. This one hit a blue and silver Yo-Zuri "Crystal Minnow" crankbait, trolled with leadcore. It was released.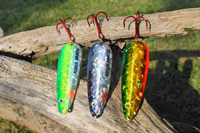 Hot Lures...Northland Tackle's "Forage Minnow Spoons" were the hot trout lures last weekend on Lower Manitou Lake in Ontario, catching the majority of the fish.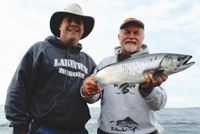 Lake Superior Hot...Tim Ranta and Greg Clusiau pose with a nice king salmon, taken on Lake Superior last weekend. The fishing has been good. All you have to do is "play the weather" in making sure that it's going to be "fishable."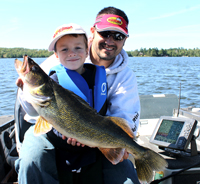 Fishing the "Big V"...Blake Liend and his youngest son, Brecken, pose with a big walleye that Blake caught on Lake Vermilion last Sunday. The duo also went home with a nice limit of fish.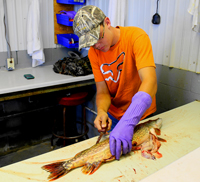 Good with a Knife...Young Truman Croaker puts the knife to a northern pike in the fish cleaning house at Nodak Lodge on Big Winnie.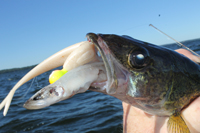 Match the Hatch...Rainy Lake walleyes were going wild for the 4" Impulse "smelt minnow", which was almost a carbon copy image of the big fisheries smelt. This little walleye took the Impulse bait shortly after grabbing this fresh smelt.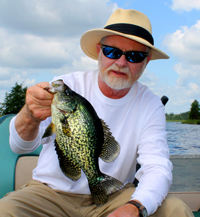 Crappies Love Spinners! Greg Clusiau displays a nice crappie that fell for a "Baitfish Image" crawler haness, tipped with a half nightcrawler, and trolled along the weedline.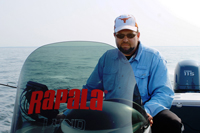 Crankbait Expert...Travis Sorokie pays close attention to detail, especially when it comes to trolling crankbaits. Some of his favorites are Rapala "Shad Raps", "Minnow Raps", and the Salmo "Hornet". Sorokie changes colors quite often, until he comes up with the winning combination.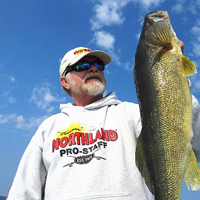 Digging Deep for Big Fish...Greg Clusiau displays a beautiful leadcore walleye that was caught in 30' of water.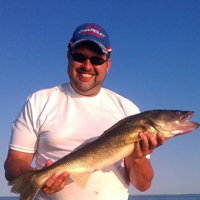 Loving Leadcore...Travis Sorokie, Sauk Rapids, got into the walleye leadcore scene this spring and has already spent hundreds of hours experimenting with it and catching fish, a LOT of fish.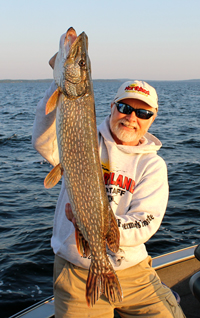 Good Fight! Greg Clusiau caught and released this large northern pike on Mille Lacs Lake last weekend by "pulling leadcore" with Travis Sorokie.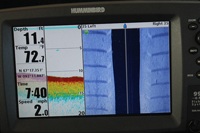 Side Imaging Graph...A photo of the screen of a Humminbird 998c SI Combo graph shows the bottom, along with left and right views, as the boat makes it's way underneath the Swan Lake bridge, near Pengilly. The "lines" on each side are bridge pilings. A few fish can be seen here as well.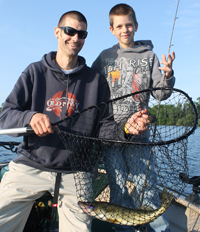 Early Morning Walleye...Nic Caine and his son, Ruben, enjoyed an early morning walleye outing with Greg Clusiau last weekend. They caught their fish using bottom-bouncers and "Baitfish Image" crawler harnesses.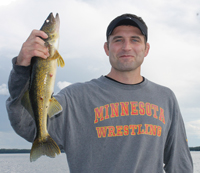 Walleye Wrestler...National collegiate wrestling champion Tim Hartung poses with a nice walleye from last week's visit to the Northland.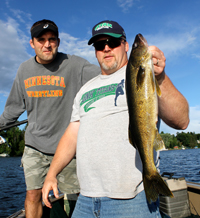 Tag-Team Walleyes...GNK wrestling coach Russ Smith and Wayzata's Tim Hartung teamed up for an evening of walleye fishing.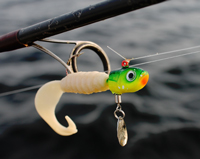 "Thumper Jig", tipped with an Impulse "Swim'n Grub" catches walleyes, either trolled or cast.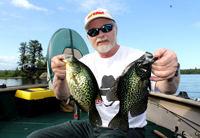 Birch Lake Crappies...A recent walleye outing on Birch Lake had Greg Clusiau and Blake Liend catching some very nice crappies, going home with a mixed bag.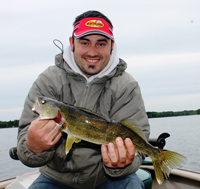 Third Lake a Charm...Blake Liend displays a nice 20" walleye that was taken on a FireBall jig, tipped with a spot-tail shiner. It was the third lake of the day for Liend, who started the morning off bass fishing.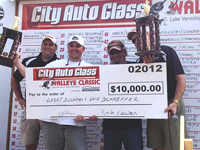 Lake Vermilion Walleye Champs...Local guides Casy Sunsdahl and Dave Schaeffer took top honors during last Saturday's City Auto Glass Walleye Classic held on Lake Vermilion. The duo weighed in 14.56 pounds, good for $10,000 and captured the Big Fish prize as well with a 28.5" walleye weighing 7.62 pounds.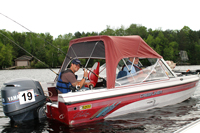 John Waldvogel and his father Jerry placed 9th at the City Auto Glass Walleye Classic, weighing in six fish for 7.94 pounds. They were awarded $750 for their efforts. A total of ninety boats entered the event.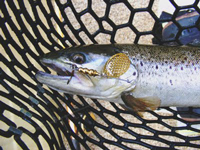 Trout Always an Option...Stream trout, along with lakers, are easy game early in the season because they're up shallow and easy to fish. This brown trout was caught early last season on a "Bow Spinner" made by trout guide John Eggers.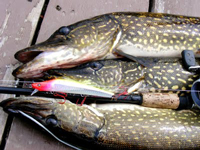 Guaranteed Action...Northern pike are usually "on the bite" and can provide plenty of action by trolling next to the weedlines. These fish were taken on last year's fishing opener, using a Yo-Zuri "Edge Minnow".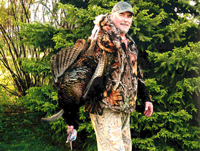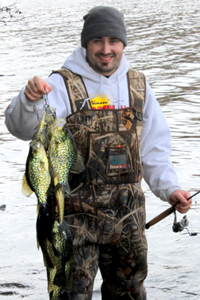 Almost every cast had the desired result, as long as you were extremely close to the brush.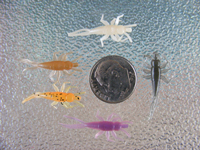 I went with the black "May Fly", as Blake did, but a used a black jig-head. It's a good idea to compare presentations with your partner, especially when you're first starting out.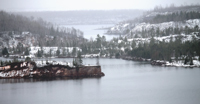 April doesn't want to let May get here! A snowy day at the Hawkins Pit.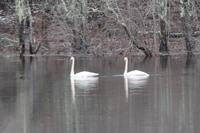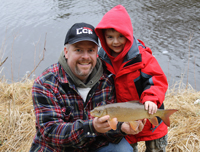 Spring Sucker runs are a great way to keep the family interested in fishing. Especially during periods that many anglers consider "down-time".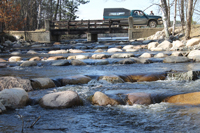 The fish ladders located at Hartley Lake.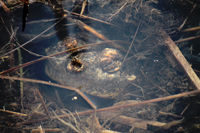 I studied the weeds and found something that didn't quite look right. Further investigation revealed that it was the head of a snapping turtle.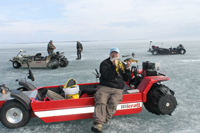 "... one thing about the Wilcraft, it has the uncanny ability to extend the ice fishing season, as well as get an early start."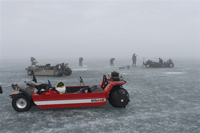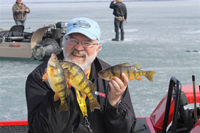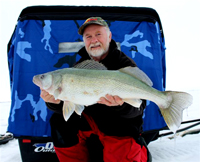 Lake Winnipeg Walleye! I didn't catch as many fish, but I did, however, manage to catch the biggest fish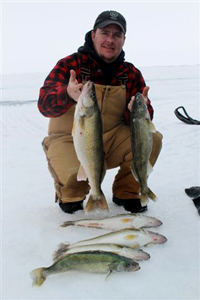 The average size ran around 21" or so and a fish of that length, up there, can sometimes weigh 4 pounds or more. It's just unreal!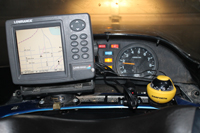 I mounted a graph/gps unit on the dash, along with a lighted compass, just in case. A handheld gps will be brought along, should I have any problems with the graph.

Ya' Don't Need No Teet' Ta' Eat Lutefisk. Go ahead, try and watch this one without smiling.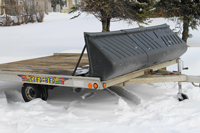 That windy, twisty, hilly, and bumpy highway 38, we were lucky not to lose the only snowmobile we were hauling.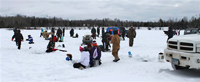 Nashwauk-Keewatin school district's "No Child Left Inside" program was held last Friday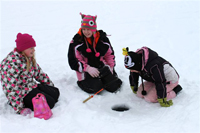 I'm sure glad the snow waited until after this annual, fun event had taken place.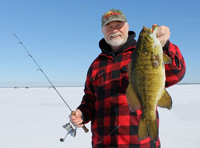 Smallmouth Bass are even more fun through the ice!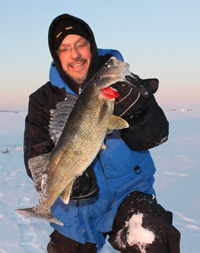 Walleyes on MilleLacs were slow to bite, but not impossible to catch.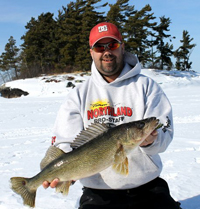 Rainy Lake Walleye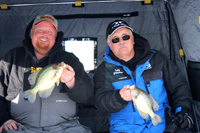 First stop, the Crappie Hole. At first light, bite a better. Later on, as morning gave way to noon, the fish started slacking off and we moved to the Perch Hole.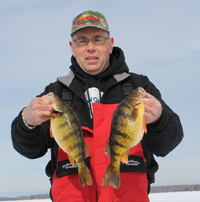 Mark Case with a pair of what Greg calls "Sumo Perch". That they are!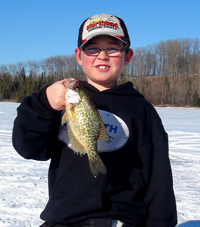 Austin Green with a sunny day slab. It took visiting a few lakes, but they finally found 'em!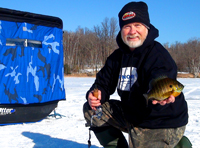 Targeting areas with thick vegetation with micro jigs tipped with Impulse Plastics has performed quite well.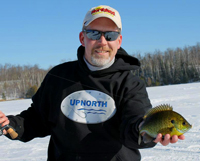 Vegation is still green and standing a couple feet of the bottom, stick with the "weed patter" and you'll find some 'Gills.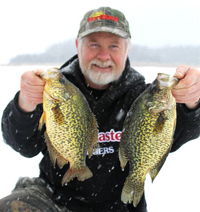 For a while, the Crappie action was fast and furious and Greg caught a half dozen fish, practically on consecutive drops.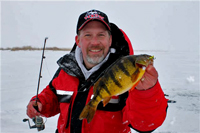 BIG Jumbo Perch were eventually found in 5 ½' of water. "We found fish at almost all levels but my big perch bonanza was way up shallow."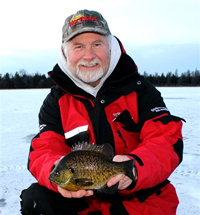 Sunfish and perch action wasn't hot and heavy, but determination and the right bait pays off. Above: Greg Clusiau shows off a nice Bluegill. Below: Blake Liend and a pair of Jumbo Perch.