---
---
---
Walleye Video Bowen Lodge Lake Winnibigoshish
---
---
Video Preparing Smoked Tulibee January 10, 2011
---
---
---
---








More ways to connect!

Sign up to receive the

Free "Insider Newsletter".

Don't forget, you can always catch up with Jeff Sundin on the radio program too! Listen every Thursday at 6:20 AM and get additional fishing reports and information. KAXE 91.7 FM Grand Rapids - 105.3 FM Bemidji - 89.9 FM Brainerd.

Want even more?

Book a Guided Fishing Trip and get HANDS ON fishing tips!
---
Fishing Report - Archives Section - Fish Reports for September 2011

Fishing Report September 30, 2011 Jeff Sundin Okay that's enough! Why do we need to go from flat calm one day, to a 40 mile wind the next? Come on, there must be something in between?
Huge winds and a morning of rain tested our skills on Thursday as we bobbed our way from one spot to another on the "calm side" of the lake. Whitecaps and frozen fingers were a lot easier to catch than the fish were, but after noon, the sun came out and the fingers warmed up. The fish cooperated as best they could, considering the fact that the wind kept blowing us away from their reach!
I was lucky to have Crappies on the agenda for Thursday's trip. At least this way, I had a good excuse for hanging out on the "calm side" of the lake. Well, you can get out of the waves, but trying to escape the effects of a 40 MPH gust of Northwest wind isn't that easy. We found the fish, and they were biting, but the problem was trying stay on top of them long enough to catch more than one or two at a time.
Located in about 26 feet of water and suspended a couple of feet off the bottom, the only way to keep the crew in touch with the correct depth was to rig up with 1/4 ounce jigs and slip bobbers. I didn't want to bobber fish in the tradtional sense, I just wanted them to have something to look at so that they'd know where their baits were. I used Thill's 1/8 ounce bobber, knowing that it would not float the 1/4 ounce jigs, then the anglers could still work the jig lower when I spoted fish close to the bottom or use the float as a marker set at the depth where suspended fish were holding.
To set the depth, I used the Humminbird and dropped the jigs until they were visible in the kill zone, then as I moved through a school of fish, I could advise them to raise or lower the rod tips as needed.
Whether or not this was the perfect setup, I can tell you that we caught 13 really nice Crappies before 11:00 AM and it was surely a worthwhile effort.
Once we'd caught enough Crappies, the next step was to find a few Walleyes or anything else that would bite. I learned in a hurry that fishing the windy side of the lake was a waste of time. No way to drift at all, the wind simply blew the boat along way to fast! Backtrolling helped slow us down, but now it was really hard to move fast enough to work the baits. We headed for what I guess you'd call the calm side, and settled in on a rocky point, adjacent to a shallow weed flat. Using Drift Control's largest wind sock in tandem with the outboard, I was able to hover aroung the tip of the point and keep the boat moving at a nice fishable pace.
Here, 1/8 ounce jigs tipped with Shiner minnows helped us gather a mixed bag of Walleyes, Perch and a few Northern Pike. I moved the boat slowly backward into the wind as we cast our jigs into shallow water and then jigged them back toward the boat. The fish were agressive, so snapping, hopping and jumping the jigs was a perfect way to trigger a strike.
All things considered, the outcome was good and I was thrilled to see some Walleyes on the prowl in Cutfoot. Hopefully, this weather change is going to be the catalyst that kick starts some more serious Walleye action in this popular lake this week.


(9/30) On Leech Lake, Walleye and Perch activity had been increasing steadily and anglers were catching fish even before the cold front moved in. Reports were non-existernt on Thursday because of the wind, but keep an eye on this one as the lake calms back down. I think there's going to be an opportunity for some good action over the next week.

Fishing Report September 29, 2011 Jeff Sundin A heat wave continued to keep the Deer River area Sunny and calm for the one final day on Wednesday. Surface temperatures rising and fish activity poised for the next shakeup.
Fishing with Kyle and Karen Reynolds, I have three days to fish for anything and everything. So we started the day hoping to get a head start on whatever emerged as the best opportunity. That's a perfect way to fish under these conditions because there's always something biting, you just have to be willing to take advantage of the opportunities.
We launched the boat on Cutfoot Sioux and found surface temperatures at 59.5 degrees, up a little bit from Tuesday. The water was calm and the sunny skies revealed signs that the water has cleared up. Weeds are now visible below the surface and in some areas, water clarity appears to be up to 5 feet or so.
Our first idea was short circuited when there was another boat already hovering on top of the Crappies that we'd fished on Tuesday. I cruised a little further down the shoreline, found one small school of fish and we picked up a half dozen fish. No new news though, read any report from the past week or so and you'll know what we were doing.
Next stop, back to a school of Perch that I'd located on Tuesday. The calm seas had force the fish a little deeper, but they were in the same area that we'd found them the day before. Today, they were on the deep edge of the weeds in 8 to 9 feet of water and holding on an inside turn in the weedline.
This is common behavior for Perch and it's worth remembering. The key ingredients are a weed flat with plenty of shallow water cover and a relatively sharp drop on an inside corner that forms a "hole" or indentation in the weedline. When the going is easy, like during breezy, overcast conditions, Perch tend to move up onto the flat and feed heavily. When the going gets tough, they drop into these small holes where they wait for their next big feeding opportunity.
We fished the "hole" for while and caught a lot of Perch, but the average size had slipped and we were only keeping 1 of 4 fish. After trying another spot that fizzled, I found another good hole just before lunch. Again, the fish were in using a small hole adjacent to a large weed flat. This time the fish were really aggressive and good size. I probably should have stayed longer, but Hey! I was so anxious to start lunch that we cut this spot short a little.
After an absolutely gorgeous lunch in a beautiful place, we decided to strike out for something larger and headed toward the big Lake Winnie for Pike or Walleye.
The Walleye and Northern Pike have been cruising at the outside edges of the deepest weeds and we figured on catching at least a few Pike, Karen's favorite fish. If the Walleyes were hungry, we'd take a few of those too.
As it turned out, there was an ample supply of Pike along with a few Walleyes on the deep weed edges. Fishing the North shore, conditions were crummy! With all of the traffic and no breeze, there were weeds and debris laying all over the surface and jigging was tricky at best. We hung in there for a while because we were catching some fish, but by late afternoon, I had to go find some new territory.
This time, I headed for a weedbed that had no boats. Not because I knew anything special, just because there wasn't any traffic. Guess what? Yes, that's right, there were just as many fish there as there was in the more heavily travelled areas and the fishing conditions were way more pleasant!
The best areas to fish are where the breakline turns toward the shoreline and the deepest weeds are close to a sharper drop. These deeper water, inside turns appear to be a holding lots of baitfish and the Pike. Walleye and Perch are there to cash in on the bonanza. Once you locate an area rich in baitfish, points, gravel stretches and heavy weed patches make great hiding spots for the predators.


(9/29) Bemidji Lakes Area and NMLOG Member, Paul A. Nelson says; The fall colors should be peaking in the next week to ten days, so now is a great time for a combination hunting, fishing and sightseeing vacation to the Bemidji area.
Walleyes are biting on most of the larger lakes, with good bites on Bemidji, Cass, Upper Red, Leech and Winnibigoshish. Most anglers have switched to jigs and minnows for walleyes, but anglers can still catch fish on live bait rigs with larger minnows, night crawlers and leeches (if you can find them).
Walleyes have been moving off the sides of structure in most of the deeper lakes and along the shoreline break in the shallow lakes.
Muskie anglers have been having some success casting larger jerk baits, crankbaits or large plastics. Trolling becomes a bigger factor for muskies as the lakes continue to cool in the fall. Anglers can also catch some of the largest pike of the season as the tulibees begin to come into the shallows to spawn.
Bass fishing can be great in the fall as most bass move out of the heavy shallow cover and move to the outside edge of the weeds and gather into larger schools.
Perch anglers have been finding perch on the edges of flats in areas with chara or rocks on the bottom, so the schools of perch can find both crayfish and minnows to eat.
Crappie anglers are finding crappies moving into deeper water, with deep rocks or wood cribs often the key areas. Most anglers use jigs and minnows on light tackle, so they can use lighter jigs in the deep water.
Sunfish will hold on any remaining green weeds as long as they can before moving to mid-depth mud flats to hunt for insects and zooplankton.


(9/29) Northern Minnesota Guides League Still Open For Business! Ready for some fishing? With the Ruffed Grouse season open already, the Duck season opening this weekend and other influences arising daily, many of the guides are putting away the fishing gear for the season. Don't worry though, if you're in the mood to get out one last time, call us! There are still plenty of really good guides with time available and we'll get you in touch with the right one for you.


(9/29) From Wired2Fish, Just released today, the mobile version of Wired2Fish.com for your iPhone, Android, Blackberry, iPad or other mobile devices is ready for your viewing enjoyment. We've stripped down our site to bring you all the fishing content you want in an easy to view format on much smaller screens. Learn More Here >>

Fishing Report September 28, 2011 Jeff Sundin Another great day in Northern Minnesota. The Deer River area is getting a giant "do-over" as water temperatures rebound, water clears up and te fish begin re-grouping. Maybe, just maybe, we get another shot at the fall fishing patterns that we'd hoped for a couple of weeks ago.
On Tuesday, I was wrapping up the season for Skip and Sandy Finch. For us, it made a lot of sense for us to stick with the mixed bag fishing that had worked well on Monday. With a game plan that included heavy emphasis on Perch fishing, we dropped the boat into Cutfoot sioux and again, surface temperatures were holding at just above 59 degrees. Like Monday, the warm sunshine would bring surface temps back up to almost 62 degrees before sundown.
My first stop was within 100 yards of the dock, in about 6 feet of water. As soon as we dropped the jigs into the Water, Sandy pulled out a nice 10 inch Perch, within a few minutes we'd boated a hlf dozen, but then the action stopped and I never got these fish dialed back in. Next stop, tons of fish but all small, then the third stop was good, lots of fish and a nice percentage of keepers. The Perch have been holding on to small clear spots, deep within the weed beds. It's rare to catch a lot of Perch when you're pulling and tugging on heavy weeds, but when you find these small, isolated openings, the Perch jump out of the surrounding weeds to attack your bait.
The average size of the Perch are fair, but if you keep fishing and weeding out the smaller fish, there will be an ample supply of true Jumbo Perch in the mix. By the end of our trip, we'd caught and released a couple of hundred fish and managed to keep about three dozen fish in the 10 to 11-1/2 inch range.
Presentaion is simple too. A 1/8 ounce jig head tipped with a medium to large size fathead, fished vertically as you slowly mill around in the weed cover. For me, the first nice size fish caught is the signal to mark the spot and get serious. As you dial in the best location, you'll usually find that the fish are holding in areas less than a few yards wide.
After lunch, a side exursion for a few extra Crappies and another lucky break! It took a little searching, but after a 15 minute crusie around the NW corner of Cutfoot, I finally spotted a school of tightly packed Crappies on the Humminbird. The fish were holding in 27 feet of water and as soon as we dropped in, these fish struck. This was a welcome change from the finicky fish we've been goofing around with lately. In about an hour, we'd kept a dozen, released another dozen and as soon as boredom overtook the crew, we moved on to wrap up the day with a little more Perch fishing.
9-28-2011 - For Lake Winnie,

Walleyes are on the move toward fall locations but the action is hit and miss. Timing is important right now and for anglers who want to zero in on Walleyes, there are two strategies to keep on the front burner.
Northern Pike action has been really good this past week and anglers are catching them in a variety of ways.


On Cutfoot Sioux

, Panfish action has been good, especially for Crappies. There are several schools of fish located around Big Cutfoot and there are some small, scattered schools of Crappies building in Little Cutfoot as well. Sunfish remain weedbound and anglers who want to catch them are finding it best to root them out of the heavy weed cover in 6 to 9 feet of water. Get the complete Bowen Lodge Fishing Report Here.

Fishing Report September 27, 2011 Jeff Sundin Mixed bag fishing is the way to go for anglers visiting in the Deer River area as summer in September continues.
On Monday, I finished out the fishing season with my great friend Pete Raquet who happens to be a customer too. Lucky for me, Pete loves fish, any kind of fish and so does Steve, today's guest, so the game plan was simply to take advantage of any opportunity that came along.
When we launched the boat, the sunshine was already bright and Cutfoot Sioux's surface temperature was hovering at 59 degrees, up from Sunday. The surface temp continued to rise throughout the day and by late afternoon, we were looking at temps pushing toward 61 degrees. That's good news for anglers set to arrive next week, because it will forestall the turnover for a little while.
Our first stop was over a small school of Crappies that I'd located a few days ago. There weren't a ton of fish there, but they were good ones and for a short time, cooperative too. Once the action slowed down, we moved to a shallower spot, scaled down the jig size and added worms. Bluegills started off great, and the first half dozen were really nice. After that, the size diminished and we lost interest in that spot too. We moved off toward a few Walleye and Pike spots, picking away at a hodge-podge of assorted fish, but at around 2:30 PM, we decided to return to the panfish because they'd been the most active so far.
On the way back into Cutfoot, something made me decide to stop and try one small spot for Perch. Hey! within a minute or two, good news was coming in as fast as I could handle it! The Perch were gathered in a small weedbed in 6 feet of water and they were about as active as they get. In a short time, I was surrounded by smiling faces and it stayed that way all the way to the cleaning shack! Understand, we had to do some sorting, some fish were better than others, but we were able to gather a couple of dozen fish in the 9-1/2 to 11 inch range. Some folks put a lot of emphasis on the larger fish, but in my opinion, trying to improve on the table quality of a 10 inch Perch is a really tough job!
Presentation for the Perch was simple, 1/8 or 1/4 ounce jigs tipped with medium to large fatheads. The larger minnows help attract some of the better size fish. Another tip for getting better size fish is to let the boat roam a little. I did drop in a marker, but I don't anchor when I'm Perch fishing. For me, sitting in one place too long tends to give the smaller fish time to gather under the boat. After a while, all you're catching are small fish because the larger ones don't get to the bait as quickly. Instead, let the boat slide away from the marker and work your way back with the MinnKota. Then you have a constant churn of new fish and the larger fish will tend to dominate the action.

Fishing Report September 26, 2011 Jeff Sundin Can't complain about the weather! That is of course unless you're a fisherman who'd like to get the right conditions at the right time. Gorgeous blue skies and calm seas helped keep the summer tan from fading, but made fishing a little tricky as weekend anglers experience on again, off again fishing around the Deer River region.
Sunday morning was the absolute picture of a "Bluebird Day" in September. Clear Blue sky, calm seas and steam rising from the surface of the lakes. Just the kind of day that fish love, when they want to take a nice nap.
Our mission was to try for a mixed bag of Crappies, Walleye and Perch. It seemed like the best idea was to try for the Crappies first, so we did. It worked, but the fish were really finicky. We'd get two or three fish from a school, then they'd get spooky, forcing us to wander around looking for another school to pick on. The good news was that many more schools of fish are appearing in open water now. These schools of Crappie are more tightly gathered and located closer to the bottom than they were last week. That makes it a lot easier for anglers to pin them down and figure out where to place their lures. Another thing about location, the fish are also located deeper than before and we found some schools of fish in the 26 to 28 foot range. They were related to the breakline from 22 down to 30 feet and holding toward the bottom edge, but not out on the deep flat.
Presentation was a combination of vertical jigging and slow trolling. We would catch a few fish from each new school by stopping and jigging vertically. Like clockwork, the schools would break up and scatter after a few fish, then we'd slowly troll around the area, jigging with a lift drop motion to pick up a couple of more straglers. It wasn't the fastest action I've ever seen, but at least it put the fish in the boat.
Next stop, Lake Winnie, where my friend Sean Colter had been catching some Walleyes and Pike, that is until we got there. I'm afraid that my timing wasn't too great, because as soon as we started fishing along the deep wedges of Winnie's North shore, we picked up a couple of Northerns and a 25 inch Walleye within the first ten minutes. After that, it was all down hill. In spite of dozens of fish appearing on the screen of my Humminbird, the action was just plain over. We moved shallower, deeper and in-between, snubbed by the lazy fish everywhere in this area.
Hoping for some mixed Perch and Walleye, we moved first toward Stony Point, then toward Raven's Point where we did find an active school of Perch. Jigging on top of the rocks got us into some good action, but we had to do some sorting to gather some keepers. One lonely Walleye came along, but on this spot, Walleyes were otherwise absent.
One last try before sunset, we headed toward the East side of the lake and found a few Walleyes near Tamarack Point, in a 7 foot deep weed bed. Jigs tipped with large Rainbows and some small Redtails fooled the last few fish of the day.
I guess that if we'd started fishing first for Walleyes, we probably would have had a limit of those instead of the Crappies, either way, we would have worked for our fish. In the end, it was a decent day, better than some, slower than others, just a really nice fall day.


(9/26) On Leech Lake, Calm seas hampered the Walleye fish on Sunday, but friends reported good Perch action on the weedlines. On Leech, they worked for their fish too, but the end result was good, nice size fish in the 10 to 12 inch range, accumulated over a days fishing amounted to a nice cooler full of great eating fish.
When the wind returns to the big lake, Walleye action will probably perk up again as the reports on Saturday, were really very good. Typical Leech Lake scenario is in play, good wind = good fishing.


(9/26) On Lake of the Woods , Mike Kinsella of Border View Lodge sais; "We had a good emerald shiner run at the beginning of the week. While this run definitely brought some fish into the river, the bite is still much more consistent on the lake. The Rainy River Walleye Tournament was held on the Canadian side this weekend. Contestants caught some nice walleyes, but the numbers were down and catches were very inconsistent.
The bite on the lake remains excellent. The reefs around Knight, Bridges, and Garden Islands have been producing with a jig and minnow. 24 to 29 feet has been giving up fish consistently. As we move into fall, the bite on the south end has been steadily improving. This trend should continue as the walleyes follow the shiners towards the river."

Fishing Report September 25, 2011 Jeff Sundin Saturday was an action day for me and my crew. We didn't care too much much about what kind of fish were biting, just that they were biting. It turned out for us that it would be Perch Patrol and Lake Winnie was more than generous with the action.
The surface temperature on the big lake was steady at about 57 degrees all day long. A chop in the morning was good for action, but even after the wind calmed down, fish were fairly active. Perch location was wide spread, we found schools of Perch scattered all the way from Stony Point to Sugar Bay. We found some fish on the rocks, but today, many more Perch were located in the weeds. Sometimes, they were mixed with a lurking Walleye and Sometimes with a Norhtern Pike.
Key depths were from 5 to 10 feet and if there was weed cover, fish didn't seem to care how deep. At the cleaning shack, I noticed that the fish we kept were full of young of the year, minnow-size Perch. By all appearances they were feeding heavily, most of their stomachs were packed tight with baitfish.
Presentation was a 1/8 ounce Lindy Jig tipped with small to medium size Fatheads. At times, we could catch fish by vertical jigging, but on this day, the fish tended to prefer a slow trolling pace and a slight pop and bump with the rod tip.
Average size of the fish was a little on the small side, but still acceptable. We measured most of the fish and released the ones smaller than 9-1/2 inches, (mostly). We ended up with 59 keepers and probably released twice that number along the way, so the action definitely good. A handful of bonus Walleyes and Northern Pike helped round out the trip.


(9/25) On Leech Lake, reports of better action are coming in from a variety of sources. Walleye activity is on the rise, especially when there's a good breeze. My friends mentioned Portage Bay, but knowing Leech Lake, when it's on, it's on. My guess is that the action is probably good in a variety of locations and it's just a matter of selecting an area where the wind best suits your fishing style. I like to jig, so the windier spots tend to be my favorite.
Jig and minnow combinations in the 7 to 12 foot range will get you into some action.
Perch fishing on Leech is also heating up and there too, it sounds like the weeds are the key locations. Jig and minnow combinations in 6 to 9 feet, Portage Bay, Sucker Bay and Boy Bay are all producing some fish.


(9/25) On Cutfoot Sioux, Sunfish and Crappie action is finally kicking into gear too. On Saturday, friends mentioned boating 65 fat Sunfish. They released some and kept some, but it sounded like the average size was good. Crappies are fairly easy to locate, but a little trickier to catch. Best advice is to skip over the suspended fish and work on small schools that you find within a few feet of the bottom. I'll expand on this after we see how they respond today.

Fishing Report September 24, 2011 Jeff Sundin Walleye weather? I don't know how much more we could ask for in terms of perfect weather for a weekend of Walleye fishing in the Deer River area. In fact, if the weather comes as predicted, it might be a whole week of great weather! All I can tell you is that it was sure nice to drop the hood, hear the sounds of the lake and get a great lung filling whiff of the good air on Friday!
Fishing with Carl Bergquist and a smaller than usual group of his friends for the fall Cronies Weekend, I knew that my mission would be Walleyes or die! I decided to get off of the beaten path and strike out for some fresh territory. We headed for a lake where we have a good track record of past experiences and luckily for me, this day would be another good one added to the list.
On the drive in, I was aprehensive though, because it's been tough work to go out and get a bunch of Walleys these past several days. Windy, gloomy days, a super fast temperature drop and constantly changing conditions could make it tempting to be discouraged. But in spite of the fact that there have been a lot of weather complications lately, the potential for a great day of Walleye fishing is still better than all of us have been thinking.
Walleye location is the problem. I said a few days ago that "For the next couple of weeks, If we don't catch 'em, it's because we didn't find 'em". Our fishing experience on Friday was the quintessential example.
When we arrived at the lake, the surface temperature was 59 degrees, the sky was blue and the breeze was putting a nice, drifting ripple on the surface. Based strictly on past experience, I headed for a rocky flat, surrounded by mixed weeds. We rigged up with 1/8 ounce jigs, tipped them with the largest Fatheads I could find and started jigging on the breakline at about 10 feet of water. We had made it about half way down the first drift when Lamar hooked a solid Walleye. It was in the protected slot, so we released it, but it was a good start. It took a few passes to get dialed in, but eventually we did and the fish started coming in more frequently.
The action was good, but most of the fish we'd caught were in the 18 to 19 inch range, too big to keep and with a fish fry on the agenda and the drifting wind fizzling out, I decided to look for another spot.
We checked a couple of humps, a couple of weed edges and another rock spine, but except for a few nibbles, nothing was shaking at these locations. A lucky break came my way when the wind picked back up and started churning the water again. We headed back for the original starting spot and guess what?
With the chop back on the water. Walleyes were on the prowl again and this time, a school of fish in the 15 to 16 inch range helped make gathering a lttle easier. We still had to work at it, but before we finished, the livewell contained 16 nice Walleyes. The fish fry was on and the boys would have some fish to take home too.
If I hadn't known about the rock flat, or if I had checked 5 or 6 "dead spots" first, it might have been really easy to get discouraged and leave the lake before we figured out where the fish were. I was lucky, but the point is, if you keep looking, you will find biting fish. If it takes a while, that's okay, just keep chipping away and you will win.

Fishing Report September 23, 2011 Jeff Sundin A break from the windy conditions gave us a chance to peek out from under our hoods on Thursday and the view was pretty nice. Apparently the fish are still trying to figure out where they want to go, but at least now we'll have a chance to work out a couple of stategies for finding them.
Instinctlively, you would think that the fish must be ready for a major feeding session, and from what I can see, they are. The fish we've caught are plump, fiesty and looking like they've never missed a meal in their lives. They are obviously feeding, the question for us? How fast can we find 'em?
For anyone who wants to do some serious Walleye fishing, it's going to take some imagination to figure out a pattern, but if you're completely stumped, the weeds are still holding at least some fish. On Thursday, we scrounged around on the weed edges in about 9 feet of water and mangaged to drag out a half dozen Walleyes, some Perch and a bunch of small Northern Pike. The best area was a shoreline point that had gravel mixed with some nice green weeds, a 1/8 ounce jig tipped with the largest Fatheads I could find, tricked these fish.
For folks who prefer to fish the open water points and bars, the strategy might be to locate fish during mid-day and lock in the best looking spots for evening. With the days getting shorter and the temperatures dropping fast, one could argue that it's better to sleep in the morning, fish until dark and capitalize on short periods of evening activity just before night fall.
Panfish have been saving the day for lots of anglers and if you're looking for some fabulous eating, even the casual fishermen can figure out how to gather some fish for a meal.
Crappies remain shallower than usual for this time of the season. Check shoreline breaks in 18 to 22 feet and on soft bottom flats in the 16 to 18 foot range. For stationary schools of fish that you locate, a 1/16 to 1/8 ounce jig tipped with a small minnow will do the job. For scattered fish that you find on the flats, try substituting an action tail for the minnow. Twirl Tails, Shad bodies or small tubes will all do the job. Mix and match until you're satisfied.


(9/23) From Duluth, NMLOG Guide Dustin Carlson says that they are putting fish in the boat every day! Muskies are on the prowl and biting. With cooler water temperatures, they're finding fish in the shallows and having good action using gliders.


(9/23) On Lake Winnie , NMLOG Guide Sean Colter says; "Fronts continue to push in as fall settles in and the walleyes and panfish are certainly showing themselves in the typical fall patterns. We have seen good concentrations of walleyes with the recent drastic drop in water temps in the 7-12 FOW and more days perferring minnows either rigged, jigged or pulled on spinners. Hang on as the Fall Walleye Frenzy heats up in those shallow waters"!

Fishing Report September 22, 2011 Jeff Sundin Okay, Wednesday was an even wetter, more blustery day than Tuesday. Luckily, there is such a thing as small lakes and after we caught enough fish in Cutfoot Sioux for lunch, we put the boat on the trailer and headed for something smaller. We spent our afternoon on a 180 acre lake and at times, even that seemed too big!
The goal was to find some Crappies and luckily, I found a couple of modest schools of fish on the calm, (sort of) side of the lake. The fish were in shallow water compared to other area lakes and at 16 feet, they were spread out horizontally across the bottom. The scattered fish forced me to employ the Drift Bag and to slip sideways against the wind as we jigged the bottom. It's more like Walleye fishing than Crappie fishing, picking off one fish at a time, rather than sitting on top of a school of fish stacked vertically. Today, the fish were aggressive biters, but because they were scattered, the bites were infrequent. The average size was good though and it was worth the effort.
Presentation was a 1/8 ounce jig tipped with a medium size fathead. If I'd been better prepared, I would have tried an assortment of artificials too. Typically, fish scattered this way are vulnerable to jigs with a variety of "action tails", small blades and even spinners. All items that I'd take out of the boat last week, I know, put 'em back in, I will.
I tried to keep my drifting/trolling speed under 1.0 MPH and using the Drift Control really helped with that. Fish seemed to bite best at about .8 to .9 MPH.
I need to say one thing about the equipment. If you're going to fish for finicky Crappies, you need to get rigged up the right way! For this particular job, I use the most sensitive rod I own, the lightest line and use my softest touch. Taking the extra time to get rigged up correctly will help you catch dozens of extra fish every season! Here's a good recipe; Seven foot light action graphite rod, 1000 to 1500 series reel, 4 pound test line (maximum), 2 pound test if you have a lot of finesse. I promise, this will work!
Today, it looks like a break in the weather may help make it easier to move around. I've got a feeling that another Crappie lake is going to wind up on the agenda, but we'll see what mood the boys are in and let you know tomorrow.


(9/22) On Ball Club Lake , Gus' Place Resort, Gus says; The upcoming Duck season opener has his cabins full of hunters whose eyes will be cast toward the sky.
For fishermen, the surface temperatures on Ball Club are still hovering around 60 degrees and Gus says that the fish appear to be schooling up for fall. There were a number of Northern Pike in the 6 to 7 pound range caught on Large, Live Sucker minnows last week. Most schools of fish are getting larger and usually located adjacent the sharp drops. Gus added that fishing is good for Walleye, Blue Gill, Perch & Northerns; Crappie are slow.


(9/22) On Lake Vermillion, NMLOG Guide Billy Rosner says that; "Fishing on the Big V has been very good. Eyes starting to show up in the deeper holes. Still getting them on rigs and crawlers also minnows. The jig bite should start very soon.Most Muskies are coming off of rock areas burning bucktails. Big pike being caught on deeper weedlines in that 6-8 ft. range. Bucktails and Lindy M&G spinner baits getting most of the big pike".


(9/22) On Lake Winnibigoshish John Seekon of The Pine Resort. Says that most of the walleyes this week have been caught by their guests fishing on the east shoreline of the lake, with a few coming from the north shore. The best depth has been from 8 to 10 feet, with a jig and minnow being the most used presentation.
John still has fall dates available and there is plenty of time to plan an october trip. Call The Pines Resort for reduced october rates.


(9/22) On Lake Winnibigoshish Bryan Harris of Eagle Nest says; Our guys have struggled to find the walleyes lately. But they are getting crappies and big bluegills. Hopefully, the walleyes will get hungry in front of the resort soon.
We have a great October and off-season special rate...$50/adult/night and $25/kid(K-12)/night and free dockage. Also, for the bird hunters, we allow hunting dogs at the resort, just not in the cabins. They can be kept in their own porta-kennels in our heated garage during hunting season. October is a great time to hunt and fish in our area...the best of both worlds!

Fishing Report September 21, 2011 Jeff Sundin A blustery, wet day on Tuesday kept us hunkered down and pushed us in the direction of small water and panfish.
With wind advisories issued and rain on it's way, I'd have my work cut out for me on day two of the annual nurses trip. Fishing with two groups of three and a big shore dinner on the schedule, we needed to get a lot of fish and the idea of running back and forth on Big Winnie wasn't too appealing. Luckily, the crew wasn't opposed to the idea of searching for some new Crappie spots and we decided to go toward some smaller, protected areas where we could try and gather some food. Along the way, we'd check some spots for Walleye and Perch too.
Not exactly the "hot bite" that we'd hoped for, but at least the conditions didn't totally stop the Crappies. They were scattered on the flats and tricky to trigger, but catchable. At first, we used the old reliable, hover and fish vertically approach and for a while, it was productive. The fish were holding in about 19 feet of water and a 1/8 ounce jig and minnow was enough to trigger a strike, if we lifted the baits up, above the fish a foot or so.
After watching the screen and seeing fish scattered accross the flats in 16 to 18 feet of water, I decided to try plan b, slowly trolling and long line jigging with smaller jigs. At first, it worked like a charm, but after an initial flury, the action became too slow for me.
We went back on the vertical jigging approach and truthfully, I stumbled into one school of fish that saved the day. For some reason, this particular school of fish remained active and we were able to pull about 25 fish off of this spot. Here, the fish were holding on a steep drop-off in about 23 feet of water. The 1/8 ounce jigs were too heavy to trigger strikes so we scaled down to a 1/16 ounce jigs, tipped with minnows. Unlike previous sessions, wax worms, night crawlers and artificials were not effective. They wanted to see that minnow or they wouldn't eat.
With another rainy, blustery day on tap for today and a crew that will fish three times over the next week, I guess I'll be leaving the Walleyes behind today. I'll be looking instead for small water again and I think it's time to check out some new mixed bag lakes that might be a little more comfortable.

Fishing Report September 20, 2011 Jeff Sundin All of the evidence points toward routine fall patterns and Walleye locations appear to be typical for the early fall period. In spite of the now, cooler than average water temperatures, fishing patterns are more like what we'd expect in late August or very early September. Many of the deep-water fish are still roaming the flats, making their way toward shoreline haunts. Any migration of fish into Cutfoot Sioux from the big lake so far is minimal, but there are increasing numbers of fish showing up in the gap and closely related structures.
On Monday, fishing Cutfoot Sioux and Lake Winnie was interesting. The action wasn't fantastic, but it was steady and there were a lot of opportunities to catch a fish. There was a mix of Perch and Walleye in shallow water where mixed rock and weed cover attracted feeding fish. When the wind gusted, the fishing action picked up, during calmer periods, fish were trickier to hook and land.
The sunshine, calmer seas and stabilizing overnight temperatures have allowed the surface temperatures on Winnie to rebound and by days end on Monday, most areas of the big lake were back up to about 60 degrees. The longer it holds in the high 50's, the better the action will get.
Right now, Walleyes are nomadic and getting the idea that you can fish the same spot every day, is a major mistake. I said yesterday that for the next couple of weeks, getting in on the bite depends on finding the fish. There's nothing more important than checking new territory until you find the fish! One day may be better than another, but once you find them, they will bite.
Okay, I'm cutting the report a little short today so that I can clean up a little paperwork. But, one quick note, the fall colors are just starting to get interesting and for the next few weeks, you'll see a link to a daily color picture. So far, the colors are just barley beginning to show, but soon, there will be some beautiful scenery, so check them out!

Fishing Report September 19, 2011 Jeff Sundin Fall Walleye Fishing? Yes, the run is on! Okay now listen, for the next couple of weeks, the rule is, if we don't catch 'em, it's because we didn't find 'em. The feed bag is on and the fish are moving right now. On Sunday, we caught lots of plump Walleyes that haven't missed a meal all summer long. They were golden, fat and absolutely packed full of young of the year Perch minnows.
On Sunday, I left the house knowing that it was another day of fishing in the full scale hunter-gatherer mode. My customer had missed a few trips earlier this summer and was hungry for some action and needed to bring home food the evening fish fry. Not that there was any pressure though, we just needed fish really bad!
When we launched the Boat, Cutfoot Sioux was showing surface temperatures in the 60 to 61 degree range, warmer than Lake Winnie and in what I'd call the ideal range. Grey skies were spitting a little rain and there was a light chop on the surface.
Crappies might help add some extra fish to the larder, so I started scanning for a school of the now roaming fish. Most of them are still in that irksome, suspended animation mode. Very easy to locate on the Humminbird, but really tricky to catch. We did manage to catch some, but honestly, it's hard work right now and it might just be better to wait until after they get back into larger schools and pack up closer to the bottom. If you happen to find some fish grouped closer to the bottom, they will be much easier to catch than the suspended ones.
By the way, you may know a trick or two for working on those suspended fish, if so, I sure don't mind learning a new trick myself, so please let me know.
Before heading out into the waves on the big lake, I looked at a few Walleye spots in Cutfoot. Fish are beginning to build up on the points and on some of the main bars. Wherever I marked fish, we got bites and I'm sure that if I'd stayed in Cutfoot all day, we would have gotten our Walleyes. But the bite wasn't fast and hoping for quicker action, we decided to get into the waves and head out across the big lake.
On Winnibigosh, surface temperatures have dropped unusually fast and there are already areas where the temps have fallen to as low as 54 degrees.
The first few stops didn't look too great, we caught a fish or two at each stop, but couldn't really get excited until I stopped on a shallow weed/rock bar that topped out at 5 feet and dropped into 8 feet of weedy water. The fish were holding in 6 feet of water right along the inside edges of the weeds. If we fished too far up on top of the rocks, the action stopped. Too far out onto the weed flat and the action also stopped. If I stayed on that edge though, the action was steady. Except for the happy problem of catching a lot of protected fish in the 17 to 19 inch range, it was fairly easy to gather our limit of Walleyes for the dinner table.
Jumbo Perch were hiding in the weeds too and as a by-product of our Walleye fishing, we caught a dozen or so Perch as a bonus. I'm sure that if we'd slowed down and hovered on top of them, Perch would have been easy to catch. Size was decent, but they weren't the largest either, ranging from 9 to 11 inches, they'd make a nice fish fry.
Presentation was simple, I controlled our drift with the drift sock and slipped along the weeds edges with the transom quartering into the waves. We jigged with 1/8 ounce jigs tipped with the largest Fatheads I could find.
Today, the calmer seas and sunshine might make fishing a little trickier, but I think there will still be some good action with even the slightest chop. If there's no wind, I plan to go heavier on the Perch, and let the Walleyes come along as bonus fish. We'll see how it goes.

Fishing Report September 18, 2011 Jeff Sundin Big Lake Walleye, back on the agenda for Northern Minnesota fishermen! As water temperatures continue to fall, Walleyes are getting the itch to fatten up before winter and the move toward shallow water feeding areas is happening now.
On Saturday, the crowd of anglers fishing near us on the Southeast shoreline of Lake Winnibigoshish looked fairly happy. As we took turns exchanging real estate with the other boats, I noticed lots of fish coming in and as far as I could see, most everyone went home with some fish.
When we arrived at the lake, Surface temperatures were a cool 58 degrees and depending on the spots I visited, ranged from a high of 59 to a low of 54 during the day. There wasn't any sign of a warm up as the conditions remained cloudy, cool and windy.
Walleyes are starting to turn up in a variety of places along the weed edges and weed flats, so the typical fall scenario of making your moves in small, 100 to 200 yard jumps along the shoreline will be a good way to find roaming schools of fish. There were schools of distinctly different size fish located near, but not within the same weed patches, so it paid for me to keep making slight adjustments in depth and location. Whenever we found a school of "new fish", they would bite aggressively for a short time. Too much boat activity seemed to send the fish roaming in a new direction.
Presentation was typical for this time of the season, 1/8 jig and minnow, hopped and snapped vigorously in the weed patches. We spent more time drifting than we did trolling, but used both methods and caught fish either way.
During the morning, action was steady, but not fast. But by around 4:00 PM there was a definite warming trend and the fish responded very well. For the last hour, I was feeling like I struck Gold! We finished out the day with our limits of fish and smiles were plentiful!

Fishing Report September 17, 2011 Jeff Sundin Back into the waves as another front moves up from the south. Walleye anglers who managed to get into position to take advantage, were rewarded with good action on Friday.
After I finished up a panfish trip on Friday evening, I was cleaning fish as I heard fishermen around the cleaning shack grumbling about slow Walleye fishing. Meanwhile, I was on the phone talking to my buddy, Jeff Skelly who was reporting a bumper crop, somewhere in the 50 fish range! Hmmm.... sounds like the prime reason why I don't grumble! There's always someone out there who finds 'em, and when they do, you wind up with a giant Dinosaur Egg all over your face!
No matter, this is the way the fall Walleye run always starts. The action may be a spotty at first, with some anglers finding the mother lode, as others struggle. The Silver lining is that opportunities will expand daily for the next couple of weeks and soon almost everyone will find a school of fish to work on. Within the next few days, even the grumblers will be happy and for a short time, Deer River area fishermen will be all smiles. Click here for more news about Walleye fishing on Lake Winnie and Cutfoot Sioux.
For me, the focus has been on Panfish and Perch lately. Over the past few weeks, Crappies have been a staple item for most of my fishing customers. The action has had it's ups and downs and seems to have already peaked, but maybe it's just the mixed up weather causing trouble. For me, it's been tricky to get them for the past few days, tricky, but not impossible. In fact, if I can do a proper job of holding the boat steady, my anglers can catch the fish, even the strangley assembled pods of suspended fish that are appearing everywhere.
Apparently, the fast blast of cold air caused some kind of a mini-turnover or zone of temperature comfort for these fish. There are literally small schools of fish every 100 feet, suspended 10 to 12 under the surface, but over deep water. The only way to catch them is to hold still and give the fish an opportunity to make up their mind. Drop your bait just below the school of fish, then slow raise it above them. I watch my Humminbird like a Hawk and if I see fish rising up above the main school as the anglers move their baits, then I know we can catch them. If the fish won't move, then I do.
Presentation has been 1/8 ounce jigs, they seem to really like Yellow Chartreuse right now. When the fish are sluggish, we're tipping the jigs with medium size Crappie Minnows . During times of higher activity, I'm using the small 1/8 ounce size Whatsit Jigs without live bait. The more active fish seem to prefer the action of the unique tail on this jig. If you wiggle your rod tip, you can really make them look alive.
Perch fishing for me has been all about the weeds. So far, every good Perch bite I've had this week was in 7 feet of water, in or very nearly in the weeds. The presence of rocks is great for a good Perch spot, but right now, rocks alone aren't working for me.
Presentaion for Perch has been 1/8 ounce Lindy Jigs, the Orange/Brown and Yellow/Orange combinations have been good and so has the plain Yellow Chartreuse. I've been either drifting really slowly or hovering stationary on the spots when we find them. We are fishing vertically, about 8 inches above the bottom and using a slow, lift-drop, instead of snapping or hopping the jigs.

Fishing Report September 16, 2011 Jeff Sundin Bluer Blues, Whiter Whites and a whiff of good, morning air! There's no better way to get the day started, especially knowing that the best days lie ahead!
The fish are re-grouping and the water temperatures are falling into the ideal range. When we arrived at Cutfoot Sioux on Thursday, the surface temperatures that dropped like a rock over the past few days, have stabilized in the low to mid 60 degree range. Ideal temperatures for triggering the fall feeding frenzy that is set to begin soon, maybe even today!
Going in to day four, the final day of the Wirtz-Laga-Bello annual fishing trip, we were in good shape considering the conditions we'd had lately. Having their bag of Northern Pike and most of their Walleyes already covered, we needed to find some Crappies and maybe another bonus round with the Perch. Luckily for me, the fish got a boost from the stabilizing conditions and re-grouped just in time to let us finish out the trip on a high note!
First, we started searching for Crappies and found a school that had gatered back together in about 20 feet of water. After seeing loads of fish that were suspended, this pack was closer to the bottom, which makes it a lot easier for most anglers to fish. It's easier to figure out where your bait is when you can simply drop to the bottom and work upward from there and so I decided to try this spot.
At first, the fish were sluggish and really reluctant to strike, but after tricking a few of the stubborn ones, we eventually did get something of a frenzy started and before we left this spot, had half our Crappies already. One more search led us to another small pack of fish, alos located in 19 to 21 feet. It was the same as the first spot, slow start, then frenzy, then all wrapped up and off to cook shore lunch.
After lunch, We headed back out onto Cutfoot Sioux hoping for some Perch action and maybe a few stragler Walleyes to finish off the trip. This wasn't going to be quite as easy, the wind was calm and the sky was bright blue, not eactly ideal conditions for an afternoon rally, but as luck would have it, I stumbled into just what I needed!
At first we poked around in two or three popular spots, picking up the odd Walleye and Perch, not too fast, but encouraging. Finally, I spotted what looked like a school of Perch in 7 feet of water on a mixed weed and rock point. We dropped our baits over the side, vertically and in a minute, there were a couple of Jumbo Perch laying in the cooler. For the last couple of daylight hours, we kept milling in and out of this weed bed and the fish kept coming in. By days end, we had a few dozen bonus Perch and picked up 7 Bonus Walleye in the process.
Presentation was a 1/8 ounce jig and minnow fished vertically. The calm, sunny conditions had the fish holding tight in the weeds, so there was no need to put any action on the baits, in fact, action made the fish stop biting. The best approach was to drop the jig, lift it up a foot from the bottom and wait. I know, it doesn't sound right, but it worked like a charm!


(9/16) On Leech Lake , My fishing buddy, Vern Valliant says that there is some potential for the shoreline Walleye run on the giant lake. He and his crew fished the stretch of water from Battle Point all the way up North to Five Mile Point and had sporadic action along the way. At last report, they had bagged seven keepers and released some larger, "slot-fish" as well. Jig and minnow combinations on the shoreline breaks was the presentation.


(9/16) On Ball Club Lake , Gus' Place Resort, Gus says; "Lake level is in typical "Fall" low with surface temps in the upper 60s.
Bluegill & Crappie catch has been on the rise this past week, but you need to be in the right spot at the right time as the schools are on the move, 14ft of water has been the most productive with Leeches & 1/8oz. jigs for the Gills.
Perch & Northerns remain in the same areas on the flats near the breaks 8-16ft. Look for deep weeds.
The big news this past week came on the morning of the 12th. when Doug O. caught and released this beautiful 35 inch Walleye. Doug caught the fish in 12-14ft on a Lindy rigged leech. In July there was a 30 inch walleye caught & released also on a Lindy rigged leech.
Ball Club Lake is free of the fishing pressure many of the area lakes receive, in part due to poor public access. I believe there is a state record out in the lake". Gus.


(9/16) Bemidji Lakes Area and NMLOG Member, Paul A. Nelson says; "Fishing for walleyes, muskies and crappies was better after dark than during the day this past week with the September full moon and the hot calm weather. Anglers fishing during the day had some action in the mornings and evenings, but the mid-day bite was pretty tough on most lakes.
The good news is the full moon phase has passed and the first frost of the fall is expected this week, which should drop the water temperatures into the 60s and hasten the development of fall fishing patterns for most species.
Walleye anglers on the shallow lakes like Winnibigoshish, Upper Red and the shallow bays of Leech Lake will find walleyes moving into the shoreline to feed on small perch, crayfish and other baitfish.
Walleye on deep lakes like Bemidji, Cass, Pike's Bay and the deep bays of Leech Lake will see walleyes moving off the sides of structure into deeper water. The areas with the most baitfish will attract the most walleyes, with the fish wanting to stay close to the best food sources.
Muskie fishing should improve as the water cools and the muskies start feeling the need to put on some weight before winter. Some muskie anglers like to fish with bucktail spinners early, big plastics and surface baits during the summer and then larger jerk baits in the fall.
Perch fishing has been good along the edges of flats and points in lakes like Bemidji, Cass, Leech and Winnibigoshish. Anglers can catch a mixed bag of fish while fishing for perch with jigs and minnows.
Crappie action has been improving on deep rock humps, sunken wood piles or on the deep edge of hard bottom, depending on the lake. Anglers should look for crappies on their electronics and then hover over the fish with jigs and minnows or jigs and plastics.
Bass fishing in the fall can be great as many fish move to the outside edge of the weeds and gather into larger schools. Click to contact Paul A. Nelson Bemidji Area Lakes Guide Service.

Fishing Report September 15, 2011 Jeff Sundin ....the gales of November came early ... Well Ya! about two months early!
I've been fishing with the same group of men for the past three days. When we started fishing on Monday, everyone was wearing shorts and tee-shirts and I was worried that my supply of bug spray would run out before the bugs did. By Wednesday afternoon, everyone had on every stich of clothes they brought and there was a mixture of sleet and some kind of frozen something or another falling into the boat as we tried to hide from the wind.
So, there you go, my opportunity for a very creative fishing report, here goes nothing. I stayed off of the big water, hid behind a tall bank, held onto the tiller and did the best I could.
Luckily for me, we had a really good head start on Monday and Tuesday, so were flexible and started fishing for Perch or panfish or whatever we could catch. Another lucky break came when we discovered a school of Perch holding in the weeds on the calm side of Cutfoot Sioux in about 7 feet of water. Using 1/8 ounce jigs tipped with fatcheads, we managed to stay in the "slow-but-steady" mode, picking and choosing, gathering a keeper every so often. There weren't too many Walleyes mixed in, but there were a few and we manged to add these to the larder as well.
Toward evening, the winds calmed down a bit and we were able to spend a little time looking for Crappies. Blustery conditions and scattered fish made the effort more difficult than usual, but we managed to pull out just enough to prove that they were there.
Okay, that's not a lot of new news, but one thing I can tell you. Every single critter that was living in the shallow weeds is now out in open water. The big move is on and within 48 hours, we're going to settle back into some really, really good fishing. For me, the game plan today is to take a whiff of the good air, put the boat on the lake and start fishing.

Fishing Report September 14, 2011 Jeff Sundin Tuesday was lunker day in the Grand Rapids area! No way that the action compared to Monday, the fishing was just different, but a new gathering of fish offered us an opportunity for some serious moments of greatness!
When we arrived at Pokegama Lake, there was a crisp wind blowing from the Northwest and there was a chill in the air. Surface water temperatures had dropped from 74 degrees to 67 in the past day and a half. Long gone were all of the houseboats, pontoons, jet skis and swimmers that we saw over the weekend. The lake had a whole new look, today it looked like a fishing lake!
It was killing me not to go pay a visit to the old reliable, "Lunker Hole" to try and re-live some memories, but a man of my word, I had already promised to leave it alone for the rest of the season. I did have high hopes of finding a new one though and with the good air still working it's magic, I stumbled into a couple of really cool places.
There's no doubt that the action had slowed down since Monday afternoon, but today what the lake lacked in action, it made up for with some of the largest fish I've seen caught by any of my customers, ever. In fact, Barry Laga brought in a whale, his 31+ inch Walleye is now the largest ever caught by any of my customers and sets the new bar for future trips.
Northern Pike were running larger too! John Bello bagged a solid, 34 inch fish and we had a half dozen in the 28 to 30 inch range.
The presentaion, Lindy's no-snagg sinkers in the 3/8 or 1/2 ounce size, a six foot, 18 pound test fluorocarbon leader and a large Creek Chub has been so reliable that I haven't even given anything else a look! We fished this rig on shoreline points in the 22 to 35 foot range. Wherever I mark fish on the Humminbird is where I go. So far, that strategy has worked out really well and it's probably going to hold up for a while.
After lunch, we had Crappies in mind, but with the wind blowing like crazy, it was going to be tricky. I headed for a tiny lake where I can sometimes get out of the cold, windy weather and pick up enough fish to get some smiles. Luckily, the fish were there and easy to find, un-luckily, they were suspended and with the heavy wind, quite difficult to to hold position on.
The obvious first places to look were on the edges of deeper holes. Absent from these locations, I started scanning the the flats and found that the fish were located in 18 to 20 feet of water, suspended half way between top and bottom. Hmmm... a little tricky to catch 'em when it's this windy, but we did manage to drag out just enough to prove that they were there.
I'm back on the Crappie mission today and since I've also promised to leave one of may favorite Crappie holes alone for the rest of this seasn, I'll be looking for some fresh territory. With luck, I'll find some and give you the report tomorrow.

Fishing Report September 13, 2011 Jeff Sundin Fishing action goes into high gear as a breath of "The Good Air" kick starts the action and brings us relief from the dog day duldrums! The sweet smell of September moved into the Grand Rapids area on Monday and apparently the fish were as happy about that as I am!
After coming up short in the effort to find the coveted Redtail Minnows I'd been looking for and being talked out of my original game plan by a less than enthusiastic crew, I stumbled into one of the lucky breaks that I sometimes mention. A last minute decision to slip the boat onto the West side of Lake Winnibigoshish turned out to be just what the doctor ordered!
When we arrived at the lake, surface temperatures were 72 degrees and the Southwest wind was still plenty warm. This time though, there was a nice chop on the surface and by the time we arrived at the first fishing spot, there was a 2 to 3 foot wave blowing right into the shallow water we planned to fish.
With a great chop on the surface, it made sense to start off the morning with jigs and minnows, so we rigged up, fired out the first few casts and within 20 seconds, Mike had on the first Walleye of the morning. A chunky slot-fish in the 20 inch neighborhood. Subsequent casts yielded similar results and within the first 15 minutes, we knew that this was the real-deal. A good old fashioned Winnie action bite with a mixed bag of Walleye, Perch and a few Pike.
The waves continued to get bigger as the Southwest wind increased and our goal was to run ourselves out of bait before the predicted wind switch occurred. Another bit of great luck came my way as we used our last minnow about a half hour after the wind switched to the Northwest, at 12:30 PM we were out of bait, hungry and had a perfect excuse to head back to the landing and cook. By 12:45 we were nearly back to the landing when I learned that there was going to be a great afternoon tail wind and I knew that we'd be all smiles for the next leg of our journey!
After Lunch, I had a cooler full of large Creek Chubs, but notthing smaller. Just for the heck of it, I decided to run over to Pokegama for a few hours of Pike fishing in the afternoon. If I'd written the ahead of time, I couldn't have mad it a better story. On our first spot, Mike lowered his Lindy Rigged Creek Chub over the side and had a strike before the sinker hit the bottom. From then on, the Pike action was steady. By late afternoon, the crew were all smiles and the sky was lit up with rays of light everywhere!
Our presentations were a simple as it gets. For the Walleye and Perch, we fished 6 to 8 feet of water, along the weeds and on top of shallow rocks. We used 1/8 ounce Lindy Jigs tipped with large Fathead minnows and hopped them aggressivel;y on the rocks and through the weeds. For the Northern Pike on Pokegama, we fished in 22 to 30 feet of water on the sharp breaklines and used Lindy Rigs, 3/4 ounce sinkers and six foot leaders tipped with medium to large Creek Chubs.
For today, another windy session is predicted and we'll be hoping to take advantage of that again by fishing some shallow water for Perch. There's another cold snap on its way, which should push another load of panfish out into the open water where we'll be ready to intercept them. This time, it might get cold enough to kill some of the weeds which will really help. Stay tuned and watch the fall bite turn on!

Fishing Report September 12, 2011 Jeff Sundin After a hot spell that's made life for Walleye anglers tricky to say the least, a welcome breath of the good air should send us off in a whole new direction today.
On Sunday, Walleye fishing started off like it would be easy, our first pass yielded two fish and there were plenty more to look at on the Humminbird. But for me, the high sunshine and flat calm surface water would soon cause the same problem that's plagued me all week long. It's been easy to find Walleyes, but really hard to get them to bite.
What we found on Cass Lake this Sunday were scattered shools of Walleye, holding on the upper edges of main lake bars along the hard break from about 12 feet down to as deep as 24 feet. We were able to catch some of them, but it was rare to be in the action for more than one pass through the fish.
The best fish we caught were brought in with Lindy Rigs tipped with medium size Creek Chubs. I wish that I could have gotten some Redtails, but without access to them, I'm forced to settle for the chubs instead. My thought about the Redtails was confirmed as we watched a boat full of tight lipped walleye fishermen pull in several fish from some of the same locations we had already fished. When I asked, they didn't want to tell me, but I knew and they knew that I knew. So finally they let it slip out that they were doing better with the Redtails.
So now guess what? I gotta cut the report short and drive over to Grand Rapids to see if I can get some Redtails.....Tuesday morning, a full update on its way.

Fishing Report September 11, 2011 Jeff Sundin Summer weather patterns, mixed bag fishing and temperatures heating up. Another warm, calm period has led to days filled with with changing patterns and for the past couple of days, the strategy for me was simple. Watch for signals and try to figure out the best way to use the information. Sometimes it's worked, sometimes not. Either way, the only way to cope with all of the changes has been to fall back, make an adjustment and go back to work.
Saturday, the plan was to get a head start on the day, head out early for a few Crappie spots and hopefully, find some Walleyes afterward. The good news, we found Crappies and they were really nice size. The bad news, getting them to bite was like pulling teeth! To make it even trickier, the crew wasn't exactly at the top of their game when it came to setting the hook and getting 'em in. In other words, we got some, but it was clear that we'd need to make a move sooner than I'd hoped.
The fish we did catch were holding in 18 to 22 feet of water, on structure like sunken tree branches. The fish didn't move, they held tight and the only way to get a bite was to lower the jig into the pack and then work it back up slowly. Watching the graph for any sign of a fish rising up above the rest revealed clues about when to stop moving the jig and wait for a strike.
After we loaded up the boat, we trailerd over to Pokegama Lake where there's been a mixture of fish. Anything could bite on this lake and as we'd soon find out, almost everything did bite, at least a little.
Our first effort was to concentrate on Walleyes. We trolled Lindy's Crawler Harness Spinners with Night Crawlers on the deep side of the weed edges. Fish were holding in the 20 foot range, outside of the grass line. Boat control was really important, If I headed to shallow and wound up over the grass, tiny Perch attacked our worms like a flock of feeding Chickens. When I could see fish on the Humminbird, we were in good shape. Some of them bit and a lot of them didn't, but when there were larger hooks under the boat, we were free from the mobs of Perch.
Small points, hard spots or rocks were they key. Any slight change in the bottom content was enough to hold a small pack of Walleyes. They were scattered along the weed edges on these smaller, sub-spots.
On one of the weedlines, there were a lot of fish on the screen, but not much Walleye action. I asked John if he wanted to try a minnow, he did and within a few minutes, caught a chunky Northern Pike. That fish changed the focus of our afternoon. The Pike action was steady and we stuck with the program for most of the balance of the trip.
Our presentation was Lindy Rigs with large Creek Chubs. Fish were holding deeper, 25 to 30 feet and when I could see them, they struck.
Behind the clock again, There's more to report and I'll have a major update for tomorrow morning. Have a fantastic day!

Fishing Report September 9, 2011 Jeff Sundin The summer of 2011 continues! High, bluebird skies and warm temperatures make for tricky Walleye fishing, but deliver loads of alternate opportunities for versatile anglers.
Our mission on Thursday was to catch some Walleyes Northern Minnesota's large, but managable, Cass Lake. Thanks to reports from a couple of my friends Chad Benson and Ryan Klein, I already knew that there was a decent bite going on over there and had an idea what depths and baits were working.
When we arrived at the lake, the sky was blue, the surface was calm and the water temperature was 68 degrees. When we left, the sky was blue, the surface was calm and the water temperature was 74 degrees. The time between was interesting to say the least!
At our first stop, a hard drop off of East of Cedar Island, it looked like the day was going to be easy. Fish were easy to spot on the Humminbird and we caught a couple of keeper Walleyes almost immediately on our first pass. As the sun got higher, brighter and hotter, the action grinded slower and slower. Soon, the tension was beginning to build and new ideas were getting tough to come by. The action never actually, died, there was a fish here and a fish there, little by little the livewell was filling up, but not as fast as we'd hoped.
Luckily for me, I have a great friend who lent me a hand and tipped me off about some Perch action he knew about. I took Chad's advice and we headed over to the area. Almost as if it was planned, the trip accross the lake included the slap of a slight, but welcome chop forming on the lake. By the time we settled in at the area Chad had told me about, there was enough wind for us to drift accross the flat. It took a little time, but we managed to find the school of fish, but once we figured it out, we were into some decent action.
The Perch were one of the many schools that roam on the flats. These fish were in about ten feet of water and scattered in small to medium size packs. When they were visible on the screen, they struck agressively.
We started by fishing with a 1/8 ounce jig and minnow combination, but once we found the fish, I pulled out a secret weapon that had been introduced to me a few weeks ago. Lindy's Whatsit Spin had already helped me catch some great Crappies and I'd been waiting for a chance to get these into action on a school of Perch. They worked like a charm and once we had them tied on, we never used another minnow. The Whatsits have a thin, flaired tail and when you hop them sharply, they dart around like a Crawfish. The added spinner give the bait a little flas and apparently, it was just what the doctor ordered to trigger strikes.
As a bonus, there were also some Walleyes on the flat and by drifting as we jigged, we were able to pick up all but one of our limit of smaller, but keepable Walleye too.
The Walleyes we caught earlier, especially the better size fish, came by fishing Lindy Rigs in 20 to 30 feet of water. For us, the best bait was medium to large size Creek Chubs. We mave have been using minnow that were actually too small, a possibility that I'll be testing as soon as I can. I had a heads up from another friend last night who mentioned using Creek Chubs in the 10 to 11 inch range. That may help increase the size of the fish we catch.
Meanwhile, over on Lake Winnibigoshish, I talked with another friend who had a great action bite going. They were trolling on the mid-depth flats with crankbaits and catching lots of nice, chunky Northern Pike. They were picking up some bonus Walleyes along the way too. Their fishing depth ranged from 13 to 15 feet an they were covering water on top of one of the larger, main lake bars. Throughout the summer, Bena Bar, Center Bar, Moses and Sugar have all had this type of, "up on top" action bite going.


(9/8) On Lake Winnie and Cutfoot Sioux, Click here for an updated fishing report.


(9/8) On Ball Club Lake , Gus' Place Resort, Gus says; "We are gradually moving into the post-summer period on our lake, surface water temperatures are steadily 5-7 degrees below their summer peak and the water is now only 68-71 degrees.
There are dozens of small groups of Loons roaming the lake, often feeding on the bait fish that use the structure of your boat as you move. It is a good time to take some close up pictures if you tote your camera along.
WALLEYE are less dispersed through out the lake and they are concentrated in larger groups on the sharp breaks in 14-24 feet stacked on the drop-offs.
The bait of choice for Walleye has been Lindy Rigged crawlers with and without spinners trolled or drifted @ 1mph. Keep it simple.
As you move into 20+ feet of water the Perch start to leave you alone and you have a chance for bigger Walleye. On the calmer days when locating these deeper schools of Walleye sometimes setting out a marker buoy and switching over to vertical jigging can work very well.
PERCH & NORTHERN remain aggressive 12-16 feet in and along the weeds. Live bait is working the best for both of these fish, but casting the shoreline has also produced some large Northerns recently (photo enclosed).
CRAPPIE & BLUE GILLS; We have finally began to see a few Blue Gills come in, but I would say the water needs to cool a little more. The bite for Crappie & Blue Gills has been slow.


(9/8) Bemidji Lakes Area and NMLOG Member, Paul A. Nelson says; "Most people treat the Labor Day Weekend as the end of summer vacation, but there is plenty to do in the Bemidji area in the fall. The excellent fall fishing is just getting started and bear hunting and early goose season have already opened, with grouse, small game and archery deer hunting set to open on September 17, 2011.
Walleye fishing has been improving in the Bemidji area as the surface water temperatures in most lakes fall below 70 degrees. Anglers have been catching walleyes on a variety of presentations, with some anglers still using summer tactics trolling crankbaits or using bottom bouncers with spinners tipped with night crawlers.
Many walleye anglers have been switching back to jigs and minnows to fish vertically in deeper water or to cast in shallower water. Some anglers prefer live bait rigs with leeches or larger minnows when walleyes are more spread out on the outside edge of the weed line.
Schools of perch have been feeding on the edges of shallow flats in 8-12 feet of water, feeding on crayfish and minnows. Anglers have been catching a mixed bag of fish when fishing for perch, with stand-up style jigs working best to fish through the chara and rock covered flats.
Panfish action has also been good, with bluegills using the outside edge of weed beds that are still green and healthy and moving out of the weeds that are brown and dying. Crappie anglers are finding crappies gathering into larger schools and moving into deeper water and holding on deep rocks or hard to soft bottomed edges.
Muskie anglers will begin to see more muskies as the water in the lakes begins to clear in the fall. Some anglers like to make the switch to jerk baits or larger minnow baits in the fall to imitate tulibees or larger perch.

Fishing Report September 8, 2011 Jeff Sundin Wait all summer long for the fall Walleye bite and what do you get? SUMMER! Hmmm...I'm not sure that the fish appreciate it, but it's sure is great weather for getting outside. Hey, it makes for some fantastic scenery too!
Thanks to a full day of blue skies and calm seas, water temperatures were on the rebound Wednesday, ending the day at over 72 degrees. The lake we fished had a fairly heavy algae bloom on the surface and I could have been easily convinced that it was July or early August.
My crew had a special lake that they wanted to fish and I've been in the mood to see some new water anyway. Under the circumstances, I was expecting it to be a hard day for Walleye fishing, but hoped that we could make a good Crappie trip out of it. Luckily, the Crappies were up for that and while we had to work for them, they were cooperative enough to keep us occupied all day. Add a few bonus Walleyes that came along the way and the day wound up being pretty good.
The lake is fairly deep in places , but also has lots of good, shallow cover. There were several places that I'd expect to see Crappies in the fall. We started by looking at some of the mid-lake humps and points. The Humminbird revealed only scattered, single fish. Those areas will be full of fish in a few weeks, but for now, the deeper open water locations were empty. Crappies were showing a definite preference to remain closer to shore. A few shoreline areas where deep pockets, turned sharply to the shore. The fish I found were holding in the 18 to 22 foot range and they were in small, tightly bunched schools. We found 3 places where the fish were holding and managed to catch fish from each of these locations.
After lunch, we did some more searching for any kind of a mixed bag bite that we could find. There were some fish in the weeds, especially on larger weed flats and I think that if we'd fished into the later evening, the action might have been better, but as it was, we did catch fish from the weedlines in 8 to 10 feet. A 1/8 ounce jig and minnow produced lots of Northern Pike, mostly small, but entertaining. As expected, Walleyes were few, but there were some, along with a few Perch.
Shoreline breaks and points in the 18 to 24 foot range were holding some fish, mostly widely scattered singles that looked like Walleyes. I thought that an angler fishing alone, or a couple, could make a nice day out of Lindy Rigging these deeper breaks, but for us, with a crew of 4, it didn't look like enough fish to make it a good idea. Keep it in mind though beacuse I've seen fish scattered like this on three lakes this week and it might be worth checking wherever you're fishing too.

Fishing Report September 6, 2011 Jeff Sundin What?! Thirty something degrees? Well alright then, here it is, overnight lows that pack enough punch to send water temperatures into the mid 60's in a hurry. For anglers, that will send the message that it's time to polish up the jigging rods and get ready for some fall Walleye, Panfish and Perch action.
On Monday, I heard a rumor that there were reports of surfaces temps around 65 degrees at the West side of Portage Bay on Leech Lake. We already saw the surface temperatures on Cutfoot Sioux fall into the 68 degree range and even though they rebounded during the day, momentum will favor the downward trend for the next week or so.
For anglers on Lake Winnie, the sudden drop interrupted their established patterns and through off the bite on Monday, but by late afternoon, persistent anglers were figuring out new locations and beginning to pick up a few Walleyes again.
For me, the plan for Labor Day was to attack the Crappie and Bluegills. It was an effort, but in the end, our persistence paid off. The fish weren't exactly jumping in the boat, but we'd find enough active fish in each new location to move the needle a few fish closer to the finish line. Hey, maybe that's another good reason to call it Labor Day?
We spent the majority of our time working on the breakline in 18 to 22 feet on the outer edges of weeds. It wasn't that hard to find the fish, they were located in a lot of the typical fall locations, but it was obvious that they've been fished a lot already because each school of fish would respond eagerly for a few minutes and then go into a negative mood after the three or four fish were boated.
Our best presentation for the Crappies was a 1/8 ounce Glow-Pink jig tipped with a small Crappie Minnow. I tried a bunch of other jigs, ice spoons and live baits, but on this day, nothing else came close. As usual, the secret was to let the jig drop into the school of fish and then pull your bait up about a foot above the pack. You can see the active fish move out of the pack and toward your bait. Whenever you stop being able to get the fish to move, it's time to move on.
By the way, if you're serious about fall Crappies and your electronics won't do this for you, then it's time to upgrade. Look at the photo from last fall, of indvidual fish being caught. When you can see how the fish react to your bait, it's a lot easier to catch them!
Our efforts to catch Sunfish were cut a little short because of the time we spent working on the Crappies, but I did learn a few things. Sunfish that were located out in the open water were mainly small fish. In fact, I caught a dozen or so on one of the Crappie spots by using a Lindy Fat Boy tipped with a Wax Worm. All of the fish I caught on this spot were small. Just before lunch, we checked out one popular weed spot and found fish in the weeds at about 7 feet deep. There were a variety of sizes, but some were legitimate keepers in the 8 to 9 inch range. If we had spent more time pusuing the weeds for Sunfish, I think we would have eventually dialed in the correct pattern. Depending on how it goes today, maybe I'll have more about that later.


(9/6) On Lake of the Woods, Mike Kinsella from Border View Lodge, "The fish seem to be on the move. Fishing has been good along the west shore from Zippel Bay to Long Point. Downriggers have been working well in 27 to 29 feet. Schools of fish seem to be spread out and the fish come in bunches when hitting the right school. Bait fishing has been hit and miss. It's a matter of being in the right place, at the right time, and with the right presentation.
Fishing has been good for those who venture up near Garden Island and Stony Point. Jigs and spinners in about 28 feet have been productive as well as plugs".

Fishing Report September 5, 2011 Jeff Sundin Our first taste of September weather rolled into the area overnight on Saturday, setting the stage for falling surface temperatures and marking the start of what will soon be the "fall bite"!
Sunday's fishing was more or less the same as the experience I had on Saturday, except the scenery was a lot more beautiful on Sunday. Hey, this time of year is so fantastic that I wish it would last forever!
Our game plan was mainly centered around catching Northern Pike, but knowing that there were a few nice Walleyes on the weedlines, we first headed to one of the spots that worked well on Saturday. Here, in about 18 feet of water, I marked several schools of fish and on our first pass, picked up two of them on Lindy Rigs with Night Crawlers. On the second pass, the Walleyes snubbed us and we moved back into deeper water to look for Pike.
We spent the majority of our time working on the breakline in 24 to 30 feet on the outer edges of weeds and on the deeper points, wherever there was a sign of fish on the Humminbird. Rigging with medium to large size Creek Chubs, fish would hit just often enough to keep it interesting. There were a lot of places that I marked fish, but didn't get any strikes, so I'm sure that the cold snap did have an effect. The good news is that the falling temperatures will start working in our favor as soon as the fish make their initial adjustment.
For me, the next few days will be a return to Walleye and Crappie fishing. Reports from friends around the area are sounding positive and with falling temperatures, the improving conditions should be moving us toward a good session of fall action. I'm optimistic that there will be more good reports coming soon.


(9/5) On Lake Winnie , Tim Dorholt

NMLOG said that there was a good shoreline weed bite on the East side of Winnie on Saturday. Fishing with shallow running crankbaits in 6 to 7 feet of water produced a good mix of Walleye and Northern Pike.


(9/5) On Bowstring Lake , Darv Oelke of Bowstring Shores Resort reported briefly that his guests are catching Walleyes on Crankbaits too. A little deeper on Bowstring though, Darv says 12 to 14 seems to be the key depth.

Fishing Report September 4, 2011 Jeff Sundin Cool weather and high winds turn labor day Saturday into a true fishing day! I remember as a kid, trying to squeeze in that one last trip of the summer before school started. It was always cold and blustery until Monday afternoon, when on the way back home, the sun would come out and the winds calmed back down. Well guess what? What we didn't know back then was how good that kind of weather was for the fishermen! The cooler temperatures, Grey skies and "Walleye Chop" on the water led to a good day for us on Saturday.
When we arrived at the lake, Surface temperatures had dropped to 70.5 degrees. Maybe a little warm for this time of year, but on the verge of turning ideal! The wind was coming from the South at the time, but would soon switch to the Northwest and become strong. Whitecaps made boat control a little tricky, but the current helped keep fish moving on the deeper weed edges all day long. Our goal was to catch a mixed bag of Walleye and Northern Pike, so I fished the same basic patterns that I've been using for the past couple of weeks. Lindy Rigs, tipped with large minnows for the Pike or tipped with Night Crawlers for Walleye.
Our best depth for Walleye was 18 to 21 feet just outside of the deepest weed edges. There were some fish holding just above the top of the grass lines, but we didn't catch many of these fish, I think we had our baits set too deep and the crew struggled with the weeds too much to make an effective presentation to the shallower fish. Instead, I chose to just stay a little deeper, on the clean lip just outyside of the grass line. Walleye and a few Smallmouth Bass were holding on these edges.
The Norhthern Pike were holding a little deeper, from 25 to 28 feet. The Pike were fairly random, we'd catch one from time to time, but they weren't tightly schooled and didn't seem to prefer a certain type of strucure. We caught a few on rocks, a few on sand and a couple out in open water, just off of the break from the weed edges. The Northern's still liked the Creek Chubs though, and we didn't send many down that didn't get bit. For the Pike, we had to feed line for ten seconds, maybe more to give them time to inhale the bait. They were semi-aggressive, catchable, but not really ravenous. We didn't catch any giants, but most of them were between 25 and 28 inches, respectable, eating size fish.
There were times when I thought I was seeing enough fish that the action should have been faster. So for today, we'll be picking up where we left off and hoping to expand on some of the patterns to see if there are a few wrinkles that might help pick up the pace a little more. With overnight temperatures dipping down a little more each night, I expect that well be seeing surface temperatures falling into the "ideal range" within the next week or so. I will keep you posted.

Fishing Report September 3, 2011 Jeff Sundin Labor Day Weekend! Good Morning!
I need to take a morning to do some maintanance on the site before I go fishing today. Please check for notes about the trip later on this evening. Scroll down for recent reports and please.....Have a great day!

Fishing Report September 2, 2011 Jeff Sundin Labor Day weekend huh? Wow, the summer is moving a little faster than I'd like, but my favorite season of the year is here! Now, if we can just get it to linger a while!
I wrapped up a three day stint with Bill and Fred Moore on Thursday and in spite of stormy, windy weather, the Largemouth Bass gave the boys a great send-off! We had our best day of the three and the Bass even gave us a grand finale' as we finished off our last stop of the day with 13 fish from one point, including two doubles!
Most of the trip was really the same as what I've already written for the past couple of days, so just scroll down to yesterday's report. One difference between this day and the first two, was the presence of a larger school of fish on a deep rock point, adjacent to a shallower, mixed weedbed. In three days of fishing, this was the first time that I found a deeper school of fish and it could be a sign of what lies ahead. The rocks were located in about 18 feet of water and the weeds stopped at about 15 feet. Bass were holding at the weed edge, but on the rocks.
As the water cools and daylight gets shorter, weeds begin to die. Bass will migrate out of the shallows and move to the deeper weed edges where the growth remains green longer. The greener the weeds, the better the chance that Bass will gather. If there are rocks or gravel, it will be even better.
On this deep, rock point, we fished with the old reliable jig and worm combination and boated 13 Bass in about a half hour. There were two doubles, almost three. The fish were gathered tightly on the rocks and very agressive.
Crappie and Sunfish, fall fishing patterns are far from set in, but every day there's a little "sneak preview" of what lies ahead. Panfish are starting to build up on the outside edges of the weedlines. Deep water, located close to the shoreline and adjacent to a weed flat will be the first areas to look for panfish. Today, Friday 9-2, I'm on the prowl for panfish, so I'll have a good update about this tomorrow morning.
Walleye patterns are gradually moving back toward the shoreline, Weed edges and shoreline points are showing signs of a build up and all we need now is a cold snap to start moving more baitfish out of the shallowest water and toward the weed edges. So far, Lindy Rigs, Spinners and live bait are the preferred presentations. Trolling crakbaits is producing some fish too, but probably will get you more Northern Pike than Walleyes.
Musky fishing is holding it's own over on Leech Lake where there are reports of reliable action on the rocks located at the South end.

Fishing Report September 1, 2011 Jeff SundinThere are fishing reports and there are fishing reports. Today, there is a fishing story.
Bill Moore strolled into my life a couple of years ago when he called and told me that growing up, he'd spent a lot of years coming to a small, Grand Rapids area lake. He and his family always fished for Bass in the wee hours of the morning and he wanted to share that experience with his son, who had been there, and his grandson who had never made the trip.
It sounded like a great idea to me, I already knew the lake and it was a great excuse to do more Bass fishing, which I love to do anyhow. So we met up at the bait shop in the dark, drove to the landing of his favorite lake and had a great day. I thought that was about the end of the story, until this summer, when Bill called again and asked about coming again, this time with his brother, Fred.
Another stroll down memory lane was in store for Bill and Fred on Tuesday as we fished their favorite lake again. Fishing was a little trickier this time, but in the end, we saw a fantastic sunrise, and still caught a couple of dozen Bass. Better than that, we shared great stories, had some laughs and shared our common love of fishing.
My treat came on Wednesday when Bill asked if I'd be willing to make the run up to fish on Spider Lake. He'd always been interested in Spider, but hadn't fished it. Few people know, but when we moved here 25 years ago, I only knew a couple of lakes. North Star, Jessie and Spider. It was on this lake that I piloted my 14 foot Starcraft with some of my earliest fishing customers.
So this time, the stroll down memory lane was mine and it was wonderful! Old fashioned passion for fishing combined with new technology, all shared with these two genuinely good people!
We fished persistently, catching Bass and Pike that seemed to be distributed evenly throughout the lake. The two brothers as recalled fishing stories from their childhoods and they put up with a few of mine along the way too. We caught enough fish to call it a good day, the action never erupted into a frantic run, but it never died either. It seemed like we were always just a few minutes away from another strike. One highlight of the trip was the nice Largemouth that Bill caught on his Lucky 13, a lure that he bought on the way to a fishing trip 54 years ago when he was ten years old. Another was how Fred, who coined the phrase you'll be hearing a lot, "Avian Assistant", marveled at how the presence of watchful birds, always led us to the best fishing holes. If you're a frequent reader, then you already know how much I love the birds that visit us and they always take me to the best spots.
Okay, about the fishing. Except for one large Cabbage patch in the center area of the main lake, almost all of our fish came from small, Bulrush points on or near shore. The Largemouth Bass were in and just outside the Bulrush and usually struck our lures within 25 feet of the cover. It was Grey and drizzly, so the surface bait, a Lucky 13, was doing a fine job, especially early in the morning. The 4inch Yum-Dingers, rigged wacky style accounted for a lot of our fish too. On the edges of the deep Cabbage, a black spinnerbait with a single Colorado blade produced some good pike action and six inch plastic worms produced a handful of Bass as well.
Today, one last chance to hit the lake early and try to fool some more Bass. Something tells me that catching fish is just a good excuse to as they say, go out "smokin' and jokin'" with the fishing buddies. It's gonna be a darn good day!

(September 2011) Smiles are always welcome!

I AM. !!
Don't forget, if you want to add your 2 cents worth, or to ask a question about this, or other reports, click here to Join Me On Facebook.
---
Advertise Here! Expanded Itasca Area Fishing Reports. Since mid-summer 2010, I've really made an effort to expand my area fishing reports. My goal has been to give anglers who are surfing the web, one fishing report that's always up to date and well written. Now I want to expand the reports section even more and I'd like you to participate. Lodging, Bait & tackle suppliers, guides or any other fishing and hunting related business can find a way to take advantage of the offer. For more information about contributing, sponsoring or advertising. Email Me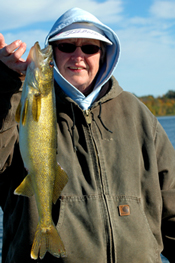 Karen Reynolds jigged up this chunky Walleye on the weedline in 8 feet of water.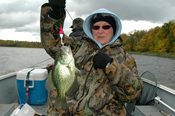 Heavier than usual, 1/4 ounce jigs below a Thill bobber helped us keep track of our baits in the heavy wind.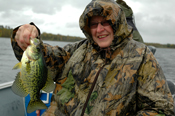 Karen Reynolds toughs it out and wins the battle!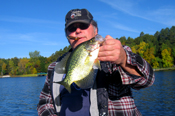 Kyle Reynolds with another fat Crappie. Down on the bottom in 28 feet of water, today they preferred a little movement.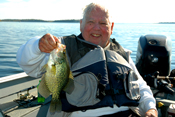 Crappies are beginning to form tight packs again and on Tuesday, fish were above average size and aggressive!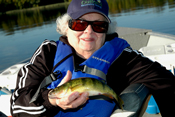 Perch have been holding on to small clear spots, deep within the weed beds.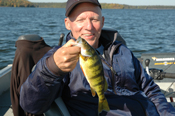 Perch action has been good on both Winni and Cutfoot. Best action, fish the weeds in 5 to 7 feet of water.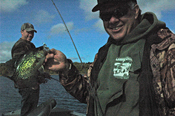 Steve Gallay had the hot hand for Crappies!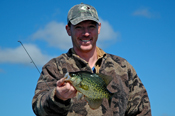 It took a while to gather their limit, but while we waited for our spot on the exit ramp, Nathan Gallay tricked the last one!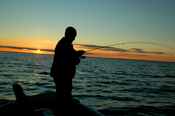 A couple of last minute Walleyes came from Tamarack Point just at sunset!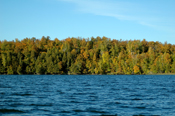 Fall colors beginning to get real! Next few days should be really good.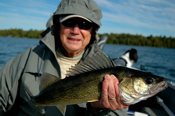 The Grand PooBah of the Cronies shows off a nice, jig and minnow Walleye. Lamar actually prefers Night Crawlers, but he is coachable!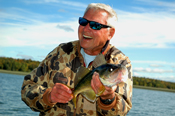 Carl Bergquist gets smiley around Walleyes! 8 feet of water, mixed rock and weeds, jig and minnow. Perfect!

Crappies remain shallower than usual. Check shoreline breaks in 18 to 22 feet and on soft bottom flats in the 16 to 18 foot range.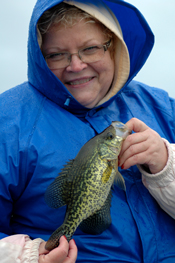 Crappie fishing on small water, a great way to salvage a blustery Northwest Wind.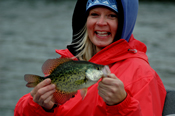 Cold, blustery conditions didn't stop the Crappies. They were scattered on the flats and tricky, but catchable.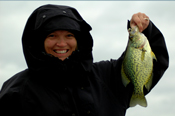 Melissa shows off a nice Crappie that she tricked while we thought we were Walleye fishing.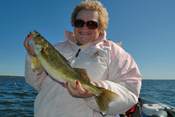 Shallow water Walleyes respond best to breezy conditions. Joyce caught this on on a jig and minnow in 5 feet of water, along the inside weed edge.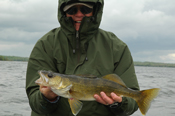 Plump, golden fish that haven't missed a meal all summer long. A sure sign that fish are moving in from deep water. The fall run is on!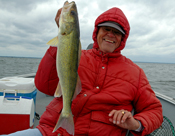 As usual, Bob Carlson, dressed in his "little kid going to kindergarten coat", hauls in the big one! Jig and Minnow, 7 feet of water in the weeds.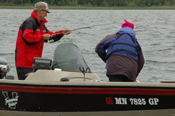 It looked like the folks in most boats were having fun. I'd guess that most everyone had fish in the cooler by the days end.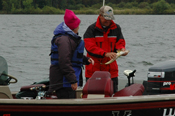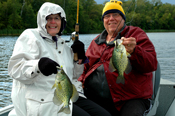 Crappies on the menu for Mike and Atcha Nolan this year! A late afternoon rally help fill out the cooler just in time.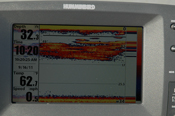 The fast blast of cold air sent Crappies into suspension, literally. Apparently, there's been sort of a "mini-turnover". These suspended fish can be caught, but boat control is the key!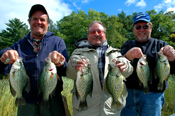 Re-grouped after the temperature free fall, Crappie action is set to pick up again today!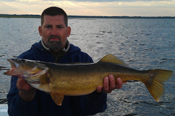 Courtesy: Gus' Place Resort, Ball Club Lake . Doug O. caught and released this beautiful 35 inch Walleye using a Lindy Rigf and Leech.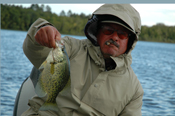 Blustery winds made it tricky to fish Crappies, but we caught enough to prove that they were there. Re-match on Thursday.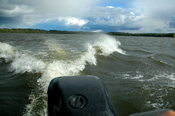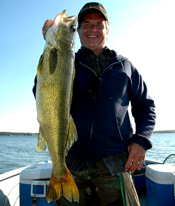 Barry Laga with a 31 inch Walleye caught (9-13) on a Lindy Rig and Creek Chub combo. HEY! The lunker was released, so your chance to get it is still coming! !!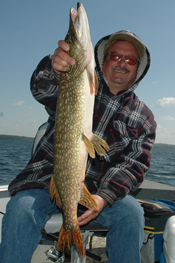 John Bello with a hefty Pike caught (9-13) on a large Creek Chub in 25 feet of water.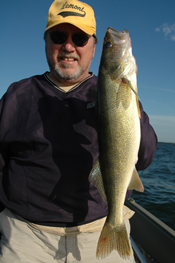 It took Mike Wirtz about 20 seconds to land the first Walleye on Monday. The arrival of fall? Well Ya!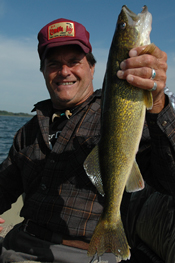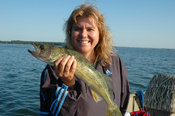 First stop, first fish! It was a good day to be Bev!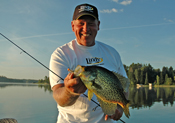 Crappie size was excellent, the fish were holding in 18 to 22 feet, on structure.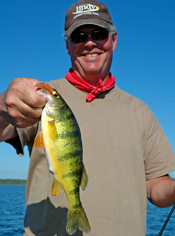 Lindy's Whatsit Jigs were Perch catching machines for us on Cass Lake. Steve Shearer shows off one of his better efforts.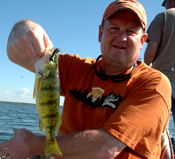 Dan wasn't left out of the game either. Another magnum, thanks to Chad's help.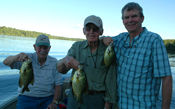 Crappies kept us busy on Wednesday and the average size was great! Deer River area lakes are producing reliable fishing for panfish right now.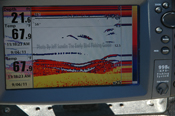 Early Fall Crappies gather on the inside corners where deep water meets the shoreline.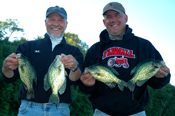 Persistence pays off! The Crappies weren't exactly jumping in the boat, but with a little coaxing, Chuck and Jeff won the battle.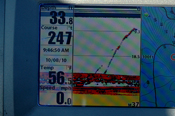 File Photo: When you can see how the fish react to your bait, it's a lot easier to catch them!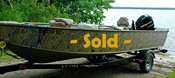 For Sale: -SOLD- 2011 Lund 20 Foot Alaskan, Mercury 90 HP Opti-Max, Shoreland'r Trailer. Fully rigged and ready to go! Click Here For Details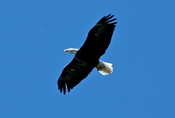 Bald Eagles enjoyed the windy conditions on Sunday. At one point, there were 5 above us at once.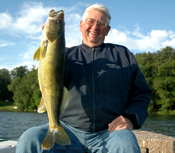 Kenny Shipler has been waiting for this fish for quite a while! Persistence pays off! Lindy Rig and Night Crawler, simple, but effective!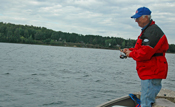 Irval Shipler catching one of his many Northern Pike on a Lindy Rig and Creek Chub Combination.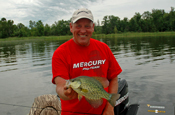 Crappie fishing is beginning to show some potential. Fish are building up on the outer edges of the weedlines and deeper breaklines.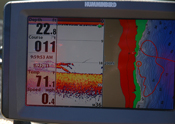 Deeper water on inside turns near the weed flats. Crappies are starting to show up in small packs.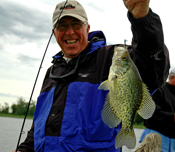 Must have been good training! Bill Linder catches the first Crappie, and the 2nd and the 3rd....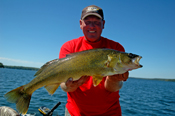 Fishing on a shoreline break in 22 feet of water, using a Lindy Rig with a Night Crawler. Man, I Love This Job!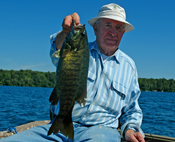 Jim Fierek shows off his hefty Smallmouth caught on a mid lake hump in 16 feet of water.

Watching the Humminbird for signs of the scattered fish paid off. Many times, you'll see a single hook like this one. That's enough to get you started. Click to enlarge.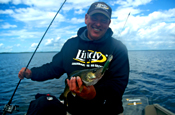 A couple of short passes trolling #7 Shadlings produced this nice Walleye and a couple of Pike. Trolling speed was about 2.2 MPH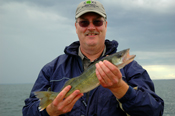 Chad Haatvedt with one of Lake Winnie's Flats Walleyes. Crawler harnesses trolled at 1.2 MPH in 13 feet of water,