---


Lindy Legendary Tackle Audio Fiishing Reports
---
Fishing Reports Archive (view past reports)
---
Walleye Video Bowen Lodge Lake Winnibigoshish
---
Fishing Reports and Advertising Opporunities
---
Video Cutfoot Sioux MN DNR Walleye Egg Harvest
---
---
Fishing Report - Archives Section - Fish Reports October 2012








More ways to connect!

Sign up to receive the

Free "Insider Newsletter".

Don't forget, you can always catch up with Jeff Sundin on the radio program too! Listen every Thursday at 6:20 AM and get additional fishing reports and information. KAXE 91.7 FM Grand Rapids - 105.3 FM Bemidji - 89.9 FM Brainerd.

Want even more?

Book a Guided Fishing Trip and get HANDS ON fishing tips!

Fishing Report October 31, 2012 Jeff Sundin - The predicted warm up actually arrived! If you happened to be in the mood for good news this morning, well then you've come the right place.
Tuesday was one of those days that you could just tell, things were gonna get done. Right out of the gate, the morning started out with a bang! A great series of gorgeous sunrise photos, followed by happy phone calls and a gigantic, Golden Sun that helped turn the day warm and bright. It even warmed up enough to get the old tractor in the mood for a ride.
I didn't get the chance to fish, but I cleared the path for plenty of fishing to come. It's going to be a little while before I can share most of the details, but sooner or later, you'll hear all about it. Starting today and Thursday, I'll be on the water getting a head start on some of it.
Sooner or later it had to happen, I had to break the bad news to my trusted old cell phone, Fred Flintstone. Customers have been teasing me all year long about my Moarse Code style texting and general lack of a phone signal. Okay, so I finally did it, I'm hooked up into the real world now. iPad, iphone, data packages, cell plans and even a secret, Ruby Red decoder ring! What happens next? Do I have to try and get organized? Oh, by the way, Fred is still tucked away in a box, safe and sound, just in case .....
Speaking of sooner or later; I finally connected with someone that I've been working with on and off, throughout the whole summer. There's been a little head scratching, but more good news will be arriving just as soon as the UPS man can get the envelope delivered from there, to here. Oh yes, I suppose it means that there will be a lot more Black clothes in my future. I sure hope they have something in an extra small?
This is gonna lead to more travelling this winter. A lot more ice fishing, a little bit of hunting and a lot more picture taking. I think that it's gonna help ensure that a lot of those great pictures we took last winter, turn up for you to see this winter too. In fact, if you can get your hands on the new, 2013 In-Fisherman Ice Fishing Guide, I think you'll find some of them in there right now.
I know, all of this teasing! How can I ever make it up to you? Don't worry, it's gonna be easy! Now I'll have stuff to write about all winter long. All you've gotta do is hold on and let the good news roll in.

Fishing Report October 30, 2012 Jeff Sundin - A Late Fall Sunny Spell appears to be in store for us over the next few days. Even though temperatures are predicted to remain cold, the sunshine should give us all a nice boost and will likely make it feel warmer too. Brief, cameo appearances are all we've seen of the Sun for most of the past week and it will feel really nice to slip on the sunglasses for a while.
Trying to drum up a fishing report on Monday didn't reveal very much new information. When I talked with Bill Powell at the bait shop on Monday, he was still waiting to sell his first minnow of the day. That was after 10 AM and my guess is that there wasn't much traffic after we talked.
Sloppy roads from the melting snow and gloomy skies probably weren't doing much to encourage anglers to get out and fish. Couple that with preparing for the Deer hunting opener coming this weekend and we might just as well call it a wrap for everyone except the most devoted, late season anglers.
Unless conditions take a serious turn for the worse though, I'll still be out on the water for at least another day or two. My original game plan was to head for the Rainy River, but that's uncertain now. Based on recent reports, we might be able to do a better job if we just stick closer to home.
According to anglers who have fished the Rainy River during the past week, most of the fish are running on the small side, 14 to 17 inches and while no one was getting skunked, they weren't tearing them up either. There are a handful of fish in the 20 to 25 inch being caught, but the reports are random, not concentrated on any one area. Late last week, Emerald Shiners were running in the river, but it sounded like the run was in it's early stages. Some of the resorters along the river say that water temperatures (were) too warm and that the run of Shiners, along with some larger fish, could move in later in November. If we get one of our famous warm ups during the Deer season, we might just have to go up there and find out.


Bunting Team Takes 'World Series' Of Crappie Angling - Missouri-Based Duo Relies on Electronics to Dial In Cold Front Crappies.
(10-31) A release from my friends at Humminbird; "Eufala, AL - (10/30/12) Father and son crappie pros Charles and Travis Bunting recently took home top honors in the crappie equivalent of the Bassmaster Classic—the 2012 Crappie Masters National Championship—held on Tennessee-Tombigbee Waterway in Mississippi.
But it wasn't a walk through the park. Not even for two seasoned slab slayers.
"The first day of the tournament wasn't bad—we brought in our seven fish for 9.10 pounds and fifth place—but we moved between 28 and 32 times for those fish. Then it rained 6 ½ inches on Sunday, greatly reducing water clarity and creating 5 to 6 mph river current," says the younger Bunting, Travis.
Not easily discouraged, the two anglers knew what they had to do—adapt and find fish—their mantra for the entire 2012 All American Tournament Trail. So rather than following fellow competing anglers up the creek arms and oxbows, the two took a big gamble and stayed in the main river, current and all.
"I knew we stood a really good chance of catching bigger fish in the less-pressured main river," says Travis. "Plus, I have a lot of confidence in my Humminbird Side Imaging. First, it allows us to locate potentially fish-holding structure, then we can examine that structure for fish, and lastly, we can pinpoint exactly where in the structure we need to fish by zooming in closer."
Working this three-prong approach, the Bunting team stayed in the top 10 all season, typically scanning for crappie-rich structure 60 feet off each side of the boat, or a lengthy 150 feet when fishing large flats.
Repeating these surgical tactics paid off as they worked the lower lock of Mississippi's Tennessee-Tombigee, waters the Missouri-based anglers hadn't fished prior to pre-fishing for the 2012 National Championship earlier in the week … under much better weather conditions.
"Electronics have really changed the name of the game," says Travis. "In the case of this tournament, we looked for structure close to back eddies and current breaks, knowing that these fish wanted out of the fast stuff. And we could literally see the bigger fish in that lower lock buried on the bottom in the deepest, gnarliest wood. Then it was as easy as moving the cursor on the 1198 over the wood and zooming in for a better look."
Running a Humminbird 1198c SI in the back and an 1158c in the bow, the Buntings also make the most of networking capabilities for strategic, tactical and practical purposes.
"On river systems, which can have a lot of structure that's here one day and not the next, we don't have to mark every spot. During pre-fishing we'll find spots with Side Imaging, slow down, swing back around and fish, and if we pull a fish, we'll mark the spot on the front 1158. The cool thing about the simple Ethernet connection is then the spot shows up in green on the back 1198. That means our back unit is clean of blue markers and we can easily distinguish our pre-fishing spots from new spots."
Once fish-holding structure is located with Side Imaging, the team quickly positions into place with their Minn Kota Fortrex 101, which the Buntings praise for its real-world reliability and flexible, indestructible composite shaft. "We move from spot to spot at over 3 mph with the Fortrex and when we do hit wood it doesn't usually sound pretty. But there's never been any damage … and we bust a lot of wood."
And that's the reality of the hardcore crappie game. Often times, to catch fish you've got to position the boat directly over the top of wood, brush and other nasty structure—like the situation Travis and Charles found themselves in on Day Two of the National Championship.
Once on top of structure, though, it's all good. That's when Travis switches his bow-mounted Humminbird 1158 view to traditional sonar. This allows him the ability to further identify where in the structure the crappies are located from the vertical perspective.
In the case of the tournament—considering cold front conditions—it was then a matter of placing their six rod splay of double-minnow rigs tipped with 2 ½-inch shiners straight down into tiny strike zone windows.
"Sure, we broke off a lot, like 40 rigs the first day," says Travis. "But you've got to lose fish to catch fish, especially in conditions like we had when the water is high and fast. Those fish bury in deep and you have to put the bait right in front of their noses, literally. That's why we shortened the hook spacing to a foot and sized up in weights to 3/8 ounce. There were no fish on the edges, everything was right in the lumber, so you had to keep your baits right there to get bit."
"But location was the key to the Championship, and we owe 80% of our success to our Humminbird units," says Travis. "We found fish-holding wood fast and eliminated a ton of dead water. Not only that, we could identify with a high degree of certainty money fish right on the screen."
While it certainly seems the father and son had ability and technology on their side, what's a tournament without a cameo from Lady Luck?
By noon of Day Two the duo had their seven fish but one had been deeply hooked and they feared it might not hold up for weigh-in. So, rather than fish to the very bitter end and gamble for an even bigger fish, they hung it up a full hour and half early.
The result? A second day weight of 9.90 pounds and a two-day total of 19 pounds even, nearly a pound and a half over the second place team of Paul Eldridge and TJ Harper. Congratulations on the prestigious honor of being crowned 2012 Crappie Masters National Champs! For more information visit


(10/30) On The Iron Range, From Greg Clusiau; "Yes, fall is officially here and animals of all sorts are on the move. I've been seeing plenty of them. One was a rain-soaked coyote, which was running down highway 65. I couldn't tell exactly what it was, from a distance, but as my old pickup neared, I recognized the long-legged, kind of sideways gait. Glancing over it's shoulder, it gave me a quick look and vanished into the woods. A half-mile further down the highway had me almost hitting ..." >> Read Greg's Full Report .


(10/30) On Lake of the Woods, Border View Lodge, Mike Kinsella wrote; "We are wrapping up the soft water season today with our last charter trip of the season. Maybe it is a good thing con sidering the temperature on the way into the lodge this morning said 14 degrees. The small bays and creeks had a skim of ice on them this morning.
There has been a mix of fishing in the lake and fishing in the river again this week. Those with the best success are staying in one place and waiting for the schools of Walleye to come by them.
Water temperature in the river has dropped to 41.7 degrees. We have still been seeing shiners in the river, but it is mostly small ones that are coming to the net. With the temperature drop we are expecting that it should improve and provide bait for the winter.
This week should stay cool with overnight temperatures staying in the upper 20's and daytimes getting up to 40.
We are working on many projects again this off season. We will definitely have more new sleepers and outhouses on the lake this winter. We are looking forward to a successful deer hunt this coming weekend and the days to follow, also we will try to get out to the fields somewhere and maybe find some Pheasants to provide us with some good meals. We hope everyone has a great November!
We will be at the Blaine Ice Fishing Show November 16th, 17th and 18th. And also at the St. Paul Ice Fishing Show Nov ember 30th, Dec 1st and 2nd.
From everyone here at Border View Lodge THANK YOU for a great summer season! Next update will be reports on making ice!"

Fishing Report October 29, 2012 Jeff Sundin - A couple of quiet days around Deer River are in store for me as I prepare for another busy, hard water fishing season. Watching the transition from open water to ice appears to be going a little faster this year than last. There are already some small ponds with ice cover and along the shoreline of some larger lakes too. It reminds me of the days when it was rare not to have freeze up before Thanksgiving.
Fishing isn't over yet though; After spending a day or two around the yard, catching up on a mountain of leftover chores, I'll be ready to get back in the boat. Luckily, I have a special little project that cropped up and I'm going to have a chance to spend a day or two up on the Rainy River this week. I've managed to get the boat on the river almost every spring for long time, but it's been a while since we visited during the fall. It could turn out to be a great time, especially if the weather moves in the direction they're predicting. In fact, if it is, I may just put out the word and try to drum up a couple of extra fishing trips while I'm up there. If you like that idea, keep an eye on the reports this week and on my facebook page too.
I'll be back home this weekend though, because we'll be in our Deer hunting stands for the 2012 firearms Deer season opener. I sneaked away late yesterday afternoon to check out the stands. On the way up, I imagined finding them tipped over, broken or rendered useless somehow by last summer's storm. Luckily they were undamaged! A little sprucing up, some fresh supplies and I'll have them ready for action in no time. In fact, by the time I get done, they'll be clean enough to eat off the floor!

Fishing Report October 28, 2012 Jeff Sundin - North Dakota Ups and Downs.
If you think September went by fast, take a look at the calendar. October just zipped by at the speed of light too!
Somehow, most of the 51 weeks spent waiting for our annual Duck and Pheasant hunting trip never go by as fast as does the one we spend out there. Yesterday, we wrapped up another trip to North Dakota and for the most part, it was a good trip.
There were lots of Ducks in the air and we did have a couple of "decent hunts"; But a combination of factors worked in unison to keep us away from the prime real estate when we needed to be there. We ended the trip short of filling our Duck limits, but any deficit in numbers was the result of our own decision making.
Tunnel vision was probably our worst trouble; We spent too much time focusing on an area where we knew there were lots of Ducks, but as other hunters located the same flocks, the competition for a spot got a little bit intense. At the same time, these particular Ducks just kept getting more educated by the day, flying high and shying away from suspicious looking "Square Heads" from Minnesota.
Don't get me wrong, we've had plenty of past hunts where we'd have been thrilled to have this outcome. We had just become a little bit spoiled during the past few years when the puzzle fit together more easily for us. On this trip, we should have realized sooner that the territory was good for a few days, but had been over-worked. If we'd spent a little more time looking for new, fresh territory, we might have eeked out one more productive hunt, instead of laying on our backs wondering what went wrong.
Pheasant hunting on the other hand; Was above average and finding birds was easier for us than it has been in past years. A series of easy hunts, including one of our famous "quick stops" on the day we arrived, that hunt yielded a limit of birds before we ever checked in to the motel. I think my dog, Maisie came home in better physical shape than she ever has before. After a quick nap, I think she'd be ready to turn around and go right back out there again.
What made the Pheasant hunting easier were the dry conditions that led to an early harvest. Most of the farms were already harvested and lots of the fields have already been cultivated. Plowing the fields continued all week and the scenery continued to get Blacker, each day throughout the trip. That meant that the Pheasants that would usually have been hiding in the crop fields, were now condensed into fewer spots. That made finding them easier than usual. The easy Pheasant hunting is a good news, bad news scenario though. I'm afraid that we may have just seen a sneak preview of a dimmer future.
Many of the farmers with expiring CRP contracts are taking the fields out of the program and returning them into production. Cattail sloughs and low lying grassy areas are being burned and tilled faster than you can say "hand me a match" and over the short term, Pheasant production will certainly decline. All politics aside, there's no way that a Pheasant hunter can see this sight without getting a pit in their stomach.
Luckily, this trip was a good one and we have it safely archived, deep within the "fond memories sections" of our minds. No doubt, there will be more, but happily, we were there for this one and it was worth every minute of the wait.

Fishing Report October 21, 2012 Jeff Sundin - Wrapping up a cold week, on a warm note.
>> Having high hopes is nothing new for me. In fact, I don't think anyone could do what I do, unless they were a died in the wool optimist. On Saturday, I stumbled into one more example of why optimism pays off.
About a week ago, I had high hopes that plans for some special fishing work would come together this week. Those plans fell through and in a scramble to get some alternative trips together, I posted a little note that I had some last minute dates available. Lucky for me, there were some folks reading the note, dates were booked and fishing was good.
Fast forward to the last one, Saturday, October 20th. Jim Berg, his girl friend Deb and his brother in law Ron, apparently had me in their sights for a while. Jim is a regular reader, spotted the note and snapped up the day. When we met, it took me about 15 seconds to realize that I may not have known them, but they sure knew me. On the drive to the lake, Jim was churning out a steady stream of facts and quotes from previous fishing reports. Honestly, I think he remembers more about me than I do! Anyway, it didn't take long to realize that they were fans.
Knowing that; I had this gigantic urge to make sure that they had a good day. Deb and Ron were following behind me, so I never really saw what they had packed for gear. In late October, you'd guess that most folks would have some pretty warm stuff packed in their bag of tricks. I thought that they probably had parkas, fleece, rain gear, snow boots .... all kinds of stuff, a trunk packed full to the top!
Until I had the boat in the lake and realized that they were dressed kind of warm, a little bit bundled up, but not like anything I've seen lately. No boots, they were wearing Tennis Shoes. No snow suits, uh uh, Blue Jeans. I think I said, "Are you sure you're gonna be warm enough out there?"
Ya gotta understand, I've been listening to grown men whimper about the cold weather for two weeks, all I've heard about is soup and coffee and tea and warm places to hide. I was nervous, but they were so darn cheerful, so energetic, so ... optimistic. Okay then, here we go, our little adventure was underway.
The only way that I could begin to keep them comfortable was to head for calmer water than I'd normally fish, so in non-typical fashion, I headed for the calm side of the lake. Guess what? I got lucky, again!
There were some fish on a shallow breakline and there was just enough wind to drift the boat, but not enough to shiver their timbers. It was a little intense at first because I was barking out instructions faster than a drill sergeant. But little by little, helpful tips were drilled into their heads, fish started striking and our mission was on the right track. After the fist spot fizzled out, I got even luckier and found another, similar 9 foot break where weeds and rocks were home to a mixed school of Walleye and Perch. The cooler was filling, the smiles were big enough to outweigh the cold and my crew was proving that they were plenty tough enough to hang with me!
I sort of imposed my will on them, forcing them to take a break and join me for a shore lunch. Sure, we'd gotten a late start and it was going to take up a little bit of our precious fishing time. But the fire, warm food and a little walk would do everyone some good. It did, it was good, even the food; Fried taters, beans and fresh Walleye tasted pretty good.
Fast forward again; After lunch, we picked up right where we left off. Except this time, everyone was becoming more confident, better at getting strikes, better at setting hooks, better at catching, better at everything. The boat got calmer, the conversation shifted and I even told a couple of jokes. Oh, by the way, I will never tell another Blond Joke again!
I really don't need to say anything about the fishing. We did the same old stuff I've been talking about for weeks. You can read all of that by scrolling down this page. No this time, it's about the pure enjoyment of fishing. The lofty goals and high expectations, the optimism.
It was a good day, we had a lot of action, caught plenty of fish and had a nice lunch too. I'm never gonna be quite sure if they were freezing to death out on that lake or not. I don't think they'll ever really tell me. But if they were, they sure made the most of it. Somehow, l think it had something to do with all of that optimism, all of that good luck. Anyway, it was lucky for me. Something tells me that we're all gonna try this again sometime.

Fishing Report October 20, 2012 Jeff Sundin -Heading into the home stretch and wishing there was more to come!
Long time customer and friend, Bruce Champion has taken a liking to pairing up with folks he hasn't met before. We've done it several times this season and we did again on Friday. It would seem that teaming up with new fishermen for the first time could be a little risky, never knowing for sure what each others abilities or interests are and things like that. But actually, it's worked out really well. It has a way of keeping everyone on their toes, helping encourage us all to put our best foot forward. That's how it went today when we met up with Brad Slye, new member of the "Early Bird Family". It all just sort of flowed naturally, nice and steady, with fish easily satisfied by our offerings. I can't claim that I worked really hard, I'm just gonna have to admit that some days, I'm just a little luckier than others!
At the landing, we looked out over the lake at another, Grey, drizzly day. There was a breeze, but not heavy, there was some rain, but not heavy and it was chilly, but not really too cold. The surface temperature remained locked in at just above 46 degrees almost equal to the air temperature.
Hoping for a lucky break to get us off to a fast start, I headed straight for the last spot I'd fished a few days ago. Luckily, there were still some fish there, not as many as before, but they were hungry and within minutes we had a couple of keeper Walleye, some nice Perch and a picture of Brad's 21 incher that he released. Heck, if this kept up, we might wrap up early and head to the Crappie hole. Well, it didn't keep up, at least not quite that fast. But we did have plenty of action all day long. The Perch were especially active, the Walleyes came in slow but steady, each spot allowing a few keepers, but never a mother lode.
We moved from spot to spot, chipping away at the Walleyes as the Perch kept us busy. We were sort of particular about the Perch we kept, they had to measure at least 10 inches, but even many of those 10's were released. By days end, we'd kept about 20 Perch, in the 11 inch range.
On this day, we actually caught more "protected slot fish" than we did "keepers". Most of the fish were just about carbon copies measuring either side of 20 inches. The largest I recall was just shy of 22 inches, the smallest was 19 inches. When we left the lake, we were still one Walleye short of a limit for the crew, but no one minded, we'd been kept plenty busy for almost the whole day.
A quick summary of the fishing is all you'll need because I've been working the same small group of lakes, fishing the same spots and using the same techniques for a few weeks now. You've already read everything I could possibly say about how we did it and if you haven't, then just scroll through the reports from the past week or so and you'll have everything you need.
Briefly though; We fished in 8 to 10 feet of water, on the weed edges and small rock patches found adjacent to them. We used 1/8 ounce jigs tipped with above average size Rainbow Chubs and kept the trolling/drifting speed to about .7 MPH. We moved a lot, picking up a few fish at each stop, but never finding a giant school of fish at any of them.
Somehow, I just can't get my head around the idea that my boat is contemplating hibernation for the winter. I know, you'd think that someone who's on the verge of wrapping up 5 months of 100 hour work weeks would be looking forward to a break. But I'm not, I'd rather just keep on trucking, just for just a little bit longer.
I love the involvement; Seeing all of the smiles and being a part of the happy times. I love teaching people how to find fish, how to catch 'em, even how to cook 'em.
It's too bad that nature thrusts us into this Grey time, this season of closing dates and early sunsets. It's too bad that I just can't keep on plugging away, working hard, but working happy!
I KNOW ..... a little break won't be bad either, I'll just keep my mind on the happy moments, the magic times that fell into my lap throughout the season. I'll remember the days that I wished would never end, the ones that went by way too fast. As for the long, tough ones? What long, tough ones?
For today; There's a completely new crew heading my way to help me wrap up the "Early Season". They are sleepy heads too, so we're gonna get a late start this morning, then fishing right up until sunset.
I've still got the urge to get my string stretched and I'm Hoping to head West on the heels of a victory. So you know .... I'll be putting my best foot forward, hoping for a fantastic wrap up to a fantastic season. We'll know really soon!

Fishing Report October 19, 2012 Jeff Sundin -They say that opportunity lies just around every bend. On Thursday, we had lots of opportunity, around lots of bends and they were mostly good, each in their own way.
It was our time to spend one last day on a lake that treated us really, really well this year. In fact, it's treated me really well, nearly every fishing season for the past 25 years. Still, compared with Carl, I'm only a rookie on the structure filled, 3500 acre lake.
Whenever I'm fishing with Carl, the lakes #1 Cheerleader, I know for sure that he's gonna want to head out there. Carl has been on this lake a long time, almost 50 years and if there's anyone who loves it, he's the one!
Although I hadn't been on the lake for quite a while, almost a month. This day, it wasn't all about the fishing. Sure, we all love to catch fish and we were all hoping for a good day, every angler loves that. But today was our chance to go out on this great lake, take in all the sights, breathe in one more wisp of the good air and then tuck her in for the winter.
At the landing, the sky was Slate Grey and the clouds were low. The surface temperature was 47 degrees, almost the same as the outside air temperature. There was just enough rain falling to dampen our clothing, but never enough to cause major problems.
We made a couple of quick stops to check for Crappies, neither of them offered me a reason to keep working in that direction. The images on my Humminbird just didn't look right to me. The fish I saw seemed to be hunkered down, low to the bottom. I could follow my jig on the screen and as it fell toward the fish, they acted un-interested, never moving toward the bait. If they were going to act like that, then we might just as well go play somewhere else!
A move toward one of our favorite points, exposed to the North wind seemed like a good idea. We were fishing the weedy point for Perch or Walleye, but there wasn't a lot of excitement here either. Okay, I decided we'd need to run out a little further on to the lake. I decided to Buzz back out into the territory that held fish earlier this season. Another large weedy flat with a shallow gravel point facing North, into the wind. This was the place where it was a good day to be Mike!
Fishing the breakline just outside the weeds at about 9 feet, there were a handful of nice Walleyes and a few small Pike. It wasn't the bonanza that we'd seen earlier this year, but it was a nice step in the right direction. Once this spot fizzled out, a series of stops on similar structures, led us all the way up and around the "Starr Bar and Grill". We sort of chipped away at the fish, getting a Perch here, a pike there and a Walleye somewhere else. Never a hot bite, but never getting blanked on a spot either.
Except for one spot where I marked some fish, that turned out to be Perch in about 20 feet of water, the magic solution to catching anything (for us) was to stay as close to the weedline as possible. Water depths of 8 to 9 feet were ideal and if I could see the weeds, we could usually catch something.
A 1/8 ounce jig and minnow, a trolling/drift speed of about .7MPH and a fairly aggressive hopping or snapping action on the bait did the trick.
Okay, so it wasn't a free for all, not a day filled with cranking in whoppers one after another. But, by days end, we'd captured 8 nice Walleye, a half dozen of the larger Perch and released a dozen more Pike. If there was any disappointments at all, we caused them ourselves; Missing several chances to hook fish and losing some of the ones that we did hook. Really, it wasn't a bad day at all, especially not by the standards we'd set for ourselves.
The sleepy, calm lake gave us one last chance to take in the sights, breathe in the good air and leave with a nice batch of fish. We'll all be seeing her again, really soon, but for now, rest well, knowing that you're loved!

Fishing Report October 18, 2012 Jeff Sundin - Give a man a fish and feed him for a day. Teach a man to fish and .... better be sure he has plenty of warm clothes? Oh yeah, that's the rule when you're fishing in Minnesota's late fall season!
On Wednesday, the time had come for the annual, fall fishing trip with long time customer and great friend, Carl Bergquist. Along on the trip, his good friend, Captain Mike Rehr, the legendary icon of Tarpon, Redfish and Snook fishing in the clear waters off Sanibel and Captiva Islands.
Mike doesn't get pushed around by any whimpy Snook and he never takes any guff from those giant Tarpon either. But watch him shivering as he tries to outwit one of those chilly, late fall Walleyes and .... Well, let's just say it's a lot of fun to watch.
Borrowing the Admirals chair, Mike was often seen shivering in his boots, holding the minnow net and a bare jig while waiting for me to bait his hook. It reminded me of a dog that shows up at your feet, holding it's empty food dish in it's mouth. Arf Arf ... It's a lot of fun to give Mike a thorough teasing, especially when us guys with the Minnesota blood think that 50 degrees is sun-tanning weather. But, I always remember to give him a hug and remind him that it's all in good, clean fun!
Compared to some of Mike's past visits though, our fishing weather wasn't that bad at all. A little rain, more like a gentle mist, pursued us for most of the day. But with light winds and air temperatures in the high 40 to low 50 degree range, it seemed like a heat wave to me. Especially after having a few snow days under my belt already.
When we arrived at the lake, there was an East wind tickling the 46 degree surface water. The first East wind that I remember in maybe a month. I was suspicious that the wind change might break some of the previous habits that Walleye's had fallen into and I was right.
The first few stops delivered poor results compared to recent trips. Perch were still active on the shallow weed edges, but except for a small Walleye or two, the old reliable spots weren't going to produce today. I had in mind that after a couple of hours, fish would adjust to the new wind direction and sooner or later: Either we'd find them or they'd find us. Luckily, it was sooner, rather than later. Even luckier, we found each other!
Poking around on a shallow rock point, adjacent to weed bed in about 9 feet of water, I had a solid Walleye strike and dropped a marker in the lake before I even set the hook. Looking back, that was a lucky break for me, because the strike did turn out to be the first of several. There really wasn't enough wind to drift, so we made a couple of trolling passes with the MinnKota. It was obvious that all of the the strikes were coming from a fairly small area. Without too much delay, I decided to anchor the boat within casting distance of the rocks, weeds and marker. This gave me alot more free time for doubling up on my multi-tasking and it gave the crew more control of their timing too, the hook setting percentages went up immediately!
For the rest of our day, we caught a mixed bag of Walleye, Perch and Northern Pike right here, one spot, one anchor position. To cover a little extra water, I used the Minnkota to pull the stern of the boat in an arc while the anchor held the bow in place. At times we had lulls in the action, but one small school of fish after another appeared on the scene. Fish varied in size as they arrived too, some schools of fish were keepers while others were in the protected slot. They rarely arrived together.
We only fished with jig and Minnow, Rainbow Chubs to be specific. Sometimes casting, sometimes vertical jigging, sometimes aggressive and occasionally passive. It all worked to one degree or another and by keeping our noses to the grindstone, we managed to capture 13 Walleyes and about 30 Perch. We released another dozen or so "slot-fish". To me, that was a really good showing for one spot, one position. It happens, but it's rare and I think that it was more luck than skill, but I'll take it!
I did my best to hold out for our last 5 fish, but eventually, I was mutinied by the crew, and forced to leave the lake.

Fishing Report October 17, 2012 Jeff Sundin -Calm, sunny, warm; A day fit for royalty! Maybe it did slow the fishing down a bit, but guess what? We still caught our share and a day like that, well, I'm just glad that I can share it with you now.
Funny how things work out; Yesterday morning, early, I read the forecast and after seeing the news, packed up my rain gear and prepared my mind for a day in the rain. By the time I left home, the forecast had already changed, now rain still possible, but less likely. By the time we arrived at the lake, there wasn't a cloud in sight, no breeze and the air temperature was pushing back into the 60 degree range. Thankfully, I have some great sunglasses!
Walleye fishing was slower, no doubt, but there were still some active fish on the weed edges. As you'd expect, the rock pattern that's been so important over the past couple of weeks, had temporarily fizzled out. Without a breeze to rustle up some current, the rocks were now void of fish and will likely remain that way until the next breezy session comes along. Which won't be long, I'm sure.
The fish that remained most active, were holding on the deeper breakline edges located outside of the rocks. The depth wasn't the important part, in fact the depth really varied. Some fish were in 8 feet while others were in the 14 foot range. What was holding the fish were those shadowy edges where the outer rocks dropped into deeper water.
We used the same jig and minnow combinations that have worked for weeks now. A 1/8 ounce jig tipped with a nice, large Rainbow chub did the trick really nicely. We had to nurse the fish onto the hook before we could get a good hook set, but patience paid off and we managed to get plenty enough to sort out a nice limit for Dale and a couple extras for my supper.
After that, I think I might have been the recipient of a practical joke! Following a hot tip about a great little Crappie Lake, we high-tailed it into the woods toward a small, mostly undeveloped lake. Now listen, I'm not saying that there weren't any fish in that lake. Maybe there are, or maybe they used to be there and for one reason or another have disappeared. What I am saying is that using really great electronics, and scanning the water diligently for over 3 hours, we never found a single pack of Crappies. We had a couple of bites, a few fish hooked. Small Walleye, Small Perch, Small Pike and a couple of never seen, mystery fish. But never a Crappie, not a single sighting. Hmm... Well, if it was supposed to be a joke, sorry pal, the joke is on you, because this was the most absolutely beautiful afternoon either of us has spent in a long time.
Just this once, there were no chain saws, no road graders, no cabin building, no one playing kid rock on the radio, nothing. The only sounds we heard were the critters, nothing else, not a peep. Add to that, an image so gorgeous that I couldn't even come close to taking a picture that would do it justice. If you can visualize all of that, then you might have a clue, maybe.
As a fishing spot, I might not ever go back. But ya just never know; Sometime, one day, I just might pay that lake another visit. You know, just to see something beautiful, just to hear that soft voice again.

Fishing Report October 16, 2012 Jeff Sundin - On Monday, After I used a little free time to catch up on some chores, I thought it might be nice to keep chipping away at my goal of finding good fall panfish spots. After mulling over a few ideas, I finally decided to head North to check out another new (to me) Crappie lake.
It's been my goal to have enough good fall panfish lakes in my repertoire, so that I can visit each of them a time or two, catch some fish from each one and then move on to fresh territory. Sure, there are some lakes that are almost always good, powerhouse production lakes that keeping kicking out the panfish year after year. They're good, but everybody knows them and that's the scenario I've operated under for years.
Even though there are a few panfish lakes that are reliable and can handle a lot of traffic, generally, too much fishing pressure on panfish, especially in the fall can lead to an angler burning out his own territory. The boom and bust cycle in panfish lakes is all too familiar a story. Find 'em, catch 'em like crazy for a while and then spend five years waiting for the comeback.
I'd rather have fishing remain a little more consistent in my favorite spots. So for me, having a larger list of productive lakes to choose from seems like a better idea. It's better for the lake, better for my customers and better for me, because I get to see fresh scenery on a regular basis. It's just better, all the way around.
Believe me when I tell you, it doesn't always work out. In fact, I'd say that about 2 of every 3 lakes I try, fail to deliver the desired result. Some lakes are just plain better than others, especially for quality fish and the only way I know how to find out, is to go try 'em.
On Monday, I arrived at the lake and found a surface temperature of 49 degrees. Conditions had turned cloudy, Grey and the sky was threatening a few sprinkles. There was a breeze, but fishing in deep water would be easily manageable.
At first, I was really disappointed. It looked like I'd just wasted a lot of gas driving to the lake. As I scanned the breakiline, the Humminbird kept showing me nothing. No baitfish, no predators, no nothing. 20 feet deep? Nope, 25 feet? not there, 30 feet? not in this lake. Well, I guessed I was looking forward to a quiet ride home when I crossed a deep hole, 40 feet deep and the first school of fish revealed itself. I've caught a lot of Crappies in the fall, and I've always thought that I'd seen some deep schools of fish, but I think think this is the first time I've gone deeper than the 40 foot mark to catch 'em.
I stopped, dropped down an 1/8 ounce jig topped with a minnow and caught a Crappie 12-1/2 inches, a nice fish. I caught one more too, but then I caught a couple of baby size fish. Maybe 5 or 6 inches, way too small for keeping. So there I was, in the middle of a good news, bad news scenario. Good in that there were at least some really nice fish, but bad because virtually every fish I hooked was gonna die unless I was really careful.
For a while, I kept fishing the deep spot, feeling for the size of the fish whenever I set the hook. If they felt small, I let my line go slack and let them wiggle off the hook. That worked fairly well, but there were some small ones who refused to take their chance to escape, insisting on being reeled in. These fish, do not do well at all when they're brought up from the depths and in order to release them, I had to let the air out of their throats using my Curved Kelly (clamp).
I didn't want to keep fishing that deep, so I went looking for a better option. I never found any fish shallower than 35 feet, but I did find an alternative. I stopped watching for the large schools of fish and focused instead on small packs of larger fish. The larger fish were easy to spot on the Humminbird, but they were tricky to hold on. Before it was over, I had several icons on my GPS at places where I'd spot them and work on them for a minute or two before losing track of the pack. This idea worked out well, there were hardly any small fish in these small packs, so when I caught a fish, it was one that I wanted.
By the time it was over, I had a half dozen Crappies, not exactly a hot bite. What they lacked in number, they made up for in size, 12 to 13 inches, measured on the ruler.
I learned something about the lake, I learned something about Crappies and I learned something about timing too; Crappies hang out even deeper than I thought. Now I have to start re-thinking some of the lakes I've fished before, especially the larger ones. Maybe there were times that I didn't look deep enough? This lake is gonna be a good one to visit next fall, earlier, before the fish move out over the open water. I'll avoid fishing this lake any more this season. Instead, I'll keep the timing in mind and focus my attention on lakes that don't have water this deep. Knowing that the fish are out in the deepest water of the lake right now, I can spend some time on lakes with maximum depths in the 25 foot neighborhood. That will help cut down on how many fish are injured when they're brought up from the depths.
Of course, it you happen to know of a spot where all of the fish are in your preferred keeper range, you could just get your fish, stopping as soon as you get them and then leave the area. I just didn't happen to find that situation this time.
The 1/8 ounce jig and minnow that I started with worked okay, but when I switched to a 1/16 ounce Perch Eye jig tipped with an artificial tail, I did better. It was a struggle to get the small jig into the correct depth, but since I was alone, I did what I needed to do in terms of boat control. If I'd had a crew with me, we would have been forced to add extra weights.

Fishing Report October 15, 2012 Jeff Sundin - On Sunday, Bill Morgan, son-in-law Dan and his pal Eric drove up for a quick, one day trip, to wrap up their fishing season. There wasn't much question about our mission; Get Food!
Heading for the Walleye hole, we talked about the past couple of weeks, how the fish had been behaving, where they were located and how to go about catching 'em. I warned them ahead of time that if the predicted calm seas actually arrived, that we might have to be on our toes, just a a little bit extra. It was a great little talk, just like when you ask your kids to do something around the house, you know, when they say "okay, sure dad."
Well we got to the lake and it looked pretty good; The skies were overcast, it was calm, but not completely flat and the surface temperature was locked in at 45.6 degrees. Not much change from a few days ago.
The fishing scenario hadn't changed a lot either and except for being more sluggish under calm seas, their locations were very similar to where they've been for a while now. Shoreline related points that contain a mix of rocks and weeds, in water depths of 8 to 12 feet.
Jig and minnow fishing is simple enough to do, but when the fish get finicky and just pick at the minnows, the crew sometimes has a longer walk up the learning curve before they realize their full potential. That's what happened on this trip. We got lots of bites, but missing them was a problem and that gets frustrating. Add to that, another boat fishing nearby and doing a better job of hooking the fish. Every time their net goes in the water, it distracts you from your own goals. You start worrying more about what they're doing and forget about focusing on your own fishing. That's what happened on this trip too.
Ah, no worries though, I knew that they'd come around, they just needed a little more time and a good hot meal. In fact, I had been texting with my chief fishing advisor who asked how we were doing? My reply; "The crew is a bit confused right now, but they'll come around". And ... after that, they did!
We left the honey hole and moved to a spot where it was quiet and we could focus on our own fishing. Another shallow reef, close to shore with two rocky patches, one on each end and separated by weeds in the center. It wasn't wild and crazy, but in an hour, we had a pail containing 4 Walleyes and 7 decent size Perch. We were off to the "Shore Lunch Cafe" where the fire was blazing and the food cooked fast!
After lunch, a quick return trip to where we'd first found the fish in the morning revealed that the fish had pulled a fast one. They had either moved on, quit biting, either way we needed to make a move.
I thought we'd be scrounging for fish for the rest of the afternoon, but I moved to another spot where I discovered that I am even luckier than I thought. Another weed bed, another shallow patch of rocks and another school of fish. Everything that happened at this spot was incredibly reassuring. The breeze picked up and gave me a good chop to work with, the fish were more aggressive and the size of the school was large enough to camp on for a while. As a bonus, it was just us out there, no one needed space and we were working together as a team, it was good.
I learned something while we were out there. A pattern that I should have thought about sooner than this, but it's not too late to put the info to good use. You've been reading and I know that you seen me repeatedly mention the connection between the rocks and weeds. That's good, solid information, but I realized yesterday that during the past couple of weeks, the best spots, have been near big, shallow, weedy bays. If you had a choice between two spots that appeared to be equal, but one of them was adjacent to a bay full of shallow weeds and the other was out in open water, choose the shallow bay first.
I think that small fish, minnows and predators who spent the summer hiding in those weeds, are forced out to the edges and into open water by the cold temperatures. The larger the expanse of weeds, the greater the number of fish (should) be there. Obviously, the presence of baitfish and or fish on your graph, should influence your decision, but give the idea some thought.
For us, the day got a little late, but couldn't have ended much better. We had our limit of Walleyes, some nice Perch and we were bid a warm, smiling good night as we left the lake.
For today; Well I'm just not sure. I'll be catching up on chores while I try to drum up a couple of more fishing trips. But after that, with calm seas, sunshine and temps in the high 50's, there's just no way that I can't wind up on some lake, somewhere, sometime.


(10/15) On The Iron Range, From Greg Clusiau; "My plan of attack will be to first locate a school of fish and then employ the ice fishing method of using sonar, like my Humminbird Ice-55 flasher, dropping the transducer over the side of the boat, and fishing with a regular 28" ice fishing rod.
The short rod may look sort of silly but it allows you to sit next to your electronics and fish directly below the transducer, much like fishing on ice. You should try this, as it works pretty slick and ... >> Read Greg's Full Report

Fishing Report October 14, 2012 Jeff Sundin - Guess what? Sometimes luck is just plain better than skill, but if you combine the two, well then the sky is the limit!
Here's what I said yesterday morning; "It looks like we've got a nice day to fish and Bob Carlson has a goal! We'll need to try and beat Mike's 28 inch, Leech Lake Walleye from a couple of weeks ago. Hmmm .... might need a little extra dosage of luck for this one, but here we go!"
I love it when I fish with people who know what it takes to actually catch a big fish! I love it when there's a big fish lurking at the lunker hole and I love it when that extra dosage of luck comes through!
I and Bob Carlson talked about it while we were fishing yesterday morning. If you have a big goal, you have to be willing to put in the time to make it work. There aren't too many hunters who bag a trophy buck in the first couple of hours in the stand. Likewise, it's not too likely that you'll catch the fish of a lifetime if you can't hang in there for a few hours without getting your pole bent.
The Carlson's are among the very few people who tell me that they want to pursue big fish AND actually mean it. In fact, I'm the one that usually gets impatient and they're the ones who usually help calm me down. If they had all of the gear and spent a little more time on the area lakes, they'd likely be better at it than I am. They understand that you can't win, if you don't enter and they know how to hang in there and enjoy the hunt.
Rewind ... ; When I met Bob at the bait shop on Saturday our plan was to head toward the lakes that I've been fishing over the past few weeks. We'd have a good chance for some action and a fair chance at a larger Walleye, something in the mid 20 inch range. Then I mentioned that Mike Cooley had handed me a bucket on Friday. As he passed it to me, he said; "There are some extra minnows in here, I'm not going to use them and maybe you can". I told Bob about that, we had about a dozen Redtails in the bucket and maybe we could put them to good use by visiting "The Lunker Hole". Bob was all over that idea, immediate change of plan, forget about heading West and start heading East, Pokegama Lake, here we come.
Okay, so now we were in for the big hunt, even so, I knew that I was going to need some extra luck too. Pokegama hasn't been particularly good to me lately, but it has delivered some highlights during the season. Plus, the morning was already off to a good start; There had been a great, early morning warm up and the day ahead promised to be perfect conditions for the task at hand.
When we launched the boat on the lake, the surface had only a light chop and the temperature was 49.9 degrees. The warmest water I'd seen in over two weeks. Conditions were cloudy, but not wet and the air temperature was already 46 degrees, also that warmest I'd seen in at least a week, maybe more.
From here on, it was a day spent moving from point to point, bar to bar. Scanning with the Humminbird, finding a few fish, trying to turn their heads and tease them into biting. It worked over a dozen times, but only about half of the fish were actually delivered to the net. We boated a total of 5 Walleyes, 4 Pike and 1 Smallmouth. Bob caught all of them except for two and it happened that way on purpose.
I knew that we'd never have enough of those Redtails to last the day, so I made sure that he spent the day fishing with them while I experimented with other baits. Ironically, the first Walleye we boated was a 17 incher that I caught on a Lindy Rig and Night Crawler. After that, I rigged Crawlers and fished with jig and minnow combinations for about six hours, before getting another strike. In other words; No Retails = No Action.
The lakes mid section wasn't very productive at all. The fish that Bob caught were all located on shoreline related points. The key depth was 30 feet, but we had a few strikes as shallow as 26 and a couple as deep as 35 feet.
The presentation was a straight forward Lindy Rig, 1/2 ounce Sinker and 5 foot snell, tied on 17 pound Fluorocarbon. The tough fluorocarbon leaders are to protect the hook from being bitten off by Pike. Trolling speed kept slow, .5 to .6 MPH to help give the Walleyes plenty of time to spot and pounce on those luscious minnows.
The big Redtails have been extremely hard to come by in our area and they were so precious that even after we landed a fish on one, we'd put the used minnow in a bucket of water to let it recover from the ordeal. Several of our strikes came on the recycled baits.
Oh, by the way, about Bob's goal. Sorry Mike, at least you held the family record for a few weeks with that 28 inch, Leech Lake special. But I'm afraid that the bar just got raised on you again! Bob's 29 inch Walleye, a new family record is gonna hold for a while, at least until next spring. Looking at the fish, with a belly like that and from this lake, is probably pushing ten pounds.
Thank you Bob, that day just put me one step closer to wrapping up this season with a giant smile on my face! See you next year boys and yes, I'll be sure that I have Redtails, plenty, I promise!


(10/14) On Leech Lake; I talked last evening with Tom Neustrom about the fishing on Saturday at the North end of Leech Lake. The fish started off a little on the sluggish side yesterday, but as the day warmed and the Walleye revealed their locations, fishing improved steadily.
There wasn't anything like an all out, hot bite, but by working the weeds and shallow grass lines in Portage Bay, they were able to boat 22 Walleyes. Jig and minnow combinations in water depths of 8 to 12 feet was the primary presentation.
Tom said that on this particular day, rocks were not the solution to finding fish. maybe with a stonger wind, they would be. With calm seas predicted for today, plan on spending some time searching the weeds.


(10/14) I had a chance to chat with my pal Jonny Petrowske yesterday evening. He said that the Rainy River Walleye fishing has started to heat up. With all of the cold weather we've had, and the abundance of active Walleyes on lake of the Woods this fall, we might be looking at a banner opportunity up there, especially during the predicted warm spell that's heading our way.
I might just have to pack my bags and head up there for a day or two myself! Could be a good way to see some new scenery, shake some new hands and make preparations for the soon to come, ice fishing season.

Fishing Report October 13, 2012 Jeff Sundin - Warming trend has visiting anglers fired up as we head into the home stretch!
Granted, there weren't a ton of folks toughing it out on the lakes during the past week. Cold, wet, windy conditions didn't exactly encourage traffic into the area. But the fish have been biting and savvy anglers who were keeping tabs on the reports, are poised and ready to jump at another chance to get outside.
On Friday, the sun returned and the temperature began to rise. Deer River area roads began filling up with boats again as anglers take advantage of an opportunity to get some more fishing in before the snow flies.
For me, Friday's warm up was a welcome relief! Even though my "A Team", fishing veterans Tim Fischbach, Larry Lashley and Mike Cooley got a just a touch chilly, they still managed to put on a regular fishing clinic for anyone who happened to notice.
The push-pull between Crappie and Walleye fishing isn't usually a problem because we almost always have multiple days to fish. On Friday though, it was a one day shot, gotta pick; What's it gonna be, Walleye or Crappies? The discussion was settled in a hurry, Walleye first, then Crappies!
At the Walleye hole, things went a lot better than I could have hoped. Surface temps were holding steady at 46 degrees and the stiff South wind was blowing whitecaps onto a shallow reef of mixed weed and rock. Topping off at about 8 feet, the wavy conditions were perfect for stirring up the bottom and encouraging the Walleye to move up top for a late fall feeding binge.
Holding the back of the boat into the heavy waves got me a little wet, but it wasn't anything new, especially not after this past week. The heavy current gave me something to push against with the Big Tiller OptiMax and the result was a nice controlled drift, slipping sideways at a speed of about .5 MPH. That gave the crew plenty of time to work the 1/8 ounce jigs tipped with large size Rainbow Chubs.
It was a multi-tasking dream come true, steering the boat, netting fish, taking pictures and you know .... everything that comes along with that. We gathered the fish steadily, counting down as we progressed. Thirteen more until the Crappie hole, 8 more until the Crappie hole ... Three, Two, One; Okay boys, time to head out and off to the Crappies we went.
The strong South wind that was perfect for Walleye fishing, wasn't the greatest news for Crappie fishing. Now, we needed a place to fish that was out of the wind, I bypassed my originally intended destination and headed instead for a much smaller lake. We knew that the fish would run smaller, but after a great morning, every Crappie we'd find would be a bonus.
There was more evidence of the trend toward deeper water. More fish in 30 feet, less fish in 20 feet. Larger fish in 30 feet, smaller ones in 20 feet etc.... We were able to find some scattered schools of fish, reasonable size, legitimate keepers, but no real whoppers. In the wind, 1/8 ounce jigs were the lightest we could use and for a while, I considered switching to 1/4 ounce. Tipping them with minnows was a good idea, but I still caught some fish on artificial tails while the boys used live bait.
That was probably my last visit to the Crappies, unless I would stumble into some free time to go exploring for new water again. But if you have that on your agenda, keep looking a little deeper every time you head out. The later it gets, the more they gather up in the deepest spots.
Oh, one last thing. For the first time this fall, there were a lot of Northern pike hanging around near the packs of Crappies. We caught three of them in one small area, including a dandy one that Tim caught. It was somewhere in the 15 pound range, a regular Crappie eating machine. I saw others on the Humminbird before I bailed out of there to find a fresh school of Crappies that weren't being terrorized by Pike.
We didn't manage a limit of Crappies, but we did gather a couple dozen, a respectable showing, especially when you consider the time we had to spend on the job. By 6:00 PM things had gone quiet, it was time to focus on getting the boys home and making ready for the weekend.

Fishing Report October 12, 2012 Jeff Sundin - I've heard of low water, but sheeesh! How's a guy supposed to find a fish?
Heading for Northland Lodge on Lake Winnibigoshish to pick up my crew, I drove across the bridge at the Winnie Dam and saw the whitecaps rolling into the bay from the Northwest. That would have gotten me excited if I'd been planning to hunt Ducks, but at 31 degrees, it wasn't a very pretty sight for fishing. The wheels started turning about where we'd go and what we'd do. Maybe the wheels were turning a little too much?
I rolled up to the cabin, knocked on the door and heard a voice from the other side of the door. It was Kathy who said; "Tony is up at the lodge, have a good day out there!" Ah Ha, that's right, there went half of the crew. Lucky for me though, Tony was still in the game and as we rolled out of the the resort, I asked him what he'd like to fish for, that was my mistake.
Knowing that we already had the Walleyes wrapped up from Wednesday, he said; "You know what? Those Perch were really good last night, I'd like to get some more of those". Now the wheels really started turning, where could I get a bunch of Perch without heading out on the big water and still be nearby in case Kathy decided to join us. How about one of those little lakes back in the woods? Hey, we caught Perch back there just a few weeks ago. Great idea! Unless you miss the turn, yup, just like the last time, somehow I got turned around and wound up at a completely different lake.
That's okay I said, there's Perch in this one too. Hmmm ... unless there's not enough water to get the boat into the lake. Now what? Well, I said there's another good lake just down the road a couple of miles, I guess we'll go there instead; Unless ... no way, there's no water at this ramp either.
By now, we'd been driving around for over an hour, hadn't even gotten the trailer wheels wet, the boat was full of ice and snow and the outside was coated with a 1/4 inch of mud from the wet gravel roads. At this point, I submitted an official request for a professional do-over. Tony graciously granted it and we headed off in a new direction, this time with Crappies, maybe Sunfish too, on our minds.
All is well that ends well and luckily for me, the good nature of my new fishing pal, plus a lucky pick of a good panfish lake, helped me stage a nice afternoon recovery.
There wasn't any giant, breaking news story about the Crappies, except that they seem to be moving deeper. The key depth on this lake was 25 feet, but we did mark some fish deeper and some shallower. Several good size packs of fish were in the 27 to 29 foot range too, but it was more work to keep the baits in place.
All of the other fishing details are the nearly the same as they've been for the past couple of weeks. We had a lot of wind, even on the protected side of lake, getting down to the fish wasn't easy with the 1/8 ounce jigs. But we stuck with them because the fish really liked the 1/8 ounce Bug Eye tipped with one of those small artificial baits that the fish sometimes really like to gulp down.
Thanks to the wind, gathering the fish took longer than usual. Not because they wouldn't bite, just because we had to sneak up on them in between gusts of wind that kept setting us back. Eventually though, we did bag our Crappies and had a little time to spare, so we cruised into some calmer water, closer to shore, looking for sunfish.
I found one small school of okay, but not great size fish located in about 16 feet of water. The sunfish were nipping at the jigs, but the hooks were too large. A quick change to 1/16 ounce jigs tipped at first with cut pieces of night crawler, later with tiny artificial tails, did the trick. A dozen Sunfish helped round out the bag and with sunset heading our way, we claimed victory, even though it took a few detours to get there.
Surface temperatures still range from 45 to 47 degrees and like I said, the Crappies are moving a little deeper every day. I've heard reports of fish located as deep as 35 feet already and it would surprise me that most of the fish in any of our better Crappie waters will soon be located in or near the deepest water you can find.

Fishing Report October 11, 2012 Jeff Sundin - Surface temperatures slip, Walleye fishing? Still hanging in there, especially if you're thinking faster than they are.
With surface temperatures in the mid 40 degree range, it is officially safe to assume that any lake that routinely undergoes a fall turnover, has done it by now. At this point, most of the lakes have either begun to recover or have already recovered from the scattering effect that the turnover produces. That means that we should be able to catch them, as long as we can find them.
Fish aren't really very smart, they don't do much thinking, they don't plan strategies, they just sort of go with the flow, adjusting to conditions as they come along. Their life is kind of boring, all they need to do is find an ocassional meal and when you think about it, their only entertainment is playing games. Even then, the only game they're very good at is "Hide and Seek". So that's the one we need to practice, that's where we get beat!
Our problem is that we do too much thinking, not enough responding to conditions. There are places where the fishing has been so reliable over the years, that they just have to show up, sooner or later. But they're are just not there right now and instead of banging our heads against the wall, we've gotta go look somewhere else.
At this point in the season, I know that most of you have already wrapped it up, but for the die hards; the ones who are gonna keep trying until ice traps you on the shoreline. Here are a couple of my observations about the 2012 fall season.
If you've been frustrated by a lack of fish in the "old reliable spots", it's not the fishes fault. All they're doing is hanging out where the best food is. Our role in the game is to do the seeking, keep looking until we find 'em, even if we have to try some new lakes. On some of the most popular lakes, there is so much food this year, that the fish don't even need to worry, they just eat whenever they want. Lakes like Winnibigosh and Leech have been spotty throughout the whole season.
At the same time, there have been other lakes where the fishing has been good all summer. Lakes where the balance of of food is more in your favor, less in the fishes favor. You already know that the predator/prey relationship influences everything, so figuring out a way to work with it might make a lot of difference.
I've gone through it myself this fall, looking for fish where I thought they should be, and repeatedly finding out that they weren't there. I finally had to convince myself to just quit looking in the same old places and start thinking more about why I was going where I was going. Now, it's started paying off and I've got enough tricks up my sleeve to get through the next couple of weeks.
I know it's hard to take that risk. But if you already know that the fish aren't hiding where you've been looking, then maybe it's time to start seeking in a few different places. Think back to mid summer and recall some lakes that have been productive this season. Even if they aren't on your list of favorite fall lakes, go try 'em now.
Chances are that the balance of prey to predators has been shifted in one direction or another. If it's been in your favor earlier this season, then you can assume that the same advantages still exist. Nothing about the balance has changed since mid-summer and maybe some of these lakes are producing again right now.

Fishing Report October 10, 2012 Jeff Sundin - Snow? Yes it did, but not enough to stop us and not enough to turn anything white, except our knuckles.
I know, you weren't jealous about us sitting in the cold yesterday and I don't blame you either. But ya know what? There is something about "toughing it out" that makes you value those moments of success all that much more.
In the cleaning shack last night, I was talking to my pal Chris Andresen, he said; "Okay, I think I've got my fishing fix .... for a little while". I know what he meant. We fished together for 4 days during the past week, all 4 were cold, 3 of the 4 were wet and one of them, downright miserable. Somehow though, Chris, his buddy Justin and his father Craig all survived, all excelled and all return home knowing that they won!
Wrapping up our adventure on Tuesday, the priority was to get Craig into some Walleye action, maybe we'd luck out and get some time for Crappies too.
We headed for the "Walleye Hole" and found conditions that looked a lot like our last visit. Windy, mixed sleet and rain, plus an air temperature of 35 degrees. Surface temperature on the lake was still hanging in there at about 47 degrees.
Doing everything in my power to find some fish on the calm side of the lake, I started checking shoreline points and sunken islands that were relatively close to the shore. The ones that had rocks on them held fish, but spots with only weeds seemed more or less vacant. Schools of fish were small and scattered, but once located, were catchable.
The fish were finicky about taking the bait. The initial strike felt fairly strong, but they were holding on to the minnow for a long time before they'd finish it off. Trying to set the hook too soon was causing a lot of missed opportunities, but as we all began to settle down, the hookups became more reliable. Unfortunately, they also became less available.
We'd used up a lot of the productive water and now, forced out into the windy section of the lake, cold faces and hands started getting in the way of productivity. We had enough fish to cover what we needed and the idea of warming up started getting interesting. So, we made a stop for some warm grub and a five gallon pail full of hot tea.
Next stop, the Crappie hole, where our luck took a turn for the better, things went really well. In spite of the wind making it hard to hold on a school of fish, the Crappies were active enough to strike as we passed through the small schools. My luck got even better when I discovered that they were interested in small artificial baits. That meant we didn't have to spend a lot of time with our hands in the minnow pail.
Small packs of Crappies were on the edge of the drop off into the deepest section of the bay. The prime portion of edge ranged from 21 to 23 feet. The drop into 30 feet held some fish, but they were suspended high off of the bottom and very tricky to pin down. Higher on the flat in 19 to 20 feet of water, there were some Sunfish, but we didn't try to work on those, we just moved back out deeper to focus on the Crappies.
An 1/8 ounce jig tipped with a 1 inch tail and fished as nearly vertical as possible did the trick. So did the same 1/8 ounce jig tipped with a small minnow, but like I said, catching them on the artificial bait is really a lot warmer for your hands.
Our session wrapped up with just what we needed. Today's Crappies, Walleyes and a few Pike were heading back home with Craig. Justin left with his fish a couple of days ago and we already had Chris' fish in the freezer. In terms of harvest, it was good. The weather? Okay, maybe not so great. The adventure? Well we're all still here, all still smiling and all ready to do it again. That sounds like a success to me!

Fishing Report October 9, 2012 Jeff Sundin - When those science dudes, you know, the ones with the white lab coats are doing research. Sometimes they get a result that lies way outside of the normal range of their study. For example if you have 100 chickens and they usually each lay an egg every day, then over time, you'd come to expect somewhere around 100 eggs every day.
But if there was a certain day that you got 300 eggs or another day that you only got 3 eggs, the results would fall so far out of the normal range that the science dude would call it an anomaly and they would probably discard that particular statistic. If you don't, then the abnormal statistic would have an unfair affect on the averages.
In other words, you could compare it to a couple of days of fishing. Let's say you're having one day that's incredibly better than the average. But the next day, you experience one that's incredibly below average. Combining the statistics, on paper, you could make both days look pretty darn good.
Okay, so what I'm saying; I think I just experienced a pair of Anomalies, Sunday was unbelievably easy and then Monday was unbelievably tough. But statistically, it's a wash. Statistically, the average of the two days means that both days were good! Wow, that was easy, there, now I feel a lot better. Leave it to science and good old fashioned, simple arithmetic! I guess that's what they must mean by calling it a "BS Degree"? :)!!


(10/9) On The Iron Range, From Greg Clusiau; ... "There's plenty of water to pick from in the Alex area and Peterson usually has the panfish lakes "wired". A milk-run, of sorts, consists of some of his best fall crappie lakes and he tests them frequently, especially when he has guests coming for a visit.
We'd be going to a lake that he had just done well on. If it was a little on the subborn side, we'd be loading up and going to the next best selection. Arriving at the public access, I was kind of wishing we would have" >> Read Greg's Full Report .


(10/9) On Lake Winnie, fishing remains spotty. Anglers have reported both good days and bad ones, even when fishing in the same areas on consecutive days. As it has been all season, Walleyes appear to be fat, healthy and choosy about when and where they eat. When anglers are in the right spot at the right time, fishing is great. When they're not, well then it gets a little gloomy out there.
On breezy days, shallow rocks are about the best thing going on the big lake. Stony Point, Ravens Point, The Rock Pile and other isolated rock and gravel stretches will produce fish.
Jig and minnow combinations will do the job, but be particular about the size of the minnows you buy. 3 to 4 inches, even up to 5 inches will do better than smaller ones. Rainbows, Large Fatheads, Spot tail Shiners ... They are all good if they're the right size.


(10/9) On Leech Lake, fishing has been more reliable, in spite of the fact that Monday was a tough day on the giant water. Shoreline breaks in the 8 to 12 foot range have produced fish consistently for a couple of weeks. There are weed patches that continue to hold fish, but overall, rocks seem to be the preferred location.
Walleyes are scattered all along the East side of Portage Bay and can be found in small packs. Bear Island, Five Mile Point, The Three Sisters all have been producing at least some action.
Perch fishing has been good, but reports of a slow down during the past couple of days could mean that they're shifting location. Shallow weeds in the 5 to 7 foot range is where they were, but now? We're gonna have to wait for another stretch of calm, nice weather to find out.

Fishing Report October 8, 2012 Jeff Sundin - My Multi-Task-O-Meter was pegged, high into the red zone as I drove home from our fishing trip on Sunday. I was frantic that I might forget something from the list of all the wonderful things that I wanted to say about every single word that came to mind on Sunday. Start to finish, every single minute!
If you're a regular reader, then you already know that I make time, every day, just to say how lucky I am. As it turns out, watching what happens when other lucky people get together, makes me realize how really nice it is, just to be lucky!
I've fished with Bob and Paul Espeset for a long time, we think almost since the beginning of my career. I've also fished with Bob's son, Drew Espeset, more than a few times too. But, this time the tables were turned, Drew wasn't along on the trip as the kid any more; This time, his wife Rachel and he were the bosses of the operation!
The fishing trip was a special one; A retirement party for Rachel's dad, Bruce. Planned and purchased by Rachel and Drew, they wanted to show Bruce one really nice day on the water. Bob and Paul, they got to tag along too and they kept up with us in Drew's boat.
I never met Bruce until yesterday, but I can already tell you that the now retired Brick Layer, is one heck of a nice guy and from what I can see, one darn lucky man!
Our fishing trip wasn't too much different than any other. A routine run to a decent Walleye lake, with high hopes of getting in a good day of fishing. We did, in fact it's not even fair to say how good. It was just good.
The surface temperatures ranged from 47 to 49 degrees, depending on where we stopped on the lake. There was a perfect chop on the water, whitecaps in the exposed areas, a good drifting chop everywhere else.
Walleyes were located on the shoreline break in 6 to 8 feet of water, near a large, shallow bay. I'm guessing that throughout the summer, minnows and small, young of the year game fish inhabited the shallow weeds. Two days of really cold temperatures must have driven the small fish out of the shallows and onto the breakline, where they'd been discovered by Walleyes, Perch and Northern Pike.
Areas where weeds and rocks were mixed held the most fish. But we caught fish on the weedline and on open rocks too. The drift was easy, so we kept doing that, but I'm certain that we could have caught fish by anchoring and casting toward the points, pockets and rocks. Maybe bobber fishing too, it would be fun to find out.
At this time of the season, the jig and minnow combinations are my mainstay and this time was no different. 1/8 jigs tipped with Rainbows did the trick. There was no minnow too large, as long as it fit on the jig and was workable.
There are at least a dozen lakes in the area that fit the bill for this kind of fishing and with the turnover behind us, the opportunities for more good days are going to be numerous.
Oh, and about all of the wonderful things that I wanted to say; Let's just leave it at this, I'm even luckier than I thought. :)!!

Fishing Report October 7, 2012 Jeff Sundin - On Saturday, a frosty boat greeted me when I stepped out into the yard. Doors frozen shut, gear covered with ice and the whole rig splattered with sand, mud and grime from the wet roads. Couple that with a few aches and pains from being hunkered down against the weather for two days and you'll understand why I needed that extra gallon of Coffee.
There was great news though; The snow was gone, the sky was blue and the forecast that I read, promised a definite step in the right direction. It wouldn't be long before we'd discover that the fish planned on making our day entertaining too!
When I arrived at the bait shop, the crew, Chris and Justin, who hadn't met their temporary fishing pal, Norm Crawford before, had already made their introductions and taken a few minutes to chat. There wasn't going to be a lot of lofty goals, just to figure out a place where we could catch something. It didn't really matter where or what, just find some fish. Crappie fishing sounded good, it would be easy to teach our newcomer and if we were lucky, we'd get enough for a nice lunch.
When we arrived at a small, local lake that I thought might be reliable, the air was crisp and cold. At 32 degrees, we'd have to depend on the lake water which hovered at about 50 degrees and sunshine to help thaw out the gear and the floor of the boat. There was still a crispy North wind, but after the past few days, it seemed calm by comparison.
Moving across the lake at trolling speed, I had already spotted a couple of small schools of fish before the boys even had their rigs set up. By the time I stopped and got in position, Justin said "game on". There ya go then, the fish were there and they were fairly active. Not aggressive, each pack of fish would give up a handful, the fizzle out forcing us to roam around looking for another pack. The fishing was steady though and there wasn't any time that the fish quit, just the temporary slow down from time to time.
The fish location was no big surprise, 20 to 25 feet deep, near the deepest hole in the lake. The fish that stated shallower, the ones in 20 to 22 feet seemed more aggressive, but I think that in reality, they were just easier to stay with. The suspended fish over deeper water just kept disappearing from my Humminbird's screen, forcing me to keep relocating them. The time wasted by going in circles to find them was the real problem. Eventually, I learned that it was better to stay closer to points and breaklines where I could pin down the schools and stay with them longer.
Using and 1/8 ounce jig and minnow was clearly the best presentation, but in the cold breeze, I had my hands full and didn't want to mess around getting minnows all of the time. Instead, I spent most of my morning experimenting with plastics, spoons, grubs etc.... Almost everything I tried produced some fish, but I missed a lot more of them than the rest of the guys who stuck with the live bait.
Justin came through just under the 1:00 PM Deadline by dropping in the final Crappie. With our limit in the cooler, we were out of there to cook lunch.
During the morning, we'd discovered that Norm was a food connoisseur, an expert, especially about beans. Norm knew one thing that we hadn't thought of before; He told us that every meal he'd eaten up here included beans. He was like a kid in a candy store, almost giddy at the thought of getting into that can of beans that I had warming on the fire!
After lunch, we decided to try and pick up where Norm and I had left off on Thursday. We'd go back to Pokegama and try to capture at least one decent Pike. Norm hadn't caught one and this was one of his original goals.
On Pokegama, the wind was still a little too strong for fishing some of my favorite spots, but we managed to find some alternates. Most of the spots were points and inside corners on shoreline related breaks. The relatively shallow, 15 to 20 feet of water that we fished, held some average size fish in the 22 to 26 inch range. We didn't stop anywhere that didn't produce a fish or two, but we also never stopped anywhere that the fish were stacked up either.
We rigged up leaders using 20 pound test fluorocarbon line and tied on 1/8 ounce jigs and tipped them with the best size minnows I had. If we'd been fishing for a limit of Pike to bring home for eating, we would have gotten our limit, but all fish on this trip were released. We never caught any whoppers, but we managed enough action to keep it interesting. It took a while, but eventually Norm did bag himself a decent size Pike, so he can move on to the next leg of his journey with another notch in his belt.

Fishing Report October 6, 2012 Jeff Sundin - All New and Improved! Walleye Fishing, with added Whiteness! Conditions on Friday might not have been perfect for anglers, but for the fish, it was like nothing ever happened.
When I looked at the weather forecast for Friday and saw the predictions; Snow, Rain, Windy and cold, I never even bothered to ask if we were gonna fish or not. Chris Andresen and his pal Justin Johns have been through all of this same stuff with me before and for some odd reason, the worse the conditions are, the better we seem to do. Maybe all three of us are just natural born under dogs who thrive on accomplishing impossible tasks. Or, maybe we're just plain lucky!
When I picked the boys up, no one said much about the weather except for my opening comment; "I guess I picked a good time to get the new skins put on the jalopy". They both said, "Yup" and we proceeded to talk about our fishing experience of last year when a 30 MPH kept us on our toes while we gathered a cooler full of Perch from Cutfoot Sioux. Funny, we remembered that experience like it was yesterday, but we could barely recall the 2nd day, the one that we spent under blue skies and calm seas. Sometimes, overcoming the odds seems to heighten the enjoyment, you know, it makes you value your successes so much more.
As we drove up Hwy 46 toward Squaw Lake, snow fell steadily and had covered the ground in many places. It was a gorgeous sight, especially looking from inside the truck. At the landing, I did a serious double take when I spied the surface temperature of 44 degrees on the screen of my Humminbird. That is a major league temperature drop from the 60 degree readings I saw just a few days ago. Luckily, as we headed out into some deeper water, the overall surface readings ranged from 49 degrees to 51 degrees, depending on the location. Post turnover, almost certainly and probably, it occurred at least several days ago, because the water was clear and the fish were on the prowl.
The wind was strong, but had moderated a bit since Thursday. Still, it wasn't likely that we were gonna cover a lot of ground on the windy side of the lake. We knew that our luck was good when at the first stop, about a block from the landing, a steady flow of Perch and Walleyes kept us busy until past noon. Not fast, hand over fist action, just steady enough to keep us interested.
The spot was a shallow weed bed that came out to about 6 feet of water. Perch were in the weeds, while the Walleyes were just a little deeper, maybe out to about 8 feet on a small point. Jig and minnow combinations did the trick on both Walleye and Perch. For me though, it took both hands to keep up with the chores, so there was no time to mess around with minnows. I used an 1/8 ounce jig tipped with the 2 inch Ripple Shad and the Perch loved it. I don't recall catching a single Walleye during that morning session, but the boys were holding up their end of the show, boxing 7 or 8 Walleyes while I picked away at the school of Perch.
After a break in the early afternoon, the wind was diminishing and we became a little more brave. Moving around the lake, visiting a handful of favorite spots. There were a few fish almost everywhere we stopped, but never a giant school of fish that would allow us to keep working a single area. In the afternoon, the "protected slot fish" outnumbered the keepers, especially for Chris, who caught 8 or 9 fish over 20 inches himself.
Oddly, we never ran across another Perch in the afternoon either. Apparently, the deeper, more open spots that we fished weren't as attractive as the shallow weeds.
A quick word about the minnows; It's been tricky to find all of the kinds of bait that I'd really like to have right now, but of the bait that's been available, Rainbow Chubs has certainly been reliable producers. I you have to limit your selection to one kind of minnow, go with the Rainbows and you won't regret it.
By the time we left the lake, the outside temperature had risen to a balmy 35 degrees, the snow was melting and the darkness was looming around the corner. We had 13 keeper Walleyes, maybe 20 Perch and had realeased at least 12 to 15 slot fish.
All in all, the day turned out great, even though we earned every fish we caught. Actually, we probably even earned some fish that we didn't catch too! Maybe some of those will reward us for our efforts today!

Fishing Report October 5, 2012 Jeff Sundin - REALITY CHECK! Shiver me timbers .... and by the way, about that bottle of Rum ....?
Sorry about the shortage of pictures from Thursday. There were definitely some moments that would have been great to capture. Somehow, throughout the day though, I just could never get a free hand. It was one of those days where letting my hand off the tiller, gave the wind a chance to blow us a half mile off course. Okay, maybe not a half mile, but you know .....
A natural born optimist, I just don't like the idea of saying anything discouraging about a fishing trip. Thursday wasn't exactly the best time to meet a new customer, especially someone who hasn't done a lot of Walleye and Pike fishing. But, I gotta give Norm some credit, he toughed it out and even though there were a lot of ways that it could have been better, we're safe and warm now and along the way, we scrounged up enough fish to send him over to the Outpost for his first taste of Walleye, ever! I'll bet it was darn good too, especially after that day in the boat.
I could tell you what we did and how we did it, but why? Fishing in the sleet with a 30 MPH wind slapping you in the face isn't something that most anglers are planning to do. That is except for the ones who are fishing with me today, HA!


(10/5) On Lake of the Woods, Sportman's Lodges, Jacki LaValla said; "A good walleye bite has been found outside of the Lighthouse Gap just near Pine Island, Morris Point Gap and Zippel Bay this week. Anglers have had good luck in 15'-24' of water using chub and shiner minnows. Gold and bright orange jigs have been the hot tackle. Brenda Pickle joined the 10lb club this weekend. Brenda reeled in a real nice 10lb, 30 inch walleye while fishing with Captain Alan "Flip" Phillippe. Some real nice walleyes, a few northern pike and nice jumbo perch were also found. Check out the pictures on sportsmanslodge's Facebook page.
The current water temperature is in the mid 50's right now. Cool weather is in the forecast and starting today. We should see this water temperature rapidly decrease in the week ahead and start heating up the river bite."

Fishing Report October 4, 2012 Jeff Sundin - Okay, here we go, heads down, hoods up! We're about to get one of natures little warning shots over the bow this weekend. You know a tap on the shoulder reminding you about the list of stuff that you still want to squeeze in before winter sets in? Oh don't worry, it's gonna get nice again and when it does, we better try to make the most of it!
On Wednesday, a return trip to Leech Lake turned out to be a great idea for I and my crew. There were a few ups and downs that made the day interesting, but for the most part, we had something to keep us busy almost all day long.
Walleye fishing came first; Straight forward jig and minnow fishing on the shallow, shoreline breaks. The breeze would come and go during the morning, but it didn't seem to make much difference one way or another. Walleye action was what I'd call, steady. There was never a moment where we felt like they were really going strong, but one by one, we gathered keeper size fish. By about 12:30 PM, the cooler contained our limit of keepers and with Perch fishing in mind, we rolled on up the shore to join the crowd.
Perch fishing on Leech Lake isn't exactly breaking news, but even after several weeks of steady pounding, the fish are still fairly cooperative. We skipped past the main crowd of boats, just to find a little quieter spot. A little bit of creeping around, slow drifting from one weed patch to another eventually landed us on top of a school of active Perch.
When I look at the Humminbird, it's hard to tell any difference from one spot to another. Maybe there are patches of gravel, maybe the locations are temporary places where a school of baitfish just happen to be hiding. Whatever it is that the fish like, on you catch a couple of keepers, STAY PUT! I don't anchor, but I do use the MinnKota to hover on the spot and I try not to move more than 50 feet from where we catch the best ones.
I do like to drift away occasionally, that seems to help clear out some of the small fish that gather under the boat. If we anchor, the build up of little ones keeps getting larger and at some point, that's all we catch.
A 1/8 ounce jig head tipped with half of a minnow seems to be about perfect. The meat eaters can't grab the tail and yank it off of your hook as easily and it really improves your hook setting percentages.
If you're like me, willing to settle for a little less action, willing to wait for better quality fish. Then try using a 2 inch Ripple Shad instead of the minnow. The small fish will peck at the bait, but rarely get hooked. Larger fish smack it hard, engulfing the whole bait at once. It's been working well for me, kind of like pre-sorting. My favorite color is Perch, but the black and silver ones work well too. Jig colors in the green/black or orange/black combinations work well. So do glow/blue and glow/pink.
Judging by the anglers using the fish cleaning station, almost everyone out there was catching some fish. Mostly Perch, but occasionally a Walleye, Pike or even a Crappie showed up at the same spot and snapped up the bait. By days end, we had a couple of dozen Jumbos and when the blustery wind set in, we had a good excuse to call it a day. A nice day at that.


(10/4) In the Bowstring Lake Area Otters Guide Service, Robby Ott Says; "The duck and grouse hunting in the area has been good for the most part. Kids on the football team have been coming in with good reports from the weekends. Beaver ponds, flooded timber and bays with wild rice have been the most successful. Grouse numbers are still up from what I can tell. Alot of "did you hear him, yes, did you see him, no. With the steady fall of leaves, this soon will change. The best advice I can give is get off the beaten path and let the dogs work. Popples no more bigger than a pop can located near a patch balsam, close to water, are the ingridiants for a nice meal. If you no where there is some fruit baring trees, its possible thats where you will find the gold at the end of the rainbow. Walleyes have been my primary focus. Some lakes are turning over or getting ready to. Have spent most of my time on Sand and Big Jessie. Northland fire ball jigs tipped with Bigger Rainbows or Shiners have worked the best in 10 to 13 fow." Have openings left to get in one last trip.

Fishing Report October 3, 2012 Jeff Sundin - Good news, better news. First the good news, I've got tough guys coming this week, Guys who can handle the cold blast that's about to zero in on us. They can take that without flinching. Now the better news, It looks like we're gonna see another recovery during the early part of next week. Maybe, just maybe, we're gonna get to wrap up this season in style!
On Tuesday, I spent most of the day clearing my desk and working on yard chores. But by late afternoon, I needed to get the boat ready for today and I needed some air and I needed something to cook for dinner and as long as I was in the neighborhood ...... I paid a visit to Shhhh ...... don't say a word! I went to the top secret lake, the one that's so top secret that I'm not even supposed to know about it. Anymore.
It was a nice simple adventure, I just wanted to poke around the lake, looking for enough Crappies to make a nice meal. Maybe if I was lucky, I'd get a decent picture while I was there too. Luckily for me, everything I needed was right there.
At the landing, surface readings were ranging from 58 to 59 degrees. Thanks to our recent warm spell, that's a rebound of about 5 degrees since my last visit. There was a heavy wind, maybe 20 MPH and for such a tiny lake, there was a good chop on the surface. Not enough to make fishing impossible, but it made the job a little tougher.
Crappies were fairly easy to find, small packs of fish were scattered near, but not in the lakes main basin. A semi-deep hole that may drop down to about 25 feet, maybe a little deeper. A flat that surrounds the basin held most of the fish. They ranged in depth from 17 to 22 feet, the shallowest fish being more aggressive than the deeper ones.
At first, I hovered over the packs of fish with the MinnKota and worked them vertically, using a jig and minnow. It worked fine, but since I was alone and feeling a little lazy, I didn't want to mess around with the live bait. It took a couple of tries to find an artificial bait that they liked, but in the end, I settled on a 1/8 ounce Pink/Chartreuse Lindy Jig tipped with a 2 inch Ripple Shad. The Crappies liked that! Normally, I'd use a 1/16 ounce jig instead, but with the heavy wind, that was just too small this time.
Those little shad bodies have a tail that wiggles as it drops, the Crappies seem to really like that. It's almost too easy to fish, I just pull the jig up a few feet over the fish and let it free fall back into the pack. As it falls, one of them pounces on it and once you get the timing perfected, you hook 'em. It's not a good idea to hit the fish hard or to hit them too soon. Once you feel the strike, pause just long enough to lift the rod tip, feel a tight line and then sweep the tip upward. That's the secret, not too much hook set, just enough to get the hook into that papery mouth.
It was just that simple, roaming around, looking at fish on the Humminbird, snappintg a few pictures, just relaxing. I probably could have concentrated my efforts on one or two of the larger packs of fish and caught a lot more. But that wasn't really the goal, sometimes what I have in mind is simpler. Sometimes a nice meal is all I really need and in my mind, that's what I just had! Mmmmm....
Sitting on the lake in the peace and quiet, I started thinking about what makes a good fall Crappie lake, why do some lakes produce well in cold water while other perfectly good lakes don't? I think I'll work on that question for a while. If you have some questions of your own, shoot 'em my way and maybe I can cover it all at the same time.
October 3 , 2012 - On Lake Winnie, the past couple of days have returned some of the Walleyes to more typical, fall patterns. Walleye action is still not exactly running rampant, but it's definitely better. On Sunday, anglers had good luck runnig along the East shore of Lake Winnie. By Monday, a strong wind from the Northwest changed that program, at least for a while. Now, the rock spots loacted anywhere between Stony Point and Ravens Point became better producers.
Panfish, hit hard by constant pressure during the past few weeks are still available and moving deeper. On of the Grand Rapids area guides found a great school of fish located in 30 - 35 feet.
Jig and minnow fishing is solid now and the best depths are generally 7 to 10 feet. On rocks though, shallower depths can be really important, don't be afraid to fish in water as shallow as ... Read >> Bowen Lodge fishing report .

(10/3) In Grand Rapids, Zach Dagel, Grand Rapids Guide Service; "Well the boat is pretty much put away the shotguns have come out. I've been doing a lot of duck hunting and grouse hunting. I had WDIO TV out today. We shot a few docks in the morning that 1 grouse hunting in the afternoon. We had a great time the dock on the episode will be on at 10 o'clock Wednesday evening. And the grouse hunting episode well air next week. The weather is finally going to start to change and everything should pick up." click to drop me a line >> grand rapids guide service


(10/3) Bemidji Lakes Area, Paul A. Nelson, Bemidji Area Lakes Guide Service says; "A beautiful week in the Bemidji area had the surface water temperatures rising again and the fish in many lakes moving back towards shallow water.
Anglers are in for a big change later this week and into the weekend. Significantly cooler temperatures are predicted for the Bemidji area, with the first mention of snow in the forecast this season.
The thermocline is gone from the lakes, so fish are able to go into deeper water if there is a suitable food source located there. Most fish want to stay close to their main food source as the lakes cool down.
The best areas for fishing are usually the areas that have the most baitfish. Walleyes want stay close to the shiners and small perch, while muskies and big pike want to stay close to the tulibees and suckers.
There was a huge perch hatch this spring in many of the larger lakes. Walleye anglers are finding the fish they catch are fat and healthy, with stomachs full small perch when they get caught.
Most anglers are using jigs and minnows for walleyes, with anglers working from the outside edge of the weedline all they way down to the base of the drop-off, depending on the lake and the weather conditions that day.
Anglers have been finding perch on the large chara covered flats in most of the larger lakes. The best depths are usually 6 to 10 feet deep.
Sunfish have been holding on the last remaining green weeds, with cabbage, coontail and northern milfoil all possibly are holding fish. Sunfish will move to the mid-depth mud flats to feed on insects once they leave the weeds.
Crappies have been moving to areas of deep rocks or deep brush piles. Crappies may be relating to the bottom or they may suspend off of the bottom over deeper water, depending on what food sources they are using." - Paul A. Nelson, Bemidji Area Lakes Guide Service, panelson@paulbunyan.net 218.759.2235


(10/3) Grand Rapids Area Fishing Guide, Jason Green Checked in and says; "Fall fishing in the Grand Rapids Area continues to be excellent over all. Each day tends to change a bit but there is definitely a good bite happening.
For the past several days we have been locating and catching fish from 6'-10' of water depending on the sky and wind. Some of our best bites have happened with Bluebird Sky's and a light breeze.
Locating vegetation is still key however we are seeing increased activity in transition areas such as Vegetation to rock or gravel. Fish also seem to be on the move and hungry which means Mother Nature will be changing things up shortly.
Our best presentation has been a Fireball Jig tipped with a Shiner Minnow or Impulse Smelt Minnow. Currently Snap Jigging isn't working to well however the slower popping action is sure to put fish in the boat.
Good luck with the remaining days of Fall. Hope to see you on the water!". - Jason Green


(10/3) On Bowstring Lake, Bowstring Shores Resort, Darv Oelke says; "On Bowstring, Walleyes are biting pretty good down at the rock pile 7 to 10 feet Jig and fat head minnow. I had guys that just came in off the lake there were 3 of them and had 13 walleyes and some nice perch 1 crappie. That was this morning from 8 til noon, before they got blown off the lake. Generally, fishing is getting better every day. - Darv, Bowstring Shores Resort .
By the way, did you know that you can study the fishing reports from the past seasons? You might get some good ideas about what to do now, just by looking at what we did then. ALL YOU NEED TO DO IS CLICK HERE FOR >>> Fishing Report Archives .

Fishing Report October 2, 2012 Jeff Sundin - It was the first really breezy day in a week and it might have been a great time to cash in on some serious Walleye action, or maybe not. I'll never know for sure.
Plans for my scheduled fishing trip just sort of fell apart on Monday. I and my prospective customers never did get our connection together, so I wound up on the sidelines for the first day of our new month. I thought that maybe I'd make a recovery for today, but that fell through too and I have one more day without work on the water. Guess what? If you're in the area and want to hit the lake later today, there's still time to get in touch. Otherwise, I'll just inch my way toward the mountain of work that's been stacking up all summer long.
For today, I'll linger around home for a while this morning, then if I don't wind up with a little work to do later, I am gonna play hookie and skip out onto a top secret lake!

Fishing Report October 1, 2012 Jeff Sundin - Gorgeous weather, fantastic company and good fishing!
On Sunday, I got to fish with two of my favorite people, The Hommedahls, Erling and Karen who are just so darn nice to me! It's the kind of trip that makes me want to bend over backwards to be sure that we have a great time. On this particular day, we had great weather, great conversation and pretty darn good fishing too!
Hoping for a re-run of the good fishing that Saturday's trip to Leech Lake provided, we made a bee line for Federal Dam, headed for the last spot we fished on Saturday and luckily, found a school of Walleyes that were ready for action right off the bat.
After a long summer of slow fishing on the giant lake, the Walleye fishing has become reliable. I could agree with anyone who says that it's been a little spotty, but if you apply yourself and keep moving until you find a school of fish, they are definitely cooperative, even when the weather conditions are less than ideal.
Surface temperatures have been hovering in the 58 to 59 degree range, baitfish are plentiful in the weeds and on areas of of mixed rock and gravel. The fish are nomadic right now and move up and down the shoreline, stopping on these small rock and weed spots too feed.
During the daytime, use jig and minnow combinations in water depths of 8 to 11 feet. If you can get them, Shiners are outperforming Fatheads, so are Rainbow Chubs. A key to triggering strikes has been to jig aggressively. We fished in areas where small groups of boat were congregated and as I watched other anglers, I noticed that most of the folks who were fishing slowly, were going fish-less. The anglers who were putting a lot of action on their jigs by hopping, snapping or ripping, were the ones doing all of the catching. The same held true for us, using the gentle jigging approach did not produce results.
The fish ranged in size from tiny, to really large and were all mixed together in the same areas. One fish could be 12 inches and the next could be in the mid 20 inch range. There are plenty of good keeper size fish, ranging in the 14-1/2 to 17-1/2 inch range and catching our limits of fish on both days was not a problem. In fact, I talked to a friend who was fishing on the opposite side of the lake and they had filled their limits by a little past 11:00 AM on Sunday morning.
Perch fishing has been good on the big lake too and that's what many of the anglers going out of Federal Dam have been pursuing. Fishing in the shallow weeds in Portage Bay has been producing lots and lots of Perch. There are a lot of small fish, so you need to be sure and bring plenty of bait because you'll be doing some serious sorting. But, with fish in the 11 to 12 inch range coming in steadily, it's worth the effort.
Presentation for the Perch is easy, we used 1/8 ounce jigs tipped with half of a minnow. Cutting the minnow in half increases your hooking percentage and really saves time. Instead of putting on a new minnow after every fish, you can catch 4 or 5 fish on every chunk.
The fish are aggressive, so you don't need to do much to catch them. I just kept the boat in place with the MinnKota so that we could fish vertically, putting little or no action on the jigs. If you drift too fast, you'll be spending too much time fighting the weeds and not enough time in front of the fish.
Since the action for both Walleye and Perch was good in Portage Bay, we didn't do a lot of roaming around. A triangle drawn from Sugar Point, West to Two Points and back up to Federal Dam is all of the are we covered in two days of fishing and there was never a need to move any further than that.
The night bite that had been fantastic last week, sort of fizzled out on Saturday and even though we did catch some fish after dark, our Walleye action was better during the mid day sunshine, than it was by the light of the gigantic, Full Moon.
The Walleyes we caught after dark came on long, minnow baits trolled in 5 to 7 feet of water at about 2.0 MPH. Just like the daytime fishing, sizes varied from really small to really large. Our best fish was 28 inches, a personal best for Mike Carlson. There were reports of fish caught up to 29 inches, but it wouldn't surprise me if someone out there caught something even larger.
We spent our time fishing on the West side of Portage Bay, but I could see that the Lion's share of nighttime anglers were concentrated on the East side, between five mile point and Federal Dam.


(10/1) On The Iron Range, From Greg Clusiau; "Then it dove, going headfirst and slow, which seemed to take forever. It was body, body, body and a sight I'll never forget. When that fish dove, it seemed like there was no end to the body and I can't even make an honest guesstimate to it's size. Let's just say it was ... >> Read Greg's Full Report .


(10/1) On Lake of the Woods, Border View Lodge, Mike Kinsella wrote; "The bite has been excellent up near the reefs. We have excellent reports from the 9 footer and Knight Island areas.&n bsp; Action is starting to pick up on the south end of the lake, as cleaner water pours in from the Rainy through the Light House and Morris Point gaps. Jigs and shiners in 30 feet are producing a nice mix of sauger and walleyes.
The river is beginning to produce. A few small shiners (pinheads) have moved into the river, but we're still waiting for the first run of bigger minnows. The Rainy River Walleye Tournament was held this weekend on the Ontario side of the river. Some nice walleyes were brought to the scales and most teams weighed a full limit. The weather was beautiful and a good time was had by all.
Things look to be cooling down for the upcoming weekend with a small chance of precipitation. Our current water tempe rature is 53 degrees.
There is still time to get that last fall trip in. The fall colors are beautiful right now along the river. Bring your camera! FISH ON!
---

(!!) Smiles are always welcome!

I AM . Don't forget, if you want to add your 2 cents worth, or to ask a question about this, or other reports, click here to Join Me On Facebook.








More ways to connect!

Sign up to receive the

Free "Insider Newsletter".

Don't forget, you can always catch up with Jeff Sundin on the radio program too! Listen every Thursday at 6:20 AM and get additional fishing reports and information. KAXE 91.7 FM Grand Rapids - 105.3 FM Bemidji - 89.9 FM Brainerd.

Want even more?

Book a Guided Fishing Trip and get HANDS ON fishing tips!
---
Jeff Sundin is a full time, professional fishing guide, outdoor writer and photographer. Jeff is available for fishing seminars, fishing promotions and media events. Click here to read more fishing articles and fishing reports.
Advertise Here! Expanded Itasca Area Fishing Reports. Lodging, Bait & tackle suppliers, guides or any other fishing and hunting related business can find a way to take advantage of the offer. For more information about contributing, sponsoring or advertising. Email Me .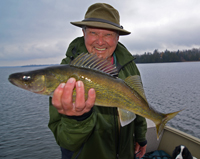 Carl has been on this lake a long time, almost 50 years and if there's anyone who loves it, he's the one!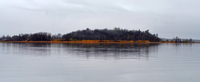 Home of the Starr Bar and Grill. Connoisseurs of fine dining know, it's a great place for a tasty meal! Reserved seating recommended.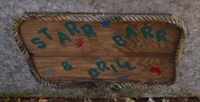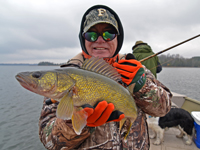 Captain Mike Rehr, the legendary icon of Tarpon, Redfish and Snook fishing near Sanibel and Captiva Islands, doesn't take any guff from Minnesota Walleyes either!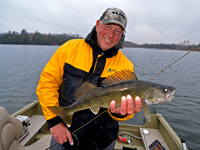 Fishing from an anchor position gives the crew lots more time to tease the sluggish fish up the minnow and onto the hook. We were positioned to cast toward a shallow rock point, adjacent to a heavy weed patch in 8 to 9 feet of water.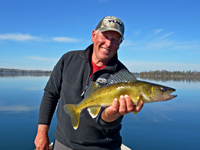 Summer-like conditions slowed down the action, but sometimes .... We're on the right track, all we need to do is move a little bit deeper.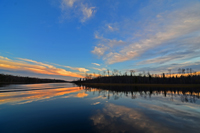 As a fishing spot, I might not ever go back. But ya just never know; Sometime, one day, I just might pay that lake another visit. You know, just to see something beautiful, just to hear that soft voice again.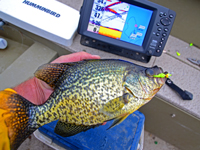 What fish lacked in numbers, they made up for in size. Of course, you'd have to know the size of that hand to realize the size of the fish. But, I promise, it's a nice one!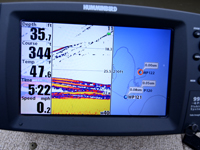 Above: After locating and marking several schools of fish on the GPS, I found some smaller packs of fish, concentrating on those resulted in catching larger Crappies.
Below: Large schools of fish contained many more small fish, reduce injuring Crappies that you don't intended to keep by avoiding these heavier concentrations.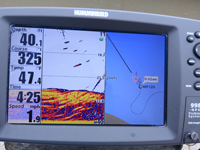 After a nice hot lunch, the boys went into their hurry up offense, built up a good head of steam and won the game. I knew they could do it! I just knew it! For Dan, I think the stogie helped too!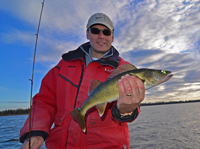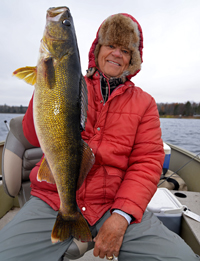 It was a good day to be Mr. C! Bob Carlson always comes up with a big one, but this time, a new family record! A 29 inch Lake Pokegama special.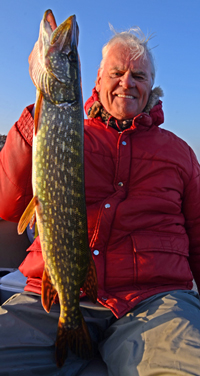 Lindy rigging with Redtails is oftern a multi-species presentation. As usual on Pokegama, Pike pester the big minnows while you're on the prowl for Walleyes.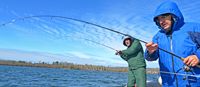 Multi-Tasking at it's finest. Steerin', nettin' and shootin'. Oh yeah, then there's that other thing, Lovin' It!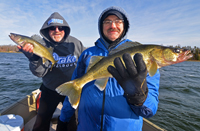 Larry Lashley and Tim Fischbach showing off for the Admiral! Jig and minnow combinations on a shallow, mixed rock and weed reef. Walleyes were gorging on young of the year, minnow size Perch.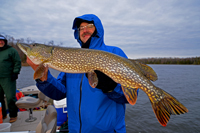 See what happens? Ya can't take Tim anywhere, he's always gotta be showing off! The Crappies were happy when he caught this monster Pike, until he released it.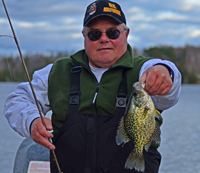 Tony Switzer hung in there against a brisk wind and cold temperatures. One by one, we picked off Crappies holding in 24 to 26 feet of water. Final score? Tony Wins!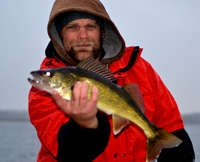 Snow? Yes it is, so does it look like we're leaving? No, I didn't think so! Here's why.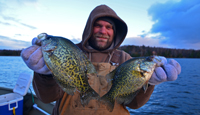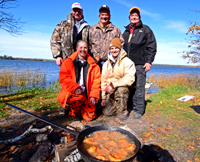 Six of the luckiest people I know! Oh, that's right, you have to look left to see the sixth one.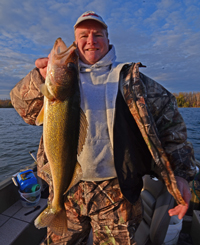 We're leaving at 6:00 PM, okay? Bruce says, okay, I'll get one more at 5:57 then. Show Off!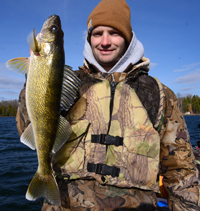 Drew Espeset still has the touch too!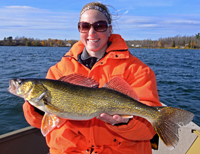 It was a really good day to be Rachel Espeset. Showing off one of her dozen or so "Slot-Fish" .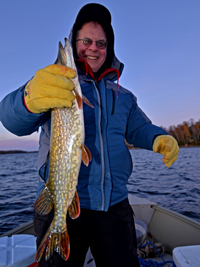 Okay Norm! It took a little doing, but we made it! Above average Pike were semi-cooperative on Pokegama on the deep weed edges.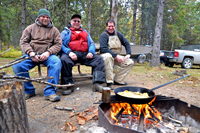 Mix and match fishing during a moment of glory. Norm Crawford and new friends Chris Andresen (L) and Justin Johns (R) get set for what looks like a really nice shore lunch. Oh, and remember to double up on those beans!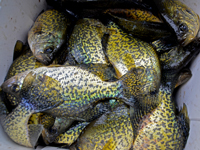 Crappie action was good. Fishing in 20 to 25 feet of water, using 1/8 ounce jigs tipped with Crappie Minnows, Shad Bodies or small Twirl Tails.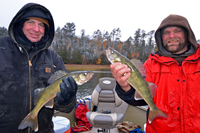 Everything worth having, is worth working for. Snow and strong winds don't stop Chris and Justin. Here's proof that toughing it out is well worth the effort. Jig and minnow, 6 to 10 feet of water, weedline fishing.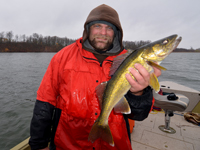 A great day to be Chris Andresen! Slot fish in the 20 to 22 inch range found him and stretched his line a whole bunch of times. Shhh... Be careful though, keep it under wraps, we don't want to give him a swelled head!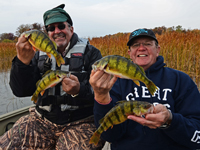 a couple of dozen Jumbo Perch rounded out the afternoon for Pete and Bruce. Shallow water weeds, 1/8 ounce jig and minnow fished slowly.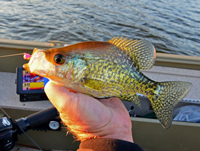 I settled on a 1/8 ounce Pink/Chartreuse Lindy Jig tipped with a 2 inch Shad. The Crappies liked that! Normally, I'd use a 1/16 ounce jig instead, but with the heavy wind, that was just too light for today.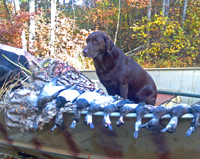 Zach Dagel has the boat put away the shotguns have come out. Zach's temporarily traded fishing for duck and grouse hunting.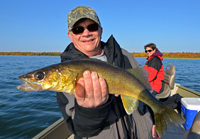 Erling Hommedahl shows off a little as he masters the jig and minnow fishing on Leech Lake. Eight feet of water in the weeds. After a slow summer, Leech Lake Walleyes are making up for lost time!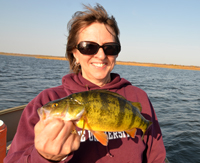 Shallow water weeds in Portage Bay are producing numbers of good Perch. Once you find 'em, then you can try to be more like Karen Hommedahl!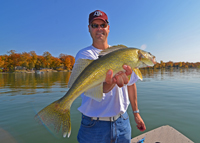 It was a great day to be Mike Carlson. He even brought his own weather with him!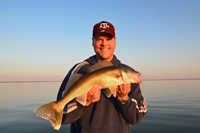 Jigging brought in a bunch of nice fish during the day. Fishing 9 to 10 feet of water on shoreline breaks.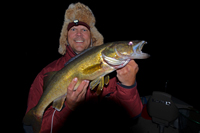 After dark, Mike's 28 incher. The highlight of the trip and Mile's personal best, SO FAR!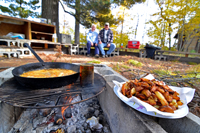 Oh, don't worry, we could never be caught short for the fish fry. Luckily, we always manage to catch enough for this particular job. Hungry? Me Too!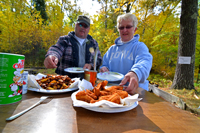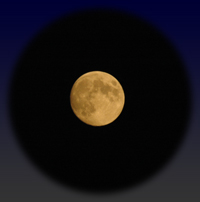 Combine the moon phase with a great weather forecast and it plays right into the hands of anglers who plan on prowling the shoreline at night for Walleye or Musky.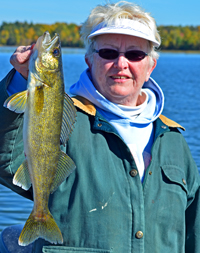 Barely a ripple on the water, full sunshine at mid day and the Walleyes are biting! Sounds like a good day to be Karen Reynolds, she's earned a few nice days on the lake!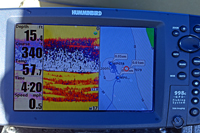 The fish were holding on the tips of this rocky, submerged island in 10 to 15 feet of water. If you imagine a triangle, all three points held fish.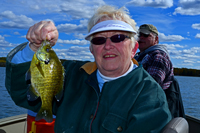 There were a handful, of 10 inch fish, but not enough to claim this as a trophy lake. The average fish were nice, but not giants. Once we realized how strong the bite was, we tried to keep fish that were between 8-1/2 and 9 inches.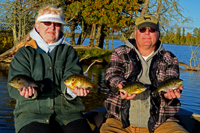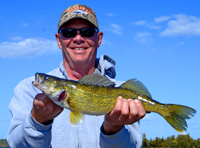 It was a good day to be Steve! He had the pattern dialed in and caught fish after fish. An 1/8 ounce jig tipped with medium to large size rainbow chubs. Fishing on wind blown, shallow rock and weed points. Not Bad Steve!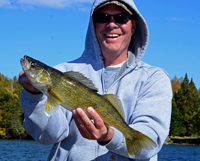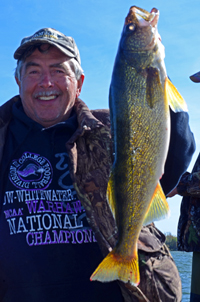 Walleyes were stacked on shallow rock/weed points. Scott shows off the result of his quality over quanity concept. Same presentation, jig and minnow combinations are here to stay for the rest of the season.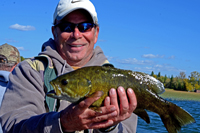 Plenty of bonus Smallmouth Bass entertained us along the way too! Same spots, same presentation. They were just up there for the fun!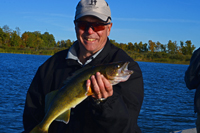 Jim Bopp shows of a solid fall Walleye. Jig and minnow combinations on the outer edges of the weedline was our best bet on Sunday.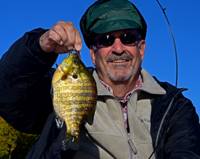 What the Blugeills lacked in action, they made up for with size. With surface temps in the 58 degree range, schools of fish are leaving the weeds and showing up in open water.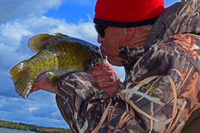 Ya gotta love it! Shallow water rocks and weeds were churning in strong winds. Walleye, Northern Pike and Smallmouth Bass were roaming the flats, feeding on young Perch minnows.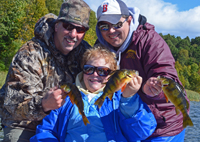 Perch action has been ramping up over the past few days. Shallow water weeds, jig and minnow combinations and you're in business!

Cooler nights and brighter mornings have oficially started the color watch. Stony Point on Lake Winnibigoshish.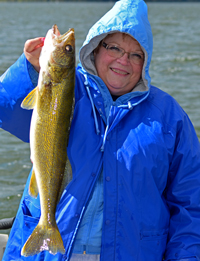 The "Joyce Effect" took a little while to kick in, but it did kick in. She's grinning about a 25 incher, while her son Mark (below) bubbles about his 22 incher. Jig and minnow combinations were perfect in the shallow water.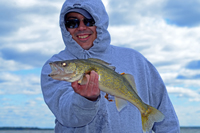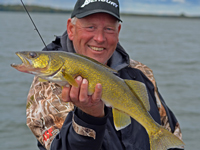 Oh yeah! I even caught a couple, they must really be biting!
High spots on shallow rock reefs are great fall locations for Walleye. A six foot rise on an 8 foot reef produced a dozen nice Walleyes.

After we finished up our Walleye fishing, we took a Buzz around to the Crappie hole. Not the largest Crappies we've seen, but action was plenty good, Yes, Ya gotta look close, but he said that really is a smile! :)))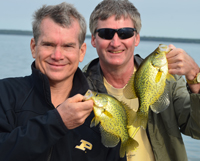 Crappie fishing almost always holds up its end of the bargain in September. The fish are on the move again, but once you find 'em, you can catch 'em.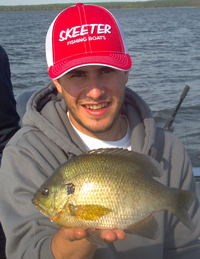 Fishing for Walleyes on the weedline and guess what? Ya never know what you're gonna come up with.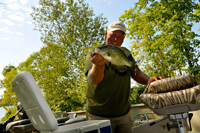 Crappies are responding to the cooler water temperatures and the action is reliable. But, are they where you think they are?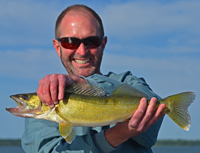 Walleyes in the protected slot helped jump start the trip for Mark (above) and Bob (below). The 20 to 21 inch fish hit jig and minnow combinations, fished in the shallow weeds. Six to Seven feet of water was the key depth on Lake Winnie.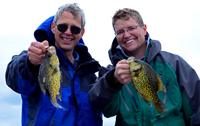 Big waves made the Crappie fishing tricky, but for Tate and Mike, that was just part of the fun!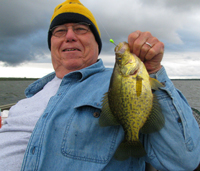 Mike Nolan shows of some of his better work. Under cloudy skies, with breezy conditions, Crappies in 8 feet of water we aggressive. 1/16 ounce jigs tipped with minnows or small plastic tails did the trick.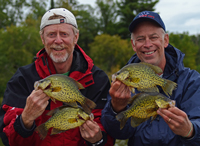 Just like the old days! We stumbled into a school of active fish on a shallow rock point adjacent to Cabbage Weeds. 1/16 ounce jigs tipped with 2 inch Shad bodies did the trick.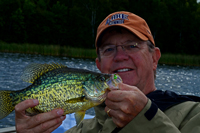 We use cut pieces of Night Crawler for bait instead of minnows. That way, you have an equal chance of catching either Crappie or Bluegills.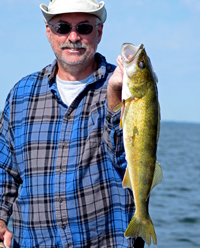 After a good bit of poking around, we finally found 'em. Veteran angler Wayne Smith took over from there. Fishing in six feet of water, using a jig and crawler combo he fooled his fair share of the fickle fish.