---
View More Recent Fishing Reports
---
---
Video Tulibee Fishing On Lake Winnie January 9, 2011
---
---
---
Fishing Reports Archive (view past reports)
---
---
---
---
Archived Minnesota Ice Fishing Reports March 2011 Lake of the Woods Walleye, Perch and Panfish on Lake Winnie, Leech Lake and Cass

Ice Fishing Report March 31, 2011 Jeff Sundin Well, it was a little trickier than I thought, but here I am at the Northwest Boat Sport and Travel Show, up & running and back into the report updates. I guess I could have let the page slide for a week until I got back home, but

! Even if I'm only writing for one person, I'm gonna be sure to keep the page updated.
The show opened at 1:00 PM on Wednesday and with all of the hubub of setting up and getting the system ready to roll, I didn't get to see alot of the exhibitors, but starting today, I'll catch up with some of my friends and get some updates about what's new for the 2011 fishing season.
While I was working the booth, I did get a chance to phone some friends about the fishing conditions and as you'd expect, ice fishing is starting to take a back seat. Lots of folks have already hung it up for the season, but there are still some locals taking advantage of the good, late ice conditions. Right now, the word on the street around Deer River is that the Crappie action has been winding down. Most of the folks have been sticking with the deep water pattern and it wouldn't surprise me if the fish started showing up shallower and closer to the weed edges. This time of the season, Crappies will also suspend high above the bottom, sometimes just a few feet below the surface. If you're heading out to try for them, be sure to take some time to poke around the weedlines.


If you like to fish shallow water but have a hard time holding the boat steady, you're going to love Minn Kota's new Talon, Shallow Water Anchoring System. The concept is so simple that I'm amazed that they didn't come out with it sooner, but it's here now and it looks pretty slick. Just pull your boat into a great looking stretch of shallow water, lower the anchor and sit perfectly still while you fish.


Another slick system that I spied on Thursday was Lakemaster's new Contour Elite Charting Software. I had already gotten a heads up about this system from my buddy Vern Valliant who bought and installed it on his home computer a couple of weeks ago.
Imagine sitting in your den in the middle of winter and studying a lake that you plan to visit next summer. View all of the lakes structure in three dimensions, just like the fish sees it. Study the bars, rock piles, points and flats, pick out some great looking structure and mark the spots with GPS coordinates. Now load all of the informatiuon onto your Humminbird and when you get to the lake, fish it just like you'd already been there a hundred times.
For anyone who gets serious about learning their lake, this setup is the real deal and you'll be hearing more about it after I get my copy installed and start learning it first hand.


(3/31) I checked in with Fred's Bait and Carla told me that except for some local anglers who were still fishing for Perch, most of the traffic at the shop and on the phone was all about fishing the Rainy River. Fishermen checking on the bait supply and asking questions about river conditions is an indication of a busy weekend ahead.


(3/31) On Lake of the Woods, Eric from Border View Lodge checked in with an update. All of the Ice Shelters are now off of the lake and on Wednesday the guides took a day off and fished for Walleyes in the river. Conditions continue to improve as the open water advances. As of Wednesday, there was open water past Frontier Landing and there are a growing number of rigs fishing out there. Right now Eric says that the water is clean and the current is manageable. There aren't a lot of big fish coming in yet, but there is a good early and late action bite. Mid-day, fishing is slower, so plan your trip to fish morning and evening.
Eric is anticipating significant traffic on the river by this weekend and the conditions are working in favor of the fishermen, at least so far.
Border View $25 per night special starts on April 1st. Border View's bar and restaurant are open until the end of April.


(3/31) Bemidji Lakes Area March 24, 2011 NMLOG Member, Paul A. Nelson in his own words; It looks like there will be ice fishing into April this year, but vehicle traffic on most lakes is done, or will be shortly. Anglers will still be able to get on many lakes with ATV's or by walking into the first week in April, but the ice fishing season is into its' last days in northern Minnesota.
Perch have been holding along the drop-off on most lakes, waiting for warmer temperatures to arrive before moving into the shallows. The move should be quick when it happens, so anglers can check the breakline in 10-14 feet of water first and then move shallower until they make contact with the perch.
Anglers will be able to get on the ice on Lake of the Woods to fish walleyes and northern pike a little longer than lakes in the Bemidji area. Anglers can fish the extended season on Lake of the Woods and the Rainy River until April 14, 2011. The Rainy River gives anglers another option as the ice fishing season nears the end. There is open water past the Birchdale access, but most of the action has been from male walleyes, with the larger female walleyes still waiting to move into the river in big numbers.
Many anglers use a trolling motor to slow down their drifts down the Rainy River and use jigs and minnows for the walleyes. Anglers can also cast diagonally across the current, back troll up current or anchor in key positions and fish below or behind the boat.
Most walleyes will use the middle portion of the Rainy River as long as the water stays relatively clear, but they will hug the banks of the river when the water gets muddy from rain or rising water level








More ways to connect!

Sign up to receive the

Free "Insider Newsletter".

Don't forget, you can always catch up with Jeff Sundin on the radio program too! Listen every Thursday at 6:20 AM and get additional fishing reports and information. KAXE 91.7 FM Grand Rapids - 105.3 FM Bemidji - 89.9 FM Brainerd.

Want even more?

Book a Guided Fishing Trip and get HANDS ON fishing tips!

Ice Fishing Report March 29, 2011 Jeff Sundin Monday was a tough day to stay inside. Nothing but sunshine and clear blue skies. All of the anglers who struggled during the early winter this year are being rewarded with an extension of the ice season. Not just any extension though, this one includes ideal ice conditions and perfect weather.
Overnight temperatures continue to be perfect for re-freezing the ice, while the calm, sunny daytime conditions make fishing on the ice really comfortable.
Traffic in the area is tapering off, but there are still some larger groups heading up for Perch fishing, a handful of the locals continue to chase panfish on the smaller lakes and there are some early arrivals hgeading for the Rainy River now too.
Most of the information I picked up on Monday was about Lake Winnie where comments about the Perch action are mixed. A friend who has been fishing in the Plughat Point area of Tamarack Bay a lot lately, said that that fishing on Monday was slow for him. Perch seem to have disappeared from the deeper 10 to 12 foot weeds that had been productive for him. Now anglers fishing up in the 6 to 8 foot depth range are having more success.
A group of anglers fishing fishing further up the river channel toward Tamarack Point are reportedly catching a mixed bag of Crappie and Perch. Second hand reports are tough, but if they're in the typical locations for late ice, they are probably fishing shallow weeds in the 5 to 8 foot depth range.
An observation about the ice conditions on Tamarack Bay; water is beginning to build up along the shoreline between Plugaht Point and sunset View Resort. As of this morning, I know the landing at Sunset View remains open, but I'm expecting to hear about it closing any day now.

Ice Fishing Report March 28, 2011 Jeff Sundin I just returned from my weekend at the Douglas County Game and Fish League Sportshow in Superior Wisconsin. I really want to thank everyone who came in for my seminars and I especially want to thank all of the great folks from DCGFL who make me feel so welcome at this great show! Good news, they've already reserved a spot for me on the schedule for 2011, so I'll be looking forward to seeing many of you and some more new faces back there again next year.
With clear blue skies and buckets full of sunshine, I could really see the change in snow and ice cover as I was driving home on Sunday evening. My guess is that after this week, we're going to be talking about everything but ice fishing!
For now, Good spots to fish for Perch and Panfish continue to be available for anyone who wants to get out beofre the spring breakup. Traffic around Deer River was slow this weekend, but anglers who were out on Lake Winnie said that driving conditions were still good and they moved freely around the lake.
Please be careful though, the sunshine is working its magic on the shoreline and access areas where traffic moves on and off the lakes. It won't take too much warm weather before shorlines start to errode and even though there are still places where driving on the lakes is okay, it's the time of the season where it's just a better idea to start using your ATVs. On small lakes, walking out to the fishing spots is even a better idea.
On my way home Sunday, I stopped to snap some photos at the Prarie River. Most of the ice is already gone and I'd say we'll be seeing some anglers fishing for Suckers down there within a week or so.
The earliest arrivals to the Rainy River at Birchdale have already been out on open water and catching some Walleyes. I was really hoping to be up there this week and it's going to be pure torture for me as I hear the early reports, but with the Northwest Sportshow coming up, it looks like I'll be sitting out this first wave of action. So far, there are just a few anglers on the river and most of the fish that they're catching are medium size, resident fish. As far as I know, the only landing available is Birchdale, but I'll get a better handle on that later today.
There are a few folks talking about the early signs of some larger fish moving toward the gap where ice fishing is still going fairly well. Water temperatures are still in the low to mid 30's so we have a little time before the serious spawing begins, but as water tempertures approach 40, the action is going to start picking up. I'll be keeping the reports updated from the show, so if you're heading up there, I'd love to hear from you about your trip and see a few photos too.

Ice Fishing Report March 26, 2011 Jeff Sundin The weather continues to play right into the hands of ice fishermen in the Deer River Grand Rapids Area. It's 12 degrees right now and the ice is not soft at all, in fact it's probably even improved a little during the past few days.
We've been getting a lot of questions about the condition of accesses for getting out onto the ice and I've gotten some more reports in from area resorters. Even though you'll see lots of the private accesses close after this weekend, remember that a lot of the isolated access points that were snowed in all winter have since opened up. If you want to be absolutely sure that you can get to a fishing spot, all you need is an ATV right now.
In general, ice conditions on the lakes and at most of the landings are in good condition. You can still drive trucks in a lot of areas and you can take ATV's virtually anywhere. The surface of the ice is super slick right now so it's highly suggested that you bring cleats for your boots.
Fishing for Perch and Panfish continues to be good and the trend is that fish are moving shallower. Most recent reports remain accurate, but when in doubt, be sure to try some shallower spots in addition to the areas you've already been fishing.
Appearances (3/26) I'll be at the Douglas County Game and Fish League Sportshow today and tomorrow, March 26 and 27 at Wessman Arena in Superior, Wisconsin. Today at 12:30 PM I'll be doing a seminar on advanced live bait techniques for Walleye and tomorrow, my seminar "Check Out That Humminbird" will help you find and catch more fish by fine tuning your electronics. The show is packed with more seminars too.


(3/26) On Lake Winnie, Northland Lodge and The Pines Resort. On Friday both resorts rtreported that the road going out into Tamarack Bay from their ramp is Closed. Due to to current from the river, they don't trust the ice in this corner of the bay any longer.


(3/26) Lake Winnie For access onto Tamarack Bay, go now to Sunset View Resort. They reported on Friday that their access remains open and is in good condition.


(3/26) On Lake Winnie, The Third River Landing on the Northwest side of Lake Winnie has been gated and closed for the spring.


(3/26) On Lake Winnie, Nodak Lodge at the south end of Lake Winnie will be closing after this weekend.


(3/26) On Jessie Lake, Rita from Jessie View Resort says that their access is in good condition and that anglers are moving freely around Jessie on 24 inches of good ice. They expect that ice fishing will continue through the first weekend of April. At the moment, Perch, Crappie and Tulibees are active on the lake and anglers are reporting good success. Crappies and Tulibees are coming from 18 to 26 feet of water and the Perch are coming in best from weddline locations anywhere from 6 fett out to the 16 foot drop off.
Jessie View Resort still has winter lodging available (by advance reservation) for anglers who want to squeeze in one last trip.


(3/26) On Bowstring Lake, Darv Oelke at Bowstrring Shores Resort says "They are still driving pickups off of my landing. But it is going to get warm next week and it will go bad fast. ATV's will be able to go for a while. As I did last year, I will put ramps out to get atv's out there. At least for right now pickups are good all over the lake. No ice heaves as of yet. But that can change in a hour." Darv


(3/26) On Lake of the Woods at Sportmens Lodge, Jackie says that the Plowed roads and snowmobile trails are "a little rough", but the fish are biting. Sportmen's Lodges will continue to have fishing shelters and winter lodging available through March 31st. After that, it's anybody's guess whether the River will open in a few days, a week or more. But there may be opportunities to fish on the river within a week or so and Sportmen's has loding available for that too.


(3/26) On Ball Club Lake, fishing reports from Gus are finished until the open water season begins. Gus did want me to remind everyone that they do have lodging available at Gus' Place Resort all year long. So even if you're fishing on Winnie or Leech, Gus has a cabin for you.


Ice Fishing Report March 25, 2011 Chad Benson, NMLOG member says that Perch action on Cass Lake has shifted into shallow water. Chad is hoping that the fish he found earlier this week will stay put for one last weekend before he pulls his rental shelters off of Cass Lake for the summer. He's been finding fish in 6 to 8 feet of water and while the action hasn't been really fast, it has been good and the average size of the fish is large. Some of his groups are returning home with "near limits" of jumbos in the 10 to 12 inch range.

Ice Fishing Report March 25, 2011 Jeff Sundin Okay ice fishermen, you said you were waiting for perfect conditions to get out on the lakes and do some fishing. Well here they are, no snow cover, cold nights and warm sunny days. As a little bonus, the fish are biting too! What more could you ask for?
We've been getting a lot of questions about the condition of accesses for getting out onto the ice. All permanent ice shelters need to be removed from Northern Minnesota lakes on March 31st so this weekend will be a natural break for a lot of the rental operators and resorts. But for now, there are only two closures that I know about. The Third River Landing on the Northwest side of Lake Winnie has been gated and closed for the spring and Nodak Lodge at the south end of Lake Winnie will be closing after this weekend. I have additional messages out to all of the resorts and rental operators right now and I'll be updating the access conditions as they report in.
In general, ice conditions on the lake and most landings are in good condition. You can still drive trucks in a lot of areas and you can take ATV's virtually anywhere. The surface of the ice is super slick right now so it's highly suggested that you bring cleats for your boots.
Fishing for Perch and Panfish continues to be good and the trend is that fish are moving shallower. Most recent reports remain accurate, but when in doubt, be sure to try some shallower spots in addition to the areas you've already been fishing.

Ice Fishing Report March 24, 2011 Jeff Sundin Ice fishermen in the Deer River, Cass Lake and Itasca area of Northern Minnesota have smiles on their faces this morning! Somehow, the snow missed us this time around and we're getting sort of a "bonus ice fishing season". Overnight, clear skies and calm winds helped the deep freeze kick in and standing water froze up pretty solid again.
For anglers who were hoping to get in one last weekend of fishing, it looks like you should be green for go. There are still 26 to 30 inches of ice on Lake Winnie, Leech and Bowstring. With luck, I'll have a Cass Lake update later this morning.
Fishermen watching for open water on the Rainy River will most likely have to wait it out for one more weekend. The main river channel is open as far as Birchdale now, but so far, there are no open boat ramps. It probably won't be too long before you can get in at Birchdale, but this cold snap is going to delay it for a few days.


(3/24) On Lake Winnie, Perch fishing has been steady for anglers fishing the west side of the lake from Sugar Bay down to the campground and up toward Sugar Point. Best depth range has been 10 to 15 feet.


(3/24) On Lake Winnie, Karen from Dixon Lake Resort reports that the Third River Landing Road is now officially closed for the season. The entrances at both ends are now gated to prevent the access road from damage. Karen bids a big Thank You to everyone who helped out by dropping a few bucks into the donation box. Todd spent many hours in the plow truck keeping the roads open for everyone to enjoy the ice fishing season. From everyone at Dixon Lake Resort Thank you and see you next ice season.


(3/24) On Lake of the Woods, Eric from Border View Lodge has a mixed report. The Walleye fishing action has actually started picking up, but demad for rental shelters and lodging is dropping off. They have about half of their fleet of rental houses pulled off of the lake already and the rest of them will be removed just before the deadline on March 31st. Eric says that the ice has firmed up a lot and there are still quite a few anglers driving out on the lake.
Fishing on the mud/gravel transition just North of Pine Point in about 28 feet of water, the action has been split about 50/50 between Walleye and Sauger. Eric says the action will continue to pick up as the urge to spawn moves more fish toward the mouth of the river.
Border View continues to run their $25 per person special and can accomodate anglers with rental shelters until March 31st. After that, anglers who want to fish the Rainy River for Walleye, have until the 15th of April and if the River isn't ready, you can still head out on the ice using ATV's.


(3/24) Bill Powell from Fred's Bait says the Perch action has been steady for his customers and lately, he's noticed a spurt of ...read more


(3/24) Bemidji Lakes Area March 24, 2011 NMLOG Member, Paul A. Nelson in his own words; The ice fishing season is into its' last days in the Bemidji area. Some lakes got hit hard by snow during the late March snow storm this past week, while other lakes only got a dusting of snow.
Some anglers are still driving vehicles on a few lakes, but most anglers have switched to ATV's or snowmobiles on the lakes that still have some snow cover. There will come a point in the season where anglers will have to walk out to get on the lakes.
Perch are one of the first species in the local lakes to spawn in the spring.. Perch will move into 3-6 feet of water on late ice, feeding in areas covered with mats of chara or other broken weeds, which can hide crayfish, insects and minnows.
Anglers can sight fish for perch using a short rod like the Frabill "Bro Series" 18 inch sight fishing rod, so they can stand close enough to the hole to look down and see the perch coming through under the ice.
Perch feeding in shallow water are usually very aggressive, so anglers can use jigging lures or small plastics on jigs with no bait and usually be able to catch fish. If some scent is needed, scented plastics, a wax worm or a minnow head is usually enough added attraction to make the perch bite.
Anglers have to take a "day to day" approach to ice fishing late in the season. Anglers may even have to evaluate hour to hour on the last days of the ice fishing to be sure they can get off the lakes safely.
Crappies and sunfish will also make feeding movements into shallow water late in the season. Sunfish usually move into the old weed beds and may be using reeds or even old wild rice beds to feed on insects that emerge out soft bottom in shallow water. Crappies are usually hunting for minnows under late ice, so they like reeds that are close to deep water.


Ice Fishing Report March 23, 2011 Jeff Sundin Northern Minnesota, so far the snow hasn't managed to make it into the Deer River area. I've been watching the weather map for the past few hours and it reminded me of watching a wave that advanced almost all the way up here and then receded back to the South again. Forecasters are still telling us to prepare for a good old fashioned dumping of snow, so I guess now we just wait and see.
Assuming that we miss any large volume of snow today, then the ice conditions have taken another turn for the better. In fact, maybe enough to extend the ice season for another week, maybe more. With overnight temperatures in the low 20's and predicted daytime highs below freezing throught the weekend, you should have ideal conditions to squeeze in aother trip this weekend.
Fishing reports were scarce on Tuesday because of the high winds, but there were a few folks out there. While we've been busy talking about Perch and Panfish, there have been a lot of anglers fishing Tulibees too. The action on Leech Lake had been excellent, with some groups reporting catches of close to 100 fish. A friend reported a slow down in the action on Monday, but even then they got 30 fish. Tulibee fishing has also been steady on Lake Winnie, Cutfoot Sioux, Portage Lake and Bowstring.


(3/23) On Ball Club Lake, Gus' Place Resort, Gus says that travel by truck is good for now and anglers who "work the lake" are finding good size Perch in shallower water now. Fishing in and around old weeds in the 12 to 14 foot of water range has produced decent results. On Ball Club, Gus is suggesting larger minnows presented on the larger size jigging spoons and blade baits. If you're using larger baits, you'll catch fewer fish, but it will help increase your average size.


(3/23) Bill Powell at Fred's Bait had his first customer of this season heading for the Rainy River. He didn't mention which size boat the anxious angler was towing, but he was obviously convinced that he could get on the water somewhere.


(3/23) On Bowstring Lake, Darv Oelke from Bowstring Shores reported that his guests just had the best weekend of the entire winter. They were able to drive freely around the lake on about 26 inches of good ice. Fishing in 20 to 24 feet of water, there are both Crappies and Jumbo Perch. The fish are mixed, but the Perch tend to be on the shallow side of the breakline and Crappies on the deep side.
Presenting a small minnow on small blade baits like the Frostee has been effective.

Ice Fishing Report March 22, 2011 Jeff Sundin Well, you knew it had to get here sooner or later. That one last wintery blast that always hits just when you think spring is here. I hope the weather reports are wrong, but it sounds like we could get as much as a foot of new snow today, so I put the plow back on the truck for one more go around. The Deer River and Grand Rapids area may not be hit the heaviest, but at this point, anything more than a few inches could be a real problem for fishermen hoping to squeeze in a few more days of serious ice fishing.
Rainy River Walleye anglers were on the verge of a possible start to the open water season by this weekend, but the incoming cold-snap may delay this a bit.. There was open water in the center of the river channel at Birchdale already, but the landing is still frozen shut. The cold weather heading in this week could be a blessing as it reduces the chance of getting that sudden blast of flood stage water. A re-freeze will allow some of the water to flow out of the system before we get another influx from the Bigfork and Littlefork Rivers.
I took a tour along various portions of the Mississppi River between Deer River and Grand Rapids yesterday evening and found the main channel wide open everywhere I looked. There is still ice on the backwaters and oxbows, but you can see that it's deteriorating. Ducks, Geese and Swans are showing up all along the river and even though we can't fish Walleyes on this portion of the river, there will be some fine Perch and Panfish opportunities very soon.
At Cohasset, except for one last pile of snow at the very top of the ramp, the resot of the public landing is already open. Of course, the landing at the hot pond is open too, but from there, I don't think you can get to the main channel just yet. So far, fishing reports from the hot pond have been disappointing, but panfish action should be picking up soon.
Depending on how the storm breaks, we could be down to the wire on ice fishing, but we'll keep our fingers crossed that we get a few more days on the ice before calling it a wrap.


(3/22) A quick email note form a reader said simply "Jeff, Thanks for the the tip on Bowstring. My son Brian & I had a blast. See attached, limits of Crappie and perch. Two of the Crappie were 15 1/2". Hmm...not bad guys, looks like next time you better call and bring me along!


(3/22) Wired2Fish TV Hey ice fishermen, you know all about the Jigging Rapala. But what about using it in open water? Watch Al Linder and a deadly Jigging Rapala presentation for mid-summer, open water Walleyes.

Ice Fishing Report March 21, 2011 Jeff Sundin Welcome to spring! A rainy day on Sunday took another bite out of the snow and ice cover on area lakes and moved us one step closer to the open water fishing season. In case you've been wondering, it's only 54 days until the "O-Fish-All Walleye Opener". We still have a few trips out on the ice, but it's time to start thinking about getting the boat polished up!
Around the area; Bluegills, Crappies and Perch are all still cooperative. For Perch anglers on Leech, Winnie and Cass Lakes, there has been a lot more action in the morning than iduring the afternoon. If you're heading out for some Jumbos, it might be a good idea to plan a morning trip instead of in the afternoon.
On Sunday, I got word from some friends who have been out on the lakes working their favorite Crappie spots. Some had more success than others, but everyone got some fish.
I thinks its time for the obligatory word of caution about ice conditions. Between the warm temperatures and recent rainfalls, ice is deteriorating more each day. Some lakes are holding up better than others, so its important that you treat every situation differently. A word from one friend who was on the lake yesterday, he said that it was getting soft and even though there were still anglers driving on the lake, he would have advised against it. Okay, so there, be careful okay?


(3/21) On Bowstring Lake, the Crappie action was a little slow, but by moving around, Chad Haadvedt was able to pull in some nice size fish. Chad mentioned that the surface ice has become slippery now and it's difficult to move around. Make sure you throw some cleats in your bucket the next time you head for the lake.


(3/21) The "Fishing Mafia", Greg Clusiau, Blake Liend and friends were out and about on snowmobiles searching for panfish yesterday. Whichever secret little panfish lake they were on sure produced a great looking mess of fish. According to Greg, the deadly bait combination was using one of Northland's Mud Bugs dressed with a Slug Buggy Tail. Bug" tipped with a "Slug Bug Buggy Tail". Clusiau said, "I don't know what it was, but this combination out-produced every other bait tried". By the end of their trip, everyone was using the same presentation. Colors combinations we decided by mixing and matching until they found the best producing combo.

Ice Fishing Report March 20, 2011 Jeff Sundin Thank you to everyone who came and paid us a visit at the Grand Rapids Jaycees Show on Saturday. It was a great day at the show and the fishing seminar lineup was the best it's ever been!
As I write this report, rain is falling in Deer River and it looks like its going to start and stop throughout the day. We're going to lose some more snow and ice today, but for now, all of the reports about ice conditions are still positive. Working the floor of the show on Saturday was a blessing for me because I got to chat with lots of folks who have been out on the ice this week and get some fresh reports.
There's been a lot of talk about Perch over the past week, but the buzz on Saturday was all about Bluegill fishing. Listening to the reports, I almost got the impression that you could go to any lake, drill a couple of holes and start yanking fish out of the water. I know that its not quite that simple, but honestly, there are a lot of guys finding Sunfish right now. Some lakes were mentioned by name, but almost every small lake with a decent panfish population seems to be producing. The Bluegill action has been centered aroung the shallower water now and focusing on weedline areas is the key. Water in the twelve foot range is a good starting point, but drill some deeper and some shallower holes too.


(3/20) On Lake Winnie, I talked with Joe and Carol Oliver who had been resort-sitting at the Pines Resort, on Tamarack Bay. The resort had a big crew last week and all of the anglers were reporting good catches. According to Joe, one group of 8 anglers caught and sorted fish for a few days until they had a full limit of 320 fish to take home. He added that by the time they finished, all of the fish were in the 9 to 11 inch range.
Best depths in the bay have been 8 to 14 feet of water, but there have been some instances of fish coming in from six feet or even shallower. During late winter/early spring in Tamarack Bay, its common for the fish to move onto the shallow flats for a feeding binge, so be alert to a shift into shallower water soon.


(3/20) I got a first hand report from an angler who had just returned from Lake of the Woods. His fishing party had been working out of Arneson's Resort located in Muskeg Bay, west of Long Point. They caught about 30 fish, mainly Sauger and released all but eleven as they were "too small". They were fishing in about 28 feet of water over the mud. He told me that another group had been fishing on a rock reef and caught fewer fish, but had both a better average size and a higher percentage of Walleyes.


(3/20) My buddy Chad Haatvedt emailed with a report from Bowstring lake where he had a decent outing on Saturday. He came hoe with mixed bag of nice size Crappies and Jumbo Perch. Judging by the photo, what the fish lacked in numbers, they made up for with size.
There were other good reports coming in about Bowstring also. The pattern for Crappies hasn't changed yet, fish the deeper edges of the second breakline at about 24 feet of water and keep moving as you look for moving schools of suspended fish. To bag the Perch, move into shallower water, anything from 12 to 16 fett seems to be a key depth right now.

Ice Fishing Report March 19, 2011 Jeff Sundin Thursday's weather moved us another giant step toward open water as rain and warm temperatures combined to really knock down the remaining snow cover. On Friday, temperatures dipped just enough to firm the ice back up for the weekend.
On Friday there was a lot of action at Fred's Bait in Deer River as anglers headed into town to take advantage of the great ice conditions. The ice is about as good as it will ever get right now and it looks like we may have 10 days or so before we'll need to leave the trucks on shore and start hoofing it for the last few trips.
The river watch has already started and as of yesterday, there was open water at the Manitou Rapids on the Rainy River. It's going to be a little while before the channel opens up at Birchdale, but I wouldn't be surprised to start hearing about anglers on the river in a week or so.
After hearing some gloomy stories about the Emerald Shiners not running in the Rainy River last fall and winter, I started asking some of the operators up in Baudette about their outlook for the early season.
Eric from Border View Lodge in Baudette was the first to respond and he's not too concerned about the lack of Shiners in the river. Eric said that the fall of 2009 was also a year without a Shiner run, but fishing in the spring of 2010 was fantastic. Eric added that river water conditions are probably more important than the presence of baitfish for anglers during the pre-spawn run. The Walleyes are going to move into the river to spawn no matter what, so if we have another dry spring and clear water, Walleye fishing on the Rainy River will be similar to what we experienced last spring.


Public Appearances (3/19) The Grand Rapids Jaycees Home and Sport Show at the IRA Civic Center is open. I'll be doing my 10:00 AM seminar, "Check Out That Humminbird". The show is packed with seminars and they have a new one scheduled almost every hour. Here's a link to the full fishing seminar flyer.

Ice Fishing Report March 17, 2011 Jeff Sundin I knew I was in trouble as soon as the sun came up on Wednesday morning. I had been really proud of myself for fighting off a hardcore case of spring fever and keeping my nose to the books. But after a day and a half of computers, paperwork and wishing I was somewhere else, the ultimate temptation struck. Arne Danielson called on the phone and said "let's go fishing". Well, I even managed to fight that off for a while, but by noon, we were heading for Leech Lake and what we hoped would be a re-match with the Perch we'd caught there last week.
When we arrived at the landing, our first suprise was the amount of snow cover remaining on the lake. It's melted down a lot since our last trip, but of all the lakes I've seen lately, this is still the most snow I've seen anywhere. That said, don't worry, you can still get around with a 4 wheel drive truck, just watch out for the deeper spots because there is a little slush under them.
We headed for the west side of Portage bay and realized immediately that there's been a lot of fishing pressure during the past week. There were holes, old and new drilled along most of the weed edges on the West side of the bay. We set up in about 12 feet of water and the fish showed up on our flashers instantly. The only problem was that all we could do was watch them on the screen, except for a couple of smaller fish, we couldn't get them to bite. We moved around on the shoreline a bit looking for some fresh territory, but the results were the same wherever we drilled new holes.
I had a couple of GPS locations in mind and decided to run accross to the east side of the bay. There were already folks set up and fishing in that area so we tried not to get too close, but we did set up nearby. The water depth there was about 15 feet and most of the holes we drilled weren't providing any action. There was one though that had a nice school of fish underneath and Arne managed to put on a little show for a while. We kept at it until 5:30 or so and left the lake with 17 Perch, some better than others, but plenty for a fish fry.
The best bait was a small Buckshot Rattle spoon in a Perch Pattern, tipped with a minnow head. The school of fish we were working on had been feeding on small, Perch minnows and these fish did not respond well to my waxworms.
When we arrived back in Deer River, I ran into Pat Rooney from Denny's Resort and he said that a group from his resort had been on Leech Lake in the morning and come back with 50 nice fish by 2:00 PM. In other words, maybe it's a morning bite and we arrived late, maybe we missed finding the exact spot.


(3/17) on Leech Lake, Darcy Tonga from Tonga's Charters in Federal Dam, echoes other reports that Perch have generally been active in Portage Bay. Fishing the weed edges and weed flats in 11 to 15 feet of water stay near the breakline, but not necessarily on sharp drop off areas.


(3/17) On Lake Winnie, Expanding on Pat's Denny's Resort report, the Perch action on the south end of Lake Winnibigosh has been hit and miss recently. Pat said that some groups have done well, but that the average size of fish has been small. A ratio that he mentioned was "catch 50 to get 20" keepers. Some of his groups have done better by heading to the north end of the lake and he said travel conditions are good for those who make the trip.


(3/17) On Lake Winnie, Dixon Lake Resort still has a road down to the Third River Landing, but it sounds like this is going to be the last weekend. The DNR has tentatively planned to shut down the road on March 21st, 2011. Once you're on the lake, there's a bit of soft slush, but generally the ice is still good.
Perch fishing is "slow-but-steady" and the reports from DLR guests are that anglers who work for their fish are getting them. Nice size Crappies are still coming in, but now the action is limited to the evening bite.
In case you need a place for this weekend, Dixon Lake Resort has one cabin still available.


(3/17) On Lake of the Woods Jackie LaValla from Sportsmen's Lodge says that ice conditions remain good with an estimated 40 inches of ice on the lake. There's still some snow cover, but it's melting during the day and re-freezing at night. Anglers are working to catch their fish, but they are getting them and it's a mix of 80% Sauger and 20% Walleye. Popular jig colors lately have been White, Pink and Gold.

Ice Fishing Report March 16, 2011 Jeff Sundin Another step along the way toward spring as the air temperature topped 50 degrees in the Deer River area. The ice conditions are as good as it gets right now! With virtually no snow cover and ice thickness ranging from 26 to 40 inches, you can go anywhere you want.
On Tuesday, a quick tour of the area showed more signs of what could be an early ice out. There is now standing water on the surface of every lake and all creeks, river channels and current areas are open water. Judging by the forecast for the rest of this week, the melt-down could go a little faster than we'd like.
For most of the area resorts and rental operators, the season is just about wrapped up, but don't give up on the fishing reports. I'm going to start moving in some new directions now and there will be plenty to read about as we head toward the 2011 fishing opener. I've already been contacting folks up on the Rainy River for updates on ice conditions there and I'll be plugging in a variety of other fishing information too.


(3/16) On Lake Winnie, Bryan Harris from Eagle Nest Resort says that over the weekend, their fishermen reported the best Perch fishing action that they've seen on the big lake in years. Fishing in the nortwest corner, near Zoomers, the anglers easily filled their limits with nice Perch. Meanwhile, Eagle Nest customers that stayed closer to the resort and fished on Cutfoot Sioux, reported catching Crappies and some Tulibees.


(3/16) On Lake Winnie, John Seekon from The Pines Resort says Perch action remains strong in Tamarack Bay. Best water depths are 7 to 12 feet and the Perch are hitting best on jig and minnow combinations. One tip that John offered is that larger size fish appear to be easier to catch on overcast days. It might be a good idea to fish deeper during bright periods and move shallower when it's cloudy.


(3/16) On Ball Club Lake, Gus says that this is his last report until open water season starts again in May. For now, he says that the warm weather has the Perch on the move and larger size fish are coming up onto the shallower flats. Best fishing depths right now are 12 to 16 feet of water. Crappie fishermen are ready for the late ice run, but so far the Crappies have been avoiding contact with anglers.


(3/16) On Lake of the Woods, Eric from Border View Lodge says that the ice is still in great shape and their rental shelters are still out there. The fishing hasn't been fast and furious, but everyone continues to get their fish. Over the past few days, larger Walleyes have been moving through and they've had some guests catch fish in the 27 to 30 inch range. With the warm weather, Eric thinks that the action will pick up again as the Walleye run toward the River.
I asked Eric for a prediction on the Walleye action in the river this spring and I'll be reporting on that in the next day or two.

Ice Fishing Report March 15, 2011 Jeff Sundin Monday was the beginning of another big time melt-down in the Itasca area and this time we're going to lose a lot of snow and ice. With 32 degrees in Deer River this morning, it's the first time this winter that we haven't dipped below freezing over-night. Our days on the ice are numbered now, so if you've been planning to get out and do some late season ice fishing for panfish, don't put it off.
On Monday, I'd been invited to join Tom Neustrom and Rob Hamling to help film an ice fishing segment for Bob Jensen's "Fishing The Midwest" television program. I had some multi-tasking to do in the morning, so the three of them started the day by filming a Bluegill segment on a lake east of Grand Rapids.
Our initial game plan for the afternoon was to head over to Leech Lake to film a Perch segment, but before noon, Rob and Tom had gotten a call from a friend giving them a "hot tip" about a favorite Perch lake located much closer to Grand Rapids, so I and Austin Jones jumped in the truck and we met up over there instead.

Bob Jensen's Fishing the Midwest during production of a Grand Rapids Perch fishing segment with Grand Rapids area Fishing Guides Tom Neustrom, Jeff Sundin and Rob Hamling.
When we arrived at the lake, there were several anglers already getting ready to wrap it up after their morning of fishing. As a teaser, they showed us some really nice Perch that they'd caught in about 10 feet of water before we arrived. With a high, sunny sky and fishing mid-day, the action had already slowed in the areas where the others had fished, but by moving a few feet deeper we did manage to get a fairly decent bite going, at least for long enough to finish our work.
Between what was already drilled when we got there and the additional holes we punched, there was plenty of territory to work in, so we kept moving from hole to hole, picking up the fish as they moved around, apparently chasing minnows.
Our best depth was about 12 feet and it really wasn't clear whether the fish had a bait preference or not. We put a lot of Northland Tackle lures to the test and caught fish on most of them. Among the best for the day were the Forage Minnow, Buckshot Rattle Spoons and for me, the Mud Bug. Tipping the lures with waxworms was much better than minnows this time, but I'd always have a few minnows along just in case.
It was a great pleasure to work with Bob, Tom, Rob and my new favorite camera guy, Don. Everyone was about as professional and easy to work with as you could imagine. We pulled together and wound up having a really nice outing on the ice and got a good segment on film all at the same time.
In spite of the fact that Austin didn't get to do much on camera, he did do some good work behind my personal camera and thanks to him, we have these still photos to share today. I discoverd on Tuesday that this program won't air until the 2012 season, so I'll be sure to put up a note when I hear about the date.

Ice Fishing Report March 14, 2011 Jeff Sundin Happy Monday! Here comes another dose of spring fever for the Early Bird! The Grand Rapids Boat Show ended on a positive note Sunday as the cold grey skies gave way to clear blue and an approaching warm front.
With sunny skies, temperatures near 40 and managable south wind, it looks like a good day to get outside and film a TV Show. Now all we need is the cooperation of the fish and a little luck figuring out the right spot to put together a Perch segment with Bob Jensen for his "Fishing The Midwest" television program. If things go according to plan, it could be a perfect example of why everyone who ice fishes looks forward to late ice Perch fishing.
By Sunday afternoon, there were a number of people swinging by the boat show to brag about their Sunday morning fishing trips around the area and most everyone had good news to report.
Crappies were hitting well for folks fishing on some of the smaller lakes east of Grand Rapids. A couple of lakes were mentioned by name, but it would be rotten for me to reveal them and mess up the guys who told me about their trips. Especially when you consider that all you really need to know is that most of the better panfish lakes in the area are producing fairly well right now.
Here's a good tip though, think about some of the lakes that you couldn't get on earlier this winter because of deep snow and slush. The snow cover is all but gone right now, so you can go almost anywhere you want and there are vast areas that have been free from fishing pressure all winter long. By exploring some un-tapped territory, you can get in on some really great fishing for the next few weeks.
Best depths for Crappies has varied by lake, but there are about 50% of the spots where fish have moved toward the weedline, while the other 50% continue to have fish in deeper water. One possible explanation for this was brought to light for me by one of the regional DNR Fisheries Officials who told me that there are a number of lakes in the area that are on the verge of suffering from winter-kill. Shallower lakes that had heavy snow cover and don't have significant current flow to replenish Oxygen in deep water are the ones most threatened. It's likely that some fish in these lakes have found areas where there's enough weed growth to keep Oxygen levels higher. He added that the fish "lack knowledge" and therefore don't seek out areas with better Oxygen, but when they encounter a 'better area" they do tend to stay there. Sunfish, Perch and other game fish will tend to find the same areas and this sets up the scenario for good late season mixed bag ice fishing. You can read more about this by reading my article, Mixing It Up On Ice here.
Perch action around the Itasca Area remains fair to good. I haven't heard of many areas where the action was hot and heavy, but there are an awful lot of anglers sticking with their game plans and limiting out with Perch. The secret seems to be that they're drilling lost of holes until they find an area with good size fish and then working the area thoroughly. There's a definite trade-off between quality and quantity too. The anglers who report catching high numbers of fish are catching mainly smaller ones. Quality fish are coming in slower, but they are coming in.
Perch location is trending shallower with the most common depths being 8 to 12 feet. There are still pockets of deep fish too, especially on Lake Winnibigosh, so don't rule that out either.
I've already mentioned Tulibees several times in the past few days, so check the recent reports. They are hitting aggressively right now and in general, any lake with a good Tullibe population should be good. Watch the Tulibee video to see how it's done.
On a related note, Whitefish have been catchable lately too. There aren't as many "Whitefish lakes" in the Itasca area, but there are some and these large, scrappy fish are delicious to eat. A specific report from Pokegama Lake has the fish coming in from shoreline related breaklines in about 60 feet of water in Sherry's Arm. A small white jig tipped with a waxworm is the preferred presentation.

Ice Fishing Report March 13, 2011 Jeff Sundin Traffic at the Grand Rapids Boat Show was good on Saturday with a steady flow of folks coming by to chat about the latest offerings by Lund, Mercury, MinnKota and Humminbird. Being inside for for twelve hours didn't do much to help me stay in the loop about Saturday's fishing action, but I did manage to check in with a few folks who have been on the lakes.
My Friend Ron Tice stopped in at the show and brought me up to speed about Perch fishing on Lake Winnie's Tamarack Bay. Ron say's that the Perch action continues to be good in 10 to 12 feet of water. As it's been for most of the winter in the bay, numbers are better than size. Ron says he keeps a log of the size fish he catches each trip out and Friday's catch of 20 Perch included 3 fish over 10 inches and the remaining 17 fish assorted between 8 and 10 inches. Most of the fish are hovering around the 9 inch mark.
Also on Lake Winnie, a report came in from another friend who was out on the main lake and found lots of nice Tulibees biting. Fish were located in the 30 foot depth range and he said they were hitting aggressively.
There were more good stories about the Tulibee action on Leech Lake too. One specific bait that was mentioned on Friday was the "Moonglow Jig". Over the years, this type of jig has been sold under a bunch of different names and you can find similar jigs produced by Northland Tackle, Lindy, Custom Jigs and Spins plus a variety of other names. In general, any compact size jig with enough weight to get down will do the job. Watch the Tulibee video to see how it's done.
Finally, about Lake Winnie, I got a report from a friend who said that the Perch anglers out on the main lake are starting to get zeroed in on some larger Perch. He was a little tight lipped about the locations, but he is a trusted source and says that with a little scouting, it is possible to locate and catch Perch in the 10 to 11 inch range consistently. If you're not on the school of fish you like, then keep moving until you find them and you will be rewarded for your effort.
On Bowstring Lake, Crappie and Perch action continues to be good for the anglers who keep on the move, looking for small schools of roaming fish. I talked with a friend who's been out there several times recently and they have done really well as long as they don't try to stay in one place too long. The fish are moving with the bait supply and his approach to staying with the fish is to drill new holes every time the action dies. Never sitting still until he finds a school of fish and you will eventually he finds them. Once located, the fish have bitten aggresively even during the daytime.
On Cass Lake, I got frequent text updates from my friend that are staying at Wishbone Resort and they had another day of slow, but steady action. They kept chipping away at the fish, picking up a few each time a school passed by the ice house. In the end, they wound up with 33 nice jumbo Perch and they caught and released a couple of Walleye and Northern Pike that wandered in as well.


(3/13)On Bowstring Lake, Crappie and Perch action continues to be good for the anglers who keep on the move, looking for small schools of roaming fish. I talked with a friend who's been out there several times recently and they have done really well as long as they don't try to stay in one place too long. The fish are moving with the bait supply and his approach to staying with the fish is to drill new holes every time the action dies. Never sitting still until he finds a school of fish and you will eventually he finds them. Once located, the fish have bitten aggresively even during the daytime.


(3/13) On Cass Lake, I got frequent text updates from my friend that are staying at Wishbone Resort and they had another day of slow, but steady action. They kept chipping away at the fish, picking up a few each time a school passed by the ice house. In the end, they wound up with 33 nice jumbo Perch and they caught and released a couple of Walleye and Northern Pike that wandered in as well.

Ice Fishing Report March 12, 2011 Jeff Sundin On Friday, we tested the limits of how much wind an ice-fisherman can stand up against on the ice. A friend and regular summer customer, Phil Goettl had an ice fishing trip planned for Cass Lake. He and a couple of his co-workers Tim Edmonds, Tony Nelson and their kids Will and Nelson were set to arrive at Wishbone Resort around noon and as luck would have it, the wind started howling like crazy at about 10:30. By the time I arrived at 12:30, it was blowing gusts that would knock you back a step as you walked across the ice. Fortunately, the air temperatures hovered up around 40 degrees, so it was still comfortable enough to leave the heated fish house and stand on the ice when we wanted to.
Ron had us slated for a shelter near Star Island, but he had a second house on standby just in case fishing was slow where we started. At first, it didn't look too promising, but the reports from the morning had been good and we were catching just enough fish to keep us interested. From 1:30 until 4:00 PM the fish would move in and out of the area in small groups. We'd catch two or three keepers and then have to wait for another small group of Perch to move through.
At about 4:30 though, things got more interesting as the fish became a lot more active. They were still scattered, but by now there were at least some fish coming out of every one of the dozen outside holes and also coming from the shelter too. We wrapped up fishing at about 5:30 and by then we had a five gallon bucket about 2/3 full of nice, fat Perch.
Water depth was about ten feet and our best presentation was a jig tipped with cut pieces of minnows and fished slowly. The fish were not aggressive and doing a lot of jigging was working against the cause. In fact, Tony probably caught the most fish and he was using a 1/16 ounce Glow/Pink Perch Eye fished below a slip-bobber. The jig was tipped with random, cut pieces of minnow and he easily caught 3 or 4 fish on every minnow he used.
All things considered, it was a great day and the facilities at Wishbone are fabulous!
Tullibee reports are still coming in strong and on Friday, there were more good stories about the action on Leech Lake. One specific bait that was mentioned on Friday was the "Moonglow Jig". Over the years, this type of jig has been sold under a bunch of different names and you can find similar jigs produced by Northland Tackle, Lindy, Custom Jigs and Spins plus a variety of other names. In general, any compact size jig with enough weight to get down will do the job. Watch the Tulibee video to see how it's done.


(3/12) Lake Trout in the Vermillion area have been active and Paul Pollock linked me up with his report about the Lake Trout fishing over there. He's got all of the bases covered so for the entire report just follow this link to his site for the Lake Trout write-up in his own words.


Public Appearances (3/12) The Grand Rapids Boat Show is on now at the Grand Rapids Civic center. I'll be on the floor all day long today and Sunday with Ray's Marine. There are a variety of free fishing seminars each day and I'll be giving seminars on Crappie fishing today (Sat.) at 1:00 PM and Sunday at 2:00 PM. I've also got the Humminbird presentations loaded in the laptop just in case you want to stop by with some questions.

Ice Fishing Report March 11, 2011 Jeff Sundin It looks like we're in for a little shake-up for the weekend. I wasn't willing to bet that we would have another re-freeze, but here it comes. First, we might have a fairly serious meltdown again today as the highs are predicted to to 40 degrees and there's a chance of a little rain to come along with it too. It could get a littles messy out there today, but if anything, this will make travel conditions even better for the weekend.
One word of caution for today though, warm temperatures have softened the deep snow that remains at the landings and access roads. Just because you see tire tracks, doesn't mean you won't get stuck, so bring shovels and a good tow strap along.
For Tulibee anglers, this is the traditional time of the season for them to really get active and recent fishing reports are bearing the theory out. In the past week, I've heard good reports about Bowstring Lake, Little Winnie, Big Winnie, Cutfoot Sioux, Portage, Rush Island, Sand Lake, Leech Lake and the south end of Cass Lake. I guess that's enough, you get it, the Tulibee action is getting good.
All you need to catch them are small, round "perch-eye" type jigs tipped with either a wax worm, Eurolarvae or other grub. The fish stay in deep water and the best depth will depend on the lake you're fishing. For example, Bowstring will have good Tulibee action in 22 to 25 feet of water, but on Cass you may need to fish in 35, 40 or even deeper.
You can take advantage of their proclivity for "pack-feeding". One trick that makes finding them easier is to get a large flashy spoon like a silver Red Eye or other shiny spoon type bait. Remove the hooks and jig up and down wildly to attract the attention of fish in the area. They see the flash and head into the area thinking that there's a feeding frenzy going on. Once you see them on your flasher, drop in the small jig and fish them as you would fish Crappies or other panfish. Watch the Tulibee video to see how it's done.


(3/11) Minnesota DNR Commissioner, Tom Landwehr issued a plea to anglers and hunters to help move legislation about re-structuring hunting and fishing license fees.


(3/11) I was talking with my buddy, NMLOG member Chad Benson on the phone yesterday. While I was giving him a hard time for not answering his emails lately, he told me that if conditions don't change, he doesn't send in a new report. So in other words, the Perch are still doing whatever they were doing the last time we talked. Okay, so no news, is good news! Here's a re-cap of what he had last time, with a little new info mixed in for good measure. "Cass Lake Perch action remains good. Working in some new territory, they've been finding Perch in the 8 to 10 foot depth range. The fish are moving constantly, so it's hard to get comfortable in one spot and Chad is always on the move.
Travel conditions on Cass Lake are ideal and as of 3/10/11, he estimates ice thickness at about 30 inches. Barring any un-forseen, super warming trend, Chad expects to have rental shelters available through the end of March.

Ice Fishing Report March 10, 2011 Jeff Sundin In spite of the winter's best effort to hold it's grip on the Northland, the sunshine and calendar are inching ahead. Honestly, I don't even know where it's going, but the snow is disappearing and now I see more patches of brown grass every day. The past few days have all been nice, but Wednesday was the first time that it really hit me that spring is just around the corner. Even with the cloudy skies and breezy conditions, the hard packed snow was softening and the road edges are dark with moisture.
Comparing notes with friends and fishing buddies on Wednesday was sort of like listening to a broken record. For right now, Perch are becoming more active in shallow water every day. The problem for anglers is that these shallow feeding fish are moving freely around the lake(s). So when you find a good spot, you can fish it for a few days, but soon, the bite will disentegrate and you'll need to move.
In spite of this advice being hard to follow, here's a really good tip; When you're catching fish and you know for certain that there are active, biting fish, this is the time to start moving and exploring new territory. I know, it's so easy to just stick with the good bite while it's going strong, but there are a lot of times when we stick it out too long. Then the bite slows down and we don't know where to go next. You start searching for new spots, but everywhere you try there's an element of doubt. Now if you had already scoped out a few new areas when the action was good, you'd have an educated guess about the next move.

Ice Fishing Report March 9, 2011 Jeff Sundin Tuesday was another fine March day in Northern Minnesota. Air temperatures remain stubborn, but now the sun is getting so powerful that any time it shines, you can feel the warmth regardless of the air temps. Right now, 20 degrees with sunshine feels almost like a summer day up here. In fact it was so nice, that after I got my chores cleaned up around the office, I hopped in the truck and headed out to check up the Perch action. Along the way I gave my pal Arne Danielson a call and we deided to meet up after his work shift.
We decided to try Leech Lake on the north end of Portage Bay. Going out of the landing at North Star Resort wasn't too bad, but there was a lot more snow on the lake here, than there has been on most of the other area lakes. We made it out without getting stuck, but it was a bumpy ride! The snow has a hard pack on top and the truck rides on it for a while, until you hit a soft spot and break through. According to the conditions we saw, I'd say this area will be a real mess when the air temps warm up, so get out there now while conditions are acceptable.
Our first stop was out past the shoreline drop-off in about 17 feet of water. We could see some baitfish on the flashers, but caught nothing here and decided to try moving shallower and closer to the weedline. As we had almost arrived at a GPS spot that I had selected, we ran accross an area that had holes already drilled, so we decided to stop and try here first. The water was about 13 feet deep and we were within 50 yards of some nice Cabbage Weeds.
So far, this was the best Perch fishing we've found anywhere this winter. Watching fish on the flasher move up toward your lure as it drops to the bottom is a sure sign that the fish are active. But when you have a fish already on the jig before you close the bail, that's a sign that they're downright mean. We might have been a little late getting out on the ice because the aggressive fish lasted for about an hour or so, then it slowed down forcing us to work a little between strikes. At about 5:30 or so, we started catching some Pike and Walleye too, so the presence of these large fish may have turned off the Perch. As a special bonus, Arne landed a super nice, 27-1/4 inch Walleye whose photo image has already made the rounds this morning for coffee at the Bowstring Store.
I'm not sure if the baits we used made a big difference or not because we caught some fish on every lure we tried. For the most part, Arne stuck with a medium size Glow-Lime Demon tipped with a whole minnow. I stuck with the red color Eurolarvae and used them on a few baits including a Demon, Frisbee Jig and a Fire-Eye. All of tthese caught fish, but of the three, I think the Frisbee had a slight edge today.
While we were out there, we met and had a nice chat with Tim Jensen who is the new owner of Jerry's Bar in Boy River. I promised to mention their Sunday Night Prime Rib Special and he says that if you mention seeing it on this report, he'll make sure that you get an extra nice cut!


(3/9) Bemidji Lakes Area March 9, 2011 NMLOG Member, Paul A. Nelson in his own words; "The lakes in the Bemidji area are still covered with at least two feet of ice in most areas. The ice conditions are good on most lakes and there are still anglers out on the ice fishing for perch, crappies and sunfish.Most of the larger lakes have good populations of perch. Anglers have been finding most of the perch still hanging on the breakline or in deeper water, waiting for the snow to melt, so they can make their spring feeding migrations into shallow water.
The best lakes for perch have been Bemidji, Cass, Leech, Pike's Bay and Winnibigoshish, but there are also fishable populations of jumbo perch in many of the medium sized lakes.
Anglers have been fishing for crappies in many of the smaller lakes. The crappies are still suspending well off of the bottom over deeper water. Crappies will also move into shallower water on late ice, but they usually like to wait until most of the snow on the ice is gone.
Sunfish have small mouths and great eyesight, so they are hesitant to take larger presentations. Anglers need to use small jigs with either eurolarve or wax worms on light line or small scented plastics for sunfish in most situations. Other options for anglers include whitefish and tulibees, which are often found by accident when anglers are fishing for perch or crappies. Tulibees tend to suspend further off the bottom than whitefish, but both can be found in similar areas.
Eelpout are another species with a decent following among some anglers. Eelpout are actually freshwater cod and are very good to eat and are often referred to as "poor man's lobster".
Anglers are reminded they have until March 21 in the northern part of Minnesota to get their stationary fish houses off of the lakes. Portable houses can still be used, but they must be removed from the ice when anglers leave the lake." Paul A Nelson


(3/9) On Lake Winnie, a couple of new fishing reports; Dixon Lake Resort reports still having good roads out in the NW corner near Third River. They recently had a group of 4 ice fihsermen who had to cut their trip short after the third day. Having eaten all the perch they could and having their bag limits already packed to go home, they decided to head out early. According to the folks at Dixon Lake Resort, all of their fish were really nice size and some of these perch were in the 14inch range.
They added that the road out to Zoomers and beyond is still open and the ice is in good shape, just watch for the snow drifts and bring a shovel.


(3/9) On Lake Winnie, Bryan Harris from Eagle Nest Lodge checked in with a quick note about travel conditions. There are some new snow drifts on the lake from our recent snowfall and anglers are advised to use extra caution while driving around the lake. There are still some slush pockets under the deepest drifts and while it's generally easy to get around, you could still get stuck. Bring a shovel for sure and a tow strap would be good too.


(3/9) On Cass Lake Jason from Cass Lake Lodge says that the larger jumbo perch are biting in the 8' to 10' of water range. Crappie minnows seem to be working the best. There is little snow cover so the entire lake is accessible by vehicle. There is also 30" to 36" of good ice so travel is generally safe. Cass Lake Lodge does have public lake access and is currently running some cabin specials

Ice Fishing Report March 8, 2011 Jeff Sundin Mark it in the book, March 7, 2011 was the first of what we hope will be many, quintessential early spring March fishing days. There are a lot of Perch anglers out there who live for the sort conditions we have right now! So even if a little spring fever has set in, don't try to rush the winter out just yet, take the next few weeks and squeeze some fun out of them. Traffic is still really light, especially when you consider how good the travel conditions are, but after a frustrating winter, I can see why it might be tough to get back into the swing at this late stage.
Most anglers moving through the Deer River area on Monday were heading toward their favorite Perch fishing holes on Lake Winnie, but there are a growing number heading toward Leech Lake now that the North Star access is a little easier to use.
On Lake Winnie, Perch are still active in the Northwest corner of the lake. Fish are still located off the edges of the larger humps and bars in 26 to 32 feet of water. There are some fish on the shoreline drops too, especially up closer to the pressure ridge just south of Third River. Best access to these areas are via Highbanks which takes you to Zoomers and many other humps in that area or the Dixon lake Resort road coming in from Third River. Along the West side, there are anglers finding pockets of shoreline action from Sugar Bay down to the Mississippi River. Anglers are still catch lots of Perch in Tamarack Bay, but most comments have been that these fish are running small.
On Leech Lake, Perch action in Portage Bay is picking up, but it is spotty. I talked to my buddy from the DNR this morning and he's interviewed several groups coming out at the North Star Resort landing. Some have had great fish while others have had either small, or very few fish. His advice was to keep moving and he added that if you're catching small ones, it's best to leave because the larger ones don't seem to appear in the same area.
There are still fish being caught in the Pine Point neighborhood too. It doesn't sound like there's any one, main area, anglers are driving all over Sucker Bay finding pockets of good action. Again, keep moving until you're over a school of fish.


(3/8) On Lake of the Woods, the reports are starting to come in a little mixed too. I've had some folks bragging about huge catches of Walleye and Sauger, while others report modest catches. No one is coming home empty, but results are varied.
Vern Valliant reported that they fished both Friday and Saturday on some gravel north of bridges. In his words, "fishing was okay, not great and not awful." They caught 25 to 35 fish a day with most being smaller sauger in the 9"-11" range. They ended up keeping 22 fish between 13" and 18" for both days with about 1/2 of them being walleyes. No slot fish were caught.


(3/8) Border View Lodge, on Lake of the Woods added that they are fishing two different locations. One is 4 miles out from the resort off of Pine Island in 28' on the sand/mud. They say that their plowed road accesses these houses and remains in great shape. They have some sleepers in the same area, but in a little shallower to provide a better early morning and late evening bite. It's been a mix of Walleye and Sauger with an occasional big Walleye showing up. Action should improve with Walleye moving into the area as the weather begins to warm up and the fish begin to migrate towards the Rainy River.
They are also still fishing between Knight and Bridges Island about 18 miles north on the lake. It's about an hour bomber ride up there as long as the trail remains in good condition. These houses are on some rock/ruble structure. The fish are still most active during the day in the deeper water, so most houses are set in 31'. The action has been good up there with more Sauger than Walleye.
Pike fishing is still spotty. One group had a 41" on sunday, but so far the number of fish caught per day hasn't improved.


(3/8) On Bowstring Lake, Darv Oelke at Bowstring Shores says his guests are having excellent perch fishing in 12 to 14 feet of water. Crappies are biting in 20 to 24 feet. Perch bite is best over by cow bay and Crappies are located closer to the (North) public landing and out in front of Bowstring shores resort.


(3/8) On Ball Club Lake, Gus' Place Resort - Lake travel is ideal at this time with pickups. Ice thickness 25-30 inches, pack your auger extensions.
Fishing patterns have not really changed for over a month. Gus added that they need some more sunshine and warmer days to start bringing the fish into shallower water. Larger Perch are still around 31 feet along the drop-offs and wax worms have been out performing whole minnows. Crappie fishermen have been working 12-15 feet of water, but catching more Rock Bass that Crappie, but warmer weather should signal a Crappie movement soon too.
There is now a noticeable current detectable at 15 feet on various parts of the lake as the Corp of Engineers release water into the Mississippi.

Ice Fishing Report March 7, 2011 Jeff Sundin A snowy, gloomy day, full of smiles and sunshine! Sunday was one of those wonderful days, I was fishing Bowstring Lake and couldn't buy a bite to save my life. I could see fish on the Humminbird, I could get them to come and take a look at my bait, but I just couldn't get 'em to bite. So you're asking, what's so great about that? Well I'll tell ya, 50 yards away from me, there were 3 guys and 3 kids catching fish as fast as they could pull 'em in, hootin' and hollerin' the whole time.
It turned out to be my lucky day because this was my chance to meet and swap stories with some of the charter members of "The Airport Road and 7th Avenue Association", a group of neighbors who get together and share experiences just like this one. Pete Lotti, Kurt Ogle, his son Derrick, Brian Miller and his kids Kody & Kyler.
It all started when I sheepishly wandered over and mentioned that I saw them catching the fish and wondered if I could snap a few pictures of the kids for this report. From that moment on, they were warm and welcoming in every way. We chatted, snapped a few pictures and Pete tried to help turn me into a fisherman. He handed me minnows and "special" lures, told me how deep and invited me over closer. Honestly, he did his level best to try and help me get those fish to bite, but it was just one of those days for me. Sometimes ya just have to be in that magic spot.
For me, it was a great day because I caught something a lot better than fish. I got a close up look at three men passing the sport on to another generation of anglers and having a great time doing it. I wouldn't mind going fishless a few more times to see the same scene over and over again.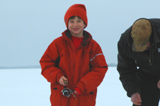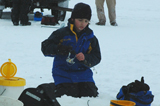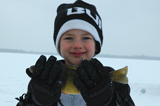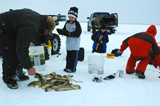 Passing the sport on to another generation is something you hear a lot about and it doesn't get much better than this. Just another example of what's good about America.

(3/7) Bill Powell at Fred's Bait posted a new fishing report on his home site. Use this link to read Fred's Bait Fishing Report.


(3/7) While we're on the subject, Bowstring Lake is accessible by truck and the slush that plagued the lake earlier this winter appears to be just about completely cleared up. There were vehincles moving freely around the lake and there are small groups of anglers in a half dozen of the popular spots. There is a mixed bag of Crappie & Perch and in spite of my temporary inability to catch them, they are active when you find the right spot. Perch and Crappies were located together in 23 to 25 feet of water and the best lures were Demons tipped with a small Crappie minnow.

Ice Fishing Report March 6, 2011 Jeff Sundin Another day of stable, sunny conditions on Saturday helped get folks in the mood to go outside. I ran into several groups of anglers that were heading toward Jessie Lake for the fishing contest and according to Chester Powell at Fred's Bait in Deer River, there were lots of Perch anglers travelling accross Hwy 2. Some heading for Leech, some for Winnie and others for Cass Lake. Reports from all three continue to be good.
The fishing report for today is going to be a little backwards. I have some friends up in the neighborhood and we'll be out on the lake this morning, so I'll probably drop in with an update later this evening or very early on Monday.


(3/6) The Wired2Fish gang added something for all of us who worry about the weather while we're on the lake. Why not integrate the weather with your boats electronics? View the Sirus Marine Weather Video here.


(3/6) My buddy Chad benson got me all fired up yesterday morning about hunting for sheds after a friend of his sent him pictures of these Buck Deer Sheds that he had found on Friday. So I went out for a few hours myself hoping to find one or two from "Mr.Big". I didn't find any sheds but I had an interesting experience anyway. Several times this winter, I've seen evidence of a single Wolf that moves up and down the trail along side of my hunting area. Well yesterday, I found another clue, this time a little more chilling. A nice 8 point buck that had been a happy meal for one or more Wolves earlier this winter.

---

Ice Fishing Report March 5, 2011 Jeff Sundin Cass Lake Winnie Leech lake and the surrounding area lakes are starting to produce reliable catches of panfish right now. Since the weather has stayed cold, a lot of the smaller lakes are still accesible by truck providing that the hard pack snow remains frozen. If you have an ATV, you can get almost anywhere right now, even if you have to ride on top of deep snow. Where there is snow, it has a good, solid crust on top and in lots of areas, the snow is already gone. The only word of caution, if you're on the lake in a vehicle and encounter deep snow, find a way around it. These are the only places where slush remains on the lakes and if you avoid them, you'll be able to travel anywhere you want.
For a quick update on plowed ice road access and travel conditions, Jump down to the ice road conditions report here.


(3/5) TODAY - Deer River High School Youth Fishing Contest on Jessie Lake from 1:00 to 3:00 PM. There are tons of prizes and a special childrens division. Check in starts at Noon, contest headquarters located at Jessie View Resort located one mile west of Hwy 6 on Co Rd 35. Entry fee is $25.00 and includes your meal served at Riley's just after the prizes are awarded from 3:00 PM to 5:00 PM.


(3/5) Acoording to Greg Clusiau, Life and Times in the Great Outdoors, Bluegill action is heating up all over the place. He likes to travel into the smaller off-beat lakes and it's been paying off for him. According to Greg, Sunfish action has been good in shallower water, 10 to 12 feet has been a good, reliable average.
As the days get longer, shallow water attracts more panfish, so even if you've been catching them in a favored deep-water hole, start checking the weed edges too.


(3/5) NMLOG Member, Zach Dagel had been checking out the scene around the Iron Range and phoned in a Grand Rapids area report. If you're in the mood to catch a Trout, they are still being caught in the mine pit lakes east of Grand Rapids. Zach said that the reports from trout anglers are good action, but small size, many of the fish are under 3 pounds. Still, these fish are scrappy and most folks think that they're tastier too.
Bluegill and Crappie action has been good on Pokegama lake, but not in the same spots. Crappies have been coming from water as deep as 40 feet. The fish are suspended about 10 feet over the bottom. Bluegills are staying closer to the weed edges in 10 to 18 feet. Don't expect a lot of action during mid-day, but as the sun goes down in the afternoon, there's a feeding period of about an hour.
If getting out in the boat is starting to sound good, Zach says that anglers are picking up some Crappies and Sunfish on the "hot-pond" of the river near MP&L. Sounds like the action hasn't been good from shore, but the boaters are doing okay.


(3/5) On Lake Winnie, John Seekon from The Pines Resort says that Perch action in Tamarack Bay has been split between two schools of fish. One, at 18 to 19 feet deep off the edge of the river channel that runs through the bay and another up in 12 to 14 feet of water on the flats near Plughat Point. Lake access is good.
At the southwest end of Winnie, the larger bars are still producing some fish. Moses bar has been good and so have a few of the smaller humps. Many of the anglers are driving further, toward the north humps too.


(3/5) Lots of Tulibee reports coming in right now. I'm not sure where to start because virtually every well known Tulibee location appears to be good right now. On Leech Lake, the area east of Ottertail Point has been producing fish in water depths of 20 to 26 feet. On Lake Winnie, they're showing up off the edges of the same bars and humps that are producing Perch in water depths of 24 to 32 feet. Cutfoot Sioux has been producing Tulibbes for a while already, but they're still going. McAvity Bay was mentioned yesterday by an angler who had been looking for panfish. Other lakes producing Tullies right now include, Sand Lake, Rush Island, Bowstring and Portage.

Ice Fishing Report March 4, 2011 Jeff Sundin Deer River Area lakes. The weather finally gave us a break on Thursday afternoon. It didn't set the forest on fire, but the sun did make an appearance just long enough to get the birds and a few fury animals moving around. The forecast for the weekend looks good, high temperatures in the mid 20's, maybe a little snow, but not much.
The fishing reports from around the area have really stabilized over the past few days and you'll really get everything you need by checking reports from earlier this week. There are a couple of highlights to think about for the weekend though.
Lake of the Woods is really the only game in town if you want to catch Walleyes right now. But if you do, you're in luck because they action is picking up again. A friend of mine ran up there for a day with some fishing buddies a couple of days ago. He said that they were fishing in 24 to 28 feet of water on the rock/gravel reefs and after a slow start in the morning, the fish really turned on for the afternoon. He estimated that the group caught a mixed bag of Walleye-Sauger in excess of 300 fish.
Mike Kinsela from Border View Lodge sent a quick note too, they continue to hearing good reports from their guests and most everyone is returning with fish. He also reminded me that they can keep the rental shelters on the ice until March 31st. At this point, it looks like they'll be able to keep fishing right up until the end. They're starting to fill up on the weekends in April now, so if you've been on the fence about fishing the Rainy River or even out on the lake during really late ice, it's a good idea to make the call now.


(3/4) On Cass Lake, Jim Ball from Cass Lake Lodge says that the Perch fishing continues to improve. Ice conditions are great and the larger perch are schooled up and biting in about 6-7 ft of water.
Cass Lake Lodge offers a last minute perch fishing special of $35 a night ,per person, thru March 15th. Jim says that they still have Sleeper ice houses and Day houses available.


(3/4) On Lake Winnie, Dixon Lake Resort checked in and let me know that the ice at the Third River Landing is in good shape. For the most part you can drive anywhere, but they said to watch out for the deeper snow as it is still hiding some slushy stuff. They added that the Perch bite is on at this end of the lake and some of their guests are catching some really nice sized fish.
Even though the spearing season is now closed, they are leaving some of the rental shelters out on the ice for anglers who want to take a run at the Crappies and Sunfish. They still have winter lodging available too, so it's not too late for one more trip before the spring break-up.


(3/4) The Pines Resort, John Seekon "The best perch bite has been either in 12 to 14 feet or 19 to 22 feet with the late afternoon hours being the best time. Off road travel is good in most areas unless you find deeper snow."

Ice Fishing Report March 3, 2011 Jeff Sundin Deer River Area lakes. Wedsnesday was another "hunker -down" day for lots of us in the Deer River area. The cold air temps and biting winds might be okay for guys conducting endurance tests on the sled dog teams, but if all you want to do is go out and catch a few fish, forget it.
Thankfully, temperatures are re-bounding now and at 6:00 AM, we're already seeing warmer temps than our Wednesday highs.
I took a tour of the area on Wednesday afternoon to check out the access in to a couple of more lakes. Jessie Lake's public access in the southeast corner of the lake is useable, but not fantastic. Hard packed snow, frozen and rutted will be okay until we get the next warm stretch. Since the folks heading out from Jessie View on the west side are moving freely, I assume that once you're on the lake, travel will be okay on the east side too, but so far, there isn't much evidence of high traffic on the east side.
At Little Cutfoot Sioux, the landing off of Hwy 46 near the summer homes has been used by folk driving trucks. Deep snow is packed hard and frozen. For now, you could drive out onto the lake using this road, but as soon as it warms up, forget about this one.
At Little Ball Club, folks have made their way back to the landing on this access road as well. Right now, it's above average and may even hold up through a little warm weather, but it hasn't been plowed, so expect problems here as it warms up as well.
3-4-11 Attention Lodge Owners, Ice Rental Operators and fishing guides, it's time to update the Ice access and road conditions for your lake. There are a lot of folks looking for a place to fish and the weather is improving right now. A few sentences about the ice and road conditions at your lake is all we need. Email your update

(3/3) On Lake Winnie's south end, Pat Rooney from Denny's Resort says that travel is good on the lake. In fact, it's the best travel conditions of the entire winter. Perch are active and hitting well in the deeper water off the edges of main lake bars and shoreline drops. Tullibee also active, best fishing for them has been 30 to 40 foot of water suspended up 5 to 15 feet.


(3/3) New on Wired2Fish Anglers are ready for an award winning rain suit for fishermen and Frabill's Jeff Slater shows Scott Glorvigen how they came up with it.
March is panfish month for most anglers, as the gamefish season closes on the inland waters of Minnesota. Lakes in the Bemidji area have been stuck in winter mode and are still making ice. The ice conditions are about as good as they have been all winter, but there is still a good amount of hard packed snow covering most lakes.


(3/3) Bemidji Lakes Area March 3, 2011 NMLOG Member, Paul A. Nelson in his own words; Most of the panfish have been in a holding pattern during an extended period of colder than average temperatures. They are waiting for the conditions to improve, so they can begin their late ice feeding movements into shallow water.
Many anglers have been catching Perch in 18-24 feet of water off the sides of mid-lake bars or humps and also along the edges of large shoreline flats. Anglers can try jigging lures for perch, but be prepared to down size if the perch are not actively feeding. Perch can be extremely aggressive at times, but they can also be hard to catch when they are in a negative feeding mood.
Crappies have been feeding on the edges of deep holes, with most of the crappies suspended well off the bottom. There has been a good day bite for crappies in many lakes, so anglers may have to keep drilling holes and using their electronics until they find the fish.
Sunfish are either on the shallow weed flats or holding on the edges of mid-depth flats, waiting for the rest of the snow on the lakes to melt. Anglers usually need to use small baits and light line with wax worms or eurolarve for sunfish. Eelpout should be spawning soon in groups on top of chara covered humps or shoreline points with direct access to deep water. Most eelpout will feed during low light or after dark and can be caught on larger spoons tipped with minnows.

Ice Fishing Report March 2, 2011 Jeff Sundin Leech Lake Area lakes. As the windy, cold air approached on Tuesday, most all of the critters took shelter in whichever hole in the wall they call home. It was one of those days where you peek out the window and see nothing but the snow blowing accross the road in sheets. Not too hospitable on the ice, so I took advantage of the excuse to hole up and get some paperwork cleared off of my own desk.
Later in the afternoon, I did manage to squeeze in a truck tour of a few lakes North of Deer River. More good news for panfish anglers. The road to Cottonwood Lake is passable as long as the weather stays cold, hard packed snow will soften as temperatures rise, but for now it's okay. Island Lake had some drifting along the shoreline, but the public landing was in good shape and on the ice, conditions are perfect for travel by truck or ATV.


(3/2) On Lake of the Woods, Eric from Border View Lodge checked in with a Walleye update. High pressure, cold temperatures and plenty of wind have combined to slow down the action. The Walleye bite is off a little from what they've been catching, but guests are still coming in with fish. They are currently fishing 18 miles north on the lake over the rock/rubble structure. The fish are deep and it's been more Sauger than Walleye.
They also have another set of fishing shelters 4 miles from the lodge, just past Pine Island in 25-30'. Guests are seeing a mix of Walleye and Sauger here. There have been some bigger Walleye showing up in the 28" range lately too.
Northern Pike in the 40" range have started showing up recently too. So far, only in small numbers but the movement is beginning, so they anticipate increasing activity throughout the month. However, it should be
March is typically a great month of fishing and for folks seeking Walleye action, it's one of the few destinations available until May. Walleye doesn't close on Lake of the Woods until April 15th, and they can keep their houses on the lake through the end of March.


(3/2) On Bowstring Lake, Darv Oelke - Bowstring Shores Resort is breathing a sigh of relief. After battling deep snow, slush and water all season, he can finally quit worrying about the plow for a while. Darv says that anglers can get most anywhere on the lake right now. Windy conditions have drifted some snow, but with precautions you can travel around them.
The best fishing on Bowstring for Crappies has been out over 28 feet of water. Fish are suspended though and anglers are catching the fish 6 to 8 feet above the bottom. Perch action has been better in the 15 to 18 foot depth range.


(3/2) On Jessie Lake, Rita Onaret from Jessie View Resort says that finally, guests are enjoying the best travel conditions of the year. Fishing for Perch and Tulibees has been good, with a few Crappies caught along the way too. If you're in the area, Jessie View will be hosting a fishing contest for the Deer River High School Activities Committee. The contest is this Saturday March 5, 2011.


(3/2) On Ball Club Lake, Gus' Place Resort checks in and says that Perch action is good. Guests using their underwater cameras are having a blast watching fish in the clear water conditions. Gus says visibility is currently 12 feet. Perch are coming mainly from water depths of 25 feet. Larger fish in the 12 inch range although fewer in number, are coming in from even deeper water in the 31 foot range.
Best presentations for Perch are a variety of ice-jigs tipped with either waxworms or minnow pieces. Gus always shares his GPS coordinates with his lodging customers.


(3/2) Chad Benson, member of NMLOG reported in from Cass Lake where the Perch action remains good. Working in some new territory, they've been finding Perch in the 8 to 10 foot depth range. Chad says that travel conditions on Cass Lake are ideal and that he hasn't seen a slush pocket in over a week. Chad has rental shelters available through the end of March.


(3/2) Jeff Sundin - For me, the arrival of March signals the beginning of my seminars and appearances season. Upcoming event, Friday, Saturday and Sunday March 11, 12 and 13, 2011 Grand Rapids Boat Show.

Ice Fishing Report March 1, 2011 Jeff Sundin Leech Lake Area lakes. I love how the word March rolls off my tongue. When do the fish start really biting? March! When does the weather start warming up? March! See what I mean? It's just one of those great months and if you like Perch fishing, it's time to dust off the bucket of jiggle sticks and get out there.
On Monday, I had to get some pressing projects cleared off of my desk, so I think I lingered at my duty station just a little too long, but by late-afternoon, I and Arne Danielson did manage to get out on the ice for a few hours. When I arrived at Arne's house and asked where we'd be fishing, he told me Bowstring Lake and then he added that I had two choices; like it or lump it, so I liked it.
There was good news when we got to Bowstring's north landing, the trail out on to the lake is rough, but passable with a 4 X 4 truck. A word of caution though, no one has ever plowed the road this winter, so what you will be driving on is hard packed snow and as soon as we get warm weather, there's going to be some stuck vehicles at this landing. Use it now while its cold and you can, but be prepared to lose this access when the weather turns warm.
Better news, once we were on the lake, travel conditions were great and from what we could see, most everywhere the lake is accessible. From the north side of the lake, we couldn't see any pressure ridges and there were vehicles moving freely to the south and west. So it looks like you can do some exploring if the mood strikes you.
Without a lot of time to check spots, we decided to head for one of my old favorites along the deep breakline on the northeast side of the lake. Arne drilled a half dozen holes and we started checking them for action. Almost immediately, we were catching Perch, but they were small. On some occasions in the past, we'd have kept some of them if we were looking for a meal, but today we released most of them.
Arne did settle in on one spot where there were some true jumbos and it looked like things were going to go great, but just about the time we thought we were dialed in, the fish quit biting. We could still see plenty of them on our flashers, we just couldn't get them to hit. As it started getting darker, there was a tiny bit of Crappie action, but except for one decent fish, these weren't keeper size fish either.
By the time we wrapped up, we had concluded that we should have gotten there earlier. There was plenty of action while the sun was high and bright, it just tapered off too much as the conditions got darker.
On this particular day, color was also a factor. While the larger fish were hitting, Arne was using a Glow-Red Frosty tipped with a small fathead and the fish were responding well. During that time, I experimented un-successfully with a variety of colors trying a jigging Rapala, Buckshot Spoon, Doodle Bug Spoon and a Demon. Finally, I put on a Glow-Red Bro Bug, tipped it with a waxworm and started getting hits the first time I dropped it in the water. The only thing that those two baits have in common was the color.


(3/1) On Lake of the Woods the Walleye fishing season continues until April 15, 2011. Border View Lodge is reporting an up-tick in the number of larger, female Walleyes being causht by their rental customers. Mike says that there are still a healthy share of the "eater size' fish too, but the increase in larger fish probably marks the beginning of their migration as they head toward the Rainy River to spawn.
Northern Pike are semi-active, with fish hitting well on certain days, not so well on others.
Lake Trout 3-11-2011 Paul Pollock Guide Service - "As I looked out the window of the pop up fish house, the orange flag stood in stark contrast to the snow and taconite gray skies. I grabbed the skimmer, headed out the door for the hole, and thought, "This is what I love about laker fishing!"
When I reached the hole, the spinning "T" told me the fish was carrying the mail and more than likely hooked well. I watched it spin for a bit, grabbed the line, and started the classic windmilling retrieve of a tip-up. After a give and take battle, the tell-tale bubbles told me the fish was close. A short time later, a beautiful red fin laker ascended through the hole. Part of the allure of laker fishing is that the tip-up is always waiting to spring even as your attention's focused on your Vexi.
Here in the North Country, we've entered the last month of winter lake trout season. While the harsh weather seems to have abated, my eyes are always on the forecast, as one never knows what Ma Nature will serve up in March! Snowmobiling conditions on trails and lakes are good though I still advise against traveling on trout water by truck. I've seen 8-10 inches of clear ice and 8-10 inches of white ice recently. Although that seems like a lot, keep in mind that white ice is HALF the strength of clear ice; hit a current or spring area and you may have a problem.
Lakers are still cruising classic winter spots, though I look for a shallow late winter bite to develop as we progress further into March. Northland Buckshot Spoons, Forage Minnows, and Slurpies on Inner Tubes have been good choices. Northland Airplanes are always effective as well. Color hasn't been an issue. As always, location is key. When the fish turn on, hang on!
40 to 75 feet of water has been key. Jig the entire water column as fish will come from anywhere. Some will come up from the abyss to hit a rising bait, while the consistently active fish will cruise high. Pump water and pump it hard. If a fish shows up on the Vexi and chases but won't hit, tone it down. Have a back up rod rigged with a different bait close at hand.
Live bait and ciscoes hung high are hot on tip-ups. Be patient and leave it soaking, particularly if you're fishing travel spots, as the trout will come become active in distinct windows. If you're fishing with 2 or more people, try one or two tip-ups close and one or two further away.
Lake trout don't respond well to pressure. Keep one for the frying pan or smoker and let the big ones go. It takes 'em a long time (20 to 30 years in some lakes) to get to 12 plus pounds. Have a fun and safe time in Laker Country!" Paul Pollock -- Pollock Guide Service Back to Current Report Page
Be Sure to Listen on the Radio! KAXE 91.7 FM Grand Rapids, 89.9 FM Brainerd, 105.3 FM Bemidji. Every Thursday at 6:20 AM. If you miss the show, you can pick it up on the KAXE website.
Read Minnesota Fishing Artcicles and get information about my favorite MN Fishing Lakes.



For newsletters, fishing updates and specials, sign up today!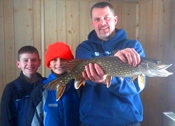 Tim Edmonds with a bonus catch and release Pike that came in while fishing for Perch on Cass Lake.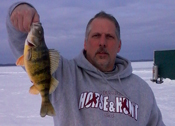 Phil Goettl with a nice Cass Lake Jumbo Perch.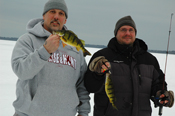 There were a lot of small fish too, but there are enough jumbos like these to make it a great outing.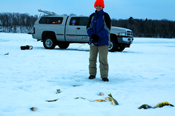 About 5:00 PM the action started heating up. You can see that the snow cover on Cass Lake is virtually gone now.

Lake Trout are still in the news around the Lake Vermillion Area too, Paul Pollock has a Lake Trout report here.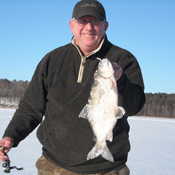 Tulibee fishing is in the news. Good action is reported on a variety of Deer River area lakes. All you need to catch them is a small assortment of compact size jigs like the Perch-Eye immitators. (shown below).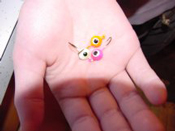 These 1/16 ounce Perch-Eye jigs were also a good choice for catching Cass Lake Perch on Friday.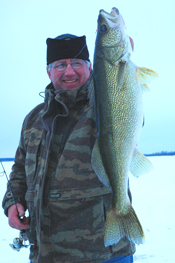 Arne Danielson with a great trophy Walleye caught and released on Leech Lake.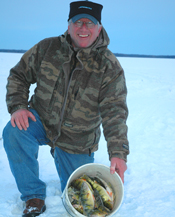 Best Perch fishing we've had so far this year was Tuesday on Leech Lake. 13 feet of water near the weeds.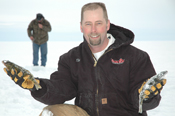 We chatted with Tim Jensen while he caught his supper. Tim says; mention this report at Jerry's Bar in Boy River on Sunday evening and get an extra good cut of Prime Rib!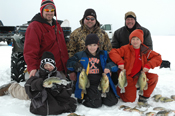 Charter members of the Airport Road and 7th Ave. Association with a great catch of Crappies and Perch.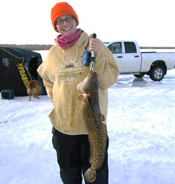 Susan Sheker from Gus' place Resort on Ball Club Lake with a nice, fat 9 pound Burbot that she released. Also known as Eelpout or Ling, this is the only freshwater variety of Cod. Don't let the looks fool you, they are delicious to eat too.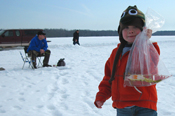 Deer River High School Youth Fishing Contest on Jessie Lake's Jessie View Resort.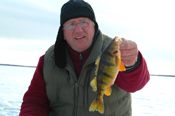 The potential for some true Jumbos is what gets us out of the house. We believe morning fishing would be better than evening right now.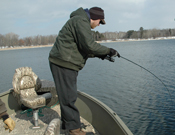 The Bass weren't jumping in the boat, but we got a couple of nice pictures and had a nice afternoon on open water.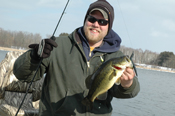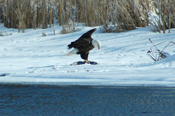 Bald Eagles are returning to the Grand Rapids area. We saw several along the Mississippi River on Sunday.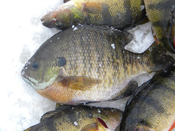 Bluegill and Perch action on the weedlines.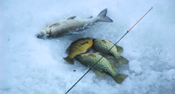 Mixed bag panfish angling is a late ice treat and its just around the corner.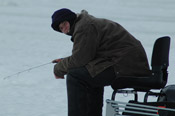 A relaxed Chester Powell testing out the hole before setting up the ice shelter.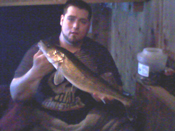 (Courtesy Chris Dunker) Walleye action is heating up again on lake Winnie. This nice "slot fish" was caught in 20 feet of water using a buckshoot spoon tipped with a minnow head.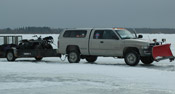 Travelling high and dry on the same lake that sucked me into a slushhole just a couple of weeks ago. Now, where are the fish?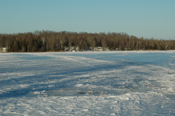 In most areas, giant patches of clear ice show the way to new fishing territory.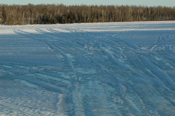 Even areas of deep snow have soaked up water and are now frozen solid.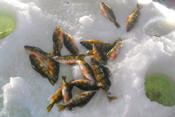 Perch action is picking up on Cass, Leech Lake and Winnie. With ice conditions improving, this should be a good weekend!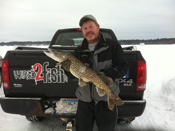 Northern Pike were on the prowel in Grand Rapids for Todd Stone and Todd Hammill. They saw 14 fish in three hours and bagged this hefty one.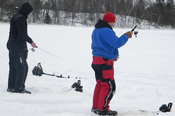 Panfish action continues to heat up. Late season Sunfish, Crappie and Perch.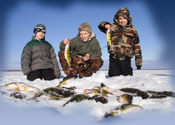 Rowdy, Hunter and Landon Benson had a blast on Cass Lake this weekend when they got to fish in uncle Chad's fish houes. This is their "hand selected" catch of Cass Lake Jumbos.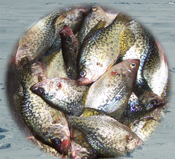 Arnie Nichols and Jon Jaeger took advantage of the good Crappie action and brought home a bucket of nice eaters.