Fishing Report January 31, 2012 Jeff Sundin The wild swing in temperatures has shifted back well to the postive side of zero. When I fell asleep last night it was +23 degrees and since then, it's risen to+27 degrees.
There's one day left before my Pal Arne Danielson has to go back to his busy work schedule. So, with a calm day predicted and temps heading toward a daytime high of 35, we're going to try and make a tiny dent in Itasca County's fish population.
Until after today, I won't really have a great handle on the shallow water fishing. During the cold snap, fish seemed to have vacated many of the shallower areas that had been productive just a few days earlier. Anglers who toughed it out during the frigid weather and did the best, were those who targeted fish in the 20 to 30 foot depth range.
Crappie fishing was probably the most reliable, but there were some folks who fared well in deeper water, catching Perch and some Walleyes.

Fishing Report January 30, 2012 Jeff Sundin It was nice to see the sunshine for a while on Sunday. It was too bad that it came along with a cold front that delivered frigid temperatures, giving most of the fish a case of "lock-jaw" that kept us scratching our heads all weekend long.
Before I make the fishing sound too bad, I should mention that over the past few days, we did manage to drum up enough fish for a nice fish fry for the six of us. So the weekend wasn't a complete disaster. Plus there was a bonus, at least I got to spend some time with my daughter, who finagled some time away from her busy college and work schedule, but from the fishes point of view, they won the game, big-time this weekend.
I really wanted to show my Daughter and her friends a great fishing trip, so we stuck to the game plan of moving around, searching for active fish. We were trying to catch some Jumbo Perch and we'd hoped for a stray Walleye or two if the opportunity came along. We did our best, but we might have been better off if we'd just crawled into a nice warm shelter and taken our chances on some fish coming to us. No matter where we went, a fish or two was the best we could drum up. At least that's how it was on the three lakes we fished. We spent a lot of time watching "lookers" on our flashers, but except for the odd straggler, getting them to bite was tough.
We may have been better off if we'd spent the weekend Crappie fishing instead, not that it would have been fantastic, but at least, I did hear from a few friends who fared somewhat better fishing the deeper spots for them.
My buddy Matt Mattson was Crappie fishing on a lake somewhere in the Ely area and his group managed to keep 22 fish in the 10 to 12 inch range. Greg Clusiau reported slow action on Bowstring too, but they did have a half dozen Crappies to show for their effort on Saturday.


(1/30) On Leech Lake, From our trip on Sunday; In spite of the slow fishing, we did learn something. Vehicle access onto the North end of Portage Bay using the plowed ramp at North Star Resort is good. You can fish anywhere in Waboose Bay and the upper end of Portage. There is a pressure ridge that runs almost exactly from Grassy Point East toward the river mouth at Federal Dam. Anglers that were fishing to the South of that line, were using the access at the New Leech Lake Campground. We could see another pressure ridge that near Two Points runs East and West.

Fishing Report January 29, 2012 Jeff Sundin Ice conditions in the Itasca Area are already beginning to stabilize as traffic and heavy winds help settle the lakes back into typical mid-winter driving patterns.
For anglers planning a fishing trip to the Deer River, Itasca Area in the coming week, the rule of thumb is that we had heavier snowfall further North from Deer River than did the areas to the South and West.
According to Tim Schultz at the Bowstring Store in Talmoon, there was up to 8 inches of snow to the North of the Talmoon-Marcell area on Friday.
We were on Cutfoot Sioux during that same snowfall and thought it added up to about 5 inches over there. By the time I got home, I was surprised to see that Deer River only received about an inch, two at the most.
For us, our Saturday fishing trip didn't work out quite the way that I'd hoped it would. While we were still at the gas station, Drew pointed under my truck and said, somethin's leakin', hmmm......, not too good, looks like the water pump. We headed back home and messed around for a while and finally confirmed that it was. We decided to transfer our gear and head back out using a different truck. By now, we'd already missed our connection up at Bowstring and decided to try Little Cutfoot instead.
By the time we got to the lake, we were watching a stiff North wind blow snow accross the lake. What we found out there was drifting snow, cold temperatures and slow fishing action. It was kind of discaouraging, but not enough to make us quit. We packed everything back up and moved over to Cutfoot Sioux where we set up on a point in 7 feet of water, surrounded on 3 sides by deeper water. At first, it looked like a great decision. We were seeing fish on the locators and catching some nice sized Perch. The action didn't last long though and before it was over, we'd spent our time moving to several areas, finding similar results at all of them, lookers, but no takers.
On Bowstring, the boys didn't fair much better, so even without the transportation troubles, we may still have been disappointed over there. Acoording to Greg Clusiau, slow fishing action and high winds dampened spirits on Bowstring too.
There was some good news though, the heavy wind did a nice job of settling the fluffy snow. By the end of Saturday, it was easier to drive around on the ice than it was in the morning. Snow in somes areas had even been blown clear again, so it looks like we'll see a return to good driving conditons fairly soon. We'll have to watch for the areas of drifting snow, but it looks like we'll still be able to visit most of our favorite spots.


Wired2Fish (1-23) Are you in a rut? Wired2Fish came up with five common assumptions that fishermen make that can lead them to a ditch of despair when it comes to lack of fishing productivity. Ruts can cause an angler to make the cardinal sin of "just going through the motions" and not focusing on triggering fish to feed or to react on every cast. Here are five pitfalls to avoid in your own fishing. Make a conscious effort to avoid that "rut", Click Here to be more productive on every fishing trip.
By the way, Wired2Fish as published their top ten videos of 2011. Clik here to see which videos made the list.

Fishing Report January 28, 2012 Jeff Sundin Anglers should excercise caution on area lakes this weekend. New snowfall amounts ranging in from 1 to 6 inches fell over Norhtern Minnesota on Friday. With high winds expected later today, drifting could be a problem, especially at access roads and shoreline areas located on the wind exposed side of your lake.
Around the Deer River area, some lakes were hit harder than others, so your favorite spot may have great travel conditions, while others suffer from deeper snow or drifting. On Friday, during our afternoon session on Cutfoot Sioux, we saw a couple of pickups get stuck in drifts. I had a problem myself getting back onto the path leading out of the Crappie hole. There was a heavy drift right at the base of the ramp. I was able to get out, but it took a couple of trys to make it up the ramp.
Our plan for the day was to catch Crappies and Sunfish and we started at about 8:30 AM. Fishing actually wasn't too bad at first, the fish were cooperative, but during mid-morning, the snow was falling faster than we could handle. The flashers, fishing lines and all of our holes were filling up so fast that we had a hard time getting any fishing squeezed in between cleaning the snow off of things. By about 11:30 AM, we were ready for a break, so we packed up and headed for the cabin to warm up.
Around 1:00 PM the radar screen was showing clear skies heading our way, this time we headed down the path toward the Crappie hole. On the lake, snow conditions weren't too bad, but we had to pay attention to the drifts, I stopped and backed up a couple of times when I felt trouble coming.
We really only fished a couple of spots, 30 feet of water near the shoreline, using GPS coordinates from past fishing trips. We marked a lot of fish, but during mid-afternoon, they did not strike. If they were Crappies, they had lock-jaw big time.
We were able to drum up a little Tulibee action though and that was a new experience for my pal Bruce. They were suspended anywhere from 3 to 12 feet above the bottom and moving through the area in singles and doubles. We caught a couple of them using a Frostee tipped with a minnow, but the Lions share came on a Toad tipped with a couple of Wax Worms.

Fishing Report January 27, 2012 Jeff Sundin It was a struggle, but the clouds finally got pushed out of the Deer River area on Thursday. I spent my day catching up on paperwork and assorted chores, so my day ended without a new fish story. For anglers heading this way over the weekend, I do have these few last munute reports trickling in.
For me, a couple of special fishing projects on the calendar have prompted me to hit the lakes early this morning. I've got my fingers crossed that I'll find a "hot bite" to share with some special people this weekend. If you see us out there, be sure to wave as we explore for some new spots. If you're on your way up for the weekend, good luck out there!


(1/27) On Bowstring Lake, Darv Oelke from Bowstring Shores Resort checked in. Fishing has slowed a little on the North end of Bowstring. His guests are still picking picking up a mixed bag of Walleye, Perch and Northern Pike. Most of them are fishing in water depths of 20 to 26 feet.
Travel conditions on the lake aren't perfect, but most of the lake is still accessible. There are some areas of drifting snow, and Darv mentioned seeing one vehicle stuck in a drift. There is also an ice ridge that runs East-West accross the length of the lake, seperating it into two sections. Use the Northwest landing, or head down to the South landing, either are still useable.


(1/27) On Leech Lake, Ron from Andersons Horeshoe Bay Resort Had this; "The ice conditions are fine now. Folks are driving all over on the lake, with small trucks. 16-17" of ice. Walleyes were caught last weekend, off the back side of the hump out on the lake. These were from 16-19" fish. Someone has driven over the low part of the ice ridge already. First with a Kubota, then with a small truck. There was 4" of snow from the last storm."


(1/27) On Lake of the Woods, Jacki from Sportsmans Lodge checked in, she says; "Fishing has been good! Many nice quality size walleyes caught this week 29-32' of water. Ice 22-24 inches in the areas we fish and travel outside of Pine Island."
Sportmans is running a Winter special on 2 night 2 day fishing packages or better Feb 5-9 and 12-16. Give them a call 800-862-8602.

Fishing Report January 26, 2012 Jeff Sundin Wednesday was supposed to be a delightful, warm day with lots of sunshine. Hmmmm........ I think they missed that one, all things considered though, it still wasn't a bad day to be out on the lake and it was a great day to be outside.
The best news we found was that in spite of the recent snowfall, travel conditions on area lakes is still fantastic. A few inches are all that "stuck" in most areas and even the highest drifts are less than six or seven inches deep. We drove the pickup truck easily and had very few drifts to steer around, so far. With gusty winds coming again today, there are certainly going to be some areas that drift in and we'll be watching for those during the next few days.
Ice thickness is starting to push toward a couple of feet. When I was drilling holes, I noticed that the power head is starting to get close to the ice as it finally pushes through.
Perch fishing was the first item on our fishing agenda, so we started where I'd fished on Tuesday afternoon. Our morning was interesting, we started fishing at around 11:00 and there was never a hot bite. Instead, there were short spurts of action that would occur randomly. We had about 20 holes drilled and we never knew which one was going to get hot next. Fishing in the weeds in 5 to 6 feet of water, the Perch were apparently chasing schools of minnow. At times, there would be a sudden appearance of baitfish on the flashers, followed by a spurt.
Without a doubt, the best lure was the Glow-Pink colored Frostee. Tipped with a minnow hooked in the tail, the same fish that passed up other offerings, fell for the Frostees almost every time. One trick was to let them sit still and let the struggling minnow do most of the work. It was easy to tell when the fish were moving in because we could see the rod tips wiggling like crazy as the minnow struggled to escape from the fish.
In the afternoon, we moved to a smaller lake to see if we could take advantage of a "hot tip" about active Crappies and Sunfish. When we arrived, I drove to a spot that I've fished a number of times in the fall. I drilled 4 holes and as soon as we dropped the transducers into the water, fish started showing up on the flashers. Still using minnows, nothing was happening, so we started switching over to smaller baits tipped with Wax Worms instead. I had tied on a Pink-Green Toad tipped with two waxies. I dropped it into the hole and in less than a minute there were a couple of Sunfish on the menu for supper.
The fish were cooperative at first, in fact it looked like we were going to have a great evening bite ahead of us. Somebody through the switch though, because at about 4:30 PM the fish took a break to regroup for the morning bite. Too bad we didn't know about that ahead of time, but once we were on the lake, we met up with a friend who owns the Resort on it. He gave us the heads up that fishing has been a lot better in the morning than later in the day.
There's a time every winter when the early day gets better than the evening, theories are what they are, but I wonder if the combination of new snow cover and a new moon could make it a lttle too dark under the ice. Maybe the fish like seeing that first light in the morning?
I'll be following the trend to see if plays out over the weekend, but if you have some thoughts of your own, I'd love to hear more about them.

Fishing Report January 25, 2012 Jeff Sundin On Tuesday, I made my way to the lake for an afternoon session of solo style Perch Fishing. It's starting to worry me a little, I seem to be doing my best work without an audience these days! I guess I'll have to learn how to take pictures with the auto timer, but be that as it may, the Perch were cooperative and so was the sunset.
We've been talking a lot this winter about how the fish have tended to locate in shallower water than most "typical" winters. Again today, the fish were shallow, in and near weeds and they were clearly on the move. I think that they were chasing minnows because whenever there was a large presence of baitfish on the locator, aggressive Perch would show up. Another clue was that the Perch seemed un-interested in small baits tipped with Wax Worms. Instead, larger blade baits tipped with minnows was working fantastically.
I used the time proven Frostee, tipped with a medium size Crappie minnow. I didn't have to work the jig much at all, I just set the bait 6 to 8 inches above the bottom and then rested my fishing rod on a bucket. When I saw the rod tip wiggle, I knew that minnow was struggling, then I just waited for the strike. When I'm fishing with the larger size baits, it helps me to keep my hands off the rod so I don't get tempted to set the hook too fast. With a light, soft tipped rod, you have plenty of time to watch as you let the fish get the full bait into their mouth.
You may already be familiar with our area, but there are a dozen or more lakes that have a combination of fertile water and shallow weedlines. Lakes like Round, Splithand, Winnie, Bowstring and others have large expanses of these shallow weed flats. The idea is to keep poking around in and around the weed patches until you run into a school of active fish. Yesterday, the best depth was about six feet, that will vary from spot to spot and from lake to lake. Just remember, the weeds are producing more fish than usual this winter, so don't be afraid to leave that favorite deep hole, get in close to shore and try some of the shallower flats.
For me, today looks good for getting back outside! The weather is moderating and I have a friend who wants to go out on a photo tour and after that, we'll joing my pal Arne to go wet a line. :)!!


(1/25) On Bowstring Lake, Erin at Geiger's Trails End Resort Had this to say about conditions on Bowstring. "The term Deep-Freeze seems to come to mind when thinking about going out to fish this past week". "However, now it has warmed up, a bit and has started to snow again. The Perch have been jumping out of the lake and into the buckets. Our guests are boasting a bucket-full a day, now that it has warmed up a bit.
Since the 3 to 4 inches of snow that fell onto Bowstring on Sunday night, they are now plowing roads out onto the ice. For guests, staying at Trails End the access roads are free of charge. The access road is open to the public for a reasonable, $5 fee for the day.
The Walleye are still running, but, if there is a line down, they will get caught. As for the Crappie bite...I haven't heard anything different so I will go with the same information. They are suspended in about 22-26 feet of water...We've heard rumors that they are still pulling out 14" Crappies out of this lake...we would LOVE to see them. Bring them by so we can snap a few pictures. Our contest is still going strong...27 1/2 Walleye still in the lead. There is still a few more days to catch that BIG Northern for a prize. Look forward to seeing you out on the lake!"


(1/25) On Lake Winnie, John Seekon from The Pines Resort posted this; "12 feet is still the magic number for perch in the tamarack bay area. Perch are being caught using jigs or jigging spoons with white, pink and gold being the best colors. the key to finding the bigger perch is to stay away from the crowds, and remember they change locations daily, so the hotspots change often. Expect to catch the occasional walleye and northern pike to be mixed in with the perch."


(1/25) On Ball Club Lake, Gus Sheker from Gus' Place Resort. "The fishing news continues to be the great Perch bite on Big Ball Club Lake.
Our guests are catching & taking home limits of Perch. Not every fish is a "take" for the box, some are small but that is a sign of a healthy fishery, you have to sort through all classes, but the action is Red Hot during the daylight hours. The fish are holding 15-20 feet along the drop off and especially holding on inside turns. One interesting reoccurrence is the amount of accidental hook-ups of White fish. The guys are catching White fish along with the Perch. ICE CONDITIONS; Ice thickness is 16-18 inches with around 6 inches of new snow (total) Beware the pressure ridge down that runs North & South.


Fishing Report January 24, 2012 Greg Clusiau, Fishing? Well, that's another matter, as well. On Saturday, my main objective was to find some BIG jumbo perch and I eventually found them but not where I expected them to be, as they were in 5 ½' of water. Oh, I did find fish at almost all levels but my big perch bonanza was way up shallow.
Bunched up tight, right in the weeds, I couldn't get a lure down to them fast enough. Perch in the 10-11" range were really on the bite, along with some larger, and I was fishing so shallow that on many a hook-set a fish would.... Click Here For Greg's Full Report.


(1/25) Bemidji Lakes Area and NMLOG Member, Paul A. Nelson, Bemidji Area Lakes Guide Service says; "Lakes in the Bemidji area got covered with a few inches of snow this week, but the ice conditions are excellent on most lakes. Anglers are able to access most lakes without difficulty, so anglers have been spreading out in their search for active fish.
It has been an unusual winter for ice fishing, with many of the usual patterns different this year because of the lack of snow and warmer weather patterns.
Stable weather is still the key to a good bite for most species, with anglers fishing for walleyes on most of the larger lakes on the edges of structure. Access to deep water is usually important, but most of the active walleyes have been in 16-24 feet when they are actively feeding.
Perch fishing has been good on most of the larger lakes this winter. Perch have been using both shallow and deep structure, with the percentages favoring the shallows on most lakes.
Crappie fishing has been good and will get more pressure as the walleye bite slows down. Combination trips with anglers fishing for light sensitive species like walleyes and crappies in the mornings and evenings and then switching to day feeders like sunfish and perch during the day has been a good approach for many anglers.
Trout fishing is another option for anglers looking for a different species to fish through the ice. Anglers need to have a current fishing license with a trout stamp to fish for trout. Some trout lakes are closed to angling during the winter, so anglers need to check the regulations before heading out on the ice for trout.
The hottest walleye bite in the greater Bemidji area is currently on Lake of the Woods. Most anglers are fishing walleyes in 14-24 feet of water in the mornings and evenings and then switching to sauger and suspended walleyes in 28-35 feet of water during the day. Paul A. Nelson, Bemidji Area Lakes Guide Service, panelson@paulbunyan.net


(1/25) On Lake Winnie, Karen at Dixon Lake Resort says "Snow is looking good. Ice is about 21 to 22 inches now. Fishing has realy picked up with the warm up. Perch and sunnes a few crappies. Northern sightings some big ones missed. Should be a good weekend. We have openings in cabins and spear houses this weekend. Give us a call 218-659-4612.


(1/25) On Lake Winnie, Ryan Peterson, says; "The perch bite has been really good in 18 to 26 fow on the soth end and up the east side of Lake Winnie, the best bait has been a dead stick with a fat head, the bigger perch seem to be running higher up in the water then the small ones so if you are not getting any with size bring your bait up a couple feet.Walleyes still are making a run at dark some nights its a couple hour run other nights its only a half hour or so. Pike fishing also remains strong best baits have been suckers on a tip up. Ryan Peterson's Guiding Sleepers and Day House Rentals Lake Winnie.

Fishing Report January 23, 2012 Jeff Sundin Okay, so 20 degrees above zero doesn't sound all that warm, bu a 40 degree warm-up feels pretty darn good! That's what arrived on Sunday and now the next question; Would you rather have it clear and cold? or Warm and snowy?
For me, I think I was getting along better with the clear and cold, but we'll see what the conditions look like this morning. I'm guessing that I'll need to hook up the snow plow for the first time this winter. One thing is for sure, in Northern Minnesota, making it into the last week of January without having to plow snow is a nice head start on getting through a long, tough winter.
Knowing that Sunday's warm up was on it's way, I had talked with Bill Powell on Saturday and we'd made plans to fish somewhere on Sunday afternoon. I made room in the truck by hustling through my firewood stacking and then got all of the gear ready to go. We talked about trying a few small lakes that have made it on to the radar screen, but decided to save time by staying a little closer to home. We'd been hearing some good reports about Bowstring Lake, so our plan was to fish on Bowstring for Crappies and Perch. Bill Powell and Billy Maki would meet me and writer/photographer, Anita Williams at the lake. It sounded like a great plan, until we tried to do it.
We made our way on to the lake and got the first set of holes drilled, fishing in about 21 feet of water, we had a lot of "lookers" but getting them to bite wasn't happening. We were planning a move to a new area when the snowfall started getting a little heavy. With all of the pressure ridges popping up this year, I didn't like the idea of driving around on the large lake in "white-out conditions" so I suggested making a move to a smaller, more manageable lake.
Next stop, Little Cutfoot Sioux and it was a relief to be there, if nothing else, now we could at least see where we were!
We didn't have a ton of time left, but we had enough to drill a line of maybe 20 holes along the breakline in anywhere from 8 to 12 feet of water. After checking several spots, it was clear that we weren't going to be in on the bite of the century, but by jumping from hole to hole, we were, ....... I mean Anita was able to catch a variety of Perch, Pumpkinseed Sunfish and Bluegills. We chose to take a few pictures and release all of the fish, but we probably could have gotten enough for one good fish fry.
We tried a handful of baits, but the Glow-Pink Fat Boy, tipped with a couple of Wax Worms was the clear winner. Best depth was about 11 feet of water for the Sunfish. I'd hoped for a late run of Crappies, but we never caught one, or saw what looked like a school of them. I'd guess we need to try deeper next time if we want to find the Crappies.


(1/23) On Lake Winnie, Anglers fishing the main lake are finding "hit and miss" action. There are fish out there, but they're acting a little finicky right now. Probably the best thing going out on the main lake are the Northern Pike. Fishermen using tip-ups or ljarger jigging baits and fishing the deeper edges of the breaklines are getting some good action. Locations vary, but places like the main drop off of the Bena Bar are typical, winter locations for Pike. Using larger minnows like Suckers, Creek Chubs or even the jumbo size Golden Shiners will be perfect for the tip-ups.
For an added dimension, set yourself up with a jigging rod and use that to explore the area as you watch your tip up. The larger, (1/4 ounce and up) size Slick Jigs are perfect for attracting some attention. Rig them up using a length of heavy, 17 to 25 pound test fluorocarbon line as a leader. The tough, smooth finish of the Fluorocarbon protects you against 9 out of 10 bite-offs, but remains flexible, clear and completely fish-able. If you prefer Steel leaders, try tying your leader using a flexible Steel material like the product called Not Too KInky. Make sure that you have several of them rigged up ahead of time, because once they do get a kink in them, your presentation will suffer.


(1-23) On Lake of the Woods, I got an update from Mike Kinsella at Border View Lodge; The recent cold snap took it's toll on the Walleye fishing on LOW too, but it didn't stop the action completely. Mike says that they're still catching some quality fish in deeper water. Border View's houses are now 7 to 9 miles out, in the area North of Pine Island. Travel in this area is reliable, there are 20 inches of good ice right now.
He added that their guests are reporting more suspended Walleyes now, so watch your electronics like a hawk. Best lure colors have been Glow-Red and Gold.

Fishing Report January 22, 2012 Jeff Sundin Between the cold-snap that set in a few days ago and yesterdays heavy winds, the fishing traffic in the Deer River area has dropped off considerably from it's peak.
I stopped in and had a chat with Bill Powell at Fred's Bait and he thinks that the conditions have been so good for the past month that a lot of anglers have "gotten it out of their systems" enough so that they can sit out this rough patch of weather. Who needs to go out and get blown accross the lake when you can just wait a few days for the next warm up?
I have to admit that the same thought crossed my mind on Saturday when I had to make a choice between heading out on the lake, or giving the family a little pep-talk about the mountain of firewood that we need to put up for next winter. Well, the firewood won, so we headed up North and put a little dent in the pile of Ash that's been waiting patiently for the past month.

Fishing Report January 21, 2012 Jeff Sundin We are in the deep freeze, at least for another day or two. Overnight temperatures have been dipping into the -15 degree neighborhood and the daytime temps have struggled to bounce back to much more than about zero.
That's good news for folks in areas where they've been waiting for the ice conditions to improve. Up here in the Grand Rapids - Deer river area, it's just more frosting on the cake. Ice thickness in our area ranges from 18 to 24 inches already, and by mid-February, we'll be looking for auger extensions.
Panfish and Perch action continues to be good, but the cold snap has affected the bite and anglers are being forced to get more creative. Walleye action in the area has slowed considerably and the fishermen who are finding them, have been doing their best work between 5:00 and 6:30 PM.
On large lakes, there are Walleyes out on deeper water, main lake bars and humps. Key depths have been 18 to 24 feet. On smaller lakes, check out the shoreline related points, especially the ones near weed flats. Baitfish attract Walleyes toward the shoreline and the evening bite can occur in water depths as shallow as 6 or 7 feet.


(1/21) On Lake Winnie, John Seekon from The Pines Resort & Campground Reported that ice thickness accross the main lake is now 18 to 20 inches under a thin cover of snow. Tamarack Bay, which froze earlier than the main lake, has even more ice. There are a few scattered snow-drifts on the lake, but steer around those and you can travel alomst anywhere on the lake.
John added that "The perch have still been biting in water less than 14 feet deep, but the locations seem to change a little each day. White green and gold are still the best colors. They key to finding the larger active perch has been to stay away from the crowds. Walleyes and northerns are also a bonus catch while fishing for the shallow water perch."


(1/21) On Ball Club Lake, Gus Sheker from Gus' Place Resort. The fishing news on Ball Club Lake is the Great perch fishing. Gus said; "It seems like fishermen can do no wrong.
Customers are saying; " believe it or not, I am catching Perch on bare Gold hooks!" Gus doesn't recommend going without some bait on the hook, he prefers using a crappie minnow on a white or yellow glow hook. He added that this method works best for him.
Anglers on Ball Club are fishing anywhere from 12 to 26 feet along on the breaklines. Perch have been very active during daylight hours. There are more fish directly on the bottom, but the nice 11 & 12 inch fish are 2-3 feet off the bottom. The catch is a bit slower, but the fish are much bigger up off the bottom.
Ice conditions are near ideal. We have 14-16 inches of good clear ice with about 2 inches of snow. There is a significant pressure heave that you should not try to drive over with trucks, but rather go around it.


(1/21) On Bowstring Lake, Darv Oelke from Bowstring Shores Resort echoed the "mixed results" reports I've been hearing about that lake. Darv says; "Well, this last week it is a little slow. Earlier, Crappies in 22 to 26 feet. A few walleyes were caught in that 15 foot range."
There are about 18 inches of ice covering most of the lake and the ice heaves have quit moving at least for the moment. . Anglers are driving on the lake from the West and South public accesses. Darv added that he and his guests have started driving out directly from his resort ramp as well.


(1/21) On Lake Winnie, Ryan Peterson, says; "Fishing this week has had its ups and downs, walleyes where biting good before the cold front in 16 to 20 fow I have moved some houses out to some deeper water where I found the perch are still biting but a little on the sluggish side but if you work at it you can still get a nice meal, the best baits for them have been small pink jigging spoons tipped with a minnow head. Pike are still being taken from the same depths as the perch 20 to 26 fow using tip ups and 3 to 4 inch sucker minnows. We now have a road marked from Denny's Resort out to Moxies Hole then up to Red Hook, we are not finding anything less then 18 inches of ice." - Ryan Peterson's Guiding, Sleepers and Day House Rentals


Personal Appearances, Watch for Bob Jensen's Fishing the Midwest television program in your local market(s). We taped a fishing for Perch segment last winter that will be airing tomorrow, Saturday 1-21-12. For those of you located near Northern Minnesota, the programs will air on WDIO TV 13, Duluth, MN. where Fishing the Midwest airs on Saturday afternoons at 5:30. If you live outside the area, check here for a listing of show dates and stations.
By The Way, A Special Note: My friends at Lindy have a little treat for you! All you need to do is login to Lindy's Website, click on my Audio Fishing Report, and while you're listening, you'll learn how to claim your reward.


Fishing Report January 19, 2012 Jeff Sundin Wintery weather rolls into the Leech Lake area and my prediction? Ice auger extension sales will soon be rising soon. It's -17 degrees at the moment and temperatures are expected to fall even more today. Add the near zero temps of the past few days, the couple of feet of ice that we already had, plus another snowfall that fizzled out, and we've got the makings of some heavy duty ice production.
I just returned from a short trip out to Devils Lake where the cold front had already moved in a couple of days ago. It slowed the action down a little, but thanks to the expert guidance of Jason Feldner, we still managed to pull in some nice Perch and Walleyes.
Closer to home, the past few days have continued to be productive for panfish in the Deer River area. Sunfish have been reliable in a variety of lakes, Perch and Crappies are fairly cooperative as well.
Now that I'm back home, I'll be playing catch up for most of the day today and expect to hide out from the weather behind my computer. You'll be seeing the fishing updates trickle in throughout the day, so if you're heading up for the weekend, check back in this afternoon.


(1/19) On Bowstring Lake, Erin at Trails End Resort has a report of her own; "Woo Hoo!!! We are pulling in the Jumbo Perch. I had a chance to go out this weekend and landed myself a 12 1/2 inch Perch. Talk about good eating. We have had the last 3 days of above normal temps, so be careful out there...there is only a dusting of snow, making for very slippery conditions! We had a chance to talk with some of the fisherman out on the ice. Most are looking for the Crappies in the deep side of the drop-offs, mostly in the WNW corner. Walleye are still hiding, but the Northern are plentiful. Our contest is going GREAT we have a LARGE walleye in the lead. Come by, see some pictures, and tell some tales!"

Oh, by the way, Did you know? That you if you miss the Thursday morning radio program, you can still hear it by going to the archives? Yes, you can, just click here to find the KAXE archive, choose the date, then select the 6:00 AM hour and once it loads into you player scroll over to about 6:20 AM.


(1/19) Bemidji Lakes Area and NMLOG Member, Paul A. Nelson, Bemidji Area Lakes Guide Service says Winter finally arrived in full force this week in the Bemidji area. The coldest temperatures of the season quickly added several more inches of ice to the lakes, with most lakes now having between 15 and 20 inches of good ice.
Anglers still have to know where they are going on the lakes, with current areas, narrows, islands and ice heaves all potential problem areas on the lakes, regardless of the ice conditions on the rest of the lake.
The lack of snow on the lakes is allowing anglers to go just about anywhere they want on the ice. Most of the fishing pressure so far this season has been on shoreline structure on the larger lakes, but now that the ice is thicker, anglers will be spreading out on all of the lakes searching for fish.
Each year is a little different on the lakes, with different lakes getting hot as larger age classes of fish move through the system. The depth and types of structures the fish are using also changes, so anglers need to keep an open mind and try to figure out a productive pattern on each lake they fish.
Upper Red Lake and Lake of the Woods have been the hot lakes for walleyes so far this season, but part of the reason was the poor ice conditions on many of the other lakes was forcing anglers to drive to better ice conditions to fish.
Now that the walleye bite on Upper Red Lake and Lake of the Woods is starting to slow down and the ice conditions are improving on the other lakes, more anglers will be staying closer to home and checking out the rest of the lakes in the Bemidji area.


(1-19) On Lake of the Woods, I got a report from Mike Kinsella at Border View Lodge, he says; " A good mix of walleye and sauger continue to bite in 30 to 32 feet. The recent cold snap has made the fishermen work a little harder at enticing the fish to bite. Anglers actively jigging seem to be having the best luck. Small gold jigs tipped with a minnow are working well.
Ice conditions are good on our end of the lake with nearly 20 inches of ice. The lake should continue to make ice throughout the week. We still suggest that you stay to the marked trails to avoid cracks and pressure ridges.


(1-19) In the Deer river area, Bill Powell from Fred's Bait said they've had a busy week. Lots of traffic in the area right now and most of them have beed heading toward Lake Winnie for Perch. Anglers that fish the shallows are catching lots of fish, mainly on the small side, but are able to sort out limits of nicer, keeper fish too. Sunfish action was good for Bill on one of the smaller lakes over the weekend. Bill was using small jigs tipped with Waxworms.

Fishing Report January 16, 2012 Jeff Sundin Sunday brought us back to warmer, but much more windy conditions. It was a little less comfortable on the ice, but it didn't stop lots of folks from getting out on the ice. It was another cold night without any new snow and I'll bet we have another inch of good solid ice this morning.
I made a stop yesterday at a popular lake, South of Marcell, MN was I shocked at the number of vehicles and portable shelters that were set up on the ice. The lake is fished heavily for panfish and also has a modest population of Walleyes. On the lake, panfish anglers were happy, in fact during the time I was talking to one fisherman from Southern Minnesota, I watched his partner catch at least a half dozen Sunfish. Others in the area were also catching panfish by jumping from one hole to the next, picking off the active fish.
Presentations were just what you would expect, small ice jigs tipped with Wax Worms dominated the offerings. The guy who was catching all of the fish as I watched, was using the old standby, a small Frostee with two Waxies pinned on. Fishing in and near the weeds in 7 to 12 feet of water was best.
Walleye anglers weren't quite as happy, by the time I left the lake, no one had reported catching one. It was still early enough for the fish to move in for their evening run, so maybe they got active later, but the Walleye action on most of our area lakes has been running late these days. Fish haven't moved until 5:00 to 6:00 PM, sometimes a little later.
For today, I'll be on the road in the wee hours for a short fishing trip to Devils Lake. I've been to Devils Lake many times as a duck hunter, but this will be my first stop as a fisherman. I have a feeling that you'll be seeing a picture or two after this one.
Heads Up! I don't know if I'll have Wi-Fi out there or not, but North Dakota has been notoriously un-kind to me in terms of cell phone and internet coverage. So I might be off the grid and miss a report or two, but it's a short trip and I'll be heading back home Wednesday morning, and back for the report Thursday morning for sure.


(1/16) On Lake Winnie, John Seekon from The Pines Resort & CampgroundSays that the perch bite is still going strong in 11 to 12 feet of water, as the perch are in the weed flats feeding on small young of the year perch. "We are starting to see more walleyes and northern mixed in with the perch. The best colors have been glow white or green. Tip your jig with wither a fathead minnow or emerald shiner. There is currently 16 to 18 inches of ice with a few scattered snow drifts in some areas".


(1/16) There isn't much to say about the Ice Conditions in the Deer River area that I haven't already said. This week has been a good one for making ice and there are lots of folks taking advantage of it. I've said this before too, but if you've always wanted to try little lake wishuknew, but haven't been able to reach it, now is the time! The on-ice travel conditions are excellent and virtually all of the access roads, landings and hiking trails are accessible! You will never get a better chance than this, on a scale of 1 to 10, access is rated 10.


(1/16) On Leech Lake, Ron at Anderson's Horseshoe Bay Lodge say that ice conditions are fair to good. There is 15 inches of ice out on the main lake right now. There has been some snow, but is still a 4 wheeler deal right now. The ice ridge out front had standing water on both sides of it. Big Rock Reef is not accessible from the lodge. The "4 wheeler only" access by Grassy Point, currently has closed up.
On another note, it is easy to get out on the humps that lay 1/2 a mile out from the lodge. Very little snow cover makes travel to these spots simple.
The humps in water depths of 12'- 17' range have produced a nice range of walleyes recently. Fish ranging from 17" to 27" have been caught by anglers concentrating on the twilight periods, morning and evening. With the moon still 3/4 full, it's possible that there could also be a "nite-bite", but that's yet to be proven by any adventerous anglers.
Pine Point is open thru Shores of Leech Lake access. This has produced many jumbo perch. One group caught 40-50 fish the day they went out. All access is thru Shores, you must drive out from there. One option is to drive all your gear and wheelers with you and park on the ice. Then 4 wheel to your place. Pine Point is not accessible by lake from here on 4 wheeler. Ron says; "I think after the ridge freezes some more it will be crossable by 4 wheeler again." - Anderson's Horseshoe Bay Lodge, Walker, MN 56484 800-873-1229 By the way, Ron is running some specials. Click here to view.


The photo contributor, photo of the week goes to Tim Higgins who sent this great Walleye picture.

Fishing Report January 15, 2012 Jeff Sundin Funny how things work out sometimes. Maybe it's just me, but it seems like there's a lot of times when real life winds up making a better story than anything you could ever make up yourself.
Saturday was the opening day of the Minnesota Inland Lakes Trout Fishing Season and Matt had an idea that we should go and try to catch a trout. Now for all of the fishing I do and have done, ice fishing for Stream Trout is one thing that I'd never tried. So I asked as many questions as I could, studied the DNR website for stocking and lake surveys and after scratching my head for a while, came up with what looked like it should be a "lucky lake".
We packed up our sleds and started our walk toward a small lake, 3/4 of a mile back into the woods. It was a beautiful walk, a quiet trail covered by a thin sheet of new, white snow and except for some older Deer and Coyote tracks, there wasn't any sign that anyone else had been there before us. When we arrived at the lake, there was nothing except for a small brown sign; "Designated Trout Lake", it was like giving us the thumbs up, here ya go boys, this is the spot.
From then on, every foot print, every hole cut in the ice and every single minute of anticipation was ours alone. I covered a lot of ground, I drilled lots of holes, did a lot of fishing and took a number of great pictures. Try as we might, fishing wasn't going to be the highlight of this trip. It's 4:00 PM, the sky is getting a little darkish and by now, it looks like we won't be bagging anything today. Except for the odd catch of a couple of White Suckers that Matt had caught earlier, the rest of the lake had been quiet.
That's okay, Trout or no Trout, I was still completely satisfied with the experience! But I still would have loved to just see one, you know, just to get a look, just to have a little clue that I was on the right track. Enter, stage left, a friendly visitor from high atop the hill heading down the trail .....
He'd introduce himself later as "Nate", Nate Anderson, but for now, he was a shadowy figure heading toward the lake. My first thought was "I'll bet that he's disappointed to see us standing here". I know how that feels and I had it in mind to soften that feeling a little. When he got close, I told him that I'd already drilled 50 holes all over the lake and that he was welcome to use them all, he smiled and said "I might take you up on that" or something along those lines.
We chatted for a few minutes and he said that he'd been into this little lake last year and caught one. We compared notes for about baits and depths, all of the ordinary stuff, then he headed toward a couple of holes and set up his tent. Nate disappeared inside the tent for a while, but I was keeping an eye on him, in fact, I was downright curious. There was another hole that I'd drilled earlier, it was only 25 yards away from where he set his tent and I thought it would be a good idea to head over and try that hole. Guess what? Just as the idea entered my mind, Nate poked his head out of the tent, walked over to that hole and started fishing. Oh well, I just went back about my business ... well ... at least for a little while.
It wasn't long before I heard a commotion coming from his direction, I looked over and there it was, a nice Brown Trout flopping around on the ice. I know what you're thinking, you think that I was disappointed, but not at all. I was thrilled, and I think Matt was too, I headed over to see the fish and Matt headed toward my camera.
A few minutes later, looking back on my day, it was pretty darn good. A gorgeous walk, a new experience, a number of great pictures and I even got to see a Trout! Thanks Nate, that's just what I needed! I guess this did turn out to be a "lucky lake" after all, I'll catch mine next time!

Fishing Report January 14, 2012 Jeff Sundin It's the wee hours of the morning and I'm still searching the DNR website for last minute clues about where I can go with my fishing buddy, Matt Mattson to find a Trout.
It's the opening day of Minnesota's inland winter Trout season and it's been a few years since I tried to catch one on any of the "local lakes". In the past, we've always tried for Lake Trout, but this time, we have Stream Trout in mind. I'll be on the road early, heading for somewhere that looks fishy and I'll let you know how we do!

Fishing Report January 13, 2012 Jeff Sundin Northern Minnesota ice conditions are taking another turn for the better as single digit temperatures trigger another spurt of ice-making. At these temps, and without snow cover, we'll see an inch or more of new ice every day. After last winter, most of us can't believe that the snow has held off this long, but it has, and we're getting close to the point where I might have to use the word perfect.
Panfish action continues to be good in the Deer River, Grand Rapids area. Perch and Sunfish continue to use shallow weeds as their preferred cover. We've been speculating about the trend toward shallow water this early in the season, and I'm linking it to the lack of snow cover. I think that there is enough sunlight getting into the water that it's allowed a greater percentage of weeds to remain Green. No matter how you slice it, there are more fish in the shallows than usual, so don't be afraid to check out the shallows!
My best presentation has been using the Toads and Bugs tipped with a couple of wax worms or spikes. I carry some of each, but most days, I think either bait performs about equally. The best colors for me have been the Glow Gree/Pink or the Orange/Brown combinations.
Crappies are still semi-active, it's an early and late bite, but most of the smaller lakes with good populations are still producing at least some Crappies. Best depths have ranged from 20 to 30 feet on lakes with deep holes. On smaller lakes with shallower flats, Crappies are holding closer to the weed edges in 8 to 12 feet of water. Lakes that lack the deep basin structure tend to have fish that roam around more, any little bit of cover will help hold them in an area. Weeds, sticks or small rock piles are all good areas to work.
For me, today is going to be consumed with computers and pieces of paper. I think we'll be back out on the water tomorrow and then I have a special treat planned for early next week.


(1-13) On Lake of the Woods, I got a report from Jacki LaValla at the Sportsman's Lodges; "Walleye and sauger populations continue to rise on Lake of the Woods according to the latest DNR reports and boy can we attest to that! Several slot and trophy fish continue to be found as well as lots of good eating and those that will be good eating in a few years to keep your day busy and your pail filled. The morning bite has been one of the best times of the day, however the afternoon and midday hasn't been too bad either. Gold, Chartreuse and glow in the dark jigs tipped with a minnow or minnow head have done well. We continue to move north into deeper waters and 28-31 feet of water has been working well right now. Vexilars/Fish Finders definitely increase your fishing success. So plan on bringing yours or call ahead to reserve a rental. Looks like we may start to get some cooler "real winter" weather blowing in today and for the next ten days. This may shake things up for a day or so but once it evens out, we anticipate the fishing to continue to be good! Sportsman's has some openings for January 12 - 21, 2012. Call Jacki for details 218-634-1342 ext 437


(1/13) On Cutfoot Sioux and Lake Winnie,Bryan and Sue Harris at Eagle Nest Lodge report; "Ice is now over a foot thick, after shrinking to under a foot with the warm weather we had last week! There is a big crack the length of the Seelye-battle point bar, which makes it a challenge getting around it to head toward the big lake. Our guys have been fishing in front and catching a few perch, northerns and walleyes. They have found a few crappies around the corner toward McAvity Bay. There were a couple trucks on the lake last weekend, but mostly 4-wheeler traffic, so far."


(1/13) On Lake Winnie,From Dixon Lake Resort, Karen reports that the ice is "just right". There's about 18 inches out on Third River and further out on the main lake, there is vehicle traffic just about everywhere, except where ice-ridges have complicated a few spots. There are about 2 inches of snow cover and that makes it easier to get around, plus it's been nice for banking the fish houses.
Karen says; "The fishing has been great. Lot of nice perch large crappie and sunnies too. The northerns are big and fat and come in hungry. Spearing this season had been the best with two northern over 16lbs and a lot in the 10 to 13lb range."


(1/13) On Lake Winnie,From Ryan Peterson's Guiding, Sleeper and Day Shack Rentals; "On the south end of Big Winnie we are now seeing 16 to 18 inches of ice and the pressure ridge we have been dealing with is now healed nice form this cold snap.Denny's Resort is letting half tons out right now and big trucks very soon, but be sure to check with the resorts before going out. Fishing has been up and down, perch are going good along with the pike in 20 to 25 fow, walleyes have been a little different story, seeing allot of small ones along with some slot fish but have not seen many of those 14 to 17 inch fish over the last few days, that will change now that we feel a little better about the ice to start moving north to some new ground, and hopefully more stable weather than what we have had should help also. Stop Signs, Northlands Buckshot Rattles, and Lindy Rattle Flyer's have all been working either with a minnow or minnow head. Went into Fred's Bait in Deer River one morning before going out with a friend, picked up some frozen emeralds and they worked well for us, whole or just the heads, have talked with many different people fishing and the big thing is what works today may not work tomorrow so switch it up you just don't know what might trigger them."

Fishing Report January 12, 2012 Jeff Sundin Winter weather finally came back around for another cameo appearance. Wednesday's cold front arrived with gusty winds and steadily falling temperatures, beginning with morning temps in the low 30's and ending up somewhere in the single digits by afternoon.
Snow arrived too, but the snow cover is still minimal on all area lakes. A tour of the area North of Deer River on Wednesday revealed snowfall amounts of maybe an inch, two at the most. There is going to be some drifting at a few access ramps and on some of the remote trails, but for the most part, travel on Itasca Area Lakes should be even better than before. In fact, a couple of inches on the ice will be good news for ice fishermen who would prefer to travel by snowmobile.
For I and my fishing pal Arne Danielson, the blustery weather was a good excuse to play our ace. We spent the day in a bright, warm ice shelter that I had set up for a friend a couple of weeks ago. The 6 X 10 Aluminum shelter is extremely well insulated and amazingly warm, even with the wind howling outside, the small heater was keeping this fish house warm and toasty. In fact, we had to open the window several times to get the place cooled down.
The ice shelter is set up on a fairly deep, 25 foot, soft bottom hump surrounded by water in the 30 to 35 foot range. It would remind anglers of "The Humps" on Lake Winnie and so would the mix of fish. Our catch was modest, there were some Perch, a few keepers, but most of them too small. There were also a few Northern Pike and yesterday, one Walleye.
The one nice Walleye that we did catch, came under the house suspended about ten feet above the bottom. In fact, she struck my Rattl'n' Flyer as I spotted her on the flasher and while I was attempting to demonstrate how to fish the bait over a suspended fish. Where is the camera when you need it?
At mid day, we needed an excuse to stretch, so we left the shelter and took a tour of the area. We stopped at a handful of lakes just to see if there was any traffic, but under the circumstances, all of the lakes where we stopped we void of anglers.
We swung into Frontier Sports in Marcell, to compare notes with Terry Schmitz. He said that fishing action around the Marcell area has dropped off somewhat this week, but added that Crappies were still hitting on several area lakes. Like other area bait shops, he's observed heavier traffic this year and expects the mid-winter fishing to pick up again after the cold snap passes through and the fish begin moving toward late winter haunts.
For now, Crappies are still located in deeper water, 20 to 30 feet located near soft bottom flat areas where insect larvae and small minnows provide reliable forage.


(1/12) From Lake Winnibigoshish, At Highbanks Resort, Kim says that lake access is good. Ice thickness ranges from 16 to 18 inches and they are allowing access to all vehicles including "Wheel Houses". Walleye action is reliable on the main lake humps and bars late in the afternoon, early evening.
Highbanks maintains plowed roads accross the center section of the lake that accesses the humps, and many of the better fishing areas along the larger, mid-lake bars too. Kim reminds everyone that they also have the best burgers on the lake! Open to the public.


(1/12) Bemidji Lakes Area and NMLOG Member, Paul A. Nelson, Bemidji Area Lakes Guide Service says; "Colder temperatures are on the way for the Bemidji area, at least for the next few days. The cold snap should add another inch or two of ice to the lakes, which should give anglers better access to more of the lakes.
Anglers have been driving vehicles on Upper Red Lake for a couple of weeks, with at least 16 inches of good ice in most areas. The remote location of URL makes it an attractive destination for anglers with wheeled fish houses, so they can stay on the ice overnight.
The fishing pressure from literally thousands of anglers on Upper Red Lake has slowed down the walleye bite. The larger groups of fish houses put a lot of pressure on the walleyes, so a lot of fish get caught and the rest start to shy away from the noise.
Many anglers on Upper Red Lake have been spreading out along the shoreline break in 9 to 11 feet of water, searching for less pressured walleyes. Most anglers are using jigging spoons with part of a minnow or bobber rigs with minnows for walleyes.
Anglers have started driving vehicles on Lake Winnibigoshish, but like most of the larger lakes, there are ice heaves that limit access in some parts of the lake. Most of the walleye action in Winnibigoshish has been on the humps and larger mid-lake bars in 18-26 feet of water. There have also been perch and northern pike in many of the same areas as the walleyes.
Anglers have been fishing many of the smaller lakes for crappies and sunfish, but some of the lakes still have less than a foot of ice, so anglers have been using ATV"S, snowmobiles, or walking out on the lakes. Anglers still have to know where they are going on the lakes and avoid the ice heaves. Take the time to drill a few test holes to check the ice, especially on lakes with less traffic. Bemidji Area Lakes Guide Service, 218.759.2235.


(1/12) From Rainy Lake, My long time friend Tim Higgins dropped me a line. Here's more proof that every day gives you a moment to remember. Tim said; "Here's a (picture of) a 28-1/4 inch Walleye my nephew Andrew caught yesterday evening (1-8-12) on Rainy Lake. He was jigging an 1/8 oz clown lightning spoon, tipped with a shiner head. Overall, fishing was pretty slow, but this "super tanker" right at the end was exciting.

Fishing Report January 10, 2012 Jeff Sundin Ice conditions in the Deer River - Grand Rapids Tourism area are holding up, but with lots of warm weather, new ice is hard to come by. The majority of lakes within my range are now covered with 10 to 16 inches of good, clear ice. Thanks to the easy travel conditions, there are lots of places that I usually couldn't access to fish, but this year I can.
Most of us are going ahead and enjoying the added opportunities. We're watching where we go and taking it slow, but for the most, we are driving out in pickup trucks unless we're unfamiliar with the lake, then we're using ATV's. A particular problem this year are the ice ridges that have cropped up in unusual locations. No one likes to be halfway out to a spot and have to turn back, but please, don't try crossing the ridges in a vehicle. If you want to drive, there are plenty of lakes with enough traffic to be considered "proven".
On Monday, fishing for I and my pal Arne Danielson was okay, it was better for Sunfish than for Perch, but we were able to find enough fish to put aside what promises to be a great fish fry for tonight.
Sunfish action was good from about 9:00 AM until 11:30 AM when the warming temperatures started making the ice creek and moan as it expanded under the warm sun. Maybe it was the noise, or maybe just a cooincidence, but that seemed to turn 'em off for a while.
While they were biting, they were in shallow water, anywhere from 6 to about 9 feet deep. We found them in small pockets or open spots in a large weed flat. Usually you'd have to drill a hundred holes to figure out where all of these small patches of productive water were, but now the ice is so clear that you can literally walk around a look for them before you drill.
For us, the fish would move through in small packs and we'd catch 3 or 4 at a time in spurts. Fishing with small ice jigs, tipped with Wax Worms or Eurolarvae worked just fine. I switched back and forth between a Fat-Boy and a Toad, Arne spent the morning using a bug. The fish were active enough that to make them strike, we didn't have to do anything all that tricky. Just get the bait in front of them, flicker it around a little and watch the rod tip for a little pressure.
After we had the Sunfish we wanted for a meal, we decided to try for some Perch. We switched to another small lake with a reputation for good Perch fishing. When we arrived, ice conditions looked good, but a pressure ridge at the ramp looked big enough to keep us from driving the truck. We headed out on the ATV instead and had no travel problems at all.
It didn't take too long to discover that we weren't the first anglers to show up here. There were lots of holes, both old and new scattered arount the surface of the lake. Like the Bluegills, the Perch were up in shallower water here too. In fact the best depths were really similar to what we found on the first lake. Fishing in 7 to 8 feet of water, in or near the weeds was the ticket here too.
The problem was that the fish were falling short of what we'd call good keeping size. Fishing with jigging baits tipped with a minnow head, there were plenty of 8 to 9 inch Perch, but not many over that. If we hadn't already had the makings of a fish fry saved up from the morning, we might have kept enough of these for a meal. But for us, nothing about the fish we were catching made us want to rush back with another pile of these fish.
In fairness to the lake, I did talk to a man who had been covering ground in a different section of the lake and he did have a handful of larger fish. We just didn't cover enough territory to find them.
For today, both of us have work to do in the morning, but we're planning an attack for this afternoon, after that, a bigtime fish fry!

Fishing Report January 9, 2012 Jeff Sundin By the time I worked on the computer for a while I finished up the chores on Sunday, the clouds had cleared and the temperature had crept back over the freezing mark. By around 2:00 PM, I was outright smiling and I could see that there was only one way to wrap up the day.
I called my buddy Jason Green who just happened to be loading his truck to go fishing with Greg Clusiau and Blake Liend. After he told me about his plans, I memtioned that I'd been thinking about heading out too and I sort of invited myself to go along.
By the time I got to the lake, Greg and Blake had already been fishing for a while, Jason was just about set to start fishing and the whole thing was just about figured out for me. Almost like a gift or something, I got a ride to the spot, drilled a couple of holes, caught some fish, took some pictures and went home. Wow, that was really cool!
The Sunfish were holding in about 8 feet of water, in the shallow weeds. Some of the holes were drilled in weeds so heavy that you couldn't fish them, others were located on small clear spots in the vegetation. The panfish like those open spots and while the action wasn't fast and furious, it was steady. Every few minutes someone caught or at least missed one.
Best baits were small jigs tipped with Wax Worms and Euro Larvae. I had tied on my favorite Brown and Orange Toad, tipped with a couple of "Spikes" and that was the clear winner for me. I caught some fish on the Green and Black Bug toward the end of the day as well.
The fish were active enough that we could tease them up and out of the school to make them strike. Drop the jig to the bottom, work it for a second then lift it up a couple of feet. If you see the fish following your bait, stop, wiggle it and then let it sit still. Most of the time, all we would see is a slight loading of the rod tip. That's it, lift up slightly and when you feel the weight, finish the hook set and reel 'em in. Right Blake?
More good weather heading for us today and Arne Danielson wants to go try and catch a fish. No telling what we'll be doing, but we'll be out there somewhere.


(1/9) From The Iron Range, Contributing Wrtiter, Greg Clusiau posted an article. Ice Fishing A Most Dangerous Game - "Wow. What a winter we're having. Ice fishing travel has been just wonderful BUT there's not a whole lot of ice to drive on, if you do dare drive.
I was the first to drive a truck on Balsam Lake and did so three times (and the fishing wasn't even all that good) but after this warm spell, I'm ... click here to read >> Greg's Iron Range Fishing Report.


(1/8) On Lake Winnie, John Seekon from The Pines Resort & Campground Told me that the Perch bite is still going strong in Tamarack Bay. Anglers are reporting their best action in the 10 to 12 foot range, using a green, gold or white jig tipped with a fathead minnow.
There is plenty of ice out on the main lake now, and anglers are driving out with light trucks. The ice thickness is around 17 inches in the shoreline areas, and 13 to 14 inches farther out in our bay and out in the main lake as well. The Pines Resort still has cabin and day use fishhouse openings for both January and February. Click here for Lake Winnie Ice Shelter Rentals.


(1/8) On Lake Winnibigoshish, Kim Leonhardt at Highbanks Resort; " Lake Winnie 15-16" of ice confirmed this morning with numerous measurements out 3 1/2 miles NW of High Banks!! Wheel houses welcome!! Discounted weekend lake access passes. Stop by the lodge for the latest ice fishing reports!! Always 70 degrees and sunny inside!! Restaurant and cocktails at the lodge!!


(1/8) On Ball Club Lake, Gus Sheker from Gus' Place Resort has their first crew of ice fishermen coming in later this week and Gus plans to have an updated fishing report about Ball Club at that time.
Lake Conditions have changed very little since the last report EXCEPT good, clear, solid ice continues to accumulate. We now have over 12 inches with only a dusting of snow. Anglers with ATVs or snowmobiles can move around the lake unconfined to roadways.


(1/8) On a mystery Lake, Austin Jones reported good Northern Pike action on Friday. Their crew fished with tip-ups and large minnows in about 15 feet of water. They set the rigs about 3 feet above the bottom and caught 15 Pike throughout the day.
On Thursday, I met up with Bill and Erin Charlton, the new owners of Geiger's Trails End Resort on Bowstring Lake. We spent most of our time chatting about remodelling, bookings for the season, new ideas and especially about all of the fantastic photo's that Erin has been taking. You know, a nice friendly chat. But as long I was there, it seemed like a good excuse to wet a line, at least for a little while. So I decided to wander on out and see if there was anything going on.
Before I left the dock, Bill had given me a heads up that on Bowstring Lake, fishing, especially for Walleyes has been okay, but it's been a hit and miss proposition.
There were anglers driving light pickup trucks all over the lake and with little or no snow cover, it seemed like I could go anywhere I wanted. I started off by heading South, but about a half mile out from shore, I encountered a small ice ridge. I followed the edge of the ridge for another half mile hoping to find a dead end, but it was pesrsistent, and no, I didn't try to cross it, that would be dumb!
It was getting late and I didn't have a lot of time left, so I turned back toward the Northwest and started watching my GPS chart for any small bar that might be along the way back toward home. I stopped on a small bar that had been a beautiful spot for me last summer, but today, it wasn't exactly hopping. Walleyes were there, we could see easily them on the flashers. They were finicky though, they would move up about six inches from the bottom, look at the bait for a few seconds and then disappear. Just as the sun settled behind the trees, there was a flurry of action, but even then, we managed only a few small fish. I guess I'll have to just try buzzing that spot again next summer instead.
A better game plan on Bowstring right now, is to target the Perch. They have been cruising the breakline edges in 12 to 16 feet, and the action for them is a little more reliable right now. Bill says that they've been having their best luck a little bit on the shallower side, mayb 12 to 13 feet, but don't be afraid to experiment, 16 or even 18 feet are common depths to find Perch on Bowstring.
The better baits right now are blade type jigs like the Frostee. Bill has using a Glow in the dark, tipped with either a medium fathead or a crappie minnow.
---
She Hunts, He Cooks, They Travel! - Contributing Writer, Anita Williams



Beautiful sun rays cast a slippery glow upon the newly frozen lake as I make my way to the dark house on Pokegama Lake in Northern Minnesota. I clutch my spear and step gingerly onto the bare lake. Normally I would see three feet of snow by now, though my gaze reveals only a spattering of the white stuff in formations piled by the wind. Spear in hand, I open the door to a dwelling referred to only as 'The Shack'. Northern Pike swim ten feet below unaware they will provide my evening meal.


Twelve inches of ice form a solid foundation for this temporary dwelling. I am comforted as my guide directs me to sit on a little bench in front of a pool of water two feet by three feet. Days earlier he chopped a hole, which now needs to be cleared of floating ice chunks. He fires up the heater and instructs me to look for movement in the water, careful to stay back far enough to not frighten the swimmers.
I gaze into the clear pool and see a perch swimming. My pulse quickens as I hang my coat on a hook and prepare to settle in. The decoy is hanging from a string and my guide lowers the wooden fish into the water and gives it a jerk upward sending the bait into a swirl of passion. We are after Northern Pike and soon one comes into my view from underneath the frozen floor of The Shack. I listened intently to my instructor. "Stand up and place your body directly over the hole" I quickly stood as he spoke with assuring guidance "Now place the spear into the water directly above the fish and let it go." My spear sailed directly into its target! A giggle of delight escaped my lips as I watched my northern pike rise through the icy hole. I had landed my first northern pike taken with a spear. I had five more pike swim past me that afternoon, none connecting with my spear. Nothing else mattered: I landed a fish! The smile on my face and the plan for fresh pike that evening gave me all the satisfaction I needed. I am blessed with great friends and an open invitation to spear again.
Did you know? That you can get even more fishing reports at Lindy's Audio Fishing Report Section? Just Click Here For Audio Fishing Reports.


Fishing Report January 8, 2012 Jeff Sundin Saturday was another great weather day for us, but for the fish? I'm not too sure about that.
My fishing buddies Bruce Champion and Bill Powell liked the idea of locating some Crappies on Cutfoot Sioux, in one of the spots where we'd caught them last fall. The idea made a lot of sense, there hasn't been any traffic in that area and theoretically, we should have been able to drum up some hungry ones.
When we got to the lake, we found about 14 inches of good ice that hadn't been travelled at all. We were able to drive to the spot, a deep hole, adjacent to a large shallow flat. first we walked around with the flasher checking for fish. We found a decent looking area and I drilled the first series of holes along the breakline in about 28 feet of water. Seeing fish wasn't much problem, but getting them to bite didn't work out as well. After a half hour of working in this area, I took off and started drilling in some shallower, weedier areas hyoping to find a school of Perch or even a few last minute Walleyes.
Here in ther shallows, I had the same problem, lots of lookers, not many takers. I'm not too sure what to blame it on, but there's been a lot of this lately. On some lakes, the fish are doing a lot of window shopping, but not a lot of buying. I've heard a few theories rolling around; maybe it's the clear ice, maybe it's the full moon, maybe it's because we didn't eat our Wheaties ...... I do know that in spite of my tendency to want to try and find "new spots", I think for a little while, I'm going to convince myself to go with the flow and fish some of the areas that are more proven producers right now.

Fishing Report January 7, 2012 Jeff Sundin Good Morning. :) !! When I woke up in the wee hours on Friday morning, I was being haunted by my own words. During our Thursday morning radio broadcast on KAXE. I was sort of whining about how I never got to attend the annual "volunteer dinner" because it always happend to be scheduled for the same weekend as the DNR Round Table meetings in the twin cities. As much as I was looking forward to making the trip down to St. Paul, I couldn't help thinking about missing all of my friends from the station for the umpteenth time.
Even though I was all packed and ready to go, I just kept dragging my feet, never quite making it out the door. You know how it goes, but Hey, about quarter past six, a smile came over my face and I knew that somehow, the folks at the roundtable could live without me, just this once. Ahhh..... that was a good idea! I'm sure you'll be able find some photos at KAXE's Facebook Page.

Fishing Report January 5, 2012 Jeff Sundin The winds calmed, the temperature had risen and the chores were done, well ...... almost.
Whether my work was finished or not, it still seemed like a good time to take advantage of another ideal day for ice fishing. I planned on travelling light, so I un-hooked the trailer, left the ATV behind and grapped a few panfish rods, a little bit of bait and headed toward a nice little Crappie lake that I keep as an ace-in-the-hole for crummy days in the fall.
On the drive over, I'd been debating with myself about whether I'd walk out, or try to drive the truck instead. My first nice surprise was that the wind had blown whatever snowfall we received last weekend into nice, tidy little drifts that were scattered all over the lake. About 85 percent of the ice still had no snow cover at all.
The 2nd nice surprise? I never had to make that decision about driving out to my spot. When I arrived at the landing, there was already a truck parked on the ice within a couple of hundred yards from where I planned to fish. That was good enough for me, I took it slow and steady, out the spot and when I got there, found 13 to 15 inches of good, clear ice.
Scoping out a spot was really fun! With perfect ice conditions, all I had to do was grab the flasher and a bucket of water and start hoofing it. I'd just stop, put a little water on the surface and set the transducer on the ice to check for depth and the presence of fish. After a half dozen stops, I found a school of fish and drilled my first hole.
The fish were hovering about 6 feet above the bottom, over about 25 feet of water. When I first tried to catch them, they seemed inactive. I tried three or four lures and managed a few half-hearted bites, it didn't look like this was the right stop, so I went on the prowl again, this time finding a larger school of fish on the flasher.
I tried a few of my favorite baits, but most of them were ignored by the fish. I tried one more time with a smaller bait, and then I caught a couple of tiny, minnow-size fish, but it still wasn't looking too good.
After the Crappies had snubbed several other baits, I tied on the little Pink/Green Toad and tipped it with a couple of "Spikes". I watched the flasher as I dropped it into the water and as it fell toward the fish, I could see one rising up from the pack to grab it. I'm not too sure what it looked like to the Crappies, but that Toad really turned them on and from this hole, I'd catch 7 Crappies before the screen went blank. One more move was all it took, 20 yards East and I was back in business, 3 final fish to fill out my limit and I was on my way.

Fishing Report January 4, 2012 Jeff Sundin Good Morning! I had to drop the report like a hot potato this morning and grab my camera!!! There was an unbelievable sunrise heading our way and I headed out to get a few pictures. One down payment is this morning's lucky number picture, don't worry there's more, but you'll have to check my facebook page tonight for the next one! Have a great day :) !!!
Tuesday should have been the last day of the strong cold-front winds that ripped into the area with a vengeance. If you're thinking about getting out on the ice soon, it looks like the weather today might be just what the doctor ordered. A warming trend, accompanied by light wind is going to move us toward the weekend in style!
Upper Red Lake and Lake of the Woods continue to be the prime spots for Walleye numbers, but fishing for the early run of larger Walleyes has slowed somewhat. Lake Winnie, Leech Lake, Cass Lake and most of the larger lakes in the Itasca area are now providing at least some Walleye action and with good ice. Vehicle traffic to some of the key, mid-lake destinations is on the rise.


(1/4) On Cutfoot Sioux and Lake Winnibigoshish, Bryan Harris from Eagle Nest Lodge checked in to say; "We are hearing reports of about a foot of ice on Cutfoot, with a little slush near the big cracks along the bar and closer to the gap. Our guys have been catching a mixed bag of perch, crappies, walleyes and northerns. Not much snow on top, so getting around has been a little challenging...slippery! 4 wheelers seem to steer better than snowmobiles on the glare ice."


(1/4) On Lake Winnibigoshish, Ryan Peterson said; "We are now seeing 14 to 15 inches of ice here on the south end of Lake Winnie.
Fishing has been good on perch along the break line in 20 to 25 fow. Walleyes along the break are on the big side. Here is a nice 27.5 incher that came on a rattle in 25 fow. For numbers of walleyes and more eating sized ones try the bars or the humps lots of fish holding there right now.
Looking forward to another great season here at Ryan Peterson's Guiding if you are looking for great sleeper houses let me know. www.ryanpetersonsguiding.com


(1/4) On Bowstring Lake, Erin at Trails End Resort has the ice thickness dialed in between 14 and 16 inches now. Full size pick-ups are pulling permanent houses out onto the very good quality ice.
Walleyes and Perch are both being caught in 15 feet of water on the shallow edge of the drop-offs.
Erin say; "Our Contest has started for January with fish registered on the board. So far, a 23-1/2 inch Northern is in the lead. Stop by, register the fish caught on Bowstring for a chance at a prize for the biggest fish. Look forward to the tales over hot coffee!".


(1/4) On a small lake, somewhere in Itasca County, Tom Neustrom sent this; "On New Year's Eve, three hearty soles ventured out north of Marcell in search of crappies and found plenty of fish but had to coax them into biting. After a short three wheel ride and drill several holes it was great to see the Humminbird Ice 45 light up with lots of suspended red lines.Two of us fished Rat Finkees with euro larvae and the third member of our trio fished a small spoon and a minnow head. The euro larvae out fished the minnow head 5-1 and the switch happened quickly. I was using a Frabill "Bro Series" Quick Tip with a spring bobber and 2 pound Suffix Elite mono and it made the difference in seeing a soft bite. Promising a nice crappie meal for our wives began to unfold and it wasn't long before we had plenty of decent sized crappies for our New Year's Eve feast. There's something about the solitude of ice fishing and the yawning of the ice occasionally as if there were a whale beneath you calling out. It's a part of the experience when ice fishing and the catch is a bonus."


(1/4) From Fred's Bait in Deer River, Bill Powell Had a couple hours off so took a run up to the lake to see what was shakin'. He said that he just took his light stuff because he wanted to take a little walk. You can see how he did by clicking here >> Fred's Bait Fishing Report.


(1-4) On Lake of the Woods, I got a report from Jacki LaValla at Sportsman's Lodges that said; "Ice Fishing was very good over the New Years weekend. Lots of good eating size saugers and quite a few big walleyes 25 inch +. We have 14-16 inches of ice in the areas we fish and travel. The Adrian's ice road access at Four Mile Bay is now open to full size vehicles. The Morris Point ice road is now open to vehicles up to 1/2 ton in size. Our fish houses are on a groomed trail and we provide transportation with all of our trips. Check out the pictures attached as well as many more from the weekend on on our facebook page."


(1/4) On Lake Vermillion, Jay Schelde at Pike Bay Lodge says; "14 plus inches of ice and fish house city open on the east end of LAKE VERMILION. Trucks driving to houses for well over a week. Some pressure ridges to watch out for out of the general fishing area but overall there is no problem with ice depth. Most of Big bay accessible by 4 wheeler or snowmobile so there is excellent portable access. Walleye action has slowed a bit from early but perch bite has picked up somewhat. - Pike Bay Lodge 800-474 5322


(1/4) On Lake Winnibigoshish, Kim at Highbanks Resort posted a note that they are now allowing full size vehicles out onto the ice from their resort. The plowed access access road is open to the public for a fee paid at the office on your way out to the lake.


(1/4) On Bowstring Lake, Crappie and Perch action is consistent for anglers fishing on the South and West sides of the lake. Perch tend to be a little shallower, holding on the breakline edges anywhere from 12 to 16 feet. Crappies are holding a bit deeper, 18 to 24 feet is a good starting spot, but don't be afraid to try deeper during mid-day. The fish move shallower toward evening.
Frostees tipped with a whole crappie minnow are the best presentation, but carry a container of Wax Worms as a backup. Best colors have been Glow/Blue and Glow/Red.

Fishing Report January 3, 2012 Jeff Sundin Good Morning! The cold front that found it's way into the Itasca Area gave us a couple of days with high winds that blew some snow from spot to spot, but luckily, we didn't get a lot of new snow and now that the winds are settling, we should be able to pick up where we left off last week.
For me, all of the indicators were positive for improving conditions as the sun returned late Monday afternoon.
Right now, Perch and Panfish are grabbing most of the attention as the Walleye fishing settles into that predictable, winter sunrise-sunset pattern. There are still some good Northern Pike spots too, but they are starting to move out to deeper water in many locations as well.

Fishing Report January 2, 2012 Jeff Sundin Hmmm... Things aren't going quite according to plan right now. The blizzard-like winds that blew into the area on New Years Day are going to cause some more trouble for us again today. We missed out on most of the snow, but the winds were whistling through the trees all day and all night.
Virtually all of the reports from Sunday were the same, cold front and high winds gave most of the fish a gigantic case of lock-jaw. Luckily, there wasn't much snow, so that in spite of low visibility, anglers who had permanent shelters were still able to make their way out and keep fishing. The rest of us, counting on portables and ATV's weren't so lucky. After a quick run around the neighborhood, my rig wound up back home, parked in the barn.
Today, we were scheduled to fish and already should been on our way to the lake this morning, but I woke up to and email that said ; "We will be sleeping in, weather is suppose to be harsh. Once up we will re think...." So in other words, we might be heading out today or I might be bound to spend another day, trapped like a caged animal as I wait for conditions to improve.

Fishing Report January 1, 2012 Jeff Sundin Hey! Guess What? Happy New Year! 2012 promises to be a really interesting year around here. There are lots of new developments in my future and I'm really looking forward to sharing them with you.
For now, it's New Years Day and if you're not already here, then you're not coming this weekend. So, since I have a new camera burning to be be taken outside, and since there's a good chance that I'll be trapped inside by a big-time, windy cold front moving in later today, I think I'll cut the report short this morning and jump in the truck for a while.


(1/1) On Bowstring Lake, Darv Oelke said that fishing on Bowstring hasn't been too bad. On Saturday he said that on Friday, there were four of his houses rented, and between them, they caught 27 Northerns, 3 Walleyes and a few Perch. Another customer had a few crappies and a couple of walleyes. They where all caught on the north end of the lake, fishing in about 15 feet of water.
Darv said that he'd had reports that both the West and South landings are okay for getting on and off of the lake. So far, he'd seen just a couple of smaller pickups on the ice. Most anglers are still using ATV's out there. Ice thickness ranges from about 12 to 13 inches of ice.
One final word of caution, there is a big ice ridge running all the way across the lake, from the resort to cow bay.


(1-1) On Lake Winnie, Craig Brown from McArdles Resort dropped me a line to say that they are now seeing light vehicle traffic on the West side of Winnibigoshish. There's a pressure ridge over there though, so once you're on the lake, you need to stay on the West side. Perch and Northern Pike fishing has been good in the 6 to 10 foot range.


(1-1) On Lake of the Woods, I got a report from Fred's Bait contributor, Brian Castellano. He said; " Four of us made the trek up to Lake of the Woods yesterday, 12/29. We used the public access by Wheelers Point and headed out, across Pine Island, and set up in 26' feet of water.
We had lines in the water around 10:00 am and a couple nice saugers right off the bat kept us here till about 11:30. After no more activity, we packed up and headed north to the end of Adrians Road. We found some .... Click Here to Read Freds Fishing Report.

(January 2012) Smiles are always welcome!

I have been smiling in January!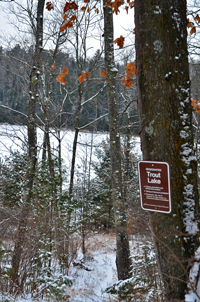 Saturday was the 2012 MN Inland Trout Season opener. A gorgeous walk, a few snowflakes and a great day on the ice.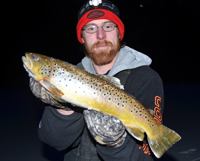 Nate Anderson with a gourgeous Trout! He caught it on a Silver/Blue, Rattling Jigging Spoon with a cut minnow head. Jump to the Trout Story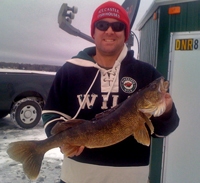 The new leader in the Trails End Resort big fish contest. Sean Casey shows off his 27-1/2 inch Walleye.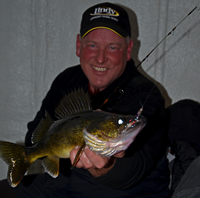 This Walleye attacked a Purple Smelt colored Rattll'n' Flyer Spoon. She tried to sneak through by suspending about 10 feet above the bottom.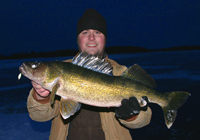 Photo of the week: Here's Andrew Higgins with his 28-1/4 inch Walleye from Rainy Lake. Oh man, Flat Rock Reef, here I come!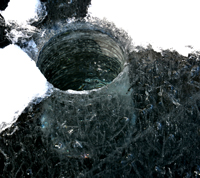 It's not too often that we see this. Clear, Black ice with virtually no snow cover. It's 14 inches thick at this spot and ranges from 12 to 16 in the Deer
River area.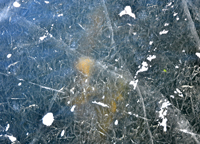 Clear ice has allowed us to walk the weed flats looking for small, open pockets where Sunfish like to feed. You can save drilling hundreds of holes by looking around first.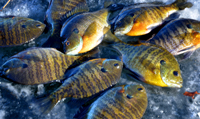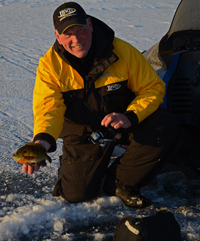 The blugills were hiding in the weeds at about 8 feet. Small jigs like the Toad, tipped with grubs kept them biting steadily.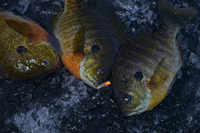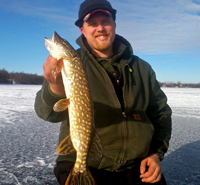 Austin Jones showing off one of the many Pike they caught using tip-ups.
View Fishing Reports for MN Dec. 2011.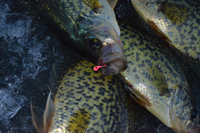 After the Crappies snubbed a few other baits, the little Pink/Green Toad really turned them on. I tipped this one with a couple of "Spikes".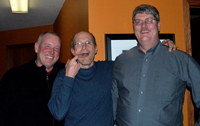 KAXE's Thursday Morning Show with Scott Hall (C) and Chad Haatvedt (R) includes "The Early Bird Fishing Guide" segment at 6:20 AM. That's me, (L) :)!!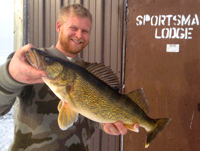 Courtesy Sportsmans Lodge: This 25-1/2 inch, New Years Walleye brings out the smile for Ryan Waterbury!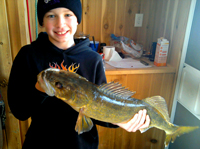 Courtesy Ryan Peterson's Guide Service: Walleye fishing on Lake Winnie's mid-lake bars and humps is good. Here's a 27-1/2 incher that came out of 25 feet of water.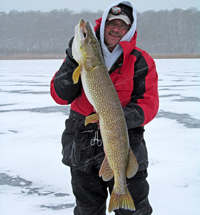 Wayne Crandall with a great looking Northern Pike. Wayne decided to brave the snowstorm and was fishing on MilleLacs Lake.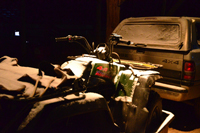 Lots of us spent Sunday hiding from the wind and the ATV is in dry dock again this morning as we wait for the blizzard-like conditions to pass through the area.