Fishing Report February 29, 2012 Jeff Sundin Tuesday delivered a big shot of Grey, windy weather and it looks like the predicted snow-storm is still on it's way this morning. It's a lucky day for me, because high winds, driven snow and a falling barometer are just the kind of incentives I need to push me toward the desk for another day of paper shuffling. Something that I have plenty of to do right now!
I talked with some friends who have been out and about yesterday and lake conditions still aren't all that bad. Carefull route planning and a set of tire chains on your truck or ATV will still get you almost anywhere you need to go. The larger lakes like, Winnie, Leech, Cass and Round all have plowed roads now and wgile some are better than others, all of them lead to good fishing spots.
What happens next is going to depend a lot on how hard todays storm actually hits. So far this morning, there hasn't been any new snowfall and some of the forecasters are backing away from predictions of the heavy amounts and talking about 2 to 5 inches instead.
I looked at the calendar, and all of the sudden, the ship is really going to hit the sand! Ahead for me in March, I've got two, really special trips to Lake of the Woods planned. Then there are some fishing seminars, a couple of boat shows a video or two and then I'll wrap up the month down at the Northwest Sport Show in Minneapolis.
Now, I have an sudden urge to go out and catch some Tulibees for the smoker and if the weather settles down, I think that's going to be woven into the plan for the next day or two.


(2-29)Lindy Fishing Tackle Ran out of "good models" to use for pictures and started scraping the bottom of the barrel. They stumbled into me while the fish were biting, so they snapped a few with the instamatic! Fans who haven't looked at their home page lately, can Click Here to pop in and sneak a peek!


(2/29) On Lake Winnie, Ryan Peterson checked in with his own report; "The Perch bite on Winnie is still strong, look towards Ravens or the tops of the bars on the west side in 13 to 15 fow there are some really nice sized perch coming out of that area right now and it should only get better, gold has been my best color tipped with a minnow head. Denny's Resort has plowed roads over to west side of the lake and with the snow we have received over the last week I would not try to go off road with vehicles but you can still get out using the resort roads." Good Luck Ryan.


(2-29) From Lake of the Woods, Brian Castellano posted his report at Fred's Bait in Deer River; "We fished out of resort houses about 15 miles North of Pine Island, out in the mud, in 34' of water. We ended up keeping 7 nice walleyes in the 15-18" range and 5 saugers that were all around 14 inchers ...Get the whole report >Fred's Bait


(2/29) On Bowstring Lake, Erin at Geiger's Trails End Resort mentioned that the action has slowed a little bit since the weather changed. Perch that were using hard bottom structures in the 12 to 16 foot range have moved. It's time to start looking for them over softer bottom areas and heavy weeds where food supplies are typically better during late winter. The Perch have been showing up in deeper water where they've been feeding on a large, Bloodworm hatch. When these little critters are abundant, the Perch will come running from everywhere to get in on the frenzy.
Try fishing in 20 to 26 feet of water, over a softer, Marl-Clay bottom. Even though the fish are feeding on insects, it's common to have better action fishing with larger blade baits tipped with minnows. The winner of the Trails End Fishing Contest for February, Walt ..... with a 21 inch Walleye. Good work Walt!


(2/29) On Lake Winnie, John Seekon from The Pines Resort says; "Now that the Walleye and Northern Pike fishing season has come to a close, the focus is on jumbo perch. The best depths have been 14 to 17 feet, using white or gold jigs tipped with a minnow. We will be plowing roads to many areas after the latest snowfall, so road access on the ice will continue to be good." John added a note: There were some last minute cancellattions for the upcoming week. It might be a good time to make a last minute trip! >> Contact The Pines Resort


(2-29) On Ball Club Lake, Gus Sheker from Gus' Place Resort; "Lake Ice Conditions are like other lakes in this area. The snow storm over the past weekend effected travel on the lake with an additional 7 inches of light, dry snow. Lake travel is recommended with snowmobiles, or tire chained ATV or 4X4 pickups.
Perch have moved into shallow areas and most anglers are taking home their limits as long as you have allowed enough time to pick through them; all classes are being caught. Crappie minnows are working very well in 8-10 feet for Perch. Bluegills are also being caught as bonus fish along with the Perch. We haven't seen many Crappie yet, but March is usually a good month to try for these fish. - Gus.


Feature Fishing Report February 28, 2012 Greg Clusiau, Began his weekley report with; "Okay, the fun's over. No more easy lake travel, driving your 4x4 trucks, along with 2-wheel drive vehicles, out to your favorite ice fishing hotspots. Ma Nature has blown into town and she means business. As a matter-of-fact, I think she's a bit irate.
We pushed it a little, last Saturday, because of the impending snowstorm, which, by the way, was properly forecasted. Driving to Round Lake, north of Big Winnie, we went "in search of perch." Big perch. Arriving at the lake, we found ....
>> Read Greg Clusiau's Complete Fishing Report Here.

Fishing Report February 28, 2012 Jeff Sundin On Monday, we had just enough blue sky during the daytime to trick me into thinking that there was a nice sunset on its way. But as the Northland dug out from under Sunday's snow, at late afternoon, just as the sky started turning pink, another wall of Gray closed in. The wall of clouds showed us that there's another system moving in from the West.
A handful of anglers took advantage of the chance to get out on the ice and for most of them, fishing wasn't too bad considering. Perch and Panfish locations may shift now that we're seeing conditions change, but it's going to be a few days, before new patterns begin to emerge.
Plowed roads are going to become a primary concern for those of us who don't have snow machines. On an afternoon tour of the area, I decided that at the moment, moving trucks around on the ice is still going to work, but there are gfoing to be some trouble spots out there. I'd suggest studying the traffic patterns on any lake you plan to visit and stay where traffic has been moving successfully. Watch for areas where there are permanent shelters on the ice and steer clear of these areas. Extra weight and water will create problem spots and slush will persist in these areas until we get a good melt-down.


(2-28) On Cutfoot Sioux and Lake Winnie, Bryan Harris at Eagle Nest Lodge checked in;We had our last group of northern spearing guys here this weekend. They got a bunch of eaters, but not too many big fish...a couple 8-9 pounders. They didn't see very many perch, either. We got 6" of snow yesterday, so snowmobiles will be the way to go on Cutfoot from here on out. Otherwise, getting on at Winnie resort plowed roads is what my guys will do. Still a good 2' of beautiful ice.


Fishing Report February 28, 2012. Brian "Bro" Brosdahl- The last snowfall has left our lakes dicy, it's a good to travel with friends in case you do get stuck in slush pockets. There are slush pockets wherever holes have been drilled and where houses were. There are areas where the hard snow sucks your truck in, on cloudy days you can't see them, so keep an eyey open.
Ice fishing action has been good; On Lake Winnie, Perch are still biting, mostly shallower than usual for this time of year with the best depths ranging from 8 to 13 feet. Shoreline connected points and breaks are your best bet, if you can find areas with small rocks or gravel, these are a bonus.
Leech Lake has been steady and the Perch fishing action is picking up. Pressure ridges are forcing most anglers to accesses on the South end of the lake. Some of the better areas are around Goose Island as well as the shoreline areas in Sucker Bay. There are more small fish than in the North Bays, but good action. Pine Point is providing some action too, 11-14 feet has been best.
Bro Says "Perch pattern, Northland Buckshots & Machos are working well".
"Small Lake Perch & Pan fish action is picking up too and will improve as weather becomes more stable. More snow to come , if you venture off bring your sleds if you plan to explore ( Pack a shovel & a tow rope, in case you get stuck.), Good Luck, Be Safe" - We will see you on the ice! Brian "Bro" Brosdahl Bro is currently booking trips for the upcoming 2012 fishing season.

Fishing Report February 27, 2012 Jeff Sundin Well, on Sunday I learned ... maybe I should say re-learned, a few things. First, I learned that it's never too late for winter to hit in Minnesota! Second, I learned that my tow strap still works and like me, it is quite capable of Multi-Tasking. As I was trying to use it to help pull a friend out of the ditch, my truck got stuck too. So another friend, used my strap to pull me out first. Once I was free, I used it again to pull out the first friend, okay, off to a good start!
Next, after a half hour drive back home, I saw that I needed to put out a new bale of hay for my horsies. So this time the strap was used to drag one out of the shed and over to the boys, who were completely appreciative of the jesture.
The third thing, I re-learned, is that if you spend your day plowing snow, you probably won't find time to go fishing. So guess what, research project or not, the fish were completely safe from me all day long on Sunday.
Okay, so now we've got our winter. You know, it's nice, the snow is pure white and it's deep too! Now it can provide great opportunities for everyone who wanted to go outside and play. Snowmobiling, skiing, sledding, all of that cool stuff. So now, lets go back to how it was before. Okay? Thank you!


(2/27) On Lake Winnie, The Walleye and Pike season ended without much fanfare on Sunday. Traffic on the lake was really low, except for rental operators who like me, spent their day plowing snow. One lucky break for everyone, the snow stopped and the wind settled down during mid-afternoon, giving plow operators time to get ahead of the snowfall. From here on until ice-out, anglers heading for Lake Winnie will be primarily targeting Perch. By the days end today, we'll start getting some new updates trickling in after everyone digs out.


(2/27) In Deer River , Bill Powell at Fred's Bait told me that his bait shop traffic was really slow on Sunday too. With snow falling hard until about 3:30 PM, there weren't many anglers feeling like heading for the lake.


(2/27) Somewhere in Northern Minnesota, Wayne Crandall and Jeremy Olson didn't give up. They decided to brave the elements and worked hard, but eventually found some really nice Crappies. They didn't spill the beans about the particulars, but it does validate on point that I've made over and over again. There is always someone, somewhere, who figures out where the fish are and how to catch some. Always!


(2-27) On Lake of the Woods, Mike Kinsella from Border View Lodge summed up last week with this report; "Anglers have definitely had to work for their fish this week, but work and patience are paying off for most. Some rea lly nice walleyes have been brought in this week and quite a few slot fish have been released. While the action has not necessarily been "fast and furious", the majority end up with a nice mixed basket at the end of the day. Most fish remain on the bottom, but nice, suspended walleyes are being caught. Aggressive jigging is working at times, while a slower presentations work better at other times. Keep trying different things as the fish seem to react differently throughout the day.
The Northern bite slowed some this week. Perhaps a little early yet, but I would expect it to pick up soon.
As I type, a low front is moving in and bringing some white stuff. Looks like a chance of snow throughout the week wi th temperatures near the norm.

Fishing Report February 26, 2012 Jeff Sundin Well, I'll start today's report with an unusual, but urgent plea for help from a doctoral student at the University of Minnesota. In the midst of conducting a biomonitoring study of polybrominated diphenyl ethers in walleye from Minnesota lakes and rivers. Most of the sampling was complete when some of the guides that had agreed to help, bailed out at the last minute.
Okay, so here's the rub, today is the last day of the season for Walleye fishing on inland lakes and they still need 5 fish from both Leech Lake and Lake Winnie. More specifically, they are in need of walleye between 15 and 17 inches on Winnie, or between 15 and 17 inches on Leech Lake. The size of fish anglers would typically catch and eat.
I plan on trying to help out, but even on my best ice fishing day, and even it was legal, I doubt that I could get five keeper Walleyes from both lakes on the same day. So, if you're already planning a trip to either one of these lakes and are willing to donate a little time to science, click here to get in touch with me by email and we'll work out the details.
In the Deer River area, it looks like we're going to have another brush with winter as a snow storm heads our way. In fact, it's already starting to come down and the NOAA forecast is "Chance of precipitation is 100%". Total daytime snow accumulation of 4 to 6 inches possible. Not all that bad, but after a winter of being able drive anywhere, anytime, this will probably take a few more lakes off of the driving list.


(2-26) Until now, Crappie fishing in the Deer River area continues to be good. For me, 22 - 26 feet of water has produced consistent results on a variety of lakes. But, there are a handful of spots where shallow weedline fish are beginning to get some attention too.
We're only a few weeks away from the peak of the late ice season and typically, pre-spawn fish of all species will begin migrations toward spawning areas. If you've been on 'em, and then the magic spot fizzles out, start by working the drop off edges first and then work your way into shallow waters until you make contact.
Hungry, pre-spawn fish will be easier to catch, for longer periods each day from here until ice out, so plan on enjoying a few of those, warm, sunny March days on the ice.


(2/26) On Lake Winnie, John Seekon from The Pines Resort says: The Tulibee action has been hot out on the big lake. Fish are being caught from about 30 feet of water, using small ice jigs tipped with a grub.
Perch action continues to be good as well, there are still more people catching fish in shallow water, than the anglers fishing deeper. Concentrate on any areas where there are good weeds. It doesn't matter how deep or shallow, the weed cover is the key. There are lots of small minnows holding in this cover and the predators are finding their way to them.


(2/26) Bemidji Lakes Area and NMLOG Member Chad Benson was on his way to Upper Red Lake for the last day of his ice shelter rental season on the inland giant. With Walleye season closing, it's time to shut down the operation on Upper Red, but Chad's not disappointed. Spotty Walleye fishing set in a few weeks ago and since then, he's moved several of his rentals down to Cass Lake.
On Cass Lake, things have been going well so far. Perch action has been steady and a couple of his houses have even been turning out good catches of twighlight Walleyes too. From now until ice out, Chad will focus primarily on Perch while he's headquartered on Cass. But, he's going to be snooping around the lake for other opportunities too. Tulibees and Panfish are on his radar screen and he's hoping to open up some "new territory" this season to avoid tapping out the productive spots he's already located.
Perch on Cass Lake are coming from water depths of 8 to 16 feet and there too, focusing on the weedline structures have produced the best results.


(2/26) Lake Vermillion Area NMLOG Member Billy Rosner Checked in from a road trip to Green Bay, WI "Thats my brother Mike holding fish. He lives in Green Bay and recently, I took a hike over there to fish for Whitefish with him. Most of the Whitefish average around two pounds. We've been cacthing them in about 30 feet of water, on bottom using a Lindy frostee or Rattlin Flyers in Chartreuse.

Fishing Report February 24, 2012 Jeff SundinWhen was the last time you were disappointed by catching Perch as fast as you could drop your lure into the hole? Never? Not me either, unless you're trying to gather 3 or 4 really big ones for some great photos. That was the mission on Thursday morning for I, Rob Hamling and Tom Neustrom. We had a few hours in the morning before the set director was going to call on Tom for a photo session, so we made a bee-line for the lake hoping to catch a few magnums.
When we arrived at the lake, there were plenty of plowed roads ready to use, but even without them, travel by truck was still fairly good. There's enough snow on the ice to form a few deeper drifts and isolated slushy spots, but most of the lakes surface has about 6 inches of fluffy snow. Just remember to pay attention to where you're going and avoid the drifts.
At first, we split up, Tom and Rob stopped to fish about a half mile East of my destination. I could see that they were already catching fish as I drove past them, but we knew that the chances of getting a magnum would be better if we covered more ground. I stopped in the same area that had produced some fantastic fish for me a couple of weeks ago. When I stopped at my GPS marker, I saw a small bare spot on the ice that looked like an easy spot to drill, so I made one hole there. I dropped the transducer of my Humminbird into the hole and the screen lit up instantly. Before my bait hit the bottom, I already had the first fish, a really nice 10 inch fish. It would have made a great sandwich, but not what we needed to put in front of the old Polaroid. There were a lot of fish there and it looked good, in fact there was one moment of greatness for me, when I stumbled onto a solid 12 inch fish.
The action was non-stop, so I reported in to mission control and told the boys that I thought it was time to team up. For the next hour, maybe a little more, all three of us were catching fish as fast as we could get lures down, the action was great, but most of the fish were in the 9 to 10 inch range, great fish for eating, just not dazzling enough for the camera. We had managed to gather handful of fish between 10-11 inches, but that was the best this spot had to offer.
The Perch action was best in about 6 feet of water and the larger size blade baits were producing. For me, the Frostee, Lime-Glow in size 2 was perfect. Most of the fish were caught without using live bait. Just drop in the lure and hop it about a foot, then let it settle. Occasionally, I'd add a whole minnow, hooked through the tail.
Note: Read more by clicking this link to a new article about >> Perch Fishing "Go Big For Perch".
Okay, back to reality. By about 11:00 AM, these fish had eaten all they wanted and trying to get them going again was worse than trying to feed someone a frozen pizza just after they'd eaten a holiday feast. They were just plain finished! We kept plugging away, hoping to fine one more good spot, but from here on out, drilling holes had become nothing more than good exercise. So that was that, we called it a wrap and headed back for the base camp and finished up the days work.
It was a pleasure working with all of the writers, videographers and web-dudes. Likewise, it was great to work with Noel Vick and some of the industry sponsors of the event. I was especially privlidged to spend time working with one of the world's coolest people, Steve Arbour, who along with the folks from Visit Grand Rapids, worked really hard and hammered out a fantastic event!
Oh and by the way, the missing picture of that Perch .... never mind, I'll jot that story down and share it some other time.


(2/24) On Lake Winnie, John Seekon from The Pines Resort posted; "With a fresh coat of 4 to 5 inches of new snow, mobility has not really been affected on the lake. The perch bite in tamarack bay has been good in several areas. The first area in in the 13 foot weed flats, the second area has been the 16 to 17 foot break near deeper water and the third area has been in 8 to 9 feet in the south side of the bay. Gold silver and white have been the best colors. the occasional walleye has been mixed in with the perch, while the northern pike are staging a comeback as we saw 2 on saturday over 10 pounds.


(2-24) On Cutfoot Sioux and Lake Winnie, Bryan Harris at Eagle Nest Lodge checked in; "We had a group of fishermen this weekend and they had pretty good luck catching perch in Tamarack Bay on Winnie. They had to sort through more smaller fish on Sunday, but still had a pretty good weekend. There have been some folks out near the big crack on Cutfoot, that goes from Battle Point to Seelye Point, chasing walleyes...mixed reviews there...pretty spotty. We still have a good 2 feet of ice and got 3" of snow overnight."


(2/24) Bemidji Lakes Area and NMLOG Member, Paul A. Nelson, Bemidji Area Lakes Guide Service says; The 2012 fishing season for walleyes and other gamefish species closes at midnight on Sunday, February 26, 2012. Licensed anglers are still allowed to fish for crappies, sunfish, perch and other non-gamefish species, which are open year round in Minnesota.
One of the heavier snowfalls of the mild winter hit the Bemidji area this past week, with several inches or more of new snow across most of northern Minnesota. Anglers may find some drifting on the lakes, with potential hazards covered up by the new snow. The ice conditions are still good in most of the Bemidji area, with more than 20 inches of ice on most lakes.
Walleyes have been spotty in most lakes, with the best bites in the mornings and evenings. The new blanket of snow may slow things down temporarily for most species of fish, but the bite should progressively be getting better as the melting pattern resumes and March quickly approaches.
Anglers may want to consider removing their stationary fish houses from the lakes after the season closes for walleyes and other gamefish. Most anglers fish out of portable fish houses when they fish for panfish, so they can stay mobile while searching for schools of panfish.
Perch have moved deeper in most lakes and are feeding on insect larvae emerging from the mud bottom. Crappies and sunfish are also feeding on insects in most of the lakes, with many fish between 20 and 30 feet of water on mud flats near structure.
Eelpout, whitefish and tulibees are also being targeted by some anglers, so there are still plenty of options for anglers wanting to continue ice fishing after the gamefish season closes on Sunday.


(2-24) Lindy Fishing Tackle posted an article about our recent trip out to Devils Lake. If you want to learn how we used bigger baits to trick Jumbo Perch, click here to read the article "Go Big For Perch".


(2-20) On MilleLacs Lake, Wayne Crandall dropped me a line and said that he'd read my reports about finding Perch on the shallow flats of Lakes like Winnie, Leech and Cass. He decided to give it a try down there and let me know that they found a nice school of fish in six feet of water. According to Wayne, shallow water Perch aren't typical for MilleLacs at this time of year, but for reasons of their own, there are fish there now.
Wayne added that they'd also done well on Sunfish and Crappies on a small lake somewhere in the Aitkin Area. With panfish bitintg as well as they are, you can probably find a dozen lakes in that area with great action going on right now.


(2-19) On an Ely Area Lake, my long lost pal and hopefully soon to return, Matt Mattson called me on the phone Saturday morning. He said, "we have one limit on the ice and still catching some, but it's slowing down a little". Crappies, that's what they were catching and it sounded like a really nice mix of fish. Matt, like most anglers didn't want to get into the fine details, but if you're a Crappie fisherman, you know the drill. Smaller area lakes with decent panfish populations are accessible all over the Northland right now and if you find them, the fish are biting.
2-20-12 UpNorth Video, hot off the press. Just click that link, to the right. Watch the Cold Front Bluegill footage. >>


(2-19) On an Ely Area Lake, my long lost pal and hopefully soon to return, Matt Mattson called me on the phone Saturday morning. He said, "we have one limit on the ice and still catching some, but it's slowing down a little". Crappies, that's what they were catching and it sounded like a really nice mix of fish. Matt, like most anglers didn't want to get into the fine details, but if you're a Crappie fisherman, you know the drill. Smaller area lakes with decent panfish populations are accessible all over the Northland right now and if you find them, the fish are biting.

Fishing Report February 23, 2012 Jeff SundinSnow? What snow? On Wednesday, there were some suprised looks out on the ice. Fellow fishermen who have been going wherever they want, whenever thay want, were a little bit shocked when their vehicles refused to move from their snowy "short term parking spots".
Luckily, there's still room in the world for a '99 Dodge pickup with a snowplow, and even luckier, it's good to know the guy who has it!
After we helped a few folks return to "mobile" status, we were on our way to what we hoped would be a lucky Blugill spot.
When we arrived at the lake, it looked a little different from the last time I'd been there, about eight inches of snow erased all evidence of any previous visitors, except one. One set of tracks that led toward the general area of where I'd planned to fish. The story about the track isn't too important right now, but it made a couple of us giggle and I'll be sure to jot it down and tuck it away for later.
Back to business, we made it out to the spot, a flat where the water depth ranges from 12 to 14 feet. The large flat eventually drops into a deeper hole that dips itno the 25 foot range. It didn't take too long get some holes punched and within a few minutes we were all seeing fish on our screens.
At first, tiny Sunfish in the 3 to 4 inch range were all we could manage. There were obviously some larger fish showing up on our electronics, but getting them to bite was a little tricky. But, luckily for me, not impossible. The trick to catching the better size fish was to get your bait a few inches above them and then completly stop moving. I caught a few by laying the rod down and watching the tip for the slightest sign of a bite. As I watched the screen, there were a few fish that rose toward the bait and then stopped just short of hitting. If I did anything to try and attract them, it would only scare them away.
We attempted to find fish deeper, toward the main basin, but today, any water deeper than about 15 feet was void of Sunfish. As we moved deeper, there were some small, scattered schools of Crappies and they actually seemed a little more active. But, after an entire day of fishing Crappies on Tuesday, we didn't spend much time pursuing them today. If we'd chosen to do that, 20 to 24 feet seemed to be a key depth and they were happily munching down my old standby, Lime-Glow Frostee.
Presentation the Bluegills varried somewhat, an assortment of small jigs and blade baits worked. But for me, the best size fish I caught, happen to hit a Pink-Lime colored Toad, tipped with two Waxworms.
Even though it was far from a hot bite, we caught plenty of fish, we just had to settle for getting them on-by-one.
For today, we have one last fishing episode planned before the event wraps up and we all go back to our ordinary routines.

Fishing Report February 22, 2012 Jeff SundinSnowy, windy conditions added a little life to the party on Tuesday. Applying a strange twist to the ordinary rules of fishing, the crummy weather that rolled in to the area actually worked to my advantage as we headed out onto the lake to catch a glimpse of what outdoors in the Grand Rapids Area has to offer.
What we've been up to lately, has been working with Steve Arbor and Tom Neustrom, who headed up the 2011 Governor's Fishing Opener. The event is an opportunity for writers, web-dudes and video crews to visit the area and go back home to spread the word about the great fishing opportunities they experience while they're here. This is the last leg of the event and provides not only an opporunity to entertain another crew of journalist, but provides everyone a chance to say thank you to the sponsors, organizers and hard working volunteers who made all ot this happen.
Okay, back to the weather; Working with such a large crew could have been a nightmare! When you have this many people who all need to work at the same time, in the same place, you have to find room for all of the stuff like trucks, ice-shacks and ATV's and so on. With almost everyone in the area sticking close to home, shoveling out from the storm, area lakes were completely free of traffic and we were able to move in and out without stepping on anyone's toes, except of course, our own.
Crappies were on the agenda and luckily, they were playing along pretty well too! With fish spread out over a large, deep flat, there was enough action for everyone to get their work done. Some of the holes we drilled weren't any too good, but some of them were on fire. There were plenty of videos, photographs and stories written about the fishing day, so I'll let you have some fun and spot them as they emerge, but in terms of a media event, it was a pretty darn good day.
For me, fishing with professional guide and writer for Outdoor News, Steve Carney, the day was all about catching a few fish, snapping a few pictures and marveling at the scope of the event. Typically, neither of us are likely to be found in the crowd, so on this day, we were both kind of like "fish out of water". No matter though, it was a great time and crowd or no crowd, there were plenty of smiles to go around.
Okay, there's a lot more coming, but I'm up against the clock. See you!!

Fishing Report February 21, 2012 Jeff Sundin Okay, the rule is solidly established now. Whenever we have something really special planned, the weather changes just at the moment the event is set to begin. That's where we're at again today as we prepare to head out onto the lake.
A few inches of snow won't be enough to stop us, but it is going to get me a promotion. My new title will soon become, "slave with a plow"!
On Monday, most of the fishermen had a chance to get the bite dialed in and if the fish don't get too weird after the weather change, it looks like we'll be able to put together a nice mess of fish for all of our visitors.
Yesterday, the Perch weren't stacked up thick, but there were enough to make it really interesting. The fish that were there, acted really aggressive and the average size was also very nice. Ten to eleven inches was common, and maybe a couple of them were pusing toward the 12 inch range. I memtioned on Monday that this could be a signal that there's a significant bug, Blood Worms, and that it would draw more fish into the area. It looks like that is the case and we're gonna have a lot of opportunity to prove that today.
Crappies were spotty, but once located, they were in tight, aggressive schools that were biting really well. Instead of relating to the drop off edges, these fish are also roaming over the top of soft bottom flats. Just like the Perch, they're feeding on the Blood Worms as well.
Okay, you're going to notice that my timing is a little off for the next couple of days. Early morning starts, mixed with snow plowing and moving people around is going to force me to update the reports in little tid-bits at each sitting. Rest assured though, there's plenty of information coming your way, really soon.

Fishing Report February 20, 2012 Jeff SundinLate winter patterns emerging as longer days, warmer weather and brighter skies encourage fish to "make a move".
On Sunday, I left the house on a solo mission, heading for what I hoped would be the discovery of another Crappie spot to have in my bag of tricks for a big project we'll be working on this week. Before I arrived at the lake, I gave Bill Powell a shout and asked if he was planning to fish. As luck would have it, he said yes, and that turned out to make life pretty easy for me. Bill and his son Chester had already been out there a couple of days earlier and they had a couple of the spots figured out.
I arrived at the lake ahead of Bill and started looking around, but by the time I'd cut the first 4 or 5 holes, he was already on the lake. Instead of playing Amerigo Vespucci, I just went ahead and followed him over to his spot. By the time I got there, Bill already had the transducer in the hole and according to his flasher, the fish were still in the neighborhood.
The water was about 24 feet deep, over a soft mud/marl bottom of the lakes main basin. We weren't really near any particular structure that we know about, just out over open water.
Today, Crappies that had been hitting on Wax Worms and Eurolarvae earlier in the week, were snubbing those baits. There were lots of lookers, but no takers, at least not on the grubs. After struggling with inactive fish in a couple of spots, I took out the old reliable, Lime-Glow Frostee, tipped it with a tail hooked minnow. Almost as soon as I dropped it into the hole, I watched it fall on the flasher screen as I watched a fish rising to meet it. Wham!... A nice Crappie ripped into that thing like a freight train!
Now, here comes the good news, bad news scenario; The bad news, that was one of the few Crappies that came from this location. We caught several more, but intstead of the fat slabs that Bill caught before, today's fish were a lot smaller, somewhere in the 8 to 9 inch range. The good news, a school of really nice Jumbo Perch had moved into the area. The soft bottom apparently has an insect hatch going because one of the Perch coughed up a wad of Blood Worms when Bill plopped it on the ice.
The Perch weren't stacked up thick, but there was enough to make it interesting and the average size was really good. Most of the fish were between 10 and 11 inches, maybe a coupler of them were pusing toward the 12 inch range. This is the first batch of fish that either of us had seen in this deeper water and this could be a signal that the bug hatch is going to draw more fish into the area. We'll know more about that over the next few days, and if it's for real, I'll let you know.
Special Note, If you've been curious about the rumored "State Record Walleye" that was supposed to have been caught recently on Lake of the Woods. Forget it, It was a hoax! I contacted Heather EP at Lake of the Woods Tourism and here's what she had to say; "Hey Jeff, We've actually got a lot of phone calls lately! (someone) had decided to do a little Photo Shop editing on a picture of a Zander that was caught in New Zealand. .... (someone) put his face on it stating that he caught it here in the Rainy River. There is ZERO truth to it." Have a great day jeff and thanks for checking in!" - Heather EP, Assistant Director of Tourism , Lake of the Woods

Fishing Report February 19, 2012 Jeff SundinA quick note, there's a new UpNorth Video, hot off the press. Just click the link on the right, to watch the Cold Front Bluegill footage.
On Saturday, Jason Green and his son Austin met up with me to explore some new territory for Perch. We're going to need some cool places to visit for a special project coming up and we hoped to find a couple more spots to visit. As it turned out, we discovered a couple of subtle changes in location, but didn't learn anything all that "new". What we really did luck into though, was a great day for taking some photos. There were some fish that eagerly signed on for that little project too and I'll bet some of them will be showing up in interesting places.
>> The depths and presentations weren't much different from those that I described yesterday, so just scroll down or click here to jump to the Ice Fishing Report from 2-18-12.
One thing about Saturdays trip that I should emphasize, when Perch are located on these gigantic shallow water flats, they're usually roaming around, chasing schools of minnows. Nomadic, minnow chasing fish are trickier to pin down than the ones found feeding on insect larvae. If you find a really good spot one day, but the fish disappear the next, don't hang around re-living old memories. There are probably other schools of fish roaming on top of the flat. All they want you to do is figure out where, and you can do that with your feet and your auger.
Today, I'm still bachin' it, heading back out again, hoping to find more cool spots for some catch and release Panfish.


Wired2Fish (2-19) The popular, information packed website has thousands of videos that teach you everything from how to tie a fishing knot, to rigging up your fishing boats electronics. There's something for every angler and now they have published a list of their top ten videos from the past year. Click here to view Top 10 Videos.

Fishing Report February 18, 2012 Jeff SundinA quick note, there's a new UpNorth Video, hot off the press. Just click the link on the right, to watch the Cold Front Bluegill footage.
Another touch of snowy weather rolled in on Friday, but not enough to change conditions in the Northern Itasca Area. We might have another inch in some places, but driving conditions are still good.
I stopped in to chat with Bill Powell at Fred's Bait on my way to the lake on Friday. He confirmed my suspicions about heavy traffic rolling into the area for the up-coming weekend. It had been a busy morning at the shop and there were still folks rolling in as I hung out there.
I met up with Austin Jones and his dad Randy Jones at about 2:00 PM and we headed back to the Perch hole that had been productive on Wednesday to see if we could put a little food on the table. Lucky for me, I didn't have to do much extra thinking! We started just about where we were on Wednesday and within the first ten minutes or so, we'd already begun finding pods of roaming fish.
The giant, shallow flat is speckled with Clam shells, bits of weed and gravel. Perfect cover for holding minnows but not the best if you want to pick the exact spot to pin down a school of fish. On these large flats, the best strategy is to keep jumping from hole to hole, taking advantage of each small school of fish that you stumble into. There will be spurts of action that last five minutes or so, then the hole either goes dead, or worse yet, a big school of small, bait stealing, baby fish find it. Once that happens, YA GOTTA GO!
The entire flat ranges from 5 to 7 feet deep, so where to drill is kind of a guessing game. But, the fish are active right now and if you keep moving, sooner or later, you will get into them.
At first, the presentation didn't seem to matter too much. The Perch were hitting jigging spoons and blade baits almost equally. After an hour or so, the pattern that I stumbled into on Wednesday emerged as a winner again. The best bait for me, by far, was the Techni Glow Frostee. Using the larger, #2 Frostee without a minnow helped me eliminate some of the trouble with those little baby bait stealers. On Wednesday, the Glow-Blue had worked well until I lost it to a small Pike, today I was down to my last one, this time Glow-Lime.
Sure, there were times when I could see fish on the locator that didn't strike, but when I did get a hit, it was usually a better size fish. So what would you rather have?, 100 strikes that result in 10 keepers? or 25 strikes that result in 15 keepers? Just something to think about. I know you'll probably be stubborn and resist trying this little trick. I've seen that before. But, the next time your hands are freezing from changing minnows all day long, think about this little tip and just give it a try.


(2-18) On Bowstring Lake, Erin at Geiger's Trails End Resort mentioned that the action for their guests tapered off during the past week. In spite of the slower pace, they are still able to catch some fish and the Jumbo Perch are leading the way toward the best action. Erin said "Bill took me on a date for Valentine's Day...a loving trip out to the fishhouse to spend some quiet time together. I caught a few perch on a small red glow jig. Bill;s gold jig out-fished me. We had a bunch of nice jumbo's and a few walleye's in the bucket."
With changing conditions, fish locations will begin shifting toward spring haunts and smart anglers will be moving along with them.
The current leader of Trails End Fishing Contest for February is a 21" walleye. There are still bigger fish out there and if you find one, be sure to drop by the resort, enter the fish and get yourself a picture for the website. Good Luck!


(2/18) On Lake Winnie, John Seekon from The Pines Resort posted; "The perch bite in tamarack bay is still going strong in 13 to 17 feet of water. Green, gold or white jigs tipped with a minnow are working the best.Fisherman trying deeper water in the bay are only seeing small perch. The occasional walleye is being caught around dark in the same areas as the perch are being caught. The northern pike must be on vacation, as we have not seen one in a week. Click here to check our website as we still have openings for late february and early march.


(2-18) On Ball Club Lake, Gus Sheker from Gus' Place Resort; "Lake Ice Conditions are ideal with over 20 inches and about 3 inches of snow. Plowed lake roads are not needed and travel is easy with pickups and ATVs.
Pressure ridges should be checked for safety before crossing or avoided.
Fishing remains excellent for both Northerns & Perch! Shallow water areas with healthy, Green weeds are holding fish and so are the deeper edges of main lake breaklines.
Gus has a special going for the rest of the ice fishing season. Guests who stay at Gus' Place for the remainder of this winter will get a 10% discount on lodging this summer. Click here for more info.

Fishing Report February 17, 2012 Jeff SundinJudging by the emails I've gotten during the past few days, I'd say that we're heading into what promises to be a busy weekend. Lots of ice fishermen are packing their rigs and heading North for some Perch and Panfish action.
A common question has been "how are the ice conditions?" Okay, I know that the metro area news media and the DNR has everyone freaked out because of the poor ice conditions in the Southern half of the state. But for Northern Minnesota, ice conditions are fantastic. In fact, it would be fair to say that on our larger lakes like Lake Winnie, Leech Lake, Cass Lake, Bowstring and Upper Red, ice conditions can be compared to any of the best years we've ever experienced. Virtually all of the smaller lakes are accessible too and for most area anglers, it's been a winter that we could go wherever we want, whenever we want.
Make your own judgment about where and what you want to drive on the ice and do some last minute checking when you get up here. But, it is safe to say, that you will definitely be able to find places to fish and if you're persistent, you'll catch fish too!
On Thursday, I and Arne Danielson fulfilled our plan to give Bowstring Lake a try for Crappies. When we got to the lake, I told Arne that I'd been thinking about trying to find a hole that I'd fished years ago. I'd never clicked it into my GPS and because I wasn't quite sure where it was, that spot had always haunted me. Today was the day we'd go looking for it.
I pointed to a spot on the map thinking that it could be the one. A small hole on a flat, 21 feet of water surrounded by shallower water in the 14 to 16 foot range. We drilled a half dozen holes and before I had even started fishing, Arne had already located some fish in one of them and started fishing. While I was still milling around, drilling more holes and getting my lines rigged up, he made me drop everything and run over to take a picture of his first fish, a nice, hefty Bowstring Lake Crappie.
It looked to good to be true, and it was. After catching a couple more fish, the rest of them got a case of lockjaw, but not before teasing us into their sick, twisted, fishy trap. Now that we knew they were there, it was impossible to leave, we had to stay until dark just to see if they'd stage one of those hot evening bites.
Well, I'm not sure whether to claim total victory, but there were a few more fish. In the end, we wound up catching 7 and missing (or losing) a half dozen more. They were definitely finicky, but some of them could be coaxed onto the line. I'm not sure that there were a lot of fish at this particular spot, but it's a good clue about what to look for when we want to find more fish.
At the risk of sounding like a broken record, I tried plenty of baits hoping that I'd find the magic answer. By the time we wrapped up, the Frostee tipped with a couple of Waxworms had once again come out on top. There's just something that they like about that bait right now.
Today, making ready for another big event next week, so I'll get my office in order this morning and then head out to see what I can drum up this afternoon.
Finally, Heads Up! You may not have seen it coming, but spring is just around the corner, the phone has been ringing and the summer calendar is filling up. I have already sold out May, June and most of September.
There are still some mid-summer and fall later fall dates available. If you've been on the fence about coming up, it's time to get in touch before it's too late.
In the next couple of weeks, I'll be sending out an Insider's Newsletter to let you know the open dates that remain available. To be sure that you don't miss out, sign up here for the Fishing Insider News and you'll get your own personal invitations. Oh, by the way, the insider newsletter will be a great resource for learning about last minute cancellations. :)!! I'll be offering some really special fishing opportunities for late winter and early spring too!

Fishing Report February 16, 2012 Jeff Sundin A return to the wintery mix of snow, wind and Grey skies made our knuckles a little creeky, but somehow, the Perch managed to shrug this one off and kept right on eating. In fact, for I and my pal Arne Danielson, it was one of our better efforts on the ice.
When we arrived at the lake, I clicked in a small, soft bottom bar on my GPS and we headed for what I hoped would be a "sneaky", off-beat spot. It was a small hump, where the sandy bottom was speckled with Clam shells and surrounded by deeper water with a soft, mud-marl bottom. We drilled a half dozen holes in 8 to 9 feet of water, dropped in a couple of lures and almost instantly caught three or four nice Perch. It looked like we nailed it on the first try, but then the biters turned into lookers and our fast start sputtered out.
Next, I thought maybe some shallow weeds might be a good idea, so we clicked in a second spot and drove over to a large, shallow flat. We drilled holes in about six feet of water in an area where summer weeds grow thick. There were a few fish here, but not what we'd hoped for. By now, we could see other anglers in the area and it was clear that they were catching fish. So walking toward deeper water, drilling holes along the way, we experimented until we started having some action. Once we found the right spot(s), the rest was easy.
On this day, the Perch were showing some really strong preference for Glow in the dark (Phosphorescent) baits. The Glow-Blue Frostee Spoon, tipped with a clipped minnow head was doing a great job for me, until my line broke. In a hurry to get a bait back in the water, I grabbed another rod that was rigged with the old standby, a Glow-Lime Frostee. I tail hooked a minnow, dropped it in, and the bait never reached the bottom. In fact the bait never reached the bottom for another hour. Whatever it was about that bait, on this day they were smashing it. Most of the time, I didn't even have bait, just the plain Frostee. If the action slowed, I'd tail hook another minnow and get the school fired back up, then I could get three or four more without the minnow again.
Later today, after I get caught up in the office, we're going to take a run at the Crappies again. The reports have been good, but the locations are shifting so it sounds like a question of location. I'll let you know how we do.


(2-16) On Lake Winnie, John Henneman, Wisconsin Rapids, WI wrote in with a report of his own; "Three of us fished Big Winni this last weekend
Saturday morning we started in 13-14 fow and had fast action for the first 3-4 hours. Many perch were caught small and medium perch were caught, but with some sorting, we finished with limits of 9-12 inch fish. Saturday afternoon we tried a new spot in 22 fow. Not as many fish, but the size was better.
Sunday morning had us back at the 22 fow location. The first three hours were outstanding. Non-stop action of 10-13 inch perch. Sunday afternoon and evening we decided to try for walleyes and northerns. We set our tip-ups in a line from 16-8 fow. We had 7 flags and ice three northerns and I was fortunate enough to put a 29.5" walleye on the ice. Quick photo and the big girl went back down the hole to fight another day.
Monday morning we tried the 22 fow spot for a few hours. The action was slower, but still fun. All in all it was a great first trip to Northern Minnesota. All of our perch were caught on Buck Shot Rattle Spoons, Lindy Frostee Spoons, or Lindy Rattle Flyn Spoon in gold or perch glow color and in 1/16 or 1/8 oz. We tip our jigging spoons with the head of a medium fathead."
John closed his report saying; "Thanks for all the reports! Everyone we met while we were in the area was extremely helpful. We are already planning our next trip.!"


(2-16) On Lake Winnie, Ryan Peterson, from Ryan's Fish House Rentals says; "What a difference a week makes the bite was good before the cold front even up through it for a day then things got tough for a couple days. The perch bite seemed to pick back up today, you can find some real nice ones if you are willing to move around a bit. On the main lake perch are biting in allot of depths, today I decided to take a trip to the west side of the lake and there are some nice perch there right now, we where fishing anywhere from 13 to 7 fow but things slowed once the snow moved in, other depths working well are 24 to 30 fow. Walleyes are still spotty but there are a few coming in, seems like they will only hit jigging with minnow heads other then a occasional rattle reel in the night, some will not come off the bottom far to bite and others wont hit until you bring your bait up 3 to 4 sometimes even 5 feet."

Fishing Report February 15, 2012 Jeff Sundin Tuesday would have been a great day to fish, the weather was sunny warm and downright beautiful. Knowing that whatever I did, I'd be doing by myself, I decided to head out into the boonies and chip away on my mountain of firewood instead.
I and my fishing buddy Arne Danielson will be on the ice later today and as I prepare for another big time fishing event next week, I'll be making a point of fishing at least part of each day through the up-coming weekend. There are reports coming in from all around the area right now, so for today, I'll let them do the talking.
The perch bite in tamarack bay is still going strong in 13 to 17 feet of water. Green, gold or white jigs tipped with a minnow are working the best.Fisherman trying deeper water in the bay are only seeing small perch. The occasional walleye is being caught around dark in the same areas as the perch are being caught. The northern pike must be on vacation, as we have not seen one in a week. Check out our website at wwwthepinesresort.com, as we still have openings for late february and early march.


(2-15) On Leech Lake, Ron from Andersons Horeshoe Bay Resort Said "The 12' humps are still producing fish, rock bass, perch, and walleyes. Pine Point is kicking out perch as well. The snow cover is nominal right now and you can drive all over. There is a low spot out on the pressure ridge to drive over, out on the main lake. Travel to Big Rock Reef is doable."
Fishing the west side of the main lake, Stony Point and the deeper water out from Ottertail Point has been producing some Walleyes. In Sucker Bay, Pine Point, The Meadows and other shallow, weedy areas are producing Perch.
** Anderson's will be running some new late winter specials after The Eelpout Festival Weekend. The room specials in the Poolside Inn will be $79 a night + taxes thru March.


(2/15) Bemidji Lakes Area, Matt Breuer, Northcountry Guide Service popped in with his first report; " We've got great ice in the Bemidji area, along with a crust of snow that's holding despite the warmer temps. Just enough to keep the hyfax cool on your sled. Sled, ATV, and truck travel are all fantastic. Fishing remains good for walleyes, eelpout, perch, and tulibee's on the larger lakes like Bemidji, while the panfish are shining on the smaller bodies of water. Look to deep basins during the day for active walleyes, tullies, and perch, sliding up to the shallow water for the night bite. Panfish are staging to move shallow, and are roaming hard. Drill a lot of holes and stay active."
"We still have openings in the rentals after walleye season closes. Lots of great perch and 'pout action to be had. Also have openings for private guided trips for panfish!"

Fishing Report February 14, 2012 Jeff Sundin Monday began what looks like will be another string of nice, warm days on the way. With temperatures rising back up toward 30 degrees, there was another small burst of activity at local bait shops during mid afternoon.
By now, most ice fishermen are turning their attention to the late winter tradition of Perch fishing, but there are still loyal Walleye and Northern Pike anglers taking advantage of the last couple weeks of open season. On our way home from an appointment, my daughter and I made a quick stop at Pokegama Lake just at sunset and we were surprised by the number of anglers fishing out there. With great travel conditions, fishermen seem to be everywhere, even places that are normally quiet at this time of year.
Walleye and Pike continue to provide some action, although the bite is far from being "wide open". A good approach is to locate on the deeper edges of main lake points that connect to the shoreline. During the late ice period, fish will begin roaming back toward the shoreline areas where they will begin spawning in another six to eight weeks. The fish will start showing up in small packs and will work their way up and down the breaklines. Soon, they'll be feeding more heavily too as their instincts trigger the urge to fatten up before spawning.
Fishing on lakes where larger fish are present, jigging with larger size baits like the Lindy Darter will help put a nice fish or two on the ice for you. It's a good idea to set yourself up with a few holes for jigging and a few for dead-sticking or tip-ups. Set your tip-up first and then jig in another hole located nearby. Sometimes, the jigging is a little too much for inactive fish, but the dead stick has just enough triggering power to convince them to bite.


(214) On Bowstring Lake, Darv Oelke at Bowstring Shores Resort says; " Ice has settled down. Can drive off my landing again. The south and west landings are still good driving on to the lake. Fishing has been slower. Crappies are suppended yet in that 24 to 28 feet of water at about 18 feet. Perch better bite over by cow bay in 12 to 16 feet of water. Few walleyes 12 to 16."


(2/14) Bemidji Lakes Area and NMLOG Member, Paul A. Nelson, Bemidji Area Lakes Guide Service says; "The ice conditions in the Bemidji area remain very good. The main obstacle on most of the larger lakes are ice heaves, with anglers often having to access on the side of the ice heave they want to fish.
The 33rd Annual Eelpout Festival is this weekend, February 17-19, headquartered at City Park in Walker Minnesota on Walker Bay of Leech Lake. Anglers need to purchase a button to participate in the fishing portion of the weekend, but many people come to view the exhibits, sample some pout nuggets and get a look at the anglers' makeshift villages on the ice.
Eelpout are the first fish to spawn in the spring, laying their eggs under the ice in late February or early March. Pre-spawn eelpout will feed on top of humps or on other structures with direct access to deep water, similar to walleyes.
Eelpout spend their summers in the deepest portions of the lakes, but during the winter they thrive under the ice in the cold water. Anglers often catch eelpout while fishing for walleyes, with the best action usually under low light or after dark.
Eelpout use their sense of smell more than their eyesight, so anglers should use live bait and keep their presentations close to the bottom. Liquid scents, rattle baits, glow baits and anything that helps them locate the bait are usually effective on eelpout.
Many participants spend the night on Walker Bay in large tents and just about every type of fish house known to man. The Eelpout Festival should be on all anglers bucket list, with few events on the ice even close in comparison.
Fishing in the rest of the Bemidji area remains good for perch, walleyes, crappies and sunfish, with good access to most lakes. Fish on late ice can be on the move, so anglers may have to change locations to stay on the fish. Once anglers are able to locate the fish, most have been actively feeding.


(2-14) On Lake of the Woods, At Border View Lodge, Mike Kinsella says; " We continue to move houses to stay on fish. The bite slowed a little with the cold snap prior to the weekend. Things started to pick up again on Saturday and Sunday as warmer, more consistent weather moved in. Our houses are scattered across the lake. We have been having success in 28 feet, closer to Pine Island, as well as the deeper water 12 miles north of the island. Gold jigs tipped with a minnow and glow red are the colors of choice for most anglers."
"Ice conditions are good with over 30 inches of ice. Weather looks like it is stabilizing this week. Highs in the upper 20s and lows in the teens should make for improved fishing." Border View still has a few mid-week openeings for the upcoming week. 800-776-3474

Fishing Report February 13, 2012 Jeff Sundin The weather moderated a little on sunday and by mid-afternoon, the warm sun was getting me interested in moving back outside. After a few calls and learning who was doing what; I met up with Blake Liend, Jason Green and Greg Clusiau with the idea of finishing up a video that Jason had been working on.
When I arrived at the lake, the sunshine was bright and the wind was getting calmer by the minute. Soon it would be downright nice out there and even if we never caught a fish, the trip out would be worth the effort. We didn't need to catch a million fish, which was lucky, beacause t he Bluegills weren't exactly smashing the baits. We chipped away at them until the fish finally cooperated enough to get us smiling, just enough to get the mission accomplished.
We fished in 5 to 7 feet of water and concentrated on areas with plenty of weeds. Areas like this have been producing Sunfish all winter long, the weeds were still green and holding fish. With the late ice season fast approaching, it almost time to declare 2012 the winter of the shallow water Bluegills.
All of us were using tiny jigs tipped with grubs. For me, the Orange-Brown Bug keeps producing, so I keep using it. I had Waxworms, Blake and Greg tipped their jigs with Red EuroLarvae instead. Both seemed to produce equally, but Blake did happen to catch the biggest fish, maybe coincidence, maybe not.


Fishing Report February 13, 2012 Greg Clusiau, Posted a full report about his recent adventures during the taping of television programs for angling adventures; "Staying at Wilderness Lodge on Big Turtle Lake, near Marcell, we laid out the groundwork for two days of filming on the ice, which sometimes isn't such an easy a thing to do. One thing about being based out of Wilderness Lodge is its close proximity to a lot of good fishing and that made our job a whole lot easier. The less travel time involved, the more fishing we'd be able to do and with that, hopefully more fish would pop their heads out of the .... >> Read Greg Clusiau's Complete Fishing Report Here.

Fishing Report February 12, 2012 Jeff Sundin I'm home from Gull Lake where I'll spent all day Saturday at the Brainerd Jaycees Fishing Contest. The Brainerd Jaycees did a top notch job again this year and in spite of the sub-zero temperatures, thousands of ice anglers showed up to prove that you can have a fantastic time outside, even in the cold!
It was an easy weekend for me, it's a lot of fun moving through the crowd, talking with folks and passing out free stuff! Our job was to find anglers wearing Lindy gear or fishing with Lindy Fishing Tackle and reward them with certificates for prizes from Lindy. We passed out 300 prizes and a heaping pile of Lindy hats. Along the way, we met up with a lot of great folks, all having a great time.
On Gull Lake, the fish were biting too! Within a few munutes of the "shotgun start", there was already a line forming at the weigh in tent. Anglers carrying bags filled with water and their first catch of the day, hurried them in to see if they could gain position on the leader board. Luke Botzek won a new pickup truck by catching a 6.37 pound Walleye. Lots of Walleyes came to the tent along with a handful of Perch, Pike and Panfish.
With today's temperatures predicted to move back into the 20 degree range, I might just take advantage of the chance to hit the ice myself.


(2/10) On Lake Winnie, John Seekon from The Pines Resort posted; "There is currently 22 to 24 inches of ice with 2 to 6 inches of snow on top. The perch are being caught in 13 to 16 feet, with white or gold jigs or jigging spoons and minnows. Use the larger fatheads minnows to discourage the small perch. Move around until you find a school with larger fish. Walleyes are being caught the last hour of daylight on humps that top out from 14 to 16 feet. Northern pike are still biting in the 11 to 12 foot range.


(2-10) On Ball Club Lake, Gus Sheker from Gus' Place Resort; "As a resort owner one of my jobs is to act as a Fishing Guide. When people stay with us I want them to catch fish. Good business starts with good fishing.
Even though it can be lucrative, Guiding is one of my least favorite parts of my job, I take it way too seriously.I would much rather gather all the information I can from my customers, pass it on and send my incoming guests out with fresh GPS numbers and put them on fish.
We all know that there are some days that are tough and the fish just aren't interested in anything you have in hand. Then there are the people who say; "I only want Walleye Gus" even when you know you could go right over there by the creek and fill the box with a limit of Crappie in an hour, they are not interested in fishing for the fish that are on the bite. Guides know that an opportunistic fisherman is a guides best friend. Guiding can be a tough business. Like I said, I take it too seriously. I have even been known to refuse guide fees on a particularly slow day on the lake.
Our good host of this wonderful web site, would likely roll his eyes and say; "wohhh, now hold on Gus"
The past 4 weeks I have been reporting on the really great Perch bite here on Ball Club and even though everyday isn't the same, there are some days that are fast and some that are slow, overall the bite seems to be holding.
From talking to customers I have been telling new guests that right around 20 feet seems to be the best depth and sending them out with GPS numbers. In my last report, I made the case that during a typical winter we start fishing shallow, move to deeper water in February and then back up the hill to the shallows in March. Just about the time I think I see the trend, along come fishermen who through it all out the window. In this case, 4 guys who stayed with me last week from, Pardeeville, Wisconsin, only their second time up. These guys are Real fishermen and they are not interested in sitting in one spot all day in a sleeper house! I gave them the information I have been collecting from my guests, suggesting that 20 feet would be a good place to start looking. At the end of 4 days of fishing they reported: "Yes, 20 feet did produce fish", but 6-8 feet was absolutely "Magic." In particular one spot they didn't even have to sort through them, they were all over 9 inches!! So as a Guide, what can you say?? How about; "the fish are wherever you can find them, all you have to do is look".
Current Lake Conditions; We have about 19-20 inches of good ice with 3 inches of snow "ideal Conditions" We are starting to run out of winter, get out there! - Gus Sheker.
The past few days, we've been targeting Pan Fish on smaller area lakes. In two days Greg Clusiau and I fished 3 different lakes looking for the ultimate bite. It might seem a bit strange but we have been finding a consistant Bluegill bite.


(2/10) Ottertail Lakes Area and NMLOG Member Ross Hagemeister, checked in with a quick ice fishing report from the Ottertail area. "Ottertail Lake and surrounding lakes have about 22 inches of good ice. Best of all, there's only about 1-2 inches of snow cover on the lakes and depending on access conditions, cars and mini vans are still a good way to get around.
The perch fishing in January was very strong but now has trickled to sort-out fishing--catch five or ten perch to keep one nice one. The walleyes on Ottertail have been pokey most of the season but are showing some signs of life. With the added day light, fish location and needs are rapidly changing and I'm anticipating a strong finish to our ice fishing season. All in all ice anglers in the Ottertail area have been very happy about lake conditions and an over all strong ice fishing season."


(2/10) Bemidji Lakes Area and NMLOG Member, Paul A. Nelson, Bemidji Area Lakes Guide Service says; "Colder weather in the Bemidji area this past week helped firm-up the ice on the lakes, with good ice conditions in most areas.
Fishing has been slower than earlier in the winter, but still very good for this time of year. The full moon created a good night bite this week for light sensitive species like walleyes and crappies.
Walleyes in most lakes have been biting on the sides of structure or on top of humps in the right depth range, which has been 14 to 26 feet of water in most lakes. Walleyes have been most active in the mornings and evenings or on overcast days in lakes with clear water. Stained lakes like Upper Red Lake and Lake of the Woods have still had good day bites for walleyes.
Crappies in most lakes in the Bemidji area like to stay in deep water in mid-winter, with most fish between 20 and 35 feet of water. Crappies like to suspend further from bottom than most species, so electronics are almost essential to know how deep the crappies are moving though. Keeping baits several feet off the bottom usually works better for most species of fish, rather than keeping baits right on the bottom (unless anglers are fishing for eelpout).
Most fish have eyes that are more towards the top of their heads, so they can see things above them better than they can see things below them. Anglers using electronics can keep their bait several feet off the bottom and then inch it down to fish when they come through, in full sight of the fish the whole time. Anglers keeping their bait too close to the bottom often have to move up to the fish, which usually spooks the fish because they don't see it coming.
Most lakes in the Bemidji area are getting more fishing pressure than usual this winter because of the good ice conditions. The large number of stationary or wheeled fish houses on many lakes gives anglers unfamiliar with the lakes a clue to what depth and what type of areas are producing the most fish.


(2-8) On Lake Winnie, Ryan Peterson says; "Travel on Lake Winnie is great right now, people are following the roads from the resorts and then cutting off to there fishing spots from there, you can go where ever you like right now not much snow out there other then a few spots that drifted. The perch bite has been good on the main lake in 24 to 30 fow. Some days they are holding close to the bottom and others they are a few feet up, if you are getting small perch bring your bait up a couple feet the bigger ones seem to be running higher in the water at times. The walleye fishing has been spotty the best depths for me have been 20 to 26 fow either along the break lines or the humps using jigging spoons tipped with minnow heads. Tip ups are also getting some nice pike in 20 to 26 fow running baits anywhere from 3 to 5 foot off the bottom." Sleeper and Day Shack Rentals Still Available.


(2-8) On Lake Winnie, Karen at Dixon Lake Resort wrote; "We have 24 inches of ice on the third river flowage of Lake Winnie. The Perch are many with sizes; lots of Small and Medium, some in the large to extra large range too. A few walleyes in the slot range have been caught in 12 to 18 foot. Sunnies and crappies are still in the 7 to 10ft area. The snow cover is just right. We have good plowed roads out to the spear shacks and out to stony point on Lake Winnie. Please help us maintain the road, stop at the donation box and drop in $10 on your way out. You can jump track and pretty much drive anywhere, just watch for the larger drifts and ice blocks."
Dixon Lake Resort still has openings in nice clean cozy cabins some with cable TV no extra charge. We also have a nice late model 8 x 20 Ice Cabin Sleeper.


(2-8) On Lake of the Woods, Jacki LaValla from Sportmen's Lodges summed it up like this; "We have had mix of walleyes and saugers the past few days. A little slower than last week but still good fishing. Colder temperatures have moved in so I am sure that has played a part. It sounds like we will start warming back up again in a few days. A few suspended walleyes have been found, but most of the catches are being just a few inches off bottom. Vexilars/Fish Finders are an excellent idea. 1/4 oz glow red and pink jigs and buckshots and flyers have been popular tackle tipped with a minnow. We have 27-28 inches of ice in the areas we travel and fish right now. We have a few openings for Friday night and fish houses open all week. Give us a call 800-862-8602. Ask about our Winter Special going on now for dates of Feb 5-9 & Feb 12-16 and get up to $30 in savings per person."


(2-8) On Lake of the Woods, Pro Fishing Guide Tom Neustrom says; "Lake of the Woods has been a rather refreshing destination for anglers that are looking for action and nice walleyes and sauger. I have been fishing out of Bayview Lodge and Randi Donat and her son Ryan have made many anglers extremely happy with results. Most of the action has moved to 33-34 feet, about 12-14 miles off-shore into Traverse Bay and there is plenty of ice. Rapala Jigging Raps, Custom Jigs and Spins Vertigo Spoons in glow red, and perch pattern baited with an emerald shiner, has been catching numbers of nice walleyes and saugers. A plain red VMC hook and a shiner has also been good. Keeping an eye on your Humminbird Flasher can detect suspended walleyes 10-12 feet off the bottom.If you want some consistent action for walleyes and saugers give Randi or Ryan a call at 218-634-2194 and they will take care of all the accommodations you will need. At the end of the day and you would like to eat your catch for supper give Tom Briggs or Jean Paul a call at Wigwam Resort for the best fish fry on Lake of the Woods."


(2-8) On Lake of the Woods, Pro's aren't the only ones catching fish! At Border View Lodge, guests contimue to do well. Mike Kinsella says; "Fishing continues to be good! We have houses spread across 10 miles of the lake and are getting ready to set up some Northern Pike houses. We have seen more Sauger action this week and we continue to catch those slot size Walleye along with nice keepers for eating.
We are still sticking to the same traditional lures, anything gold and glow is working really well. Of course plain hooks are good and the new glass jigs seem to be working as well. Fatheads seem to be preferred as they provide a nice lively action."
The weather has been surprisingly moderate this year and the barometer has been mostly favorable for fishing so far all winter. The forecast is showing more of the same with some single digit weather on the way. Border View currently has openings for this week, it's a good time to get in some midweek ice fishing.


(2-8) On Lake of the Woods, Paul Johnson at The River Bend Resort had this; "The fishing up on Lake of the Woods has been one for the record books. We are still fishing in the mud on the South East side of the lake. All of our houses are out in 33 to 34 feet of water. It has been a combination of morning and afternoon bites, with a lull from 11:30 to 12:30. Our sleeper houses have been reporting constant bites until 11pm every night. That is unheard of for Lake of the Woods. We are not sure when we will be running to the reefs, as the fishing is so good in the mud. Of course it is all about the fish, and where they are at right!! Gold, Red, and Pink continue to be the hot colors. Stick to these and you can't go wrong. We have been using Fat Heads for bait. Using a full minnow hooked through the head, or even just the head. Both have been enticing. Many slot fish are being caught, as well as healthy Saugers." Come up and visit us! River Bend Lodge

Fishing Report February 11, 2012 Jeff Sundin I'm on location at Grandview Lodge on Gull Lake where I'll spend all day Saturday at the Brainerd Jaycees Fishing Contest. I'll be back on the computer Sunday morning with a report about the contest and some fresh fishing news from the weekend. Have a great weekend!


Personal appearances: This weekend, Jeff Sundin >> "Caught with Lindy" At this year's Brainerd Jaycees Fishing Contest On Gull Lake. During the event we will be out on patrol throughout the grounds of the event. Guess what? We'll be looking for people who are wearing Lindy Fishing Tackle logos, or have a Lindy Fishing Tackle lure on the end of their line.
If you're caught with Lindy gear, you'll get to draw for a free prize. Who knows what you'll get, there are a variety of coupons for tackle. Three angolers will win Lindy's fantastic fish cleaning table and there's one grand prize in there too, a $500.00 shopping spree at LindyFishingTackle.com Get some Lindy gear before the event and get yourself in the game!

Fishing Report February 10, 2012 Jeff SundinHere we are again, the deep-freeze hit this morning and our current temperature of -6 degrees f, is already down five degrees from when I started on this report today. It sounds like we'll all be sporting rosie cheeks at the fishing contest in Brainerd tomorrow.
The good news is that we're getting toward that time of winter when any one of these Arctic blasts could turn out to be the last bad one of the season. We may still get three feet of snow, but at least we have spring in our sights now.
If you're like me, then the idea of fishing the late ice season for Jumbo Perch and Panfish is already sinking in. Then there's a couple of really special treats coming up too! Late season Walleye Fishing on Lake of the Woods is on my calendar and that's only one month away. After that, open water Walleye Fishing on the Rainy River, that is on the tablet for April 2nd and that's just another 7 weeks!

Fishing Report February 9, 2012 Jeff SundinWell a combination of influences including the calendar (longer days), the weather, and the full moon, fish in many of our Northern Minnesota lakes are making a move. Panfish and Perch have headed deeper. Locally, Walleye and Pike action remains "spotty" but for anglers who put in their time, there are still enough fish to make it interesting. Further North, Lake of the Woods has been reliable all winter long and promises to get even better again as the late ice bite approaches.

Fishing Report February 7, 2012 Jeff SundinWith a little dip in the temperatures heading our way, I put my time to good use on Monday by squeezing in one last fishing day under blue skies and warm temperatures. We didn't do anything much different from what I've been writing about for the past week, so I'll spare you having to read it all over again. Just scroll down the page and you'll have a good feel for what we've been doing.


(2-7) Lake Trout Fishing Report, When he's fishing the local, Grand Rapids area Trout Lakes, Brian Castellano has become accustomed to catching smaller size Lake Trout. But on Monday, he and his buddy went in search of Lakers on one of the area lakes. Fishing from 9am to 3pm, iced 6 or 7 including a beautiful 6 pounder that Brian caught. As expected, the rest were small fish, under 17", but, he was happu to see that there's a few decent sized one's swimming around out there.
>> For today, After a week on the ice, I just gotta get caught up on paperwork and writing. Fishing updates will be coming in today and tomorrow, so if you want to add your 2 cents, we'd love to hear from you. Don't forget, you can send us a picture of your fishing trip too!

Fishing Report February 6, 2012 Jeff SundinMore fantastic weather! More panfish action on the horizon.
On Sunday, it was like ice fishing on one of those late March days. Bright sunshiine, light wind and temperatures reaching into the mid 30's. Thanks to Super-Bowl Sunday, most folks were hanging at home and that gave me one whole lake, all to myself. Yup, a nice walk, a quiet place to fish and some very cooperative fish. There was even a moment when I thought it might have been heaven!
Maybe it was the bright sunshine, maybe the warm weather, or maybe even the full moon. But there were clear signs of a panfish movement toward new areas. Fish that had been holding in shallower water had decided to slip out into deeper territory. On the lake I was fishing Sunday, it meant that they'd moved from 14 feet out to about 19 feet. On the lake we fished on Saturday, they were even deeper, all of the sudden, the Sunfish started showing up out in 28 to 32 feet of water.
Bait preference changed too, at least on this day. The Crappies and Sunfish I was catching, had been showing a strong preference for small blade type baits like the Frostee. Now they were choosing to strike smaller, darker colored baits. I tried a half dozen jigs on Sunday and all of them caught some fish, but I settled on the Orange/Brown Bug in the end. It was reliable, even for the Crappies and the preference for darker colors might indicate that they have an increased interest in insects.
Supporting that idea, was the fact that I caught every fish on Wax Worms. The Crappies snubbed the minnows I'd brought along, in fact I never caught a fish using minnows.

Fishing Report February 5, 2012 Jeff Sundin Wowee! Another nice day in the Itasca area of Northern Minnesota.
For the past couple of weeks, I've had an eye cast toward some special projects looming on my horizon. Well, the horizon has gotten close now and a couple of these will soon be behind me. If anything, I'll be able to say without a doubt, that I've done my homework.
I've been taking advantage of the easy travel conditions and I've been trying a lot of lakes that I'd never even seen before. Some have been better than others, but they've all been gorgeous in their own way.
Continuing my search for new and improved panfish lakes, on Saturday I had a chance to combine two projects toegther. I had promised a great friend that I'd help him with something very fishy that he's working on and since the lake he lives on happens to be known for great Bluegills, I thought I'd take a run at those while we were together.
My daughter Katie decided to join us too and I dropped them off in a nice, warm ice fishing shelter. The two of them fished together and solved a good share of life's problems while I ran around the lake, drilling holes in search of the Mr. Big of the Bluegill world.
My adventure had it's ups and downs, starting with loosing one of my auger blades while drilling my third hole. I borrowed another one and got myself back on track, and I did eventually discover at least one school of fish to try again later.
I drilled holes everwhere from 5 feet of water out to 30 feet and then back again. Most of the time, I'd see a few tiny marks on the flasher, but there was one particular spot where I say a more interesting picture. The fish, whatever they were, held tight to the bottom in 28 to 30 feet. At mid-day, I worked on them for a while but couldn't get a bite. That spot was in the back of my mind all afternoon though and as soon as the sun got low in the sky, I high-tailed it back to see if they'd bite at twighlight.
I went back there at about 4 PM, the fish were still there, but still not hitting. I experimented with baits for a while and eventually tied on a Purple, Micro Slick Jig. Tipped with two waxworms, I was able to finally tease a handful of fish out of the school, not enough to claim a great outing, but enough to know that I found at least one school of nice 'Gills.
After the fishing was through, we got to work on our special project. Be ready, because in just a few weeks, you're going to have a real treat.
Okay, my deadline is approaching, so for me, today puts me back in the hunt for panfish. After that, I think someone mentioned something about some kind of a sports thing on TV tonight. If I think of it, I'll check that out and see what all the hubub is about.


(2/5) On Lake Winnie, John Seekon from The Pines Resort posted; "The perch are starting to scatter into deeper water as the weed growth dies off. They are biting in 14 to 17 feet with a gold jig and minnow producing the best. This is a great time of year to use a GPS to find some of the inside turns or small holes, that you cant find while following the crowds.The walleye bite has been spotty, but the northern action has been good in 10 to 12 feet using shiners or suckers."


(2/5) Crappie Fishing in the Ely area, Matt Mattson and his buddy Jack Swanson set out to catch some Crappies. It turned out to be a great day for them. Matt said; "I had to work and drill lots of holes pick up a few here and few there". He added though that he found one school of fish that gave up five Crappies in 5 minutes.

Fishing Report February 4, 2012 Jeff Sundin With a nice weekend forecast, I'm guessing that I'll be seeing some of you out on the lakes today. I'll be out there myself looking for a couple more new ideas about where to find Sunfish and Crappies.
Later, I'll be working on a top secret project, all I can say about it for now is that soon, very soon, you're going to know a lot more about Lutefisk than you do now! More on that later!
There are plenty of things to do right now. Panfish action continues to be topping the list of fun fishing things to do. Perch action is still pretty good, but has slowed from the pace of a few weeks ago. Walleyes are making something of a comeback too, hitting jigging spoons in 12 to 16 feet of water.
But, for me, the top news on the horizon is that the Tulibee (Cisco) action has already begun. In fact, it got down-played by me last weekend because we've been so intense about finding panfish. But, as it happens to work out, I already have my first batch of Tulibees going into the smoker. After I wrap up a couple of other projects, I'll make a point of hitting the ice for another batch or two.


(2-4) On Bowstring Lake, Erin at Geiger's Trails End Resort says; "CONGRATS to Sean Casey! Sean is the WINNER of Trails End's "Biggest Fish On Bowstring Contest" for January 2011! Sean's 27-1/2 inch Walleye took the prize. Isn't it your turn? Hurry on up, they're reeling them in already and early into February, there's a 17-1/2 inch Walleye is on the board already.
Ice Fishing on Bowstring has slowed down a bit, but they're still bringing in fish. Yesterday Erin and ventured out to work on finding some "new fish" and had some luck. For Crappies, they found that a bare hook and a minnow, suspended below a bobber was a good bet. Northern Pike are getting more active and they're eating a variety of baits, In fact, Erin said that they'll just about eat anything. Walleye are hitting on a large pink or glow red Frostees. Perch are biting on a green glow jig with either a fathead or crappie minnow on it. Finally Erin wrapped up with "Go get 'em. then come tell us about it. Trails End Resort.

Fishing Report February 3, 2012 Jeff Sundin There's been a handful of lakes on my wish list for a while, "walk in" lakes that I have never tried, but always wanted to check out. With the ideal conditions for exploring that we have this year, there's just no excuse not to try some of them out. Thursday was a perfect day for taking another hike through the woods to "go see what's in that one".
I talked my buddy Chad Haatvedt into taking off early from work, so by about 1:00 PM we were on our way to a small panfish lake that lies at the end of a 3/4 mile hiking trail. Conditions on the trail were really good, the snow depth was about six inches and walking was fairly easy. Except for a few Coyote, Deer and Rabbit tracks, the snow had been untouched. It was kind of exciting, we were on our way to being the only anglers that have fished this lake all winter.
We were the only ones all right, on the lake, there wasn't a track, a hole, nothing, not even the slightest sign of another fisherman. Catching a ton of fish would have really capped off the adventure, but I'm afraid that this time, the fishing wasn't the highlight of the trip.
Once we drilled the first hole, there was a surprise, the water was crystal clear, a lot more clear than most of the lakes in the area. In fact, water flowing out of the holes as the auger plunged through, never changed the color of the pure, white snow.
We drilled lots of holes, some as deep as 32 feet, some as shallow as 7, but in most of them, we found no sign of life. After we'd drilled 50 or more, we finally found a mid-lake hump that we'd spotted on the map. It was 15 feet deep on top, surrounded by 30 feet of water on all sides. The hump turned out to be home for a school of Largemouth Bass. I caught one, then missed another and finally Chad caught one too. I made the comment that if there were Bass here, there were probably Sunfish too. Now if I'd been smart, I would have listened to myself when I said that. Instead, we chose to leave the Bass and venture over to the other side of the lake.
We drilled a bunch more holes in a deep hole located close to the shoreline. The kind of place where we find Crappies in late fall. We marked fish in 30 to 32 feet of water but they were lookers, not biters. By about 5:00 PM, I told Chad that I was going to head back over to the Bass spot just to see if other fish moved in at dusk. As soon as I got there and dropped in my lure, the flasher lit up with fish. Just like I tried to tell myself, they were Sunfish and this time they were aggressive. The run was shortened by the fact that it was getting dark and by 5:30, the action stopped.
I'm not sure if we ruled this lake in or out, there were some signs that the lake has potential, but the clear water probably accounted for the late biting Sunfish. If we'd camped out on that spot, we probably would have caught the fish at the very moment they became active and our creel may have been more full. But this could be the kind of lake that rarely has an active daytime bite, so I think we'd have to plan a lot of walks in the dark.
The adventure was worth the effort, but I think I'll be more interested in finding some darker water, especially under the low snow cover conditions we have this winter.


(2-3) On Lake of the Woods, Mike Mayer at Wheelers Point Resort & Lodge says; "We continue to be amazed at the fishing on LOW this year. Just into the first week of February and the fish are still going strong. We are seeing limits of 18-19 inch walleyes and above average saugers caught daily. The ice is in great condition, despite the warm winter we are having. We are now located 12 miles past Pine Island fishing in 34 feet of water. Glow red and gold colored jigs have been the hot ticket for most of the year. We do still have some mid week cabins and fish houses available. Give Wheelers Point Resort a call for that last minute fishing trip. Join us for door prizes and drink specials during the Super Bowl Party as well." 800 542 2435

Fishing Report February 2, 2012 Jeff SundinFebruary, one day into the month and it already seems like spring. Maybe it was the ice melting off of the roof, or the snow disappearing from the yard. It doesn't really matter, winter has already dished out a lot of it's harshest treatment and it's all down-hill from here. I know it's not over, not yet, there's still a few hard knocks ahead, but relief is just around the corner.
I mean relief from winter, not from fishing! Don't worry, we still have plenty of fishing ahead; Statewide, there's still 28 days of open season on inland lakes to ice fish for Walleye, Bass and Pike. After that, Sunfish, Crappie, Perch and Tulbees will continue to provide inland ice anglers with action into early April. Don't forget, border waters like lake of the Woods and the Rainy River remain open for Walleye and Pike into mid-April, that something I have on my agenda already!
Okay, back to the present; Fishing action in the Itasca area has perked back up again thanks to the warm weather. Panfish have gone back on the prowl and there are some good reports coming in from Lake Winnie about Perch fishing too. Walleyes remain a little slow, but there are a handful of fish still coming in and the average size has been good for the guys who are sticking with it.


(2-2) On Bowstring Lake, Erin at Geiger's Trails End Resort says that their guests had some problems finding the Perch and Walleyes during the recent cold snap. Fish that had been active a few days earlier, shut down to ride out the storm. Luckily, the Northern Pike didn't get the memo and remained active to help entertain guest who were fishing the lake. With the warmer weathing rolling in, fishing action will be on the rebound too! Erin added; "Thanks to all who stopped in to tell their tales. We look forward to hearing more. Finally, there are some last minute cabins available, click to contact Trails End Resort.


(2-2) On Ball Club Lake, Gus Sheker from Gus' Place Resort; " The news on Ball Club Lake continues to be the excellent Perch fishing we have been experiencing this past month. Fish are still holding in around 20 feet, but you can hook up on either side of this depth. Workthe break with crappie minnows.
Usually as we move into February the fish tend to move deeper 25-35 feet. They leave the rotting weed beds of last summer as the weeds slough over and lay down.
The ice cap thickens as the cold presses from above and the fish find comfort as they move deeper.
This winter is unusually mild, by the time March rolls around we normally see about 32-34 inches of ice on the lake.
I think we will be about a foot short of that this year and the warm weather may have an effect on the habits of fish and where you find them.
Ice conditions on Ball Club remain nearly ideal with about 6 inches of snow and around 18 inches of ice. Plowed roads are not needed as you go to those secret off trail Hot-Spots." By the way, Gus always shares his GPS hot spots with customers who stay at Gus' Place Resort.


(2-2) At Fred's Bait in the Deer River Area, Brian Castellano says; The past week or so has found me fishing Walleye on Deer and Pokegama Lakes. Same story on both lakes.


(2-2) Bemidji Lakes Area and NMLOG Member, Paul A. Nelson, Bemidji Area Lakes Guide Service says; " The mild weather continues in the Bemidji area, with good ice conditions and less than six inches of snow cover on most lakes.
Fishing slowed down some during the coldest part of January, but February is here and fishing should keep improving as March approaches.
Anglers have been catching walleyes anywhere from the deep edge of the weedline all the way down to the edge of the basin, depending on the conditions.
Walleyes usually move into structure during low light periods and head for deeper water during the day. Walleyes in stained lakes often suspend over deeper water during the day, at approximately the same depth where they will make contact with structure when they get active.
Anglers using sonar usually have a big advantage over anglers fishing without sonar. Anglers can see fish on sonar when they move through and they can see when their presentations are triggering bites and also when they are scaring the fish.
Anglers using sonar know when fish are moving through and not biting and when there are no fish in the area. When conditions are tough, just the presence of fish, even if they won't bite, can be a good sign. Eventually the conditions may improve and the fish may decide to bite.
Perch anglers have been finding schools of perch in both deep and shallow water. The shallow perch have been on rocks or on the edges of flats with cabbage weeds or chara covering the bottom. The deep perch have been close to the edge of the basin, where they can feed on both insects and minnows.
Anglers have been finding crappies on the edges of structure connected to deep water. Most of the crappies have been between 20 and 30 feet, suspended a few feet off the bottom.
Most of the large lakes have been producing walleyes in the mornings and evenings. The hottest bite for walleyes is still on Lake of the Woods, where there are also many bonus sauger between 13 and 16 inches. Paul A. Nelson, Bemidji Area Lakes Guide Service 218.759.2235

Fishing Report February 1, 2012 Jeff SundinJanuary rolled out in style for I and my fishing partner Arne Danielson. The temperatures shot back up into the 30 degree range and panfish responded by putting on a little end of the month rally. You could say that it was a reward for putting up with a few hard days of fishing, or maybe it was just dumb luck, either way, we'll take it!
Our goal was to find some Crappies, but we had Sunfish in the back of our minds, maybe even some Perch. I don't think it mattered that much, we just wanted to get some fish. When we got to the lake, the sun was just rising through the trees and there was a heavy fog covering the ice. There was no traffic, no other fishermen and except for a Woodpecker snatching his breakfast, there wasn't a coming from the woods. It was sort of eerie, but in a really good way.
I drilled a line of holes, maybe 8 or 10 of them. Arne started at the shallow end, about 14 feet deep, I started at the deep end, about 15 feet. At first, it looked like it might be another one of those tough days. I had caught 3 or 4 really small Sunfish and I could see Arne doing about the same thing. Next drop in, a really nice Bluegill and then another, now one more, I called Arne to come over and for an hour, the action was steady. There were still a lot of little fish biting, but there were a good share of nice ones too. In fact, enough for us to each keep plenty for a couple of meals. We didn't want to over do it, so we set a goal of 10 fish each and once we reached that, we released the rest of the larger Sunfish.
Since we seemed to be "on a roll", it seemed like a good idea to keep the search for Crappies going. Back on the auger, I drilled another batch of holes, a dozen or more and we started moving around the lake. They didn't come in fast, especially at first, but there were a few fish under some of the holes. I'd say maybe one out of every 3 or 4 holes would have a small pack of Crappies holding below it. We'd see the fish suspended from about 1 to 4 feet above the bottom. When we teased them some would hit, others wouldn't.
The Crappies weren't too fond of minnows on Tuesday either, I had a couple of fish using them, but nearly all of the Crappies we caught were on the Waxworms. I tried a handful of other baits, but whatever it is that they like about them right now, the Frostees are the most reliable. Another good one was my favorite Pink-Green Toad, it lasted for a while, but eventually got snipped off by a small Pike.
The Crappies were holding a bit deeper than the Sunfish. The best bet was to sit right along the edge of the transition from the 15 foot flat to the deeper hole. Key depth was around 19 feet, let's say 18 to 20 feet.


(2-1) On Lake Winnie, Ryan Peterson says; The perch bite is still going strong all over Big Winnie a lot of people fishing are coming in with there limits of nice perch, best depth for me has been in 26 fow on the edges of the humps some shacks are also doing well in 24 to 28 fow along the break line at Moxies. The walleye bite has really slowed down over the last week still seeing a few come in but people are seeing allot more on flashers and cameras then they can get to bite, hopefully that will change with warmer weather coming in. Ryan Peterson's Ice Shelter Rentals and Guide Service


(2-1) On Lake Winnie, Karen at Dixon Lake Resort checking in; " Well we got out and fished this weekend and had a few people in our spear shacks. Word was that the fish were still a little slow, but they did get some nice jumbo perch, a few crappies and even a few walleyes right amongst the spear houses. We did get out into 15 feet of water and got the nice jumbo perch and waleye.
The ice is just about 23 inches on our side of the presure ridge. About 3 inches of snow cover. Dixon Lake Resort still has some last minute cabin opennings and fish house rentals". Give them a call 218-659-4612.


(2-1) On Leech Lake, Ron from Andersons Horeshoe Bay Resort Said that there were some fish caught this weekend. His guests were fishing in 12 to 13 feet of water on a Sand/Rock Hump and managed to bring in some Walleyes in the 17 to 19 inch size range. There were some Perch and Rock Bass mixed in the area as well.
Travel conditions on Leech Lake are good, there are about 3-4 inches of snow cover and at least 20 inches of good ice, maybe more.
Ron has been running some specials this winter and right now, they're offering one in the Poolside Inn for next weekend. Motel rooms for $79 a night + tax includes up to 4 people. 800-873-1229


(2-1) On Lake of the Woods, I got an update from Mike Kinsella at Border View Lodge; "Ice conditions are good with over 2 feet of ice on most of the south end of the lake. Snow is in the forecast for the early part of the week, but nicer towards the weekend.
Catching some nice walleyes in 32 feet of water with a good mix of saugers. Anglers are working harder for their fish than earlier in the season, but the fish are there. Some are getting the "tight lipped" walleyes to bite by varying their jigging techniques. Some others reported better luck on just a plain hook and a minnow. While most of the fish are being caught on the bottom, a good share are suspended." Border View has some openings coming up, if you want to get in on some mid-week, Walleye Fishing, call them 800-776-3474.
Q & A 2-1-2012 Ian Collins emailed with this question and I thought you might be interested.
Q) I have a question about using graphs while ice fishing and I was wondering if you could help. A few of my fishing buddies and myself have noticed at times while fishing at night that our graphs seem to light up with interference. It doesn't seem to matter if it is a Marcum or Vexilar. A few times it would not go away no matter how much adjusting and tinkering we do to our settings. Is there some sort of night time emergence or occurance that may take place? I hope you can help us out on this. Thank you.
A) Ian, There are forms of living plankton in the lake that we seldom pay attention to, but are important to the health of the system. They provide food for tiny fish and other critters living in our lakes. You are viewing these microscopic creatures as they become active during low light periods. You could loosely compare it to a school of fish going out for their feeding run, but that's an over-simplification.
Throughout the day, most of these tiny creatures remain stationary, living at or near the top or bottom of the water column where they don't interfere with our electronic gadgets. As it gets dark they begin to move around just like the larger fish do and short of turning off your electronics, there's not much you can do about it except enjoy to the show.

Smiles are always welcome!

I AM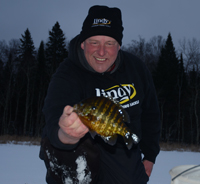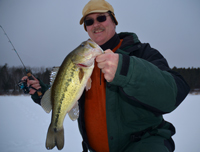 When you're ice fishing for panfish and hook into "something big", a Bass isn't the first fish that comes to mind. But sometimes they do pop in for a visit.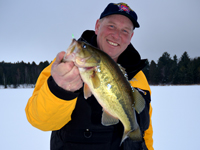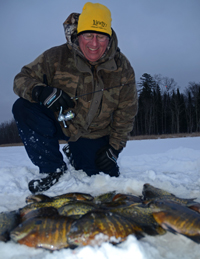 Arne Danielson admiring a days work. Mixed bag of Crappie and Sunfish caught in 15 to 20 feet of water using Frostees tipped wityh Waxworms.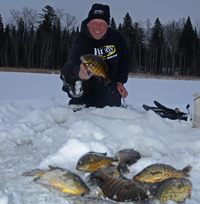 Crappies were holding a few feet deeper than the Sunfish. Concentrate on drop off edges for Crappies, on top of the flats for 'Gills.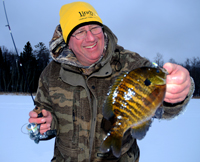 Warmer weather encouraged Sunfish activity. Best depths were 15 to 16 feet and the Glow-Green Frostees tipped with Waxworms were perfect!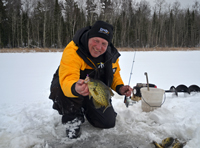 It took a lot of moving around, but eventually we found the Crappies and picked them off one by one. Best action was in 19-20 feet using Frostees tipped with a Waxworms.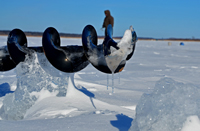 Ya know it's getting chilly when the water freezes on the auger before it can drain off! At least we had some sunshine!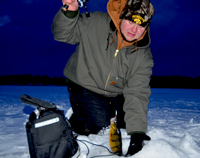 Action was slow on Saturday, but at least there were a handful of good ones. This one came out of 7 feet of water and hit a jigging spoon tipped with a minnow.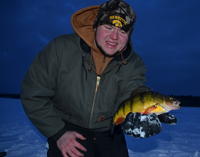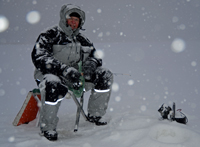 Okay, so you wanted some snow, so there ya go! By the way, where's the hole?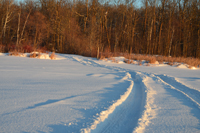 The path out of Cutfoot Sioux has just enough snow to make it interesting. It took me a couple of runs at the ramp to get off of the lake.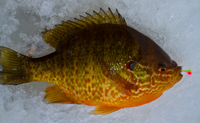 Lindy's Toad tipped with a couple of Wax Worms has been fooling the sunfish. Watch for a trend toward better morning action.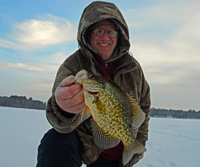 Arne Danielson shows off a nice Crappie caught on the old reliable Frostee. We've been hearing 16 to 20 feet as the key depth, this one was in about 18 feet.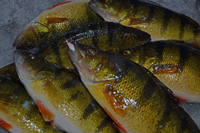 Aggressive Perch were all over the Glow Pink colored Frostee tipped with tail-hooked, medium size minnow.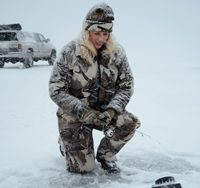 Snowy conditions made the trip to Bowstring Lake a little shorter than we planned, but we didn't like the idea of driving around the big lake with near zero visibility.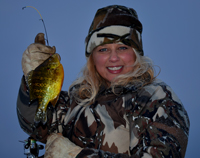 For Anita Williams, the switch to Little Cutfoot was worth the effort. The fish weren't giants, but the Lindy Fat Boy provided good action.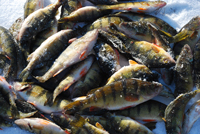 Courtesy Geiger's Trails End Resort: Reports about good Perch action on Bowstring have been coming in all week. Click here for more info.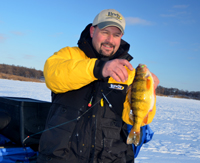 Jason Feldner showing what happens when you search until you find 'em. Devils Lake Jumbos are worth the effort.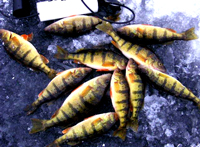 Courtesy Gus' Place Resort: Perch pictured here are the result of 30 minutes of work in 15 feet using crappie minnows.